Pages 86-105
A History of the County of Wiltshire: Volume 12, Ramsbury and Selkley Hundreds; the Borough of Marlborough. Originally published by Victoria County History, London, 1983.
This free content was digitised by double rekeying. All rights reserved.
AVEBURY
The parish of Avebury, at the head of the river Kennet some 8 km. west of Marlborough, measures 1,898 ha. (4,690 a.) and has the shape of an elongated lozenge, indented at the southeastern corner where East Kennett has been taken from it. (fn. 1) On its longer axis, from southwest to north-east, it measures 8 km.; on the shorter, between Windmill Hill and Overton Hill, 4 km. Within the parish are Avebury, some 2,780 a. north of the London-Bath road in 1845, including the villages of Avebury and Avebury Trusloe, Beckhampton, then 790 a., which lies to the south, and West Kennett, c. 930 a., to the south-east. (fn. 2) The name Avebury is first recorded in Domesday Book. (fn. 3) Lands in the valley of the upper Kennet earlier shared the name of the river. In 972 the lands of Kennett were divided; an estate east of the Ridge Way became part of Overton and the lands to the west, then perhaps a single unit extending south to the downs, later formed the parishes of Avebury and East Kennett, divided by the river. (fn. 4) Much of what was later part of Avebury was probably still known as Kennett in 1086, as were East and West Kennett. There was, however, a church at Avebury. (fn. 5) By the 12th century it had established rights over Beckhampton, also mentioned in Domesday Book, as it had over West Kennett by the 13th. (fn. 6)
Apart from the river which divides East Kennett and Avebury, no natural physical feature marks the extent of the parish. The Ridge Way and the course of a Roman road respectively form the east and south-west boundaries. Chalk downland above 152 m. occupies much of the west, south, and east parts of the parish. (fn. 7) Heights of 229 m. and 254 m. are reached in the southwestern and north-eastern corners on West and Avebury Downs. South of Avebury village Waden Hill rises to 191 m. There was cultivation on the eastern and southern downland in prehistoric times (fn. 8) but from the 16th century and presumably before then the downs and Waden and Windmill Hills were used mainly for pasture. (fn. 9) Since the mid 19th century there have been training gallops for racehorses in the northeast and west parts of the parish on Avebury Down and on West and Knoll Downs. (fn. 10) Near the centre of the parish is the confluence of the two head streams of the Kennet which enter it from the north skirting Windmill Hill in broad gently sloping valleys. From the confluence the river flows in a narrower valley south for some 1.5 km. to Swallowhead Springs and then eastwards south of Overton Hill. Narrow strips of valley gravel adjoin the alluvial banks of the river. Gravel also extends along dry tributary valleys east of the eastern head stream, west from Swallowhead Springs, and north of West Kennett village. Arable lands on the lower ground have been extended since the 18th century by ploughing the neighbouring down. (fn. 11) There were meadows in the river valleys, including water meadows at the foot of Silbury Hill. (fn. 12) Willows were planted south of West Kennett Manor in the late 18th century (fn. 13) and there were withy beds west of Avebury Manor in the early 20th century. (fn. 14) There were 7 a. of woodland in West Kennett in 1086 (fn. 15) and in the late 18th century the parish was sparsely wooded. (fn. 16) Small plantations had been established by 1886 on the western and southern boundaries, on West Down, and north of the confluence. (fn. 17) Sarsen stones were apparently abundant in the area in prehistoric times. Stones from Waden Hill were used for building c. 1700 (fn. 18) but from the late 18th century sarsens were to be found principally on Avebury Down and south of West Kennett long barrow. (fn. 19)
The prehistoric remains of Avebury have become famous. (fn. 20) The earliest evidence of human activity in the parish was found on Windmill Hill, where an early Neolithic settlement was replaced c. 3250 B.C. by a causewayed camp covering some 8.4 ha. Greatest interest has, however, been aroused by the complex of ceremonial monuments of the Neolithic Period and the Bronze Age, said to be one of the most extraordinary prehistoric cult centres in England. At its centre is the Circle on a broad chalk plain east of the confluence of the two head streams of the Kennet. A ditch and outer bank between 4 m. and 6 m. high surround an enclosure of nearly 12 ha., within which stand the surviving undressed sarsens of the Great Circle and the inner circles. Similar stones, some of which still stand in pairs, formed the Kennett Avenue which led 2 km. south-east from the southern entrance of the Circle to the Sanctuary, concentric rings of stones and wooden posts on Overton Hill. A similar avenue is thought to have led from the western entrance to Beckhampton. (fn. 21) Standing apart from that complex but of a similar period is Silbury Hill, a man-made mound 1.2 km. to the south rising some 39 m. from a base covering an area of 2.2 ha. (fn. 22) The importance of Avebury as a centre is indicated by the number of earthworks and barrows in the vicinity, the most notable of which is the West Kennett long barrow, a stone-chambered collective tomb south-west of West Kennett. (fn. 23) The continued occupation of the area into historic times is well attested. Iron-Age and Romano-British field systems have been identified beside the Kennett Avenue, on West and Knoll Downs, and near the boundaries with West Overton and Winterbourne Monkton. The Roman road from Bath to Mildenhall runs from west to east across the parish through the village of West Kennett, deflected from its straight course only by Silbury Hill, and there was a Roman villa south of Windmill Hill. Later remains include Pagan Saxon material within the Circle and in Avebury high street, and an intrusive Viking interment on Silbury Hill.
Stones from the Circle were buried during the Middle Ages, perhaps in recognition of their connexion with pre-Christian religion. (fn. 24) The ditch and bank, known from the 13th century as Wallditch, (fn. 25) were used as a common pound in the 16th century and were still common in part in 1754. (fn. 26) Although 'camps and sepulchres of men of war' at Avebury were noticed by John Leland c. 1540, (fn. 27) serious interest in the archaeological sites was first shown by John Aubrey in the mid 17th century. (fn. 28) William Stukeley made several visits to Avebury between 1719 and 1724 and published his findings and theories in Abury, a Temple of the British Druids in 1746. (fn. 29) Archaeological work was resumed in the late 18th century and continued at intervals throughout the 19th. (fn. 30) In 1908 systematic investigations were begun and the excavation of Windmill Hill was undertaken in the 1920s. Alexander Keiller who had worked on Windmill Hill (fn. 31) began the excavation and restoration of the Kennett Avenue and the Circle in the 1930s. (fn. 32) The Sanctuary was investigated in 1930 and further work was carried out at Windmill Hill, West Kennett long barrow, and Silbury Hill after the Second World War. (fn. 33)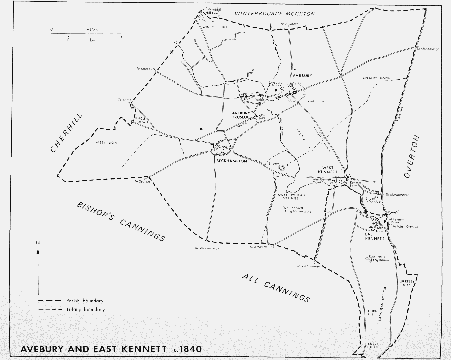 Archaeological interest was accompanied by concern for the preservation of the monuments which were particularly threatened by the proximity of Avebury village and its eventual intrusion into the Circle. Stukeley and others reported that standing stones from the Circle, the Avenues, and the Sanctuary were removed, usually for building, in the late 17th century and the 18th. (fn. 34) Part of the Beckhampton Avenue was destroyed in the 18th century on the orders of turnpike trustees because horses shied at the stones. (fn. 35) Stones were still being removed in the mid 19th century (fn. 36) but in the 1870s Sir John Lubbock, Bt., later Baron Avebury, bought Silbury Hill and certain lands within or near the Circle in order to prevent further damage. (fn. 37) The Circle, Silbury Hill, the entrenchment on Windmill Hill, the Roman road, and several barrows were recognized under the Ancient Monuments Act of 1913 and recognition was extended to the Sanctuary in 1933. (fn. 38) Between 1924 and 1939 Alexander Keiller purchased Windmill Hill and much of the Circle. (fn. 39) Those sites and that of the Kennett Avenue were part of the estate bought in 1943 by the National Trust and passed into the custodianship of the Ministry of Works. (fn. 40) The Trust later bought other lands and buildings in the parish. (fn. 41) Work on a general preservation scheme began in 1934 and in 1952 a special scheme to safeguard the monuments was adopted by the county planning authorities. New building, apart from that for agricultural purposes on the downs, was limited to a specified area. The demolition of houses within the Circle as they became vacant, which had begun in the late 1930s, was to continue. In 1960 the policy became one of gradual clearance and in 1976 it was recommended that the remaining buildings be allowed to stand. (fn. 42)
Three ancient roads ran through the parish, the Ridge Way, the Roman road, and Harepath Way, the path of which has been traced for 1 km. along the edge of West Down. In the 18th century the London-Bath road ran through West Kennett to Beckhampton, crossing the Kennet south-east of Silbury Hill. At Beckhampton the road forked. One branch continued northwestwards to Cherhill, the other led southwestwards, reaching Bath via Sandy Lane in Calne. Both were turnpiked in 1742. (fn. 43) The more northerly branch became the modern LondonBath road, the principal route through the parish. West of Beckhampton its path was moved slightly to the south in 1790 (fn. 44) but it had returned to its original course by 1889. (fn. 45) In the early 18th century a coach road led over the downs from Marlborough towards Avebury village. It entered the Circle from the east and apparently turned south-west across the Kennet to Beckhampton. (fn. 46) The downland route fell out of use after the London-Bath road was turnpiked (fn. 47) and was marked only by a track in 1979. In 1675 a road to Devizes left the London-Bath road near Silbury Hill. (fn. 48) In the 18th century the main route to Devizes within the parish was part of the Bath road via Sandy Lane. The road from Beckhampton to Avebury was turnpiked in 1742 and that north of Avebury in 1767 to form the SwindonDevizes road. (fn. 49) Another turnpike road linked Avebury and West Kennett. The lane leading from the London-Bath road to East Kennett was turnpiked in 1840 as part of the West Kennett to Amesbury road, one of the last roads in England to be turnpiked. (fn. 50) The bridge over the Kennet between Avebury and Beckhampton was replaced in 1950 (fn. 51) and a roundabout built at Beckhampton c. 1960. (fn. 52)
Few changes occurred in the pattern of secondary roads between the late 18th century and the 20th. A path which skirted Avebury village to the north and west in the 18th century had, however, disappeared by 1979. The main street of Avebury village was linked by a footbridge with the network of lanes west of the river which connected the farms and houses of Avebury Trusloe. From a point on the old road to Marlborough some 700 m. east of the Circle, tracks radiated to Winterbourne Monkton, Chiseldon, and West Overton. In the 19th century new or improved tracks were made to South Farm on Avebury Down, Windmill Hill, and Beckhampton Penning south of Beckhampton. An older path led from Beckhampton village to Tan Hill in All Cannings. Further east a path ran from the London-Bath road at West Kennett to East Kennett across a bridge perhaps built in the late 18th century. (fn. 53)
Avebury village was one of the larger settlements in Selkley. Its assessment for taxation was the third highest in 1334, and in 1377 there were 134 poll-tax payers, again the third highest number in the hundred. (fn. 54) Avebury may have lost some ground by 1576 when sixteen inhabitants were assessed for taxation at £6 5s. (fn. 55) Between 1801 and 1841 its population fell from 590 to 488. Later figures refer to the whole parish, in which the population remained c. 750 between 1851 and 1881, then declined to 588 in 1901. Numbers rose above 600 again only in 1911, (fn. 56) perhaps as a result of the expansion of Beckhampton racing stables, and in 1961 when there were 631 inhabitants. In 1971 there were 537 people living in the parish. (fn. 57)
The village of Avebury grew up around the church and the principal houses of Avebury and Avebury Trusloe manors on the gravel east of the confluence of the head streams of the Kennet. (fn. 58) By the early 18th century the settlement had spread into the Circle. It was drawn eastwards along the high street, following the line of the coach road to Marlborough. That road and the road from Swindon met in the centre of the Circle, easily accessible through the northern, southern, and eastern entrances, at a staggered crossroads which became a secondary centre of the village. (fn. 59) In the late 18th century houses also lined the narrow lanes west of the Circle between the high street, the church, and the grounds of Avebury Manor. Several houses stood either side of Bray Street which led west from the river on the same line as the high street. (fn. 60) By 1773 a separate village, known in 1889 and probably before as Avebury Trusloe, had grown up on the chalk some 700 m. south-west of Avebury church. (fn. 61)
In 1979 the pattern of settlement differed little from that of the late 18th century; the cottages demolished within the Circle were presumably of the 19th century. (fn. 62) Many buildings shown on Stukeley's plan of the Circle of 1724 could still be identified in 1979, although all had apparently been substantially altered or completely rebuilt. The centre of the village was characterized by the large number of small cottages, some of which incorporated sarsen walling. More substantial buildings included the old school, the former vicarage house, and Manor Farm west of the Circle. Within it was the former farmhouse of Norris's, which stood at the north-east corner of the junction in 1724 and has been altered, probably in the later 18th century. Between the church and the ditch was a group of farm buildings, including a 16th-century pigeon house and a late 17th-century barn, (fn. 63) owned by the National Trust and leased in part to the Wiltshire Folk Life Society. The buildings were being restored in 1979 for use as a museum and tourist information centre. (fn. 64) In 1938 Alexander Keiller converted the coach house and stables of Avebury Manor into a museum for archaeological finds from Windmill Hill. (fn. 65) It passed to the National Trust in 1943 and was named the Alexander Keiller Museum in 1966 when Mrs. Gabrielle Keiller presented the contents to the nation. (fn. 66) A few houses of the 19th and 20th centuries stood outside the Circle on the old road to Marlborough and on the Swindon-Devizes road. West of the Kennet, in the angle formed by the river and Bray Street, were Avebury Trusloe Manor and Avebury Trusloe Manor Farm. The former farmhouses of Bannings, a house of five bays with an 18th-century front of chequered brick, and Westbrook, a thatched building probably of 17th-century origin with mullioned windows, stood north of the street. The older part of the village of Avebury Trusloe consisted of a few 18th- and 19th-century buildings along Frog Lane and South Street, which led east and west from a crossroads. Trusloe Farm and its outbuildings, all of the 19th century, stood at the corner of Frog Lane. Council houses were built north of South Street in the late 1930s and after the Second World War to replace those demolished in Avebury village under the preservation scheme. (fn. 67)
The Catherine Wheel inn, patronized by Stukeley in the 1720s, stood north-east of the crossroads in the Circle. (fn. 68) Trade declined after the London-Bath road was turnpiked and the inn was closed in the late 18th century. (fn. 69) The building became a farmhouse in the 19th century and was eventually demolished. (fn. 70) West of the junction is the Red Lion, built in the 19th century and extensively modernized since. (fn. 71)
Beckhampton. The medieval settlement of Beckhampton was less populous than Avebury; assessed at 39s. for taxation in 1334, it had 31 poll-tax payers in 1377. (fn. 72) The assessment of £9 11s. 8d., higher than that for Avebury in 1576, suggests that some residents were wealthy. (fn. 73) Beckhampton village stands at the foot of a dry valley c. 2 km. south-west of Avebury. The older farmsteads and houses lie on the gravel south of the roundabout along a lane which runs from the London-Bath road south-west and west to the Swindon-Devizes road. In 1724 there may have been only four houses in the village (fn. 74) but by 1773, as in 1979, buildings lined both sides of the lane. (fn. 75) Stones from the Sanctuary were used in the early 18th century for farm buildings in Beckhampton, (fn. 76) possibly those of Galtee More Farm at the eastern end of the lane. The population of Beckhampton rose from 99 to 155 between 1801 and 1841, (fn. 77) the last date for which separate figures are available, but numbers probably rose again c. 1900 with the expansion of the racing stables. Willonyx, a house north of the lane from the London-Bath road, was built on the site of an earlier farmhouse c. 1900, (fn. 78) and probably incorporates part of the original building. In the early 20th century the village expanded north of the London-Bath road across the tithing boundary. Most of the new buildings were connected with racing stables; they included estate cottages and stables on both sides of the Swindon-Devizes road and west of them the Grange. (fn. 79)
The Waggon and Horses, north of the London-Bath road and east of the crossroads, was built in 1669 as the Bear and had lands attached for resting fat cattle travelling to the London markets. (fn. 80) Known as the Hare and Hounds in 1724 and as the Waggon and Horses in 1823, (fn. 81) it was much altered or rebuilt in the 19th and 20th centuries. The keeper of the Catherine Wheel at Avebury apparently built another inn of the same name in the western angle of the crossroads in 1745 to serve the new turnpike road. (fn. 82) In 1796 it was also known as the Beckhampton House inn. (fn. 83) The Beckhampton club, a political association of local gentlemen, met there in the early 19th century. (fn. 84) The innkeeper also trained racehorses in 1848, and in 1855 the inn was closed. (fn. 85) Since 1880 or earlier the house and its outbuildings have been used as a racing stable. (fn. 86) The house has a symmetrical front with the public rooms at the north end and domestic quarters to the south.
Stanmore, 5 km. north-west of Avebury, was held with lands in Beckhampton from the 11th century and in 1700 was said to be a detached but tithable part of Beckhampton. (fn. 87) The eastern part of Stanmore then became part of Winterbourne Bassett parish and the western part was then or later absorbed into Clyffe Pypard parish. (fn. 88) From the 12th century to the 16th there was a village or farmstead a little east of the boundary of the modern parish of Winterbourne Bassett. The last inhabitants were said to have left within living memory c. 1700. (fn. 89)
West Kennett. The small village of West Kennett, some 2 km. south-east of Avebury, lies on valley gravel between Waden and Overton Hills north of the Kennet. It was always the least prosperous and populous settlement in the parish. In 1334 it was assessed for taxation at 30s. and in 1377 there were 24 poll-tax payers. (fn. 90) In 1576 the combined assessment of West and East Kennett for taxation was only £6 11s. 6d., below the average for the hundred. (fn. 91) In the late 18th century the few houses, most of which incorporated stones from the Kennett Avenue, stood south of the London-Bath road. (fn. 92) The village expanded in the 19th century when a brewery and a number of houses were built on both sides of the road. (fn. 93) In 1841, the only date for which a figure is available, there were 108 inhabitants. (fn. 94) Several buildings were demolished c. 1960 when the road was widened (fn. 95) and in 1979 there were a few cottages and four substantial houses. West Kennett House, a three-storey house of the mid 19th century, stood north of the road on a steep slope. West Kennett Farm, opposite the house, has a main range of the 17th century, which preserves a cross-passage ground plan, and an 18th-century service wing. West of the farmhouse are Tan Hill House, the only postwar building in the village, and West Kennett Manor. There was a White Hart inn at West Kennett between 1736 and 1827 but nothing is known of its later history. (fn. 96)
Manors and Other Estates.
The estates in Kennett which Alfred of Marlborough held in 1086 may have included lands now in Avebury but no certain identification can be made. (fn. 97) Among them may have been an estate which, in or before 1114, escheated to the Crown and was granted by Henry I to William de Tancarville, his chamberlain. (fn. 98) In that year William granted the estate to the abbey of St. Georges de Boscherville near Rouen. (fn. 99) Geoffrey son of Pain also gave lands in Avebury to the abbey in 1114 and a priory was established there soon afterwards. (fn. 100) The possessions of the alien priory, including AVEBURY manor, were granted to Fotheringhay college (Northants.) in 1411. (fn. 101) In 1545 the college conveyed Avebury to the Crown in exchange for other lands (fn. 102) and in 1547 the manor was granted to Sir William Sharington. (fn. 103)
Sharington was attainted in 1549 but his lands were restored in 1550. (fn. 104) In 1551 he conveyed the manor to William Dunche, (fn. 105) who settled it on his son Walter in 1582. Walter (d. 1595) was succeeded by his son William (fn. 106) who sold the manor to Sir John Stawell in 1640. (fn. 107) Stawell's estates were sequestrated after the Civil War and in 1652 Avebury manor was sold to George Long. (fn. 108) Between 1651 and 1657 it was occupied by Sir Edward Baynton as tenant and possibly as owner. (fn. 109) It was recovered at the Restoration and Stawell (d. 1662) was succeeded by his sons George (d. 1669) and Ralph, created Baron Stawell in 1683. Ralph's son John, Lord Stawell, inherited the manor in 1689 (fn. 110) but after his death in 1692 it was sold to Sir Richard Holford. (fn. 111) Holford (d. 1718) left a life interest in the manor to his wife Susanna, (fn. 112) from whom it passed to their son Samuel in 1722. On Samuel's death in 1730 his nephew Richard Holford inherited. The manor passed c. 1742 to Richard's brother Staynor (d. 1767) who devised it to his halfbrother Arthur Jones (fn. 113) (d. 1789). Jones's heir was his niece Ann, wife of Adam Williamson (d. 1798). Williamson, who was knighted in 1794 and became governor of Jamaica and St. Domingo, (fn. 114) devised the manor to his wife's nephew Richard Jones. (fn. 115) That Richard and his namesakes held it until 1873. (fn. 116) The manor was then sold to Sir Henry Meux, Bt., and passed in 1883 to his son Sir Henry (d. 1900). (fn. 117) The younger Sir Henry's widow sold it in 1907 to L. C. D. Jenner. (fn. 118) In 1920 Manor farm was bought by J. Peake Garland (fn. 119) who sold it after 1939 to A. T. Farthing. The farm, 651 a., was purchased from Farthing in 1943 by the National Trust, the owners in 1979. (fn. 120)
The monks of Avebury priory had a manor house on their demesne in 1294. (fn. 121) A later house was retained by Jenner on the sale of Manor farm in 1920 and sold c. 1935 to Alexander Keiller. (fn. 122) It was bought in 1955 by Sir Francis Knowles, Bt. (d. 1974), and in 1976 by Michael BrudenellBruce, marquess of Ailesbury. (fn. 123) Avebury Manor extends round three sides of a courtyard with the hall occupying the central southern range. That part of the house which is earlier than a reconstruction of c. 1600 is east of the hall. A single room in 1979, it was formerly two small rooms and a passage, probably the screens passage of a medieval house, the hall range of which was in much the same position as the present one. The hall was rebuilt c. 1600 (fn. 124) as a ground floor room with a principal chamber above and a new screens passage across its west end. Beyond the screens were new service rooms, and a parlour was built as a southern continuation of the medieval service end. By the late 17th century there was a service passage behind the hall. The old service range was continued northwards by a kitchen, probably on the site of, and perhaps incorporating parts of, its 16th-century predecessor, beyond which was a structurally later brewhouse. (fn. 125) In the mid 18th century the hall, the chamber above it, and the main staircase were elaborately refitted and further service rooms were built along the north side of the hall range. (fn. 126) New gatepiers and wrought-iron gates were then placed in the southern boundary wall. Thereafter the house was little altered until the early 20th century. Jenner carried out a thorough reconstruction of the surviving features of the old house, introduced a number of old fittings from elsewhere, and enlarged some windows. He reconstructed the interior of the west range to make new principal rooms and added a library wing to its north end.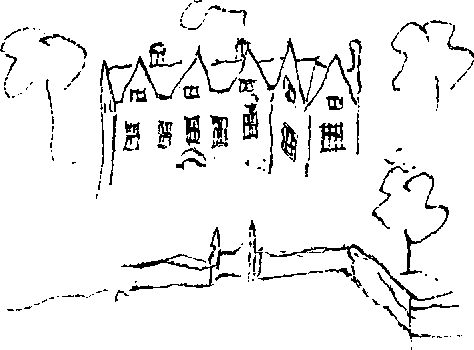 In 1086 Rainbold the priest held Avebury church and 2 hides. (fn. 127) In 1133 Henry III granted to Cirencester abbey all the estates formerly Rainbold's, including the reversion of Avebury church, then held for life by Roger (d. 1139), bishop of Salisbury. (fn. 128) Thereafter the abbey held the RECTORY estate consisting of lands, the rectorial tithes of Avebury and West Kennett, and some dues from Beckhampton. (fn. 129) Between 1195 and 1275 the vicarial tithes of Avebury and West Kennett were also due to the abbey. (fn. 130) In 1183, 1240, 1253, and 1336 agreements were reached with the prior of Avebury for the payment of tithes from the demesne of Avebury manor but no major concession was made by the abbey. (fn. 131) In 1540 the abbey's possessions in Avebury were said to have included the rectory estate and a manor; of the two the lands of the rectory estate were probably more extensive. (fn. 132)
After the Dissolution the rectory estate remained in the hands of the Crown until 1604 when it was granted to Maria, relict of William Dunche. (fn. 133) The lands were probably absorbed into those of Avebury manor, then also held by members of the Dunche family. In 1628 the tithes were held by William Dunche, Maria's grandson, who sold those arising from Avebury manor with the manor to Sir John Stawell in 1640. (fn. 134)
The remaining tithes passed with Avebury Trusloe manor to Robert Baynton. (fn. 135) Those of West Kennett were sold to Charles Tooker in 1676 (fn. 136) and descended with East Kennett manor until they were sold by Benjamin Price to William Tanner in 1791. (fn. 137) The tithes on West Kennett farm were then merged. William Tanner received tithes from 331 a. of West Kennett which were commuted in 1845. (fn. 138)
Tithes on lands which passed to George Popham and Henry Baynton may have been merged while they were in Robert Baynton's hands: the lands were tithe free in 1845. (fn. 139) Other tithes were sold with lands in 1681: (fn. 140) the estates of John Griffen, Richard Phelps, and Mary Stevens were probably tithe free. (fn. 141) The remaining tithes with those arising from Avebury Trusloe manor, afterwards considered merged, were sold to John White in 1704. (fn. 142) They descended to J. W. Hopkins, who in 1845 held the tithes on 136 a. for which a rent charge was then substituted. (fn. 143)
From the early 14th century the abbot of Cirencester had a house at Avebury. It stood near the Circle and the manor house of Avebury manor, and is perhaps to be identified with that on the rectory estate in the mid 16th century. (fn. 144)
The manor formerly held by Cirencester abbey was granted by the Crown to Anselm Lane in 1558, to William Allen in the same year, (fn. 145) and to John Cutt and Richard Roberts in 1560. (fn. 146) In 1563 Roberts conveyed it to Joan Trusloe, (fn. 147) who was succeeded in 1568 by her son John Trusloe. John (d. 1593) devised it to a relative, Richard Trusloe of Teffont Evias. (fn. 148) In 1614 Richard was succeeded by his son John (fn. 149) who conveyed the manor to William Smith in 1623. (fn. 150) In 1628 the manor of AVEBURY TRUSLOE was held by William Dunche. (fn. 151) In 1633 Dunche sold it to Sir Edward Baynton, (fn. 152) whose son Robert inherited it in 1657. (fn. 153) Robert sold the estate in several portions. John Griffen bought one portion in 1681. (fn. 154) In 1704 Griffen's estate was sold to John White (d. 1712), (fn. 155) vicar of Avebury. It passed to White's son William who sold it before 1755 to Robert Rose. (fn. 156) The estate was held by William Simkins in 1780, and in 1795 by Charles Simkins who sold it c. 1797 to a Mr. Hopkins, (fn. 157) possibly John Hopkins (fl. 1779). (fn. 158) John William Hopkins held it in 1845. (fn. 159) It was sold in 1877, probably to G. Ruddle. (fn. 160) In 1904 it was bought by William Grose (fn. 161) who sold the Avebury Trusloe Manor estate to William Greader in 1923. (fn. 162) Between 1935 and 1939 it was purchased by Butler Bros., the owners in 1979. (fn. 163) A house attached to the Trusloes' estate stood near Avebury manor house in the mid 16th century. (fn. 164) It cannot be identified with any later building. Manor Farm at Avebury Trusloe was built on the estate in the 19th century. It is surrounded by farm buildings of similar and later date.
Another part of the Bayntons' estate was bought in or before 1675 by George Popham (d. 1687). (fn. 165) It was sold by George's son John to William Norris in 1691. (fn. 166) Norris (d. 1717) was succeeded by his son John (d. 1758) and grandson William Norris (d. 1794). (fn. 167) The estate, known in the late 18th century as Popham's or Little Avebury farm, was held in 1806 by George William Norris (d. 1811) (fn. 168) who devised it to his brother James. (fn. 169) James sold the farm in 1816 to John Brown (d. 1839). In 1845 and 1875 it was held by George Brown (fn. 170) and in 1897 by S. Brown. (fn. 171) Another George Brown, the owner in 1911, sold it c. 1930 to William Greader, (fn. 172) who sold the farm between 1935 and 1939 to Butler Bros., the owners in 1979. (fn. 173) Trusloe Manor, in 1795 the farmhouse of Popham's farm, is a small 17th-century house which has a tall east front with mullioned and transomed windows.
Lands formerly held of Avebury Trusloe manor by copy of court roll were sold in 1681 by Robert Baynton in three portions. One portion was conveyed to John Griffen (d. 1715) (fn. 174) and passed in turn to his son John (d. 1733) and daughter Mary, wife of John Banning (d. 1772). Banning was succeeded by his son John (fn. 175) and the property passed to members of the Banning and Griffen families in the early 19th century. (fn. 176) It was held by J. Banning in 1873, (fn. 177) by J. S. Banning in 1877, (fn. 178) and was sold in lots in 1894. (fn. 179)
A second portion passed to Richard Phelps in 1681 (fn. 180) and was inherited by his son John (d. 1731) and grandson Richard Phelps (d. 1744). On the death of Richard's widow Mary it passed to his sisters and coheirs. (fn. 181) John Savage (d. before 1770), husband of Richard's sister Eleanor, acquired the reversion of the estate in 1757. The estate was sold in 1770 to Richard Bailey, James Thring, and John Nalder as joint owners. (fn. 182) It was held in 1802 by Richard Thring (d. c. 1826) (fn. 183) who devised it to his grandson Edward Phipson (d. 1869) and Edward's sisters Mary Ann (d. 1875) and Elizabeth Thring Phipson (d. c. 1907). Edward's portion passed to his daughter Irene Jane, later wife of James Bernard Wall. His sisters' portions passed to Irene and to Sarah Lydia Selby, also their niece, later wife of Thomas Lockwood Heward. (fn. 184) The farm inherited by Irene and Sarah, called Norris's farm, was sold in 1920 to J. Peake Garland. (fn. 185) It was later bought by Alexander Keiller. In 1943 Keiller sold the farm and an additional 70 a. at Windmill Hill which he had purchased in 1924–5 to the National Trust. (fn. 186)
A smaller portion of lands was sold in 1681 to Mary Stevens, later wife of Walter Stretch. Their son George held the land in 1725 (fn. 187) and his daughter Mary and her husband James Hitchcock sold it in 1755 to Richard Bailey, James Thring, and John Nalder. (fn. 188) It may have been part of an estate, held by Robert Nalder in 1780, which passed, probably by sale, to another Hitchcock c. 1803. That estate was held by P. Hitchcock in 1828 (fn. 189) and by trustees for M. P. Hitchcock in 1845. (fn. 190) It had been absorbed into Avebury Manor estate by 1873 but Hitchcocks farm was still so called in 1875. (fn. 191) The farmhouse was later known as Manor Farm. (fn. 192)
Brunsden's farm, probably also the successor of a copyhold of Avebury Trusloe manor, passed, presumably with that manor, from John Trusloe (fl. 1623) to William Dunche (d. 1666) and from Dunche to the Baynton family. (fn. 193) It was retained by Robert Baynton when he sold the manor and passed to his nephew Henry Baynton, who sold it in 1691 to William Norris. (fn. 194) As Great farm, it passed with Little Avebury farm until 1796 when it was purchased by John Brown. (fn. 195) The farms descended together in the Brown family from 1816 until 1924 when William May bought Trusloe, including part of Great, farm. (fn. 196) He sold it c. 1930 to William Greader and thereafter it passed with Greader's other holdings. (fn. 197)
In 1194 John of Calstone and his wife Margaret were ordered to return 1 yardland in Avebury, part of the dowry of Maud, wife of Sewel del Broc. (fn. 198) Philip of Calstone gave 4 a. of meadow there to Stanley abbey in 1227, and in 1228 his nephew and heir Walter of Calstone confirmed the grant and made a further gift of meadow to the abbey. (fn. 199) Stanley mead, perhaps those lands or the meadow west of the river occupied by John of Stanley in 1307, (fn. 200) was sold by Richard Smith and his son Thomas to Daniel Dyke in 1713. (fn. 201)
Lands at Avebury which had been given for the maintenance of a lamp in the church were held by the Crown from the Dissolution until 1575 or later and in 1547 were on lease to John Chesterman. (fn. 202) Some 3 yardlands, called Higdens, were bought from Thomas and Catherine Henslow by Richard Smith (d. 1633). (fn. 203) Chestermans, c. 35 a., and Higdens passed with West Kennett manor to Richard Smith and his son Thomas who together sold them to Daniel Dyke in 1713. (fn. 204) By will dated 1729 Dyke devised his estates to his sister Margery with reversion to his niece Sarah Walter. (fn. 205) In 1751 they were held by Sarah, then wife of Henry Howson. (fn. 206) Sarah (d. c. 1787) devised them to her son Henry for life and then to her nephew Daniel Dyke. (fn. 207) Daniel's brother Thomas Webb Dyke (d. c. 1822) held the estate in 1795 (fn. 208) and he devised a life interest to John Skinner, husband of his sister Susan. In 1830 the estate was sold by the heirs of Daniel's mother, Mary Dyke, to Thomas Merriman. (fn. 209) In 1873 it was held as owner or occupier by E. Combley (fn. 210) and in 1877 by J. E. Combley. (fn. 211) It was sold in 1904 with Avebury Trusloe Manor estate to William Grose (fn. 212) and has since passed with that estate.
In 1494 Richard Beauchamp, Lord St. Amand, his wife Anne, and Sir Roger Tocotes were licensed to assign lands in Avebury to the chaplain of Bromham. (fn. 213) Rents due to the lord of Avebury were extinguished under Edward VI when both manor and chantry were held by the Crown. (fn. 214) The possessions of the chantry were granted to Edward Carey in 1564 (fn. 215) and in 1582 the lands in Avebury, Rowses farm, were held by John Shuter. (fn. 216) Shuter (d. 1591) devised the farm to his grandson John Shuter, who sold it to John Goldsmith after 1611. (fn. 217) Goldsmith (d. 1640) devised Rowses to his son Thomas. (fn. 218) The later history of the estate is not clear but it may have been that held in 1780 by one Warner, in 1783 by William Crook, (fn. 219) and in 1813 by R. Crook, possibly William's son. Crook sold the estate to James Kemm in 1843. (fn. 220) Westbrook farm, the successor to Kemm's estate, was held between 1903 and 1920 by George Farley, perhaps as tenant until 1909 and then as owner. (fn. 221) It had passed to J. Farley by 1923. Between 1935 and 1940 it was sold several times and some of the land was absorbed into Avebury Trusloe Manor estate. (fn. 222)
BECKHAMPTON was held by Edric in 1066 and by Ansfrid of Gilbert of Breteuil in 1086. (fn. 223) The overlordship passed with that of Clyffe Pypard to the Reviers family and in 1242–3 was held by Baldwin de Reviers, earl of Devon (d. 1245). (fn. 224) He was succeeded in turn by his son Baldwin, earl of Devon (d. 1262), and daughter Isabel de Forz, countess of Aumale and Devon. (fn. 225) Walter Marshal, earl of Pembroke (d. 1245), held Beckhampton of the earl of Devon in 1242–3 and his five sisters and coheirs held it of Isabel de Forz in 1275. (fn. 226) No mention has been found of the Marshal or de Forz lordships after that date. A second intermediate lord, Matthew Columbers, held Beckhampton in 1242–3 and later. (fn. 227) His interest passed with the manor of Clyffe Pypard to the Cobham family. In 1315 Beckhampton was said to be held of John Cobham, although by that date he had been succeeded by his son Henry, created Lord Cobham c. 1335. (fn. 228) The lordship then passed in the Cobham and Wroughton families with the manor of Broad Hinton, of which it was said to be part in 1374. (fn. 229) Beckhampton manor was held of John Wroughton in 1463. (fn. 230) Before 1485 the lordship passed to Fotheringhay college, the overlord in 1495. (fn. 231)
Hilary of Beckhampton held Beckhampton c. 1190, (fn. 232) as did Hamon of Beckhampton c. 1235 and in 1242–3. (fn. 233) John, son of Richard of Beckhampton, had a manor there in 1268. (fn. 234) Before 1302 a moiety of it passed to Joan, wife of Sir Henry le Moyne, (fn. 235) and after her death in 1340 it descended with the manor of Shipton Moyne (Glos.) to their son John, grandson Sir Henry le Moyne, and great-grandson John le Moyne (d. by 1381). (fn. 236) John's heir, then a minor, was probably Sir John Moyne who held the moiety in 1428. (fn. 237) It passed to John Stourton (created Baron Stourton in 1448), son of Sir John's daughter Elizabeth. Lord Stourton was succeeded in 1462 by his son William, Lord Stourton (d. 1478). (fn. 238) In 1467 the estate was settled on William's son John, Lord Stourton (d. 1485), and John's wife Catherine. (fn. 239) After Catherine's death in 1494 the moiety passed in turn to her husband's brothers William, Lord Stourton, and Edward, Lord Stourton, who both died in 1524. (fn. 240) Edward's son William, Lord Stourton, sold the moiety to William Button (fn. 241) (d. 1549), who was succeeded by his grandson William Button (d. 1591) (fn. 242) and great-grandson Ambrose Button. Ambrose sold the estate in 1596 to Richard Trusloe, (fn. 243) who was succeeded by his son John in 1614. (fn. 244) A portion of the estate was sold to Thomas Smith c. 1638 and the remainder passed to John's son John, who held it in 1692, and grandson Richard Trusloe. In 1702 Trusloe sold it to Charles Tooker who also acquired the other moiety of Beckhampton manor. (fn. 245) Both moieties were sold as Griffens, Trusloes, or Beckhampton farm and Goddards farm to Sir Richard Holford in 1710. (fn. 246) The estate passed with Avebury manor to his grandson Richard Holford, who conveyed it to his uncle Robert Holford in 1731. (fn. 247) Robert was succeeded by his sons Robert and Peter (d. 1803). (fn. 248) The estate passed to Peter's sons Robert (d. 1838) and George (d. 1839), grandson Robert Staynor Holford (d. 1892), and great-grandson George Lindsay Holford. (fn. 249) It was sold in 1897 to Samuel Darling, the racehorse trainer. (fn. 250) After his death in 1921 (fn. 251) his estate, some 1,200 a., (fn. 252) was broken up. His son Frederick retained some 670 a. which were sold to J. A. Dewar in 1947 and to Mr. H. G. Blagrave in 1950. Mr. Blagrave sold all but 20 a. to Beckhampton Estates in 1969. (fn. 253) In 1926 Galtee More farm, some 206 a., was bought by C. N. Hues. He was succeeded in 1956 by his sons Robert and Roger Hues, joint owners until Robert's death in 1979. (fn. 254) Galtee More Farm, a two-storey brick house, was enlarged or rebuilt in the 19th century. (fn. 255) Lower Galtee More farm, 287 a., was sold in 1923 to C. D. Butler & Co. (fn. 256) and in 1926 to William Vines. It was bought c. 1959 by Mrs. Elizabeth Westropp, the owner in 1979, when it was known as Durran farm. (fn. 257)
The second moiety of Beckhampton manor was held by Richard Casterton in 1316 and by Geoffrey Casterton in 1428. (fn. 258) With the manor of Wheathampstead (Herts.) it passed in the Casterton family until 1445 when Richard Casterton was succeeded by his daughter Elizabeth, wife of Nicholas Freton. It was probably held in 1503 and in 1547 by John Colville (d. 1552). (fn. 259) William Saville and his wife Anne, perhaps Colville's relict or daughter, sold the moiety in 1561. (fn. 260) John Mitchell sold it to Thomas Goddard of Upham in Aldbourne in 1573 (fn. 261) and thereafter it descended like the manors of East and West Swindon from father to son in the Goddard family until 1702, when Thomas Goddard sold the farm to Charles Tooker. (fn. 262)
The portion of Trusloe's estate purchased by Thomas Smith c. 1638 passed with West Kennett manor to his great-grandson Thomas Smith who sold it to Daniel Dyke in 1713. (fn. 263) Probably before 1743 it was acquired by John Beake who sold it in 1749 to Prince Sutton (d. 1779). (fn. 264) Sutton was succeeded by his son James whose daughters Eleanor, wife of Thomas Grimston Bucknall Estcourt, and Sarah, wife of James Matthews, inherited in 1801. Sarah and James Matthews conveyed their rights in the farm in Beckhampton to Estcourt in 1804. (fn. 265) The farm was held by Anthony Guy between 1815 and 1828 and by Thomas Pinnegar in 1829. (fn. 266) It remained in the Pinnegar family at least until 1897 when it was held by Thomas Lord Pinnegar. (fn. 267) It was bought c. 1900 by Samuel Darling (fn. 268) and was part of his estate divided in the 1920s. (fn. 269)
Coles Bargain, a farm of 180 a. held by Francis Hawes, a director of the South Sea Company, was sold by trustees in 1726 to Sarah Churchill (d. 1744), duchess of Marlborough. The farm descended with the Marlborough title until sold in 1823 by the trustees of George Spencer (d. 1817), duke of Marlborough, to Robert Holford. (fn. 270) It was then absorbed into Beckhampton manor. (fn. 271)
At the Dissolution, the estate attached to Beckhampton chapel included all tithes on two farms in Beckhampton except those on sheep, a messuage, 1 a. of pasture, and 1 yardland in Beckhampton and Stanmore. (fn. 272) In 1549 it was granted to John Warner, Regius Professor of Medicine in the university of Oxford and former chaplain of Beckhampton. (fn. 273) Warner sold it in 1561 to Thomas Browne, (fn. 274) who granted it to Reynold Howse in 1569. In 1570 Howse settled it on Robert Howse and Robert's son Robert who both sold it in 1584 to John Trusloe (d. 1593). It passed to Richard Trusloe (d. 1614) and Richard's son John who sold the estate to William Dunche. It descended with Avebury Trusloe manor to Robert Baynton who sold it to Charles Tooker (d. 1700). (fn. 275) Tooker's son Charles sold the estate to Sir Richard Holford in 1710 (fn. 276) and thereafter it descended with Beckhampton manor. In 1845 the tithes of Beckhampton were commuted. (fn. 277)
Hilary of Beckhampton (fl. c. 1190) granted an annual rent of 8s. from the tithes of his demesne to Malmesbury abbey. (fn. 278) The rent was still paid in 1535 (fn. 279) and in 1588 was granted with other pensions to Edward Hobbs and others. (fn. 280)
Alfred of Marlborough held Kennett in 1086. (fn. 281) The overlordship passed with his manor of Lydiard Tregoze and was held by John Tregoze in 1275. (fn. 282) In 1518 the manor of WEST KENNETT was held of Sir John Leigh and in 1529 of his heirs. (fn. 283)
In 1066 Uluiet, Edmar, Leuric, Alnod, and Ulmar held lands in Kennett later Alfred's. All but Alnod and Ulmar, who had been replaced by Nicholas and Turstin, were his tenants in 1086. (fn. 284) No certain identification can be made of holdings derived from theirs. There was a number of estates in West Kennett between the 11th century and the 15th, the descent and eventual coalescence of which have not been fully traced.
Thomas of Kennett had demesne lands in the parish in 1239. (fn. 285) In 1242–3 he was one of four tenants of Robert Tregoze (fn. 286) and in 1275 he held a moiety of West Kennett. (fn. 287) In 1227 Walter de Indingeburg granted lands there to John Barbost (fn. 288) which John held of Robert Tregoze in 1242–3. (fn. 289) In 1275 Geoffrey Barbost held the second moiety of West Kennett. (fn. 290) Adam Barbost and his wife Alice granted lands there to trustees in 1334. (fn. 291) Walter son of John, the third of the tenants in 1242–3, (fn. 292) may have been the Walter of Berwick to whom Reynold of Berwick and his wife Edith confirmed lands in East or West Kennett in 1250. (fn. 293) In 1281 Walter of Berwick granted 10 yardlands in West Kennett to John of Berwick, (fn. 294) who still held them in 1327. (fn. 295) William Crispin held lands there in 1242–3 and in 1288. (fn. 296) His estate may have been that held by William Wroughton and his wife Isabel in 1365, (fn. 297) and by Isabel alone in 1393. (fn. 298) Its later descent is obscure.
In 1412 William Sparsholt held lands to be identified with the later manor of West Kennett. (fn. 299) The lands passed to John Benger (d. 1518), son of William's daughter Eleanor. (fn. 300) John was succeeded by his grandson Richard Benger (d. 1524) and granddaughter Anne Benger, later wife of Thomas Smith. (fn. 301) After Thomas's death c. 1558, the manor was settled on Anne (fl. 1573) for life with remainder to Ralph Henslow and his wife. (fn. 302) In 1594 Thomas Henslow, Ralph's son, and his wife Catherine sold the manor, then known as Barborscourt and perhaps therefore derived from the holding of the Barbost family, to Thomas Smith (fn. 303) (d. c. 1597). It passed to Thomas's son Richard (d. 1633) and grandson Thomas Smith. (fn. 304) The younger Thomas's son Richard settled the manor on his son Thomas in 1666. (fn. 305) Thomas was succeeded in or before 1713 by his brother Richard, whose son Thomas held the manor in 1719. (fn. 306) Although Thomas devised the manor by will dated 1750 to his cousin Thomas Smith of Marlborough, (fn. 307) in 1755 West Kennett was held jointly by his brother-in-law Samuel Martyn and Staines Chamberlain. (fn. 308) In 1780, after Martyn's death, his wife Hannah held the manor. (fn. 309) It was inherited c. 1807 by their daughter Thermuthis, wife of Robert Ashe (d. 1829). The Ashes were succeeded by their son the Revd. Robert Ashe (d. 1855) and grandson the Revd. Robert Martyn Ashe (fl. 1907). (fn. 310) In 1911 the manor was held by Robert Martyn Ashe's daughter Thermuthis Mary Ashe, (fn. 311) who sold it to F. E. Shipp in 1921. West Kennett Manor farm was bought by Mr. H. G. Blagrave c. 1940. He sold it to C. N. Hues whose son Mr. Roger Hues was owner in 1979. (fn. 312) The back range of West Kennett Manor is part of a 17th-century house, to which a principal front was added in the early 18th century. The house has been further altered on several occasions, notably in the early 19th century when a new staircase was inserted and in the late 19th century when the windows were rearranged.
Lands in West Kennett were held in 1682 by Walter Grubbe (d. 1715) (fn. 313) and passed to William Grubbe. He was succeeded c. 1753 by William Hunt, who took the additional surname Grubbe, (fn. 314) by that William's son Thomas (d. c. 1772), and grandson William Hunt Grubbe. (fn. 315) William Tanner bought the estate c. 1784 and it was held by his descendants until offered for sale as West Kennett farm in 1900. (fn. 316) In 1911 the farm was held by William Pullen. (fn. 317) It was sold to the Olympia Agricultural Co. in 1920, to J. W. Osmond c. 1925, and to Balanter Estates c. 1937. Mr. W. J. Osmond, son of J. W. Osmond, bought the farm c. 1950. (fn. 318)
Economic History.
Avebury. In the 16th century and probably earlier Avebury and Avebury Trusloe formed a single agrarian unit. (fn. 319) The open fields, called East and West, were probably divided by the Kennet and its eastern head stream in the 13th century. (fn. 320) In the 16th and 17th centuries copyhold lands were said to be held in Eastbrook and Westbrook, (fn. 321) a division which may originally have corresponded to that of the open fields. In the 17th century and the 18th open fields, called West and North, were apparently west of the river and north of Avebury village; South field was smaller and probably lay between the village and Waden Hill. (fn. 322) The demesne of Avebury manor had been consolidated east of the village by the late 18th century. (fn. 323) Common pasture on East down, which probably included Avebury Down, and on West Down (fn. 324) may have been allotted to those with holdings in Eastbrook and Westbrook respectively. Inclosures of pasture were made on West Down in the 16th century and on Windmill Hill and Knoll Down in the 17th. Meadow beside the river near Avebury village and near the northern boundary of the parish had been divided into small closes by the mid 17th century, although there was still a common meadow. (fn. 325)
In 1114 Avebury manor was valued at £42. (fn. 326) The prior of Avebury held 322 a. of arable land in demesne and 15 a. of meadow in 1294. There were then 36 customary tenants of the manor, including 5 yardlanders, 5½-yardlanders, and 22 cottagers, who paid rents totalling £4 11s. 9½d. The greater part of the manorial flock was pastured at Catcomb in Hilmarton, a detached part of the manor. In 1294 there was grazing for 300 sheep at Catcomb and for 100 at Avebury. (fn. 327) The number of sheep on the manor rose from 250 c. 1210 to 800 in 1324. (fn. 328)
Little is known of other medieval estates in the tithing. The 2 hides held with the church were worth 10s. in 1086 (fn. 329) and probably remained a single estate until the 16th century. The abbot of Cirencester held 5 messuages and 3 carucates in 1360. (fn. 330) Four free tenants of Avebury manor held a total of 6½ yardlands and paid rents totalling 67s. 8d. in 1294. (fn. 331) In the 14th century the abbot of Cirencester received rents and services from several free tenants. (fn. 332)
The demesne lands of Avebury manor were leased to John Shuter and his son John for lives c. 1535. (fn. 333) William Dunche (d. 1666) took the demesne in hand (fn. 334) but from 1690 until the mid 18th century the farm was again leased. (fn. 335) There were 160 a. of arable and 1,300 sheep on the farm c. 1620. (fn. 336) It probably then included the lands of the rectory estate, absorbed in the early 17th century. (fn. 337) Higdens is the only former copyhold of Avebury manor of which record has been found after the Middle Ages. In 1633 it consisted of three messuages and 85 a. (fn. 338) In 1713, when it was sold, it was said to include common pasture for 160 sheep. (fn. 339)
In the mid 16th century the estate later called Avebury Trusloe manor was said to be worth 64s. and a yearly rent of £36 16s. was paid for the rectory estate of tithes and some 60 a. of land. (fn. 340) Both estates were leased c. 1533 for 60 years to Thomas Trusloe, his wife Joan, and son John (d. 1593). (fn. 341) The lease of Avebury Trusloe manor was converted to a freehold in 1563; (fn. 342) that of the rectory estate ran its full term. (fn. 343) Tenants of the two estates pastured sheep in common at the rate of 40 for every yardland on West Down and 50 on East down. (fn. 344) Two tenements kept in hand by the Trusloes may have formed the basis of Avebury Trusloe manor farm and were perhaps divided in the late 17th century into the farms which passed to John White and George Popham. (fn. 345) In 1675 Popham's farm, held on lease for a term of years, was of 139 a. of arable in the open fields, 13 a. of meadow, pasture for 320 sheep on the stubble of the West field, and unrestricted pasture on Knoll Down. (fn. 346) The lands which passed with the tithes were merged with Avebury manor farm after 1604. (fn. 347) The farm buildings on them east of Avebury Manor were mentioned in 1640. (fn. 348)
Five tenants held of Avebury Trusloe manor by copy in the late 16th century. They owed services of reaping and mowing, works allegedly due in place of tithes; it was disputed whether the services were due to the lord of the manor or the holder of the rectory. (fn. 349) In 1681 there were five copyholds, each of which included 30–70 a. of arable land and common pasture for 100–120 sheep. (fn. 350) A sixth perhaps formed the basis of Brunsden's, in 1702 a freehold of 300 a. of arable and meadow land and 87 a. of several pasture on Windmill Hill and Knoll Down. (fn. 351)
In 1750 Staynor Holford, lord of Avebury manor, John Norris, owner of Great (Brunsden's) and Little Avebury (Popham's) farms, and certain small landowners including the vicar agreed to an exchange of lands in North and West fields. (fn. 352) Much of the arable north of the LondonBath road and west of the eastern head stream of the Kennet was thus brought into several cultivation, although Great and Bannings farms continued as fragmented holdings. (fn. 353) The remaining common arable and down, 1,516 a., were inclosed and allotted in 1795 under an Act of 1792. (fn. 354)
In 1756 an agreement concerning the employment of threshers and other day labourers was reached between seven Avebury and two Beckhampton farmers. Hours of work were laid down and the time allowed for meals, said formerly to have been to the farmers' 'great detriment', sharply reduced. (fn. 355)
After 1795 most of Avebury Manor farm formed a consolidated holding of some 640 a. east and south of the village extending from the river a little north of Silbury Hill to the north-east corner of the parish. (fn. 356) The area of arable land was increased by inclosure, by ploughing the downland to the north and east, and by amalgamation with other farms, from 180 a. in 1791 to 457 a. in 1873. (fn. 357) Before 1873 Hitchcocks, in the early 19th century a farm of 194 a., had been added to Avebury Manor farm. (fn. 358) Norris's, 129 a. in 1813, was added to the estate in 1920. (fn. 359) Avebury Manor farm was brought in hand by Staynor Holford c. 1760 but was held on lease for much of the 19th century. (fn. 360) A lessee, Mr. Denham, introduced straw plaiting into Avebury c. 1805. It continued as a cottage industry supplying material for hatmaking. (fn. 361) Norris's was also leased (fn. 362) until that farm and Avebury Manor farm were brought in hand c. 1920. (fn. 363) Since 1943 tenants of the National Trust have farmed 716 a., parcel of those farms. (fn. 364) In 1873 Avebury Manor farm was worked from the former farmstead of Hitchcocks, now Manor Farm. (fn. 365) A new farmstead was built outside the Circle c. 1955. (fn. 366)
In the early 19th century other farms included Avebury Trusloe Manor, a scattered holding of c. 400 a., Bannings, c. 120 a. mainly of arable land, Higdens (later Combley's), c. 140 a. mostly on West Down, Great (Brunsden's), 410 a., and Little Avebury (Popham's), 236 a.; (fn. 367) Westbrook, then c. 120 a. of arable land and 10 a. of meadow intermingled with other farms west of the river, measured 147 a. in 1909. (fn. 368) Combley's was united with Avebury Trusloe Manor farm between 1877 and 1904. Over 200 a. of downland, including training gallops on West Down leased to Samuel Darling, were sold separately in 1904. (fn. 369) In the 1920s Avebury Trusloe Manor farm, 425 a., was principally arable, with a small dairy housed in buildings north of Bray Street which had formerly belonged to Combley's and Bannings farms. (fn. 370) The lands of Bannings had been dispersed in 1894. (fn. 371) Great and Little Avebury farms were worked together in 1867 (fn. 372) and the latter was absorbed into Avebury Trusloe Manor farm in the 1930s. (fn. 373) In 1924 a farm called Trusloe farm, 210 a. of arable land and 65 a. of pasture scattered in the north-west of the parish, was held with 185 a. of arable and down on West and Knoll Downs formerly parcel of Great farm. Most of the holding had been merged with Avebury Trusloe Manor farm by 1979. (fn. 374) The area of arable on that farm was increased after 1945 when part of Knoll Down was ploughed. (fn. 375) In 1979 Butler Bros. held c. 1,000 a. in the west of the parish worked from Avebury Trusloe Manor Farm. Corn then predominated but there were also a flock of 600 ewes with lambs and 100 beef cattle. (fn. 376)
There were two mills, worth together 26s. 8d., on Avebury manor in 1294 (fn. 377) but it is not known whether they stood within the parish. In 1620 there was said to be a mill on Avebury Trusloe manor. (fn. 378)
Beckhampton. Lands held by Edric were assessed for geld at 2 hides in 1066. There was said to be land for 3 ploughteams in 1086 but there were 2 teams on the demesne of 1 hide and 4 villeins, 7 bordars, and 3 cottars had another 2 teams. The whole estate, which included 8 a. of meadow and 40 a. of pasture, was then worth £6 as it had been in 1066. (fn. 379)
The boundaries of Beckhampton were West Down, the London-Bath road, except near Silbury Hill, and a line running almost due south from that hill. North of the hill were water meadows belonging to the tithing which were held in common until the 18th century. (fn. 380) The open field of Beckhampton lay between the village and the downs to the south. (fn. 381) Part of the downland was held in severalty in the late 18th century. (fn. 382)
In the 1230s there was demesne pasture and meadow of Beckhampton manor east of Silbury Hill. Each of at least seven tenants then kept between 30 and 70 sheep. (fn. 383) On the Moyne moiety of the manor there was in 1315 a capital messuage worth 6s. 8d. yearly, 100 a. of land valued at 6d. an acre, 2 a. of meadow at 2s. an acre, and several pasture worth 13s. 4d. Rents totalling 55s. were paid by villeins and there was a free tenant. (fn. 384) That moiety was worth £10 in 1494, (fn. 385) the other £20 in 1595. (fn. 386)
At their reunion in the early 18th century, each moiety consisted of a single farm worth £60 with pasture for 250 sheep. There were 86 a. of arable land on Trusloes farm and 97 a. on Goddards. They were leased together from 1709. In 1720 the tenants were said to prosper in spite of the poverty of the soil. (fn. 387)
The yearly value of the Beckhampton chapel estate, which consisted of tithes, 28 a. of land, and pasture for 160 sheep, was set at £90 in 1710. Thereafter, the whole estate was apparently combined with Trusloes and Goddards farms. (fn. 388)
The portion of the manor sold to Thomas Smith c. 1638 was in the early 18th century a farm of 4 yardlands, 17 a. of several and common meadow, and pasture for 240 sheep and 50 lambs. (fn. 389) In 1788 it included 88 a. of downland pasture, c. 13 a. of meadow, and 106 a. in the common field. The farm had profited from small exchanges of land but its value was thought likely to increase if it were in severalty. (fn. 390)
After inclosure in 1795, under the Act of 1792 for Avebury and Beckhampton, there were three several farms, each extending from the arable lands south of the village southwards and westwards to the downs. Rights to the water meadows around Silbury Hill and obligations for their maintenance were divided between the three farms. For Goddards and Trusloes farms and the lands of the chapel estate, then amalgamated as one farm, Peter Holford was allotted 419 a. including 13 a. of meadow. An allotment of 163 a. of arable and down and 6 a. of meadow was made to George, duke of Marlborough. James Sutton's farm consisted of 187 a. and 8 a. of meadow. (fn. 391) Before 1897 Holford's and Marlborough's lands were merged as a farm of 623 a. including 191 a. of pasture on the down and 404 a. of arable land. (fn. 392) With the holding formerly Sutton's and lands outside Beckhampton they were worked as a single farm of some 1,200 a. from the farmsteads called Galtee More and Willonyx c. 1900. (fn. 393) Galtee More farm, c. 200 a., was later worked with West Kennett Manor farm; half of the combined holding was arable and half used for beef and dairy cattle. (fn. 394) In the 1920s Lower Galtee More, later Durran, farm became a separate farm of 287 a. laid to permanent pasture. (fn. 395) Until 1938 it was used as off-lying land. A house and buildings were then added and the land has since been worked as a mixed farm. (fn. 396) In 1979 other lands were leased to several local farmers. (fn. 397)
In 1599 Thomas Goddard's moiety of Beckhampton manor was said to include mills (fn. 398) but no further reference to them has been found.
There have been racing stables at Beckhampton since the mid 19th century (fn. 399) with training gallops on the western downs of Beckhampton and Avebury tithings and in the northeastern corner of Bishop's Cannings. (fn. 400) At least between 1848 and 1855 William Treene trained horses at Beckhampton House. (fn. 401) The house and stables were bought from Henry Woolcott in 1880 by Samuel Darling who greatly extended them before his retirement in 1914. Darling leased part of West Down as a training course and in 1897 bought Beckhampton manor to ensure continued access to it. (fn. 402) Galtee More and Willonyx farms were both named after classic winners. (fn. 403) The stable's reputation was built up by Darling's son Frederick who trained nineteen classic winners. It was bought in 1947 by J. A. Dewar and managed by Noel Murless until 1950. It was then sold to Mr. H. G. Blagrave. (fn. 404) Mr. Blagrave had established another stable at the Grange c. 1930 which he still maintained in 1979. (fn. 405) He let Beckhampton House and part of the gallops to Sir Gordon Richards until 1956 and the remainder of the gallops to Mr. Jeremy Tree, who occupied Beckhampton House in 1979. (fn. 406) Under Mr. Tree the stable had further classic successes. (fn. 407)
West Kennett. The 13½ hides and 2 a. held of Alfred of Marlborough had been worth £4 10s. when he received them but were worth £8 10s. in 1086. They were divided into five holdings, two of 3½ hides, two of 2 hides, and one of 2½ hides and 2 a. There were 11 a. of meadow, 106 a. of pasture, and land for 6 ploughteams; 1 villein and 15 bordars had 4 teams. (fn. 408) That estate was probably much more extensive than the later tithing of West Kennett. The boundaries of the tithing followed a line north from the parish boundary with All Cannings to a point a little east of Silbury Hill, and north-east to the boundary with West Overton a little south of the old Marlborough road. (fn. 409) Little is known of agriculture there before the late 17th century. The pattern was probably similar to that elsewhere in the parish of cultivation on the lower land around the village and pasture on the downs. There was pasture on Waden Hill in the 1690s (fn. 410) but whether common or several is not known.
West Kennett manor was valued at £12 in 1520, (fn. 411) perhaps an overestimate. In 1635 when an additional ½ yardland called Georges was part of the estate it was valued at £8. (fn. 412) After the owner of the manor acquired Hardings, 2 yardlands, in 1696, (fn. 413) the manor farm was one of only two farms in the tithing. Their lands were then partly commonable and partly several. In the late 17th century an inclosure of pasture near the Kennett Avenue was made for Walter Grubbe as part of what became West Kennett farm. (fn. 414) The separation of the two farms was completed by an agreement of 1703, confirmed in 1714. To West Kennett manor were allotted 41 a. of arable, 18 a. of meadow, and 115 a. of pasture. (fn. 415) No detail survives of the allotment to West Kennett farm.
West Kennett Manor farm comprised 400 a. in 1719. (fn. 416) In the mid 19th century and the early 20th it was a farm of some 350 a. south of the London-Bath road and west of West Kennett village. The downs near the boundary with All Cannings remained pasture but more land was brought under the plough in the late 19th century. The area of arable increased from 163 a. in 1845 to 195 a. in 1919. (fn. 417) In the 1920s the farm was taken in hand by F. E. Shipp. (fn. 418) In 1979 it comprised 500 a. and was worked with Galtee More farm in Beckhampton by Mr. Roger Hues. (fn. 419)
West Kennett farm consisted of 231 a. of arable, 68 a. of meadow, and 275 a. of down in 1813. (fn. 420) In 1900 it was used chiefly for sheep and corn but 192 a. of its down were let to Thomas and Alexander Taylor of Manton House in Preshute as training gallops. (fn. 421) The farm was kept in hand for much of the 19th century. (fn. 422) Between 1923 and 1939 it was worked by J. W. Osmond, who was succeeded by his son Mr. W. J. Osmond. In 1979 Mr. Osmond worked a mixed farm of 609 a. (fn. 423)
In 1745 an interest in a malthouse was leased with the lands of West Kennett Manor farm. (fn. 424) In 1845 the buildings of George Butler's brewery, possibly the descendant of that malthouse, were north and south of the London-Bath road east of West Kennett Farm. (fn. 425) Butler was succeeded by W. S. Butler and Stephen Butler, probably his son and grandson, c. 1890 and in 1920. (fn. 426) In 1921 Kennett Brewery, which had several tied houses in the area, was sold to the Stroud Brewery Co. (fn. 427) There was a branch of the Stroud Brewery at West Kennett in 1931 (fn. 428) but it was closed shortly afterwards. (fn. 429) A former malthouse and beer store stood south of the road in 1979.
In 1086 12s. was paid for a mill in Kennett. (fn. 430) A medieval post mill may have stood on Overton Hill south of the Sanctuary. (fn. 431) A mill on the lands of John of Berwick in 1327 may have been in West Kennett. (fn. 432)
Local Government.
A tumbrel and gallows were said to have been used in Avebury from c. 1235. (fn. 433) In 1281 the abbot of Cirencester claimed the right to a view of frankpledge and other liberties at Avebury, granted by charters of Henry I and Henry III. (fn. 434) The view was said in 1360 to be held at Michaelmas and Hocktide each year. (fn. 435) In the 16th century the view and a manor court were held yearly at Avebury Trusloe manor house. (fn. 436) A court baron was held for Avebury manor in the 1630s in the house attached to the rectory estate. (fn. 437) Views of frankpledge and manor courts were held for Avebury and Avebury Trusloe manors between 1651 and 1657 for Sir Edward Baynton, lord of Avebury and possibly of Avebury Trusloe. (fn. 438) By the early 17th century Avebury had been divided into Avebury Trusloe, Eastbrook, and Westbrook tithings. (fn. 439) Between 1651 and 1653 business from Avebury (presumably Avebury Trusloe), Eastbrook, and Westbrook came before views and courts held twice a year. From 1654 to 1657 a separate view and court was held for Avebury Trusloe manor. Business from Eastbrook and Westbrook, with Catcomb in Hilmarton, the constituent parts of Avebury manor, still came before the court and view of that manor. Tithingmen were elected for Avebury, Eastbrook, and Westbrook between 1651 and 1653, and for the two latter tithings and Avebury Trusloe from 1654. Other business before the views and courts was similar for the two manors. Attendance at the courts, questions of tenure, and manorial custom, for example in the pasturing of sheep on West Down, were considered. Orders were also made for the maintenance of highways, landmarks, and, for Avebury Trusloe, a common pound and stocks. The repair of houses and removal of fire hazards were required. (fn. 440) The latest reference to Avebury Trusloe and Westbrook as tithings dates from 1713: (fn. 441) Eastbrook was mentioned as such in the late 18th century. (fn. 442) Little is known of the manorial courts after 1657; a court leet and view for Avebury manor, at which a hayward was appointed, met in 1813. (fn. 443)
A tithingman from Beckhampton attended the hundred court in the late 15th century. (fn. 444) There is no record of any court held for Beckhampton or West Kennett.
Removal of dangerously dilapidated buildings and the appointment of schoolmasters were among the responsibilities of the parish officers and vestry in the 18th century. (fn. 445) The parish joined Marlborough poor-law union in 1835. (fn. 446)
Church.
The church held by Rainbold the priest in 1086 was probably newly built. (fn. 447) In 1139 it passed to Cirencester abbey, which held the church and advowson until the Dissolution. (fn. 448) A vicar served the church c. 1190 (fn. 449) and in 1195 the abbot of Cirencester was licensed to appropriate the vicarage and to institute a canon of Cirencester to the living when it fell vacant. (fn. 450) By 1275, when a new vicarage was ordained, the abbot presented his candidate to the bishop for institution. (fn. 451) As patron of Avebury and of the vicarage of Winterbourne Monkton, described in the 13th and 14th centuries as a chapel of Avebury, (fn. 452) the abbot petitioned for the union of the benefices in 1431, apparently without success. (fn. 453) The livings were united in 1747 (fn. 454) and separated in 1864. (fn. 455) In 1923 the united benefice of Avebury with East Kennett was formed. (fn. 456) That union was dissolved in 1929 when Avebury was again joined with Winterbourne Monkton. (fn. 457) The benefice was served in plurality with Berwick Bassett from 1952 (fn. 458) and the two livings and three parishes were united in 1970. (fn. 459) In 1975 the benefice of Upper Kennet was created by the union of Avebury with Winterbourne Monkton and Berwick Bassett, Broad Hinton, Overton with Fyfield and East Kennett, and Winterbourne Bassett. A team ministry was established. (fn. 460) After the Dissolution the advowson was held by the Crown (fn. 461) until it was sold to a Mr. Dunston in 1865. (fn. 462) It was again offered for sale in 1882 (fn. 463) and in 1894 was held by trustees of Elizabeth, wife of W. H. Davies who was presented to the vicarage in that year. (fn. 464) In 1923 Elizabeth Davies retained the advowson of the united benefice for two turns; the bishop of Salisbury was to present at the third. (fn. 465) The bishop became sole patron of the living in 1929. (fn. 466)
Before 1275 the so called vicar received less than 7 marks a year, probably as a stipend from Cirencester abbey. (fn. 467) In 1291 the vicarage was valued at £4 6s. 8d., one of the lower figures for Avebury deanery. (fn. 468) Although the value in 1535, £8 9s. 5½d., was closer to the average for the deanery, (fn. 469) in the early 17th century the vicar complained of poverty, alleging that he received a clear yearly income of less than £20. (fn. 470) The united benefice of Avebury with Winterbourne Monkton was of moderate value, worth on average £178 a year between 1829 and 1831. (fn. 471)
In 1275 the vicarage was endowed with all tithes of the parish, except those on grain and sheep, and with the wheat crop from 1 a. of the prior of Avebury's demesne. (fn. 472) Grain tithes from 4 a. of demesne in Beckhampton and West Kennett were confirmed to the vicar in 1337. (fn. 473) Those from West Kennett were possibly from 2 a. of demesne, the crop from which was claimed by the rector of Overton in the early 13th century in return for the burial of unfree men of West Kennett at Overton. The rector's claim was successfully contested by the abbot of Cirencester on the vicar's behalf. (fn. 474) In 1682 the vicar claimed the wheat crop from 1 a. of land in West Kennett and from 1 a. in Beckhampton; otherwise his rights to tithes had remained unchanged since the 13th century. (fn. 475) In 1845 the vicarial tithes were commuted for a rent charge of £90 2s. (fn. 476) At the Dissolution the vicar also received a yearly stipend of £4 from Cirencester abbey. (fn. 477) The stipend, derived from the rectory estate, was confirmed in 1572. (fn. 478) In 1682 the payment, which had been increased to £12, was made by the owners of the rectorial tithes. (fn. 479) There was a vicarage house before 1275 and provision was made in that year for its replacement by one nearer the church. The vicarage was also endowed with ½ yardland. (fn. 480) In 1682 the vicar had a house and c. 14 a. of glebe with pasture rights for 20 sheep. (fn. 481) The vicarage house, which was much altered and extended in 1841, (fn. 482) was sold in 1976; (fn. 483) a new house was built south-west of the old in 1974. (fn. 484)
In the late 12th century the monks of Avebury priory were permitted an oratory in their manor house on condition that all tithes were paid to the parish church and no parishioner was admitted to the services. (fn. 485) Both conditions were broken and they were reimposed in 1336 at the instigation of the abbot of Cirencester whose rights had been infringed. (fn. 486) In the 14th century keepers and farmers of the alien priory were required to find a secular chaplain to perform divine service, an obligation which suggests that the priory bore some spiritual responsibility in the parish. (fn. 487)
Chapels attached to Avebury church, included in the reversionary grant of the church to Cirencester abbey of 1133, were probably those at Winterbourne Monkton, mentioned above, Beckhampton, and West Kennett. In the late 12th century the lord of Beckhampton and his household attended the free chapel of St. Vincent in Beckhampton. The status of the chapel was agreed c. 1190 by the vicar of Avebury and the chaplain of Beckhampton. On appointment the chaplain was to take an oath of fidelity to the vicar. The inhabitants of Beckhampton were to have all services in the chapel and all parishioners were free to attend there on St. Vincent's day. At great festivals, however, the lord of Beckhampton was to attend the parish church and his children were to be baptized there. The chaplain was entitled to all dues from Beckhampton, except the offerings made by the lord's family at marriage and purification. (fn. 488) From the early 14th century the advowson of the chapel descended with the moieties of Beckhampton manor. (fn. 489) The holders of the moieties did not, however, always present on alternate occasions; Richard Casterton, for example, presented in 1310, 1313, and 1314. (fn. 490) The chapel was valued at £4 8s. at its dissolution. In 1545 the farmer of the chapelry received all tithes from Beckhampton, except half of those on sheep, and held a messuage and 1 yardland in Beckhampton and Stanmore. (fn. 491) The chapel passed to the Crown at the Dissolution but in the late 17th century the inhabitants of Stanmore were said to bury their dead in the graveyard of the ruined building. (fn. 492)
Freemen of West Kennett were described in 1239 as founders of a chapel there. (fn. 493) No further reference to the chapel has been found.
Avebury was probably served by canons of Cirencester between 1195 and 1275. (fn. 494) Perhaps because the vicarage was poor, few preReformation incumbents are known to have been pluralists or men of distinction. An exception was Richard Arch, principal of Broadgates Hall, Oxford, presented in 1520. (fn. 495) There was no cover for the communion table and no preaching in 1553, (fn. 496) and in 1554 the vicar was deprived, probably as a married priest. (fn. 497)
Between 1712 and 1851 the vicars of Avebury were James Mayo, his son, grandson, and greatgrandson, all of the same name. All but the first were pluralists and also held teaching posts. (fn. 498) From the mid 18th century to the mid 19th there was usually a curate resident at Avebury. (fn. 499) Charles Lucas, curate 1791–1816 and author of several religious poems and novels, (fn. 500) was the first of a number of clergy who served in the parish in the 19th and 20th centuries to take an active interest in its archaeology. (fn. 501)
Reading of the homilies was revived in the 1740s to counter nonconformist evangelism. In 1783 a service was held on alternate Sundays at Avebury and Winterbourne Monkton. The Sacrament was administered four times a year at Avebury, where there were some 40 communicants. Additional services were held on weekdays following the great festivals and on other holy days. (fn. 502) In 1864 services were held at the two churches alternately on Sunday morning and Sunday afternoon; there was a weekly evening service at Avebury. Communion was celebrated at Avebury monthly, at the great festivals, and occasionally in the early morning. Morning and evening prayer were sometimes said on weekdays and services were regularly held on saints' days, Wednesdays, and Fridays. The average Sunday congregation was 200, of whom between 16 and 22 were communicants. (fn. 503) Bryan King, vicar 1863–94, obtained the living by exchange for that of St. George's in the East (Mdx.), where his incumbency had been marked by riots against high church practices. He introduced similar practices at Avebury but his immediate successors were low churchmen. (fn. 504)
The church, known as All Saints' in the 13th century (fn. 505) but later as ST. JAMES'S, (fn. 506) is built partly of ashlar and partly of sarsen and flint with ashlar dressings, and consists of chancel and nave with north and south aisles and a west tower. The nave is of the 11th century and footings of a probably contemporary chancel were found beneath the present chancel in the 19th century. (fn. 507) In the later 12th century openings were made in the north and south walls of the nave, presumably to give access to the aisles. (fn. 508) The chancel arch was enlarged and the chancel rebuilt and extended in the late 13th century. Both aisles appear to have been rebuilt and widened in the 15th century; a 12th-century doorway was reset in the south aisle and 13th-century windows were incorporated in the rebuilding. The tall ashlar tower and its tower arch were added in the 15th century. In 1812 the 12th-century arcades were removed and replaced by tall pointed arches on Doric columns. The chancel was partly rebuilt and the western gallery removed in a restoration of 1878–84, principally designed by C. E. Ponting. (fn. 509) The nave roof may be of that date; the aisle roofs are apparently later. There is a tub font, possibly of Saxon origin, with carvings of the early 12th century. The 15th-century rood loft was uncovered in 1810 and restored under the direction of C. E. Ponting in the late 19th century, when the rood screen was set up. (fn. 510)
In 1553 2½ oz. of plate were confiscated and a chalice of 9 oz. was left in the parish. A chalice and paten of 1606, altered in 1874, and a silver paten given in 1636 were still held in 1979. (fn. 511) A 16th-century pax, apparently of latten, was found in 1872. (fn. 512) There were four bells in 1553. In the 17th and 18th centuries five new bells were cast. (fn. 513) They hung in the church in 1979. (fn. 514) The registers of burials begin in 1678, of baptisms in 1697, and of marriages in 1705. (fn. 515)
Nonconformity.
Some 30 people attended conventicles of different persuasions held at two houses in Avebury in 1669. Their teachers were John Baker, who had been deprived of the vicarage of Chiseldon c. 1662, and Thomas Mills of Calne. (fn. 516) Another ejected minister, Thomas Rashley, formerly rector of Barford St. Martin, lived in Avebury in the 1660s. (fn. 517) A chapel was built c. 1670, probably that which in the early 18th century stood south of the high street and east of the Swindon-Devizes road. (fn. 518) Noah Webb, a deprived Presbyterian minister, was said to travel from Upton Grey (Hants) every week to preach at Avebury in the 1670s. In the early 18th century the chapel was served by Presbyterian and Independent ministers. (fn. 519) Shortly after its foundation the chapel had a congregation of 25, including in 1695 the lessee of Avebury manor. (fn. 520) In the 1720s more than 130 people attended the services. (fn. 521) Numbers declined later in the century and in 1772 the one Sunday service was taken by a visiting Presbyterian minister. (fn. 522) The survival of the chapel, attended by only three families of Independents in 1783, was ascribed by the vicar of Avebury to support received from the fund established by Caleb Bailey of Berwick Bassett to promote the preaching of Dissent in the area. (fn. 523) There was a revival in the 19th century; on Census Sunday in 1851 there were 30 people at morning and 25 at afternoon service. (fn. 524) A number of Anglicans seceded to the free church, as it was known from the 1860s, during the incumbency of Bryan King. The organization of the church remained congregational but the usage of the Book of Common Prayer was thereafter adopted at one of the Sunday services. (fn. 525) The chapel, extended in the 19th century, was still open in 1979, when it was known as Avebury United Reformed Church. (fn. 526)
James Mayo (d. 1788), vicar of Avebury, professed himself concerned by the growth of Methodism from the 1740s but it is not clear whether the movement had any success in the parish at that time. A group of dissenters, identified by Mayo as Methodists, was established there through the ministry of Cornelius Winter, who was active in the 1760s and 1770s. Membership had declined by 1783 and the group, like others under Winter's leadership, was probably absorbed into the free or Congregational church. (fn. 527)
A Baptist congregation was established in Avebury as an outpost of the church at Calne. (fn. 528) Services were held from c. 1826 in a mud-walled building, from 1828 called a chapel. A Strict Baptist church was formed in 1830. (fn. 529) On Census Sunday in 1851 there was a congregation of 150 at both morning and afternoon services. (fn. 530) A new chapel was built in 1873, (fn. 531) and in 1877 a fund was established to promote the preaching of Strict Baptist principles within a radius of 30 miles from Avebury parish church. (fn. 532) The chapel lacked a pastor between 1890 and 1905 and was closed in 1928. It was reopened in the 1930s (fn. 533) but closed again c. 1953. In that year the building, which stood in the high street, west of the SwindonDevizes road, was sold and the proceeds added to the preaching fund. The annual income from the fund was thought to be between £10 and £25 in 1965. (fn. 534)
Mary Amor's house in Beckhampton was licensed for dissenters' meetings in 1844. (fn. 535)
Education.
By will dated 1722 Susanna, relict of Sir Richard Holford, left £200 for the education of poor children of Avebury. (fn. 536) Part of the bequest was received in 1733 (fn. 537) and by 1736 a schoolmaster had been appointed and dismissed for irregularity. In 1739 the appointment of a new master depended on the payment of interest on the full bequest, about which there was some doubt. (fn. 538) Four cottages in South Street were purchased as an endowment and in 1783 the school, attended by sixteen children, had an income from rents and subscriptions of £8. (fn. 539) In 1805 the remainder of the Holford legacy and £20 bequeathed in that year by Hannah, relict of Samuel Martyn, were invested for the school. (fn. 540) Between 10 and 50 pupils, according to the season, were taught in the church in the early 19th century. (fn. 541) A National school was built in 1844 and rebuilt in 1849. (fn. 542) By a Scheme of 1856 income from Holford's and Martyn's charity was diverted to that or any other school in the parish. Two of the cottages were destroyed by fire in the late 19th century but rents from the remaining pair accounted for £6 of the total of £11 given to the school in 1908. (fn. 543) Those cottages were sold in 1952. (fn. 544) Avebury school received £13 from the charity in 1962. (fn. 545)
In 1859 the National school received a state grant and there were between 40 and 50 pupils. (fn. 546) The building was enlarged in 1873. (fn. 547) Average attendance declined from 81 in 1914 to 58 in 1927, (fn. 548) although some pupils from East Kennett were transferred to the school in 1924. (fn. 549) In 1940 children of men working on Yatesbury airfield increased the numbers to c. 80 and the Congregational schoolroom was rented to provide additional accommodation. (fn. 550) The school, which stood in the high street a little west of the Circle, was replaced in 1970. The new building stands behind its predecessor. In 1979 there were 58 children on roll and three teachers. (fn. 551)
A day school was said to be associated with the free church in 1820 (fn. 552) but in 1833 the only nonconformist teaching was at a Sunday school. (fn. 553) A school was established in 1859 and a schoolroom built behind the free church. (fn. 554) There were probably seventeen pupils in 1871. (fn. 555) The school was open in 1885 (fn. 556) but was closed in 1940. (fn. 557)
Two private day and boarding schools were established in 1821 but nothing is known of them after 1833. (fn. 558) There was also a private school at Avebury between 1875 and 1885. (fn. 559)
In 1877 a school in Beckhampton was refused a certificate of efficiency because the buildings were unsuitable. (fn. 560) No further mention of the school has been found.
Charities for the Poor.
By will proved 1718 Sir Richard Holford left £30 to provide beef for the poor. In 1786 the endowment was said to have been lost. (fn. 561)
By will proved 1856 Sarah Hawkins left £200 for clothing, food, or fuel for parishioners. Her estate was insufficient for the legacy to be paid in full and only £179 was invested. In 1908 and 1928 the income was used to buy blankets, clothing, and coal for poor women. (fn. 562)