Pages 186-194
A History of the County of Wiltshire: Volume 14, Malmesbury Hundred. Originally published by Victoria County History, London, 1991.
This free content was digitised by double rekeying. All rights reserved.
SEAGRY
Seagry (fn. 1) is 8.5 km. north-east of Chippenham. The ancient parish, with which this article deals, measured 1,082 a. (437 ha.) (fn. 2) and in 1934 was added to Sutton Benger parish. (fn. 3) A new Seagry parish, 594 ha. (1,468 a.), was formed in 1971: it comprises all the land north of the London and south Wales motorway that had been in the parishes of Seagry, Draycot Cerne, and Sutton Benger. (fn. 4)
The parish was triangular. Its eastern boundary, with Christian Malford, was marked by the Bristol Avon, and its western, with Sutton Benger and Stanton St. Quintin, by a tributary of the Avon. Those boundaries with Christian Malford and Sutton Benger were recorded in the 11th or 12th century. (fn. 5) The straight northern boundary with Great Somerford, part of a line which also divides pairs of parishes east and west of Seagry, was possibly made at an early inclosure. The parish was almost flat: the highest land, Seagry Hill, 73 m., and the lowest, c. 50 m. beside the Avon, is in the south. Kellaways Clay and Kellaways Sand outcrop, and lighter sandy soils lie in the east, where more land has been ploughed. Alluvium and valley gravel have been deposited near the Avon, where the land was used as water meadows, and alluvium also lies beside the western boundary stream. (fn. 6)
The road between Sutton Benger and Great Somerford bisected Seagry and linked it to the Chippenham—Swindon road south of the parish. It was turnpiked in 1809 and disturnpiked in 1876. (fn. 7) In the south a lane branched from it to lead northwards to Malmesbury. The only eastwest road, leading to Stanton St. Quintin, crossed both the Great Somerford and Malmesbury roads and between them was called Five Thorn Lane in 1885. (fn. 8) East of the Great Somerford road it led to Lower Seagry hamlet. A track running from the hamlet south-west to Seagry Mill in 1773 (fn. 9) had by 1828 been replaced by a lane running south-east from the Great Somerford road. (fn. 10) When the London and south Wales motorway was built across the south part of the former parish and opened in 1971, (fn. 11) the road across Seagry Hill was diverted westwards over it.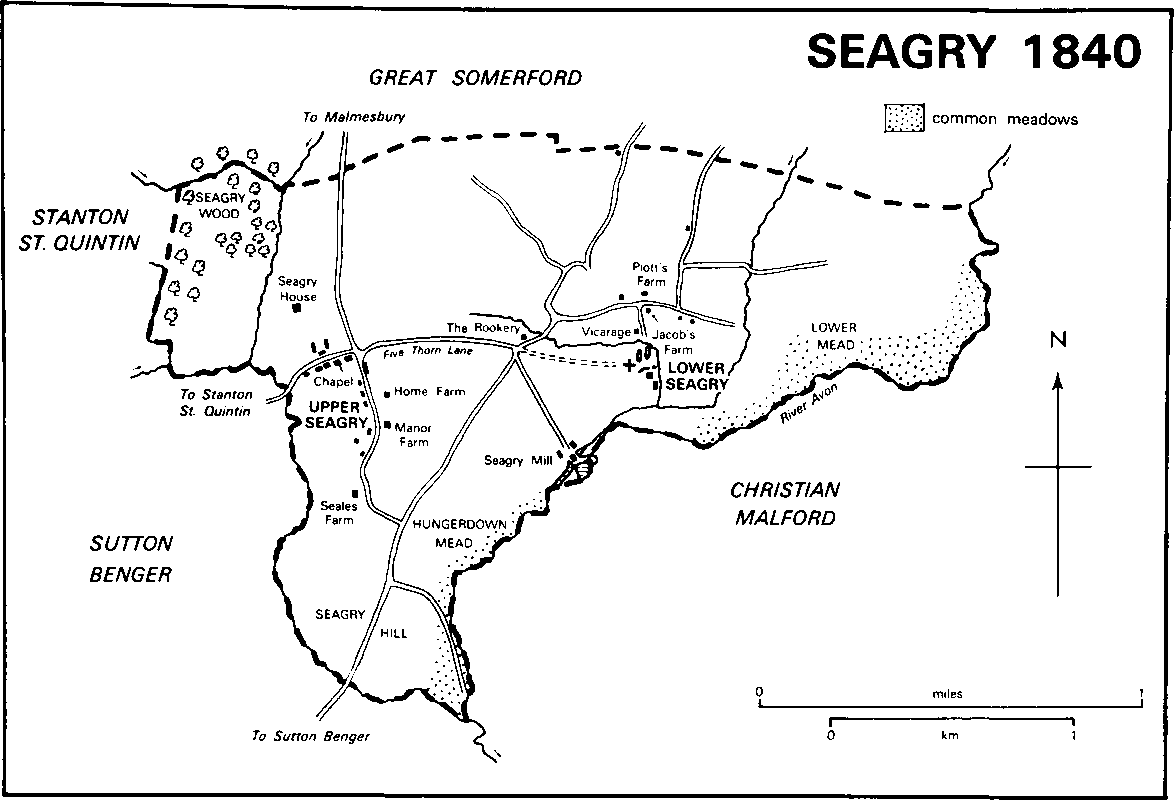 An artifact of the Upper Palaeolithic Age and other artifacts possibly of the late Bronze Age have been found in the parish. (fn. 12) The assessment of Seagry for taxation in 1334 was among the lowest in Startley hundred. Of the two hamlets in the parish in 1377 Lower Seagry had 65 poll-tax payers, Upper Seagry 45. (fn. 13) Taxation assessments of the 16th and 17th centuries were among the lowest, showing that Seagry was among the poorest parishes in Malmesbury hundred. (fn. 14) There were 233 inhabitants in 1801, 231 in 1841 when 135 lived in Upper Seagry and 96 in Lower Seagry. The population had increased to 263 by 1861, declined to 151 by 1881, and was 230 in 1931. (fn. 15) In 1981 most of the 251 people in the new parish of Seagry lived in Upper and Lower Seagry. (fn. 16)
Lower Seagry was called Nether Seagry from 1218 or earlier. (fn. 17) In 1720 (fn. 18) and in 1987 settlement was around the church and around the junction of the lane running eastwards from the Great Somerford road with the lane to the church. The church stood in the 12th century. (fn. 19) The manor house of Lower Seagry may have stood south-east of it in 1447 or earlier on the site of Church Farm. (fn. 20) A barn of stone rubble with a stone-slated roof, a chimney, and a central carriageway was built between the church and that site in the 15th century. The Vicarage north of the church was made into three cottages c. 1940. (fn. 21) At the junction further north Jacob's Farm, which stood in 1761, (fn. 22) was replaced, apparently in the early 19th century, by a pair of cottages occupied as one house in 1987. On the north side of the lane leading to the Great Somerford road, Lower Seagry, formerly Piott's, Farm, was burned down in 1927. It was replaced c. 1928 by a large stone and brick house called Trinity Farm after 1940. A new single-storeyed farmhouse was built east of it in 1986. An early 19th-century farmhouse stands west of Trinity Farm. (fn. 23) New houses, mainly bungalows, were built in the hamlet south of the lane to the Great Somerford road between 1972 and 1983. (fn. 24)
The hamlet of Upper Seagry, called Over Seagry in 1317, (fn. 25) grew up east and west of the Malmesbury road and mainly south of the Stanton St. Quintin road. On the west side of the Malmesbury road Seales Court, formerly Seales Farm, is at the south end of the hamlet. (fn. 26) North of it the Mount, a large red-brick house, was built c. 1897 (fn. 27) and extended northwards c. 1905. (fn. 28) A western extension, possibly adapted from stables, was added later. On the east side of the road are Manor Farm, with extensive farm buildings, and the Chestnuts. (fn. 29) Beside the Stanton St. Quintin road a nonconformist chapel was built (fn. 30) and the New Inn was open in 1885 (fn. 31) and 1987. Ten council houses were built south of the Stanton St. Quintin road and west of the Malmesbury road c. 1950, (fn. 32) and a new school was built there. (fn. 33)
Outside the hamlets two large houses were built. Seagry House was built north of the Stanton St. Quintin road, with a lodge and stables beside that road and a lodge beside the Malmesbury road; (fn. 34) near the stables Oak Hill House was built of stone in 1981, and in 1987 the stables were being made into dwellings. (fn. 35) In the south beside the Great Somerford road Hungerdown House was built for Guy Freemantle to designs by Maurice Chesterton in 1914, (fn. 36) in an 18th-century style of red brick and stone with a tiled roof. Also in 1914 brick stables north of the house were built to designs by H. B. Harrison. (fn. 37) The stables were made into a house in 1947. (fn. 38) At the east end of Five Thorn Lane the Rookery was built of stone in 1792 for Robert and Anne Vines to replace a house which stood in the earlier 18th century. (fn. 39) Nearby, at the junction of the Great Somerford road and the road to Lower Seagry, a school was built. (fn. 40) In the 20th century houses with farm buildings or stables were built on the north side of Five Thorn Lane, the east side of the Malmesbury road, and the west side of the Great Somerford road. At Seagry Hill in the south 11 council houses were built beside the Great Somerford road c. 1950. (fn. 41)
Manors and other Estates.
Two 5hide estates were called Seagry in 1086, and in the Middle Ages there were two manors in the parish, each called Seagry.
In 1066 two chegns, who were free to choose their own overlord, held one of the estates, and in 1086 two knights held it. In 1086 Durand of Gloucester was overlord of that estate, (fn. 42) which became one of the manors called SEAGRY. The overlordship passed to his son Roger (d. s.p. 1106) and his nephew Walter of Gloucester. From Walter's son Miles of Gloucester (cr. earl of Hereford 1141, d. 1143), the overlordship passed successively to his brothers Walter of Hereford, Henry of Hereford, and Mahel of Hereford. After Mahel's death, Seagry was allotted to his sister Margaret, wife of Humphrey de Bohun, passed to her son Humphrey de Bohun, and afterwards in the direct male line to Henry de Bohun (cr. earl of Hereford 1200, d. 1220), and thereafter with the earldom of Hereford. (fn. 43) After the death of Earl Humphrey in 1373, (fn. 44) the overlordship was allotted in 1384 to his daughter Mary, wife of Henry of Lancaster, earl of Derby (Henry IV). (fn. 45) Seagry was last expressly mentioned as a fee of the honor of Hereford in 1401–2. (fn. 46)
The estate held by the two knights may be identified with the land held by Alice Cockerell in the early 13th century and may have belonged to her father Ralph Cockerell. Before 1218 Alice, wife of Walter of Sherborne, gave 5 yardlands to her daughter Felice and Felice's husband William Chambers. (fn. 47) Alice gave 1 yardland to her daughter Isabel whose husband Alexander of Broom (fn. 48) may have conveyed it to Bradenstoke priory before 1232. William Chambers apparently sold land in Seagry to the priory before 1232, (fn. 49) and in 1236 he and Felice conveyed the 5 yardlands to the priory. Also in 1236 Alice, then the wife of John Chambers, gave the priory another yardland. The rest of Alice's land passed to her son Robert of Sherborne, who confirmed the conveyances to Bradenstoke priory. (fn. 50) In 1242–3 the priory and Robert each held ½ knight's fee in Seagry. The prior was undertenant of Robert's fee, (fn. 51) and in 1373 held the entire fee. (fn. 52) The priory held that manor of Seagry until the Dissolution.
The Crown sold the manor in 1559 to Francis, later Sir Francis, Walsingham. (fn. 53) In 1560 Walsingham sold it to Dorothy, relict of Sir William Stafford, she sold it in 1580 to Richard Drake, (fn. 54) and Drake sold it in 1585 to Edward, later Sir Edward, Hungerford (fn. 55) (d. 1607). (fn. 56) From 1596 to 1877 the manor descended like Corston manor in Malmesbury to Cecily, countess of Rutland, to Sir Anthony, Sir Edward, and Sir Giles Hungerford, to Robert Sutton, Baron Lexinton, and from 1718 with Stanton St. Quintin manor in the Bouverie family, later with the earldom of Radnor. (fn. 57) In 1877 Jacob, earl of Radnor, sold the land, Seales farm (202 a.) based in Upper Seagry and Seagry farm (77 a.) mainly in Lower Seagry (fn. 58) to Henry Wellesley, Earl Cowley (d. 1884). Those farms, as part of the Draycot Cerne estate, passed to William, Earl Cowley (d. 1895), Henry, Earl Cowley (d. 1919), and Christian, Earl Cowley. (fn. 59) Seales farm, then 86 a., was sold c. 1920 (fn. 60) and several times after that. (fn. 61) Other land that was part of the larger Seales farm was bought by Wiltshire county council in 1920 and owned by it in 1987. (fn. 62) A house stood on the manor in 1559. (fn. 63) It may be represented by the west range of Seales Court, the roof of which has a central truss with arch braces between cruck principals. A cross wing was built on the east in the 17th century. Later in that century or in the 18th the east range was extended southwards at a lower height. In 1935 a north service wing was built and the east and west ranges were much altered. (fn. 64)
In 1066 Wiflet held 5 hides which became the second manor of SEAGRY, and in 1086 Drew FitzPons held them. (fn. 65) The overlordship of the lands presumably passed to Drew's brother Richard, and to Richard's son Walter Clifford (d. 1190). (fn. 66) It presumably passed to Walter's sons, Richard (?d. s.p. 1199) and Walter Clifford (d. 1221). (fn. 67) That last Walter was succeeded by his sons Walter (d. 1263), (fn. 68) and Roger, who held it in 1275. (fn. 69)
Alexander of Seagry apparently held the manor of the first Walter Clifford in the later 12th century. (fn. 70) Simon of Seagry, perhaps Alexander's son, held it of Walter Clifford in 1242–3. (fn. 71) The Simon of Seagry who held it in 1275 (fn. 72) was perhaps Simon's son. John of Seagry held it in 1316 and 1321. (fn. 73) The manor was held in 1362 by Thomas Drew and his wife Joan, (fn. 74) in 1374 by Thomas Drew, perhaps the same, and his wife Emme, (fn. 75) in 1384 and 1412 by Emme, and 1428–51 by another Thomas Drew. (fn. 76) The manor was allotted to Isabel, a daughter and coheir of Thomas and wife of John Mompesson (d. 1500). From John it descended to his grandson John Mompesson (fn. 77) (d. 1511) and to that John's son Edmund (d. 1553). (fn. 78) The manor was allotted in 1556 to Anne, a sister and coheir of Edmund and wife of William Wayte (d. 1561). (fn. 79) On Anne's death before 1571 the manor passed to her daughter Elizabeth (d. before 1576), wife of Richard, later Sir Richard, Norton (fn. 80) (d. 1592). (fn. 81) The manor descended in the direct male line to Sir Richard Norton (d. 1611), Sir Richard Norton, Bt. (d. 1645), and Sir Richard Norton, Bt. (d. 1652), (fn. 82) who sold it in portions in 1648.
The largest portion, called LOWER SEAGRY manor, was bought by Rebecca Stratton (d. 1678). She was succeeded by her son Thomas's relict, Anne Stratton (d. 1693), and by her son Robert Stratton (d. 1700). (fn. 83)
Robert Stratton devised land later called Stratton's farm or CHURCH farm to Anne Stratton (d. 1731), the daughter of Thomas and Anne Stratton, and to his grandnephew Robert Stratton in turn. Robert (d. 1758) devised the farm for sale. (fn. 84) It was owned in 1761 or earlier by Henry Fox (cr. Baron Holland 1763, d. 1774) (fn. 85) and descended with Grittenham manor in Brinkworth and the Holland title to Henry Fox, Baron Holland (d. 1859), (fn. 86) whose relict Mary in 1864 sold the farm to Henry Wellesley, Earl Cowley. (fn. 87) It descended with the Draycot Cerne estate to Christian, Earl Cowley, who sold the 151-a. farm c. 1920 (fn. 88) to J. P. Godwin, the owner in 1939 (fn. 89) and later. The farm was bought in 1947 by Provincial Estates Development (Bath) Ltd., (fn. 90) and in 1958 by Mr. F. Newman who owned the 125-a. farm in 1987. (fn. 91) A medieval house on the manor may have stood south-east of the church. Church Farm was built on that site for Robert Stratton (d. 1758), (fn. 92) and was altered and extended in 1947 to designs by C. Godfrey. The west wall and the north wall west of the front door were rebuilt and both elevations were refenestrated. The gabled south elevation was extended southwards and a new doorway and windows were inserted in it. (fn. 93)
Other land of Lower Seagry manor was devised by Robert Stratton (d. 1700) to Robert Stratton (d. 1758), who in 1710 sold some of it at Upper Seagry to Joseph Houlton (d. 1731). Houlton enlarged his estate by purchase and settled it in 1723 on his son Nathaniel (d. 1754) and Nathaniel's wife Mary. Nathaniel also enlarged it by purchase and built Seagry House on it. Mary owned c. 330 a. in Seagry in 1766 and was succeeded in 1770 by Nathaniel's nephew John Houlton, who sold the estate in 1785 to Sir James Tylney-Long, Bt. (fn. 94) (d. 1794). The Seagry House estate passed with the Draycot Cerne estate to Sir James TylneyLong, Bt. (d. 1805), Catherine Pole-TylneyLong-Wellesley (d. 1825), William, earl of Mornington (d. 1863), and Henry, Earl Cowley (d. 1884), and with that estate and the Cowley title to Christian Wellesley (fn. 95) who owned c. 500 a. in the parish. In 1920 Lord Cowley sold most of the land, (fn. 96) including c. 150 a. to Wiltshire county council, the owner in 1987. (fn. 97) Other land, c. 40 ha., formerly part of the Seagry House estate, was owned in 1987 by Mr. P. J. Dickinson. (fn. 98) Lower farm, later Trinity farm, was sold in 1920 to E. F. Potter, from whom it passed in 1930 to D. Potter. In 1939 D. Potter sold it to Trinity College, Cambridge. J. B. Stafford bought it from the college in 1984, (fn. 99) and in 1984 sold it to A. J. Biggin & Son, the owner in 1987. (fn. 100)
Seagry House was retained by Lord Cowley, and the house was occupied until 1949 by Clare, relict of Henry, Earl Cowley (d. 1919). (fn. 101) It was built, possibly in 1740, (fn. 102) north of a small 17th century gabled stone farmhouse. (fn. 103) The new house was of local stone with freestone dressings and a stone-slated roof. (fn. 104) It was of two storeys with attics concealed by a parapet. The main east front had five bays, of which the central three were surmounted by a triangular pediment containing in a cartouche arms (fn. 105) including those of Houlton. (fn. 106) Bays projected at the west end of both the north and south fronts. West of the 17th-century house and south-west of the 18th-century one, a long and low red-brick 18th-century range may have been stables. Additions of 1915 designed by Harold Brakspear united the three buildings as a single house. (fn. 107) An upper floor was built on part of those additions in 1929. (fn. 108) The 18th-century house and the 20th-century additions were demolished after a fire in 1949. (fn. 109) The 17th-century farmhouse and the 18th-century stable range, which had been mainly service rooms, were, with minor additions, made into a new Seagry House. The large stone stable block was built between 1828 and 1840, (fn. 110) and the two stone lodges in 1890. (fn. 111)
Another portion of the elder Robert Stratton's manor of Lower Seagry, c. 40 a., was the nucleus of MANOR farm and was sold in 1702 by John Stratton to Charles Bayliffe (fn. 112) (d. 1735). (fn. 113) Manor farm passed to G. S. Bayliffe (d. 1813), (fn. 114) Henry Bayliffe (d. 1865), John Bayliffe (d. 1881), and J. S. Bayliffe, (fn. 115) who in 1900 sold it, then 168 a., to Henry, Earl Cowley. (fn. 116) The farm was part of the Draycot Cerne estate and, 73 a., (fn. 117) was sold in 1921 to W. B. Hayward. It passed in 1967 to W. E. Hayward and in 1973 to his daughters Mrs. R. Kingston and Mrs. M. Gupwell. In 1987 Manor farm, c. 29 ha. (72 a.), was owned by Mr. and Mrs. Kingston. (fn. 118) Manor Farm was built of stone in the later 17th century (fn. 119) and has a twingabled west entrance front with stone-mullioned windows. A southern extension was built in the early 18th century.
A further portion of Robert Stratton's manor was owned in 1736 by John Hollis. (fn. 120) A house, later called Hide House, Home Farm, or the CHESTNUTS, was built on it. The estate was owned in 1761 by Robert Hollis, (fn. 121) and descended to Robert Hollis (d. c. 1820), to that Robert's relict Elizabeth, and to his son William. (fn. 122) In 1870 William Hollis sold it to his daughter Elizabeth and her husband John Teagle. (fn. 123) In 1879 Teagle's trustees conveyed the house and 11 a. to his son William (d. 1913) (fn. 124) and sold c. 10 a. to Henry, Earl Cowley. (fn. 125) Lord Cowley bought William Teagle's portion in 1914. (fn. 126) The Chestnuts and 13 a. were sold in 1920, (fn. 127) and have since had several owners. The house was built in the early 18th century (fn. 128) of red brick with ornamental stone dressings. It is of two storeys with attics and dormers and the west entrance front has five bays of which the central one contains a doorway with a broken scroll pediment.
Seagry church was appropriated by Bradenstoke priory between 1194 and 1217. (fn. 129) In 1539 the RECTORY estate comprised tithes and a house (fn. 130) and passed to the Crown, which sold it in 1560 to Richard Oakham. (fn. 131) Sir John Danvers (d. 1594), the owner in 1572, in 1594 settled the estate on himself and his wife Elizabeth (d. 1630). (fn. 132) Elizabeth's interest was barred and in 1612 Sir John's son Henry, Baron Danvers (cr. earl of Danby 1626, d. 1644), apparently owned the estate. (fn. 133) Lord Danby settled it in 1628 on his brother Sir John Danvers (d. 1655), a regicide, and John's wife Elizabeth. (fn. 134) In 1661 the Crown, to which Sir John Danvers's property was forfeited, granted the estate to trustees of Sir John and his son Henry (d. 1654). (fn. 135) It was assigned after 1666 to Henry's niece Eleanor Lee (d. 1691) and her husband James Bertie, Lord Norreys (cr. earl of Abingdon 1682, d. 1699), (fn. 136) and was afterwards acquired by Eleanor's brother-in-law Thomas Wharton, Baron Wharton, and his wife Lucy. They sold it in 1705 to Thomas Boucher (fn. 137) (d. 1708), and Thomas's son Thomas sold it in 1749 to Robert Herbert (d. 1769). Herbert devised it to his nephew Henry Herbert (cr. earl of Carnarvon 1793, d. 1811), who was succeeded in turn by his son Henry, earl of Carnarvon (d. 1833), and that Henry's son Henry, earl of Carnarvon (d. 1849). In 1815 Lord Radnor bought the tithes arising from his own lands from Lord Carnarvon, (fn. 138) and in 1816 Lord Holland did the same. (fn. 139) In 1840 Lord Carnarvon's tithes were valued at £80, those which had been sold at £54 and £28 respectively, and all were commuted. (fn. 140)
Economic History.
Durand of Gloucester's 5–hide estate could support 4 ploughteams in 1086. There was 1 team on the 2 demesne hides, and on the other 3 hides there were 3 villani and 2 bordars with 3 teams. The meadow measured 40 a. (fn. 141) Later, as one of the manors called Seagry, the estate included a demesne farm based in Upper Seagry. In the 16th and 17th centuries members of the Adye family were lessees of the demesne farm, which in 1687 supported 150 sheep and 22 cows. (fn. 142) Copyholders paid rents totalling £1 8s. 8d. c. 1539. (fn. 143) Of the three leaseholders recorded c. 1609, one had a 112–a. farm with 92 a. of arable in the open fields, 8 a. of meadow or pasture, and 12 a. of coppices, and two had c. 30 a. each. (fn. 144) In 1840 all those demesne and tenant lands were in Seales farm, 202 a., based in Upper Seagry, and Seagry farm, 70 a., mainly in Lower Seagry. (fn. 145)
Drew FitzPons's 5-hide estate could also support 4 ploughteams in 1086. On the 2 demesne hides there was 1 team. On the other 3 hides there were 5 villani, 6 bordars, and 5 coscets. That there was only 1 team on the 3 hides suggests that they were not fully cultivated. There were 30 a. of meadow. (fn. 146) Later, as the other manor called Seagry, the estate included lands in all parts of the parish. In 1648 it comprised a demesne farm, later Church farm, and 5 small copyholds: (fn. 147) the demesne farm was then 252 a. (fn. 148) In the 18th century the lands of the estate were mainly shared among Church farm, Piott's farm, two other farms based in Lower Seagry, (fn. 149) and Manor and another farm based in Upper Seagry. (fn. 150)
In the Middle Ages Upper and Lower Seagry may each have had its own open fields and may have shared a common meadow, Seagry meadow, so called in 1207. (fn. 151) The parish had North, East, and West fields in 1585 (fn. 152) and Down field in 1648. Inclosure was apparently in progress in the 17th century: the 112–a. farm included 92 a. in the open fields c. 1609, but parts of North field had been inclosed by 1648 when the 252–a. farm included only 10 a. in open fields. (fn. 153) In 1656 more of North field and land in Down field and Clay Corner field, a total of 24 a., presumably open until then, were apportioned among various farms; and in 1663 a further c. 30 a. of Down field were allotted. (fn. 154) The open fields had all been inclosed by 1720. (fn. 155) Meadow beside the Avon, however, remained open. Hungerdown mead and Lower mead, a total of 124 a., were allotted and inclosed in 1883. (fn. 156) That land was still being watered in the earlier 20th century, (fn. 157) and in the later 20th century was still mainly open grassland.
In 1801 husbandry in Seagry was predominantly pastoral. Only 96 a. were arable: grain, mostly wheat, was grown on 67 a. and root crops for fodder on 29 a. (fn. 158) The tenant of Church farm in the earlier 19th century had to pay extra rent if he ploughed up pasture. (fn. 159) In 1840 there were 137 a. of arable in the parish: Seales farm had 40 a., Piott's 18 a., other farms less. There were 886 a. of pasture, and 180 cows and 200 sheep were kept. Of the five farms based in Upper Seagry only Seales had more than 200 a.: the others were of 148 a., 133 a., 70 a., and 33 a. The three farms based in Lower Seagry were of 134 a., 118 a., and 58 a. (fn. 160)
The proportion of pasture to arable in Seagry changed little until c. 1886. Thereafter the small amount of arable decreased steadily and in 1933 only 36 a. were ploughed. Meadow and grass sown in rotation amounted to nearly half the grassland in 1876, a little over half in 1926, and about a third in 1933. An average of 280 cows and an average of 76 pigs were kept 1876–1933, an average of 76 sheep 1876–1906. In the period 1916–33 no sheep was kept. (fn. 161) Farming was still predominantly pastoral in 1987 and six farms were based in the former parish. On Trinity farm, 89 ha., a pedigree herd of Friesian cows was kept and c. 19 ha. of corn were grown, (fn. 162) the 50 ha. of Church farm were leased for grazing, (fn. 163) and Manor farm, c. 29 ha., was a dairy farm. (fn. 164) The c. 60 ha. owned by Wiltshire county council were in two small farms, (fn. 165) and corn was grown on the c. 56 ha. owned by Mr. P. J. Dickinson. (fn. 166)
In 1605 an inhabitant of Seagry bought wool in Gloucestershire to sell speculatively, (fn. 167) woollen cloth was fulled at Seagry Mill c. 1648, (fn. 168) Joseph Houlton (d. 1731), who bought land in Seagry from 1710, was a Trowbridge clothier, (fn. 169) and Robert Hollis (fl. 1761) of the Chestnuts was a woolstapler c. 1777. (fn. 170) In 1831 most men in Seagry were farm labourers. Nine described as tradesmen or artisans (fn. 171) may have worked outside the parish. Gravel was extracted c. 1947 by the Pyramid Sand and Gravel Co. from land east of Church Farm. (fn. 172) In 1958 a poultry farm was established by C. W. P. Head in the grounds of Seagry House to produce fertile eggs for hatching, and in 1987 chickens for egg production were reared for Mr. P. Head in buildings near Oak Hill House. (fn. 173)
The lessee of Bradenstoke priory's manor was obliged c. 1539 to plant 10 oaks or ashes and 20 willows yearly. (fn. 174) Woodland in Upper Seagry may have been grubbed up before 1648. (fn. 175) In 1840 all the woodland in the parish, 12 a. of plantations and 27 a. in Seagry wood, was in the north-west corner near Seagry House. (fn. 176) The woods in 1865 contained oak, ash, spruce, pine, and larch. (fn. 177) Some of the 62 a. of woodland said to be in Seagry in 1910 may have been in Great Somerford. (fn. 178) In 1920 there were c. 36 a. of woodland in the north-west part of the parish. (fn. 179)
In 1086 two mills were part of Drew FitzPons's estate. (fn. 180) One of them fell into disuse before 1207. (fn. 181) From 1648 a water mill and a fulling mill, presumably in the same building, were part of Lower Seagry manor. (fn. 182) Seagry Mill was part of Church farm in 1761 (fn. 183) and passed with it until 1864 when Mary, Lady Holland, sold the mill to James Godwin. (fn. 184) It was owned in 1891 by members of the Godwin family, (fn. 185) became part of the Seagry House estate before 1910, (fn. 186) and in 1920 was offered for sale by Lord Cowley. (fn. 187) The mill, which had an undershot wheel, was demolished in 1950. (fn. 188) The mill house was built in the late 18th century and was refenestrated in the earlier 19th. A range of 19th-century cottages faces it.
Local Government.
Courts baron for the manor formerly Bradenstoke priory's were held twice yearly by the Crown c. 1539 (fn. 189) and Sir Anthony Hungerford c. 1657, and courts baron were also held twice yearly for his manor by Sir Richard Norton c. 1647. The tenant of the demesne farm of each manor was obliged to provide for the officials who came to hold the courts. (fn. 190) None was held in the 18th century or later. (fn. 191)
By 1725 vestries dealt with all parish business and elected churchwardens, overseers of the poor, and surveyors of highways. In the 1850s the use of the common meadows and of the lanes for pasture was still regulated by the vestry. (fn. 192)
Between 1690 and 1708 average sums of £15 a year were spent on the poor. (fn. 193) Expenditure rose steadily throughout the 18th century and averaged c. £50 yearly 1775–85. By 1777 some paupers were accommodated in a parish house. Most received out relief, however, and in 1802–3 £169 was spent on permanent relief for 80 adults and children, (fn. 194) about a third of the population. (fn. 195) In the years 1813–15 on average 18 were relieved permanently and 35 occasionally. (fn. 196) Yearly expenditure of £200–£250 in the years 1816–36 was median for a parish in Malmesbury hundred. The parish became part of Chippenham poor-law union in 1835. (fn. 197) The new Seagry parish was included in North Wiltshire district in 1974. (fn. 198)
Church.
Between 1182 and 1193 Alexander of Seagry gave Seagry church to Bradenstoke priory. The priory appropriated it between 1194 and 1217, reserved a £2 pension from its revenues, and assigned the rest to a vicar. (fn. 199) The vicarage and the rectory of Draycot Cerne were united in 1939 and disunited in 1954. (fn. 200) In 1967 the vicarage was united with the benefices of Great Somerford and Little Somerford, and in 1986 the benefice of Corston with Rodbourne was added to form one benefice. (fn. 201)
The priors of Bradenstoke presented vicars until the Dissolution. In 1544 Richard Hughes presented by grant of a turn from the priory, and the Crown presented in 1545 and 1547. Although it was not expressly mentioned in the grant the Crown presumably sold the advowson with the rectory estate to Richard Oakham in 1560. In 1572 Sir John Danvers owned the rectory estate and presented a vicar. The advowson descended with the rectory estate to Henry Herbert, earl of Carnarvon (d. 1849), (fn. 202) and then with the earldom (fn. 203) until 1927 when Henry Herbert, earl of Carnarvon, transferred it to Harrogate College Ltd. In 1939 Harrogate College was assigned the first of every three turns of presentation to the united benefice. (fn. 204) In 1967 the Martyrs Memorial and Church of England Trust, the successor of Harrogate College as patron, became entitled to present at the third of every four turns, and in 1986 to present jointly at the first, third, and fifth of every five turns. (fn. 205)
The vicarage was worth £5 in 1291. (fn. 206) In 1437 the arrangement under which Bradenstoke priory and the vicar shared the income was revoked. Thenceforth the priory took the entire income and paid the vicar £6 and a robe yearly. (fn. 207) That stipend had been increased to £8 by 1535. (fn. 208) None was paid in 1671. (fn. 209) The benefice was worth only £10 in 1650. (fn. 210) Although augmented in 1771 and 1774 with grants from Queen Anne's Bounty totalling £600, (fn. 211) the living remained poor, and in the years 1829–31 had an average income of £173. (fn. 212)
The vicar presumably took all the tithes until 1437. (fn. 213) He may have taken all except corn tithes in the 17th century. (fn. 214) He took the small tithes in 1704 (fn. 215) and in the earlier 19th century. The vicarial tithes, which perhaps included hay tithes, were valued at £160 in 1840 and commuted. (fn. 216) The vicar had no glebe. (fn. 217) Bradenstoke priory provided a vicarage house in 1437, (fn. 218) and the vicar had a house north of the church in 1720. (fn. 219) In 1828 it was replaced by a new stone house, which was enlarged in 1852, (fn. 220) and sold in 1939. (fn. 221)
During the Middle Ages incumbencies were often short. (fn. 222) The benefice was vacant in 1561, (fn. 223) presumably because the vicar had been deprived for rejecting the Anglican settlement. The parish lacked the Paraphrases of Erasmus in 1585. (fn. 224) Edward Bridges, vicar 1627–66, was also rector of Bremilham and of North Wraxall. (fn. 225) Gilbert Lake, vicar from 1750, was also vicar of Westport. (fn. 226) Benjamin Rogers (d. 1802), vicar from 1762, lived at Rainscombe in North Newnton and usually employed a curate at Seagry. In 1783 Rogers asserted that he held no more than a single Sunday service at Seagry because his income from the benefice was small. The only weekday services were on Ash Wednesday and Good Friday. The sacrament was administered on Christmas day, Easter Sunday, and Whit Sunday to an average of 11 communicants. When neither Rogers nor a curate employed by him did duty at Seagry it was done by the rector of Draycot Cerne. (fn. 227) Arthur Edie, vicar from 1827, was also vicar of Rodbourne Cheney. (fn. 228) He, too, held only one service each Sunday. (fn. 229) On Census Sunday in 1851 a congregation of 70 attended the morning service and one of 69 the afternoon service. (fn. 230) C. H. Awdry, vicar 1854–78, augmented his income by taking pupils. (fn. 231) H. K. Anketell, vicar 1878–87, observed Ritualistic practices at services on Good Friday and Easter Sunday in 1879, and in 1880 introduced a robed choir. (fn. 232) From 1954 until 1967 the vicarage was held in plurality with the rectory of Stanton St. Quintin. (fn. 233)
The church of ST. MARY, so called in 1763, (fn. 234) in 1808 comprised a chancel and a nave with south chapel, south porch, and west bellcot. (fn. 235) The south chapel and the style of the east window and of windows in the south wall of the chancel suggest that the 12th-century church was either much altered or rebuilt in the 13th century. The church was rebuilt in 1849 on the same plan, and in a 13th-century style, to the designs of J. H. Hakewill. (fn. 236) Monuments including two 13th-century stone effigies, a 12th-century font, and a 15th-century rood screen were retained from the old church. (fn. 237)
Seagry church was apparently rich in plate in the Middle Ages. In 1553 the king's commissioners took 3½ oz. of plate and left 14 oz. A chalice hallmarked for 1811 and an 18th-century paten were bought from Lyneham parish in 1864 and held in 1987. (fn. 238) There were two bells in 1553, of which one was probably cast in Bristol. A new bell was cast in 1839 by C. & G. Mears and hung in the bellcot in 1987. (fn. 239) Registrations of baptisms, marriages, and burials begin in 1610. No baptism is recorded 1705–10 and no marriage 1711–29. (fn. 240)
Nonconformity.
Members of the Kerfoot and Wheeler families were Quakers in the later 17th and earlier 18th century. (fn. 241) In 1669 a large meeting of 'fanatics', presumably including Quakers from other parishes, took place at Jasper Wheeler's house. (fn. 242) Six nonconformists were recorded in 1676. (fn. 243)
A small red-brick chapel for Primitive Methodists was built at Upper Seagry in 1825. (fn. 244) On Census Sunday in 1851 congregations of 103 and 120, which may have included people from outside Seagry, respectively attended the morning and evening services. (fn. 245) A Sunday service was still held at the chapel in 1986.
Education.
Catherine, Lady Tylney-Long, in 1808 supported a school in Seagry. (fn. 246) It was apparently closed before 1818. A few children, whose parents paid for them, were then taught in another school. (fn. 247) A National school and schoolhouse were built of stone in 1850 beside the Great Somerford road between Upper Seagry and Lower Seagry. (fn. 248) In it 30–40 children were taught by an uncertificated mistress in 1858. (fn. 249) An average of 40 pupils was taught in 1906. (fn. 250) Numbers declined in the earlier 20th century and an average of only 15 attended in 1937–8. (fn. 251) After the building of council houses in Seagry c. 1950 (fn. 252) numbers rose; the school was closed, and a new one was opened at Upper Seagry, in 1963. In it 58 children were taught by four teachers in 1987. (fn. 253)
Charity for the Poor.
None known.