Pages 156-160
A History of the County of York East Riding: Volume 7, Holderness Wapentake, Middle and North Divisions. Originally published by Victoria County History, London, 2002.
This free content was digitised by double rekeying. All rights reserved.
NORTH SKIRLAUGH AND ROWTON
THE part of Swine parish which lay in the north division of Holderness comprised North Skirlaugh township and some of Arnold, the rest of which township belonged to the ancient parishes of Long Riston and Rise. (fn. 1) North Skirlaugh, c. 4 km. north of Swine village, was formerly the head of Skirlaugh union and remains a centre of local government. (fn. 2) The name Skirlaugh is an Anglo-Scandinavian hybrid, meaning 'bright clearing'; Skirlaugh comprised settlements on either side of Lambwath stream which were distinguished from the 13th century by the prefixes North and South. A settlement called Rowton lay ½ km. west of North Skirlaugh; its name is Anglian and means 'rough enclosure'. (fn. 3) A stream flowing southwards from Rise to Lambwath stream probably formed the boundary between the two settlements.
In the mid 19th century there were 534 a. (216 ha.) in North Skirlaugh and 671 a. (272 ha.) in Swine parish's part of Arnold township. All 1,680 a. (680 ha.) of Arnold (fn. 4) was added in 1885 to North Skirlaugh to form the civil parish later called North Skirlaugh, Rowton, and Arnold, (fn. 5) and in 1935 that parish was combined with Long Riston as Riston civil parish. (fn. 6) North Skirlaugh and part of Arnold were later transferred to Skirlaugh civil parish. (fn. 7) In 1377 there were 132 poll-tax payers at North Skirlaugh, Rowton, and Arnold, (fn. 8) and in 1672 the same settlements had 42 houses assessed for hearth tax. (fn. 9) The population of North Skirlaugh with Rowton and Swine parish's part of Arnold township rose from 192 in 1811 to 260 in 1821, but had fallen to 210 by 1831. The union workhouse was later built in North Skirlaugh, (fn. 10) and 48 inmates contributed to the total population of 279 in 1841; the institution's population was still c. 50 in the 1880s. (fn. 11) Overall, numbers increased to 339 in 1871, before falling to 284 in 1881 and, despite the addition of the rest of Arnold with c. 80 people in 1885, to 247 in 1911. There were 292 inhabitants in 1931. (fn. 12)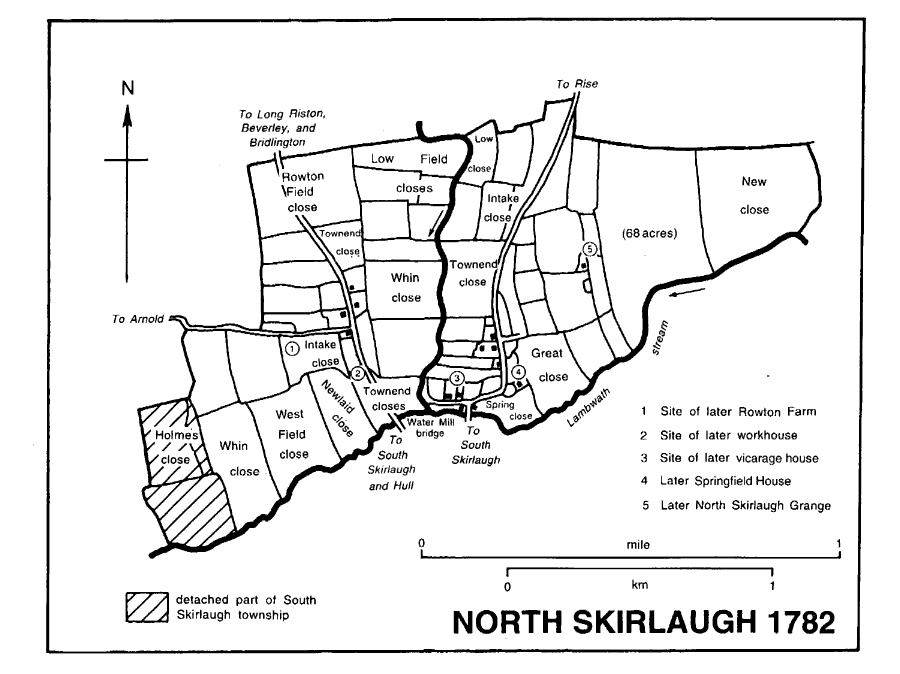 NORTH SKIRLAUGH hamlet. In 1782 the dozen houses of North Skirlaugh mostly stood along both sides of a street which continued northwards to Rise, and at its southern end crossed Lambwath stream into South Skirlaugh. A farmhouse, later North Skirlaugh Grange, then stood to the east of the street amid closes, and there were one or two houses alongside Lambwath stream, in a short side lane which was extended before 1852 to meet the South Skirlaugh to Long Riston road, later part of the main Hull-Bridlington road. At Rowton there were four houses, on either side of the road to Long Riston. One of the farmhouses, later Rowton Farm, had been rebuilt away from the road by the 1850s, when only one other remained there. By then the union workhouse stood beside the road at Rowton, (fn. 13) and in 1862 a terrace of cottages and in 1869-70 a vicarage house were also added, (fn. 14) in the lane at North Skirlaugh, later Vicarage Lane. There has been further development along Vicarage Lane and the main road in the 20th century, and there is now little, apart from the stream, separating North Skirlaugh from its larger, southern neighbour. The older buildings include Springfield House (fn. 15) and Ivy Cottage, a house with rusticated quoins and window surrounds put up c. 1900 by the Bethells, (fn. 16) and the newer ones 14 mid 20thcentury council houses, built on land earlier used for allotment gardens, (fn. 17) and a telephone exchange. (fn. 18) A wooden Church hall put up in Vicarage Lane by the 1930s was demolished c. 1970. (fn. 19)
Skirlaugh union workhouse was built in 1838-9 to serve parishes in mid Holderness. (fn. 20) Following the removal to Beverley of the children in 1915 and of the few remaining inmates in 1916, the workhouse became a military hospital. (fn. 21) The rural sanitary authority for Skirlaugh union met in the workhouse from 1872 until 1894 and its successor, Skirlaugh rural district council, from then until 1916, when use by the military authorities caused meetings to be moved to Hull, where they long remained. (fn. 22) In 1922 the council bought the redundant workhouse and adjoining land. (fn. 23) Parts of the building were later occupied as cottages called Rowton Villas; the rest, and eventually all of the building, served as offices for the council and its successors, Holderness rural district council, Holderness Borough council, and the East Riding council. Designed by J. B. and William Atkinson of York, the former workhouse is of brick with stucco dressings; the two-storeyed front elevation comprises a main block of seven bays with lower, recessed side wings. Prominent pediments crown the larger end bays of the main block, which has another pediment over the central doorway and a mixture of round-headed and rectangular windows. Ranges extending back from the side wings were truncated and the other buildings enclosing the exercise yards removed c. 1975, and between 1988 and 1991 offices and a council chamber were built on the site. A large garage and depot occupies the adjacent land. (fn. 24)
MANORS AND OTHER ESTATES
In the Domesday Survey the name 'Skirlaugh' was used without any further distinction, and the land there mentioned cannot thus be identified with later estates in North and South Skirlaugh. In 1066 Skirlaugh comprised 5 carucates and 6 bovates, of which Ulf held 4 carucates as sokeland and 1 carucate as a berewick of his manor of Aldbrough, and Morkar held 6 bovates as soke of his manor of Hornsea. Also soke of Aldbrough were the 2 carucates of Rowton. All of those lands had passed to Drew de Bevrère by 1086, (fn. 25) and later were part of the Aumale fee.
Much of the land, lying at Rowton and North Skirlaugh, was held by the Fauconbergs. The first recorded tenant, Peter de Fauconberg, (fn. 26) was evidently succeeded by William de Fauconberg, who in the mid 13th century held all 2 carucates at Rowton and 2 carucates at North Skirlaugh, besides land at 'Skirlaugh', later recorded as 2 bovates at South Skirlaugh. (fn. 27) The holding descended to Walter de Fauconberg (d. 1304), Lord Fauconberg, (fn. 28) and later, as a member of Rise manor, to the Nevilles. (fn. 29) The Fauconbergs' demesne estate at Rowton, North Skirlaugh, and Arnold was said in the 1290s to comprise only c. 1 carucate, (fn. 30) and in 1349 all 2 carucates at North Skirlaugh were held of John de Fauconberg, Lord Fauconberg, by freeholders. (fn. 31) The estate continued to descend as part of Rise manor, farms in Rowton and North Skirlaugh being held by Roger Bethell (d. 1626), assignee of the Crown's lease of the manor, and then divided among his heirs, one of whom Hugh, later Sir Hugh, Bethell (d. 1679) bought the freehold and reunited the shares. (fn. 32) An estate in North Skirlaugh belonging to Hugh's brother John (d. 1651 or 1652) probably also descended later with the rest of the Bethells' estate there. (fn. 33) In 1831 Richard Bethell was said to have 478 a. at North Skirlaugh and Rowton, (fn. 34) and his nephew and later heir, W. F. Bethell, apparently also had 82 a. in the township in 1848. (fn. 35) William Bethell's estate at North Skirlaugh and Rowton comprised c. 520 a. in 1915. (fn. 36) Land was later sold, but the Bethells still had c. 450 a. in North Skirlaugh and Rowton in 1995. (fn. 37)
Springfield House, or an earlier house on the site, existed by 1782. (fn. 38) In 1892 it was occupied by William Bethell's land agent. (fn. 39) It was sold by the Bethells after 1967. (fn. 40)
Two carucates at Rowton, Arnold, and North Skirlaugh were held, presumably under the Fauconbergs, by Simon de Rupella c. 1240, when Meaux abbey acquired his estate. Simon's tenant was then (Sir) Richard of Rowton, whose son Matthew exchanged his holding with the abbey for lands at Riston in 1269 or 1270. Matthew's cousin, Maud of Rowton, had earlier given the abbey 2 bovates at Rowton, and by the 1290s it had 3 carucates and 2 bovates in the three vills, 6 bovates at Rowton held in demesne and the rest of the land occupied by the abbey's tenants. The estate in Rowton, variously called ROWTON manor (fn. 41) or Rowton grange (fn. 42) in the 13th and 14th centuries, was later reckoned part of Meaux abbey's manor of Arnold, and descended with that after the Dissolution to Joseph Micklethwaite and his son John. (fn. 43) In 1653 the Micklethwaites exchanged c. 1 carucate with John Dalton, who in 1656 granted that estate, lying in Arnold, Rowton, and North Skirlaugh, to John Anlaby and others. (fn. 44) The estate has not been traced further.
The Hildyard family held land belonging to Rise manor in North and South Skirlaugh in the 16th century. (fn. 45)
A house, 1 bovate, and other land at North Skirlaugh were sold as former possessions of Swine priory by the Crown in 1609. (fn. 46)
The rectorial tithes of North Skirlaugh, Rowton, and the part of Arnold in Swine parish were bought in 1737 by Hugh Bethell (d. 1752). (fn. 47) Those at Arnold were commuted in 1778. (fn. 48) At North Skirlaugh and Rowton most had been merged in Richard Bethell's estate by 1848, when he was awarded a rent charge of £18 4s. 8d. for the rest. (fn. 49)
ECONOMIC HISTORY
OPEN FIELDS AND INCLOSURE. North Skirlaugh and Rowton may have had separate open fields.
North Skirlaugh. North Skirlaugh was inclosed in 1623 under an Exchequer commission of 1622. Some 195 a. was then allotted to eight tenants of the Crown's manor of Rise, mostly from East field, where a 68-a. close remained undivided in 1782. All of North field, comprising c. 45 a. and butts, and a small area in West field, or West field 'of Rowton', were also awarded. (fn. 50)
Rowton. The tillage at Rowton lay in North, South, and East fields in the mid 17th century. In 1658 Hugh, later Sir Hugh, Bethell and the one or two other proprietors at Rowton exchanged more than 80 a. there and at North Skirlaugh, evidently as a preliminary to the inclosure of Rowton. (fn. 51) Land from the former North and South fields presumably lay respectively in the 29-a. Rowton Field close and West Field close, of 22 a., in 1782. Many of the closes made in both vills in the 17th century reflected the earlier open-field divisions in their long sinuous shapes. Intake closes recorded in 1782 suggest that there was also some piecemeal inclosure before the 17th century. (fn. 52)
COMMONABLE GRASSLAND AND INCLOSURE.Common meadows and pastures in Arnold township were intercommoned by the farmers of North Skirlaugh, Rowton, and Arnold. Sir Walter de Fauconberg and others overcharged the 200-300 a. of marshland called Arnold and Ryhill carrs in the 1290s, when the capacity of the pasture was put at 8 cattle or horses, 20 sheep, 4 pigs, 5 geese, besides offspring, for each bovate in the vills. (fn. 53) The carrs and ings were reached by a way made or confirmed in the 17th century which led westwards from the road at Rowton into Wood House Lane. (fn. 54) They were inclosed in 1778. (fn. 55)
Another common pasture was Mill Holme. In the earlier 13th century freemen of North Skirlaugh and Rowton had given Swine priory land, including 'Milnehol', and meadow, with power to inclose but reserving certain pasturage rights, (fn. 56) and in 1577, after the priory's dissolution, farmers of North Skirlaugh and Rowton successfully defended their right to common pasturage for cattle between August and March in Mill Holme against the tenants of that land. (fn. 57) It was then claimed, however, and later accepted, that the land was a detached part of South Skirlaugh, and in 1885 the c. 35 a. (14 ha.) were transferred to Benningholme. (fn. 58) In 1657 Hugh Bethell bought Mill Holme close, which evidently comprised North Holmes, adjoining Rowton, South Holmes, next to Benningholme, and a lane called Outgangs. By exchange and lease Bethell obtained common rights in the Holmes and Outgangs in 1658, and the area probably ceased to be commonable soon afterwards. (fn. 59)
FARMS. Meaux abbey's grange at Rowton, including a few acres in Benningholme ings, comprised c. 200 a., or 9½ bovates. The abbey had withdrawn from direct exploitation of the grange by the late 14th century, when it was recorded as let for £3 5s. a year, though scarcely worth £1 10s. in an average year. (fn. 60)
The Bethells' estate at North Skirlaugh and Rowton comprised most of the township in 1782 and was then occupied as 14 holdings; one farm comprised 161 a., five others c. 40-70 a. each, one 27 a., and two 14 a. each; the other holdings were of an acre or two. (fn. 61) By 1852 the 12 holdings in the township included two farms with c. 150 a. each there, two others, one mostly in Riston and Arnold, with c. 60 a. in the township, and three with some 10-24 a. each. (fn. 62) In 1915 Rowton farm comprised 297 a., of which 57 a. were in Arnold and Benningholme, and North Skirlaugh Grange 154 a.; 68 a. more in the township were held with a Rise farm and there were nine other holdings, all of 25 a. or less. (fn. 63) In the earlier 20th century the farms at North Skirlaugh and Rowton included one or two dairy units. (fn. 64)
MILL AND FISHERY. Swine priory's mill at Rowton, recorded in 1241, and its water mill at North Skirlaugh in 1536 (fn. 65) were probably the same; the water mill evidently stood on Lambwath stream close to Water Mill bridge. (fn. 66) The stream was probably also used for the priory's fishery at North Skirlaugh. (fn. 67)
TRADES. Weavers worked at North Skirlaugh in the mid 19th century, (fn. 68) and a building firm operated there in 1994.
LOCAL GOVERNMENT
Tenants of Rise manor owed suit to its court, the rights of which in North Skirlaugh, Rowton, and Arnold were said to have been infringed in the early 17th century by officers of the wapentake court. (fn. 69)
A poorhouse was maintained at North Skirlaugh. (fn. 70) In North Skirlaugh, Rowton, and part of Arnold together 3-5 people were relieved permanently in the early 19th century, and 4-7 were given occasional relief between 1812 and 1815. (fn. 71) North Skirlaugh joined Skirlaugh poorlaw union in 1837, (fn. 72) and the township, later civil parish, remained in Skirlaugh rural district until 1935. As part of Riston and later of Skirlaugh civil parish, it was included in the new Holderness rural district in 1935 and at reorganization in 1974 was taken into the Holderness district of Humberside. (fn. 73) In 1996 Skirlaugh parish became part of a new East Riding unitary area. (fn. 74)
EDUCATION
Arnold and North Skirlaugh together had two schools in 1833, possibly one in each place. One of the schools had been begun in 1829 and each was attended by a dozen boys and girls, all of whom, except for a few girls sent by Mrs. Bethell, were paid for by their parents. (fn. 75)
CHARITY FOR THE POOR
The poor of North Skirlaugh and Rowton shared in the eleemosynary charity of Marmaduke Langdale (d. 1611). (fn. 76)