Pages 150-154
A History of the County of York North Riding: Volume 2. Originally published by Victoria County History, London, 1923.
This free content was digitised by double rekeying. All rights reserved.
HUTTONS AMBO
Hotun (xi cent.); Hoton Mainevilain (xii cent.); Hoton Coleswayn, Colsueynhoton, Hoton Bardolf, Hoton Mynchon, Hoton Muirthon (xiii cent.); Nethirhoton (xiv cent.); Low Hutton (xv cent.); Hutton-upon-the-Hill (xvi cent.); Huttons Ambo (xvii cent.); Upper Hutton (xviii cent.).
Huttons Ambo is bounded on the east and south by the Derwent, on the west by the little stream of the Cram Beck. Of its area of 2,898 acres on a subsoil of Corallian Beds and Inferior Oolite 1,285 acres are arable land, the chief crops being wheat, oats and barley, 1,371 acres permanent grass and 166 acres woods and plantations. (fn. 1)
The high road from York leads north-east through Huttons Ambo into New Malton, whilst the York and Scarborough branch of the North Eastern railway runs through the south of the parish. The land varies in height from 850 ft. above the ordnance datum at High Hutton to 50 ft. on the river banks.
In the 13th century Hutton fell into the three main divisions of Hutton-upon-Derwent (more often known as Colswayn Hutton), Hutton Bardolf and Hutton Mynchon. (fn. 2) The first lay in the east and south of the parish on the banks of the Derwent, its rich pastures giving tithes of wool and lambs to the Prior of Kirkham and afterwards to the Archbishop of York. (fn. 3) In the high ground to the north was the territory of Hutton Bardolf, with Hutton Mynchon west of it. (fn. 4) Hutton Bardolf has been succeeded by the village of Huttons Ambo or High Hutton, which stands on a branch road with Hutton Hall, a large modern house, at its west end and the church a little to the east of the hall. About half a mile south-east is the village of Low Hutton, where are the school and vicarage, and the station of Huttons Ambo close to the river. There is a Wesleyan chapel in High Hutton and one for Primitive Methodists in Low Hutton. High and Low Hutton are divided by a steep hill forming the northern side of the valley of the Derwent. The valley is here thickly wooded, and the river is crossed by a footbridge.
The inclosure of the open fields of Huttons Ambo by its landowners in 1709 was established by an award of 1712 and a decree of 1716 and confirmed by Parliament in 1805. (fn. 5)
In the 16th century the parishioners neglected the repair of their roads and engaged in a long and fruitless dispute about their assessments. (fn. 6)
Among the place-names which have been preserved are Verkcroft and Doddecroft in the fee of Mainevilain, Brunhil, Twabuske, Flicheng, Apelgarthes, Milnesty and Lencroftes, all found in grants to Malton Priory of the 12th or 13th century, Bolton Enge of the 15th century, Nuncroft, Coleflat, Skarby Oxgang and Hilcliff Wood of the 17th century. (fn. 7)
Manors
Two 'manors' in HUTTON or HUTTON-UPON-DERWENT in the reign of Edward the Confessor were held by Cnut and Torchil, and together were assessed at 8½ carucates. In the Domesday Survey both are found among the lands of the Conqueror. (fn. 8) Five and a half carucates afterwards came 'by the gift of a certain King of England' either to Colswayn or an ancestor of Colswayn by the serjeanty of guarding the gate of York Castle. (fn. 9) This fee, properly described as the manor of Hutton or Hutton-upon-Derwent, (fn. 10) but occasionally from association with its original holder styled Colswayn Hutton Manor, (fn. 11) was held of the Crown from 1270, generally by the service of a quarter of a knight's fee, until 1579. (fn. 12)
The first tenant of whom any record has been preserved was the Colswayn, who held it by serjeanty in the 12th century, (fn. 13) and may himself have been the original recipient of the royal gift. In 1261, when the serjeanty was claimed for his descendant John Bolton, Colswayn's tenure was declared to date from time immemorial. (fn. 14) Possibly he was the heir of an earlier Colswayn, from whom both the serjeanty and Hutton-upon-Derwent were sometimes named. (fn. 15) Alan de Hutton, his son and heir, alienated his inheritance to his cousin Ralph, son of Colswayn's brother Bernard, (fn. 16) who held the serjeanty between 1210 and 1217. (fn. 17) His elder daughter Alice brought it and some part of the land with which it was associated to her husband John Doget. In the meantime Alan de Hutton had been succeeded by a son and heir of the same name, (fn. 18) who in the reign of Richard I retained a share of Colswayn's lands. (fn. 19) This was probably the moiety of the vill of Hutton, which, after the death of Ralph son of Bernard, Ralph the second Alan's son and heir held of John Doget in accordance with the agreement made by his grandfather. (fn. 20) From Ralph son of Alan, whose son, another Alan, seems to have died before his father, the rights of the descendants of Colswayn passed to his daughter Eleanor (fn. 21) wife of Thomas de Bolton. In 1249 Thomas and Eleanor sued various persons, chief of whom were John Doget and his wife Alice and Muriel widow of Ralph son of Bernard, for certain tenements in Colswayn Hutton which Eleanor claimed as part of the fee of her grandfather Alan in the reign of Richard I. (fn. 22)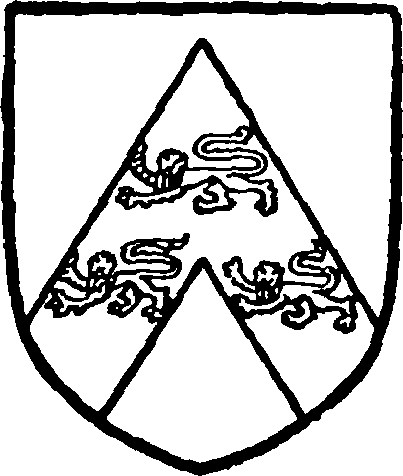 It was perhaps after this assize that the serjeanty was seized on behalf of the Crown. About this time proceedings had been instituted to change the tenure of serjeanties alienated without licence, (fn. 23) and an inquiry of 1261 showed that Colswayn's had been taken into the king's hands for the same cause as others and that the rightful heir was John son of Eleanor and Thomas de Bolton. (fn. 24) At the instance of Prince Edward Thomas received pardon and a grant of the serjeanty. Nine years later it was withdrawn, Thomas retaining the lands thereto pertaining augmented by others in the forest of Galtres, all to be held as a quarter knight's fee. (fn. 25) Thomas de Bolton was succeeded in or before 1274 by his elder son John, who died in 1279. (fn. 26) The next lord, Robert de Bolton, John's younger brother, conveyed part of his estates in 1297 to his son Thomas, who succeeded him within three years. (fn. 27) In 1316 Thomas was returned as sole lord of Huttonupon-Derwent, (fn. 28) and his tenure remained undisputed until 1323, when he and his wife Clemency were obliged to pay a fine for having acquired their manor without licence. (fn. 29) Thomas many years later settled the fee he held of the Crown in trust for himself and his grandson Thomas, son of another Thomas de Bolton, with his wife Agnes. (fn. 30) The younger Thomas, who had succeeded his grandfather in 1351, (fn. 31) died in 1375, leaving an infant daughter Mary. (fn. 32) Agnes his widow took a second husband, John Lokton, serjeant-at-law, and survived him also, dying in 1391, four years after John had been impeached for his support of Robert de Vere and condemned to a traitor's death, a sentence afterwards commuted to life-long exile in Ireland and to the perpetual disinheritance of himself and his heirs. (fn. 33) Mary, to whom her mother left by will one gown of scarlet with a hood, (fn. 34) was then the wife of William Lokton, a kinsman of her stepfather. (fn. 35) She and her husband did not find the recovery of her inheritance easy. After the death of Agnes Lokton the custody of the four manors of Hutton, Hutton Colswayn, Hutton Bardolf and Hutton Mynchon had been assigned to Henry Percy, son of the Earl of Northumberland, and others, (fn. 36) and though William and his wife lost no time in purchasing a licence to make a settlement of the lands they held in chief and in petitioning for the restitution of all their estates (fn. 37) they had not recovered them at the beginning of 1398. (fn. 38) An order which had been issued for their restitution in 1392 was then repeated, and this time seems to have been effectual. Another difficulty had arisen meanwhile on account of a settlement which had been made by John Lokton on his father Thomas. (fn. 39) The annual rent due for Thomas's services as trustee had fallen into arrears, and his son Gregory on a 'false suggestion' and 'in deceit' obtained a grant of the property for his father. This, however, was revoked in 1392 in consideration of William's services to the king and for the payment of £50, and the return of 1401 found him lord of the manor of Hutton. (fn. 40) At his death in 1426 he was succeeded by the daughter of his son William, Elizabeth, then aged four. (fn. 41) She died ten years later and her heir was declared to be her aunt on the father's side, Elizabeth Wandesford. (fn. 42) A subsequent inquiry, however, transferred her inheritance to her uncle Robert Lokton, who remained in possession until his death in 1445. (fn. 43) He had then made two settlements of his estates; the first conveyance in 1440 was to Thomas Gower, Richard Driffield and John Gower, who in 1445 compounded by fine for having acquired the lands in Hutton held in chief without licence, (fn. 44) the second, four years later, was to Thomas Gower and Thomas Witham.
By the earlier settlement the trustees were to hold for Robert's use, and they were so doing when he died; according to the second a life interest was secured to his widow Alice and sister Elizabeth, on the expiration of which the property was to belong to Thomas Gower and Thomas Witham. (fn. 45) It was probably after the death of these two ladies that litigation began, first amongst the trustees themselves and afterwards between them and a new claimant. Between 1446 and 1456 Thomas Gower and Thomas Witham sued Richard Driffield in Chancery for withholding the manors of Hutton Colswayn, Bardolf and Mynchon, which, as they maintained, they had bought from Robert Lokton. Then came two other suits, in which the complainant was John Mowbray, the great-great-grandson of Hawise sister of the last Thomas de Bolton. (fn. 46) According to John, Robert Lokton, 'knowing hymselfe seklie and feble of discrecion at certeine tymes,' had enfeoffed Thomas Gower, Richard Driffield and John Gower of his Hutton manors, afterwards declaring his will that they should hold them for the use of his sister Elizabeth with reversion to John Mowbray at her death. It seems that John had established some sort of a footing in Hutton at this time, for he adds that Thomas Witham now claims the manors and is endeavouring to compel him to restore them to Thomas and John Gower. (fn. 47) Ten years or more afterwards, however, he brought another suit in support of his claims, this time upon the manor of Hutton-upon-Derwent and against Thomas son of the elder Thomas Gower. The younger Thomas was then in possession, (fn. 48) and remained seised until his death in 1485. (fn. 49) His heirs were lords until 1631. (fn. 50) Sir Thomas Gower, who then owned Hutton-upon-Derwent, (fn. 51) seems to have transferred his lands in this parish to the younger members of his family before 1654, when his second son Doyley, his daughter Mary and her husband George Mountayne, with Edward, William, Margaret and Margery Gower, made a settlement of the four manors of Hutton-upon-Derwent, Hutton Colswayn, Hutton Bardolf and Hutton Mynchon. (fn. 52) A third of the manor of Hutton-upon-Derwent with a considerable amount of land in the parish was owned in 1696 by Katherine and Elizabeth, the daughters of Mary Gower and George Mountayne, with their husbands Sir Thomas Rudston and Francis Foljambe, (fn. 53) but the whole seems to have belonged to Thomas Gower in 1697 and 1703, when he settled it first on Thomas and afterwards on Francis Langley. (fn. 54) The name of Francis Langley, who perhaps held a mortgage on the estate, is mentioned amongst those of the principal landowners here from 1706 to 1716. (fn. 55) In the latter year he is associated with Francis Foljambe, son and heir of Elizabeth Mountayne and the elder Francis, and then apparently lord of the manor. (fn. 56) His grandson Francis Ferrand Foljambe held Huttons Ambo in 1797 in conjunction with his son John Savile. (fn. 57) Both were dead in 1821, when John's son George Savile Foljambe (fn. 58) was lord of the manor of Huttons Ambo. (fn. 59) Some part of his rights had been transferred to Joseph Starkey of Hutton Hall before 1857 and descended to Kathleen daughter of his nephew Thomas Stanton Starkey, the present lady of the manor. (fn. 60)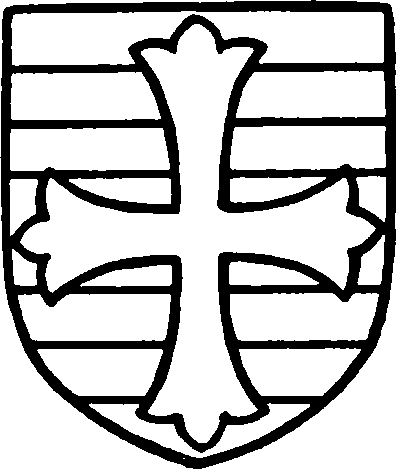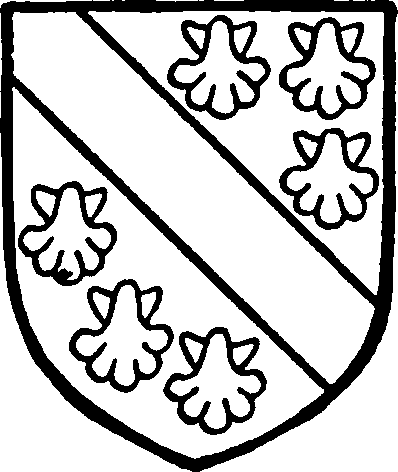 Very little is known of the history of HUTTON COLSWAYN. It would seem that it once belonged to the royal lands in Hutton, (fn. 61) but no mention of it as a separate manor apart from the main manor of Hutton-upon-Derwent (itself not infrequently called Colswayn Hutton) occurs before 1375. In that year and again in 1391 it was declared to be held of John Percy of Kildale. (fn. 62) The royal decrees, enrolled in 1398, for the restitution of the estates of Thomas de Bolton's daughter, described the manor of Hutton Colswayn as held like Hutton Bardolf and Hutton Mynchon of another lord than the king and ascribed to it 3 oxgangs and the site of a water-mill in Hutton Colswayn. (fn. 63) It has always descended with Huttonupon-Derwent.
It is probable that HUTTON MYNCHON was one of the two manors united in the Conqueror's possession at the Survey and consisted of the 3 carucates which were not given with the serjeanty of Huttonupon-Derwent. (fn. 64) In the chartulary of Malton Priory a grant of 2 oxgangs here is described as from 'the 3 carucates,' (fn. 65) and from 1283 to 1428 the territory of Hutton Mynchon was of this extent. (fn. 66)
The overlordship of this manor, first mentioned in 1284, was in the fee of Brus. (fn. 67) No mention of it occurs after 1301.
A mesne lordship here belonged to the family of Percy of Kildale. (fn. 68) In the latter part of the 12th century the principal tenants of the Percy lords of Kildale in Hutton Mynchon seem to have been a family which had given to the manor their own name of Mainevilain before the accession of John. (fn. 69) Stephen Mainevilain, the first of their line of whom mention is made, confirmed his son Roger's gift of land to Malton Priory. (fn. 70) Roger is said to have been succeeded by Robert the father of another Robert, whose eldest daughter Alice with her husband Alan de Everley in 1272 and 1280 settled land in Thornton and Hutton Mynchon on their son William. (fn. 71) By 1375 the manor had come into the possession of Thomas de Bolton, (fn. 72) and from that time generally followed the descent of Hutton-uponDerwent. Some rights here, however, belonged to Sir John Gray in 1428, (fn. 73) and the manor in Hutton held in 1547 by John Thorp of Sir Edward Gower as of his manor of Hutton may perhaps be Hutton Mynchon. (fn. 74)
Another manor here, HUTTON BARDOLF, containing 5½ carucates, and formerly owned by Torbrant, belonged to Berengar de Toni in 1086. (fn. 75) In 1285 and 1347 its overlordship was ascribed to the Earl Marshal, but by 1428 this had lapsed. (fn. 76)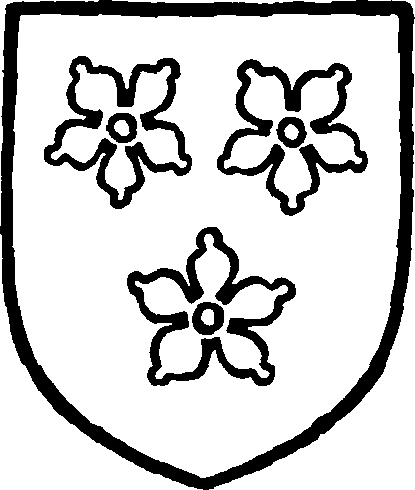 A mesne lordship over this fee belonged to Hugh Bardolf, who was Sheriff of York in the reign of Richard I and a benefactor from his estate here to the priories of Kirkham and Malton. (fn. 77) It is possible that before his death without issue in 1203 or 1204 (fn. 78) he had transferred his rights over Hutton Bardolf to a kinsman Ralph Bardolf, (fn. 79) and that the Hugh Bardolf who held land here about 1227 (fn. 80) was the latter's heir. From 1284 to 1445 the manor of Hutton Bardolf was held of the heirs of Hugh Bardolf. (fn. 81)
The principal sub-tenant in the latter part of the 13th and beginning of the 14th century was Sir Alan de Kirkham, (fn. 82) of whose 4 carucates much seems to have been again subenfeoffed. (fn. 83) Before 1375, however, the manor itself, though apparently with diminished lands, (fn. 84) had come into the possession of the Bolton family, (fn. 85) and from that time generally followed the descent of Hutton-upon-Derwent. In 1428, however, John Lord Greystock had some holding here, (fn. 86) and his rights remained with his heirs as late as 1565. (fn. 87) Again in 1649, at a time when Sir Thomas Gower, his sons and brothers were compounding by heavy fines for their delinquency, (fn. 88) twothirds of the manor of Hutton Bardolf were in the possession of William and Toby Jenkins. (fn. 89)
Gifts of land to Kirkham Priory from all three Huttons, but apparently, according to the returns of 1401 and 1428, chiefly from Hutton Mynchon, formed a considerable estate at the surrender of that house. (fn. 90) Various leases of this were made by Elizabeth until 1589, when she granted it to Richard Branthwaite and Roger Bromley. (fn. 91) The principal holding of the Prior of Malton here consisted of grants and purchases from the serjeanty of Hutton-upon-Derwent which amounted to a carucate in 1300, but before that date gifts had been made to this house of land in Hutton Bardolf and Hutton Mynchon. (fn. 92) The Prior of St. Andrew of York held land once of the same serjeanty in the 13th century, and in the 15th and 16th centuries had an estate in Hutton Bardolf. (fn. 93) Small grants also from the serjeanty had come to the hospital of Broughton and of the Knights of St. John in or before the 13th century. (fn. 94)
Thomas Bolton received a grant of free warren in in Hutton Colswayn in 1304, in Low Hutton in 1309. (fn. 95) Assize of ale had been claimed by his father in 1293. (fn. 96) From 1297 to 1398 Hutton-uponDerwent had its capital messuage with a garden called Gaytherskath, (fn. 97) and another belonged to Kirkham Priory in the 13th and 16th centuries. (fn. 98) A common bake-house and fishery in the Derwent were appurtenances of the chief manor in 1436. (fn. 99) There were five dovecots in the parish in 1590, three in 1654. (fn. 100)
Church
The original church of ST. MARGARET was at High Hutton, where its ancient site is easily discernible in the middle of the churchyard a short distance to the south of the existing structure. The old building was pulled down in 1856 and the present church erected. It is of small dimensions in the style of the 13th century and consists of a nave with a north aisle of three bays, a quire with an organ chamber and vestry on the north and a south porch.
The modern reredos has four paintings on wood of Scriptural subjects, probably foreign and dating from the 18th century. In the vestry are fixed two monuments from the old church, the earlier a large mural tablet with a cleft pediment to Sir Thomas Gower of Stittenham, bart. (d. 1651), with his arms. On the opposite wall is a well-carved tablet with terminal female figures at the sides to Margaret daughter of Sir Thomas (d. 1659) with a quartered coat—(1) and (4) Gower, (2) Ermine a cross paty gules, for Grindall, (3) Bendy or and azure. In the nave aisle are two handsome heraldic ledger stones commemorating Major E. Ward Gower, fifth son of Sir Thomas (d. 1672), and Marjory (?) Gower, another daughter (d. 1673 ?), both stones bearing the Gower arms.
The east window is triple, and on the west gable is a bellcote containing two bells.
The church plate was presented by Hannah and Sarah Starkey in 1862, and consists of two cups, a paten and flagon, bearing the London date marks for 1859 and the two following years. The ancient set includes a pewter flagon, two patens and a silver cup.
The registers, with the exception of one volume, are all on loose sheets, and some of these have not unnaturally been lost: (i) mixed entries 1714 to 1769. The loose sheets include marriages 1754 to 1812, baptisms 1769 to 1778 and 1786 to 1800, burials 1765 to 1773 and 1776 to 1812.
Advowson
The church of St. Margaret, situated in High Hutton (Hutton Bardolt), was in 1202 in the gift of Ralph Bardolf, who granted it to Kirkham Priory on condition that it should be served thenceforward by a resident chaplain appointed by the prior, (fn. 101) and performing all divine offices befitting a mother church. No vicarage was ever ordained, and it was described as a perpetual curacy until 1868. (fn. 102) In 1545 Henry VIII granted it to the see of York, (fn. 103) a grant repeated by Philip and Mary eleven years later, (fn. 104) and the archbishop has been the patron from that time. (fn. 105) The rectory has always descended with the advowson.
The chapel of our Lady in High Hutton mentioned in 1391 (fn. 106) was probably in this church, and here, too, may have been the light and altar of St. Margaret to which Sir Richard Willoughby, priest, left candles, his mass book, vestment and chalice in 1525. (fn. 107)
In the 13th century there was also a chapel in Low Hutton (Colswayn Hutton) endowed with 2 oxgangs of land belonging to the serjeanty. (fn. 108) Mention is made of the chapel, chaplain and clerk of Low Hutton in 1391, (fn. 109) and Sir Richard Willoughby, priest, left 20s. 'to the upholdding bothe the chappels' in 1525. (fn. 110) In 1800 a faculty was obtained for the removal of the chapel of Low Hutton and for applying its material to the repair of the parish church. (fn. 111)
There does not appear to be any endowed charity in this parish.