Pages 385-388
A History of the County of York North Riding: Volume 2. Originally published by Victoria County History, London, 1923.
This free content was digitised by double rekeying. All rights reserved.
LOFTUS
Loctushum, Locteshusum (xi cent.); Lofthusum (xii cent.); Lofthus (xii-xv cent.); Loftous, Loftos (xiii cent.); Lofthouse (xiii–xix cent.).
The parish contains the market town of Loftus, and to the south the isolated farms of High and Low Wapley, (fn. 1) with Gallihowe, Deepdale and Street Houses to the north. Its area is 3,744 acres, of which 137 acres are foreshore, 6 acres are covered by inland waters, (fn. 2) 885 acres are arable land, 1,741 acres permanent grass and 457 acres woods and plantations. (fn. 3)
The whole township is called Loftus, but, as in 1308–9, it is divided by a stream into North Loftus and South Loftus. (fn. 4)
Between 1615 and 1633 all the arable, meadow and pasture land in the common fields and 'ings' of North Loftus was partitioned among the farmers who had purchased the manor. (fn. 5) The land of the old inclosures in the south of the parish is said to be of superior quality; here there is a considerable amount of ancient woodland, and in 1791 Thomas Richardson of Handale Abbey was rewarded by the Society of Arts for having planted 40 acres of land with mixed timber (fn. 6) which still flourishes. The subsoil is inferior oolite, lower, middle and upper lias, the soil strong clay. Hard white sandstone is obtained for building purposes (fn. 7); alum rock was mentioned in a letter to Sir Thomas Chaloner in 1603–7, (fn. 8) and alum works had been started shortly before 1657–8 when the mine was let on a lease by the lord of the manor, (fn. 9) who leased it to the Crown for £400 yearly in 1665 (fn. 10) and refused to abate the rent to £300 per annum, despite the threats of Sir Anthony Ashley Cooper. (fn. 11) The workings were temporarily suspended in 1673, and as a consequence the pier and staithes built for the workmen were then being destroyed by the sea. (fn. 12) Appurtenant to the manor of North Loftus in 1717 were the alum houses, mines and rocks, all other mines, wreckscarrs, pits, pans, cisterns, coal-garths, havens and staithes. (fn. 13) A decrease of 140 in the population in 1831 was ascribed to the depreciated state of the alum works and consequent emigration to America. (fn. 14) The population is said to have more than doubled in 1861–71 owing to the commencement of the iron industry. (fn. 15) The ironstone was at first sent to Middlesbrough for smelting, but the Skinningrove Iron Foundry is now established here. In 1874 the royalty of the North Loftus mines belonged to Mr. Anthony Lax Maynard of Skinningrove, that of the South Loftus Mines to the Earl of Zetland. (fn. 16) There are at Loftus timber-yards and saw-mills.
The Yorkshire coast-line recedes due west in this parish, forming the great Hummersea Cliff, which varies from 300 ft. to 625 ft. in height. At its highest point is Gallihowe. Middle Gill rises by High Wapley in the south at a height of 650 ft. and flows north by the site of the Cistercian priory of Handale or Grendale. (fn. 17) There are now no remains, but in 1808 the west end of the chapel was to be seen; skeletons were found here in about 1830. (fn. 18) A cotton manufactory had been established on the site a few years before that date, but owing to the decreased demand during the European war the works were at a standstill, (fn. 19) and by 1846 they were demolished. (fn. 20)
After leaving the priory the stream flows north through Wapley, Handale and Loftus Woods, passing Holywell Farm and Cottage, and joining Liverton Mill Beck west of Loftus Mill. A tributary rises by Far and Near Foulsyke in the east of the parish, divides the village of Loftus into two parts and turns Loftus Mill (fn. 21) before uniting with the chief beck, which then, as Kilton Beck, descends in a small well-wooded valley to the sea between Loftus and Skinningrove.
Loftus, 1½ miles inland on the Whitby and Saltburn road, has a station on the Whitby and Saltburn line of the North Eastern railway. The urban district formed under the Local Government Act of 1894 (fn. 22) comprises the parishes of Loftus, Liverton and Skinningrove. A pretty town, in spite of its mining industry, it has grown up round its old High Street, in the centre of which are the Town Hall and church of St. Leonard. Trees everywhere abound. It was stated in 1808 that a weekly market had been started recently and was a convenience to the alum workers (fn. 23); the present market for pigs, meat and vegetables, held on Saturday, belongs to the Marquess of Zetland, who claims under an ancient charter; it is rented by the Loftus Urban District Council. (fn. 24) A yearly wool fair is held in June.
A public elementary school has been built by the Marquess of Zetland, and a Roman Catholic school was opened in 1906. There is a Roman Catholic church dedicated to the honour of SS. Joseph and Cuthbert; there are also Congregational, Wesleyan and Primitive Methodist chapels.
The capital messuage at Loftus was given by Thomas Humet to Guisborough Priory in the 13th century, (fn. 25) and from the 17th (fn. 26) to the 19th century the lords of the manor lived here. Sir Robert Dundas, who greatly improved the town, built Loftus Hall. (fn. 27)
The rectory-house was built in 1844 and is in the Italian style.
A cist and skeleton were found in a tumulus on Wapley Moor (fn. 28); Cockpit Hill, for many years planted with trees, has been supposed to contain sepulchral remains. (fn. 29)
Rosecroft, now a farm, is mentioned in the 12th century, (fn. 30) and may have some connexion with the 11th-century place Roscheltorp. (fn. 31) Other old names in the parish are Boythorp, Brakynwath, Selandes, Midilheveth, Fulfredale, Warthouflates, Wartesecteflates, Crudescroft, Croseflat, Blakestayndale, Grundlous, Grenhals super Raclyfes, Westmyewra, Blaberimorgate, Hellerdaleheved, Swarthouflat, Turf pits, Langbrotes (fn. 32) (xiii cent.); Tibthorpe (fn. 33) (xvi cent.); Alamclose, Lathefield, Scawes, Castle Cliff, (fn. 34) and a close called Scotgate (fn. 35) (xvii cent.); Radcliffe Close, Marrs, Micklehow and Longtailles closes (fn. 36) (xviii cent.).
Manors
There were two vills of LOFTUS (fn. 37) in 1086, each composed of 4 carucates of land. Before the Conquest Siward Earl of Northumberland held 4 carucates here as a 'manor,' then worth £48, but in 1086 waste. To the manor belonged the soke of 'Roscheltorp,' Hinderwell, Boulby, (fn. 38) Easington, Liverton, Guisborough, Rockcliff, Upleatham, Marske, West Leatham, (fn. 39) Lazingby and Lackerby, (fn. 40) in all 46½ carucates at geld, and all, with the exception of Easington, laid waste. (fn. 41) Before 1074 all these lands had been granted to Hugh Earl of Chester, (fn. 42) and a fine was still paid from Loftus for ward at Chester Castle at the close of the 13th century, (fn. 43) although Earl Hugh's lands had long before passed to the Percys who were afterwards overlords. (fn. 44)
From the first Peter de Brus (fn. 45) a mesne lordship descended (fn. 46) to the Fauconbergs of Skelton (fn. 47) and from them to the subsequent lords of Skelton. (fn. 48)
An under-tenant Richard Barde was said in the 13th century to have been the first lord (of both North and South Loftus) after the Conquest. (fn. 49) With the consent of Roger his brother and heir he subenfeoffed Guisborough Priory of the services of Robert de Butterwick for 3 carucates of land here, (fn. 50) but died leaving a son and heir Geoffrey, (fn. 51) perhaps the Geoffrey to whom Loftus belonged in 1179–80. (fn. 52) Geoffrey was succeeded by his kinsman and heir (fn. 53) William de Sauchay, (fn. 54) who in 1201 farmed Loftus to William de Stutevill (fn. 55) and crossed the seas. Taking part with the king's enemies, he lost his English lands, and in 1205 the mesne lord Peter de Brus paid a fine for having seisin of Loftus. (fn. 56) The Brus lords retained the manor and part of the vill in their own hands (fn. 57) until the third Peter de Brus apparently subenfeoffed his uncle Simon de Brus, to whom he at all events granted lands, the mill, and suit of the mill. (fn. 58) Afterwards Peter, who died in 1272, (fn. 59) left these tenements to Guisborough Priory to find a chaplain to pray for his soul and those of his ancestors and heirs. (fn. 60) The manor and mill subsequently belonged to Guisborough Priory until the dissolution of that house. (fn. 61)
The mill was appurtenant to the manor in the time of William de Sauchay, (fn. 62) but both before and after was in the hands of under-tenants. It is said to have been held in the time of Henry II with 3 carucates of land here by one Tybaud who left daughters and co-heirs Emma and Maud. (fn. 63) In 1230–1 Roger de Butterwick, descendant of Emma, and Roger son of Peter, (fn. 64) descendant of Maud, disputed as to these tenements. (fn. 65) Then came an Alexander de Butterwick who left daughters and heirs, Maud, married to Peter son of Humphrey de Lazingby, and Cecily married to Thomas de St. Martin, who granted in fee to Peter de Lazingby 6s. 5d. rent from the mill. (fn. 66) In 1278 Peter son of Humphrey granted the capital messuage, close and mill beside the capital messuage to Guisborough Priory, (fn. 67) and Cecily and her son William quitclaimed all her right. (fn. 68) The pound of John son of Robert de Lazingby at South Loftus is mentioned in 1305. (fn. 69) According to a pleading of 1465 'the manor of South Loftus' was granted in 1327 by William de Embleton (Elmedon) to Richard de Thornton and Denise his wife and their issue, with remainder failing such issue to William son of Roger Terry in tail-male with contingent reversion to the heirs of William. (fn. 70) On the failure of heirs to the Thorntons and Terrys the manor was claimed by Thomas de Embleton as great-grandson of the grantor. (fn. 71) No further history of this holding has been found.
The Humets perhaps held under these families. The first Peter de Brus is said to have granted part of the vill to 'the ancestors of William Humet and other tenants,' (fn. 72) who held 4 carucates here in 1272. (fn. 73) Before this, however, Thomas son of Eudo de Humet had granted to Guisborough Priory the chief dwellinghouse and mill beside the garden with its suit and pool. (fn. 74) The Humets still held tenements in South Loftus in 1428. (fn. 75)
The Crown seems to have retained the manor after the surrender of the priory until 1602 when the mill, the close called Tibthorpe, various messuages and 32 oxgangs of land, lately belonging to Guisborough Priory, were granted to Richard Burrell of London and William Allen. (fn. 76) These tenements were afterwards known as the manor of NORTH LOFTUS, (fn. 77) South Loftus becoming attached to Handale. Richard Burrell sold the manor in 1615 to William Duck, (fn. 78) one of three trustees appointed for the purpose by the farmers of North Loftus, to whom the trustees conveyed each his own land in severalty, Philip Wheath, clerk, acquiring the manor. (fn. 79) Philip died about 1633 and his son Philip (fn. 80) in 1651 conveyed the manor to Zachary Steward, (fn. 81) D.D., brother and heir of John Steward of this place, (fn. 82) in fee. (fn. 83) Zachary by 1655–6 had been succeeded by his son Zachary (fn. 84) (living 1666), whose daughter and heir Mary (fn. 85) must have married Thomas Moore, for in 1694 and 1695 Thomas Moore, Mary his wife and Zachary Steward Moore made settlements of the manor with a warranty against the heirs of Mary. (fn. 86) The manor, as the possession of Zachary Steward Moore, brother of Thomas Moore of Angram Grange, (fn. 87) was registered among 'Papists'' estates in 1717. (fn. 88) A gamekeeper was appointed for the 'manor of North and South Loftus' in 1738 by Zachary Harmage Moore (fn. 89) 'of squandering memory.' (fn. 90) He sold Loftus to Sir Robert Dundas, (fn. 91) ancestor of the present owner the Marquess of Zetland. (fn. 92)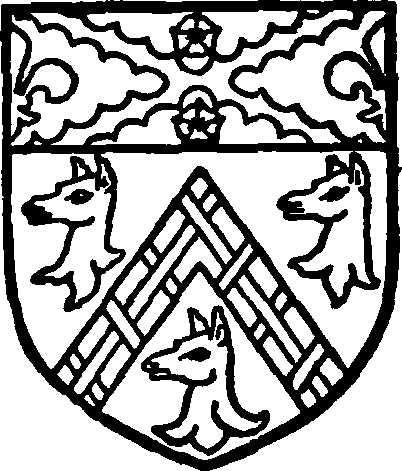 The priory of Cistercian nuns at HANDALE (alias Grendale, xii-xiv cent.; Grindale, xvi-xviii cent.; Handle, xviii cent.) is said to have been founded in 1133 (fn. 93) by William son of Richard de Percy of Dunsley, (fn. 94) younger son of the Domesday tenant in chief. At the Dissolution the site and appurtenances were valued at 40s. (fn. 95) The manor was leased in 1540 to Ralph Beckwith, goldsmith, of York, (fn. 96) and the reversion of the site and the mill beside the nunnery were sold by the Crown in 1543 to Ambrose Beckwith, (fn. 97) whose family established themselves here. Ambrose died seised of 'the manor or capital messuage' in or before 1575 leaving a son and heir Leonard, (fn. 98) who died in 1624, and was succeeded by Newark son of his brother Roger. (fn. 99) Newark died in 1656. His son and heir Leonard (fn. 100) made a settlement of the manor and mill as the manor of 'South Loftus' early in 1660–1. (fn. 101) Leonard's sons Roger and William (fn. 102) died childless, but Roger son of his son Newark was living at Handale Abbey in 1741, (fn. 103) and appointed a gamekeeper for his 'manors' of Handale Abbey and Wapley in 1748. (fn. 104) Roger, who apparently died childless (fn. 105) in 1758, (fn. 106) sold it to a Mr. Sanderson of Staithes; his daughter and heir married Thomas Richardson, from whom the priory was purchased by Thomas Stephenson, owner in 1808. (fn. 107) The manor was conveyed by John Buckton and Ann his wife in 1819 to Thomas Jackson, (fn. 108) and in 1846 was the property of John Bell. (fn. 109) It has since followed the descent of Thirsk (q.v.).
The vill of WAPLEY (Walplo, Walepol, Wapelhou, Walplwe, xiii cent.; Walplowe, xiii–xvi cent.; Wapley, Whaplowe, xvi cent.; Wayplay, xvii cent.; Waupley, Woapley, xvii cent.) passed with Loftus from William de Sauchay to the first Peter de Brus, who gave it to the nuns of Handale. (fn. 110) After the Dissolution in March 1544–5 the manor was granted to the Archbishop of York (fn. 111) and has since descended with the manor of Marske (fn. 112) (q.v.).
Church
The church of ST. LEONARD was rebuilt in 1811, the former building being described by Graves about 1808 as a 'mean and humble edifice' in a neglected condition. (fn. 113) Ord in 1846 describes the church as a 'plain but capacious edifice, built chiefly by Bonomi, on whose architectural genius it confers no great lustre.' (fn. 114) With the exception of the west tower, which remains as erected in 1811, the church was almost wholly rebuilt again in 1901, some portions only of the old west and south walls remaining, and now consists of a chancel 33 ft. 6 in. by 24 ft., north vestry and organ chamber, nave 60 ft. by 24 ft., north aisle 10 ft. wide, and west tower 9 ft. square, all these measurements being internal. There is no structural division between the chancel and nave, both being under one continuous red-tiled eaved roof. The new building is in the Gothic style with a large pointed window of five lights and perpendicular tracery at the east end, and an arcade of four pointed arches to the aisle. There is a clearstory on the north side and the aisle has a flat-pitched leaded roof. The building is of no architectural interest. The tower finishes with an embattled parapet and has a clock dial on the north and west sides towards the town.
The font and fittings are all modern, and the organ dates from 1902. There are two bells, one dated 1811, and the other a modern recasting of an old bell with the inscription in Gothic letters 'Ave Maria gratia.'
The plate consists of a silver cup without marks and quite plain in design, and a paten with four marks very much worn (the date letter is possibly that for 1713), inscribed 'The Gift of the Revd. H. S. Hildyard M.A. Rector of the Parish, Lofthouse, A.D. 1859.' There is also a pewter flagon and plate. (fn. 115)
The registers begin in 1697.
Advowson
There was a church without a priest (fn. 116) in 1086. (fn. 117) William de Sauchay gave the church to Guisborough Priory, (fn. 118) and since the Dissolution the advowson has been retained by the Crown. (fn. 119) The living is a rectory.
Charities
In 1735 Thomas Woodill by his will devised land in Ugthorpe, containing 5 acres or thereabouts, for the poor of this parish and Ugthorpe. The sum of £2, being a moiety of the rent, is distributed, together with a rent-charge of 12s. paid in respect of Ralph Robinson's charity, among the poor, in sums of 2s. to each recipient. In 1864 Thomas Earl of Zetland gave £1,666 13s. 4d. consols, the dividends to be applied for the day and Sunday schools.
The Wesleyan chapel and burial ground were conveyed by deeds of 1814 and 1841, and a school building was acquired by deed in 1836.
The chapel known as the Ebenezer Chapel, comprised in deeds of 7 June and 19 October 1828, was by an order of the Charity Commissioners of 23 July 1907 authorized to be sold, and the proceeds applied towards defraying the cost of the Congregational chapel now erected upon a site in West Road, which has been conveyed upon trusts approved by the Charity Commissioners.