Pages 1-31
Survey of London: Volume 19, the Parish of St Pancras Part 2: Old St Pancras and Kentish Town. Originally published by London County Council, London, 1938.
This free content was digitised by double rekeying and sponsored by English Heritage. All rights reserved.
INTRODUCTION
As stated in Part I of this Survey, the whole of the ancient parish of St. Pancras belonged to the Canons of the Cathedral Church of St. Paul, London. The date of its acquisition is unknown, but it was before the Conquest, and was no doubt one of the early grants to the See. When the various prebends were founded, the estate was divided into Manors for the endowment of the various Stalls. The Prebendal Manors of Rugmere, Tottenhall, and Cantlowes and the two manors of St. Pancras are shown on the accompanying map. The lay manor of St. Pancras appears to have been alienated from the Church at so remote a date that the ecclesiastical manor to which it first belonged has not been determined although, as shown later, there is some reason to suppose that it once formed a portion of the prebendal manor of Cantlowes.
Since there are many topographical features better shown graphically on a map than described in words, the reader is asked to regard the accompanying map as an integral portion of the historical account, containing facts not dealt with in the text. In addition to the manorial boundaries, it has been found possible to show within the manors a considerable number of the large fields mentioned in pre-Dissolution records, as well as some of the larger estates dating from Tudor times dealt with in the commentary on the Panorama of J. F. King which forms the subject of Sections 23 to 25. In the absence of the Tottenhall court rolls it is not possible to delimit the estates within that manor in such detail as has been done for Cantlowes manor. It will be observed that the map does not show the parish as a whole at any one time, but is designed to indicate the location of lands dealt with in the text at various dates: nor does it attempt to show all the "enclosures" of waste or common lands.
Prebendal manor of Rugmere (Chalk Farm)
At the present time the site of the manor of Rugmere is occupied mainly by parts of the Zoological Gardens and of Primrose Hill, and by Regent's Park Road, Gloucester Road, Gloucester Crescent, Wellington Street, James Street, Camden Town Goods Depot and the L.M.S. Chalk Farm Station. The portion of the manor outside Regent's Park is bounded by Park Street, Camden Town, Chalk Farm Road and Ainger Road, while the part inside the Park extends westward to the boundary of the parish, approximately on the site of the Broad Walk. One prominent landmark familiar to all who have travelled from Euston is the circular building with a conical roof near Chalk Farm Station, which stands nearly at the northern end of the site.
The canons of St. Paul's who possessed this manor as Prebendaries until it was sold to Henry VIII (so far as yet discovered) were as follows:
1104–1132.
Radulphus son of Algodus
William, son of Radulphus
1203–.
Ralph de Chilton or Chilthone
John Wyting
1232–.
Cinchius the Roman, sub-deacon
William de Rising
Nicholas de Bladentone
Walter Niger
1256–.
Richard de Wendover
Walter de Salerne or W. de London
Rostandus
–1259.
John de Crakhale
Jordanus, Vice-Chancellor of the Pope
Osbert, the Roman
1307, Aug. 8–1320. Died.
William de Chadleshunt, D.C.L.
1323, May 13–1330.
Balsamus Thalani of Florence
1330, Sept. 29–1353, Nov. 3. Died.
Gilbert de Bruera
1354, Apl. 3–.
Richard de Kilmyngton, S.T.M.
1354, June 20–1356.
John de Welwick
1356, Apl. 13–.
William de Flisco
1361, Sept. 22–1364.
William de Dighton
1364, Feb. 3–1367.
William de Beverlee
1367, Oct. 21–.
John de Brettville
1375, Jan. 20–1409. Died.
Robert de Bradegare, L1.B.
1409, Sept. 16–1410.
Robert Manfeld
1410, Feb. 19–1416.
Richard Bruton, LL.B.
1416, Dec. 4–1418.
Henry Ware, Lic. in Laws
1418, Nov. 22–1436.
Thomas Damet or Danett
1436, Aug. 5–1452.
Thomas Liseux, S.T.B.
1452, Apl. 9–1480. Died.
John Sutton, M.A.
1480, Mar. 8–1487.
Thomas Jan, D.D.
1487, May 2–1493.
Oliver King, LL.D.
1493, Feb. 5–1496.
John Morgan alias Young, LL.D.
1496, Oct. 31–1499. Died.
Peter le Pener or Penneck, LL.D.
1500, Jan. 1–1521. Died.
Thomas Randolph, S.T.B.
1521, Oct. 19–1553.
Thomas Bennett, LL.D.
The record of the manor in Domesday Book has been given in Part I of this Survey, page 1. When the Rev. Daniel Lysons published the second edition of his Environs of London in 1811, he wrote of the manor: "Its site is not known, nor any estate in Pancras held under this Prebend." Various wild guesses were afterwards made by different writers until Mr. A. M. Davies made the first approach to the truth in 1902, in an article published in the Home Counties Magazine. In 1918 Mr. Arthur Ashbridge contributed more material in the Transactions of the London and Middlesex Archaeological Society.
Few details of the manor in pre-Reformation times are available. It covered about 275 acres and the manor house doubtless stood on the site of the Old Chalk Farm Tavern (Plate 47) near Chalk Farm Railway Station. It was mainly meadow and pasture land, but with some 16 acres of wood in the early sixteenth century. A glimpse of its economic aspect is afforded by the following summary of an account rendered by the Reeve in the year that saw the death of King Edward III and the accession of Richard II. (fn. 1)
Ruggemere
Receipts and Payments made by John atte Forde for the year ended Michaelmas, 1377
Receipts
£
s.
d.
£
s.
d.
From pasturage of divers cattle.
7
–
–
From Totenhale Manor for mowing the meadows and sowing .
14
7
7
14
7
Payments
Mowing grass with 4 men for 2 days and 2 men for 2 days at 10d. each a day
10
–
1 man 2 days at 3½d. a day spreading the grass
7
6 men carrying hay 4 days at 3d. a day each
6
–
4 men one day similar work at 3d. a day . .
1
–
17
7
Cash payments
Money paid to the Lord twice from the issues of the manor this year
7
–
–
7
17
7
Sum total of Payments and Expenses
7
17
7
Owing by the Lord to the Reeve
3
–
7
14
7
This little manor disappeared when King Henry VIII formed Marybone Park in 1538. In order to extend the circular fence of his park eastward of Tyburn Manor he obtained Rugmere from the Prebendary, to whom he gave in exchange the church and patronage of Throwley, near Faversham, in Kent, an arrangement ratified by an Act of Parliament, 32 Henry VIII. The text of the relevant portions of this Act is as follows:
"For asmyche as it hathe pleaced the kynges highnesse of late for his commodyte and pleasure to imparke and inclose within his newe Park called Marybourne Parke in the countye of Middelsex certeyn medowes landes pastures and wood being parcelles of the dotacon of the Prebende called Rugmere of old tyme founded in the Cathedrall Cherche of Seynt Paule in London the collacon and petronage wherof belongeth perpetually to the Bysshopp of London for the tyme beyng as by the fundacon of the seid Prebende more fully is declared And where also Thomas Benett, clerk, is nowe presently prebender and incumbent of the same prebende And John Palmer, gentylman, is nowe fermour and lessee to the seid Thomas Benett of all the landes tenementes and heredytamenttes lying and beyng in the seid countye of Myddelsex beyng parcelles of the seid prebende or belong to the same prebende for terme of certeyn yeres yet induryng For asmoche as the seid landes and other premysses nowe beyng imparked ben to the commodyte and pleasure of oure seid souereigne lorde, hys maiestye of his blyssed disposicion and singler goodness is contentted and pleaced that the seid prebender and his successors and also the seid John Palmer shall be duely and equally recompensed and satysfyed for their seuerall tytles righttes and interestes in and to the seid landes beyng imparked and other premysses accordyng to equyte and iustyce Wherefore be it ordeyned and enacted by auctoryte of this present Parlement that the seid Prebende of Rugmere shall contynually from hensforthe stonde be and persever in the said Cathedrall Cherche in the same degree and astate to all intenttes as the same prebende heretofore haue ben. And that the seid Thomas Benett shall stonde contynue and be prebender of all the seid prebende and that kyng our souereigne lorde shall haue holde and enioye to hym and to his heires and successours for euer all and syngler the seid landes and woddes beyng imparked And that the seid Thomas Benett shall haue to hym and his successours prebenders of the seid prebende of Rugmere in the right of the same prebende for euer for and in recompense of the seid landes and woddes beying imparked the advouson and patronage of the cherche and parsonage of Throwley otherwyse called Threwleigh in the countye of Kent . . . . . And moreouer be it enacted by the auctoryte aforeseid that the seid John Palmer shall haue to hym and to his heyres for euer to his or their owne vse or vses for and in full recompense of his seid lease and interest in and to the premysses all the residue of the landes tenementes and heredytamenttes lying and beynge in the seid countye of Mydd. which were the landes tenementtes and heredytamenttes of the seid prebende called Rugmere or belonged to the same and which nowe be not inclosed into the seid newe Park together with all issues revenewes and profettes comen and growen of the same residue of the seid landes tenementtes and heredytamenttes from the feast of the annunciacon of oure lady Seynt Mary last past hytherto and from hensforth for euer And shall holde the same residue of the seid landes tenementtes and heredytamenttes of the kyng oure souereigne lorde his heyres and successours in chieff by the xxth part of a knyghttes fee and by the yerely rent of eightene shellynges to be yerely yelden and paid to oure seid souereigne lord his heyres and successours by the seid John Palmer his heyres and assignes in the feast of Seynt Mighell at and in the kynges seid Court of Augmentacons. . . ." (fn. 2) (fn. n1)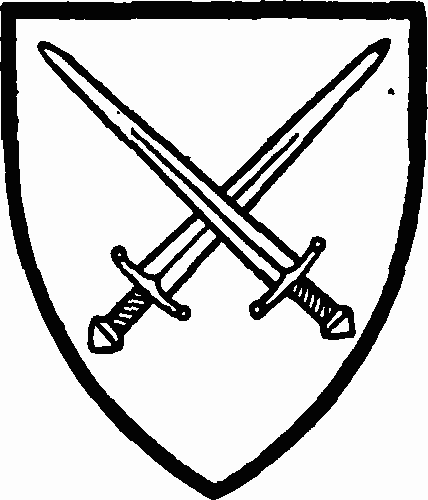 Thus the Prebendary got the advowson of Throwley and his leaseholder John Palmer obtained as his share of compensation the freehold of that part of the manor which was not required by the king for his park. The portion enclosed within the park consisted of 89 acres of arable and pasture land 40 acres of meadow and 16 acres of wood, i.e. 145 acres in all. With 55 acres 1 rood of land adjoining it on the south similarly purchased of the Prebendary of Tottenhall, this forms the eastern portion of Regent's Park, and the Albany Street area. (fn. 3)
John Palmer's land was thereafter described as Okefeilde, containing 30 acres, Middlefeild in Ragmore and Netherfeild, containing together 29 acres, pasture ground heretofore wood, containing 11 acres, Ragmore, containing 11 acres, and Parkegatefeild containing 24 acres, i.e. 105 acres in all. In addition to this land Palmer held a considerable area of copyhold land in Tottenhall and Cantlowes manors in right of his wife. The families of John Palmer and his wife are shown in the following pedigree: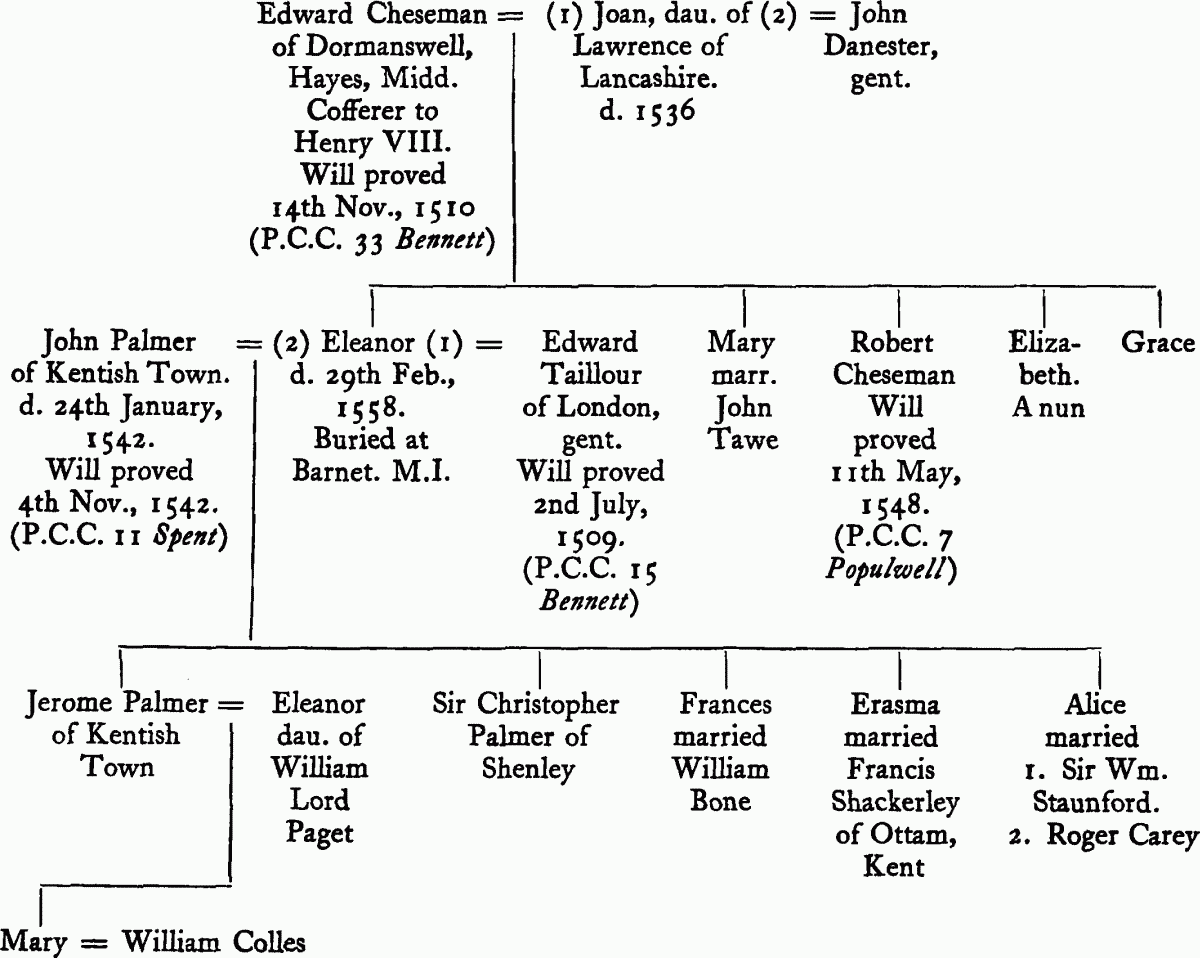 Edward Cheseman, in his will dated 10th August, 1509, directed that he should be buried in the Church of the Blackfriars, Ludgate, and that an obit should be kept for his soul in the church of Norwood, Middlesex. He bequeathed "to the body of the parrishe church of Seynt Pancras of Kentisshtowne a chalice of silver". To his daughter-in-law Eleanor, wife of Robert Cheseman he left a spice box of silver. Amongst other bequests were, to Joan his wife, two salts of silver and gilt, one with a cover, a cup with chains of silver and gilt with a cover, two silver "bollys" with a cover, three silver goblets with a cover, a nut with a foot and a cover of silver and gilt, a little silver piece, a salt of silver parcel gilt, ten cows, a bull and all his hogs at Kentisshtown, five steers drawing a cart with the apparell, "Bayard" his horse, his roan horse and market horse. To Joan his wife an ewer and a basin of silver to have during her life and after to Robert Cheseman his son "upon condition that he be good and kind to his mother". To each of his four daughters a cow. To his son Robert Cheseman his manor of Southall. All his lands at Lewisham, Chipping Barnet, Stanes, Feltham, Isleworth and the City of London were to be sold.
Robert Cheseman the only son of Edward made his will on 4th October, 1546, directing that he should be buried in the church of Norwood "before the picture of our Lady there as my tomb is new made". To the church of Kentish Town he left a torch and 3s. 4d., and to each of his poor tenants there 8d. Ten shillings were to be distributed on the day of his funeral at Kentish Town for dirige and mass and to the poor people there. To his wife Alice he left his house at Dormanswell and during her life his house at Kentisshtowne and 12 acres of land. To Robert Taylour he left his house "that my sister Palmer dwelleth in in Kentish Towne" when he came of age, to Robert Standford his house in Kentish Town in which Joan Fisher, widow, late dwelt, and to Robert Shakerley his house in Kentish Town in which Joan West, widow, late dwelt. The "sister Palmer" referred to was Eleanor Palmer (see post p. 47) who gave three acres of land at the Fortys to the poor of Kentish Town and of Chipping Barnet, now Fortis Terrace, etc., in Junction Road. The Cheseman family had no interest in Rugmere but the office of "Cofferer" i.e. Treasurer of the Household, held by Edward Cheseman in the preceding reign would indicate that they had influence at Court and may account for the apparently good bargain secured by Eleanor's husband.
On 14th January, 1542, ten days before his death, John Palmer surrendered his copyholds to his children, viz., Jerome, Christopher, Frances and Grace. His eldest son, Jerome Palmer, on 18th September, 1562, sold the Rugmore land to Armigall Wade, esquire of Belsize, Hampstead, the adjoining landowner, by whom it was sold in 1563 to Sir William Cecil, Principal Secretary to Queen Elizabeth, it being then leased in two portions to John Hatton and William Wayne, yeoman. (fn. 4)
Sir William Cecil (created Lord Burghley in 1571) in 1569, granted the estate (with the exception of Park Gate Field) to the Crown in exchange for the manors of Geadinges, Hoddesden, Hanwell, Broxbourne, Wormley, Cheshunt and Nasing, in Hertfordshire and Middlesex, (fn. 5) subject to the life interest of Anne, Lady Bourchier. Ten years later Lord Burghley (as he was then) exchanged Parkgatefeild and other lands with the Crown. (fn. 6) Lady Bourchier died on 28th January, 1571, when the Crown came into possession of the first mentioned land. Lord Burghley appears to have leased the land to Thomas Kyrkbye. (fn. 7)
Sundry leases were granted by the Crown, viz., Middle-Field and Netherfield to Richard Nightingale for 21 years in 1578 (fn. 8) and Oakfield with the 11 acres, formerly woodland, and Rugmore to John Ricardes in the same year. The last named was not a farmer but is described in his will, dated 12th January, 1585, and proved on 8th February following, as a citizen and armourer of London. He desired to be buried in the church of St. Gregory (fn. 9) "near Paul's." At that time he had probably disposed of his lease of Oakfield, etc., but he mentions a lease of ground in Kentish Town "not far from Pankridge Church" containing three score acres commonly called the Hundred Acres and another piece of ground in the same parish adjoining, near the other, containing 20 acres. This land was on the east of Hampstead Road afterwards Rhodes' Farm, near Cardington Street and Somers Town. (fn. n2) The Crown leases of Nightingale and Ricardes came into the hands of Thomas Muffett who, in 1593, (fn. 10) obtained a lease of the whole for another 21 years, which was renewed in 1605 by Edward Forcett. (fn. 11) Edward Forcett, who bought the manor of Tyburn from the Crown in 1611, was a Governor of Sir Roger Cholmeley's School at Highgate, and died in 1630. He acted as a government spy and gave evidence of the conversations he overheard in the Tower in 1605–6 between F. Garnett and Hall.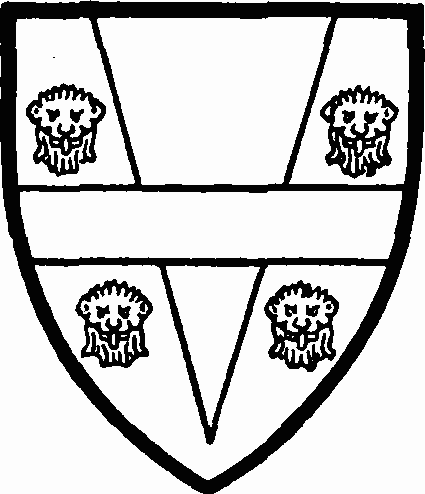 At this time the State was without an adequate organisation for collecting taxation and also lacked the statistical information necessary to calculate with any accuracy the probable yield of taxes. Consequently it was the custom to "farm out" the revenue to merchants in the City in return for fixed sums of money. Thus Sir William Garway, who died on 26th September, 1625, aged 88, was a farmer of the Customs, and he with several others in 1609 nominated George Salter of St. Dunstan in the West and John Williams of St. Peter le Poor to receive a grant of Parkgate Field in Kentish Town, with many other properties belonging to the Crown, evidently in part settlement of their accounts. (fn. 12) In the following year a similar grant was made to Salter and Williams of the remainder of what had formerly been the portion of Rugmere not enclosed in Marybone Park. (fn. 13) In his will Sir William Garway directed that Parkgate Field and lands in Kentish Town should be sold by his trustees Salter and Williams. In 1648 we find that Rowland Hale of King's Walden, Herts, esquire, conveyed in trust to John Hale of King's Walden, esquire, and John Garway, son of Sir Henry Garway, citizen and alderman of London, six score acres of meadow in Kentish Town, in the occupation of Thomas Mann and George Kidd. (fn. 14) (Six score acres of land meadow, pasture and wood late parcel of the Prebend called Rugmere had been the description of the estate when Armigall Wade conveyed it to Sir William Cecil in 1563.) Exactly when it was conveyed to Rowland Hale does not appear, but the pedigree on the next page suggests how it came to him by marriage.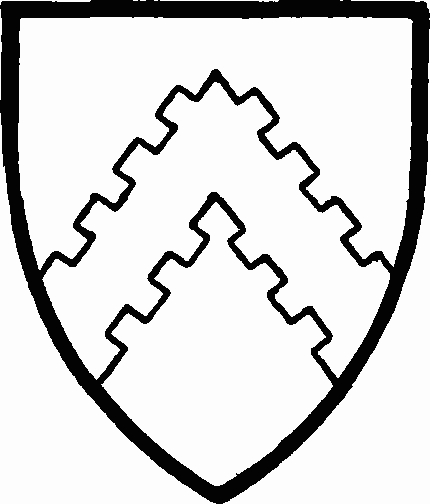 In 1716 William Hale of King's Walden, Herts, son and heir of Richard Hale of King's Walden, who was the son and heir of William Hale of King's Walden, conveyed to Francis Brace of Bedford, the same estate, now described in detail as follows: (fn. 15)
A messuage or farm and 3 acres, with the great barn formerly built thereon, near Kentish Town in St. Pancras, in the occupation of widow Smith;
the tile kiln built on the said premises;
the Mead, 16 acres;
a close lying on the left side of the Mead, 12 acres;
a close at the bottom of Mead Close called Great Field, 24 acres;
Pitts, 12 acres;
two other closes lying next the Pitts, each containing 4 acres, together 8 acres;
a close on the right hand side of the last mentioned two closes, and adjoining to the Pitts, called Three Corner Field, 9 acres;
a close at the bottom of the two Four Acre closes, 11 acres;
a close above Eleven Acre Close and adjoining to Slipshoe Lane [Park Street, Camden Town] 6 acres;
a close in the field beyond the last Six Acre Close next the Hampstead Road [Chalk Farm Road] leading from London, in which there is a new cow house, 8 acres;
a close adjoining the last mentioned, next the said road, 5 acres;
a close between the last mentioned and Great Field, also next the said road, 4 acres;
all which are in Kentish Town in St. Pancras, in the occupation of widow Smith, being the same premises described in the Release as Oakfield, a parcel of pasture late woodground, the Ruggmoor, Middlefield, Netherfield and Park Gate Field.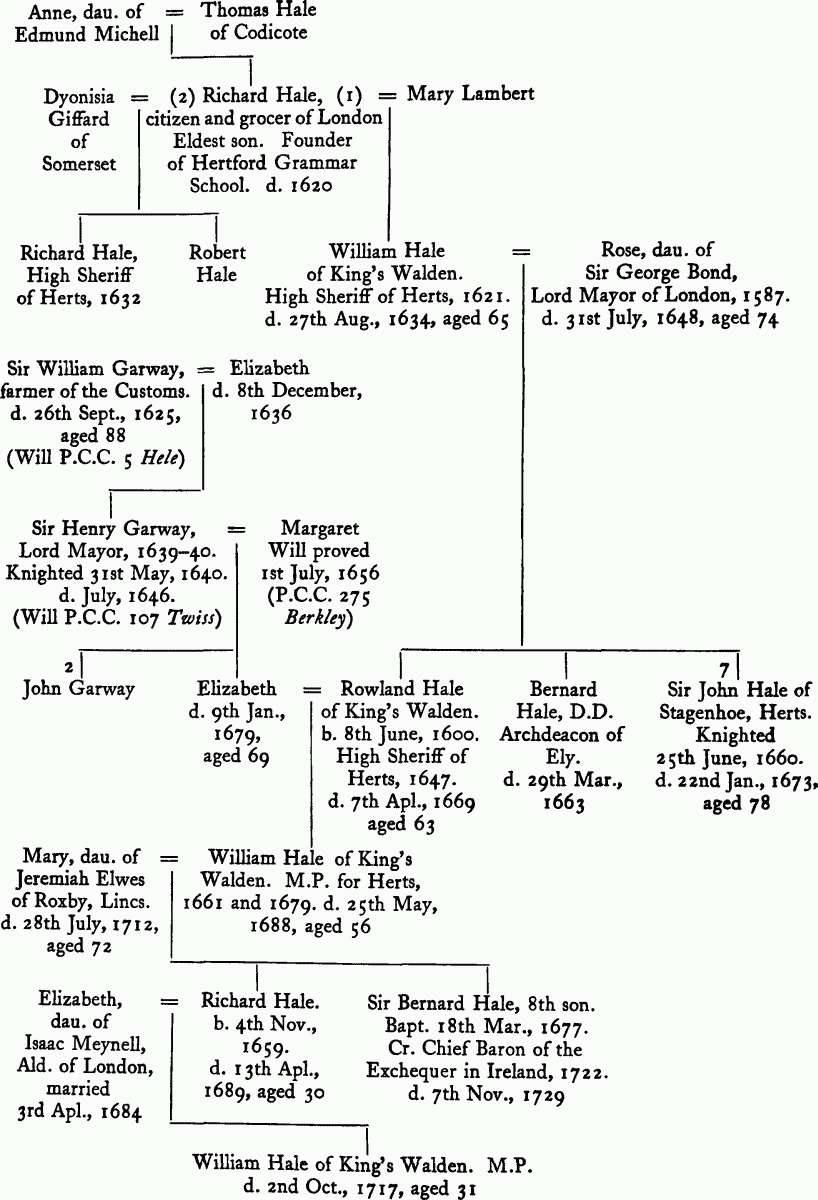 Francis Brace and Elizabeth his wife in 1721 conveyed the estate to Sir Gregory Page, of Greenwich, bt., the tile kiln with two acres of pasture being then in the occupation of Charles Badger and the remainder of Rebecca Smith, widow. (fn. 16) From Sir Gregory Page, then of Ricklemarsh, Kent, it was acquired by John Badcock of Coleman Street, merchant, in 1731, being then in the occupations of Charles Badger, Thomas Barker, Samuel Butterfield and Richard Buckmaster. (fn. 17) John Badcock, mercer, of Ludgate Hill and Hampstead, died 25th February, 1756, (fn. 18) leaving his real estate to his eldest son John Neale Badcock. (fn. 19)
John Neale Badcock of Ottery St. Mary, Devon, by his will dated 7th March, 1785, and proved 15th February, 1786, appointed John Kestell of Ottery St. Mary, surgeon, Thomas Gregg of Sidbury, esquire, and the Rev. Francis Luce of Harpford, Devon, his executors, (fn. 20) who sold his estate in 1786 to Charles (Fitzroy) Lord Southampton, it being described as commonly known as Chalk Farm, then in the possession of Thomas Rhodes and Samuel Rhodes, formerly purchased by John Badcock, merchant, from Sir Gregory Page, bt., 3–4th September, 1731. (fn. 21)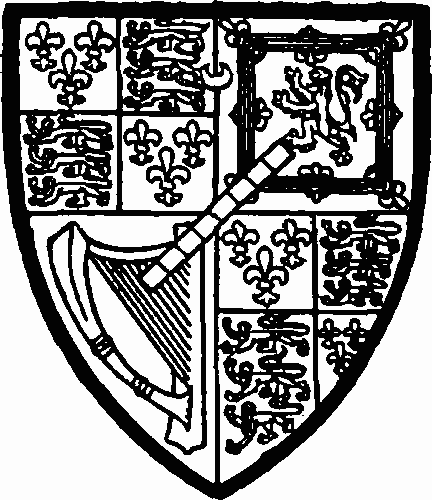 Lord Southampton proceeded to develop the estate for building. In 1825 Grove Street and Wellington Street (which stand on the ancient Oakfield) were laid out. The London and Birmingham Railway began building in 1832.
Tottenhall manor
The boundaries of the northern portion of this manor have been set out in Part I of this Survey, pp. 1 and 2. In 1761 a survey of the manor was made for Charles Fitzroy (created Baron Southampton in 1780) (fn. 22) and a Perambulation of the boundaries put on record.
"Begin at the bank of Mr. Francis's Home Field near the Farthing Pie House, along the bank of the same field to the corner of the wall near the Windmill, along the said wall to the corner thereof near Rathbone Place, from thence across the stable yards to the house of Mr. John Cross in Pettie's Court, cross the said Court into Mr. Alexander's yard, along his yard and through his house into Hanover Yard to the other side of the way to the butcher's shop near the said shop where formerly stood a pump, through the said shop into Mrs. Woodhouse's Yard, through her house (the left side of the passage within the manor) into Tottenham Court Road."
These minute details simply define the existing parish boundary from Euston Road to Hanway Street at the southern end of Tottenham Court Road.
"Up the middle of the said road [Tottenham Court Road] to a stone near Mrs. Pratt's cow-house, through Mrs. Pratt's yard to a stone in the bank of Mrs. Pratt's field, across the said field to a stone by the pond in Long Fields, over the Long Fields to a stone in the road from Southampton Row to the New Road."
This again follows the parish boundary along Tottenham Court Road northward as far as Heal's Furniture Shop, and then eastward to Southampton Row. "Mrs. Pratt's cowhouse" and yard were situate at the rear of No. 195 Tottenham Court Road.
"From thence to Dr. Campbell's house in Queen Square (two windows in that house are within the manor); from thence along the wall by Powis's Wells to a stable yard, through the said Yard into Red Lion Street. Cross the said street into Lamb's Conduit, from thence by the ditch or sewer through the garden belonging to the sign of the "Lamb," across the corner of a field and through a carpenter's yard and workshop (from the Conduit to here the sewer runs under ground) along the side of the ditch or sewer into Gray's Inn Lane." Again we are following the parish boundary as far as Gray's Inn Road.
"Along the said lane [Gray's Inn Road] (the lands on the left hand are within the manor) through Pennerywickfield, over Battle Bridge, cross the New Road [Euston Road], along St. Pancras Wash [Pancras Road], up Figg Lane [Crowndale Road] into Hampstead Road. The manor on the left along Hampstead Road to Mother Red Caps, the manor on the left up the road to Kentish Town [Kentish Town Road], the manor on the left up the middle of the road through Kentish Town and Green Street [Highgate Road], up Highgate Hill [West Hill] to the field gate over against Mr. Cook's house. Cross the fields to Sherwick's Farm House, from thence along the hedge by Cane Wood House to the field where the barn stood (belonging to — Wilson, esquire), near the Spaniard, along the ditch in the field and so by Cane Wood along Wilson' Esquire's land to Brockhill belonging to the Aqueducts."
"Pennerywick" is the northern portion of Gray's Inn Road south of King's Cross. Mr. Cook's house stood where Holly Terrace is. (See p. 1 of vol. I. The position of Brockhill has been defined ibid. p. 126.)
"From thence through Bone and Gould, esquires' land to Gospel Oak, from thence through Beckford, esquire, and Mr. Morgan's land to a stone under the shed in Mr. Rawlinson's garden on Haverstock Hill. From thence down Hampstead Road [Haverstock Hill] to Chalk Farm Lane [Ainger Road] to the manor on the left, up Chalk House Lane by the Chalk House to a tree with a cross on it near the hedge on Primrose Hill. Over the said hedge into Fryers Rugmore, down the said Rugmore and cross a corner of Mr. Badcock's field into Long Rugmore, along the same to a cross in the ground in Hill Field; from the said cross over Hill Field and Whitehall Field, over the hedge to a stone in Bell Field, formerly Sixteen Acres Field; over the said Field to a cross in the ground near the hedge; over the said hedge into the Jewsharp Field, over the said field into the green lane, along the said lane through the cowhouse yard, dwelling house and garden of William Jacomb, esquire, across the road to the corner of Mr. Francis's Home Field near the Farthing Pie House where we begun."
Again the perambulation follows the parish boundary the whole way, but Mr. Fitzroy's surveyor must have wrongly included in Tottenhall Manor the land that formerly belonged to Rugmore, unless one assumes that Rugmore was a sub-manor of Tottenhall. In the absence of manorial records of Tottenhall it would be imprudent to assert positively that such was not the case. Although of antiquarian interest the point is of little practical importance as regards the history of the land, and the site of Rugmore has been traced (see above, pp. 1 to 9). Marybone Park certainly contained 55 acres 1 rood formerly part of Tottenhall (see p. 4) and this is distinguished in the records from the acreage belonging to Rugmore. Lord Southampton did not acquire the Rugmore land (Chalk Farm) until 25 years after the date of the perambulation (see p. 9) so that its inclusion here in Tottenhall must have been deliberate: it seems strange also that the land inside the Park, being Crown property, is also included. A similar problem arises regarding the area formerly owned by the Charterhouse (the Lay Manor) also included in the area claimed as Tottenhall.
It should be observed that the inclusion of Ken Wood and Parliament Hill Fields in the manor really rests on inference, no documentary record being available on the point except the above perambulation. If, however, the inference be correct, a ground rent of "rent of assize" would have been paid to the lord of the manor, as it was for sundry fields on either side of Tottenham Court Road. In early times the lord of the manor would receive from such freeholders these rents, in addition to the produce of his own "demesne land", and "quit rents" from the occupiers of customary or copyhold land. The "rents of assize", having been fixed in early times when money was, perhaps, twenty times its present worth, only amounted to a few shillings and would die out; the copyholds were gradually enfranchised and their small "quit rents" disappeared; leaving the lord with his demesne lands which amounted to about 255 acres. Therefore the oft quoted comment circulated by William Howitt in his Northern Heights of London that in 1768 Charles Fitzroy obtained a princely estate covering thousands of acres from Oxford Street to Highgate for an annual rent of only £300 was based on a misconception.
The Canons of St. Paul's who possessed this manor until it was sold to Mr. Fitzroy (so far as yet discovered) were as follows:
Ralph Flambard or Passeflabere
Wulmanus or Ulfstanus
Humphrey, son of Roger Bigod
William de Waren
Ralph de Langford
Hugh de Marinis
Ralph de Diceto
Alard de Burnham
1233–1240.
William, son of Robert
1241–1241.
Geoffrey, son of the Dean
1241, Dec. 8–
John Mansell
Richard de Gravesend
Anthony Bec
1300–1304.
James de Hispania
1304, Feb. 14–1308.
Edward de Monte Martino
1308, Apl 16–1330.
James de Hispania
1330, Feb. 18–1349, June 7. Died.
John de Offord, B.C.L.
1349, June 15–
John de Carleton, D.C.L.
1361, Sept. 14–1361.
John de Branktre or Brynkelee
1361, Dec. 10–1362, Oct. 1
William de Wykham
1362, Dec. 22–1363.
John de Blebury
1363, Apl. 25–
William de Wykham
–1364.
John de Flamsted
1364, Dec. 16–1371.
John, son of Robert Theband of Sudbury
1371, Mar. 27–1391. Died.
William de Dighton
1391, May 7–1400. Died.
John Carp
1400, Dec. 25–1441. Died.
Reginald Kentwode
1441, Oct. 9–1452.Died.
Thomas Wodeford
1452, Apl. 8–1456. Died.
Thomas Lisieux, S.T.B.
1456, Nov. 25–1457.
Laurence Both, Lic. in Law.
1457, Oct. 28–1473.
Thomas Graunt, S.T.B.
1473, July 30–1478, Dec. 7. Died.
Thomas Winterborne, LL.D.
1479, Mar. 11–1501. Died.
Walter Knightly
1501, May 15–1513. Died.
Gundisalvus Ferdinandus
1513, June 27–1543. Died.
William Horsey, D.D.
1543, Apl. 12–1543. Died.
Richard Gwent, LL.D.
1543, July 23–1560.
Thomas Darbyshire, LL.D.
1560, Jan 1–1577. Died.
Thomas Watts, M.A.
1577, June 12–1588. Died.
Adam Squire, S.T.P.
1588, Nov. 11–1602. Died.
Alexander Nowell, M.A.
1602, Feb. 13–1602.
Simon Rogers, M.A.
1602, May 29–1614.
John Overall, S.T.P.
1614, June 25–
William Shawe, M.A.
1636, Oct 29–1660 Died.
Samuel Baker, S.T.B.
1660, Aug. 18–1688. Died.
Robert Marsh, M.A.
1688, Mar. 8–1705.
Zaccheus Isham, S.T.B.
1705, July 24–1750, Mar. 20. Died.
John Pelling, S.T.P.
1750, Apl. 20–1754. Died.
Hugh Wynne, LL.D.
1754, Oct. 18–1780. Died.
Richard Browne, D.D.
The record of the manor in Domesday Book has been given in the Introduction to Part I of this Survey (p. 1), as well as some particulars of the manor house, etc. An informative inventory of implements, live stock and provender on the farm at Tottenham Court in 1377 was made by John atte Ford, the reeve, when handing over office to his successor Thomas Dycon, viz., (fn. 1)
A six gallon brass pot.
A two gallon brass pot.
A four gallon iron-bound pan.
A three quart pan.
A tripod.
12 dishes and 6 wooden platters.
An old bucket.
Two small tables.
A pair of trestles.
Three forms.
A lock.
Three hatchets.
Three iron shovels.
Two iron goads.
A mattock.
Three pairs of fetters, with three locks and three keys.
A long iron chain for the gate of Pondefold.
Two pitchforks.
Three dung forks.
Two fans for winnowing.
A scoop.
An iron bound bushel.
A peck measure.
Two corn dishes, one old.
Two cor'equina dealbata.
Seven salts, one old.
4 "lothirropes" of hair, with four swivels.
Two long ropes.
Two short ropes of hemp for binding carts.
Three carts, one iron bound.
Two new cart saddles.
Six pairs of traces.
Eight collars with 8 hames, all in order.
Seven halters.
One dung cart with two pairs of wheels.
4 quarters 5 bushels of new corn.
One quarter five bushels of old corn.
One quarter of barley.
Two quarters seven bushels of beans.
One quarter of oats.
Six bushels of tares.
Six cart horses.
Six oxen.
Three carts.
An old cart.
Two ploughs.
Two coulters with cart harness for 12 oxen.
A cart ladder.
Two long ladders for roofing the houses.
Eight rakes with wooden teeth.
Two rakes with iron teeth.
Two cocks, ten cockerels.
Nine capons.
A sickle to mow grass.
A peck of oats.
Two "cartsadys", old.
Two old collars.
An old chugpot.
A crowbar.
The bailiff of Hyde owed the lord 7s. for pasture of a cow (a stray) taken by John atte Pond. The reeve also delivered to his successor a horse belonging to Matilda Rous, also taken up by the said John, for which 12s. was owing for her feed from Easter to Christmas.
At this time the manor was evidently farmed by the servants of the Prebendary, but afterwards it was "leased for years". The prebendary Thomas Darbyshire leased it in 1511 to Dr. John Story of London for 80 years at £46 a year, which lease was assigned by Dr. Story in 1550 to the Right Hon. Sir William Herbert, K.G., Master of the Horse. (fn. 23) Sir William took the lease as an officer of the Crown and thereafter the manor was assigned to the support of the royal household, being administered by the Lord Steward and his Department (called the Board of Green Cloth). In 1560 the lease was renewed to the Lord Steward (fn. 24) for 99 years at £56 a year, and again in 1640 by Dr. Samuel Baker, for three lives, at £46 a year. (fn. 25) The subsequent leases and ownership have been given in Part I (pp. 2, 3). (fn. n3)
Queen Elizabeth appointed Alexander Glover, one of the Clerks belonging to the Receipt of the Exchequer to "the office of heard under Her Majesty" with the custody of her house and grounds at Totnam Courte "used for the keeping and pasturing of Her Majesty's provision of cattle and sheep for Her Highness's Household." His wife Blanche, the widow of Godfrey Bradshawe of London, was the daughter of Richard Loftis of St. Magdalen, Milk Street, London, mercer, owner of the manor of Chalcottes and Wyldes in Hampstead. A lease was also granted to John Haynes, esquire, "serjeant of the catery of Her Majesty's Household" for 30 years of a cottage, 1½ acre of pasture, an orchard of one acre and two acres of pasture, at £3 6s. 8d. a year, which lease he sold to Glover, 13th December, 1577. Alexander Glover "was at great charges in edifying and building the said messuage, which stood him in the sum of three score pounds because he was driven in manner to build it anew, being before that time but a very small cottage." His widow, in 1592, claimed that the possession of this cottage belonged to her, but Daniel Clarke, who followed her husband as "heard" maintained that it was included in the grant made to him. (fn. 27)
Daniel Clarke, who was master cook to Queen Elizabeth and King James I for 29 years, was living in the manor house in 1591. It was then described as a very slender building of timber and brick, formerly of larger size, part having been pulled down by Alexander Glover, the "heard" there, to mend part of the houses then standing. Another part of the building consisted of two rooms, one 15 feet by 24 feet and the other 15 feet by 34 feet, both greatly decayed. (fn. 28) Clarke was granted a new lease for 40 years from 1st June, 1606, in recompense for his long service and in consideration of £200 to be bestowed in building and bettering the grounds. He was buried at St. Pancras in June, 1626 (see his memorial, p. 76), and his daughter, Katharine, succeeded him. Her husband was Daniel Bateman, gentleman. As shown on the map (facing p. 1), the fields near the manor house were Moralls or Murrells, Churchfield, 40 acres, the Twenty-two Acres next Marybone Park, and a field of Sixteen Acres northward of the last, towards Kentish Town. One of the conditions of Clarke's lease, afterwards held by Bateman, was that he should supply yearly 24 loads of well made hay and put it into the barns and outhouses for His Majesty's use. It was found, in 1624, that Bateman had laid the hay with his own, but had agreed with the officers of the Board of Green Cloth to deliver it out by weight when required; a partition was then to be made in the barn to keep it separate in future. (fn. 29) The king had the right to put out a number of fat oxen, stirks and sheep in the winter in the Churchfields and Moralls, and the "heard" was to herd them into the Thirty Acres and Eighteen Acres next Marybone Park for slaughter as directed by the officers of the royal household. The "heard" had an allowance of 6d. a day to look after the king's cattle and to fodder them. In 1632 Katherine Bateman, the widow of Daniel Bateman, held the office of "heard" at 6d. a day and a coat yearly.
There was trouble in 1626 with the sub-lessees regarding the conditions attaching to their leases, particularly with one Thomas Downer, who refused to give up possession but "gave out threatening words that he would lose his blood there before he would leave the possession of the premises", and the Attorney General was instructed to proceed against them. (fn. 30) Again, in 1629, John Elborowe, the vicar of St. Pancras, had to be restrained from claiming more tithe from the Tottenhall land than he should have done. He was entitled to tithe fruit in kind to the value of one penny from every garden, for every cow 4d., for every calf 6d., for every lamb 4d., and tithe wool in kind: and at Easter 4d. for every acre of meadow or pasture mown. Notwithstanding, he claimed tithe for herbage and feeding of dry and barren cattle, proceeding against one of the copyhold tenants, Peter Benson, to obtain for 500 horses, geldings and mares, 100 oxen, bullocks, steers and runts, 100 dry and barren sheep, 12d. a day for every hundred horses, etc., 10d. a day for every hundred oxen, etc., and 5d. a week for every hundred sheep, etc., during eight months in every year. He proposed to proceed against the Crown also and its lessees for like tithe. (fn. 31)
The Crown appears to have paid for manuring the meadows, as shown by an agreement with Robert Hall of Paddington in 1633, to carry and lay 300 loads of dung at £8 the hundred upon H.M. grounds at Tottenhall Court between August and the end of November in that year. (fn. 32) In 1634 it was agreed that Daniel Bateman should have the use and profit of the manor house with the outhouses and buildings (except the use of half the room of the great barn reserved for H.M. service) gardens and orchards; also a tenement and little yard and garden occupied by Elizabeth Rose, widow; and an ancient allowance of 6d. a day as he had formerly, with an additional 4d. a day; likewise the entire profit of two pasture fields called Morrells and a pasture field called New Field, containing in all about 25 acres, without claiming any herbage, after-pasture or goeing of any cattle in any other of H.M.'s grounds in the manor, or any other allowances; delivering for that year for his majesty's service 24 loads of good, sweet and serviceable hay, and thereafter during the term of his lease yearly 14 loads of hay. (fn. 33) John May, gentleman, was granted a lease of the George, Little Murrells, Churchfield and the Pingle on 6th September, 1642; he was "heard or keeper of the grounds" of the king at Tottenhall, for which he was allowed the herbage, pasture and folding of Sixteen Acres and Eighteen Acres from 1st August to 25th March yearly. (fn. 34) The "George" was the inn occupied by Elizabeth Rose next to the manor house.
During the last quarter of the 18th-century the Southampton family constructed roads and granted building leases of the demesne lands until practically the whole area was built over. The dates of the leases are given on the map. The Act of 1768 provided that no buildings should be erected on Court or Church Field, or on North or South Murralls without the consent of the Duke of Bedford, the adjoining landowner. These fields lay north and south of Euston Road, between St. Pancras New Church and Hampstead Road. The Dukes of Grafton and Bedford evidently came to terms and this area was developed from about 1787 onwards.
Most of the land on either side of Tottenham Court Road in Tottenhall manor was not "demesne" land, but either copyhold or customary freehold, consequently the ownership is to be traced in other hands than those of the lord of the manor. In particular one such estate formerly belonging to the Charterhouse offers some interesting problems regarding its exact location. In 1411 John Askewyth, citizen of London, held a field called Brumfield lying between the king's way leading from "Totnalcourt to the Hospital of St. Giles on the west [Tottenham Court Road], a parcel of land and meadow on the east, the land of the lord of Totnalcourt on the north, and the land of the same lord on the south; Goldbeteresacre, containing one acre, in the south part of Totnalfield; a parcel of land and meadow between Blemondesburyfeld, belonging to the Charterhouse, on the south and Coweacre belonging to the Charterhouse on the north, land of the Charterhouse on the east, and on the west Bromfield, land of Totnalcourt and land late of Thomas Syreston." (fn. 35) He conveyed this land to William Aston, citizen of London, in 1421. William Aston evidently also owned land extending from Tottenham Court Road across Cleveland Street into St. Marylebone. In 1452 he granted to the Prior of Beauvale (near Gresley, Notts) an annual rent of twenty shillings from his lands in Tottenhall and Tyburn, for 90 years. In the same year he conveyed to Robert Cartleage in trust Bromfield containing 15 acres, land containing 16 acres 3 roods and an acre, in St. Pancras, with "Spraysmead" in Tyburn. (fn. 36) His will, dated 6th February, 1457, was proved by Robert Cartleage, giving a rent charge on his property in St. Martin's Ludgate to found a chantry either in the church of St. Mary Thyngdon, Northants, where his daughter Agnes was buried, or in the church of St. John Baptist, Dronfield, Derby. (fn. 37) In 1460 Robert Cartleage the executor obtained from the Crown a licence to alienate in mortmain to the Charterhouse meadow land held of the Dean and Chapter of St. Paul's (i.e. of Tottenhall manor) and of John, Duke of Norfolk (i.e. of Tyburn manor in Maryborne) by fealty and rent of 4s. a year, and 40 acres of meadow and 40 acres of pasture in St. Pancras and Maryburn. (fn. 38) The Priory of Holy Trinity in Beauvale transferred the rent charge of 20s. a year in Totynghale and Tyburn, referred to above, to the London Charterhouse in 1463. Clearly this land was copyhold of Tottenhall manor as also was Crabtree or Walnuttree field between Tottenham Court Road at its southern extremity and the parish of St. Marylebone (part of which became the Goodge estate).
John Askewyth's land must have included the farm land on the east side of Tottenham Court Road occupied in the eighteenth century by Christopher Capper, on the eastern portion of which University College was built. Arthur Rainescroft of the Bell, Friday Street, innholder, London, whose will was proved in 1583, left to his son Arthur Rainescroft a meadow containing 16 acres near Tottenham Court and Bloomsbury, in St. Pancras, (fn. 39) which Arthur leased in 1587 to his uncle by marriage Richard Davies of St. Benet's, Paul's Wharf, girdler. It was sold to John Gwyllym of London, gentleman, in 1588, and by him to Robert Carre in 1590.
In 1596 it passed to John Vincente of Kentish Town, gentleman, who had married Rose one of the two daughters of Robert Carre, (fn. 40) and was bequeathed by Vincent who died in 1602 to his two daughters Philadelphia and Elizabeth. (fn. 41) Philadelphia married Thomas Wollaston and her monument is in St. Pancras's Old Church (Plates 38 and 39).
From some Depositions made in an Exchequer action in 1601 it appears that an attempt was made to claim this land as part of Tottenhall manor, but on this point the evidence of John Haynes of Marybone, aged 89, was conclusive. He said it did not belong to St. Paul's because Henry Bludder, yeoman, of Tottenham Court, did not occupy it under his sublease from the Crown, nor did he himself by the leases granted to him after Bludder's death, "take any profits of the said close or pretend any right in Her Majesty's right". (fn. 42) In other words, it was not part of the demesne land of Tottenhall leased to the Crown.
John Vincent's daughter Elizabeth died without issue and her sister Philadelphia Wollaston left an only daughter, Philadelphia, who also died without issue. Then the estate passed to Mrs. Margaret Bird, the sister of John Vincent, and was sold by her trustee in 1629 to John Duckett and Peter Duckett, sons of Dr. Gregory Duckett, Rector of St. Andrew's, Holborn, and Prebendary of Portepool. (fn. 43)
We then lose sight of the land until the year 1709, when the occupier was Christopher Capper of St. Giles in the Fields, gentleman, and Mary his wife. It is then described as "Brickfields at or near Bloomsbury and Tottenham Court, abutting east on pasture ground belonging to the Right Hon. Lady Russell in the occupation of Christopher Capper (Bloomsbury), west on the road from St. Giles to Tottenham Court [Tottenham Court Road], north on lands of Lady Arlington in the occupation of John Aylworth and Thomas Bleay [Tottenhall manor] and south on land of Lady Arlington in the occupation of John Eles". (fn. 44) In 1768 the owner was Hans Winthrop Mortimer of Caldwell, Derby, esquire. It was then occupied by Esther Capper and Mary Booth, widow, daughters of Christopher Capper. (fn. 45) Sir William Paxton was the next owner and his heirs in 1825 (fn. 46) sold to David Bevan of Lombard Street, banker, for £22,050, land in St. Pancras bounded north and south partly by land of Lord Southampton and by land late of Sir William Paxton, east by land of John, Duke of Bedford, and west by land late of Sir William Paxton [Mortimer Market]. Thus the field was divided and this eastern portion, containing 7½ acres was conveyed on 16th November, 1825, by David Bevan to Benjamin Shaw of Cornhill, esquire, and Isaac Lyon Goldsmid of Dulwich, esquire, in order to provide a site for the University of London, then in process of formation. (fn. 47) It has been said that this land was the last fragment not yet built upon of the "Long Fields" (which were the property of the Duke of Bedford), but that statement is not correct. The site of University College was never owned by the Duke of Bedford.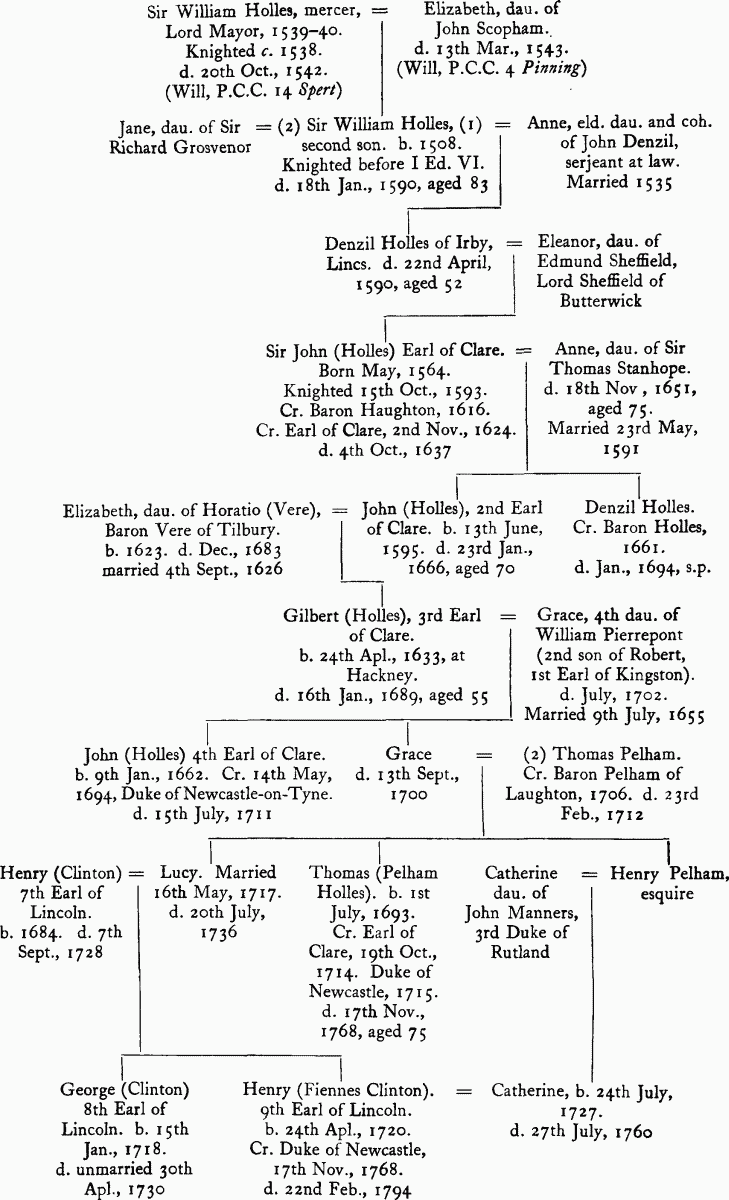 The western portion of Brickfield had been laid out for building some time before, the earliest lease (for three houses in Mortimer Market) being dated 1795, and the latest in 1824 (for 4 houses in Upper Thornhaugh Street, now Huntley Street). The frontage of the estate facing Tottenham Court Road was leased for building in 1801, 1802 and 1806. (fn. 48)
The field which formed the site of Francis Street, called Cantlowe Close, (fn. n4) belonged to Henry Cantlowe, who died on 19th November, 1490, and then to his son, Richard, who died without issue in 1517. Richard's sister, Joan, married in 1497 Oliver Woode of Collington, Northants, who died in 1521, leaving a daughter, Margaret, afterwards the wife of Sir William Hawte of Bishopsbourne, Kent, by whom the field was sold in 1531 to William Holies, merchant, of London. (fn. 49) He was knighted about the year 1538, was Lord Mayor 1539–40, and died on 20th October, 1542. Cantlowe Close remained in the ownership of the Holles family for 241 years, as shown in the pedigree on page 18.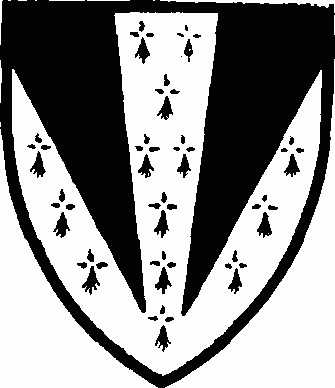 In 1772 Cantlowes Close, containing 9½ acres, was sold by Henry Fiennes Clinton, Duke of Newcastle, and Henry Pelham Clinton, his eldest son, to Gertrude, Duchess of Bedford, and has since then remained part of the estates of the Duke of Bedford. (fn. 50) Francis Street was immediately built, the boundary of the land attached to houses on the southern side of the street being also the boundary of the parish.
The lay manor of St. Pancras
The pre-Reformation Charterhouse held an extensive tract of land in the southern area of St. Pancras, which joined on to the remainder of their estate in St. Giles and Holborn, bounded on the south by the main east and west road leading from the city of London to Oxford, now known as Holborn, High Holborn and St. Giles High Street. The eastern boundary was the river Fleet and the western the ancient parish of St. Marylebone.
The prebendal manor of Tottenhall, as has been shown, abutted west on Marylebone (the ancient manor of Tyburn) and south on Oxford Street at St. Giles's Circus (anciently St. Giles Pound). Eastward of this portion of Tottenhall was the manor of Bloomsbury, acquired by William Blemund in 1202 from John Bocointe as "a carucate of land in Totenhale," and extending eastward as far as Southampton Row. Eastward of this again the Charterhouse held an estate extending to the parish of St. Sepulchre, which came into their possession in 1405 (together with the manor of Bloomsbury).
The lay manor of St. Pancras, which we have so designated to distinguish it from the prebendal manor of St. Pancras, owed in 1247 certain yearly rents to the "lords of the fee", viz., to Master Roger de Cauntelow (Cantlowes Manor) 2 marks, to Master William de Lichfield (Prebendal Manor of St. Pancras) 29s. 6d., to Master Roger de Dorset (Portepool Manor) 15s. 8d., and to Master William de Weleburn (Prebendal Manor of Holborn) 22d., as well as 20s. to William de Kent (Bloomsbury) and to Peter ad Duo Ostia 18d. (fn. 51) It would seem, therefore, that it was formed by subinfeudation from the prebendal manors, and, judging from the amount of rent, in the main from St. Pancras and Cantlowes. Although called a manor, its manorial status is very doubtful, and the inclusion of a great part of it in the survey of Tottenhall recorded above (p. 11) may have been justified. Nevertheless, since it was formed prior to the statute of "Quia Emptores" in 1290, we cannot deny the possibility of its being technically a "manor".
One of the earliest owners of the lay manor of St. Pancras (afterwards the possession of the Charterhouse) was Andrew Bukerel, Mayor of London from 1231 to 1237, from whom it passed to his nephew Thomas Bukerel (son of Thomas Bukerel), who conveyed it to John de Gatesden. In 1247 John de Gatesden confirmed to Adam de Basinges of London, mercer, his homage and service, lands, rents and buildings in "St. Pancras de la Kentiston" and in St. Giles Lepers and St. Andrew Holborn. The subsequent owners were as follows:
Adam de Basinges, Mayor of London in 1252. He was son of Robert de Basing and grandson of Solomon de Basing, who was Mayor in 1217.
Thomas de Basing (son of Adam), whose will was proved in 1295. He died when about 21 years of age.
Thomas de Basing (son of Thomas).
William de Hadstock, in right of his wife Avice, daughter of Adam de Basinges by his first wife Desirée. De Hadstock's will was proved in 1296. (fn. 53)
Adam de Bidyk, in right of his wife Joan, daughter of William de Hadstock and Avice his wife. In 1294 Adam de Bidyk and Joan leased "all his manor of St. Pancras next London" to Robert de Bykel and Margaret his wife for 7 years, reserving their rents in Holeburn and Pourthepol in St. Giles Street. (fn. 54) The source of Joan's right is shown by her claim, made in 1304 (fn. 55) when she was a widow, to be quit of tallages in the city and suburbs of London by divers charters of Henry III granted to Adam de Basinges and Augustine de Hadstock her grandfather. One of the charters on which Joan de Bedyk based her claim was granted on 13th February, 1247, to Adam de Basinges, confirming to him, of the gift of Alan de Aldermaniebury the advowson of St. Michael Bassishagh, and of the gift of Gervase son of Gervase of Aldermaniebury, all the messuage in Aldermaniebury sometime of Gervase the father of the donor, together with the advowson of the churches of St. Mary Aldermaniebury and St. Mary Magdalene in Melkestrate. Her claim to be free of tallage depended on the further grant in this charter of all the liberties and free customs which Henry II granted to Reiner de Aldermannebury, sometime the holder of the said messuage, and which King Richard afterwards granted to Gervase and Alan; so that Adam de Basinges should hold all his lands within and without the city of London free of all scot and geld, tallages, aids, etc. (fn. 56)
Henry de Bedyk (son of Adam). In 1318 he let to William Ters, miller, a windmill in his manor of St. Pancras, with two acres of arable land, for two years at 60s. a year. (fn. 57) The wife of Henry de Bedyk was Joan de Taleworth and they had two sons, Thomas and John. In 1330 Henry de Bydyk granted to the Friars Minor of London the right to enclose in a stone channel a water course from their conduit head in his field called Conduyteshote in a place called Ryngedstone, they agreeing to find security for damage to the crops when it should be necessary for them to dig and repair or inspect the water pipe. (fn. 58) This conduit was at the north-west corner of Queen Square.
Sir Thomas de Bedyk (son of Henry). He was the last of his race to own the manor, which had been granted by his father to Joan his wife during her life. In 1349 Sir Thomas de Bedyk conveyed the reversion after the death of his mother to John de Boykngham, parson of Olneye, the estate being then described as a messuage, a mill, 240 acres of land, 18 acres of meadow and 10 marks rent in Kentissheton and Iseldon next London, and in the parishes of St. Giles Lepers and St. Andrew Holborn. (fn. 59) His mother afterwards married Arnold de Mounteneye and they confirmed this grant. (See Appendix for the pedigree of this family.)
John de Bukyngham was chaplain to King Edward III, Keeper of the King's Wardrobe, Baron of the Exchequer, etc., and finally Bishop of Lincoln. He held many prebends at different times, including that of Mapesbury, to which he was appointed in 1361.
Dame Joan de Ferrers, widow of Sir Robert Ferrers, to whom the manor was conveyed in 1360 by John de Bukyngham (then Dean of Lichfield). (fn. 60) She died 29th June, 1375, holding the manor of Pancras of the Dean and Chapter of St. Paul's by service of 30s. yearly. (fn. 61)
Robert de Ferrers (son of Dame Joan). He granted the manor in 1377 to Sir Robert Knolles and Constance his wife, for the term of their lives, with reversion to King Richard II, William, Bishop of London, John, Lord Cobham, Sir William Walworth and Richard de Warmyngton, clerk. Obviously this was a preliminary to its conveyance to the Charterhouse, which had been founded six years before. (fn. 62)
Sir Robert Knolles in 1380 obtained a licence in mortmain to convey the manor to the Charterhouse after the death of himself and Constance his wife. (fn. 63) In 1405 he accordingly conveyed it together with the manor of Bloomsbury, of which he was also owner, on condition that he should receive an annual rent of 45 marks. As regards Bloomsbury an interesting clause in the agreement provides that his agent should have easement of chambers for himself and his servants, a stable, hay and bedding for horses when he came to London, that is to say, five days four times a year. (fn. 64)
The Charterhouse, "The House of the Salutation of the Mother of God of the Carthusian Order near London", was founded in 1371 by Walter Lord Mauny. It was dissolved in 1537, and the lay manor of St. Pancras is not mentioned thereafter. Among the records concerning land within this manor before the Dissolution is one that Richard de Gloucester, draper, who was sheriff in 1294–5 and died in 1323, possessed [the manor of Bloomsbury and] 50 acres of land in Kentyshtown held of Henry de Bydyk worth, at 4d. an acre, 16s. 8d., and three acres of pasture at 3d. an acre worth 9d., for which he rendered 8s. a year. (fn. 65) His son Richard came of age on 2nd February 1325, and married Juliana, daughter of Walter Waldeshef, goldsmith of London. The trustee was William de Wiklewode, rector of Boyleston, Derbyshire (where Walter Waldeshef died), who settled on Richard de Gloucester and Juliana his wife and the heirs of Juliana, a messuage, 170 acres of land, 3 acres of meadow and 47s. 2d. rent in Kentisseheton and in the parish of St. Giles Lepers. (fn. 66) Walter Waldeshef had in fact bought the "wardship" of the youthful heir from the Crown and married him to his own daughter. In the following year they also obtained a messuage, 50 acres of land and two acres of meadow in Kentishton from Elena the wife of John de Sutton. (fn. 67) The first-mentioned estate, 170 (fn. n5) acres, etc., was conveyed by Richard de Gloucester and Juliana his wife in 1335 to William Pycot, goldsmith of London, (fn. 68) and by him in 1336 to Roger de Bedefield and Matilda his wife. (fn. 69) Matilda or Maud, widow of Roger de Bedefield died on 27th July, 1347, leaving Roger the second son aged 7 and a daughter Alice. Roger died on 1st March, 1349, and the estate went to his sister Alice, aged 10. She afterwards married John de Padbury. (fn. 70)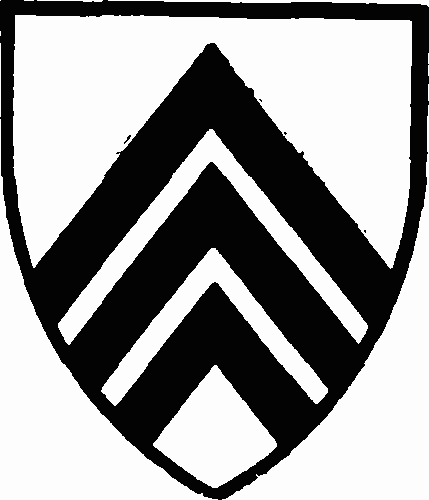 John Padbury and Alice his wife in 1369 obtained the reversion of 60 acres of land and 7 acres of meadow in St. Pancras in Kentissheton, which was held by Peter Turk and Juliana his wife. (fn. 71) Padbury and his wife conveyed all their lands "in Kentiss Heath" to William Olney and others in (fn. 72) 1369, and granted by them in 1371 to Nicholas de Exton, (fn. 73) citizen of London. From him in 1373 the estate passed to Sir John Cobham and others, and in 1376 to King Edward III, by whom it was granted to the Charterhouse. As stated before, the manor itself was granted in the following year to King Richard II and similarly granted to the Charterhouse.
From the terms of a lease undated, granted about 1405 by the Charterhouse to William Render, citizen of London, we are enabled to perceive more clearly where some of the lands above mentioned were situated in the parish. The description was as follows: (fn. 74)
Pancrasfeld between Morwellfeld and Camerwell on the west, the Great Croft on the east, Hakehegge on the south, and Peter Turke's croft on the north
100 acres
Conditeschote between Grays Inn Road on the east, Blamondesbery on the west, land of John Askewythe and Lytelcondyteshote on the south and the Grete Croft on the north
70 "
The Gretecroft between Grays Inn Road on the east, Conditeschote on the south and the way to Pancrasfeld on the north
40 "
Croft with Grange between Grays Inn Road on the east, Pancrasfeld on the west, a garden grange and dovehouse on the north and the way from Pancrasfeld to Kingsway on the south
—
Camerwell between Pancrasfeld on the south and Peter Turke's croft on the north
15 "
Peter Turke's Croft between Grays Inn Lane on the east and north, Figges Lane on the west and Pancrasfeld on the south
20 "
Croft between Grays Inn Road on the east and north, Pancrasfeld on the west and the garden aforesaid on the south
1 "
253 acres
The boundaries of the manor are shown on the map, with the constituent fields so far as they can be located after a lapse of more than five centuries. Conditeshote is roughly equivalent to the Foundling Estate, which amounted to 59a 2r 8p, when James (Cecil), 6th Earl of Salisbury, sold it to the Hospital. The Great Croft evidently included the site of the Harrison and Lucas Estates with Battlebridge Field, i.e. the land between King's Cross on the north, the Foundling on the south, Gray's Inn Road on the east and the Tonbridge School Estate (Skinners Company) on the west. Pancras Field would appear to include Somers Town. Peter Turke's Croft must have been on the south side of Crowndale Road (anciently Fig Lane).
Although it is not within the scope of the present Survey to trace in detail the subsequent owners and occupiers of all this land, there are many post-Dissolution records that afford interesting material for further research. The boundary of Tottenhall demesnes ran eastward from Cardington Street, in Hampstead Road, north of Euston Railway Station to Drummond Crescent. North of this line was the estate which went with Bloomsbury, the mediæval descent of which is traced above and also, farther east, in 1557 "a pasture called the Hundred Acres containing three score acres, late in the occupation of John Rychardes, citizen and armourer of London". Ricardes has been referred to in relation to his lease of part of the manor of Rugmere (see p. 6). The apparent absurdity of the "Hundred Acres" containing only 60 acres is obviously explained by this field having retained the name "Hundred Acres" formerly applied to a larger area. It was bought on 16th June, 1557, by Caesar Adelmare and Benedyk Spinola, merchant of London, from Francis Brown of Kilby, Leicester, gentleman, and William Browne his son and heir, citizen and mercer and merchant of the Staple of Calais, executors of William Browne. Caesar Adelmare, Doctor of Physic (he was Physician to Queen Elizabeth), in 1566 sold it to Henry Elsynge, citizen and baker of London, and Alice his wife, for £540. (fn. 75) Henry Elsyng, citizen was a Governor of St. Bartholomew's Hospital, by his will, proved 10th June, 1581, left to his wife two leases, from the College of Petty Canons in St. Paul's, of the Bell in Warwick Lane and other lands, during her life and after her death to his son, Henry, and Frances his wife, charging them to distribute yearly a cart load of coals to the poor of St. Dunstan in the West. He dwelt in Fleet Street and also owned a house called The Fyerye Ball in Hounsditch. (fn. 76) His son, Henry Elsinge, merchant-taylor, died on 27th March, 1582, leaving to his wife, Frances, his leases of houses in Warwick Lane, Fleet Street, etc. (fn. 77) He also lived in Fleet Street. His eldest son, Henry, who was four years old when his father died, leased the Hundred Acres in 1598 to Thomas Smith of London, (fn. 78) cordwainer for 21 years at £90 a year, and, with Blanche his wife, sold it in 1608 to Dame Margaret Hawkins, widow of Sir John Hawkins the famous admiral, who lived in St. Dunstan in the East. (fn. 79) In her will, proved 4th January, 1621, she left an annuity of £10 to Mary Davies from the three score acres called Hundred Acres in St. Pancras, which land was sold by her executor. (fn. 80) She directed that she should be buried in the middle chancel of the church of St. Dunstan in the East, near the monument of her late husband Sir John Hawkins. She was a daughter of Charles Vaughan of Hergest, Co. Hereford, and the second wife of Sir John.
Between the modern Somers Town and Pancras Road lies an estate belonging to Aldenham School, founded in 1599 by Richard Platt, citizen and brewer of London. St. Pancras Railway station stands at the southern end of this land. It was sold by the Crown in 1550 to Sir Ralph Sadler, gentleman, as "three pastures near the Church of St. Pancras in Holborn, in the tenure of Nicholas Cooke." (fn. 81) Henry Browne of London, mercer, merchant of the Staple, who was apparently a brother of the William Browne mentioned above, in his will proved 12th June, 1559, mentions "lands on the backside of Gray's Inn purchased of Sir Raffe Sadler, being socage tenure," which were to be sold. (fn. 82) Like the adjoining land (the Hundred Acres) it was acquired by Caesar Adelmare, who sold it to John Watson of London, gentleman, in 1565, for £400. (fn. 83) In 1575 it was sold by Watson to Richard Platt and described as "three pastures of ground lying nigh the churche of Sainte Pancras in the county of Middlesex besydes London, containing by estimation twenty acres" late in the tenure of Henry Spencer of London, innholder, and then of John Riccardes of London, armourer (fn. n6) (except a close of Eyghtene Acres then in the tenure of Henry Spence). (fn. 84) Richard Platt gave this estate to the Brewers Company in trust for the Aldenham School. He also owned the estate at Kentish Town afterwards given by his grandson William Platt to St. John's College, Cambridge (see p. 42).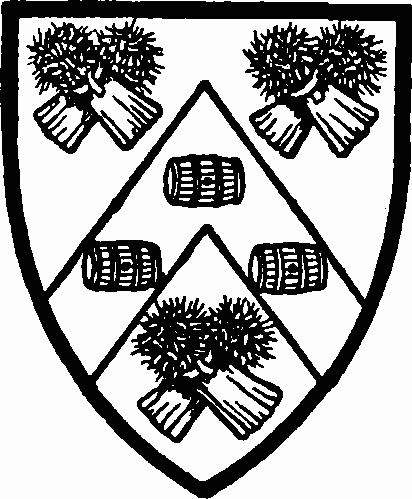 Another portion of the manor was Battlebridge Field, described in 1552 as a close of 16 acres adjoining the lane from Gray's Inn Lane to Kentish Town on the east and a field called Sandfield in the occupation of Michael Englisshe on the west, Turmylbrook [the Fleet] on the north, and Peperfeild, in the occupation of Nicholas Cooke, on the south, demised to John Hogge on 6th May, 1537, by the Crown, for 30 years. (fn. 85) There is a minute by Sir Thomas Mildmay, the Auditor, "The parcel of three pounds [Battlebridge Field, let at that rent] lieth besydes Greys Inne and is very profitable bycause it is nere London. Which is to be considered in the Sale, and there hath been former Particulars made thereof to one Richard Clyff the ixth day of January, anno sexto [Edward VI]". The ground was sold in 1554 to Thomas Reve and George Cotton. (fn. 86) Richard Cliffe of High Holborn, gentleman, whose will was proved in February, 1566, bequeathed to his brother Jeffery Cliffe the reversion of a messuage and two fields "which he hath by lease in Holborn in the parish of St. Pankerish in the Feyldes". (fn. 87) Geoffrey Cliffe died on 25th March, 1571, holding two closes containing 30 acres in the fields on the north of High Holborn in St. Andrew Holborn and St. Pancras, one of them being Battelbridge Field, containing 16 acres. (fn. 88) His brother, Richard, had also left to his wife, Elizabeth, the lease of Hillfeilde "which I hold of William Hobson by lease". William Hobson, citizen and haberdasher of London, who was the freeholder, set out his property in his will (dated 6th January and proved 3rd March, 1582) in a most business-like fashion. To his son John Hobson he left "two closes of land or pasture in the several tenures of William Roper, ten acres of land (£8), and Richard Cliff, twelve acres (53s. 4d.), total £10 13s. 4d." in St. Pancras. To his other son, Anthony Hobson, he bequeathed a close in St. Pancras in the tenure of Saunders containing fifteen acres (£10). (fn. 89)
Battlebridge Field is described in 1650 as five closes as now divided, formerly but one close, containing 18 acres, and three houses, at the nether end of Gray's Inn Lane in Pankeridge alias Pancrasse alias Kentish Towne, etc., in the occupation of Richard Gualter. The field was then sold by Thomas Wilford, gentleman, of Dunball, Ashley Abborts, Salop, grandson of John Hodges of Holborn, gentleman, and Mary his wife, to Thomas Russell of St. Martin's, Ludgate, gentleman. (fn. 90) In 1710, when it contained four closes (formerly two and later five) with five houses, it belonged to the family of De Beauviour, Hackney. (fn. 91)
The estate which lately belonged to the Foundling Hospital is described in 1491 as the "Grete Conduytshote" in St. Pancras and St. Giles, lying between the little Conduit Shot in St. Andrews on the one part and a close called le Hacage in St. Pancras and St. Giles, in which year it was leased by the Prior and Convent of the Charterhouse to John Cole, citizen and "corioni" of London, for 30 years. (fn. 92) The name of this field is obviously derived from the conduit in the north-west corner of the adjoining Coundethed Close. The Charterhouse on 12th April, 1537, leased this land to Richard Hudson of St. Sepulchre without Newgate, innholder, as a great close of land containing 40 acres in St. Pancras, adjoining the Great Field of Blomysbury on the west, the lane coming from Gray's Inn towards Kentish Town [Gray's Inn Road] on the east, a close called Coundethed Close on the south and Sanndesfelde [Tonbridge School land] on the north; and another close containing 16 acres in St. Pancras adjoining the great field of forty acres on the south, land of the Charterhouse farmed by Nicholas Cooke on the east the great field of Blomysbury on the west and Sanndehyll, which Robert Gybeson, lately deceased, held on the north; which two closes John Wakefield late held of the Prior and Convent. (fn. 93) After the dissolution of the monasteries this was purchased from the Crown in 1539 by John Banyster, gentleman, (fn. 94) but bought back soon after, and was leased by Queen Mary in 1557 to Henry Partridge, equerry of the stable. It was leased by Queen Elizabeth in 1568 to Ralph Lane, equerry of the stable, (fn. 95) and again in 1581 to John Morley, gentleman, and Elizabeth his wife, during their lives, with reversion to their son Edward Morely. (fn. 96) In 1590 it was sold by the Crown to Edward Vaughan and Thomas Ellis of London, gentleman. (fn. 97) By indenture dated 21st January, 15 George II (1741), James (Cecill), 6th Earl of Salisbury, in consideration of £6,500, sold the land to the Governors and Guardiands of the Hospital for the Maintenance and Education of Exposed and Deserted Young Children (the Foundling), except a small part leased by the late Earl in 1721 to Nathaniel Curzon, esquire, another part leased in 1714 to Thomas Barlow, carpenter, and a third piece leased in 1711 to George Watson, esquire. (fn. 98) These pieces were small plots at the back of the houses lately built in Queen Square, etc.
The prebendal manor of Cantlowes or Kentish Town
The boundaries of this manor are indicated on the map, and the particulars given in the Introduction to Part I of this survey do not appear to require material additions. The Canons of St. Paul's who have possessed this manor as Prebendaries (so far as yet discovered) were as follows:
Segarus
Angerus, father of Turstin, the Archbishop of York
Audoenus, brother of Turstin, the Archbishop of York
1150
Hubertus Vacca
1162
1183
Henry de Northampton
Richard de Ely
1226
Peter de St. Mary, the Treasurer
William de Fauconberg
William de Ralegh
1242
1249
Roger de Cantilupe
1249
Walter de Merton
Antoninus de Camilla
Henry, Elemosinarius
1317
William Ayremin or Ermyne
1317 Apl. 21
1318. Died
Ingelardus de Warley
1318 July 2
John Russel
1323 Oct. 23
1332
Hugh de Ingolisma
1332 Nov. 15
1333. Died
William Bernardi de Renato
1333 June 27
Roger Isarmy
1338 Apl. 10
1338
Richard de Brynteworth
Henry de Ides or Idesworth
1350 Aug. 6
1354. Died
Edmund de Grymesby
1390 Feb. 21
1395. Died
Roger Holmes
1395 June 30
1398
William Waltham, LL.B.
1398 Mar. 22
1400 Oct. 29
Thomas Southam
1404 Sept. 5
1410. Died
Thomas Horston alias Van Shapewke
1410 Sept. 25
1422
Nicholas de Herbury, B.D.
1422
1430. Died
Robert Clerk
1431 Jan 11
1446
William Gray
1446 June 6
1452. Died
Clement Denston, B.D.
1452 May 23
1454. Died
Nicholas Sturgeon
1454 June
1465
John Waynflete
1465 Nov. 24
1478
Robert Ballard
1478 Mar. 2
1523
William Kemp
1523 May 9
1544. Died
Richard Layton, LL.D.
1544 Oct. 17
1551. Died
William Layton
1551 Aug. 24
1554
John Bradford, M.A.
1554 Jan 25
1556
John Feckenham, S.T.B.
1556 Nov. 22
1559. Died
George Lilly
1559 July 29
1591. Died
John Mullens, M.A.
1591 May 31
1608 Mar. 16. Died
Edward Stanhope, LL.D.
1608 Aug. 23
1616. Died
Robert Tinley, S.T.P.
1616 Dec. 23
1639 Jan. 2. Died
John King, M.A.
1639 Feb. 15
1644 Dec. 16. Died
John Tolsen, S.T.P.
1660 Aug. 14
1672. Died
Walter Jones, S.T.P.
1672 July 13
1674. Died
Thomas Henchman, S.T.P.
1674 Dec. 22
1700. Died
William Wiggan, M.A.
1700 May 1
1722. Died
Jonas Warley
1722 Aug. 13
1732 Oct. 29. Died
Edward Oliver, D.D.
1732 Dec. 24
1742 June 15. Died
Robert Tyrwhit, D.D.
1742 June 24
1746
William Gibson, M.A.
1771 Apl. 23
1812. Died
Anthony Hamilton, M.A.
1812 Nov. 16
1875. Died
Thomas Randolph, M.A.
Under the Cathedrals Act of 1840 as the prebends became vacated, the separate estates became vested in the Ecclesiastical Commission.
In the year 1649 the Commonwealth, having decided to sell the possessions of the Deans and Chapters, obtained a survey of the manor, as follows: (fn. 99)
A survey of the Manor and Prebend of Cantloes alias Cantlers alias Kentish Town.
In present possession.
The Court Baron and Court Leet fines, amercements, etc.
£10
p.a.
Copyholders' rents payable at Michaelmas
£4
17 d.
(sic)
By a covenant in the lease it appears that the lessor ought to have yearly the first crop of three acres of any of the meadows of the demesnes, valued at
£6
Timber and great trees on the waste
£10
Sum
£20
17d.
(sic)
In lease.
The manor house called Cantlers consisting of a little court yard, a porch entry, hall, parlour, kitchen, milk house, a little yard, washhouse, two little butteries, six chambers, a brushing room, two pairs of stairs, two little rooms next the parlour built with timber, an orchard, a fair garden with a brick wall on the south, a base yard, barn and two stables, carthouse, a little pightle adjoining, containing three acres one rood
3a
1r
£16
Mapurs Field abutting on Bishops Lane on the north
23a
£57
10s.
Ropers Field, abutting on Bishops Lane on the north-west
22a
1r
£59
6s.
8d.
Bensons Pingle abutting on Bishops Lane north-west
2a
£6
Roopers Field Pingle abutting on Dublesole Green west
2r
30s.
Roopers Pingle abutting on Hampstead Road way west
1a
2r
£4
10s.
Figg Lane Fields abutting on Fig Lane south
18a
£48
Gilden Fields abutting on Fig Lane south
23a
£63
5s.
Gilden Field Pingle abutting on the highway from Pancras Church to Kentish Town on the east
3a
£6
10s.
all in the occupation of Richard Gulater.
3a
£6
10s.
Wheate Field abutting on the highway from Pancras Church to Kentish Town on the north-west
14a
£35
Maybone Field abutting on Mayden Lane east
19a
2r
£45
10s.
Maybone Field next above on the north
18a
1r
£42
11s.
8d.
Fortie Acre, one end abutting on Mayden Lane east, the other end on Wheat Field west
41a
3r
£97
8s.
4d.
Thistlie Field abutting on the highway from Pancras Church to Kentish Town north-west
23a
1r
£54
5s.
all in the occupation of Leonard Streete.
Total acres 213a 1r.
Philip King and George Duncombe by lease dated 22nd February, 8 Charles I [1633] granted by John Kinge, Prebendary, hold all the last mentioned premises during the lives of Mary Kinge wife of John Kinge, John Kinge his son and Benjamin Baron son of Mary by her former husband. Rent £43 10s. Worth on improvement £493 16s. 8d.
The lessor hath demised to Philip King and George Duncombe the manor house and the demesne lands, except courts leet, courts baron, etc., etc.
The lessee to provide meat, drink and entertainment for one dinner for the steward, bailiff and 3 or 4 friends, and feed for their horses.
Copyholders pay 4d. an acre rent and 2s. an acre on alienation, and for a tenement 6s. 8d., a cottage 6s. 8d.
This survey was the basis of a conveyance made to Richard Utber, draper, who bought the manor in 1649. The manor house was sold to Richard Hill, merchant of London. These conveyances were of the freehold: the lease of the demesne lands shown in the survey as belonging to Richard Gwalter was made to him in 1647, for 21 years, and the actual tenant in 1660 was Elizabeth Nicoll, widow. The rights of the Dean and Chapter were restored at the Restoration in 1660.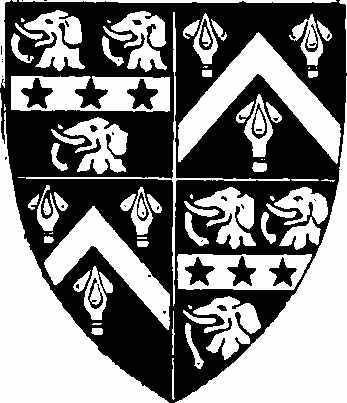 About the year 1670 the lease came into the possession of John Jeffreys, esquire. Elizabeth, daughter of Nicholas Jeffreys, esquire, of the Priory, Brecknock, son of John Jeffreys, married Charles Pratt, who was born in 1713, created Baron Camden, 16th July, 1765, Viscount Bayham and Earl Camden on 13th May, 1786. From a survey made in 1734 for Nicholas Jeffreys it appears that the only buildings then standing on the land were the Halfway House (Mother Red Cap) and the manor house on the west side of King's Road, where the railway now crosses, between Randolph Street and Prebend Street. The area given in this survey was 230a 2r 6p. (fn. 22)
A few years before his death Earl Camden commenced the development of the estate by granting building leases in 1790 of the southern area, abutting west on High Street, Camden Town. (fn. 100) He died on 18th October, 1794, and building was continued by his son John Jeffreys (Pratt), 2nd Earl Camden, who was born on 11th February, 1759, and created Marquess Camden on 7th September, 1812. At the time of his death in 1840 the urbanisation of this area was complete. Camden Road was laid out in 1825.
An interesting fact disclosed by the court rolls is that a strip of common land which was enclosed at various dates, abutting east on King's Cross Road, was copyhold of Cantlowes. From this the inference may be drawn that the freehold land bordered by the common was originally in this manor and, therefore, that the Calthrop and Swinton estates between King's Cross Road and Gray's Inn Road were at an early date within the manor of Cantlowes.
The prebendal manor of St. Pancras
Following the analogy of similar prebendal estates elsewhere in which the parish church was situated, we may surmise that this manor formed an original endowment of the church of St. Pancras. When in 1183 William de Belmeis, then holder of the prebend, transferred the advowson of the church and its tithes to the Dean and Chapter, a perpetual vicarage was endowed and the rectorial or great titles were retained by the capitular authorities.
The manor lay between Pancras Road and King's Road on the west and York Road on the east, extending northward to the back of the houses in Paul's Road. It is now entirely covered with railways, except a small portion opposite the end of Crowndale Road and near the old parish church. The Canons of St. Paul's who have possessed this manor as Prebendaries are as follows (so far as yet discovered):
Osbernus or Osbertus de Auco
1145
1150
Robert his son
John de Canterbury
William de Belmeis
1192
John de St. Laurence
Lucas, Treasurer of the King
1250
1257
William Lichefield
1257
1259
Hugh de Mortimer
1278
1283
Anthony Bec
Richard de Swynefead
Robert de Ros
1314 Dec. 18
1321 Nov. 12
William de Bray
1329 June 13
1342 (here)
Richard de Feriby
1363
John Cruse
1363 Feb. 15
1369
Henry de Wakefeld
1369 Feb. 10
1390. Died
Thomas Strete de Knesworth
1390 Sept. 8
1395. Dismissed
William Bryan de Snayth
1395 Sept. 29
1417. Died
John Sileby
1417 Aug. 5
1419
Richard Clifford
1419 June 22
1431
John Ixworth, sen., LL.D
1431 Aug. 2
1447. Died
John Ixworth, junior
1447 Mar. 30
1462. Died
Roger Martyn, M.A.
1470. Died
Thomas Gauge
1470 Nov. 8
1478
Ralph Byrd
1478 May 15
1482. Died
John Barville, S.T.B.
1482 Feb 18
1494. Died
Thomas Dulting, M.A.
1494 July 1
William Whetley, M.A.
1511. Died
John Fyshar, M.A.
1511 May 30
1521. Died
John Davis, M.A.
1521 Nov. 8
1527. Died
Thomas Sewell, D.D.
1527 Apl. 3
1529
Robert Rydley, S.T.P.
1529 Oct. 30
1551. Died
John Royston, S.T.P.
1551 Aug. 24
1553
John Rogers
1553 Oct.10
1558. Died
Thomas Cheetham, Bishop of Sidon
1558 Oct. 6
1559. Deprived
Robert Willanton, M.A.
1560 Jan 1
1562
Robert Alley or Lilley, M.A.
1562 Oct. 4
1570 Aug. Died
James Calfhede or Calfhill, S.T.B.
1570 Sept. 13
1589 Apl. 9. Died
Thomas Sampson, S.T.B.
1589 May 29
1609
Lancelot Andrews, S.T.B.
1609 Sept. 18
1616 Jan 16. Died
Roger Fenton, S.T.B.
1616 Jan. 24
1641
Henry King, M.A.
1642 Mar. 15
1651 Nov. 14. Died
Richard Steward, LL.D.
1660 Aug. 14
1667 Mar. 4
Philip King, S.T.P.
1667 Mar. 11
1672. Died
Richard Henchman, S.T.P.
1672 Mar. 12
1674
William Wiggan, M.A.
1674 Dec. 22
1678. Died
Charles Smith, M.A.
1678 Sept. 24
1681. Died
William Sill, M.A.
1681 Nov. 3
1690
William Sherlock, S.T.P.
1690 Sept. 26
1707. Died
The same
1707 Dec. 12
1727. July. Died
James Williams, M.A.
1727 Oct. 13
1743 Apl. 11. Died
William Crowe, D.D.
1743 June 27
1764 Apl. 26. Died
Fifield Allen, D.D.
1764 May 1
1794. Died
John Harris, LL.B.
1794 Aug. 4
1805 May 25. Died
William Paley, M.A.
1805 June 3
1817 Apl. 11. Died
William Beloe, M.A.
1817 Apl. 18
1847 Jan. 21. Died
Arthur Robinson Chauvel, LL.B.
After 1840 under the Cathedrals Act, as the prebends became vacant, the estates were vested in the Ecclesiastical Commission.
The Commonwealth survey of this manor was as follows: (fn. 99)
"A Survey of the Prebend and farm of Pancras, with the rights, members and appurtenances lying and being in the county of Middlesex, late parcel of the possessions of Henry King, D.D., Prebendary of the said Prebend founded in the Cathedral Church of St. Paul, London, made and taken in the month of October, 1649, by us whose names are hereunto subscribed.
A.
R.
P.
£
s.
d.
All that capital messuage or farm house with the appurtenances commonly called the Prebend Farm of Pancras, consisting of a hall, a parlour, washhouse or buttery, three chambers, two garrets, two pair of stairs, two stables, a barn, a cowhouse, a base yard, a little courtyard, an orchard, a garden, a little pingle with a field called the Homefield abutting on the highway leading to Kentish Town on the west, containing by estimation
5
3
–
22
–
–
One close of pasture ground called Upper Field abutting on Wheatfield, parcel of the manor of Cantlers on the north, containing by estimation
6
1
–
15
12
6
One close of pasture ground called the Roughfield abutting on the highway leading from Pancras Church to Kentish Town West, containing by estimation
4
1
16
10
17
6
One close of pasture called Dunghill Field abutting on the aforesaid highway west, containing by estimation
4
0
32
10
10
–
Two closes of pasture ground called the Middle and Lower Mowing Fields, abutting at the one end on the Upper Field north and at the other end on the Hospital land east, containing by estimation
11
0
20
27
16
3
Two closes of pasture ground called Dixon's Upper and Lower Fields, abutting at the one end on the Hospital land east, and at the other end on the highway leading from Pancras Church to Kentish Town west, containing by estimation
15
3
32
39
17
6
Carried forward
47
2
20
Brought forward
47
2
20
One close of pasture ground called the Picked Field abutting on Pancras churchyard and the Parsonage Pickle there west, containing by estimation
9
–
–
22
10
–
One close of pasture ground called the Pathfield abutting at one end on Mr. Hollensworthe's lands west, and at the south end on Mr. Hobson's land, containing by estimation
8
0
3
18
13
4
One close of pasture ground called the Hillfield abutting on the Vicarage land at the one end south and on the Hospital land on the east side, containing by estimation
10
2
–
25
5
–
The total number of acres is
75
0
23
Memorand. John Kinge of the Inner Temple, London, gentleman, by indenture of lease dated the 12th day of October in the 17th year of the late King Charles granted by Henry King, D.D., Prebendary of the said Prebend, holds all the last mentioned premises with the appurtenances for the term of one and twenty years under the yearly reserved rent of ten pounds, payable at Lady Day and Michaelmas by equal portions, but they are worth upon improvement over and above the said rent per annum as before appeareth £184 2s. 1d.
If the reserved rent be unpaid in part or in all by the space of six weeks after either of the days of payment aforesaid and no sufficient distress to be found upon the premises the lessor to reenter.
William Stisted.
Ralph Davis Daniell Nicoll.
Edw. Johnson."
The leases of this manor are given on page 60.
As shown on the map, the Hospital of St. Bartholomew in West Smithfield owned three fields in this manor, on the west side of York Road. When the Regent's Canal Company in 1819 acquired an acre of land from the Hospital it was described as "parcel of closes formerly called Allensbury and the Elm Friars", and that name appears also on a plan made in the sixteenth century, reproduced on Plate 27. This was the "Alkichesbury" mentioned in the 1249–50 Visitation of the Church (Appendix II) obviously so called from Alfric Rufus. William de Beaunies (Belmeis), canon of St. Paul's [and Prebendary of St. Pancras] demised to Stephen Albus "60 acres of land in St. Pancras which Alfric Rufus held of me", with a grange, a garden and two villeins, Thiedric and Edric "who dwell on the land", for a yearly payment of half a mark. From the witnesses this deed can be dated as between 1168 a.d. and 1181 a.d. The Priory of St. Bartholomew was founded in the year 1123, the Hospital being subject to it until the Dissolution.
"Alfrichebury" or "Alvrickesbiry" appears to have extended beyond the Prebendal manor of St. Pancras, since we find the Hospital holding "Alvrichesbiry" of William de Feria as of his prebend of Portepool for 22s. a year (circa 1200) and three acres of "Thotenhale next Alvrichesbury" of William de St. Mary; and again in 1241–2 "Alfrichebury" was settled as being held of Portepole prebend for two marks a year. Evidently these records refer to other portions of the original estate held by Alfric. (fn. 101)