Overview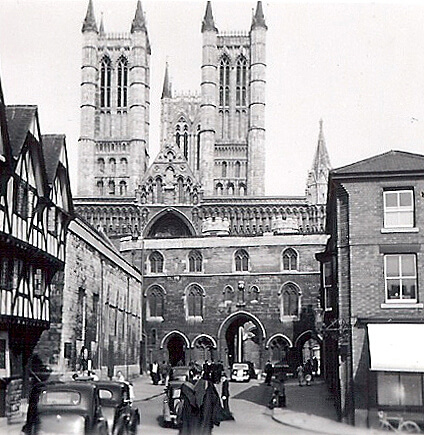 British History Online is a not-for-profit digital library based at the Institute of Historical Research. It brings together material for British history from the collections of libraries, archives, museums and academics. These primary and secondary sources, which range from medieval to twentieth century, are easily searchable and browsable online.
Contact us
If you would like to get in touch with us, please fill out our feedback form or write by post.
Project team
Since its inception, British History Online has been the collaborative work of many individuals.
Current team
Project alumni
Philip Carter, Head of IHR Digital (2016-2021)
Jonathan Blaney, Jonathan was involved with BHO in various roles, from 2007 to 2021, latterly as Editor
Olwen Myhill, Administrator (2019-2021)
Kunika Kono, Senior Developer (2017-2021)
Danny Millum, Publishing Manager (2017-2019)
Marty Steer, Senior Developer (2013-2017)
Jane Winters, as Head of Publications & IHR Digital, Jane was involved with BHO from 2003 to 2016
Adam Crymble, Project Manager (2014)
Rachael Lazenby, Freelance Researcher
Sarah Milligan, Publishing Manager (2014-2017)
Bruce Tate, Project Manager (2002-2013)
Peter Webster, Editorial Controller (2004-2012)
Matthew Bristow, Working Group (2010-2014)
Matthew Davies, Working Group (2003-2014)
Emma Peplow, Working Group (2011-2014)
Paul Seaward, Working Group (2003-2014)
Elizabeth Williamson, Working Group (2003-2010)
Advisory board
Our advisory board is responsible for maintaining the academic integrity of the project by reviewing content for inclusion. Advisory board members sit for three-year terms. In addition to our current project team members, who automatically sit on the board, the current board includes:
Pilot project team (2002-2003)
British History Online began as a pilot project in 2002 with the following team:
David Cannadine
Patricia Croot
Bruce Tate
Alan Thacker
Simon Townley
See below for the complete history of BHO.
Interns
The Institute of Historical Research and British History Online are helping train young scholars through an internship programme. We would like to thank the interns who have contributed to British History Online:
Elizabeth Allen (Anglo Educational Services)
Caitlin Brown (University of Leicester)
Danielle Davis (Anglo Educational Services)
Charlotte De Val (University of Leicester)
Jake Ellis (Anglo Educational Services)
Jill Howard (Anglo Educational Services)
Alison Gilbey (University of Leicester)
Angie Goodwin (Anglo Educational Services)
Bianca Harrisskitt (University of Leicester)
Kathryn Hemingway (University of Leicester)
Paris Jones (Roehampton University)
Michael Lazenby (Freelance)
Paul McMenemy (University of Leicester)
Michelle Nash (Anglo Educational Services)
Beth Page (University of Leicester)
Charlotte Ward (University of Leicester)
James Wilkinson (University of Leicester)
Cameron Williams (Anglo Educational Services)
Grace Karrach Wood (University of Leicester)
Emily Wright (University of Leicester)
Elizabeth Young (Anglo Educational Services)
Abigail Lane (University of Leicester)
Brandon Fathy (University of Leicester)
Alexandra Thompson (University of Leicester)
Laura Jäger (University of Cologne)
Katherine Cassidy (University of Leicester)
Rebecca Gillard (University of Leicester)
Jaipreet Deo (University of Leicester)
Laura Conway (King's College, London)
Njeri Njoroge (University of Leicester)
Tom Keidan (University of Leicester)
Oliver Georgiou (University of Leicester)
Matthew Bliss (University of Leicester)
Dev Bahra (University of Leicester)
Jay Cavanagh (University of Leicester)
Rebecca Steven (University of Leicester)
Rhys Davies (University of Leicester)
Laura Green (University of Leicester)
Tomisin Delano (University of Leicester)
Caitlin Hadden (University of Leicester)
Jennifer Hall (University of Leicester)
Fay Hearn (University of Leicester)
Danielle Wiles (University of Leicester)
Isaac Woolley (University of Leicester)
Project partners
Our project partners have been vital to the development of British History Online. These partners have funded our activities and donated their collections to our digital library.
Funding bodies
We are very grateful to the Andrew W Mellon Foundation for its vital support in the first three phases of our project. We would also like the thank the following organisation for their support:
Content partners
Our library has been built from the collections of a number of groups who have provided access to their materials. They include the following organisations:
We have also had the pleasure of working with the following individuals to bring their records into our collection:
Robert Bucholz
Martha Carlin
Nancy Cox
Karin Dannehl
Colin Thom
History
British History Online was established with private charitable funding from The Andrew W Mellon Foundation of New York, as part of its scholarly communications programme. It began with a one-year pilot project in 2002, which had three main phases: planning (including extensive consultation); establishment (including the digitisation of sample datasets and the development of the information architecture); and benchmarking (of both existing research practice and researchers' expectations). The pilot project determined the most academically and technically effective structure for the digital library, which was launched in June 2003. BHO was first archived by the Internet Archive in August 2003, and you can see that it looked very different from its current incarnation.
A grant from the Vice-Chancellor of the University of London's Development Fund bridged the period between the end of the pilot and the two major establishment phases of BHO, from June 2004 to July 2008. These focused on the development of content and sustainability respectively. In 2007 additional funding was secured from the Arts and Humanities Research Council (award no. AH/E008941/1) to add content and develop an online annotation tool encouraging researchers to comment on, link between and correct material on the site. Since August 2008, BHO has operated as a not-for-profit service.
From the beginning of the pilot phase to June 2004, BHO was managed from the IHR's Development Office, and thereafter it has been run from the Publications Department (latterly IHR Digital). Details of all of the organisations and individuals who have contributed to BHO over the past decade and more can be found above in project team and project partners.
BHO history in versions
Version 1.0: Pilot phase (2002-2003)
Version 2.0: Funding from Andrew W Mellon Foundation allows us to develop BHO beyond the pilot phase (2004-2007)
Version 3.0: Arts and Humanities Research Council funding allows us to redesign the site (2003-2007)
Version 4.0: Rebuilding (2013-2014)
Version 5.0: Total rebuild of BHO database and complete redesign of site. New features include faceted search, new map interface, subject guides and premium content page scans (December 2014)
Future plans: beyond 5.0
A lot has changed since BHO first went live in 2003. The website adapted and expanded gradually over the years, but by 2014, it was time for a complete overhaul. Version 5.0 of the website has been stripped down to the core of BHO. The focus is on making it as easy as possible for you to access the texts that you are researching. We are pretty proud of the new site and would love to hear what you think.
We are already thinking of the future. Version 5.0 was designed to make it easy to add new features to BHO while always prioritising the usability and coherence of the site as a whole. We have lots of plans and we want to let you know some of the things we are working on next.
Subject guides: We have several subject guides already and we are hoping to recruit more scholars to write guides that will helps BHO readers make the most out of our resources.
User bookshelf: The old version of the user bookshelf was too clunky to bring over to the new site, but we are working on a new one and hope to have it back up soon.
EEBO-TCP texts: We are working with the EEBO-TCP team to incorporate some of their transcriptions when they move into the public domain in 2015. Our advisory board will help us decide which texts will be most useful to BHO readers.
Image search: Even we were surprised by how many images we have on BHO. We'd like to make all of our images searchable as images. We think you'll really like it.
Page scans: With version 5.0, we introduced page scans of our premium content for the first time. We want to continue adding page scans of our texts over the next year. Like the current page scans, the new scans will be available at no extra charge for institutional subscribers, and will be included in of our new gold and patron subscription levels.
Sustainability plan
Since the early days of British History Online, about 20% of our content has been premium content. We have always offered both individual and institutional subscriptions. The income that we make from these subscriptions allows us to maintain our website, to add new materials, and to keep the free content free. We also have several advertisements on our site, which provide us with steady monthly income. These advertisements disappear when users log in with an individual or institutional subscription. Thanks to our subscribers, donors and advertisements, we are able to maintain the website, add new content, undertake large-scale website redevelopments (like version 5.0, launched December 2014) and to continue to make improvements on a regular basis (see our future plans).
Our goal is for the majority of British History Online to always be available for free. We aim to remain sustainable as a project and to continue providing readers from all over the world access to the key texts of British history. We are very grateful for the support from our BHO community, which allows us to do so.
Learn about how you can support British History Online.
Technical methods
Double re-keying: British History Online publishes texts that have been digitised by double-rekeying. This transcription method involves two typists inputting text independently from page scans. The two transcriptions are then compared and any differences are manually resolved. This process ensures a very high level of accuracy as both typists are highly unlikely to make the same mistakes. This has resulted in a transcription accuracy level estimated at greater than 99.995%, which is significantly better than can currently be achieved through computerised techniques.
Born-digital: Born-digital refers to documents or datasets that originate in digital form. Although they may or may not have been printed, we acquired the materials in the digital format in which they were created. We may have modified their original digital format to conform to British History Online standards.
Optical character recognition (OCR): OCR software electronically converts page scans of printed text into machine-encoded text. This method is much faster than double-rekeying, but also has a much higher margin of error. The OCR texts are manually checked and corrected in order to ensure the same level of accuracy that we achieve with double-rekeying. We are still experimenting with this conversion method and we are committed to not putting anything on our website that does not meet BHO's high standards. 
Copyright
British History Online is a content provider rather than a content owner. Generally we do not own the copyright of the content in our collection, so we cannot grant permission for reuse. That does not mean permission cannot be obtained from the relevant copyright owner (usually the author or the publisher), and we would encourage you to contact them with your queries. We are actively pursuing avenues that will increase the reuse possibilities open to users.
At British History Online, we are pleased to make almost 1000 volumes of primary and secondary historical sources available completely for free. Our website provides scholars and historians from all over the world with access to texts that they might not otherwise be able to read. We also have an additional 180 volumes of premium content, which can be accessed via subscription
Website images
We know that British history cannot be encapsulated by a single image, theme or place. For version 5.0 of British History Online, we have tried to incorporate a wide variety of images: maps, manuscripts, paintings and printed books; people, architecture, landscapes and object; images from museums, from historical archives and from image hosting websites. Some images are specific and some are generic. But every image speaks to some aspect of the long and complex history of Britain.
We are very grateful to the British Museum, the British Library, the Folger Shakespeare Library and individuals from Flickr, Shutterstock, Wikimedia and the BHO community for allowing the use of their images on British History Online:
| Image | Description | Source | License |
| --- | --- | --- | --- |
| Front page | British Isles from Atlas Cosmographicae (1596) by Gerardus Mercator | Library of Congress via Wikimedia (cropped) | |
| Browse catalogue |  'Indexed' | Stuart Cale via Flickr (cropped) | |
| Primary sources | Magna Carta (1215) |  Ed T via Flickr (cropped) | |
| Secondary texts | The Library, All Souls College, Oxford | Jun via Flickr (cropped and straightened) | |
| Guides and calendars |  Books | az via Flickr (cropped) | |
| Series | Bound volumes | Andrew Gray via Flickr (cropped) | |
| Datasets | 'Office shelves full of files and boxes' | Lane V. Erikson via Shutterstock (cropped) | All rights reserved |
| East | 'Fenland drama' | hehaden via Flickr (cropped) | |
| London | 'This silent light' | Mendhak via Flickr (cropped) | |
| Midlands | 'Pasture' | Mark Bold via Flickr (cropped) | |
| North | 'Buttermere, Lake District' | Jim Monk via Flickr (cropped) | |
| South east | 'Through the Wisteria at Sissinghurst' | JR P via Flickr (cropped) | |
| South west | Cornwall | Robert Moore via Flickr (cropped) | |
| Ireland | Derrycunihy, co. Kerry, Ireland | Giuseppe Milo via Flickr (cropped) | |
| Scotland | 'Scotland' | Mayan Brenn via Flickr (cropped) | |
| Wales | 'Gower Coast' | Ben Salter via Flickr (cropped) | |
| Administrative and legal | Stern carving from Royal Charles (c.1660) | Rijksmuseum (cropped) | |
| Colonial | Colonial coat | Arbyreed via Flickr (cropped) | |
| Economic | 'Adonis and Venus' English watch | The Walters Art Museum (cropped) | |
| Historical geography | James de la Feuille's map of London c. 1690 | British History Online (cropped) | All rights reserved |
| Intellectual and cultural | BL Add MS 35021 (Bach) | British Library (cropped) | |
| Local | 'St. Laurence, West Woodhay' | Richard Ridge via Flickr (cropped) | All rights reserved |
| Parliamentary | 'Portcullis' | Leo Reynolds via Flickr (cropped) | |
| Religious | Pewter angel | The Walters Art Museum (cropped) | |
| Urban | The Horse Hospital, Herbrand Street, Bloomsbury | Duncan Harris via Flickr (cropped) | |
| Ancient | Roman coin c. 330-335, found in Hampshire | Hampshire and Solent Museum via Flickr (cropped) | |
| Early medieval | Reproduction of Raedwald's Helm | Dave via Flickr (cropped) | |
| 11th century | Tower of London | pindarninja via Flickr (cropped) | |
| 12th century | | British Library via Wikimedia (cropped) | Public  |
| 13th century | Beverley Minster | Steve Cadman via Flickr (cropped) | |
| 14th century | 'Let the boy earn his spurs!' | One Lucky Guy via Flickr (cropped) | |
| 15th century | 'Plucking the red and white roses in the old temple gardens' by Henry Payne (Apocryphal story from the War of the Roses) | Palace of Westminster via Wikimedia (cropped) | |
| 16th century | Medicine Chest | Garrett Coakley via Flickr (cropped) | |
| 17th century | Cannon balls | Rijksmuseum (cropped) | |
| 18th century | Wedgwood pottery | Victoria and Albert Museum | © Victoria and Albert Museum, London |
| 19th century | British Empire | Gabriel via Flickr (cropped) | |
| Individual subscription | Royal Charity Performance (1504) | The National Archives via Flickr (cropped) | No known copyright restrictions |
| Institutional subscription | Incholm Abbey | rachaellazenby via Flickr (cropped) | All rights reserved |
| Donate | Russell-Cotes Museum stained glass | Richard Ridge via Flickr (cropped) | All rights reserved |
| Support BHO scholars | Students | via Shutterstock | All rights reserved |
| Support digitisation | Digitisation | via Shutterstock | All rights reserved |
| About | Lincoln: Castle Hill, probably 1956 | Courtesy of Peter Salt via Flickr (straightened) | All rights reserved |
| Using BHO | Shirburn Castle, Oxfordshire | British Library via Flickr | No known copyright restrictions |
| Local history guide | Extract from the map of Queen Camel DD/SAS C212 | Somerset Archaelogical and Natural History Society | All rights reserved |
| Urban history guide | Mount Pleasant | Survey of London | All rights reserved |
| Parliamentary history guide | The House of Commons and the House of Lords (1643) | The History of Parliament | All rights reserved |
| Religious history guide | Scenes from the story of Thomas Becket | An Inventory of the Historical Monuments in City of York, Volume 5, Central | All rights reserved |
| Biography guide | Tichborne Dole | Wikimedia Commons | Public domain |
The small print
Read about our terms of use and our privacy and cookies policy. If you have any questions, please feel free to contact us.