Pages 136-206
The History and Antiquities of the County Palatine of Durham: Volume 2, Chester Ward. Originally published by Nichols and Son, London, 1820.
This free content was digitised by double rekeying. All rights reserved.
PARISH OF CHESTER-LE-STREET.
THE Parish of Chester includes a large portion of the middle area of Chester Ward. Considered as including the Chapelries of Tanfield and Lamesly, its Northern boundary is the Parish of Whickham. It touches Gateshead on the North-east, Washington on the East, Houghton-le-Spring on the South-east, the Chapelry of St. Margaret's, in the suburbs of Durham, Witton-Gilbert, and Kimblesworth, on the South, and the Parish of Lanchester on the West. Exclusive of the Chapelries, Tanfield forms the North western, and Lamesly the North-eastern, boundary.
The great road from Durham to Newcastle passes for nine miles through the Parish of Chester, and Chapelry of Lamesley, from Plawsworth, South, to Eighton Banks, North The greatest extent of the Parish from East to West is about seven miles. It is sub-divided into twelve Constableries (fn. 1) : 1. Chester-le-Street: 2. Great Lumley (fn. 2); 3. Little Lumley; 4. Lambton (fn. 2); 5. Harraton, including Picktree, Pelaw, and Ricleden; 6. Birtley; 7. Pelton; 8. Urpeth, including Pokerley; 9. Ouston; 10. Walridge; 11. Edmondsley, including Broomyholme, the Hagg, Twisell, Tribley, and Whitehall; 12. Plawsworth, with Nettlesworth, Holemyers, and Brodmyers.
Chester-le-street.
If the evidence of a name can give title to the honours of a Roman station, Chester-le-Street, Castra in Strata, has a double claim to such ancient dignity. Yet, fertile and various as our Antiquaries have been in plans of stations and iters, not one hypothesis that I recollect gives the exact scite or ancient name of the station at Chester (fn. 3). All that I have to add to the statements of Horsley and Hunter (fn. 4) is, that in 1816, 9 October, a gold coin of the Emperor Galha [Obverse, Imp. Ser. Galba Avg. Reverse, SPQR. OB. C.S. in corona quercea] was found in a potatoe-field, a little to the West of Chester; and I believe other scattered Roman coins of less consequence have occurred here from time to time.
The Saxons, from the name of the rivulet, and the usual addition of Cestre (Castra), formed the name of Coneceastre, or Cuneceastre. To this Conceastre Eardulph removed the See of Lindisfarne, in 882, and here sat five of his successors, during a space of one hundred and thirteen years, till the flight of Aldune in 995 (fn. 5). Chester, stripped of its mitre, became first a rectorial, and afterwards a collegiate church (see the Church history hereafter). The manor has remained constantly vested in the See of Durham, and includes Boldon, Whitburn, the Cleadons, and the copyholds in the parish of Chester.
Boldon Book.—Cestre, with the villan-service and the demesne (without any stock), and with the mill and fisheries, is on lease for 24 marks.
Hatfield's Survey divides the lands in the usual manner: free-tenants, demesne-lands, bond-tenants, cottagers, and exchequer-lands.—The Free-Tenancies refer to Whithill, Harebarowes (Harberhouse), and some parcels near Blackburn and Newfield. Thus, Thomas Umfravill holds six acres on each side of Hamondburn, and pays 3s.; and four acres of the waste, once John de Whetlays, 2s.—Demesne: twelve tenants (whose names it is scarce worth while to specify) hold each of them fifteen acres of arable, and two acres of meadow; each tenure pays 33s. 4d. rent. The tenants hold jointly the Smythland, thirteen acres, without rent: and the same tenants of the demesne receive from every selfode one day's work in harvest. They also hold jointly the manor-place (capitale messuagium), with a garden, an acre of meadow, and the pasture belonging to it, whole rent of the demesne 20l.—Bond tenants: John Wilkynson and twelve others hold each of them a messuage and one oxgang of fifteen acres under 2s. 6d. rent. John fil. Jordan and seven others each hold two oxgangs and two messuages, 5s. rent. The bond-tenants, according to their own account, were charged for harvest-work, ploughing, and harrowing, 40s. at Martinmas. The bond-tenants still perform the usual carriage for the Bishop and his Seneschal, cart one tun of wine, provide for the usual repairs and services to the manor-mill, and render for each oxgang 2d. ob. for Yaresilver at Martinmas.—Cottagers: Thomas de Pelton holds a cottage, once William de Pelton's, 12d. Richard Walker half a cottage, once of Henr. fil. William, 6d. John de Barksdale holds the other moiety, 6d. The same John and twenty-eight others hold twenty-nine cottages under 12d. each, in all 28s. William Jopson holds one tenement attached to a cottage, once Matilda del Est's, 5s. The said cottagers pay annually amongst them 8d. for cottage-rent, and also 2s. 8d. Maceon the Chaplain pays for one cottage, 8d. Each cottager performs three portions of harvest-work, and one day's work at the mill; and each pays 1¼d. for Yaresilver at Martinmas.—Exchequer lands: thirty-seven tenants hold sixteen messuages, certain plots and parcels and acres under certain rents. William de K ... occupies two watermills which used to pay 22l. rent, now only 16l. 6s. 8d.; the said miller holds the fishery in the Were, 10l. 13s. 4d.
The manor-mill seems to have been an object of considerable consequence. In 1528 Cardinal Wolsey leased the mill, mill-pool, and fishery, to Robert Adthee, of Durham, for forty years, under 4l. rent, with licence to cut sufficient wood and underwood (from the Bishop's woods nearest adjoining), viz. oak, alder, and brushwood (fn. 6), for repairs. The right of fishery is stated to extend from the Newbrigge to Herberhouse (fn. 7). 1553, 17 June, Bishop Tunstall (fn. 8) leased the mill and fishery to John Lord Lumley for ninety years, under 5l. rent; and if the mill-dam shall be carried away, the said Lord Lumley shall have liberty to fish and hawl the Wear with nets (fn. 9) during two years next ensuing from Newbrigg to Herberhouse.
The Bishops have regularly appointed Bailiffs and Collector of the manor of Chester (fn. 10)
In 1684 the Freeholders within the Constablery of Chester were, Ralph Millot, of Whithill, Esq. (fn. 11); Ralph Hedworth, Esq. (Impropriator of the Deanery (fn. 12) ); Ellis Cooper, Gent.; Roger Haswell, Gent.; John Owen, Gent.; Mathew Chilton, John Winship, and Robert Punshon, Yeomen.
A general enclosure of commons within the Parish of Chester-le-Street took place under Act of Parliament, 34 Geo. III. 1794. The several wastes divided were, Chester South moor, Chester West moor, Plausworth moor, Edmonsley moor, Whitehall moor, and Pelton moor, estimated to contain about 1500 acres; but the Act did not extend to the division of Urpeth common, or Birtley, nor to any parcel of waste attached to the manor of the Lay Deanery of Chester-le-Street, nor to Walridge common (fn. 13).
When Leland travelled as arch-topographer to Henry VIII. "From Duresme, over Framagate bridge to Chester in the Streate, partly by a little corne ground, but most by mountainouse pasture, and some mores and firres. Or I came in Chester I saw scant half a mile of it, Lomeley Castel upon a hill, having praty wood about it; and about Chester self is likewise sum woode. The toune of Chester is chiefly one streate of very meane building in height. Ther is beside a smaul streate or two about the Church Collegiate, that hath a Dean and Prebendaries, but it is a very meane building; and in the body of the chirch is a tumbe, with the image of a Byshop, in token that St. Cuthbert ons was buried or remained in his feretre there. At the very end of the toune I passed over Conebrooke, and there is a fair stone bridge of three arches over it. Thens to Gateshed vii. miles, by mountaincouse ground, with pasture, heth more, and firres, and a litle on this side Gatehead is a great cole-pit."
The modern town of Chester-le-Street extends nearly a mile in length along the great North road. Another more irregular line of building runs East and West, at right angles with the former, along the sides of the Cone or Chester Brook.
The Church.
The Church of Chester-le-Street, like most of those which have been Collegiate, is much superior to the common class of parochial structures. The chief feature of the fabric is its lofty spire, which surmounts the West tower, rising in all from the ground 156 feet. The lowest stage of the tower is square, with flying buttresses. The upper portion (an addition of later work) octagonal, with a turreted parapet. The interior of the building is extremely regular. The ailes are uniform, each divided from the nave by three pillars, supporting five pointed arches. The two Eastern pillars in each aile are light simple cylinders, with octagonal capitals; but the third, or Western pillar, is composed of two cylinders conjoined with the . ....... The North aile has the appearance of having been curtailed of its original proportion, for three arches, and columns supporting them, are closed up in the outward wall, as if a small cloister had adjoined the present building. It seems possible that this may have been a porch or chantry belonging to the Lumley family, and that the alteration took place when the Lumley tombs were placed in their present order. The chancel, which is much narrower than the nave, opens under a pointed arch. The interior has been modernized. The chief entrance to the Church is by a South porch. There are small doors on the North and under the West tower. The lights are partly ancient and partly modernized. Within the old closed arches of the North aile are two windows of three lights, and one of four, with trefoil heads under square labels. Beyond the arches, to the West, a pointed window of three lights, with quaterfoil tracery; and further West another old light, under a square label, and some irregular modern windows. The tower has one handsome West window of three lights, with tracery under a pointed arch; and above that a double round-headed window, closed with masonry. The South aile has two old windows (West of the porch), each of two lights, with trefoil heads and quaterfoil tracery. Under pointed arches, three modern pointed lights, to the East of the porch, and one handsome pointed window of three lights, with tracery, at the East end of the aile. The chancel has four small lights on the South, in part ancient. The great East window is modernized, and partly closed with masonry.
There are some remains of painted glass in different windows: two shields in the East window of the South aile, 1. Azure, semy of fleur de lis Or and Gules, three lions passant;France and England quarterly . 2. Or, a lion rampant Azure. In the central window of the North aile, in roundlets, a head of a king, crowned with the old straw-berry-leaved coronet; and another head, with a bald forehead, yellow hair, and beard, probably intended for a Saint.
An old octagon font is thrown out into the church-yard. Of eight shields of arms, two are totally effaced; the rest are, 1.Lumley, impaling a cheveron inter three garbs; 2. Semy of cinquefoils, an inescutcheon, Hedworth, the impalement effaced; 3......; 4.....; 5. a saltire impaling Lumley; 6. Lumley alone; 7. Lumley impalingThornton; 8. Thornton alone.
Chantries.
There were two Chantries in the Collegiate Church of Chester, both mentioned in the Survey of 1534. That of the Virgin (fn. 14), (Leonard Houghton, Chantry Priest,) clear value 100s.; and that of St. George (fn. 15), (John Purvis, Chaplain,) clear value 4l. 19s. 4d. The foundation of neither is known.
In 1600 William Ayton died seized of a tenement, cottage, six acres of meadow, fifteen of pasture, and forty of arable land, in Middle Herrington, parcel of the dissolved Chantry of St. George, in the church of Chester.
The Lumley monuments claim the first notice. Fourteen effigies carved in stone, resting on as many altar-tombs, like the Sultans in Caliph Vathek, occupy the whole length of the North aile. A tablet above each figure records the name and connections of the individual, with appropriate armorial bearings; and the whole genealogy, down to the time of John Lord Lumley, is summed up by the same noble Baron on another tablet. Of these fourteen effigies, however, not above three in all probability are genuine, that is, executed by artists contemporary with the individuals represented. Of these three, the cross-legged knight in ring armour is probably of the age of Henry III. or Edward I. The two other genuine effigies are those of Ralph Lord Lumley, who died in 140.; and of Sir John Lumley, his son, who fell in France 1421. Both these were removed by John Lord Lumley, from the yard of Durham Cathedral, by licence from Bishop Mathew.
The tombs range from West to East, so that ancient Liulph lies nearest to the West tower, and his youngest descendants next the chancel.
The first effigy, evidently imaginary, represents Liulph in a coat of mail, the right hand grasping the sword hilt, a shield on the left. Above this venerable personage is a long inscription, commemorating the whole family descent.

Livlphvs
nobilis generosusq; minister
ex Anglosaxonu' genere vir clarissimus
qui late per Angliam possessiones multas hæreditario jure possidebat
cum te'pore Regis Guilielmi primi co'quisitoris Angliæ Norma'ni ubiq; sævire't,
et quia Cuthbertu' Dunolmensem antistitem inter divos relatum, multum dilexerat, cum suis ad Dunolmum se co'tulit, et ibidem Walchero episcopo adeo devenit charus et acceptabilis, ut absq; illius consilio nihil consulte fieri videretur: Multorum dehinc odium sibi conflavit, donec à Gilberto quodam aliisq; sceleratis dicti Episcopi ministris crudeliter tandem occideretur; in cujus necis vindictam Northumbr. Walcherum presulem innocentem apud Gateshed trucidarunt anno MLXXX. Ex Aldgitha co'juge Northumbroru' comitis Aldredi filia Liulphus filium suscepit Uctredum, patrem Gulielmi de Lumley ejus nominis primi, à cujus loci dominio sui posteri cognomina sunt sortiti. Gulielmum istum Uctredi filium Dunolmensis episcopus Hugo eisdem erui immunitatibus voluit, quibus cæteri sui Barones in Episcopatu gaudebant, et secundi Henrici Regis cartam inde obtinuit: Tanti beneficii non immemor Gulielmus, villam suam de Dictona in Alvertonschira eodem Episcopo et successoribus suis liberaliter contulit. A primo Gulielmo oritur secundus, a secundo tertius qui ex filia Gualteri Daudre equitis Rogerum filium procreavit, maritum Sibellæ cohæredis inclyti Baronis Hugonis de Morwyco: inde natus Robertus, qui ex Lucia sorore et hærede Thomæ Baronis de Thwenge, Marmaducum filium genuit, paternorum armorum desertorem primum, sibi suisq; retentis maternæ stemmatis insignibus. Procreat is ex Margreta Holand conjuge sua, Radulphum equitem strenuum, quem Rex Richardus secundus anno regiminis octavo ad Baronis regni dignitatem evexerat: ductaq; Aleonora primi comitis Westmariæ sorore, Johannem tulit, qui ex Felicia uxore Thomam suscepit, cui Margarete conjunx filia Jacobi Harington equitis, Georgium enixa est, maritum Elizabethæ hæredis Rogeri Thornton armiger.: inde pater efficitur illius Thomæ qui ex magni Regis Edovardi quarti filia naturali, Richardum susceperat. Is Annam ducens sororem Gulielmi Baronis Coigners, Johannem reliquit hæredem, sponsum Joannæ filiæ Henrici Le Scroope de Bolton Baronis eximii, avum Johannis ultimi Baronis de Lumley, hoc conditorio in certam spem futuræ resurrectionis repositi : quem illi Georgius filius, ex Jana cohærede Richardi Knightley, equitis, unicum reliquerat nepotem ac hæredem: Bino conjugio fœlix ultimus hic Johannes fuit, Janæ scilicet Arundeliæ comitis Henrici filiæ ætate maximæ et cohærede: necnon et Elizabethæ filiæ Johannis Baronis Darcy, fœminæ non solum prosapia et antiquo stemmate nobilis sed quod magis laudandum, virtutibus, pudicitia, verecundia, et amore conjugali nobilissimæ.

Ex illarum prima nati filii duo, Carolus et Thomas, filiaq; unica Maria;
haud diu superstites, sed in ipsa infantia
mestissimis fatis sublati.
The arms attributed to Liulph, who was probably most innocent of coat-armour, are, six popinjays (fn. 17), 3, 2, and 1, impaling a plain saltire for his princely consort, the daughter of Aldred of Northumberland.
Next to Liulph lies Uchtred, in a suit of chain armour, the right hand crossed to the left side, and grasping the hilt of the sword: "Utredus filius Liulphi vixit tempore Henrici prim. Regis Angliæ." Arms, six popinjays, impaling a plain cross.
The third effigy, William, son of Uchtred, who first assumed the Lumley name, is probably genuine. He appears in a full suit of chain armour, over which is a vest or surcoat, with the drapery hanging in easy folds below the girdle. The sword depends from a belt, studded and clasped. The legs are crossed, and rest on a lion. The hands crossed on the breast, and the right hand grasps the tail of a parroquet (fn. 18). A shield on the left arm. The head rests on a cushion. The whole effigy bears a striking resemblance to that of Le Spring, at Houghton (vol. I. p. 151), and to the dragon knight of Sockburne. Inscription, "Gulielmus de Lumley primus fuit Uctredi filius." Arms, as before, impaling a plain cross.
The second William de Lumley appears in plate of a much less genuine description. The legs crossed, a shield on the left arm, and the right hand grasping the sword-hilt; the head bare, resting on a helmet. "Gulielmus de Lumley miles, filius Gulielmi et Judithe, vixit tempore Johannis Regis Angliæ." (Lumley, impaling a blank shield.)
And the third William is like unto him, saving that his legs be straight, and his hair wantonly crisped. "Gulielmus de Lumley miles, filius Gulielmi 2di, cujus uxor fuit filia et una heredum Gualteri d'Audre de Morton Daudre militis tempore Henrici III." Lumley, as before, impaling three covered cups.
And Roger is like William, but sore mutilated. "Rogerus Lumley miles, filius Gulielmi [duxit uxorem Sibillam filiam et cohæredem Hugonis Baronis de Morwico tempore Edwardi primi, sepultus apud Fratres Minores in Novo Castro super Tinam (fn. 19) ]. Lumley, impaling, Morwick, a saltire vaire.
7. Robert de Lumley, extremely like Roger; the head bare, resting on a cushion. "Robertus de Lumley miles, filius Rogeri et Sibillæ, anno Edwardi Regis." Lumley impaling a fesse inter three popinjays, Thweng (which maternal arms were afterwards adopted by the family, in exclusion of their paternal bearing.)
8. Sir Marmaduke Lumley, in mail, with a surcoat over it, scattered with popinjays; hands clasped on the breast; head in a cap of mail, resting on his gauntlets; a curled beard.
Here lieth Sir Marmaduke Lumley, Knight, and Dame Margaret his wife, daughter of —Holland, sonne of Sir Robert Lumley, Knight, and Lucia, eldest sister and coheyre of Thomas Thwinge, sonne of Sir Roger Lumley, Knight, and of Isabel, eldest daughter and coheyre of Hugh, Baron of Morick, which Roger was buried in the Friers Minors at Newcastel, sonne of Sir William Lumley, Knight, and of the daughter and heyre of Sir Walter Daudre, of Morton Daudre, sonne of Sir William Lumley, sonne of Sir William Lumley and of Julieta of Hesilden, sonne of Utred of Lumley, sonne of Liulphus and Algitha, daughter of Aldred Earl of Northumberland, anno 1080. This Marmaduke, after the death of his said mother, did beare and use the armes of Thwinge, and he died anno 44 Edwardi tertii. He had issue Raffe Lord Lumley, created Baron by Kinge Richard II. anno regni 8. He was Governor of Berewick anno 10 Richard II. He married Eleanor, daughter of Jhon Lord Nevel, sister to Raffe first Earle of Westmerland. He died anno 1 Henrici IV. He had issue Sir Jhon Lumley, Knight, married to Fehcia, the daughter of Redman; he died anno 9 Henrici V. He had issue Thomas Lorde Lumley, who married Margaret, daughter of Sir James Harrington, Knight, and lieth entombed in this churche anno 2 Richardi III.
Arms, Lumley (the ancient bearing) alone, and Lumley (Thweng) impaling a lion rampant inter semy of fleur de lis, Holland.
9. Ralph, first Baron Lumley, sculptured in coarse freestone, one of those removed from the cemetery of the Cathedral Church of Durham, "a close coat of mail, the visor ribbed down the front with two transverse slits for the sight, the breast covered with the shield (charged with a fesse inter three popinjays), the sword unsheathed and upright, the point resting against the visor, the legs straight, resting on a couchant hound.
Rafe, first Lord Lumley, sonne of Sir Marmaduke Lumley, Knight, married Eleanor, daughter to Rafe Nevill, first Earle of Westmerlãd; who, adhering to Richard II. was putte to death by the Com[m]ons of Circester, with the Earles of Kent and Salisbury, anno Henrici IV. afterward buried at Durham, and now removed hither.
Arms, Lumley (Thweng), impaling a saltire, Nevill.
This table is in the memorye of Rafe Lord Lumley, Sir Ihõn his sonne, and Thomas Lord Lumley, his sonne, who was restored a° 1 Edw. 4. He maried Margaret, daughter of Sir James Harrington, Knight, and lieth intombed under this great marble monument.
Arms, three escutchcons : Lumley, impaling Nevill; 2. Lumley, impaling three garbs, Redman; 3. Lumley, impaling a fret, Harrington.
10. Sir John Lumley: almost minutely resembling the last.
Sir John Lumley, Knight, sonne of Rafe Lord Lumley, maried Felicia, the daughter of—Redman, and was slayne at the battaile of Baugy in France, with the Ducke of Clarence, an° 9° Henrici 5.; afterward buried at Durham, and now removed hither.
Arms, Lumley, impaling three garbs, Redman.
Then follows a blank space for one tomb; a second vacancy occurs between Nos l1 and l2.
11. George Lord Lumley (whose father Thomas, son of John, is omitted in the arrangement). An effigy, recumbent like his predecessors, but in robes of peace. The head bare, the hair and beard curled, a heavy ruff or roll round the neck, the hands elevated, and clasped on the breast. The dress is probably intended for the robes of a Baron.
George Lorde Lumley, sonne of Thomas Lorde Lumley, here entombed, maried Elizabeth, daughter and heyre of Roger Thornton, of Newcastell, and he had issue Sir Thomas Lumley, Knight, and died anno 23 of Kinge Henry the seventh.
Arms, Lumley, impaling a chevron and chief indented, Thornton.
12. The next effigy represents Sir Thomas Lumley, Knight, who died in the life-time of his father, George Lord Lumley. The figure is in mail (not much unlike Nos 5 and 6), the head bare, resting on a helmet, the hands clasped on the breast, the legs straight.
Sir Thomas Lumley, Knight, sonne of George Lord Lumley, maried Elizabeth, daughter naturel to Kinge Edwarde the fourth, and he died in the life of his father, and had issue Richard Lord Lumley.
Arms, Lumley, a label of three points, impaling, quarterly, 1. Franceand England ; 2. a plain cross of Ulster ; 3. as 2 ; 4. barry of six, on a chief three pallets, between two esquires' bastions, dexter and sinister, an inescutcheon Argent, Mortimer; over all a bar sinister.
13. Richard Lord Lumley, in robes, the head bare, without a beard, hands clasped on the breast.
Richard Lorde Lumley, sonne of Sir Thomas Lumley, Knight, married Anne Connyers, sister to William firste Lord Connyers of Horneby ; he died anno 2 Henrici 8. and had issue Ihõn Lorde Lumley.
Arms, Lumley, impaling a maunch, Conyers.
14. The last effigy. John Lorde Lumley, in robes, much like the last.
Ihõn Lord Lumley, sonne of Richard Lorde Lumley, maried Johanne, daughter of Henry Lord Scroope of Bolton ; he died the 36 yeare of the raigne of Kinge Henry the 8. and was buried in the Abbey of Gisburow, in remembrance of whom this monument is here erected by Ihõn Lord Lumley, his nephew (fn. 20). He had yssue George Lumley, maried to Jane, the eldest daughter and one of the heyres of Sir Richard Knightley, who died in the life of his father, and had issue Ihõn Lorde Lumley, now lyving.
Arms, Lumley, impaling Scroop and Tiptoft quarterly.
[Another monumental effigy is noted by Grose, in an extract from a book of Pedigrees in the British Museum : "This auncient monument or statuarie, broken and wasted nere the ruynes of the chappell in the first ward within the Castel called Barnard's Castel, was, at the honourable means and motion of John, Baron Lumley, sent by Sir William Bowes, Knight, into this church of Chester, to be placed with his ancestors. April 1594." A rude drawing in trick is annexed, representing a man in mail, the shield on the left arm covering the body, no sword, the family arms (the popinjays, after the match with Thweng,) on the surcoat, the legs straight, the feet resting on a snake or dragon. "The patterne of this," adds S. Garter (1591), in Grose's extract, "I have seen at Barnard Castle;" but I verily believe that the figure itself is still in the chapelgarth at Barnard castle, though sore mutilated (fn. 21).]
Of the unfortunate George Lumley, who perished in the insurrection which followed close on the Pilgrimage of Grace, no effigy appears, but a mural tablet only, at the East end of the aile, betwixt 12 and 13.
George Lumley, sonne of Ihon Lorde Lumley, maried Jane, eldest daughter and coheyre of Sir Richard Knightly, knight; he died in the life of his father, anno 29 of Kinge Henry the eight, buried at the Crossed Friers in London, and had issue Ihon Lord Lumley.
Arms, Lumley, a label of three points, impaling, quarterly, 1 and 4, Ermine, 2 and 3 two pales; the whole within a border.
On a flat stone in the Lumley aile:
Heere lyeth Anthony Lumley, Esquier, second sonne to the Lorde Rycharde Lumley. Also heere lyeth Roger Lumley, Esquier, eldest sonne to the foresaid Anthony Lumley.
John Lord Lumley, ultimus, the munificent founder of this sepulchral series, was not gathered to his ancestors, but lies under a noble marble monument at Cheam. Of the second race of Lumley, many of whom lie here, only one memorial appears; a mural monument of blue marble (beneath the roundel inscribed to George Lumley) for the first Earl of Scarborough.
Richard Lord Lumley, first Earl of Scarborough, obiit 17 December 1721, anno ætatis 71.
Frances, Countess of Scarborough, wife of Richard, first Earl of Scarborough, daughter of Sir Henry Jones, obiit 7 August 1722, anno ætatis 56.
Arms, under an Earl's coronet, Lumley, on an escutcheon of pretence, Jones.
Ou a brass plate in the Lambton pew, in the South aile, now removed:
Orate pro animabus Wiltimi Lambton, arm. qui obiit 20 July 1430, et Alicie uxoris ejus quæ obiit 143., quor. animabus propitietur Deus.
Arms, Lambton, impaling, Argent, three dunghill-cocks Gules, Salcock (fn. 22).
On a flat freestone, partly covered by the Harraton pews:
Hic humata jacent corpora Johannis Hedworth de Harraton, ari, etiam Janæ sponse ejus, et Radulphi Hedworth ari, filii et heredis eorum, et Janæ filiæ et coheredis Gulielmi Gascoyne militis et nuper uxoris Johannis Hedworth militis, quæ hoc mundum commutavit nono die Junii an. Dñi 1624 (fn. 23).
On a marble tablet on the South wall of the chancel:
To the memory of
Ann Musgrave, only daughter of Sir Richard Musgrave, Fourth Baronet of Hayton Castle in the County of Cumberland, by Ann, second sister and coheiress of John Hylton, of Hylton Castle in this County, Esq. who died unmarried at Newcastle upon Tyne, and was buried in the vault underneath, the 29th of October, 1755, aged 30 years.
This monument was erected by her youngest surviving brother, Lieutenant-General Thomas Musgrave, when he had the command of the troops in the Northern District, 1799.
Arms, within a lozenge Azure six annulets Or, 3, 2, and 1.
On a marble tablet in the chancel:
Sacred to the memory of John Hudson, late of Chester Deanery, Esq. who died February 20th, 1814, aged 76 years.
As a tribute of affection his sister Margaret Hudson caused this tablet to be erected.
In the church-yard, on an altar-tomb:
Here lies the body of Margaret Wardell, wife to George Wardell of West Edmonsley, and daughter to Ralph Marley of Pelton, who departed this life May 22, Ann. Dom. 1714.
On other stones:
Arms, a stag passant, a chief invected.
Erected by Richard Humble, in memory of his wife Ann, who departed this life 12th of Nov. 1744, aged 25 years. Ann Humble, daughter of Richard and Ann, Dec. 10th, 1744, aged two years. Rebecca, the daughter of George Humble of Birtley, died Nov. 22, 1739, aged 8. Pulvis et umbra sumus.
On an adjoining stone:
Elizabeth, wife of Thomas Harrison, of South Shields, daughter of George and Mary Humble, of Birtley, ob. 24 Feb. 1755, æt. 29. Jane, sister of Thomas Harrison, ob. Jan. 3, 1797, æt. 39 years and two months.
Nearly opposite the South porch:
Here lies the body of George Humble, of Birtley, who died Sept. 11, 1770, aged 81 years.
Mary Haswell, his wife, who died Feb. 8, 1778, aged 95 years.
On an altar-tomb near the South porch:
Here lies the body of Mr. Ralph Haswell, of Chester-le-Street, who departed this life the 28th of May 1778, aged 69. Also here lies his son, Mr. Errington Shaftoe Haswell, an eminent Surgeon, who died the 20th July 1773, aged 24.
The Rectory, Collegiate Church, and Perpetual Curacy.
The Church of Chester, certainly one of the very earliest parochial foundations in the diocese, has passed through four very different stages of existence (fn. 24). First the Episcopal seat of the Northern Bishopric was established here, on the rudera, probably, of a Roman station; next the church became Rectorial, and so continued till Anthony Beke terminated a litigation betwixt Sir Walter Clifford and Master Alan of Esingwalde (who both claimed the Rectory), by turning them both out, and erecting the church of Chester-le-Street, which, though excellently endowed, was, it seems, scandalously ill served, into a Collegiate establishment, consisting of a Dean and seven Prebendaries.
To the Dean, who was bound to repair the chancel of Chester, and to provide sufficient Ministers for the Chapels of Tanfield and Lamesley, were assigned the altarage of the mother church and chapels, the fishery on the Wear, the rents and services of the tenants holding of the Church, within Chester and Walridge, and the whole demesne land of Harraton. The Dean was also to have the messuages and buildings attached to the Chapelries, allowing, however, to the Prebendaries of Tanfield and Lamesley sufficient room to stack their grain.
To the first Prebend were assigned the pracdial tithes of Great Lumley, Little Lumley, Lambton, and Wodeshend, and the tithes of the mines in the same premises.
To the second Prebend the tithes of Lamesley, Kibblesworth, Ravensworth, Darncrook, Hedley, Ladesend, Fugersland, and Newhuses.
To the third, the tithes of Pelton, Pelaw, Pokerley, Picktree, Tribley, Edmundsley, Stevesley, and Nettlesworth.
To the fourth, the tithes of Chester and Whitehill.
To the fifth, the tithes of Tanfield, Lynce, Crook, Tanfield-leigh, Stanley, Stanley-Hall, Caldsit (Cawsey), and Steles.
To the sixth, the tithes of Birtley, Harverton Moor, and Harden.
To the seventh, the tithes of Ulston, Urpeth, and Twizell.
The residue of the church property, viz. the prædial tithes of Plawsworth and Walridge, and of the wastes thereafter to be brought into tillage thronghout the whole parish, were directed to be divided amongst the resident Prebendaries only, viz. such as should make personal residence during three months at the least within the year.
The regulations of the Collegiate Church contain nothing very remarkable. The three first Prebendaries, who seem to have been esteemed the wealthiest, were bound to maintain three Vicars in orders, Vicarios Capellanos; and the remaining four were to provide four Vicar-Deacons in due canonical habit; the service to be performed according to the ritual of York or Sarum.
In the Lincoln Taxation, 1291, the Deanery and seven Prebends or portions were rated at 146l. 13s. 4d.; but in the 20th of Henry VIII. 1534, they were only valued at 77l. 12s. 8d. viz.
The Deanery
£.41
0
0
First Prebend of Lamesley
5
16
8
Second Prebend of Lamesley
10
0
0
Prebend of Pelton
5
16
8
Prebend of Chester
£.6
0
0
Prebend of Tanfield
3
6
8
Prebend of Birtley
3
6
8
Prebend of Urpeth
2
6
0
The possessions of the church of Chester became vested (fn. 25) in the Crown in 1547, by the Act for the dissolution of Collegiate Churches and Chantries, and so continued till 1618. [See account of the Impropriation hereafter.]
A small pension only was reserved for a Stipendiary Curate.
Rectors Of Chester-le-street.
Mervin, occurs 1085.
Waleran, Clericus de Cestria, 1155.
Iolanus.
Robert, 1230.
Waleran, 1245.
Robert le Bursar, 1258.
Walter de Clifford, cl. 1280.
Magister Alan de Esingwalde, 1280, p. depr. Clifford.
Deans Of The Collegiate Church Of Chester-le-street.
William de Marclan, Jurista Canonicus, occ.1311.
Roger de Gillyng, Official of the Diocese of Durham, occurs 30 June 1345.
John de Sculthorpe.
John de Kyngeston, cl. 26 Sept. 1354, p. res. Sculthorp.
John de Derby, occ. 4 June 1390. (King's Chapl. Archd. of Northumb. Prebli Driffield in York Cath. and Rector of Weston Longueville, co. Norfolk.)
Thomas de Hexham, 1407. (Rector of St. Katherine's, London, Receiver-Gen. of Norhamshire and Islandshire for Bp. Skirlaw.)
John de Ashbourn, 1409.
John de Newton, 1454.
John Bawdwyn, cl. 1491. (Scholar of King's Coll. Cambr. 1453.)
John Balswell, 1501. (Rector of Middleton in Teesdale.)
Robert Chamber, 13 Jun. 1505.
Thomas Keye, LL. B. occ. 14 May 1532, res. for 24l. per ann. pension.
Richard Layton, LL. D. 1 Sept. 1533, p. res. Keye; Archd. of Bucks, Rector of Bremton, co. Northampt. Preb. of St. Paul's, Rector of Sedgefield, 1535.
William Warren, 1544, p. m. Layton, held the Deanery at the Dissolution.
Pensions paid in 1553 to Chester College:
William Warren, last Dean, 18l. 9s.; John Marshall, Prebendary of Wilfrethe? 2l.; Richard Atheyr, Prebendary of Tanfield, 2l.; John Smitherton, Prebendary of Chester, 2l.; Claudius Rent, Prebendary of Lomeley, 4l.; Richard Cliffe, Prebendary of Birtley, 1l.; James Brackenbury, Prebendary of Benfield, 1l.; Richard Norman, Minister, 5l.; Thomas Stone, Minister, 4l.; William Parker, Minister, 2l.; John Hinde, Minister, 5l. (fn. 26)
Chester-le-Street Perpetual Curacy, not certified—Patrons, Sir Ralph Milbanke, Bart. and Hylton Jolliffe, Esq. M. P. as heirs of Hedworth.—Dedication to the Virgin and St. Cuthbert.
George Brome, occ. 23 Feb. 1564. (Geo. Browne qu. idem 1578?)
William Massey, cl. occ. 13 July 1579.
Bryan Adamson, occ. 7 Feb. 1582.
Thomas Lyddall, cl. occurs 14 July 1585.
Robert Willis, 1616, p. m. Lyddall.
Robert Hunter, occurs 1631.
William Hume, A. B. 1673.
Edmund Browne, 1674.
Nicholas Conyers, 23 Sept. 1685.
Nathaniel Chilton, A. B. 1690, p. res. Conyers.
William Lambe, A. M. p.m. Chilton, pres.John Hedworth, Esq.
Francis Milbanke, 22 July 1769, p.m. Lambe, p. pres. Sir Ralph Milbanke.
Lewis Powell, p.m. Milbanke, p. pres. William Jolliffe, Esq.
John Nelson, cl. 1780, p. m. Powell, per pres. Sir Ralph Milbanke.
William Nesfield, A. M. of Caius College, Cambridge (Rector of Brancepath) (fn. 27).
Some of the following extracts from the Parish Books of this ancient thoroughfare may perhaps be deemed worthy of preservation.
Church Books.—1607. Paid for a welcome upon Mr. Barker, at the last time he came and did give us a sermon, xiid.
1610. Payd for interring and burying of a stranger, wch died as we thought in the Visitac[i]on, xiid.
Given to a stranger, borne at Jerusalem, who had a testimonial under the greate scale for a collection for his ransome to the Turke, xiid.
28 July. The Churchwardens, for meetinge together and setting of things right amongst themselves, iis. (fn. 28)
Given to Collectors for reliefe of an Archbishopp, being a stranger, viiid. (fn. 29)
1612, 27 May. The Churchwardens meeting together for seekeing for workmen to mak a fitt seete in a convennent place for brydgrumes, bryds, and sike wyves, to sit in, iis. (fn. 30)
5 August. To the ringers, in remembrance of the most happye deliv'rance of his Matie from Gowrie's conspiracie in Scotland, iis. iiiid.
1613. 25 June. Given to one William Winckfield, who had a passe from Sir Thomas Gaets, knight, Governor of ......, in the P'vince of Virginia, under the honorable the Lord Dclaware, L.President of the sayd P'vince, and Vicegerent of or graciouse sov'egne King James, xiid.
Given to Mr. Francis Lawson, Preacher, who maid us a very good sermon, for his charges, iis. viiid.
Given to the reliefe of Richard Lawson and his fammilye, lying in God's visitac[i]on, viiid.
For Mr. Richard Colmer's dyner, and his man's dyner, xiid. To widowe Haswell, lying sore sike, iiiid.
1614. last July. Given unto one John Chester, late of Ratcleefe, in the Countye of Midlesex, mariner, taken by the Turkes, who spoled him of his shipe, called Prymeros of London, and toke all his goods in the same to ye value of three hundred pounds, xiid.
8 Oct. Out of the cesse payd to the hands of Mr. Edward Hutton, for and toward the buylding of a churche in the contrey wheare Ladye Elizabeth (fn. 31) dwelleth, vis. viiid.
The xvi. daye of Februarye, for a horse two dayes in the greate storme in certifying of my Lord and his highe commission, and for not apprehending of the bodyes of Michael Johnson, of Twisle, and his wiefe (fn. 32), iiiis.
1615. For a pottle of sacke the 10th of April, wh sent to the preachers when Mr. Jenison preached, 2s.
6 June 1616. Sr Wm Lambton, Kt, of his owne voluntarie free will, &c. gave 20s. a year to the poore as long as his cole mines shall be wrought, and no longer.
The last collec[i]n to Virginia, 18d.
Ap. 26, 1617. Paid to the ringers for his Matie's comeinge by Chester, the 23 of April instant, 3s. 4d.
1618. Pd to John Rutter, for one of the King's Matie's carriages from Newcastle to Bushop Awcklande, 20s.
1619. For enlargeinge of the leathers for the clasps of the Paraphrasis of Erasmus, 4d. For makeinge of two chaynes and the irons whereupon Jewell and Hardin and the Paraphrasis standith on in the church, 6s. 8d.
1620. A qt of sack to Mr. Blaxton when he made a sermon, the 19 of August, 12d.
1622. Organes sett up; p (fn. 30) one half of the price of the organes, 10l.; carriage between Rippon and Chester, 40s. 12 Jan. 1622. Tho. Wilson admitted Organist, 40 shillings salary. To pay Organist's salary the Clark to pay him 40s. out of his Clark's wages. Sir John Hedworth gives 30s. per ann.; and for the remain. 3l. to be levied of the better sort of p'ishioners, viz. Knts. 12d.; Gents. 6d.; Yeom. 4d.; Tradesmen 2d.
1623. To the ringers at Prince Charles his comeing, 2s. 8d.
Given to a poore preacher who made a sermon here, 18d.
1625. Paid to Ferrie the piper's wife, for avoiding her out of the p'ishe when he was pressed for a soldier, xiid. Given to a straunge Bishopp that traveiled throwe the countrie, 2s.
1626. Paid to seaven traveilers with two testimonialls, 12d. To a litle boy who came wth a passe, and his father had bene taken by Dunkirks, 6d.
1627. Given to gentlemen soldiers who had bene taken wth Spindola, and had a passe, 6d. To two gentlemen soldiers, wth a passe from the Maior of Newcastle, 8d.
5 Nov. To one Wiltm Conyers, who had great losse by fyer, as by his testimoniall appered, 6d,
Paid the charges of Mr. Mace and another preacher at the taverne, 5s.
Given to one Richarde Leighe of Tiviton (Tiverton), the 11th day of Januarie, who had testimoniall and certificat under the hands of sundrie of the Privie Counsell and Nobles of this kingdom, that this towne of Tiviton was brunt by soudaine fire and lightninge, and fouer hundred and eight houses consumed, and seaven score and eighteene p'sons slaine, eight women in childbede and five hundred hurt; so by consent of neybors of Chester he had given 6s.
Paid to the woman and childe, by consent of the p'ishe, for her weldeservinge in comeinge always when the p'ishe had occasion for her (fn. 33), 3s. To an Irish gent. his wife and childe, 12d.
Payd to Ezabell Carr, for watchinge wth the poore widowes in the Ancharidge, for feare of some displeasure done them by Mr. Willis, 8d.
Payd when the Churchwardens wente to Durham, when Mr. Willis p'cured a warrant to ducke the poore wydowes, 6d.
Pd when Mr. Willis made a seconde entrie into the Ancharidge, put out the widowes, &c. [they were, it seems, in despite of Mr. Willis, put in again, with three men to assist them, the aid of Ezabel Carr being all too weak] 3s.
1630. Payd to a traveller wth a pass, being a marchante in seekinge his servante, the 19 day of December, 1s.
Paid in charges of a Preachere, being Mr. Willye's nevye, 1s. 2d.
Paid to a poore woman the 19 of August, who haveing her husband murtheard in his bed, and haveinge certifycaite from Scotland, and a pass to travell to London, haveinge a woolve in her weeme feedinge, 12d.
Paid, upon tryeall of a sloo-dog (fn. 34) w (fn. 34) should have been kepte in the p'ishe upon likeinge, 3s. 4d.
Paid to a poore scholler, being a churchman, and wanting means to travell withall, 4d.
1643. Jan. 19. To Mr. Banks, a banished Minister, 2s. 6d.
1645–6. To Athanasius, a Greeke that passed to the Courte, 1s.
April 1610, 9th day. Mem. that Mistress Kathren Johnson, of Twissle, widow, hath caused her name to be given in, &c. that she "hayth taken her abod at her sayd mansion-house of Twisle, and hath confyned herself ther to abyde and remayne, according to a statut enacted 35 Eliz. Tho. Liddle, Minister."—Then follows "a list of Recusants and servants they keepe, taken of their own confessions by Minister and Churchwardens, 20 Dec. 1609."
Nettlesworth. Sir john Claxton, Knight, Lady Anne his wyffe, Mr. John Claxton, sonne and heyre of ye said Sir John Claxton.
Whitle. Mistres Wrey, wife to Mr. Wm. Wrey, Robart Millott, Esq. Mistris Dorothye, his wife.
Twisle. George Johnson, wedowe Johnson, Michaell and Margaret, children of George Johnson.
Harverton. Jo. Hedworth, Lady Hedworth his wife.
Lambton Wod. Mrs. Ane Lambton, wife of Mr. Wm. Lambton.
28 March, 1608. John Hedworth, of Chester, Gent. signified that he "hath taken his aboode at his owne house at Chester aforesaid," according to 35 Eliz.
I select a few extracts in addition from the Registers: the earliest book commences 1582, and ends 1643.
John Hedworth, of Chester, generosus, alias Long John, sepult. 26 Jan. 1609—10.
Ellis Thompson, insipiens (fn. 35) Gul. Lambton militis, 26 April 1627.
Mr. Ralph Rooksby, Recusant, per populum, 22 Feb. 1637.
Jo. Lawson, Recusant, per populum, 11 Feb. 1637.
Mr. Hedworth Dove, a Quaker of Greenwich, baptised 23 July 1719.
Mr. Rushforth, of Biddie, buried 8 April 1642 (fn. 39).
"Before we come to speak of Apparitions, we shall premise some few things by way of caution, because there is not one subject (that we know of ) in the world that is liable to so many mistakes, by reason of the prepossessed fancies of men in adhering to those fictions of Spirits, Fairies, Hobgoblins, and such like, which are continually heightened by ignorant education and vain melancholy fears (fn. 39)."
First, therefore, the following narrative of a murder committed by Mark Sharp, Collier, at the instigation of John Walker of Chester-le-Street, Yeoman, and afterwards discovered by supernatural means, is, in the opinion of Master John Webster, practitioner of physic, (who wrote a book expressly for "the displaying and detecting of supposed Witch-craft") one of "those apparitions and strange accidents which cannot be solved by the supposed principles of matter and motion, but which do evidently require some other cause, above or different from the visible and ordinary course of nature, effects that do strangely exceed the power of natural causes, and may for ever convince all atheistical minds (fn. 40)."
Secondly. The narrative is inserted in Dr. Henry More's letter, forming part of the Prolegomena to Mr. Joseph Glanvil's work, intituled, "Sadducismus triumphatus," and is copied verbatim from John Webster (from whom, however, on other matters and occasions, Dr. More differeth toto cœlo), with the additional grave testimony of Mr. William Lumley, of Great Lumley, an ancient gentleman who was present at the trial, and of Mr. Shepherdson, whom the Doctor terms his "discreet and faithful intelligencer." "This story of Anne Walker," adds the Doctor, "you will do well (Master Glanvil), to put amongst your additions, it being so excellently well attested, and so unexceptionably in every respect; and hasten as fast as you can that impression, to undeceive the half-witted world," who do so exult in the supposed slaying of the æmon of Tedworth (fn. 41) (as if the Devil were really dead), that they do now, "with more gaiety and security than ever, sing in a loud note that mad drunken catch, 'Heyho ! the Devil is dead' (fn. 42)." (fn. 43)
About the year of our Lord 1632, (as near as I can remember, having lost my notes, and the copy of the letters to Serjeant Hutton, but am sure that I do most perfectly remember the substance of the story,) near unto Chester in the Street, there lived one Walker, a yeoman of good estate, and a widower, who had a young woman to his kinswoman, that kept his house, who was, by the neighbours, suspected to be with child, and was, towards the dark of the evening one night, sent away with one Mark Sharp, who was a collier, or one that digged coals under ground, and one that had been born in Blakeburn hundred in Lancashire; and so she was not heard of a long time, and no noise, or little, was made about it. In the winter-time after, one James Graham or Grime, (for so in that country they call them) being a miller, and living about 2 miles from the place where Walker lived, was one night alone very late in the mill, grinding corn; and about 12 or 1 o' the clock at night, he came down the stairs from having been putting corn in the hopper; the mill doors being shut, there stood a woman upon the midst of the floor, with her hair about her head, hanging down, and all bloody, with five large wounds on her head. He being much affrighted and amaz'd, began to bless himself; and at last, ask'd her who she was, and what she wanted? To which she said, I am the spirit of such a woman, who lived with Walker, and being got with child by him, he promised to send me to a private place, where I should be well look'd to, till I was brought to bed, and well again; and then I should come again and keep his house. And accordingly, said the Apparition, I was one night late sent away with one Mark Sharp, who, upon a moor, naming a place that the miller knew, slew me with a pick, such as men dig coals withal, and gave me these five wounds, and after threw my body into a coal-pit hard by, and hid the pick under a bank; and his shoes and stockings being bloody, he endeavoured to wash 'em; but seeing the blood would not forth, he hid them there. And the Apparition further told the miller, that he must be the man to reveal it, or else that she must still appear and haunt him. The miller returned home very sad and heavy, but spoke not one word of what he had seen, but eschewed as much as he could to stay in the mill within night without company, thinking thereby to escape the seeing again of that frightful apparition. But notwithstanding, one night when it began to be dark, the apparition met him again, and seemed very fierce and cruel, and threatened him, that if he did not reveal the murder, she would continually pursue and haunt him; yet for all this, he still concealed it until St. Thomas's eve before Christmas; when being, soon after sunset, walking in his garden, she appeared again, and then so threatened him, and affrighted him, that he faithfully promised to reveal it next morning. In the morning, he went to a magistrate, and made the whole matter known with all the circumstances; and diligent search being made, the body was found in a coal-pit, with five wounds in the head, and the pick and shoes and stockings yet bloody, in every circumstance as the apparition had related unto the miller; whereupon Walker and Mark Sharp were both apprehended, but would confess nothing. At the assizes following, I think it was at Durham, they were arraigned, found guilty, condemn'd and executed; but I could never hear they confess'd the fact. There were some that reported the apparition did appear to the judge, or the foreman of the jury, who was alive in Chester in the Street about ten years ago, as I have been credibly inform'd, but of that I know no certainty. There are many persons yet alive, that can remember this strange murder and the discovery of it; for it was, and sometimes yet is, as much discoursed of in the north country, as any thing that almost hath ever been heard of, and the relation printed, tho' now not be gotten. I relate this with the greater confidence (though I may fail in some of the circumstances) because I saw and read the letter that was sent to Serjeant Hutton, who then lived at Goldsbrugh in Yorkshire, from the judge before whom Walker and Mark Sharp were tried, and by whom they were condemn'd, and had a copy of it until about the year 1658, when I had it and many other books and papers taken from me; and this I confess to be one of the most convincing stories, being of undoubted verity, that ever I read, heard, or knew of, and carrieth with it the most evident force, to make the most incredulous spirit to be satisfied, that there are really, sometimes, such things as apparitions; thus far he.
This story is so considerable, that I make mention of it in my Scholia, on my Immortality of the Soul, in my Volumen Philosophicum, tom. 2. which I acquainting a friend of mine with, a prudent, intelligent person, Dr. J. D., he of his own accord offer'd me, it being a thing of such consequence, to send to a friend of his in the North, for greater assurance of the truth of the narrative; which motion I willingly embracing, he did accordingly. The answer to this letter, from his friend Mr. Shepherdson, is this:—I have done what I can to inform myself of the passage of Sharp and Walker; there are very few men that I could meet, that were then men, or at the trial, saving these two in the inclosed paper, both men at that time, and both at the trial; and for Mr. Lumley, he lived next door to Walker, and what he hath given under his hand can depose, if there were occasion. The other gentlemen writ his attestation with his own hand; but I, being not there, got not his name to it. I could have sent you twenty hands, that could have said thus much, and more by hearsay, but I thought these most proper, that could speak from their own eyes and ears. Thus far Mr. Shepherdson, the Doctor's discreet and faithful intelligencer; now for Mr. Lumley of Lumley, being an ancient gentlemen, and at the trial of Walker and Sharp, upon the murder of Anne Walker, saith, that he doth very well remember that the said Anne was servant to Walker, and that she was supposed to be with child, but would not disclose by whom; but being removed to her aunt's in the same town, called Dame Caire, told her aunt, that he, that got her with child, would take care both for her and it, and bid her not trouble herself. After some time she had been at her aunt's, it was observed, that Sharp came to Lumley one night, being a sworn-brother of the said Walker's; and they two, that night, called her forth from her aunt's house, which night she was murder'd; about fourteen days after the murder, there appeared to one Graime (fn. 44) a fuller, at his mill, six miles from Lumley, the likeness of a woman, with her hair about her head, and the appearance of five wounds in her head, as the said Graime gave it in evidence; that that appearance bid him go to a justice of peace, and relate to him, how that Walker and Sharp had murthered her in such a place as she was murthered; but he fearing to disclose a thing of that nature, against a person of credit as Walker was, would not have done it; upon which, the said Graime did go to a justice of peace, and related the whole matter. Whereupon the justice of peace granted warrants against Walker and Sharp, and committed them to a prison; but they found bail to appear at the next assizes, at which they came to their trial, and upon evidence of the circumstances, with that of Graime of the appearance, they were both found guilty and executed.
William Lumley.
The other testimony is of Mr. James Smart, of the City of Durham; who saith, that the trial of Sharp and Walker was in the month of August, 1631, before Judge Davenport. One Mr. Fairhair (fn. 45) gave it in evidence upon oath, that he saw the likeness of a child stand upon Walker's shoulders, during the time of the trial; at which time, the judge was very much troubled, and gave sentence that night the trial was, which was a thing never used in Durham, before nor after. Out of which two testimonies, several things may be corrected or supplied in Mr. Webster's story, though it be evident enough that, in the main, they agree; for that is but a small disagreement as to the years, when Mr. Webster says about the year of our Lord 1632, and Mr. Smart, 1631. But unless at Durham they have assizes but once in the year, I understand not so well how Sharp and Walker should be apprehended some little while after St. Thomas's day, as Mr. Webster has it, and be tried the next assizes at Durham, and yet that be in August, according to Mr. Smart's testimony. Out of Mr. Lumley's testimony, the christian name of the young woman is supplied, as also the name of the town near Chester in the Street, namely Lumley. The circumstances also, of Walker's sending away his kinswoman with Mark Sharp, are supplied out of Mr. Lumley's narrative, and the time rectified, by telling it was about fourteen days till the spectre appeared after the murther, when as Mr. Webster makes it a long time.
Two errors also more are corrected, in Mr. Webster's narration, by Mr. Lumley's testimony; the distance of the miller from Lumley, where Walker dwelt, which was six miles, not two miles, as Mr. Webster has it; and also that it was not a mill to grind corn in, but a fuller's mill; the apparition, night by night, pulling the cloaths off Graime's bed, omitted in Mr. Webster's story, may be supplied out of Mr. Lumley's; and Mr. Smart's testimony puts it out of controversy, that the trial was at Durham, and before Judge Davenport, which is omitted by Mr. Webster. And whereas Mr. Webster says, there were some that reported, that the apparition did appear to the judge, or the foreman of the jury; but of that he knows no certainly. This confession of his, as it is a sign he would not write any thing in this story, of which he was not certain, for the main; so here is a very seasonable supply for this, out of Mr. Smart, who affirms that he heard one Mr. Fairhair give evidence upon oath, that he saw the likeness of a child stand upon Walker's shoulders, during the time of the trial: it is likely this Mr. Fairhair might be the foreman of the jury,—and, in that the judge was so very much troubled, that himself also might see the same apparition, as Webster says report went; though the mistake in Mr. Webster is, that it was the apparition of a woman; but this of the child was very fit and apposite, placed on his shoulders, as one that was justly loaded or charged with that crime of getting his kinswoman with child, as well as of complotting with Sharp to murder her.
The letter also, which he mentions writ from the judge, before whom the trial was heard, to Serjeant Hutton, it is plain out of Mr. Smart's testimony, that it was from Judge Davenport; which, in all likelihood, was a very full and punctual narrative of the whole business, and enabled Mr. Webster, in some considerable things, to be more particular than Mr. Lumley; but the agreement is so exact, for the main, that there is no doubt to be made of the truth of the apparition. But that this, forsooth, must not be the soul of Anne Walker, but her astral spirit, this is but a fantastick conceit of Webster and his Paracelsians, which I have sufficiently shewn the folly of in the Scholia on my Immortality of the Soul, Volum. Philos. tom. 2. page 384. (fn. 46)
The Impropriation Or Lay Deanery.
The Deanery rested in the Crown till 26 July, 6 Jac. 1608 (fn. 47), when King James, by letters patent of that date, granted to Sir James Ouchterlony, Knt. and Richard Gurnard, Citizen of London, and Clothworker, all that the Deanery, Prebends, Rectory, and Vicarage of the Collegiate and Parish Church of Chester (fn. 48). The grant was either on trust for the family of Hedworth, or was immediately transferred to them, for in 1614 John Hedworth (fn. 49), Esq. died seized of "all that the Decanal House of the Collegiate Church of Chester-le-Street, with the barns, buildings, and girnels (fn. 50), now waste and ruinous, and of a garden adjoining the same premises of the annual value (as by Particular) of ten shillings; and of all those tithes of lamb and wool within the Parishes of Chester, Tanfield, and Lamesley, called the Thrussel-tithes, or Thrush-tithes." The annexed Pedigree traces the subsequent descent of the Impropriation, which frequently conferred on its lay owners (by vulgar courtesy) the title of Dean Hedworth. The two coheiresses (by different wives) of the last Hedworth of the Deanery (who was long a very popular representative for the County) intermarried, the younger with Sir Ralph Milbanke, Bart. (fn. 51) the elder with Sir Richard Hilton, of Hilton, Bart. whose only surviving daughter, Eleanor, was mother of Hylton Jolliffe, Esq. (fn. 52)
Sir Ralph Milbanke, Bart. and H. Jolliffe, Esq. are joint owners of Chester Deanery, and of several other estates and collieries derived from Hedworth.
The Deanery, as it stands at present, for there is not, I believe, the slightest vestige of the old buildings, is a handsome brick house, a stone-throw from the town, commanding a pleasing prospect over rich cultivated grounds to the river, and a good view of Lumley Park and Castle. The enclosures of the Deanery immediately adjoin the East wall of the church-yard, and very probably occupy the exact scite of the old Decanal house and offices.
Tithes—Parcel Of The Impropriation. 9 Feb. 30 Eliz. 1587–8, The Queen by letters patent of that date granted to Edmund Downing, and Myles Braddyll, Esquires, all the tithes of sheaves, corn, and grain, within the Parish of Chester-le-Street, late parcel of the Prebends of Lumley, Pelton, Chester, Tanfield, Birtley, and Urpeth, late parcel of the dissolved collegiate church of Chester in the Street.
By Ind. 9 April 44 Eliz. 1602. George Collingwood, of Eppleton, co. Pal. Esq. Mary, widow of Robert Clavering, of Callaley, Esq. John Clavering, of Gamlingay, co. Cambridge, Clerk, and James Clavering, of Newcastle on Tyne, Merchant, (in discharge of trust reposed in them by the will of Robert Clavering, Esq.) grant to John Clavering, of Callaley, Esq. son and heir of the same Robert, all the corn tithes of the Prebends of Lumley, Pelton, Chester, Tanfield, and Urpeth, which the same George Collingwood, Mary, John, and James Clavering, purchased (as trustees for John Clavering, Esq. a minor) of Ralph and Christopher Rookbie, and Miles Taylor.
Urpeth. By Ind. 28 Jan. 20 Jac. 1622, Sir John Clavering, of Callaley, Knt. conveyed the tithe corn of Urpeth Prebend to Sir John Hedworth, of Harraton, Knt. (except Moss closes) who conveyed 1 Nov. 1622 to Richard Hedworth, of the Deanery, reserving 10l. rent to Sir John Clavering. 4 May 17 Car. 1641, Richard Hedworth conveyed to Henry Lambton, of Lambton, Esq. who granted to William Lambton, of Tribley, and he in 1695 devised the same tithes to his brother Henry Lambton for life, with remainder to William Lambton, of Lambton, Esq. whose representative J. G. Lambton, Esq. M. P. now holds this portion of the impropriation (fn. 53).
Lumley. 26 April 7 Car. 1631, Sir John Clavering, Knt. and Dame Anne his wife, grant to John Radeliffe, and Thomas Widdrington, Esqrs. (fn. 54) all the tithes of grain and corn in the Prebends of Lumley, Pelton, Chester, Tanfield, and Birtley, (except the tithes of Plausworth, Walridge, and Moss closes) (fn. 55) (fn. 56).
10 Aug. 1675, Ralph Widdrington, of Cambridge, D.D. to John Rushworth, of Lincoln's Inn, Esq. Recital that by Ind. 10 and 11 Jul. 15 Car. II. between Sir Thomas Widdrington, Knt. then deceased, of the first part, Thomas Lord Fairfax and Henry Arthington, Esq. of the second, the said Ralph Widdrington, and John Rushworth, Esqrs. (fn. 57) Nicholas Widdrington, Gent. Nicholas Blackbeard, Gent. and Robert Alderson, of the third part, Sir Thomas Widdrington conveyed all his tithes of corn and grain within the Parish of Chester-le-street to Widdrington, Rushworth, &c. on trust for the uses of his own last will; and by such last will Sir Thomas did declare that one moiety should be on trust for his daughter Ursula, then wife of Thomas Lord Windsor, and her heirs; that Nicholas Widdrington released his estate to Rushworth, and that by decree in Chancery 21 June 1670, Ralph Widdrington and John Rushworth, the surviving trustees, were ordered, and did accordingly convey the same moiety to Lord Windsor and Ursula.
17–18 April 1676, Thomas Lord Windsor and Ursula his wife, John Rushworth, Esq. and Nicholas Widdrington, Gent. grant a fourth part of the whole or a moiety of a moiety of all tythes, rates, and compositions for tythes belonging to them within the Parish of Chester, to Sir Robert Markham, of Sedgebroke, co. Lincoln, Bart. 218l. 2s. consideration; and 21 April 1676, Thomas Lord Windsor, and Ursula, &c. Sir Robert Markham, Bart. and Mary, Sir John Legard, of Ganton, co. York, Bart. and Frances, and Sir Robert Shafto, of Whitworth, Knt. and Katherine, (the ladies being four daughters and coheiresses of Sir Thomas Widdrington,) convey the same tithes to William Dodson, of Sedgebroke, co. Lincoln, Gent. trustee for Sir Robert Markham, (and declaration from Dodson, 20 June 1676,) and fine 30 August 1676. 20-21 May 1678, William Dodson and Sir Robert Markham (400l. consideration) convey the said moiety to George Winship, of Chester, Yeoman, subject to synodalls and 13l. 1s. 4 ¼d. crown rent.
25 April 1684, George Winship the elder, and George Winship the younger, Clerk, convey the same moiety to William Winship, of Chester, second son of George the elder. Oct. 1716, William Winship the elder, and Mary his wife, settle the same estate on the marriage of their son William Winship the younger, with Mary Page, of South Shields. The same William Winship the younger, suffered a recovery and fine of the estate 1744.
[12 July 1676, Sir Robert Marckham and William Dodson, to Charles Bull, Gent. and Elizabeth his wife, sister of Sir Robert Markham, and Thomas Heber, the elder and younger, Gent. all that moiety of tithes, &c. for 99 years or lives of Charles and Elizabeth. 27 Jul. 1678, Charles Bull, and Thomas Heber, senior and junior, assign to Reginald Heber, Gent. redeemable by George Winship for 700l.]
Thus the large mass of the impropriation kept gradually shivering away into detached fragments as it proceeded; yet the largest portion of the corn tithes is still vested in J. G. Lambton, Esq.—Trevelyan, and Henry Witham, Esqrs. (fn. 58); some parcels both of corn and hay tythe are reserved to the Curate of Chester-le-street.
The following statement perhaps approaches to accuracy:
Harraton. The lay impropriators have the corn tithe of Picktree and Pelaw. The Curate has the corn tithe of Ricleden; he receives a modus in lieu of some parcel of the hay tithe, &c. and hay in kind from other portions, and small tithes and Easter dues throughout the township.
Lambton. Pays no tithes, dues, nor prescript to the Curate whatsoever.
Great Lumley. Pays Easter dues only.
Little Lumley. The minister receives Easter dues; the Impropriators hold the corn tithe of both Lumleys and Pelton. The Impropriators have the corn tithe of the township generally; but Newfield and Lowes's copyhold pay corn tithe to the Curate, who also receives a modus for hay on the same lands, and small tithes and Easter dues generally through the township. The Earl of Scarborough has some portion of tithe.
Urpeth. Mr. Lambton is sole impropriator of the corn tithe on the freeholds and common (fn. 59). The Curate has corn tithe of the copyholds and Moss close farm; he receives a modus in lien of hay tithe for Urpeth freeholds and Pokerley, and another for Foulbridge house, small tithes and Easter dues paid generally.
Plawsworth. Pays tithes of every description and Easter dues, to Mr. Lambton only.
Ouston. Exempt from all tithe (fn. 60), except Easter dues to the Curate in a certain proportion from each householder.
Birtley. The corn tithes are paid generally to the Impropriators, Lambton, Trevelyan, and Wytham, small tithes and Easter dues to the Curate.
Chester. Corn tithe paid generally to the Impropriators, but some portion to the Curate; and two thirds of the corn tithes on lands called the Demesne lands, the Northfield, the Ures, and the Flowers, (all leasehold) are paid to Kepyer school in Houghtonle-Spring. The Curate receives a modus for tithe hay for the thirty haugh lands and for Sandersfield, and a prescript for Whithill freehold, considered to be in lieu of all tithe. The Curate receives tithe of hay on lands not covered by these modus's, and small tithes and Easter dues generally.
Edmondsley. Broomyholm, Tribley, Whitehall, Wheatley green, Whitehouse, Hagg, Twysel dykes, Craishead, Hot hills, and Quarry house, pay corn tithe to the Curate, the remainder of the township to the Impropriators. The Curate receives modus's for hay tithe from East and West Edmondsley, Broomyholm, Tribley, Whitehall, Hagg, and Twizell, and hay tithe in kind from other lands, small tithe and Easter dues generally.
Walridge. The Curate has the whole corn tithe, small tithes, and Easter dues; he receives a modus for hay.
Tanfield and Lamesley, see hereafter (fn. 61).
Pedigree of Hedworth, of Chester deanery.
Arms : As Hedworth Of Harraton; A Crescent For Difference.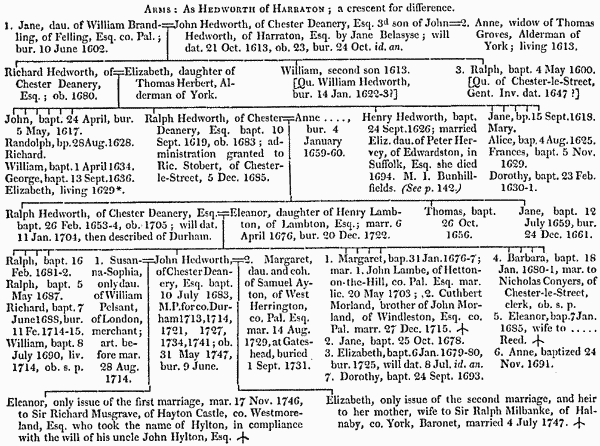 *** Mr. Hedworth Dove, a Quaker, of Greenwich, bapt. 23 July 1719. Chester-le-street Register.
To whom Richard Clerk, of Chester, Gent, in his will of that date, leaves xxl. desiring she may marry with his nephew Robert Clerk; and if the said Robert causelessly refuse, then he gives the same xxl. to Elizabeth, as a token of his affection.
Whitehill
Whitehill stands on the Chester burn, one mile to the West of Chester-le-Street.
By Charter 28 Dec. 1310, Bishop Anthony, Patriarch of Jerusalem, granted to Roger de Aula de Cestria, the manor of Whittell, by the description of the tenement called Whitehill, and sixty and seven acres of land, which extend from Chester field to Conkeburn and Stanleyburn, to hold of the See of Durham by 48s. annual rent and service to the manor mill of Chester, paying the twenty-fourth part multure (fn. 62). John o' the Halle, son and heir of Roger, did homage for Whitehill to Bishop Bury, in 1343 (fn. 63). Under Hatfield's Survey, John Melote held the manor of Whytehill, containing 67 acres, and three closes sometime of Roger de Aula, 48s. rent, an acre and a half of exchequer land near Cloughleeh, 8d., and two acres of the waste near Whitehill, 12d. In 1438, William Melote, (Under Sheriff of Durham,) died seized of the manor of Whithill, which is stated to consist of a mansion house, comprising a hall, a chamber, a kitchen, a granary, a stable, and a kilnhouse, 67 acres of arable land, three closes containing 44 acres of arable, and six of meadow, all held of the Bishop by forty shillings rent and service, and the twenty-fourth part multure at the manor mill of Chester (fn. 64). From this time there was an uninterrupted possession in the family of Millot, till the death of John Millot, Esq. the last male heir, who died in 1747, and by will devised all his estates to Henry Wastell, Rector of Simonburne. Mr. Wastell soon after sold the manor of Whithill, to John Cookson, of Newcastle, father of Isaac Cookson, Esq. (fn. 65) the present proprietor.
The present house of Whithill, which includes part of the old mansion of the Millots, stands almost on the very brink of the Chester burn, overlooking a shivery cliff covered with native copsewood; the East view extends over quiet green home grounds, commanding a beautiful prospect of Chester spire and Lumley castle.
From Chester to Whithill the road lies through the ravine of the burn, and in this spot was worked the well known Whithill forge, where, besides cylinders, engine pumps, &c. large cannon were cast, allowed by the officers of his Majesty's warren at Woolwich, to be amongst the strongest and soundest proved there: the iron was obtained from stone, won on the neighbouring fells. This iron ore appears to have been worked by the Romans: great quantities of scoria or slag are found on the fells, extending many miles Westward. The ancient method was, to melt the iron stone with charcoal in a large smithy hearth or bloomery, (and then to reduce the metal to bar iron in another hearth,) consequently when the wood failed, they removed their furnace; they must have known the use of air furnaces, or else have blown their bloomery bellows by hand or by horses, as the greatest quantity of slag is found in high grounds, where no water could be obtained.
"About three miles to the West of Chester, is a place called the Old Furnace, where very lately was to be seen the bottom of a furnace hearth, constructed according to the usual present method, but of much smaller dimensions: the bellows had been driven by a water wheel, as appears by the trench of a water race to convey the stream to the wheel from an upper part of the burn. On the opposite side of the burn, is a place called the Alum Well, from the water having a strong aluminous smell and taste. The method of making metal, was by putting into a large furnace, about thirty-four feet in height, and twelve or thirteen feet wide in the broadest part, but contracted at top and bottom, a certain number of baskets of coal or cinders, to a certain number of boxes of iron stone, calcined for the purpose, and a quantity of lime stone sufficient to flux it; when a sufficient quantity was melted into the hearth or basin at the bottom of the furnace, it was tapped with an iron bar, and run off into metal pigs, or large vessels prepared in loam, (a composition of sand, clay, &c. (fn. 66) ")
Pedigree of Millot.
ARMS : Argent, three billets Sable, between two double cotises Gules.
* Chester-le-Street Parish Register.
† Houghton-le-Spring Parish Register.
‡ This lady, who was granddaughter of William James, Bishop of Durham, desired, with her last breath, "that her sons should be brought up godlily and vertuously, in the worship and communion of the Church of England. Yet Robert Millot, the eldest son, was trained as a Papist by his grandmother, Dorothy Millot, and intended for a Popish Priest. She also maintained two of the younger sons, Ralph and Charles, very meanly as to food and apparel." Depositions in Chanc. Dunelm. 23 Aug. 1694, ex parte John and Charles Millot, by Dorothy Maddison, their guardian, against Dorothy Millot, widow, Ralph Millot, an infant, &c.
Lumley.
Lumley Castle and Great Lumley lie to the East of the Wear in Easington Ward.
Lumley Castle, as seen from the great North road, stands glittering with a bright open aspect, on a fine gradual elevation above the Wear. On the South and West the grounds slope gently to the river, but the East front almost overhangs a deep wooded ravine, through which the Lumley Beck falls to the Wear. The Castle is a regular quadrangle of bright yellow freestone, with an area in the centre, and four uniform projecting towers, of which all the angles are crowned with overhanging octangular turrets. The East front retains all its original magnificence. Three stages of masonry rise above each other with mullioned windows, heavily grated with iron; and a noble gatehouse projects from the centre of the front guarded with overhanging turrets, and a machicolated gallery; a terrace only, formerly guarded by a curtain wall, intervenes betwixt the Castle and the deep dell of the Lumley rivulet. Above the gateway are six shields of arms (three and three) cut holdly in stone. In the centre of the first row, higher than the rest: 1. Quarterly, France and England, (Richard II.) 2. On the right, Percy or Louvaine, a lion rampant: Crest, a lion passant. 3. On the left, a Saltire, Nevill: Crest, a bull's head. In the lower row: 4. A lion rampant within a bordure engrailed, Gray: Crest, a ram's head. 5. Lumley: Crest, a parroquet. 6. two bars: Crest, Moses's head horned, Hilton.
The arrangement evidently marks the reign of Richard II. when Ralph Lord Lumley (under licence from Bishop Skirlaw, 1389,) rebuilt and castellated his house of Lumley, and reared probably this gallant front exactly in its present form. No other face of the Castle retains an equally genuine appearance: the North front is obscured by offices; that to the South is evidently modernized though castellated, and is brought forward almost parallel with the flanking towers. The chief approach of the present day is by the West front (fn. 67). A double flight of steps lead to a broad lofty platform, which commands a very beautiful prospect. At the foot of the Park, the Wear, which is collected for the purpose of a salmon lock, forms a fine deep pool or basin, and then rushes over the dam in two silver sheets. Across the Wear, Chester and Chester church with its lofty spire, fill the fore-ground, and the further landscape is scattered over with irregular villages and farm-holds, as far as the wild dusky Western heights.
The inner court or area has received repairs and alterations at very different dates. On the gateway in the West centre are two small escutcheons: the dexter charged with a fleur de lis, and the sinister with a rose; from these depend two long strings of armorial shields: nine from the lily, and as many from the rose, including all the matches of the family from Liulph to John Lord Lumley (fn. 68). On the flanking or projecting towers on each side of this armorial gateway, are two tablets of black marble, one inscribed with the family motto, Murus æneus conscientia sana; the other inscription is effaced; beneath are two marble fountains.
There appears to have been a domestic Chapel within the Castle of Lumley. A licence for celebrating service in this private oratory was granted by Cardinal Langley to Sir Thomas Lumley, in 1432 (fn. 69).
The collection of paintings at Lumley is dispersed; those only remain which are strictly family portraits. In the great Hall, (besides a statue of Liulph armed cap-a-pee like a gallant knight and bestriding his war-horse,) are "fifteen pictures of my Lord Lumlie's auncestors, with a pillar of his pedigree," all which are noted in the Inventory of 1609, and then valued at eight pounds. These, whether in robes or armour, are evidently fictitious or restored, and need no further notice; there is, however, one piece not belonging to the general arrangement, which if not perhaps contemporary with the persons represented, is yet probably of much higher antiquity, and more genuine authority, than any other piece in the series; (the dimensions of the picture are, 7. 9. by 4. 6. C.S.) King Richard II, represented in the bloom of youth, and with bright auburn hair, sits in a chair of state in his royal robes, scarlet lined with ermine, his inner dress deep blue or purple, powdered over with golden R's and crowned: he holds the sceptre in his left hand, and with the right gives a patent of nobility to Sir Ralph Lumley, who kneels before him in his Baron's robes. Lumley is represented as stout and tall, with a bald forehead, long hair, and a most majestic beard; on a scroll at the King's feet, "Kinge Richarde the seconde;" the back ground, representing probably the presence chamber, is diapered with golden lilies; on the frame, R. R. 2. AN' D'NI' 1384, A° REG. 8.
In the Hall is also one other genuine portrait of Elizabeth Darcy, second wife of the last John Lord Lumley. She appears in a black dress, the sleeves and openings of the gown ornamented with pearls, a rich point lace apron or petticoat, a ruff of point lace, a huge pearl necklace hanging over her stomacher, and her dark hair ornamented with a coronet of pearls; the countenance pale and expressive. "Elizabeth Uxor II. filia D. Johannis Darcy de Chiche."
Four niches in the West wall contain marble busts of Henry VIII. Edward VI. Mary, and Elizabeth; and in a niche in the North wall, appears the modern family crest, a Pelican in her piety. Over the fire-place are the arms of Lumley, quartering Thornton, and impaling the blanch lion of Fitzalan, quartering Clun, Maltravers, and Widville: Supporters; dexter, a parrot; sinister, a white horse (Fitzalan.) On a tablet under Liulph's statue (which rests on a pedestal projecting from the South wall) are a long string of Latin verses. Theatrum mundus—Spectator Deus.

Mundus abit, res nota quidem, res usque notanda,
Nota tibi, mundi sit nota, mundus abit;
Mundus abit, non mundus, id est hæc machina mundi,
Dico, sed mundi gloria mundus abit—&c.
and so on for fifteen couplets, ringing every possible change on the text mundus.
In the Music room—John Lord Lumley, a full length in gilt armour, the right hand rests on a helmet, the left on the sword-hilt. "Johannes Baro de Lumley, filius Georgii A° 1588, ætatis 54;" three shields of arms, Lumley alone; and in lozenges, Lumley impaling Fitzalan, and Lumley impaling Darcy. Another full length of the same "Ihõn Lord Lumley, 1591," in Baron's robes, the complexion clear and delicate, a white beard, black scull-cap, and ruff; the right hand holds a glove and handkerchief, a square ring on the little finger, a green table (fn. 70). In the same room, Frederick Prince of Wales, in robes, and Sir Thomas Sanderson, in the robes and collar of the Bath; the right hand holds a hat, decorated with plumes. (4 feet 11 inches, by 7 feet 11 inches.)
In the Steward's room—Jane Fitzalan, (first wife of John Lord Lumley,) a handsome portrait, three quarters length, delicate aquiline features, and an expressive elegant countenance, brown hair ornamented with braids of pearls, black velvet dress with strings of pearls and jewels, a glove in the right hand; on a scroll, "Jane Fitzalen, daughter to Henry Earle of Arundell, first wife to John Lord Lumley."
"Ralph Lumley, 1567, ætatis suæ 38;" a small full length in a white Spanish dress, and black cloak (fn. 71).
Another small full length of a young man, with delicate handsome features, in a Spanish dress, pink, slashed with black, a glove in the left hand; on the back is written: "Lumley, who was in the battle of Flodden-field, when King Jame of Scots was slain (fn. 71)."
A good portrait of John, last Lord Lumley, 1563; in black, three quarters length, scull-cap, and ruff, a ring hung from the neck by a black ribband; the countenance noble and expressive.
The remaining portraits are modern. Above the fire-place: The Countess of Halifax, in a yellow dress, three quarters length, a pleasing portrait; on each side of the above, The Hon. John Lumley, and the Hon. Charles Lumley, half lengths. The first Earl of Scarborough in armour, holding a truncheon, a battle in the distance. The same nobleman, three quarters length, in the full dress of the garter. General Lumley, brother to the first Earl, in armour, a battle in the distance, three quarters length.
In the House-keeper's room—The Hon. James Lumley, half length; Lady Blacket, three quarters; Lady Harriet Lumley, half length; and full lengths, when children, of the Hon. Thomas and Richard Lumley.
The paintings described by Pennant in 1776, as then at Lumley, are chiefly portraits of illustrious Englishmen, and of a few distinguished foreigners, the contemporaries of John Lord Lumley, who may be fairly deemed the author of the collection. These were all dispersed about seven or eight years ago, when the family portraits only were reserved (fn. 72).
The Family of Lumley is one of the very few whose antiquity reaches, on indisputable evidence, to the Saxon æra. Liulph, a Southern noble, flying from the face of the Normans, seated himself on the Wear, under the milder dominion of St. Cuthbert (fn. 73); but his evil genius pursued him, and he expiated with his life the dangerous popularity which his rank and virtues had acquired; his fate, which drew on that of Bishop Walcher and of his ministers of ill, has been already related. The connexion of Liulph (as asserted in the Pedigree) with the blood of Siward and Waltheof is confirmed by evidence not very usual in claims of such high and splendid antiquity; for when Waltheof, Earl of Northumberland, granted to St. Cuthbert and his Prior Aldwin the church of Tinmouth (the resting-place of the royal martyr Oswin), he also led to the shrine and dedicated to the service of the church, the boy Morkar, to be trained in the monastic institute; Uthred the brother, and Liulph the father of Morkar, attested the donation, with a cloud of noble and reverend witnesses. Of Uthred the son of Liulph, the name only has been preserved: William, son of Uthred, was contemporary with Bishop Hugh, who gave him the rank of a Baron of the Palatinate, and William, who first assumed the local name of Lumley, gifted the church in return with his manor of Dicton (Deighton), in Allertonshire. It is unnecessary to trace his immediate descendants further than by a reference to the Pedigree. The stream of hereditary property was successively swelled by alliance with the heiresses of Hesilden, Dandre, and of Morwick; and Robert, the fourth in descent from William Fitz Uthred, nearly doubled the paternal inheritance, by marriage with the heiress of Thweng, of Kilton, a family of Baronial rank. Ralph, the grandson of Robert, and of Lucy Thweng, was created a Parliamentary Peer by summons in 1385, and continued to act as such during the whole reign of Richard II. The meagre records of the Baronage seem to prove this Ralph to have been a man of active and enterprizing spirit. In 1385, he attended Henry Percy, Earl of Northumberland, in the Scottish Campaign, and probably acquired some honourable distinction; for in the two following years, he was entrusted with the important charge of the Government of Berwick. His function here ceased in a very decisive way, by his being made prisoner by the Scots, and carried off within sight of the walls of his garrison, in 1388; he was soon released, and in 1392, occurs as Lieutenant of the same fortress, under the Earl of Northumberland.
In 1389, Lord Lumley obtained a licence to castellate his manor house of Lumley, and its Eastern front still remains a noble monument of the architectural taste of the age, and of the munificence of its founder.
Lord Lumley probably passed the remainder of Richard's reign in peace and honour; but on the fall of "Richard, that sweet rose," and the elevation of "the thorn, the canker Bolingbroke," motives of personal attachment, and regret for the late sovereign, and a very natural dislike and fear of his successor, led Lord Lumley into the conspiracy of his relatives the Hollands. The plot was crushed in its infancy, and the rebel peers were overpowered and made prisoners in Cirencester, by a sudden movement of the populace. In this tumultuary conflict, Lord Lumley probably perished, for the act of his attainder states, that he died in arms in the field, in strong and open rebellion. Sir John Lumley (who in 1405, succeeded an elder brother in the claims of his house, and a portion of their estate,) inherited both the spirit and the chequered fortunes of his father. He had livery of his lands in 1405, was knighted soon after, served with reputation in the wars both of France and Scotland, and in 1414, received full restitution in open Parliament, both in blood and estate, (and of every thing except the Peerage,) as heir both to his father and brother. The remainder of his life was spent in the wars of France, where he perished with Thomas Duke of Clarence in the surprize and rout of Baugy Bridge in Anjou, on Easter Eve, 1421. Sir John Lumley's will, executed three years before his death, probably in contemplation of the hazards of his French expedition, is still extant; he desires burial in St. Mary's church at Chester-le-Street, and desires his executors to provide a decent marble tomb, (tumbam honestam de marmorea) for himself and Felice his late wife ; he gives his two daughters 300 marks each, 100 marks to two unmarried sisters, and desires his executors to sell his house in Wode strete, London, for payment of his legacies ; to his daughter Ann, he gives a cloak of cloth of gold, which was her mother's; to Thomas, his son, a gilt cup, the gift of "my Lord the Bishop of Durham;" to Dame Elizabeth Nevil a gilt cup, a featherbed, and four and twenty pillows. The church shared handsomely in the distribution of his goods: to his Chaplain, Richard Urpath, a gilt cup, and ten marks; to brother Thomas Oxenden, forty shillings per ann. for life, and if the said Thomas shall undertake the Jubilee, a hundred shillings ; to the church of Chester two robes of crimson velvet (de blodio velvet), and to Dan Richard Bukley (Dean of Chester,) a gilt silver goblet and ten marks; lastly, he charges his executors to maintain during their lives one chantry priest in the Church of Chester, and to provide two able and sufficient pilgrims to travel for his own grace, and for that of his wife Felice, to the shrine of St. Thomas of Canterbury. The will itself is drawn in Latin, in due professional form ; but a codicil in good broad English added at Mylon, 19 Aug. 1420 bears every mark of being both in substance and expression, the genuine composition of the testator. By this instrument "Sir John of Lumley, Knight," appoints his brother Marmaduke (fn. 74) (afterwards Bishop of Carlisle,) and his servant William Mayhu, Executors; he leaves his goods in Normandy and in France, to be disposed of by his brother Marmaduke and his servant Mathew Pacok; gives to his said brother "the little Inne in Wodestrete;" or if that disposition be contrary to his will made in England, he gives him his "place without Aldryggate," and desires his executors in all haste to make an end of the matters respectively betwixt him and Sir Pers Tylliol (fn. 75) and Johan Wodcock, if the said Wodcock will drawe to any resonable ende;" and that this, &c. is my last will, I shall close it and sett to the seale of myn armes; written at Mylon the 19th of August, 8. H. V. Sir Thomas Lumley, the next inheritor, was Governor of Scarborough under Henry VI., yet his fortunes prospered equally under the White Rose. In the first year of Edward IV., he was restored to the Peerage on reversal of his grandfather's attainder, and four years afterwards he was employed in besieging Bambrough Castle, which, with some other Northern garrisons, was obstinately defended by a few partizans, whose deep attachment or desperate fortunes had survived the general wreck of the Lancastrian interest. George Lord Lumley, who succeeded his father, increased the fortunes of his house by marriage with the heiress of Roger Thornton, the wealthy merchant of Newcastle. The Tower and Manor of Ludworth, Bradbury with the Isle, Bolam, Axwell, Swalwell, and lands scattered broad and wide over Durham and Northumberland, formed a part of this ample inheritance (fn. 76). In a quarrle which arose concerning this succession, Lord Lumley slew Giles Thornton, his wife's bastard brother, in a duel in Windsor Castle ditch (fn. 77). Thomas, son and heir of George Lord Lumley, married Elizabeth Plantagenet, base daughter of King Edward IV (fn. 78) and died in his father's life time ; his eldest son Richard, the next Baron, left issue John Lord Lumley, who was at Floddon field in 151 ; and long after, when the change of religion and the dissolution of the monasteries threw the North into tumult and rebellion, engaged deeply in the Pilgrimage of Grace. Lord Lumley was one of the persons deputed to treat on behalf of the insurgents, with the Duke of Norfolk; he made a prudent use of the amnesty extended by the Crown, and offended no more (fn. 79). But the hydra of rebellion was sctoched, not killed, and scarcely were the royal forces withdrawn, when

—the false North displayed
Her serpent wings to imp the broken league.
George Lumley, the heir of the family, rushed headlong into Ask's conspiracy, which was visited with much more extensive and unrelenting severity, than the first unhallowed Pilgrimage; and amongst many other victims Mr. Lumley was sent prisoner to London, attainted, and executed at Tyburn (fn. 80). The old Baron, if he indulged any secret aspirations for the success of the insurgents, was sufficiently punished by a childless old age, by seeing the downward stream of his blood attainted, and his grand-children deprived of their hereditary rank. His estates, however, were in his own power, without any reversion being vested in his unfortunate son ; and the old Baron, "sore vexit and trobled and diseased by long sikenes," considering in what peril his inheritance stood after his decease, executed a strong and substantiall settlement (fn. 81) of his whole estate, on his only grand-child John Lumley, who succeeded under this entail in 15 ,and in the first year of the next reign was restored to the Peerage, or rather, it was declared that the "same John Lumley and the heirs male of his body should have, hold, &c. the dignity of a Baron of this realm; a mode of restitution, which as contrasted with a full revival of the old Peerage by summons, had in the sequel some considerable consequences as to the descent of the family honours (fn. 82). Lord Lumley (who had, it seems, been twice engaged by his grandfather, first to a daughter of Sir Anthony Wingfield, then to a daughter of Sir John Harrington,) chose to himself a wife of very high and powerful connections; Jane, daughter of the last noble and gallant Fitzalan, Earl of Arundel; and it was probably very much owing to the interest of this illustrious father-in-law, that Lord Lumley was early introduced into a large share of notice and reputation at Court. He was made Knight of the Bath two days before the Coronation of Queen Mary ; and he, as well as his Lady, bore a principal part in the Procession of the Coronation. In 1556, he appears, together with Lord Talbot, employed in introducing into the presence, Osep Nepea, the first Muscovite Ambassador who ever appeared at the English Court. In the first year of Elizabeth, Lord Lumley was one of the Commissioners, to receive the claims of persons who held in Grand Serjeanty, and owed suit or service at the Coronation; in 1564, he treated with the Duke of Florence for the recovery of a debt due to her Majesty's father, and was fortunate enough to recover for her Majesty both principal and interest. Lord Lumley steadily attached himself to the fortunes of his father-in-law Arundel, who expressly states that his said son Lumley, had sold and mortgaged "most part of his own lands, tenements, hereditaments; and patrimony, "for the discharge and payment of his (the Earl's) debts and causes;" and in 1568, he bore his share in the displeasure which the Earl incurred, by being privy to the Duke of Norfolk's matrimonial intrigues with the Queen of Scots. He was, however, soon released from a short imprisonment, and in 1586, was one of the Judges on the same unfortunate Lady, and in the following year, was one of the Commissioners who condemned the scapegoat Davison, for having executed the Queen's pleasure contrary to her good liking. Lord Lumley persevered in great honour and profound gravity during the whole long reign of Elizabeth, and seems to have been generally and justly regarded as a stately model of "the pomp, pride, and circumstance of ancient nobility (fn. 83)." A deep feeling of veneration for the memory of his noble ancestors, formed one particular feature of Lord Lumley's character; the tablet which records the family genealogy in clear language and tolerable Latin, was his own composition, and he gave a still more decisive proof of his ancestral feelings, in the long series of monuments, the imagines of the family, which still replenish the North aile of Chester Church. Two of these he removed, together with the bones of his ancestors, from the Cemetery of Durham Cathedral, under a very curious licence granted by Bishiop Toby Mathew (fn. 84), who states that Lord Lumley was minded in honour of his most noble family, to collect after the ensample of the Patriarchs, the scattered reliques of his ancestors wheresoever dispersed, and to gather them to their tribe in Chester Church; antiquam Progenitorum tuorum decedentium sedem. One effigy is said to have been sent from the Chapel within the walls at Barnard Castle by Sir William Bowes, "at the honourable means and motion of John Lord Lumley," (yet perhaps still remains at Barnard Castle.) A few other genuine monuments may be presumed to have already existed at Chester; but it is evident that by far the greater part of the series, from ancient Liulph to Sir George Lumley, whether in mail and hauberk, or in weeds of peace, were restored by Lord Lumley, and are still very easily distinguished from the few genuine effigies executed by cotemporary artists.
Lord Lumley, feeling as he did on the subject of ancestral honours, must have foreseen with no small mortification the approaching extinction of the direct line of the family on his won decease. Three children by his first princely consort, Jane Fitz Alan, had died in infancy; and his second wife, Elizabeth Darcy of Chiche, was childless. Under these circumstances Lord Lumley seems to have three times changed the disposition of his estates. In the first settlement he preferred the issue of his sister, whose representative, long after, claimed, without success, the ancient Barony of Lumley; but there existed a younger, though distant, collateral line of the male blood, derived from Anthony, a younger brother of Lord Lumley's grandfather. It is evident that a family feud had existed betwixt these cadets and the chief line, and that John Lord Lumley himself was on very ill terms with his kinsman. Yet his attachment to the name and blood of Lumley prevailed, and in both the latter settlements of his estate he called to the succession his kinsman Richard Lumley, ancestor of the Earl of Scarborough (fn. 85).
In 1600 Lord Lumley sat on the trial of the Earl of Essex. In the succeeding reign he received King James on his first Southern Progress at his castle of Lumley (fn. 86); and was one of the Commissioners for receiving the Claims of the Tenants in Grand Serjeanty at the Coronation, an office which he had executed on the accession of Elizabeth; and one of the Commissioners for granting the order of the Bath, which he had himself received fifty-three years before from Queen Mary. He survived till 11 April 1609, and by his last will, dated 28 Jan. 1606, confirmed the settlement in favour of Richard Lumley, whom he left still a minor, in charge of his widow, the Dame Elizabeth, Sir Richard Lewknor, of Sussex, and his ancient and trusty servant William Smith, Esq. Lord Lumley lies buried, not with his ancestors at Chester, but under a noble monument of white marble at Cheam in Surrey.
Richard Lumley, Esq. who inherited the estate under settlement (considerably reduced, however, by his predecessor's sales and mortgages) received knighthood in 1616, at Theobald's palace; and in 1628 (the old Barony being dormant under the attainder of Sir George Lumley) was created an Irish Peer, Viscount Lumley of Waterford. He is said to have garrisoned Lumley Castle for the King, and had a command in the royal army under Prince Rupert, in the West. He was in Bristol when the garrison surrendered to the Parliament forces in 1645. He survived the Restoration, and was grandfather to Richard Viscount Waterford, created an English Peer in 1681, and Earl of Scarborough in 1690, one of the most honourable and unimpeached characters of his age.
The Earl of Scarborough had entered early into the army, and had fought against Monmouth at Sedgmore. He afterwards forsook the Court, on the manifestation of James's arbitrary intentions, appeared openly to countenance the seven burning lights of the Church of England, the seven Bishops, on their trial, and ran the hazard of maintaining a private correspondence with Mons. Dykevelt, the Prince of Orange's resident. On the eve of the Revolution he retired into the North, and secured Newcastle for the popular interest. He afterwards argued powerfully in support of the resolution that the throne was vacant, and voted for settling the Crown on the Prince and Princess of Orange. His subsequent honours and employments may be seen in any Peerage. He attended King William at the Boyne, at the Congress of the Hague, and in his several campaigns till the Peace of Ryswick. In the next reign he was a Commissioner for the Union; and, on the accession of George I. one of the Peers entrusted with the government until the King's arrival. He was afterwards Vice-Treasurer, Receiver-General, and Paymaster, of Ireland. The Earl of Scarborough (who, under every Whig administration, was Lord Lieutenant both of Durham and Northumberland, and Vice-Admiral of both Counties,) was the last of his family who bore such office in the North, or had much immediate connection with Durham. The sales and mortgages of Lord Lumley for his father Arundel were ill replaced by the Sussex estates, and a share of Arundel Borough, derived from that connection; and the wreck of the family possessions in the North have not been sufficient to induce the latter Earls of Scarborough to quit their Lincolnshire and Nottinghamshire estates, derived from the heiresses of Sanderson and Savile—Stat nominis umbra.
Of the former possessions of the Lumleys some idea may be formed from the following evidences: the feoffment of Lord Lumley, executed in favour of his grandson, about 1540, included, in the County of Durham, the castle and manor of Lumley; the lordships of Hart, Stranton, and Seaton-Carrow; the manors of (fn. 87) Bradbury, (fn. 87) The Isle, (fn. 87) Beautrove (Butterby), (fn. 87) Frereside, (fn. 87) Ludworth, (fn. 87) Axwell, (fn. 87) Swallwell, (fn. 87) Bradley, (fn. 87) Bolam, Morton, Hesleden, and Housefield: in Newcastle, the manor-house in the Brode Chare, and several tenements. In Northumberland, the manors of East and West Chevyngton, Oldmore, Reveley, Longhurst, and Morwick (fn. 88). In Yorkshire, the castle and manor of Kylton, the manors of Hemphome, Thornton, Moorsom-Magna, Yarteby, Staynton, Thorneby, and Lynthorpe.
The Inquest on the death of John Lord Lumley, 1609, states that he died seized of
Surrey. The manor of Nonesuch, al's Cuddington, al's Quiddington, and the advowson, held of the King in chief, val. per ann. 10l.; the manor and advowson of Westerham; the manors of W—s, Ewell, Easterham, and the advowson of Buckland.
Sussex. The manors of Stansted Bourne, al's West Bourne, Ringsted, Singleton, and Charleton; the forest of Stanstead and Verholt; and the hundred of West Bourne.
Kent. Six messuages, twenty cottages, two barns, ten acres, in Est Grenewich.
Ebor. The castle and park of Kylton; the advowson, and half the manor of Hinderwell; the manor of Great Moorsome.
Northumb. The castle and manor of Wytton on the Water, held of the King by Knight's service.
Durham. The castle and park of Lumley; the manor of Great Lumley (val. 6l. 13s. 6d.); the manor and rectory of Hart; the manors of Hartness, Hartlepoole, Thurston, Over Thurston, Nether Thurston, and Nelston (fn. 89).
The pedigree of Lumley has been traced with great accuracy by Collins (fn. 90) : to the main stem a few dates and circumstances only can be added; but, doubtless, a tree so long and deeply rooted must have thrown out suckers and scattered seeds, which might perish or vegetate, droop or flourish, in soils and aspects less or more favourable. An early division of the family estate certainly gave rise to two families, both bearing the name of Lumley, though their distant consanguinity was perhaps lost or dimly remembered long before Great Lumley became the divided inheritance of the Tilliols and Colvilles (fn. 91). The Lumleys of Clipston in Northamptonshire are asserted to descend from a cadet in the reign of Edward I. Not only those of Ravensworth, Thornley, and Axwell, noticed in the sequel, but a stout breed of Northumbrian yeomen, are all, with little doubt, scions from the same stem, though it is difficult to point out the exact stage whence each collateral shoot diverged; and when John Lord Lumley selected Richard, afterwards viscount Waterford, as the stock of a renovated race, he perhaps forgot or neglected a whole underwood of Lumleys who bristled thick at Woodstone House and Lumley Thicks, whose top shoots retained the rank and stile of gentry, and asserted their distant connection with the blood of their chief till the end of the seventeenth century.
The following extracts may give some idea of the state of Lumley Castle at the decease of its noble owner, John Lord Lumley, in 1609.
Inventory of all such moveables as were found in Lumley Castle after the decease of the Lord John Lumley, 24 April 1609.
Imprimis, seven peeces of hangins of Arras wth gold, of the storie of Troy, 80l.
Seven peeces of hangines of Queen Hester, 80l.
Five deep peeces of fine hangins of Cipio and Haniball, 80l.
Six peeces of hangins of Jason and Medea, of a lardge auncient making, 80l.
Six peeces of hangins of the storie of King Pluto, 80l.
Four peeces of hangins of the storie of the Amazons, 60l.
Three peeces, of the storie of Paris, 40l. Twelve peeces of buskie haugins, 100l.
Twenty-one peeces, of the storie of King Saul and David, 120 l.
Four peeces, of the storie of St. George, 40l. Seven peeces, of the storie of Amadis, 70 l.
Eight peeces of beddes of gold, silver, and silke, wth there furnitures, 200l. 13s. 4d. Three bedds of broad cloth; viz. one purple, one carnation, one greene, 20l. 13s. 4d. Three chairs of cloth of gold and silver, 15l. One purple cloth of gold chayre, 6l. Two chaires, one of crimson silk and gold, the other of crimson and silver, 3l. One carpett of crimson damask fringed with gold, xls. One Turkey carpett of silk and gold, 6l. One Turkey carpett of colours divers sorts, 11l.
One long needle-work quishion, wth a little quishion sutable; and one long arras quishion, wth my Ladie Arrundel's armes; and one Turkey carpett of silke and golde;9l.
In the Hall: A deare's (fn. 92) head that came out of Ireland, 2s. 6d.
Thirteen ould Emperour's heads of Roome, 13s. A written table called the Theator (fn. 93) of the World, in golden letters, 5s. Raphaell Orbinus, his picture, 6d. Henrie the 8, Edward the 6, Quene Marie, Quene Elizabeth, cutt in marbell; the pictures of Aristotle, Plato; my Lord of Arrundell's creaste, the birth of Christe in allabaster, 40s. Six old Emperors in marbell, 10s.
The storie and picture of Mars and Venus, 3s. 4d. Hercules' picture, and the picture of Tyme, 5s.
In the Great Chamber:
Fifteen pictures of my Lord Lumleie's ancestors, with a pillar of his pedigree, 8l.
A picture of the storie of the Passion, wth a sersnet curtaine; the picture of my Lord Lumley in armoure, wth his two wyves, his sonne Charles, and the old Earle of Arrundell; the storie of the birthe of Christe; and the Nyne Worthies, neeled in glasse; together with the picture of Christe, and two gloobes in plaine, 13l.
In the Haule: Seventy-six little pictures, 12l. Fifteen great pictures, 5l. Ten marble tables, wth their frames, 30l. One fountaine, 30l.One fountaine, 10l.
In the Drawing-Chamber: Nineteen pictures, 6l. 6s. 8d. Three other pictures, viz. Quene Maries, Queene Elizabethes, and Constantynes the Great, 10s.
One chimney-peace of white marbell, with cherubins, 40s. One steele glasse, 12d.
Ninety-one pictures in the Gallerie, and four in the Wardropp, 40l.
Total, MCCCCIIIIl. XVIIs. VIIId.
Pedigree of Lumley, Earl Of Scarborough.
ARMS: Argent, a fesse Gules, inter three parrots Vert, each gorged with a plain collar Gules.
Crest: On a wreath a pelican in her piety.
Supporters: Two parrots Vert, wings expanded, beaked and membered Gules.
MOTTO: Murus æneus Conscientia sana.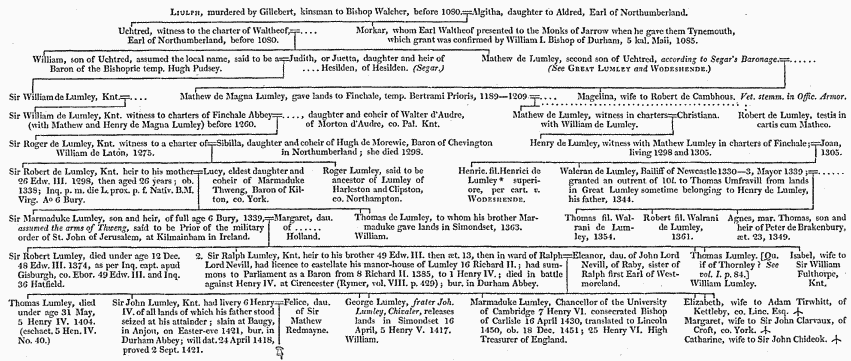 * Besides the persons introduced in the descent, several other individuals, all, perhaps, (one way or other belonging to the Great Lumley line, may be gleaned from charters. Peter de Magna Lumley witness with Henry de Lumley 1298; Wydo de Lumley, who married Agnes de Wolviston, 1298; and Gilbert de Lumley (perhaps Gilbert Dispensator or Steward of Lumley, who occurs before 1270), whose widow Isabel is named in Kellaw's Register, 1313; and Bishop Kellaw granted to William de Kellaw and Alice his wife all the lands in Wodeshende which were once Henry's son of Peter de Lumley, 1311.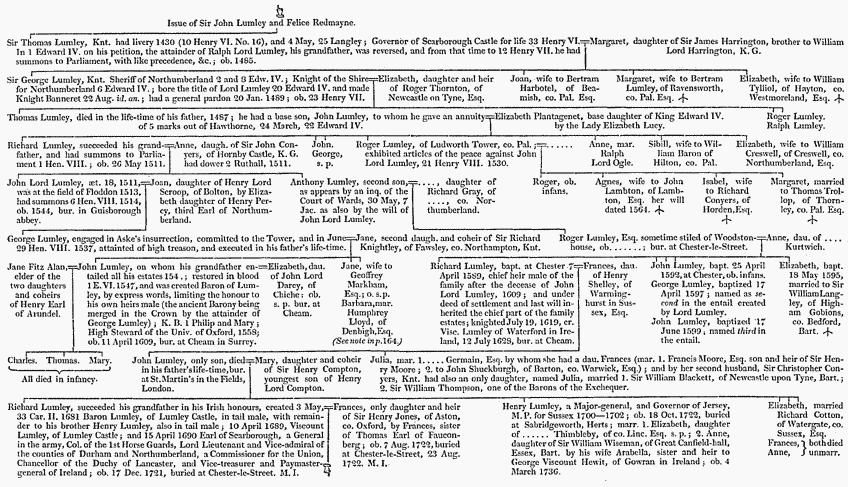 *** From Barbara and Humphrey Lloyd descended the Rev. Dr. Lumley Lloyd, of Cheam, co. Surrey, Rector of St. Paul's Covent Garden, who died 1730. In 1723 he presented a petition to the King, stating that he was heir at law to Richard first Lord Lumley; viz. son of Henry, son of Henry, son of Henry, son of Barbara, sister of John Lord Lumley, and praying a writ of summons to Parliament.
The petition was referred to a Committee of Privileges, who resolved against the right of the Petitioner, and declared that the ancient Barony was merged in the Crown by the attainder of George Lumley, father of John Lord Lumley. (See the whole argument in Collin's Baronages by Writ; and in Collins's Peerage, article Scarborough.)

Great Lumley.
Great Lumley lies nearly a mile and a half to the South of Lumley Castle.
A partition of property betwixt two branches of the Lumley family appears to have taken place at an early period. Whilst the elder line retained the estate on which Lumley Castle was afterwards built (frequently distingusihed as Lumley Parva), the vill of Great Lumley became the property of Mathew de Lumley Magna, who stands, on the authority of genealogists, as son of Uchtred and brother of the first William de Lumley. This Mathew de Lumley appears in indentures with the Prior of Durham (relative to boundaries (fn. 94) ), and still more distinctly in his charter to Uchtred fil. Uchtred de Wodeshende, in which he expressly mentions his uncle as jointly entitled with himself to rents and services in Wodeshend within Lumley (fn. 95). Mathew was probably father of another Mathew (for all the charters can scarcely belong to the same person), and one of these gave or confirmed two acres in Lumley to the Monks of Finchale.
"Matheus de Lumeleya omnib' videntib' vt audientib' has littas, salt. Sciatis me dedisse, &c. Deo, S. Cuthbto et S. Godrico, duas aeras in villa de Lumeleya, quas pater meus p'dictis S'c'o Cuthb'to & S'c'o Godrico concessit. T. Bertramo Priore (fn. 96), Walrano de Cestra, Radulf. filio suo, Rogero de Kibblesw'rthe (fn. 97), Galfrido fil. Ric., Rogero de Epli'gden, Osberto de Laton.
Neither of these can be well identified with a third of the same name, who stands as witness with Henry de Lumley and with Sir William Lumley, Knt. in charters of Finchale which must bear date about 1250—60 (fn. 98); but Henry (fn. 99) was certainly father (fn. 100) of Waleran de Lumley (fn. 101), Mayor of Newcastle 1339; and charters give to Waleran two sons, Thomas (fn. 102) and Robert (fn. 103), and a daughter Agnes (fn. 104). [Other Proprietors occur in Lumley (all bearing the local name) whom it is more difficult to attach to the parent stock.
The following charter contains the earliest notice of coal in Lumley:
Omnibus, &c. Henricus fil. Petri de Lumeley. Sciatis me dedisse, &c. Gilberto de Lumley, totam mineram meam et partem mean carbonum maritimorum in campo de Magna Lumley. Sans dat. ni tesmoignes.
On these early owners of Great Lumley no inquisitions appear; and it can only be conjectured, that whilst the elder branch was rapidly rising into wealth and power, by marriages with the gifted heiresses of Thweng and Morwick, the estate of their cadets was, as Leland would say "disparkelid" amongst females (fn. 105). I am unable to trace the descent, but the Kellows seem to have derived lands in Wodeshend by marriage with Alice, an heir general of Lumley, and the chief estate in Great Lumley vested at no very subsequent period in the family of Laton, who possibly derived their title through Agnes de Brakenbury, daughter of Waleran de Lumley. Elizabeth, daughter and heir of William de Laton, married Peter Tylliol of Hayton, in Cumberland, Knight (fn. 106), whose son Robert Tylliol died in 1435, seized (inter alia) of two wasted manors in Great Lumley, called the East Hall and the West Hall, leaving two sisters his coheirs, Isabel wife of Colvylle, and Margaret wife of Christopher Moresby. In 1460, the same Margaret Moresby died seized of half the East Hall and West Hall (fn. 107), held of the See of Durham by half a Knight's fee; her descendants are stated in vol. I. p. 215; and in the reign of Elizabeth, Thomas Knevett, Esq. alienated his moiety of Great Lumley in parcels to his tenants.
[10 Jul. 28 Eliz. Pardon to Richard Trewhett, Thomas Dickson (fn. 108), John Trewhett, Thomas Clarke, and Robert Sander, for acquiring from Thomas Knevett, Esq. 7 messuages, 5 tofts, 10 gardens, 200 acres of arable, 60 meadow, 200 pasture, in Great Lumley. Rot. E. Barnes A° 10.
Pardon to George Clarke (fn. 109), John Jolley, John Lowson (fn. 110), Lancelot Awde, Edward Chilton, William Currey, Bryan Younger, Cuthbert Storey, John Colson, and John Robinson, for purchasing 4 messuages, 4 tofts, 6 gardens, 100 acres of arable land, 200 meadow, and 100 pasture, in Great Lumley, from Reade, Trewhett, Dickson, and Trewhett. Ibid.]
The moiety of Isabel Colvyle descended to William Colvyle, who re-assumed the maternal name of Tylliol, and died in 1480 seized of half the East and West Hall; being then styled of Great Lumley, Esq. His two daughters, Phillis and Margaret, both married Musgraves. Cuthbert Musgrave, of Crokedayke, the descendant of William, husband of Phillis, held a fourth of Great Lumley, 27 Eliz. (fn. 111), and Sir Edward Musgrave of Abbey Holme in 1613 (descended of Nicholas Musgrave and Margaret Tyllyol,) held the same proportion of the manor, which he alienated in parcels to his tenants 10 Jac. [Licence to Edward Musgrave, Knight, to grant lands in Great Lumley and Ebchestre, to Thomas Hall, William Walsh, and Thomas Smith. 20 Jul, 10 Jac. Rot A° 10 James, N° 18.
Pardon to Robert Clarke, George Walton, and Thomas Smith, for lands in Great Lumley of Sir Edward Musgrave, 16 Jan. 10 Jac. Rot A° 10 James, N o 17.]
The Musgraves of Crookdake also alienated their fourth of Lumley in parcels, about the same time.
[By Indenture 28 Aug. 11 Jac. 1613, John Wrangham, of Great Lumley, acquired a messuage of 3s. annual value of William Musgrave, Esq.; William Foggard, 1 messuage, 6s. 8d. rent; Richard Robeson 1 messuage, 6s. 8d.; Thomas Hall 1 messuage, value 26s. 8d.; and John and Isabel Read, and Richard Read, 1 messuage, value 26s. 8d. 2 Oct. 11 Jac. Richard Clarke acquired from Cuthbert Musgrave, senior, Esq. William Musgrave, Esq. Anne his wife, and Cuthbert their son and heir, 17 messuages, tofts, and gardens, ten orchards, 500 acres of arable land, 300 of meadow, 500 of pasture, 100 woodland, 300 moor, 1000 furze and bryar in Great Lumley, Hetton-le-Hole, Witton Gilbert, Medomsley, and Ebchester. This last was probably a conveyance on trust, for sale of Musgrave's whole fourth.]
Under these alienations by the two families of Musgrave, and the previous dispersion of Knevett's share (derived under Moresby) before noticed, a variety of freehold estates have arisen in Great Lumley, since divided and subdivided in very intricate proportions.
A division of lands in Great Lumley was awarded 18 July 1636, by Sir John Conyers, of Horden, Baronet, Sir William Bellasis, of Morton, Knight, George Collingwood, Thomas Heath, William Carr, Esquires, and William Witham, and George Grey, of Southwick, Gent. Commissioners. The persons who agreed to the division were: Richard Viscount Lumley, William Langeley, of Lumley Castle, Esq. Robert Clarke, Richard Reed, William Reed, Robert Hall, Thomas Hall (fn. 112), John Reed, Thomas Fatherley the elder and younger (fn. 113), Ralph Lowson, Jeffery Walker, John Welsh, John Robinson, William Clarke (fn. 114), Robert Trewhet, John Trewhet, Thomas Gibson, John Atkinson, John Younger, Richard Nicholson, Richard Thompson, Robert Sanders, Richard Robinson, Peter Clark, and Thomas Clark. Afterwards, July 28, 1636, Ann Walker, widow, mother to Robert Clark, Elizabeth Dobson, widow, and Margery Trewhet, widow, "are contented to give way to this division as the rest of the neighbours hath already done (fn. 115)."
The East Hall of Lumley, an old house in ruins, is sometimes said to have been the earliest seat of the Lumleys before the Castle was built; this probably refers only to the younger line of Great Lumley.
The West Hall belonged to the Aytons of West Herrington, and to their descendants the three Baronets; it is now by purchase vested in J.G. Lambton, Esq.
Lumley Thicks is an old house (lately repaired and enlarged), which is formerly said to have had a private Chapel ; the view embraces the vale of Lamesley. Either this place or Woodstone House, a farm close to the Thicks, is probably to be identified with the ancient Wodeshend (a name now lost), of which the Charters are printed in the sequel (fn. 116).
Duck's Hospital.
By Indenture (enrolled in Chancery at Durham (fn. 117) ) 29 Sept. 2 James II. 1686, between John Duck, Esq. Alderman of Durham, and John Potts, of Great Lumley, Yeoman, and others, it is witnessed that John Duck has purchased a piece of ground in Great Lumley, of William Clarke, of Newcastle, gent. and Anne his wife, and John Clarke, of Great Lumley, gent. upon which he has erected and founded certain buildings, &c. to be an hospitall for the finding sustentation and reliefe of poor, aged, and impotent persons; to be incorporated by the name of the Brethren and Sisters of the Hospital of John Duck, Esq. at Great Lumley. The said John Potts, &c. to be the present brother and sisters of the said Hospital ; to have a common seal. The said John Duck to appoint during his life time; afterwards, the Mayor of Durham for the time being, together with Nicholas Salvin, of Durham, Gent. John Hutchinson, of Framwelgate, Esq. Michael Mickleton of the same, Gent. Henry Wanles, of Durham, Alderman, Cuthbert Hutchinson, Alderman, Wheatley Dobson, Alderman, &c.; three of the senior trustees to be visitors, one of which must be the Mayor of Durham; to visit once a year.
The building is a plain quadrangle. Over the door, "Hospitale pro xii Pauperibus, fundat. per Joh'em Duck, Ar. un. Aldermannor. Civitat. Dunelmi Anno Domini MDCLXXXV.
The endowment consists of about 40l. per annum, of which a Master who reads daily prayers receives 10l.; the inmates are twelve ancient widows or spinsters. John George Lambton, Esq. is Patron.
Pedigree of Bristow, of Great Lumley (fn. 118).
ARMS: A fesse inter three cross crosslets.
Reference to the Visitation of Somersetshire (where, however, no entry appears) for colours.
Pedigree of Lumley, of Great Lumley.

Joshua Thoresby, of Chester-le-Street (whose father, Paul Thoresby, was living 1673) married Mary, sister of Mr. George Lumley, the Artist. (See Pedigree of Thoresby, Leeds, p. 69).
* Administered to her husband 16 July 1608; joined in the bond by Richard Lumley, of Lambton, Gent. which Richard married Mary Fox 6 Dec. 1598.
† Probably the ancient gentlemen mentioned in More's Preface to Glanville ; see p. 147.
Wodeshende.
The following charters contain the earliest evidence of the younger branch of Lumley de Magna Lumley:
1. Matheus de Lumeleia om'ib' videntib' et audientib' p'sens scriptum Francis et Anglis tam futuris q'm p'sentib' salt. Sciatis me concessisse et p'senti carta mea confirmãsse Uchtredo filio Uchtredi de Wodeshende et heredib' suis p' homagio et servicio suo villam de Wodshende q'm pater meus et avunculus meus ei dederunt p' rectas divisas suas; scilicet in West de Croftis duodecim acras and sartandum, et extra nemus a veteri fossa usq. ad albam spinam, et ab illa usque ad aliam spinam que stat super Hodesleche, et inde in orientali parte usque ad stratam magnam inter Hoctunam (fn. 119) et Lumeleiam, et inde versus North sicut Hodesleche cadit in Stamfordesburne; h'ndam et tenendam sibi et h'dib' suis de me et de h'dib' meis et de h'dib' avu'culi mei in feodum et hereditatem, reddendo inde m (fn. 119) et h'dib; meis annuatim unam dimidiam marcam argenti, scil. xl denarios ad Rogationes et xl denarios ad festu' S't'i Cuthb'ti in Septembri, et aliam dimidiam marcam argenti heredibz avu'culi mei (fn. 120) ad eosdem t'minos, et faciendo forinsecum s'vicium q'ntum ptinet ad quartam partem feodi unius militis; et ipse Uchtredus semel in anno equitabit p' p'rias expensas in com'uni negocio n'ro p' nostram c'munem summonicione' inter Tinam et Tesiam. Si v° ultra Tinam v'l Tesiam ierit ad custamentu' n'rm ibit. Ipse v° et here's sui ibunt ad molendinu' dni sui sine aliqua op'atione cum blado q'd in t'ra p'dicta luerati fu'int: p' relevamine v° suo ip'e et h'des ejus dabunt octo solidos, scitt m' et he'dib' meis iiiior solidos et he'dib' avu'culi mei iiii or solidos. Similiter si casu forte aliquo in forefactum cecidint m' et he'dib' meis iiiior solidos et he'dib' avu'cli mei iiiior solidos dabunt. Quare volo et concedo quatinus p'dictus Uchtredus et he'des ejus habeant et teneant hane p'noi'atam tram de me et de hedib' meis et de h'dib' avu'cli mei bene et honorifice libe et quiete in villa et extra villam in bosco et plano in viis et semitis in exitib' et introitib' cu' c'muni pastura de Lumeleia et villa p'dicta et cu' o'ib' aliis aisiamentis et lib'tatib' p' p'dictum servicium. Hiis testibus, Petro persona de Seggesfeld, Galfrido de Coinneres psona de Sokeburne, Jordano Escolland, Thoma de Mundavilla, Wilto de Latona, Rob. de Huert, Walt'o de Monast'iis, Will'o fil. ejs, Petro Harpin, Wilto de Hduic, Wilto de Butiere, Rollando Escollo'd, Petro de Penchere, et aliis.
Sigill. Mathei De Lumeleia—a Knight armed on horseback, the left arm extended and bearing a Popinjay.
II. Uctred' d' Wdesende om'ib' videntib' et audientibz litt'as has, salt. Sciatis me c'cessisse et p'senti karta c'firmasse P'ori et c'v'tui d' Finghale v'l c' ip'i assignare volu't t'r'a d' Wdese'de q'm dimisi Fulco'i c'lico ad f'ma' hab'nd' et tene'da' usq. ad t'minu'......sicut sc'ptu' q'd est intr nos testatr, facie'do m (fn. 121) et h'dibz meis s'vitiu' q'd inde debitu' est. Test......Willo fil. Thome, Simu'do d' Hawtorn, Walt'o de Monast'iis, Joh'e de Lam'tona, et multis aliis.
III. Omnibus, &c. Utting de Wodesende, sal. Noverit universitas vestra me caritatis intuitu dedisse, &c. Deo et B. Godrico et Monachis Dunelm. apud Fynchall habitantibus duodecim acras terre in villa de Wodesende cum tofto et crofto, scilt quatuor acras juxta toftum et quinque aeras et dimid. juxta Redepedh, et unã acrã et dimid. juxta Odesleeche, et unam acram juxta pratum et juxta Milnesflad versus austrum, in liberam puram et perpetuam elemosinam. T. Jordano Escodland, Roberto fil. Thome, Radulfo fratre suo, Walt'ro de Monasteriis, Simone de Hauthorn, Matheo de Lumele, Reginaldo Basset, Petro Harpin, Ric'o de Scireburne, Willõ de Herington.
IV. Omnibus, &c. Uchtredus filius Uchtredi de Wodeshend, Sal't. Sciatis me dedisse, &c. Deo et S. Marie, et S. Godrico, et Ecclesie S. Johannis Baptiste de Finchale, duas acras terræ cum tofto et crofto in puram et perpetuam elemosinam. T. Matheo de Lumeleia, Roberto de Lumeleia, Osberto de Latona, Rogero de Epplindene, Rogero de Kibblesw'rthe.
V. Omnibus, &c. Henricus filius Henrici de Lumley Superiore. Noveritis me concessisse Deo et B. Mariæ, et S. Godrico, et Priori et Conventui de Finchale, in liberam puram et perpetuam elemosinam annuum redditum trium solid. in le Wodeshend percipiend. de terra quam de me et conparticipibus meis Margareta filia quondam Ricardi firmarii de Cestre tenet in eadem hereditarie. T. Dom. Gwiscard Charun, Thoma de Herington, Wilto de Laton, Militibus, Thoma de Kellawe, Matheo de Lumelaye, et multis aliis.
VI. Sciant, &c. quod ego Willielmus Dominus de Wodeshende dedi, &c. Willielmo de Kellawe, et Alicie uxori ejus totum manerium meum in Wodeshend juxta Magnam Lumeley, et toftum, quod quidem toftum quondam fuit capitale messuagium antecessorum meorum, et sexies viginti acras terræ arabilis de dominicis meis, et totum pratum meum. Hiis testibus, Johanne Byrteley seniore, Willielmo Domino de Neuton, Roberto de Lampton, Johanne de Edmansley, Simone de Brandon, Willielmo de Silkesworth, Elia de Coken, et multis aliis. Dat. apud Wodeshend die Sabb. prox. p. F. S. Leonardi Abbatis, 1310.
Confirmat. per Ricardum Episc. Dunelm. apud Stoketon die Sabbati prox. post Circumeis. 1310.
VII. Omnibus, &c. Willielmus filius et heres Willi de Kellow, sal. Sciatis quod cum Johannes Prior Dunolm. et ejusd. loci Conventus confirmaverunt pro se et suee. suis cartam Ricardi quondam Dunolm. Episcopi, per quam cartam predictus Will. fil. Will. tenebit omnia tenementa sua de Wodeshende in suo separali omni tempore anni, predictus tamen Willielmus vult et concedit pro se, &c. quod predictus Prior Dunelm. et Prior de ffynkhale et eorum tenentes habeant communam pasture in predictis terris de Woodeshend ad liberum tenementum suum de Lomley et Wodeshend.
Ap. Dunolm. die dominica prox. p. F. S. Mare. Evang. 1356.
In 1482, Robert Werdall, Prior of Finchale, leased to Thomas Lord Lumley two wasted tofts, two crofts, and thirteen acres, with common of pasture in Wodeshend, and three shillings rent which is due from Lord Lumley to the Prior, and all the Prior's right of common appendant to his free tenement in Lumley for 21 years, under nineteen shillings rent; per manus Ballivi de Lumley superiore.
An award made betwixt the Prior and Lord Lumley, by Roger Lumley, Richard Bothe, John Bentley, and Christopher Conyers, pronounces, that the Prior shall enjoy his common right, "appendaunt within the felds of Woddishend, to the freholdes of the said Pryor and Co'vent in Lumley and Woddishend apperteyning." That the Pryor is entitled to 3s. rent out of lands in Woddishend, and to thirteen acres, two tofts and crofts, in the same vill, as appears by Indentures between Thomas Lord Lumley, and Robert Prior of Finchale. As for one messuage and seven acres in Lomley, it is advised, "ye said mater to be ordered and determyned by Sir Thomas and John Bentley." And for a ground called Ferimanside, which the Prior claims to hold in severalty, his right is proven by a release made by George Lomley, Knight; and for 26s. 8d. out of Ludworth belonging to the Bursar's office, and for 12s. out of Ludworth due to the Commoner of the House of Durham, and for 4s. out of Hawthorn, "because my Lorde Lomley's evidence have not bene seene, yt is advysed that Lo. Lomley shall cause his evidence to be searched, and to shewe cause why the said severall rents ought not to be payed;" and for "the severall pasture in Bradburye yt is advysed the said parties to agree between theym self."
It should seem that the Lord Lumley had acquired the chief property once belonging to the younger line of the family in Wodeshend, and that the House of Finchale retained its interest under the early grants (before printed) till the Dissolution, when in all likelihood these parcels and out-rents fell into lay hands.
*** Terra pertinens Domui de ffynchall in territorio de Wodeshend. Imprimis, tres seliones contin. I acr. et di. in parte australi campi, et abuttant super communem viam versus villam in prato occidentali, et descendunt usq. le Leche versus clausuram de Morton. Item, duo seliones contin. 2 acras apud Begarthorne, et descendunt a communi via usq. ad clausuram de Morton. Item, quatuor acræ terræ in parva clausura fossata ex utrque parte, et jacent in fine villæ versus austrum, et abuttant super communem viam. Item, I aera juxta Mylnesheved et juxta pratum. Item, octo seliones contin. 5 acr. et di. jacent. inter Redhewth et Crawlay, et abuttant in parte australi super clausuram de Morton. Item, 2 tofta cum croftys.
Lambton.
The Manor and Park of Lambton lie on the Wear to the North of Lumley.
No earlier owners of Lambton are on record, than the ancient and honourable family which still bears the local name (fn. 121). The regular Pedigree can only be traced from the close of the twelfth century, but the previous residence of the family is well proved by attestations of charters and incidental evidence, from a period approaching very nearly to the Norman æra.
The descent of the estate (fn. 122), having never changed its owners, is included in the Pedigree; the tenure is uniformly stated at half a knight's fee.
At Old Lambton, offices only are now standing; the house was dismantled in 1797, and the present splendid mansion erected (after a plan by Bonomi) on the site of Harraton. The house occupies an elevated situation on the North bank of the river, which divides the Park (fn. 123) into two nearly equal portions, and sweeps swiftly round Lambton, forming several fine reaches, and flowing through deep overhanging banks thickly tufted with wood (fn. 124). The view from the West terrace is extremely beautiful, bounded on the North and South by the undulating sides of the river-valley, which gradually close to a point where the blue hills of the Western moors are seen bordering the horizon (fn. 125).
The Lambtons from a very early period appear as Patrons of a Chapel within the manor of Lambton, sometimes from its situation called the Chapel of Brugeford, (Bridgeford (fn. 126).) Thomalin the Clerk or Priest of Lambton (fn. 127), presented two pounds of wax to St. Cuthbert probably before 1200 (fn. 127); and a regular presentation of John de Pamplesworth by Robert Lord of Lambton to the Chapel of Brugeford, appears in the Register of Bishop Kellaw, 19 Aug. 1314 (fn. 128). Waleran de Lambton was ordained Clerk (fn. 129), on a title granted by Robert de Lambton, 1349. (fn. 130)
The shell of this little oratory lately stood, near the New bridge on the left of the road, immediately within the entrance of Lambton Park. The East window had some slight remains of tracery; and when Hutchinson wrote, the figure "of a man to the waist, in relief, with elevated hands," was closed up in the wall of the house.
The Lambtons were amongst the first families of the North who embraced the reformed religion, and this chapel of the bridge was probably disused after the dissolution of chantries. The endowment is totally lost; popular tradition, however, connects both the endowment of the Chapel and the figure sculptured on the wall, with the romance of the Worm of Lambton.
The heir of Lambton (fn. 131), fishing, as was his profane custom, in the Wear on a Sunday, hooked a small worm or eft, which he carelessly threw into a well, and thought no more of the adventure. The worm (at first neglected) grew till it was too large for its first habitation, and issuing forth from the Worm Well, betook itself to the Wear, where it usually lay a part of the day coiled round a crag in the middle of the water; it also frequented a green mound near the well (the Worm Hill), where it lapped itself nine times round, leaving vermicular traces, of which, grave living witnesses depose that they have seen the vestiges. It now became the terror of the country, and amongst other enormities levied a daily contribution of nine cows' milk, which was always placed for it at the green hill, and in default of which it devoured man and beast. Young Lambton had, it seems, meanwhile, totally repented him of his former life and conversation, had bathed himself in a bath of holy water, taken the sign of the cross, and joined the Crusaders. On his return home, he was extremely shocked at witnessing the effects of his youthful imprudences, and immediately undertook the adventure. After several fierce combats, in which the Crusader was foiled by his enemy's power of self-union, he found it expedient to add policy to courage, and not perhaps possessing much of the former quality, he went to consult a witch or wise woman. By her judicious advice he armed himself in a coat of mail studded with razor blades, and thus prepared, placed himself on the crag in the river, and awaited the monster's arrival. At the usual time the worm came to the rock, and wound himself with great fury round the armed knight, who had the satisfaction to see his enemy cut in pieces by his own efforts, whilst the stream washing away the severed parts prevented the possibility of re-union. There is still a sequel to the story: the witch had promised Lambton success only on one condition, that he should slay the first living thing which met his sight after the victory. To avoid the possibility of human slaughter, Lambton had directed his father that as soon as he heard him sound three blasts on his bugle in token of the achievement performed, he should release his favourite greyhound, which would immediately fly to the sound of the horn, and was destined to be the sacrifice. On hearing his son's bugle, however, the old chief was so overjoyed, that he forgot the injunctions, and ran himself with open arms to meet his son. Instead of committing a parricide, the conqueror again repaired to his adviser, who pronounced, as the alternative of disobeying the original instructions, that no chief of the Lambtons should die in his bed for seven (or as some accounts say) for nine generations—a commutation which to a martial spirit had nothing probably very terrible, and which was willingly complied with.
The story, such as it is, full of plot and incident, certainly ranks amongst the most popular traditions of this country, and has been transmitted with very little variation for centuries from father to son, and various facts have been pressed into the service to establish the commination of sudden death that has been supposed to hang over the family. The date of the story is of course uncertain, but nine ascending generations from the late General Lambton (in whom popular tradition affirmed the curse to expire) would exactly reach to Sir John Lambton, Knight of Rhodes, of whom this curious entry stands in an old MS. Pedigree, lately in possession of the family of Middleton, of Offerton:
"John Lambeton that slewe ye Worme was knight of Rhoodes and Lord of Lambeton and Wod Apilton efter the dethe of fower brothers sans esshewe masle. His son Robert Lampton was drowned at Newebrigg." That the knight ever succeeded to the family estates, however, contradicts the proven Pedigree.
The Worm Hill stands not within the domain of Lambton, but on the North bank of Wear, in the estate of North Biddick, a mile and half, it may be, from old Lambton Hall. The Hill is a small artificial cone formed of common earth and river-gravel. The Worm well lies betwixt the Hill and the Wear (fn. 132). Half a century ago the Worm Well was in repute as a Wishing well, and was one of the scenes dedicated to the usual festivities and superstitions of Midsummer Eve; a crooked pin may sometimes be still discovered, sparkling amongst the clear gravel at the bottom of its basin (fn. 133).
The Lambton Worm belongs to a class of household tales, the genuine appendages of ancient families long occupying the same ground and station; and perhaps no other certain deduction can be drawn from such legends, excepting that the families to which they relate are of ancient popular reputation, against whose gentle condition "the memory of man runneth not to the contrary." Sometimes, indeed, the tale relates to the founder of the family, the true story of whose establishment being long forgotten, tradition has thrown a misty halo round his brows. Like the preux chevalier of Romance, the homo propositus of the name goes forth to slay wolf, bear, or wivern, and if on his return he does not marry the King's daughter, he at least receives broad lands and livings as his guerdon. To this class belong the Worm of Sockburn, the Brawn of Pollard's Dene, (both which have faulchion evidence,) the Boar of Kentmere, and that other Brawn of Brancepath, whom Roger de Fery slew treacherously in a pit-fall at Cleves Cross (fn. 134). But the Lambtons were a family of good and valorous repute long before the date of their family legend, (which only ascends to the fourteenth century); and it does not appear that the hero of the tale reaped any thing from his adventure, except the honour of the achievement, and a very singular curse on his descendants to the ninth generation.
As to the matter of fact contained in these legends, it is impossible to deny that when a great part of England lay in moor, morass, and forest, wolves and boars may have been much more troublesome neighbours than any thing of which we have a conception. As to wolves, they were by no means exterminated by King Edgar. The Monks of Fors, in Wensleydale, about 1180, had a dangerous grant from Alan Earl of Richmond, of the flesh of all wild animals torn by wolves (fn. 135) within their own dale (fn. 136). King James the First and Sixth, sometimes took the diversion of wolf-hunting in Scotland, in which kingdom the last wild wolf was killed as late as 1682; and in Ireland proclamations were issued against wolves in Antrim, in the reign of Anne. It is confessed, that it is much more difficult to account for serpents of a magnitude to require the intervention of a hero ; and flying dragons are still worse ; the possible allegorical meaning is too obvious to be detailed. The subject matter of the exploit may be equally a Danish Rover, a domestic Tyrant, or, as in the well-known case of the Dragon of Wantley, a villainous overgrown Lawyer, endowed with all the venom, maw, and speed of a flying eft, whom the gallant Moor of Moor Hall "slew with nothing at all" but the aid of a good conscience, and a fair young maid of sixteen, to "'noint him o'er night when he went to fight, and to dress him in the morning."
Popular tradition assigns the Chapel of Brigford as the spot where Lambton offered up his vows before and after the adventure, (this foundation, however, it has been shewn, existed at a period antecedent to the earliest date assigned to the legend.) In the garden house at Lambton are two figures of no great antiquity. A knight in good style armed cap-a-pee, the back studded with razor blades, who holds the Worm (fn. 137) by one ear with his left hand, and with his right crams his sword to the hilt down his throat; and a Lady, who wears a coronet, with bare breasts, &c. in the style of Charles II.'s. Beauties, a wound on whose bosom, and an accidental mutilation of the hand, are said to have been the work of the Worm. A real good Andrea Ferrara (fn. 138), inscribed on the blade 1521, notwithstanding the date, has been also pressed into the service, and is said to be the identical weapon by which the Worm perished.
The family descent is traced on the subsequent page, but the late William-henry Lambton was too distinguished a character to pass unnoticed amidst the mere rank and file of a pedigree (fn. 139). Mr. Lambton was born Nov. 15, 1764, the eldest son of Major-General John Lambton and Lady Susan Lyon, daughter of the eighth Earl of Strathmore. After an education at Eton (fn. 140) and at Trinity College (fn. 141), Cambridge, and after some time spent on the Continent, Mr. Lambton, in 1787, succeeded his father in the representation of the city of Durham, for which he continued to sit till his death. Mr. Lambton, in his Parliamentary career, adhered steadily and honorably to the Whig principles, to which his family had been long attached. He possessed the natural advantages of an elegant figure, a graceful manner, and a clear and articulate delivery. A fluent, yet manly and nervous cloquence, acute powers of reasoning, and a fund of happy allusion and illustration, drawn from a mind stored with classical acquirements, soon distinguished him from the herd of parliamentary speakers, and commanded the respect and attention of the house, even at that bright period when those master-spirits Pitt and Fox, each in his highest ascendant, threw all minor talent far into the shade (fn. 142). Mr. Lambton's attention, ever vigilantly awake to subjects of constitutional importance, was directed to no object more steadily than to that of Parliamentary Reform; and in 1792 he signed, as Chairman, the "Declaration and Address of the Society of Friends of the People, associated for the purpose of obtaining a Parliamentary Reform." The views of the association were exposed to much misinterpretation, and Mr. Lambton defended the principles and proceedings of himself and his associates, both in and out of Parliament, with talent and with spirit (fn. 143). "From a state of confusion (he observes) I have everything to lose, and nothing to gain; and I must hope that neither my head is so weak, nor my heart so wicked, as to seek the misery of others at so great a personal risk. All I wish is, to see this happy constitution reformed upon its own principles, and that every reparation may be made in the stile of the building (fn. 144)." The same principles (it is almost needless to add) which actuated the whole of Mr. Lambton's political life, rendered him adverse to the interference of the British Government in the internal affairs of France, and an opponent of several consequent restrictive measures at home; and in 1795 his voice was last heard in Parliament in opposition to the Bills for altering the Laws of Treason and Sedition (fn. 145). In the autumn of that year Mr. Lambton's friends were alarmed by his betraying some symptoms of a consumptive tendency. He retired to the country, and was unable to resume his place in Parliament after the Christmas recess. In the following year he was advised to try the effects of a warmer climate, and embarking with his family at Woolwich, in a neutral vessel, reached Naples after a voyage of two months. An Italian air and sky seemed to promise a total renovation of constitution, and Mr. Lambton proceeded with renewed health and spirits to Rome. But there his strength visibly declined, and impressed him with a fixed presentiment of approaching dissolution. He returned towards Tuscany, and after being detained by illness at Sienna, reached Pisa on the 30th of November, and expired four days afterwards, at the early age of thirty-three. His remains were interred at his own request in the English burial-ground at Leghorn. Mr. Lambton's public life has been briefly traced. On subjects of high political importance, on which variety of opinion always has existed, and ever will exist, he differed with many wise and good men, and from the ablest of his opponents he received the tribute of respect due to talent and unblemished integrity. The praises due to his private life are still less disputable. In every domestic relation; in the spring and in the noon of life, moving in the highest rank of British society, he stood untainted by the contagion of vice or of folly, "blameless and pure—and such was his renown." He has left to his descendants the memory of his many virtues, a mirror to reflect their honour or their disgrace, an inheritance purer and richer than the long traced blood, or the ample possessions of their ancient line. May his latest posterity emulate his private worth and public integrity.
Pedigree of Lambton, of Lambton.
ARMS: Sable, a fess inter three lambs passant Argent. CREST: on a wreath a ram's head caboshed Argent, attired Sable. MOTTO: Le Jour viendra.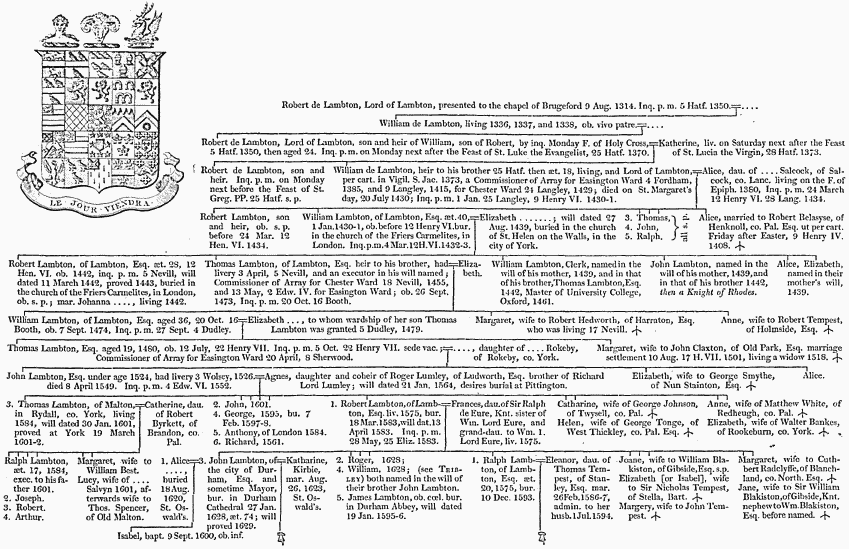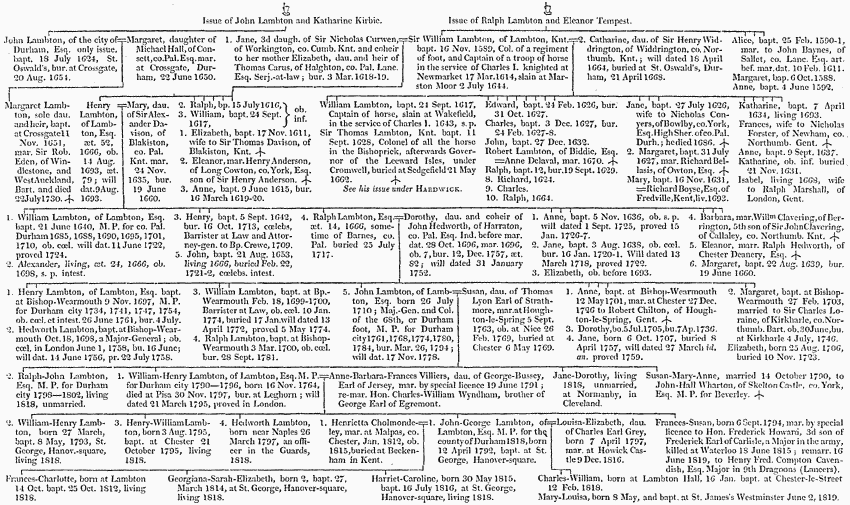 *** Blazon of the Quarterings of J. G. Lambton, Esq. M. P.
1. Sable, a fess between three lambs passant Argent, Lambton.—2. Argent, a fess Gules between three popinjays Vert, collared of the second, Lumley.—3. Gules, six martlets Argent, 3, 2, 1, Lumley ancient.—4. Sable, three covered cups Argent, Audre.—5. Gules, a saltire vaire Argent and Sable, Morecic.—6. Argent, a fess Gules between three popinjays Vert, collared of the second, Thwenge.—6. Azure, a lion rampant Or, ducally crowned Argent, Darell.—8. Argent, a lion rampant Azure, Brus.—9. Gules, two single arches in chief and a double one in base Argent, capitals and pedestals Or, Arches.—10. Argent, a lion rampant purpure, Fdz. Roger.—11. Argent, two bars Gules, on a canton of the second a lion passant guardant Or, Laneaster.—12. Lozengy Argent and Gules, Fitzuilliam.—13. Azure, semé of cinquefoils and a lion rampant guardant Argent, Holland.—14. Sable, a chevron Argent, a chief indented of the second, Thornton.—15. Argent, a chevron Sable, in base an annulet of the second, Wanton.—16. Azure, on a chevron between nine cinquefoils Argent, three mullets Sable (on a canton for Curwen, Argent, fretté Gules, a chief Azure), Carus.—17. Argent, two bars Gules, on a canton of the second a cinquefoil Or, Preston.—18. Argent, an inescutcheon Sable, within an orle of cinquefoils Gules, Hedworth.—19. Argent, three cinquefoils Gules, Darcy.—20. Gules, crusuly and an orle Or, Bertrom.—21. Vert, an eagle displayed Or, Huton.—22. Or, three birds Vert, beaked and membered Gules, Channcellor.—23. Ermine, on a canton Argent a saltire engrailed Sable, Geoffrey.—24. Azure, a fess between three fleur-de-lis Or, Skelton.—25. Sable, a dolphin embowed between three cross crosslets Or, James.
Crest of Lambton: on a wreath, a ram's head eaboshed, Argent, attired Sable.—Crest of Hedworth: on a wreath, a woman's head affrontée, couped at the breast proper, hair flowing Or, wreathed about the temples with a garland of cinquefoils Gules, pierced of the second.—Crest of Darcy: out of a ducal coronet Or an antelope's head issuant, winged, Argent, attired and barbed of the first.
*** It should perhaps have been observed earlier, that the name of Lambton, written in the earliest instances Lam'tun, may be equally derived from Lam*, lutum, canum, limus; in which case we must suppose the habitation of the first settler to have been placed almost on the alluvial soil deposited by the Wear (perhaps near the old Chapel of the Bridge): or from Lamb, agnus, ovis, a Saxon shepherd's appellation for a spot affording green early pasturage; or, perhaps still more probably, from the obscure name of its first Saxon occupier: and Tun, villa, sedes, &c.
In this long line of ancient gentry (fn. 146), the almost total absence of knighthood is somewhat observable; and were it not for a knight of Rhodes, and for the loyal Sir William, the Lambtons might rival in the untitled simplicity of their descent the silver-spurred (fn. 147) Cople-stones (fn. 148) of Devonshire. The Knight of St. John may be presumed to have won his style

"In glorious Christian field,
Streaming the ensign of the Christian Cross
Against black Pagans, Turks, and Saracens." Rich. II.
Sir William, if dubbed, perhaps, "with unhacked sword and on carpet consideration," afterwards paid dearly enough for his honours (fn. 149). William Lambton, an infant at his father's death in 1593 (fn. 150), had livery of his lands in 1610. On the breaking-out of the civil wars he distinguished himself by his loyalty, and commanded the Durham troop of Dragoons (fn. 151) in the levy against Scotland 1640. His estates seem to have suffered severely on the first irruption of the Scots (fn. 152); and Lambton is said to have been plundered and fired, and the collieries flooded, when the Bishoprick was occupied by Lesley, after the triumph of the solemn league and covenant on Stella haughs (fn. 153). Sir William Lambton was afterwards Colonel of a foot regiment in the Marquis of Newcastle's army, and was killed in the royal service (fn. 154) at Marston Moor (fn. 155). Henry Lambton, eldest son of Sir William, paid 960l. composition to the Parliamentary sequestrators (fn. 156) for his own or his father's delinquency, and succeeded to the estate, otherwise much injured by the effects of his father's loyalty, and by a plentiful provision carved out of the patrimony for the numerous issue of Sir William's second marriage. William Lambton, eldest son of Henry, represented the County of Durham in seven Parliaments, and was one of the most honourable and independent members of St. Stephen's Chapel (fn. 157) : his heirs have not degenerated.
Presentacio ad capellam de Briggeford.
Venerabili in xp'o patri domino R. Dunolm. Episcopo suus filius Robertus de Lambeton salutem reverenciam et honorem. Ad capellam de Briggeford vacantem et ad presentacionem meam spectantem paternitati vestre Johannem de Pamplesworth capellanum presento, supplicans et exorans vestram sanctam paternitatem quatenus cum ad eandem capellam caritatis intuitu favorabiliter admittere si placet dignemini. In cujus, &c. Dat. apud Lambeton nono-decimo die mensis Augusti anno Domini millesimo trecentesimo quartodecimo.
Inquisitio capta in Ecclesia B. Nicholai Dunelm. die S. Cuthberti (in Septembri 1314), coram Willelmo de Graystock, Vicario de Elvete, et aliis juratis, qui dicunt quod dicta capella de Briggeford vacat per mortem domini Galfridi de Seton, nuper custodis ejusdem, et vacavit a quindena proxima ante Festum Beati Petri ad Vincula ultimo jam effluxum. Dicunt eciam quod Robertus Dominus de Lambeton est verus patronus ejusdem, et ad eam tempore presentacionis ultimo presentavit ut intelligunt, et est in possessione presentandi. Et dicunt quod dicta capella valet sexaginta solidos annuatim, &c. Reg. Kellaw, fol. 123–4.
Inq. die L. in F. Inv. S. Crucis, 5 Hatfiled. Robertus de Lambton tenet manerium de Lambton (exceptis octoginta acris terræ) per homag. fldel. et servitium medietatis feodi unius militis, val. x marcas ultra repris. Robertus de Lambton filius Willielmi Lambton filii predicti Roberti est heres ætat. 24 annorum.
Inq. die L. prox. ante F. S. Greg, Papæ, 25 Hatfield, 1370. Robertus de Lambton, filius Roberti de Lambton, tenet maner, de Lambton, &c.; 1 mess. xviii acr. in Pencher de hered.Roberti Carlele; 1 carucat. ibid. de Episc. per fidel. et vid. Willielmus Lambton frater et heres Roberti æt. 18 et ampl.
Inq. die Sabb. prox. p. F. S. Lucie V. 28 Hatfield, 1373. Ricardus Elys Capellanus tenuit maner. de Lambton, (exc. octoginta acris terræ 2 acris prati et communa ad octo boves) et dedit eadem Roberto de Lambton et Katerine ux. et hered. de corp. Will, est fil, et her, Roberti de Lambton, æt. 21 annor.
Manumissio Nativi sui per Dominum de Lambton.
Sciant presentes et futuri quod ego Willielmus filius Roberti de Lambeton, Dominus ejusdem villæ, relaxavi et omnino de me et heredibus meis imperpetuum quietum clamavi Thome filio Gilberti de Lambeton totum jus et clameum quod habui, habeo, vel aliquo modo habere potero, in sanguine ejusdem Thome causa nativitatis, aut in ejus sequelis legitimè procreatis. Ita quod nec ego predictus Willielmus, nec heredes mei, nec aliquis alius nomine meo, aliquid jus vel clameum in predicto Thoma, vel in liberis suis legitimè procreatis, bonis aut catallis, exigere aut vendicare quo-quo modo poterimus in futuris, set ab omni actione juris simus exclusi imperpetuum per presentes sigillo meo sigillatas. Hiis testibus, Dominis Roberto de Humfravill, Johanne Darcy militibus, Roberto de Carliolo, Ricardo de Hedworth, Johanne de Seton, et aliis. Dat, apud Lambeton die Dominica in Vigil, S. Jac. Apostoli, A. D. 1373. Hatfield's Register.
Inq. die L. 1 Januar. 9 H. VI. 1430—1, 25 Langley. Willielmus Lambton cum Alicia uxore superstite, ex feoffamento Radulphi de Brantyngham et Willielmi de kellawe capellan, per cartam apud Lambton in F. Epiph. 1380, tenet manerium de Lambton, rem. Roberto filio Willielmi et Alicie, rem. Willielmo fratri Roberti, rem. Thome fratri Willielmi, rem, Johanni fratri Thomæ, rem. Radulpho fratri Johannes et hered. masc. respectivè, rem. rectis heredibus Willielmi; et Robertus, Thomas, Johannes, et Radulphus, obier. s. p.; idem Willielmus obiit seisitus de tertia parte dominii ville de Pyktre; item de terris in Pencher et Ufferton, &c. Willielmus Lambton obit die S. Margarete ultimo preterit. Willielmus filius Willielmi est heres ætatis 40 annor. et amplius.
Inq. 24 Mar. 12 Hen. VI. 143.., 28 Langley. Alicia que fuit uxor Willielmi Lambton, sen. arinigeri, tenet ex dotatione, &c. (ut supr. Inq. 9 H. VI.) Robertus filius Willielmi et Alicie ob. sine herede, et Willielmus filius Willielmi et Alicie habuit exitum Robertum, et Robertus (filius Willielmi fil. Willielmi et Alicie) est heres, &c. æt. 28 annor, et amplius.
27 Aug. 1439, 17 H. VI. Elizabeth Lambton legat corpus sepeliri in Ecclesia S. Helenæ super muros Ebor. juxta fontem. Robertus Lambton, Thomas, Willielmus, filii, Johannes Lambton miles filius, Elizabeth et Alicia filiæ. Capellanus celebret pro animabus Aliciæ et Willielmi quondam mariti sui. Willielmus Lambton filius, et Alicia L. filia, Executores. Probat anno supardieto.
11 Mart. 1442, 21 H. VI. Robertus Lambton de Lambton legat corpus sepeliri in Ecclesia domus fratrum Carmelitarum de London, juxta sepulchrum Willielmi Lambton patris sui; fratribus Carmelit. pro sepultura 140s.; uxori sue cl. cum omnibus apud Lambton; Joanne Fether-stonhalgh vid. xl; Thome filio ejusdem Johanne xl.; item, Odardo Sympson servienti meo xl.; item, cuiliber filiolorum meorum 6s. 8d.; item, lego summo altari de Chester-le-Strete, &c.; Thomasine Bothe es.; item, Alicie Lambton sorori mee cl.; item, Johanni Lambton fratri meo militi de Rodas c markes; Willielmo Lambton fratri meo xxl.; Thomæ Lambton fratri meo es.; item, relaxavi dicto Thomæ, &c.; Johanni Nicholson clerico meo xxs. Constituit Executores Willielmum Lambton fratrem suum, Johannem Borrell, gen. Robertum Milne clericum, et Odoardum Simpson. Constituit Supervisores Willielmum Episcopum Lincoln, et Radulphum Dominum Cromwell.
Codicil, 12 Mar. 1442. Richardo Blenkensop de Berwick, gen. 10 marcas; legat Joanne uxori sue, Willielmo L. fratri et Odardo Simpson messuag. vocat. Tribley; legat uxori sue pro vita terras vocat. Nynebyerrkes, et fratri Willielmo terras apud Maunby, co. Ebor. pro vita. Probat. per Executores Willielmum Lambton, Johannem Borrell, et Odardum Simpson, 9 Aprilis 1443.
Harraton.
Anciently Harvertune, on the North bank of the Wear, was included in the grant of Bishop Flambard to his kinsman William fil. Ranulf. "Hochale, Hervetune, Herintune, et aliam Herintune, Hagathorn, Byrthleie, Tribleie, and half of Pychetre (fn. 158)." The descendants of William assumed, after some fluctuation, the local name of de Herrington. Thomas de Herrington, the third in line (fn. 159) from the original grantec, had charter of free warren in both Herringtons, Hervyrton, and Hochale (Houghall), in 1277. The latter estate he bestowed on the Church of Durham, and the two former appear vested after the lapse of half a century in the family of Darcy, possibly by descent of blood, but without any evidence of the connection. One of the four coheirs of Darcy intermarried with Hedworth, who thus acquired a fourth of Harraton, and the remaining three fourths vested in the same family by exchange or purchase from Percy, Darcy, and Delamore (fn. 160). The subsequent history of the manor is traced in the Pedigree of its owners. The Hedworths (whose earlier descent has been traced under Hedworth and Southwick) held at their highest pitch of elevation, besides Harraton, the manor of Southwick, the Grange of Saltwellside, Urpeth, Ricleden near Chester, lands in Cleadon, Whitburne, Scots House, Jarrow, Hedworth, and Sunderland, and in Moorhouse and Picktree, part of the manor of West Herrington, derived from the heir of Darcy, the manor or grange of Burnigill, and lands in Woodham, Brafferton, and Bursblades, traced from the heiress of Chaunceler. In 1599, Sir John Hedworth executed a long entail of most of these estates (fn. 161), 1. to his only grandson John Hedworth, with remainder to, 2. John Hedworth (of the Deanery); 3. Charles Hedworth, a younger son of Old Sir Ralph Hedworth; 4 John Hedworth, son of Marmaduke deceased, (who ran away with Lady Dacre,) brother of Charles; 5. and 6. John and Arthur Hedworth, brothers of Marmaduke: 7. William Hedworth, of St. Martin's in the Fields; 8. John Hedworth, of Durham, Barrister at Law; sons of Anthony Hedworth, of Jarrow, brother of Old Sir Ralph Hedworth. The indolent temper of John Hedworth (afterwards knighted), who succeeded to the estate as first named in his grandfather's settlement, nearly ruined the family. The age in which this easy knight lived, the eve of the civil wars, was one of deep speculation, intrigue, and adventure, and the broad lands and deep mines of Harraton became an obvious prize.
Sir John, "a careless man in managing of his estate, and one very easily persuaded with for very small and inconsiderable sums to lease or grant away his lands," succeeded in due time in shuflling off the coil of his temporal inheritance, and driven from the house of his ancestors, was obliged to seek refuge in an obscure farm at Rugely wood; one of his domestics, who descrted him not in the hour of need, deposes "that the whole of his master's allowance was forty shillings weekly, and two ten pounds yearly; that this was ill paid, and that Sir John was like to have starved had his neighbours not assisted him." The old knight (fn. 162) died in 1642, and left his son John Hedworth, who was barely of age, inextricably involved in the web which his father's indolence had allowed to be spun. The Collieries at Harraton, which were of great value, had been partly leased for a very trifling consideration by Sir John Hedworth to Sir William Wray, of Beamish, who being a papist and recusant convict, the Colliery was sequestered in 1644, and in 1647 leased under the State by George Grey of Southwick and the well known Lilburnes, "who also made title under a lease of Sir John Hedworth's to Robert Conyers, transferred by Conyers to Josiah Primate, and by him to Grey and Lilburne (fn. 163)." Young Hedworth, who had married the daughter of George Grey, seemed likely by this connection to regain the possession of some of his own property; but in 1649, the thieves quarreled about the, division of the plunder, and Sir Arthur Haslerigg, who was then Governor of Newcastle and Lord of the ascendant, swooped upon Harraton (under the State's title, on Wray's delinquency), turned out the Lilburnes, and let both land and colliery to Colonel Hacker, Colonel Mayers, and Major Tolhurst, and Colonel John Jackson (fn. 164) a very rising character of the day, who first served in the royal army, afterwards acquired the confidence of Sir Arthur Haslerigg, sometime after married the widow of Mr. Hedworth, became lessee of Harraton under the Protector, was knighted on the Restoration for his loyalty, secured Lady Hedworth's gowns and petticoats for his own daughters, secured also his own sisters fortunes for his own use, and transmitted a large slice of the Harraton estate, Chatersheugh, to his descendants. Mr. Hedworth, who was all this time excluded from his estate, "forced to hire his own ground of those who occupied it, to put in some cowes to give a little milke to feed his poor young babes," vented his feelings in "The oppressed man's outcry," an epistle writ by John Headworth, of Harraton, in the county of Durham, Esquire, the 11th of September 1651, unto the Honourable Sir Henry Vane the elder, a member of the Honourable Parliament of the Commonwealth of England, William Vane his sonne, Lieutenant Colonell Paul Hobson, John Middleton, Esquires, and members of the Committee of the Militia, in the County of Durham, by authority of Parliament." In this epistle he states at some length that "he is the son and heire of a deceased knight, Sir John Hedworth, who was Lord, owner, or proprietor of the lands of Harraton, in the County of Durham, and all the cole mynes thereof, and left them unto me by an unblemished ancient entayle, as strong as the Law of England (his undoubted birth-right) could make any, as his eldest sonne and heire; and being by his decease left young, and destitute of the support of powerful friends and allies, and thereby fit to become a prey to every devouring wolfe—and it was my unhappy fate to live in the age when Sir Arthur Haslerigge became Governor of Neweastle, a man of high and covetous spirit, the whole County of Durham being too little in revenue to content his greedy appetite, a man that will admit of no rule to walk by but his own crooked and perverse will of the sword." He then proceeds to state that Sir Arthur cast a more than Ahab's eye on the poor vineyard of Harraton, but that he was even worse than wicked Ahab, for he neither offered the owner money nor exchange, but took collieries, land, and cattle, because he found it pleasant and profitable, and in short,

—did all his wicked leasing
Merely because he thought it pleasing.
Mr. Hedworth computes his own loss, besides manifold bodily inconveniencies, at 6703l. and that of his lessees Lilburne and Grey at 10,950l., and piously wishes that Colonell Francis Hacker may in the end have as sharp sauce as Ahab had to his vineyard, and that Lieutenant Colonell Mayers and his busic upstart Major Tolhurst, and more especially his pedling Lieutenant Bertine, the insolentest fellow of them all, may not want a taste of the same dish. He then states seven different means by which he had endeavoured to obtain some balme for his grievances, (which as yet remain altogether unredressed.) 1. He and his relations at the Committee of Duham, did what in them lay to preserve their right, but "Sir Arthur's long sword and bent fist were too hard for law, right, and reason." 2. He appealed to the Chief Commissioners at London, "and freely (fn. 165) spent his money amongst Lawyers and Soliciters," yet, notwithstanding two honest counsellors, Colonel John Lilburne and Major John Wildman, "who had many a sharp and bitter tugg with Sir Arthur," he brought home nothing but ill answers, fatigue, and charges. 3. He petitioned Parliament (fn. 166). 4 Major Lilburne published the whole grievance in an epistle to four of the Commissioners at Haberdashers Hall. 5. On the 23d of August 1651, Mr. Hedworth proceeded par voie de fait; summoned James Liddell, the Steward of Harraton Colliery, to pay arrears of rent; and on his refusall, made a formall re-entry on the Colliery, on which "an ugly troop environed him," that called themselves soldiers, but acted to him, on his own ground, like savage bares and wolves. 6. 4 September 1651, Mr. Hedworth demanded the said rent of Major Tolhurst, at Gateshead, who answered "that he was betrusted to keep the Colliery, and he would keep it." 7. He dispersed letters in Sunderland, and warned "all keelmen at their perils to fetch none of his coles, nor the ship-masters to buy none," and did himself with Lieutenant Colonel Lilburne, ride away to Master Timothy Whitingham, being a Justice of Peace (at Holmside Hall), and read him the printed letter, and acquainted him "that a company of rogues who called themselves soldiers, were come on his ground, but could produce no commission from any body that sent them, but like bloody rogues beat and had almost killed some of the people, whom they forced to leade away the coles to the water side, and some of the souldiers with their own hands loaded my coles into the keeles, and thereby did steal my reall proper goods." Master Whitingham, however, who was a wary man, and knew the world, shook his head, and desired time to confer with Sir Arthur, and after some days sent the following prudent answer:
"For his very good friend Lieut. Coll. John Lilburne these.
Kind Sir,
Upon my more serious thoughts, and strickt perusall of the printed letter which you left with me upon Fryday last, I plainly see a matter of title and a meum and tuum in controversie betwixt the State now in question, and Master John Hedworth, of which thing you well know the Law is the proper Judge, and can and must decide it, and the Civill Magistrate no way concerned in the businesse; yet, Sir, I am so tender and carefull of your safety and my own duty, that if either yourselfe or Master Hedworth be affraid of life, or know any man lie in wait to robbe you or either of you; or if any fellony be committed or robbery done upon your person or persons, upon legall information I shall be very ready to serve you and grant my warrant; also if there be any force either by entry or deteyner, I shall not in the least be wanting unto you and the publique, to joyne with another in Commission with myselfe to view and remove, as occasion shall offer. In briefe this is all, but that I am,
Sir, your affectionate friend to serve you
Holmeside, the 9 of Sept. 1651. Tymothy Whitingham."
Had Master Whitingham been a man of that courage which the Scripture requires in a Magistrate, he would scarcely (observes Master Hedworth) have thus answered a legall demand. Yet he desires to spare him; "but I beseech you take notice the Civill Magistrate is the proper judge of the Law, and not the Souldiers in the least." Felony, adds Mr. Hedworth, may be as well committed upon goods taken out of his house as from his proper person; and had Master Whitingham acted with spirit, and brought by warrant before him "those sturdy rogues who pretend themselves souldiers upon his ground," he (Master Hedworth) would doubtless have either known who sent them, or else "have had them clapt up in that place that would have kept them safe, till they were fully fit for the gallows, their deserved portion." This was a consummation, however devoutly to be wished, very unlikely to happen: the sturdy rogues "in leather caps and buff jerkins" kept possession; and Master Hedworth is compelled to end his narrative by an appeal, loud as that of Ajax:
"Wherefore hear, O heavens, and give ear, O earth, and if any bowels of compassion, justice, or mercy be in you, pitty, commiserate, and help to relieve me a most distressed and cruelly oppressed young gentleman; may, men of honour, conscience, or common honesty, or as ever you came from the bowels of women, oh help, help, help me and my perishing family in my transcendant and great distresse, put forth some of that power betrusted to you by the Parliament of England, send forth your warrant, command before you these thieves and robbers now on my ground that call themselves souldiers, and compell them either to produce a formall and written warrant to justifie them, or in default thereof, send them to the goale as rogues, thieves, and robbers; and as one of you is a Parliament man, and as either the spirit of honour or an English man dwels in you, send this my complaint to the Parliament, and entreat them to do me right against the cruel oppressions of their own member Sir Arthur Haslerigg, who is the greatest dishonour unto them (by his oppression and tyranny) in all this nation. And as one other of you hath been a member of the army in a place of eminency there; and as either the spirit of a soulder or a man of magnanimity dwells within you, send this my mournfull complaint, lamentation, and outcry to his Excellency the Lord General Cromwell and the honourable Officers of his army, and entreat them to take cognizance of the great oppressions of the members of their own army, viz. Sir Arthur Haslerigge, his Colonel Hacker, his Lieutenant Colonell Mayers, his Major Tolhurst, his Lieutenant Bruine, and all the rest of his Officers that have so unjustly oppressed me, and helped to robbe me of my estate. Gentlemen, your greatly distressed friend and humble servant, heartily to serve you and the Commonwealth,
From my own House at Harraton, this 11 day of September, 1651.
John Hedworth.
Witnesse George Grey, John Lilburne, Ralph Rooksby, Richard Grey, Ralph Grey, Roger Harper."
In 1655 Mr. Hedworth died, pendente lite; and Colonel Jackson married his widow, and got possession of two parts of Harraton by lease under Cromwell. The wreck that had been made of the estates (begun by Sir John Hedworth's luckless ill management, and completed by the civil wars,) may be estimated from the following statement, taken from depositions 1659 (fn. 167).
Ricleden, worth 40l. per annum, sold to Robert, Ralph, and Thomas Marley; Picktree, 20l. per annum, to Robert Marley (fn. 168); Burninghill, 40l. per annum, was in the hands of Alderman Cropley, of London; Mr. Ralph Maddison was owner of Beaconhouse and Saltwellside, 100l. per annum; Mr. Bewick or his mother had purchased the manor of Urpeth, 220l. per annum; and Herrington, 120l. per annum, was sold to Mr. Henry Smith. All these were feathers plucked at an easy rate from old Sir John Hedworth: and of Harraton itself, two parts were seized by the State, and leased by the Protector to Colonel Jackson, and the remaining third was the dower of Dame Dorothy Hedworth, the relict of old Sir John.
It is not easy to discover what point of paternal land was left for the heir of Hedworth to rest his foot upon: the family, it seems, came out of this tourbillon of difficulties which had beset them for thirty years, with the loss of all the out-lying estates, and even Harraton, like a pidgeon escaped through the Symplegades, lost some of its feathers (Harraton Outside, and Chatersheugh (fn. 169).)
The last John Hedworth (left a minor in 1655) in some measure repaired his shattered fortunes by marriage with the coheir of James, of Washington; by this lady he left two daughters and coheirs, of whom the elder, Dorothy, intermarried with Ralph Lambton, of Lambton, Esq. and the younger was wife to Sir William Williamson, Bart. The whole estate was re-united in Lambton by purchase of Williamson's moiety (fn. 170). The tenure of the manor of Harraton is uniformly stated at the service of one knight's fee.
In 1797 the old house of Harraton was in great part taken down, and the present mansion, which since bears the name of Lambton, built on a plan furnished and executed by the elder Bonomi (fn. 191).
Fatfield, to the East of Harraton and parcel of the ancient manor, a busy scene on the Wear, where the Sunderland keels take in their lading at the Staiths (fn. 172). Chatersheugh, one of the feathers plucked from Sir John Hedworth, and derived from the Jacksons to the family of Peareth, lies betwixt Fatfield on the East, and Harraton (now Lambton) West. A portion of Fatfield on the West has been lately re-purchased by J. G. Lambton, Esq. from Sir Ralph Milbanke.
Pedigree of Jackson, of Harraton.
ARMS: Or, a cheveron indented Gules, between three eagles' heads erased Sable.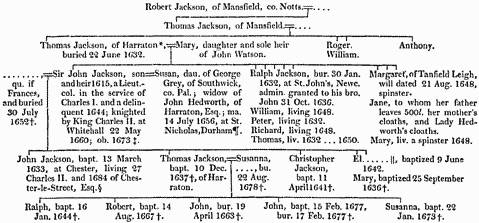 Certif. yt the daus of Thos Jackson, of Harraton Houses, decd, have chosen Mr. John Shafto, of Sticly, (parish of Wood-horne, co Northumberland,) for their g'dian, and Certif. from John Delavall and Tho. Gray, "that the Gentn is of good extraction of blood, and of honest, good, and comendable behaviour, and that he stands seized in fee simple of lands in Prestwich, rented at 34l. a yr, and of lands, during his father's life, in Stickley, of 20l. per ann. the inheritance of Sir Ralph Delavall, and of a good personal estate, wherewith he mayntaynes himself comendably, and lives plentifully. June 18, 1640. To the Rt. Worshipful and our worthilie respected friend Thomas Burwell, Chancellor of the Diocess of the Diocess of Duresme, present these,"—Joined in the bond by James Shafto, of Tanfield Leigh, Gent.
* 20 Dec. 17 Jac. 1619, Sir John Hedworth and Jane his wife grant to Mary, wife of Thomas Jackson the elder, of Harraton, Gent, and to his sons John Jackson and Thomas Jackson the younger, those closes within the manor of Harraton called the Awards, for fifty years, at 12d. per annum.
† Chester Register.
‡ See some account of Sir John Jackson, pp. 179, 180.
¶ Married, thirdly, Ralph Rookby, Esq. 26 Feb. 1678.
§ This gentleman was either a better man, or a less successful adventurer than his father; for, by indenture 29 March, 27 Car. II. between the said John Jackson, of Chester-le-Street, Esq. and John Hedworth, of Harraton, Esq. it is agreed that Jackson "shall pass and convey to Hedworth and his heirs all such estates in Harraton whereof his father, Sir John Jackson, or any to his use, stood seized (and shall deliver up all papers), except the Woodlands and Chatersheugh.
║ The Peareths derive Chatersheugh from an intermarriage with the Jacksons; the Peareth Pedigree states that Henry Peareth married a daughter of Sir John Jackson, but from comparison of dates the lady in question was more probably a granddaughter of the knight.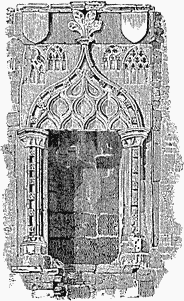 Pedigree of Hedworth, of Harraton.
The antient Arms of Hedworth are, .... on a bend three quaterfoils. (Seals, Plate XI. No. 4.)
Since the match with Darcy they have used Argent, an inescuteheon Sable, within an orle of cinquefoils Gules. Crest: a female head proper, crined Or, and crowned with a chaplet of cinquefoils Gules.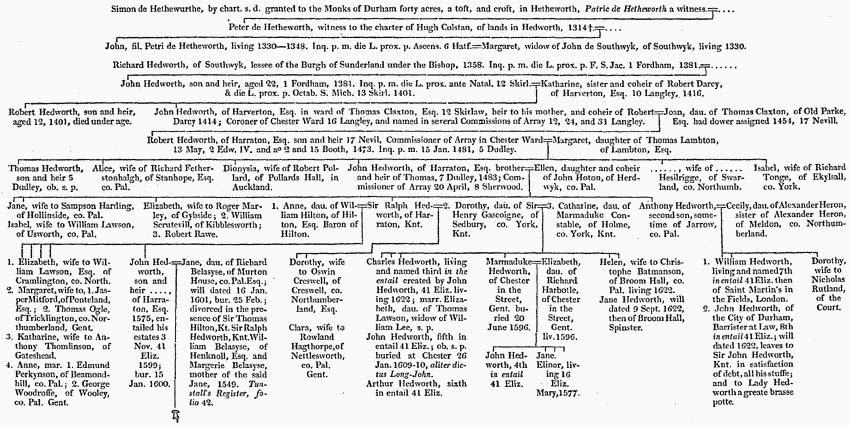 Lady Katherin Hedworth.
XXIII June 1568. I Katrine Lady Hedworth layt wyff of Rauff Hedworth, of Harverton, knight, decessid, &c. To be buried in the churche of Chester. It'm, I most hartelye desyer my Lord of Westmer land to take my sone Charles* to be hys servant. Item, I desyer Mr. Cuthbert Nevell to take my sonne Arthure. Also I wyll desyer my sone Marmaduke † Hedworth to repare to Oxfurth, to applye learninge. Item, I desyer Georges Lawson, of London, to take my sonne Jhon Dagger; Hedworth, to use hym as he wyll. It'm, I will my cosynge Georges Lawson, of Appelden, my cosyn Rauff Harding, Esquiers, and Richard Harbottle, Gentylman, to have the governance of my iiij sonnes during ther minoritie; all the residew to Elynor Hedworth, and Jane Hedworth, my doughters. I desyer Richard Harbotell to have the upbringinge of them. Witnesses, Dorathe ...., Will'm Ledell, John Strenger, Georges Browne.
The following account of Dame Hedworth's wardrobe appears in the Inventory, 3 Aug. 1568.
Hir Apparel.
One tawny velvet gowne, 53s. 4d.—One black satten gowne garded with velvet, xls.—One read sathan damaske kirtle with a train, xxs.—One old velvet halfe kirtle viiis.—One old sathan halfe kirtle gauded with velvet, xs.—One tawny velvet gowne for a man, liiis, iiiid.—One black satin gowne faced with martins, iiil.—One old short velvet gowne, xxs.—One cremisey satten dublet, xxviis. viid.—It, read cloth for a petticote xiiis. iiiid.—jj frenche hoods, xxs.—2 hattes, xs.—One old teaster of a bed read and white damaske, xs.—One bed clothe, vis. viiid.
As a proper accompaniment I add the wardrobe of Dame Katherine's husband:
Sir Ralph Hedworth of Harverton his apparel (Inventory, 12 Feb. 1567).
Imprimis, One tauney velvet gowne furred with blacke satten, iil. vis. viiid.d.—A black satten gown, furred with martens, iiil.—A shorte tauney velvet gowne, xls.—A crimsen satten dublet, xxvis. viiid.—A sword and dagger, xiiis. iiiid.—A purse and money, xs.—It'm Pullen, vis. viiid.—The whole Inventory eexlixl. xviiis. xd.
* This ill-timed request was made when my Lord of Westmoreland and his brother were on the very verge of treason.
† Marmaduke seems to have followed his mother's advice; at least in his Inventory are included "Ixxxiiii bokes, which the appraisers could not value." He moreover, applied his talents in gaining the affections of Frances Lady Dacre, for which he was prosecuted in the spiritual court, see p. 146.
‡ Afterwards distinguished as Long John, see p. 184.
Picktree,
A small village to the West of Harraton.
Picktre was one of the places which Bishop Hugh confirmed to Thomas fil. William, "et Birthleie et Tribleie et dimidiam partem de Pichetre (fn. 173)." The other half was held by Waleran of Chestre, together with Pelawe, by two marks rent.
Hatfield's Survey—Isabel de Birtley, with the Chaplains of the Chantry of Brigford (fn. 174), and Robert de Kellawe, of Lumley, held the whole vill of Pyktee by foreign service and 13s. 4d. rent.
In 1370 John de Birtley (fn. 175), and in 13. . his wife Isabel, above named (fn. 176), died seized of a hundred acres in Pyktre, held of the Bishop in socage, and by 6s. 8d. rent.
In 1423 William de Peyghan died seized of forty-six acres in Pyktre for term of life, by grant of Ralph Lumley, Knight, with reversion to the heirs of John Lumley, held of the heir of Darcy, per quæ servic. ignorant. (fn. 177)
In 1431 William Lambton, Esq. died (on the Feast of St. Margaret) seized of a third part of the manor and vill of Piktre, held of the Bishop by homage and 6s. rent (fn. 178). The same portion of the estate is returned in every succeeding Inquisition on the family till 1653, when Henry Lambton, Esq. sold his lands in Picktree, to William Carr, of Newcastle (fn. 179). Another considerable property in Picktre belonged to the Hedworths, and was granted by Sir John Hedworth, of Harraton, and Richard Hedworths, of Herrington, Gent. to Ralph Marley, of Urpeth, Yeoman, 26 Nov. 1621. In 1679 Joseph Carr, Esq. and Ralph Marlay, of Picktree, Gent. who were jointly seized of the whole township and manor, made partition of the common fields and of the royalties (fn. 180).
In 1727 Carr's moiety of Picktree (with lands in Pelaw purchased of Maddison by William Carr in 1655 (fn. 181),) passed under the will of Francis Carr, Esq. to his nephew Robert Ellison, Esq. who took the name of Carr; and in 1731 devised to his sister Elizabeth, afterwards wife of William Carr, Esq. M. P.
Under the entail created by the will of William Carr, Esq. 30 Dec. 1741, these estates passed, first to Ralph Carr, of Cocken, Esq. and afterwards to Sir Ralph Milbanke, Bart. according to the line of descent stated under West Auckland (fn. 182).
A portion of Picktre has reverted to the Family of Lambton, by purchase from different heirs of Marley ; and the remaining moiety of the estate was also very lately acquired by purchase from Sir Ralph Milbanke, Bart.
Carta Johannis Hundermayster de Radulfo filio Hereberti de Pyketre cum tota sequela sua datis
Deo et S. Cuthberto et Sacristanie Dunelm.
Omnibus, &c. Johannes Hundermayster sal. Noveritis me dedisse et concessisse Deo et S. Cuthberto et Sacristanie Dunelm. Radulfum filium Hereberti de Pyketre liberum cum tota sequela quæ de ipso exierit in perpetuum. Quem quidem Radulfum Diis Thomas fil. Roberti de Herrington michi pro quadam summa pecuniæ manumisit: ita tamen quod Radulfus et tota sequela sualiberi sint in perpetuum et ab omni servitute soluti. Ne quis ipsum Radulfum vel aliquem de sequela ab eo exeunte ratione servitutis, servilis conditionis, vel villenagii, aliquo tempore possit molestare vel aggravare: reddendo annuatim Sacristanie Dunelm. sex denarios vel unam libram cere ad Fest. S. Martini in hyeme pro omnibus. Et ut hæc, &c. His testibus, Ada de Bradleis, Ricardo Chaunceller, Gelfr. de Northamton, Waltero Buges, Thoma de Derby, Ricardo de Keles, et aliis.
Liber Sacrist. fo. 54, in Thes. D. & C. Dunelm.
Pelawe,
A mile to the North of Chester.
The earliest owners on record assumed the, local name; Henry de Pelawe held the manor by knight's service in the time of Bishop Beaumont (fn. 183). Richard de Pelawe held the manor in 1355 (fn. 184); and in 1381, John son of Robert de Pelawe, sold his manor of Pelawe, the services of the free tenants, and the advowson of St. Stephen's Chapel (fn. 185), to William, Joan, and Thomas Elmeden. The manor is constantly returned in the successive Inquisitions on the family of Elmeden (fn. 186), and was amongst the estates restored to the heir of Elmeden by the liberality of Bishop Neville.
In 1557 Elizabeth (Elmeden) then wife of Anthony Preston, settled Pelaw on herself and husband Anthony for life, with remainder to her son Francis Bulmer, whose grandson Sir Bertram Bulmer, sold his manor of Pelawe in 1602 in four equal portions, to Robert Punshon and Richard Maddison, of Pelawe, Richard Sampson, of Urpeth, and John Cooke, of Pelton, Yeoman (fn. 187).
In 1633 Robert Punshon died seized of the Milnefield, the Parrocke, the High and Low Espes, which he had leased 12 June 1606, to Robert Marley, of Piktree, and to his second son Anthony Marley, for 500 years, and of a close called the Netherend, leased to Robert Marley for 1000 years (fn. 188).

In 1684 the freeholders in Pelaw were, Joseph Carr, of High Pelaw (and of New-castle), Gent.; William Maddison, Ralph Maddison, Thomas Marley, William Moor, Robert Teasdale, the heirs of Anthony Sampson, and the heirs of Thomas Wakefield (fn. 189).
St Stephen's Chapel and Hospital in Pelawe.
The two following Charters constitute nearly the whole evidence of this obscure foundation, which was re-absorbed long ago in the landed estate:
Omnibus, &c. Johannes filius Roberti de Pelowe sal. Noveritis me concessisse, &c. et quietum clamasse Willielmo de Elmeden sen. et Johannæ uxori ejus et Thome de Elmeden heredibus & assign. suis toturn jus et clameum quod unquam habui, &c. in manerio de Pelowe cum servitiis liberorum tenentium et advocac'one Capellæ S. Stephani infra predictum manerium. Ita quod nec ego, &c. His testibus, Gilberto Eglyn, Johanne Scrutevill, Thoma de Birteley, Rogero Couhird, Johanne de Skarburgh de Dunelm. et aliis. Dat. in Canc. Dunelm. 7 die April. A. D. 1381. A° Pont. Dñi Thome, &c. 36°. Rot. Hatfield.
Carta Roberti de Nevill, Episcopi Dunelm.
II. Robertus Dei gratia, &c. omnibus, &c. Noveritis quod nos tradidimus dimisimus et hac presenti carta nostra confirmavimus Willielmo filio et heredi Willielmi Elmeden militis manerium nostrum de Pelowe una cum advocac'one Capellæ sive Hospitalis S. Stephani ibidem, quod quidem manerium nuper habuimus inter alia ex dono et feoffamento Willielmi Bowes Militis, Christoferi Conyers, Arm. Willielmi Hoton de Hunewick, Thome Perison et Roberti Staynton, Capel- lanorum; habend. &c. prefato Willielmo filio Willielmi et heredibus de corpore suo exeuntibus reddendo nobis et successoribus nostris Episcopis Dunelm. annuatim ad quatuor, &c. tresdecim solidos et quatuor denarios, et faciendo communem sectam ad Com. Dunelm. de quindena in quindenam. Salvo semper Willielmo Lambe Capellano, Magistro seu Custodi Capellanæ seu Hospitalis predicti, et successoribus suis, omnibus et singulis terris tenementis redditibus et servitiis ac juribus ejusdem Hospitalis seu Capellæ, et salvo jure nostro et alterius cujuslibet. In cujus, &c. Dat. Dunelm. per man. Johannis Lounde Clerici Canc. nostri; 4 to die Octobris Anno Pont. nostri 13mo 1450.
Masters Of The Hospital Of St. Stephen.
William Litell, Priest, collated by Robert de Stichil, 1260. Richard Fayre, Priest, collated by Robert de Insula, 1274. Hugh de Driffield, collated by Richard Kellawe, 1311. William Marckam, Capellan. collated by Lewis Beaumont, 1317. William Lambe occurs Chaplain 4 Oct. 1451.
In 1655 Robert Maddison, of Pelawe, granted his seat house, the Cherry banks, the Wheat field, the Spittle Close, and Chapel Garth, to William Carr, of Newcastle, Merchant, for 237l. (fn. 190) The estate was vested in Francis Carr, Esq. in 1727, and passed under his devise to the Carrs and Milbankes. (See Picktree.)
In 1684 the freeholders within the Constablery of Harraton were: Harraton, John Hedworth, Esq. John Jackson, Esq.; Ricleden, the heirs of Ralph Marley; Picktree, Ralph Marley, Gent.; Pelaw, Joseph Carr, of Newcastle, Gent.; High Pelaw, James White, of Piersbridge, William Maddison, Ralph Maddison, the heirs of Anthony Sampson, Thomas Marley, William Moor, Robert Teasdale, the heirs of Thomas Wakefield (fn. 191).
Ricleden.
The Grange of Ricleden seems to have been part of the possessions of the Lumleys, and is returned in the Inquisition on the death of Sir John Lumley, 1421 (fn. 192). It was a century later the estate of the Hedworths, and was included in the family settlement executed by Sir John Hedworth in 1598 (fn. 193), and was one of the estates alienated by his improvident grandson in the reign of Charles.
By Ind. 17 Jul. 5 Car. 1629 (fn. 194), Sir John Hedworth, Knight, Dorothy his wife, Richard Hedworth, of Chester-le-Street, Esq. Arthur and John Delavale, of Seaton Delaval, Ralph Rookby, of Ricleden, Gent. and William Astell, of Newcastle, convey the capital messuage, hamlet, and grange of Ricleton, al's Ricleden, to Gerard Salvin, of Croxdale, Esq. Edward Wright, of Durham, Esq. and Ralph Harbotle, Yeoman, (reserving the seams of coal and all mines) trustees for sale, who soon after conveyed to Ralph and Robert Marley (fn. 195), the purchasers also of Picktree; and with Picktree the estate continued in this family of Marley for several descents (fn. 198).
Birtley.
An ancient manor and vill, three miles to the North of Chester-le-Street.
Bishop Hugh confirmed Byrthleie, [and Tribleie, and half of Pychetre,] to Thomas fil. William, the descendant of Bishop Ranulf.
Boldon Buke—Birtley and Tribley pay twenty shillings, and attend the great chace with two greyhounds.
Before the period of Hatfield's Survey, a family had assumed the local name.
Pedigree of Birtley and Blenkinsop, of Birtley.
Arms of Bleankinsop: Party per pale Argent and Sable, a fesse inter three garbs counterchanged. Flower's Visitation, 1575.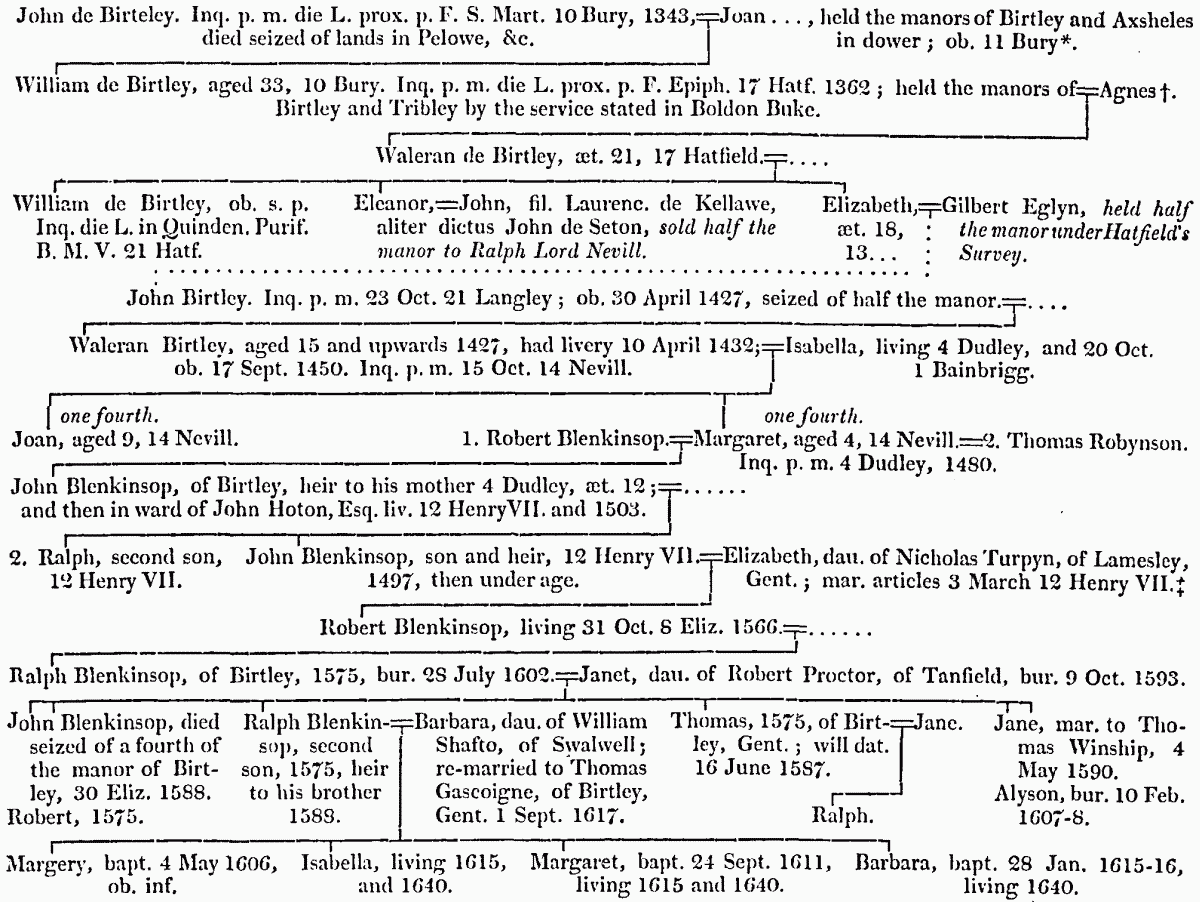 * Livery to William Birtley, son and heir of Joan, Rot. Bury, 12 April, A° XI.
† Pardon to Gilbert Eglyn and Elizabeth his wife, for acquiring, without licence, the interest of Agnes, widow of William de Birtley, in Tribley and Wodesende, 16 Jan. 4 Fordham.
‡ Pardon to William Turpyn, of Knaptoft (Leicestershire), Esq. Nicholas Eryngton, Richard Eryngton, George Lomley, John Turpyn, Clerk, and Gerard Turpyn, for acquiring lands in Byrtley-Wodfield, Pelton, Morehouse, and Mossefield, in Urpath, (except the dower of Isabel, widow of Walran Byrtley,) 20 Oct. I Bainbrigg.
*** Ralph Blenkinsop died seized of two messuages and several closes in Birtley, called Le-field, Choping-wells, Hall's-flatt, Gascoigne's-pasture, &c. which descended to his three daughters and coheirs, Isabel, Margaret, and Barbara. Isabel's third came to Sarah Wright and her heirs; Margaret's third to Thomas Billington, Gent.; and Barbara's third to Edward Spearman, Gent. (father of Philip Spearman, sometime of Birtley-le-field, see vol. I. p. 94); who made division confirmed in Chane. Durham 16 Sept. 1712. The Wrights and Spearmans had some disputes relative to the succession, of which see an anecdote in p. 122.
Thus the whole estate vested in the family of Birtley came to two coheiresses in 1366. John de Seton, who married the elder daughter, sold half the manor to Ralph Lord Nevil, and this moiety was included in the forfeiture of the Earl of Westmoreland in 1570. In 1631, 6 Car., Ditchfield, Highlord, and Clarke, (trustees for sale of Brancepath and several of the forfeited estates,) granted to Robert Catcheside and William Carr, (purchasing on behalf of themselves and others,) all the lands and tenements in Birtley in the lordship of Brancepath, of the yearly rent of 6l. 19s. 9d.; and the premises were excepted in the sale of Brancepath to Lady Middleton 1633 (fn. 197).
Another half remained to the heirs of Gilbert Eglyn and Elizabeth the younger coheir, whose descendants assumed the maternal name of Birtley. This line also ended in the third descent in female issue: one half of Eglyn's moiety, or a fourth of the whole manor, passed by marriage to Blenkinsop (see Pedigree) in 1612. Ralph Blenkinsop alienated this fourth of the manor to John Harrison (fn. 198); and 4 Oct. 14 Car., Ralph and Thomas Maddison settled on Lyonel Maddison, senior, and Lyonel Maddison, junior, all their closes called the Eure closes West of the street betwixt Newcastle and Chester, purchased of John and Philip and Catharine Harrison. The family of Maddison still hold property in Birtley, and have a seat house there.
Another fourth remained to Joan, the elder coheir of Waleran Birtley; and this portion passed either by immediate marriage of the heiress, or by intermediate descent, to the family of Hall, of Birtley, and Consett (fn. 199). This portion, however, is not expressly termed parcel of the manor in the earliest Inquests on the Halls. In 1531 (fn. 200) Ralph Hall died seized of three messuages, sixty acres of arable, ten of meadow, fifty of pasture, and three acres of woodland in Birtlee, which he had settled in 1512, 4 Sept. 4 H. VIII. on his marriage with Margaret Nevill (fn. 200); his grandson John Hall, Esq. died seized of the same estate in 1581 (fn. 201), and their remote descendants still retain, or very lately did retain, some portion of manerial rights in Birtley.
In 1684 the freeholders within the Constablery of Birtley were: Lionel Maddison, Gent. aged, Thomas Billington, Gent. Robert Catcheside, Gent. Alexander Turner, Thomas Catcheside, Thomas Maddison, Lionel Maddison, junior, Cuthbert Glasenby, and Ralph Maddison.
"Birtley salt-spring was discovered about twenty-five years since, in making a colliery drift, at the depth of 140 yards; it is conveyed from the place where it issues to the bottom of a pit (about 250 yards), from whence it is raised in pumps by the colliery steam-engine. The quantity of water has been never known to vary, and it is as strong now as when the salt-works first began. The quantity of salt made yearly is about 1000 ton, on which 30l. per ton duty is paid. The salt is sold at 35l. per ton: a considerable quantity is sent to London (fn. 202)," There were, however, salt-works at Birtley much earlier; for Sir William Lambton's petition to Parliament relative to his and his neighbours' losses by the Scots army, particularly enumerates the total destruction of his salt-works at Birtley (fn. 203).
Pelton,
A straggling village on high ground a mile to the North-West of Chester.
In 1320 Hugh Burdon, of Ivesley Burdon, held half the vill of Pelton, of John de Haddam, the superior Lord of the fee, by homage and the sixth part of a knight's service (fn. 204). Another Hugh died seized of the same estate in 1350 (fn. 205), and in 1395 Agnes his daughter and heir, wife first of Hugh del Redhough, and then of Thomas de Beke Chivaler, died seized of the whole manor of Pelton, held of the Bishop (ut supponitur) by knight's service and suit of court (fn. 206). Thomas del Redhugh, son and heir of Agnes, alienated his lands in Pelton, (for it is not there styled a manor,) to Robert de Whelpington (fn. 207), who was either a trustee for the family of Nevill, or conveyed to them. In 1426 the manor of Pelton is returned (without any description of the tenure) amongst the possessions of Ralph the first Earl of Westmoreland (fn. 208), and the same estate was included in the forfeiture of the last Earl in 1569.
The subsequent division of property in Pelton is extremely intricate.
10 Jul. 6 Eliz. Licence to Sir William Bellasis, to grant 3 messuages, 3 cottages, a hundred acres of arable land, eighty of pasture, six of woodland, and a hundred acres of moor, to Rowland Shafto (fn. 209).
10 Jac. 1612. Licence to Robert Millot, Gent. and Dorothy his wife, to grant 30 acres of arable, 10 of meadow, and 30 of pasture in Pelton, to Robert Punshon and Leonard Somerside (fn. 210).
Thomas son and heir of Robert Punshon, 1634. Licence 1634 to Thomas Punshon, and Charles Porter, to grant 4 messuages, 4 cottages, 3 barns, 8 acres of arable, 30 of meadow, and 50 of pasture in Pelaw, High Pelaw, and Pelton (fn. 211).
30 Aug. 1624, Pardon to Richard Hall for 30 acres in Pelton acquired of Sir William Lambton, Knight, and William Lambton, Gent.
The Hedworths also had considerable lands in Pelton, which Sir John Hedworth sold to the Marleys. Nicholas Marley died seized of the two lands and the Kiln field 1638; Thomas son and heir.
In 1684 the freeholders were: Robert Catcheside, Gent. Ralph Marley, Gent. William Hall, Gent. aged, John Roxby, Thomas Whelden, Robert Errington, George Hall, the heirs of Ralph Cooke, the heirs of Thomas H......, Mary Roxby, widow, Alexander Hall, Gent. and Robert Marley (fn. 212).
The Flatts, a large brick house with enclosures a little to the East of Pelton, was the seat of a branch of the Allans, of Grange, who had raised a large fortune by the collieries. Thomas Allan, Esq. (son of Thomas, and grand-son of George Allan, of Yarm, who died 1674, the common ancestor) died 1741 (fn. 213), leaving a son, Thomas, who died unmarried, and four daughters, who became coheirs to their brother, viz. Susannah married Ralph Jenison, Esq. of Walworth, and died without issue; Margaret married Jenison Shafto, Esq. and died without issue; Dorothy married James Garland, Esq. of Michael-Stow hall, in Essex; Camilla married Robert Shafto, Esq. of Benwell, died the 14th of July 1782, leaving an only child, a daughter, married to — Adair, Esq.
The estate was acquired in different small parcels, free and copyhold, from Marley, Hall, and others, and is now by purchase the property of John George Lambton, Esq.
Urpeth,
A small village, three miles to the North West of Chester, on the South of the Team.
Under Boldon Book, Urpeth paid sixty shillings at the four terms, ploughed and harrowed eight acres of the Lord's land at Chester, tilled three portions in autumn, each portion requiring twenty-four men, and a fourth portion of eleven men's work. The dreng feeds a dog and horse, attends the great hunt with two greyhounds and fifteen cords of provender, carries a ton of wine and a mill stone to Durham, does suit at the court of pleas, serves on embassies, and repairs half mill, millpool, and miller's house of Chester jointly with Chester. The name of the dreng tenant is not mentioned.
In 1365 Thomas de Urpath held the manor (except five husbandry lands, and a new assart called the Rydding, which were held by Alexander de Kibblesworth and Idoma de Urpath,) by homage, fealty, and sixty shillings rent; an additional rent of 6s. 8d. was due for the assart above named, and 4l. 13s. 4d. for the mill. Further, the tenant ploughed and harrowed eight acres at Chestre once in the year, the Bishop providing meat and drink during such day's work. In autumn he tilled three portions (porcationes) with twenty-four men each, and a fourth portion with eleven men, and the Bishop shall find the labourers meat and drink, viz. to every three men a loaf, equal to sixteen loaves of two bushels of corn, a flaggon of ale with three herrings, and a slice of cheese (fn. 214) cut right through the middle of a cheese of half a stone. The tenant fed a dog and horse, &c. (as in Boldon Buke) nomine dringagii, carried a pipe (dolium) of wine once a year to any distance betwixt Tyne and Tees, and followed the Court of Pleas (fn. 215). It should seem that Thomas (who had taken the local name) was interested only in right of his wife; for in 1349 Idoma, daughter of Thomas de Urpath, granted to Thomas Gray, Knt. her whole moiety of the manor, and such right as she derived from Hugh de Skowland (Escoland) her grandfather, except the park of Urpath, which Thomas her father held for life by the courtesy (fn. 216). Under Hatfield's Survey, the grantee of Idoma, Sir Thomas Gray, of Heton, held the manor, the watermill, and the new assart, by 8l. rent in all, paying in addition twenty shillings in lieu of the service of twenty bondlands, and providing the carriage of a ton of wine (fn. 217). William Talbot, the only other tenant mentioned, held seventeen acres once belonging to Batin del Rydding by 9s. 11d. exchequer rent. In 1370 Thomas Gray, Chivaler, died seized of the manor (fn. 218), which descended under settlement to his son, Sir Thomas Gray, Knt. of Northumberland, who was attainted, and executed at Southampton in 1415. The manor of Urpath, which is described as held of the Bishop by knight's service, suit of court, and twenty shillings paid to the Bishop's bailiff of Chestre, escheated to the See of Durham, and was restored with the other large family possessions by Bishop Nevill to Sir Ralph Gray, Knt. in 1454 (fn. 219). The manor of Urpeth is not returned on the death of Sir Ralph Gray, and in 1474 was held, together with the place called the Ryddyng, by John Parke, Esq. (fn. 220) : the account of the tenure is now once more varied, and said to consist of 66s. 8d. paid to the Bishop by the hands of the coroner of Chestre Ward, knight's service, suit of court, 20s. in lieu of the service of the bond-tenants, and the carriage of a ton of wine.
Urpeth not long after became the property of the Hedworths; of John Hedworth, who included this manor in a family settlement in 1503 (fn. 221); of John Hedworth, Esq. who died seized in 1601 (fn. 222), and of Sir John Hedworth, Knt. of Harraton, who in 1622 (fn. 223) alienated half the manor to Richard Hedworth, of Chester Deanery. Immediately after, Richard Hedworth again conveyed the same moiety to Ralph Lambton, of Tribley, Gent. Susanna his wife, and Sir William Lambton, Knt.; another pardon for the same alienation appears in 1628 (fn. 224). In 1640 Sir William Darcie, Knt. Sir William Belasyse, Knt. and Jarrard Salvin, Esq. (fn. 225) granted the manor of Urpeth, Urpeth Hall, and the messuage called the Riding, to Ralph Gray and Edward Stott, Merchants of Newcastle, in trust for Robert Bewicke, Esq. Mayor of Newcastle, whose descendants still hold the same estate. Mrs. Bewick, widow of Calverley Bewick, Esq. M. P. has a seat here.
Urpeth moor was divided by agreement in 1796—136 acres. The Bishop of Durham had 6d. per acre reserved rent on the allotments, and the mines were reserved.
Ouston.
In 1248 Bishop Farnham gave Ulkilstan (villa Ulkilli) to St. Edmund's Hospital in Gateshead. A rental of the Nunnery of St. Bartholomew, in Newcastle, (to which St. Edmund's was annexed) mentions, "Item Ulston by yer 6l. 13s. 4d." (fn. 226)
By letters patent, 36 H. VIII. the king granted the whole scite of the Priory of Nuns in Newcastle, lands in Jesmond, and the Grange of Ouston, in the county of Durham, to Sir William Barentine, Knt. Kenelm Throgmorton, and Henry Abelson, to hold by the fortieth part of a knight's fee and 16s. rent (fn. 227); the grantees conveyed to Bartram Anderson, whose son Henry Anderson sold half the Grange of Ouston to Nicholas Tempest, of Stella, Esq. in 1584 (fn. 228). Ouston afterwards became, wholly or in part, the property of the Hedworths, of Chester-le-Street (fn. 229), from whom it passed to their coheirs, Jolliffe and Milbanke.
Pedigree of Bewick, of Urpeth.
ARMS: Argent, five lozenges in fesse Gules, each charged with a mullet of the first, between three bears' heads erased Sable.
CREST: a bugle's head erased at the neck Argent, armed, maned, and gorged, with a mural crown Gules.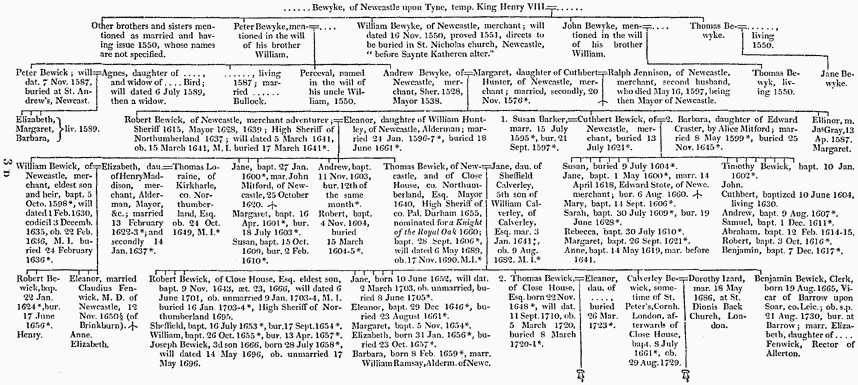 * St. Nicholas.
* William Bewike, Sheriff of Newcastle 1480.
Peter Bewick, Sheriff 1476, Mayor 1490.
Peter Bewick, Sheriff 1534.
Thomas Bewick 1535.
* St. Nicholas.
‡ St. Andrews.
§ St. John's
*** This Pedigree is printed from an entry in the College of Arms, with considerable additions by Sir Cuthbert Sharpe.
Pokerley.
Boldon Buke—Pokerley pays two shillings.
Walter, Lord of Urpeth, granted a third part of the vill to Daniel de Pokerley, by the following charter:
Sciant quod ego Walterus de Urphethe dedi, &c. dilecto cognato meo Danieli de Pokerleya et heredibus suis pro homagio et servicio suo totam terciam partem villæ de Pokerleya cum omnibus, &c. reddendo duo sol. ad quatuor, &c. T. Emerico (fn. 230) Archid. Dunelm. et Philippo de Hulecot tunc custodibus ejusd. Ep'at., Rogero Daudre, Galfr. fil. Galfr., Wilto de Laton, Roberto fil. Thome, Wilto de Lumel. Waltro de Monasteriis, Roberto de Monasteriis, Wilto de Birtl., Alano de Hurphath, Richardo et Rogero fratribus ejus, Philippo de Geudeforde (fn. 231), Adam de Merl., Raun, Buche, Wilto de Madmesl. (fn. 232), Wilto de Bradel., Roberto de Langel., Roberto de Cogeshal, Wilto de Alverton, Gilleberto Merley, Alano Poinguant, et multis aliis. (fn. 233)
A portion at least of the vill rested for some time in the local name. Guiscard de Charron (Lord of Beamish) and Isabel his wife granted to Adam fil. John de Pokerley, seven roods (which belonged to Herbert the Miller) in exchange for other seven roods in Pokerley fields.
Teste Walt'ro Domino de Urpath, Roberto de Ravensworth, Johe de Pokerl., Wilto de Pokerl., Rado de Stanley, &c. (fn. 234)
The following charter is probably not of much later date:
"Omnibus, &c. Johannes de Pokerleya, sal. Noveritis me dedisse, &c. Roberto de Pokerleya sex acras, viz. tres acras ad Bradmedowe versus Thame, et duas acras in Northfelde, et unam acram ad Cressewell et unam particulam terræ juxta Caldewam, reddendo duodec. denarios, et faciendo forinsecum servitium quantum pertinet ad tantam terram, et molendo bladum consueto modo. T. Rogero de Calceth, Johanne Freman, Wilto de Redeley, Roberto de Hedley, Joh'e Freman de Hedley, Rogero Freman de Lamisl., Galefr. de Rafunswurth, Ada' fil. Joh'is de Rafunswurth, Wilto Capellano de Rafunswurth, Ada' Clerico. (fn. 234)
Adam, son of Philip de Pokerley, gave six acres with his sister in frank-marriage.
Omnibus, &c. Adam fil. Philippi de Pokerley. Noveritis me dedisse Roberto filio Walt'ri Colyer de Libum, maritagium cum Alicia sorore mea, sex acras de terra mea in Pokerley, illas scilt quas pater meus emit de Joh'e fil. Adae de Pokerley. T. Rogero de Lumeley, Alexandro de Bedic, tunc Vicecomite, Luca de Kiblesw'rd, Ricardo de Yeland, Joh'e de Merley, Roberto d' Escowland, Emerico de Lumeley, Matheo de ead., Walt'ro de Hurpath, Wilto de Edmansley, Galfro de Riclinden. (fn. 234)
The following occurs in the first register of the Church of Durham.
"Omnibus, &c. Robertus permissione divina Episcopus Dunelm. Noverit, &c. nos dedissc, &c. Johanni filio Willielmi de Pokerley, pro homagio et servitio suo viginti et octo acras terre quas Reginaldus de Hemildon quondam tcnuit in villa et territorio de Pokerley, habend, &c. reddendo inde ad Scaccarium nostrum sexdecim solidos et octo denarios ad quatuor, &c. et faciendo nobis servitium quod dictus Reginaldus, &c. In cujus, &c. Testibus, D'no Guychardo Charron tunc Senescallo Dunelm., Thoma de Herrington, Joh'e fil. Marmeduc., Militibus; Magistris, Alano de Esingwald, Roberto Avenel, D'no Thoma de Levesham, et aliis. (fn. 235)
All these undated Charters are probably nearly a century earlier than Hatfield's Survey. Under that record, Richard Lawes held a toft and three acres 12d., a messuage and twelve acres, once Robert de Pokerley's, 8s. 8d., and nine acres and one rood, sometime William de Pokerley's, 4s. 10d. Eight other tenants held three places and divers acres under rents not specified. Robert Lomeley rented the water-mill near Ravensworth, 6d.; and all the tenants paid sixpence annually for the mill-pond.
The local name was, however, not extinguished till a later date. In 1420 Cuthbert Tailour, kinsman and next of blood of John de Pokerley, and Joan, widow of the same John, granted to Thomas Grome (fn. 236), of Bursblades, all their interest in Pokerley (fn. 237).
The Monbouchers, Lords of Beamish, and heirs of the blood of Guiscard de Charron before named, held some considerable interest in Pokerley. In 1390 Bartram Monboucher held the manor, lands, and services of the free tenants, by one clove gilliflower, due on St. Cuthbert's day in September, of the heirs of the old Lords of Urpeth (fn. 238).
The chief property, however, in Pokerley (and which is sometimes termed manorial in the Inquests,) became vested in the family of Newton, and in 1518 passed to a younger branch of the Hedworths of Harraton, by the marriage of Richard, son and heir of Robert Hedworth of Whickham, with Margaret (fn. 239), daughter and heir of Alexander Newton (fn. 240). Ralph Hedworth, son of Richard and Margaret, died in 1587, seized of the manors of Pokerley and Bursblades, both held of the Queen's manor of East Greenwich (fn. 241) in common socage, Pokerley by 29s. 5d. and Bursblades by 26s. 8d. rent. In 1638 Richard and Christopher Hedworth conveyed the capital messuage and the fulling-mill of Pokerley, to Sir William Blakiston, of Gibside, Knt.
I am unable to state when the property was alienated by the Blakistons, but I suspect that it was granted to a younger branch of the Gibside family, who sold it about 1670 (fn. 242).
Walridge.
On the North of the Conebeck, a mile to the West of Chester.
Hatfield's Survey—John Melote and William Lawson hold three acres and a half, once of Richard Walrig, 2s. 1d.; William Osburne holds seven acres and a half and ten perches, once of Richard Osburne, and pays 5s. 2d.; the Dean of Chester holds an acre and half a rood, once Roger Gyllyng's 12d.; the tenants of Chester hold the third part of a rood, 4d. and half an acre, once held by Robert the Clerk, 6d.
Walridge was long the estate of the Lumleys.
In 1607 John Lord Lumley alienated Walridge to George Smith and Thomas Kimraston; the latter was a trustee for Smith. Thomas Smith, of Walridge, occurs amongst the disclaimers at St. George's Visitation in 1615. The same Thomas Smith died in 1633 (fn. 243), leaving two daughters and coheirs, Elizabeth, wife to Robert Ayton, of West Herrington, and Anne, wife to Richard Harrison, of Brians-leap.
In 1720 the estate of Walridge was the property of George Black, Gent. It now belongs to Mr. David Stephenson, of Newcastle, Architect.
Pedigree of Hedworth, of Pokerley.
Arms: As Hedworth of harraton, with due difference.

* St. Nicholas Neweastle.
† See vol. I. p. 218. note m.
Edmondsley,
Some three miles to the South-West of Chester, and on the South of the Conebeck.
Of Edmondsley, as of the other free manors carved out of the Bishop's great wastes of Chester, the tenure only is briefly mentioned. Edmansle, xxiid. Boldon Buke.
In 1362 William de Edmansley died seized of the manor, held in chief of the Bishop, hy homage, fealty, and ten shillings; val. 2 marks, leaving Thomas his son and heir (fn. 244).
Under Hatfield's Survey, John Killinghall holds the manor containing a hundred acres, and pays xs.; the Sacrist of Durham holds four acres, once of John de Maidstane, called the Holleys, and pays 6s. 8d.; ("and of the said Sacrist for twenty acres more of the Lord's waste at Sacristonheugh, lately brought into tillage and enclosure by the Bishop's Charter, dat. 5 Aug. 1435, for eighty years term, 4s.;") Lord Neville holds twenty-eight acres and half a rood, once of John de Edmansle, in seven parcels, ut in antiquo rentali, 22s.; the same John de Edmansle holds (or perhaps rather held) four acres on the Conkesburn called Edmandlehogh, 2s.; a messuage and thirty-six acres called Whitlay by charter, once Godric de Neusom's, 12d.; and a certain parcel of waste lately reduced into culture, 3s.
It is difficult to trace any connection betwixt the subsequent inquisitions which appear relative to this little free manor. In 1380, a few years later than the Survey, Robert de Umfravile held the manor by the service of two oræand forty acres called Merle Park, by 19s. 3d. rent (fn. 245). In 13 .. John de Nevil held the same estate by 22s. rent; and in 1420 the proprietor was John Hoton, of Herd wick (fn. 246), whose widow Joan had her dower in Edmansley, 9 Nevill. In 1557 Ralph and John Hedworth (fn. 247) alienated lands in Edmansley to Robert Tempest, Esq. and Edward Perkynson.
In 1573 (7 Jul. 16 Eliz.) Thomas Brickwell, Esq. one of the Captains of Barwike on Tweed, and Andrew Palmer, of London, citizen and goldsmith, granted to John Heath, of Kepyer, Esq. their messuage in or called Edmunsley, late parcel of the possessions of Robert Claxton, of high treason attainted (fn. 248). In 1594 John Heath, Esq. was seized of the farme or messuage of Edmondsley (fn. 249); and in 1632 (Ind. 1 Oct. 8 Car) Thomas and John Heath, Esquires, granted their tenement of Edmonsley, to George Wardell, of Easington, who settled the same estate two years later (21 April 10 Car.) on his younger son Christopher Wardell. In 1757 their descendant George Wardell, of East Edmbndsley, Gent, devised this estate to his daughter Jane Reed, widow, with remainder to his grandson William Reed, (of Halywell.)
West Edmondsley is the estate and residence of Mr. George Wardell, a descendant of the same family (fn. 250).

Broomyholme.
In 1328 Ranulph de Merlay died seized of the manor of Bremywhome, held of the Hospital of Alverton by 18s. rent and 14d. to Robert de Lambton (fn. 251), leaving Jordan de Merley his son and heir.
Under Hatfield's Survey, Jordan de Merley held the manor of Bromemyngholme and twenty-nine acres of land near Tribley, which were once his father's, and pays 9s. 8d.
In 1400 Joan, wife of John Merlay, held the manor of William de Lambton, but paid the Hospital of Alverton 18s. Alice wife of Robert Barnyard, and Joan wife of William Megre, daughters and coheirs of Joan (fn. 252).
In 1431 John Hoton held the manor of Bromyholme and thirty acres near Tribley, by foreign service, and 9s. 8d. (fn. 253); Hoton's lands passed according to the line of descent stated under Hardwick to the family of Hansard (fn. 254). In 1557 Francis Askew and Elizabeth his wife, heiress of William Hansard, sold their manor of Bromywholm to Ralph and John Hedworth (fn. 255), who in the same year conveyed to Thomas Lawson, of Usworth, Gent. (fn. 256)
Broomyholme was afterwards the estate of the Johnsons, of Twyzel (fn. 257). In 1688 Michael and William Johnson conveyed to William Greenwell, of Kibblesworth, "all that capital messuage of Broomyholm" for 6301. William Greenwell gave or devised the same estate to his younger son George Greenwell, who in 1720 conveyed to William and Henry Lambton, Esquires (fn. 258).
Twizel,
A manor and estate on the extreme North Western verge (fn. 259) of the Parish of Chester. An old dark hall, the seat of the Johnsons, is still standing on the edge of the Stanley Burn.
Under Hatfield's Survey, Thomas de Birtlcy held the manor of Twysill, eight acres and a rood, in three parcels, under 3s. 2d. rent.
In 1370 John de Birtley, jointly with Isabel his wife, held the manor of Twisel, and eight score acres of the Hospital of Alverton, by 60s. rent (fn. 260) In the next century Twi-sell was the estate of the Lords Lumley (fn. 261) held under the same rent of the Hospital of St. James of Alverton; it was alienated before 1550 to Humphrey Cole, goldsmith, who sold it to—Tempest.
By Ind. 4 April 1563, Robert Tempest, Esq. granted the manor of Twyzil to George Johnson, Gent. for term of life. Tempest was attainted in consequence of his share in the Northern rebellion in 1569, and his reversion in the manor of Twyzei, which had thus vested in the crown, was granted by Sir Francis Walsingham and Francis Mylles, to John Lambton and George Smythe, Gent, (by Ind. 16 May 1587), on trust for the same George Johnson (fn. 262). In the following year, Johnson, (by Ind. with Smith and Lambton, 20 April 1588) created a long entail of the estate on his six sons in male succession. Michael the eldest, who succeeded to the estate, executed another settlement in 1627, with remainder to his several brothers in tail male; and in 1661 settled on his two sons Michael and John (fn. 263). In 1686 Michael Johnson the younger, intermarried with Mary Eure, of Elvet, (a branch of the noble family of Eure, of Witton); and in 1714 Mary Johnson then a widow, her three daughters, and William Johnson, of York, (brother of Michael and heir male of the family) joined in a sale of the manor of Twy-zell to Emanuel Walton, of Bradley, Gent, for 2041l. By will dat. 12 April 1726, Emanuel Walton devised Twizel to his younger son Henry Walton, who in 1736 (with William his elder brother, as heir at law of Emanuel) conveyed to William and Samuel Newton, of Crookbank, Gent, for 3500l. Samuel Newton, after of Burnopfield, and Matthew his son, became bankrupts, and their assignees (with Aubone Surtees and Rowland Burdon, mortgagees) conveyed their moiety of the manor of Twizel to Andrew Stoney, Esq. in 1775. Andrew Robinson Stoney conveyed the estate to Thomas Bowes, on trust for sale and payment of debts; and in 1800 Bowes, under orders in Chancery, granted to Richard Scruton and John Humble on trust for Thomas Wade, Esq.
Pedigree of Johnson, of Twysel.
ARMS: Sable, on a bend Or, between two pair of manaeles Argent, three pheons Gules,
Crest: A leopard's head per pale Azure and Sable bezantée, flames of fire issuing from the mouth and ears proper.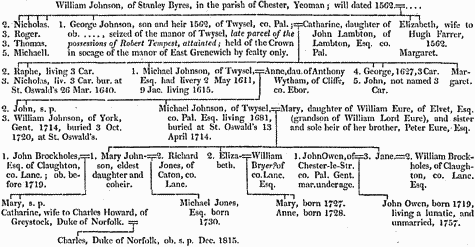 Tribley.
Bishop Hugh gave Tribley (with Birthley) to Thomas fil. William (fn. 264); and under Boldon Book both manors were held jointly by xxs. rent, and the service of attending the great hunt with two greyhounds.
Under Hatfield's Survey, Tribley is not mentioned, and the whole tenure is charged to Birtley.
By Charter dated at Tribley 1427 (6 H, VI.), John Arrowsmyth, William Hutton, and Thomas de Brauncepath, Clerk, granted the manor of Tribley to William Lambton the younger, Robert Lambton the younger, and Roger Bothe. The manor is stated to consist of sixty acres of arable land worth 30s. per annum, twenty-four acres of meadow 33s. 4d., and a hundred acres of pasture worth 6s. 8d. per annum; held of the Bishop by 6s. 8d. rent at the four usual terms (fn. 265). The manor is afterwards returned in the Inquest on the death of Thomas Lambton, Esq. 16 Booth, 1472, "the manor of Tribley and the Wodsyde (fn. 266)," and on the death of William Lambton, Esq. 1479 (fn. 267).
The manor has continued ever since in the possession of his descendants, and still forms part of the ancient family estate of Lambton.
Pedigree of Lambton, of Tribley.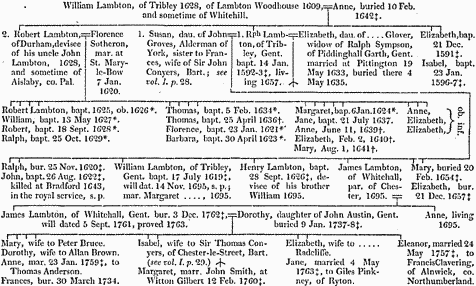 * St. Nicholas, Durham.
† Eggescliffe Register.
‡ Chester Register.
Whitehall. In 1716 George Pearson, yeoman, (son of Thomas, and grandson of William,) sold the messuage called the Whitehall for 900l. to James Lambton, Gent. who, in 1723, sold to William Lambton, of Lambton, Esq. (fn. 268) Whitehall now belongs to J. G. Lambton, Esq.
The Hagg (near Twysel). Thomas Lawson, of Usworth, Esq. sold the Hagg to William Pearson, yeoman, 4 and 5 Philip and Mary, who had a second conveyance from George Lawson, 1563, and settled the same estate in 1598 on his son Richard Pearson, with several remainders. Thomas Pearson was son and heir of Richard in 1632; and another Thomas in 1748 (then of Sherburn House) sold the Hagg to William and Samuel Newton, of Burnopfield. The estate has since remained united to Twyzel.
Plawsworth,
A small village standing on broken irregular ground, midway betwixt Durham and Chester.
Boldon Buke.—Simon Vitulus holds Plausword, pays twenty shillings rent, carries the Bishop's wine with a draught of eight oxen, and attends the great hunt with two greyhounds.
The kindred of Bishop Kellawe held some lands in Plawsworth, estimated at various rents and quantities in different Inquisitions, which descended about 1400, to Joan the heiress of the family, who married John Fossour; and these lands probably remained united in their descendants with the neighbouring manor of Harbourhouse (fn. 269).
In 1350 William and John, sons of Alan de Plausworth, bastards, died without issue, and their lands escheated to the Bishop, who granted them in the same year to his Seneschal, Sir Thomas Gray, Knt.
Hatfield's Survey.—Thomas Boynton in right of his wife, Gilbert Elvet, William de Kellawe, of Harebarowes, and Robert Gudynogh, Chaplain, purchased the vill of Plawsworth of Richard Oldwode, and hold by charter, foreign service, and twenty shillings rent. John Aleynson and nine others hold six messuages, a toft, divers acres, and eleven parcels of waste, by exchequer rents, which are not paid.
Boynton's estate in right of Margaret his wife, is stated at a fourth part of the manor, and descended, according to the entail already stated under Dalden, to the family of Bowes. William Bowes in 1457 (fn. 270), and Sir William Bowes his son, in 1467 (fn. 271), died seized of the fourth of the manor, held by five shillings rent, and containing two messuages, each worth 2s. per annum, forty acres worth 4d. each, and three acres of meadow 12d. each. The same proportion is returned in the Inquisition on the death of Sir George Bowes in 1558 (fn. 272), and John Blakiston and Elizabeth his wife, the eldest daughter and coheir of Sir George, are recited to have alienated lands in Plawsworth, which passed first to Claxton and afterwards to Rowe (see Roive's title).
It is less easy to trace, even for a shorter period, the remaining three fourths of the manor. In 1382 John de Elvet, of Durham, died seized of four messuages, and sixty-four acres here, held by fealty, 5s. 4d. rent, and four hens, due to the Bishop's Master Forester at Martinmas, Gilbert de Elvet son and heir (fn. 273) The name occurs no more; this property may, possibly be estimated as a fourth of the whole.
In the 15th of Langley, 1421, another fourth was held by John Hoton, of Tudhowe, jointly with Joan his wife, in common socage by six shillings rent (fn. 274).
It is impossible, from any evidence before me, to connect these estates with the later proprietors of lands in Plawsworth.
Rowe's estate.—By Ind. 20 Oct. 2 Jac. Sir Henry Lindley, of Hulden, co. Kent, Knt. and John Starkey his servant, granted to Leonard Read, of Knitchley, Yeoman, all . their messuage in Plawsworth, in such manner as King James by letters patent, 17 August 1604, granted the same to Lindley and Starkey, to hold of the king's manor of East Greenwich, in common socage under 20s. rent due to the King, and 2s. 8d. to the Bishop of Durham. By will dat. 26 Aug. 1622, Leonard Read devised to his son Robert Read; and he in 1627 conveyed to Barnaby Hutchinson, of Durham, Proctor (fn. 275)
In 1622 George Ladley conveyed to John, son and heir of Sir John Claxton, of Net-tlesworth, Knt. (for 210l.) all his lands in Plawsworth which descended to him from Agnes his grandmother (fn. 276), and were sometime the estate of John Blakiston, Esq. and Elizabeth his wife, (excepting one pasture joining on Kimblesworth, in the tenure of William Mowbray); and by Ind. 28 Feb. 1627, John Claxton, Esq. granted the same premises to Barnaby Hutchinson (fn. 277).
Hutchinson, who thus became, under two several purchases in the same year, proprietor of a competent estate in Plawsworth, died in 1633, leaving an only surviving daughter Jane, wife of Richard Rowe, of South Shields, in her right of Plawsworth. In 1688 John Rowe, Esq. settled Head's farm on the issue of his second marriage with Catharine Lisle, (and the reversion of Ladleys farm failing the issue of his first wife Annabel.) Richard Rowe, Gent. eldest son and heir of John and Catharine, died without issue and intestate, when the settled estate descended to his nephew Anthony, son of Hutton Rowe.
In 1679 John Rowe, Esq. settled Ladley's farm on his first marriage with Annabella Hawdon. In 1708 he joined in a new settlement (to secure a provision for younger children) with his eldest son .Hawdon Rowe; from him the estate descended to his eldest son Richard Rowe (fn. 278) father of Hawdon Phillipson Rowe (fn. 279), Esq. who alienated the remains of the property.
Pedigree of Rowe, of Plawsworth.
No Arms entered at Dugdale's Visitation. Those usually borne by the family are, a holy lamb passant, bearing the standard.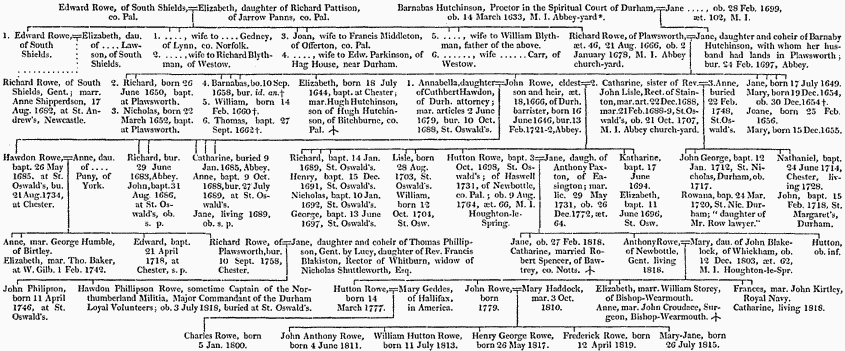 * " Underneath this thorn tree Lies Honest Barnabee." Mickleton's MSS.
Nettlesworth,
A lonely manor-house, a mile to the South-West of Plawsworth. In the East wall is a stone like the upright of an altar-tomb, with two blank escutcheons within quater-foils, supported by angels.
In 1378, John son of Thomas Gategang, died seized of the manor of Nettlesworth, held of the Bishop by homage and 26s. 8d. rent, leaving William his brother and heir. Before the lapse of another half century, Nettlesworth had become the property and residence of the Hagthorpes.
Pedigree of Hagthorpe, of Nettlesworth.
Arms: Sable, a cheveron engrailed or.
Crest; a dexter hand proper (Sleeve striped in bend Argent and Gules), grasping three leaves Vert.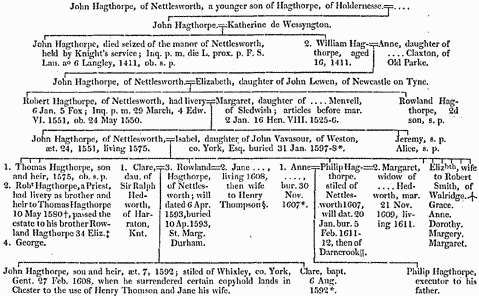 * Chester-le-Street Parish Register.
‡ Pardon of Alien. Rot. Hutton, D. 27.
† Rot. 1 Barnes, No. 31.
§ Liber Halmot. 11 Jac.
He desires burial near his mother, "because she was the worme that brought me forthe as a elote of clay, to wander in this wicked worlde.—I charge my son Philipp, as he will answer me before God, that whereas yt ys a fashon and a greit vanity to bestowe a greit dinner and other charges vainly on men when they ar gon, my will ys that ther shall be no such thing, but that the said Philip shall deliver four pounds in moneys, within three monthes after my deathe, into the hands, of the fower churche wardens, to remaine for the use of the poor of Chester parish," to be lent to "the first poor and needful marryed cupple, thay lainge bound for the same, and to pay two shillings for that yeir, and so frome one to one in Good's name for ever,—To Mr. Harry Hilton my best grewe dogg or doggs; even so I give unto Mrs. Hilton, his bedfellow, my onle peacocke."
In 1607 John Hagthorpe, of Whixley, co. York, Gent, alienated the messuage, grange, or hamlet of Nettlesworth to John Claxton, Esq. son and heir of Sir John Claxton, Knt. (fn. 280) From Claxton the estate passed before 1660 to the family of Conyers, of Horden. Sir John Conyers, Bart. is styled of Nettlesworth in 1670. I am ignorant at what period the estate was sold by his descendants to the celebrated Adam Askew, of Newcastle, M. D. whose descendant John Askew, of Palinsburn, Esq. is the present proprietor.
Holemyers and Brodemyers,
To the West of Plawsworth.
In 1608 George Harbert died seized of the tenement called Holemyers, parcel of the late dissolved Hospital of Kepyer, held by the sixtieth part of a knight's service (fn. 281).
Ralph Harbert, brother and heir of George, by Charter 20 Oct. 1612, settled a third part of the estate on the marriage of his son Robert Harbert with Rebecca Carr, of Cocken.
William Harbert, of Brodmyers, in 1724 devised all his lands to his wife Anne, who in 1738 joined with George Mowbray, of Manor House, (a mortgagee) in conveying the estate for 600l. to William Donnison, of Gateshead. In 1757 Thomas Donnison, son and heir of William, sold Brodmyers to William Peareth, Esq.
Holmyers was alienated by the elder branch of the family at an earlier period, and in 1686 was the property of Henry Woolfe, of Shields. Both estates are now, by subsequent conveyances, the property of John Askew, of Palinsburn, Esq.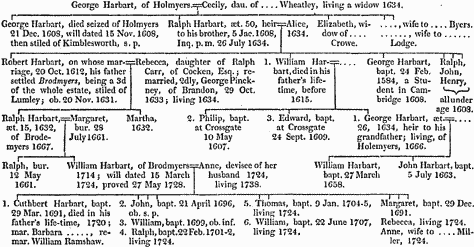 Charitable Donations to the Parish of Chester-le-Street.
The Parish of Chester-le-Street is entitled to a portion of the rent of Longstock farm (fn. 282), near Stockbridge, Hants, under the trust deed of Henry Smith, Esq. 1626, and the subsequent appointment of his trustees. The share of rent as originally apportioned was 5l. In 1815 the Parish received 16l. The township of Great Lumley is entitled to 15l. ancient rent under the same allotment, which I presume has increased in a similar proportion.
By will dat. 26 March 1687, (proved 1699) Ralph Harrison, of Braynes loope, (Bryan's leap) gave (inter alia) "to the poor of the Parish of Chester, 100l., in money, to be put out for their use." In 1738 this sum had accumulated to 500l., of which 300l. was expended in building a workhouse in Chester-le-Street, and in upholding the same for some time. The remaining 200l. is in the hands of J. G. Lambton, Esq. who pays 5l. per cent, interest to the Churchwardens (fn. 283).
By will dat. 11 June 1722, William Lambton, of Lambton, Esq. charged his lands called Beanlands, in the township of Lumley, with 51. per annum, to be distributed on the 29th day of September in every year to the poor of Lambton, and directs his Executor to lay out 100l. in purchasing lands of that value; and till such purchase be made, the interest of 100l. to be distributed to the poor of the townships of Great Lumley and Lambton. Codicil 25 Oct. 1724.
In the return under the Act of 26 George III. it is stated that John Hedworth Esq. of Chester Deanery, gave (by deed 1715) a rent charge of 5l. per annum to the poor of the Parish of Chester-le-Street, to be received and applied by the Minister and Churchwardens.
By will dat. 10 May 1718, Elizabeth Tewart, of Chester in the Street, Spinster, recites that she has surrendered the house in which she dwells, with some ground adjoining, to John Hedworth, Esq. on trust for herself for life, and "afterwards in trust for the Minister of the Parish Church of Chester and his successors, paying twenty shillings thereout yearly to the Parish Clerk there for the time being;" she also recites that certain copyhold lands in Chester, called Kell streets, were surrendered to trustees to be subject to such charges as the Testatrix should direct or appoint; she then directs that the said lands (subject to the life estate of Thomas Wilkinson, Gent.) should be surrendered to Richard Owen, Gent. or such other trustees as Mr. Hedworth and Thomas Pickering (her Executors) should think fit, upon trust, to pay six pounds yearly for ever to a school-master to be duly licensed to teach a public School in Chester, and to instruct, gratis, twelve poor children in the fundamentals of the Christian religion, and to read and write; the children to be chosen by the Minister and Churchwardens; and on further trust, "to buy and distribute twelve penny loaves weekly, for ever, upon Sunday in every week, to twelve poor widows inhabiting in Chester, and other twelve loaves to twelve other necessitous and indigent persons;" and upon further trust, to apply three pounds yearly for ever "for the placing out one boy, born and inhabiting in the town of Chester, as an apprentice to some trade or employment," to be nominated by John Hedworth, Esq. during life, and afterwards by the owner of the Deanery. The Testatrix also directs that her houses called Ellings house and Chambers house in Chester, shall be surrendered on trust, "to permit the same to be used and enjoyed as the habitations of two poor widows" of the testatrix's kindred, if any shall desire the same; if not, by such persons as shall be appointed by the Minister and Churchwardens.
A codicil of the same date only gives some trifling legacies to relatives.
Carta Bartrami de Heppedun facta Elemosinario Dunelm. de terra de Chester flatt.
Bertramus de Heppedun omnibus videntibus vel audientibus has literas sal. Sciatis me dedisse, &c. Deo et S. Cuthberto et monachis ejus de Dunelmo ad elemosinariam eorum Chester flatt, scilicet ipsam Chestram (fn. 284), cum octo acris terræ, pro salute animæ meæ et pro animabus patris mei et matris meæ et omnium parentum meorum, in puram et perpetuam elemosinam liberam et quietam ab omni seculari servitio et consuetudine. His testibus, Magistro Ricardo de Coldingham, Waltero Presbytero de Whelpington, Waltero de Ketton, Daniele de Ess, Læofwino Præposito, Waltero de Ess, Petro Rappecatr, Osberto le Taillur, Will'o Kamb, Johanne de Ketton, Ric. Nigro, Adam de Camera Bertrami Prioris, et multis aliis. Liber Elemos. p. 55.
Collatio Cantariæ de Rykenelden in Eccles. Coll. de Chester in Strata.
Thomas Gray, capellanus, collat. per mort. Johannis Rande, ultimi incumbentis, per D. Thomam Episcopum, 4 Ap'il 1378. Reg. Hatfield, fo. 146.