Pages 121-133
The History and Antiquities of the County Palatine of Durham: Volume 3, Stockton and Darlington Wards. Originally published by Nichols and Son, London, 1823.
This free content was digitised by double rekeying. All rights reserved.
PARISH OF STRANTON.
The Parish of Stranton is bounded by Hart on the North and West, by a portion of Elwick on the South-west, by Greatham on the South, and by the sea on the East.
The Parish is divided into three Constableries: 1. Stranton, including Tunstall; 2. Seaton-Carrow, including Owton; and 3. Brearton.
Stranton,
A pleasant scattered village, scarcely a quarter of a mile from the sea-beach, surrounded by rich inclosed lands. The name is evidently derived from the situation, the vill on the sea strand; for the cliffs, which run high to the Southward, fall gradually, leaving opposite Stranton a smooth level shore, gently embayed.
The vill of Stranton, which doubtless formed part of the ancient Hartness, was early held by the Lumleys, by subinfeudation, under Bruce and Clifford (fn. 1). In 1374 Robert, son of Marmaduke Lumley, died seised of the manor, held of Roger Clifford, lord of Hart, by the eighth part of a knight's service (fn. 2). The estate remained vested in his descendants by the same tenure till the reign of Elizabeth, when John Lord Lumley, 10 Aug. 4 Eliz. alienated the manor of Stranton, Seaton-Carrowe, and Newburn Rawe, to Sir Thomas Gresham, Knt. (fn. 3) who settled these estates (inter alia) on his wife Dame Anne Gresham, 20 May 1577 (fn. 4), and from her they descended to her son (by a former husband) Sir William Read, Knt. of London.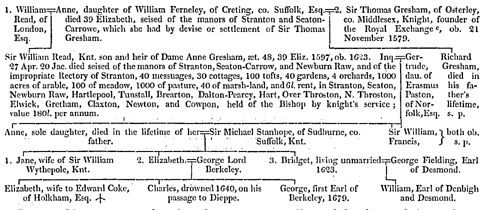 The grasshopper on the Royal Exchange is the crest of Gresham.
I am unable to state at what time the estates were alienated by these coheirs, and can only conjecture that a part of the property in Stranton was sold to the Gibsons (fn. 5), who built the East Hall. William Gibson, who died 1671, had a sister Isabel (fn. 6), wife of Thomas Bromley, of Hart, whose grandson, George Bromley, devised his estate in Stranton, in 1737, to his wife Mary. She re-married Robert Hilton (fn. 7), and left a daughter, Mary, married to the Rev. William Langstaff, Vicar of Kelloe, in her right of Stranton. The estate is now divided into moieties betwixt ..... Hilton Langstaff, grandson of the Rev. William Langstaff, and Mary, wife of William Lynn, of Stranton, daughter of the same William Langstaff.
A considerable estate in Stranton, together with the great tithes of the whole township, has been held for some descents by the Whartons of Old Park. Some portion of this property, and part of the tithes, have been lately alienated by Robert Wharton Middleton, Esq.
For Reed's estate, see Abbey Lands, hereafter.
An estate called Stranton Grange was purchased from the family of Wilson of Hartlepool, and is now the property of Robert Henry Macdonald, of Durham, Esq.
Of the various freeholds into which Stranton is now divided, there are some at least which do not originate under Lord Lumley's grant to Gresham.
An estate also, called the Manor of Stranton (but rather a manor within Stranton), was vested from high antiquity in the Fitz Marmadukes of Horden (fn. 8), and their descendants the Lumleys and Gascoignes of Ravensworth. In 1392 Elizabeth, widow of Sir Robert Lumley, of Ravensworth, died seised (in dower) of a third part of the West Manor in Stranton, held of the manor of Hart in socage, by the service of a pair of gilded spurs, or twelvepence and a pound of pepper, at the Nativity (fn. 9), leaving Marmaduke Lumley, Chivaler, her son and heir. In 1464 William Bedell, Rector of Washington, and John Fernes, Chaplain, granted the same West Manor of Stranton to Sir William Lumley, Knt. and Elizabeth his wife (fn. 10). Their descendants have been traced under Ravensworth (fn. 11). In 1607 Sir William Gascoigne granted his manor and chief messuage of Stranton to Anthony Dodsworth, Gent. (fn. 12) who settled the same estate (the West Hall, Orchard, &c.) on the marriage of his son, Anthony the younger, with Eleanor Widdrington in 1644 (fn. 13). The estate was again in settlement in 1662 (fn. 14), on the marriage of Anthony, son of Anthony and Eleanor, with Elizabeth, daughter of Henry Maddison, Esq. The last-named Anthony, Elizabeth his wife (and John Duck and John Hutchinson, mortgagees), granted the West Hall to Richard and William Reed (fn. 15), of Hart, yeomen, in 1683 (fn. 16). In 1698 William Reed released to Richard, in exchange for some lands in Hesleden. By will, dated 1712 (fn. 17), Richard Reed devised in fee to his wife Dorothy Reed, who intermarried in 1715 with Edward Surtees, of Mainsforth, Esq. (fn. 18) The estate descended under the settlement to Reed Surtees (son of Edward and Dorothy), who devised, in 1790, to his wife for life, and then to his nephew George Surtees, who sold the reversion to his brother Robert Surtees, of Mainsforth, Esq. father of the present owner.
The whole property belonging to Dodsworth was not, however, alienated to Reed; for Christyknowle is the estate of......
Pedigree of Dodsworth, of Stranton.
Arms: Argent, a chevron between three bugle horns, stringed, Sable; a canton Gules.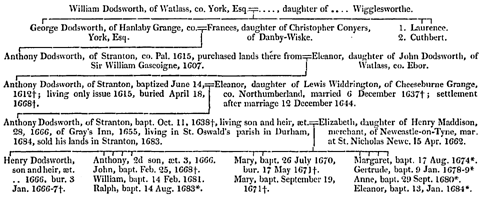 * St. Oswald's, Durham.
† Stranton.
** Anthony and William, sons of John Dodsworth, bapt. 9 May 1645, Stranton. Mr. Christopher Dodsworth, Master of the Hospital of Welle in Yorkshire, and Mrs. Mary Fulthorp, of Tunstall, by licence from the Chancellor of Durham, Oct. 27, 1621.
A large farm, called Dyke-house, lying on the verge of the slake opposite Hartlepool, belonged to the Maires of Hardwick-by-the-Sea, and is now the property of Mrs. Silvertop Maire.
In draining a morass on the side of the slake, a large quantity of human bones were discovered. One cut in particular, running from North to South about fifty yards, was a continued succession of graves, and seemed to be a ditch made expressly for the reception of dead bodies. Several other ditches have been cut through full of human remains. It seems not improbable that these trenches were the hasty burial place of the Scots soldiers who fell during the siege of Hartlepool in 1644 (fn. 19). Some years ago the traces of entrenchments were visible on a high plot of ground near Tunstall Hall, from whence the Scots probably moved towards the West side of the slake to batter the town.
Abbey Lands.—It has been stated that Robert Brus gave oxgangs in Stranton to Guisbrough Abbey, and this was doubtless followed by other donations. King James, 31 July, 7 Jac. 1609, granted the manor of Stranton (or more truly a manor within Stranton), parcel of the dissolved house of Guisbrough, to George Salter, Gent. and John Williams, of London, draper. 20 Aug. 1614, Salter and Williams granted to Robert Gibson (fn. 20), Nicholas Dodshon, and John Dodshon (fn. 21), of Stranton, yeomen, who made partition 23 June 1615. I am unable to trace very accurately the descent of the three portions; but 3 Aug. 1637, Nicholas Dodshon granted to William Gibson, of Hart, and John Dodshon, sen. his messuage and scat-house, a third part of the King's Close, and his arable lands in Stranton fields; and 9 May 1671, Timothy Hawkesworth, of North Allerton, merchant, and Anne his wife, daughter and heir of John Dodshon, deceased, joined with Isabel Mallam, widow, in conveying lands, late Dodshon's, to William Reed, of Framwellgate. In 1674 Hawkesworth conveyed other parcels to Thomas and Robert Smith; and in 1688 Thomas Smith conveyed to William Reed, who devised his lands in Stranton, in 1705, to his son Thomas Reed, father of Thomas who died intestate, and grandfather of William Reed, of Holywell, Esq. whose coheirs lately alienated these lands.
In 1684 the freeholders in Stranton were, Richard and William Reed, of Hart (purchasers from Anthony Dodsworth, Gent.); Francis Wells, of Hartlepool; William Reed, of Durham; Michael Watson, and Thomas Smith, of Throston; William Hudson, of Lambton; John Richardson, Richard Cooke, William Corker, William Dodshon, Lawrence Thompson, John Jackson, William Thompson, Jane Wrenn, widow, Christopher Emerson, Timothy Hawkesworth (fn. 22), Gent., and Anthony Harrison.
The Church,
A handsome structure of ashlerwork, stands on a fine mound towards the West part of the village. The nave has uniform ailes, each formed by a single octagonal pillar, supporting blunt pointed arches; the chancel opens under a lofty pointed arch. A North porch, the burial place of the Fulthorpes of Tunstall, has been divided from the chancel by an octagonal pillar, supporting elliptic arches, now closed with masonry. An arch which has opened into the North aile is also closed (fn. 23). A lofty West tower rises from pointed arches. The East window has four lights, ornamented with tracery: two other windows on the South side of the chancel, one of two, the other of three lights, have tracery in quatrefoils. The South aile has two broad modern lights, and at the East and West end old windows of three lights, under blunt arches. The nave has three clerestory windows on the South. An old West window of three lights opens under the tower.
Monumental Inscriptions.
On the floor of the North porch are two large marble slabs; one is perfectly plain, the other has been robbed of its brass, and has been the effigy of a person in long robes, with a legend running round the edge, and shields of arms at each angle. On one of these the cross of Fulthorp may still be traced.
Against the wall of the North aile is the monument of James Belasyse, of Owton, in marble, and of good work. He is represented half recumbent, in the act of rising from the tomb, and throwing off a winding-sheet:

Siste Gradum Viator,
Et Vide Sepultum, Non Mortvum, Ante Obitum Eniam
Moriens, Non Moritvrvs Præmissvs est, Non Amissvs.
Si Qværas Qvis
Jacobvs Belassis de Ouitonia Armiger, Vnvs Jvnior.
Filior. Gvlielmi Belassis Nvper le Newbrovghe, in
Agro Eboracensi Militis, Et Patrvus Prænobilis
Thomæ Domini Favlconbridge, Baronis de Yarvm.
Binas Dvm Vixit Nvpsit Vxores; Primam Maria" Filiam
Tvnstall de Scarkill in Agro Eborescensi Armig.
In Secvndam Vxorem Dvxit Isabellam Filiam Thomæ
Chateri de Bevtrove, in Agro Dvnelmensi Armigri
Obijt Sine Prole Plen. Annor. (In Mense Octob's Anno
Salvtis Hvmanæ mdcxl.) Et Plen. Bonorvm (Erga
Pavperes Qvib. & Vivens & Moriens Fvit Stvdiosissimvs
Alvmn.) Oper. Mvlta Dv. Vixit Occvpavit, Ideo Invidia.
Non Habere Non Potvit: Mvlta Dispensavit, Ideo Lacrymis
Et Svspirijs Carere Non Potest.
In vita vigilant Justi, ideo in Morte dicuntur dormire. Aug.
Succumbam me in pace, et requiem meam capiam. Psal. iv. v. 8.

O Death, Where Is Thy Sting? O Grave,
Where Is Thy Victory? 1 Cor. C. 25, V. Lv.
It Is Sowen In Dishonour, And Is Raised In Glory: It Is Sowen
In Weakness, and is Raised in Power.
Chap. xv. v. 43.
Against the wall of the South aile, on a plain freestone:
In memory of Reed Surtees, Esq. of Stranton, who died the 3d day of July 1790, aged 75 years.
Against the abutment of the East arch, opposite the pulpit, on an oval tablet of white marble:
Near this place lie the remains of the Rev. John Gagnier, A. M. formerly of Worcester College, in the University of Oxford, and for more than fifty years Vicar of this parish; the important duties of which he discharged with active zeal and unremitting diligence. He passed a long life under a lively sense of the faith which he professed, and, in purity of morals and simplicity of manners, walked in all the ordinances of his God, blameless. He died the 27th day of January 1796, aged 75 years.
Succession of vicars.
Stranton Vicarage.—Prior of Guisbrough Patron till the Dissolution; since,......Dodsworth, Esq.; at present Sir Matthew White Ridley, Bart.—Tenths, 1l. 15s. 7 3/4d.; Episc. Proc. 6s.; Archid. 3s. 8d.; Synod. 4s.—Dedication to All Saints.
Richard de Topcliff, occurs 1312.
Walter de Gisburn, ob. 1343.
Thomas Scott, 1349.
John de Wolveston, 1361.
Richard Oliver, 1379, p. m. Wolveston.
Thomas Stare, 1396, p. m. Oliver.
John Bury, 1424, p. m. Stare.
John Chestre, 1434, p. m. Bury.
Richard Driffield, 1437, p. res. Chestre.
Thomas Savage, 1481.
Joseph Moreby, 1501.
George Corney, 1509, p. m. Moreby.
Richard Slatter, 1510.
John Semer (fn. 24), cl. 1539.
James Lakenbie (fn. 25), 1561, p. m. Semer.
Richard Rawling (fn. 26), 1575, p. m. Lakenbie.
Philip Hatherleye, 1578, p. m. Rawling.
William Massie (fn. 27), 1581, p. m. Hatherleye.
Ralph Turner (fn. 28), 1588, p. m. Massie.
Thomas Matthewson, 1590, p. res. Turner.
Henry Bell, 1602, p. m. Matthewson.
John Allen, 1607.
John Smith, 1661.
William Smith, A. B. 1671.
Stephen Tennant, A. M. 1671, p. res. Smith.
James Noble, 1710, p. m. Tennant.
Richard Conder (fn. 29), 1727, p. m. Noble.
Matthew Robinson (fn. 30), A. M. 1738, p. m. Conder.
John Gagnier, A. M. 1745, p. res. Robinson.
Joseph Birkett (fn. 31), A. M. 1796, p. m. Gagnier.
The Church of Stranton, with its dependent Chapel of Seaton, was given by Robert Brus to Guisbrough Abbey. After the Dissolution the advowson belonged to the family of Dodsworth, of ...... in Yorkshire.
The Vicar is generally entitled to tithe of hay, and to all small tithes. The glebe is confined to the Vicarage house and garden (fn. 32).
In 1401 the Vicar of Stranton furnished one lance and two archers at the general array of the Clergy on Gilesgate-moor.
The Parochial Register begins 1580; there is a chasm from 1654 to 1660.
1595, Jan. 21—24. Eight strangers, viz. fyve men, two women, and a childe, cast away in a shipp called the Marie-Grace. Feb. 3. Twoo men more of the company of the same shipp.
1597, May 21. "Heere began the sickness." The burials in 1596 are 52; in the next year 93. Amongst the victims are "Raphe Turner, ye Vicar, July 27. Richard Turner, brother to ye said Raphe, buried ye same day.
1607, Apr. 23. Henry Smithe, al's Long Harye, of Stranton, buried.
1611, June 26. Agnes, daughter of Nicholas Dodgson, of Stranton, slayne with a coupewaine, in the field, June 26, 1611.
1657, May 29. Richard Brantingam, a man of a hundred and sixe yeares, lived in Seaton, buryed.
1695. A stranger found upon the sand, supposed Robert Bull, of Lynn.
Norton of Stranton,
Arms: Azure , a maunch Ermine, debruised by a dexter bend Gules, with due difference.

* See vol. I. p. elxi.
† He names his base children John and Elizabeth.
‡ Stranton Register.
Pedigree of Fulthorpe, of Fulthorpe and Tunstall, co. Pal. and of Hipswell, co. York,
Arms: 1. Argent, a cross moline Sable, Fulthorpe. 2. Argent, a chevron between three martlets Sable, ..... 3. Sable, crusuly of cross-crosslets fitchée, and a lion rampant Argent, .... 4. Argent, on a bend Sable three pheons Or, Bland. 5. Argent, on a saltire Sable five swans of the first, Burgh. 6. Quarterly; first and fourth, Argent, three boars' heads erased and erect Sable, an annulet for difference, Booth; second and third, Argent, a cross moline Sable, a crescent for difference, Fulthorpe.
Crest: On a wreath a horse passant Argent, bridled Azure, the bits and tassels Or.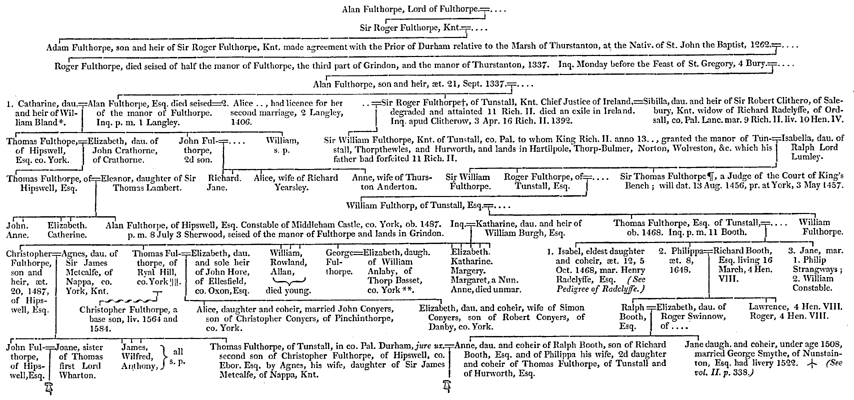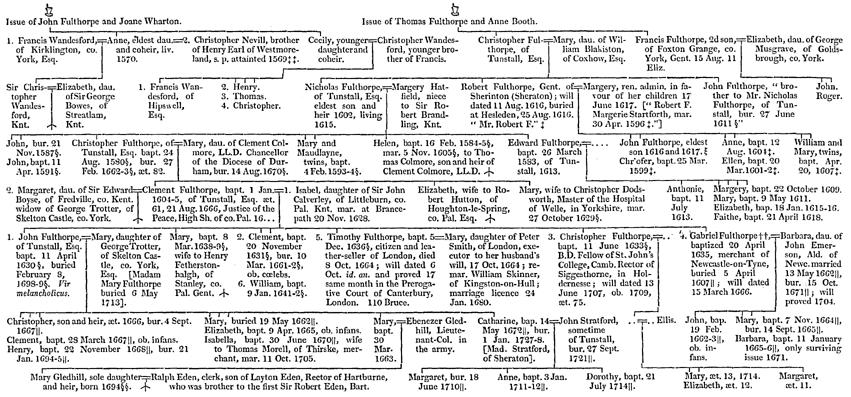 * So the Visitation; but Qu. if Alice were not rather the heiress of Bland?
On a blue slab within the altar-rails of Startforth Church, in Yorkshire:—"Thomas et Alicia de Blande, jacent hic, orate pro a'i'abus eorum." On a blue slab in the chancel:—"Hic jacet Alanus Fulthorp, armiger, et Alicia uxor ejus, quorum a'i'ab's p'pitietur Deus."
† About this time "Roger Fulthorpe, de Norton, died seised of lands in Norton, 11 Oct. 9 Langley. Isabella, dau. and heir, æt. 21, had livery 25 July, 2 Nov. 1439, then wife of John Sayer."
‡ Hesilden.
§ Stranton Register.
|| All Saints, Newcastle-on-Tyne.
The copy, Harl. MSS. gives the Judge two sons, Thomas and Roger, but they are not named in his will:—"To Margaret Sowerby, certain debts for the use of her children, Roger, Isabel, and Anne; to the Parish Church of St. Cuthbert Peseholme his gown and hood for a mortuary:" Wm. Bulmer, Esq. Exec.
||| Will of William Hedlam, of Nunthorpe, pr. ult. June, 1564. "To my father-in-law Thomas Fulthorpe my manor-house of Nunthorpe for xx years. My mother Isabel F. To Christopher F. a base son of Thomas Fulthorpe." "Christopher fil. Thomæ Fulthorpe, de Royall Hill, Nothus, 1584."
** Will of William Anlaby, dat. 20 July 1536.
†† His name appears on a Newcastle Tradesman's Token.—Obv.—Charles Barker. [The Mercers' Arms, or Maidenhead]. Rev.—Gabriell Fulthorp, in Newcastel.
‡‡ In the Survey of forfeited lands, Christopher Nevill is said to hold the manor of Hippeswell in right of Anne his wife, charged with annuities of 6l. 8s. 4d. granted to Christopher, Simon, James, and Francis Fulthorpe, by the will of their father John Fulthorpe, Esq. As Anne and Cecily were certainly coheirs, these must have been base sons. Giles Fulthorpe is also named as holding a farm, for thirty years, in Langmores and Walworth.
§§ Maria filia Ebenez, Gledhill, Londinensis, nata erat 21 die Julii 1694.
# John Fulthorpe, son of John, bapt. 24 Aug. 1634. Mary, dau. 19 March, 1625-6. Mary, April 7, 1631. William, July 5, 1638. Hesilden.
Pedigreee of Radclyffe, of Tunstall and Newton-Hansard, co. Pal.
Arms: Argent, a bend engrailed Sable, a mullet for difference.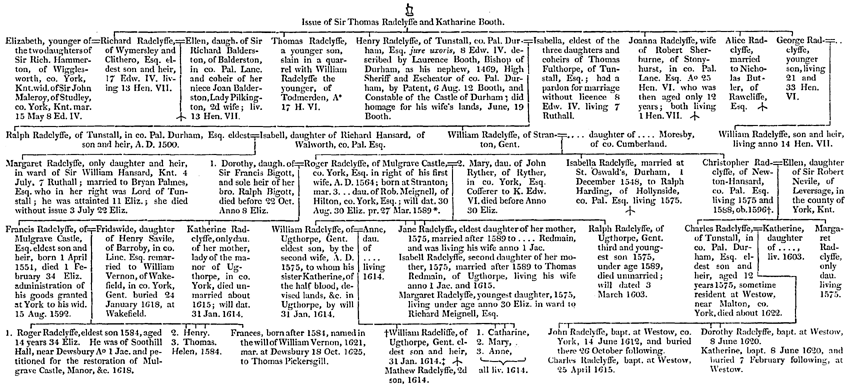 * Pardon to William, Ralph, and Charles Radcliff, Gents, for acquiring from Roger Radcliff, of Mungreve, co. York, Esq. half the manor of Tunstall, a third part of the manor of Hurworth-on-the-moor, and a messuage and 25 oxgangs in Norton, to the use of William Radcliff for life; remainder to Ralph; remainder to Charles Radcliff and the heirs of his body.
† Christopher Ratcliffe, generosus sepult. 28 Aug. 1598. Elwick
‡ Whose descendant, in the sixth degree, William Radcliffe (sometime of Steersby) was a cottager at Stillington in Yorkshire, aged about seventy in 1810.
Tunstall.
Tunstall, the ancient seat of the Fulthorpes, adjoins Stranton on the West. In 1389 Richard II. restored the manor to Sir William Fulthorpe, son of the attainted Judge, Roger Fulthorpe (fn. 33). Thomas Fulthorpe, the descendant of Sir William, died in 1468 (fn. 34), leaving three daughters his coheirs: 1. Isabel, wife to Henry Radclyffe; 2. Phillippa, married to Richard Booth; and 3. Jane, wife first of Philip Strangways, and then of William Constable. The grand-daughter and coheir of Booth intermarried with Thomas Fulthorpe, a cadet of the elder line, and their descendants re-united the whole estate (fn. 35). The family continued in uninterrupted male succession till the end of the 16th century, when John Fulthorpe, Esq. died (1698), leaving three daughters and coheirs. He had, however, in his lifetime granted Tunstall (fn. 36) to his brother Christopher Fulthorpe, Clerk, who devised to his own grand-daughters, the children of—Ellis, One of these intermarried with Robert Raikes, of Northallerton, Esq. whose son Robert Raikes Fulthorpe, Esq. or his heirs sold and mortgaged the estate. James Robinson, Esq. purchased Tunstall Hall from—Cowpland, and Catcoat from John Wales, of Northallerton, Esq. Mr. Robinson sold Tunstall to Mrs. Barras, and Catcoat to Mr. Henry Robson. West and High Tunstall are still vested in Raikes's heirs, or in the mortgagees.
On the coast, about three miles to the South of Hartlepool. The remains of the old village form three sides of a square, inclosing a green; the fourth side is open to the sea, whose constant wash has probably carried away the East row. The sea-cliff is lofty and abrupt. A line of houses stretches Southward along the brink of the sands; and still further to the South stands the Inn, with its spacious range of buildings.
Seaton-Carrow derives its addition from its ancient owners.
In 1189 Peter de Carow held a knight's fee in Seton and Oueton (fn. 38).
In 1200 Roald, Prior of Gisburne (Guisbrough), granted to Walter son of Peter Lord of Seton-Carrow, a perpetual chantry within the Chapel of Seaton (fn. 39).
Betwixt this first Walter and the commencement of the Durham records, Glover places in lineal succession, John, Thomas, and a second Walter (fn. 39). John de Carrow, stated to be grandson of the second Walter, appears in a curious record in the Court of Bishop Bury. He had seized a royal fish, cast on his lands of Seton by tempests of the sea, and by charter acknowledges the trespass, admits the Bishop's right, and compounds for a fine of a hundred marks.
A touz ceux que cestes presentes l'res verront ou orront John de Carrowe, saluz en Dieu. Come un peisson real q'est appellé Balayne nadgaris engetta p' tempeste du mere sur ma terre à Seton Carow quel jeo entendy estre pesson d'autre nature q. pesson real si fy prendre le dit peisson a mon oeps. Et apres les ministres monsign'r L'Evesque seisirent le dit peisson al oeps mon dit Seigneur L'Evesque come son droit et le droit de sa Eglise de Duresme. Et porce q. je n'avoy conaissance le quel se fuit peisson real ou nien nient contrestiant le seisure des ditz ministres je fesay de ce ma volunta. Et apres aprocha à mon dit Seign'r L'Evesque à Aukland en le presence Mons. Rauf de Nevill, Mons. Rob. de Hilton, Mons. Marmaduke Lomley, Mons. John de Evre, & pluseurs autres pour faire grée à mon dit seign'r s'il poit estre declaré que fuist poison real. Et en presence mon dit seign'r alleog's et de son conseil fuist declaré que ce fuit peison real & le droit dit mon seign'r et de sa Eglise du Duresme par qui autant come fuist remys du dit peison quel je fesay deliverer à les ministres mon dit seign'r come son droit & pur les trespas & le remanent du dit poison quel je avoi departy entre mes amys si ay fait grée à mon dit Seigneur L'Evesq. de cents mercs quel chose je recognus etres le droit mon dit Seigneur L'Evesq. et de sa Eglise de Duresme. Et que le possession de la dit poisson quel je avois ne soit trete en ensample devers moi ne devers mes heires ne devers nul autre en Tesmoignance de quel chose a cestre l'res à mys mon seal escript à Sadberg le xxiv die Septemb'r L'An de Grace m.cccxlii.
Rot. Bury, Ao 9, Sched. 16.
The manor is uniformly stated to be held by the fourth part of a knight's service, by suit at the County Court of Sadberge, and by 13s. 4d. Exchequer rent, at the Feast of St. John the Baptist. From the Inquests 1421 to 1439, it appears that there were four salt-pits within the manor, one of them of the very ominous name of Make Beggar.
From John the elder the descent proceeds;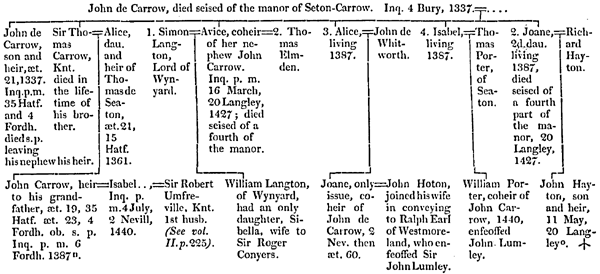 Thomas Seton and John Sayer were heirs, ex parte materna, to John Carrow; and of these Thomas Seton had granted to Lumley. The Sayers long retained lands in Seton, and as late as 1638 Laurence Sayer, Esq. granted 50 acres of arable, 2 of meadow, and 100 of moor, and 30 of pasture, to Robert Johnson.
17 Hen. VII. Sede vac. John Hayton died seised of two messuages, seventy-eight acres, and two saltcotes in Seton. He had alienated half a salmonry, salmonium, and twenty-eight acres to Christopher Bamford. Robert son and heir, æt. 30.
By the above scheme of descent and alienation, it should seem that two fourths of the manor were vested in Lumley. In 1421 Sir John Lumley held a fourth, purchased from Ralph Earl of Westmoreland (the share of Joan Hoton), and the fourth which belonged to his father Sir Ralph Lumley (Isabel Porter's share), and the reversion of half a third of the same manor which Isabel Umfreville held in dower. It has been stated that John Lord Lumley alienated his manor of Seaton and Stranton to Gresham; but this conveyance did certainly not include the whole freehold of either place, and I can only conjecture that (besides the portion which descended to Sayer as coheir of Seton) a part of the estate was given as a portion to daughters of the house of Lumley; for in 1562 (fn. 40) John Trollop, of Thornlaw, Esq. (whose mother was a daughter and coheir of Roger Lumley, of Ludworth, sometime styled Lord of Seton-Carrow), granted his manor of Seaton to Bartram Anderson, merchant, of Newcastle. Sir Henry Anderson, grandson of Bertram, was one of the owners of the manor in 1620. One fourth (the share of Avice, wife of Simon Langton (fn. 41),) descended lineally in the Lords of Wynyard, and was alienated early in the seventeenth century by the coheirs of Claxton, to the yeomanly family of Johnson of Greatham (fn. 42). In 1620 the owners of the manor are stated to be, Sir Henry Anderson, Knt. of Elemore Hall; Sir William Reed, of Osterley, in Middlesex, Knt.; and Robert Johnson, of Greatham, yeoman (fn. 43). I am unable to state the subsequent descent of these several shares.
In 1684 the freeholders within the Constablery of Seaton were, Robert Johnson, John Dodsworth, Esq. (in Yorkshire): William Lee, of Stockton, Gent.; William Johnson, of Claxton; George Williamson, William Corker, Thomas Hett, Anthony Johnson, Nicholas Johnson, and the heirs of William Bellasis, of Oughton, Esq.
In 1792 George Pearson, of Durham, Esq. purchased a portion of the manor, and a considerable estate (fn. 44) in Seaton, from the assignees of Robert Preston, of Stockton. This is now the estate of George Wilkinson, of Harperley, Esq. in right of his wife, sole daughter and heiress of George Pearson, Esq.
Seaton has been long a place of considerable summer resort. Soon after Mr. Pearson purchased the estate, he built (on the site of the Ship Inn) an hotel, with accommodations for the bathing-season, on a very extensive plan. There are several smaller inns and lodging-houses in the village. As a bathing-place Seaton possesses the advantage of a smooth beach, and of firm level sands extending nearly from the Teesmouth to Hartlepool.
There are no remains of the ancient Chapel of Seaton, dedicated to St. Thomas the Martyr (Becket), and given by Brus, with the mother church of Stranton, to Guisbrough Abbey. In 1200 Roald, Prior of Guisbrough, granted a chantry within Seaton Chapel to Walter Carrow, who purchased the privilege with sixty acres of land, and three tofts, and pasture for a hundred ewes and three lambs. In 1312 Prior Geoffrey determined that the Vicar of Stranton was bound to provide for the maintenance of Seaton Chapel (fn. 45).
Owton,
An ancient grange or manor-house, to the South west of Seaton, the seat of the Belasyses and Salvins.
In 1574, 17 Eliz. the Queen granted the manor, grange, and capital messuage of Owton, parcel of the lands of Robert Lambert, of high treason attainted, to Edmund Gresham and Percival Gunston. 27 Eliz. 1584, Gresham conveyed to Richard Brookman; and 31 Eliz. 1588, Brookman granted in fee to Richard Bellassis, Esq who settled the estate, 39 Eliz. failing his own issue male, on his nephew James Bryan and Charles Bellassis, in successive tail male. James Bellassis, Esq. died without issue in 1640. Sir William Bellasis, his nephew and heir (son of Bryan), died in 1641, leaving an eldest son, Sir Richard Bellasis, of Ludworth and Owton, Knt. whose grandson, Richard Belayse, of Gray's Inn, Esq. released all right in Owton in 1693 (fn. 46), to the trustees of Gerard Salvin, of Croxdale, Esq. William Thomas Salvin, of Croxdale, Esq. alienated the estate a few years ago to Mr. George Fletcher, the present owner.
This is the Crown title to Owton; but a conveyance was also taken from the heirs of Lambert. In 1543 (fn. 47) Nicholas Lambert entailed the manor on his sons Robert, George, and Clement successively. Robert Lambert, the eldest son, engaged in the Northern rebellion, and was attainted in 1569. In 1652 Robert Lambert, son of Nicholas and grandson of George (second in the entail of 1543), released all right, by fine and recovery, to Sir William Darcy, Davison, and Salvin, for the uses limited by deed of Sir Richard Bellasis.
Pedigree of Lambert, of Owton.
Arms: Gules, a chevron between three lambs Argent.

* St. Oswald's Durham.
† Elwick.
‡ Bishop-Middleham.—Jenet Lambert bur. Dec. 8, 1569. Margaret L. May 1, 1585. Jenet L. Nov. 12, 1581. Mr. Raphe Lambert, March 15, 1674. Mrs. Margaret Lambert, Sept. 15, 1672.
Brearton.
The manor belonged from the earliest date of the records to the family of Graystock. In 1344 William Lord Graystock settled this estate (with Nesham, and Over and Nether Conicliffe,) on himself and the heirs of his own body, with remainder over, failing such issue, to Robert, son of Ralph Nevill, of Raby, on condition of assuming the name and arms of Graystock (fn. 48). Had this condition taken place we should never have heard of the great house of Nevill; but the settler left issue (fn. 49), and Brereton continued in his descendants, the Greystocks and Dacres, till the coheirs of the latter family intermarried with Howard, in the reign of Elizabeth. Lord William Howard, who married Elizabeth the younger sister and coheir of George Lord Dacre, seems to have had the Durham estates on partition with his brother the Earl of Arundel, husband of Anne the elder sister; for Lord William's rent-roll includes "rents of the manor of Brereton, xxvl." (fn. 50) In the reign of Charles II. the manor belonged to Sir William Blacket, Bart. The Blackets sold to the family of Turner, and at present the Hospital of Kirkleatham (fn. 51) holds considerable property in Brearton.
There are no charitable benefactions to the Parish of Stranton, excepting a sum of 5l. belonging exclusively to the township of Seaton, and of which the interest is applied to the relief of poor widows (fn. 52).