Pages 152-167
The History and Antiquities of the County Palatine of Durham: Volume 3, Stockton and Darlington Wards. Originally published by Nichols and Son, London, 1823.
This free content was digitised by double rekeying. All rights reserved.
PARISH OF NORTON.
The Parish of Norton is bounded by Billingham on the North and North-east, by Stockton on the East and South, by Redmarshall on the West, and by Grindon on the North-west.
The Parish forms only one Constablery, which includes Blakiston.
Nearly two miles to the South of Stockton, a handsome village, on a gentle elevation of dry gravelly soil, sloping to the South. The higher part of the village is built round a spacious green, with the Church and Vicarage and its plantations on the North.
This is a member of one of the Bishop's great manors, and is amply described in Boldon Book and the Survey. Under Boldon Book—In Norton there are thirty tenants in villenage; each holds three oxgangs, and their rents and services are as those of Boldon, saving cornage, which they do not pay, because they have no pasture (fn. 2), (pro defectu pasturœ.) Twenty farmers (firmarii) held forty oxgangs, each paid half a mark for his two oxgangs, and provided two labourers for two days' mowing and for two days' winning the lord's hay, two reapers for two days in corn-harvest, and two wains for one day, or one wain for two days, to lead corn; and all the farmers jointly till four portions (porcationes) in autumn with their whole family, except the housewives. Alan of Normanton holds one carucate for 10s. and provides thirty-two men in one day, or the same quantity of labour divided, as need may be, and four wains in one day in corn-harvest; and if he have men under him (si homines habuerit), they shall till four portions in autumn with their families, except the housewife; but Alan and his own household shall be clear. Adam, son of Gilbert de Herdwic, holds thirty-six acres of the land of Northton, near Herdewyc (fn. 3); but now sixty acres, under two marks rent, as tenant at will. The Mills (fn. 4) have eight acres allotted to them, and the Mill-meadow, and pay twenty marks. The Punder has four acres and the thraves of corn, like other Punders, and pays fourscore hens and five hundred eggs. Twelve cottagers hold as many tofts and crofts, and thirteen acres in Norton-fields, and pay 6s. and each gives fourteen days' work within the year, and altogether till four portions in autumn. The North meadows are in the Bishop's own hands. Norton pays 3s. for toll of ale. The whole vill provides two milch cows.
Hatfield's Survey distinguishes the tenants into. Tenants in Drengage, Free-tenants, Bond-tenants, Selfodes, Cottagers, and Tenants by Exchequer-rents. The tenure of Alan de Normanton, said to be in drengage, and now, from an intermediate occupier, called Lucas-land, was vested in Sir Roger Fulthorpe, Knt.; but the servile tenure of the dreng, when the lands fell into the occupation of the gentry, was always soon converted into a moneyed payment, and the whole of Alan's operations in hay and in harvest wains and workmen were commuted for 9s. 10d. rent at Michaelmas, and 10s. exchequer-rent; the tenure consisted of two messuages and one carucate; the carucate included eight oxgangs, and each oxgang was of fifteen acres. Besides, Sir Roger held twenty-nine acres, once Master John of Norton's, called Trumperland, under 6s. 8d. rent. Free-tenants—Richard Stanlawman, a messuage and three oxgangs, once of Adam Fitz-John, by foreign service and 11s.; Robert Johnson, a messuage and oxgang called Bysesland, 16s. 8d.; Robert Spurner, a messuage, three oxgangs, and twelve acres, once of William Fitz-Thomas the Clerk, 18s. 6d. and foreign service. Bond-tenants—John Sandy, and twenty-three others, each holds one entire bond-land of two oxgangs (each oxgang of fifteen acres), the rents and services are exactly as those described under Middleham (fn. 5), with the addition, that, if need be, they shall build a house for the lord once in the year, forty foot long and fifteen wide, and then they shall be allowed fourpence from their averpennys; and the vill pays no cornage because they have no pasture, prout patet in libro de Boldon. Every servant of the above bond-tenants, of sixteen years of age or upwards, pays to the Bishop 12d. at Michaelmas, instead of his portions of autumnal tillage; and every Selfolde, of whatever degree, abiding in Norton, pays 3d. at the same festival; the Punder pays, causa officii, fourscore hens at Christmas, and five hundred eggs at Easter. Cottagers—William Couper holds a cottage, once Adam Edeson's, and one acre of coteland, pays 6d. and owes thirteen days' work yearly; the price of composition for each day is a farthing, and the composition for four portions of tillage 3d. each by agreement: all these services are now compounded for 11¼d. rent at Michaelmas. John Magson and nine others hold eleven cottages and seven acres, and divers roods and parcels under the same services. The tenants hold amongst them two acres and a rood, called Punderland, and pay as under Boldon Book, now 2s. 7d. obol. William Eyts and three others hold the common forge, 18d. John Mageson a dovecote, 6d. The tenants have the common bakehouse, 66s. 8d.; the toll of ale, 10s.; and they pay in lieu of two milch cows, 12s. Norton, Stokton, and Hertburn mills, with eight acres and the meadows near the mill, viz. Milnecrok, six acres on the South of the mill, 3s. per acre; one acre, called Seggecrok Northwards, 4s. per acre; Crawcrok, half an acre, and Longacre, 3s.; altogether 26l. 13s. 4d. Exchequer-rents—Roger Fulthorpe and two others hold each a plot before their own doors, newly brought into tillage, 8d. Isolda of Buterwyk, and six others, each a messuage and four gardens. John Gibbesson and three others, eight acres and three roods. Gilbert Spurn has fifteen cottages, ...... by estimation, in Virthouk-field, sixty acres, 32s. John de Helleston and John Sandy hold a messuage and four oxgangs, once the demesne, and pay 3s. 4d. for each oxgang, and plough and harrow, for every oxgang half an acre of the lord's land, or four pence, and four days' work in mowing, reaping and leading hay, and four wains in corn harvest, or 2s. 4d. and till four portions, &c. or fifteen pence farthing. Further, they clean the mill-pond and le Fleme, and carry materials, if wanted, for rebuilding or repairing the manor-mill; and they provide the mill-stones of Norton and Stockton Mills, and cover in Norton Water-mill, at their own costs, and pay a thirteenth part multure; and when it shall happen that the Bishop shall rebuild or repair his manor-house of Stockton, they shall be there to assist and lead materials (mœremium); and they shall carry the Bishop's wine (dolia vel pypas) from Tese water into the Bishop's cellar at Stockton, by virtue of their oath, and by tenure of the manor, and all this is compounded for 15s. 9¼d.
John Smith and twenty others hold twenty-three messuages and twenty-four oxgangs under similar services; but eight oxgangs of the above lands (for by Boldon Book it appears, that twenty farmers held forty oxgangs) are in the hands of free-tenants.
A few scattered freeholds appear on the records. Some of these have been noticed in the Survey. In 1414 Roger Fulthorpe died seised of a seat-house, dovecote, and three oxgangs, held by knight's service and 11s. rent (fn. 6). Isabel, his daughter and heir, was the wife of John Sayer, and this small estate long rested in their descendants (fn. 7).
At this day the principal property in Norton is held by lease, or by copy of court roll, under the See of Durham.
John Hogg, Esq. (fn. 8) has a handsome mansion-house in Norton, and the village includes several other good modern residences.
Henry II. granted a weekly market to Norton on Sunday (fn. 9).
Henricus II. Rex Anglie, Thome Archiep'o et omnibus Vicecomitibus, et omnibus Baronibus, et fidelibus suis, Francis et Anglis, de Everwicscira et Northumberlandia, Sal. Sciatis nos conccssisse Ranulpho Episcopo Dunelm. quod habeat mercatum in Nortuna quaque die dominica, et volo et precipio ut omnes ad illud venicntes et inde redientes habeant meam firmam pacem; et concedo ibi tales consuetudines habere quales habentur in aliis meis dominicis mercatis per Angliam. T. Roberto Episcopo Lincoln. et Nigello de Albini, et Roberto de Brus, apud Ebor. (fn. 10)
The Collegiate Church.
The evidences of this foundation are brief and obscure. According to Simeon's Continuator, when William de Carileph completed the intentions of his predecessor Walcher, by placing Benedictine Monks in the Cathedral of Durham, he distributed the expelled secular canons in the several houses of Auckland, Darlington, Norton, and Ekington (fn. 11). "But it may be presumed, that Norton was not so early, the first mention of the Prebends here which hath yet occurred to me being in 1227 (fn. 12)." The Collegiate Church, whenever founded, consisted, after 1227, of eight Prebends, in the patronage of the See of Durham, and so continued till the Dissolution. In 1291 (in the Lincoln taxtion) these Prebends were valued at 6l. per ann.; but the total value in 1534, 26 Hen. VIII. was 4l. 6s. 8d. each, or 34l. 13s. 4d. the whole. The stipends arose from part of the tithe of corn of the parish of Norton.
In 1553 Lancelot Thwaites, Anthony Salvin (fn. 13), Nicholas Thornhill, John Tunstall, Nicholas Lenthall, Rowland Swinburn (fn. 14), and Jerome Bernard, received pensions of 5l. each.
The Church.
The Church stands on the highest ground of the village towards the North. The structure, which has undergone much mutilation and alteration, has probably, like most of the Churches which were Collegiate, consisted of a regular chancel, nave, and transept, forming a cross with the tower in the centre. The South limb of the transept has been abridged. The North transept, or Blakiston porch, opens under a round arch. The nave has regular ailes, each formed by two round pillars, with capitals of light round mouldings, supporting pointed arches. The tower still occupies the centre, springing from four circular arches. The East window has three lights (fn. 15). (See the Plate.) The chancel has been stalled for the reception of the Prebendaries. There are still traces of belted pilasters and ornaments near the altar.
Monumental Inscriptions.
In Blakiston Porch is a recumbent effigy in armour, with a rich canopy of tabernacle-work over the head; the hands are elevated, the legs are crossed (fn. 16), the feet resting on a lion; the head is bare, and the sword sheathed. The shield exhibits six coats: 1. two bars, and in chief three cocks, Blakiston. 2. Ermine, on a canton an orle, Surtees. 3. Ermine, three long-bows, Bowes. 4. Cross patonce inter four martlets, Dalden. 5. A manche, Conyers. 6. Conyers, with a mark of difference, a mullet within an annulet (fn. 17). On small shields behind the head of the figure are two coats: 1. a cross moline, perhaps Fulthorpe; 2. an orle, debruised by a bend ..... (See the Plate.) Blakiston Porch is filled with monumental memorials of its later owners the Davisons. Another family of the same name, the elder line of the Davisons of Beamish, lie before the altar.
On a mural monument against the East wall of Blakiston Porch:

P.M.
Thomæ Davison de Blakiston, Equ. Aurati,
(Alexandri Davison, Equ. Aur. primogeniti,)
adversus Scotos rebelles A° Dni mdcxxxix Centurionis strenui,
deindeq. in exercitu Regis Caroli Martyris,
flagrante tune Perduellium Rebellione immani,
Prochiliarchæ magnanimi;
Qui quidem
Elizabetham Gulielmi Lambton de Lambton, Equ. Aur. filiam natu
maximam, primam Uxorem duxit;
ex quã
Filium unicum Alexandrum,
Filias verò
Janam, Ambrosio Pudsay de Barfard Armigero,
Annam, Roberto Laton de Laton in Com. Ebor. Armig.
Catharinam virginem, Elizabetham primò Johanni Chater de
Croft Arm°, postea Nic° Fairfax (Tho. Fairfax Vice-Comitis Emeley
infra Regnum Hiberniæ filio tertiogenito) ac Timotheam
Guliselmo Bellasis de Outon Armigero
enuptas genuit.
Inter intestini Belli clades publicas, carceres,
Reiq. privatæ jacturam non minimam, maximo animo
perpessus, exoptatissimamq. Serenissimi ac potentissimi Regis Caroli II.
restitutionem conspicatus, ac per eundem Vice-Comes hujus
Com: Palat. Dunelm. jure meriti constitutus,
xxiij° Mensis Maii Anno ab incarnatione
D'ni mdclxvii° Vitam cum
Morte commutavit.
Margareta, uxor altera,
Gulielmi Bellasys de Ludworth Equ. Aur. filia natu maxima,
prædicti Thomæ relicta charissima, mœstissima,
hocce amantissimo conjugi erexit
Monumentum.
Arms: Or, a fess wavy inter six cinquefoils Gules, impaling, Argent, a chevron Gules, inter three fleurs de lis Azure, Belasye.

Here
were interred in a good old age,
Three Ladies
of exemplary Piety, Charity, and Virtue,
Viz.
Margaret,
relict of Sir Richard Musgrave,
of Hartley Castle, Bart Nov. 6, 1698.
Jane,
relict of Sir Francis Bland,
of Kippax Park, Bart Apr. 10, 1713.
Mary,
relict of John Davison,
of Blakiston, Esqr Sept. 2, 1728.
Here Lieth Interred ye body of alexandr davison, of blakeston, esqr son of sir tho. davison, kt, who left issue 2 sons, viz. john, by eliz. daughtr of sir tho. dawes, & alexandr by mary the daughtr of cuthbrt carre, of st. hellen auckland, esqr. he departed ye first of august, anno 1669, ætatis suæ 35.
Arms: Davison, impaling, Argent, on a bend Azure, cotised Gules, three swans between six battle-axes Sable, Dawes; and Ermine, on a canton Gules, an orle Or, Surtees; Gules, on a chevron Sable, three mullets Or, Carr (fn. 18).

Quicquid fuit mortale
Johannis Davison de Blakiston, in
Com: Dunelm: Armigeri,
hic jacet.
Qui, quod
innocentiâ vitæ et probitate morum
sui desiderium excitaverat,
implere non potuit.
Cum priusquàm xxvii ætatis suæ annum
attigisset, feliciori sibi quam
suis, morte
hanc vitam pro meliori commutavit,
xxii die Novembris A: D:
m: dcxc
Cujus P : M.
Maria Davison, mœstissima ejus Conjux,
Richardi Musgrave de Castro
Hartliensi in Com.
Westmorl. Baronetti
Filia unica et Hæres, hoc
posuit Monumentum.
Prolem, p'dictam Mariam, reliquit, filios Thomam
et Musgravam, filias Margaretam, Elizabetham
et Mariam.
Arms: Davison and Musgrave quarterly.
M: S.
Hic infra deponitur
quod mortale habuit Tho. Davison, Ar.
Beatam in Xto præstolans Anastasin.
Summâ in Deum Pietate,
singulari in Uxorem Liberos & Cognatos Amore,
sincerâ in Amicos Fide,
propensâ in Pauperes Munificentiâ,
amatus omnibus vixit;
flebilis omnibus occidit,
Febre Nervorum insanabili correptus.
Denatus est 5to Feb. Anno
Sal. ñræ mdcclvi.
Ætat. suæ xliii.
On slabs in the floor:
Here lieth Anne, the wife of Thomas Davison, Esqr. to whom she had five children, but only one of them survived her. She was the eldest daughter of Sir John Bland, Bar. by Anne his lady, daughter and heiress to Sir Edward Mosley, Kt. She was a Gentlewoman of fine parts and accomplishments, and died much lamented in the 27th year of her age, May 17th 1715.
Here lieth the body of Theophila, wife of Thomas Davison, of Blakiston, Esqr, daughter of Charles Turner, of Kirkleatham, Esqr. who died June 12th 1745, aged 61. And also the body of the said Thomas Davison her late husband, eldest son of John Davison, late of Blakiston, Esqr. who died the 9th Septr. 1748, aged 66.
On a brass plate in the North porch:
Margaret, daughter of Thomas Davison, Esq. by Theophila his 2d wife, died June 10, 1726, aged 2 yrs. 2 weeks.
On a flat blue marble, in the middle of the chancel:

Hic jacet
Thomas Davison, A. M. Thomae Sena-
toris Novo-Castrensis filius natu maximus,
Collegii D. Joann. Cantab. pridem Socius,
et hujus Paroeciae diu Vicarius.

Vir fuit
ingenio et eruditione præstans,
ob beneficentiam et liberalitatem
pauperibus,
propter vitae innocentiam,
morum probitatem, suavitatem, et candorem,
omnibus
charus et dilectus.
Obiit Decemb. xv. A. D. m.d.cc.xv. ætat. lxxx.
Margeria Vidua
Conjugi optimo et desideratissimo posuit.
Juxta conditi sunt
Maria uxor ejus prior, filia dignissimi
Viri Iosephi Naylor, S. T. P. Mater xvii
Liberorum, Foemina lectissima, quae obiit
Nov. xviij. A. D. m.d.c.lxxxiij. ætat. xli.
et
Jonathan Davison, S. T. B. ejusd. Coll. Soc.
et Vic. de Aldworth, in Com. Berks.
Frater fratri
moribus, ingenio, doctrina simillimus.
Obiit Oct. vj. A. D. m.d.c.xc. ætat. xl.
Margeria supradicta
tali digna Marito,
ultima antiquae Buckorum familiae
de Sadberge,
obiit xxx Junii. m.d.cc.xx.
aetat. lxxxiii. (fn. 19)
On slabs:
Here lyeth the body of Robert Gregory, Esq. late Captain in the Royal Navy, who bore with manly fortitude a long and painful illness, the consequence of a broken constitution acquired in the service of his country. He died the 18th of Feb. 1774, aged 39. He was a most indulgent husband and a tender parent, which makes his loss truly afflicting to his affectionate widow, who in justice to his memory hath caused this stone to be laid. The above Capt. Gregory was son of the late Robert Gregory, Esq. of Greenwich in Kent, also of the Royal Navy.
Also the remains of Mary Gregory, relict of the above, ob. 8 Feb. A. D. 1811, ætat 71.
Sacred to the memory of Admiral Policarpus Taylor, whose naval conduct had in a variety of public services reflected honour upon his country. He died at the age of seventy-four, and in the year of redemption mviielxxxi. possessing many Christian qualities which endeared him to his friends, and marked his character with general esteem.
Death is swallowed up in victory.
Formerly, on a brass plate within the altar-rails, now removed:
Hic jacet Job'es Bukton cuj. a'i'e p'pitietur deus. Amen. Anno D'ni Mcccclu.
On a table monument in the church-yard:
Sacred to the memory of the Rev. George Johnson, B. D. Prebendary of Lincoln, Rector of Lofthouse, and Vicar of Norton. He was born the fourth of September 1732, and died the twenty-sixth of August 1786.
On an altar-tomb in the church-yard:
D. O. M.
Post vitam brevem,
Difficilem, inutilem,
Hic
quiescit in Domino
Thomas Briggs, Armiger,
Sussexiensis,
Anno
Salutis 1731,
ætatis suæ 45. (fn. 20)
Succession of Vicars.
Norton Vicarage.—Bishop of Durham Patron.—King's Books, 31l. 11s. 5½d.; Tenths, 3l. 3s. 1¾d.; Episc. Proc. 17s.; Synodals, 11s. Archid. 4s.—Dedication to the Virgin.
Bartholomeus, 1234.
Thomas Persona de Norton (fn. 21), circ. 1236.
William de Bromham, 1255.
John de Barnhaughe, 1282.
Nicholas de Derlington, 1283, p. m. Bainhaughe.
Robert de Dalton, 1310, p. m. Derlington.
William de Stafford, 1335, p. m. Dalton.
John de Weigton, 1345, p. m. Stafford.
Roger de Habington, 1354, p. m. Weighton.
John de Seton, 1361, p. res. Habington.
Henry Grospois, 1362, p. res. Seton.
Robert de Whitby, 1365, p. res. Grospois.
John de Billeston, 1380, p. m. Whitby.
William de Latham, 1394, p. m. Billeston.
John de Cokyn (fn. 22), 1407, p. m. Lathom.
Ralph Bromley (fn. 23), 1410, p. m. Cokyn.
John Hunteman (fn. 24), S. T. B. 1416, p. m. Bromley.
John Rande, 1427, p. m. Hunteman.
Richard Kellowe, 1430.
Thomas Hoton, 1438.
Robert Bates, 1452.
William Appleby, A. M. occurs 1496.
John Claymond, A. M. (fn. 25) 1498.
Lancelot Collynson, C. L. B. (fn. 26) p. res. Claymond.
Richard Hildyard, S. T. P. 1538.
John Rudd, S. T. P. 1539.
Barnard Gilpyn (fn. 27), 1554, p. depr. Rudd.
Robert Dalton, S. T. B. (fn. 28) 1556, p. res. Gilpin.
John Rudd, again 1558, p. depr. Dalton.
James Rande, A. M. (fn. 29) 1578.
Andrew Perne, A. M. (fn. 30) 1621, p. m. Rande.
Everus Gower, S. T. B. (fn. 31) 1640, p. m. Perne.
Philip Mallory, A. M. (fn. 32) 1640, p. res. Gower.
Robert Brough, an intruder, 1645–1659.
Alan Smallwood, 1661.
Thomas Davison, A. M. (fn. 33) 1663.
Thomas Rudd, A. M. (fn. 34) 1690, p. depr. Davison.
Joseph Forster, A. M. (fn. 35) 1712, p. res. Rudd.
William Sisson, A. M. (fn. 36) 1746, p. m. Forster.
William Vaughan, A. M. (fn. 37) 1773, p. m. Sisson.
George Johnson, A. M. (fn. 38) 17.., p. res. Vaughan.
Christoph. Anstey, A. M. (fn. 39) 1786, p. m. Johnson.
The Vicarage-house, which has been much improved by the present incumbent, stands near the Church on the South, with an excellent garden.
The glebe consists of above two hundred and seventy acres.
The Register begins in 1574. Its early pages include numerous entries of the Blakistons, not only of the ancient gentry of that name, but of a branching race of yeomen, perhaps distantly connected with the Lords of Blakiston (fn. 40). The early Register is kept in good Latin.
Thomas Blakiston, filius et hæres Magr Gul. Blakiston de Dawden, Gen. sacro baptismatis sacramento initiatus 8 Jul. 1582, cujus susceptores fuere Dom. Cuthbertus Collingwood Miles, Gulielmus Bowes, Arm. et Magra Barbara Blakeston, Materfamilias de Blakiston.
Johannes Blakiston, de Blakiston, Armiger, venerabilis Paterfamilias in Domino obdormivit, 10 mens. Jan. 1586, cujus exequiæ cum concione celebratæ fuerunt 7° die Feb.
Thomas Blenkinsop, Gen. Villicus Venerandi Magri Johannis Blakiston, de Blakiston, Armig. in matrimonium sibi assumpsit Agnetem filiam Gul. Blakeston, de Norton, 12 Jan. 1584.
Magister Robert Tunstall de Broompton obiit apud Stockton, sepult. 13 Jul. 1583.
1612, Margareta filia Magri Thomæ Blakiston, de Blakiston, Armigeri, baptizata fuit apud Manerium de Blakiston per Jacobum Rande Vicarium, 12° Maii, cujus susceptores fuerunt Dom. Georgius Conyers de Sockburne Miles, Materfamilias de Newton, juxta Dunelm. Materfamilias de Layton.
Richard Pepper, a Gentleman, bur. 9 Septr 1653.
Anno Dñi 1608, ye 17th of March, this yeare and daye came Will'm Parkhuse, one of the houshold s'vants of Sr Will'm Blakiston, of Blakiston, knight, and did signifye to us, from his sd Mr, ye Vicar and Churchwardens of the p'rish of Norton, that his said Mr wold from this day forward confyne himselfe to his maner house of Blakiston, situate and being w'thin the p'rish of Norton, according to the statute of confynment in that case p'vyded.
James Rand, Vicar of Norton.
Ralph Davison. Ralph Pattinson.
3 Jan. 1635, there appears a licence granted by Gabriel Clarke, D. D. Archdeacon, &c. to allot the seats, and the parishioners are to be placed in decent maner accordinge to there ranks, degrees, and qualities.
In consequence of the above, Imps Mr. Davison, of Blaixton, shall sitt in the seate next unto the chancell one the North side, where he usith to sitt, and for his servants and tenants to sitt in the North porch, wh is called by the name of Blaixton Porch.
As for men servants wch cannot read, we appoynt them for to sitt in the South porch, called by the name of Pettie Porch; and as for wome' servants, for to be placed to kneele down in the midle ally, nere the font. Order, signed And. Pern, Vicar.
Marmad. Chapman. Richard Halliman, Churchwardens.
Marriage comes in on the 13th of January, and at Septuagesima Sunday. It is out again untill Low Sunday; at wh time it comes in again, and goes not out till Rogation Sonday; thence it is forbidden until Trinity Sunday; from thence it is un (fn. 41) forbidden till Advent Sunday, and comes not in again till ye 13th of January.
In 1745, when a part of the Duke of Cumberland's army lay for some time in the county, there were buried,
Jan. 18. Barnard Gentant, a German soldier.
Jan. 19. Sir Frederick Muntz, from Cleve in Germany, Captain of the Regiment of the Duke of Holstein Gottorp. Same day, Martin Schmisky, from Prussia, Captain in the same regiment; both buried in the church, east of the font.
Jan. 31. John Fursall, Drum-Major in the same regiment.
Oct. 9, 1746, bur. Frances Wrench, in the 110th year of her age.
March 22, 1756, bur. the heart and bowels of the Right Honourable James Earl of Weemeys. The remains was buried with his ancestors at Weemys Castle in Scotland, the 8th day of April.
The Church plate consists of two flaggons, a chalice, and patten, "the gift of the Rev. Christopher Anstey, Vicar of the parish church of Norton, county of Durham," 1808.
There are three bells—one dated 1607; one 1613; and a third, inscribed, "Venite exultemus Domino 1664. R. D."
Blakiston.
The manor of Blakiston stands on the North-western verge of Norton parish, adjoining Thorp and Winyard.
Ralph Flambard took Blecheston from the Church of Durham. His death-bed penitence restored the estate. He was borne in his last moments on his couch into the Cathedral, and made restitution by the ceremony of offering his gold ring on the high altar (fn. 42). King Henry confirmed the possession of the vill to the Monks of St. Cuthbert, with an especial warranty against Richard (fn. 43) (ancestor of Fitz Marmaduke), the nephew and grantee of Ralph Flambard (fn. 43). The Convent granted the estate, under reserved rents and services, to the family of Park. The dubious list of Knights places Galfrid. del Park, Chivaler, at Blakiston, in 1264 (fn. 44). Richard de Park founded a private chapel at Blakiston by licence of the Prior (fn. 45). His son Richard (fil. Richard de Parc, Chivaler) in 1341, Thursday before the Feast of St. Ambrose, alienated to Roger de Blakiston, a messuage, five oxgangs of arable, and the meadow which Roger already held for term of life (fn. 46). On the same day he released to Hugh Blaykeston (the direct ancestor of the family of Blakiston) the messuage which he held in Blakiston, and 6s. rent (fn. 47). Lastly, in 1349, Roger de Blakiston (son perhaps of Hugh and John Fitz Roger de Herdwyke) levied a fine against Richard del Park and Christian his wife, deforceants, of six messuages, two hundred acres of land, twelve of meadow, two hundred of pasture, half a messuage, and a mill (fn. 48). Long after, in the reign of Edward IV. Edward Park, Esq. (fn. 48) the lineal representative of the ancient Lords of Blakiston, in vain endeavoured to recover the estate by suit in the Court of the Prior of Durham, chief lord of the fee, against the Blakistons (fn. 49).
The origin of the Blakistons, it may be remarked, differs from that of most of the ancient gentry of the Palatinate, whose estates may generally be traced to some direct episcopal charter, to subinfeudation under the greater Barons, or, like Lambton, to a period of remote and inexplicable possession. The Blakistons, ascending, as it should seem, pedetentim et è humili loco, bore the name long before they were the Lords of Blakiston, and acquired the property by very gradual purchase from their ancient Lords. John of Blakiston, the Chaplain of Richard del Park, is the first who bears the name. Roger, who acquired lands in 1341, is not the direct ancestor, and he is in one evidence termed most plainly Roger the Cook, of Blakiston. From Hugh in 1349 the family proceeds, through a line of well-allied Esquires and Knights. I should say that the House of Blakiston reached the zenith of its wealth and honours under John Blakiston the Paterfamilias, of 1575, who seems to have been very exactly the ancient Esquire of the old ballad (fn. 50). His son Sir William (whose marriage with the wealthy coheir of Claxton could not preserve even the old estate from dismemberment), and his grandson Sir Thomas Blakiston, created a Baronet in 1615, and who sold the estate the same year, were as certainly "Courtiers of the King, and the King's New Courtiers." The title expired in Sir William the second Baronet, whose loyalty to King Charles completed the ruin of the family: he continued in arms till the last declension of the royal cause, and appears to have afterwards undergone a long imprisonment in Maxtoke Castle.
Few families of private gentry have spread more wide, or flourished fairer, than Blakiston; but all its branches, Gibside, Newton Hall, Old Malton, Seaton, and Thornton Hall, have perished like the original stock. One family alone remains within the county which can trace its blood, without hereditary possessions; and a dubious and distant kindred to the old tree of Blakiston, is asserted by some families who bear the name in the South.
The estate passed by sale to Alexander Davison, merchant, of Newcastle, afterwards knighted, and who died under arms for King Charles, at the age of eighty-one, during the memorable defence of Newcastle in 1644. His son, Sir Thomas Davison, who inherited his father's spirit and loyalty, was High Sheriff of Durham after the Restoration. His descendants, who may be traced in the annexed Pedigree, or in their splendid series of monuments in Norton Church, deserted Blakiston for the Yorkshire estate of Kippax, acquired by the heiress of Bland. The manor of Blakiston was sold some years ago to William Russell, of Brancepath Castle, Esq. whose son, Matthew Russell, Esq. M. P. is the present proprietor.
The old hall of Blakiston was taken down many years ago, and the materials sold at Stockton. The site was near the road, with deep meadows on the West, and some broken ground falling rapidly to the Thorp beck. The kitchen-end remains, with a fertile garden.
As the manor of Blakiston was held under the Prior, the eschaets taken for the Bishop are less careful to describe the services. In 1418 Sir William Blakiston died seised of the manor and vill, held of the Prior, except a messuage and certain acres, called Chaumberland (fn. 51). In 1460 Nicholas Blakiston, grandson of Sir William, held the manor of the Prior by 26s. 8d. rent (fn. 52). The Inquest on Thomas Blakiston, Esq. 1483, describes the manor as containing a hall, pantry, and buttery, six chambers, a kitchen, a stable, and other buildings, an orchard, forty-four oxgangs, each of fifteen acres, sixty acres of meadow, and a hundred of pasture, worth annually altogether, 20l. (fn. 53)
Chaumberland was probably the endowment of the Chapel of Blakiston. About 1320 Richard de Park, Lord of Blakiston, for the souls of himself, his wife Amice, and their successors, gave to God and St. Mary, and the Chapel of the Holy Trinity in Blakiston, (by consent of the Prior of Durham, chief Lord of the Fee,) and to John de Blaykeston, Chaplain, and to all his successors, four oxgangs and seven acres, and a toft and croft, with their meadows, in Blakeston, which Richard de Oveton sometime held, and four acres which Robert Trigg held, and ten acres which Germanus of Norton held, and an acre and a half which Walter the Mower held for term of life; to celebrate mattins and all canonical hours daily, and mass, viz. requiem three times; and on the other days the mass of the Virgin, with Placebo and Dirige. The Prior of Durham shall present on every vacancy, on the nomination of Richard during his life, and afterwards at the pleasure of the Prior; and if the Chantry cease during forty days, the founder or his heirs shall re-enter and distrain; and John of Blaykeston, and his successors, shall perpetually reside and serve the Chantry personally with one honest and sufficient clerk. Tuesday, in the Exaltation of Holy Cross, 1323. Witness, William de Kilkenny, Knight; Roger de Fulthorp, Henry de Langeton, Richard de Stanlawe, Peter de Brakenbury, and others (fn. 54).
Carta Henrici Regis.
Henr' Rex A'glie Walt'ro Espec et Eustac. filio Joħis et Galfr'o Escoland, Sal. Precipio q'd mõchi S'ci Cuthberti teneant om'es t'ras et res suas et nominatim villam suã Blechestonã bene et in pace et honorificè, sicut alia mañia sua melius et lib'rus tenent. et si Ric. Nepos Ep'i Rauñ aliq. calumpniã inde fecerit facite rectitudinem inter eos ne audiam amplius querimoniam monachorum. Test. Cancell. et Rob'to de Sigill. et C. de Elvet et W. de Ponte. Act. apud Windesor.
Ex. Orig. D. and C. Treas. 1° 5te Spec.
Carta Ricardi filii Ricardi de Parco, Rogero de Blaykeston.
Ricardus filius Ricardi de Parco venit huc in Cancellariam die Sabbati in Festo S. Tiburtii et Valeriani, et cognovit scriptum subsequens esse factum suum, et irrotulatum est in hec verba.
Sciant presentes et futuri quod ego Ricardus filius Ricardi de Parco concessi Rogero de Blaykeston et heredibus suis, &c. totum jus, &c. in uno messuagio et quinque bovatis in Blaykeston, que quidem predictus Rogerus habuit ad totam vitam suam ex dimissione Ricardi de Parco Patris mei. T. Dño Thoma Surteys tunc Seneschallo Dunelm. Petro de Manysford Clerico, Rađo de Blay keston Clerico, et aliis. Dat. apud Dunelm. die Jov. prox. post. F. S. Ambrosii, A. D. 1341.
A° 8 Bury Sched. 11.
Item, idem Ricardus iisd. die et anno protulit hic in Cancellar. quoddam aliud scriptum suum quod cognovit, &c.
Sciant, &c. quod ego Ricardus filius Ricardi de Parco concessi, &c. Hugoni de Blaykeston et heredibus suis totum jus, &c. in uno messuagio cum pertin. suis in Blaykeston, viz. in quo dictus Hugo inhabitare solebat. Testibus ut supra. Ibid.
John Blaykeston, of Blaykeston, Esquier. To my daughter Alyce Blaykeston, 400l. To daughters Marie and Dorothee Blaykeston, either of them five hundreth markes out of the thousand markes that my sons William, Thomas, and Christopher, stand bound to pay within three yeares. Sone William to pay 300l. out of certain coppiehold lands to my daughter Ellyn at eighteen. I convented in mariage with my daughter Meryall, wife of Wm. Wyclyffe, 300l. To my sone Thomas threescore pounds besides his estate of Hepton-on-the-Hill. To my sone Henrye, 80l. besides 30l. he hath had, and fiftie pounds in my brother Dente's hands. Sone George Blaykeston, 150l. to be paid within six months after he be discharged of his apprenticeship with Master Heughe Fairclothe, citizen of London. My executor shall bringe upp my sonnes Peter and Humfrye, to either of them an annuity of xxl. from eighteen years of age. To my wiffe's children Robert, Henrye, and Marye Whithed, and Catharine, now wife of my sone Thomas Blaykeston, to each two olde angels. My wife Barbara shall have my house and lordshipp of Coxhoe for life. To my son William my interest reserved in indentures with Mr. Claxton in Aysleyby and Thorpthewles, and my lands in Great Chilton, Dinsdaile, Stodday, Darneton, Long-Newton, and Warden-Law. To everye of my children Christopher, Marmaduke, John, Robert, Peter, and Humfraye, an annuity of 20l. per ann. My sone Marmaduke is p'ferred to the Parsonage of Redmarshall. To my wife my griselde geldinge and two of my sonnes' nagges; or if she mislike of them xxl. to provide her of three horses. My sone Willm my best gealding. My nece Francis Middleton, 6l. 13s. 8d. To my daughter, wife to my sone William, one amblinge nagge. Son Willm Executor. Supervisors Sir William Bowes, Sir Cuthbert Collingwood, Robert Bowes, Treasorer of Bewicke, George Tonge, and George Lawson, Gentilmen; my brother Humfrey Blaykiston, and my sone-in-law Wm Wyclyffe. To everye of them one old ryall. 5 Jan. 29 Eliz. Witness, Wm Wyclyffe, Humfrey Blaykiston, Wm March, Fraunces Barwicke, Matthew Taylfar, Wm Neasham.
Robertus Blakiston, Presbyter, Vicarius de Stainton in Cleveland, 3 Maii 1529, lego corpus meum sepeliend. in Eccl'ia S. Petri et Pauli de Stainton, lego Roberto Mennell, lego Rogero de Blakiston; item Nicholao Blakiston; item Johanne uxori Nicholai; Johanni Blakiston, filio et heredi Thome B.; item Roberto Cok, fratri meo; resid. Roberto Mennell, Rogero et Nicholao Blakiston. Probat. 7 Jun. id. ann. apud Ebor. Registr. Wolsey.
17 April 1669, Dame Mary Blakiston, of York, widow, desires burial at Halsham with her ancestors. To her four grandchildren, John, Robert, Francis, and Edward Smith; her niece the Hon. Margaret Constable. Proved at York.
Pedigree of Blakiston, of Blakiston.
Arms: Argent, two bars, and in chief three dunghill cocks Gules.
Crest: A dunghill cock Or, crested, armed, wattled, and collared, Gules.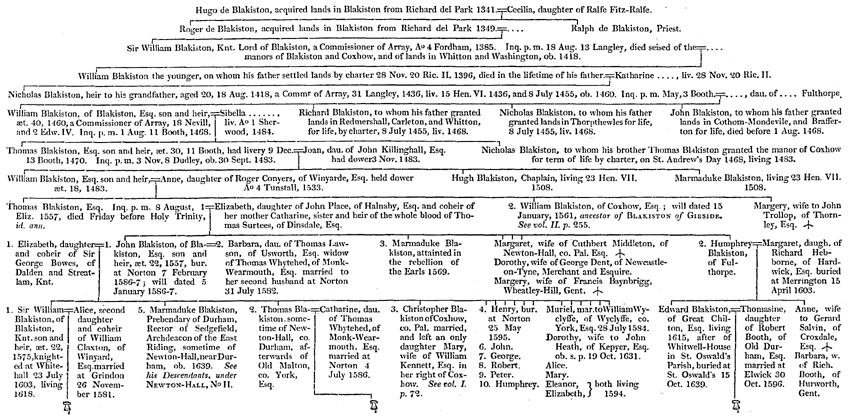 * Merrington Par. Reg.
† St. Oswald's Par. Reg.
‡ Norton Par. Reg.
§ St. Giles's Par. Reg.
Blakiston, of Newton-Hall, co. Pal. and Old Malton, co. York.

* Qu. If the elder Marmaduke had not issue, besides those named in the text, a son of his own name? viz. "Marmaduke Blakiston, of Monk Fryston, Gent.;" will dated 17 Oct. 1657, names his two daughters Margaret and Alice, sole executors. Witn. Henry Blakiston, Tobias Blakiston;" pr. at York 22 June 1659.
† Crossgate Par. Reg.
| All Saints, Newc. Par. Reg.
‡ Sedgefield Par. Reg.
§ He mar. Elizabeth, dau. of James Mauleverer, Esq. niece of his bro. Henry's wife, and was liv. 1657; perhaps father of John Blakiston, of Old Malton, liv. 1666, who mar. Grace, d. of Fran. Wright, of Bolton, Esq.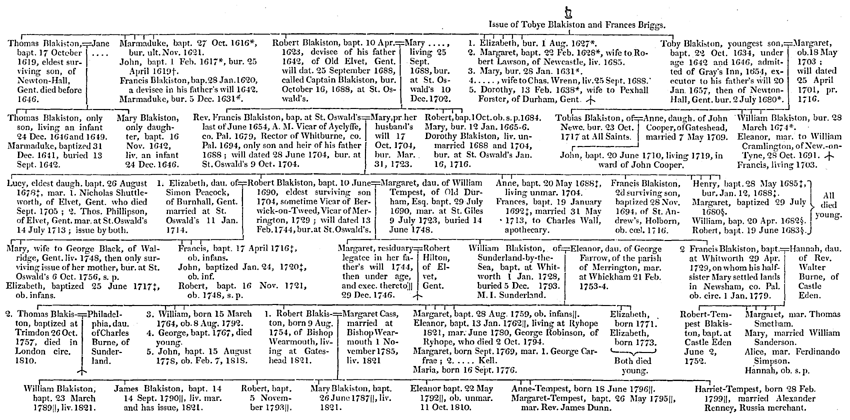 * Crossgate Par. Reg.
† Sedgefield Par. Reg.
‡ St. Oswald's Par. Reg.
§ Ayclyffe Par. Reg.
| Sunderland Par. Reg.
From the above genealogical details, the male representation of the ancient Blakistons seems to rest with the eldest descendant of Marmaduke Blakiston, Prebendary of Durham, fifth son of John Blakiston, Esq. (1575), and Elizabeth, daughter and coheir of Sir George Bowes.
Of the younger sons of John Blakiston, Esq. (1575), slenderly provided for in their father's will by life annuities and small monied portions, it may be difficult to trace the descendants.
6. John Blakiston, sixth son, 1575, is perhaps the same Mr. John Blakiston, of Newton, in the parish of St. Margaret's, who married Jane Carr, of Cocken, 17 Oct. 1612, and was living at Cocken 1622 and 1626. He had at least two sons, John, baptized at Houghton-le-Spring Oct. 5, 1615, and William, baptized at St. Giles 17 Aug. 1619; and possibly the younger John is the John Blakiston, Gent. who married Barbara Newton at St. Giles's 17 Aug. 1639. "Jana relicta Johannis Blaixton, Gen. sepulta 5 Apr. 1642, St. Giles."
7. George Blakiston, seventh son, is said in his father's will to be an apprentice in London, and his descendants it might be difficult to trace amidst the multitude of the great city.
8. Robert Blakiston, eighth son, was certainly living in 1624, as named in the will of his niece Frances Blakiston, and was probably, "Robert Blakistone generosus," buried at St. Giles, 6 Jan. 1636–7. I do not observe his issue.
9 and 10. Peter and Humphrey, the two cadets of this numerous family, seem to have been sheltered at Finchale, and at Sedgefield, under the wing of their brother Marmaduke. Humphrey is described of Finchale or Fenkley from 1602 to 1620. His children, all registered at St. Oswald's, are, Marmaduke, baptized Sept. 29, 1602; Dorothea, baptized Apr. 16, 1612; Mary, baptized at Fenckley July 14, 1614; Christopher, baptized 23 June 1617 (Humphry joins in John Blakiston's marriage-bond with Jane Carr, 1612).
Peter was of Finchale, of Sedgefield, of Gilesgate, and, lastly, of Fishburn. "Mr. Peter Blaxiston, from Fishburn, buried at Bishop Middleham 22 June 1640." His issue, Dorothy, bapt. at Durham Abbey 22 Dec. 1597; Humphrey, bapt. 25 Feb. 1598; Barbara, 23 May 1602; Marmaduke, 3 Apr. 1605; all at Crossgate; William, son of Mr. Peter, bapt. at Fenchlawe 26 May 1611, bur. at Sedgefield 21 May, 1613; Thomas, bapt. at Sedgefield 18 Oct. 1612; Margaret, bapt. at St. Giles's 22 Sept. 1616; and of these, Dorothie, daughter of Mr. Peter Blaxton, was married, 11 July 1615, to John, son of John Weedowes, Keeper of Frankleyn from whom the Woodhouses of Cornforth. In 1669, 4 Feb. Thomas Wood, of Coxhow, Gent. makes Marmaduke Blakiston, of Cornforth, Gent. his sole executor. 20 Sept. 1712, Marmaduke Blakiston, of Bishop-Auckland, taylor. "To my brother and heir Charles, half-a-guinney. Brother-in-law George Robinson, wife Dorothy." Proved 1713.
To those conversant in genealogical research, it will not be surprising that there should remain a vast unfunded capital of floating dates and registers relative to this most branching race of Blakistons, which cannot be safely applied to any of the lines traced above. In particular, there seem to have existed several branches of the Newton Hall family not accounted for in the Pedigree. John Blakiston the Regicide certainly left descendants; and not perhaps remotely connected with these were a family of Blakiston of Stapleton-on-Tees, who intermarried with Bourchier. (See Dugdale's Visit. York. Bourchier of Benningborough.) Some scattered evidences of these and other stray branches will be found in the Addenda. "Claudite jam rivos, pueri, sat prata biberunt."
Carta Galfridi filii Galfridi (fn. 55).
Omnibus, &c. Galfr. filius Galfridi, Sal. Notum sit quod convenit inter Dñum meum Thomam Priorem et Convent. Dunelm. ex una parte et me ex altera, obligari me ad faciend. sectam Curie Dñi mei pro tenemento meo de Blaikeston quotiescunque aliquod placitum motum fuerit in dicta Curia. T. Dñis Jordano de Dalden, Jordano Hayrun, Nigello de Rungetun.
Carta Marmeduci filii Galfridi Militis.
Omnibus, &c. Marmeducus filius Galfridi Miles, Noveritis me quiet. clamasse Dño Hugoni Priori et Conventui Dunelm. totum jus et clameum in toto manerio de Blaykeston quod est de feodo eorund. Prioris et Conventus. T. Dñis Ricardo de Midelton, Roberto de Eschouland, Emerico de ...., S. Marmeduci filii Galfridi. Ex. Orig. D. and C. Treas.
Pedigree of Davison, of Blakiston.
Arms: Or, a fess wavy inter six cinquefoils Gules.
Crest: Out of an Earl's coronet Or, a dove, rising Argent, holding in its beak a wheat-stalk bladed and eared proper. Grant by Sir William Segar, Jan. 3, 1631.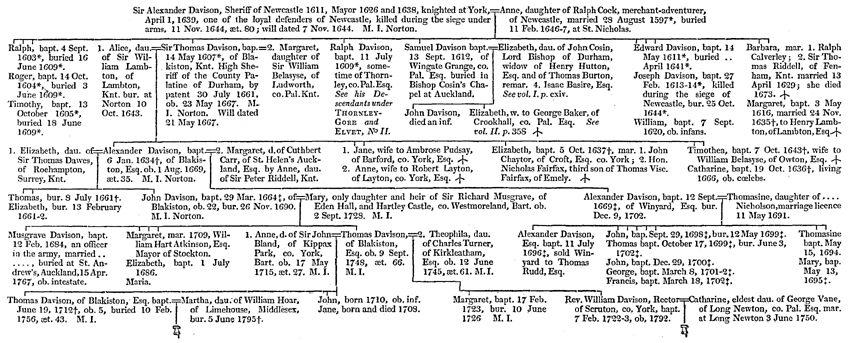 * St. Nicholas, Newcastle-on-Tyne, Par. Reg.
† Norton Par. Reg.
‡ Grindon Par. Reg.
§ See the Pedigree of Bland in Thoresby's Leeds. Sir John Bland, Bart. (brother of Anne wife of Thomas Davison, Esq.) left two sons, Sir John and Sir Hungerford, successively Baronets, who both died without issue. Anne and Elizabeth, sisters of the two last Baronets, also died unmarried, and Elizabeth devised her moiety of the estate to Thomas Davison, Esq. Arms of Bland: Argent, on a bend Sable, three pheons Or.
Davison, of Thornley-Gore and Elvet.

* "Counsellor Davison died suddenly at Hardwick April 26, 1696." Jacob Bee.
† St. Oswald's Par. Reg.
‡ Grindon Par. Reg.
§ Receipt for 50l. charged on Thornley.
| Receipt for 100l. charged, &c.
¶ Receipt for 100l. charged, &c. N. B. "I paid this sum in the Sun Taverne, Holborne. Witn. E. Rogers, G. Spearman."