Pages 197-208
The History and Antiquities of the County Palatine of Durham: Volume 3, Stockton and Darlington Wards. Originally published by Nichols and Son, London, 1823.
This free content was digitised by double rekeying. All rights reserved.
PARISH OF EGGLESCLIFFE.
The Parish of Egglescliffe is bounded by Stockton on the North, by the Tees on the South and East, by Middleton St. George on the West, and by Long-Newton on the North-west.
The Parish is divided into two Constableries: 1. Egglescliffe; 2. Aislaby, which includes Trafford Hill. Newsham in this Parish is considered as within the Constablery of Long-Newton.
Egglescliffe.
The ancient owners of Egglescliff were the Aslakbys, lords of the adjoining vill of the same name, where their descent is traced (fn. 1). The heiress of the chief line of the family, Agnes, daughter of Walter de Aslakby (fn. 2), intermarried about 1420 with Hugh Asteley, who jointly with his wife settled the estates in 14 .. William Astley, the descendant of Hugh and Agnes, died seised of the manor of Egglescliffe in 1552 (fn. 3), leaving William his son and heir, who, by charter 4 Aug. 1554, granted the Castleholmes to James Garnet. This estate seems to be identified with the manor, for in 1564 Garnet (fn. 4) is stated to die seised of the Castelholme, a free fishery, and the tenement called Holehouse, held of the Bishop by homage and half a knight's fee, which is the exact tenure of the manor of Egglescliffe in the old inquests on the Asteleys; and in 1588 John Sayer, of Worsall (fn. 5), is stated to hold ten acres, called Elvet Myer, of Laurence Garnett (son of James), as of the manor of Egglescliffe. The descent of Garnett is traced in the annexed Pedigree. The last Captain Garnett, a loyalist, and deeply engaged in the service of Charles I. survived his only child, and the year after her death, 1670, sold the manor of Egglescliffe to Thomas Wood, D. D. Bishop of Lichfield (fn. 6), who, in 1690, devised this estate to his nephew, Henry Webb, Esq. on condition of taking the name of Wood (fn. 7). In 1726 Edward Elstobb, Gent. granted all his lands in Egglescliff, subject to the charges in the will of the Right Rev. Dr. Thomas Wood, to Peter Consett, of Yarm, Gent. (fn. 8) The present proprietors are, Frank Hall Standish, Esq. Thomas Meynell, Esq.; John Waldy, Esq.; John Russell Rowntree, Esq.; Messrs. Fawell and Raisbeck; Messrs. Edmund Burke, John Richardson, and Thomas Wetherell; and Rev. J. Brewster.
Several freeholds in Egglescliffe seem to have been separated from the manorial estate at various periods. In 1631 Ralph Eure and John Pemberton, Esquires, Mary Garnett, widow, and John Garnett, her son, sold to Ralph Allanson seventy acres of meadow, as many of pasture, and a free fishery in Egglescliff and Aislabie; and in 1636 Ralph Allanson and Mary his wife granted the same estate to Laurence Sayer, of Worsall, Esq. and John Errington, Gent. The Killinghalls (fn. 9), and afterwards the Wrenns, of Binchester (fn. 10), held a parcel called Urlaw Flatt, two messuages, a cottage, eight oxgangs, and six acres of meadow, of which Anthony Wrenn died seised in 1596. By Ind. 15 Sept. 1614 Sir Charles Wrenn, son of Anthony, sold Urley Closes, or Urlaw Flatt, and eight oxgangs, to Thomas Alderson, of Barwick. In 1684 the freeholders in Egglescliffe were, John Trotter, of Skelton, Esq. in Yorkshire; John Hall, Alderman of Durham; James Kitching, Gent.; John Tomlinson, Gent. in Yorkshire; Peter Consett, Gent. in Yorkshire; Francis Whitfield, Gent. in Yorkshire; and Thomas Nicholson, yeoman.
The village and church of Egglescliffe occupy an elevated point of land, half surrounded by the windings of the Tees. The prospect includes two fine reaches of the river, and the ancient narrow bridge of five arches (fn. 11), which, after witnessing the rise and fall of its splendid rival, still connects the counties of York and Durham. Immediately across the bridge is the old town of Yarm, in part shaded by the woods of the Frierage, and surrounded by rich grounds extending to the foot of the Cleveland hills, whose grey line of distance closes the prospect. During the civil wars Egglescliffe was occupied as a military post, at least whilst the royalists held Stockton (fn. 12).
Pedigree of Garnett, of Egglescliffe.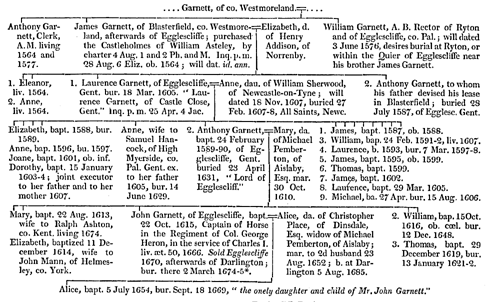 *** The dates are from Egglescliffe Register.
* Will dated 6 Feb. 1674. 50l. to the poor of Egglescliff. Mary Ashton. Michael Pemberton. John Pemberton and Alice his wife executors. Mr. Robert Place and Mr. John Theobald, Supervisors.
The Church
Consists of a nave and chancel, a West tower, and a broad South porch opening from the nave, under one octagonal pillar, supporting pointed arches. The chancel opens under a pointed arch. The East window has five lights. (See the Plate.)
Monumental Inscriptions.
In the South wall of the South porch, under an arch, lies the recumbent effigy of a knight in a coat of chain armour; the legs are crossed, the feet rest on a lion, the right hand grasps the sword-hilt, the other is placed on the scabbard; a little lower, a shield on the left shoulder bears the arms of Aslakby (fn. 13) (see the Plate); a sort of winged snake or asp is represented biting the lowest point of the shield.
In the church-yard is another figure of a cross-legged knight in chain armour; both hands grasp the sword as in act to draw it; the feet rest on two animals (fn. 14). This also perhaps belongs to the old Lords of Aslakby.
On a mural tablet in the chancel:
neere to this place lies interred the body of francis hall, late of newesham in this parish, esquir, who had to wife margaret, the daughter and heire of john tonstall, of long-newton, esquir. the said francis hall, deceased in anno dom. 1611. the said margaret hall deceased anno dom. 1643.
quorum piæ memoriæ hunc lapidem poni curavit gulielmus hall, filius, aurifaber londinensis, a'o d'ni 1663.
Arms: Argent, a fess engrailed between three talbots' heads erased Azure, on a chief of the second, three mullets Or, Hall; impaling, Sable, three combs Argent, Tunstall.
On a mural monument in the chancel:
Here lyeth the body of Mary, ye pious and most patient and dearly loving and the dearly beloved wife of Edward Trotter, late of Skelton Castle, in Cleveland, now of Aslaby, in this parish, Esq. and daughter of Sir John Lowther, of Lowther, in Westmoreland, Baronet. She had issue 3 sons and 11 daughters, of whom she was a carefull and indulgent mother, and left this life for a better in ye 46th year of her age, on the 17th Nove. in ye year of our Lord 1681.
Arms: .... a lion rampant .... Trotter; impaling, Or, six annulets Sable, Lowther.
On an altar-tomb in the church-yard:
Anna,
Daughter of the late Anthony Hall, of Flass, in the county of Durham, Esq. who departed this life March 24, 1797.
To the memory of Anthony Halln, whose remains are interred near this place, who exchanged this life for immortality November 18th, 1799, aged 23 years. This stone is erected by his widow as a testimony of respect and affection.
On a brass plate:
Near this place lieth interred the body of the Rev. George William Harris, Clerk, M. A. Prebendary of Sarum, and Rector of this parish for 37 years. He was the third son of James Harris, of the Close of New Sarum, in the county of Wilts, Esq. by the Lady Elizabeth, third daughter of Anthony Earl of Shaftesbury. He departed this life the 23d day of August 1777, aged 63.
On altar-tombs in the church-yard:
Here lieth interred the remains of Elizabeth Webster, the wife of Rowland Webster, of Stockton, Esq. and daughter of Mr. Robert Gibson, of Newsam, in this parish, who departed this life the 21st day of December 1794, in the 41st year of her age.
Also near to this tomb are interred the above-named Robert Gibson and Frances his wife. Also lieth interred the body of Mary Burdon Webster, daughter of Rowland and Elizabeth Webster, who departed this life on the 21st day of May 1802, aged 11 years. Also the remains of the above Rowland Webster, Esq. who departed this life the 19th day of September 1809, aged 58 years.
To the memory of Jonathan Fowler, Esq. many years Commander of one of the ships belonging to the Hudson Bay Company. He died at Stockton on the 7th day of June 1790, aged 57.
Succession of Rectors.
Egglescliffe Rectory.—Patron the Bishop.—King's Books, 28l. 17s. 8d.; Tenths, 2l. 17s. 8 1/2d.; Episc. Proc. 13s. 4d.; Archid. 3d.; Synod. 3s.—Dedication to St. John Baptist.
Richard de Hengham (fn. 15), 1294.
Symon de Charing (fn. 16), 1344.
William de Basyngham, 1350.
Hugo de Westwyk, 1367.
John Attelee, 1375.
John de Battesford, 1379.
Henry Besewick, 1390.
William Damyan, 1428.
Thomas Bellingham, 1444.
William de Basyngham (fn. 17), 1454.
William Smythson, B. D. 1472.
Thomas Hall, 1497.
Nicholas West, LL. D. (fn. 18) 1499.
John Sixtine (fn. 19), 1515.
William Boleyne, 1519.
Cuthbert Overs (fn. 20), 1534.
Lancelot Thwaits, 1541.
Bryan Baynes, A. M. 1555.
William Garnet, LL. B. (fn. 21) 1561.
Robert Bellamie, A. M. and M. D. (fn. 22) 1577.
Edward Bankes (fn. 23), 1585.
Henry Naunton, A. M. (fn. 24) 1588.
Robert Cheke, A. M. 1606.
Daniel Birkhead, S. T. P. (fn. 25) 1610.
William Shawe, S. T. B. (fn. 26) 1624, p. m. Birkhead.
Isaac Basire, S. T. B. (fn. 27) 1636, p. m. Shawe.
John Morton, S. T. B. (fn. 28) 1672, p. m. Basire.
Pexal Forster, 1711, p. res. Morton.
William Harris, A. M. (fn. 29) 1739, p. m. Forster.
William Vaughan, A. M. (fn. 30) 1778, p. m. Harris.
George Sayer, A. M. 1782, p. res. Vaughan.
John Brewster, A. M. 1814, p. m. Sayer.
The parsonage-house is an ancient, spacious, respectable mansion (fn. 31), to the North-east of the church, looking into the church-yard. Some good modern rooms have been added on South by the late incumbent.
A Terrier in the Registry at Durham describes the glebe as consisting of
Certeyn meadow-closes, 26 acres or thereabouts; one close of arable ground,......; one close of pasture, 54 acres; one close, called Parson's Moore, 60 acres, or thereabouts; with the parsonage-house, barnes, and other houses. Item, the tythe-corne and hay of Eglescliffe towne, and all other tythes in kinde. Item, Aslabie tythe-corne and hay, and all other tythes in kinde. Item, the tythe of the fishinge of three boats, fishinges on Teese, accustomably paying per ann. 6s. 8d. a-boate. Item, thirteen cottages, with 33 acres of grounde to them belonginge, accustomably payinge per ann........ Item, the tythes of Mr. Garnett's mills, 11s.
Customarie Tythes.—Mr. Christopher Hall, for Newsham, 4l. 9s. 2d. per ann. Trafford-hill, 4l. The Parson of Haughton, for Sadberge, 2l. The Parson of Middletone-Raw, 5s. Item, one close at Middleton-George, called Counflatt, 3s. 4d. Item, Fishgarth, 1l. 10s. Item, christnings, burialls, mortuaries, marriages, offerings at Easter churchings. (Signed, Willm Warde, Francis Fox, Willm Thompson, Churchwardens (fn. 32).)
The chancel in good repaire. They have a very fine Bible of the old edition, given by Dr. Birkhead's mother (fn. 33). They have Jewell and Harding, and the two tomes of Homilies, but not chained in the church. Under the arch, and immediately above the monument of the Knight, an excellent edition of King Charles I. Works, in folio, and a folio edition of Bishop Jewel's "Apology," are chained upon a reading-desk, and are in good preservation. They want the King's arms betwixt the church and chancel; they want the book of Canons, and a poor man's box. The South porch, called Hindmer's Porch (fn. 34), in great decay. The church-yard wall or dike in decay: to be made of brick, or pailed according to the Canon; it is totally decayed. The South window, which is dammed upp, to be opened. The clock in decay.
Visitation of Eggsclife Church, by Dr. Clarke, Archdeacon, 12 Mart. 1633.
The Parochial Register commences 1540. There is a chasm from 1550 to 1574.
Thomas Conyers, farmer of ye Parsonage of Eglescliffe, was buried ye 8th of Septr, at Yarme (fn. 35).
Anthonie Garnet, Gentleman, and Lord of Eglesclife, was buried the three and twentieth day of Aprill 1631.
1638. Henry Nicholson, commonly called Old Harry, of Eglescliffe, was buried.
1668. Thomas Prissicke (murdered and) buried Dec. 6, 7.
1640, Nov. 18. John Peckford, a soldier of Captain Nichols, Dec. 3. Clement Nicholls, a soldier of Captain Nicholls. 3 Feb. 1640–1. Cox, a poor boy that followed Captain Nicholls' soldiers.
1643, Feb. 1. A soldier slain here at ye Yarum skirmish.
1644. In this year there died of the plauge in this towne, one and twenty people: they are not all buried in the church-yard, and are not in the Register (fn. 35).
1670, Aug. 1. Old Michael Newton, of Aslaby. 1676, March 1. Old Rob. Reed.
1706. George Peacock, of Aisleby, aged near 138, was buried at Sadberge on Dec. 19th.
The following extracts from the Sequestrators' Books relate to the whole Parish.
xxi Aug. 1644. A warrant to John Husband, of Sunderland, Gent. to demise, lett, collect, and gather the gleeb, tythes, rents, and averages within the parish of Egsclife, late belonging to Dr. Basier, and to seise all the estates, chattels, &c. of the said Dr. Easier, for the use of the Com'onwealth; and wee require George Featherston, Gent. and Marke Hall, to be aiding and assisting therein.
21 Aug. 1644. Letten to Marke Hall, of Fishgarth, the said house and grounds called Fishgarth, and the tythe of the same, for 5l. 10s. payable monthly. A warrant to John Husband, Gent. George Featherston, &c. to sequester the estates of Laurence Sayer, of Yarum, Esq. John Errington, of Elton, Esq. John Errington, jun. Esq. Sir Francis Bowes, Knight, and Michael Pemmerton, of Aislaby, Gent. within the parishes of Egscliffe, Norton, and Elton.
Stockton, 28 Feb. 1644. Letten to Mr. Wm Garnett and Io. Taylerson, all the lands in Egscliffe belonging to Capt. Io. Garnett, delinquent, rent 55l. 10s. Letten to Io. Taylerson, the Banks and Bank-close, in Egscliffe, being the estate of Laurence Sayer, Esq. 5l.
The several particulars belonging to the Rectory, lett to divers persons for 64l. 1s. 6d. whereof 12l. 16s. is allowed for the maintenance of the wife and children of Dr. Basier, late Rector thereof.
Egsclife water-corn-milne and horsc-milne, let at 6s. per week, and all repaires allowed.
Trefford-hill, 28 Feb. 1644. Letten to Geo. Heighington, Io. Hall, Robt. Hall, the lands called Trafford-hill, formerly belonging to John Witham, Esq. 133l. 6s. 8d. per ann.
Aislaby,
Or Aslakby, a village about a mile to the West of Egglescliffe.
The earliest evidence of the ancient lords of Aslakby is the presentation of Thomas de Manneby, Chaplain to a Chantry founded within the manor of Aslakby by William de Aslakby and Agnes his wife, in 1313.
Willus de Aslakby et Agnes uxor ejus habent Cantariam infra manerium de Aslakby. Robertus de Manneby, capellan. celebrabit pro animabus Will'i et Agnetis, et Ricardi Dunolm. Episc. et pro animabus heredum Will'i; et Will'us de Aslakby, et heredes sui sustentabunt et reparabunt capellam predictam, et invenient in eadem libros, vestimenta, calicem, urceolos, etomnia alia ornamenta que pro hujusmodi capella et cantaria fuerint necessaria. Per literas Dom. Episc. apud Evenwod, 13 die Dec. 1313. Et carta predicti Will'i Roberto de Manneby datur apud Aslakby, die Ven. in F. Exalt. S. Crucis, 1313. T. Dom. Joh'e de Coigners, Roberto Gower, militibus; Nicholao Surteys, Johanne de Cambe, Roberto Bart, Will'o fil. Henr. de Aslakby, et aliis (fn. 36).
[To this Chapel of St. Thomas the Martyr, in Aslakby Bishop Langley admitted John Surteys Chaplain 9 May 1355, on the decease of Adam de Fisheburn.]
In 1343 John, son of William de Aslakby, Knight, settled the manor of Egsclife and Aslakby on himself for life; remainder to William his son; remainder to John, son of William (grandson of the settler), and Alice, daughter of Henry de Aslakby, and the issue of their bodies; remainder to the right heirs of the settler (fn. 37). The marriage was barren. In 1358 old John of Aslakby made another settlement (after the life-interest of Alice) on his grandson Thomas Aslakby, and Agnes his wife (fn. 38). They also died without issue, and in 1400, on the decease of Alice, the wife of many husbands (fn. 39), the right of the estate was in Walter, a third son of William, fil. John de Aslakby, who died in 1410, leaving an only daughter Agnes, his heir, who became the wife of Hugh de Asteley (fn. 40). Another intricate settlement of the manor of Egscliffe and Aslaby occurs in 1451 (fn. 41), when John Newport and William Astley took the estates of Hugh and Agnes, and granted them to Thomas Astley, Clerk, in trust for John Newport for life; remainder to William Astley, and the heirs of his body; remainder to the right heirs of Agnes Haveley and Margaret Newport. William Astley was possibly the same William who died half a century afterwards, 1501 (fn. 42), seised of the manor of Aslakby, leaving Thomas his son and heir (fn. 43), father of another William, who died in 1552 (fn. 44), and left a son of his own name, who sold the manor of Aislaby 10 July 1557 (fn. 45), to Robert Hindmers, Clerk.
The tenure of the manor of Aislaby during the above period is uniformly stated at 60s. rent, fealty, and the fourth part of the keeping of the gaol of Sadberge.
The family of Hindmers soon fell into female issue. In 1558 the purchaser, Robert, left Reginald Hindmers, also a Clerk, his brother (fn. 46) and heir. In 1575 Reginald left John Hindmers his next of kin and heir (fn. 47); and on the death of John, in 1589, his four sisters, Helen Featherston, Agnes Maire, Ellen Todd, and Florence, wife of William Spenceley, succeeded to the inheritance (fn. 48). In 1595 Michael Pemberton (fn. 49) purchased the manor of Aislabie, of Helen Fetherston, Agnes Maire, widow, Robert Maire her son, and Helen and Michael Todd (fn. 50). The annexed Pedigree explains the descent of the Pembertons, who held the manor till John Pemberton, afterwards of Blackwell, alienated the estate about 1720 to Robert Raikes, of North Allerton, Esq. In 17 . . Robert Raikes Fulthorp, Esq. sold the reputed manor of Aislaby to Rowland Webster, Esq. of Stockton-on-Tees (fn. 51).
This is the clear descent of the estate derived from the main line of Aslakby; but a younger branch, as it should seem, of the same family held a considerable estate in Aislaby, from the dispersion of which numerous freeholds have arisen. Henry de Aslakby, who contracted, in 1343, his daughter Alice to John of Aslakby, of the elder line (fn. 52), was father of William, and grandfather of John, fil. Will'i, fil. Henry de Aslakby, who died in 1364 (fn. 53), seised of two messuages and four oxgangs in Aslakby, parcel of the manor, leaving John his son and heir, under age. The younger John died in 1432 (fn. 54), and left two daughters his coheirs, Elizabeth, aged thirteen, afterwards wife of Sir Robert Danby, Knt. (fn. 55), of —, in Yorkshire; and Alice, aged ten, who married William Heghfeld (fn. 56). William Heghfeld (son of William and Alice (fn. 57) ) was father of Thomas (fn. 58), father of another William (fn. 59), whose daughter and heir, Agnes, intermarried with William Bullayn, and joined with her husband, in 1563, in granting a third of the manor and vill of Aislabie to Robert Brandling, Esq. (fn. 60)
In 1611 Robert Brandling, grandson (fn. 61) of Robert, sold two messuages, and different parcels (fn. 62), in Aislaby, to Thomas Punshon, who left a son and heir, Thomas Punshon, of full age 1615; and 22 Aug. 1618, Anthony Fewler, by fine, acquired two messuages and several parcels from Thomas Punshon.
Some other properties shall be only briefly noticed as they occur on the escheats.
In 1558 Thomas Blaxton, of Blaxton, Esq. died seised of a messuage, held of the heirs of Conyers of Cotham (fn. 63). John Blakiston, Esq. son of Thomas, 158., seised of two messuages, 100 acres of arable, 60 meadow, 100 pasture, and a free fishery (fn. 64), held of the Bishop. 8 Aug. 6 Jac. Humphry Rippon took by fine from Thomas Blaxton and Catharine his wife, a messuage, garden, 100 acres of meadow, as many of pasture, and 40 of moor (fn. 65), and left Thomas Rippon his son and heir 27 Sept. 1615 (fn. 66). 8 Aug. 6 Jac. John Skirfield took by fine from William Rippon and Agnes his wife, 30 acres of meadow and 50 of pasture; and 15 July, 9 Jac. 20 acres of arable, 40 meadow, and as many of pasture, from Thomas Punshon (fn. 67). In 1613 Skirfield granted some parcels in Aislabie to Daniel Birkhead, Clerk (fn. 68); and 22 July 1628, licence to John Skirfield and Elizabeth his wife, to grant one messuage, toft, and garden, 20 acres arable, 50 meadow, and 80 of pasture, to Ralph Allanson (fn. 69). 8 Aug. 6 Jac. John Seamer took by fine of Thomas Blaxton, Esq. a messuage, garden, 30 acres of arable, 30 of meadow, and 50 of pasture. Livery to Michael Seamer, his son and heir, 1618 (fn. 70).
Thomas Radcliff, of Cockerton, held a close, called Cross Cross, and a third of the Holmes, of the Crown in chief, ob. 4 Dec. 1593. Anne Radcliffe, his daughter (and heir to her brother Thomas Radcliffe), married Leonard Dykes, of Warthol-hall, in Cumberland, Esq. and, with her husband, 8 Aug. 6 Jac. conveyed to Richard Morley, who also, 8 Aug. 10 Jac. purchased some small parcels from Robert Perkinson and Isabel. 26 July, 11 Jac. Morley sold to John Skirfield (fn. 71).
The Stories held a considerable estate in Aislaby for several descents. Henry Storie died in 1591 seised of a messuage and eight oxgangs, held of the Queen by the twentieth part of a knight's fee, leaving John his grandson and heir (fn. 72).
Before the end of the century the proprietors in Aislaby, with the exception of Pemberton, were again entirely changed. The Rippons, Skirfields, Punshons, Seamers, and Allansons, had disappeared, and in 1684 the freeholders were, Michael Pemberton, Esq. at North Allerton; Edward Trotter, Esq. Laurence Sayer, Esq. in Ireland; Thomas Bellingham, Esq. William Fothergill, Gent. in London; and Edward Watson, Gent. in Yorkshire (fn. 73).
The following account of Fishgarth Dam riot is from an original paper (fn. 74) :
The informac'on of Francis Bunney, of Little Newsam, in the county of Durham, joyner, taken upon oath before William Blakiston, Esq. and John Morland, Esq. two of his Majties Justices of the Peace for the said county, the twenty-eighth day of September, Anno xxxiiio Caroli Sc'di.
Who informeth, that on or about the last day of August last past, one Mathew White, of Ovington, in the county of Yorke, yeom', came to this Informant, and did, in the name of William Bowes, of Streatlam Castle, in the county of Durham, Esq. desire him this informant to goe with him and others to aid and assist in pulling downe a dam upon the river of Tease, called ffish Garth Dam, in the parish of Eggscliffe, in the said county of Durham; and at the instance of the said White, he this Informant did promise to meet him upon the beet of a drume, which he told this Informant would be beet to call the people together; and that, according to his p'mise, upon ffriday the first day of September instant, heareing the beet of drum, he did depart from his dwelling house at Little Newsham aforesaid. In his way to Pearce-bridge he overtooke and came unto the company of the said White and others, to the number of thirty or thereabouts, whose names, or so many of them as he knowes, are hereafter discovered. And soe soon as he came to them, he travelled with them till such time as the said White desired him to ride on and stay some other p'sons that were before to joyne with them in the same designe; whereat he this Informant rode before, and found twenty p'sons more, or thereabouts, at Pearce-bridge, whome this Informant desired to remaine there till the said White and his company came up. That as soon as the said White and his company came to Pearce-bridge aforesaid, they, together with this Informant, and the other twenty, or thereabouts, did goe from Pearce-bridge to the said ffish Garth; and in their way thither there came to their aid ten more, or thereabouts; that at Neasham, in their way towards the said ffishgarth, one Mr. Henry Chaytor, of Croft, in the county of Yorke aforesaid, and one Mr. Killinghall, whose place of abode he knowes not (fn. 75), did call for ale, and drunk Esqe Bowes' health, and afterwards gave six shillings to them, to be by them spent in drink, which they did drinke, the drum beating, and they shouting and hooping, A Bowes! A Bowes! And from thence they went to the said ffish Garth, and there he this Informant, together with the said White, and Robert Cuthbertson, of Barnard Castle, in the said county of Durham, drum'er; Robert Baxter, of the same, in the said county, laborer; John Shutt, of Whorleton, in the said county, yeom'; William Rowntree, of the same, yeom'; Christopher Shutt, of the same, yeom'; John Yarker, of the same, yeom'; Anthony Richardson, of Staindrope, in the said county, cordwainer; James Wild, of Raby, in the said county, millwright; George Speck, of the same, yeom'; George Bailes, of Wakerfield, in the said county, millwright; John Parcivall, of Gainford, in the said county, yeom'; — Parcivell, of the same, yeom', and the miller of Upper Conscliffe; John Huggiston, of Ovington, in the said county of Yorke, yeom'; ffrancis Newton, of the same, yeom'; with eighteen more out of the said county of Yorke, and divers others out of the said county of Durham, whose names he knowes not, did pull up and breake down, with sawes and axes, soe much of the said dame as they could, and, if not p'vented by the height of the water, they would have pulled downe the whole. And he this Informant was induced thereunto, for that the said White did assure this Informant he had a letter from the said Mr. Bowes, to be left with Mr. Witham, at Sledwish, to be sent into the high lands, to get the said Mr. Bowes' tenants, and as many more as they could, to goe along with them, and that all their charges should he defrayed and borne. And he further told him, that Mr. Bowes was gone another way, and would meet them; but that he this Informant did not see the said Mr. Bowes, nor had his charges, or heard of any that had them borne. And he further saith, that the said Cuthbertson did frequently beet the drum all the way on their journey; and that all or most of the said p'sons were armed with guns, pistols, swords, and other offensive weapons.
A certificate follows to the same purpose, signed by four Magistrates and the Under-Sheriff (fn. 76). The dam is stated to belong to Sir Henry Marwood, Bart. and Timothy Maleverer, Esq. The rioters met by beat of drum, and did "discharge severall guns or pistols at the Fishgarth, and also threatened to burne the dwelling-house of one Christopher King erected there;" however, "as soone as they had done what they could at the pulling up of the said dam, they im'ediately dispersed, and returned peaceably to their respective dwellings." (fn. 77)
Carta Thome de Aslakby de Piscaria facta Domui de Finchale.
Omnibus, &c. Thomas de Aslakby et Placencia uxor sua, Salutem. Novcrit universitas vestra nos caritatis intuitu dedisse, &c. Deo et Beato Goderico de Finchale, et Radulfo Priori et monachis ibidem Deo servientibus, piscariam nostram in Tyna que vocatur Croke, cum pertinenciis suis, habend', &c. in liberam puram et perpetuam elemosinam, ad sustentationem unius capellani qui ibidem in habitu seculari in capella ad Portam divina celebrabit, pro animabus nostris, et heredum nostrorum, et pro anima Will'i Britonis, et pro animabus omnium fidelium. T. Galfrido filio Galfridi, Jordano Hayrun, Jordano de Dauden, Symone de Bruntoft, Nigello de Rungetun, Will'o de Hessewell, Will'o de Buterwic, Symone filio Will'i de Hessewell, Will'o de Sadberge, Matheo de Lumeleya, Joh'e filio Nigelli de Rungetun, Rogero de Turstantun, et aliis. Finchale Box.
Pedigree of Pemberton, of Aislaby and of Middleton St. George.
Arms: Argent, a chevron Ermines, inter three gryphons' heads couped Sable.
Crest: On a wreath a gryphon's head couped, Sable.

† Mrs. Mary Hurst absolved from excommunication 1646.
* Egglescliffe Par. Reg.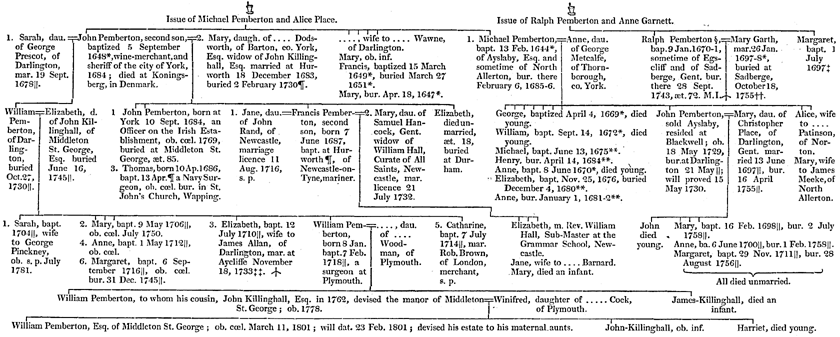 * Egglescliffe Par. Reg.
‡ Sadberge Par. Reg.
§ Mary, daughter of Mr. Ralph Pemberton, bur. 14 Jan. 1698–9. Egglescliffe.
‖ Darlington Par. Reg.
** North Allerton Par. Reg.
†† Michael, son of Ralph Pemberton, ba. 26 Sept. 1703, bu. 26 Jan. 1707–8. Barbara, da. of Ralph and Mary, bapt. 5 March 1706–7. Michael, 8 Feb. 1709. Hannah, 9 Aug. 1712, bur. 9 Oct. Maria, dau. of William Pemberton, bapt. 6 July 1700. Anne, 7 Feb. 1701–2. William, 8 March 1703–4. John, 31 Aug. 1706. Elizabeth, 18 Jan. 1709. Sadberge Par. Reg.
¶ Hurworth Par. Reg.
‡‡ Their eldest son George Allan, Esq. was father of George Allan, Esq. now living, who is representative of the blood of Pemberton and Killinghall. See Pedigree of Allan.
Pedigree of Hall, of Newsham and of Great Chilton.
Arms: Argent, a chevron engrailed between three talbots' heads erased Azure, on a chief of the second as many mullets Or.
Crest: On a wreath a talbot's head erased Sable. [The junior branches of London, &c. bore the Crest collared counter-componé Or and Azure, and the mullets in the arms Argent.]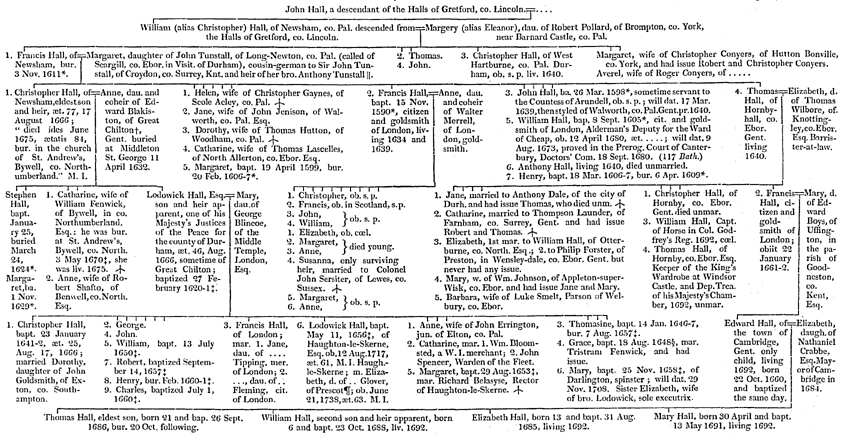 * Egglescliffe Par. Reg.
‡ Merrington Par. Reg.
‖ The coat of Tunstall is quartered with Hall on the monument of her son Christopher.
§ Middleton St. George Par. Reg.
† The Epitaph in St. Andrew's, Bywell, describes her as "unica filia et hæres." She was, in fact, the only daughter who left issue.
¶ Widow of William Sleigh, by whom she had an only son, William Sleigh, of Stockton, Esq. By Mr. Hall she had an only daughter Elizabeth, who mar. Mr. George Lowthian, and died without issue.
Newsham, a small hamlet on the Tees, seldom occurs in the records; only it is said that John de Leithgrenes left two daughters his heirs, Alice, wife of Simon de Stuteville, who had half the manor of Wattons, and died childless, and Agnes, wife of William de Aslakby, and mother of John de Aslakby, and she had Neusom on Tees 23 Edward I. Long after, Newsham was the seat of the Halls (see the Pedigree). 13 Nov. 1662, Lodowick Hall, of Great Chilton, Esq. and Christopher his son and heir, demised their manor of Newsham to Stephen Thompson, merchant, of Durham, on trust for Robert Blakiston, of Old Elvet, Gent. whose grandson, the Rev. Robert Blakiston (fn. 78), held lands in Newsham in 1738 (fn. 79). Other lands belonged to Coatsworth, whose coheirs married Carr and Ellison (fn. 80).
There was an ancient chapel in Newsham, dedicated to St. James; for, in 1416, Bishop Langley (fn. 81) sequestered the revenues of the same Chapel until William de Eseby, Priest, then Chaplain, should satisfy the arrears of an annual pension of three shillings, due to the Rector of Egglescliffe (fn. 82).
Trefford-Hill,
A commanding situation on the Southern verge of the Parish.
In 1336 Thomas Graa held the manor of Trefford by the service of a pair of white gloves on St. Mary Magdalen's Day, leaving Thomas his son and heir, aged 22 years.
In 1421 Isabel, widow of Sir Richard Tempest, died seised of the manor, held of the Bishop by the fourth part of a knight's service, suit at the Manor Court of Cotham Mandeville once in three weeks, and a pair of gloves or 12d. at the Feast of St. Mary Magdalen, value xx marks (fn. 83), leaving Sir William Tempest his son and heir, whose son William died seised of the same estate by the same services in 1444 (fn. 84). John, son of the last William, died an infant, and on the division of his estates betwixt his two sisters, Isabel, wife of Richard Norton, and Dionysia, wife of William Mallory (fn. 85), the manor of Trefford fell to the latter, and remained in her descendants the Mallorys, of Studley, till 1604, when, by Ind. 20 Mar. 2 Jac. Sir John Mallory, Anne his wife, and William (fn. 86) his son and heir, sold the chief messuage or lordship of Trafforth to Thomas Clarke and Lancelot Johnson, of Harwood, trustees for William and John Wentworth, younger sons of William Wentworth, of Wentworth Woodhouse. Esq. 21 Sept. 1622, the same William and John Wentworth, with Sir Thomas Wentworth, Bart. (fn. 87) their elder brother, granted the manor of Trafforth to John Witham, of Cliffe, Esq. (fn. 88) who was owner of the estate in 1644 (fn. 89).
The only Charitable Benefaction belonging to the Parish of Egglescliffe is a rent-charge of 6l. per ann. issuing out of four oxgangs of land in the fields and territories of Yarum, secured by Ind. of William Hall, of London, goldsmith, 16 Feb. 1660, with Thomas Jackson. The interest is directed to be paid, in five equal parts, to five poor widows of the Parish, and in default, &c. to five poor fatherless children under the age of thirteen; and in default, to so many aged men or women of the said Parish. The rent-charge has been regularly paid (fn. 90).