The Grey Friars of London. Originally published by Aberdeen University Press, Aberdeen, 1915.
This free content was digitised by double rekeying. All rights reserved.
Plan of Grey Friars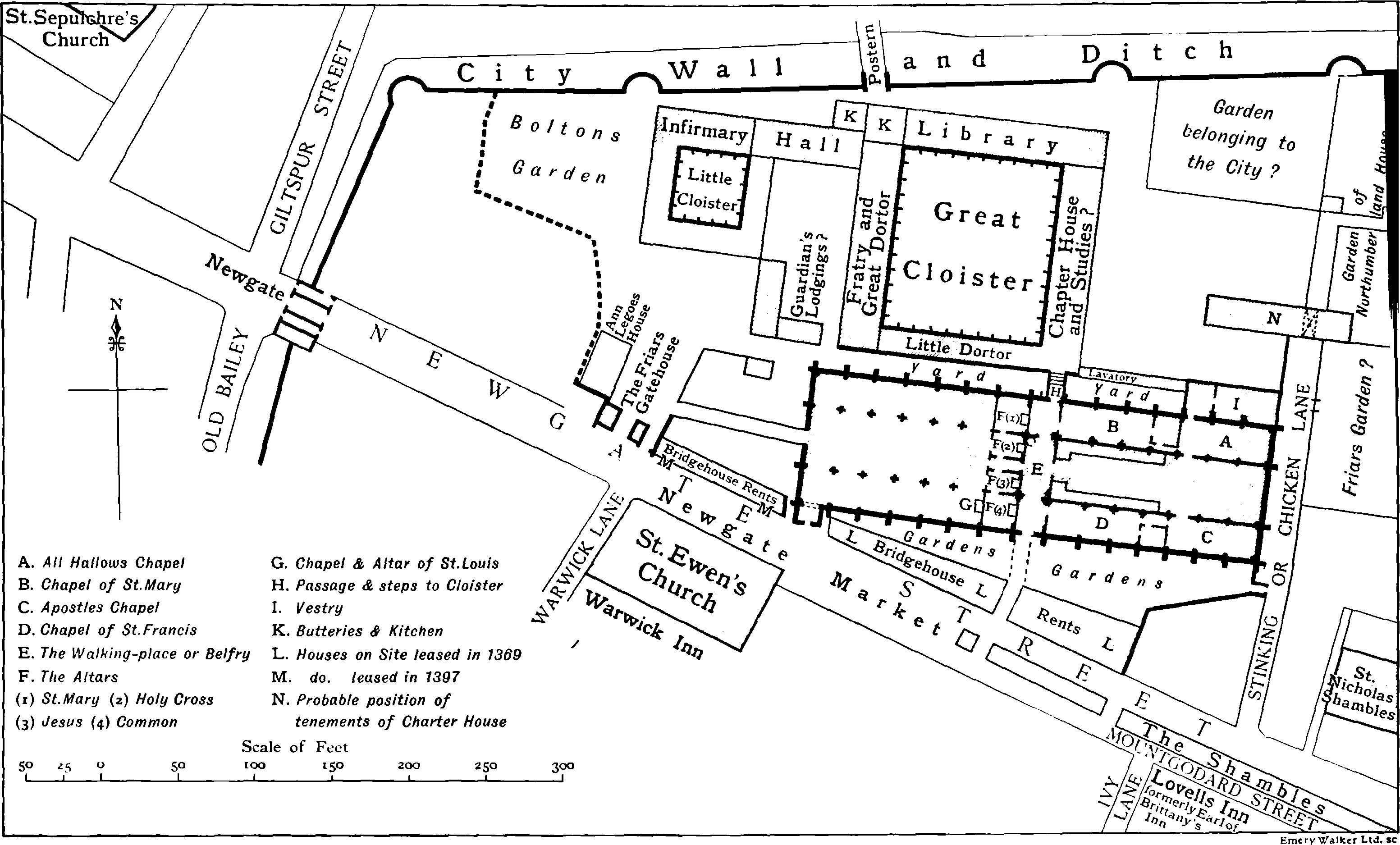 Note On The Plan.
As regards the church nothing can be added to Mr. Shepherd's careful restoration, to which I must express my indebtedness. Those who seek for more detail may refer to his plan showing the position of all the tombs (Archæological Journal, lix., 248). Mr. Shepherd's plan has also been followed for the Bridgehouse Rents. For the site generally the best source is the St. Bartholomew's plan ap. Transactions London and Middlesex Arch. Soc., v., 421. This plan was drawn in 1617, apparently from material seventy years older. It combines architectural detail and ground plan in a manner puzzling to the uninitiated. I have to thank Mr. H. W. Cribb for the skill with which he deciphered it, and discovered the extraordinary accuracy of the underlying plan. I am also indebted to Mr. Cribb for the suggested solution of the difficult problem relating to the north-east corner as described in the Deed of February, 1543 (p. 224 below). That deed is unfortunately in parts very obscure. The accounts in the St. Bartholomew's "Repertory Book" seem to be more trustworthy. Only a little detail has been obtained from the Register, relating (conjecturally) to the east site of the Cloister. The law suit between Willoughby and Vandernot (see p. 227 below) gives some additional detail. A Christ's Hospital plan of c. 1665 affords a little help, but it is not drawn accurately to scale (see Pearce, Annals of Christ's Hospital, p. 300). The descriptions of buildings destroyed between 1820 and 1830 given in Trollope's History of Christ's Hospital are sometimes valuable; the illustrations showing Whittington's library, etc., are also useful.
It is worth noting that in addition to the actual site of the Greyfriars the St. Bartholomew's plan contains other valuable details of neighbouring topography, especially the existence of the second bastion in the City Wall, the gardens in the north-east corner, and the plan of the Shambles and Newgate market.