Pages 480-491
Calendar of State Papers, Scotland: Volume 10, 1589-1593. Originally published by His Majesty's General Register House, Edinburgh, 1936.
This free content was digitised by double rekeying and sponsored by Friends of the IHR. All rights reserved.
James VI: March 1591
536. Elizabeth to James VI. [March 6.]
"Right excellent, right high and noble prince, our deerest brother and cosin, wee greete you well. Where by our ambassadour Robert Bowes wee perceive that an Irishman named Orork should be lately come into your realme to the towne of Glasquo, and that he hath by his letter to you surmised that he ys come to obtayne your favour, pretendinge that he hath had greate wronge done unto him in our realme of Ireland by our deputy and one Sir Richard Bingham, who indeed ys our governour in the province where this Orork did lately dwell: and that uppon this his writinge you did cause our ambassadour to understand thereof, and did staye the sayed Orork at Glasquo untill you might understand our pleassur: for this your brotherly and very honorable dealinge with us— as is most commendable for on prynce to deale with an other—wee do moste hartely thanck you, beeng no otherwise then wee allwayes mynd to deale with you in all like causes."
"And nowe for declaracion of our mynd, what wee would have you to understand and what wee requyre to be done."
"First, for the man. We assure you of our owen meere knowledge that this Orork, called Brian Orork, ys a professed rebell and a moste notable traitour toward us and our crowne of Ireland, havinge been—as the Irish manner ys—a hed or a captaine of a sept of his name in a parte of a province in Ireland called Connaught, and hath been a rebellious subject against all forme of justice these many yeeres; and of late received into his contrey all the Spaniardes which he could hire that wracked in those maritime partes when the Kinge of Spaine's navy fled abowt your realme of Scotland; and with those Spaniardes did openly rebell against both our deputy and Sir Richard Bingham, withstandinge them both in open armes for commynge into his contrey."
"Whereuppon Sir Richard Bingham the governour was forced to levy a power of our good subjectes, neighbours to the sayed rebell, and entred his contrey; but he with the Spaniardes our manifest enemyes withstood him and offred to fight; but beeng overmatched, he burned and destroyed firste as much of the contrey as he could, and then fled with the Spaniardes into a remote corner of our realme, where he hath secretly with the Spaniardes hid him self: and dowtinge that he should be there taken—as we perceive nowe—he ys fled into your contrey, and most untruly doth suggest that without our knowledge he hath been injured, whereas both wee knowe the contrary and do certainely knowe that his rebellious actions hath forced us to a greate charge, almost these two full yeres; and at this tyme wee knowe no one like rebell of all that land, nor in our opinion wee knowe of none at all of any accompt but he and his sonne, who also within these fewe moneths since the father fled came into the contrey and made a new stirre with some Spaniardes, and spoiled the contrey; but shortely he was also forced to flye."
"And therefore to conclude wee do moste ernestly, not onely as your good sister, but accordinge to the tenor of all ould treaties betwixt us and our two crownes, requyre yow that this so notable a traitor may be delyvered safely either to Carlile or Berwicke, where the charges of his conduction shalbe defrayed."
"And wee assure yow that yf he may be fownd to have repentaunce of his former faultes, and yeld us hope of his becomynge a quiet subject, wee shall temper justice with mercy, in respect that he hath sought your favour, though uppon false suggestion."
1¼ pp. Copy. Indorsed.
537. Robert Bowes to Burghley. [March 9.]
The state is now in good quietness. Last week thirteen earls and sundry other lords were assembled in Edinburgh without apparent cause, yet there has been no suspicion of any evil practice. The Chancellor thinks himself in surety, and that this calm shall endure, but others look for a storm to follow, either soon after the departure of the court and end of the session—that shall break up on the 15th hereof—or else at the next parliament shortly to be holden: by which parliament it is feared that sundry restitutions before granted to particular noblemen shall be revoked, "and thereby the King's revenues to be increased with like profittes to courtiours now in favour." For prevention of dangers sundry noblemen have moved him [Bowes] to continue his labours, which he intends to do with all diligence.
The King and Queen have gone to Dalkeith, the house of the Earl of Morton, for six or seven weeks: after which they repair to Linlithgow, Stirling, and Falkland for most part of the summer. "It is thought that the pleasures about that house shall allure the King and Queen to like better thereof then the owner would wish, cheefely untill the former restitucions made to Morton shalbe confirmed by parliamente, after that the King have accomplished the age of twenty five yeeres."
Maxwell and Hume have been here to present "faulters" for the bill of Mindrum, and to relieve Bothwell for their rates in the delivery that he has already made of his men entered to Sir John Foster for the whole bills. "They have gotten day untill the 15th heereof. The King promyseth that then justice shalbe executed without further delay." The Chancellor thinks that for redresses to be made for bills filed by the commissioners at Berwick not yet satisfied, in the West Marches and Liddesdale, as also for all attempts since the treaty of those commissioners, it shall suffice that all the Wardens keep their accustomed meetings and administer justice by their ordinary powers, and that all questionable matters be referred to the Councils of both realms.
The dryness of the Chancellor against the Earl of Morton and the Master of Glamis continues; yet Erroll—Morton's son-in-law and brother-in-law to Glamis—is reconciled, and has promised kindness to the Chancellor for favour to be shown in Erroll's actions before the Session. "Glaymes gathereth together the fellowship att the rode of Sterlyng, doubting that they shalbe put at, cheefely by the next parliamente." Both sides labour to draw the best party to themselves.
Bothwell, desiring to see her majesty and the English court, sought to be employed thither for the Borders and other affairs: "but the matter litle liked is laide in the decke for a season." He purposes to ride to the north and Caithness, "to compounde the fuydes aswell betwyxt the Earles of Caythnes, his brother and Sotherland, as also amongst Huntley agaynst Atholl, Murray, and the barons in the north." If he cannot reconcile them he will party Caithness, Atholl, and Murray. He has obtained commission to repair to Orkney to execute there his office of admiralty, looking to draw the Earl of Orkney, his uncle, to profitable composition, or otherwise take hold of some of his possessions in that isle. Under pretence of like effects to have been sought before, some hurt was intended to the common cause.
"Sir James Sandylandes—a gentleman of the King's prevy chamber, and one of the three in his especyall favour—hath obteyned leave to see her majestie and the court of England, purposing to be there shortly."
In order to knit Lord Hamilton to the Chancellor means are made to reconcile him and his brother Claud, but Glamis, offering liberally to Lord Hamilton, seeks to keep him still on his side.
Erroll and Crawford, Maxwell and George Carr, suspected of papistry, have been cited to appear before the commissioners of the church here to subscribe to the articles of religion. But the noblemen have a day given till the 15th instant, and Carr is referred to the commissioners of the church at Haddington. Edinburgh. Signed: Robert Bowes.
22/3 pp. Addressed. Indorsed.
538. James VI. to Burghley. [March 10.]
"The courtesie and favour quhilk this bearer, Thomas Hall, reportis to have found with zow in causing him be anserit of certane pieces of small ordinance furth of our dearest suster the Quene zour soveranis awne munitioun, anserrable to the lyke pieces bereft him be a pirate, bot recoverit thairefter be ane of our said dearest susteris pyernages [pinnaces], and imployit be the commander thairof in her service, hes movit ws at this tyme to thank zow for it be our speciall letters, and thairwith to requeist zow very affectuouslie, that howsoever he have found cautioun for restitutioun thairof, according to the ordour injoynit to him for the tyme, zit seing the graunt thairof procedit upoun consideratioun of his lyke pieces imployit as said is, ze will give ordour that nather he nor his cautioners be preissit with restitutioun of the anes till he be first restorit to the uthers, according to equitie and reasoun." Holyrood House. Signed: "You loving cousing James R."
¾ p. Addressed. Indorsed.
539. Robert Bowes to Burghley. [March 15.]
On Friday last, the 12th instant, he received Burghley's packet of the 7th, her majesty's letter addressed to the King, the common letter from Burghley and the Lord Chamberlain, and some other letters to himself. Her majesty's letter he delivered to the King at Dalkeith, with thanks for his goodwill testified by the discovery of O'Rourke and his practices. The King protested in very friendly terms "to kepe unviolably this course of kyndenes betwixt her majestie and hym, and presently to become her solycytour to his Counsell, to wynne ther votes and consenttes for the delyverye of Orowrick, agreable her to majesties request," grounded upon old treaties, confirmed at Berwick in 1586.
The King liked well the order advised by Sir William Stewart for redresses on the Borders; and for these, and some of his own affairs, has appointed the Council to meet him tomorrow, desiring him [Bowes] to confer with the Chancellor for preparation of these weighty causes. The Chancellor told him, in great secret, that the Earl of Westmoreland, Charles Paget, and others of her majesty's rebels in France and Flanders, had written to the King and himself, seeking licence to repair to Scotland and live there, "with the benefytt only of the ayer," at their own expense. He prayed advice: first, whether to deliver their letter to the King, who—he says—knows nothing of the matter; but he [Bowes] believes the King and Chancellor have already signed letters and instruments for those persons, as by his former letter, and by Alley, will sufficiently appear. "It may be—and Alley ones was of that mynde—that the King culd be contented to pull his fote outt of this bote;" secondly, whether he [the Chancellor] should be means to prolong, or thoroughly deny, their repair into this realm, where he thinks their privy works for the Pope and Spain have bred great dangers among the evil affected; lastly, whether they shall be suffered to come hither under conditions to be prescribed by her majesty, upon due consideration of their persons, qualities, and plots. He [Bowes] made much of the matter and its perils, and prayed the Chancellor that he would warily entertain the messengers sent by these rebels until he could know her majesty's pleasure; to which he consented, desiring that the matter might rest only between themselves. He [Bowes] promised to let him know her resolution with all possible speed. Therefore has not spoken with Alley, but has advised him to hasten to Burghley with the news already obtained; but so soon as he may safely confer with him, he will put him into the best way he can find. Edinburgh. Signed: Robert Bowes.
2¾ pp. Holograph. Addressed. Indorsed.
540. Burghley to Robert Bowes. [March 21.]
The letter written by Bowes' own hand on 15th instant came to him on the 20th. He thought the matter very strange, and acquainted her majesty therewith, who "did sharpelie reprehend" Bowes "for making such a matter questionable as never neaded to have had her majestie's opinion thereunto."
Bowes is to declare to the Chancellor that she thanks him for imparting the matter in secret. She doubts not that as long as there is any intention to have the amity kept and religion preserved in both realms, there will never be any good councillor in that realm, nor true servant to God and the King, that will once question whether the King shall give favour and liberty of his country to such manifest papists as the parties named, that have so many years continued in rebellion, seeking to subject their country to the tyranny of Spain; "being also such as in regard of theire vowes and bondes made to the Pope and the King of Spaigne cann never assente in theire hartes to anie prosperitie of the King or his realme." Such traitors should rather have thought it impossible to recover any such favour with the King, and their messengers have been terrified to dare to attempt any such motion to the King or any good councillor. And though these weighty causes be not remembered, yet her majesty thinks that the Chancellor, "beinge a principall counsellour of that state, and of that understanding whereof he is," should not forget that by the treaties betwixt the realms it could not be lawful to suffer such rebels as have been notoriously attainted and convicted of treason against her person and crown to have refuge within the King's dominions: but if they are already come there, yet they ought to be apprehended upon her demand according to the treaty, "and delivered into hir majestie's realme to be justefied accordinge to theire desertes."
There are many other reasons to reject and condemn this offer for licensing such pernicious traitors to come into that realm: her majesty judged it necessary "rather to exterminate the like vipers in the same realme, that seeke to eate owt the naturall blood and lief both of the King himself and all his good servantes and subjectes." The matter propounded "is soe far beyond her expectacion as she cannot tell howe to assure heir self of the former promises made by the King to chastise and expell the King's owne unnaturall rebells and conjured traitours to his estate": she looked rather to have had advertisement of further prosecutions of them than of any token for admitting others into that realm.
"Hir majesty wold have yow to use all the meanes yow can possible to procure good assurance that Owrork do not escape, which hir majesty feareth greatly will be wrought by some papistes, or els will fall out by negligence of saff kepyng of hym, which accident hir majesty hath to offen seene fall owt, even in persons apprehended for very great offences to the King hym selff: and therfore yow can not use to much care to prevent this which hir majesty dowteth." From the court.
2 pp. Draft, partly in Burghley's hand. Indorsed.
541. James VI. to Elizabeth. [March 22.]
"The parting of this bearer my servaunte—Madame and dearest sister —towardes your countrie, his native soyle, for certein particuler affaires, have moved me to accept the occasioun for writing theise fewe lynes unto you."
"I received a letter of yours within theise fewe dayes, requesting me for the deliverie of an Irishe rebell of yours, fugitive in this realme. How I behaved myself in that matter, before I received your letter, from the first hower I hard of that man's arrivall in this countrie, I remytt to the informacioun of your ambassador here resident, for I did nothing therein without first acquainting him and forewarning thereof alwayes."
"Uppon the receipte of your letter I willinglie yealded unto your request, and am sorie I could not have the man him self to accompanie this letter: but I have geven order for his apprehension with all spede and meanes possible, and if successe succede my unfayned goodwill he shalbe delivered at Barwicke: but if I had knowen it or the receipt of your letter you had bene satisfied or nowe in this turne."
"I would to God your greatest ennemyes were in my handes: if it were the King of Spayne him self he should not be long undelivered to you; for that course have I taken me to, and will professe it till I dye, that all your foes shalbe common ennemyes to us boathe, in spighte of the Pope, the King of Spayne, and all the Leagers my cossins not excepted, and the devill their master."
"As to the affaires of the Borders, I remytt likewise to your ambassador's information, wherewith I truste you shalbe well satisfied, as you may assure your self to be in all thinges that shall lye in my power."
"As to the particuler discourse of the state of all thinges heare, and especially of my behaviour concerning your Irishe man, I remitt to be larglie declared unto you by this bearer, for that he knewe somewhatt more particularlie then others did, whose honestie and faithfullnes to us both I recommended to you of before, so I can not cease to renewe it unto you at this tyme, which I pray you may fynde the dewe effectes at your handes for my sake in any thing wherein you may reasonable further him." Dalkeith.
1⅓ pp. Copy. Indorsed: "22 Martii 1590. The King of Scotts letter to the Queen's majestie by Roger Ashton."
Another copy in James Hudson's handwriting, indorsed by Burghley.
542. Robert Bowes to Lords Burghley and Hunsdon. [March 24.]
His doings since receiving Burghley's letter of the 4th instant have been as follows. After labouring with the King, the Chancellor, and sundry of the Council severally—according to Burghley's and Hunsdon's direction—he was called to them assembled together in this town. He let them know that her majesty did well like the overture tendered to him by Sir William Stewart for redresses of the Borders—opening at large the particulars of that overture—and also had left to their choice the persons to be appointed on behalf of Scotland, and the place and time for the meeting.
"Some few dayes after their delyberacion taken, the Lord Chauncellour shewed me that they had chosen Sir John Carmychell, knyght, Lord Warden of the West March, Alexander Hume of Huton Hall, deputy warden of the East March, Andrew Carre of Faudonside, deputy warden of the Mydle March of Scotland, and Sir William Steward of Trakquarre of Lyddisdaill, to meete and conferre with such foure gentlemen as it should please her majestie to send to this towne of Edenburg the 15th of May next"; that they, with the Chancellor and himself [Bowes], might take order for all attempts since the meeting of the commissioners at Berwick, according to the said overture. The meeting is deferred so long, in order that they may have all things ready. Liddesdale being distinctly "bowndred," and under Bothwell, "answerable only for the same to England," a special person shall be appointed to treat for it, increasing the number of three gentlemen to have met in this behalf. Has advertised Lord Scrope, Sir John Foster, and Sir John Selby of this resolution, that they may accomplish Burghley's and Hunsdon's orders herein.
At this time he moved the King and Council for the liberty of John Crakenthorpe, delivered as a pledge by Lord Scrope for the bills of Liddesdale and other causes. They readily dismissed him upon Lord Scrope's promise—certified by him [Bowes]—that he should re-enter upon fourteen days warning. And they have promised that the pledge before entered to Lord Scrope for the West Marches of Scotland and Liddesdale, and afterwards delivered upon bond, shall duly re-enter within fourteen days after Lord Scrope shall call for him.
Bothwell, at his late meeting with Sir John Selby, offered to deliver to Sir John "two foule men" for the bill of Mindrum. Sir John refused to accept them, being ordered by the King and Council that Bothwell should deliver six men for that bill, as appears by the indenture betwixt Bothwell and Sir John. "Now by this refusall the Earle alledgeth that the bill is thoroughly quyt and dischardged by the treatyes. And he seemeth now willing to take the advantage thereof, because he acknowledgeth to have bene the cheefe author of this rode and attempt att Myndrom, in revenge of the wrong that Sir Thomas Gray did openly and with greate violence agaynst his tenauntes, being in their lawfull trodde in Ingland." But Bowes showing that no treaty, law, or practice can be approved which shall discharge this bill for Mindrum, he has promised either to prove before the 15th of May that by the treaties betwixt the realms the said bill is thus quit and discharged, or else to give then due satisfaction and make delivery for the bills with all justice and goodwill. In this he [Bowes] has informed Sir John Selby.
The King and Council sent the Clerk Register to inform him that Bothwell has delivered to Sir John Foster seven of his own men, for the redress of six bills filed by the commissioners at Berwick, in one of which are two complainers. The King has promised that Bothwell's men shall be relieved before they shall be in danger of life, and some of Maxwell's men are entered into Bothwell's hands for his relief, with provision that they shall be not delivered into England. Upon travail taken to bring in the rest of the offenders to relieve Bothwell, it is found that most of them dwell on the debateable lands, and the King is answerable for them. Neither their names nor habitations were known before this time, so they cannot be brought hither before the 15th May. Therefore the King and Council have required that Bothwell's seven men before delivered may be let home into Scotland upon the King's bond, to be re-entered into England on May 15th, for before then a sufficient number of "falters" will be brought to relieve Bothwell. It is thought that this favour shall greatly advance the further execution of justice for the residue of the bills filed at Berwick and redress of later disorders. Has given notice of this request, and of his informing their lordships of it, to Sir John Foster, with advice to deal favourably with the seven Scottishmen delivered by Bothwell until he receive direction therein.
According to Burghley's and Hunsdon's direction, he has declared to the King in her majesty's name—letting him know that she would have written herself had not her right hand "bene payned with a could"— how gratefully she accepted Bothwell's service for the late justice done to Sir John Foster for Liddesdale; and that, knowing that the King's own care and his commandment to Bothwell have been the ground of this good success, her majesty sent hearty thanks to himself, and required him so to encourage Bothwell that he may continue as he has begun. The King received her thanks in good part, and promised all care for the preservation of peace on the Borders, and to hold Bothwell in his present good way. Afterwards, upon Bothwell's coming to his lodging, he [Bowes] told him all his doings herein, and of her majesty's goodwill and of her commending him to the King, to his honour and comfort. He rejoiced at her goodness, and with offer of special service for peace on the frontiers, yielded hearty thanks, promising to endeavour to be worthy of her good opinion.
"The witch lately taken in Ingland and comytted to safe custody in Barwicke is delyvered into Scotland agreeable to the King's desyre; wherewith the King is well pleased. This woman hath accused many others, and is found to have practysed sundry wicked actions by her sorceryes."
The King still calls for John Dyxson that killed his father, who hitherto cannot be gotten, as Bowes trusts Sir John Selby has already certified.
When delivering her majesty's letters he gave the King her great thanks for the discovery of O'Rourke and his errand, recounting his notorious treasons in England and wicked devices, "proving him not only a traytor and rebell to her majestie, but also an open enemy to the comon cause of religion and amyty betwyxt these two crownes"; and that she has called for his delivery to her, agreeable to the old and new treaties betwixt these two nations. He [Bowes] pressed that he might be delivered at Berwick or Carlisle, according to her request signified by her letter, and grounded as well on the treaties mentioned as on the assurance of the King's good affection towards her, who would thankfully requite his kindness herein in any like case of his rebellious subjects being in England. The King readily agreed to deliver O'Rourke, adding that he would solicit the Council to give their assents thereunto, that her majesty might be pleased, and that this matter being settled by act of Council might be a good precedent hereafter, to enable him to do like pleasures to her majesty, and terrify traitors and rebels to fly unto or remain in either realm. He [Bowes] prayed that O'Rourke might be so safely kept as his body might be always at the King's disposition. The King doubted little thereof, saying that such as dealt betwixt them would bring O'Rourke to him wishing him [Bowes] to move the Council for his delivery. Thereupon he [Bowes] travailed with the Chancellor and other councillors—who promised to further her majesty's desire herein— and also at the assembly of the King and Council he renewed the cause, and the Council, seeing the forwardness of the King, willingly assented that O'Rourke be delivered at Berwick.
"The King seeking to have Owrorke brought to him—that he myght heere what he would say, and afterwards to send him to Barwicke—found that he was fled and departed—as is said—into Ireland. And thereon the King shewed to me his greate greefe, and how farre he had bene abused, affyrmyng that he would cause dyligent serche to be made for his apprehension, and prayed me to employ my best meanes for the same." He [Bowes] said that because the King and Chancellor had promised to have O'Rourke put in safe hands, he had not sought to know further of his state, lest they might think him possessed with needless jealousy and suspicion, and now it was too late, he being thus warned and at liberty. Is informed that O'Rourke was counselled ten days past to beware to come to the King, and thereon sent his horses and furniture into the Isle of Bute to be ready for him; that he sought to be received among the Papists here, for he dares not return into his own country. "This intelligencer" thinks he still lurks in this realm, although he has heard that he withdrew to Sir John Smallett's house in Dumbarton town and now is returned to Ireland, with purpose to pass into Spain, where sundry sons of Irish noblemen have been resident these two or three year past.
Their lordships will be further informed hereof by this bearer, Roger Aston, as also of the present condition of this state. Commends the said Aston's diligence and good behaviour.
Bruits have been given out of attempts made by Huntly against Murray, and of a secret practice intended to have been executed against the Chancellor on Friday, the 13th instant, but they are at least partially untrue.
At the writing hereof he is informed that on 22nd instant O'Rourke was still in Glasgow, in no haste to depart. The King shall be speedily moved and means made for his apprehension, but he is too well friended in this court. The act of Council for his delivery is not yet registered, so he [Bowes] has required—and it is granted—that it be registered, to stay the repair of rebels hither, or get hold of them when they come. Edinburgh. Signed: Robert Bowes.
7 pp. Addressed. Indorsed.
543. Robert Bowes to Burghley. [March 24.]
Has seen, in the Chancellor's hands, the original letters directed by Charles late Earl of Westmoreland to the King and Chancellor. The report thereof is committed by the King to this bearer Roger Aston. "The endes of the letters in the Chancellour's handes were not fully shewed to me, butt as my sight served me I thought them to be dated in September, making me marvell that they have lyen thus longe in the decke, and have fortune to come to light att this tyme." Alley denies having brought hither any letters from Westmoreland, so that course is entertained by another, seemingly a Scottishman. All which shall be opened by Aston.
"This day Macklane sentt his servantt secretly to me to offer his service to her majesty, and to make a partye agaynst Mackonnell, Donell Gorom, Owrorke, or any others of the league—as he termed them—or rebels to her majesty in Irelande. His request is that I wold be mean ether to stay the liberty of M'Konnell untill he may be lykewise enlardged with hym, or els to hasten his own delyverye, that M'Konnell do nott wracke hym and his frindes whiles he remayneth in warde. He offreth to gyve his sonne in hostage for the performance of all dewtyes promysed. I am nott hastye to intertayne his sute, lesse therby I myght occasion M'Konnell to starte from her majesty's service in Ireland, cheyffly att this tyme, when the King and Chancelour have inserted a clause and artycle in the feoffment—as they call ytt—made by the King to M'Konnell for his landes, that he shalbe of good behayvour and loyall to her majestie. Neverthelesse I have nott denyed to do M'Klane the pleasures in my power, the rather bycause his servantt told me that Mr. Wotton before this sought to have interteyned hym for her majestie's servyce." This servant said that not only O'Rourke and other rebels, but many professing obedience to her majesty, have conspired against her and gathered money to draw M'Connell, Donald Gorme, and others to join them. He says that the young and loose men in the west isles, Kintyre, Argyle, and other places will be readily allured to aid those rebels. Wherein albeit the King has promised, and will endeavour, to restrain his own subjects, yet a letter from her majesty will be a good spur and quicken him greatly therein.
The English crew in Flanders and France, and other Jesuits and Papists of this nation, labour to be received into this realm, purposing to raise work here and in Ireland to occasion her majesty to withdraw her forces from France.
The submission drawn by Francis Dacre to be presented to her majesty is enclosed. Edinburgh. Signed: Robert Bowes.
2 pp. Holograph. Addressed. Indorsed.
Enclosure with the same:
[Francis Dacre to Elizabeth.]
The remembrance of her accustomed clemency towards such as be in trouble, but especially towards her loving subjects, whereof he has had experience in his greatest adversity, causes him to think that either— through her great affairs—his adversity is altogether forgotten, or that she is not so acquainted as he would wish with the true causes of his calamity.
"Where by the senister information of my adversares, who be my dispossession injoyes the most parte of my levinge, your grace haith not onely taken the advantaidge against me of the Dacre's lands by my brother's offences, where of I proteste before God I am altogether innocent, and by my lief and my sonne's your majeste doethe injoye them, but also by your heighnes' offecers haithe disposseste me of those landes wherein I was sesed and in possession." Therefore he came into these parts, thinking that upon letters of recommendation from the King of Scotland her majesty would deal more favourably with him. He obtained also letters of recommendation from Bothwell to her. After the King's return from Denmark, Dacre understood that his majesty had no answer from the Queen about him, so was constrained to seek in foreign parts such money as his brother had bequeathed to him: but lest his adversaries should misrepresent his purpose to her majesty, he acquainted Robert Bowes with his hard estate and the cause of his journey, requesting him to signify the same to her majesty, desiring her to suspend her hard judgement conceived upon information of his adversaries till she had better proof of his intention.
Bowes afterwards sent for him, and told him that he had acquainted Burghley with his former declaration, whose answer was that he had "meaned" Dacre's present estate and declared the causes of his journey to her majesty, who was so affected by it that if by lack of justice he had lost his own country and was to take further journey, and not through any disloyalty, Burghley would so deal with her majesty that he should have no cause to follow that course. Bowes wished him to signify to Burghley by letter as much as he had said to himself, requesting his intercession with the Queen; and assured him that he would find her so gracious as he would not be denied her laws and would obtain some support at her hands. He wrote as directed, with petitions which he craved Burghley would present to her highness, hoping for such answer as Bowes had led him to expect. But so far as he can collect by Burghley's answer, all his petitions are refused, and chiefly concerning the payment of his debts, and it is plain that her majesty is not rightly informed of the cause of those debts, for they did not grow by his departure out of England but by his suit with Lord Arundel, through an order of Council—against all justice—whereby he was debarred from rents due to him.
It seems by Burghley's answer that her majesty thinks that before making further suit to her he should acknowledge his offences in coming to and remaining in Scotland and determining to go to foreign realms. He would willingly confess any fault which might seem offensive to her highness, and seek pardon on his knees, but fears the determination of his adversaries is such as to overthrow his house for ever, such is their unfavourable dealing toward him: "whereby I shall be compellid to attempt soume crime as I shall be dreven within the compasse of your grace's lawes to forefaulte the juste title I have; and so by that meanes they may injoye those landes which they knowe they can not otherwayes by lawe hould. The lyke injorye was used by the meanes of the unfrendes of my howse against my unfortenet brother Leonard Dacres after the deathe of the Lord George Dacre; first in commaundinge him not to taike upon hym the title of honor which was dewe unto him, as also in obtaininge one injunction that he should nott enter to his lefing which your majeste now injoyes by his title"; which injuries drave him to forget his duty, which the writer laments, never meaning to give his adversaries that advantage against him.
Although without hope of such relief from her majesty, till it please God to turn his mighty adversaries' hearts, yet he beseeches her to grant him such a pension as he may live upon in Edinburgh, with some maintenance for his five daughters, till such time as she think him worthy to enjoy his own at home; or otherwise that he may use means to procure that which his brother Edward bequeathed to him. If he receive no relief, he and his son must beg.
He cannot abide in Edinburgh on account of the charges, so acquaints her majesty that he is going to Caithness within twelve days where he may live at small charge, and also for safety of his life "which divers tymes hath bene sowghte, and more money offered to brynge there wicked purpose abowt then of hymself were able to paye, which causeth me the rather to dowtte from whence the practis dyd first begyne." If their wicked intention had taken place in killing him and his son, those lands which were his ancestors', which her majesty now enjoyes, surely had returned to Lord Arundel and the Lord William. The man that attempted it was Thomas Carilton, one that served Lord William and in great trust with him; he is her majesty's officer of Gilsland, part of his ancestors' lands, and daily preferred to more credit under her. Hopes for her clemency, having viewed his hard estate and the practices of his adversaries, and that she will bear with his homely, rude, and long letter and pardon any offences or omissions considering that he has no counsel to advise him. Edinburgh, 22 March. Signed: Francis Dacre.
3¼ pp. Indorsed.
544. Genealogical Memoranda by Burghley. [March 25.]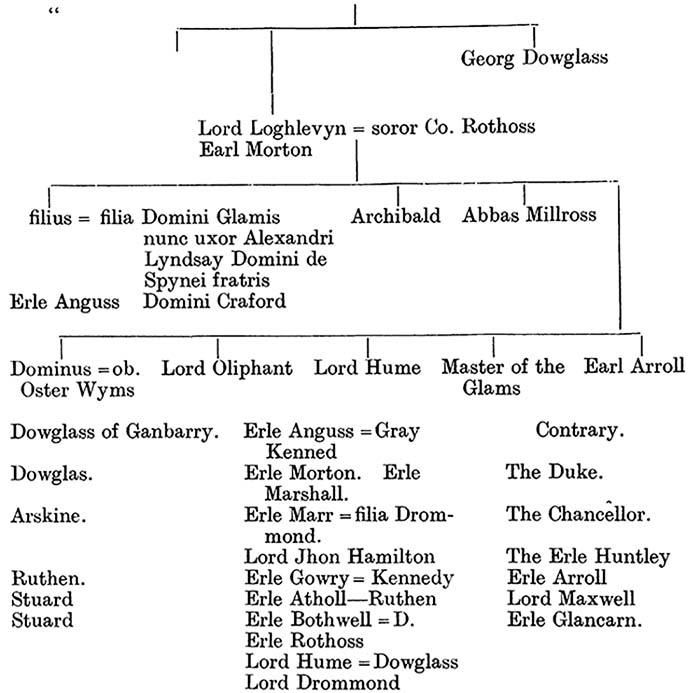 Preachers: Mr. Brewc at Edenburgh, David Lyndsay at Lethe, Andro Melvin St. Androos, Jhon Row, Patrick Gallowey at St. Johnston, David Wymes."
1 p. In Burghley's hand. Indorsed.