Pages 271-292
Cardiff Records: Volume 2. Originally published by Cardiff Records Committee, Cardiff, 1900.
This free content was digitised by double rekeying. All rights reserved.
CHAPTER VI.
Great Sessions Miscellanea.
THE Welsh Records in London comprise a number of small classes of archives connected with the Court of Great Sessions. It seems expedient to group these together under the above title. I am unable to preface them with a general dissertation, because at the moment of writing these lines, I have but just commenced the making of extracts from the original documents. I must content myself with annotating them as the work of copying and printing proceeds. Let us begin with the
Glamorgan Mainprize Rolls.
These records, under the name "Manucaptio Communis Manucaptionis," exist only for the years 33–37 Hen. VIII. (1542–6), and for the reign of Philip and Mary (1553–8), and are written on two bundles of parchment, most of the skins being inscribed on both sides. Their contents are entries, in Latin, of sureties and recognizances taken as security for the future appearance and interim good behaviour of persons charged with misdemeanours. The first entry for each year was written in full; in subsequent entries only the barest particulars were recorded. The following translations will serve as examples.
MAINPRIZE of the Common Mainprize taken at Cardyff before John Pakyngton, esquire, a Justice of our Lord the King for the County of Glamorgan, at the Great Session of the County aforesaid holden at Cardyff aforesaid on Monday, to wit, the seventeenth day of March in the thirty third year of the reign of King Henry the Eighth after the Conquest. * * *
Glamorgan. It is to be remembered that at this same Session came hither into Court in their own persons, before the aforesaid Justice, William Mathewe, gentleman, and Jankyn ap Morgan Gwyn, gentleman, and mainprized by Thomas Mathewe of Canton, gentleman, then and there personally appearing, that he the said Thomas will bear and behave himself well and peaceably towards our Lord the King and all his people, until the next Great Session of the County aforesaid, to be holden next after the approaching feast of Easter. And that he the said Thomas in the meantime will not do nor cause to be done any bodily harm to anyone of the people of our said Lord the King, by himself or by any others, by assault, fraud or in any other manner which may tend to the breaking or disturbance of the peace of our said Lord the King in anywise. And that he the said Thomas will personally appear before the Justice of our said Lord the King for the County aforesaid, at the aforesaid Great Session, wheresoever it shall happen to be holden in the County aforesaid or elsewhere in Wales. And that he the said Thomas will not depart from the Court of our said Lord the King there without licence of the said Justice, the aforesaid Thomas under a penalty of ten pounds, and each of his sureties aforesaid under a penalty of one hundred shillings; which said sums as well the aforesaid Thomas as his sureties aforesaid have granted, and each of them for himself doth grant to be made and levied out of his goods and chattels, lands and tenements, to the use of our said Lord the King, if it shall happen the said Thomas in the premisses or in any one of the premisses to make default, and thereof in a lawful manner to be convicted, &c.
Of William James Turnour, of llangattock in the county of Monmouth; for the like surety of Joel Thomas ap Ralf, of llantrissen, and Dyo Griffith ychan, of the same. (Dismissed in open Court.)
Of John hoell Weu'r, late of Cardyff in the county aforesaid, weaver; for the like surety. (Dismissed.)
Of Robert ap John, of Rothe in the county aforesaid, labourer; for the like surety. (Dismissed in open Court.)
Of John Crok, of llandogh by Pennarth in the county aforesaid, labourer; for the like surety.
Of Roger Thomas ap Rosser, late of Gebour, gentleman; for the like surety of John William Gamege, late of Coytchurche, and Ieuan ap Grono, yeoman.
* * *
Of Grono ap dauid, of seynt ffagans, yeoman; for the like surety of Morgan Thomas Gamage, gentleman, and Morgan Thomas Meuric, of petrstown upon Ely.
* * *
Of Nest vergh Ieuan, of llanethed vayrdre, "Spynstr"; for the like surety of Ieuan ap Owen, yeoman, and Richard dauid Tewe, yeoman.
Of Morgan ap Robert, of the same, husbandman; for the like surety of llewelin ap Ieuan ap Grono dee, yeoman, and dauid ap Grono vaughan, of llantryssen, yeoman.
8 October 1545.
Of Edward ap Ieuan, of Seynt ffagans; for the like surety of Matthew Gebon, gentleman, and Thomas ap John Phelip.
15 September 1545.
Of Morgan lewys, late of Whitchurche in the county aforesaid, "yoman"; for the like.
Of Richard ap llewelin, of Seynt ffagans in the county aforesaid, clerk; for the like.
Of John Howell, weaver, late of Cardyff; for the like surety of William Johns, of Cardiff, and John Richard, of Romney.
1 June 1546.
Of William Pope, of Cardiff in the county aforesaid, "Bruer"; for the like surety of George Hasslam, of Cardiff, and Robert Bocher, otherwise ap Ieuan.
Our next set of documents is a
Calendar of Indictments
for the reigns of Philip and Mary, and Elizabeth (1582–1608). This also is in Latin, written on both sides of a number of membranes made into two neat rolls. These records differ but little from the Gaol Files as to the matters recorded in them. They contain the findings of Coroner's Inquests, very briefly set out, Presentments of Grand and Petty Juries of the County and of the Boroughs, lists of Recusants etc. They are practically duplicates of the contemporary Gaol Files, but the following additional matter has been found in them.
1593.
Jevan John Hooper, of Cardyff, was presented as "vagrans ociosus & malus homo"—a lazy vagrant and a bad man.
March 1598.
Presentments.
John Gwyn and John Pepam, both of Cardyff, by the Burgesses, "pro absencia ab eccl'ia"—for absence from church.
Henry Lewys, of Cardyff, "per le weryng of a lyurye coate contra &c."
Edward Gwyn of llansannor, "p' transgr' & insult' sup' constabular'"—for a trespass and assault upon the Constable.
1600.
Coroner's Inquest found that Miles Mathewe, gentleman, met his death by misadventure.
Arthur Stradlynge, gentleman, was presented for having been absent from church for a month. (The fine was twenty pounds.)
1608.
James and Lewis Turberville, gentlemen, died in Cardiff gaol, "by the visitation of God." (They were Recusants convict.)
Presentments. (fn. 1)
Cristofer llewelin, of Cardyff, 'for mayntaynyng one to sell drynk vnder hym."
Thomas Mote, of Cardyff, "for maynteynyng a forryner to sell drynk."
Henry Grocer, of Bristoll, "for selling Spyces beyng a forryner."
Next we come to a series of Bundles known as
Glamorgan Papers,
which commence in the reign of Edward VI., and continue to the early part of the 18th century. Taken as a whole, they possess more interest for genealogists and legal antiquaries, than for the general public; but a certain number of items are sufficiently to our purpose to be printed here. These records are mostly written on paper, in Latin, English, and Norman French, and consist of draft Pleadings, Sheriffs' Writs, Jury Lists, entries of Bonds, copies of Deeds, &c., for the most part in a running hand. All are documents relating to the Civil side of the Court of Great Sessions, and the matters treated of are suits in respect of lands, leases and advowsons, debts, &c.
The first that we will notice is a curious piece of legal lore, probably rare outside of Welsh records; and, indeed, hardly to be met with save in the old Plea Rolls of the Principality, where it is comparatively frequent. This is the procedure whereby a party to a lawsuit, objecting to a Juror or Sheriff, "challenged" him on the ground of "cosenage," and established his point by shewing that such Juror or Sheriff was a blood relation of (usually) the opposite party. This had to be done (perhaps it was not a difficult task in Wales) by setting out a pedigree which shewed the descent of the challengee and the opposite party, step by step downwards from a common ancestor.
The heading is in Latin, and names the parties to the suit, which is "Between Henry Franklen, plaintiff, and William David ap Richard, defendant, in a Debt."
Then comes the Challenge, in Norman French, thus:—
Le chalenge fait p' dit Henrye al Edward Carne chivaler ore vic' de cest Cont' pur cosinage prent le dit Henry et le dit Vic' in cest manr cestasavoyr vn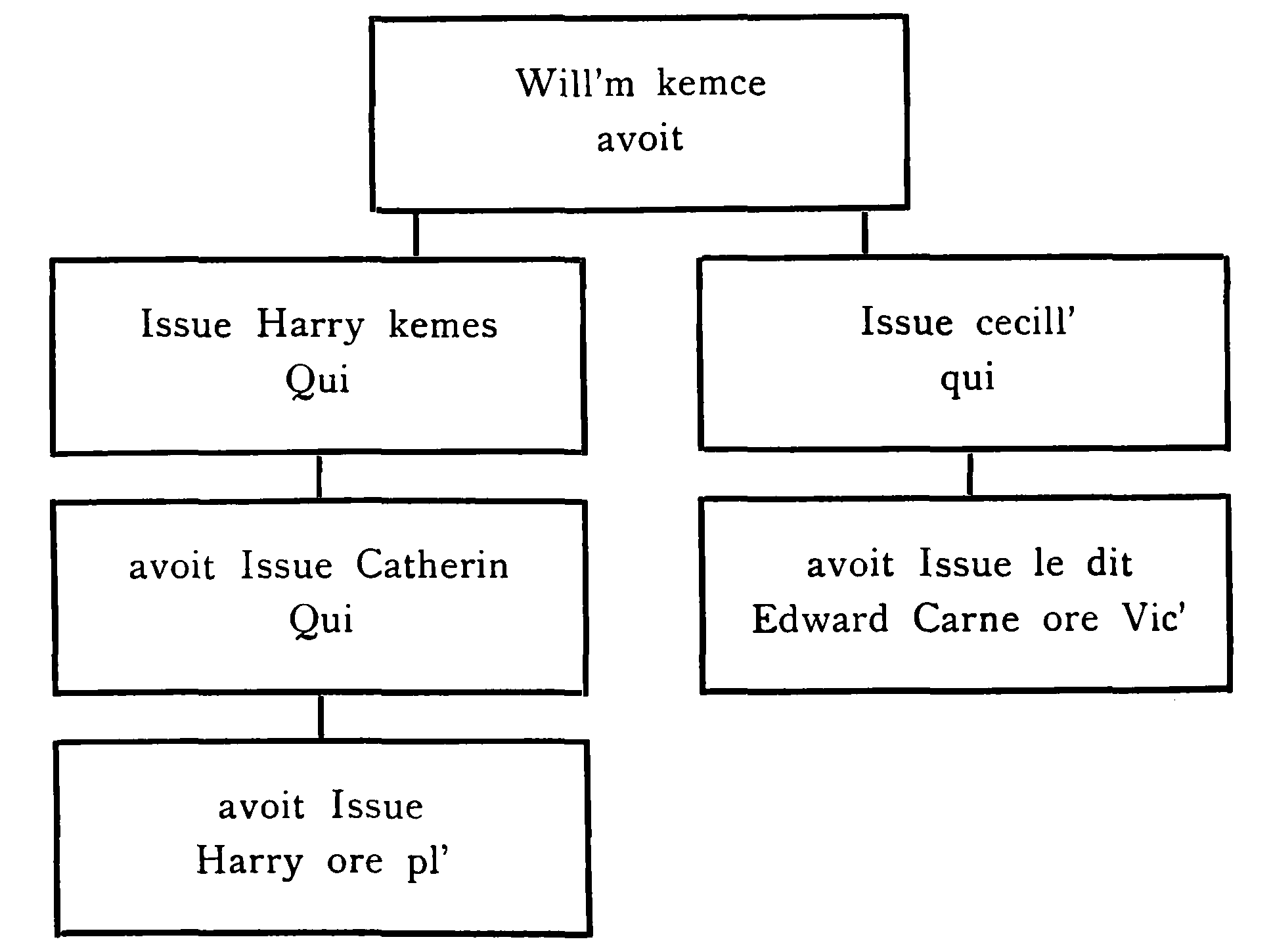 Then comes an explanation in Latin:—
Et sup' hoc idem q' dic' q'd Edwardus Carne Miles nunc vic' Com' p'd'c'i existit qui quidem vic' est consanguineus ip'ius quer' viz filius Cecilie filie Will'i p'ris henr' p'ris kat'ine matris ip'ius nunc quer' Et ea quidem de causa p'bet bre' d'ni R'g's & d'ne Regine de p'uenire fac' hic xxiiij Coron' Com' p'd'c'i dirigend' Et quia p'd' def' hoc non dedic' ei conceditr Et J's &c.
[Translation.]
The Challenge made by the said Henry to Edward Carne, knight, now Sheriff of this County, for cosenage, presents the said Henry and the said Sheriff in this manner, that is to say: One William Kemce had issue Harry Kemes, who had issue Catherine, who had issue Harry, the now Plaintiff. [Also the said William Kemce had] issue Cecily, who had issue the said Edward Carne, now Sheriff. And hereupon the said Plaintiff saith that Edward Carne, knight, is now Sheriff of the County aforesaid; which said Sheriff is cousin to the said Plaintiff, namely, son of Cecily, daughter of William, father of Henry, father of Katherine. the mother of the said now Plaintiff. And for that cause he proffers a Writ of our Lord the King and Lady the Queen of Pervenire facias hic xxiv., to be directed to the Coroner of the County aforesaid. And because the aforesaid Defendant doth not deny this, it is granted unto him. And the right, &c.
[It will be noticed that in this particular case the Challenge comes from the party related to the challengee, not from the other.]
Next comes a copy Lease of certain cows. We may notice this at some length, because similar chattel Leases are now of very rare occurrence:—
This Indenture made the xxvijth day of aprell in the seconde yere of the Raign of or sou'aign lorde Edwarde the sixte by the grace of god of England france & Ireland king defender of the faythe & in erthe of the chyrche of england & of Ireland suprme hedde betwyne gitto Ieuan of lanwyno in the com' of glamrgan gent' of thon prtye & Robart ap mrgan of lanelldyd vayrdre in the said com' yoman dauid ap Robert of Pentirche in the said com' yoman & thom's ap John Robert of pentirghe foresaid yoman of thother p'tye Witnesithe that the said gitto hathe demised grantyd & to ferme lette vnto the said Robart Dauid and thom's yoyntly and seurally ten' kyne prce ten pownds of lefull mone of England [which sum] the sayd gitto hathe c/?/tentyd payde and deliu'yd vnto the said Robart Dauid and thom's . . . . . . in c/?/con of sufficient pasture in the somer and foder in the wynter for the said ten' kyen. * * *
[Lease of 10 kine with their profits and increase for a term of 10 years.]
Copy deed of "Anthony Bushoppe of Landaph, the deane, archdeacon, prsident and Chapiter of the cathedrall chyrche of Landaphe," appointing John Smithe, of Landaphe, clerk, Doctor in the Lawe; William Gefferey, of London, clerk, L.L.D.; and James Button of Worleton, gentleman, to be their Surveyors and Auditors General of lands, tenements, rents and revenues, parsonages and churches, with all and every other ecclesiastical and spiritual promotion whatsoever in the counties of Glamorgan and Monmouth; to occupy the said offices to them and the longest liver of them. The annual fee for all the said offices is to be five pounds, divided among the grantees; the whole to become the right of the survivor. (Dated temp. Edw. 6.)
An action wherein Maurice Mathew sued Thomas Spencer for possession of certain lands, is in this Bundle represented by a Pleading in Norman-French (with a Latin gloss). This document sets forth the names of all the persons who have held the lands in fee, beginning with Gilbert Le Despenser, down to 1547, the date of the action. The owners were the Spencers of Penmark, in whose family the lands descended in tail male; and the succession in the eldest male line is given as follows:—
Gilbert le Spencer (v. 1334) m. Joan.
John Spencer.
Walter Spencer.
Nicholas Spencer.
John Spencer.
Thomas Spencer.
John Spencer.
Thomas Spencer, v. 1547.
Other persons mentioned are Margaret Gyle, Thomas Bawdrye, Elizabeth his wife, and Katherine, John and Maulde, their children, Morice Carter and Richard Hopkin—all being, apparently, then alive.
From another document of about the same date we learn that Maurice Mathew and Richard Thomas were then Coroners for the County.
Our next extract is also of the year 1547, and is an echo of troublous times:—
To the Kings Com[m]issrs
Co[m]playnethe vnto yor lordships yor Orator Thomas fflemyng of llantwite in the Countie of Glamorgane That where as Lyson Lewis and Edward Stradling gent' of the sayd Countie wt the p'sons vndr named and others to yor Orator vnknowen bering Mortall Malice and grudge to yor Orator of late p'ceaving yor Orator to gooe to a Corte a Mile distant ffrom his house abouts his necessary busynes thinking no harme to any creature in godds peace & the kings the said gent' w[ha]t the said p'sons vndr named entending to haue Murthered yor Orator w[ha]t weapons in most ffuriose wise repaired all to gether to the said Corte, And then and there but that yor Orator had knowledge of their devilisshe minds and entents & absented hym self, he had been slayne. And good lords the said def'ts being of grete ffrends and kinred there not only come to the house of yor Orator ffaceing hym w[ha]t weapens bothe night and day but also bete and evell entrete his houshold sruants so that he dare not for daunger of his life stirre out of his house to his grete discompforte and against all Justice. Wherfore may it please yor lordships to co[m]maund so[m]me of the Justices of the peace of the said Countie by the kings l'res and yors vpon yor Orators affidauit made for the peace, to se the def's and all other by their p'curem[en]t bound by obligac'ons for the peace against yor Orator and his ffamylie for godds loue
Lyson lewes
Edward Stradling
dd. fflemyng
Peter Stradling
[Lewes Nicholas]
Denes Irishe
[dd. Mason]
R's ap R's
James Stradling
John Stradling
Jenk' Stradling

Gruf. Vosse
[Robt Steven
Robt Stradling gent'
Bride Stradling]
John Nicoll
William White
[The names in square brackets are struck out.]
Then come a series of slips of paper with various legal formulæ, such as the following, in Latin and French, which relates to an obsolete procedure known as "vouching to warranty":—
Int' Morgan' mathew q. & henry Griff' Benet quem lle' henr' voc' ad war'
Voz avez cy le vaundit henry Griff' Benett q. voch' a garante Jankin francklen & pray q il soit som' in cest count' p' le aid de ce' cause &c.
For the year 1570 there are some interesting Bonds.
The first, taken at Cardif, is that Thomas Watkyn remain a true prisoner within the castle of Cardif, in any such chamber or ward as the within-named Hughe Richard as gaoler shall appoint him, until payment of his debt.
The next, taken at llangevelagh, is sufficiently amusing. The condition is that whereas David ap Rhethergh hath this day had and received of David ap David "one brassen panne of xvj gallons or there a bowtts," in pledge for 40s. to be repaid on SS. Philip and Jacob's day next will be twelve-month, for the full and quit redemption of the foresaid pan, if the said David ap David, his heirs, executors and assigns shall make a sufficient estate in the Law upon the foresaid brassen pan, a surrender or by any other means as by the learned counsel of the said David ap Rethergh shall be best advised, if the said David ap Rethergh may well and "peasably" have, hold, occupy and enjoy the said pan for ever without any claim, interest, vexation, trouble or demand of the said David ap David or of any person claiming any right or title to the same pan by any manner of means, that then this obligation to be void.
Bond, taken at Landaf, for delivery of 20 bushels of good and sufficient wheat cleanly winnowed, of the measure used at Cowbrydge.
Between John Yeman, plaintiff, and John Kemeys, defendant, in a debt.
Memorandum for 7l 10s., that the defendant buys of the aforesaid plaintiff, at Cardif, on the 2nd August in the 11th year of the now Queen etc., three dolia of white wine, called "hogsed"; to be paid on the eighth day of September, &c.
Memorandum for 10l, that the defendant buys of the aforesaid plaintiff, at Cardiff, on the 15th day of January in the 12th year of Queen Elizabeth &c;, one dolium of claret wine, called "a pippe," and one other dolium of white wine, called "a pippe"; to be paid at Lady Day, &c.
Bond taken at Landaf, with condition that James Turbyll, esq., shall fulfil the articles of an Indenture made between him and Robert Stradling, concerning a marriage to be solemnised between Thomas Turbyll, son of the said James, and Elizabeth Stradling, daughter of the said Robert.
Bond taken at Landaf, with condition that Jenkin Morgan gwin shall pay to Edward Kemes 28l "at and in the manc'on howse of the seid Edward Kemes callid comenly Kevenmably."
Bond taken at Landaf, with condition that Thomas Mathew shall pay to Harry Mathew of Llanissen, gentleman, 6l 13s. 4d., to the use and behoof of Agnes Mathew; and, in default, that the said Harry Mathewe shall have a right of entry into the said Thomas Mathewe's lands and tenements called Golds Landes, in the parish of Wenvoe.
Bond taken at Saint Nicholas, with condition that Thomas Turbill shall fulfil the articles of an Indenture made between him and Myles Mathewe, and Christopher St John of Ychellole in the county of Glamorgan, gentleman.
Owen Henry, of Estille in the county of Glamorgan, yeoman, was attached to answer William Herbert, late of London, gentleman, concerning a plea wherefore by force and with arms on the soil of the said William at Seynt John he digged out, took and carried away sea coals there to the value of a hundred shillings.
Morgan Gibon versus Morgan John Jevan, concerning parcel of a messuage and 14 acres of land in St Fagan's, heretofore of Philip Llewelin, then of his son John ap Morgan, and of Didvill, wife of the said Philip.
Nicholas Button, esq., prays a Writ of Disseisin in le post at the Common Law, according to the Statute of Ruthlan, against William Carne, esq., in respect of a messuage, 30 acres of land and 30 acres of pasture, in Rothe.
Indenture dated 6 September anno 12 Eliz. (1570), between William Herbert of Cardif, esq., and John Myvon of Mere in the county of Wiltes, gent', of the one part and Thomas Carne of Ewenny, esq., of the other part. Reciting Bargain and Sale by the said Thomas Carne to the said William Herbert and John Dodington of the manor of Little Nash, otherwise called St Osmond's Aishe, in the parish of Nashe in the county of Glamorgan, together with all other his messuages, lands, advowsons &c; (with certain exceptions) in Lekewith, Dennis Powes, Cogan &c;, or within the franchises or parishes of Cardiff and Routh. It is witnessed that the parties hereto of the first part do grant the said premises unto the said Thomas Carne and the heirs of his body, with the following remainders in succession:—
To John Ragland, son of Sir Thomas Ragland, knight, in tail male. Then to the following sisters of the said Thomas Ragland, in tail male. Cicell, wife of John Ogans, esq. Barbara, wife of Robert Longe, esq. Jane Huntley, widow. Mary, wife of John Palmer, gent'.
Then to our Sovereign Lady the Queen's Majesty, her heirs and successors for ever.
This is upon condition that the said Thomas Carne do pay unto the said William Herbert and John Dodington twenty shillings to the use of our said sovereign lady the Queen.
Deed Poll. Appointment by William Gerrard, esq., Justice of the Court of Great Sessions, of John Tyttleye, esq., to be his true and lawful Deputy in the said office.
1700.
For this year we have three Imparlance Books. On some of the blank pages are entered notes of verdicts, sentences &c. in criminal causes. Thus:—
David John Lloyd, convicted of horse-stealing, claimed benefit of clergy, read, and was "to be burnt in the Cheeke" before being released.
William Harry was "to be whipt," for stealing "one breeches, coat and wascoat."
1702.
In the matter of Elizabeth Pierce, spinster, a pauper, versus William Gibbon, both of St. Bride's Major, the defendant was prosecuted for slandering the plaintiff. John Jones, Doctor of Law, Vicar General of the Bishop of Landaff, and Surrogate, declares that the said defendant has by such his offence incurred the sentence of Greater Excommunication in the Spiritual Court. The slander consisted of these Welsh words: "Puttein Robert Lewis wyt ti; mi a'th brwfo di yn buttein iddo, ag mi a ddawa a digon o ddynon y brwfi dy fod di yn buttein iddo." (Thou art the whore of Robert Lewis, and I will bring plenty of men to prove it.)
Harries v. Morgan. Richard Trueman & John Lewis of the towne of Llantrissent in the County of Glamorgan yeomen doe joyntly and severally make oath that they being on Tuesday the 31st day of March last in the Church porch of Llantrissent aforesaid sawe mr Gervase Powell the undersheriffe putt mr James Harries cl'r' into the possession of the said church by vertue of a writt out of the High Cort of Chancery as the said under sheriffe then declared, & the said Richard Trueman sayth that he heard Walter Morgan clark give divers abusive words to the said undersheriffe and say that he would within 3 houres turne the said mr Harries out of the said Church, & the sd John Lewis deposeth that on Good fryday last the sayd Walter Morgan came into the Churchyard of Llantrissent aforesaid & demanded the church doores to be opened, he having great numbers of persons following him to the intent of getting into the said Church by force as this depon't believes, and as the said Morgan & his followers did give out that he would enter into the said Church by force, had not the said under sheriffe come along with the said mr Harries into the said Church to Evening prayers that day.
Jurat' apud Cardiff
9 die Aprilis An pr'mo
Annae Reginae 1702
coram me
John Lewis
the × marke of
Richard Trueman
Wm Powlett
Alice Mathew, a prisoner in Cardiff gaol, petitions for the return of £1 5s. which she alleges were taken out of her trunk by the Neath Constables in payment of the charge for bringing her to Cardiff. The amount is excessive, as they were but one day and night in the journey, and she bore her own charges all the way.
Affidavit by Mary Hughes, of Ystradevoducke, widow. Walter Morgan came to her house at Michaelmas and threatened to sue her at law if she would not pay what he pretended was due for tithe corn of this deponent in the parish of Lanwon 9° die Aprilis An° pr'mono, one of the chapels annexed to the vicarage of Lantrissent.
Between George Mathew, esq., plaintiff, and John Mathew, gent,' Executor of the last Will of Anthony Mathew, late of the Splott, gent', deceased, defendant. In a plea of debt 300l.
By Bond made at Landaffe 7 Septr 31 Car. 2. Condition that, whereas Anthony Mathew, by Bond dated 27 Novr 1650, stands bound to John Prichard of the Derry in the county of Glamorgan, gentleman, that the said Anthony Mathewe will secure £146 to his children by his wife Florence; the said Anthony Mathew shall now settle the said money in certain proportions upon his sons William, Edmund and Henry Mathew.
Action for slander. Gwenllian William, Spinster, versus Elizabeth David, widow, of St Bride's Minor. The words complained of were: "Whore cobhomovon wyt ti; wyt ti yn Kadw bawdyhouse ar ben yr hewl im mrawd." (Thou art a common whore, and dost keep a bawdy-house at the end of the lane, for my brother.)
Libel in the Bishop's Court at Landaff, by the Rev. Walter Morgan, vicar of Lantrissent &c., versus Rees David, for subtraction of tithes of wheat, barley, rye, oats, pease and hay, farrow-pigs, cheese, geese, lambs and wool.
Memorandum that at a Court of Great Session holden at Cardiff came David Lewis, of the town of Lantrissent, parish clerk, and informed the Court that he was cited to appear in the Court Christian (Cur' Xtianitat') of Landaff, to reply to certain Articles exhibited against him at the motion of Walter Morgan, of Lantrissent, clerk, for the pretended defamation of the said Walter and for assaulting Jenkin ffreame and Catherine ffreame, of Lantrissent, wherefor the said David Lewis was prosecuted at Westminster and arrested by Virtue of a Writ of Quominus ex Scio; and that he uttered certain scandalous Welsh words to and concerning the said Walter Morgan, to wit: "Rogue wyti, a phwteiniwr digwilidd," (Thou art a rogue and a shameless whoremaster.) The said Walter Morgan was admitted to prosecute in forma pauperis in the Bishop's Court, for the said slander, and the said David Lewis was there declared to have incurred certain penalties for his offences in the secular Courts. Nevertheless the said Walter Morgan, pretending to have been admitted to plead in the Bishop's Court, procured the said David Lewis to be there excommunicated; and so the said David Lewis is rendered unable to have his remedy in the secular Courts, to his great loss and injury and against the laws of the land. (In Latin, on one sheet of paper.)
1703.
Bristoll' 22° Julij 1703.
These are to certife That David Reece of Llanridgian in the County of Glamorgan Laborer (a late Prisoner in her Mabhomties Goale of Cardiff) was bound a Servant unto William Hayman of the City of Bristoll Merchant for four years unto Jamaica. All which is Registred in the Office appointed by Letters Pattent for that purpose within the said City of Bristoll. (fn. 2) As witness my hand the day and year abovewritten.
Nich. Cooper Regrius
1706.
Glamorgan ss.
Int' Joh'em Bawdrey Executor' &c; Rob'ti Bawdrey defunct' quer' et Will'um Scacy def'tem &c
Margaret Bawdrey of Place Turton in the county of Glamorgan, widow, makes an affidavit. The action was for money due for corn sold to the defendant.
Suggestion in the Bishop's Court at Llandaff, by John Thomas against Griffith ap Evan, who had cited him for slanderously uttering the following Welsh words concerning him and his wife: "Nid iw Griffith ap Evan ddim Gwr mor honest am fi, nag iw gymmeryd yn wr honest, o achos fe ddygodd ddefaid rhai eraill ag a Ciceifwydd hwynt, ag fe gummerodd i wraig ef yr Gwlan, a Slutt front iw hithe." (Griffith ap Evan is not as honest a man as I am, nor to be taken for an honest man; for he stole others' sheep and sheared them, and his wife took the wool, and she is a foul slut.)
In The Queen against William Aubrey and John Aubrey, Mary Morgan, of Cadoxton by Neath, and Mary Llewelin, of the same parish, spinsters, make oath that they were present when the said John Aubrey (then one of the High Constables for the Hundred of Neath) and his brother William Aubrey committed the assault and battery whereof they stand indicted. The only other witness of the quarrel was one Gwenllian John, who has since been seen with the defendants in Cardiff. The defendant John Aubrey offered to bribe this deponent Mary Morgan not to give her evidence, last week, when she came to Cardiff as a witness for the Queen.
From another paper it appears that the person alleged to have been assaulted was John Bevan, of Cadoxton by Neath.
1707.
Inter Joh'em Wilkins gen' quer'
et
Ann' John Sp'r Def'tem
In Deb'o
Anne the wife of the Plaintif maketh Oath that the said Deft had aloud every the Goods and things contained in the Note hereto annexed and that the work in the said annexed note menc'oned was don and the mony therein specified lent to the said Deft, &c.
Jur' apud Cardif
24° die April' 1707
coram me
Wm Banaster.
A note for what moneye is due to mee from Anne John yt now is Liueing at Sully &c.
Imprimis for her meat & lodging in my house begining in June 1701 for 2 years & 3 quarters at 4 pounds ye yeare 11l.
Item her lodging for halfe a yeare 10s.
for ye standing of her corne in my barne & Rickyeard 10s.
for ye standing of her Corne in a Roome in my house 5s.
for her workmen & ye truble in my house 2s.
for a weeks lodging to her worke man 6d.
paid to Morgan Robbin for weaving for her 1s.
shee borowed of me to pay Mr Hooper for Gras to her sheep 1s.
I lent her at another time 6d.
for 4 Cheeses 2s. 6d.
for apound of butter 3d.
for meat and lodging to a man & a horse one day & night on her Account 1s.
for milke & Grass to a lamb from Candlemas to ye later end of may month 1s. 6d.
for apound of honey when shee was sick Aprell ye 9th 1703–6d.
for 2 peny loves when shee was Sick 2d.
for her Atendance one weeke when shee was sick 1s.
for taping of her shoos at 2 severall times 1s. 6d.
for heele tips at two severelle times 4d.
for making of a bill to her for Jo Cutts 6d.
payd to Georg Bowen for her passage to neath by water 8d.
the totall is: 12l 19s. 11d.
Rachel Reynolds was cited in the Bishop's Court at Landaff, for the following slanderous Welsh words uttered at Penarth &c. to and concerning Elizabeth Thomas: "Y Gwsney front, y Gwsnes fy mhadell i." (Thou foul cheat, thou hast cheated me of my pan.)
Another woman was similarly cited for saying to her neighbour: "Lladrones ydi dw Jane William."(Jane William is a thief.)
6 Anne.
John Edward, of Swanzy, yeoman, a prisoner in the County Gaol for a contempt, petitions the Judges for his release. "Yor poor Petitionr hath always had the greatest Reguard imaginable to yr Lo'pps." His misfortune of incurring their displeasure proceeded out of ignorance. He therefore begs to be let out of prison, as he has a wife and three children dependent on him.
Inter D'na[m] Regina[m] & Henricum Scott.
Thomas Morgan of Cardiffe in the County of Glamorgan gen' maketh oath that for sever1 yeares last past the said Defendt Henry Scott very frequently tooke the liberty without any provocation or reason to traduce & abuse this Depont malitiously & to give him this Depont opprobrious & Scandalous words & language in all or most of the publick places he could see or meet with this Depont All w[hi]ch this Depont suffered with great patience being very unwilling to have any Controversy with the sd Deft if it could be avoided with any possibility the sd Deft being a very rude abusive & quarrellsome fellow as far as this Depont always observed & heard from others that were more familiar & conversant with him than this Depont ever was or desired to be And this Depont alsoe Saith that in or about the five & twentieth day of february last past he this Depont happen'd to be att a Cockmatch or Victor in Cardiffe aforesd & having then had noe previous discourse dispute or quarrell w[i]th the sd Scott nor given him any sort of provocation the sd Scott in a furious ma[n]ner rush'd or made way behind this Depont through the Crowd att such Cockmatch and appearing by his words & Looks to be very angry with this Depont kicked this Depont with his foot upon the small of his this Deponts back with great force w[hi]ch would as this Depont believes have much hurt him but that he this Depont had a great deal of Cloathes on & a great Coat which defended him very much And this Depont saith that he im[m]ediately ask'd the sd Deft Scott why he soe kick'd this Depont as aforesaid whereupon the said Deft Scott holding his fists to or neare this Deponts face challenged him this Depont to come out of the ring or Trench to Box or fight with him the sd Scott giveing this Depont very Scurrilous language & Endeavouring what he could as this Depont veryly beleives to provoke this Depont to quarrell with & to strike him which this Depont thought more prudent to avoid & did forbeare accordingly.
Thos Morgan.
Jurat' apud Cardiff in Com'
Glamorgan 29° die Augusti
Anno regni Reginae Annae
nunc Angl' &c; Sexto Coram me
Charles Coxe.
Henry Scott of Cardiff, tanner, maketh oath that the only assault he did ever commit on Thomas Morgan, gent', was this, that this Deponent on Shrove Tuesday last happened to be at a cock-match in Cardiff; and being close by the said Mr Morgan, happened to tread on his clothes, whereupon the said Mr Morgan turned about and gave this Deponent a severe blow in the stomach, and asked him why he trod on his clothes. This was all; yet Mr Morgan has brought an action in the Exchequer against this Deponent, and at last Hereford Assizes has recovered sixpence damage. And this Deponent believes he must pay great costs in that action; and the said Mr Morgan frequently declares he will ruin this Deponent.
Sherra Sweet, of Lancrosse in the parish of Roath, was cited in the Bishop's Court for saying of and concerning Thomas Edwards, of Roath: "Rogue Lleyder, Lleyder Plankee Edmond Meredith." (Thief of Edmond Meredith's planks.)
Int' D'na[m] R'na[m]" et Will'um Horton gen' Def't'
Thomas Glascoed of Cardiff in the County of Glamorgan sadler maketh oath that he this Dept abt a Week or a ffortnight before last Great Sessions held for this County Did see the Deft Horton assault & beat Phillip Bassett Esqe att Cardiff aforesaid by giveing him two or three very Severe Blows w[i]th a great stick & this Dept further saith that im[m]e;ediately after he saw the sd Mr Bassett & observed his fforehead very much bruised & this Dept did not hear or see that the sd Mr Bassett gave the said Horton any Provocation whatsoever.
Tho. Glascott.
Jur 29° die Augusti Anno D'ni 1707 Coram Ch. Coxe.
Michaell Richards of Cardiff, gentleman, saith that the said Horton, in the beginning of October last, came into this Deponent's company, when there were present William Herbert, esq., now deceased, George Howell junior, esq., and William Morgan, gentleman; that as soon as the said Horton came in a discourse arose "about some Gentlemen being Stopt when they were goeing a ffox Hunting over Sr John Awbrey's lands." This Deponent said he verily believed that Sir John Awbrey knew nothing of such interruption, the said Sir John's steward having so informed this Deponent; upon which the Defendant answered to this effect that when gentlemen are put on unreasonable actions, the advisers endeavour to bring themselves out and to throw it on the gentlemen themselves—which reflection this Deponent apprehended the said Horton intended to this Deponent. Yet, notwithstanding, this Deponent took no notice of it, to avoid a quarrel, which he believes the said Horton designed. And this Deponent further saith that immediately afterwards the said Horton began a discourse that he understood one Mr Roger Powell made an interest on some Elections against his master (as he called him) Mr Lewis; and if he did, he said, he was ungrateful, and that, was it not for his master, the said Mr Powell would not have a vote in the County himself. And though this Deponent was well satisfied that the country knew that aspersion to be notoriously false, yet this Deponent only replied that Mr Powell was not present and that both he, his father, grandfather and great-grandfather having been freeholders in his County, he had as good a right to make what interest he could as any other person whatsoever. Whereupon the said Horton gave this Deponent the lie, and immediately assaulted this Deponent and gave him several falls and several blows in the face, head and body; and this Deponent was very much bruised in all those places, having had great hurt and much bruises by such falls and blows; and particularly one of this Deponent's eyes was so much bruised by one of the said blows, that great bloodshed continued fixed in his eye for near six weeks. And this Deponent further saith that the said Horton having some months afterwards most cowardly assaulted Phillip Bassett, esq., by breaking a great stick on his head—as this Deponent doubts not but to prove, and for which the said Horton stands indicted—and this Deponent being made sensible of the said last notorious battery, and several other batteries committed by the said Horton on several other persons, this Deponent thought fit, for the preservation of the public peace, to cause the said Horton to be indicted for the battery of this Deponent.
Mich. Richards.
Int' Janam Jones spinster quer' et Willū Jones def'tem in pl'ito deb'i' quadraginta libraru[u].
John Price of the p'ish of Landaff in the County of Glamorgan yeoman maketh Oath that he was imployed by the deft to goe to the kingdome of Ireland to enquire after the plt in this cause And this depont did this prsent month of August arrive at the Citty of Dublin in the said Kingdome and found the plt had bin a Boarder there with one Sr Humphrey Jervis for about twenty years last past and had dyed there in the Month of March last and was buried in the Church of Snt Mazburgh's in the said Citty as the said Sr Humphrey informed this Depont whereupon this Depont had recours to the parish officers of the said Church and Inspected along with them the RegistersBook of the said parish and found the plts name registred there and that shee was buried there the thirteenth day of March last aged Seaventy one years And this Depont was also shown where she was buried there as the said parish officers informed this Depont and this Depont also tooke and had a Certificate from under the hand of the Minister church-wardens and parish Clark of the said parish and attested by the said Sr Humphrey Jervis certifying the same which certifycate is in this Deponts custody by w[hi]ch it appears the plt was buried att the day and place aforesaid.
John Price.
Jur' apd Cardiff in Com' Glam'gan vicesimo sexto die Augusti anno R. R'ne Annae &c; Sexto cora[a] me Ch. Coxe.
7 Anne.
Suggestion by Llewellyn Thomas, of Coyty, tailor, to obtain a Prohibition in a certain cause of defamation, prosecuted by Robert Thomas, of the same parish, bachelor. The Welsh words complained of were: "Rogue Lleider, mi a brwfa i tydi ddwyn a lledrata modrwy aur Thomas Powell." (Rogue of a thief, I will prove thou didst steal the gold ring of Thomas Powell.)
Hugh Willett, of the town of Cowbridge, victualler, maketh oath that David Thomas, of Lanblethian, labourer, ran after this deponent out of the house of Thomas Morris, of Cowbridge, innkeeper, & with great force & violence took hold of both ends of this Deponts Cravatt & pulled & streigtened ye same w[i]th so great force that he this Depont was like to be choaked & Stiffled, and had not the Cravat broke, he veryly beleeves he would have Choaked him."