Pages 444-508
Cardiff Records: Volume 2. Originally published by Cardiff Records Committee, Cardiff, 1900.
This free content was digitised by double rekeying. All rights reserved.
CHAPTER X. Mr. Thomas Morgan's Commonplace Book.
BESIDE the shallow, rapid waters of the river Rhymny, where that stream divides Rumney and Saint Mellon's in Monmouthshire from Llanedern in Glamorgan, and in the latter county and parish, stands a modest farmhouse on the site of an old mansion known (like its successor) as Coed-y-gorres. This was anciently the seat of a branch of the Morgan family, and, during the first half of the 18th century, was inhabited by William Morgan of Coed-y-gorres, esquire. It is to this gentleman's younger brother, Thomas, that we must attribute the compilation of the manuscript described in this dissertation. I am indebted to the kind assistance and painstaking research of Mr. John Stuart Corbett, and Colonel Bradney of Tal-y-coed, for the identification of this Thomas Morgan among the numerous branches of the Morgan stock. An old MS. list of Sheriffs, Undersheriffs and County Clerks shews that in the year 1722 William Morgan of Coed-y-goras, Esq., was Sheriff, his brother Henry Morgan, Under-sheriff, and "Thomas Morgan, Anor Bror," County Clerk. A pedigree privately printed by Sir Thomas Phillips gives the following particulars:—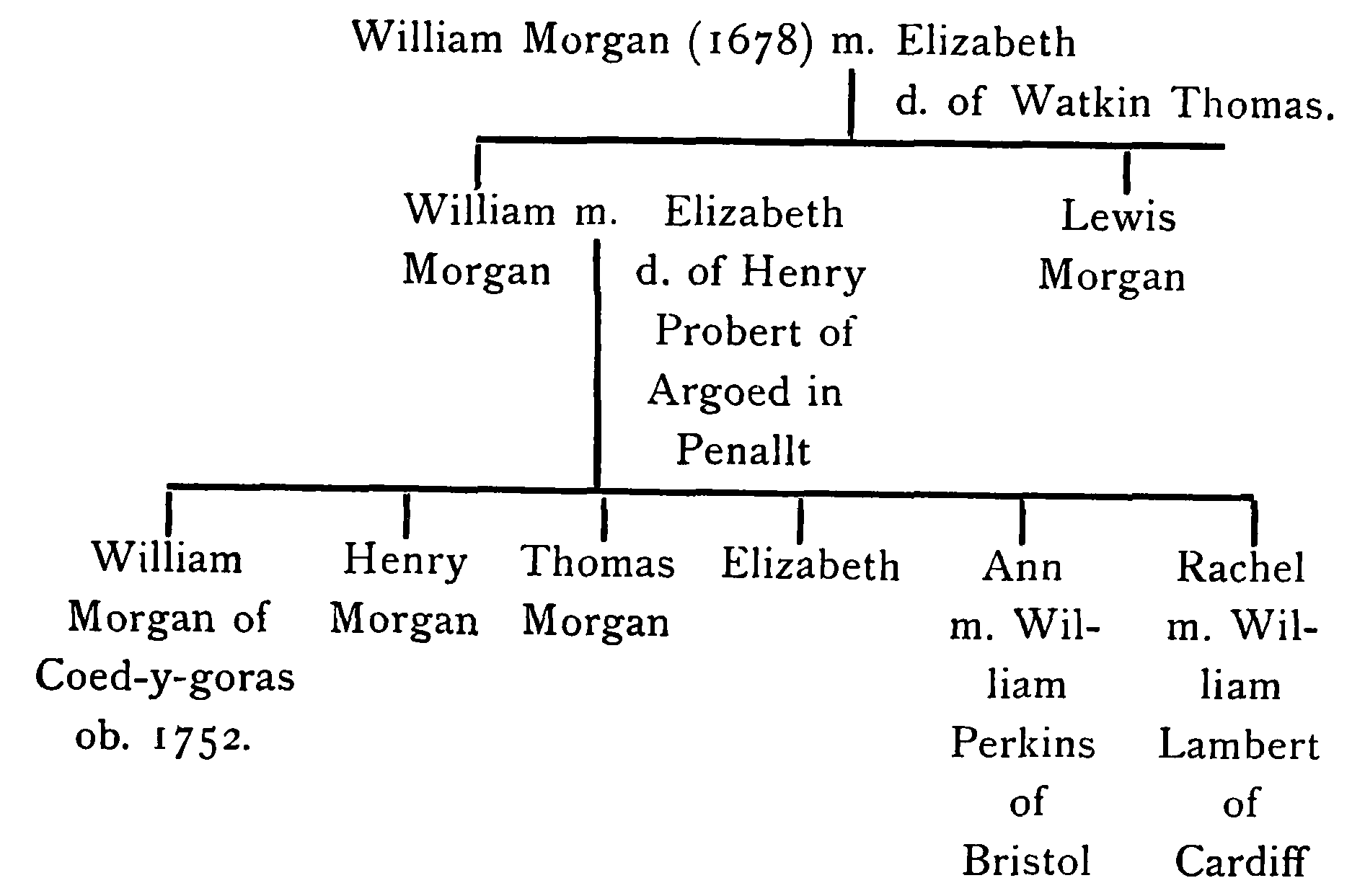 This descent agrees with the few genealogical data derivable from the Commonplace Book, and reveals the mystery of the writer's identity. No pedigree that I have seen states whether Thomas Morgan was married or not. The Commonplace Book, however, shews that he was, and that he had a son John. There is reason to suppose (see p. 463) that his wife was a daughter of Mrs. Anne Kemeys. It is not clear what the office of "County Clerk" was. It was not the same as Clerk of the Peace for the County, and seems to have become extinct about 1780. Thomas Morgan's place of residence is still a matter of doubt. His MS. only speaks of "the house we live in." This was certainly somewhere near Coedy-gorres. The writer of the Commonplace Book was a near kinsman of David Morgan, "the Pretender's Counsellor," who was beheaded on Kennington Common in 1746, for having joined the army of Prince Charles Edward Stuart.
The greater part of the contents of this MS. are private accounts; but with these are to be found documents of considerable public interest. The whole presents to the modern reader an entertaining picture of the life of a country gentleman of ancient lineage and modest fortune, whose time was divided between his duties as a lawyer and a farmer, and the interests of whose tenants and clients yet left him a fair margin of leisure for enjoying himself. Mr. Morgan, indeed, displayed a wonderful aptitude for combining the joys of conviviality with the sterner requirements of business; and he rarely rode into Cardiff to transact his affairs, without calling for a friendly glass at the Red House or the Angel. That these potations were marked by strict moderation, however, appears from the minuteness with which, on his return home, Mr. Morgan entered up his accounts. No item was too small to be the subject of a separate entry, even halfpenny-worths of bread or milk being religiously set down. The book begins with a draft Bill of Costs, and several others appear on subsequent pages. Some are composed wholly or partly in Latin and written in courthand—a rather late survival of antique lawyership. There are some lists of debts owing by and to Mr. Morgan, accounts of cattle and horses sold, draft legal forms of various kinds and a Rent Roll for the year 1726; then we come to his own private account of "money expended on all occasions," which, from the many curious particulars it gives of the old country life, is perhaps the most interesting portion of the book. I will refer to this in greater detail, but will first briefly call attention to the Agreement of 1716, which concludes the manuscript and relates to the Manor and Barton of Penarth, and will then say a few words about the valuable document, dated 1708, which deals with certain prerogatives of the Lord of Cardiff. This document seems to be a rough copy of a Case with Opinion of Counsel, and reminds one of Town Clerk Wood's memoranda (ante, p. 112). The present paper is of earlier date, by more than a hundred years, and contains some points not touched upon by the more modern Cases and Opinions. Here we find it assumed that the Lord was Constable of Cardiff Castle, though Counsel considers the Lords to have been "under great mistakes" in believing themselves to be Constables. His grounds, however, seem distinctly weak. He points out that the ancient Charters provide for the Lord's appointing his Constable —forgetting that the ancient Lords of Cardiff were Lords Marcher of Glamorgan, with jura regalia. Counsel's further point, that a Lady could not be Constable, is no stronger, since a lady can even be a sovereign and wield the sword of empire. Nor is he warranted in assuming the absurdity of a man's being Constable of his own Castle on behalf of the King. To turn to Thomas Morgan's private accounts, 3s. 6d. was paid for a pound of chocolate, 9s. for 1¼lb. of green tea, and 2s. 6d. for a quarter of a pound of Bohea. Every few days a boy was sent with some pence to fetch coal from the mine; this was termed, in the domestic phraseology of the Morgans, "going to coal." On one occasion Mr. Morgan bought a pennyworth of pipes and three half-pennyworth of tobacco. He seems to have been a moderate smoker. Under date 7 February 1731, an amount is entered as "7s. 6d. or 5s. I cant tell which"; but the total shews Mr. Morgan prudently assumed the correctness of the larger sum. In 1733 he bought turnips by the pennyworth. Just at this time these roots were being introduced by Lord Townsend into his Norfolk estates, for cultivation as a field crop, but as yet they were a culinary luxury. In 1731 Mr. Morgan was elected an Alderman of the Borough of Cardiff, and bought a wig for £2. He paid 2s. 4d. for stamps on the Certificate of his Freedom, and spent 8s. 3d. in celebrating the commencement of his municipal career. A large proportion of the commodities used in the household were obtained at Bristol and brought thence to Cardiff quay in Captain Priest's market-boat. Porters were then sent to carry the goods to the house; hence the occurrence of such entries as "Paid porter with things from the boat." Payments were made and received in kind and by work, almost as commonly as in money. Such farm labour as hoeing, weeding, sheaving and haymaking was done by women. There was much roasting of beef and baking of mince pies a few days before the Christmas of 1734.
These private accounts are written by two different hands, apparently of Mr. Morgan and his steward. The former seems to have been the elder, and wrote a modified courthand, while his steward writes a good Italian running hand.
For the loan of this valuable manuscript the Corporation are indebted to the kindness of Oliver H. Jones, Esq., of Fonmon Castle.
Commonplace Book of Thomas Morgan, Gentleman.
1708—1736.
[Fonmon muniments. Unbound quarto paper book, greatly decayed with damp.]
(A miscellaneous collection of private accounts, legal documents and bills of costs.)
Monmouth ss.
To Mr Lewellin Edmond.
David vs James Williams u. tent
pd David Howell of this Expence 6s.
The Money mtgd.
......ry 1732. Mr James Wms Ejectm[en]t ads Ld Windsor. attendance & advice and reading the same 6s. 8d.
3° attendance upon the End. at white horse & acquainting him
wt to doe 6s. 8d.
Elizbeth morgan. (fn. 1)
Debtor.
to mr Hope of the Excheqr of Pleas 40l.
To Mr Tuder 4l.
To Mrs Dormer 15l.
To Humphrey Jones 6l.
To Mr Hiley . . . . . .
by note in London 1l 10s.
To Gabriel Lewis Taylor 4l.
To Collins 5l.
to Lewis 5l.
to Mr Mi. Richards a bill of Cost for Ramston p. for 2l 15s.
Thos David payd me before 1l 10s.
pd more 12s.
A new Account.
To Mrs Dormer 15l.
To Mr Hope 20l.
To Mr Tuder 4l.
To Ga. Lewis 4l.
An acct of Cattle.
2 Heifers 1. 9. 4.
Henry Wm Giles 1 Heifer at 1.11. 0.
1 Steer 13s. 4d.
1 Heifer 1 . 3 . 4.
1 Cow 1 . 0. 10.
1 Cow to Wm David St Mellons 1 . 13 . 4.
1 Heifer to Thos John ye Butcher 1. 3. 4.
3 Cows to Edwd John of Lantwitt 3 . 11 . 4.
1 Cow to Edwd Hopkin 1 . 14 . 0.
1 Cow Miles Abrahm 1 . 12 . 6.
1 Heifer at 12 . 6.
2 Mares at 4 . 10 . 0.
Per Contra Credr
Money lent.
George Evan of Rumney
w
Thos ab Evan of the Denas
for Cattle yt remaynes pt 30s.
from my Tent 106l.
from my Uncle L. Morgan 8. 2. 0.
from Mrs Yeomans 2 . 10 . 0.
from Mr Jno. Smith 44 . 13. 0.
from my uncle Morgan Lantrissent 8. 0. 0.
from George Evan 15l.
from Miles John 8l.
from Bro. William 109l.
from Mr Wm Water 38l.
from Wm Joseph 2 . 10 . 0.
from Matthew Cradock.
from F. Edward 5l.
from Wm By am 12l.
[Up to this point the MS. is here copied in full.]
from Miles Matthews 2 . 10 . 0.
from George Watkins 40l.
[In the margin and at foot are repeated signatures of Anne Kemeys and Thomas Morgan; also the name "Beaufort," in Court hand.]
An Account of Debts due to mee by securities.
from Evan Williams of St Mellans ye Prince 5l......
from Jno. Smith of the Little Swan (fn. 2) 44l.......
from Edward Morgan Robert & George Owen 12l
from Edward Vaughan & al. p. Bond 10l
from Thos Wm Walter by assignmnt of his Leases 38l
from Mathew Cradock & his Sonn
from Miles Mathews 2
from George Stephens (fn. 3) & Al. 7 . 15. 0.
from Lionell Stibbs 30l 0 . 0.
Moneys lent without security.
to Mr Glascott 2l.
to my uncle Morgan of Lantrissent 8l.
Lent Margery Gronow 3l.
from Tir y ddy (fn. 4) Tent 6l.
lent my uncle young 3l.
Monmouth ss.
To Mr Lewellin Edmond of the parish of Monythysleyne of the said County of Monmouth One of the Creditors of Morgan Thomas of the parish of Baselegg now confind for debt in the said Goal.
These are to give notice that the said Morgan Thomas hath petition'd me one of his Ma[jes]ties Justices of the Peace for the sd County to have the benefitt of a late Act of Parliamt entitled an Act for the relief of Insolvent Debtors past in the 11th year of the reigne of our Souraigne Lord King George and that by a Warrt under my hand and Seale I have order'd and appointed the said Morgan Thomas to appeare att the next Generll Quarter Sessions of the Peace to be held for the sd County next after the expirac'on of thirty days after the date hereof in order for his discharge pursuant to the tenor and direcc'on of the said Act given under my hand and seal the 12th day of June annoq. Dni. 1725.
Tho. Evans.
To all the Creditors of— now in Prison in—These are to give notice that— —of his Matyes Justices of the Peace—in pursuance of a late Statute made in the Eleventh year of the reigne of our Soveraigne Lord King George intitled an Act for relief of Insolvent Debtors have this day granted—Warrt under —hand & seal to—and thereby required—to bring the body of the sd— —before his Matyes Justices of the Peace at the next—Session of Peace to be holden at— in and for the sd—on the—day of— now next ensueing at ten of the Clock in the forenoone with the Warrt of his detainour together with the Copy or Copies of the Cause or Causes with which the sd—is charg'd in order to his being released and discharg'd according to his petic'on and the direcc'ons of the sd Act given undr my hand & seal this—day of—Annoq. Dni. 172—
[Courthand.]
Caroli Edwards
By Bill deliver'd to Thos Edmund & al. of . . . . . . . . . . . . . Hili. Vdec.
5to G. Rs
pro Spa. ffee & . . . . . . . . . . . . . .
tr. affid. deb (fn. 5) . . . . . . . . . . . .
Ingr. inde Jur. & duty . . . . . . . . . . .
affilat. inde in Officio (fn. 6) . . . . . . . . . .
lr. des. to an appearance . . . . . . . . . . . .
Pasc sequen. (fn. 7)
recip. Informac'onē pro Narr (fn. 8) . . . . . . . .
tr. inde being Sp'iale (fn. 9) . . . . . . . . . . . .
pro cop. inde pro Cancell (fn. 10) . . . . . . . . . . . .
sol. Councell. (fn. 11) 1. 1. 0.
pro ingr. intr. & affilac. inde (fn. 12) 11 s . . . . . .
Feod. su. hijs. occasionibs (fn. 13) 3s. 4d.
Feod. Cli. & sol. pro t'mi'o (fn. 14) 10s.
lr. circa causa: (fn. 15) 5s. 10d.
Trin. sequen. (fn. 16)
reg. pro despens. & Warrt 5s. 8d.
pro cop. Plits. (fn. 17) 3s. 4d.
feod. Cli. & sol. pro t'mi'o. 10s.
Vac. sequen. (fn. 18)
tr. cop. Exit. (fn. 19) 13s. 4d.
feod. Cli. Waran. (fn. 20) 3s. 4d.
lr. 2s. 6d.
feod. sol. sm. taking cop. exit. 3s. 4d.
tr. sep'all' Notic. Triac'on. vt eciam countermands. (fn. 21) 13s. 4d.
ffeod. pro every terme since lev. Def[feren]t wald. pr'm'sed vs. 2l.
Idm. Def. adit. Edrus. Morgan Robert Tot. 9. 12 . . . . . . .
Cons, sus 9l. 12s. 0d.
Idm. Def. adit. Georgij Owen Cons. Custag' 9l. 12s. 0d.
Idm. Def. adit, milonis John 9l. 12s. 0d.
J pro ins d to forgive Tho[ma]s Edward his rest Idbs will not neede
to be here 38l . . . . . . . . . . . .
Hill. vac. 5to G: Rs
Affilat. inde in officio . . . . . . . . . . . .
lr. as to an appearance . . . . . . . . . . . .
Pas. sequenc.
pro recip. Instrucc'one' p. narr . . . . . . . . . . . .
lr. inde 13s. 4d.
p. inde p. Councell . . . . . . . . . . . .
Soll. Councell. 1l. 1s.
pro. ingr. intr. & affilatt. inde 11s. 10d.
feod. sup. hiis 3s. 4d.
feod. Cli. et soll. p. trmo: 10s.
lr. nria. causa 5s. 10d.
Trin. sequen.
Reg. pro respons. & warrt (fn. 23) 5s. 8d.
pro ups pliti: 3s. 4d.
lr. 1s.
Vac. sequen.
tr. cop. Exit. (fn. 24) 13s. 4d.
feod. CI. & soll. thereon 6s. 8d.
lr. 2s.
tr. sepal. Notic. triaccon: vt etiam Countermand. 13s. 4d.
ffee p every terme since 2l.
Cons. Custag. in Owen u. Edwards (fn. 25) 9l 12s.
Cons. Custag. in John u. Edwards 9l 12s.
Cons. Custag. in Morgan u. Edwards 9l 12s.
Edmunds v. Edwards Cons. Custag. 9l 12s.
Tho. David ads. Jacobs Williams
Pasc. 1720 vto Geo. Rs
. . . . . . . . . ear 3s. 8d.
. Cop. bill. fo. 26. 17s. 4d.
duty 4s. 4d.
close cop. 4s. 4d.
p. lr. p. postage 3s.
dedims & magis. (fn. 26) 19s. 8d.
p. ffeod. Cli. & sol. 10s.
Vac. sequen.
p. tr. respons. (fn. 27) 1l 1s.
p. far. rang. inde 4s. 8d.
p. notice of taking thereof & cop. inde 2s.
p. vi inde 2s. 6d.
p. peruseing respons. 10s.
p. Ingr. inde D. 17s. 8d.
p. ffeod. Commissionar. et Ic. 1l.
Trin.
p. Port. deds Pots exebit. 5s.
p. affil. respons. 4s. 8d.
p. lr. 1s.
p. ffeod. Cli. & Sol. 10s.
Mich. 1720.
p. tr. brat. bill. & respons. 1. 3. 4.
p. far. cop. inde 8s. 8d.
p. lr. 1s.
p. ffeod. Cli. & sol. 13s.
[1716.]
In Canc:
Abraham B. of [blank] in the County of [blank] Maketh Oath that having had an account by the B . . . & otherwise that his Ma[jes]tie had been pleas'd to appoint this Depont high sheriff of the County of Glam'gan One Henry Lewellin of ye Towne of Cardiff in the sd County Attorney at Law under sheriff of the sd County on or about the first day of . . last past came to this Depont & offer'd his service to this Depont to be his Under Sheriff for the sd County and to send for the Dedimus potestatem and other necessary writts and thereupon this Depont order'd the said Henry Lewellin to send for the same And this Depont having had an Account that the necessary writts were had and received by the said Henry Lewellin This Deponent sent for the same and upon paymt of twenty four pounds and eighteen shillings or thereabouts to the sd Henry Lewellin he the said Henry Lewellin sent this Depont his Ma[jes]ties Writt of Ded. Pot. to swear this Depont into his office And this Deponent further sayth that on or about the Eighteenth day of January last past this Deponent took the Oaths directed by the sd Dedimus potem: before two persons whose names as this Depont is inform'd are John Howells and Henry Lewellin in man[n]er & forme as the same Oaths are conteined & directed in and by the sd Dedimus Pot. this Depont doth admitt yt he being but very lately come to live in the County he is in a great measure a stranger therein and is not acquainted with the said Henry Lewellin and John Howells the p'sons nam'd as Comissionrs in the said Dedimus nor were they nam'd as such by the dirrecc'on or privity of this Depont But this Depont being told that they were the Commissioners nam'd for that purpose did take the sd Oaths before them in maner aforesaid as he thought it was his duty to do & nominated & deputed One George Stephens Gent. his Undersheriff who now acts & officiates as such And lastly this Depont Depont sayth yt his occasions calling him to London he this Depont began his Journey to London on the third day of ffeb. last & did not returne into the County till the Ninth day of March instant in the Evening of that day and did not reach his own house till yesterday which was the tenth day of this instant March on which day & noe sooner this Depont received the Petic'on or Coppy of a Petic'on hereunto annex'd ad Cardiff in Com. Glam'gan decimo die Martij Anno undecimo Georgij Regis Coram me Will'o Jenkins Mro. in Cur. Canc. Extraordinar.
1708.
[Case.]
The Lord Viscount Windsor in the Right of his Lady daughter & heir of Phillip late Earl of Pembrook is Lord of the Castle and Towne of Cardiff and as such is Constable of ye same Castle & intitled to a Duty called Bushellage (vizt) a Welsh Bushell of all Salt Apples Corne and such like imported to Cardiff and to a rent of 5l. 13s. & 4d. payable by the Bayliffs of Cardiffe and to all the p'fitts of the Town Court for which the Bayliffs ought to account at the Lds Audit And as Constable he had by himself or Deputy the right of swearing of the Bayliffs of the Towne and Serjts at Mace and alsoe ye makeing of a Town Clerk & his Deputy is a Justice of the Peace within ye Corporac'on.
Upon the death of Phillip late Earl of Pembrook The first [sic] Earl of Pembrook claimed all the matters either durante bene placito or quam diu se bene gesserit but that office was generally held during pleasure and the Towne Clerkes were removed at the Pleasure of ye Lords of the Towne.
About two years since my Lord Pembrook being satisfy'd he had noe Title [? left] all his Castles Manors &c in Com. Glam'gan to my Lord Windsor who appointed Sr Edward Stradling his Deputy and one Watkin Lloyd Town Clerk and Sr Edward as Deputy Swore two of the Aldermen of the Towne Bayliffs but they being not elected by the Majority of the Burgesses the old Bailiffs continu'd acting still and Mr William Richards as Deputy to Sr Tho. Mansel continu'd receiving the Duties belonging to the Constable and Mr Mich. Richards to act as Town Clerk but neither the old or New Bailiffs did pay the aforesd rent of 5. 13. & 1d. or give any acct of the p'fitts of the Courts and Clare having brought salt to Cardiff Mr Wm Richards caused him to be arrested for not paying the duty unto him & gott Judgmt agt him in the Towne Court & he having brought his habeas Corpus in order to remove these Acc'ons to ye Queens Bench & severll moc'ons having been thereabts they added the Expences thereof to the value of abt 18l to the Costs of the Towne Court and before any Ca. Sa. return'd agt the principle snapt a Judgmt upon Scire fac. agt the Bail & imediately made out a fi. fa. whereupon Mr Richards his Bro. Cl. two Serjts & four Constables went to the Bayliffs house in order to execute the same but the Serjts being shy in taking ye goods Mr Richards ask'd them wt they were afraid off if they were he would doe it And then witht being desir'd by the Serjts took severll goods of the Bayliffs and carry'd them to the house of one Wells where they were detain'd untill there was paid 22l for the delivery thereof.
The Considerac'on of the duty call'd Bushellage is the keeping of a Bushell for measureing of salt &c imported as it seems by the Surveys but there is noe [lege one] other Considerac'on (vizt) the making & repairing of a Key or place of Landing which is done at the expence of the Corporac'on And for that the Burgesses pay noe Duty.
Observe likewise that all these Duties are due to the Lord who is indeed the Constable of the Castle but is usually paid to and rece'd by ye Deputy by the Curtesy of the Lord and not as mre. of right.
Qre.
Whether the Power of the old Bailiffs was determin'd on the swearing of the new though they were not duely elected And if it were whether the acc'ons did not lye agt them for every Act they did ?
[Opinion.]
I am of Oppinion that they being not duly elected sr Edward Stradling could not Swear them but the old Bailiffs continuing to act de facto for want of a New Ellecc'on I think noe acc'on will lie agt them tho' an Informac'on may be brought them & the Corporac'on for acting without Warrt
Qre.
Whether an Indebit. et assumpsit. for money rece'd or a Bill in Chancery will lie agt Mr Richards for the profitts of the Town Clerks office and whether any act or thing necessary to be done by the Town Clerk appointed by my Lord Windsor to entitle him thereto [sic] and wt Construcc'on will be given to mr Richards pattent if it be as it is said Generlly w[i]thout any limitac'on as to its continuance.
[Opinion.]
An Indebitat. asst or a Bill in Canc. lies for ye ffees but the latter is best because by it Mr Richds will be compell'd to deliver Lloyd the Records & Books belonging to the Court & office as well as to the accd [lege to account] for ffees and Lloyd will be also quieted in the poss'ion of the office but the Title of the office will be tried upon a feign'd Issue at Law. Mr Lloyd must be sure to qualify him self by taking ye oaths &c before he can bring an acc'on for any p'fitts rece'd for a Considrable time but for the first ten weeks after he was made Town Clerk he may bring an Acc'on without being qualify'd. I canot observe by any of the Charters that a power is given to the Corporac'on and therefore the right of making one must be govern'd by the Custome and usage of the place as well as the right & Power of removing him and there is a Clause in K. James his Charter confirming the antient Methods of Ellecting such officers whose Ellecc'on is not provided for by that Charter.
Qre.
Whether it be not proper for my Lord Windsor to p'ferr a Bill in Cane. agt the Corporac'on of Cardiff in order to setle his Rights by a decree for they now seem to deny every thing & have taken upon them to Ellect Mr Richards for their Town Clerk and to deny sundry other things.
[Opinion.]
It is a very proper Method But if my Lord Windsor makes his officers as he should and they qualify themselves according to Law those officers may by acc'ons soon bring things to rights againe.
Nov. 1708. Wm Phillipps.
Qre.
Whether a Mandam s will lie for the admitting the Town Clerk appointed by Lord Windsor And if it will to whom should it be directed to the old or New Bayliffs or wt Course can be taken for to put him in poss'ion of the office or to get the Records from Mr Richards.
[Opinion.]
By a Bill in Canc. as before is mentioned.
Qre.
Whether an Acc'on of Trover will lie for Mr Claro agt William Richards for the Salt he has taken And whether it be proper to Join with him therein his Servt that had the Salt. Observe by act of Parliamt all salt is now to be sold by weight and therefore it should seem to me that if the keeping the Bushell was the only Considerac'on for that Duty it is now lost.
[Opinion.]
Noe Salt is mention'd in the Case but wt Claro was arrested for and as to the Consequences of that and the Judgmt you have an Answer below.
Qre.
What Course shall my Lord Windsor take for the rent of 5l 13 & 4d. due to him from the Towne and for the profitts of the Town Court and agt whom ?
[Opinion.]
By a Bill in Canc. agt the p'sent & late Bayliffs whose p'decessors were used to acct for the same I doe not find by the Coppies of the Charters that I have that the Rent of 5l 13s. 4d. or any other ffee ffarme Rent is reserv'd to the Lord of the Town Or that the Bayliffs are to acct for the Perquisites of the Court but without doubt they are by some other whereof I had not ye p'usall.
Qre.
Whether an Acc'on does not lie agt Wm Richards for other p'fitts by him rece'd belonging to the Constable of the Castle Admitting the Lord Pembrook undr whome he claim'd had noe right And whether the poss'ion of My Lord Pembrook will be any p'judice to My Lord Winsors Claim when that his Lady was an Infant or feme Covert All the Time.
[Opinion.]
I Observe the Lords of the Towne have been under grt mistakes for how long time I canot tell in believing themselves to be Constables of the Castle of Cardiff which they are not but they are to make a Constable of ye Castle and the old Charters menc'on that officers are to be sworn cora' Constabulario n'ro et qd Constabularius noster sit [Maior] ville et Burgi de Cardiff And it is indeed absurd and repugnant that one should be Constable of his own Castle or that Isabell Countess of Worcester and Lady of Glam'gan should be a Constable I doe not find any Mention of a Deputy Constable in any of the Charters soe that I doe not see there is any proper officer to call Mr Richards to Account My Lord Windsor therefore must appoint Sr Edwd Stradling Constable of his Castle then he can p'ferr a Bill in Chancery.
Qre.
Whether they could Justify the adding of the Costs in the Queens Bench to the Judgmt in the Towne Court to charge the Bayle And whether a Scire fac. could be granted agt him before a Ca. Sa. return'd agt principll And if these proceedings may be Justify'd whether Mr Mich. Richards would Justify taking the goods of the Bayle without being desir'd by the Serjts
[Opinion.]
The adding of the Costs in the Queens Bench to those sustain'd in the Inferior Court is certainly arbitrary and illegall as is alsoe the granting of a Sci. fac. agt the Bayle before the Ca. Sa. was return'd but I doubt the Bail have noe way to relieve him self but by an Audita Querela.
[Courthand.]
No. 90. Henry lewellin.
Ca. ron. ret. vt supra Comon bail.
[repeated in each case.]
Nich'us Price Junr u'sus Will'um David de Penmark yeom.
Jenkinu' Williams lanblethian gen.
91. Hugh Powell Swanzey.
Eliz. Powell vid. exec. & re. hugonis Powell defunct. u'sus Griffinu' Griffiths Caduxton Juxta Neath yeom.
92. John Addams.
Will'us Lewis u' Thomas Phillip de languick yeom. et Griffinu' William Rytherch langavelach yeom.
[A few similar entries follow.]
An acc t taken between My wife & her tent Wm John Croes lyky 20th 9 ber 1731.
Debor
Credor
I doe acknowledge the account above stated to be true and that I am indebted to mrs Anne Kemeys and her daughter in ye sume of twenty and Eight Pounds tenn shillings and three pence three ffarthings this 20th 9ber 1731.
William John.
Since ye setling of this account I sold and Deliver'd Wm John on Creditt 3 Cows at five pounds tenn shill:
1732. had of Wm John 2 bushells 1 peck & 1 pedurran of barley at 5s. a bushell 11s. 6½d.
half a bushell and a pedurran of pease.
a couple of ducks.
a couple of ducks & 4 Chicken 4s.
in money 18s.
An Acct of ............ting debts due to me.
........Thos Miles a shilling.........ett two seu'all Times 1s.
Lent Thos Morgan Mr Wms Malster & Mr Wm Wms p'mised paymt 1s. 6d.
Lent Mr Mathews son Sadlar in Lincolnes In walk (send to him) 8s.
Mr Mitchell a Bill of a Cow 2l but neu'r pd me according to p'mise (Send to him soon).
Lent to Lewis Wm abt his two Acc'ons in ye Exchequer & informed him of ye Contempts he lies under by Mitchell & to pay p' Expance & entring of a Plea.
Debts due to me from acc'ons in Com. Cur. & other Inferior debts.
David Morgan y Brenin (fn. 28) as they call him enquire after him an Execuc'on by Default 2s. debt. 5s. 1d.
Speak to Thomas William of Lanishen abt a ffee thats due to me from him 6s. 8d.
Speak alsoe to Morgan Jenkin of Newport Pugh's T 11s. the orders & let him know yt I payd the ffees to my attorney in Coi Banco & in Bco? Rs & Scrutatione but could not find any such Acc'on.
enquire wts due from ye Widow Thomas of ye high Corner of H. L. d. acc'on in Cardiff Cort let us know ye same from Mrs Nowell.
Sheriffs Accounts this End of the Book.
Rents due since Mich'as p' the Year 1725.
from Edward Samuell for ten Acres 7l 10s.
Walter Brookes for two acres 1l 6s.
Widdow Arther Lisvane for two acres & a half 2l.
Wm Mathew payd me 5 acres 4l 3s.
p' the house since May 1725, 15s. out of which Kill paid 5s. 6d. and 6d. Earnest.
Tir y ddy to Thomas Edward Phillip & Six pounds Clear of all deducc'ons 6l.
the arrears for this year as follows ended the 13th Aprill 1726.
John Kell to discharge his Arrears work'd for me 15 days & 6 days 14s. Soe that John now owes for 1725 ye arrears of 4s.
Work'd more the 15th July 1726 at Hay making 8s.
Work'd one day at Carrying Hay 6s.
Rent Roll p' the year 1726.
Rented the Rossog five Quarters to Wm Gwr Rosso for five & twenty shillings 1l 5s. 0d.
13 April 1726. Rented the two acres & a half And the two acres held last year by Walter Brookes which lands are near Redinge Arthur's house to One Miles William of Lantwit Vairdre who lives in Perlanna p' four pounds five shillings 4l 5s. (in this demise I am to pay all taxes.)
Thomas Edward Philip Rented the Tyr yddy ffarme at Six pounds Clear of all deducc'ons 6l.
To Kell my house in Rumney 1l 10s. 0d.
The Lands I rent this year as follows
from Mr Watkins 3 Acres of Salt Hay & making 3l 4s. 6d.
from my Mother three acres at 17s. p' acre 2. 11. 0.
in discharge of this rent Due to my Mother I pd to Edmond &c
to her use for throwing the Pill two pounds Eight Shillings.
soe that I shall owe my Mother but three shillings.
[Courthand.]
speak to Wm Thomas ye smith of lisvane wtr he'l employ me in the cause in canc. agt him by Nhemiah my fathers sol.........ye......... my father's old Client in alsoe.
Glam'gan s.s. Sessio Apr. 1719.
Thomas ads
Thomas's bill.
p' tr. affidavit in order to discharge Bail given vic. at the plts. suite 2s.
for engrossing it swearing it & duty 3s. 4d.
pd kings Counsel for moving on ye above affidavit to discharge ye bail 10s.
pd Prothon. for reading ye affidavit rule & ffee 5s.
Kings Councells ffee to make ye rule absolute 10s.
for a copy thereof & service on ye plts. attorney 3/6.
sessions ffee 2s.
for attending ye Court service upon ye two several motions 4s.
William John Sweet.
sessio Apr. 1719.
mr John Sweet's bill.
tr. not. sect. & ser'ac. cu. tr. p'i p' originali 7s. 8d.
roli. cur. p. oi. feod. & duty & sigil'i & ret. inde 4s. 11d.
It'um feod. & duty sigil'i & ret. inde 4s. 11d.
sol. p'thon. p' affil. or. & it'um & feod. inde 5s.
tr. Narr. & duty &c. Concili. p' assign. inde & atten. ip'um 9s. 3d.
affil. nar. & feod. 3s.
reg. ad p'litand. & feod. 3s.
feod. ist. session. 2s.
Philip Morgan of Christchurch parish.
Mariam Keen de Newport & acct of ye receipts & my attendance on D. B. att the hearing att Cardiff & taking Instr. p' Lr'e sent & rec'd from London to know out of wt Court the writt issued out to take Deft.........
p' my Journey to Monmouth shire being two days & Attendance on Deft. to putt in bail horse & Expence 2l 2s.
mr Thomas Williams of Lanishen's will.
[Short bill of costs in Latin, courthand.]
Debts due to me being money lent.
from my uncle of Lantrissent.........
My uncle Young 3..........
from Tir y ddy Tenant 30.........
p' note from uncle Lewis Morgan 8l. 2s.
p' note from Lionell Stibbs 6l. 3s.
p' note from Mr Miles Mathews as alsoe money pd 2l 10s.
pd p' Jno. Sweet to Samson Stone 15s. Cost 5s. 1d.
Enquire of Dr Richard wt he did in that affair of Da. Edward Morgan in Com. Cur.
A new Acct of the moneys owing to mee by Bonds & notes.
Glamorgan s.s.
To R. ffenn of the p'ish of
Take Notice that a Bond of the Penalty of twenty pounds for paymt of tenn pounds due unto J. D. of—entred into by you will be put in suite agt you by ye sd J. D. the first day of the next Great Sessions to be holden for the sd County of Glamorgan in order to obtaine Judgmt thereupon att the same Sessions.
March 19th 1720.
Thos Morgan
att. pro Quer.
An Account between mr George Watkins & self.
Disbursemts p' mr Watkins this side.
paid Redmond 1. 1. 0.
pd for Ale for ye Workmen 1s.
pd for 3 men to carry ye stones ashore out of Hollands Boat 2s
pd in Ale to the Workmen 1s.
for my Man's Attendance on Mason 6d.
pd for a Rope to Evan Deer—
p' Rent of 3 acres of Salt Hay & making 3. 4. 6.
Mine.
pd my uncle Clifford for 4 weighs of Coal 1l.
spent in Ale 1s.
pd Holland 3l 1
pd Redmond 2l.
pd for Ale
pd mr George Watkins 1l.
pd Dick Tinker & Wm Rossa p' carrying Stones to the Kilne
pd Francis p' Working at the Kilne ye 16th July 1726
pd p' Lime at Cardiff 1s
pd Mason p' amending Kilne.........
pd Wm Lewis Howard 10s.
This was lent when he went to Terga He p'mised to pay it
Elly ffayr or the day after.
pd more Wm Lewis Howard 5s..........
pd Redmond—
ffranc began working at the lime ffriday the 26th Augt 1726.
Hugh on Monday the 29th
A Second Acct of the Lime & other work that I've taken to doe on my own Bottom.
paid my man Hugh p' myself & Mother 5s......
pd Wm Rossas husband [sic] towards Coal 10s......
pd p' two Basketts p' Carrying Stones 0l. 0s . ...d.
pd Wm Mathew a Moyder out of Which I ow'd him thirteen
shillings soe that there remaines due to me in his hands
foreteen shillings which I am to account for p' his work 14s.
pd Sherring p' timber the 1st 7br 4s.......
Mr Sampson Swee[t] Mr Thomas Bates and Mr John Wilson Debtors to Anthony Maddocks Remr of his ffees and disbursemts due in Mr Cornishs time 2. 6. 2.
Pasc. 1721°
[Bill of Costs in English.]
Journey to Cowbridge to take instrucc'ons to draw up plts.
charge 3s. 4d.
1731. Money expended on all Occasions from the Eighteenth day of October 1731, till ye 18th oct. 1732.
17th Oct. Spent in Ale & Syder 3½d.
had from the Red house (fn. 29) a quart of Syder 4d.
3 pound of Candles 1s. 6d.
Needles ½d. barm ½d. 1d.
Cheese 3s.
Spent at ye Lamb at receiving malt money 1s.
spent at David of Rumney in Ale 6d.
gave Thos Mr Pursells man for turning malt 1s.
pd ye woeman of the Dobbin Pitts (fn. 30) for Barley 2li 16s.
in Bread ½ penny milk ½ penny 1d.
cheese from Mary Tennis Cort (fn. 31) 3s. 3d.
To Mr Andrews a Charity of 2s. 6d.
22° ditto pd in Earnest for the Hooper 5s.
23d pease 8d. barm & baking 1½d. oyl & whiting 1d.
butter 4d. pd David's Wife 4s. pd Edward Hopkin for barley
5s. 6d.
butter 8d. an earthen cawdle cupp 2d.
beef 5s. 6½d.
pd Anne of ye Moors for Owen ye Mason 1s.
......d oct. pd Mrs Lambert borrow'd Money 5l 5s.
oatmeal 3d.
a strike and quarter to Mr Thomas ye Cooper 2s.
Spent in Syder in ye Morning 2d. in the Evening 8d.
24. pd p' Candles p' Roger Morgan 2 Pound 1s.
spent in Wine & Syder 1s. 2d.
pd to Anne for 4 bushells of barley 1. 3. 4½. ......5. Spent at ye Red house in wine & syder 1/7d.
25th To the Coal boy 1s. 6d.
for Baking ½d.
26th I pd my Couzin Tom Young for Elmes 1l 10s.
pd ye Coles boy for two day's work 8d.
more for cole 8½d.
spent at the Redd house Inn 1d.
17th oct. 1731. Money rece'd on wt account & from whom from the 17th oct. 1731.
18th received of Mrs Jenkins for suet 1s. 4d.
of Lewis Prichard of ye Lamb for malt 2l 16s.
20th Rec'd of Richd Phillip Edmund for malt 18s.
of Morgan, Wm John Morgan's son on acct 2l 8s.
22d Rec'd from Cecill Lewis p' H. Pendry Roose 7s. 6d.
25th Recd of Mr Tho. Williams of Newport 1l 6s
30t rec'd of Anne Cristopher in part of Rent 3l 5s.
1st 9br of Doctor Jenkins for Grass of his horse 3l.
received of Mrs Jenkins for suet 2s. 3d.
3d 9ber Rec'd of Wm Price's wife on a Town acc'on 1s. 7d.
8th Rec'd then of Morgan Howell, Lancross (fn. 32) 8s.
9th Rec'd from ye curriers Williams & Samson 3s. 4d.
a quarter of a pound of brown sugar 1½d. [struck out].
Rec'd of Mr Wm Morgan for malt 10½ Bushels out of which
monie I allow'd him for making Great Coat 5 for Ale to
Davy 1s. gave Morgan 1s. p' Cloath 1s. 6d.
13th received for wooll 10s. 6d.
received of Thomas's sister for a pedurran of malt 6d.
16th Rec'd then of John Cattuck on Ballanceing accounts 1. 16. 6.
17th 9br 1731. Rec'd of Dick y vyoch (fn. 33) 2s & Replevin 1s. 6d.
Rec'd of Thomas Jenkin Denis powis 13s. 6d.
Rec'd of Grandfield p' shoemakers ads Mason Denis powis 1s.
Rec'd of Morgan Thomas Lanishen p' Ticket u' Jno. Morris Mason 1s.
22d 9br 1731. Rec'd then of Edwd Arthur Lisvane to Edwd
Mathews use 3 . 2 . 6 to my own 3s. 3d. in all 3l. 5s. 9d.
26th October 1731. brought over money pd 23 . 4. 8.
27th pound of butter 1s. 6d.
thread ½ penny potatoes 1½d.
spent at the Red house in wine & syder 8d.
28th gave the Boy to goe to Coal 10d.
sent to the Redd house for a Quart of Syder 2d.
29th gave ye boy to go to Cole 1s.
pd John David ye smith for hooping a bucket 2s. for other work
left him unpaid 10s.
29th oct. 1731. pd to Anthony Wm p' burning place 13s. 4d.
p' mrs Morgan Red house Inn p' quart of syder 4d.
spent 2d.
deliver'd the boy for Coal 9d.
30th oct. gave for a Goose to Alice of Rumney 1s. 2d.
pd David of Rumneys wife 4s.
4 pound of butter 1s. 6d.
pd Miles Wm Philip in full for 5 daies this Week 3s. 4d.
pd John Rowland for Ridds for thatching being 1300 hundred at
9d. p' hundred 9s. 9d.
30th a pound & half of thrums 6d. wooden ware 3d.
tripe 2d. mustard ½d. a quarter of mutton 1s. 3d.
a showlder of veal 8d.
spent 6d.
aples 1d.
November ye 1st pd half a years Kings Tax for 6 accres of land
3s. 6d. for ye house we live in 5s. 10d.
postage 4d.
paid Mr. Oborne of Bristoll Grocer 1l 5s.
pd Mr. Thomas ye Cooper 2s. 2d.
pd ye Church Tax for half a year 7s.
pd Anne Edward & another woman for winowing 1s.
gave ye boy to go to Cole 1s.
3d 9br 1731. then paid Captain Brewer for Rope yarn 12s. 6d.
pd Mr. Joseph Howells p' a pair of Tan'd Gloves 1s.
Spent at the shoulder of Mutton (fn. 34) in Wine 1s. 6d. apples ½d.
4th pd Mary Tennis Cort to Roger Morgans use 18s.
potatoes 1d.
spent at the White horse 3d.
at ye Red House 1d.
pd for a showle for the Kilne to Jayne 1s. 5d.
A Rope for Haviess from Jane pd him 10d.
pd Rees Wm Gronow p' hay 1l 5s.
Paid Tom Glascott for a Lash for Cart Horses 3d.
5th gave George Vann to send to Cole 7d.
paid for 124 pound of butter att 3½d. a pound 1l 16s. 0d.
paid for ye ferkin which ye butter was in 1s.
6th pd Thomas my Malster 4s. 6d.
pd David's wife p' husband 3s. 4d.
for her self whinnoing 6d.
pd A man for a Dozen of Besoms 8d. One Large Besom 2d.
pd John Evans wife p' Couple Ducks 9d.
p' her husbds work 3d.
paid Wm David of St Mellents for barley 5s. 2d.
Pd Thomas Anthony in pt for scolps 2s. 5d.
p' Deal 1s. 2d.
Qr. of Pork 24½ at seven farthings—
paid for a Roasting Pigg 1s.
spent at the Angell (fn. 35) 1s. 7d.
7th pd for Letters from Jno Lewis & Bassevill 11d.
8th barm 1d.
9th potatoes 1d.
a pound of Chocalate 3s. 6d.
spent in ale and apples 1½d.
two pound of Candles 1s.
Spent in Ale at ye White horse 6d. mrs Laherne 7th
10th Milk taken in ½d.
paid mrs Jenkins of the Cock Ale house for Owen Mason 12s. 6d.
to Wm Morgan p' Coat 5s. Ale 1s. Cloath 1s. 6d. to Morgan 1s
12th paid Mrs Jenkins for a pound of Candles 6d.
pd Owen ye Mason in Malt 9d.
......Novr 1731. pitch ½ penny corks ½d.
potatoes 1d.
Cheese 1s. 2d.
Cheese 11s. 1d.
To the St Mellans Smith 2s. 2½d.
pd for weighing wood 2d.
pd Thos Anthony's wife for scolps in all 3s. 6d.
pd another woeman for Scolps 200d.
To Morgan Wm of Lwynygrant for Reed 6s.
Roger Morgan for Beef 4s. 8d.
To the Boy to goe to Coal 10d.
9th pd James his quarters wages 10s. 3d.
Spent at the Redd House in Wine 8d.
15th pd George for 8 pound of hops at 1s. 3d. a pound 10s.
16th 9br 1731. then pd
Captaine Sam. Davies for stone Coal
50 Horcells [?] 5l 8s. 4d.
spent at the Nobles in Ale 5d.
Spent att the Red house in Wine 6d.
17th pd the Thatcher at Tye Lloyd (fn. 36) 2s.
18th postage 8d.
Expence in Ale at white horse 4d. Rumney 1d.
pd Nat Guy Porter for bringing things from boat ye tabitts 8d.
20th 9br 1731. pd David of Rumney p' Whinoing 4s. 6d.
pd Jno Powell for bringing a letter from Col (fn. 36) Towgood 1d.
pd for a Goose 1s. 6d.
for a quarter of Pork 4s. potatoes 1d.
pd Thos Wm of Lanedern for barley 3 . 17 . 6 .
a quarter of mutton 1s. 4d.
Spent in Wine at ye Red house 1s. 6d. Ale 1d.
21st paid ye Thatcher 3s.
22nd a Galloon of small wort at 3d.
23rd pd Mrs Glascot for making a gown 2s.
24th needles 1d. thread 1d.
the Cowbridge Journey 11s.
pd margaret Jenkin for washing two days 1s.
25. a Gallon of small wort 2d.
gave Mother in Law 1s. to pay.
spent at Da. Rumney 7d.
paid my Man William Wages 5s.
27th p' Blacking 6d.
stamp per Certificate & Ejectm[en]t 1s. 4½d.
Geese 3s.
shoulder Mutton 5d. Beef 3s. 9d. Onnions 3d.
28th in the Cause Evan u' Davies a Lre. w[i]th a Comission of Relacion 4s. 5d.
pd ye Currier by ye bridge (fn. 37) for hops 3s.
oatmeal 3d. mending of shoes 2d.
mustard ½d.
paid David Charles of Lisvane 1l 1s.
a Gallon of small wort 2d.
a biskit ½d.
pd ye Lwnygrant man for barley 6s. 9d.
30th spent at the White Horse Ale house 6d.
to Miles Wm Phillip for his daughter for keeping Cows 2s.
pd John Evans wife in the Fayr 3s.
pd for 7 yards of flanen for Owen ye Mason at 7d½ pr yard 4s. 4½d.
6 yards & a half of flanen for Johny at 7d½ pr yard 4s. 0½d.
paid Anne Edward's daughter for her Mothers winowing 6d.
2 stone & 3 pound of Cheese 5s. 1½d.
earthen ware 1s. 6d.
pd Peggy to buy a gown 5s.
pd mr Lewis & Thomas in full for 1000 and half a hundred of Reeds 1 . 15 . 0.
a quarter of a pound of Tea 3s. 3d.
24th then sent in by Griff. Jenkins on Pencoyd 30li.
recd a ffee 2s. p' a Ticket 1s. 2d. from Arthur County Cort &c 11s.
26. ffor Blacking to Currier Williams 4½d
1 sheet stamp paper 1s. 2d.
p' Onnions 3d. p' Biskie ½d.
To Recd of Wm George p' Com. Cur. 2s. 6d. & p' con. Hodgkin
12s. 6d.
30th of David Howell of Rumney for Wm Jno Morgan 12l 10s.
2d decem. recd of Mrs Lewis (fn. 38) ye hatmaker for malt 8s.
3d recd of Richd Griffith for a peck of malt 2s.
4th xbr. 1731. brought my wife from Cowbridge 74li 10s. 0d.
from mr Thomas Williams Lanishen 2 . 5 . 0. out of which I
deducted 11s. p' oates 1 . 14 . 0.
of David St George's Tennant in full for Law 10s.
7th rece'd of Wm Morgan of ye white horse for malt & barley 2 . 1 . 7½.
10th reced of George Evan of Rumney for malt 8s.
16th recd of Thomas ye Gardiner money lent him 5s.
vlt. xbr. 1731. then rec'd of ye Carphilly Weaver in full 5s.
6. Rec'd of Mrs Williams at Cowbridge p' Wm Morgan 10li.
of Jennet Lewis's sister of Roston for maltt 16s.
1731 Nov. 30. then spent at the Redd house Inn 2s.
potatoes 1d. 1 pound & a quarter of green tea at 9s. pr pd
11s. 4d.
1st xbr. 1731. then Spent at ye Angell 2s.
2d for Smale Wort 1s. 6d.
spent at the White horse 8d. & Lent E. Deer 4d.
pd Peggy in pt of her Wages 1s. 6d.
gave Johny to bear his expences home 1s.
3d. baking 3d. oyl for scowring 1d.
Chaulk & lime......d.
3d & 4th do Spent in My Journey to Cowbridge 4s. 7d.
for Barley to Richd Griffith Lanishen 1 . 8 . 10.
barm & baking 8s. 2d.
3 quarters of a yard of diaper 1s.
pd Stephen Mathew of Lisvane for two Bushells of Barley 9s
a quarter of a pound of Bohea tea 2s. 6d.
pd Jenkin Howard of Roth for barley 10s.
pd Mrs Jenkins for a douzen pound of candles 5s. 9d.
pd ye thatcher 3s.
5th a biskit ½d. tobacoe 1½d.
7th earthen-ware 7d.
pd ye Excise 7 . 4 . 9½.
lent Thomas ye Gardiner pd me third 5s.
for 3 quarters of a pound of bohea Tea 7s.
8th xbr. spent at ye White Horse & Rumney 8d.
pd Mrs Richards of ye dobin pits for barley 5s.
9th pd Reece Wm of Lisvane for barley 3s. 1d.
Decem. ye 10th pd Mrs Wms for Gloves for ye child's burying
11s. 6d.
9th pd Tho. Pendry for Potatoes 1d.
in Thrums 6d. 2 pound of butter 8d.
11th a side of pork 7s. a quarter of Veal 1s. 6d.
a quarter of mutton 1s. 6d.
gave a boy for bringing a letter from Bristoll 1d.
Beef 41 pound for 3s.
a douzen of beasoms 8d.
11th xbr 1731. then spent at the white horse 3d.
13th pd Roger Morgan in Earnest for his land & cattle horse & hay 11 . 15 . 0.
14th baking 1d. pd Okey for 3 pound of hops 5s.
pd Edwd Reece Cooper 6d.
13th & 14th spent at Redhouse 6d. Whitehorse 1s. Rumney 1d.
14th for Sweeping ye chimney 4d. mustard ½d.
spent at ye Red house 6d. Milk ½d.
15th Mr Morgan spent at Tho. Penry's & ye Red house 3s. 1d.
16th pd Peggy her wages 3s. 6d.
3 groce of Corks 3s. 6d.
pins 3d. coffee 3d.
18. pd Miles Wm Phillip in full for his week he having lost one
day. He owes me 3d. 3s. 4d.
a sieve 8d.
pd George Wms of Roath for Reeds 17s. 6d.
pd Edwd Mathew of Lisvane his money 3 . 2 . 6 .
Pd for side of Bacon & tea [?] 13s.
More Bacon at 2d. p' pound 12s. 6d.
a showlder of Veal 4d.
a bushell of pease 7s.
spent in Journey to Cowbridge w[i]th Watson 4d.
19th Spent at the Redhouse in Wines & Ale 2s. 1d.
pd for a Lre. from Hope 4d.
Milk 1d. manchet 1d. baking 1d.
20th oysters 4d. oyl 1d.
spent at the Red house 2d. white horse 6d.
21st oysters 3d.
22th at Com. Cur. spent 1s. 8d. pd for My Bro. Harry 4d.
spurs 1s.
pd Nann Edward 2s. 6d.
23d onions 2½d. pocket hankerchiefs 4s. needles 1d.
a Swab 8d. baking 4d.
gave ye boy to go to Cole 7½d.
spent at David Rumney in Ale 6d. Tennis Cort 2d.
24th spent Tennis Cort 2d.
To Thomas Jacob in Money besides ye Malt vide ye malt book 4s. 6d.
pd the Thatchers man 5s. having been then 10 daies—
Doppin pit Barley 11s. 10½d.
Butter 9d. Eggs 2d. Oatmele 6d. Neats tongue 9d.
Coal 7½d.
Pd Annuity to My Couzin Wm Morgan 5s.
spent 2d. gave 3d. gave 1d.
25 gave Johny to pay for his lodging to Grotts 1s.
27th spent at Tenis cort 3d. scord 1d.
To ye clk & sexton 1s. Landaff Milr [?] 6d.
gave Morgan Whitehorse on his ffathers paying for Malt 1s.
pd Mr Herbert money lent 4l 4s. gave ye musick 1s. packthread 1d.
gave Roger Morgan to drink w[i]th ye people yt hauld ye Timber
2s. 6d.
gave ye boy to go to Cole 5d.
tobacoe 1½d. gave old David his Cristmas box 6d.
29th pipes 1d. tobacoe 1½d. bread 1d.
30th oyl 1d. chaulk ¼d.
Henry Dunns wife having workt 4 daies this week 3s.
Lent Edward Lewis Hughe 2l 2s.
Cheese 5s. 7d. Eggs 2d.
spent at Da. Owens 3d.
1mo Janry gave my Godson 6d.
Coffee 5d. bread 1d. potatoes 1d.
3d Salt 2s.
Cornage to Harry David for serving Ejectmt2s. 6d.
black silk 1d. Jamaica pepper 1d.
treagle 1d. saffron 1d.
4. spent in ale 1s. 1d.
5. pd my Bro. Wm my Couzin Wm Morgans Annuity 42 . 18 . 0.
6th pd Thos Pendry for making two Coats into Wastcoats 4s.
stephen Edward Lisvane p' Bushell & a Peck Barley 1 . 16 . 0.
7th barm ½d. parsnips 1d.
7th Janry 1731. spent at Rumney 2d. Red house 2d.
8. p' Barley Ruddry 8s. 1d.
Beef 44 pound at 1½d. 5s. 6d.
pd the Thatcher 2s. 6d.
9th gave usk post 6d.
spent at ye Reddhouse 1s.
parsnips 2d.
gave James to go to Cole 7½d.
for mending sieves 1s.
11th pd Morgan of ye Splot for barley 15li.
pd David of Rumney for 4 daies last week 2s. 8d.
pd mr Wm Matthews half a year's Interest for 150 pound due to
Mrs Jones 3 . 15. 0 .
pd Mr Preist (fn. 39) freight from Bristoll 6d.
Candles 5s. 9d. Saltpeter 4d.
13. pd Wm Jones of St Nicolas for barley 5l 5s.
12th spent at the Redd house 6d. Cryer 2s. for 2 oaths on the
prsentmt & 4 Indictmts 8s.
13th att Rumney 4d. pd Willson for 5 yards of Canvas 2s. 11d.
pd ye man yt makes ye packsadles 6d.
14th pd Wm John Morgan for Hay 2 . 17 . 0.
Payd Anne of the Moores for Morgan Harry thatcher 6d.
veal & Haggage 1s. 6d. Barley maslech (fn. 40) 2 Bush. 10s.
8° Janry 1731. then Recd of Mrs Jones Sant Mellans in pt of
Law bill 2 . 2 . 0.
10th Recd of Alexander a Prisoner 2s.
Recd of Mashmans p' Town warrt (fn. 41) Mr Herbert being paid his
8d. & Serjt 6d.—2s.
15. Recd on acct of George Evan John late of Rumney from
John Price of Watforth 3l 10s.
19th then Recd of Wm Spring Garden on acct of a Warrt 2s.
21th then recd of Da. Richds wife a Prisonr 8s. 6d.
22d of Mrs Jones of St Mellints for a pudurron of malt 6½d.
26. of Anne Robert's son of Barnwell for a pedurran of malt 1s. 1d.
feb. 7. Recd of Thomas Morgan of Eglwisilans son p' himself
1s. 6d. & p' his ffather 7s. 6d. or 5s. I cant tell which 9s.
10. Recd of merthir man on account of Replevin 2s. 6d.
13th then Rec'd of David Thomas p' yr house in Rumney 10s.
14th Then Recd of James Blouer for Penalt Estate (fn. 42) 13. 8. 5.
of John George of Landaff for malt 1 . 12 . 0.
15th brought in Wheat from Rumney 31 Welsh Bushells—
21th Apr. 1733. then recd of Evan of Landaffs daughter p'
Henry Richard 5s.
16th Janry Turnipps 1d. Bread 1d.
17th a pound of butter 4d.
tobacoe 12d.
18. pd Phillip Morgan St Mellents for barley 17s. 6d.
pd Evan Harman of Whitechurch for barley. 2 . 12. 2.
lent Mr Young 1 . 10 . 0.
16th spent at the Red house 6d. White horse 8d.
18th spent at the white horse 4d.
19th small wort 2d. potatoes 1d.
20th pd Phill. Merredith for a pair of Shoes 2s. 9d.
half an ounce of worsted 1½d. lemons 2½d.
spent at the White horse 1s.
21st pd Edwd Lewis Hugh in full for his own barley with 2
guineas lent him before 14s.
Spent at the Red house in Ale 4d.
pd p' One Bush. Barley 3s. 6d.
pd Pack Sadler 1s. 6d.
To Tho. Jones daughter 5s.
to the Thatchers tender 1s. 8d.
Edward Radirs wife 2s.
To Wm Thomas of the Mill p' Reeds 1000:—2l.
22. pd Colonel Morgan's Rent for Tyr Loyd land 5l.
23. pd Margery Jones for quilting 2s. 6d. thread 6d.
tobacoe 1½d. sweetmeats 9d.
25. Evan Deer 3l. Thomas Estance 3s. spent in Cowbridge &
Cardiff 2s.
26. lemons 1s. tobacoe 1½d. pipes 1d.
28th Jan. 1731. pd Sarah of ye bull for small wort 10d.
30th then pd Tho. Jones my workman 6s. & 4d. in full for work.
Lent Thomas Jones my Workman 4s.
Coffee 5d. tobacoe 1½d.
1 ffeb. paper 1d.
Spent at the Redd house 8d. Davids Rumney 4d.
2d Lre. 1s. spent Rumney 2s. 6d.
salt peter 8d. sugar 3d. Tobacco 1½d.
a bag 2s. spent at the Red house 1s. 1d. bobin ½d.
5. Thomas Maltmaker 4s. 6d.
Legg of Mutton 1s. Qr Veal 2s. 6d. a couple of fowll 10d.
pd for County Court Executions 6s.
small wort 6d. barm ½d sprouts 1d.
6. butter 4½d. leeks ½d.
7th Spent at the White horse 11d.
Wafer box 4d. paper 5½d.
9th To the Thatcher 3s. 8d. poors tax in Rumney 7s. 0¾d.
To Owen ye Mason p' David of ye Church House's wife 10s. 8¾d.
8th spent at Rumney 2d. at the Red house 2s.
3 stone of Cheese 9s. a pail 1s. 10d.
10th leeks ½d. tape 1d.
13. a quarter of Pork weighd 22 pound 3s. 6d.
tape 1d. Jamaica peper ½d. brimstone ½d.
13th then pd Miles Wm Phillip by Man James 4s.
Leeks to Rumney 1d.
postage from Mr Watkin Morgan 3d.
17th In Corks 2 Grose at 8d. p' Groose 1s. 4d.
18th paid my servt William towards his Wages 2s. 6d.
pd Thos Jones 4s. 10d. which together with 4s. lent & 1s. I kept
towards the Landaff Baking woman & 6d. my man James
was in full for his work he goeing to my Bro. Wm 4s. 10d.
aples ½d. barm ½d. small wort 3d.
spent at ye red house 1d.
19th pd Anne Edwards daughter for Whinnoing 1s.
half penny Cake ½d.
pd for a pound of bohea Tea 8s.
pd Roger Morgan by a Pig bought for him 1 . 8 . 6.
30. tobacoe 1½d. leekes 1d.
21st Cole 4 loads 1s. 8d.
22. 7 pound of hops 10s. 8d.
Spent at the Red house in Wine 6d. barm 8d.
23d To James my man for Coal 1s. Twine ½d.
26. baking 1½d. parsnips 1d.
a Showlder of Mutton 10d. pins 3d.
21st feb. My tent Anne Christopher in full for rent 10s. 6d.
from Richard Powell Ale house Keeper Crockerton 18s.
from Parson Harris & James Jones for Law 1. 7. 0.
recd to ye use of Edward Harry of Ruddery 1l.
for a Town Warrant on Defamation 2s.
3d Mar. of Morgan Howell of ye Loncross for malt 16s.
8th march 1731. then recd of a smiths wife Whitechurch 4s.
4th of Andrew ye Miller's wife for ye use of Morgan Thomas of Lanishen for malt 16s.
15. County Cort business 3s. 2d. Town Cort 3s.
23d of Hopkin Williams p' notice Magn. Sess. 4s.
Anne of ye Moores 1s.
Hatkings of Bristoll p' malt 16s.
of old Mr Howells Bovill for Law 1 . 1 . 0.
recd George Jones p' 2 Puddurrans of old malt 3s. 7d.
24th of John Thomas of Liswherry 45l.
25th of Mrs Lewis ye Hatmaker for malt 1l.
28th Recd of Row & Valence Scotchmen 10s.
1st April 1732. of Reece ye huntsman for malt 1l.
of ye fellow I brought the Porker p' Ticket 1s.
5th April 1732. Then recd of depositt money for my Security as bail for Wm Williams ye Currier Cardiff, to deduct bill of cost 3. 12 . 0.
21st recd of old Mrs Lambert money lent her 4 4. 0.
28th ffeb. 1731 then bought of Mr George Jones Appothecary
160 pound weight of Beef at a Penny p' pound 13s. 4d. out
of which money I pd 7s. six shill. & 4d. being left in my
hands in pt of 14s. he owes for Town Cort Cause 13s. 4d.
spent at Red house 10d. pd for Coal my horses......10d. 1s.
pd Wm Lewis of fairwater 3s.
29. pd George Lewis for a Wig 2l.
1st mar. Starch 1½d.
3d water cresses ½d.
4th spent at Dick Phill. Edmonds & Lancross & at ye Angell 9d.
Lau'r bread (fn. 43) 4d.
pd Will Phillip by his stepmother 2s. 6d.
5th pd David ye new man 1s.
spent saturday & sunday Red house 2d more 5d. White horse 10d. Dick Phillip Edmonds 3d. Angell 1d.
6th cole 8d. 3 pound of hops 5s.
spent at ye Red house 1s. at ye Angell 3d
7th Postage from Bristol 4d.
leeks for Rumney 1d.
pd Tom ye Gardner p' seed & work 2s. 3½d.
Spent being the day I was made an Alderman Ellect 8s. 3d.
8th Martij 1731. then pd David Rumney p' Labour in full for ye
last week & this Week he deducting 8d. that I am to pay ye Apothecary 7s. 4d.
pd Henry Jones Tyler 1s. 8d.
mending of shooes 1d. a silk lace 6d.
pd p' stamps for my ffreedom of Cardiff 2s. 4d.
Two Groose of Corks for 3s.
8th Martij 1731. p' Baggs 5 in Number 12s. 6d.
pd Evan Harry of Ruddry Lime burner 1l.
spent at the White horse 4d.
9th Citron 3d. oysters 3d.
10th laver bread 2d.
a beef's head 1s.
pd Mr Holland boatman 15s.
Cole 1s. 9d.
pd Anne Edward for spinning 6s.
13th for sweeping ye kitchen Chimney 6d.
pd a Tinker for mending ye furnace & other work 3s.
pd Mr Holland's son by way of account for carrying limestone 5s.
15th pd Captain Greenfield for Lats (fn. 44) 3s. 3d.
16th sprouts 1½d.
spent the Monmouth Journey & pd for Writts 2s. 1 . 7 . 6.
15th spent at Cardiff wednesday Com. Cur. 3s.
16th at the Angell 8d. at Rumney 9d. p' Ale & beer 1s. 5d.
18th pd an Eglwisilan man for Crapp stocks 3s.
p' Baking 1½d. Woodden Bowl 1d.
17th spent at Dick Phillip Edmonds 1s.
18th watercresses ½d.
a quarter of lamb 1s. 2d.
pr taxes to Rumney 1l 0s. 5½d.
pd for Glasses 1s. 1d.
Breast of veal 1s.
spent at Wm Morgans of the White horse & Betty Price's 9d.
19. tobacoe 1½d. gave 1d.
21st pd Henry Cornish Taxes 9s. 4d.
sallet 1d. 6 gallons of small wort 1s.
23d Martij 1731. spent at Rumney 4d. Redhouse 2s. Larnes 1d.
Sunday before at Angell & Redd house 2s. 5d.
23d pd Morgan my tent of Rumney besides ye 6d. to his ffuller 1s.
salt peter 4d.
Cole 10d. Milk ½d.
25. pd for Arle Powles for slidds 3s.
p d M r Edw d Herbert [struck out].
pd Mary Miles Abrahams wife towards a gate 8 oates 6t. 1s. 2d.
spent at Newport 7d. in Town 9d.
pd Owen for turnips 3d. for a mattock 3d.
26. radishes 1d.
pd Gwenllian Wm John Morgans daughter 1s.
freight for cloth from Bristoll 3d. bringing it up 2d.
27th spent at Dick Phill. Edmonds 1s. 6d.
small wort 3s.
at the Angell to treat a Penalt man Evan Deer 1s. 2d.
28. radishes 1d. lime 7d. hop buds 1d.
29th do. Pd Robert Holland two Guines in all 3 . 4 . 6 as mr Holland says but my book says 3 . 6 . 6.
spent at the White horse 6d.
Pd Mr Herbert a Guinea he lent me & six shillings 1 . 7 . 0.
pd Will Lewis Hendry p' 40 Pecks of Ditch two spade between me & George Evan Rumney 10s. more for two stanks between us in 6d. a peice 11s. 6d.
30th an earthen pan 5d. small wort 1d.
30th March 1732. then pd Churchwardens Cardiff 7s.
Spent at the Redd house 1s. 3d.
silk ½d. mustard ½d.
April 1. 3 pound of butter 1s. buttons 2d.
Miles Wm Phillip & sent it by our man David 4s.
leeks 1d. a Pig 1 . 8. 0.
White horse 6d. Red house 2d. David Owens 1d.
2. at the White horse 2d. Redd house 2d.
3d then pd Owen to buy a Canvas Breeches 2s.
pd Lettice her quarters wages due ye 20th March last 10s.
spent at the Angell 9d. at Dick Powells 2d. Dicks 1d.
4th pd Wm Jones Copier p' shoes 6d.
8th 2 chamber pots 8d.
Cleaning knives 1d. a basket 6d.
paid my man William p' his mother 6s.
pd Porter w[i]th things from the Boat 2d.
Bread 3d. Wine 4s. butter 1s.
4, 5, 6, 7 & 8 of Apr. Samson ye Carrier to repay Expence Cadoxton 2s. 4d.
for a Lre. from Browing Bristoll to Lettice George 4d.
lre. by the Cowbridge post 1d.
my Couzin Anne Morgan, Greenway (fn. 45) 3l.
Lent my Sister Lambert to make it up twenty pounds 3 . 4 . 6. pickles 3d.
18th pd my man David for 3 daies hire 2s.
11th lent old Mrs Lambert & sent it her by her maid Betty Tanner 4l 4s.
pd ye Excise 10 . 16 . 9½.
pd Jeremiah Griffiths Esqr p' Lewis Penmarks bill 10s.
12th Apr. then pd for 6 large sacks 2 welsh Bushells at 3s
apeice 18s.
Cheese 7s.
Law Money pd Fox Porter 1s.
12th april 1732. a lemon 2d. fish 7d. bread 4d.
pd Mr Edward Williams Sumpter 2s.
pd Mr Creamer p' Cop. sisters bill & filing 1 . 9 . 0.
spent at ye White horse 1s. 6d. Redhouse 1s. 6d. Angell 2d.
13° spent Redhouse 6d. Angell 2d. Both on story 10s. 8d.
tripe 10d. mustard 1d. wort 2d.
15th pd George Andrew for ditching 3s. 10d. in full for 3 daies work ending this night.
Loin mutton 1s. 6d. Beef steeks 8d.
pd John Evan of Pandy in Rumney for Hay 1l 2s.
p d Mr Gabriel Lewis to send to Bridgend [struck out].
pd Miles Wm Phillip by our David 3s. 4d.
leeks for Rumney 1d.
16th Owen ye Mason had then 1s.
spinage 1d. milk ½d.
16th Spent at Rumney 4d. Morgan Jenkins 6d.
18th pd ye lime burner 2s. 6d.
pd James to go to Cole 1s.
small wort 3d. tobacoe 1½d.
19th Spent at Landaff 6d Angel 1s. 7d. White horse 4d.
spent at the Redd house in Syder w[i]th Mr Treharne 3d.
20. paid Joseph Howells Lanederne for barley 5 . 15 . 6.
milk 2½d. a biskit ½d. barm 1d.
spent at the white horse 7d. at the Angell 3d.
spent at Rumney 2d. at the Angell 5d. Old pt house (fn. 46) 3d. at the
Redd house 6d.
pd Thomas Nicholas towards my wives saddle 10s.
d my uncle Clifford Money lent me to remitt to Growers 4l.
21st small wort 6d. barm 1d. baking 3½d. milk ½d.
22 Apr. pd Wm George Johns wife p' ditching 6d.
a beasome 2d.
pd ye Girl of Masleach (fn. 47) for barley 3 . 18 . 6.
pd Cecil Reece of ye Lodge for barley 3 . 12 . 0.
pd for weaving a pair of blanketts 1s. 10d.
spent at the white horse 3d. at the Red house 1s. 4d.
spent at the Redhouse 1s. at Wm Roberts' 2d.
23d pd Will Phillip for work 15s.
shoe blacking 6d. milk ¼d.
pd my man Wm Robert 1s. in Earnest.
24th herbs ½d. milk ½d.
25. John Evan Malt half a Peck p' Work 1s. 2d.
pd John Evan at the same time in Money 1s.
26th spent at the Angell 3s. 4d. at Dicks 1d.
27th a pound of Tea 8s.
28th pd a porter 1d. fish 6d.
barm 1d.
sent by ye Gloucester Journal to Mrs Wms of Newport upon
Thos Nicolas's account 1 . 7 . 6.
pd Mrs Jenkins of old posthouse in full upon settleing an account 5s. 10½d.
pd Griffith ye lime burner in full for this week 5s. 6d.
29° paid for a New Cheese 6d.
My Wife paid Thomas the Malt man 4s. 6d.
pd for Basketts at kiloo 6d. & 2 at homes 2d.
a douzen of beasoms 9d.
pd Wm Williams for 5 hundred of salt 1. 10. 0.
1mo May then gave my Malster to Spend at Lanishen 1s.
Earnest to Dick Tinkers son John at 1. 14. 6 p' a year 6d.
2d postage from London 1s.
3d milk 1d. spinnage ½d.
1mo May. spent at the Reddhouse 6d. more 6d.
4th pd Mr Alexander Oborne for Sope 1. 17. 0.
spent at ye Angell 4d. White horse 1s.
5. postage from Newport 2d.
pd Thomas Anthony for Grabbing Rostog 25 Perches 2s.
6. pd John Evan p' ditching 5s.
Goosberries a Pint 1d.
[N.B.—Items which often recur will not henceforward be regularly repeated here.]
10. pd Land & window Tax p' Aylward 5s.
22d then brought from Penalt 29. 6. 0.
29 recd in full of Mr. David Thomas of Rumney 16. 17. 0.
recd of David Jones of St Mellons 2. 2. 0.
1st July 1732. Recd then of Wm Thomas Wm Water of Lisvane
which reduc'd his debt to me to 4l–2. 6. 9.
3. Then recd of mr John Jones Alehouse Keepr in pt of 19s. 2d.
p' a Spa. at the Suite of Edwds Maltsman 10s.
6th recd of Elizabeth Highley for a Town action 2s.
8th then recd of George Howells Esqr in full of all Demands 1. 1. 0.
13th Then rec'd of Morgan Lancross for 2 Bushells malt 16s.
29th Then recd of John Kills wife to Peggy Coyders use 5s.
Augt 7. of Wm Williams ye boatman 1. 19. 0.
of Thos Jenkins wife of Canton 3s.
[Next page torn off all but the top corner:—]
17th June. Cheese 11d. prunes 3d. Eggs.........
Sagoe 3d......
19th whey 3d.........—
July 9th gave my Man Tom for Powder and Shott to shote Crows......
In June 1732. Returnd to London p' uncle Clifford 10l to
Hope & 16l to Kinaston 26l.
8 July. two Picks..........
13th then gave my man Tom for Powder and Shott 1s.
gave Tom towards bying of Leather Girts at ye forge 15s.
barm 1d. beans 3d. black sope 11d. butter 4d.
14 pd Alice for washing 2 days 1s.
15. ducks 10d. two quarters of Ram 2s. 3d.
pd for mowing Hay to Howell John Phillip & Edwd Radir 12s.
Cucumbers 1d.
pd mr Nicholas Price for hair from Rumney 19s.
17th small wort 2d.
pd Mrs Betty Lewis's Interest for the house we live in 2. 9. 0.
Remember my tent David abt a shilling I pd Richd Phili. Edmund
for him to stop this out of ye wives hire for haymaking 1s.
19th kidney beans 1d.
20th beans 2s.
gave John Harry for going to Newport 1s.
8th May 1732. brushes 1d.
9. pd for earthenware to go to Rumney......d.
10. pd Land & Window tax p' Couzin Aylward 5s.
Lent Thomas the Gardner 1s.
carriage of a letter from Bristol 1d.
pd for a horse 2. 15 . 0.
11. Gave Thomas ye Gardiner to buy Plants 1s. leek seeds 3d.
12. postage from Mr Browning Bristoll 4d.
11–12. spent in Journey to Newport 2s. 6d.
more at Cardiff at returne 1s.
Griffith Lime burner order'd me to pay David Penyrhewl (fn. 48) 6d.
asparagrass 1s.
gave Betty Tanner 2s. 6d.
May 16. pd Window tax p' yr & a half p' this house 9s. p'
Herberts house 1s.
then lent Peggy Thomas out of her sisters money of 10l–1l.
7th pd my Tent John Rowland for a day & a half in full 1s.
Spent at Morgan Jenkins 6d. Red house 7d. Rumney &
Lancross 4d.
20th pd Owen ye Mason by a pair of Stockins had of Miles
Wm Phillip's wife which I paid her for 1s. 6d.
pd David's Wife he having worked 3 days ys week 2s.
peaser 8d. Cole 1s. onions 1d.pd Pally Jonas for sowing 3s. 9d.
22th pd Wm Gwr p' s'ving a spa. on Arle ads. Arle (fn. 49) 1s.
spent in Penalt Journey 11s.
at the Redd house Inn 1s. 2d.
pd Griffith the Lime burner being Munday 6d. more than was
coming to him 4s.
23d May. then pd John Truckquill in full for 4 shoes for ye
Cart horses 2 remove three New Spades 2 Clitts 2 staples
2 handles 11s.
Coal one Sack 6d.
pd Bayliff Tanner for three hundred of Bricks 9s.
26. pd Trueman ye Sawyer for himself & Arthur 10s.
1732 May 27. then pd the Serjts p' mr & mrs Lambert 1l.
Carretts 2d.
Qr of Ram 1s. oatmeal 10d. goosberries 1½d.
Spent Old P'thouse 6d.
29. pd John Evan & Wm Phillip p' ditching ye Pill as p' note of
Particulars 2 . 7 . 8. a pound of green Tea 8s.
30th two Sacks of Coal 1s.
31. pd Johny ye Smith in full to ys day 18s. 6d. lent 18s.—
1.16. 6.
1st June. baking 3½d.
a side of kid 9d. beasoms 2d.
a quarter of Ram 2s. 4d.
to Miles Wm Phillip by 3 pedurrans of barley 1s.
to Owen ye Masson by a hankerchief 10d.
4th Colly Flower & Carretts 2d.
Tobacoe & pipes 2½d. capers 1d.
June......Spent at Rumney 6d. White horse in Liquor 1s. 6d.
gave 1s. Redhouse 1d.
Cole 1s. 5d. 2 pound of hops 3s. 2 couple of Chicken 8d.
7. a stick 3d.
spent at Lanishen Cockmatch 7s. 6d.
pease 1s. 6d. baking 6d. a brush 4d.
10. fish 6d. cheese 6d.
pd Thos Jacob's wife for a horse 2 . 2 . 0.
pd ye Sawyers 1. 1. 0.
pd Miles Wm Phillipps wife in Money & Barley 4s.
11. matches ½d. milk ½d. whey ½d.
12th a pound of Bohea Tea 1l 4s.
13. pipes 1d.
pd Mr Holland boatman in full to ys day 1.4.6.
Mackrell 6d. prunes 3d. sago 3d. cole 1s. 6d.
Musles 1d. baking 2d. bread 1d.
16th postage from Mr David Thomas 1s.
17. Oatmeal 10d. Kid 9d. pd for Milk for Rumney 3d.
22nd July. a quarter of Goat 1s. 3d. Cheese 3s. 5d.
pd Jayne ye Ironmonger in full of his note 8s.
sent Mr John Morgan Linen Draper by Mr Wm Richards 5. 19. 10.
23d pd Owen ye Masson by a pair of Shooes had of Thos
Meredith 4s.
24d pd Evan Deers daughter for Nailes 2d. a Bed Cord 1s. 2d.
ye day before spent at the Red house 6d.
payd in Earnest to the Newport woeman p' Coal 1s.
a Gallon of Small Wort 2d.
25th pease 6d.
26th kidneybeans 1d. spent 6d.
27th bread 1d. beans 6d.
28th p' half a horse skin weigh 3l 3¼ p' 2s. 6d.
29th pd Mathew Thomas for a spade 1s. 6d.
a side of Ram 3s. butter 8d. oatmeal 10d.
30th powder & shot 5½d.
August 1. pd James Langoddens son p' hedgeing Tyrlloyd
1s. 4d.
pd Johny Tinker 8s. 6d.
pd Owen ye Masson by a breeches yt Tho[ma]s Penry made for him 1s.
3d Carrots 2d. a Cabach net 1½d.
5. pd Miles Wm Phillip by old Anne 3s. 7½d. a pedurran of
barley he had before at 4½d. makes 4s.
a cabach net 1½d.
9. spent at the Club at the Redhouse 1s. 6d.
6th at David Penyrhewl 6d.
8th starch 1½d. for bringing up a bundle from ye boat 4d.
gave My Man Wm to buy Cradles 3s.
9th water 4d.
11th Cucumbers for pickleing 1s.
caraway seeds ½d.
12th Cheese 6d. Ram 2 qrs weighd 23 pound 2s. 8d. Qr Goat
1s. Kid 8d.
Qr Mutton 1s. 8d. Oatmele 10d. small wort 2d.
pd Miles Wm Phillip by old Anne of ye Moores 4s.
9 Piggs at 9s. a peice Remember 1s. luck 4l 1s.
pd Mr Wm Phillipps late Keepr p' stocking 10s.
13th milk of Nanny Evans ¼d.
14th Sand for scowring 10 pound 10d.
15th oyl for scowring 5d. whiteing 1d. putey 2d.
pd Alice for scowring 1s.
17th for Sweeping ye Chimney 6d.
spent in My Journey to Hereford Assizes 3s. 3d.
att the Red house the Club night 1s. 8d.
18. grains ½d.
19. laverbread 3d.
pd Rooth smith as p' note 2s. 11d.
a Earthen dish 2d. a Chamber pot 2d.
pd Mrs Jenkins for a quarter of hundred of white sope 12s. 6d.
pd Mrs Jenkins for 6 pound of Candles 2s. 10½d.
pd my man Tom James's brother 4s.
watch Candles.......d.
20. pd Miles Wm Phillip by our Tom 4s.
spent at Davids Rumney 4d. & the day before at Whitehorse 10d. tennis Cort 4d.
23d suger 1½d. prunes 3d. Tea 7s. potatoes 1d.
25th biskets 1d. tripe 2d.
26. Paid Mathew Thomas Limeburner in full for work & 4000
scolps 7s. 6d.
pd Dick Tinker's widdow for 1 days work
pd Anne John Phillip by Dick Tinker's widdow for 1 days work in harvest 6d.
27th tobacoe & pipes 2½d.
Cucumbers 1½d. currans 4½d. bread 1d.
29th Cole 1s. 6d.
pd Blanch Morgan of Greenway for making 2 shirts 4s.
30th currans 1½d. bread ½d.
pd Doctor Williams upon Owen ye Masson's account 1s.
1st sep. pd Phill. Stephens for a loaf of suger 6s. 6d.
pd Bess Howard for butter & potatoes 11d.
pd the smith by the Mill Gate for Links for the Cart 2s.
spent the Assizes week 5 Bottles of Wine at home 10s. Red house 6d. Angell 6d. Rumney 2d.
gave Couzin Morgan p' William Thomas 1s. 1d.
Cryer 8s. & Jury 4d. besides the Sessions work Councell to signe the Declarac'on 5s.
pd Wm Lewis Bristoll vach p' taking Edwd Wm 5s.
16th Augt Penalties tents as follows:—
Wm Lawrence 6l 18s.
James Richds Argoed 5s. 5d.
Tacy Watkin 16s.
26th Augt 1732 being the first day of Augt Sessions Recd of
James Anthony 1l.
the same Sessions of Wm of the ffive Bells (fn. 50) 2l 10s.
last day of Sessions rec'd of Mr Wm Jenkins p' Wm Thomas 1l.
3d September. rec'd of Tho. Pendry by one days [work] 1s.
p' Owen's Breeches 1s. & in Money 3s. p' half a Bushell of Wheat 3s.
11th 9br 1732. sold a Porker as follows in Cardiff Qr 28l. 4s. 8d.
Qr weighd 25l. 4s. 2d.
9th Janry 1732. Rec'd of Mr. Wm Jenkins Landaff 5l.
7th 8th Janry Rec'd of Penalt tenants 17l 19s.
Recd more from Penalt a month before Wms Langum 4l 13s.
26 May. Rec'd of Wm Edward John of Rumney for his p'porc'on
of the Gates and Stank by the house in the Moores 13s.
2 Sep. 1732. Pd Walter Brooks for mowing 5s.
3. Pd towards Church & poors rate at Rumney having left out W. Jenkins land 1. 3. 8.
Pd old Anne for Eggs 5½d. Currans 1½d.
4th Pd Hewens ye butcher for a quarter of Mutton & beef 3s.
6th Coffee 6d. baking 1d. safron 1d. brimstone ½d.
5th Spent at the Redd house 1s. at Mrs Harpurse 6d.
gave Mr Seys for 2 ounces of Bark p' Owen 2s.
7th Pd Miles Abraham's wife in full for hay 4l.
pd the Roath Smith out of a Bill of 4s.—3s.
8. pd for 4 douzen & 4 pound of Irish sope at 4s. 10d. a douzen
1. 1. 0.
gave my man William to goe to St. Mary Hill Fayr to buy Sheep
5. 10. 0.
9th oysters 3d. a quarter of Goat 1s.
pd for barley 1. 3. 9.
10. baking a pye 1d. sugar 3d.
2 pound of black sope 11d.
12th barm for Rumney 1d.
13th &c of 7br 1732 spent at Newport 3s. Harry St Mellans 6d.
White horse 6d. Redd house 1s.
15th rosin ¼d. bread 1d. baking ¾d. butter 1s.
16th butter 1s. flannen 4s. 9d.
a baskit 7d. 25 douzen of Ash balls at 2d. a douzen 4s. 2d.
16th a Peice of Beef 19 pound at 1s. 11d.
19th turnips 1d. tobacoe 3d. pipes 1d.
20. postage from Mr Lloyd's Clerk 4d.
21st turnips 1d. Cole 6d.
22. spent at the Red house in Port 2s. 8d.
23d gave my man William to pay for Wheat Raggs & freight 5l.
pd in full for baking ¾d. dill ½d.
pd Graigrhoyl (fn. 51) tennant for barley 3s. 1½d.
pd Mrs Thomas ye Midwife for 3 Crests for Rumney 1s.
an Earthen stean 2d.
three Leggs of Pork weighd 28 at 2s. 8d.
24. sent by Gabriel Lewis to Cowbridge 2. 10. 0.
25. three sacks of Coal 1s. 6d.
Calves feet ½d.
26. a Cup 1d.
pd Catherine of Kevencoyd (fn. 52) for 3 bushells & a peck of barley 16s. 3d.
27. pd Jenkin Howard of Roth for 6 bushells of barley 1. 10. 0.
28. forfiets at ye Red house Club 2s. 9d. spent there 1s.— 3s. 9d.
29. a hoop for a pail ½d.
30. lent Catherine Kencoyd (fn. 53) to goe to Newton Nottage 4s. 6d.
pd Evan Thomas of Abertridwr for 8 bushells of wheat at 11s.— 4. 8. 0.
pd Parson Harris of Rumney for Rent & adjustments 1. 3. 10.
spent att ye 5 bells 4d.
4 8br for cleaning a Coat 1s. a douzen of buttons 3d.
for grinding a Scissars 4d.
5. a pound & a quarter of Tea at 6s. 6d. a pound.
6. pd for bringing things from ye boat 3½d. freight for a mawn of wine 6d.
7th a Goose 1s. 3d. wings 1d.
a Surloin of beef weighing 48 pound at 1½d. a pound 5s. 10½d.
glasses 1s. 3d.
pd Captain Greenfield for wine 2. 0. 3¼d.
spent in Ale 2d.
10th stamps parchmt & paper 5s. 10d.
spent at Morgan Jenkins's old Posthouse 4d.
11th grains 1d. milk ½d.
12. pd Mr Chapman for Mr Herbert Chief Rent 1. 11. 7½.
14. pd Mrs Richards of ye Grange for a bushell of barley 5s
pd ye glassier 3d.
pd Lettice in part of wages 1s.
15th pd James in full ye wages yt was due to his Brother
Tom 7s.
a beef's head & ye Tongue 1s.
16. gave Mrs. Reece of ye 5 bells upon paying for malt 1s.
19. pd Mrs Jenkins of ye old post house for things shee bought at Bristoll 1. 2. 2.
ent Kate Mr Lambert's maid 10s.
20. gave a boy for bringing things from ye boat ½d.
pd Mr Wm Matthews Interest for half a year for 150l due to Mrs
Jones of Bath 3. 15. 0.
Eggs 1d. a packing needle 1d.
Pd Howell Wm of Carphillys wife 3s. 4d.
21. Pd for a pound of green Tea 6s. a pound of Bohea 6s. 6d.
Pd Nanny Morgan of Greenway for making 2 shirts 4s.
23d a yard of Canvass for mending of packsadles 6d.
22 & 23 spent att the Red house 1d. att Landaff on Inquisic'on 2s. 6d.
24th pins 6d.
spent at Morgan Sheers 3d.
26. a pen knife 1s. 4d. a seal 4d. a pair of buttons 2d.
27. wood ½d.
28th baking 1d. 2 wings 1d. butter 3½d.
a Couple of fowll 7d. potatoes for Rumney 3d.
a Couple of Chicken 4d. oatmeal 4½d.
Six score & one Pound of Beef 15s. 1½d.
oysters 3½d. a manchet for old Anne 1d.
wheat for ye house half a bushell & 3 pedurrans 6s. 6d.
2d 9br then pd Thos Collins Elly (fn. 54) p' 3 Bushells wheat at 12s.
1. 16. 0.
Catherine Black Weares, (fn. 55) three Couple fowls 2s. 3d.
Cabetch p' Rumney 1d. Wm Lewis Bayliff p' straw 6s.
8th Newport & Cardiff spent 1s. 6d.
Coal 6 Load 3s. 2d.
9th Roles of Bread 9d. Greens 2d. Tobacco and Pipes 8d.
Pd mr Herbert for stamps for ye Earthen ware mans answr bein
sou (fn. 56) 2s. 6d.
Cream 2d.
pd Johny Tinker my man 9s.
13th pd John Tanner p' Tho. Grasmocke 6s. p' 200 Bricks Q're if had too much 6s.
Sent the thatcher on the Heath to quit in Working 2s.
linseed oyl 1d.
pd p' making Reek by stable 8d.
15. pd p' thirty Bushells of Malt at Blunts Gate (fn. 57) 9l.
p' Six Hard Coal Baggs 1l. 1s.
Worsteed for mending stock: 1½d.
18. To Wm George John p' Coopering 19s.
pd old Nann for milk the People had 2d.
pd George William of Roath for Reeds 2l 10s.
22. Spent at Cowbridge 7s. Club night at Redhouse 1s. 2d.
25th Goose and 3 pair of Gibletts 1s. 5d.
pd the Post for bringing my New Mans Wastcoat from Comwer 6d.
gave my man William to buy Piggs 1l 4s.
Cheese by Alice Roger Maid 2s. 1d.
pd for Calves Head 7d.
paid my man William for the Thatcher 5s.
pd Mr. Colrake for Cristening ye Child 10s. 6d.
Letters from London 2s.
29. p' dressing two Hatts 1s.
Spent since the last Sunday night 4d. Munday 1s. 8d. tuesday at old posthouse 6d. Red house 4d. Globe 2d.
30th pd my old man Will of St Mellans p' Henry Dunn being ffees due as Clerk of the p'ish Rumney 3s.
William had to go to Cole of my mother 5s.
a Neat's tongue 8d.
2 Decem pd Nelly in full for milk 2s. 10d.
Spent St Andrews day 1s. Globe (fn. 58) 1d. ffryday 1s. 6d. w[i]th Mr. Haskins at the Angell 6d.
7th water 2d. milk 2d.
gave Bill Jonas to go to Cole 5s.
9. spurs 1s. lash of Whip 6d.
Penalt Journey. Newport 6d. Usk 1d. Messengr 6d. Expences &
srvts Treleck 10s. Usk 8d.
Newport 3s.
pd my man Will Thomas Ann Tinbachs son in my way Treleck 2s.
for grinding wheat 1s.
11. a pint of ale 1½d.
12. Teal 3d.
14. a Rabbit 3½d.
17. Pd Owen the Mason for Tabacco 2s.
spent these two last daies 1s. 1d.
18. twine ½d. an Inkhorn 4d. Ink 3d. grinding of malt 4½d.
19th pd Molly by her Sister Dolly 4s. 6d.
treagle ½d.
pd Wm Lewis Bayliff two shillings & six pence p' serving of Writts 2s. 6d.
pd my Brothers tent of Kevencoyd p' wheat 1. 11. 0.
26. gave away to Millers &c. 6s. 6d.
27. My wife gave at mrs Edwards's of ye Little Swan Christning 3s.
pd Wm Morgan of ye white horse for wort by Lettice 4d.
30th Roasting Pigg 1s. 2d.
lemons & oranges 3s.
1st Jan. gave Lettice for a new years gift 6d.
4th corianderseed 1d. turnips 1d.
5th Dr Radcliffs Ellixir 1s.
pd Henry Jones for 2 sacks & a pedurran of Lime 1s. 6d.
11. pd Howell Thomas of ye sanctuary for barley 1. 2. 0.
Spent the Treleck Journey 15s.
12th pd Howell Thomas of ye sanctuary for a Bushell of barley 5s. 6d.
17th pd for bringing Sugar from ye Boat 1d.
20. gave my man Will to buy shoes for Tom Watkins boy in pt of his Wages 3s. 6d.
25. spent at Richard Jones Unicorne (fn. 59) 10d.
27. pd peggy to buy an apron 2s.
pd Mr Jenkins ye apothecary's bill 7s.
a barrell of pickled oysters 8d.
returned to London to Mr John Lewis by Mr Clyfford 40l.
28th ended all mres w[i]th Mr John Truckquill to this day. Soe that his account must begin from this time out.
1st feb. postage from Eliz. Powell of Lanblithian 3d.
3d a side of bacon 13s. 4d. a Chine of bacon 1s.
pd Mr James Thomas of ye Garth for County Court buisness
11s. 6d.
4. gave Wm Lewis in his pocket to pay ye return 1l.
8. pd Watkin Watkin for 3 loads of Coal he brought 7½d.
10. pd Watkin Watkin to buy a breeches 3s.
sugar Candy 1s.
11th pd Wm Robert in full for sheep Cole & all other accounts
excepting wages 11s.
sugar Candy 6d. garlick 1d. spirit of hartshorn 9d.
pd peggy Pritchard to buy an apron 1s. 2d.
22d gave Watkin Watkin to buy bread for old Anne 1d.
23. postage from Mr Edward Herbert 8d.
26. pd John Jones in full to this time for Keeping horse 4s.
pd old Anne for Eggs 2d.
oyl of sweet almonds 1d.
lent Mrs Reece of ye 5 bells 4l.
27. pd ye man of Alterin for 108 pound of Clover seed 1. 11. 0.
spent at ye Unicorn 6d. lemons 6d. sugar candy 6d.
1st March. pd Oakey for 7 pound of hops 14s.
2th thrums 5d. barm 8d.
pd a man of Lantarnam for 369 pound of Clover seed 4. 16. 0.
4. pd earnest to Tom Mr Phillips's man he being to come here
to service a week in May at 3 pound a year 1s.
7. Chalk ¼d.
pd a Porter for bringing a maun from ye boat 1d.
9. pd Friswith (fn. 60) for garden seeds 1s. 3d.
pd Minute (fn. 61) for plants 6d.
pd for making ye garden & whitliming 3s.
14. a Cruet 5d. a trumpet 1d.
pd Wm Roberts the Dyer of Machen being Money I rec'd to his use of Jenkin Morgan Coed Kernew man as per Writ Book 5l.
15th a Jug 2d.
pd Will Miles for serving my Bro. Wm 2s. 6d.
pd Mr. James Owen for making Coat & Breeches 8s.
17th pd Wm y Gwr. 1s.
pd for Ever Grass 18s.
gave Wm my man p' Oates 1l.
oatmell 10d. laver bread 1½d.
19th oyl 5d. rotenstone 1d.
23d sand 3d.
24th pd ye Usk post for a Cheese 2s. 6d.
pd ye woman of Tyr Cue (fn. 62) for 2 bushells of Oats 9s. 10d.
pd Dick Tinkers widdow for half a barrell of syder 10s.
a duck 4½d.
25th pd the Thursday before in Celebrating Sr Ed. Thomas's 4s.
26th gave Hawkins Barber on account 6d.
p' Baggs to the Monmouth Sadler 10s.
pd my man Watkin 4s.
27th & 28th in my Journey to Bisten & back 3s. 8d.
28th a velvet Cap for ye Child 7s. 6d.
gave ye Clerk his Easter dues 6d.
31st a Couple of sievs 1s.
8 Apr. baking a pudding 1d.
9. pd Wm Lewis of fairwater 5s.
10th Capers 1d. bread 2d.
14th pd Mr Minitt p' Potatoes 2s.
paid for a pair of stays 1. 15. 0.
15th pd Wm Robert in full for all ye Cole we have had to this day 1s.
pd Wm Robert for shooing 1s.
16th pd Griffith for the Powder 1s.
20th to Griffith Thomas Powder 3s.
25th pd ye Landaff woman for half a bushell of potatoes 5s. 4d.
28. pd Whiting ye Taylor for making ye Child's Coat 6s.
pd Will Morgan to pay ye Dyer to buy Trimings 6s.
1st May. asparagrass 6d.
2d Stockings for ye Child 2d.Stockings for grinding of wheat 4d.
3d baking 3½d.
pd Mary Robert to pay for bleeding 6d.
4. a frock for ye Child 6s.
5th paid Thomas the Maltmaker 4s. 6d.
pd Captain Greenfield (fn. 63) for Wine 17s.
a pigs head 9d. Coffee 9d. Sugar 5d.
4th pd Johnny the Smith in full 5s.
6th May 1733. Tea 2 pound & 3 quarters 18s. 6d.
9. Pd Morgan of St Andrews for Hay 9s.
11th pd ye Usk Post Reece for serving a Writ 2s. 6d.
12th pd Johny Tinker in full of his wages by his Mother 7s. 6d.
pd old Anne for Milk and Combs for ye Oxen 2d. being behind 8d.
a Lambs head 3d.
14. Calves feet ½d. Milk 5d.
17th pd Evan Deer & Evan Howell window Tax 6s.
18th small wort 3d. milk 1d.
pd Mr Herbert Andrews Land Tax for ye house & Tyr Lloyd 6s.
26th goosberries 2d.
Spent since the last time of putting down 5s.
pd Wm y Gwr's sonn for serving spa. on Christopher John at the suite of Jane Hawkins 1s.
pd Lettice my maid 2. 7. 0.
28th pd Mr Minute for half a hundred of plants 6d.
9th pd Wm Jonas my servt 10s.
pd Thomas Jacob for mowing five Quarters 2s. 6d.
for 68 of Beef & a Leg Bone of Beef 6s.
pd Doctor Williams for bleeding my Mother & self 2s.
Radcliffs Elixer 1s.
13th pd Will Jonas to go to Cole 4s. 6d.
14th pd old Anne for 3 pecks of Wheat 7s. 6d.
16th pd ye Sawyers, Rumney 10s.
two Pack Sadles one 1s. 4d. tother 1s. 10d.
6 pewter spoons 8d. whey 1s. 1½d. Eggs 6d.
18th pd Will Morgan to go home 1s.
20th strawberries 5d.
22d June 1733 pd Truckwell ye smith in full of all accounts by Wm Robert 12s.
23d pd ye Sawyers by Mrs Young 12s.
winberries 1d. flower 2d.
2 pails 1s. 2d.
25th paid Phillip the Smith of Dennis Powis in part of his Bill of
6s. 4d. which he having putt on three shoes on to account 6s.
27th pd the Lantrissent mans wife for 3 Pack saddle trees 5s. 6d.
28th Garden Stuff 9d. for grinding Penknives 2d.
4th July pd Wm Lewis for a douzen of Cole 5s.
7th gave Johnny Phillip my man two pence towards spoons 2d.
9. pd Hopkin Williams for 100 winchesters of malt 13.5.6.
7th pd Wm Gwr Rossa's wife 1s.
13th pd Davids wife in full for six daies & she begins tomorrow 3s.
pd Tom Nicholas sadler in full 8s. I am to pay Will Pursell out of the money he owes me for malt 4s. p' Leather to Cour
saddle Tom Nicholas in this Account allowd 3s. 2d. p' service process p' Edwards Stockingbuyer And allow'd
me p' saddle tree & stirrup Leather [struck out] irons 4s. 6d.
pd Evan the Cobler p' Buskins & Buckles 5s. more to Meredith 1s.
18th butter 3s. 8d. pd Mr Preist for freight 11d.
28th May 1733 rec'd of John Kill's wife to Peggy Coyder's use 6.5.0.
9. pd p' Peggy's use p' Ditching to her sister Eliz. twenty pence 1s. 8d.
3d Novem. 1733. recd of Llewellin of Roth for a supeina 6s. 6d.
1724. (fn. 64)
Willus. Lambert Ar. u'sus Johem. Sweet both of Cardiff p' Words.
Ricus. John u' Johem. Thomas de landaff.
T. Cradock u' Edrum. Lewis Cardiff hattmaker.
Johes. Archer u' Edrum. Lewis de St Georges & ffrancu. Jones de Pentirch.
1733 March 21. pd for 3 groce & 8 douzen of Corks 2s.
26. pd ye ditcher at St Andrews by Johny 10s.
1734 April 5. pd George Vann upon account .........
20. pd George Vann for three Pudd. of Beanes three ounces of seed..........
28. pd John Evan for a daies work 8d. and alsoe four shillings towards ditching.
pd Davids wife in full 3s. 4d.
pd Wm Lewis the Bayliff in full two shillings 2s.
pd Nan of ye Loncross for Whey & Cheese 2s.
butter 3d., 2 earthen pots 2½d. baking ½d. a quarter of veal 2s.
pd Peggy for wages 2s.
29. sent by Gabriell Lewis to Cowbridge 2l 10s. milk 1d.
30th sprouts 1d. grinding wheat 1s. small wort 6d. tobacoe 1½d. barm ½d. candles 7s. 6d. sope 11d. milk 1d.
May 1. Milk 1½d.
2d Cheese 6d. Whey 4d. Milk 1½d. Sprouts 1d.
pd Margaret for washing 2 days 1s.
4. pd Will Thos Rowland by old Anne in full 1s.
Jibolls 1d. a quarter of mutton 2s.
Wood 2d. Milk 3½d.
postage 1d. Milk 1d.
pd Will Morgan by Will Robert & his Mother 1l.
pd Neddy by Will Robert 6s.
pd Jenny Jones for a quarter of a hundred of salt 2s. 3d.
pd Jennet Rosser half a years wages 1l.
pd Nann Edward for spinning 14s.
pd Miles Abraham for a Sow & Piggs 2l.
17th pd Edwd ye Weaver for weaving 24 yards of blanketing at
2½d. a yard 5s.
2 Couple of ducks 1s. 4d. fish 4d.
1733 July 22. paid David bach to pay for this Sith to John ye Smith 3s. 6d.
Augt 3. pd Davy for six days & one day Task-working 5s. 3d.
pd his wife p' 7 daies work 3s. 6d. and one days Task 1s.
pd Minnitts old servt for reaping ye Task 1s. p' himself & in pt 1s. 6d.
10th then pd my man Thomas Evan in pt of his wages 2s. 6d.
pd the boy for keeping Crows 1s. 3d.
18th pd Mr George Lewis for a horse hair Whigg 10s. 6d.
pd Mr George Lewis for a wig 10s. 6d.
24th pd Wm a Gwr's son for Cole he having frnished ye douzen
5s.
pd ye Marshall & his Clerk in full 6s. 6d.
31. pd Tom our man 5s.
Sep. 1. pd Truckwell in full for shoeing 4s. 6d.
18th pd Owen ye mason p' my man Tom p' Tabacco 6d.
19th pd p' Sound p' mowing 2d.
Lock p' Sheep 1s.
pd the man for Looking at the lands 1s.
A whip 8d.
Spoons 8 in number 8d.
29th pd David bach in full for 4 daies 2s. 8d.
2d oct. Sent by Gabriel Lewis to Wenny fair 2 . 10 . 0.
1733 oct. 27. pd ye woman of Penerhewll for her brother 1s. 6d.
24th a couple of turkeys 10d.
John David ye Butchers Account.
p' Spa. ex Sccio, att by Suite agt a Pigg drover 12s. 9d.
Stradling u. David p' Compenc. & copy Exit. 12s.
spa. p' Willo. Lewis Willo. Waters—
Spa. p' Jn° Holland & Jn° Wilkins—
Jn° David u. Evan Griffith notic. p' B............
Compenc' in cur. & pleading att Rule advs. David Morgan—
[Other actions mentioned, in April Sessions, 1723.]
25th May 1734 pd David's wife for winnowing 3s.
d Nann for whey 1s. 11¼d.
1 June pd Davids wife 3s. 2d. in full for weding and likewise 8s
towards her husbands threshing.
An Account of the Baggs that are out 1st June 1734.
Mr Doran two Baggs.
Mr Edwards one Bagg.
John Joseph one Bagg.
Tho. Young one Bag.
Evan of Pen yr hewl 1.
Henry Thomas St Mellans 2.
mr Thomas Rees late of the five Bells 1. in the house Six Baggs.
not made.
1734 June 8. pd Nan of ye Loncross for whey 10d.
pd flory of St Mellens for a Cheese 2s.
15th to Evan Walters widdow p' a day's whinnoing 6d.
to Lambrock her son for ffive daies in full 3s. 4d.
To old Nan for Barm ½d.
Couzin Wm Morgan for Six daies 4s.
Henry Dunn towards ditching 1s. 6d.
gave old Nan six plates one platter & two small platters, a Stew Pann, 16 bottles of Syder.
pd Wm Morgan my old servt p' ffour days on my meat & 2 on
his own 2s. 8d.
10th June 1734 then David wife had a Peck of Wheat towards hire 2s. 6d.
22. pd David bachs wife for weeding Oates 4s. 4d.
pd Nann Edward's daughter for winnowing 6d.
23. pd Evan of Lantrissent the Stone Cutter as p' book 1s.
24. paid Howell David of Rumney towards Newbridge 6d.
Rumney Church & Poors Rate to Tho. Rees 1l 1s.
Corne sold by Wm Robert to my Workmen at Rumney.
Trucquill the Smith one Peck.
Dann One Welsh Bushell.
Wm Edmund Rowland One Bushell & a half.
John Evan two Strikes 4s.
Wm Gwr Rossa's a Peck 2s. 6d.
1734 July 29. pd for grinding a bushell of wheat 6d.
Augt 3d a haggetch 3d.
pd for hooping a pail 4d.
9th pd Wm ye Gwr for a douzen of Cole 5s.
pd him the same time for two Notices 2s.
pd my self to Hollands sonn 10s.
More to Holland by my Mother in Law 1s.
To the Carrier of Stones from Lantrissent 10s.
22th paid Henry Dun by old Nan of the Moores 6d.
24th pd ye Thatcher of Rumney 5s. 2d.
Couzin Wm Morgan in pt of 6s. 6d. demanded 6s.
lent Wm Stephen of Whitechurch wife 5s.
pd ye Smith of dennyspowys 5s.
pd ye Girl of ye Loncross for whey 6½d.
25th kidney beans Cabach & Carrots 2d.
Sep. 9th pd little Nedy 5s.
14th gingerbread 1d.
27th pd Geo. Vann by old Anne 5s.
Oct. 5. pd David Bach in full for himself & wife in money 2s. 6d.
by a quarter of mutton 1s. 4d. in all 3s. 10d. he having
worked 4 days & his wife one so he owes me 8d.
11th pd Holland ye boatman 2s.
27th a bullocks Cheek 4d. potatoes 1d.
pd the land Tax for half a year in St Andrews 1l 1s.
pd little Ned 1s.
pd old Nann 6d.
pd Will Gwr Rossag by old Nann 6d.
Novem. 4th pd Thos Eustance for a pair of Shoes for Tomy 1s. 6d.
6th a couple of rabbits 6d.
9th mending a shoe 1d.
10th a bullock's Cheek & 2 hearts 7d.
30th pd Sr Cha. Kemeys 21 . 6. 6.
Decem. 7th a pig 1. 2. 2.
pd Thos Edmond's wife for barley in malt & money 14s. 4d.
11th pd Jenkin Howard for a bushell of pease 6s.
12th gave ye Glocester Journal for bringing a letter 1d.
turnips & potatoes 1d.
barm & milk 1½d.
tobacoe & pipes 2½d.
pd Neddy Edmond 1d.
pd Dolly Groning for washing 1s.
13th pd Mr Jenkins of Whitchurch on account of barley 2. 2. 0.
14th butter 1s. 9d. a goose 1s. aples 5d.
lent Parson Harris's wife 1. 1. 0.
pd Jane for a pound of tea I formerly had 6s.
pd for bringing a maun from ye boat 1d.
16th pd John Rosser of Wenvoe for barley 4. 11. 1½.
17th 6 pound of Candles 2s. 5d.
21st pd Mr Lewis of vaindre vach for barley 2. 3. 6.
1734 Decem. 21st beef 15s. 6d. baking mince pyes 5d.
pd Nanny Evans for baking 6d.
23d pd Newton for baking 3d.
Jan. 16th pd Wm Stephen of Whitchurch in full for 15 bushells & 2 pedurrans of barley he allowing thirty shillings he owed for rent 1 . 18 . 0.
pd John Phillips boatman for freight 4s. 3d.
18th pd Walter Brooks for an acre of land by his nephew David 1l.
a tongue 1s.
9th ffebry to Jennet my maid to buy Cheese at Landaff Fayr (fn. 65)
16s.
11th pd Wm Gwr Rossa 5s. in part as sheppard on Rumney
Wharf he claiming 7s. 6d. but owes me 5d. ot of wheat money.
1735 April 4. pd Mr Lambert poor's Tax for 6 acres of heath land 9s.
5th pd Meirick Jenkin for ditching at St Andrews by Will Morgan 5s. lamb 8d.
May 9. pd Thos Anthony for weeding 1s. 1d.
31. pd Thomas Anthony's wife in full for Weeding ten acres of Wheat 2s. 1d.
21 June. pd Henry Richard for Arle Powls 4s.
26th then had three Dozen and one Load on which I am to Leave that coal pitt 2½d. p' Load.
30th pd Thos Edmond Lanederne for leaping 2 mares 5s.
1st July pd Kenton in pt of Warrt p' malt 1s.
7br 20th pd Evan Waters widdow for her son 2 full daies her
daughter 8 daies vizt Six daies raiseing Corne and two daies binding pd in all to her 9s.
11th oct. then pd Wm Robert p' old Nan to pay for a plow 6s
p' 7 daies to Wm Roberts Brother in Law 2s. 6d.
3d Novembr then pd John Evan for a days work in Sowing 3d.
then pd John Evans wife for Scolps 2s. 6d.
pd Edward Hardys son p' 5 daies on my meat 10d.
13th pd John Evan in full 1200 of Scolps 2s. 6d.
28th ffebry 1735. then pd Wm Thomas Gwr Rossa in part
towards his being a Sheppard to sheep on Warth (fn. 66) 1s.
pd Money on County Cort Book 11s. 6d.
26th Apr. 1736. pd Wm Thomas Wm Water of Lisvane on
Account of the Gates he is to sell me 2s. 6d.
[1716.]
Agreed & concluded upon by & Between Margery Williams of the p'ish of Penarth in the County of Glamorgan widd' of the first part William Williams Clerk Rector of Leckwith Llandough iuxta Penarth & Cogan in ye sd County of ye second parte And Edward Williams of Penarth aforesd in ye sd County of ye third parte as followeth vizt
Whereas att the Court Baron late of Richard Lewis Esqr since dece'd farmer of the mañor of Penarth & Barton in the sd County held there the Eighth day of October in the year of our Lord one thousand seven hundred and two before William Horten gent. Steward of the sd ma?or she the sd Margery Williams took of ye sd Lord by the Delivery of his sd Steward one messuage & twenty and four acres of Lands arable meadow & pasture w[i]th ye appurten'ces being a parcell of ye sd ma?or To have and to hold to ye sd Margery Williams, William Williams & Edward Williams for the terme of their Lives & the life of the Longer liver of them successively att the pleasure of the sd Lord according to ye Custom of the sd Ma?or vnder the rents herriotts suites & services menc'oned in the Rolls and Records of ye sd Ma?or as by the said Rolls or records relation being thereto had more fully appeares And Whereas the partys above named respectively have unanimously agreed to preserve & Continue their and each of their enjoymts of the prmisses for their lives in the order and Succession above menc'oned & to Restrain & prevent any Change or alteration whatsoever that shall or may be made or attempted therein either by ye sd Margery Williams or William Williams during their or either of their enjoymts to the losse disappointmt or prejudice of ye sd Edward Williams It is therefore hereby agreed & concluded upon and the sd Margery Williams for her her heires Execrs & Admrs doth covenant promise and grant to and with ye sd [Edward] Williams by these presents that she shall not nor will not att any time hereafter during the terme of her n'rall life surrender the Coppy of the Court roll whereby the prmisses are & have been granted as aforesd to ye parties to these presents or otherwise defeat or avoid or attempt or endeavour to defeat or avoid ye succession or enjoymt of ye sd William Williams of in or to the prmisses in Case he shall survive the sd Margery Williams And the sd William Williams for himselfe his heires Execrs & Admrs doth covenant promise grant & agree to & with ye sd Edward Williams his Exrs admrs & assignes by these presents yt in Case thesd William Williams so survive the sd Margery Williams he ye sd William Williams shall not nor will not surrender deliver up or Cancell ye sd Coppy or Grant of thesd prmisses nor do endeavour Cause or Consent to be done any act deed mre or thing whatsoever on any pretence to defeat or avoid disappoint or prejudice thesd Edward Williams in abt or concerning the prmisses or his tittle reversion or expectancy therein or thereto and that in Case he thesd William Williams shall do and cause to be done any wilfull or other breach or violation of this arle or any mre or thing herein before Conteyned that then and imediately after such breach he ye sd Wm Williams Shall & will forfeit to him thesd Edward Williams his Execrs Admrs or Assignes the sum[m] of one hundred pounds And the said William Williams for him his heires Execrs & admrs doth hereby agree and promise to pay or Cause to be paid unto ye sd Edward Williams his Execrs Admrs & Assigns ye sd sum[m] of one hundred pounds im[m]ediately upon & after any such breach of this his Covenant & agreemt & a Demand made thereof by and on the parte & behalfe of thesd Edward Williams his Execrs admrs or assigns In witness whereof we have hereunto sett our hands this 21th day of aprill Anno D'ni 1716.
Thomas Matthews.
Thos Morgan.
William Williams.
Clerk.