Pages 364-388
The Environs of London: Volume 1, County of Surrey. Originally published by T Cadell and W Davies, London, 1792.
This free content was digitised by double rekeying. All rights reserved.
MORTLAKE.
Etymology.
The name of this place has been generally supposed to be derived from mortuus lacus, or the dead lake. In Doomsday Book it is called Mortlage, which in the Saxon language signifies a compulsive law, a derivation which seems to throw little light upon its etymology.
Situation and boundaries.
Mortlake lies in the western division of Brixton hundred, and is situated on the banks of the Thames, nearly seven miles from Hydepark-corner. The parish is bounded by Barnes and Putney on the east; Richmond and Kingston on the south; by Kew on the west; and on the north by the river. In an ancient record of the manor of Wimbledon (fn. 1), mention is made of "a huge stone placed opposite "the town of Mortlake, to which as their boundaries they claim."
Extent.
In a very ancient terrier (fn. 2) this parish is said to contain 61 yardlands, each consisting of 15 acres by the custom of the manor, and making in the whole 915 acres. In this terrier I imagine only the copyhold lands were included. By a survey taken A° 1612 (fn. 3), it appears that the parish, including the commons and freehold lands, contained 2,000 acres. In 1632, when a sum of money was raised for the king's household, about 1,400 acres were assessed, which nearly corresponds with the present calculation, including about 650 acres now inclosed in Richmond-park; where the boundaries of Mortlake parish extend almost to the great lodge.
Richmond-park.
Stone-lodge.
The Stone-lodge upon the hill, which is in this parish, was built after a design of Henry Earl of Pembroke, and was intended by George I. as a place of refreshment after the fatigues of the chace. It was left in an unfinished state at his death, and remained so till the Princess Amelia became ranger of the park.
Asparagus.
Royal farm.
Soil.
Land-tax.
The disproportionate account of the extent of Mortlake parish in the survey of 1612, probably arose from allowing too great a share of the commons, which before the making of Richmond-park were very extensive, and perhaps had never been measured. At present the uninclosed waste ground does not exceed 100 acres; the remainder of the land is principally arable, including somewhat more than 250 acres of garden-ground. Great quantities of asparagus are raised here, there being not sewer than 60 acres planted with that vegetable. At the extremity of the parish towards Richmond, his Majesty has a farm of about 80 acres in his own occupation, which is in excellent cultivation. The barns and granaries were built, and the farm-yard made with all suitable conveniences, about five years since. The soil at Mortlake consists for the most part of sand and gravel; in the meadows near the water-side there is some deep clay. The parish is assessed the sum of 565 l. 10s. to the landtax, which is at the rate of 2s. 6d. in the pound.
Manor.
The manor being now included in that of Wimbledon, will be described more particularly in the account of that parish. In the Conqueror's Survey, and for some centuries after, it was called the Manor of Mortlake, the manerial residence being at that place. Wimbledon is not mentioned in Doomsday Book; in subsequent records it is described as a grange or farm belonging to Mortlake (fn. 4). It will hereafter be shewn that as a parish it was the more ancient of the two.
Archbishops of Canterbury who have resided at their manor house.
During the whole time that this manor belonged to the see of Canterbury, the manor-house was at Mortlake, being occasionally the residence of the archbishops, most of whom have dated some of their public acts from that place. Archbishop Anselm celebrated the feast of Whitsuntide there in the year 1099 (fn. 5). Archbishop Corboyle was consined to his house at Mortlake by sickness A. D. 1136 (fn. 6). Archbishop Peckham died there A. D. 1292 (fn. 7); and Archbishop Reynolds in 1327 (fn. 8). Archbishop Mepham having fallen under the displeasure of the Pope was excommunicated by him, and retiring to Mortlake spent many days there in solitude (fn. 9). Nicholas Bubwith was consecrated in the chapel of the manor-house at Mortlake by Archbishop Arundel and the Bishops of Winchester and Worcester, A.D. 1406 (fn. 10). Archbishop Warham appears to have been the last prelate who resided there (fn. 11). His successor Archbishop Cranmer alienated the manor of Mortlake to Henry VIII. in exchange for other lands. The house was probably pulled down soon afterwards, and the manerial residence removed to Wimbledon. The site of Mortlake-house was alienated by Sir Thomas Cecil to Robert Walter 36 Eliz. (fn. 12) Not a trace of it now remains except the foundation of a wall, which forms the boundary (towards the river) of a garden in the occupation of Mrs. Penley.
In Holinshed's Chronicle there is an account of a monstrous fish which came up the Thames and was taken opposite the king's manor-house at Mortlake A.D. 1240. The temporalties of the see of Canterbury were then in the king's hands, who kept it vacant three years after the death of St. Edmund (fn. 13).
Leland, who wrote in the reign of Henry VIII. speaking of Mortlake-house in his Cygnea Cantio (fn. 14), says, "Dehinc et mortuus est lacus, superba Villai effigies, domusque nota."
In the commentary upon this passage, it is called "Villa eximiè splendida."
Manor of East-sheen and West-hall.
The manor of East-sheen and West-hall was enfranchised in the reign of Henry VII. (fn. 15), at which time it was the property of the Welbecks; it had been previously the estate of the Dyneleys (fn. 16). In 1577 the manor was alienated to William Bracebridge; in 1596, to Thomas Whitfield (fn. 17), and in 1618 to John Juxon, from whom it descended through the Kay family to Edward Taylor, Esq. whose widow Mrs. Elizabeth Taylor and her daughters are now joint proprietors.
The church.
Mortlake church was first built about the year 1348, as appears from a record in the Tower, being a licence to the Archbishop of Canterbury to give a piece of ground in Berecrost nine perches square to Adomar, parson of Wimbledon, and his successors, to find a chaplain who should perform divine service in a chapel about to be erected on that spot for the ease of the bodies and the health of the souls of the inhabitants of Mortlake and East-sheen, who were far distant from the parish church of Wimbledon (fn. 18). I have been thus explicit in stating the substance of the record, to prove that the church at Mortlake mentioned in Doomsday Book must have been that of Wimbledon, then within the manor of Mortlake. The only part now remaining which seems to be of the original structure is the outward door of the belfry. A stone with the following inscription, "Johes Joce cujus aie pr[opi]cietur de[us]," is fixed in the wall at the west end, and probably belonged to the old church, to the building of which John Joce might have been a contributor. In 1543 the church was rebuilt; the date is upon the tower, and the east wall of the chancel; over it is "Vivat R.H. 8." The walls are built of flint and stone checkered. A few of the windows with the flat arches which were in use in the reign of Henry VIII. are still remaining. The tower, which is at the west end, is square and embattled. In 1725 the south aisle was rebuilt, considerably enlarged, and a gallery erected by the voluntary subscription of the inhabitants. The font, which is ornamented with rich Gothic tracery, was given by Archbishop Bourchier, (temp. Hen. VI.) as appears by his arms (fn. 19) upon it.
On the north side of the church is a brick building of two stories, the lower room of which is now used as a vestry. On the north wall of this room is a tablet to the memory of Elizabeth wife of John Upton, Esq. who died in 1771. Near the door is the tomb of the Reverend William Arnold, who died in 1736.
Tombs in the church.
In the chancel are the monuments of Nicholas Godschall, Esq. who died in 1750; William Hawkins, Esq. who died in 1677; Jonathan Clark, Gent. who died in 1670; the Reverend Richard Bifield, who died in 1664; and the honourable Francis Coventry, son of Thomas Lord Coventry, who died in 1699. On flat stones are inscriptions to the memory of Nathaniel son of the Reverend Daniel Bull, vicar of Stoke Newington, who died in 1741; Elizabeth Starkie, spinster, who died in 1780; Lady Barclay, who died in 1791; and Frances Maria Coderc, wife of William Browne, Esq. of East-sheen, who died in the same year.
In the north aisle is the monument of Harry Spencer, Esq. who died in 1769; and on the floor a brass plate to the memory of Henry Myles, servant to Prince Henry and Prince Charles, who died in 1618.
Over the west gallery is the monument of Robert Devenish, Esq. Norroy King at Arms, who died in 1704. Under the same gallery are the tombs of William Simonds, Gent. who died in 1623; Henry Willis, Gent. of the Middle Temple, who died in 1712; and Arthur Mayor, Esq. who died in 1783.
Aubrey mentions the tombs of Anthony Holt, Esq. clerk comptroller to Queen Elizabeth, and of John Jones, M.D. who died in 1692. They are now either destroyed or covered with pews. The former had a brass plate with the figure of a man habited in a gown.
Church-yard.
In 1383 Archbishop Courtney gave the inhabitants of Mortlake a piece of ground adjoining to the chapel there for the burial of the dead (fn. 20). The church-yard was enlarged in the year 1725, towards which Alderman Barber contributed 50 l.
Tombs.
In the church-yard are the tombs of the celebrated John Partridge and Alderman Barber, with inscriptions, which will be given hereafter; an obelisk to the memory of Edward Athawes (fn. 21), an eminent merchant, who died in 1767, and the tombs of the following persons:—Maria Catherina, relict of William Marquis of Blandford, and of Sir William Wyndham, Bart. who died in 1779; Robert, son of Sir Thomas Liddel, Bart. who died in 1718; Ann daughter of Isaac Lyte, Esq. who died in 1719; Henry Crofts, chaplain to Henry Viscount Palmerston, who died in 1721; Richard Castleman, Esq. who died in 1746; Robert Jeffes, Esq. who died in 1752; Aaron Lambe, Esq. who died in 1777; Joseph Symonds, Esq. who died in 1779; Elizabeth, wife of John Davies, surgeon, who died in 1781; Richard Garbrand, Esq. (no date); Eleanora Hay, spinster, who died in 1783; Mr. William Sanders, who died in 1784; Zachary Taylor, Esq. who died in 1786; Edward Taylor, Esq. who died in 1787, and Edward Taylor, junior, who died in 1788; Mary, third wife of Richard Myddleton, Esq. of Chirkcastle, who died in 1788; and Mary, daughter of John Ewer, Esq. who died in 1790.
Curacy.
The church of Mortlake is in the peculiar jurisdiction of the Archbishop of Canterbury. The benefice is a perpetual curacy with a reserved salary of 40 l. per annum, paid out of the great tithes by the lessee under the Dean and Chapter of Worcester. The nomination of the curate is vested in the Dean and Chapter. The commissioners who were appointed to inquire into the state of ecclesiastical benefices in 1658, endowed the curacy with the great tithes and made it a rectory (fn. 22) : this arrangement ceased at the Restoration.
Mr. Parkes, curate of Mortlake, was one of the ministers appointed by Cromwell to assist the committee for displacing ignorant and insufficient ministers and schoolmasters (fn. 23).
Parish register.
The present curate is the Reverend Thomas Cornthwaite.
The parish register begins in the year 1599. About the latter end of the last century the baptisms of Dissenters children are entered upon a separate leaf, pursuant to an act of parliament which passed in 1695.
Comparative state of population.
Average of Births.
Average of Burials.
1680—1689
31
40
1730—1739
40
58
1780—1789
45
52
1780—1784
37
52
1784—1789
51
51
1790—
47
56
1791—
45
58
The early part of the register is too imperfect to form a satisfactory average. The population during the last century is evidently increasing, though not so rapidly as in some other parishes. The present number of houses is 301 (fn. 24), of which 25 are lately built, or now building. The inhabitants being accurately numbered in the present month (June 1792) by the resident minister, the Rev. Samuel Peach, were sound to amount to 1766, of whom 339 were lodgers.
Plague years.
In 1603 and 1625 the plague does not appear to have been fatal; but in 1665 its ravages were very great. In that year there are entries of 197 burials, which are about 170 more than the average of that period. In the months of September and October only there were 122 burials, sometimes seven in one day.
Extracts from the register.
The following extracts from the register relate to remarkable persons:
Sir Kenelm Digby.
"Everard Digby, son of Sir Kilham Digby, Knt. was buried Jan. 16, 1629." The circumstance of an insant son of the celebrated Sir Kenelm Digby being buried at Mortlake might lead to a presumption that Sir Kenelm was then a resident at that place, but of this I have no other proof.
Richard Bifield.
"Richard Bifield, minister, was buried the 30th of Decr 1664." He was rector of Long-Ditton, had been one of the assembly of divines, and published several sermons and religious tracts (fn. 25).
Sir John Temple.
"Sir John Temple, Knight, was buried March 16, 1704." He was son of Sir John Temple, who wrote the History of the Wars in Ireland, and was master of the rolls in that kingdom, which office he himself held, having been successively solicitor and attorney-general, and being esteemed one of the best lawyers in Ireland (fn. 26). He purchased a house at East-Sheen of Sir James Rushout Cullen, which is now the property of his great grandson, Henry Viscount Palmerston. This house was built in the year 1611; the garden-front was added by the late Lord Palmerston. The rooms are spacious and losty. The drawing-room is hung with tapestry representing the four seasons. In the dining parlour are the portraits of Sir John Temple the younger; his brother, Sir William Temple, the celebrated statesman; and others of the family.
John Partridge.
"John Partridge was buried June 30, 1715." This was the famous astrologer so frequently mentioned in the Tatler (fn. 27). He was a native of East-Sheen. I find a John Partridge, who probably was his father, joined with Major Thomas Juxon as collector of the assessments in 1653 (fn. 28). Young Partridge is said to have been bound apprentice to a shoemaker after having been a short time at school, where he only learned to read and write (fn. 29). Being fond of books, notwithstanding the disadvantage of his situation, he taught himself Latin, Greek, and Hebrew. He next applied to the study of physic, but carried on the trade of shoemaking at the same time in Covent-garden (fn. 30). He procured the degree of doctor of physic at Leyden, and was appointed sworn physician to Charles II. (fn. 31) It appears by his epitaph that he also held this office under King William and Queen Mary. He published an almanac which went by his name, and various astrological treatises; and dying June 24, 1715, was buried in the church-yard at Mortlake; where is the following inscription to his memory on a flat stone:
"Johannes Partridge astrologus et medicinæ doctor, natus est apud East-Sheen in comitatu Surrey 8° die Januarii anno 1644, et mortuus est Londini 24° die Junii anno 1715. Medicinam fecit duobus Regibus unique Reginæ Carolo scilicet Secundo, Willielmo Tertio, Reginæque Mariæ. Creatus medicinæ doctor Lugduni Batavorum."
John Barber.
"John Barber, Esq. Alderman of London, was buried Jan. 9, 1741." The alderman, who was son of a barber in the city of London (fn. 32), was bred a printer, in which business, by a successful train of circumstances which brought him acquainted with Lord Bolingbroke, Swift, Pope, and others of the most eminent writers of the age, he acquired considerable opulence (fn. 33). A remarkable story is told of his dexterity in his profession:—Being threatened with a prosecution by the House of Lords for an offensive paragraph in a pamphlet which he had printed, and being warned of his danger by Lord Bolingbroke a few hours before the state messengers came to seize the books, he called in all the copies from the publishers, cancelled the leaf which contained the obnoxious passage throughout the whole impression with wonderful expedition, and returned them to the bookseller with a new paragraph supplied by Lord Bolingbroke, so that when the pamphlet was produced before the House, and the passage referred to, it was found perfectly unexceptionable (fn. 34). Mr. Barber acquired great wealth by the South-Sea scheme, which he had prudence enough to secure in time, and purchased an estate at EastSheen with a part of his gain (fn. 35). In principles he was a Jacobite, and on his travels in Italy, whither he went for the recovery of his health, was introduced to the Pretender, which exposed him to some danger on his return to England; for immediately on his arrival he was taken into custody by a king's messenger, but was released without punishment (fn. 36). After his success in the South-Sea adventure he was chosen Alderman of Castle Baynard ward, and in the year 1733 was Lord Mayor of London. During his mayoralty it happened that the scheme of a general excise was brought forward, by his active opposition to which he acquired for a time a considerable degree of popularity, though he is accused of procuring clandestinely from Mr. Bosworth the city chamberlain, the documents which enabled him to make so conspicuous a figure upon that occasion (fn. 37). Among the alderman's public actions it should be mentioned, that he put up a monument to Butler in Westminster-abbey, upon which occasion Pope is said to have written the following severe lines, which he proposed should be placed on the vacant scroll under Shakespear's bust (fn. 38) :

"Thus Britain loved me, and preserved my fame
"Pure from a Barber's or a Benson's name."
Alderman Barber by his will, dated Dec. 28, 1740, desired that his body might be buried at Mortlake, as near as possible to the ground which he had given to enlarge the church-yard; he bequeathed 300 l. to Lord Bolingbroke, 200 l. to Dr. Swift, and 100 l. to Mr. Pope. He died a few days afterwards, and was buried pursuant to his request (fn. 39).
On his tomb is the following inscription:
"Under this stone are laid the remains of John Barber, Esq. Alderman of London, a constant benefactor to the poor, true to his principles in church and state. He preserved his integrity and discharged the duty of an upright magistrate in the most corrupt times. Zealous for the rights of his fellow-citizens, he opposed all attempts against them; and being Lord Mayor in the year 1733, was greatly instrumental in defeating a scheme of a general excise, which (had it succeeded) would have put an end to the liberties of his country. He departed this life January 2, 1740–41; aged 65."
Sir John Barnard.
"Sir John Barnard, Knt. buried Sept. 4th, 1764." This worthy man, who is mentioned by Pope in the same line with the Man of Ross (fn. 40), was born at Reading, bred a Quaker, and educated at a school for children of that persuasion in Wandworth (fn. 41). At 19 years of age he was baptized by Bishop Compton at Fulham. He first distinguished himself as an active citizen by his endeavours to procure redress against a bill which affected the wine trade. His success upon this occasion induced the city of London to elect him one of its representatives in parliament, in which situation he continued till his death. How well he conducted himself in that character, and how faithfully he promoted the interest of his fellow-citizens, will be remembered as long as his statue shall adorn the Royal-Exchange. The worthy alderman experienced nevertheless in his life-time the uncertainty of popular applause; there was a time when he was insulted and reviled whenever he appeared in public; but he lived to see the tide of popularity turn again in his favour (fn. 42). Sir John Barnard was at the head of the merchants who stood forwards for the support of public credit in 1745. It is mentioned as an instance of his modesty that he could never be induced to enter the Royal Exchange after his statue was placed there (fn. 43). He died at Clapham in 1764, and was buried in the chancel of Mortlake church. Sir John Barnard published a pamphlet on the proposal for reducing the interest on the national debt.
Instances of longevity.
The two following instances of longevity occur in the register:
"Margaret Bourne widow, being as it was thought above one hundred years old at her death, was buried April 21, 1673."
"William Bakerage, aged 103, buried Oct. 20, 1741."
Extracts from the parish accounts.
The parish accounts, which are kept in the room over the vestry, begin in the reign of Queen Elizabeth. The following entries in the year 1646 are very characteristic of the times:
£.
s.
d.
Paid for a covenant, and a frame to set it in
0
3
0
Paid two men for taking down the faunt
0
14
0
Layd out when they carryed the common prayer books to Margaret's-hill in Southwark, and then to Kingston
0
14
0
Paid to a poor man that had been plundered
0
0
4
— to a poor minister
0
1
0
Paid for blotting out the cherubims in the church
0
2
6
— for a frame, and a whip that hangs in the church for drunkards
0
1
0
Lord Pack, Lord Tichbourn, and Sir John Ireton.
By the assessments made during the protectorate it appears that Lord Pack, Lord Tichbourn, and Sir John Ireton, some of Cromwell's city friends, had houses at that time at Mortlake. Pack, who was commissioner of the customs and treasurer at war, brought in the bill to petition Cromwell to be king, and was by him promoted to the other house as it was called (fn. 44). Tichbourn, who resided some years before at Mitcham, was also commissioner of the customs, and an alderman of London. He was one of King Charles's judges, and was made a peer by Cromwell (fn. 45). Sir John Ireton was an alderman of London. In the assessment of 1660 the two latter are styled Alderman Tichbourn and Alderman Ireton. The former was tried among the regicides and convicted.
Tradition of Cromwell at Mortlake.
An ancient house at Mortlake, now on lease to the Miss Aynscombs, is said to have been the residence of Cromwell. It is not very likely that he was an inhabitant there, but highly probable that he might have been a visitor, as so many of his friends lived in the neighbourhood, one of whom perhaps occupied this house. It may be observed here, that there is scarce a village near London in which there is not one house at least appropriated by tradition to Cromwell, though there is no person to whom they might be appropriated with less probability. During the whole of the civil wars Cromwell was with the army; when he was protector, he divided his time between Whitehall and Hampton-Court.
Edward Colston.
Miss Aynscomb's house was, during the present century, the residence of a more amiable though a less celebrated man, the benevolent Edward Colston, the great benefactor to the city of Bristol and various other places, who in his life-time expended more than 70,000l. upon charitable institutions. He died there A. D. 1721 (fn. 46).
Dr. Dee.
Among eminent persons who have resided at Mortlake, the celebrated Dr. Dee must by no means be forgotten. His character has been so variously represented, and his history is not only so extremely curious but so much connected with this place, that I trust I shall be excused if I enter more into its detail than is consistent with the general plan of this work.
Dr. Dee was the son of Rowland Dee, Gentleman Sewer to Henry VIII. and grandson of Bedo Dee, Standard-Bearer to Lord de Ferrars at the battle of Tournay; if any credit is to be given to his pedigree in the British Museum (fn. 47), drawn up by himself, he was descended in a direct line from Tudor the Great. His father was imprisoned in the Tower in the year 1553. His mother Johanna Dee, lived at Mortlake as early as the year 1568. The greater part of the following account, except where other authorities are quoted, is taken from the MS. narrative of his life (fn. 48), which he read to the commissioners at his house at Mortlake.
John Dee was born in London A. D. 1527. At the age of 15 he went to the university of Cambridge, where he applied himself to his studies with such diligence that he allowed only four hours for sleep and two for his meals and recreation. In 1547 he went abroad to converse with learned men, particularly mathematicians; and on his return the ensuing year was elected fellow of Trinity College, and made under-reader of the Greek language. He went to the Continent again soon afterwards; and being then only 23 years of age, read public lectures at Paris upon the Elements of Euclid to crowded audiences, and was visited by persons of the highest rank, who were anxious to become his pupils. In 1553 Edward VI. took him under his patronage, allowed him a pension, and gave him the rectories of Upton-upon-Severn in Worcestershire, and Long Lednam in Lincolnshire. About this time he was offered a handsome salary for reading lectures upon natural philosophy at Oxford. In Queen Mary's reign he was out of favour; and being suspected of treasonable designs, was committed to the custody of Bishop Bonner, but escaped better than his fellow-prisoner Green, who suffered at the stake. Queen Elizabeth, upon her accession to the throne, immediately took Dee under her patronage, and among other marks of her favour appointed him, though a layman, to the deanery of Gloucester; of which however he never got possession. In 1575 the Queen, with several of the nobility, came to his house at Mortlake, with an intention of seeing his library, but hearing that his wife was lately dead, they did not enter the house. Dee attended her Majesty at the door, and explained to her the properties of a glass which had occasioned much conversation, and given rise to a report that he was a magician. In 1578 he married Jane, daughter of Bartholomew Fromound, Esq. of East-Cheam. In 1581 he first began his incantations in concert with one Edward Kelly. Albert Laski, a Polish nobleman of high rank, (and I have no doubt of large fortune, or he would not have answered their purpose,) was admitted into a kind of partnership with them. They pretended to carry on their conversations with spirits by means of a show-stone, which Dee affirmed was given him by an angel. Kelly was the seer, who, when they had finished their invocations, was to report what spirits he saw and what they said; whilst Dee, who sat at a table, noted all in a book. A folio volume of these notes was published by Casaubon, and many more remain in MS. in the British Museum. They contain the most unintelligible jargon. The consecrated cakes of wax used in these ceremonies, marked with hieroglyphics and mathematical figures, are also in the Museum. The show-stone, which is a round piece of volcanic glass finely polished, is in the Earl of Orford's collection at Strawberry-Hill. This farce was carried on for some time, till at length the whole party having envolved themselves in debt, they were obliged suddenly to quit England. They left Mortlake Sept. 21, 1583; the mob, who had always been prejudiced against him as a magician, immediately upon his departure broke into his house, and destroyed a great part of his furniture and books. Meanwhile Dee and his friends hastened to Poland, where they flattered themselves that they should meet with great encouragement through the interest of Laski; but were grievously disappointed in their expectations, and reduced to great distress. They then bent their course to Germany, but the Emperor banished them his dominions. At length in the year 1589 the Queen ordered him to return, being then in Bohemia (fn. 49). On his arrival in England he waited upon her Majesty at Richmond, and was very graciously received. She assured him that he might rely upon her protection in the prosecution of his studies. Having been in England three years without reaping any advantage from the promise which had been made him, he was induced to present a petition to the Queen, praying that she would appoint commissioners to inquire into the losses and injuries which he had sustained, the services he had done her Majesty, and the various disappointments which he had encountered. In consequence of this application Sir Thomas Gorege, Knt. and Mr. Secretary Wolley were actually appointed commissioners to hear his grievances, and sat as such as his house at Mortlake, Nov. 22, 1592, to whom, sitting in his library, he related his case at large. In the meantime two tables were placed near him; on one of them were the proper vouchers for the facts he asserted, to which he constantly referred; on the other, all the printed books and MSS. which he had written. Among the services which he had rendered to the Queen he reckons some consultations with her Majesty's physicians at home, and a journey of 1,500 miles, which he undertook in the winter season, to hold a conference with the most learned philosophers on the Continent upon the means of restoring and preserving her health. In enumerating his losses he estimates the damage sustained in his library (fn. 50) at 390l. His whole collection, which consisted of 4000 books, of which a great part were MSS. he valued at 2000l. Among the latter he mentions a large collection of deeds and charters relating principally to estates in Ireland which he got out of a ruined church. He says, they had been examined by heralds, clerks of the office of records in the Tower, and other antiquaries, who had spent whole days at his house in looking them over; and had taken away to their liking. His chemical apparatus, which cost him 200l. was entirely destroyed by the mob, when he left Mortlake in 1583; at the same time they beat in pieces a fine quadrant of Chancellor's which cost him 20l. and took away a magnet for which he gave 33l. Among the many promises of preferment which had been made him to so little effect, he particularly specifies Dr. Aubrey's benefices in the diocese of St. David's, and the mastership of St. Cross. He concludes with desiring speedy relief, and gives his reasons for preferring the mastership of St. Cross to any other appointment, it being a retired situation well adapted for his studies, with a good house annexed; whereas his present situation at Mortlake was too public, and his house too small to entertain the foreign literati who resorted to him. Upon the report of the commissioners, "the Queen willed the Lady How"ard to write some words of comfort to his wife, and send some friendly tokens besides;" she commanded Sir Thomas Gorge to take him 100 marks, and said, "that St. Cross he should "have," and that the incumbent Dr. Bennet might be removed to some bishopric; and assigned him a pension of 200l. per annum out of the bishopric of Oxford till it should become vacant. All these promises, like the former, came to nothing; the mastership of St. Cross he never got. The next year indeed he was presented to the chancellorship of St. Paul's, but this was by no means adequate to his expectations; and he continued to memorialife her majesty till at length he procured the wardenship of Manchester in 1595 (fn. 51). Here he continued seven years, leading a very unquiet life, and continually engaged in disputes with the fellows. He returned to Mortlake in 1604. King James at first patronized, but was afterwards prejudiced against him and his studies; upon which Dee presented a petition to his Majesty, and another in verse to the House of Commons, praying that he might be brought to trial, having been accused of calling up evil spirits (fn. 52). Dr. Dee died at Mortlake in the year 1608, having been so poor in the latter part of his life as to be obliged to sell his library piece-meal for subsistence (fn. 53). He was buried in the chancel of Mortlake church, where Aubrey says, an old marble stone was shown as belonging to his tomb (fn. 54).
Dee's house.
The house where Dr. Dee lived is now the property of Richard Godman Temple, Esq. as appears by a survey of Mortlake (fn. 55), taken A. D. 1617, where it is called an ancient house. It was most probably built in the reign of Henry VII. An old room ornamented with red and white roses existed a few years ago.
Queen Elizabeth's visits to Dr. Dee.
It is the opinion of some writers, that Dee was employed by Queen Elizabeth as a Spy (fn. 56), and some have gone so far as to suppose that all the notes of his pretended conversations with spirits were, in fact, political intelligence, couched in cyphers. As they contained a kind of jargon meaning nothing in itself, they might undoubtedly be used occasionally for such purposes. Dee himself avers in his narrative, that he was taken into the Queen's service on her accession to the throne, when she promised, that where her brother had given him a crown, she would give him a noble. The instances of her Majesty's attention to him were striking and numerous, and certainly prove either that she was indebted to him for real, or that he duped her by magnifying the importance of imaginary services. When he was sick, the Queen ordered her own physicians to attend him, "sent him divers rarities to eat, and the honourable "Lady Sidney to attend on him, and comfort him with divers "speeches from her Majesty pithy and gracious (fn. 57) !" The Queen frequently visited him at his house at Mortlake; one day she came on horseback, and "exhorted him to take his mother's death "patiently." Another time, as he describes it himself, "she came "from Richmond in her coach, the higher way of Mortlake field, and when she came right against the church, she turned down (says he) towards my house, and when she was against my garden in the field, her Majesty staid there a good while, and then came into the field at the great gate of the field, where her Majesty espied me at my door making reverent and dutiful obeysances to her; and with her hand her Majesty beckoned me to come unto her, and I came to her coach-side; her Majesty then very speedily pulled off her glove, and gave me her hand to kiss; and to be short, her Majesty willed me to resort oftener to her "court, and by some of her privy chamber, to give her to weete when I am there (fn. 58)."
Character of Dee.
Dee was undoubtedly a man of very great research and singular learning, as is evident by his various writings both printed and MSS. in almost every science. He wrote upon the reformation of the Gregorian calendar; on the mode of propagating the Gospel on the other side of the Atlantic; on geography; natural philosophy, particularly optics; mathematics; metaphysics; astronomy; astrology; and the occult sciences. He wrote an account also of his voyage to St. Helena, and a treatise on the Queen's right to certain foreign countries; and projected a scheme for the preservation of ancient MSS. by establishing a general repository, a plan which is in a great measure realised by that noble national collection at the British Museum. Whether with all his learning he was himself the dupe of an enthusiastic imagination, or whether he availed himself of his knowledge to dupe others in an age when all ranks were given to credulity, may perhaps admit of a question. I own I am rather inclined to the latter opinion. As a proof of the superstition and credulity of the age, it will not be amiss to mention that Dee was employed to determine according to the opinion of the ancient astrologers, what day would be most fortunate for Queen Elizabeth's coronation (fn. 59). Some time afterwards he was sent for by the lords of the council to counteract the ill effects which it was apprehended would befall the Queen from a waxen image of her Majesty stuck full of pins, which was picked up in Lincoln's-inn-fields (fn. 60). This we are told he performed "in a godly and artificial manner," in the presence of the Earl of Leicester, and Mr. Secretary Wilson. Dr. Dee was much connected with the Earl, and has been accused of being an instrument in his nefarious designs (fn. 61). He was much patronized and encouraged by Henry Earl of Northumberland (fn. 62), the Earl of Oxford, Sir Christopher Hatton, Sir Henry Sidney, and other great men belonging to the court. So great was his reputation abroad, that he was offered great salaries by various foreign princes if he would settle in their courts. The Emperor of Russia in particular sent him a rich present, with an offer of conveying him and all his family to Petersburgh, and promising to settle an annuity of 2000l. per annum upon him, and to grant him the rank of a privy counsellor. These offers, it must be observed, were made before his last unsuccessful journey to the Continent.
Notwithstanding the Queen's patronage, and the various and rich presents which he was constantly in the habit of receiving, his unbounded extravagance kept him always poor. His journey from Bohemia in 1589, which cost him (fn. 63) near 800l., will afford some idea of his oftentation. He was attended by a guard of horse, and travelled with three coaches besides baggage-waggons. The coaches, with harness for 12 horses, he bought new upon the occasion. When he arrived in England, he appears not to have been worth a penny, and to have subsisted for the next three years upon the precarious bounty of his friends. During this period he received 500l. in money, besides vessels of wine, whole sheep, pigs, wheat, sugar, and other commodities; he sold his wife's jewels, his own rarities, and whatever could be spared out of his house; at the end of the three years he was 333l. in debt. With these expenditures, which according to the present value of money we must estimate at more than 1000l. per annum, he tells us, that "with great parsimony "used, he preserved himself and his family from hunger, starving, "and nakedness (fn. 64)." Dr. Dee carried on his conversation with spirits till the year before his death, at which time he seems to have applied his pretended art to the discovery of hidden treasure and stolen goods (fn. 65), probably of procuring some present subsistence from those who were silly enough to employ him. A portrait of Dr. Dee, taken at the age of 67, as appears by an inscription upon the canvas, is in the Ashmolean Museum at Oxford, where many of his MSS. are deposited. The annexed plate is copied from the picture just mentioned. Dr. Dee bore for his arms, Gules, a lion rampant Or, within a border indented of the second. The following crest was granted him in 1576. A lion seiant gardant, Or, holding in his dexter gamb a cross formée fitchée Azure; on the cross, a label with this motto, "Hic labor;" and his sinister gamb on a pyramid Argent, on it a label with this motto, "Hoc opus." Francis Dee, Bishop of Peterborough, was cousin of Dr. Dee, being descended from his grandfather Bedo, called in the Visitation of the County of Salop, the great Bedo Dee.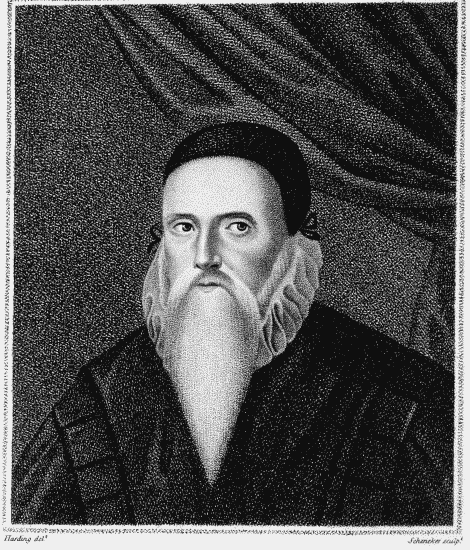 Arthur Dee.
Arthur Dee was born at Mortlake in 1579, on the same day that his grand-father Bartholomew Fromound died, which his father considered as an ill omen. Anthony Wood, with his usual credulity, says, that when a child he frequently played at quoits with gold plates which his father made at Prague by transmutation. At eight years of age he was employed by his father as his Skryer. He was educated at the university of Oxford, and being bred up to physic, practised in London; where he was prosecuted by the College of Physicians for putting a board over his door with a list of medicines. King James recommended him to the Emperor of Russia, who made him his physician. He resided in that country fourteen years; and on his return was appointed physician to Charles I. Dr. Arthur Dee published a treatise on the hermetical science, and left behind him some MSS. He died at Norwich in 1651. (fn. 66).
Anstis.
Anstis, the Garter King at Arms, author of the Register of the Garter, and some pamphlets on the Office of Earl Marshal, resided at Mortlake, and died at his house there March 4, 1744 (fn. 67).
Tapestry manufactory.
Gibson the painter.
A manufactory of fine tapestry (being its first introduction into England) was established here in the year 1619 by Sir Francis Crane, who bought some premises of Mr. Juxon for that purpose (fn. 68). The King patronized the undertaking, and gave 2,000l. towards it as an encouragement (fn. 69). Francis Cleyne, an ingenious artist, coming to England soon afterwards under the patronage of Sir Robert Anstruther, was employed as a designer, and raised the credit of the manufactures to a very high degree (fn. 70). The King granted him a pension of 100l. per annum (fn. 71), and made him a free denizen (fn. 72). In the first year of King Charles, Sir Francis Crane, to whom his Majesty owed 6000l. procured a pension of 1,000l. per annum (fn. 73). After his death, his brother Sir Richard sold the premises to the King. During the civil war they were seized as the property of the crown. In the Survey (fn. 74) taken by order of parliament the Tapestryhouse is described as containing one room 82 feet in length, and 20 in breadth, with 12 looms; another about half as long with 6 looms; and a great room called the limning-room. This manufactory occupied the site of Queen's-head Court. The old house, on the opposite side of the road, was built by Charles I. for the residence of Francis Cleyne (fn. 75). Gibson, the dwarf, who had been page to a lady at Mortlake, was a scholar of Cleyne (fn. 76). During the protectorate the Tapestry-house remained in the occupation of John Holliburie, who in the Survey is mentioned as the master workman. After the Restoration, Charles II. intended to revive the manufacture, and sent to Verrio to sketch the designs, but his intention was never carried into execution (fn. 77). In the Survey above-mentioned the Tapestry-house is valued at 50l. per annum; the painter's house at 9l.
Manufactory of delf.
About fifty years ago a manufactory of delf and earthen-ware was established here by Mr. William Sanders, which is still carried on by his son.
Juxon's almshouses.
In the year 1628 John Juxon, Esq. founded four alms-houses for poor widows. They were endowed by himself, his son, and grandson, with 17l. 2s. per annum; and were further augmented by Mrs. Elizabeth Heneage, in 1775, with an annuity of 13l. The widows now receive 2s. 6d. per week, besides clothes at stated times.
Various benefactions.
Henry Smith, Esq. gave 3l. per annum to the poor. Thomas Scales in 1640 gave 5l. 10s. per annum to be distributed in bread; a certain portion every Sunday. Mrs. Ann Clark gave the interest of 100l. to be distributed among the poor on St. Stephen's day. Lady Thorold, the interest of 260l. to be divided between six poor men on the first of November, on condition that Mr. Coventry's vault should not be removed; otherwise the benefaction to go to the parish of Barnes. Mrs. Ann Smyth, in 1733, gave the interest of 100l. to four of the poorest housekeepers on Christmas-day. The sum of 260l. has been left by various persons for the purpose of buying coals for the poor, and 320l. to apprentice children and pay widows' rents. Louisa Durour left 50l. to the poor; and Nicholas Langley, Esq. in 1783, the same sum. The parish fund at present amounts to 1,130l. South-Sea stock, which is vested in trustees.
Charityschool.
Lady Capel, by her will dated 1719, left 11l. per annum to establish a charity-school here, which being augmented by the collections at an annual sermon, the parish are enabled to clothe and educate twenty children.
Thomas Whitfield, Esq. lord of the manor of East-Sheen and West-hall, gave the premises of the Star and Garter towards the repairs of the church.
East-Sheen.
East-Sheen is a pleasant hamlet in this parish, situated on a rising ground considerably above the level of the river. It contains about ninety houses. Here are several handsome villas; the vicinity to Richmond-park, and the beauty of the surrounding country, making it a desirable situation.