Pages 223-240
The Environs of London: Volume 2, County of Middlesex. Originally published by T Cadell and W Davies, London, 1795.
This free content was digitised by double rekeying. All rights reserved.
EALING
Name.
This parish is not mentioned in Doomsday-book. The manner of spelling its name varies much in ancient records, viz. Yeling, Yellyng, Zelling, Yealing, and Ealing. Though Newcourt does not mention the last, I think it has been most prevalent, and is now universally adopted.
Situation, boundaries, extent, &c.
The village of Ealing is situated near the Uxbridge-road, at the distance of about seven miles from Tyburn-turnpike. The parish, which lies within the hundred of Ossulston, is bounded by NewBrentsord, Greenford-Magna, Greenford-Parva or Perivale, Harrow, Twyford, Acton, and Chiswick, and by the river Thames. It contains about 3100 acres of land, exclusive of roads, private gardens, &c.; about 1560 acres are grass-land; about 1220 arable, and about 250 occupied by market-gardeners; the remainder is waste. The soil is various, viz. clay, gravel, and loam, or brick-earth. The parish pays the sum of 981l. 2s. to the landtax, which, in the year 1793, was at the rate of 1s. 2d. in the pound.
Manor. Lease of the demesne lands.
The manor of Ealing has belonged from time immemorial to the see of London. The demesne lands, consisting of about 660 acres, were leased by Bishop Bonner, (under the name of the manor of Ealing-bury,) to Edward Duke of Somerset, for a term of two hundred years (fn. 1) : after his attainder they came into the hands of the crown, and were granted, anno 1601, for the unexpired term, to Simon Willis (fn. 2), who affigned one moiety to Thomas Fisher, and the other to Sir Thomas Penruddock. At the time of the parliamentary survey, A. D. 1650, the manor-house was in the possession of John Penruddock, the same, it is probable, who was executed at Exeter in 1655 for an insurrection against Cromwell. It is described in the survey as " ruinated, and lying open since the first "plundering there of in the beginning of the last troubles." I have not had an opportunity of learning through what hands this estate passed afterwards, till the year 1757, when (Bonner's grant being expired) it was leased in the usual manner to Richard Long, Esq. (fn. 3) and is now held under a renewed lease by his daughters and coheiresses, one of whom is married to William Vachell, Esq. and the other to George Hardinge, Esq. one of the justices of the grand sessions for Brecon, &c.
Royalities.
The manor is in the bishop's own hands, and the courts are held by his steward. The royalties, or the right of fishing, hunting, &c. were leased to the late Jonathan Gurnell, Esq. and are now held under his representatives by Thomas Cheap, Esq.
Manor of Gunners-bury.
Alice Perrers
Sir Thomas Frowick.
There are also three subordinate manors, or manor-farms, in the parish of Ealing, held under the Bishop. The most ancient of these is Gunnersbury, called in old records Gonyldesbury, or Gunnyldsbury. It is not improbable that it was the residence of Gunyld, or Gunnilda, niece of King Canute, who was benished from England in the year 1044 (fn. 4). This manor, in the reign of Edward III. was held for life by John Bray, under a grant of John de Chepham, who, in 1365, (38 Edw. III.) gave the reversion to Geossrey Schrop and his heirs (fn. 5). In the 47th year of the same king's reign, William Gresle, clerk, and others, granted the manor of Gonyldsbury, which had formerly belonged to John de Northwych, goldsmith of London, to John Bernes and others (fn. 6), as trustees, perhaps, for the celebrated Alice Perrers, or Pierce, whose property it appears to have been at the time of her banishment, when it was seized by the crown (fn. 7). She afterwards procured a reversion of her sentence, and married Sir William Wyndesor, to whom this manor was granted, with other property which she had enjoyed before her attainder (fn. 8). In the next century it belonged to Sir Thomas Frowick, Alderman of London, who died in 1485, and was buried at Ealing. His second son Sir Thomas Frowick, (born at Gunnersbury (fn. 9),) was a very eminent lawyer, and became Lord Chief Justice of the Common Pleas. He was settled at Finchley: his elder brother Sir Henry (fn. 10) inherited Gunnersbury, which appears to have descended to his daughter and coheir Elizabeth, who married Sir John Spelman, one of the Judges of the King's-Bench, grandfather of Sir Henry, the celebrated antiquary, and ancestor of Sir Clement Spelman, who died seised of the manor of Gunnersbury in 1607 (fn. 11). It appears, that during this time it was chiesly in the occupation of tenants. Margaret, sister of William Earl of Derby, and wife of Robert Ratcliffe, Earl of Sussex, died at "Gunelsbury" in 1537 (fn. 12), and was buried in the parish church at Ealing. In Norden's time, Gunnersbury, "well scytuate (as he describes it) for wood, ayre, and "water," was inhabited by the Corbets (fn. 13), to whom indeed he seems to have supposed it belonged. It was afterwards the property of the celebrated Serjeant Maynard; after whose death it was for many years in the possession of his widow, who married Henry Earl of Suffolk. The Earl died at Gunnersbury in 1709 (fn. 14); his eldest son, who succeeded him in the title, died there in 1718 (fn. 15); and the Countess Dowager in 1721. Gunnersbury then became the property of Sir John Hobart, who married Elizabeth, one of the nieces of Serjeant Maynard (fn. 16), and was sold by him about the year 1740, (being then Lord Hobart,) to Henry Furnese, Esq. (fn. 17) Mr. Furnese died in 1756; in 1761 (fn. 18) Gunnersbury was purchased of his representatives for the late Princess Amelia, aunt of his present Majesty, after whose death, pursuant to the directions in her will, it was put up to sale, and purchased (anno 1788) by Colonel Ironside, who sold it again in 1792 to Walter Stirling, Esq. the present proprietor.
Gunnersbury-house.
Princess Amelia.
Gunnersbury-house is pleasantly situated, and commands an extensive and beautiful prospect. It was built for Serjeant Maynard, in the year 1663, by Webbe, a pupil of Inigo Jones (fn. 19). The chapel was added by the Princess Amelia, who made Gunnersbury her summer residence, and expended a very considerable sum upon the premises (fn. 20). The gardens were enlarged and altered by Kent for Mr. Furnese. The trees in and about the paddock are well grouped, and exhibit some very pleasing scenery. In the pleasure-grounds are several cedars of Libanus, of considerable girth. The whole of the premises consists of about 95 acres, surrounded with a losty brick wall.
Manor of Coldhawe.
The manor of Coldhawe, or Cold-hall, belonged at an early period of the last century, to Gideon Aunsham, Esq. (fn. 21) who in herited it, probably, from Richard Amondesham, or Aunsham, who lies buried in the chancel of Ealing church. In the year 1667 it was aliened by Jane, wife of Henry Mildmay, Esq. and Margaret Aunsham, sisters and coheirs of Robert Aunsham, Esq. to William Denington, Esq. who dying intestate in 1686, his estates were divided between his three sisters. It seems probable that this manor fell to the share of Anne, wife of Thomas Watts; for I find that—Watts held the manor of Coldhawe in 1690 (fn. 22), and that Richard Watts died seised of a freehold estate in Ealing in 1710 (fn. 23). In 1728 Charles Lockyer paid a fine of alienation to the Bishop of London for having purchased the manor of Coldhawe of John Loving, Esq. (fn. 24) It is now the property of Henry Burgoyne Sharpe, Esq. of Hammersmith, who married one of the Lockyer family. The manor-house is in the tenure of the Rev. Dr. Goodenough.
Manor of Pits-hanger.
Thomas Edwards.
Sir Arthur Atye, who died in 1605, was seised of a manor, or manor-farm, in the parish of Ealing, called Pits-hanger, containing 140 acres (fn. 25). In 1690 this manor was the property of Margaret Edwards, widow (fn. 26), from whom it descended to Thomas Edwards, Esq. the ingenious author of the Canons of Criticism, who it is probable was her grandson. Mr. Edwards spent some of the early part of his life at Pits-hanger, but afterwards removed to an estate which he had purchased in Buckinghamshire (fn. 27). After his death, which happened in 1757, Pits-hanger was sold by his nephews, Joseph Paice, and Nathaniel Mason Esq. to King Gould, Esq. whose son, now Sir Charles Morgan, Bart. aliened it to Thomas Gurnell, Esq. Mrs. Peyton, relict of Jonathan Gurnell, Esq. and wife of John Peyton, Esq. is the present proprietor.
Ealing-house.
Ealing-house, the property and residence of Edward Payne, Esq. belonged to the family of Bonsoy, anno 1691 (fn. 28); in 1715 to Sir James Montagu, Baron of the Exchequer; and afterwards successively to Sir Thomas Gery, Knight (fn. 29) (1724) ; Nathaniel Oldham, Esq. (fn. 30) (1728); Slingsby Bethell, Esq. (fn. 31) (1748); Gen. John Huske, and William Adair, Esq.
Hickes-upon-the-Heath.
The house called "Hickes-upon-the-Heath," was in 1684 the property of Robert Newdigate, Esq. (fn. 32) who aliened it to Sir Wm. Trumbull, afterwards secretary of state to King William; in 1688 it belonged to Charles Hedges, LL. D. afterwards Queen Anne's secretary; in 1721, to the Hon. George Watson ; it was some time afterwards the property and residence of Dr. John Egerton, Bishop of Durham, of whose heirs it was purchased by Frederick Barnard, Esq. the present proprietor, who has considerably enlarged and improved the premises.
Ealing-grove.
Ealing-grove was in 1722 the property of the Earl of Rochsord, who was admitted to it in right of his wife Bessy, daughter of Richard Earl Rivers (fn. 33); it afterwards belonged to Dr. Peters, whose widow married Captain (afterwards Sir Edward) Hughes, who sold it in 1755 to Joseph Gulston, Esq. after the death of his son Joseph Gulston, Esq. well known for his valuable collection of prints, &c. it passed successively through the hands of the Dukes of Marlborough and Argyle; and was lately the property of James Baillie, Esq. deceased.
Place-house.
Place-house, a beautiful villa at Little Ealing, was successively the property of John Loving, Esq. Sir Richard Ellis, Sir Francis Dashwood, Sir Richard Littleton, Earl Brooke, and Lord Robert Manners; it now belongs to Cuthbert Fisher, Esq.
Ford-hook.
Ford-hook, in this parish, now a farm-house, is said to have been the seat of Alexander Denton, Justice of the Common Pleas (fn. 34).
Lands within the manor of Ealing descend to the youngest son ; but in default of male issue are divided among daughters equally (fn. 35).
Dr. John Owen.
Dr. John Owen, the most voluminous and the most temperate writer among the dissenters of the last century, was for many years an inhabitant of Ealing, where he died August 24, 1683. He was elected member of parliament for the University of Oxford, though a divine ; was made dean of Christ-church by the independents ; and in 1652 was vice-chancellor of the university. "While he did undergo that office, (says Wood,) instead of being a grave example, he scorned all formality; undervalued his office by going in querpo like a young scholar, with powdered hair, snake-bone bandstrings, (or bandstrings with very large tassels,) lawn band, a large set of ribbands pointed at his knees, and Spanish-leather boots with large lawn tops, and his hat mostly cocked (fn. 36)."
Henry Fielding.
Lord Heathfield.
Henry Fielding had a country-house at Ealing, where he resided the year before his death. The late Lord Heathfield, when General Eliott, lived some years on Castle-beare-hill in this parish, where his son, the present Lord Heathfield, was born.
Parish church.
The old church at Ealing having fallen down on the 27th of March 1729, an act of parliament passed for rebuilding it, and a brief was obtained for that purpose; but it was near ten years before the new church was completed (fn. 37). It is a brick building, and forms an oblong square, of which the chancel occupies a certain portion ; at the west end is a square tower with a turret.
Monuments.
On the east wall of the chancel are the monuments of John Bowman, B. D. chancellor of St. Paul's, who died in 1629; John Lov ing, Esq. of Place-house, teller of the Exchequer, 1693 (fn. 38); his son John Loving, Esq. who married Dame Mary Humble, and died in 1731 ; Dame Jane Rawlinson (fn. 39), (widow of Sir William Rawlinson, one of the commissioners of the Great Seal, who lies buried at Hendon, and grand-daughter of Sir John Maynard,) who died in 1713; and Thomas Pearce, Esq. of Little Ealing (fn. 40), (father of the Bishop of Rochester,) who died in 1752. On the north wall is a brass plate to the memory of Richard Amondesham, alias Aunsham, " merchant "of the Stapel of Calais," and Katherine his wife; there is no date; the brass figures are represented in dresses which were worn in the fifteenth century. On the same wall is the monument of Edward Vaughen, who died in 1612; and Sir Thomas Edwards, Bart. (fn. 41) who died in 1790. On a flat stone in the chancel is a memorial for Elizabeth, wife of John Maynard, serjeant at law, who died in 1654-5. On the south wall of the church are the monuments of Richard Taverner, Esquire, vicar of Ealing, who died in 1638; George Oldmixon, Esq. of the county of Somerset (1779); and John Ward, Esq. pay-master of the forces at Gibraltar (1791). In the nave are flat stones to the memory of Roger Griffiths, Esq. who died in 1753; Thomas Fisher, Esq. of Acton (1767); and Thomas Browne, Esq. of Drayton-green (1786). Under the south gallery is the tomb of John Clarke, Gent. (1718). Norden mentions the tomb of Thomas Frowick of Gunnersbury, father of the chief justice (fn. 42).
Church-yard.
In the church-yard are the tombs of Captain Joshua Wiseman of Chelsea, who died in 1694; William Adams, Gent. (1709); Catherine, wife of William Wogan, Esq. (descended from the Earls of Chesterfield) (1726); Sir Thomas Gery, Knt. (1727), Elizabeth, widow of Charles Misson, Gent. (1733); Edward Billingsley, Esq. (1746); Anne Cole, spinster (1754); John Hughes, Gent. (1754); William Wogan, Esq. (1758); William Spicer, Esq. master in Chancery (1762); John Lockyer, Esq. (1763); William Benning, merchant (1767); Anne, wife of Abraham Harvest (1772); John Trimmer, citizen of London (1772); Israel Taylor, Gent. of Clifford'sinn (1780); William Palmer, lieutenant in the navy (1781); Richard Wood, Esq. of Hanger-hill (1785); James Rowlands, Esq. (1790); Mrs. Sarah Pratt (mother-in-law of Alderman Skinner, and buried in his family vault) (1793); and Mr. Thomas Harrison (1793).
The church-yard was enlarged in 1681 by the addition of a piece of ground given by Bishop Henchman (fn. 43).
Rectory and vicarage.
The church of Ealing is dedicated to St. Mary, and is subject to the jurisdication of the Bishop of London only, or his commissary. Robert de Balmeis, Bishop of London in the reign of Henry I. gave the tithes of Ealing to augment the salary of an officer in the church of St. Paul's, called the Master of the Schools (fn. 44). In the year 1308 the church of Ealing was appropriated, by Bishop Baldock, to the Chancellor, who appears to have borne the same office under a different title; the appropriation was subject, however, to certain conditions, viz. to pay the sum of 10 l. per annum to the vicar, (who was to have a house and glebe, and to enjoy all the small tithes and offerings (fn. 45),) and to read lectures in divinity, either in his own person or by a sufficient deputy, on penalty of forfeiting the whole profits of the rectory; a third of which, in that case, was allotted to a lecturer; a third to the repairs of St. Paul's cathedral; and a third to the dean and chapter (fn. 46). In the taxation of 1327 the church of Ealing was rated at 25 marks (fn. 47). In the reign of Edward VI. the rectory was valued at 22l.; the vicarage at 13 l. 6s. 8d. (fn. 48). The parsonage of Ealing, valued at 84 l. 8s. per annum over and above the reserved rent, was sold in the year 1650 to Thomas Lytcott, Esq. the lessee, for the sum of 524l. 12s. The vicarage, with its glebe, was then valued at 60 l. per annum (fn. 49). The late Dr. William King was lessee of the rectory, the lease of which was purchased of his representatives by Thomas Bramley, Esq. of East Acton, and the late Mr. Thomas Harrison of Old Brentford.
Vicars.
Thomas Gilbert.
Bishop Beveridge.
Robert Cooper, who had been collated to the vicarage of Ealing in 1638, was ejected by the puritans, and his place supplied by Daniel Carwarthen (fn. 50). Thomas Gilbert was presented in 1654, by Francis Allein, Esq. (fn. 51) who, I suppose, was then in possession of the manor. It happened, that upon the restoration, this Gilbert was the first person who was deprived of his benefice; on which account he desired that it might be inscribed upon his tomb, that he was the proto-martyr to the cause of non-conformity (fn. 52). Cooper was reinstated in the vicarage of Ealing, which he enjoyed but a few months, being succeeded in the month of January 1660-1 by the learned William Beveridge, (afterwards Bishop of St. Asaph,) who continued there thirteen years (fn. 53).
The vicarage is in the patronage of the Bishop of London; the present vicar is the Rev. Charles Sturges, M. A. who was collated in 1773.
George-chapel.
George-chapel, at Old Brentford, in the parish of Ealing, was built in or about the year 1770, after a design of Mr. Kirby, and at the expence of certain inhabitants of that place, who receive the profits of the pews, and are obliged to allow the minister a salary of 30 l. per annum. The patronage is vested in the vicar of Ealing; the present minister is the Rev. Henry Plimley.
Lectureship.
John Bowman, B. D. chancellor of St. Paul's, who died in 1629, founded a lectureship at Ealing, and endowed it with 40 l. per ann. The present lecturer is the Rev. Thomas Warry, M. A.
Meeting-houses.
The Presbyterian diffenters have a chapel near Old Brentford, which was built in 1783. In an adjoining cemetery is the tomb of the Rev. Matthew Bradshaw, their late minister, who died in 1792. The average number of burials in this ground is not quite two in a year. The Anabaptists also have a meeting-house at Old Brentford, and there is a third for the people called Methodists.
Parish register.
The parish register, which begins in the year 1582, is so imperfect during the last century, that I could not procure any satisfactory average of baptisms or burials. It has been kept with much accuracy during the present century, and great pains have been taken to preserve what remains of the more ancient records.
Comparative state of population.
Average of baptisms.
Average of burials.
1583–1592
29 4/3
29 1/10
1730–1739
98 3/10
1101/5
1780–1784
1391/5
1851/5
1785–1789
156
162
1790
150
153
1791
184
152
1792
167
163
The population within the two last centuries appears to have increased in a proportion of more than five to one. The present number of houses is about seven hundréd, about five hundred of which are in the hamlet of Old Brentford.
Plague years.
In 1603 there were 136 burials, 29 of which were in the month of September. In 1665 there were 286, of which 244 were between the last of June and the first of January ensuing. Several of the persons who died of the plague were buried in the fields, particularly about Old Brentford.
Extracts from the Register.
"George, son of William Fleetwood, baptized August 3, 1586." William Fleetwood, who was Recorder of London, had a considerable freehold estate at Ealing (fn. 54).
Serjeant Maynard.
"Sir Thomas Temple, buried March 28, 1674."
"The Lord Manard was buried the 25 day of Octob. 1690." Serjeant Maynard is here meant, who died that year at his house at Gunnersbury, and was buried in Ealing church. The history of this eminent lawyer is perhaps as singular and eventful as any recorded in the annals of his prosession. He conducted the evidence against the Earl of Strafford and Archbishop Laud; sat as one of the lay members of the assembly of divines; was called to the degree of serjeant during the usurpation of Oliver Cromwell; and was protector's serjeant both to him and his successor (fn. 55). After. the Restoration he was knighted, and made king's serjeant, which situation he enjoyed also under James II. In 1680 he was appointed to manage the evidence against William Viscount Stafford. King William, not many months before his death, appointed him one of the Lords Commissioners of the Great Seal. He was then arrived at the advanced age of 87, and had been a practitioner at the bar for more than 60 years (fn. 56). Serjeant Maynard was esteemed a very able advocats, and has been called the best old book lawyer of his time. All parties seem to have been willing to employ him, and he seems to have been equally willing to be employed by all. He published some reports, held in considerable esteem; and several political tracts. Serjeant Maynard was thrice married. Elizabeth, his first wife, was buried at Ealing in 1654-5. Jane, his second wife, (daughter of Cheney Selherst, Esq. and relict of Edward Austen, Esq.) was buried there in 1668. His last wife, who was daughter of Ambrose Upton, canon of Christ-church college in Oxford, and relict of Sir Charles Vermuyden, survived him many years, and died in 1721, being then the widow of Henry Earl of Suffolk. The baptisms and burials of several of Sir John Maynard's family are to be found in the parish register. The annexed print is engraved from an original portrait in miniature, by Hoskins, in the Earl of Orford's collection at Strawberry-hill.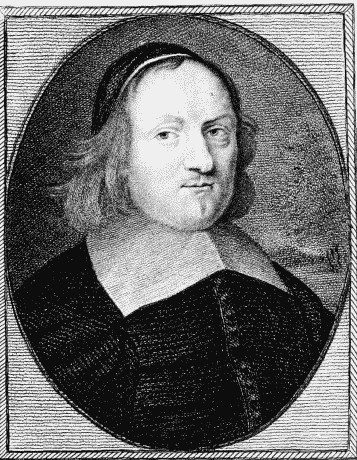 "Sir Charles Adams, buried Aug. 16, 1726." Sir Charles Adams of Sprowston-hall, in the county of Norfolk, was a descendant of Sir Thomas Adams, the loyal and munisicent alderman of London, who was created a baronet by Charles II. in 1660. His life is recorded in the Biographia Britannica. The title is now extinct.
Bishop Pearce.
"Mary, daughter of Dr. Zachary Pearce, buried July 26, 1727." The learned Dr. Pearce, afterwards Bishop of Rochester, received the first rudiments of his education in a private school at Ealing, where his father resided after he had retired from business. After his father's death, the Bishop occasionally inhabited the house, which he inherited from him at Little Ealing, and was residing there when he was seized with the illness which occasioned his death (fn. 57), anno 1774. He was buried at Bromley. The Bishop's children all died young, though his family were remarkable for their longevity; he himself died at the age of 84; his father was 85; his mother, who died in 1761, was 93 (fn. 58); and his brother, William Pearce, Esq. who died in 1782, was 90 years of age (fn. 59).
Oldmixon, the historian.
"John Oldmixon, buried July 12, 1742." An author of some note, who, like most party writers, has been too much extolled, and too much depreciated (fn. 60). His principal work was a History of England, in three volumes; but he certainly was not possessed of sufficient impartiality to make a good historian. He had a principal concern in a political paper called "The Medley;" and was author of a few poems and dramatic pieces. He is said to have left behind him in MS. a work called " The History of Christianity," and some satires (fn. 61). Mr. Oldmixon was of an ancient family in Somersetshire. He died at his house in Great Pulteney-street, in the 69th year of his age, and was buried near his son and daughter in Ealing church (fn. 62). One of his daughters sung at Hickford's rooms in 1746. His daughter Hannah died at Newland in. Gloucestershire in 1789, aged 84 (fn. 63).
Dr. King, principal of St. Mary Hall.
"Dr. William King, buried Jan. 5, 1764." A well-known political writer, whose principles were the very reverse of Oldmixon's. Dr. King was a native of Stepney (fn. 64). In the year 1718 he was made head of St. Mary Hall in Oxford, where he was the immediate predecessor of Dr. Nowell, the present much-respected principal. Dr. King was celebrated for the elegance of his Latin compositions, particularly an oration spoken at the opening of the Radcliffe Library in 1749. He published some of his speeches, and a few Latin poems; was editor of the five last volumes of South's Sermons; and is said to have written some very violent Jacobite pamphlets (fn. 65). His heart having been inclosed in a silver urn, was deposited, by his own direction, in the chapel of St. Mary Hall, where there is a monument to his memory, with a Latin epitaph, written by himself. There is no memorial for him at Ealing.
Instances of longevity.
The following instances of longevity occur in the parish register:
"Widow Evans, aged 97, buried Feb. 10, 1767."
"Elizabeth Platt, buried Sept. 2, 1772, aged about 100 years."
"Mr. Abraham Harvest, buried Jan. 19, 1790, aged 91."
"Martha Brooker, aged 94 years, buried Jan. 22, 1792."
A pensioner, by name Thomas Hunt, aged 100, was on the parish list in the year 1774.
Benefactions.
Sir Thomas Cowrtes gave a cottage, a garden, five acres and a half of land, and an orchard called Cocke's-hawe, valued all together (temp. Edw. VI.) at 16s. 3d. per annum, for an obit; other lands were left for the same purpose by various persons; and an acre, by one Nedlar, for a lamp (fn. 66).
"Master Frowyke gave a tenement, called the Church-howse, for to kepe a drynkynge (fn. 67) for the relyeff of the pore (fn. 68)."
Edward Vaughen, Esq. of Little Ealing, anno 1612, gave, by will, four acres of land, now let to a market-gardener at 361. per ann. and the interest of 20l. for the benefit of the poor of Ealing. John Bowman gave 20l. to the poor. Richard Need, and Mary his wife, anno 1633, gave a house in Old Brentford, now let at 30l. per annum, for the poor of that hamlet. Lady Derby, in 1714, left the interest of 500l. 3 per cents. to the poor of the same hamlet not receiving alms. This is distributed among twenty poor widows. John Taylor gave to the poor a piece of ground at Brentford, on which a tenement has been built, now let at 61. per ann. Richard Taylor, who died in 1715, gave a tenement and malt-house, now let at 22l. per ann. for the purpose of buying coals for sixteen poor people, eight of whom are to be inhabitants of Ealing, and eight of Old Brentford, and to be appointed by the minister. Jonathan Gurnell, Esq. who died in 1753, gave the interest of 200l. 3 per cent. annuities, to buy coals for the poor of Ealing only. Mrs. Elizabeth Barnes, in 1759, gave the interest of 400l. which now produces 13l. os. 6d. per annum, for the benefit of four poor persons for ever. William Adair, Esq. who died in 1783, gave the interest of 100l. 3 per cent. bank annuities, for the benefit of poor widows. The late Princess Amelia, who had been a great benesactress to the poor during her residence in the parish, left, by will, 500l. to be distributed among them after her death.
Alms-houses.
In the year 1783 some alms-houses, were built on the Uxbridgeroad, for the residence of poor families, with a sum of money given to the parish as a compensation for the inclosure of a piece of waste. This seems a very proper application of the money, and deserving of imitation. Ealing-heath has been levelled also, and the herbage improved, to the great benefit of the parish, with money arising from some similar inclosures.
Charity-schools.
Dorothy Lady Capel, who died in 1711, gave the twelfth part of an estate in Kent, which (twelfth part) now produces 11l. per ann. to the boys' charity-school in this parish. Jonathan Gurnell, jun. who died in 1752, gave 500l. to this school. Jonathan Gurnell, sen. who died in 1753, the same sum; and Mr. James Taylor, 25l. The stock of this school is now, in consequence of good management, about 1700l. 3 per cents. which, with Lady Capel's benefaction, produces an income of 63l. 10s. per annum. With this income, aided by voluntary contributions, and an annual charity-sermon, twenty boys are clothed, and taught to read, write, and cast accounts. The two eldest boys have of late been boarded and lodged with the master (fn. 69), whose salary is 401. per ann. with the use of a house and garden, purchased at the expence of 210l. out of the funds of the charity.
Peter Francis Le Courayer.
Jane Lady Rawlinson, in 1712, bequeathed the sum of 500l. for the purpose of establishing a school for girls. Mrs. Mary Bertram, anno 1774, gave 20l.; and Mrs. Martha Sparrow, in 1783, 21l. 13s. to the girls' school. The sum of 200l. bequeathed to this parish by the celebrated French divine, Peter Francis Le Courayer, who resided many years at Ealing, and died in the year 1776, was appropriated to the purchase of freehold lands for the benefit of this school; as was 50l. left by Mrs. Frances Cole in 1779. The present produce of the lands belonging to the school is 32l. per annum, and the stock 550l. in the 3 per cents. with which funds, aided by the collection at an annual sermon, twenty girls are educated and clothed.
Sunday-schools, and schools of industry.
The Sunday-schools in this parish (instituted in 1786 by the present vicar) have been peculiarly efficacious, in consequence of the zealous and persevering attention of Mrs. Trimmer, who resides near the populous hamlet of Old Brentford, and is well known by her many useful treatises tending to increase the comforts and reform the manners of the poor (fn. 70). About sixty boys, and more than a hundred girls, are now educating in the Sunday-schools of this parish, which are conducted upon a plan which affords great encouragement to the meritorious, and seems admirably calculated to excite a spirit of emulation and improvement (fn. 71). A school of industry for girls has been some time established; at present they are forty in number, and are employed in making coarse shirts. A school of industry for boys also has been lately opened; hitherto they have been employed only in combing wool; but it is in contemplation to find them some other occupation, which may prove of more service to them in their future life.