Pages 335-343
The Environs of London: Volume 2, County of Middlesex. Originally published by T Cadell and W Davies, London, 1795.
This free content was digitised by double rekeying. All rights reserved.
FINCHLEY.
Name.
Situation, boundaries, &c.
This place is not mentioned in the Norman survey. In ancient records it is called Fyncheslee. The village lies within the hundred of Ossulston, about a mile west of the northern road, and eight miles distant from London. The parish is bounded by Friarn Barnet, Hendon, and Hornsey in Middlesex; East Barnet, Chipping Barnet, and Totteridge in Hertfordshire. It contains about one thousand nine hundred and fifty acres of land, (exclusive of the common,) of which about an hundred are arable, and an hundred and fifty wood, the remainder grass-land. The soil is various, but principally a black loam.
Finchley-common.
Encampments there.
Finchley-common (two-thirds of which is within this parish, and the remainder in Hornsey and Friarn Barnet,) contains one thousand and ten acres of land, which, if cultivated, would be worth, on an average, about 2l. an acre. General Monk drew up his forces upon this common, Feb. 3, 1660 (fn. 1). The Queen's regiment, the Royal Irish, and the South Hants militia, were encamped there during the summer of 1780, on account of the dreadful riots in London (fn. 2). This parish pays the sum of 6381. 0s. 3½d. to the land-tax, which, in the year 1793, was at the rate of three shillings in the pound.
Grant of privileges.
King John, in the first year of his reign, granted an exemption from toll to the Bishop of London and his tenants within the manor of Finchley; this grant was confirmed by Charles II. (fn. 3)
The manor.
The manor of Finchley has belonged, from time immemorial, to the see of London (fn. 4). A part of the demesne lands, called Bibwell's, were on lease to the Lady Viscountess Fane anno 1763, and are now held by Dr. Henry Jerome De Salis.
Various estates.
John de Drokensford, who died anno 1341, was seised of an hundred and twenty acres of land in Finchley, held of the Bishop of London. He held this estate only for life; the reversion belonged to Thomas, son of Henry Bydyk (fn. 5).
Sir William Marche died anno 1398, seised of an estate called the manor of Finchley, with eighty acres of land in Finchley and Hendon. He held it (jointly with William Brynkley and John Beestchurch,) of Philip Pelytot, by the annual rent of a pound of pepper. It was granted to the parties above-mentioned (with remainder to the heirs of Sir William,) by William Cresswyk and John Berveyre. The estate was valued at forty shillings per annum (fn. 6).
Richard Danvers, John Langeston, and John Norreys, being seised of the manor of Finchley, with the advowson of a chantry there, conveyed it to Sir John Leyndon als. Plomer, Knt. and Margaret his wife, and their heirs. This estate consisted of sixty acres of land, three hundred of meadow, four hundred of pasture, and 4l. rents of assize. Sir John Leyndon died anno 1480, John Fisher, grandson of his sister Alice, being his heir (fn. 7).
Sir William Compton died anno 1529, seised of an estate, called also the manor of Finchley, and six hundred and thirty-five acres of land in Finchley and Hendon (fn. 8). In the year 1577 a licence was granted to Henry Earl of Huntingdon, Anne Countess of Pembroke (fn. 9), and Henry Lord Compton, to alien the manor of Finchley, with its appurtenances, six messuages, six tosts, three hundred acres of arable land, one hundred and fifty of meadow, three hundred of pasture, three hundred of wood, and 4l. rents of assize in Finchley and Hendon, held of the King in capite to trustees for the use of the Countess of Pembroke for life, with remainder to Thomas, second son of Lord Compton, and his heirs (fn. 10).
Manor of Bibsworth.
Sir Thomas Allen, anno 1647, held an estate called the manor of Bibsworth, which paid a rent resolute of 2l. 2s. per annum to the Bishop of London (fn. 11). This manor is still the property of his descendants. I have not been able to procure any farther information relating to it, or to connect it with any of the estates above-mentioned, as the present proprietor refused to favour me with any communications upon the subject.
William Marquis of Lothian, anno 1730, aliened an house in Finchley, which he had inherited from Wm. Kerr, Esq. to George Fothergill, Esq. (fn. 12)
Parish church.
The parish church, dedicated to St. Mary, is a stone building, and consists of a nave, chancel, and north aisle. The architecture is of that sort of Gothic which prevailed towards the close of the fifteenth century. At the west end is a low embattled tower. The roof of the nave and chancel is of wood, and ornamented with carved flowers.
Monuments, &c.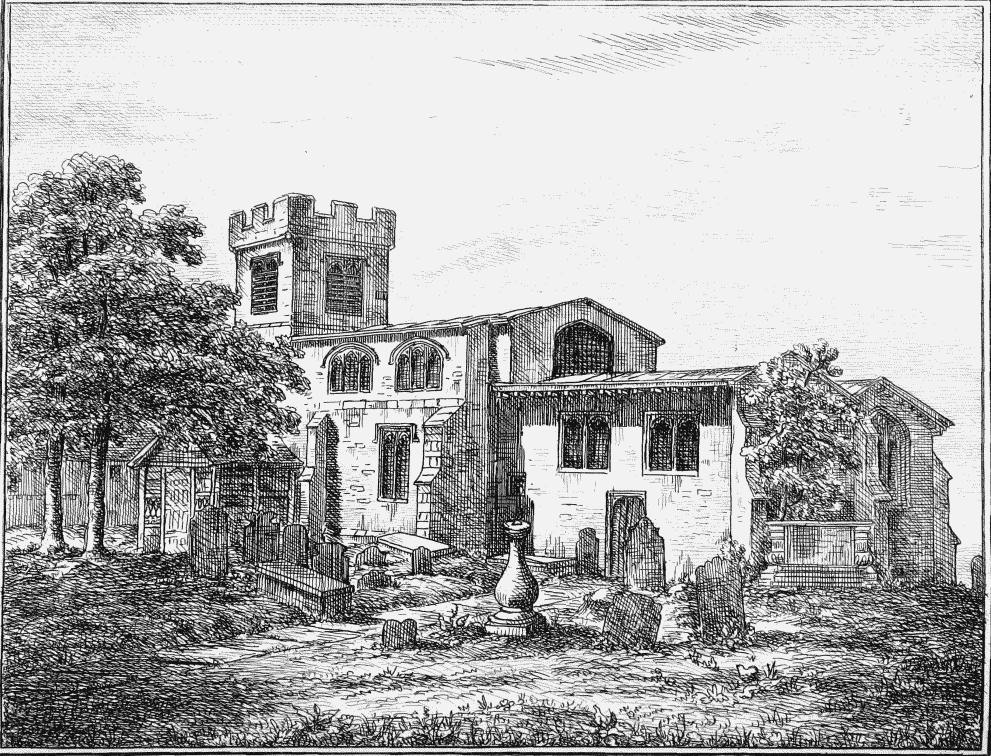 In the chancel, within the communion rails, are the tombs of Simon Skudemore, Gent. (fn. 13) (with figures in brass of himself and his wife)—1609; Thomas Lovel, merchant (fn. 14) (1650); and Mr. Charles Colmore (fn. 15) (1732). On the south wall of the nave is the monument of Mary, wife of Henry Pujolas, Bluemantle pursuivant at arms (fn. 16), who died in 1762. On the floor are the tombs of William Pecok, Esq. (fn. 17) (1623); Lawrence Wilkes of Furnival's-inn(1653); William Austin, Esq. (1784); the Rev. Thomas Robertson, M.A. (1791); an inscription on brass, in memory of William Blackwell, and his son Richard, without date; and a brass figure of a woman in the dress of the fifteenth century—the inscription gone (fn. 18).
In the east window of the north aisle is a coat of arms, with quarterings (fn. 19). Against the east wall is the monument of Sir Thomas Allen, Knt. (fn. 20) (1681); in the corner that of Lieut. Col. Searle (fn. 21) (1682); and against the north wall, those of Thomas White (fn. 22) (with figures of himself and his three wives, engraved on brass,) (1610); Alexander King, Esq. one of his Majesty's auditors (fn. 23) (1618); Charles Brydges, Gent. (fn. 24) (1729); and Thomas Allen, Esq. (fn. 25) (1780). On the floor are the tombs of Richard Prate, (with small brass figures) (1487); William Godolphin (fn. 26), (with initials only, and no date; Elizabeth, wife of Radcliffe Sidebottom, of the Middle Temple, and grand-daughter of Bishop Peploe.(1780); and Philip Guibert, Gent. (1790). On a pillar between the nave and north aisle, is the monument of Thomas Onyon (1729) (fn. 27).
There is no trace of the monument of Lord Chief Justice Frowick, mentioned by Norden: "He lyeth, says he, under a marble toombe, where hath beene his picture and armes in brasse, with circumscription about the toombe, but now defaced; his armes only remaynynge in the chauncell-window (fn. 28);" these have been since removed. Norden mentions also another marble tomb, with the picture of a woman, whereon was inscribed," Joan le seme Thomas de Frowicke gift icy, et le dit Thomas pense de giser aveque luy;" and that of Henry Aldenham, Esq. furgeon to Henry VI. who died anno 1431 (fn. 29).
Church-yard.
In the church-yard are the tombs of William Crowe, D.D. chaplain to Bishop Gibson, who died anno 1743; Peter Crouch (1745); Samuel Marriott, citizen of London (1748); John Hill, Gent. (1754); Paul Whichcote, Esq.(1760); George Smart, Esq. (1776); Mr. Richard Norris (1779); and Charles Neate, M.A. (1782). On the outside of the tower is a tablet to the memory of Mr. William Onyon, who died anno 1736.
Rectory.
The rectory of Finchley is in the patronage of the Bishop of London, and subject only to his jurisdiction. In 1327 it was rated at twelve marks (fn. 30); in the king's books, at 20l. In 1650 it was valued at 861. 10s. per annum; the glebe was then computed to be fortythree acres (fn. 31).
Rectors:
John Feckenham.
On the deprivation of Sir John Spendlove, anno 1554, John de Feckenham, the last abbot of Westminster, was collated to the rectory of Finchley, which he resigned within a few months. Sir John Spendlove was restored anno 1558 (fn. 32).
William Coton.
Richard Latewar.
William Coton, collated to the rectory anno 1581, resigned it anno 1598 on being promoted to the bishopric of Exeter (fn. 33). His successor at Finchley, Richard Latewar, was chaplain to Charles Lord Mountjoy, whom he accompanied to Ireland; and being with his Lordship during an engagement with the rebels near Carlingford on the 16th July 1601, was mortally wounded, and died the next day (fn. 34). A monument was erected to his memory at St. John's-college in Oxford.
John Bancroft.
Upon the death of Latewar, John Bancroft was collated to this rectory by his uncle, who was then Bishop of London. He resigned it anno 1608, and afterwards became Bishop of Oxford (fn. 35).
John Barkham.
John Barkham, collated by Bishop Bancroft on the resignation of his nephew, was a man of considerable learning, and published several anonymous works. The Display of Heraldry, which goes under Guillim's name, is attributed to him. He wrote also a book on coins, which was never published (fn. 36).
William Crowe
I suppose William Crowe, D.D. who was collated to this rectory in 1731, to be the same, who, about that time, published several occasional sermons. A collection of sermons, by William Crowe, D.D. were published in 1744 (fn. 37), the year after the rector of Finchley died. The present rector is the Rev. Ralph Worsley, M.A. collated anno 1794, on the death of Samuel Carr, D.D.
Chantry.
In the fourteenth century a chantry was founded in Finchleychurch, by William de Hadstock (fn. 38).
Parish register.
The register of baptisms at Finchley begins in 1560; that of burials in 1558.
Average of baptisms.
Average of burials.
1580–1589
26 3/5;
18 9/10;
1630–1639
38 3/10;
33 3/5;
1680–1689
22 3/10;
1730–1739
26 7/10;
45 1/10;
1780–1789
43 9/10;
51 9/10;
1790
40
48
1791
37
38
1792
39
42
Comparative state of population.
By this table, it appears, that the population of this parish has increased, though not in so great a proportion as in villages nearer to the metropolis. The register of burials, during the period 1680–9, is imperfect. The present number of houses is about two hundred and fifty.
Plague.
Dysentery.
In 1603, there were fifty-one burials, of which, says a note in the register, "in tempore pestilentæ 38." In 1665 there were only thirty-eight burials. It appears, by the following records, that the dysentery was attended, at various times, with effects as fatal as the plague. " 1596. Hoc anno moriebantur de dysenteriâ 19." The whole number of burials was twenty-eight. The next year twentythree, out of forty-eight persons interred at this place, fell victims to the same disorder. In the year 1780, during the months of August, September, and October, the dysentery was again very fatal (fn. 39). The number of burials that year was one hundred and two, which was more than double the average of that period. It must be observed, however, that several persons were buried from the camp, formed that year upon Finchley-common.
King's-evil.
Several certificates, for persons afflicted with the evil, dated at various times from 1684 to 1688, occur at the beginning of one of the registers.
Extracts from the Registers.
"William, son of Sr Richard Therkeston, baptized Mar. 1603."
"Anne fil. Georgii Rainolds militis bap. Nov. 18, 1613."
"A son of Sr Edward Fishe buried Sept. 10, 1639."
John Hedges.
"The Honble John Hedges, Esq. treasurer to the Prince of Wales, buried June 28, 1737." He was son of Sir Charles Hedges, secretary of state to Queen Anne.
Charles Lilly.
"Charles Lilly, perfumer from London, buried July 6, 1746." The Spectator's Correspondent, see No. XVI. and No. CCCLVIII.
Henry Whichcote.
"Henry Whichcote, Esq. aged 97, buried Oct. 6, 1749. Mr. Whichcote was the younger brother of Sir Paul Whichcote of Quoi in the county of Cambridge. He was an intimate friend of the celebrated William Whiston, who spent much of his time at Finchley. Whiston, in the memoirs of his own life, speaks of Mr. Whichcote as being 96 years of age in 1739, and says, that, "bating his deafness and blindness, he was strong and hearty (fn. 40)."
"Ann Maynard, buried Sept. 10, 1756." She is said to have been 112 years of age (fn. 41).
Benefactions.
Robert Warren, Esq. by an indenture bearing date 1485, gave certain lands for an obit, and various charitable purposes. Thomas Sanney, by his deed-poll, dated 1507, gave lands also to the same uses, which he confirmed by his will, anno 1509 (fn. 42). These lands, anno 1561, were vested in twelve seossees, to whom the discretionary disposal of the rents was entrusted. New seossees were to be elected to make up the said number, whenever they were reduced to six. These estates, anno 1790, produced 122l. 10s. per annum.
Alms-house.
An alms-house, for six poor persons, has been erected by the seossees of the above-mentioned charities, and is maintained out of their funds.
Thomas Cleave, anno 1636, left the sum of 50l. to buy bread for the poor; with this sum was purchased an annuity of 2l. 16s. being a rent-charge on lands.
This parish is entitled to the benefits of the free-school at Highgate.
Some other small benefactions are mentioned upon an old table in the church; but those above-mentioned are all which are now enjoyed by the parish.