Pages 450-516
The Environs of London: Volume 2, County of Middlesex. Originally published by T Cadell and W Davies, London, 1795.
This free content was digitised by double rekeying. All rights reserved.
HACKNEY.
Name.
The most ancient record in which I have seen this place mentioned is dated 37 Hen. III. (fn. 1) (i.e. 1253). It is there called Hakeneye, differing but little from the present mode of spelling. Of its etymology I can give no satisfactory account.
Situation, and boundaries.
The parish of Hackney is situated on the north-east side of London; its nearest distance is not more than one mile from Shoreditch church (fn. 2). It extends from Cambridge-heath to Stamford-hill, (being about three miles and a half,) in a straight line from north to south. Its circumference beginning from Cambridge-heath, extends to the Wick and Temple mills, being bounded towards the east by the parishes of St. Matthew Bethnall-green and Stratford-bow; from the Temple mills it is continued along the river Lee to Lee-bridge and the tile-kilns below Stamford-hill, being bounded towards the north by the parishes of Low Layton and Walthamstow, in Essex: from Stamford-hill it extends along the London-road through Newington and Kingsland, almost to Shoreditch workhouse, being bounded on the west by the parishes of Tottenham, Stoke Newington, and Islington; towards the south, between the Kingsland-road and Cambridge-heath, it is bounded by the parish of St. Leonard's, Shoreditch.
The hamlets and principal streets in Hackney are, Clapton, Homerton, Dorleston or Dalston, Shacklewell, Kingsland, that part of Newington which lies on the east side of the high-road, Churchstreet, Mare (or as formerly spelt, Mere, or Meer) Street (fn. 3), Grovestreet, and Well-street.
Nature of land, &c.
Cow keepers.
Nurseries.
Soil.
Brickfields.
I could not ascertain with any degree of certainty the quantity of land, as there is no survey of the parish. The marsh contains 335 acres. About two-thirds of the farms are under grass, and occupied chiefly by cow-keepers, who have a stock of about 600 cows. About thirty acres are occupied by market gardeners. There are two good nursery-grounds; Smith's at Dalston, and Loddidge's at Hackney. The proprietors of both deal largely in exotics; the latter is famous for the cultivation of new and rare plants. The soil at Hackney is various, gravel, loam, clay, and brick-earth, which, in the neighbourhood of Kingsland, is to be found of so good a quality, and in such abundance, that 300l. an acre has been given for the liberty of making bricks, besides the usual rent of the land. Vast quantities both of bricks and tiles have been made there; and some of the fields in which the vein of clay is exhausted, have been put again into a state of cultivation; and with the assistance of manure, are little less productive than in their original state.
Land-tax.
The quota charged to the land-tax is 2231l. 6s. 6d. which, in the year 1794, was at the rate of is. 3d. in the pound.
Prince Rupert's mill for boring guns.
Lead mills.
Silk mills, &c.
In the reign of Charles the Second a water-mill was erected on Hackney-marsh at the instance of Prince Rupert, who had discovered a new and excellent method of boring guns, but the secret dying with him, the undertakers suffered considerable loss (fn. 4). The Templemills, so called as having been formerly the property of the Knights Templars, are now used for preparing lead. At the Wick are some silk mills; the other principal manufactures in the parish, are a calendrer's, a colour-maker's (at Homerton), and two calico printers.
Historical events.
The only historical event of any consequence, which I have found relating to this place, is, that the Duke of Gloucester and his party appeared in arms here in the reign of Richard II. and remained while they sent John Lord Lovell, with the Archbishop of York and others, to the king (fn. 4).
Queen Elizabeth was at Hackney in the year 1591, and went thence to Theobalds on the 10th of May (fn. 5); to whom her visit was paid does not appear.
Manor of the Lord's-hold.
The principal manor at Hackney (now called the Lord's-hold) was formerly parcel of the bishopric of London; and, though not mentioned in the record of Doomsday, was, it is probable, included in the survey of Stepney. The Bishop of London had a grant of free-warren in Hackney in the year 1291 (fn. 6). Bishop Ridley, in the year 1550, surrendered this manor to the King (fn. 7); in the year following, I find the King's licence to Lord Wentworth to take possession of lands granted by Bishop Ridley (fn. 8); and in 1559, this manor was confirmed to him by act of parliament. It continued in the Wentworth family till the forfeiture of the Earl of Cleveland's estates in 1652: in the year 1659, William Smith and others, who, it is probable, had purchased it of the parliamentary commissioners, aliened it to William Hobson, Esq. (fn. 9) who died anno 1662: his three daughters and coheirs married Sir William Bolton, Knt. Patient Ward, Esq. and William White, Esq. (fn. 10) who were lords of the manor till 1669 (fn. 11), when they appear to have aliened it to John Forth, Esq. alderman of London (fn. 12); in the year 1676, it came into the hands of Nicholas Cary and Thomas Cooke, goldsmiths of London; in 1690 and 1694, it appears to have been the sole property of Sir Thomas Cooke, Knt. (fn. 13) In 1697, it was purchased by Francis Tyssen, Esq. (fn. 14) from whom it descended to the late Francis John Tyssen, Esq. under whose will Richard Benyon, Esq. and the Reverend Peter Beauvoir, are now lords of the manor as trustees in fee. The site of the manor-house is not known.
Privileges of copyholders.
Descent of lands.
Gavel-kind.
In the year 1617, Thomas Lord Wentworth, in consideration of certain sums of money paid to his father Henry Lord Wentworth, and to himself, by some of the copyholders of his manor of Stepney, and of the Lord's-hold in Hackney, agreed to grant certain privileges, liberties, and immunities to the said copyholders; and to procure an act of parliament to confirm them. This act was accordingly procured in the year 1623. The customs of the manor, with the above privileges, &c. were printed anno 1587, and again, with the act of parliament above-mentioned, anno 1651. Lands in this manor, as well as in that of the King's-hold, descend, according to the strict custom of gavel-kind, which makes all the sons coheirs; if there are no sons, the daughters are coheirs; and in default of issue, the collateral branches inherit in the same manner.
Possessions of the Knights Templars.
Manor of King's hold.
The Knights Templars had formerly some possessions in this parish. In the year 1233 they purchased half a hide of land, with its appurtenances, of Ralph de Burgham, for sixteen marks sterling (fn. 15). It appears by an inquisition taken at Hackney anno 1331, that the Knights Templars, in the year 1308, had property in Hackney as follows, viz. 6l. 1s. 8d. rents of assize; thirty-five acres and a half of meadow, valued at forty pence an acre; certain services of the tenants, (viz. the mowing twelve acres of meadow,) valued at seven shillings; pleas and profits of court, half a mark; and a water-mill, valued at 1l. 6s. 8d. They had another water-mill of the same va lue adjoining to the former, but in the parish of Layton, with a few acres of meadow, all held, says the record, of the king "ad firmam" by virtue of their commissions (fn. 16). The lands here mentioned were of much smaller extent, I imagine, than their former possessions, a considerable part of which they seem to have granted at an earlier period to Robert de Wyke (fn. 17). Other documents mention the Temple-mills as being held under the Bishop of London, as lord paramount of the manor of Hackney; and it is recorded, that when Philip de Tame, prior of St. John of Jerusalem, (to which monastery all the possessions of the Knights Templars were granted upon the abolition of that order,) took possession of them, he was admitted by suit of court (fn. 18). An annual quit-rent was paid also to the Bishop of London (fn. 19). After the dissolution of the priory of St. John of Jerusalem, this estate at Hackney appears to have been granted to Henry Earl of Northumberland, who, in the year 1535, conveyed it to Sir Thomas Audley (lord chancellor) and others, for the King's use (fn. 20). It appears, nevertheless, that the Earl kept possession of it till his death, which happened two years afterwards "at "his manor of Hackney (fn. 21)." It then reverted to the crown, and from that time was called the Manor of King's-hold. Edward VI. in the year 1547, (the first of his reign,) pursuant to an intention of his father, granted this manor, (then valued at 39l. 15s. 4d. per annum,) to William Herbert, Earl of Pembroke (fn. 22), who sold it the same year to Sir Ralph Sadler (fn. 23). From him it passed the year following to Edward Carew, Esq. (fn. 24); and, having continued for some gene rations in that family, by a quick succession (fn. 25), was aliened, anno 1578, by Richard Carew, Esq. to Sir Henry Carey, Lord Hunsdon (fn. 26), by whom it was conveyed, anno 1583, to Sir Rowland Hayward (fn. 27). In the year 1596 this manor, with the capital mansion called the King's-place, (then lately in the tenure of Sir Rowland Hayward,) was conveyed by Anthony Radcliffe and others, (the executors, it is probable, of Sir Rowland,) to Elizabeth Countess of Oxford (fn. 28), who, in the year 1609, aliened the manor of Hackney (i. e. this of the King's-hold) with four messuages, two cottages, two tosts, &c. one hundred acres of land, fifty of meadow, one hundred of pasture, and twenty of wood, in the parishes of Hackney and Tottenham, to Fulke Grevile (fn. 29), his heirs and assigns. Soon afterwards, by some grant or exchange, this manor became vested in the crown; for I find it granted by James I. anno 1614, to Thomas Laud and Thomas Bankes (fn. 30). It was afterwards the property of William Hobson, Esq. before-mentioned, and appears to have been aliened by his sons-in-law to Sir George Vyner, whose first court was held in 1668 (fn. 31). The manor was purchased in the year 1694 by John Sikes, Esq. of the coheirs of Sir Thomas Vyner, Bart. (fn. 32) the insant son of Sir George. Mr. Sikes, anno 1698, sold it to Francis Tyssen, Esq. (fn. 33) and it is now vested in the same proprietors as the manor of the Lord's-hold.
Manor-house.
In the particulars for the grant of this manor (fn. 34) to the Earl of Pembroke (temp. Edward VI.) the manor-place is described as "a sayre house, all of brick, with a sayre hall and parlour, a large gallery, a proper chapel, and a proper library to laye books in, &c." In the British Museum is an inventory of the goods in Hackney-house (fn. 35), which appears to have been written about the time of James I. when it was in the possession of the Countess of Oxford, or soon afterwards, probably when it became vested in the crown. My Lady's chamber is mentioned; Mrs. Norris's chamber, &c. "In the great parlour, a story of Mount Syon in a table; one other table with a story of Moses and Aaron. In the little parlour, the story of a Rich Man and Death. In the hall, stayned clothes; a picture of Adam and Eve, a picture of Fame and Tyme, &c." The site of this manor-house is not now known. I was at first induced to suppose it to have been a brick house at the bottom of Well-street, commonly called King John's-palace, the remains of which are now let out in tenements to the poor, but the conjecture is destroyed by the circumstance of its being a copyhold; nor does it agree with the description of the manor-house in the grant to the Earl of Pembroke, where it is said to be situated near the London-road, and to be inclosed on the back-side with a great and broad ditch.
Manor of Wyke, or the Wick.
Richard de Hastings, and the chapter of the Templars, at an early period, granted to Robert de Wick (in fee) all the land which had been Ailbrict's, excepting the fields which were in the tenure of Alfrich and Leswin, four acres given to them by William de Hastyngs, and two acres of meadow at Stratford, the said Robert paying to the Templars an annual rent of two marks (fn. 36). This I suppose to have been the same estate which Maud Countess of Salisbury (fn. 37) died seised of anno 1425, by the name of the manor of Wyke, held partly of the Bishop of London, and partly of the Prior of St. John of Jerusalem, and consisting of two hundred acres of arable land, valued at four-pence an acre; sixty-six of meadow, at eight-pence; and a sishery, valued at three shillings and four-pence (fn. 38). It seems likely, that this estate descended to the heirs of the Earl of Salisbury, for it appears, that it came into the hands of the crown by reason of the minority of Edward, son of George Duke of Clarence, attainted (fn. 39), who had married an heiress of that family. Henry VII. granted it to Sir John Risley, who dying without issue, it escheated to the crown, and was granted, anno 1513, to William Compton, Esq. (fn. 40) I have found nothing further relating to it till the year 1633, when it was aliened by Thomas Haynes to John Bayliffe and Robert Thorpe (fn. 41). After undergoing several subsequent alienations, by way of mortgage and otherwise, it became vested in Joseph Barbaronx, of whom it was purchased, in the year 1765, by Edward Woodcock, Esq. It is now the property of Mrs. Woodcock, relict of Edward Woodcock, LL. D.
Manor of Hoggeston.
In the year 1352, Sir John de Aspale leased his manor of Hoggeston in Hackney, to Thomas Harwold (fn. 42). It was in the possession of Elizabeth Aspale, his widow, anno 1372 (fn. 43). In the year 1389 John Quy released all right in this manor to Henry Vanner and others (fn. 44). John Philpot died seised of it anno 1485, his son John being his heir. It was held of the Bishop of London by a quit-rent of twelve shillings (fn. 45). I have not met with any other records relating to this manor, nor do I know its site. The hamlets of Hoxton and Haggerston are both within the adjoining parish of St. Leonard, Shoreditch. The latter was a manor at the time of the Norman conquest, being then called Hergotestane, the property of Robert Gernon.
Lands of St. Mary's hospital.
Roger Wynchcombe, John de Leycester, and John de Haveryng, anno 1376 gave eighty acres of land in Hackney, Shoreditch, and Stepney, to the hospital of St. Mary without Bishopsgate (fn. 46). Henry VIII. anno 1545, gave London-field in this parish, parcel of the possessions of that hospital, to Thomas Darcy, Gent. of the privy chamber, in exchange for other lands (fn. 47). The same year he granted lands in Hackney and Stepney (which had belonged to the same hospital) to Ralph Warren and others (fn. 48).
Beaulieu and Shoreditch-place.
In the year 1352, the prior of St. John of Jerusalem granted a capital mansion or place (placea edificata) in Hackney, called Beaulieu, late the property of John de Banbury, to John Blaunch and Nicholas Shordych, to be held by an annual quit-rent of 6s. 8d. (fn. 49) The site of this mansion I suppose to have been the same which Stow calls Shoreditch-place; but says, that he knows not how it acquired the name. Since Stow's time it has been called Shore-place, and a tradition has prevailed that it was the residence of Jane Shore, to support which, a portrait, said to be her's, was formerly shewn there (fn. 50). The old mansion was pulled down some years ago, when the name of Shore-place was given to a row of houses built near its site.
Shacklewell-house.
Cecilia More.
At Shacklewell stood an ancient mansion which belonged formerly to the Herons, and it may be noted as having been the residence of Cecilia, the accomplished daughter of Sir Thomas More, who married Giles Heron, of Shacklewell. Her husband became involved in the ruin of his father-in-law, and was attainted of high treason. His only son Thomas dying in his infancy, that branch of the family became extinct. (fn. 51) Shacklewell-house was afterwards for several generations the property and residence of the Rowes, and was sold by Henry Rowe, about the year 1700, to Francis Tyssen, Esq. to whose descendants the site and adjoining estate (fn. 52) still belong. The house, in the windows of which were the arms of Rowe and Mortimer, was pulled down a few years before the last edition of Stow's Survey was published (fn. 53).
Black-and-White-house.
Near the church stands an ancient mansion called the Black-and-White-house, many years a boarding-school for young ladies, and now about to be pulled down. It appears to have been built in the year 1578 by a citizen, whose arms (fn. 54), with those of the Merchant Adventurers (fn. 55) and the Russian Company (fn. 56), are over the chimney, and occur in the window of the great parlour with some other coats (fn. 57). In the window of a drawing-room above stairs are the arms of James I. Charles I. the Elector Palatine (fn. 58), and the Duke of Holstein, brother of Anne of Denmark, who was in England soon after the accession of James I. The house was afterwards the property and residence of the Vyners (fn. 59). It was repaired and enlarged, anno 1662, by Sir Thomas Vyner, whose arms (fn. 60) and initials are to be seen on the walls. This house is held under the manor of the rectory, alias Grumbolds.
Barber's Barn.
John Okey.
In Mare-street is another ancient mansion, built about the year 1591, upon a spot of ground called Barbour Berns, by which name, or rather Barber's Barn, the house has been since described in old writings. This house was the residence of Colonel John Okey, one of the regicides, and was in his tenure at the time of his attainder (fn. 61). His interest in the premises being forfeited to the crown, was granted to the Duke of York, who, by his indenture dated 1663, gave up his right therein to Okey's widow. It is now the property of Mr. Conrad Loddidge, and adjoins to his nursery grounds.
Temple-mill-bridge.
In the year 1512 it was presented by a jury, that the bridge called the Temple-mill-bridge, alias Marsh-street-bridge, in Hackney-marsh, was very ruinous, and that William Teye of Colchester ought to repair it, as proprietor of a certain pasture called Wallis in Hackney, formerly belonging to Andrew de Barking, and afterwards to George Schordiche (fn. 62).
Parish church.
Christopher Urswick's tomb.
The parish-church, which is dedicated to St. Augustine, consists of a nave, chancel, and two aisles. At the west end is a square stone tower of Gothic architecture. The church appears to have been, in a great measure, rebuilt in the early part of the sixteenth century, principally, as I imagine, at the expence of Sir John Heron, master of the jewel-house to Henry VIII. (fn. 63) and Christopher Urswick, the rector. Between each arch of the nave are the arms of Heron (fn. 64) carved in stone. The same arms occur on one side of the chancel window; on the other side are the arms of Urswick. On the north side of the chancel, in the wall, is an obtuse arch, ornamented with foliage and Gothic tracery (fn. 65), beneath which is inscribed, "Christophero Urswyk, Rectore, A° Dnī. 1519," which was two years before his death, and seems to fix the date of rebuilding the church. On each side of the arch are the letters, [M I A]. Urswick's tomb is within the communion rails, where is a marble slab (now concealed with boards) with his effigies in brass, and the following inscription, which is here copied from Weever:
"Christopherus Urswicus Regis Henrici septimi Eleemosinarius, vir suâ ætate clarus, summatibus atque infimatibus juxtà charus. Ad exteros Reges undecies pro patriâ legatus; Deconatum Eboracensem, Archidiaconatum Richmundiæ, Deconatum Windsoriæ habitos vivens reliquit. Episcopatum Norwicensem oblatum recusavit: magnos honores totâ vitâ sprevit; frugali vitâ contentus, hîc vivere, hîc mori maluit: plenus annis obiit ab omnibus desideratus, funeris pompam etiam testamento vetuit: hîc sepultus carnis resurrectionem, in adventum Christi expectat, Obiit Anno Domini 1521, 24 Octob."
Bishop Doulben's monument.
On the north wall of the chancel are the monuments of Henry Thoresby (fn. 66), Master in Chancery, &c. (1615), and Dr. David Doul ben (fn. 67), Bishop of Bangor, of whom there is a good bust in white marble. He was vicar of Hackney, and died anno 1633, as appears by the following inscription: "P. M. S. Hic jacet justorum resurrectionem expectans Reverendus in Christo pater David Doulben, S. S. Ep[iscopu]s Bangorensis, Segroiti in agro Denbiensi natus penatibus non obseuris; Qui cum in pastorali hujus ecclesiæ tria annorum lustra, transegisset, Eps Bangorensis factus est; unde in beatorum numerum adscitus est 27 die Novembris, A° Dni 1633, ætatis suæ 52."
Various monuments.
John Sotheby.
On the south wall is a monument to the memory of Thomas Wood, Esq. who died anno 1649. The figures of himself and his sons are well executed in white marble, in alto relievo. His eldest son, Sir Henry, was created a baronet; John, the second, was a citizen of London; Thomas, the third, (near whose knee the sculptor has placed a mitre,) was Bishop of Litchfield and Coventry; he continued to reside at Hackney after he had obtained that promotion, and frequently attended the parish meetings. William, the youngest son, was clerk of the spicery. On the same wall is a monument (by Roubiliac) to the memory of John Sotheby, Esq. (fn. 68) with the following inscription: "In this church, under a stone near the font, lyes interred James Sotheby, of Sewardstone in Essex, Esq. descended from an ancient family of the same name in Yorkshire. A strenuous asserter of civil and religious liberty, whose character recommended him to the personal knowledge and favour of King William, as in the preceding reign it had exposed him to the resentment of King James, who, on that account, first closetted and then imprisoned him. He was well skilled in polite literature, in most branches of which he left a very valuable collection. To the same love of their country, pursuit of knowledge, and practice of virtue, he endeavoured to form and train up his descendants, it is to be hoped, not altogether unsuccessfully. Near him lyes his much loved wife Anne, descended from the Norrises of Speke in Lancashire, remarkable for beauty of person, prudence, and virtue, together with three of their children, James, William, and Anne. In the same grave lyes his father, James Sotheby, a merchant of London, and once an inhabitant of this place, and Mary, his wife; parents worthy of such a son. In grateful memory of all these, William and Mary, the only surviving children out of seven, in the year 1750, erected this small monument."
On a pillar at the north-west corner of the chancel is a brass plate (with the effigies of the deceased in his pulpit) to the memory of Hugh Johnson, who was vicar of this parish forty-five years, and died anno 1618. Underneath his effigies are some Latin verses.
Offspring Blackall.
On the floor of the chancel are the tombs of Thomas Blackall, Esq. (1688); John Blackall, Esq. (1722); Bridget, wife of William Bates, merchant (1725); and others of those families. Thomas Blackall was an alderman of London. His son, Offspring Blackall, afterwards Bishop of Exeter, resided, in the early part of his life, with his father at Dalston, in an ancient brick house, now let out in lodgings.
Rowe's chapel, and monuments of that family.
On the south side of the chancel is a chapel, erected in the year 1614, by Sir Henry Rowe, Knt. as a place of interment for his family. Opposite the door, against the south wall, is a large and handsome monument of black and veined marble, supported by columns of the Corinthian order, to the memory of Sir Henry Rowe, some time Lord Mayor of London, (and father to the founder of the chapel,) who died anno 1612. Under two arches are the effigies of Sir Henry and his lady; below are figures of three sons and three daughters. An inscription, in English verse, informs us that the deceased was son of Sir Thomas Rowe, some time Lord Mayor of London, and his wise Mary. The monument is adorned with the arms and quarterings of Rowe (fn. 69), those of the Merchant Adventurers (fn. 70), the Mercers (fn. 71), and the Merchant Taylors (fn. 72) Companies. On the east side of the chapel is a large table tomb, covered with a slab of black marble, (nine feet seven inches in length, and four feet in breadth,) to the memory of Henry Rowe, Esq. (fn. 73) of Shacklewell, who died anno 1670. On the north wall, over the door, is the monument of Elizabeth, wife of John Bennett (fn. 74), who died anno 1625. This chapel is now the property of the Marquis of Downshire, who is descended, by the female line, from the Rowes of Muswell-hill, the Hackney branch of that family having been long since extinct.
Sir Thomas Rowe's directions for his funeral.
On the east wall of the south aisle are the monuments of Arthur Dericote, Esq. (fn. 75) (1562); (with figures in brass of himself, his four wives, Mary, Emma, Margaret, and Joan, and two children); Henry Banister, Esq. (1628); John Worthington, D.D. (fn. 76) (1671); his son, John Worthington (1737); and Anna Margaretta, relict of Francis Edwards, Esq. (fn. 77) and daughter of Cornelius Vernatty (1765). On the north wall is the monument of John Stock, Gent. (fn. 78) (1703). On the south wall is a small monument of alabaster, with kneeling figures, to the memory of Sir Thomas Rowe, some time Lord Mayor of London, who died anno 1570, and his wife Mary. The greater part of this monument is now concealed by a gallery. Sir Thomas Rowe, by his will bearing date May 2, 1569, directed his body (if he died in London or Hackney) to be buried in the chapel, on the south side of the quire of Hackney-church, where he commonly sat. "If I am buried at Hackney," continues he, "then a convenient tomb to be raised over my sepulture, and to be graven on the stone or stones of the said tomb, my name, title, and the time of my decease, in English words, on which tomb I will there be bestowed 13l. 6s. 8d.; to the church of Hackney for breaking the ground and placing my tomb, 3l. 6s. 8d.; to be expended for the opening, searing, and coffenyng of my body, and for the shete to wynd the body in, and bearing the same to the church, and on other things to be used for that purpose, 3l. 6s. 8d.; and for that my mind and desire is, that my body should be reverently and devoutly brought to the ground, I will that there be 20 preestes, ministers, or clerks to sing psalms and other accustomed service, all the way that my corps is had to the burial, and in the church during the time of the communion and burial; and I give to either of them 2s.; and I will there be given to two heralds for their service in attending at the time of the interment of the body, and for ministering ceremonies commonly used, two black gowns, value in both 4l. and to the said heralds in money, 4l.; and I will there be bestowed in banners, squitsions, and on the herse, and hanging the church, according to the now used manner, 10l.; and I will there be given to 40 pore men 40 black gowns, redy made, every gown, with the making, to be worth 20s. which pore men to accompany my corps to the ground; to a godly learned man for making a sermon at my burial, to the edifying of the people, a black gown, worth 26s. 8d. or so much in money; and, for the more reverend bringing my corps to the ground, my mynde and desier is, (if my body be buried at Hackney,) that the lord mayor and aldermen, and company of Merchant Taylors, my freends, such as I give black cloth unto, morners, and parishioners, they would please to accompany my corpse to the burial; and for their further ease, I will my body go to burial at 8 o'clock in the morning of such day as my executors shall think fit, and be buried by 11 o'clock in the forenoon; and that there be a communion at the time of my burial; and also, that there be a dynner provided and prepared at my house at Shacklewell the day of my burial, for the said lord mayor, aldermen, company, freends, morners, priests, ministers, clerks, pore men, parishioners, and such other persons as shall accompany the corpse to the ground, and for the same dynner, and the provision thereof, I bequeth 661. 13s. 4d. Item, I will there be prepared spyce bread to be given to the said mayor, aldermen, freends, company, and to my parishioners at London, and such other persons, as well pore as rich, for the provision whereof I bequeth 10l. To all my menchildren, black gowns, coats, hose, and caps; to all my womenchildren, black gowns and kyrtells, for which I bequeth 20l.; to pore people of Hackney, by 2s. apiece, 5l.; to my son-in-law, Thomas Randal, and his wife, eche a gold ring, value 40s. apece; to either of their children, which I have not afore gratified in my life, 6l. 13l. 4d. and black cootes for all the boyes, and gowns for the wenches, value in all 8l. and God's blessing and mine (fn. 79)."
On the wall of the south aisle are also the monuments of Richard Child, merchant (1638 (fn. 80) ); his wife Elizabeth, afterwards married to Thomas Sone (1670); and John Lewis, M. A. lecturer (1770). On the floor is the tomb of Fredeswede, wife of Samuel Kekewich, merchant, who died in Spain anno 1693.
At the east end of the north aisle are the arms and quarterings of Nevill (fn. 81), and a small tablet, recording the death of John Nevill, Lord Latimer, "who departed this life anno 1577, and was buried "at Wells, with his ancestors." These are the only remains of the monument of Lucy Lady Latimer, wife of the above-mentioned John Nevill, and daughter of Henry Earl of Worcester. She died at Hackney anno 1582, aged fifty-nine, and was there buried. The following lines, written by her son-in-law, Sir William Cornwallis, were formerly to be seen upon her tomb.
Epitaph of Lucy Lady Latimer.
"Such as she is, such surely shall ye be;
Such as she was, such if ye be, be glad.
Fair in her youth, tho' fat in age she grew;
Virtuous in both, whose gloss did never fade:
Though long alone, she led a widow's life,
Yet never Lady lived a truer life.

From Wales she sprang, a branch of Worster's race;
Graft in a stock of Brown's, her mother's side;
In court she held a maid of honour's place,
Whilst youth in her and she in court did bide.
To John Lord Latymer then she became a wife,
Four daughters had they breathing yet in life.
Earl of Northumberland, the first to wife;
The next the heir of Baron Burleigh chose:
Cornwallis hap, the third for term of life,
And Sir John Danvers pluck'd the youngest rose.
Their fathers' heirs; them mothers all she saw;
Pray for, or praise her, make your list your law."
On the east wall of the north aisle is also the monument of Richard Hallely, Gent. (1605). At the east end of the north wall are the remains of a Gothic tomb, which, I suppose, to be that of Heron, spoken of by Weever, and in Stow's Survey (fn. 82), perhaps Sir John Heron's, who was master of the Jewel-house to Henry VIII. On the same wall are those of Benjamin Dod (fn. 83), citizen of London (1706); Richard de Beauvoir (fn. 84) of Balmes, (descended from a family of that name in Guernsey) (1708); James Cæsar Paget, merchant (1714); and Mr. James Lamborn (1762). On the floor are the tombs of Thomas Cooke, merchant (1694); Alexander Johnstown, Esq. (1709); and John Purnell, Esq. (1743). On the south side of the nave is the monument of Sir Francis Chester, Bart. (fn. 85) of Chickley in the county of Bucks (1766); on the floor is the tomb of his wife Bethia, (daughter of Thomas Webb, Esq. of Kensington,) who died anno 1743, and his son Francis, who died anno 1757.
In the vestry hangs a wooden tablet, with a long inscription in English verse, written by Sir William Bulstrode in memory of Anne his wife (fn. 86), who died anno 1633. It was formerly placed near the monument of her first husband, Henry Banister.
Tomb of Henry Earl of Northumberland.
Anecdotes of him.
Weever mentions the tomb of Henry Earl of Northumberland, which had the following inscription: "Here lieth interred Henry Lord Percy, Earle of Northumberland, knight of the most honourable order of the Garter, who died in this towne the last of June 1537, the 29th of Henry 8." This Earl was the person employed, in conjunction with Sir Walter Walsh, to arrest Cardinal Wolsey at his house at Cawood. In his youthful days he was a lover of Anne Boleyn, (then one of the maids of honour to Queen Catherine,) but withdrew his suit in consequence of the interference of his father, who had been purposely made acquainted with the King's partiality to that lady (fn. 87). When the inconstant monarch's af section for Anne Boleyn (then his Queen) began to decline, a supposed pre-contract with the Earl of Northumberland was made the pretence for a divorce; though the Earl, in a letter to Secretary Cromwell, (dated Newington-green, May 13, 1537,) denied the existence of any such contract in the most solemn manner (fn. 88). "Henry Earl of Northumberland died (says the account of his funeral in the Heralds'-college) at his manor of Hackney, now the King's house, between 2 and 3 in the morning, on the 29 of June 1537, 29 Hen. 8." His suneral was attended by the four orders of friars; clerks and priests, a great number; Lord Butler was the chief mourner; the other mourners were Lord Borough, Sir Anthony Wingfield, Richard Cromwell, Esq. Ralph Sadler, Esq. &c. &c. Divine service was performed by the Bishop of St. Asaph and the Abbot of Stratford (fn. 89). The Earl of Northumberland dying without issue, and his brother having been attainted, the title became extinct, but was revived again in the person of his nephew, Thomas Percy, anno 1557.
Tombs recorded by Weever; and in Stow's Survey.
Weever mentions also the tombs of Joan Curteys, the daughter of ——Shoredych (1399); John Jenyngs (1423);——Alexander, serjeant at law (1438); Roger Ford (1453); John Butterfield (1454); Thomas Hert, vicar (1464); John Catcher (1487); Henry Therkett (1503); John Elryngton, silazer of London, and keeper of the records of the Common Pleas (1504); Alice Ryder (fn. 90) (1517); Robert Walsingham, clerk of the spicery to Henry VIII. (1522); Joan, wife of John Only, Esq. of Warwickshire (1525); William Lowth, goldsmith (1528); William, son of Robert Heneage, one of the King's auditors (1535); Thomas Symond (1542); and——Heron, without any date or inscription.
Tombs in the church-yard.
In the Circuit Walk, annexed to the latest editions of Stow's Survey of London (fn. 91), are mentioned the tombs of Robert Stork (1416); Edward Saunders, Esq. (1599); William Sedgwick, of London, merchant (1680) ; Mr. John Johnson (1686); Edward Matson (1688); Robert Matson (1695); John Dod, citizen of London, (who married Mary, daughter of Richard Thorowgood, alderman) (1688); John Ivat (1693); Captain Robert Dean (1699); Sarah, wife of John Pierse (1702); and a monument, to the memory of three children, which stood near Henry Banister's, in the south aisle. Their names were not mentioned in the inscription; the date was 1592. The tombs of the following persons, in the church-yard, which have either been removed, or of which the inscriptions are become illegible, are recorded in the same place; viz. Thomasine, wife of John Bailiff, Esq. (1641) ; John Kent, surgeon (1660); William Gray, citizen of London (1663); Sarah, wife of the Rev. John Hill (1715); and Peninnah Juckes (fn. 92) (1716). The tombs of the following persons now remain there: Thomas Trench, Esq. (1699); and his daughter Elizabeth, wife of John Farrinton (1725); (his daughter Mary, mentioned also in the epitaph, became the wife of Richard Chiswell, Esq. and was buried at Debden in Essex anno 1726); Adonijah Wiles, merchant (1705); John Sikes, Esq. (1709); James Lambe, Esq. (1727); Elizabeth, daughter of Thomas Foster (fn. 93) (1727); Mr. Edmund Staples (1729); Captain Branson Oulson (1732) ; Benjamin Morland, master of St. Paul's school (1733) ; Mr. William Buck (1737); John Jacob (1737); Alexander Garrett, Esq. (1738) ; Peter Newcome, A. M. (1738) ; Mary Jane, wife of Jullerand Mourgue (1740); Hannah, wife of Christopher Rawlin son (1740); Stephen Cazalet, merchant (1742); John Nicholas, Esq. (1742); Francis Wilkes, Esq. (1742); Michael Reau, Esq. (1742); George Smith (fn. 94), A.M. (1746); Thomas Wade, Esq. (1754); Richard Boddicott, merchant (1756); Patrick Macky, Esq. (1757); Anne, daughter of John Otto Baiier, Esq. (1759); Jeremiah Pratt, Gent. of the South-Sea-house (1760); John Spranger, Esq. (1760); Edmund Boddicott, accountant-general to the East India Company (1761); Rev. John Barker (1762); Jeremiah Marlowe, Esq. (1765); Mr. Robert Cope (1767); Mrs. Mary Girardot (1767); John Le Febure, Esq. (1768); Sarah, wife of Peter Cazalet, merchant (1768); Mary, wife of Thomas Davies, Esq. (1770); Cornelius Dutens, Gent. (1770); Matthias Gale, Esq. (1771); Cornelius Vandewaal, Esq. (1772); Sarah Shepherd, daughter of Lewis Jones, Esq. (1773); John Townson, Esq. (1773); Rebecca, wife of Duncan Campbell, Esq. (1774); Sir Peter Fenoulhet, Knt. (1774); Henry Baker, Esq. (1775); Sophia, daughter of Sir Richard Temple, Bart. (1775); Lewis Jones, Esq. (1776); John Box, Esq. (1777); William Clarke, Esq. of Brooke-house (1777); John Reed, Esq. (1779); Mrs. Sarah Plumridge, aged 94 (1780); Rev. Nelthorpe Wade, rector of Priston, com. Somerset (1781); Mary, relict of Thomas Hardy, physician at Lowth (1781); John Raymond, Esq. (1782); John Biggs, Esq. (1782); Mr. David Powell (1784); Elizabeth, wife of Thomas Parkinson (1784); Jacob Albert, Esq. (1784); Daniel Stacy, Esq. (1789); David André, Esq. (1791); Robert Martin, Esq. (1791); John Pickles, Esq. (1791); and Mrs. Sarah Utten of Jamaica (1793).
The church-yard was enlarged in 1671, by the addition of a piece of ground given by Sir George Vyner.
New church.
In the year 1789 it was resolved, on account of the great increase of inhabitants in this parish, to build a larger church, upon a new site in the field adjoining to the present church-yard. The new building, which is of brick, was begun in the month of May 1791; it is covered in, but, as yet, is unfinished. Its form is that of a cross; the length, from east to west, one hundred and four feet, and the same from north to south. The tower is to be at the north end, to face the road. Three of the projecting sides of the cross are intended for galleries; the fourth for the chancel. The centre is an area of sixty-three feet, which will be left open, and free from any obstruction of pillars. It is calculated that the whole building will contain seats for two thousand persons. The failure of one of the contractors has been a considerable impediment to the progress of the work.
Homerton chapel.
At Homerton is a chapel, built by Stephen Ram, Esq. in the year 1729, and now used as a meeting-house for the Methodists (fn. 95). In this chapel is the monument of Anne Ram, wife of the founder. She died anno 1710, and was buried in Hackney-church, but her body was afterwards removed to Homerton.
Clapton chapel.
At Upper Clapton is a neat chapel, built in the year 1777, by Mr. Devall, for the accommodation of his own tenants and other inhabitants of that hamlet and its neighbourhood. It will contain about four hundred persons, and is rented by the Rev. Jelinger Symons, B. D. curate of the parish.
Kingsland chapel.
The chapel, which belonged formerly to the hospital at Kingsland, is now used for the accommodation of the inhabitants of that hamlet. The chaplain is nominated by the governors of St. Bartholomew's hospital, who have lately appointed the Rev. James Maidman.
Rectory and vicarage.
Manor of the rectory, or Grumbolds.
The church of Hackney is dedicated to St. Augustine, though it has of late been erroneously called the church of St. John of Jerusa lem, a mistake which would have been more easily accounted for if the patronage had ever been annexed to the manor, which belonged to the monastery of St. John's. But it is well known that the advowson of the rectory (which is a manor and known by the name of Grumbolds) was vested in the Bishops of London, as lords of the superior manor, till both together were separated from that see in the reign of Edward VI. and they have since that time undergone the same alienations (fn. 96). Ralph Stratford, Bishop of London, had a licence from Edward III. to annex the church of Hackney, then valued at fifty marks per annum, to the office of precentor of St. Paul's cathedral, in exchange for the church of Stortford; but it does not appear that the appropriation ever took effect (fn. 97). The patronage of the vicarage is, properly speaking, vested in the rector, but it has long been customary for the incumbent, immediately upon his presentation, to grant the patron a lease of the rectorial manor of Grumbolds, by virtue of which he presents also to the vicarage. In the year 1327 the vicarage was rated at twelve marks (fn. 98); it is valued in the King's books at 20£. In 1650 the parsonage-house, glebe, and tithes were estimated at 1401. per annum ; the vicarage at 50£. (fn. 99)
Vicarage house.
In the year 1345, a dwelling-house was granted to Thomas vicar of Hackney, and his successors, to be held of the rector by the annual render of a red rose (fn. 100). The present vicarage-house was built by subscription in the year 1705, at the expence of about 770£. (fn. 101)
Rectors. Gauselinus.
Gauselinus, a cardinal presbyter in the church of Rome, was rector of Hackney from the year 1328 to 1334 (fn. 102).
Christopher Urswick.
Christopher Urswick, presented to the rectory of Hackney by Bishop Hill, anno 1502, was a man of very considerable eminence. He is said to have been recorder of London in the reign of Edward IV. (fn. 103); but he seems to have been mistaken; for Sir Thomas Urswick was recorder of London, and afterwards (anno 1472) chief baron of the Exchequer. His abilities as a statesman, which had been evinced in his successful endeavours to promote the union between Henry VII. to whom he was chaplain, and Elizabeth of York, induced the King to employ him in various important negociations and embassies. He was installed dean of Windsor in 1495; and enjoyed, at the same time, the archdeaconry of Richmond in Yorkshire. After he became rector of Hackney he fixed his residence there, and spent the remainder of his days in religious retirement (fn. 104) having resigned his other preferments, and refused a proffered bishopric. By his will he desired to be buried in the church of Hackney, before the image of St. Austin (fn. 105). He was succeeded in the rectory by Richard Sparkeforth (fn. 106).
Richard Sampson.
Richard Sampson, collated by Bishop Stokesley anno 1534, was much in the favour of Henry VIII. to pléafe whom he wrote against the pope's supremacy. He resigned this rectory, anno 1536, on his promotion to the see of Chichester, whence he was afterwards removed to Litchfield. In the reign of Edward VI. notwithstanding his former writings, he professed himself a papist, and suffered much on account of his religion. He died anno 1554 (fn. 107).
Thomas Darbyshire.
Thomas Darbyshire, collated by Bishop Bonner anno 1554, was deprived by Queen Elizabeth. He afterwards went to the continent, entered into the society of Jesus, distinguished himself, as a man of learning, among those of that order, and died, at a great age, in Lorrain anno 1604 (fn. 108).
Christopher Carlile.
Christopher Carlile, collated anno 1571, is supposed to have been the person (of that name) who published a treatise on Christ's descent into hell (fn. 109).
George Moor.
George Moor, who was rector during the civil war, is said to have been ejected by the Puritans (fn. 110). It appears, however, that he was in possession of the rectory at the time of taking the parliamentary survey, anno 1650, and that he died rector in 1664.
The present rector is the Rev. Peter Beauvoir.
Vicars. David Doulben.
Archbishop Sheldon.
Calibute Downing.
David Doulben, presented to the vicarage in 1618 (fn. 111), was promoted to the fee of Bangor in 1631, and dying the 27th of November 1633, at Bangor-house in Shoe-lane, London, was buried at Hackney on the 29th (fn. 112). He was succeeded in the vicarage by Gilbert Sheldon (fn. 113), afterwards warden of All-Souls-college, and eventually Archbishop of Canterbury, the munificent founder of the Sheldonian Theatre at Oxford. Sheldon's successor at Hackney, was Dr. Calibute Downing (fn. 114), a man of considerable notoriety during the struggles for power in the middle of the last century. He was at first a zealous writer in defence of the Hierarchy; afterwards not less zealous, both as a writer and preacher, in favour of the Puritans. He was one of the assembly of divines, was chaplain to Lord Robarts's regiment in the parliamentary army, became a covenanter in 1643, and soon afterwards joined the independents. He died, suddenly, at Hackney in 1644. His son George, changing his politics at the restoration, was created a baronet, and made a commissioner of the customs (fn. 115).
William Spurstowe.
Downing was succeeded at Hackney by William Spurstowe, who was also one of the assembly of divines, a frequent preacher before the long parliament, and one of the Smectymnus. He published some treatises on religious subjects. Spurstowe was for some time master of Katherine-hall in Cambridge. and was one of the divines who disputed with Charles I. in the Isle of Wight, against episcopacy (fn. 116). In the year 1662 he was ejected from this vicarage for non-conformity; but continued to reside at Hackney till his death. He was buried there Feb. 8, 1665–6.
Peter Newcome.
Hackney school.
Dramatic performances there.
Peter Newcome, A. M. who was presented to the vicarage of Hackney by Francis Tyssen, Esq. anno 1703, was son of Henry Newcome, A. M. of Manchester, and had been for many years vicar of Aldenham, Herts. He was author of a course of catechetical sermons for the whole year, in 2 vols. 8vo. and several single discourses. His son Henry, having married the daughter of Benjamin Morland, (anno 1714,) succeeded his father-in-law in the care of a school, which is now superintended by his grandson, Mr. Richard Newcome, having flourished nearly a century upon the same spot. It has been particularly celebrated for the excellence of the dramatic performances, exhibited every third year by the scholars. In these dramas Dr. Benjamin Hoadly, author of the Suspicious Husband, and his brother, Dr. John Hoadly, a dramatic writer also, who were both educated at this school, formerly distinguished themselves, particularly the latter, who acquired great credit in the character of Phocyas, in the Siege of Damascus. Mr. Newcome, the vicar, lies buried in the church-yard, where is the following inscription upon his tomb: "H. S. E. Petrus Newcome, A. M. Filius Henrici Newcome, A. M. Mancuniensis, magni in primis, & præclari viri, primúm viginti amplius annos eccles. de Aldenham in agro Hertford: deinde plus triginta-quinque hujusce vica "rius. Ad officii munera suscipiendum optimé instructus, et fideli constantiâ ad exequendum intentus. Vitæ hie bené actæ memoriâ et futuræ providentiâ munitus, æquissimo animo naturæ concessit. Uxorem post nullas memorandam duxit Annam Eustachii Hooke de Hooke in com. Southamp. Armig. filiam ex quâ duodecim liberos suscepit quorum quatuor filii et duæ filiæ superstites, pietatis ergo H. M. P. P.
There is a portrait of Peter Newcome, engraved by Vertue.
The present vicar of Hackney is Thomas Cornthwaite, M. A. who succeeded Robert Wright, D D. in the year 1753.
Lecturers. John Worthington. John Strype.
Francis Pile, &c.
Dr. John Worthington, of whom more particular mention will be made hereafter, was lecturer of Hackney from 1669 to 1671 (fn. 117). John Strype, the celebrated antiquary, was chosen lecturer in the year 1689, and enjoyed that situation till the year 1724, when he resigned it (fn. 118), but continued to reside at Hackney till his death, which happened in the month of December 1737, and in the ninety-fourth year of his age. Upon Strype's resignation the parish chose six lecturers (fn. 119), who preached two months each, by turns, viz. Francis Pile, John Coppin, Thomas Bullock, John Dubordieu, William Simpson, and David Scurlock; most of them were men of some eminence.
Guild founded anno 1479.
Henry Sharp, rector, in conjunction with Simon and John Elryngton, (anno 1479,) founded a guild in the church of Hackney, consisting of a warden, and certain brothers and sisters. It was dedicated to the Holy Trinity and the Virgin Mary (fn. 120).
Presbyterian dissenters:
Philip Nye; Adoniram Byfield; William Bates; Matthew Henry;
John Barker;
Dr. Price;
Dr. Priestley's farewel.
A congregation of Presbyterian dissenters seems to have been established at Hackney, at an early period in the last century. Philip Nye (fn. 121) and Adoniram Byfield (fn. 122), two eminent Puritan divines, appear to have been preachers there in 1634 and 1636. William Bates (fn. 123) and Matthew Henry (fn. 124), men of much celebrity, were pastors of this congregation in the latter end of the last, and the beginning of the present century. Bates died anno 1699; Henry in 1714. The latter was succeeded by John Barker, a man of eminence also, an intimate friend of Dr. Doddridge's (fn. 125), and author of numerous sermons; his election was contested with so much violence, and his success was so displeasing to those who favoured his opponent, that his friends were obliged to appoint a guard, and to keep forcible possession of the meeting-house; nor were they suffered to assemble without molestation, till the opposite party had resolved to build a new house, the foundation of which was laid in the year 1715 (fn. 126). The old meeting-house, which has been since pulled down, stood nearly opposite to that now occupied by the Independents, at the corner of St. Thomas's-square. The new house was called the Gravel-pit meeting-house. The late celebrated Dr. Price was minister of this congregation at the time of his death. He was succeeded by a man no less eminent for his abilities, and still more conspicuous for the events of his life. To enter into the history of living characters is not the object of this work; I shall only add, therefore, that on the 30th of March 1794, Dr. Priestley preached a farewel sermon to this congregation, previously to his leaving this country for the purpose of spending the remainder of his days upon the continent of America.
The present congregation at the Gravel-pit meeting-house are Unitarians.
Dissenters' college.
A college for the education of Protestant dissenters was established at Hackney in the year 1787, under the care of Dr. Kippis, Dr. Price, Dr. Rees, Mr. Morgan, and Mr. Worthington, as tutors and professors. Upon Dr. Price's death, Dr. Priestley succeeded to his department in the college. Being now conducted upon a more confined scale than when it was first established, the only superintendents at present are Dr. Rees and Mr. Belsham, who is Dr. Priestley's successor also as pastor to the congregation.
Independents.
The Independents have a meeting-house at this place, and a small cemetery, in which are the tombs of Mrs. Sarah Lambe (1788); John Philibrown (1788) ; the Rev. Ebenezer Johnston (1791); and a few others.
Jews.
The Jews belonging to the Hambrough synagogue have a burialground in Grove-street, which was purchased and appropriated to that purpose anno 1788. In this ground are the tombs of Israel Levin Salamons, Esq. (1788); Jacob Elias, aged ninety-two (1788); and Isaac——aged ninety-two (1792).
Parish register.
The register of baptisms at this place begins in the year 1556; that of marriages in 1589; and that of burials in 1593. Having been favoured by Mr. Wright of Hampton-court, with the use of some MSS. papers which belonged to his father Robert Wright, D. D. late vicar of Hackney, consisting principally of notes taken for the most part from the parish register and vestry-books by Mr. Newcome, his predecessor, and continued by himself; I found among other particulars the number of baptisms, burials, and marriages in each year, from the earliest period of the register to the year 1739. The whole of these I have divided into averages of ten years, and have continued the table to the present time, as follows:
Average of Baptisms.
Marriages.
Burials.
1556–65
32 1/10
1566–75
283/5
1576–85
38 1/10
1586–95
41 7/10
1596–1605
442/5
183/5
931/5
1606–1615
43½
183/5
593/5
1616–25
442/5
17 7/10
75 9/10
1626–35
47 3/10
22 3/10
564/5
1636–45
581/5
19 1/10
713/5
1646–55
46 9/10
12 3/10
773/5
1656–65
44 1/10
101/5
922/5
1666–75
551/5
104/5
92 1/10
1676–85
49 1/10
4 1/10
102½
1686–95
671/5
43/5
101 9/10
1696–1705
594/5
173/5
109 9/10
1706–1715
881/5
17 7/10
159 9/10
1716–25
100 7/10
19 3/10
210 7/10
1726–35
953/5
182/5
216 3/10
1736–45
953/5
15 7/10
200 7/10
1746–55
99 3/10
17 7/10
1931/5
1756–65
1141/5
471/5
2092/5
1766–75
142
53½
2213/5
1776–85
1774/5
59 9/10
2284/5
1786–90
2054/5
77
2271/5
1791
193
79
222
1792
193
91
252
1793
210
73
260
Comparative state of population.
The increase of houses has been nearly in an equal proportion to that of baptisms. In 1640, the number of householders was 324; in 1756, 983; in 1779, 1212; in 1789, about 1500. The present number is about 1600.
Poor's-rate.
The poor's-rate in 1659, was 120l.; in 1684, 216l.; in 1701, 217l. 12s.; in 1710, 326l.; and in 1794, about twelve times that sum, viz. 3914l.
Plague years.
In the year 1593, forty-two persons died of the plague in Hackney. In 1603 there were 321 burials, of which 269 were persons who died of the plague; yet it is said in the register that none but men and women of note were inserted; all children and vagrants having been omitted. In 1625 there were 266 burials, of which about 170 were persons who died of the plague. In 1665, although the parish was become more populous, the havock occasioned by this fatal distemper was not so great; the whole number buried that year being 225. On the 16th of July 1665, it was agreed in vestry, that the vicar, churchwardens, and overseers, should choose four women for nurses to take care of the sick, who should be allowed four shillings a month for life, and should have twenty shillings a month during their attendance; that four bearers also should be chosen, to be allowed four shillings a week each during the infection; that a close cover should be made for the church coffin; and that a sedan should be provided for removing the sick to pest-houses. On the 5th of September a collection was ordered to be made from lodgers for the poor infected.
Extracts from the Parish Register.
Brooke Lord Cobham.
"Margaret Brooke, the daughter of Sir William Brooke, Lord "Cobham, baptized June 8, 1564." Lord Cobham was K. G. and employed by Queen Elizabeth as her ambassador to the court of Spain. The title was forfeited by his son Henry, was restored to his great grandson Sir John Brooke anno 1645, but became extinct at his death, which happened in 1654. Margaret Brooke, whose baptism is here recorded, is not mentioned by Dugdale (fn. 127).
William Tate.
Elizabeth Zouch.
Lord Zouch.
Physic garden.
Lobel.
"William Tate, Gentleman; and Elizabeth, the elder daughter unto the Right Honorable Edward Lord Zouch, beinge thrise solempnlye asked in the church accordinge to the accustomed manner, were also the 27 daye of December, beinge the feaste daye of St John the Evangelyste, joyned together in matrymonie at the tyme of devine service, A° Dni. 1597."Lord Zouch had a seat at Hackney, where he amused himself with experimental gardening (fn. 128), and the science of botany, of which he was so great an encourager, that he cultivated a physic-garden in this parish at his own expence, committing the superintendence of it to the celebrated Lobel (fn. 129).
Dymmoke, Knt.
"Bridget, the daughter of Sir Edward Dymmocke, Knt. was christened the syxt daye of November 1597."
Binge.
"Thomas Binge, that reverend and worshipful doctor of the civil lawe, was buried the 23 daie of the month of December, anno 1599, in the north quier."
Three children at a birth.
"Burials, May, 1601. Margaret Frye, who being delivered of three women children at a birth, were all buried the 19th."
Family of Rich. Earl of Warwick.
"Sr Robte Riche, nobil. ordinis Balnearii mil. et Francisc. Hatton bannis matrimonalibus trinis vicibus debité & publicé promulgat. were joyned in matrymonye the 12 day of Februarye, by license, graunted by the reverent father Rich. Bushopp of London, ANo Dni. juxta cursum et computationem eccles. Anglican. mill° sexcentesimo quarto, for speciall reason as ys testified under the hands of those that were present on the backsyde of the same license, 1604." Sir Robert Rich was afterwards the second Earl of Warwick of that family, being son of Robert Lord Rich created Earl of Warwick anno 1618. His lady was only child of Sir William Newport alias Hatton, the nephew and adopted heir of Lord Chancellor Hatton: "Frances, Lady Countesse of Warwick (having been resident at Hackney at the time of her death) was carried away to be buried at Lee by the Earl her husband, Aug. 15, 1634." Ann, the daughter of Sir Robert Riche, K. of the noble order of the Bathe, was christened the 22d daye of August, anno 1609: the said Ann, eldest daughter of Sir Robert Riche, son and heyre apparent of the right honorable the Lord Riche, borne att Hackeneye the 13th daye of August 1609. Robert Rich, the son of Sir Robert Rich, Knight of the Noble Order of the Bath, was borne the 28 day of June, and was christened the 13 day of July, anno 1611." This Robert was the third Earl of Warwick of that name. He died without male issue, and was succeeded by his brother Charles (fn. 130). "Lucy, daughter of Sir Robert Rich, was born June 19, and baptized July 6, 1614."
Vere, Earl of Oxford.
"Edward de Vere Erle of Oxenford, was buried the 6th daye of Julye, anno 1604. The Lady Elizabeth Countys Doweger of Oxenford, was buryed the 3d day of Januarye 1612–3." Edward Earl of Oxford was the seventeenth Earl of that ancient family: he distinguished himself both as a man of valour and of genius. "In the year 1585 he was at the head of the nobility that embarked with the Earl of Leicester for the relief of the States of Holland; and in 1588 joined the fleet, with ships hired at his own expence, to repell the Spanish Armada. He was Knight of the Garter, and sat on the celebrated trials of the Queen of Scots, and of the Earls of Arundel, Essex, and Southampton (fn. 131)." He was an admired poet, and reckoned the best writer of comedy in his time (fn. 132); a few of his poems are extant in a collection called the "Paradise of dainty Devises." The Earl died at a very advanced age. He married, to his first wife, Anne daughter of Lord Burleigh, who having offended him by refusing, at his request, to protect the Duke of Norfolk, he took a singular revenge, by forsaking his daughter, and dissipating his own estates. The Earl's second wife was Elizabeth, daughter of Thomas Trentham, Esq. of Rouceter in the county of Stafford. She had been maid of honour to Queen Elizabeth.
Barrington, Bart.
"Sarah, the daughter of Sr Francis Barrington, Knt. was christened the 30th daye of March 1606." Sir Francis Barrington was created a baronet in 1611.
Sir Henry Hobart.
"Robert Hubbard, the son of Sr Harrye Hubbard, Knt. was christened the 28 daye of September 1606." I suppose this to have been a son of the celebrated Sir Henry Hobart, then attorneygeneral, and afterwards lord chief justice of the Common Pleas. He was knighted on King James's accession to the throne in 1603.
Harber.
"William Harber, the son of Sr William Harber, Knight, was buried the 5 daye of November 1606."
Evans.
"Thomas Evans, the son of Sr Lewis Evans, Knt. was christened the fifth day of March 1606–7."
Lord Lovelace.
"Richard Lovelace de Hurley in comit. Berks, Knight, (afterwards created Lord Lovelace (fn. 133),) and Margaret Dodworth were joyned in matrymonye by lycense graunted from the facultyes the 28th daye of April 1608."
Michelbourne, Knt.
"Sr Edward Michelborne, Knt. was buried the 4th daye of Maye 1609."
Family of Rowe, or Roe.
Will of Sir Henry Rowe.
Three children at a birth.
Owen Rowe, one of the regicides
Henry Rowe, the representative of the family, becomes a parish pensioner
"The Lady Susanna Roe was buryed the 31 daye of January 1609–10." Daughter of Giles Duncombe, and wife of Sir Henry Rowe the elder. The family of Rowe or Roe, for it was spelt both ways, came out of Kent. Sir Thomas, father of Sir Henry, was son of Thomas Roe, Esq. of Penshurst. An account of the splendid funeral of Sir Thomas Rowe, who settled at Shacklewell, and was buried in Hackney-church, has been given before. His son, Sir Henry, husband of Susanna before-mentioned, died anno 1612, and was buried at Hackney on the 22d of December. By his will he left 100l. to be expended on his monument; 66l. 13s. 4d. for the funeral dinner, (the same sum which his father bequeathed for that purpose,) and 33l. 6s. 8d. for a dinner to be given to the Company of Mercers; to his sons, Henry and Thomas, and to his two daughters, he left 2000l. each; to his son Henry he bequeathed also, his capital messuage at Shacklewell, and all his customary lands in the parish of Hackney (fn. 134). Several children of Sir Henry Rowe the younger, by his wives Anne and Sarah (fn. 135), were baptized at Hackney. Sir Henry Rowe was buried Nov. 1, 1660; Sarah, his second wife, March 26, 1657. Thomas Rowe, brother of Sir Henry, by his will dated 1621, left the sum of 250l. for his burial at Hackney, and 50l. to the church for a pair of organs (fn. 136). "Mary, Susanna, and Cecilia, all daughters to Thomas Rowe, Gent. the which he had all at a birth by Anne his wife, the which three daughters was borne the 16 day of November, and baptized the 21 day of the same moneth, 1650." "Owen Rowe, Esq. was brought from the Tower of London, and buried in the church, the 27 of December 1661." Owen Rowe was, by Cromwell's interest, made a colonel of the London militia. He sat in judgment on Charles I. and signed the warrant for his execution. After the restoration he was brought to trial with the other regicides, and found guilty; but in consideration of his having surrendered himself on the first coming out of the proclamation, his sentence was miti gated to perpetual imprisonment (fn. 137). Rowe's name appears frequently in the parish register at Hackney, as having solemnized marriages there during the Interregnum. Henry Rowe, Esq. was buried Aug. 17, 1670; Sir Thomas Rowe, sen. Nov. 19, 1685; Anne Lady Rowe, from London, Dec. 23, 1691; Sir Thomas Rowe, from Clerkenwell, Feb. 25, 1695–6. Henry Rowe, the representative of this ancient and opulent family, (being, as I suppose, the son of Robert Rowe, Esq. (fn. 138) and grandson of the last Sir Henry,) after having supported a respectable situation in life, and having possessed the seat of his ancestors at Shacklewell, (which he sold to Mr. Tyssen,) was reduced to such poverty as to be under the necessity of applying to the parish for relief, in the year 1706, when the vestry gave 5l. to clothe him, and allowed a pension of 2s. 6d. a week for his maintenance. In 1708, he had 5l. again for clothing, his pension being continued. In 1710, when an order of vestry was made to oblige all the parish-pensioners to wear badges, an exception was made in favour of Mr. Rowe, out of respect, as I suppose, to the rank and opulence which his ancestors had enjoyed. Rowe was living in 1715, when, being in extreme want, and the parish-officers at that time refusing him any relief, he applied to the justices for redress (fn. 139).
Curwen.
"Fraunces Curwyn, the daughter of Sir Henry Curwen, Armiger, was christened the 13 daye of October 1609."
Murrye, Knt.
"Henry Murrye, the son of Sr James Murrye, Knight, was christened the 29 daye of April 1611."
Herbert, Knt.
"Barbery, daughter of Sir William Herbert, Knight, was buried August 20th, 1611."
Sir Alan Percy, K. B.
"Sir Allen Percye, Knt. was buried the 12 of November 1611." Sir Alan was sixth son of Henry Earl of Northumberland, by Catherine eldest daughter and co-heir of John Lord Latimer. He was created Knight of the Bath anno 1604, at the same time with Charles I. then Duke of Albany (fn. 140). Sir Alan Percy was buried in Lady Latimer's vault.
Lawrence, Knt.
Grace, daughter of Sir John Lawrence, Knt. was baptized and buried anno 1613.
Kaye, Knt. and Bart.
"Arthur, son of Sir John Kaye, Knt. was christened the 8 daye of August 1613." Sir John Kaye, who was created a baronet anno 1641, served in the King's army as a colonel of horse, and suffered much, both in his person and fortune, during the civil war (fn. 141). He was ancestor to the present Sir Richard Kaye, Bart. LL. D. and Dean of Lincoln. Arthur, here mentioned, died without issue.
Lawkner, Knt.
Thomas, son of Sir Lewis Lewkner (fn. 142), was baptized and buried anno 1614.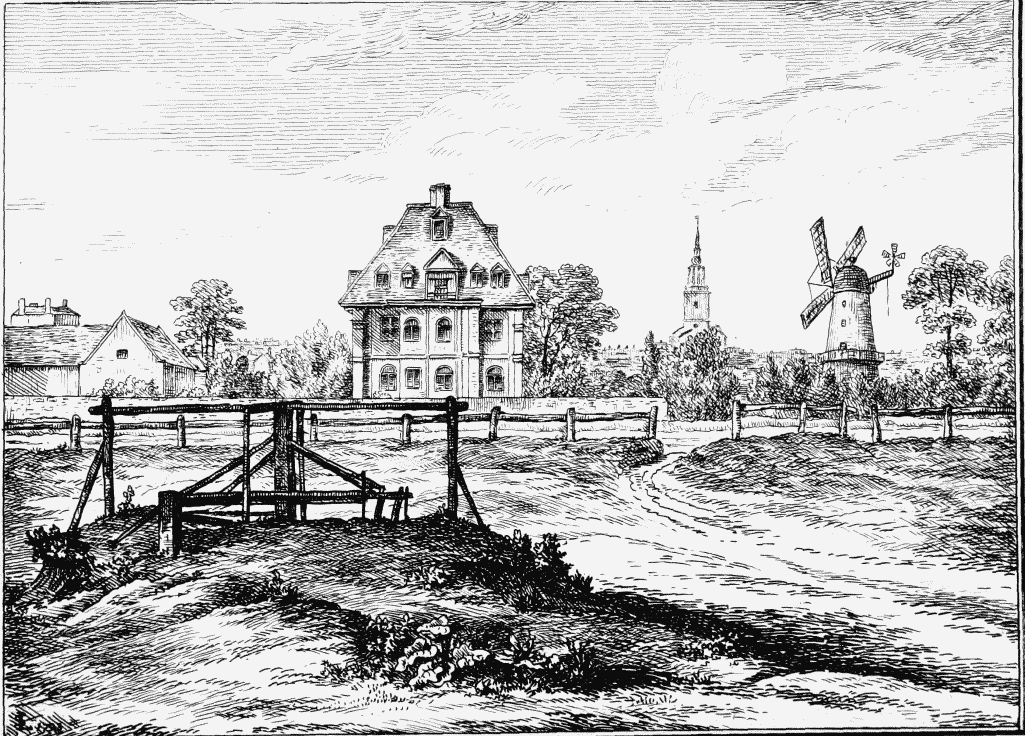 Family of Whitmore.
Baulmeshouse.
Sir George Whitmore.
"Mary Whitmore was christened the 21 daye of Julye 1615, and being weak was christened at the Bams house." Sir George Whitmore was an alderman, and some time Lord Mayor of London. He either built or rebuilt the house which is here called Bams, and in other places Baulmes, Balmes, or Bawmes, which is situated at the extremity of the parish, towards St. Leonard's Shoreditch. This house came afterwards to the Beauvoirs, is now the property of Peter Beauvoir, LL.D. and is used by the tenant for the reception of insane persons. Sir George Whitmore was a sufferer for his loyalty during the reign of Charles I. having been imprisoned in Crosby-house, together with Sir Kenelm Digby, Sir John Jacob, and Roger Pettiward, Esq. for refusing to contribute money for the service of parliament (fn. 143). Others of Sir George Whitmore's children were christened at Hackney. Anne, his daughter, baptized anno 1636, was married anno 1654, to John Robinson, Esq. of London. Sir George died Dec. 12, 1654, at his house at Balmes, and was buried January 11th following in London. Mr. William Whitmore, son of William Whitmore, Esq. of Balmes, was married anno 1679, to Frances, daughter of Sir Thomas Whitmore of Shropshire.
Bowes, Knt.
"Sr Jeremy Bowys, Knt. was buried the 28 daye of March 1616."
Keys, Knt.
"Sr John Keys, Knt. was buried the 4th of May 1624."
"The Lady Keys was buried Apl 13, 1632."
Dudley and Hatton.
"Edward Dudley, Gent. of the Middle Temple, the sonne of Edward Dudley of Clapton in the county of Northampton, Armiger, and Elizabeth Hatton, the daughter of Sr Christopher Hatton deceased, were joyned together in matrymony the 27 of July 1626, by vertue of a licence from the Lord of Canterbury's grace."
Sir Christopher Hatton, Eliz. Montagu.
"Sr Christopher Hatton and Mrs. Elizabeth Mountague were joyned in matrymony the 8th day of May 1630, by licence from my Lord of Canterbury's grace." Sir Christopher was created Lord Hatton anno 1644. His wife Elizabeth was daughter of Sir Charles Montagu, a younger brother of the Earl of Manchester (fn. 144).
Sir Dudley North, Anne Montagu.
"Sr Dudley North, and Mrs. Ann Mountague, the daughter of Sr Charles Mountague deceased, were joyned in matrymony the 24th of April 1632." Sir Dudley, afterwards the fourth Lord North, is to be found among the noble authors, having written a volume of Essays, which were published after his death.
Lady Trevor.
Sir Thomas Trevor.
"The Lady Trevers, wife to Baron Trevers, was buried before the precher's pew the 6 of October 1627." Sir Thomas Trevor, Baron of the Exchequer, then resided at Clapton in this parish. It appears by an entry in the vestry-book, that he was married again before May 1628. He had five wives (fn. 145).
Robert Cæsar,
Elizabeth Manning.
Sir Julius Cæsar.
"The worthy gentleman Robert Cæsar, Esquire, sonne to the Right Hon. Sr Julius Cæsar, Knight, Master of the Rowles, and Elizabeth Manning, daughter to John Manning, Esquire, were joined in matrimonye the 7th of December 1630, by David Dolben, doctor in divinity, who married them in the chappell of the Rowles." Sir Julius Cæsar, who in the former part of his life, had lived at Tottenham and Mitcham, resided at this time, and for some years afterwards, at Homerton (fn. 146).
Birth of Gilbert Earl of Clare.
"Gilbert, the sonne and heir of John Lord Haughton, and Elizabeth his lady, was borne the 24 of April 1633, and christened the 18th of May next following, the Earle of Clare and the Lord Veare were godfathers, and the Countess of Kent godmother; which Gilbert is sonne and heir of the said Lord Haughton." This Gilbert was only son of John Holles Lord. Haughton, (afterwards Earl of Clare,) by Elizabeth one of the co-heirs of Horatio Lord Vere. He succeeded his father in the title, which became extinct in his son John Holles, created Duke of Newcastle by William III (fn. 147). Lord Vere lived at Clapton (fn. 148).
Oliver St. John, Katherine Vere.
"Oliver Sentjohn, and Katherine, the daughter of the Right Hon. the Ld Veare, were joyned in matrimonye the thirteth day of January 1633-4, by licence.—Mary, daughter of Oliver St John by Catherine his wife, was baptized Apl 2, 1635.—Horatio Vere S[t] John, Sept. 24, 1638, the Earl of Clare and the Lady Wake being his sureties." Catherine St. John afterwards married John the second Lord Paulet (fn. 149).
Thomas Fairfax, Anne Vere.
"Thomas Fairfax, Esquire, married to Ann daughter to the Rt Hon. Ld Veare, June 20, 1637." Thomas Fairfax was the celebrated parliamentary general, and became afterwards, by the death of his father, Lord Fairfax of Cameron.
Mildmay E. of Westmorland,
Mary Vere (relict of Townshend).
"The Right Honourable Lord Mildmay Vaine, Earle of Westmorland, and Dame Mary Townsend weare married the 21st of June 1638." Mildmay Fane was the second Earl of that family; Mary Townshend was relict of Sir Roger Townshend, Bart. and one of the daughters and co-heirs of Horatio Lord Vere (fn. 150).
Singular marriage.
"John Griffin and Ann Hayley were joyned in matrimonye the 30 of July, by license from the faculties, 1633; Michael Cox and Margery Winsmore were joyned in matrimony the same tyme by like licence; for these two beinge very loveinge frendes, the said John gave Michael his bryde, and the said Michael gave unto John his bryde, which was the cause they were married both at one tyme, and became father ech to other; a thing not done before in our parish this fourscore and 15 yeare."
"1633—The reverend Father in God David Dolben, Lord Bishop of Bangor, lately vicar of Hackney, was buried in the chancell the 29th of November at night—a good benefactor (fn. 151)."
Lady Bulstrode.
"The Lady Bulstrode was buried at my Lord Brooke's pew door the 14 of January 1633–4 (fn. 152)."
Birth of Dr. South.
"Robert, the sonne of Robert South, Gent. and Elizabeth his wife, was borne the 4th of September, at 8 at night, being Thursday; but was christened the 18th of the same, 1634." Robert South, whose birth is here recorded, was the celebrated divine whose sermons are so well known. He was elected a student of Christ's Church in Oxford anno 1651, and afterwards became canon of that cathedral, and prebendary of Westminster, with which preferment he sat down contented, having refused an English bishopric, and the archbishopric of Armagh (fn. 153).
Sir Alexander Carew, Bart.
"Sir Alexander Carew, Bart. was buried the 23d of December 1644." Son of Sir Richard Carew of Antony in Cornwall, who was created a baronet in 1641. The title became extinct in Sir Alexander, who died without male issue, æt. 34. He was descended from Sir Wymund Carew (fn. 154), who died seised of a manor in Hackney anno 1549 (fn. 155).
Napper, Knt.
"Sir Richard Napper married to Mrs. Mary Viner, Jan. 3, 1644–5." His son Thomas was baptized in 1646. In 1649, (Aug. 22,) Sir Richard Napper was married to a second wife, Mary Kinaston.
Randill, Knt.
"Sir Edward Randill, Knt., died at London the 16th day of Jan. 1645–6, and was buried here in the vault on the 23d."
Sir Capell Luckin, Mary Grimston.
"Capell Luckin, Esq. (afterwards Sir Capell Luckin, Bart.) was married to Mrs. Mary Grimston, the eldest daughter of Sir Harbottle Grimston, Jan. 20, 1647–8."
Lord Whitelock, Mary Wilson.
"The Right Honourable Bulstrode Lord Whitelock (fn. 156) was married to the worshipful Mary Wilson the 11th day of September, being Wednesday, 1650."
Powes.
"The Lady Ellenor Powes departed this life the 24th of December, and was interred in the vault under the Lady Lattemor the 26th of the same month, 1650."
Family of Kemmish, Bart.
"Charles, the son of Charles Kemmish, Knt. and Baronet, by Lady Margaret his wife, was borne at Balmes the 18 and baptized the 29 of May A° Dom. 1651. Sr George Whitmore and Sr Thomas Whitmore godfathers, and the Lady Wilde of Shropshire godmother." Sir Nicholas Kemeys of Keven Mabley in Glamorganshire was created a baronet in 1642. Mary, daughter of Sir Charles, was baptized at Hackney in 1652; George his son in 1655, and Anne, another daughter, in 1657. Charles, whose birth is mentioned above, succeeded to the title, and married Mary, daughter of Philip Lord Wharton (fn. 157). The title is now extinct.
Sir Nathaniel Barnardiston.
"Sr Nathaniel Barnardiston, Knt. departed this life the 25 day of July, and was carried to be buried at Kitton in Suffolk Augst 22, 1653." Sir Nathaniel Barnardiston represented the county of Suffolk in several parliaments. There is an account of him in Clark's Lives, containing an ample panegyric on his virtues and religious endowments, but nothing remarkable as to facts. His corpse was met on the road to Suffolk by 200 persons, and his funeral, which was celebrated at Kitton on the 26th of August, is said to have been attended by many thousands (fn. 158).
Marriage by Sir John Barkstead.
"The publication of a marriage intended between Patient Ward of the parish of St Helen's, London, merchant, and Elizabeth Hobson, daughter of William Hobson of Hackney in the county of Middlesex, Esq. was made in the parish church of Hackney aforesaid, on the 6th, the 13th, and 20th of November 1653, being three several Lord's daies, and they were married the 8 of June following by me John Barkstead (fn. 159)."
Baker, Knt.
"Ann, daughter of Sr John Baker, Knt. by Elizabeth his lady, was born Nov. 18, and baptized Dec. 2, 1656." "Sarah his daughter was baptized Aug. 15, 1661."
William Roberts, Sarah Holt.
"William Roberts of Wilsdon in the county of Middlesex, son of Sr William Roberts, Knt. (fn. 160), was married to Sarah Holt, daughter of Robert Holt citizen of London, on the 7th of April 1658."
Renoulds.
"The Lady Katherine Renoulds, the late wife of Sr James Renoulds, was brought from London and buried in the vault on the 3d of March 1658–9."
Susanna Perwich.
"Susanna, the daughter of Mr. Robert Prewech, Esquire, and his wife, was buried from Church-street the 6th of July 1661." Susanna Perwich, here erroneously written Prewech, was born in London, Sept. 23, 1636. When she was about seven years of age her father removed his family to Hackney, where they kept a boarding-school for young ladies. His daughter Susanna, at an early age, discovered an uncommon genius for music, in which she made such a proficiency, that she was able to play in concert on the treble viol before she was fifteen. She excelled also upon other instruments, as the lyra viol, lute, &c. composed music herself, and was a very fine singer. "The same of all which," says the author of her life (fn. 161), "at last grew so public and universal, that there were few places in England but had heard thereof, yea and many parts beyond the seas too; for not only persons of high rank and quality of all sorts came from London, the inns of court, and out of several counties to hear and judge of her abilities, especially the chiefest music masters; but many foreigners also, as French, "Spanish, Italian, Dutch, as well agents and embassadors as other travellers into these parts, desired to taste of these her rare qualities, always going away with high admiration, saying that they had now seen one of the choicest rarities of England, and professing that they never heard or knew of the like in any of their own countries (fn. 162)." Her panegyrist, after mentioning many other accomplishments in which she excelled, and descanting very much at large upon her moral virtues and religious attainments, informs us that she died July 3, 1661, (in the 25th year of her age,) of a fever which she caught by sleeping in a damp bed. Her funeral was attended to the church at Hackney by a numerous company. The herse, covered with velvet, was carried by fix servant maidens of the family all in white; the sheet was held up by six of those gentlewomen in the school that had most acquaintance with her, in mourning habits, with white scarfs and gloves. A rich costly garland of gum work, adorned with banners and scutchions, was borne immediately before the herse, by two proper young ladies that intirely loved her (fn. 163)." Her relations followed the hearse, and after them "the whole school of gentlewomen, and persons of chief rank from the neighbourhood and the city of London." The sermon was preached by Dr. Spurstow, in pursuance of her own desire; which done, "the rich coffin, anointed with sweet odours, was put down into the grave, in the middle alley of the said church, under the same stone where Mrs. Anne Carew, one of the great beauties of England in her time, and formerly a gentlewoman of the school, and intimately acquainted with her, was buried (fn. 164)." An engraved portrait of Susanna Perwich is prefixed to her life.
Grevile Lord Brooke.
"Robert, the son of the Rt Hon. Robert Lord Brooke, by Dame Anne his wife, was baptized the 10 day of June 1664." This son, and another, (John,) baptized in 1665, died in their infancy. Lord Brooke left no male issue at his death, which happened in 1676. He resided at Clapton in this parish, as did his father the second Lord Brooke (fn. 165), who was slain at Litchfield in 1643. Brookehouse is still standing, and has been appropriated for some time past to the reception of insane persons.
Family of Vyner, Bart. Sir Thomas Vyner.
Sir Thomas Vyner.
"Thomas, the son of Sr George Vyner, by the Lady Abigail his wife, was baptized the 21st day of June 1664." Thomas Vyner, father of Sir George, was knighted by King Charles II. having been, as a journal of that time expresses it, eminently loyal, and having refused to purchase any of the delinquents' estates (fn. 166), he was created a baronet in 1663. Another account speaks of him as in nowise deserving of these favours, since he proclaimed no kingship, and attended the execution of Charles I. as sheriff of London, which his colleague in office (Alderman Brown) refused to do (fn. 167). He so far ingratiated himself however with the restored monarch, by proclaiming Cromwell a tyrant and usurper, and riding before his Majesty bareheaded, that he made him his first knight (fn. 168). Sir Thomas Vyner died at his house at Hackney (the old mansion near the church (fn. 169) ) in 1665, and was buried in the church of St. Mary Woolnoth (fn. 170). Sir George Vyner, Bart. died at Hackney July 5, 1673 (fn. 171), leaving his son Thomas (whose baptism is here recorded) heir to his title and estate. James Hopkins, chaplain to Sir Thomas Vyner the elder, was buried at Hackney in 1663.
Marsh, Knt.
"Margaret, daughter of Sr Thomas Marsh by the Lady Ann his wife, was baptized the 7th of June 1666." Thomas, June 27, 1667; Nathaniel, Oct. 15, 1671; Ann, Aug. 10, 1675; and Morrice, Nov. 26, 1676.
Player, Knt.
"The Lady Rebecca Player was buried the 4th of October 1667; Sr Thomas Player, chamberlain of London, the 9th of December 1672; Sr Thomas Player, Jan. 20, 1685–6; the Lady Joyce Player, Dec. 8, 1686."
Rob. Huntington, Lady Dicer.
"Robert Huntington of Stanton Harcourt in the county of Oxford, Esq. and the Lady Dorothea Dicer of this parish, widow, were married the 4th day of March 1668–9." Lady Dicer was daughter of——Styles, and relict of Sir Robert Dicer, Bart. who died at Hackney anno 1667 (fn. 172).
John Worthington.
"Doctor John Worthington was buried the 30th day of November 1671." A learned divine, of whom Archbishop Tillotson gives a very amiable character in the sermon which he preached at his funeral (fn. 173). Dr. Worthington was born at Manchester, and educated at Emanuel College in Cambridge. Some years after the ejectment of Dr. Sterne, (afterwards archbishop of York,) the fellows of Jesus College elected him their head, a situation which he accepted with reluctance, and resigned to the former master immediately upon the restoration (fn. 174). He enjoyed successively various benefices (fn. 175), and was eventually prebendary of Lincoln. In the year 1665, he was curate of St. Bennet Fink, where he preached constantly during the plague, having removed his family to Hackney, of which church he was chosen lecturer the year preceding his death. Dr. Worthington published the works of Joseph Mede, a very eminent divine of the last century. His own writings were for the most part posthumous. His friend Bishop Fowler published a volume of his miscellaneous works in 1704. A volume of select discourses was published by his son in 1725. His correspondence with Hartlib is in print also, and several of his theological tracts. A great number of his MSS. came, after the death of his son, to the Turner family, now his only representatives (fn. 176), and are at present in the possession of John Turner, Esq. of Putney. A very long epitaph, written upon Dr. Worthington by his son, was printed in a scarce publication of Hearne's, and reprinted in the Gentleman's Magazine for October 1776; the following inscription is to be seen on his monument in Hackney church:
"To the memory of John Worthington, D. D. some time master of Jesus College in Cambridge, and minister of this parish, who was as remarkable for his piety and learning, as any the last age has produced; and by his own pious and excellent works, as well as by publishing those of the most learned men of his time, has rendered his memory precious to all succeeding generations. He was born at Manchester in February 1617, and through the whole course of his life showed an uncommon zeal for the glory of God, in promoting piety and virtue; and by a strict attendance on the duties of his sacred function, was highly acceptable in every place he had a relation to. He died November the 26th, 1671. The famous Dr. Tillotson, in the character he gave him at his interment, will supply the defects of this table. This monument was erected pursuant to the will of John "Worthington his son, born at Fen Ditton in Cambridgeshire, when his father was rector there; was fellow of St. Peter's College, Cambridge, and by his piety, humility, and learning, showed himself not unworthy so great and good a progenitor. He died the 19th of January 1737, aged 75, and by his own appointment lies buried in the adjoining churchyard."
Sir Stephen Anderson, Judith Lawrence.
"Sr Stephen Anderson of Eyworth in the county of Bedford, and Mrs Judith Lawrence of the parish of St. Helen's, London, were married Apl 8, 1673." Sir Stephen Anderson was created a baronet anno 1664; his second wife Judith was daughter of Sir John Lawrence alderman of London (fn. 177).
Families of Holworthy and Desborowe.
"Matthew, son and heir of Sr Matthew Holworthy, Knt. by the Lady Susan his wife, was baptized Mar. 27, 1674. Sr Matthew Holworthy was buried the 23 of Oct. 1678. The Lady Susanna Holworthy, May 21, 1690." Sir Matthew Holworthy was of Palsgrave in Norfolk; his son Matthew married Eliza, daughter of Dr. James Desborowe, a descendant of Cromwell (fn. 178). Several others of the family were baptized and buried at Hackney.
Lord Alington, Lady Diana Verney.
"The Rt Hon. William Lord Alington, and the Rt Hon. Lady Diana Varney were married July 15, 1675." Lord Alington was created an English peer anno 1682; the title became extinct in his son. Lady Diana was daughter of William Duke of Bedford, and relict of Sir Grevile Verney, K. B. (fn. 179).
White, Knt.
"Sr Stephen White, Knight, was buried the 26 of Dec. 1678."
Weston, Knt.
"Sr Richard Weston was buried the 26 of March 1681."
Family of Hare, Bart.
"Ralph, the son of Sr Thomas Hare, Baronet, by the Lady Elizabeth his wife, was baptized the 19 of May 1681; Elizabeth, July 2, 1682; Margaret, July 12, 1683; Mary, Sept. 7, "1684; Susan, Nov. 22, 1685; Thomas, Oct. 28, 1686." Sir Thomas Hare married Elizabeth, daughter of George Dashwood, Esq. of Hackney, and sister of Sir Robert Dashwood, Bart. His sons Ralph and Thomas successively inherited the title, which is now extinct. Elizabeth here mentioned, married Sir Thomas Robinson, Bart.; Margaret died in her infancy; and Mary married Thomas Leigh, merchant (fn. 180).
Family of Dashwood, Bart.
"George, the son of Sr Robert Dashwood, Knt. by the Lady Penelope his wife, was baptized July 20, 1684;" Penelope, Aug. 29, 1686. Sir Robert Dashwood was created a baronet in 1684; he married Penelope daughter and co-heir of Sir Thomas Chamberlayne of Oxfordshire. George, here mentioned, died in his infancy. Penelope was married to Sir James Stonehouse, Bart. of Radley in the county of Berks.
Pilkinton, Knt.
"Sr Lyon Pilkington, Knt. was buried the 5th of November 1684."
Timothy Hall, Bishop of Oxford.
"The Rt Reverend Father in God Timothy Hall, late Lord Bishop of Oxford, dyed the 9th, and was buried the 13th of April 1690." Dr. Hall, a Roman Catholic, who had been curate of Hackney in 1685, and was chosen lecturer in 1688, was in the latter year made bishop of Oxford by James II. but the dean and canons of that church refused to enthrone him; nor would any member of the university consent to be ordained by him. Dr. Hall published two occasional sermons, one of which was preached at Mercer's chapel, after he became bishop of Oxford. He is said to have died miserably poor at Hackney (fn. 181); it is probable that he never enjoyed any of the profits of his bishopric, of which he seems never to have been permitted to exercise the functions. Dr. Hough was his immediate successor.
Josiah Child, Eliz. Cooke.
Family of Cooke, Knt.
"Josiah Child of Wanstead in the county of Essex, Esq. and Elizabeth Cooke, the daughter of Sr Thomas Cooke of Hackney in the county of Middlesex, Knt. were married the 10th of March 1691. Dame Elizabeth Child, widow, was buried Jan. 26, 1740–1. Josiah, son of Sr Thomas Cooke, Knt. by Dame Elizabeth his wife, was baptized the 31 of January 1691–2. Hannah, Nov. 6, 1695. Sr Charles Cooke, Knt. and Alderman of London, was buried in Mr. Dolins' vault on the 11th day of January 1720–1." The Cookes were proprietors of the Manor of Hackney, called the Lord's-hold."
Family of Cromwell.
"Richard, son of Henry Cromwell, Esq. by Hannah his wife, was born May 11, and baptized July 4, 1695. Thomas, son of Capt. Cromwell, and Hannah, Aug. 28, 1699." Grandchildren of Henry Cromwell, Lord Lieutenant of Ireland, and son of Oliver Cromwell (fn. 182). Richard Cromwell became a solicitor in chancery, and died anno 1759.
William Bates.
"William Bates was buried July 21, 1699." An eminent nonconformist divine, author of "The Harmony of the divine Attributes," some sermons, and a selection of lives of illustrious persons, written in Latin, by various persons. His works were collected together after his death, and published in one volume folio, to which was prefixed his portrait from a painting by Sir Godfrey Kneller, taken the year in which he died, being the 74th of his age. Dr. Bates resided at Hackney during the latter part of his life, as pastor to the congregation of Presbyterian Diffenters at that place (fn. 183).
Edwards, Knt.
"Nathaniel, son of Sr James Edwards by Rebecca his wife, was born and baptized Oct. 8, 1699."
Children of Daniel Defoe.
"Sophia, daughter to Daniel Defoe by Mary his wife, was baptized Dec. 24, 1701." Martha Defoe, a child, was carried out of the parish to be buried in 1707. It appears by these entries that Defoe, author of the popular Romance of Robinson Crusoe, and other works of considerable merit (fn. 184), was for some years an inhabitant of this parish. Daniel Defoe, an infant and nursed child, was buried at Hackney, June 14, 1724.
Frances Lady Atkyns:
Her great age.
"The Lady Frances Atkyns was buried the 20th of March 1703–4." Frances Gulston was married to Edward Atkyns, Esq. (afterwards Sir Edward, and a baron of the Exchequer,) at Hackney, Sept. 16, 1645. She was his second wife, being motherin-law to Sir Robert Atkyns, K. B. and chief baron of the Exchequer. Lady Atkyns is said to have been 104 years of age at the time of her death, and to have written her will with her own hands at the age of 92 (fn. 185).
Fair fax.
"Nicholas, son of Capt. Nicholas Fairfax by Arcana his wife, baptized Sept. 7, 1704."
Robert Fleming.
"Mr. Robert Fleming, dissenting preacher, carried away May 24, 1716." Robert Fleming was the son of an ejected minister, who published a treatise on the fulfilling of the scriptures. In the early part of his life he was pastor to a church at Leyden, whence he moved to Rotterdam. He afterwards became minister of a church in Lothbury, and was chosen minister of the congregation of Presbyterians at Salters' Hall. Mr. Fleming was a man of great moderation, and was much esteemed by King William, who is said frequently to have consulted with him upon important topics (fn. 186). His works were numerous, consisting of various sermons and tracts, among which were the following, viz. The History of Hereditary Right; the Mirror of Divine Love, in which is a dramatic poem, called the Monarchical Image, or Nebuchadnezzar's Dream; Theocraty, or Divine Government of Nations; a Practical Discourse on the Death of King William; Christology, or a Discourse concerning Christ; the Rod of the Sword; Speculum Davidicum Redivivum, or the Divine Right of the Revolution evinced and applied; and discourses on several subjects, viz. the Rise and Fall of Papacy, &c. published anno 1701. This lastmentioned work was lately very much the object of public attention, from the remarkable coincidence between Fleming's conjectural interpretation of a prophecy in the Revelations, which he supposed to relate to the humbling of the French monarchy, about the year 1794, and the calamitous events which, within a year of that very period, befel the unhappy Lewis XVI.
Thomas Freke.
"Mr. Thomas Freke, nonconformist preacher, and lodger, was carried away on the 8th day of September 1716." Mr. Freke published several single sermons.
Splendid funeral of Francis Tyssen.
"Francis Tyssen, Esq. was buried within the communion rails in the high chancel, on the 11th day of November 1716, from Goldsmiths' Hall, with great pomp." The following minutes of the funeral are taken from Mr. Newcome's MSS. (fn. 187). "He was carried to Goldsmiths' Hall and shewn there, lying in state two days, Nov. 10 and 11th, the time of his interment. Hall hung with black from top to bottom, 25 feet high, and two or three rooms more with sconces, many of them silver, filled with wax candles; 300 doz. of scutcheons; the body lay under a stately alcove, adorned with lights, feathers, and trophies. All the "company had rings, with death's heads set in chrystal; near 20 clergy there, who had all rings, scarves, gloves, &c. the minister of Hackney, who buried him, mourning. The procession from the Hall began about 10 at night. First rode about 60 horsemen, his tenants, in mourning cloaks, among whom were ranged four of the King's trumpets, sounding a doleful strain, two together, attended with branch lights. After them came the trophies, with a led horse covered with velvet, attended by six pages in mourning; then came the herse, bedecked with scutcheons, feathers, and streamers; then five or six and thirty coaches and six, led by an empty coach of state, followed by the executor John Tyssen, (his next brother,) and all the mourners, the supporters of the pall, the clergy, and others. All the streets and balconies crouded as on a Lord Mayor's day; near one o'clock when they got to Hackney church, where all the horsemen lined both sides of the road up to the church; the trumpets sounded upon every coach stopping to set down company. From the church door to the churchyard gate was railed in; the sides hung and the ground covered with black; church and chancel hung round with black, filled with buckram scutcheons; pulpit and reading desk hung with cloth and silk scutcheons; communion table covered with black cloth; corps buried within the communion rails, where lie his grandfather, grandmother, father, and two sons; trophies afterwards fastened to the north wall against his grave; charge computed at 2000l. Nov. 14 his widow delivered of a son and heir. The rumour of this pompous funeral occasioned the following advertisement in the Gazette, Nov. 23, by order of the Earl of Suffolk, deputy Earl Marshal.
Advertisement from the deputy Earl Marshal.
"The Post-boy of the 14th instant, Nov. giving an account that "on Monday preceding, the corps of Francis Tyssen, Esq. lay in "state at Goldsmiths' Hall in so grand and compleat a manner as had not been seen before; and that on the Monday following, lying in state all that day, was carried in great procession, with four of the King's trumpets, &c. with a led horse in a velvet caparison, and all the trophies proper to a gentleman on that occasion, to Hackney, where he was interred, to the intire satisfaction of all spectators. This is therefore to satisfy the public, that application having been made to his Majesty's servants the officers of arms to direct and marshal the said funeral, they were ready to consent thereto; but the manner in which the body was set forth, and also a led horse, trumpets, guidons, and six penons, with a coach of state, being insisted upon by some of the persons concerned in the said funeral to be used thereat, (all which far exceeded the quality of the deceased, he being only a private gentleman,) the said officers refused to give their attendance at the said funeral, although of right they ought to have borne the trophies proper to the degree of the defunct; notwithstanding which, the same were carried by improper persons, in so very irregular and unjustifiable a manner, that not any one of the said trophies was carried in its right place. Which licentious liberty taken of late years by ignorant pretenders, to marshal and set forth the funerals of the nobility, gentry, and others (too often above their estate and quality) is not only an open violation of the several established rules and orders heretofore made for the interment of all degrees, but highly tends to the lessening of the rights and honour of the nobility and gentry in general; and more especially when the funerals of ignoble persons are set forth by them with such trophies of honour as belong only to the peers and gentry of this realm."
"Lilly Butler, D. D. minister of Aldermanbury, carried away "May 9, 1717." Author of numerous occasional sermons.
Dolins, Knt.
"Sr Daniel Dolins was buried in his own vault Ap. 30, 1728. Dame Margaret Dolins, widow, June 13, 1740." Sir Daniel Dolins was knighted upon carrying up an address from the Tower Hamlets in the year 1722 (fn. 188). Lady Dolins was sister of Sir Charles Cooke before mentioned (fn. 189).
Children of Hill Marquis of Downshire.
"Marcus Hill, Ld Kilwarlin, buried Ap. 20, 1756." Eldest son of the late Marquis of Downshire; he was born in 1752. Arthur and Anthony, two younger brothers of Lord Kilwarlin, who died in their infancy, were buried also at Hackney. Lady Mary Hill, an infant daughter of the present Marquis, was buried there March 5, 1791. They were all interred in a vault belonging to the family of Rowe, of which the Marquis of Downshire is now the representative, in consequence of the intermarriage of his ancestor Trevor Hill with a co-heir of Anthony Rowe, Esq. of Muswell Hill, who was buried at Hackney Sept. 9, 1704.
Mary Countess of Granard.
"Mary Stewart, Countess of Granard, buried Oct. 11, 1758." George, the third Earl of Granard, married Mary daughter of William Stewart, Viscount Mountjoy (fn. 190).
Goodere, Bart.
"Sr Edward Goodere, Baronet, buried Mar. 28, 1761."
Chester, Bart.
"Sr Francis Chester, buried Oct. 30, 1766." Sir Francis was the fourth son of Sir John Chester, Bart. of Chickley in the county of Bucks, and descended from Sir Anthony Chester, who was created a baronet in 1619. The title is extinct (fn. 191).
Lady Drake.
Heathcote family.
"Lady Ann Drake, buried Nov. 5, 1768." Anne Lady Drake was daughter of Samuel Heathcote, Esq. an intimate friend of Locke, whom he assisted in his work of regulating the coin of this kingdom (fn. 192). She was baptized at Hackney anno 1702. The Heathcotes resided in this parish. Several other entries relating to the family occur in the register. Samuel Heathcote, Esq. above mentioned, was buried anno 1708. His son Samuel Heathcote, Esq. brother to Lady Drake, was married at Hackney to Eliza Holworthy anno 1721. The elder brother William was created a baronet in 1733, and was grandfather of the present Sir William Heathcote. An infant daughter of Lady Drake, by her husband Sir Francis Henry Drake, Bart. of Buckland in Dorsetshire, was buried at Hackney in 1721.
Newcome, Bishop of St. Asaph.
"Richard Newcome, Bishop of St. Asaph, buried June 10, "1769." Son of Peter Newcome, Vicar of Hackney. He was made bishop of Llandaff in 1754, and translated to St. Asaph in 1761. The Bishop published some occasional sermons.
Fenoulhet, Knt.
"Sr Peter Fenoulhet, buried Aug. 21, 1774."
Lord Lindores.
"Francis James Leslie, Lord Lindores, buried July 4, 1775." The seventh peer of that title. He died without issue, and was succeeded by a cousin.
Sir Francis De Oliveyra.
"Sr Francis D'Oliveyra, buried Oct. 25, 1783." Francis Xavier De Oliveyra, Knt. of the military order of Christ, and Gentleman of his most faithful Majesty's houshold, was born at Lisbon in the year 1702. In 1734 he was appointed secretary of embassy to Vienna, in the room of his father, who had enjoyed that situation for several years. In the year 1741, he first incurred the displeasure of the Inquisition, who prohibited the memoirs of his travels, published in that year; as they did afterwards his letters, familiar, historical, political, and critical, published in 1741 and 1742. De Oliveyra came over to England in the year 1744, and two years afterwards publicly abjured the Roman Catholic faith. Having thus made a total sacrifice of his fortune to his conscience, he at first encountered great difficulties, but soon met with friends, who were both willing and able to extricate him from them, particularly the two successive Archbishops of Canterbury, Potter and Herring, and the late Prince of Wales, who assigned him a pension, which was continued by the Princess-dowager, and afterwards by her present Majesty. As a farther proof of the sincerity of his conversion, he published some works of considerable merit against the Romish faith; particularly his "Discours Pathetique," on occasion of the earthquake in 1755, addressed to the King of Portugal, and his countrymen. This address, and a subsequent one upon the same subject, roused the indignation of the Inquisition against him to so high a pitch, that they not only prohibited all his works, but condemned him to be burned in effigy as an heretic. Having lived for several years at Kentish-town and Knightsbridge, he came to reside at Hackney in 1775, where he died, on the 18th of October 1783. He left behind him in MS. "Oliveyrana, or "Memoirs historiques, literaires, &c." in 27 volumes 4 to, which were (anno 1784) in the possession of his widow, an English lady, whom he married in 1746, she being his third wife (fn. 193). On his grave-stone, in the church-yard at Hackney, is the following inscription: "Sacred to the memory of Francis De Oliveyra, Knight of the order of Christ in Portugal; which country, together with the reward due to the services which he had rendered his King, he sacrificed to the dictates of conscience, by abjuring the Romish church. Deprived by this step of the support of his relations and countrymen, he found protection in England, where he was patronized by the eminently great and good, and died respected and beloved, the 18th of October 1783, aged 81 years."
Caroline Lady Forrester.
"Lady Caroline Forrester, buried Mar. 2, 1784." Caroline, Baroness Forrester in her own right, relict of George Cockburne, Esq. Comptroller of the Navy, died Feb. 25, 1784, and was succeeded in the title by her only child, Anne Mary Cockburne (fn. 194).
Instances of Longevity.
"Anthony, a pore ould Negro, aged 105 yeares, was buried the 18 of May 1630."
Anne Pitts, who was buried the 11th day of Feb. 1664–5, is said to have been 105 years of age (fn. 195).
"Mrs. Anne Partridge, widow, (ætat. 100,) carried and buried in St Magnus, London, on the 28th day of Feb. 1712–3."
"Saml Ball, Esq. aged 90, was buried Sep. 19, 1741."
Joseph Egleton, buried Ap. 15, 1781, was, as it is said, 108 years of age; his son died in the workhouse, anno 1787, aged 89.
"Richard Nevil was buried Apl 24, 1792, aged 90; Mary Brown, aged 90, Apl 25, 1792; Isabella Cambill, aged 91, Feb. 9, 1793; Ann Fowls, aged 90, Jan. 9, 1794."
The following very aged persons are said to have died at Hackney (fn. 196), but I do not find any of their names in the Register, viz:
Mrs. Dowse, the sexton, aged 100, August 1, 1743; Charles Warford, Esq. aged 93, Nov. 13, 1764; Robert Luckyn, Esq. aged 97, Mar. 6, 1765; Mr. John Le Farre, aged 97, Nov. 16, 1767; Peter Purchas, Esq. aged 90, Nov. 7, 1768; Joshua Barnesley, Esq. aged 92, Sept. 21, 1769; the Rev. Mr. Pratt, aged 102, May 20, 1771; Zachary Abingdon, aged 103, March 8, 1774; Mr. Allen Mitford, (who sailed round the world with Lord Anson,) aged 93, April 22, 1774; Mrs. Jane Davis, (a maiden lady, who had enjoyed some post under Queen Anne,) aged 113, June 1777; and Robert Poore Hugely, Esq. aged 95, Feb. 4, 1784.
Sir Ralph Sadler.
Sir Ralph Sadler, or Sadleir, a person of much note in the reigns of Henry VIII. and Queen Elizabeth, was born at Hackney (fn. 197). He was bred up under Lord Cromwell; by whose recommendation he became master of the great wardrobe, and afterwards secretary of state. He was created a knight banneret by the Protector Somerset, after the battle of Musselbrough, where he distinguished himself by taking the standard of the Scottish king, which was placed, after his death, by the side of his monument in Standon church (fn. 198). King Henry, by his will, appointed Sir Ralph Sadler one of the regents of the kingdom during his son's minority, and bequeathed him a legacy of 200l. In the first year of Edward VI. he was made treasurer of the army. Queen Elizabeth gave him the office of chancellor of the Duchy of Lancaster, and frequently employed him in her negotiations with Scotland (fn. 199). Sir Ralph Sadler was esteemed a good statesman, a faithful servant of the Crown, and a zealous promoter of the Reformation. He died anno 1587, in the 80th year of his age (fn. 200). His descendant, Sir Edwin Sadleir, was made a baronet in the year 1661 (fn. 201). The title is now extinct.
Lady Margaret Lenox. Sir Walter Mildmay. Thomas Sutton.
Lady Margaret Lenox died at Hackney in 1577 (fn. 202). Sir Walter Mildmay appears to have resided there in 1587 (fn. 203). Thomas Sutton, founder of the Charter-house, died at Hackney, Dec. 12, 1611. His bowels were there buried, but his body was embalmed, and kept in his own house till the 12th of May following, when it was interred in the chapel at the Charter-house (fn. 204). He left 10l. by his will, to the poor of Hackney (fn. 205).
Hannah, a prophetess.
Katherine Philips.
Sir Hugh Middelton.
John Ward.
Bernard Mandeville.
John Howard.
In a journal of the year 1654 is a long account of one Hannah, a prophetess, of Hackney, who had frequent trances, and used to resort to the chapel at Whitehall, where she put up public prayers for the Protector (fn. 206). Katherine Philips, a celebrated writer, known under the name of Orinda, received her education at this place. She died anno 1664 (fn. 207). Sir Hugh Middelton of Hackney, grandson of Sir Hugh, projector of the New River, was created a Baronet in 1681. The rich and usurious John Ward, whose immense wealth was insufficient to keep him honest, is to be mentioned among the noted, if not the eminent inhabitants of this place. He lived at a large house at the top of the town, the site of which is still called Ward's Corner. His memory, to the world in general, would long ere this have been lost, had not Pope preserved it by introducing his name in his third Moral Essay, where he is ranked with some not very creditable associates;

"To Ward, to Waters, Chartres, and the Devil."

Dr. Bernard Mandeville, author of the Fable of the Bees, and other works more ingenious than useful, resided at Hackney, and died there on the 21st of January 1733 (fn. 208). The late Mr. Howard, who may be said, in the truest sense of the word, to have devoted his life to the service of his fellow-creatures, is said to have been born at Clapton in this parish, in an ancient mansion, which he afterwards inherited from his father, and which he sold in the year 1785 to Thomas Smith, Esq. It has been since pulled down (fn. 209).
Singular minutes of vestry.
Marriage collections.
Repair of the Butts.
Collection during the frost.
The parish of Hackney has been governed by a select vestry ever since the year 1613, from which period their minutes have been preserved. It appears by an entry, anno 1633, that it was customary to make collections at the church-door upon the marriage of paupers, and they seem to have been very considerable; for it was then resolved that the collectors should give security that the couple, for whom such collections were made, should not become burdensome to the parish. The next year it was resolved that none should have an offering at their marriage, but such as had been born in the parish. The same year it was ordered that the Butts should be repaired at the parish expence. Collections were ordered to be made for the poor, on account of the extreme cold, Jan. 20, 1683. It appears by Dr. Wright's MSS. that the parish of Hackney set the first example of making such collections, during the hard frost of 1739–40.
Church-house.
Near the church-yard gate, and adjoining to the street, is an ancient building, thus described in the chantry-roll at the Augmentation-office, which bears date 1 Edw. VI. "A tenement buylded by the parishioners, called the Churche-howse, that they might mete together and comen of matters as well for the Kyng's business as for the churche and parishe; worth 20s. per an." It appears by an inscription still remaining on the front towards the street, that it was built in the year 1520, when Christopher Urswick was Rector. This house was for many years occupied by the free-school, but is now used again for its original purpose.
Free-school.
The free-school was founded in the year 1616, by Mrs. Margaret Audley, and endowed with 20l. a-year, for the education of 12 boys. It appears to have been originally intended, and expected, that they should be qualified for the learned professions (fn. 210); but I imagine it was no longer insisted on, when the salary was thought inadequate to that purpose.
Charity-school.
A charity-school was instituted in the year 1714, which has been supported ever since by annual subscriptions, and charity sermons; 40 boys and 40 girls are now clothed and educated in this school, which has a stock of about 700l. arising from surplus balances and savings.
Subscription-school.
School of industry.
A third school for 30 boys and 30 girls was established in the year 1790; these are educated at the expence of the subscribers, but not clothed. The girls have been lately increased to 40, and are now formed into a school of industry, and it is intended to clothe them with their earnings. John Wingfield, in the year 1772, published a pamphlet, against a scheme then in agitation, for a house of industry for the children of the poor at Hackney.
Kingsland hospital.
At Kingsland stood an ancient hospital, or house of lepers, called "Le Lokes (fn. 211)," to the master and governors of which, in the year 1437, John Pope, citizen of London, left a rent-charge of 6s. 8d. issuing out of certain houses in London (fn. 212). This hospital has long been an appendage to St. Bartholomew's in London, but how or when it became annexed to it, does not appear upon record. It was used as a kind of outer ward till the year 1761, when all the patients were removed from Kingsland, and the site of the hospital was let on a building lease (fn. 213). The neighbouring inhabitants having petitioned that the chapel might continue, and that service might be performed there, it was repaired, and is still used as such, the chaplain being appointed by the governors of St. Bartholomew's. The building is very small, and of Gothic architecture.
Spurstow's alms-house.
In Church-street is an alms-house for six poor widows, founded by Dr. Spurstow, some time Vicar of Hackney, (who died anno 1665,) and endowed with lands which produce at present 42l. per ann. George Clark, who died anno 1668, left 1l. 10s. per ann. to the widows in this alms-house.
Monger's alms-house.
Bishop wood's alms-house.
In Well-street is an alms-house for six poor men, (who must be 60 years of age, or thereabouts, at the time of their admission,) founded by Henry Monger, Esq. anno 1669, and endowed with 9l. per an. for the pensions, and 3l. for repairs. The appointment of the pensioners is vested in the trustees of Sir John Cass's estates, with the advice of the minister, churchwardens, and overseers. There is a third alms-house, situated at Clapton, founded by Thomas Wood, Bishop of Litchfield and Coventry, (anno 1692,) for 10 poor aged widows; and endowed with a rent-charge of 50l. per ann. out of his lands at Bishop's Itchington in Warwickshire, besides a gown every second year, and 5l. per ann. for a chaplain, to read prayers every Wednesday and Friday. A chapel was built for this purpose, which still remains, but divine service is not performed there. It was the Bishop's intention that the chaplain of the family should officiate in it. The words of his will are, "I will that my executor Henry Webb, and his heirs for ever, do entertain and keep a chaplain in his house at Hackney aforesaid, to officiate in the duties of God's worship, and to appoint him to read prayers to the said poor widows twice every week, viz. Wednesdays and Fridays."
Church-lands.
The chantry-roll, taken in the time of Edward VI. mentions a cottage and garden, one acre and three roods of land, which had been left for the repairs of the church; two acres in the marsh for finding a lamp, and some lands for obits.
Various benefactions.
Stephen Cobb, by his will, bearing date 1565, bequeathed "4d. a-piece to all the poor inhabitants of Hackney, whether men, women, or children; to the worshipful and ablest to live, 10l. for a dinner; and 10l. for the maintenance of two singingmen, or conducts, for the ministration of God's service (fn. 214)." Thomas Hawks, Esq. anno 1677, left 200l. to the poor, which benefaction formerly produced 12l. per ann. but is now lost. The benefactions at present enjoyed by the parish are as follow:
To be distributed in Bread.
£.
s.
d.
Thomas Heron,
in
1603
2
12
0
Annuity.
Sir Henry Rowe,
1612
2
12
0
Annuity.
Margaret Audley,
1616
5
4
0
Interest of money.
John Hammond,
1716
3
12
0
Interest of money.
Out of lands purchased with Bishop Doulben's benefaction of 30l. anno 1633, George Humble's, of 50l., and 20l. added by the parish,
2
10
0
Out of a house, &c. purchased with a benefaction of 80l. by Sir Thomas Vyner, 1664; 100l. by Mr. Thomas Vyner, 1666; and 20l. added by the parish,
2
12
0
Coals.
Sir Henry Rowe,
1612
2
4
0
Annuity.
Mrs. Audley,
1616
5
16
0
Interest of money.
Apprenticing Children.
Henry Banister,
1625
8
0
0
A rent-charge (to apprentice four children).
Out of the Vyners' benefactions,
4
0
0
Out of Hammond's benefaction,
0
8
0
To apprentice a boy every 4th year.
Pensions.
Richard Cheney, Esq.
1625
1
7
6
For four persons.—A rent-charge.
George Clark, Esq.
1668
3
0
0
For twelve poor housekeepers.—A rent-charge.
Mrs. A. Wood,
1675
4
5
0
For sixteen widows.—A rent-charge.
Rev. Thomas Jameson,
1679
3
0
0
For 30 poor on G. Friday, and 30 on Holy Thursday. Int. of money.
Jeremiah Marlowe, Esq.
1764
50
0
0
For 25 poor housekeepers (fn. 215).—Interest of 1666l. 13s. 4d. annuities.
Mrs. Anne Newell,
1780
29
7
0
For 4 poor families, when not wanted to repair her father's tomb.—Interest of 978l. 7s. 1d. old S.S. annuities.
To be distributed discretionally, no use being specified.
William Swayne,
1613
4
0
0
Produce of lands.
Hugh Johnson,
1618
5
0
0
Annuity.
Valentine Poole,
1624
8
0
0
Lands.
Out of Doulben's gift, &c. (fn. 216),
1
10
0
Out of the Vyners'
9
8
0 (fn. 217)
Sir Stephen White,
1670
12
0
0
Lands.
Bishop Wood,
1678
8
0
0
Interest of money.
An anonymous person, in 1690, supposed to be Richard South, gave 200l., which, with a benefaction of Hester White's, anno 1678, and a sum added by the parish, bought lands, which produce
9
4
0
Joanna Hussey,
1706
4
0
0
A rent-charge.
Anne Anselme,
1765
15
0
0
Interest of 300l. given to lower the poor's-rate.
Anthony André,
1767
2
10
0
Interest of 50l. S. S. annuities.
Jacob Franco,
1777
2
10
6
Interest of 84l. 8s. India annuities.
Sarah Albert,
1785
2
6
0
Interest of 76l. 15s. 6d. India annuities.