Pages 328-341
The Environs of London: Volume 3, County of Middlesex. Originally published by T Cadell and W Davies, London, 1795.
This free content was digitised by double rekeying. All rights reserved.
PADDINGTON.
Situation and boundaries.
Extent.
Soil.
The village of Paddington is situated in the hundred of Ossulston, scarcely a mile north of Tybourn-turnpike, upon the Edgware road. The parish extends nearly two miles in length from Tybourn to Kilbourn turnpike. On the east it is bounded by Marybone (fn. 1), on the north by Wilsdon, on the west by a detached part of Chelsea and by Kensington, on the south by Kensington, Sr. Margaret's Westminster, and St. George Hanover-square. It contains, according to an actual survey (fn. 2), 1197 acres 3 roods and 30 perches; of which 84 acres 2 roods and 29 perches are arable and gardenground; the remainder meadow and pasture. The soil in the neighbourhood of the village is principally factitious, having been much enriched by great quantities of manure. On the east of a little brook which runs by Kilbourn and Bayswater, the soil is a thin clay upon a dry bed of gravel; on the west side of this brook, a deep clay, the springs lying very far beneath the surface. The only well in the neighbourhood on that side of the brook was sunk a few years ago by Mr. Coulson. The workmen dug nearly. 300 feet before they found water (fn. 3).
This parish pays the sum of 354l. 6s. 10d. to the land-tax, which is about 8d. in the pound on houses, and 10d. on land.
The manor.
King Edgar gave the manor of Paddington to Westminster Abbey; the grant was confirmed by Henry I. King Stephen, and Henry II. (fn. 4). At the dissolution of that monastery it was made part of the revenues of the Bishopric of Westminster; and when that see was abolished, soon after its establishment, Edward VI. gave it to Ridley Bishop of London and his successors (fn. 5).
Lessees of the manor.
The manor of Paddington was leased in the reign of Henry VIII. to Richard Reade for a long term; which being expired, Bishop Abbot demised it in the year 1626 (together with the capital mansion and rectory) to Sir Rowland St. John (fifth son of Oliver Lord St. John of Bletsoe), for the lives of himself, his wife Sibyl, and their son Oliver (fn. 6). Sir Rowland died in 1645. The next year a survey of the manor was taken by the order of parliament; which states the demesne lands to have been 624 acres, the reserved rent 41l. 6s. 8d. The great house in which Sir Rowland St. John had lived was then in the occupation of Alderman Bide (fn. 7). The manor was afterwards sold by the parliamentary commissioners to Thomas Browne, Esq. (fn. 8). After the Restoration (in the month of January 1661) Oliver St. John, the only survivor in the lease (then a baronet), died without having renewed; upon which the estate fell in to Bishop Sheldon, who granted it to his nephews Sir Joseph Sheldon, Knt. and Daniel Sheldon, Esq. (fn. 9) The lease continued several years in that family, being renewed from time to time. In the year 1741, it was purchased by Sir John Frederick, Bart. and is now vested in Sir John Morshead, Bart. and Robert Thistlethwayte, Esq. in right of their wives Elizabeth and Selina, daughters and coheirs of Sir Thomas Frederick, Bart. deceased, and grand-daughters of Sir John Frederick.
Paddington-house.
Paddington-house, a handsome brick edisice, on the east side of the green, was built by Mr. Dennis Chirac, jeweller to Queen Anne. It is now the property of Baron Maseres, and in the occupation of John Symmons, Esq. (fn. 10)
Westbourn-place.
Isaac Ware, the architect.
Manor of Westbourn.
A capital messuage, called Westbourn-place, with certain lands thereunto belonging, was granted by Henry VIII., anno 1540, to Robert White (fn. 11). This estate was, some years ago, the property of Isaac Ware, the architect (editor of Palladio's works, and other professional publications), who, with materials brought from Lord Chesterfield's house in May-Fair (which he was employed to rebuild), erected the present mansion, called Westbourn-place, a little to the south of the old house, which was suffered to stand several years longer. Westbourn-place was sold by Ware's executors to Sir William Yorke, Bart. Lord Chief Justice of the Common Pleas in Ireland, who resided there a short time, and afterwards let it to a Venetian ambassador. In the year 1768 he sold it to the late Jukes Coulson, Esq. (fn. 12) who expended a very considerable sum in enlarging the house, and laying out the grounds. The library, which he added to the house, is said to have cost about 1500l. Westbourn-place is now the property of his relict, Mrs. Coulson. The situation is extremely pleasant, and so uncommonly retired, that a person residing there could scarcely conceive himself to be in a parish adjoining to that of St. George, Hanover-square. Westbourn is within the dean and chapter of Westminster's manor of Knightsbridge, or rather the manor is called that of Knightsbridge and Westbourn.
Craven-hill.
Lord Craven has an estate in this parish, called Craven-hill, on which is a small hamlet, very pleasantly situated. The Earl of Craven, whose humane exertions during those dreadful calamities, the great plague and the fire of London, are well known, observing the difficulties which attended the burying of infected corpses in 1665, gave a piece of ground (now Carnaby market) as a burialplace, during any future sickness. When this ground was covered with buildings, it was exchanged for a field upon the Paddington estate, which, if London should ever be again visited by the plague, is still subject to the said use.
Little Shastsbury-house.
Little Shaftsbury-house, in this parish (near Kensington Gravelpits), the seat of Ambrose Godfrey, Esq. is said to have been built by the Earl of Shaftsbury, author of the Characteristics, or his father the Chancellor.
Bayswater gardens.
Sir John Hill.
The reservoir.
Conduit.
Bayswater tea-gardens were some years ago the gardens of Sir John Hill, who cultivated there his medicinal plants, and prepared "his water-dock essence, and balsam of honey." The springs at this place lie near the surface, and the water is very fine. The reservoir at Bayswater was intended for the supply of Kensington-palace, and the property was granted to the company who own the Chelsea waterworks, upon their engaging to keep the bason before the palace full. The wheel at Hyde-park wall, near Knightsbridge chapel, was made for the conveyance of this water. The conduit at Bayswater belongs to the city of London, and being conveyed by brick drains, supplies the houses in and about Bond-street, which stand upon the city lands.
The Queen's lying-in hospital.
Mrs. Kennedy.
The Queen's lying-in hospital at Bayswater, of which her Majesty is Patroness, was instituted in the year 1752, for delivering poor pregnant women, married or not married. It was removed to Bays water in 1791. Mrs. Kennedy, the celebrated singer, died there in the year 1793, at the apartments of her husband Dr. Kennedy, who is physician to the hospital.
The parish church.
The building of the new church.
Monuments in the old church.
The late church at Paddington (it can scarcely be called old, having been built little more than a century ago, by Sir Joseph Sheldon, Lord Mayor of London, and lessee of the manor), being in a ruinous condition, and from its small size very inadequate to the number of parishioners, an act of parliament was obtained in the year 1787 for taking it down, and building a new church upon a piece of waste adjoining to the church-yard, then given to the parish by the present Bishop of London, under the authority of the said act, and added to the old inclosure. The first stone of the new edifice was laid on the 20th of October 1788, and it was consecrated on the 27th of April 1791. It is a handsome building, upon the Grecian model, with a portico of the Doric order towards the south, and a cupola on the top. The whole expence of rebuilding the church, with inclosing the new ground, obtaining the act, and other incidental charges, amounted to 6000 l. (fn. 13). In the former church (fn. 14), which was dedicated to St. James, were the monuments of John, son of Dr. Robert Pory, 1660; Mr. James Crook, 1705; James Townsend, 1708; William, son and heir of Thomas Betts (fn. 15), of the Inner Temple, 1708; Dorothy, wife of John Archer, Esq. of Oxenholme in Westmorland, 1722; John Fisher, Esq. 1727; Mr. Lambert Tree, aged 96, 1738; John Peck, Esq. (fn. 16) (son of John Peck of Brackendale, Norfolk), 1739; Captain Henry MacNeal, 1731; Sir William Marwood, of Busby-hall, Bart. 1740; Mrs. Catherine Riche, "greatly born of eminent learning, &c." 1740; Mr. Humphrey Gallimore, 1744; Peter Coste (fn. 17), who died at Paris, and was there buried, 1746; Elizabeth Montgomery of Lainshaw, 1776; and Mr. Jeremiah Devall (fn. 18), 1783. These monuments are now preserved in a light vault under the present church.
Monuments in the new church.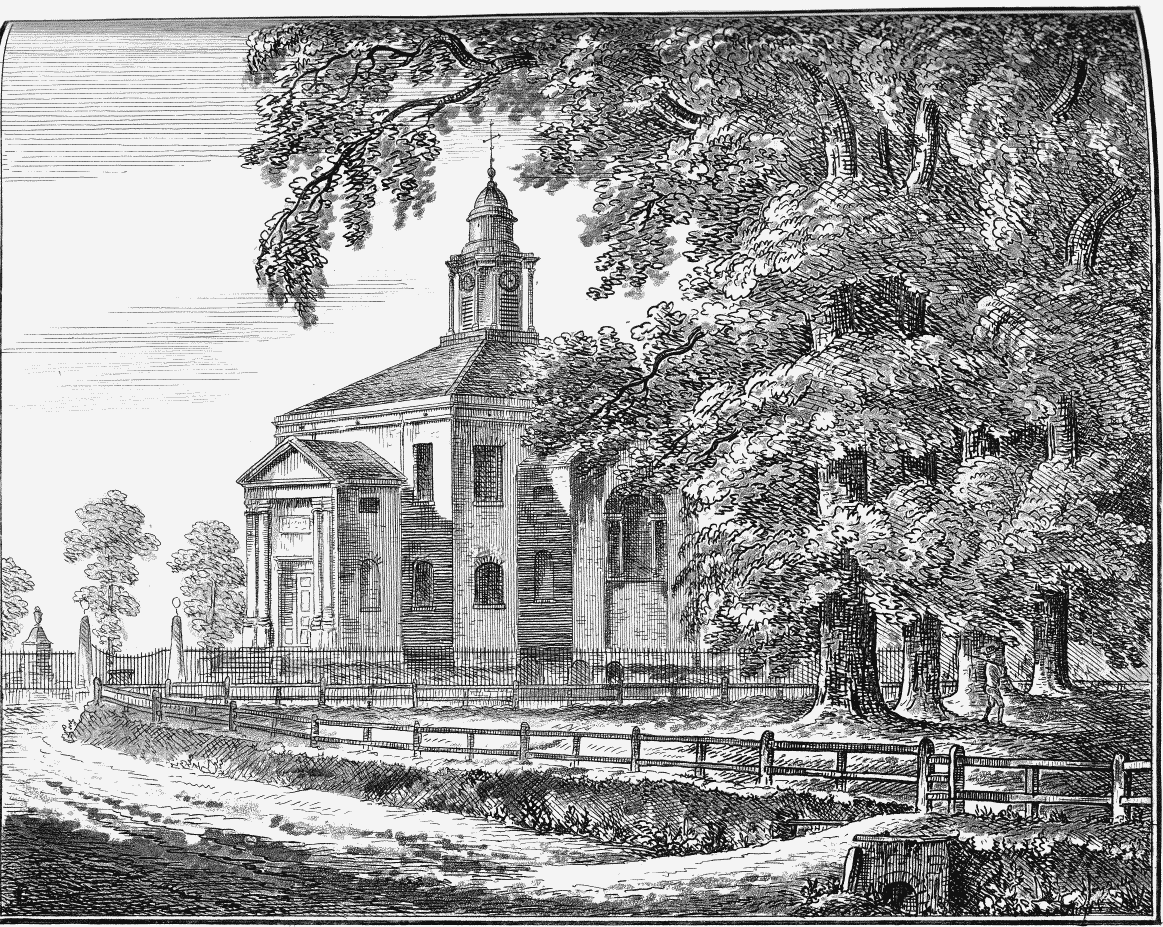 The only monuments as yet erected in the new church, are those of Eleanor, wife of the Rev. Jonathan Boucher, 1784; the Rev. John James, rector of Arthuret and Kirk Andrew in Cumberland, 1786; Captain William Graham, of the 64th regiment of foot, 1792; and Frances Elizabeth, daughter of George Aust, Esq. 1794 (fn. 19).
Tombs in the church-yard.
Lacy, patentee of Drury-lane Theatre.
Vivares, the engraves.
In the church-yard are the tombs of Mary, wife of Solomon Swale (fn. 20), 1654; Anthony Atkinson, aged 90 (father of the then curate), 1695; Bulkely, son of Dr. Atkinson and the Hon. Catherine his wife, 1696; Mr. Peter Arnaud, 1723; Anthony Delarose, Esq. 1728; Anne, wife of Peter Brozet, Esq. of the island of Guadaloupe, 1729; Mrs. Mary Catherine Roper, 1734; Mr. Joseph Keene, apothecary, 1735; Mary, wife of John More of Kirtlington, in Nottinghamshire (daughter and heir of Peter Fermor, Esq.), 1738; Thomas Chew Gilbert, Esq. 1739; Henry Panton, Esq. 1739; Captain James Carteret, 1746; Mr. Thomas Warren, 1749; John Coghlan, Gent. 1751; Robert Pollard, Gent. 1753; Mrs. Jane Dalbye, 1757; Capt. Stephen Papon (grandson of Peter Brozet), 1763, and others of the family of Papon; Joseph Dewberry, Esq. 1764; Mr. William Jewest, Gent. of the Ewry to his Majesty, 1765; George Darell, Esq. 1767; John Darell, Esq. 1775; Matthew Dubourg (fn. 21), 1767; Roger Jackson, Esq. 1769; Joseph Tyler, Esq. of Somerset-house, 1769; Charles Ashmall, Esq. 1770; Mr. Peter Theobald, 1772, and others of that family; James Lacy, Esq. patentee of Drury-lane theatre, aged 78, 1774; Elizabeth, wife of Captain George Morris (daughter of John Worth, Esq. of the county of Devon), 1774; Sarah, daughter of George Morris, and wife of John Teede, Esq. 1774; John Teede, Esq. 1776; Mrs. Hannah Thomas, aged 90, 1775; Robert Ireland, Esq. 1775; David Cock, Esq. 1776; Anne, wife of Thomas Hemming, Esq. of Hillingdon, 1777; Thomas Hugford, Esq. 1779; Francis Vivares (an eminent engraver), ob. Nov. 26, 1780; John Browning, Master in Chancery, 1780 (his daughter Catherine married Timothy Edwards, Captain in the Navy); Hannah, wife of Mr. Timothy Davies, 1782; Mary, daughter of John Barton, Esq. of Ludgate-hill, 1782; Margaret, wife of Vincent Newton, Esq. (heiress of the ancient family of Macclesfield (fn. 22) ), 1782; Theodore Hay, Esq. 1783; Elizabeth, wife of Bartholomew Songa, merchant, 1783; Peter Romilly, Esq. 1784; John Muller, Esq. professor of fortification (fn. 23) in the Royal Academy at Woolwich, 1784; John Henry Fenoulhet, Esq. 1784; Samuel Griffis, Esq. 1784; Joseph Griffis, Esq. 1788; Charles Eyles, Esq. barrister at law, 1785; Mrs. Theresa Petre, 1786; Mrs. Mary Aickin (wife of Francis Aickin of Coventgarden theatre), aged 37, 1786; Thomas Brooksbank, Esq. deputylieutenant of the county of Middlesex, 1787, and several of his family; John Elliott, (fn. 24) M.D. aged 39, 1787; Francis Reeves, Esq. 1787; Charlotte, his wife, 1786; Maria Anne Lacy, 1788; John Clarke, Esq. 1788; Thomas Loughnan, Esq. 1789; Sophia, wife of Robert Barnewall, Esq. 1789; Mr. Francis Williams, of the Inner Temple, 1789; Jacob Daniel Kluft, Esq. (fn. 25) 1791; Mr. William Boyd, Surveyor, 1791 (in consequence of whose report an act of parliament was obtained for rebuilding the church); and Mr. Stephen Horncastle, 1792.
Curacy.
The church of this place was formerly a chapel of ease to St. Margaret's Westminster, and they were valued together at 30 marks (fn. 26). Its connection with that parish ceased, I presume, at the dissolution of monasteries, when the manor of Paddington was given to the Bishop of Westminster. It is now a curacy, or donative, in the Bishop of London's patronage, as lord of the manor. The stipend was formerly so small, that it was difficult to find a person who would supply the cure. When Bishop Aylmer's enemies, among other charges, accused him of ordaining his porter, the fact was ad mitted, and justified on this ground, that being a man of honest life and conversation, the Bishop had ordained him to preach in a small congregation at Paddington, where commonly, on account of the meanness of the stipend, no preacher could be had (fn. 27). When Sir Rowland St. John had the lease in 1626, the stipend was only 10 l. per annum. It was afterwards 281. (fn. 28) When Bishop Sheldon granted the manor on lease to his nephews in 1661, he took that opportunity of raising it to 80 l. (fn. 29) as it still continues. The present curate is the Rev. Thomas Hayter, M. A. who was collated in 1780.
Lectureship.
There is an afternoon lecture in this parish during the summer months, which is supplied by the resident curate the Rev. John Shepherd, M. A. elected by the parishioners in vestry.
Parish register.
The earliest date of any parish register now extant is 1701.
Comparative state of population.
Average of Baptisms.
Average of Burials.
1702–1711
103/5
33 1/10
1740–1749
163/5
193 9/10
1780–1789
16½
192 3/10
1790–1794
363/5
2443/5
The striking contrast between the proportion of baptisms and burials, arises from the great number of lodgers and non-parishioners here interred, many of whom are Roman Catholics.
Number of houses.
The present number of houses is about 340. The parish being chiefly church-land, there has been little increase of buildings (fn. 30) till about four years ago, since which time a number of small wooden cottages, to the amount of nearly 100, have been erected on a spot of ground a little to the north of Tybourn turnpike. These cottages are let at from 7 l. to 12 l. per annum, and are inhabited principally by journeymen artificers, who work in London, forming with their families a little colony of about 600 persons; for (including nursed children) they contain on an average six in a house (fn. 31).
Extracts from the Parish Register.
Marriage of Col. Luttrell.
"Col. Henry Luttrell, a batchelor, and Mrs Elizabeth Jones, a single woman, of the parish of St Margaret, Westminster, were married Oct. 13, 1704." Colonel Luttrell, grandfather of the present Earl of Carhampton, was assassinated in his sedan-chair by russians, at Dublin, Oct. 22, 1717. His wife was daughter of Charles Jones, Esq. of Halkin, in the county of Flint (fn. 32).
"Richard Page, Esq. and Anne, Lady of St Aubyn, alias Spencer (fn. 33), widow, of St Margaret's Westminster, were married July 22, 1708."
Marriage of Hogarth.
"William Hogarth, Esq. (fn. 34) and Jane Thornhill (fn. 35), of St. Paul's, Covent-garden, married Mar. 23, 1729."
"The Honble Carolina Sarah De Sparre, daughter to the Hon. Baron De Sparre, envoy extraordinary from the King of Sweden, buried Feb. 13, 1732."
"The Hon. Lady Frances O'Neale, buried June 30, 1732."
"Sir John Macgarth, buried Dec. 24, 1732."
"The Hon. Margaret Nicolaii, buried Jan. 24, 1733."
"Lady Mary Fitzharris, buried Mar. 18, 1733."
Swale, Bart.
"Sir Solomon Swale, Bart. (fn. 36) buried Jan. 3, 1734."
Marwood, Bart.
"Sir William Marwood, Bart. (fn. 37) buried Feb. 29, 1740; Margaret Lady Marwood, Aug. 16, 1740."
J. F. Nollekins, the painter.
"Joseph Francis Nollekins, buried Jan. 24, 1747." A painter. He studied under Tillemans, and copied Watteau and Paulo Panini. Lord Cobham employed him at Stow, and the Earl of Tilney at Wanstead. His subjects were landscapes and figures, particularly the amusements of children. He died at the age of 42, leaving a numerous family (fn. 38). One of his sons is now a celebrated statuary.
Benjamin Parker.
"Benjamin Parker, from St. Mary le bone, buried Sep. 18, 1747." Author of various works, intituled Philosophical Meditations; the Divine Authority of Scripture philosophically proved; a Prospect into the Spiritual World; Philosophical Dissertations; Survey of the Six Days Work of the Creation, &c. being principally the substance of theological and philosophical lectures, which he continued to read for several years in London, an employment which, with his publications, scarcely kept himself and his family from starving.
"Sr John Del'ange, Knt. (from St. Bride's), buried July 14, 1755."
Abraham Lemoine.
"The Revd Dr Abraham Lemoine, buried Jan. 13, 1757." Dr. Lemoine, who was rector of Everly in Wilts, published a treatise on miracles; a visitation sermon (being a defence of the sacred history of the Old Testament against Bolingbroke), and some other single discourses.
Ross, Bart.
"Sr James Ross, Bart. Major Gen1 and Col. of the 38 regiment of foot, buried Sept. 30, 1760, aged 44."
Matthew Dubourg.
"Matthew Dubourg, from St. Mary le bone, buried July 7, 1767." An eminent performer on the violin. He gave early proofs of his genius for music, and played a solo at Britton's concert when a child (fn. 39), He was buried in the church-yard at this place, where is the following inscription to his memory: "Here lyeth the body of Matthew Dubourg, chief composer and master of music in the kingdom of Ireland, servant to four generations of the illustrious House of Hanover, George I. and II., his Royal Highness the late Prince of Wales, and his present Majesty; as also instructor in Music to their Royal Highnesses the Duke of Cumberland and the late Prince Frederick. He died July 3, 1767, aged 64.
"Tho' sweet as Orpheus thou couldst bring
Soft pleadings from the trembling string,
Unmov'd the King of Terror stands,
Nor owns the magic of they hands."
Dubourg was married at Stanmore, on the 17th of June 1727, to Frances Gates.
George Barret.
"George Barret, an eminent painter, and worthy man, was buried Mar. 14, 1784." He excelled in landscape, particularly in trees. The drawing-room at Norbury-park, the seat of William Lock, Esq. was painted by Barret, and is esteemed among his best performances.
John Elliott.
"John Elliott, buried July 26, 1787." This unfortunate man was son of a clothier at Chard in Somersetshire. The circumstance of his firing a pistol at Miss Boydell (now Mrs. Nicoll) as she was walking in Leicester-fields, on the 2d of July 1787, is fresh in the recollection of the public. He was tried at the Old Bailey, and acquitted of intention to murder, but was detained to be tried for an assault. During this restraint, before the expiration of July, he destroyed himself by an obstinate refusal of all food. He appears to have been an ingenious, disappointed man, whose state of mind latterly perhaps more than bordered on insanity. He was author of several works on subjects connected with his profession; philosophical observations on the senses; a life of Dr. Fothergill, and a collection of his works; a medical pocket-book; a treatise on mineral waters, and the method of making them artificially; and the elements of natural philosophy as connected with medicine. He was concerned also in the Medical Journal. Dr. Elliott was only 39 years of age at the time of his death.
"Frances Lady Browne, from St. Mary le bone, buried March 26, 1790."
Instances of Longevity.
"Widow Bellamy, of Paddington, pensioner, aged 90, buried June 8, 1761; Jasper Soleirol, from St. Martin's in the Fields, aged 98, buried Dec. 2, 1761; Matthew Froud, from St. George Bloomsbury, aged 90, June 24, 1762."
Bushnell, the statuary.
John Bushnell, a celebrated statuary, was buried at Paddington in 1701. His burial does not occur in the register, which is imperfect during that year. He was a man of a very eccentric character. Among other whims he undertook to demonstrate the possibility of the Trojan horse, and began to make one upon the same principles, of wood covered with stucco; the head was capable of containing twelve men, the eyes were to serve as windows. Before it was half completed, a storm of wind overset and demolished this unwieldy machine (fn. 40). Bushnell was much admired in his time as an artist. Among the monuments which he executed are Cowley's and Sir Palmes Fairbourn's in Westminster Abbey, and Lord Mordaunt's at Fulham.
There is no established charity-school in this parish; a Sundayschool, in which are 40 children, is supported by voluntary contribution.
Benefactions.
Mr. Dennis Chirac, jeweller to Queen Anne, gave the interest of 138l. for the benefit of poor children of this parish. A benefaction of 5l. per annum, given by Mrs. Margaret Robinson for the purpose of apprenticing poor children, has been lost.
Custom of throwing bread from the church steeple.
Some lands said to have been given by two maiden gentlewomen for the purpose of distributing bread, cheese, and beer among the inhabitants on the Sunday before Christmas-day, are now let at 21l. per annum. The bread was formerly thrown from the church steeple to be scrambled for, and part of it is still distributed in that way. Twenty shillings per annum given by Thomas Johnson, merchant-taylor, of London, for the same purpose, has been lost.
Bishop Compton gave a cottage and a piece of land, let at 2l. per annum, to the poor of this parish. The donation was confirmed by Bishop Robinson. These premises, on which fix houses have been since built, were let by the parish in 1784, on repairing leases for 21 years, at the rent of 72l. per annum.
The parish have a cottage (worth about 3l. per annum) given by Mrs. Margaret Robinson. Some small alms-houses were built at the parish expence (for the habitation of poor families) in the year 1714.
St. George's burying-ground.
The large cemetery a little to the west of Tybourn turnpike was separated from this parish by act of parliament, and annexed to that of St. George Hanover-square, for whose use it was inclosed.
Place of execution.
The place of execution, commonly called Tybourn, was for many years in this parish. It had formerly been in that of Marybone.