Pages 418-488
The Environs of London: Volume 3, County of Middlesex. Originally published by T Cadell and W Davies, London, 1795.
This free content was digitised by double rekeying. All rights reserved.
STEPNEY.
Name and etymology.
The ancient name of this place was Stibenhede, Stebenhythe, or Stebunhethe. The termination is a well known Saxon word, signifying a haven or wharf. I know not how to complete the etymology, unless we suppose it to have been the timber wharf, from Steb, the trunk of a tree. Some have taken Stiben, or Steben, for a corruption of Steven.
Situation and boundaries.
The parish of Stepney lies in the hundred of Ossulston: it is situated to the east of London, and comprises nearly the whole space between the Mile-end road and the river Thames, from Whitechapel to Bow; it extends also in some places to a considerable distance on the other side of the Mile-end road. The parishes by which it is bounded are, St. Leonard-Bromley, Stratford-Bow, Hackney, St. Matthew Bethnal-green, Whitechapel, Christ-Church Spitalfields, St. George in the East, and Shadwell, most of which were formerly hamlets of Stepney, as is explained more at large elsewhere. The parish of St. Anne Middlesex, or Limehouse, which was another of its hamlets, is insulated by Stepney.
Hamlets.
Extent.
The parish of Stepney is now divided into four hamlets, Ratcliffe, in which the church is situated; Mile-end Old-town; Mile-end New-town; and the hamlet of Poplar and Blackwall. Each of these has distinct officers, and they are all situated within the precinct of the Tower hamlets. The whole parish in its present state contains about 1530 acres of land (exclusive of the site of buildings), of which about 80 are arable, about 50 occupied by market-gardeners, and the remainder meadow, pasture, and marsh land. The soil, except in the marshes, is for the most part loam and gravel.
Land-tax.
The land-tax, being charged in separate quotas, and bearing different proportions, will be mentioned in the account of each hamlet.
Parliament held at Stepney.
In the year 1299, a parliament was held by King Edward I. in the house of Henry Walleis, mayor of London, when that monarch confirmed the charter of liberties (fn. 1).
The manor.
The manor of Stepney (Stibenhede) is stated in the survey of Doomsday to have been parcel of the ancient demesnes of the bishopric of London. It is there described as of large extent, and valued at 481. per annum (fn. 2). In the year 1550, Nicholas Ridley, Bishop of London, alienated this manor from the see, and gave it to King Edward VI. (fn. 3) who granted it the same year to Thomas Lord Wentworth (fn. 4). From him it descended to Thomas Earl of Cleveland, whose estates were consiscated in 1652, when Sir William Ellis, Cromwell's solicitor, was made steward of this manor, a place then valued at 200l. per annum (fn. 5). After the Restoration, the Earl of Cleveland recovered a part of his property, and among the rest this manor, which continued in his family till the year 1720, when it was sold by the representatives of Philadelphia Lady Wentworth to John Wicker, Esq. of Horsham in Suffex (fn. 6), whose son aliened it in the year 1754 to his brother-in-law George Colebrooke, Esq. now Bart. It is at present, during the life of Sir George Colebrooke, the property of Jonathan Eade, Esq. of Stoke-Newington. The reversion is vested in the Colebrooke family.
Charles Richardson, Esq. who died in 1645, was seised of an estate parcel of the manor of Stepney (fn. 7).
Manor-house.
Residence of the Bishops of London.
I suppose the ancient manor-house to have been situated at a place called Bishop's-hall, now in the parish of Bethnal-green, but within this manor. The Bishops of London formerly resided at the manorhouse here. Roger Niger is said to have died there (fn. 8), anno 1241; Baldock, who dates many of his public acts (fn. 9) from Stepney, died there in 1313; Ralph Stratford died at Stepney in 1355 (fn. 10). Braybroke, who was Lord Chancellor, spent much of his time there. He died in 1404. I have found no traces of any of the Bishops residing at Stepney at a later period.
Court of record.
Market and fair.
In 1664, at the Earl of Cleveland's request, King Charles the Second instituted a weekly court of record within the manor of Stepney (fn. 11). The same patent contains the grant of a weekly market at Ratcliffe-cross, and an annual fair on Michaelmas day at Mileend-green, or any other convenient places, within the manor. The keeping of the market and fair, with all profits arising from tolls, &c. was given under the same grant, at the Earl of Cleveland's request, to Sir William Smith, Bart. and his heirs. The market is now held in Whitechapel, and known by the name of the Hay-market. The fair is kept at Bow. Sir William Smith's right is now vested in the lord of the manor.
Inferior manors, and other estates.
When the survey of Doomsday was taken, there were several smaller manors and other estates in Stepney, exclusive of the principal manor already mentioned, amounting in the whole to 27 hides and a half (fn. 12). All these were held of the Bishop of London except two, which were held immediately of the King. I have not been able to connect more than one of them with any of the inferior manors, or manor-farms, which occur in later records.
Manor of Stepney-Huskarl.
In the year 1290, Hugh de Cressingham granted to John Huskarl and his wife, Alexandra, the manor of Stebynhyth Huskarl, with remainder to their son Humphrey and his heirs (fn. 13). In 1393, Adam de St. Juon being indebted in the sum of 600l. to Thomas Newenham, an estimate was made of his landed property; among other estates was a messuage called Huskarls in Stepney, with certain lands and rents of assize (fn. 14). In 1443, Eleanor, daughter and heir of John Huskarl, remitted to John Stopyngdon and others, her claim in all manors or lands in the parishes of Stepney and Hackney (fn. 15).
Manor of Pomfret.
John Abel, who died in 1323, was seised of the manor of Ponfraye upon the Thames (fn. 16) (purchased of John Attecastle and Joan his wife), and left three daughters coheirs. It is probable that one of them married into the family of Vaughan. Sir Thomas Vaughan died seised of this manor in 1362, leaving Hamo his son and heir, an infant (fn. 17). In 1369, Margaret, wife of Walter Heryng, daughter and coheir of John Abel, died seised of a third part of the manor of Pomfret, leaving Raymond her son and heir, 34 years of age (fn. 18). The two other parts were divided into severalties, and came among the families of Strange, Molineux, Mutton, Bokilton, and Falk (fn. 19). This manor was held of the Bishop of London, by a quit-rent of 1s. 4d.
Lord Wake's manor.
Manor of Helles.
In the year 1330, Thomas Lord Wake of Lydell, being suspected of favouring Edmund Earl of Kent, who had suffered death for conspiring against the King, his lands were seised, and an inquisition taken of them. Among others was an estate, called the Manor of Stepney; but, says the record, "that which they call a manor, consists only of a messuage, 15 acres of arable land, and two of meadow, valued all together at 10s., and held in fee of Richard de Hakeneye, which Richard now holds the manor of Helles in Stepney, under the Bishop of London (fn. 20)." Lord Wake's lands were restored to him soon afterwards, and he died seised of this estate, anno 1349; Margaret Countess of Kent, his sister, being his heir (fn. 21). Blanch, his widow, who had this estate at Stepney assigned to her as part of her dower, survived till the year 1381 (fn. 22).
Manor of Poplar.
Site of Poplar manor.
Sir John de Pulteney, an eminent citizen of London, who had been four times Lord Mayor, and was founder of Pulteney college, died in the year 1349, seised of the manor of Popeler (now Poplar) in this parish, leaving William his son and heir (fn. 23). In the year 1396, the reversion of this manor, after the death of Margaret, wife of Sir John Devereux, was granted by William de Wickham, Bishop of Winchester, Sir Aubrey de Vere, and others, to the Abbey of St. Mary de Graces, near the Tower of London (fn. 24). After the dissolution of monasteries, it continued in the crown many years. It was among the manors settled on Charles the First, when Prince of Wales. The subsequent history of this manor is the same as that of Bromley St. Leonards (fn. 25). The site of the manor was aliened from the crown at an earlier period than the manor itself, and passed through different hands. In 1558, it was conveyed by Bridget Gardeyne to Sir Francis Jopson (fn. 26); in 1583, by John Hampton to Thomas Fanshaw (fn. 27); by the latter, in 1588, to Edward Elliot (fn. 28). In 1620, it was the property of John Wyllyams (fn. 29), who obtained a fresh grant of it that year (fn. 30); in 1637, he sold it to Robert Hooker (fn. 31). A fee-farm rent of 105l. 11s. 11½d., issuing out of the manor of Poplar and others, was granted to James Duke of Lenox, anno 1627 (fn. 32).
Manor of Cobhams.
John Hadeleye, who died anno 1410, was seised of the manor of Cobhams in Stepney, which had been granted him by Reginald Cobham and his wife Elizabeth. His heirs were, Katherine his daughter, wife of William Wyngfield, and his grandson John Pecche, son of Sir William Pecche, by his daughter Joan deceased (fn. 33). In 1446, the said Katherine, then wife of Sir William Wolf, died seised of this manor, William Pecche her nephew, 21 years of age, being her heir (fn. 34).
Manor of Aschewys, or Mile-end.
The manor of Aschewys, or Mile-end, appears also to have been the property of John Hadeleye; for I find, that in the year 1429, Sir William Wolf bound himself in a penalty of 500 marks, to abide by the arbitration of the Bishop of Ely, and others, relating to this manor (fn. 35). In 1472, William Pecche conveyed the manor of Aschewys to Thomas Urswyke, recorder of London and others (fn. 36). In the reign of Richard III. it was the property of Sir John Philpot, who settled it upon his son John, when he married Alice Stourton (fn. 37). I have not been able to find any thing further relating to this or any other of the manors lately mentioned, except that of Poplar. I think it probable, that the manor of Mile-end continued many years in the family of Philpot, as it appears by the parish register, that Sir George Philpot resided in that hamlet about the middle of the last century.
Manor of Ewell, or Tylehouse.
Thomas Urswyke, and others, conveyed the manor of Ewell, in Middlesex, to John Burcestre, in 1467 (fn. 38). A few years afterwards (1472) John Harvey granted the manor of Ewell, alias Tylehouse, and lands in Stebenheth, to John Crecy and others (fn. 39).
Manor of Rumbalds.
In the year 1621, Thomas Draner, Esq. died seised of the manor of Rumbalds in Stepney. His next heir was Elizabeth Halton, grand-daughter of Robert Halton, serjeant-at-law, who married his sister (fn. 40).
Alice de Bathonia died, seised of lands in Stepney, anno 1274 (fn. 41). Her son, John, died seised of the same lands in 1291, leaving the inheritance to Joan his daughter, wife of John de Boun (fn. 42).
Thomas Holland, Earl of Kent, died seised of a considerable estate at Mile-end (fn. 43), being the same (as is evident from the description) which Roger the sheriff held in Robert Fasiton's manor, when the Conqueror's survey was taken (fn. 44). Thomas Holland, Duke of Surrey, who fell a sacrifice to the struggles between the houses of York and Lancaster, granted this estate to John Casseux, or Cassus (fn. 45), whose son obtained a confirmation of it from King Henry VI. in 1447 (fn. 46). Perhaps this was the same estate which Sir John Harrington had at Mile-end in Queen Elizabeth's time (fn. 47).
Garlek-house in Brook-street.
King Henry the Sixth, in the year 1453, granted Garlek-house, in Brook-street Stepney, to Sir Thomas Vaughan, who surrendering it to the King in 1457, a new grant was made to him and Jasper Earl of Pembroke, and the heirs of both (fn. 48).
Henry the Eighth, in the year 1509, granted a house in Stepney, which had escheated to the crown by the death of John Hert, to Thomas Lord Howard (fn. 49). It was afterwards surrendered to the crown, and a new grant made to Alan Percy, clerk (fn. 50).
In the year 1524, a house at Mile-end was granted to Sir John Nevyll of Chevet, and Elizabeth his wife (fn. 51).
Watercourse.
William Marquis of Winchester had a grant, in the year 1567, of a spring, or conduit-head, in a field called Markhams, with power to lay down pipes for conducting it to his house in London, late the Augustin Friars. This watercourse had belonged to the convent of Friars Minors (fn. 52).
Worcester-house.
Nearly opposite the rectory was a large mansion belonging, to Henry, the first Marquis of Worcester, as appears from a deed, bearing date 1663 (fn. 53). It was then divided into four messuages. The gateway, which is esteemed a very fine piece of brick-work, still remains. In 1663, it was in the tenure of the Rev. Matthew Mead, an eminent dissenting divine. Here his son Richard, the celebrated physician, was born; and here, as is recorded in his life, he first commenced the practice of his profession. The site of Worcester-house is now the property of Berington Marsh, Esq.
Sir Henry Colet's mansion.
A little to the west of the church is an ancient wooden mansion, formerly called the Great Place, now Spring-garden Coffee-house, built, it is probable, by Sir Henry Colet, upon the death of whose widow (about 1524) it came to the Mercers' company, and was by them leased to Thomas Cromwell, Earl of Essex, but occupied, as it appears, by Sir John Aleyne (fn. 54). On the Earl's attainder, his term in it was granted to Sir Richard Cromwell, alias Williams, gentleman of the privy-chamber (fn. 55).
Old mansion at Mile-end Green.
On Mile-end Green is a large mansion, now let out in apartments. On the cieling of an upper room, which seems to have been a gallery, is the following coat; On a chevron engrailed between three demigriffins, as many martlets (the arms of Baldrey), impaling, two bends Vaire and a Canton (borne by Ford). This house, and some others on the same side the Green, are held under Clare Hall in Cambridge.
Eminent inhabitants of Stepney.
Sir Thomas Lake, who was afterwards Secretary of State to James I., resided at Stepney in 1595 (fn. 56); Isabel Countess of Rutland had a seat there in 1596 (fn. 57); Nathaniel Bailey, author of an useful and well-known English Dictionary, an account of London, and other works, resided at Stepney; Capt. Griffiths, an ancient Briton, who by the gallant and extraordinary recovery of his fishing-boat from a French frigate, attracted the notice of King William, and became afterwards captain of a man of war (fn. 58), was an inhabitant of Stepney, and was buried there, but in what year I was not able to learn. His memory still lives in the place, where he was known by the name of "Honour and Glory Griffiths;" from the circumstance, as is said, of his addressing his letters "to their Honours and Glories at the Admiralty."
Parish church.
Stone stalls.
Monument of Sir Henry Colet.
Sir John Berry.
Lady Dethick.
Sir Thomas Spert.
The parish church, dedicated to St. Dunstan and All-Saints, is a large Gothic structure, consisting of a chancel, nave, and two aisles, separated by clustered columns, and pointed arches. At the west end is a square tower (fn. 59). The windows are various, but for the most part, of the architecture which prevailed in the fourteenth century. Those in the north aisle have obtuse arches of a later date. In the south wall of the chancel are two stone stalls with pointed arches. On the north side is a marble monument, with a groin'd elliptical arch (under which stands an altar tomb), to the memory of Sir Henry Colet, Knt. (fn. 60), citizen and mercer of London. It appears to have had originally a rich Gothic canopy, and pillars of corresponding architecture. It is probable, that the present pilasters, which are heavy and in a bad taste, with double capitals (Ionic and Corinthian), were supplied when the monument was repaired in 1697. It had been first repaired in 1605. The last repair was in 1783. Sir Henry Colet was Lord Mayor in 1486 and 1495. He was third son of Robert Colet, Esq. and father of Dr. John Colet, founder of St. Paul's school. His tomb is kept in repair by the Mercers' company. On the north wall are the monuments also of Robert, son of Roger Clarke (fn. 61), Esq. alderman of London (with kneeling figures of the deceased and his wife), 1610; Mr. William Hunt, of Poplar, 1648; Sir John Berry (fn. 62), 1689; the Rev. Thomas Dod (fn. 63), rector, 1727; Mary, wife of Robert Leybourne (fn. 64), D. D. rector, 1731; and James Augustus Blondel (fn. 65), M. D. 1734. On the east wall are those of Thomasine, wife of John Brewster, Esq. (fn. 66), 1596; Jane Nevill, Lady Dethick (fn. 67), 1606; Elizabeth, widow of Richard Startute (fn. 68) (with kneeling figures of the deceased, her daughter Clare, and her son-in-law, Captain Michael Merriall, by whom the monument was erected), 1620; and Henry Leche (fn. 69), rector, 1742. On the south wall are those of Sir Thomas Spert (fn. 70), Knt. comptroller of the navy to Henry VIII. the founder, and first master of the corporation of the Trinity-house, 1541 (fn. 71); William Dawtrey (fn. 72), of Lincoln's Inn, 1589; and Captain Nathaniel Owen (fn. 73), 1708.
Martin Bladen.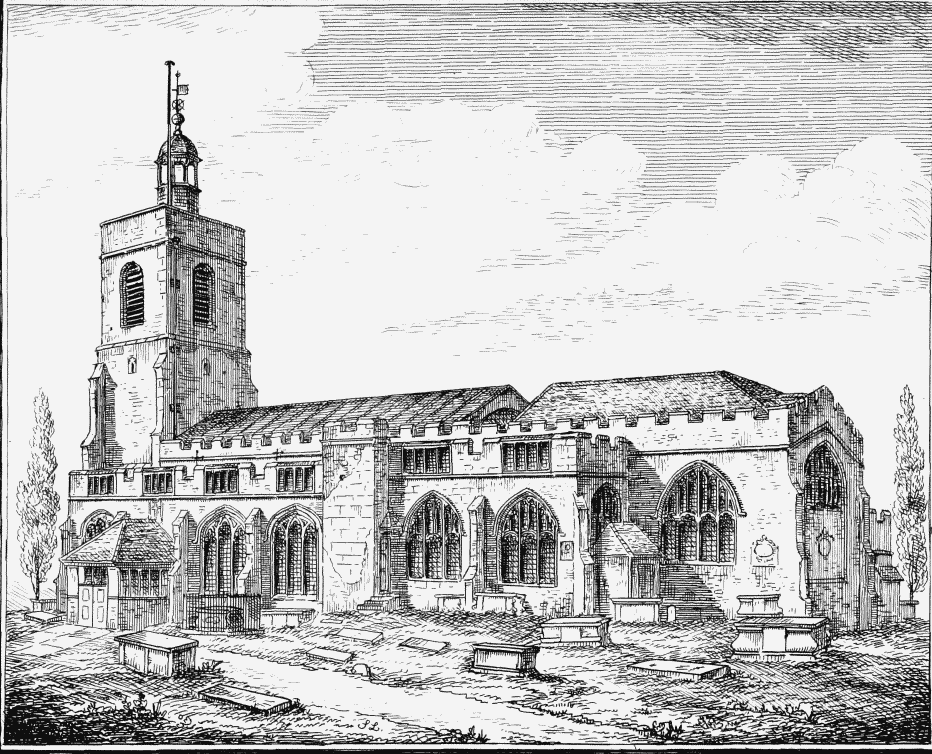 On the chancel floor are the tombs of John Wright, lecturer, 1739; Martin Bladen, Esq. of Albro' Hatch, in Essex, 1746 (fn. 74); John Barnard, apothecary, 1751; and Coverdale Richardson, Esq. 1785. In the nave is the monument of Alexander Weller, Esq. (fn. 75), 1734; and on the floor the tombs of Capt. John North, 1690; Charles Massey, captain in the East India Company's service, 1752; the Rev. Isaac Collman, 1769; Jonathan Ranson, Esq. 1777; and Captain Henry Jonathan Ranson, 1789. In the window of the north aisle is a coat of arms (fn. 76) in stained glass; against the north wall is the monument of Hugh James (fn. 77), son of Hugh James, rector of Upwell, by his wife Philippa, of the Hobart family, 1728. On the floor, the tomb of Mrs. Martha Jones, 1786. At the west end, under the gallery, is the monument of Abraham Rallings, mariner, 1644; and in the west porch, that of Richard Poole, Esq. of Yorkshire, clerk of the cheque, 1647.
The font, which is ancient, stands on a circular pillar, surrounded by four others of a smaller size.
Tombs mentioned by Norden, Weever, &c.
Henry Lord Darnley.
Bishop Kyte, Richard Pace, &c.
Norden mentions the tombs of William Chaldnam, Esq. 1484; and Anne Lady Wentworth, wife to Thomas Lord Wentworth, and daughter of Henry Wentworth, Esq. 1571 (fn. 78). Weever mentions, that of Henry Stuart, Lord Darnley, an infant son of Matthew Earl of Lenox, who died in 1545. He was elder brother of the Earl of Darnley, who married Mary, Queen of Scots, and was father of James I. This tomb was in the chancel. Weever gives also the epitaphs of John Kyte, Bishop of Carlisle (fn. 79); Richard Pace, Dean of St. Paul's (fn. 80), and Nicholas Gibson, sheriff of London (fn. 81), neither of which are now to be seen. In addition to these, Strype mentions the tombs of Sir Humphrey Nicholson, Knt. 1682, and Dame Mary his wife, 1690 (fn. 82).
Ancient carvings.
On the outside of the church, over the south porch, is a representation of the crucifixion, rudely carved; and on the west wall an imperfect basso relievo (not better executed) of a figure adoring the Virgin Mary, and the infant Jesus. In the wall of a small porch towards the north-east is a stone, on which are these lines:
"Of Carthage wall I was a stone,
"O mortals read with pity!
"Time consumes all, it spareth none,
"Man, mountain, town nor city.
"Therefore, O mortals! now bethink
"You whereunto you must,
"Since now such stately buildings
"Lie buried in the dust.
"Thomas Hughes, 1663."
Lady Berry's monument.
On the east wall of the chancel (on the outside) is the monument of Dame Rebecca Berry (fn. 83), wife of Thomas Elton of Stratford Bow, and relict of Sir John Berry, 1696. On the south wall that of James and Mary Beuzville, who emigrated from France on account of religion, in 1725. On the west wall of the south aisle is the monument of Captain Lawrence Browning, 1675; and on the south wall that of Anne, wife of Captain Jonathan Andrews, 1678.
Tombs in the church-yard.
Matthew Mead.
Mrs. Goodlad, aged 99, and her twenty daughters.
In the church-yard are the tombs of Thomas Methwold, 1617; Captain Richard Swanley, "late Admiral of the Irish seas," 1650; Sarah, wife of Richard Marche, Esq. (keeper of the stores in the Tower under Charles I., and gentleman-usher to Charles II.), 1659; Captain Richard Matthew, 1665; Elizabeth, wife of Thomas Webbe, Gent. 1668; Captain Edward Johnson, 1669; Captain John Miller, 1676; Captain William Wildey, 1679; Dorothy, wife of Richard Wildey, and daughter of Thomas Butterfield, of Wooburn, Bucks, 1699; Richard Wildey, 1704; Samuel Wildey, the last of the male line of that ancient family, 1752 (his only daughter married Captain Abraham Robarts); Captain William Green, 1682; Captain William Cuttance, 1689; Captain Henry Mudd, 1692; Captain William Sharpe, 1696; Captain Abraham Dawes, 1696; Capt. John Dunch, 1696; Captain William Gutteredge, 1697; Rev. Timothy Cruso (fn. 84), 1697; John Bodington, 1698; Matthew Mead (fn. 85), V. D. M. 1699; Richard Mead, Esq. 1762; Robert Mellish, merchant, 1699; Capt. John Willmot, 1699; Captain Henry Risbey, in the service of the East India Company, an elder brother of the Trinity-house, 1703; Captain William Heath, 1707; Captain John Paulin, 1707; Thomas Lane, citizen and merchant, 1710; Captain Hopefor Bendall, 1710; Elizabeth Goodlad, who died in 1710, aged 99 (and her twenty daughters); Arthur Bailey, Esq. 1712; Captain Thomas Conaway, 1712; Captain Thomas Broded, 1713; Captain Samuel Jones, 1714; Captain John Gorum, 1716; Mr. John Bedford, planter in Virginia, 1716; the Rev. William Vickers (fn. 86), 1719; Sir John Leake (fn. 87), 1720; Christian Lady Leake, 1709; Captain Richard Leake, 1720; Stephen Martin Leake, Esq. (fn. 88), captain in the navy, and an elder brother of the Trinity-house, 1736; William Lee, of Bethnal-green, citizen of London, 1721; Peter Bere, Esq. 1721; Peter Bere, Esq. 1767; Rebecca, wife of Captain Abraham Anselme, daughter of Peter and Margaret Bere, 1776; George, son of Theodorus Bere, of Topsham in Devonshire, 1790; Captain Edward Audley, 1723; Captain Christopher Keble, 1723; Richard Bigland, Esq. of the ancient family of the Biglands of Lancashire, 1724; Maria his wife, daughter of George Errington, of Benwell in Northumberland (descended from the Babingtons), 1736; Anne, wife of Ralph Bigland, Esq. (Garter principal King of Arms) daughter of John Wilkins, of Frocester, (Glouc.) 1738; Charles Wilkins, her brother, 1740; John Frost, Esq. 1726; Oliver Birkby, surgeon of the ordinary and hospital in Rochester, 1726; Capt. William Harrison, 1727; Sir Matthew Hodges, Knt. of Bethnal-green, 1727; John Bodington, apothecary, 1728; Milborough, wife of Alexander Smith, Gent. and relict of the Hon. Anthony Swymmer, of Jamaica, 1730; Captain William Gower, 1730; Daniel Fox, merchant, 1733; Edmund Wright, Esq. major of the first troop of Horse Guards, 1733; John Taylor (fn. 89), Gent. 1733; Robert Hudson, Esq. 1734; Captain Thomas Rogers, 1736; Captain John Pick, 1737; John Lote, Esq. major of the first regiment of the Tower-hamlets, 1739; Dorothy, wife of the Rev. John Lloyd, 1740; James Tall, Esq. 1740; Capt. Benjamin Lee, 1742; Captain William Snellgrove, an elder brother of the Trinity-house, 1743; George Tapson, Gent. of the county of Devon, 1750; Captain William Torver, 1754; Mr. Peter Ravenell, 1756; William Horne, surgeon, 1759; Hannah, relict of Anthony Luther, Esq. of Dudingham in Essex, 1759; John Redman, Gent. 1760; John Redman, the son, 1763; John Redman, the grandson, 1784; Elizabeth, wife of the Rev. John Entinck, 1760; Abraham Robarts, Esq. 1761; Miss Eliza Robarts, aged 18, and Miss Harriot Robarts, aged 15, 1793; John Wilson, Esq. 1761; John Letch, apothecary, 1763; Captain Thomas Hart, 1763; William Quilter, Esq. of Orpington in Kent, 1764; James Quilter, Esq. of Hadley, 1777; Captain Edward Tiddeman, 1765; the Rev. Nehemiah Ring, 1768; Samuel Newton, Esq. 1769; Captain George Spurrell, 1770; Capt. Joseph Spurrell, 1779; Richard Moone, Esq. 1772; Peter Basford, attorney at law, 1773; Captain Thomas Hood, 1774; Capt. Robert Halcrow, an elder brother of the Trinity-house, 1774; Nicholas Burnell, merchant, 1774; John Shakespear, Esq. alderman of London, 1775; Capt. John Harris, 1775; Alexander Johnston (fn. 90), late housekeeper of the Theatre Royal, Drury-lane, 1775; Francis Wilson, Esq. 1776; William Cooke, Esq. 1777; George Dudley, Esq. 1777; Joseph Wright, Esq. 1778; James Sanders, Esq. 1778; Capt. George Farbridge, 1780; Thomas Hewitt, Esq. of Weston-house, near Bath, 1780; Samuel Malbon, Esq. 1780; Elizabeth, wife of John Willan, Esq. 1780; Samuel Beuzeville, minister of the French church of St. John, in Spitalfields (fn. 91), 1782; Captain Thomas Madge, 1782; Rearadmiral Abraham North, aged 70, 1782; Lynnell Lea, Esq. 1783; Thomas Willis, Esq. 1787; Catherine, wife of Peter Green, Esq. 1787; Captain Emanuel Turner, 1788; Captain James Perry, 1788; Captain James Mitchell, 1788; Captain Thomas Herbert, 1791; and Captain William Anson, 1792.
Tombs mentioned by Strype.
Roger Crab.
Strype mentions the tombs of Elizabeth, daughter of Rodolph Warcup, Esq. 1627; John Van Stryp (Strype), merchant and silkthrowster (the historian's father), 1647; Capt. Henry West, 1657; Capt. Thomas Spencer, 1658; Capt. Thomas Woodfine, 1662; Capt. Nicholas Sulk, 1664; Captain Thomas Eliot, 1668; Susan, wife of Samuel Sambrook, merchant, and daughter of Capt. Arnold Browne, 1672; Capt. Edward Pierce, 1675; Capt. Thomas Chivers, 1675; Captain John Dawson, 1675; Capt. Richard Burley, 1678; Captain Malachi Simons, 1678; Thomas Gilson, minister, 1680; Roger Crab (fn. 92), Gent. 1680; Capt. William Morrice, 1680; Capt. William Kempthorne, 1680; Captain Richard Power, 1681; Captain Arthur Bailey, 1682; Katherine, widow of Captain William Dyke, 1683; Elizabeth, wife of Captain John Harding, 1685; Captain Francis Man, 1685; Penelope, wife of Capt. Caleb Grantham, and daughter of Robert Kenwrick, Esq. of Nottinghamshire, 1685; Captain John Cole, 1687; Captain James Adams, 1687; Sarah, wife of Captain Thomas Mann, relict of Captain Giles Laurence, 1688; William Dixon, merchant, 1688; Ellen, wife of Captain Robert Lurting, 1689; Captain Simon Rowe, 1691; Lieutenant William Aldersey, 1691; Mary, widow of Captain Matthew Wood, 1693; Captain John Woodsine, 1693; John Turner, of London, merchant, 1694; William Barnes, Esq. 1694; Captain Edward Bartlet, 1696; Captain Charles Hall, 1699; Mary, wife of Captain Henry Russel, 1700; Abigail, widow of Captain Leonard Edgcomb, 1700; Dorothy, wife of Captain John Burford, 1701; Captain William Cooper, 1702; and Captain George Langborn, 1703.
Maitland mentions also the tombs of Lieutenant Barker, 1672; and of Dr. Jeremy Butt, physician, 1694.
Rectory.
The church of Stepney was appropriated to the see of London in the year 1380 (fn. 93). Till the year 1544, the Bishops of London collated to the rectory, which was a sinecure, and the rectors were patrons of the vicarage (fn. 94). From that time till the beginning of the present century the great tithes were impropriated, and the impropriator presented to both (fn. 95). Thomas Cromwell, Earl of Essex, was lessee of the great tithes under the rector, paying a reserved rent of 20l. per annum. He had a grant also of the advowson for the next turn from Bishop Stokesly; his interest in both was granted upon his attainder to Sir Richard Williams, alias Cromwell, gentleman of the privy chamber (fn. 96) (an ancestor of Oliver Cromwell). The rectory and advowson having been given to Edward VI. with the manor by Bishop Ridley, were granted to Lord Wentworth, and continued in his family (except during the sequestration of the Earl of Cleveland's estates, when they appear to have been in the possession of Dame Frances Weld (fn. 97) ) till the year 1705: they were then aliened by the representatives of Philadelphia Lady Wentworth, to William Lord Montgomery, son of the Marquis of Powis, of whom they were purchased, in 1708 (fn. 98), by the principal and scholars of Brazen-nose College, in Oxford. The purchase was confirmed by act of parliament; and the great tithes having been annexed to the vicarage (subject to an annual payment (fn. 99) to the College), it was divided into moieties, the incumbents of which were called Portionists of Church Stepney, and Spitalfields Stepney. Since this time the parishes of St. George in the East, St. Anne Limehouse, St. Mary Stratford Bow, and Christ Church Spitalfields, having been taken out of Stepney, this arrangement was altered; and the benefice being considerably diminished by the loss of oblations, surplice fees, &c. was again vested in one person.
The rectory of Stepney was valued at 60 marks per annum in 1372, the vicarage at 12 marks (fn. 100). The rectory is rated in the King's books at 40l.; in the chantry-roll (fn. 101), 1 Edward VI. it is valued at 50l. The vicarage is there valued at 33l. 6s. 8d.; the parliamentary survey taken in 1650, states it to have been then 70l. per annum, and mentions, that much loss was suffered from christenings being performed at home privately by strangers (fn. 102).
Rectory and vicarage houses.
The ancient rectory-house stood near the east end of the church: the brick wall which inclosed the site still remains. The present parsonage-house was built by Dr. Cawley, near the site of the old vicarage.
Rectors.
Stephen Segrave.
Stephen Segrave, made Archbishop of Armagh by Pope John XX. was rector of Stepney. He died in 1333. King Edward II. recommended him to the Pope as a person of noble extraction, great learning, and integrity (fn. 103).
Richard de Saham.
Richard de Saham, rector of Stepney in 1350, was one of the commissioners appointed to treat with Alphonsus IV. King of Portugal, about a marriage between any of his daughters and the Black Prince, or any other of King Edward's sons (fn. 104).
Marmaduke Lumley.
Marmaduke Lumley, youngest son of Ralph Lord Lumley, collated to this rectory in 1427, became successively Bishop of Carlisle and Lincoln, and was in 1447 Lord High Treasurer of England. He was the person appointed to take care of the interests of this kingdom at the council of Basil (fn. 105).
Vicars.
Richard Fox.
Richard Fox, afterwards Lord Privy Seal, and Bishop of Winchester, the founder of Corpus Christi College at Oxford, was instituted to the vicarage of Stepney in 1485 (fn. 106). The time of his resignation does not appear.
John Colet.
The celebrated John Colet, founder of St. Paul's school, was vicar of this place. He was eldest son of Sir Henry Colet of Stepney, of whom mention has been already made. About the year 1498, he became much distinguished as a learned divine, by a course of lectures which he read at Oxford, upon St. Paul's Epistles. Erasmus, speaking of these lectures, says, there was not an abbot, doctor, or master in the university, who did not attend and take notes of them. Dr. Colet was one of the first declaimers against the abuses of the Romish religion, and very instrumental in paving the way for the Reformation. In 1505, he was made Dean of St. Paul's, about which time he resigned the vicarage of Stepney (fn. 107), but still continued to reside there. Sir Thomas More, writing to Dr. Colet, then abroad, says, "if the discommodities of the city offend you, "yet may the country about your parish of Stepney afford you the like delights, to those which that affords you wherein you now keepe (fn. 108)." The Dean's house was at the north end of Whitehorse-street, Ratcliffe. Upon his founding St. Paul's school, he gave it to the head master as a country-residence (fn. 109); but Stepney having in a great measure lost its rural delights, the masters have not resided there many years. The site, now two messuages, called Colet Place, is still let for their advantage; in the front is a bust of the Dean. This eminent divine died in the year 1519, at the monastery of Sheen. He drew up the rudiments of grammar, and an abridgment of the principles of religion, for the use of St. Paul's school, and wrote several sermons, and theological and devotional tracts, some of which are in print, and others remain in MS.
Richard Pace.
Richard Pace, who was presented to this vicarage in 1519, had been in the service of Cardinal Bainbridge, who having recommended him at court, the King made him Secretary of State, and employed him in affairs of the greatest importance. He was afterwards made Dean of St. Paul's, but kept this vicarage till the year 1527, when he went ambassador to Venice. Whilst there, he gave some offence to Cardinal Wolsey, who from that time became his enemy. On his return, he suffered two years imprisonment in the Tower, and laboured under a deprivation of his senses, which he never wholly recovered. After his enlargement he retired to Stepney, where he died in 1532, and was buried in the church near the great altar. Erasmus, with whom he lived upon terms of great intimacy, gives a most amiable picture of his manners and integrity (fn. 110). Pace was author of a book against the unlawfulness of King Henry's marriage with Catherine, relict of his brother Arthur, a preface to Ecclesiastes, some Latin epistles, sermons, and other works.
William Jerome.
William Jerome, presented to the vicarage of Stepney in 1537, was executed in 1540, on a charge of heresy (fn. 111).
William Stampe.
Joshua Hoyle.
William Stampe, vicar of Stepney, was committed to the Gatehouse, in the month of July 1642, being accused "of calling some men who had enlisted under the Earl of Essex, roundheaded rascals, and procuring a number of sailors to make a combustion in Stepney church (fn. 112)." In the month of August he presented several petitions to the House, praying to be released, but without effect (fn. 113). He was soon afterwards ejected from the living, and his place supplied by Dr. Joshua Hoyle. Stampe followed the King to Oxford, where he was made D. D. Some years afterwards he went over to the continent, and became chaplain to the Queen of Bohemia. He died of a fever at the Hague in 1653. Dr. Stampe published several sermons (fn. 114). His successor, Joshua Hoyle, was a native of Yorkshire, and a fellow of Trinity College, Dublin. He was one of the assembly of divines, and assisted in the evidence against Archbishop Laud. He afterwards procured from the committees the appointment of Master of University College, and Regius Professor of Divinity at Oxford, both of which preferments he held with this vicarage till his death, which happened in 1654, when he was buried in the old chapel at University College, since pulled down. During his incumbency at Stepney, Jeremiah Burroughs, an eminent divine among the Puritans (fn. 115), preached in that church every morning at seven o'clock; and William Greenhill, who succeeded Hoyle in the vicarage, every afternoon at three, which occasioned Hugh Peters, (whom Anthony Wood calls the theological buffoon) in a sermon preached from that pulpit, to call one the morning-star of Stepney, and the other the evening-star. Dr. Hoyle published a rejoinder to William Malone the Jesuit, concerning the real presence, in vindication of Archbishop Usher, to whom Malone had replied (fn. 116).
William Greenhill.
William Greenhill, Hoyle's successor at Stepney, was a native of Oxfordshire, and was appointed to this cure by the keepers of the liberties of England in 1654 (fn. 117). He had been one of the assembly of divines, and was fixed upon as a proper person to be chaplain to some of King Charles's children (fn. 118). In 1653, he was made by Cromwell one of the triers of preachers, schoolmasters, &c. Greenhill's works consist of a commentary on Ezekiel, the sound-hearted Christian, a volume of sermons, and some single discourses. His library was sold in 1677 (fn. 119).
William Clarke.
Dr. William Clarke, vicar of Stepney, who died in 1679, left a considerable estate in Essex for the augmentation of ten poor vicarages (fn. 120).
The present rector of Stepney is Thomas Brathwaite, D. D. instituted in 1789, on the death of Richard Sandbach, M. A.
Protestant dissenters.
William Greenhill.
Matthew Mead.
A congregation of protestant dissenters was established in this parish, in the year 1644, by William Greenhill (fn. 121), who was afterwards, as above-mentioned, vicar of Stepney. He was ejected soon after the Restoration, when he resumed, as I suppose, the charge of this congregation, in which he continued till his death. He was succeeded by Matthew Mead, of whom some account has been already given.
May-day sermons.
The present pastor is the Rev. Samuel Brewer, author of several pamphlets and sermons, who succeeded John Hubbard in 1746. The meeting-house was erected in 1674 for Mr. Mead, who, in the ensuing year, instituted the May-day sermons, at four o'clock in the afternoon, for the benefit of young persons. At these sermons collections are made, which are distributed to the poor of every denomination.
Cemetery.
At the north end of White-horse-street is a small cemetery belonging to this meeting, in which are the tombs of Mr. Daniel Agace, the first person there interred, 1781; Captain James Bruce, junior, 1781; Captain James Bruce, senior, 1794; Mr. Charles Mapp, 1785; Mrs. Anne Hurd (who had been tapped for the dropsy 34 times), 1786; Henrietta Walker, 1787; Mrs. Jane Edmeston, of Alnwick in Northumberland, 1787; and Mrs. Mary Angus, 1789.
Quakers' meeting, and Methodists' chapels.
In Brook-street, Ratcliffe, is a Quakers' meeting-house; at Mileend New-town, is a chapel belonging to the Methodists of Mr. Whitefield's persuasion, built in 1780, in which are the monuments of Elizabeth, wife of John Cottingham, the minister, 1786; Mr. William Gozier, 1793, &c. There is another chapel in this parish, belonging to the Methodists, called Sion Chapel.
Parish register.
The earliest date of the parish register is 1568.
Average of Baptisms.
Average of Burials.
1580–1589
1844/5
2304/5
1624–1633
649½
1322½ (fn. 122)
1680–1684
10644/5
20583/5
1720–1724
16261/5
25681/5
1725–1729
14374/5
27553/5 (fn. 123)
1780–1784
3503/5
4601/5
1785–1789
4321/5
4192/5
1790–1793
438
331¼
Comparative state of population.
In considering the comparative state of population in this extenfive parish, it will be necessary to attend to the dates when several of its hamlets were made separate parishes. In the averages of 1680–4, 1720–4, and 1725–9, the baptisms and burials at Shadwell must be taken into the account; and to the more modern averages must be added those at Shadwell, St. George in the East, Limehouse, Bethnal-green, and Spitalfields (fn. 124). They will then be nearly as follows:
Average of Baptisms.
Average of Burials.
1680–1685
1380
2340
1720–1724
1930
3000
1725–1729
1750
3200
1780–1784
1950
2350
1785–1789
2060
2320
1790–1793
2260
2100
Increase of buildings at Ratcliffe and Limehouse.
At Mile-end.
It appears, that the increase of population in this district, within the last 200 years, has been in a proportion of about 13 to 1. The decrease of burials has arisen from the number of persons interred in Bunhill-fields, and other cemeteries. From 1590 to 1630, the population appears to have been trebled; the increase during this period was principally in the neighbourhood of Ratcliffe, Limehouse (fn. 125), and other places near the water-side. It is not improbable that the statutes against new buildings within three miles of London were dispensed with in this neighbourhood, from the necessity of providing habitations for seamen, and other persons connected with the shipping. In the year 1673, Philadelphia Lady Wentworth (for the purpose of paying off the debt contracted by the Earl of Cleveland in the civil war) solicited the King's licence to build upon a piece of ground, then a vacant space, called Westheath, on the road to Stratford Bow. Sir Christopher Wren was employed to survey the ground, and give his opinion as to the eligibility of the situation. His report was, that it was a convenient spot for the habitation of mariners and manufacturers, who supplied the shipping; that it was much more wholesome than the neighbouring places; and that there was no other objection to the grant than the increase of buildings contrary to the statute (fn. 126). By the plan annexed to the report (a reduced copy of which is given beneath), it appears, that the south side of the Mile-end road, extending 1600 feet towards Whitechapel church (from the road which leads to Stepney), was then built on; 3000 feet on the north side of the Mile-end road, in the same direction; the west side of the road leading to Stepney church, and a short street on the opposite side of the Mile-end road. The principal increase of late years in the district we have been speaking of, has been in the parishes of Bethnal-green, and St. George in the East.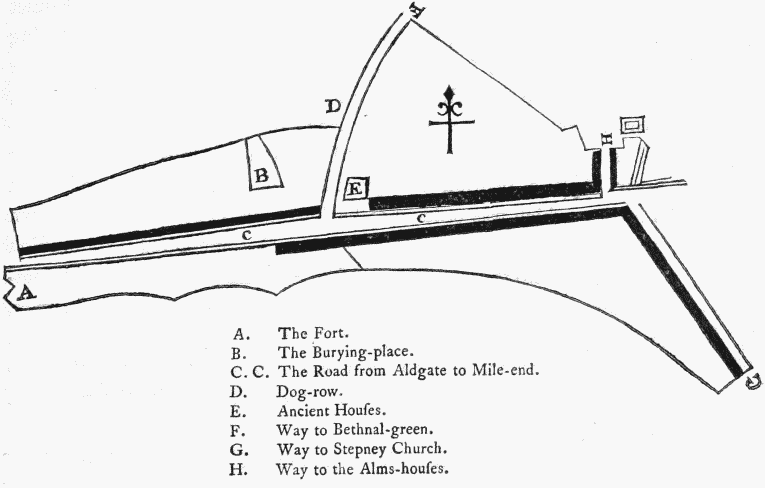 Proposed division of Stepney in 1650.
Six hamlets of Stepney made parishes.
The first plan for dividing the parish of Stepney which I have met with upon record, was proposed to the commissioners appointed to enquire into the state of ecclesiastical benefices in 1650. It was then suggested, that it would be convenient to divide Stepney into four parishes; Poplar and Blackwall to be one, there being a foundation already laid; Limehouse to be another; a third, the whole hamlet of Ratcliffe, Shadwell, and Wapping-wall to Old Gravel-lane, taking in from thence all Ratcliffe-highway, and Mile-end to belong to the mother church; the fourth, to contain Wentworth-street, Rose-lane, part of Petticoat-lane, Artillery-lane, all Spitalfields, and Stepneyrents near Shoreditch (fn. 127). This division never took place. In the year 1657, a petition was presented for dividing Shadwell from Stepney, which was ordered to be done, unless good cause was shown to the contrary (fn. 128); but a subsequent order appointed a commission to enquire into the expediency of it (fn. 129); what the result of that commission was does not appear. Shadwell was separated from Stepney, in the year 1669; St. George in the East, in 1727; Spitalfields, in 1729; Limehouse, in 1730; Stratford Bow, the same year; Bethnalgreen, in 1743. The present number of houses in the parish of Stepney is about 3100.
Great mortailty in one day.
Burying ground during the palgue.
In the year 1603, the whole number of burials in this parish of Stepney (exclusive of Stratford Bow) was 2257. In the month of September, 650 persons died of the plague, and 14 of other disorders. In 1625, there were 4191 burials; of these 2978 were persons who fell victims to the plague. In 1665, the whole number of burials in this parish, according to the account published by the parish-clerks, was 8598, of which 6583 were persons who died of the plague. As a striking instance of mortality scarcely to be paralleled in the records of any other parish in the kingdom, it appears by the register, that 154 persons were buried there on the 11th of September 1665. The church-yard being found inadequate to the interment of the great numbers which were carried off by the destructive plague that year, a piece of ground on the north side of the Mile-end road, now a nursery-garden within the parish of Bethnal-green, was appropriated as a cemetery. It is described in Sir Christopher Wren's plan of the proposed new buildings on the Mile-end road.
Extracts from the Parish Register.
"Jane, Mr. Justice Welsh's wife, was buried Ap. 16, 1571."
John Welsh, Justice of the Common Pleas.
"Judge Welche, buried Feb. 21, 1571–2." He was made a Justice of the Common Pleas in 1562. By his wife Jane Harwood, he left an only daughter, married to Edward Lord Seymour (fn. 130).
Families of Sheffield and.
"Lady Anne Sheffield, buried (fn. 131) Feb. 14, 1571–2; Mrs. Elizabeth Sheffield (fn. 132), Mar. 25, 1575."
Wentworth.
"The Right Hon. Lady Agnes Wentworth, buried Sept. 3, 1576; Katherine, daughter of Mr. Roger Wentworth (fn. 133), July 14, 1577."
"Edward, son of Sir Thomas Palmer (fn. 134), baptized Mar. 5, 1582."
"Sir William Walgrave, Knt. (fn. 135), and Madam Grissell Ryvett (fn. 136), married Nov. 11, 1583."
Sir Robert Stapleton.
"Mary, daughter of Sir Robert Stapleton, baptized Ap. 5, 1585." Sir Robert Stapleton was a man of much note in the reign of Queen Elizabeth, and esteemed the most accomplished man in the kingdom, except Sir Philip Sidney (fn. 137).
"John Newdigate, Esq. (fn. 138), and Anne, daughter of Sir Edward Fitton (fn. 139), married Ap. 30, 1587."
John Lord Harrington of Exton, father and son.
"Frances, daughter of Sr John Harrington, Knt. baptized Oct. 6, 1587; John, son of the right worshipful Sir John Harrington, Knt. baptized May 3, 1592." Sir John Harrington was created Lord Harrington of Exton, in 1603. His only surviving son, John, whose baptism is here recorded, succeeded him in that title, and was a remarkably accomplished young nobleman. There is a life of him in Harrington's Nugæ Antiqæ (fn. 140). He died unmarried at the age of 22, when the title became extinct (fn. 141).
Marriage of Luce Harrington to the Earl of Bedford.
"The Right Hon. Edward Russel, Earl of Bedford, and Mrs. Luce Harrington, daughter to Sir John Harrington, Knt. were married with a licence the 12th of December 1594." This lady was the celebrated Countess of Bedford, who patronized Dr. Donne, and other wits of that age. Sir John Harrington's seat in Stepney is mentioned by Norden.
Sir Owen Hopton. Lady Chandos.
"Sir Owen Hopton, Knt. buried Sep. 26, 1591." He was lieutenant of the Tower. His daughter Mary, who married William, the fourth Lord Chandos (fn. 142), was buried at Stepney, Oct. 23, 1624.
" Mr. Thomas Cæsar and Susanna Ryder, daughter of Mr. Alderman Ryder, married Jan. 18, 1592; Ferdinando, son of Sir William Ryder, Knt. buried Jan. 11, 1603; Ellen, mother of Sir William Ryder, buried Sep. 4, 1606."
"Sir Nicholas Parker, Knt. of Wellingdon, in the county of Suffolk, and Mrs. Catherine Temple, daughter of Mr. John Temple, of Stow in Buckinghamshire, were married at Bishop's Hall, May 29, 1593."
Sir Walter Raleigh.
"A man-servant of Sir Walter Raylie, from Mile-end, buried Aug. 26, 1596." It seems probable, that this celebrated navigator and historian had then a residence at Mile-end.
Families of Bludworth and Nevinson.
"Martha, daughter of Sir Thomas Bludder, Knt. (fn. 143), baptized Mar. 16, 1606; Sir Roger Nevinson, of Kent, and Mary Bludder, daughter to Sir Thomas Bludder of Myle-end, married Jan. 10, 1608; Afra, daughter of Sir Roger Nevinson, of Myle-end, baptized Dec. 26, 1609; Margaret, daughter of Sir Thomas Bludder, Mar. 26, 1611; Elizabeth, daughter of Sir Roger Nevinson, the same day."
"Richard Lacy, taylor, a stubborn Brownist, buried Nov. 25, 1608."
"George, son of Sir Hugh Woorall, Knt. baptized Dec. 7, 1606."
"Elizabeth, daughter of Sir Jervis Elloway (fn. 144), Knt. buried Feb. 4, 1608–9; Mary, daughter of Sir Jervis Elloway, and wife of Robert Yarborough, Esq. buried Nov. 7, 1609."
"Henry, son of Sir Henry Hobart, the King's attorney-general, buried Mar. 30, 1609."
"Hugh Goffe, late servant to the Archduke's Ymbassador, and by his own men slaine before his door at Stepneigh, buried May 24, 1609."
"Sir Roger Millicente, of Linton in Cambridgeshire, Knt. and Amphillis Grymes, daughter of George Grymes, of Norfolk, married Feb. 7, 1610."
"Thomas Grymes, son and heir apparent of George Grymes, Esq. of Folsham in Norfolk, and Bridget, daughter of Sir Edward Butler, of Birch-hanger in Essex, married June 13, 1610."
"Sir Edward Dymocke, of Lymehouse, Knt. and Mary Poultney, married Nov. 13, 1610."
"Montague Watts of Lambeth, Gent. and Dorothy, daughter of Sir George Paule (fn. 145), of the same place, Knt. married Ap. 22, 1611."
Edward Lord Morley.
"John, son of Sir Alexander Barlow, son-in-law to the Lord Morley (fn. 146), buried Dec. 14, 1612. The Rt Hon. Edward Parker, Lord Morley, buried Ap. 2, 1618." Father of Lord Monteagle, to whom the Popish plot is said to have been discovered. Lord Morley lived in a house at Mile-end Green, now in the occupation of the Rev. Mr. Thirlwall, curate of Stepney.
"Charles, son of Sir James Murrall, Knt. of Poplar, baptized Aug. 11, 1615."
"Elizabeth, wife of Sir George Philpott (fn. 147), of Mile-end, Knt. July 11, 1616."
Marriage of Sir John Doddridge.
"Sir John Doddridge, of Mile-end Green, Knt. (fn. 148), one of his Majesty's Justices of the King's Bench, and Anna Newman, of St. Matthew, Friday-street, were married Jan. 16, 1617."
"Sir Francis Leigh (fn. 149), of Newnham Regis in Warwickshire, and Susanna Banning, widow, married July 31, 1617."
"Walter Rolfe (fn. 150), Gent. and Frances, daughter of Sir Wolstan Dixey (fn. 151), of Bilsworth in the county of Leicester, Knt. married Nov. 12, 1618."
"Francis Theobald, Esq. of Gray's Inn, and Judith, daughter of Sir Richard Conquest, married Feb. 20, 1623."
"Sir Percival Hart, of Lullingstone in Kent, Knt. and Mary Harrison, widow, married Ap. 28, 1623."
"William, a dumb man, who died in Ratcliffe-highway, buried Sep. 24, 1628,–a fortune-teller."
"Dame Dorothy Caulton, wife of Sir Francis Caulton, of Bethnalgreen, Knt. deceased, Dec. 3, 1628."
"Dame Alice Geere, wife of Sir Michael Geere, late of Limehouse, Knt. deceased, May 17, 1630."
"John Jacob (fn. 152), and Elizabeth Eaglesfield (fn. 153), widow, married June 14, 1632."
Family of Dethick.
"Dame Thomasine Dethick, of Poplar, widow of Sir William Dethick (fn. 154), deceased, carried to London to be buried. The funeral performed here at Stepney, July 18, 1633."
"Sir John Lee, of White-horse-street, and Joan Lott, of Stepney, widow, married Nov. 7, 1633. William, son of Sir John Lee, buried Feb. 2, 1638."
"Steward, daughter of Sir Thomas Stanley (fn. 155), of Mile-end, Knt. and Dame Mary (fn. 156), his wife, baptized domi Ap. 19, 1634."
"Mrs Anne Dewes, daughter of Sir Symonds Dewes, of Stowhall in Suffolk, Knt. buried July 26, 1641."
"Sir John Cutler, Knt. and Bart. (fn. 157), of the city of London, and Elicia Tipping, daughter of Sir Thomas Tipping, of Wheatfield in Oxfordshire, Knt. married July 27, 1669."
Roger Crab.
"Roger Crab, Gent. of Bethnal Green, buried Sep. 14, 1680." This man was one of the eccentric characters of the last century. The most that we know of him is from a pamphlet (now very rare) written principally by himself, and entitled "The English Hermit, or the Wonder of the Age." It appears from this publication that he had served seven years in the parliamentary army, and had his skull cloven to the brain in their service; for which he was so ill requited that he was once sentenced to death by the lord protector, and afterwards suffered two years imprisonment. When he had obtained his release, he set up a shop at Chesham, as a haberdasher of hats. He had not been long settled there before he began to imbibe a strange notion, that it was a sin against his body and soul to eat any sort of flesh, fish, or living creature, or to drink wine, ale, or beer. Thinking himself at the same time obliged to follow literally the injunction given to the young man in the Gospel, he quitted business, and disposing of his property gave it among the poor, reserving to himself only a small cottage at Ickenham where he resided, and a rood of land for a garden, on the produce of which he subsisted at the expence of three farthings a week, his food being bran, herbs, roots, dock-leaves, mallows, and grass; his drink, water. How such an extraordinary change of diet agreed with his constitution the following passage from his pamphlet will shew, and give at the same time a specimen of the work: "Instead of strong drinks and wines, I give the old man a cup of water; and instead of rost mutton and rabbets, and other dainty dishes, I give him broth thickened with bran, and pudding made with bran, and turnep-leaves chopt together, and grass; at which the old man (meaning my body), being moved, would know what he had done that I used him so hardly, then I show'd him his transgression: so the warres began; the law of the old man in my fleshly members rebelled against the law of my mind, and had a shrewd skirmish; but the mind, being well enlightened, held it so that the old man grew sick and weak with the flux, like to fall to the dust; but the wonderful love of God, well pleased with the battle, raised him up again, and filled him full of love, peace, and content of mind, and is now become more humble; for now he will eat dock-leaves, mallows, or grasse." The pamphlet was published in 1655 (fn. 158). Prefixed to it is a portrait of the author cut in wood; which, from its rarity, bears a very high price. Over the print are these lines:
"Roger Crab that feeds on herbs and roots is here;
"But I believe Diogenes had better cheer.
"Rara avis in terris."
I know nothing of this man's future history, or whether he continued his diet of herbs. A passage in his epitaph seems to intimate that he never resumed the use of animal food. It is not one of the least extraordinary parts of his history that he should so long have subsisted on a diet which, by his own account, had reduced him almost to a skeleton in 1655. It appears that he resided at Bethnalgreen at the time of his decease. A very handsome tomb was erected to his memory in the church-yard at this place; which being decayed, the ledger-stone was placed in the pathway leading across the churchyard to Whitehorse-street, where it still remains, but the inscription is almost defaced. It is given beneath (fn. 159) from Strype; who adds, "this Crab, they say, was a Philadelphian, or sweet finger."
"Sir Humphrey Nicholson, of Mile-end-green, Knt. buried June 2, 1682."
Dr. William Clarke.
"Dr. William Clarke, of Stepney, buried Ap. 27, 1684." An eminent physician, author of a treatise on the natural history of nitre (fn. 160).
Birth of Dr. William King, Principal of St. Mary Hall.
"William, son of Mr. Peregrine King, clerk, and of Margaret Uxor, baptized March 11, 1685, six days old." William King, whose birth is here recorded, was the celebrated principal of St. Mary Hall, in Oxford (fn. 161).
"Theodosia, daughter of Sir Robert Clarke, Knt. of Wapping, buried July 23, 1685."
"A servant of my Ld Mountague's, of Poplar, Oct. 13, 1722."
"Anne, daughter of Sir Atwell Lake, of Mile-end Old-town, baptized July 12, 1746."
"Vere, son of Charles Bertie, Esq. (fn. 162), buried March 26, 1747; Bathsheba, Sep. 22, 1749."
"Sir Charles Castleton, of Mile-end Old-town, Bart. buried Oct. 31, 1749."
John Entinck.
"The Rev. Mr. John Entinck, buried May 28, 1773." Mr. Entinck, who was by profession a schoolmaster, was engaged during the greater part of his life in writing for the booksellers, who kept him in constant employ. He was for a considerable length of time a writer in an anti-ministerial paper, called the Monitor; this occasioned his being taken up under a general warrant, for which he afterwards recovered damages. About the year 1738, he proposed publishing an edition of Chaucer, which never took effect. Among his voluminous works, the principal are; A Naval History, in folio; a History of the late War, in five volumes, 8vo; a History of London, Westminster, and Southwark, four volumes, 8vo; a present State of the British Empire, in four volumes, 8vo; an improved edition of Maitland's History of London; a Spelling Dictionary, and a Latin and English Dictionary, of both which 20,000 copies have been printed at a time; an edition of Phædrus, &c.
Dr. Gloster Ridley.
James Ridley.
Mrs. Evans.
"Gloster Ridley, D. D. buried at Poplar, Nov. 10, 1774." This eminent writer, who distinguished himself as a poet, historian, and divine, was born at sea, in the year 1702, on board the Gloucester East Indiaman. He received his education at Winchester, and at New College. During the greater part of his life, he had no other preferment than the small college living of Westow in Norfolk, the donative of Rumford, and the chaplaincy of Poplar, where he resided. At length, in 1768, Archbishop Secker, as a reward for some controversial writings in which he had proved himself an able advocate for the church of England, gave him a prebend of Salisbury. Dr. Ridley published a life of Bishop Ridley (fn. 163), from whom he was collaterally descended; a dissertation on the Syriac version of the New Testament; a review of Philipps's Life of Cardinal Pole; an answer to the Confessional; the Christian Passover, in four sermons; and several single discourses. He wrote also two poems (printed in Dodsley's collection); Psyche, or the great metamorphosis; and "Jovi Eleutherio," or an offering to liberty; and left behind him in MS. Melampus, a poem, being the sequel to Psyche; and a tragedy called Jugurtha. He was concerned in writing another tragedy, never acted, called the Fruitless Redress (fn. 164). Dr. Ridley lies buried in the cemetery at Poplar, where is a monument to his memory, with the following inscription, written by Bishop Lowth: H.S.E. Glosterus Ridley, vir optimus, integerrimus; verbi Divini Minister peritus, fidelis, indefessus: ab academiâ Oxoniensi pro meritis et præter ordinem, in facrâ theologiâ doctoratu insignitus. Poeta natus, oratoriæ facultati impensius studuit. Quàm fuerat in concionando facundus, plurimorum animis diu insidebit; quàm variâ die mensis Novembris, A.D. 1774. Ætatis 72." The Rev. James Ridley, eldest son of Dr. Ridley, was author of the Tales of the Genii, and several humourous papers, published in the London Chronicle, and afterwards collected and published under the title of The Schemer. He died on the 24th of February 1765, aged 29, and was buried at Poplar. His sister, Mrs. Evans, wrote a novel in two volumes (fn. 165).
Mary East.
"Mary East of Poplar, buried at Poplar, June 4, 1780." This singular character lived 36 years as landlord of the White-horse Inn at Poplar, served parish offices (fn. 166), and attended the courts of justice, as a juryman. In July 1766, a woman who had lived many years at the White-horse, in the character of the landlord's wife (fn. 167), died; and a few days before she expired revealed the secret of Mrs. East's sex, making the necessary dispositions for bequeathing a moiety of the fortune which they had acquired in partnership to her relations. Mrs. East then assumed the female dress, and soon afterwards prosecuted one William Barwick for having extorted considerable sums of money from her at various times for concealing her sex. He was tried at Hicks's Hall on the 21st of October 1766, and sentenced to stand three times on the pillory, and to suffer four years imprisonment. Mrs. East being a very ignorant woman, he and a few others who knew her sex, had persuaded her that she was liable to be hanged for the imposture she had practised. After the matter became public she quitted business, and lived upon a decent competence which she had acquired.
"George Gordon (Lord Strathhaven (fn. 168) ), and Catherine Anne Cope (fn. 169), married (by banns) April 4, 1791."
As the age of persons interred is not mentioned in the parish register, no instances of longevity could be collected. The following persons are said to have died in this parish at very advanced ages; but I do not find that any of them were buried here, except Mary Thomas. James Graham, at Poplar, aged 102, who had been gunner of a man of war in the reign of James II. Aug. 23, 1758; Mrs. Mary Thomas, of Poplar, aged 102, Nov. 26, 1767; Mrs. Bridget Goodluck, of Mile-end, aged 98, April 10, 1771; Maria Watson, of Poplar, aged 104, Jan. 3, 1772; Stephen Fibbleson, Esq. of Mile-end, aged 98, June 25, 1773; Samuel Etherington, Esq. of Stepney, aged 96, Jan. 14, 1782; Mrs. Wilkins, of Mileend, aged 97, Feb. 3, 1783; Captain Onway, of Poplar, aged 98, May 31, 1786; and Capt. Manship, of Mile-end, aged 96, Dec. 25, 1786 (fn. 170).
Instances of three Children at a Birth.
"Rachel, daughter of John Todd, of Limehouse, mariner, and Anne, baptized Feb. 19, 1619–20;—this was the eldest of three children at a birth."
"Three infant sons of Thomas Harris, of Poplar, born at a birth, buried July 8, 1626."
"Three infant daughters of John Anderson, of Spitalfields, husbandman, buried Ap. 13, 1631."
"William, Elizabeth, and Jane, three children of Thomas Kempe, of Limehouse, smith, and Anne his wife, two days old, baptized Feb. 16, 1639–40." Two of these children were buried on the 6th of March.
"Mary, Margaret, and Hannah, children of Arthur Baker, of Poplar, mariner, and Mary, one day old, baptized Mar. 25, 1654." Margaret was buried on the 6th of April, the other two on the 12th.
"Martha, Mary, and Margaret, daughters of George King, of Old-Gravel-Lane, shipwright, and Margaret, two days old, baptized Ap. 26, 1658." Margaret, the mother, was buried on the 2d of May.
"Mary, Frances, and Elizabeth, daughters of Michael Thomas, of Brook-street, shipwright, and Mary, one day old, baptized Jan. 20, 1658–9." Mary, the mother, was buried Jan. 30; Elizabeth, the daughter, Feb. 18; Frances, Feb. 20.
"Magdalen, Frances, and Anne, children of Francis Jackson, lighterman, and Magdalen, one day old, baptized Nov. 14, 1666." Magdalen was buried on the 28th.
"James, Mary, and Martha, children of James Johnson, of Spitalfields, mariner, and Joan, two days old, baptized Dec. 26, 1681." Martha was buried Jan. 9; James and Mary, Jan. 13, 1682.
"Charles, James, and George, sons of Adam Barwell, of Ratcliffehighway, mariner, and Sarah, one day old, baptized Jan. 17, 1684." They were all buried on the 27th.
"Abraham, Isaac, and Sarah, children of Martin Bonnell, mariner, and Mary, four days old, baptized Oct. 27, 1695." One of these children was buried in November.
"John, Henry, and Mary, sons and daughter of John Lines, of Poplar, waterman, and Dorothy, one day old, were baptized Aug. 29, 1706." They were all buried Sept. 3.
"Edward, Richard, and William, sons of Edward Bellas, of Ratcliffe, mariner, and Rebecca, two days old, baptized May 14, 1709."
"Matthew, son of Edward George, of Wapping, cooper, and Elizabeth (four days old), the first of three at a birth, baptized May 26, 1711. N. B. Two died as soon as born."
"Joseph, son, and Phillis and Sarah, daughters, of Richard Hill, of Bethnal-green, mariner, and Phillis, one day old, baptized May 29, 1712."
"James, Jacob, and Sarah, children of Capt. George Tickner, of Wapping, and Helena, three days old, baptized Mar. 6, 1723." They were all buried on the 26th.
"Abraham, the first born, and Isaac and Jacob as they follow, the three sons of Henry Blacktop, of Mile-end Old-town, carpenter, and Mary, 89 days old, baptized Aug. 3, 1788."
Birth of John Strype, the historian.
John Strype, the celebrated historian and antiquary, son of John Strype, or Van Stryp, a merchant and silk-throwster, is said to have been born at Stepney in the month of November 1643 (fn. 171), but he calls himself a native of London, and his baptism does not occur in the register at Stepney, though the names of some of his brothers and sisters are there entered, and his father lies buried in the churchyard.
Hamlet of Poplar and Blackwall.
Poplarchapel.
Monuments of Robert Ainsworth, &c.
The hamlet of Poplar and Blackwall lies on the south side of the parish, is seven miles in circumference, and contains about 600 houses. The chapel at Poplar was begun before the year 1650 (fn. 172), and finished in 1654, when Thomas Walton was appointed chaplain by William Greenhill, vicar of Stepney (fn. 173). The subscription for building it was begun by Gilbert Dethick, Esq. with a benefaction of 100l.; the whole expence was above 2000l. Mr. Maurice Thompson, Mr. Thomas Tomlins, and Sir Henry Johnson, were among the principal contributors (fn. 174). It is a brick structure, consisting of a nave, chancel, and two aisles. At the west end is a small wooden turret. The whole chapel was nearly rebuilt by the East India Company in 1776. On the front of the gallery are the arms of Johnson (fn. 175), and in the windows those of Dethick (fn. 176), Thomp son (fn. 177), and Tomlins (fn. 178). On the cieling are the arms of the East India Company. On the east wall are the monuments of Robert Ainsworth (fn. 179), 1743, and Captain Philip Worth (fn. 180), in the East India Company's service, 1743. On the chancel floor are the tombs of Andrew Horsman, Esq. major of Plymouth, 16--; Henry Hall, Gent. 1699; Mary, wife of his son Henry, and daughter of George Ashby, of Queenby in Leicestershire, 1719; Capt. Richard Grainger, 1717; and George Steevens, Esq. (father of the editor of Shakspeare, who is a native of this hamlet), 1763. In the north aisle is the monument of William Currie (fn. 181), Esq. 1781; and the tombs of Captain George Phenney, 1697; Hannah, wife of Captain John Roberts, 1705; Mary Hancock, daughter of Captain John Brooks, 1712; Margaret, relict of Colonel Michael Hudson, Lieutenant Colonel of the first regiment of Guards, 1776; and John Harrison, Esq. 1794. In the north aisle is the monument of Captain George Woolmore (fn. 182), in the East India Company's service, 1788. On the floor are flat stones in memory of Captain James Pallister, 1765; and in the nave one for Captain William Jones, 1773. Strype mentions the tomb of Captain Thomas Lancaster, 1666.
Tombs in the chapel-yard.
In the cemetery adjoining are the tombs of William Curtis, Gent. commander in the East India Company's service (fn. 183), 1669; Captain Robert Sincock, 1698; Captain John Beere, 1705; Captain John Bromwell, 1706; Captain James Smith, 1714; Captain John Man, 1719; Mr. Daniel Coppendale, 1722; Captain Leonard Brown, 1723; Captain Samuel Lewis, 1728; Mr. John Oyles, 1731; Samuel Jones, Esq. (fn. 184), 1734; Anne, his wife, daughter of Captain John Bromwell, 1714; Samuel Jones, Esq. 1777; Anne, his first wife, daughter of Sir Bibye Lake, Bart. 1756; Susanna, his widow, daughter of Richard Marsh, Esq. 1786; Mr. Thomas Carpenter, 1735; Mr. William Haskins, 1736; George Rawlings, lieutenant in the navy, 1742; Capt. Thomas Landefield, 1744; Mr. Michael Guignard, surgeon, 1745; Elisha Armstrong, 1746; Capt. George Wigg, 1751; Mr. Robert Carter, 1751; Captain Mark Ord, 1753; Captain John Fell, aged 93, 1754; Solomon Baker, Esq. 1756; (he married Katherine Trenwith;) Anne, wife of Mr. Henry Bird, 1757; Mary, wife of the Rev. Richard Clark, 1760; Rev. James Ridley, 1765; Rev. Gloster Ridley (fn. 185), D.D. 1774; Captain William Coates, 1767; Elias Bird, Esq. of Roehampton, 1767; Capt. Thomas Hunt, 1769; Captain Thomas Shaw, 1772; Lieut. Thomas Cookson, 1772; Capt. Thomas Cookson of the Royal Navy, 1775; Captain Purser Dowers, 1777; John Smart, Esq. 1777; Mary, his wife, daughter of Richard Staples, Esq. 1774; Thomas Smith Panuwell, Esq. of Calverley Lodge, near Tunbridge-wells, 1784; Capt. Isaac Hill, 1785; and Anne, relict of William Steevens, Esq. 1790. Strype mentions the tombs of Jarret, son of Capt. Richard Lestock, 1700; and Agnes, relict of William Wharton, of Waitby in the county of Westmorland, 1704.
Among some papers obligingly communicated by Mr. Wheler, the present minister of Poplar, was an epitaph intended for Sir Henry Johnson's monument, written by his grandson in 1756, but never put up. It appears by the epitaph, that Sir Henry Johnson (proprietor of the dock-yard at Blackwall) was of Freston Hall, in Suffolk, and that he sat in parliament for the borough of Aldborough. He married Mary, daughter and heir of William Lord, Esq. of Melton in Kent, by whom he had two sons, Henry and William, who both represented Aldborough in parliament. Henry, the elder, was knighted, and left an only daughter, married to the Earl of Strafford; in consequence of which, the descendants of that peer inherited the whole of his large property. Sir Henry Johnson, the elder, left various charities, particularly an alms-house for six poor ship-carpenters at Blackwall. The epitaph was written, and the monument intended by Henry, son of his younger son William, who died in 1718, at Cape Coast Castle, of which he was governor. Sir Henry Johnson died in 1683, but the entry of his burial is not to be found in the register.
Patronage of the chapel.
Although Thomas Walton was appointed chaplain of Poplar in 1654, by Mr. Greenhill, as vicar of Stepney, it does not appear that the vicar ever claimed the patronage in future. It seems that the inhabitants, in consequence of the noble benefactions they had received from them, proffered it to the East India Company, so early as the year 1656. Their right of nomination was disputed, nevertheless, by future inhabitants; and though the matter was generally compromised (the Company nominating as of their own right the person chosen by the inhabitants, or the inhabitants accepting the person nominated by the Company), yet the right of appointing was not decided till the year 1721, when the inhabitants applying to the Company with a request that they would repair the chapel, they consented, and engaged to keep it in repair for the future, on condition that their appointment of the chaplain should never be again contested (fn. 186).
The East India Company formerly allowed 20l. per annum to the chaplain, apartments in their hospital, a garden and field (fn. 187). In Dr. Ridley's time the salary was increased to 50l. it is now 100l. In addition to which, the chaplain has the pew rents and burial fees. Mrs. Hester Hawes left the sum of 20s. to the minister of Poplar for preaching a sermon on Whit-Monday; Mr. William Curtis, the same sum for a sermon on the first Thursday in July; and Mr. Thomas Perkins, the same sum for a sermon on St. Thomas's day.
Ministers.
Samuel Peck, chosen minister of Poplar in 1670 (fn. 188), published two single sermons. Dr. Josiah Woodward, chosen in 1690 (fn. 189), published eight sermons, preached at Boyle's lectures, and a great many single discourses. Some account of Dr. Gloster Ridley, who was appointed by the East India Company in 1729, has been already given. He was succeeded in 1774, by the present chaplain the Rev. John Wheler, LL.D.
Alms-houses belonging to the East India Company.
Adjoining to Poplar chapel is a hospital (containing 22 tenements) founded by the East India Company (fn. 190), for the widows of inferior officers and seamen who receive weekly or quarterly pensions, varying according to the rank which their husbands bore in the service (fn. 191). The Company formerly supported a school at Poplar for seamen's children, but it has been discontinued for many years.
The manor of Poplar has been treated of already (fn. 192).
Stepney-marsh.
Embankments.
Stepney-marsh, or the Isle of Dogs (fn. 193), adjoining to Poplar, is a tract of land lying within the curve which the Thames forms between Ratcliffe and Blackwall. Its extent, according to a survey taken in 1740, is 836 acres. It is stated in an inquisition taken in the reign of Edward II. relating to the repairs of the embankments in Stebbenbeth-marsh, that a former lord of the manor had recovered 100 acres of land from the river by making of banks and ditches, which, when neglected to be repaired, were liable to be overslown; that the same lord afterwards granted 42 acres and a half of this land in parcels to his freemen, and the residue to his bondmen; each person being required to repair the banks upon his own land. It appears that the freemen had done what was requisite on their parts, but that the bondmen had suffered the banks upon their land to go to decay; in consequence of which, they and the Bishop of London (as lord of the manor) were by the sheriff of the county required to repair them; which was done accordingly. Soon afterwards, in the year 1324, a great flood happened, which caused a breach upon the land of one of the bishop's tenants; when a question arose, Whether the expence of this repair should fall only on the landholder where the breach happened, or whether the other proprietors of the marsh should be obliged to join in bearing the expence? The matter came to a trial, and was determined in favour of the bishop's tenant, as may be seen more at large in Dugdale on draining and embanking; where is an account of several commissions for viewing and repairing the banks of Stebbenheth-marsh.
Rich Pasture.
This marsh is celebrated for the uncommon richness of its pasture, which is such, that lean cattle, when turned into it, soon fatten, and grow to a great size. It is said in the Circuit-walk (annexed to Stow's Survey), published in 1720, that oxen fed in this marsh had been known to sell for 34l. a-piece. A story is there told of a butcher who undertook to furnish a weekly club at Blackwall, all the year round, with a leg of mutton of 28 lb. in weight, cut from a sheep sed in Stepney-marsh.
Ancient chapel in the Isle of Dogs.
In the Isle of Dogs stood an ancient chapel, called the Chapel of St. Mary, in Stepney-marsh. It is mentioned by that name in a will of the 15th century (fn. 194). The object of its foundation does not appear. It is not likely that the marsh should ever have had many inhabitants. Perhaps it was an hermitage, founded by some devout person, for the purpose of saying masses for the souls of mariners. This chapel has been converted into a neat farm-house, which stands upon the same foundation, and is the only dwelling-place upon the marsh. It exhibits no remains of antiquity, except in the lower part of the walls, which are of small stones and flints. A Gothic window was removed about three years ago.
In the year 1769, an ancient Town-hall, belonging to this hamlet (supposed to have been given by Captain Crowthers), which stood in the highway near the Green Dragon, was pulled down. The present Town-hall was built in the ensuing year (fn. 195).
Sir Richard Steele.
Poplar was for some time the residence of Sir Richard Steele, who had a laboratory there, and is said to have expended considerable sums in the study of alchemy (fn. 196).
Blackwall.
The dock and ship-yard.
Blackwall, situated at the eastern extremity of this hamlet, has been long noted for its ship-yard and docks; which, when Strype wrote his Circuit-walk, belonged to Sir Henry Johnson and his son. They are now the property of John Perry, Esq. who, in the year 1789, made a spacious new dock (fn. 197) as a harbour for shipping, called the Brunswick-dock. It is capable of receiving 28 East Indiamen, and from 50 to 60 ships of smaller burthen. Its extent, with the embankments and adjoining yard, is 19 supersicial acres.
On the south quay (which measures 1100 feet from east to west) are four cranes for landing guns and heavy stores. On the east quay are conveniencies for receiving blubber from the Greenland ships; and adjoining to the quay, coppers for boiling, and warehouses for storing the whalebone. On the west quay is a machine, 120 feet in height, for masting and dismasting the East India ships, by which the practice of raising sheers on the decks, so injurious to the ships, and so dangerous to the workmen, is avoided. The first ship masted by this machine was the Lord Macartney East Indiaman, on the 25th of October 1791. Her whole suit of masts and bowsprit were raised and fixed in three hours and 40 minutes, by half the number of men usually employed two days in that service. The basons without the dock-gate are so contrived, that ships may be laid on the stocks and their bottoms inspected, without the necessity of putting them into dry docks, by which means much time and expence are saved. During the present war, the cavalry which have been sent to the Continent have embarked at Mr. Perry's dock; the convenience for that purpose being such, that an embarkation of cavalry, which has formerly occupied three days, has been completed in as many hours. The average number of hands employed by Mr. Perry in his dock and ship-yard, is about 300 (fn. 198).
Charity-school.
Alms-houses in Poplar and Blackwall.
The united charity-school for the hamlet of Poplar and Blackwall and the parish of Limehouse has been already mentioned (fn. 199). It was revived by Dr. Ridley in the year 1737. The benefactions which have been given to the poor of this hamlet exclusively have been as follows: Captain John Crowther gave a tenement, with a yard and garden, for the use of the town, either to be divided into apartments for poor aged seamen or their widows, or to be disposed of to the best advantage, and the profits distributed in bread to the same objects. This house is supposed to have been the old town-hall, under which were three tenements for poor persons. An alms-house for eight poor widows was built by Col. Blunt, and rebuilt in 1676 by Capt. Harman (fn. 200). Sir Henry Johnson, by his will bearing date 1683, left the sum of 300l. for the purpose of building six almshouses for poor ship-carpenters of the age of 60 years or upwards; the pensioners to receive 2s. 6d. a-week each, and on Christmas-eve a blue gown of 30s. value, and an additional half-crown. The payment of these pensions was charged upon his estate at Blackwall. The benevolent purposes of this will were shamefully neglected by his heirs. The houses were indeed built, but appropriated to other uses; till after the Earl of Strafford, who married the donor's granddaughter, had sold the estate at Blackwall in 1722, when the inhabitants of the hamlet took up the matter; the Earl of Strafford then consented to pay the sum of 300l. for building other houses, without farther litigation, the inhabitants remitting the arrears; which they were induced the rather to do, as Sir Henry Johnson the younger, though he had neglected to pay the pensions, had provided several poor carpenters with habitations rent free, and his ship-yard had been of great service to the hamlet. Though the estate was sold by the Earl of Strafford subject to this charity, it appears to have been withheld through the pretence of want of proper objects, as described in the donor's will, till about the year 1756, when, through the exertions of Dr. Ridley, some benefit at length accrued from the charity (fn. 201), and the houses are now occupied pursuant to the donor's intention.
Other benefactions to this hamlet.
An alms-house for six poor widows was founded by Mrs. Esther Hawes, in 1686, and endowed with 9l. per annum. Mr. John Tell, by his will, bearing date 1742, appointed four alms-houses to be built at Blackwall for poor watermen who had gained a settlement by serving their apprenticeship in this hamlet, and charged his estate with 3l. per annum for repairs, but left no endowment. The pensioners to be nominated by his heirs, or on failure of heirs, by the minister and church-wardens (fn. 202). Mr. William Hunt, in 1648, gave 5l. per annum, to purchase bread for six poor widows. Mr. John West, in 1665, gave a rent-charge of 12l. to be distributed on St. Thomas's days, in sums of 10 s. each, to 12 poor men and 12 women. Mr. Tomlins, in 1676, gave the sum of 25l. to be kept as a stock for the purpose of purchasing coals in the summer, to be repaid in the winter at prime cost. Mr. Thomas Perkins, in 1702, gave 4l. per annum, to be distributed in sums of 2s. 6d. each, to 16 poor seamen, and the same number of seamen's widows. John Perry, Esq. who died in 1771, gave the interest of 200l. to be distributed in bread to the poor. This hamlet receives the sum of 8l. per annum for bread, and 6l. for apprenticing children, out of the benefactions of Captain William Curtis.
The quota paid to the land-tax in this hamlet is 1020l. 12s. 1d. raised by a rate of 2s. 5d. in the pound.
In the year 1655, an attempt was made by the inhabitants of Poplar and Blackwall, to get this hamlet made a distinct parish (fn. 203). It was attempted a second time in 1673 (fn. 204), at which time the inhabitants, desiring the concurrence of the East India Company, consented that they should have the sole patronage of the benefice, upon their engaging to render permanent their voluntary stipend to the minister, which was then 20l. per annum. When the fifty new churches were built, and some other hamlets were separated from Stepney, it was again in contemplation to make Poplar a parish church (fn. 205), but it still remains, as heretofore, a hamlet of that parish.
Hamlet of Ratcliffe.
Dreadful fire.
The hamlet of Ratcliffe (fn. 206) lies in the western division of the parish. It is about two miles and a half in circumference; and contained about 1150 houses, of which 455 (fn. 207), with 36 warehouses, were destroyed by the dreadful fire which broke out on the 23d of July 1794. The immediate distress of the poor inhabitants was very great; but quickly relieved as far as circumstances would admit. Tents were pitched in the neighbouring fields for their present accommodation, and very active subscriptions set on foot for their more effectual relief. So ready and so liberal were the donations, that the hand of public charity was stopped long before it would have ceased to contribute, by an intimation from the gentlemen who had humanely taken upon themselves the management of the money, that the sum already collected was fully adequate to the necessary relief of the poor sufferers (fn. 208).
The quota paid to the land-tax in Ratcliffe is 1976l. 9s. 4d. which (since the fire) is at the rate of 4s. in the pound.
Diffenters' school and alms-houses.
In this hamlet are situated the church, the quakers' meeting, and the cemetery belonging to the presbyterian dissenters; all of which have been already spoken of. Adjoining to the said cemetery are some alms-houses for seven poor persons, supported by the diffenters, and a school instituted by that congregation, anno 1783, in which 40 poor children of all denominations are clothed and educated. The school-house was built in 1785 (fn. 209).
Mercers' alms-houses.
Gibson's free-school.
The Mercers' alms-houses, near the church, founded by Dame Jane, relict of Sir Samuel Mico, for 12 poor widows, who receive 12l. per annum each, are in the hamlet of Ratcliffe. In this hamlet also stood the free-school founded by Nicholas Gibson, sheriff of London, and Avis, his wife. It had been in a great measure rebuilt a few years ago at the expence of the Coopers' company, to whose management it had been entrusted. It was destroyed by the fire last year, and still lies in ruins.
Dock, and manufactures.
Bowles's glass-house.
There is a dock in this hamlet belonging to Mr. Meretone, which was in a great measure destroyed by the fire. Shakespear's and Easum's rope-walks, and Bowles's celebrated manufacture of window glass, established by the great grandfather of the present proprietor, who is said to have been the first who manufactured crown glass in this kingdom. It has certainly been brought to its present improved state by his family.
Ratcliffe charity-school.
Ratcliffe charity-school, in White-horse-street, was instituted in 1710; the school-house was built by subscription in 1719. Mr. Wakeling gave an estate at Edmonton, now let at 10l. per annum, to this school. Various benefactions in money, to the amount of about 1800l. (fn. 210), have been bequeathed to it. For farther support it depends upon annual subscriptions and collections at charity sermons. Thirty-five boys and 15 girls are clothed and educated in this school.
Benefactions to the hamlet of Ratcliffe.
Mr. Edward Johnson, in 1670, gave the sum of 400l. to be laid out for the benefit of the poor of Ratcliffe and Limehouse, in equal portions. This money was laid out in the purchase of a house, which is now let at 20l. per annum. Thomas Jones left 40s. per annum to this hamlet (fn. 211).
Hamlet of Mile-End Old-Town.
The hamlet of Mile-end Old-town occupies the greater part of the north side of the parish. It is about five miles and three quarters in circumference, and contains about 1300 houses.
The quota paid to the land-tax in this hamlet is 1052l. which is raised by a rate of 1s. 4d. in the pound.
Encampments and fortifications at Mile-end.
In Jack Cade's rebellion the commons of Essex encamped at Mileend (fn. 212).
Fortifications were made at Mile-end when the city of London was surrounded with a trench in 1642. The sailors (says one of the diurnals) are raising a mount, and making trenches at Mile-end, where women of good fashion and children labour hard at the work (fn. 213). Sir Kenelm Digby was taken into custody as he was viewing the fortifications at this place in disguise (fn. 214).
Whitechapel Mount.
The fortress, which was intended to defend the approach to the city from the eastern road, is situated within the parish of Whitechapel, and is now known by the name of Whitechapel Mount. Its dimensions are 329 feet in length at the base, and 182 in breadth. The height above the level of the ground is about 25 feet. The east end remains very perfect. On the west side some houses have been built. The surface on the top, except where it has been dug away, is perfectly level. This Mount is described in Sir Christopher Wren's plan of the new buildings at Mile-end, and is there called the Fort (fn. 215). It seems probable that a fortress was erected to defend each of the principal roads leading to the metropolis. That at Mile-end was called a Mount (fn. 216) in the diurnals of the last century. We have traces of several Mounts in the suburbs of London, all of which were near the great roads. Holywell Mount, now levelled, was near the Hertfordshire roads. There are the remains of another as you go to Islington, near the great north road.
The manor of Mile-end has been already mentioned, and Worcester-house, an ancient mansion in this hamlet, the gateway of which is yet remaining.
In the hamlet of Mile-end Old-town are Mr. Brewer's meetinghouse, and a chapel belonging to the Methodists in Union-street.
Burial-grounds of the Jews.
On the north side of the Mile-end road are two large cemeteries belonging to the Portuguese Jews, whose synagogue is in Bevis Marks; and a third which belongs to the German or Dutch Jews, whose synagogue in Duke's Place was lately rebuilt, principally at the expence of Mrs. Judith Levy, of Richmond. These cemeteries are called [see page image 475], or the House of the Living.
Old ground belonging to the Portuguese Jews.
Description of the tombs.
Funeral ceremonies.
The old burying-ground belonging to the Portuguese Jews was first used for that purpose about the year 1657. In this ground the dead are interred in rows, a certain space being allowed for each grave. The spot contiguous to that last occupied, is used for the next person who dies, whether rich or poor; except in a few instances, where a burial-place purchased for a considerable sum has been reserved near the grave of some near relation. The same grave is never opened a second time, it being reckoned a most impious and sacrilegious act to disturb the ashes of the deceased. The tombs are some of free stone, others of marble. The bye-laws of the synagogue direct that those of adults shall be six feet and a half long, three wide, and one foot and a half high, including the ledger-stone. The tombs of children are of the same height, but only four feet long, and two and a half broad (fn. 217). Some of the tombs are ornamented with emblematical devices (fn. 218), and basso relievos, representing portions of scripture history (fn. 219). The inscriptions are principally in Hebrew and Portuguese, some are in English. The funeral ceremonies used by the Portuguese Jews are as follows: When the body of the deceased has been washed and dressed, which, except for children, is done by persons of the same sex, it is put into the cossin, which is generally plain deal, or covered with black. It is then conveyed to a brick building adjoining to the cemetery, called a Hall, where those who attend the funeral, if the deceased is a male of more than 13 years of age, go seven times round the corpse, repeating a prayer (fn. 220). It is then carried to the grave; and being there deposited, the nearest relation of the deceased first throws in earth, the other attendants assist in filling up the grave, while the 91st psalm is repeated in Hebrew. Persons who have been notoriously wicked are interred in a place apart from the congregation, without any funeral ceremonies. There is a fund (arising from legacies which are recorded on boards in the hall) for assisting the sick poor at their own houses, and burying their dead; a hearse and two coaches are always allowed for the attendance of relations, and a certain sum to maintain the family during the [see page image 477], or mourning week (fn. 221), during which, the precepts of their religion do not permit the Jews to work. A priest is appointed for the sole purpose of officiating at this cemetery, and reading the daily service, if required, at the houses of mourners.
Tombs of principal persons.
Among the persons interred in the old ground are Isaac Britto, 1657; Jacob Berachel, 1676; Abraham Israel Sequeira, alias Gomes Rodrigues, 1678; George Roiz Francia, 1679; Domingo Roiz Francia, 1687; Isaac, alias Simon Francia, 1694; Moses Francia, merchant, 1703; Jacob, alias Francis Francia, 1711; Mr. Jacob Francia, 1723; Rabbi Joshua de Silva, minister of the old synagogue in London, 1679; Isaac Alvares Nunez (fn. 222), 1683; Isaac Fernandes Nunez, merchant, 1732; Rabbi Jacob Abendana, 1686; Anthony Rodrigues Marques, alias Lamel Haim (fn. 223), 1689; Abigail, wife of Abraham Franks, 1695; Rachel, wife of Samson Gideon, 1700; Rabbi Jacob Tidanque, 1702; Jacob Gomes Serra, 1707; Jacob Teixier de Mattos, 1708; Isaac Telles da Costa, merchant, 1710; Joseph Mendes da Costa, 1726; Moses da Costa, Esq. of Totteridge, 1770; Emanuel Mendes da Costa (fn. 224), 1791; Dr. Moses Mendes (fn. 225), 1722; Solomon Mendes, merchant, 1762; Manuel Cortiffoz, 1727; David Nieto (fn. 226), Rabbi, 1728; Jacob de Meza, merchant, 1729; Isaac Aboab Cardozo, 1729; and Abraham da Costa Villa Reall, 1737.
In the new ground (purchased in the year 1733) are the tombs of Jacob Salvador, 1749; Moses Gomes de Mesquita, Rabbi, 1751; Abraham de Sola, Rabbi, 1753; Solomon da Costa, 1769; Abraham Hisquiau Gabay Isidro, Rabbi of the congregation at Barbadoes, 1755; Abraham Franco, 1758; Moses Franco, 1774; Jacob Franco, 1784; Moses Lopes Pereira Baron de Aguilar, 1759; Jacob Pereira, 1760; Samson Gideon, Esq. 1762; Benjamin Mendes da Costa, 1764; Isaac Lamego, 1768; Marco Nasso, Esq. 1780; Abraham de Prado, Esq. 1782; Mrs. Esther Prado, 1788; Sarah, wife of David Alves Rebello, merchant, 1784; Isaac Almonsnino, Rabbi at Gibraltar, 1785; Moses Cohen de Azevedo, Rabbi, 1785; David de Crasto, reader, 1785; Abraham Fernandes Nunes, 1786; Abraham Buzaglo, 1788 (fn. 227); Hanania Modigliani, Esq. 1789; Jacob de Castro, M.D. 1789; Abraham de Paz, Rabbi, 1790; Isaac Mendes Belisario (fn. 228), Rabbi, 1791; Mr. Moses Machorro, 1793; Aaron Fernandes da Sylva (fn. 229), 1793, &c. &c.
Instances of longevity.
The following instances of longevity occur in this cemetery:
Abigail de—aged 90.
B—wife of Moses D—92, 1743.
Mr. Bona, 92, 1749.
Abigail Lopes Cordeva, 96, 1749.
Joseph Abbady, 93, 1749.
Abrah. Lopes Olivera, 93, 1750.
Abigail Mendosa, 98, 1751.
Samuel Calormo, 100, 1753.
Sarah Cardossa, 95, 1754.
Lura Cansino, 90, 1755.
Rachel Nunes Correa, 94, 1757.
Esther Rodrigues, 90, 1759.
Hannah Ergas, 91, 1759.
Jacob Dias, 95, 1767.
Esther Gomes Henriquez, 92, 1772.
Esther Fernandes Valencin, 96, 1775.
Judith Netto, 95, 1775.
Jacob Franco, 91, 1777.
Isaac Nunes Meranda, 90.
Hannah Pereira, 90, 1783.
Isaac Aboab, merchant, 90, 1786.
Mrs. Sarah Mattos, of the kingdom of Portugal, 98, 1792.
Cemetery of the Dutch Jews.
Funeral ceremonies.
In the cemetery belonging to the Dutch Jews the rows are not kept so regularly, and the tombs resemble more those in our burial grounds. The inscriptions are entirely Hebrew. The two congregations were separated about the beginning of the present century, and differ in many of their customs and ceremonies. The Dutch Jews are equally averse from disturbing the bones of the dead; and if their cemetery is full, they cover it with a stratum of earth, of sufficient depth to make fresh graves; but the Portuguese always purchase new ground. The suneral ceremonies vary also; the Dutch Jews use a different prayer (fn. 230) in the hall, and do not go seven times round the corpse. When the bier has been carried a few paces from the hall towards the grave, it is set down, and a short prayer or ejaculation used (fn. 231). The grave is filled up by the persons who are appointed by the synagogue to perform the last offices for the dead, who when they leave the ground pluck some grass, and say, "They shall spring forth from the city as the grass of the earth." On returning to the hall they wash their hands, saying, "He will swallow up death for ever, and the Lord God will wipe away the tears from all faces, and the rebuke of his people will he remove from off all the earth, for the Lord hath spoken it (fn. 232)."
The cemetery belonging to the Dutch Jews was set apart for that purpose about the beginning of the present century. In this ground are the tombs of Jacob Eliahu Hacohen de Azevedo, Rabbi, 1705; Moses Franks, Esq. 1710; Abraham Franks, 1748; Philas, wife of Naphthali Franks, Esq. 1765; Aaron Franks, Esq. 1777; Joseph Levy, merchant, 1722; Elias Levy, Esq. 1750; Sarah Phillips, aged 90, 1733; Aaron Hart, a learned Rabbi (fn. 233); Moses Hart, Esq. 1756; Jacob Hart, Gent. of New York, 1785; Dr. De Folk, Rabbi; Hart Wessels, M. D. 1767; Judith Joseph, aged 90, 1771; Michael Adolphus, Esq. 1785; Nathan Mitchell, M.D. 1785; Naphthali Hart Myers, Esq. 1789; Lepy Reuben, aged 95, 1787; and Solomon Shiph, chief Rabbi (who performed the ceremony of consecrating the new synagogue), 1792.
Hospital of the Portuguese Jews.
Alms-house.
A hospital for the sick and diseased poor, and lying-in married women, belonging to the Portuguese Jews, was instituted in the year 1748. Their new hospital at Mile-end, which is extremely neat and commodious, was built in 1793. It is supported chiefly by voluntary subscriptions (fn. 234), and contains 40 beds. Adjoining to the hospital is an alms-house for 12 aged persons, who are provided with food and clothing. In this alms-house there are now one woman aged 96, two aged 81, one aged 80, and one man aged 82. The number of poor among the Portuguese Jews is about 1100, including men, women, and children.
Reservoir of Westham waterworks.
On the north side of the Mile-end road, near Bicknell's brewery, is a reservoir belonging to the Westham water-works. The principal manufactures in this hamlet are, Mr. Minish's hartshorn manufacture, Cocke's manufacture of patent spunges for ships, and Lacy and Stephens's, Ellis's and Harris's rope-walks. In this hamlet also are three large breweries belonging to Charington, Jackson, and Bicknell.
There was formerly a Lazar-house, or hospital, at Mile-end, dedicated to our Saviour and St. Mary Magdalen, of which John Mills was proctor in 1551 (fn. 235), and Henry Smith, in 1589 (fn. 236).
Trinity alms-houses.
On the north side of the Mile-end road, within this hamlet, are five alms-houses belonging to public bodies, which have no immediate connection with the parish of Stepney. The Trinity almshouses were founded in the year 1695, by the corporation of the Trinity-house (on ground given for that purpose by Captain Henry Mudd). They are 28 in number, and intended for the residence of decayed commanders of ships, or mates, and their wives or widows. Their pensions are 18l. per annum, and a chaldron and a half of coals. In the centre of the quadrangle is the statue of Capt. Sandes, who died in 1721, having bequeathed the sum of 100l. and the reversion of an estate in Lincolnshire of 147l. per annum, to these alms-houses. The statue was put up in 1746, at which time the estate had dropped in. On the north side of the quadrangle is a very neat chapel, in the windows of which are some coats of arms (fn. 237) in stained glass, which were removed from the old hall of the Trinity-house at Deptford, when it was taken down in 1786. They were put up in this chapel in 1793; some additions are about to be made to them.
Bancrost's hospital.
Bancrost's hospital was founded by Francis Bancrost, citizen and draper of London, who by his will, bearing date 1727, directed the sum of 4000l. or 5000l. to be employed in purchasing ground within the bills of mortality, and building thereon alms-houses for 24 poor old men, with a convenient chapel, a school-room for 100 boys, and dwelling-houses for two masters. He left the whole of his fortune, after paying a few legacies and the above-mentioned expences of building, &c. for the endowment of the hospital. The men, who, if proper objects can be found, are to be members of the Drapers' company, are allowed by the founder's will 8l. per annum, and coals; the masters 30l. per annum each, fire, candles, &c. These salaries and pensions, in consequence of the improvement of the estate, have been augmented. The pensioners receive now 18l. per annum. The boys, who are appointed by the Drapers' company, are clothed, and taught reading, writing, and accounts. They are admitted between the age of 7 and 10, and suffered to remain till 15, when they are allowed by Mr. Bancroft's will 4l. as an apprentice-fee, or 2l. 10s. to fit them out for servive. The will is in print (fn. 238), as well as the rules and orders for the pensioners and boys.
This hospital, which stands on the north side of the Mile-end road, at a considerable distance beyond the turnpike, occupies three sides of a spacious quadrangle. On the east and west sides are the habitations of the pensioners. In the centre of the north side is the chapel, which has a handsome stone portico, supported by pillars of the Ionic order. The school and the dwelling-houses of the master adjoin to the chapel.
Skinners' alms-houses.
The Skinners' alms-houses, adjoining to those belonging to the Trinity-house, were founded by Lewis Newbury for 12 poor widows. They were built in the year 1698. The pensioners in these houses have an allowance of 18l. per annum each.
Vintners' alms-houses.
The Vintners' alms-houses, a little more to the east, were founded for 12 poor widows, who have 5s. 3d. a week each.
Mr. Fuller's, Mrs. Bowry's, and Cook's alms-houses, situated in Mile-end Old-town, but founded for the benefit of the whole parish collectively, will be treated of hereafter.
Mile-end Old-town charity-school.
Mile-end Old-town charity-school was instituted about the year 1724. Mr. Jonathan Raven, in 1790, left 1 l. per annum to this school. Benefactions in money have been given to the amount of nearly 1700l. (fn. 239); of which only 1000l. (the gift of Mr. Innes) now remains, the rest having been expended, in the year 1787, in building the present school-house, a very neat and commodious structure. With this fund, aided by annual subscriptions, and collections at charity sermons, 50 boys and 20 girls are clothed and educated.
Benefactions belonging to that hamlet.
The other benefactions, which belong exclusively to this hamlet, are, 3l. per annum, given by Thomas Perkins in 1702, for seamens' widows, and the sum of 300l. laid out in South Sea annuities, for the benefit of the poor not receiving alms, being parcel of the sum of 1000l. left by Edward Owen, in 1704, to charitable uses, and appropriated by an order of the Court of Chancery to this hamlet.
Hamlet of Mile-End New-Town.
School supported by the Methodists.
The hamlet of Mile-end New-town is about two miles in circumference. It stands detached from the rest of the parish, insulated by Whitechapel, Bethnal-green, and Spitalfields. It contains about 620 houses. In this hamlet is no public building except Mr. Cottingham's chapel already mentioned. His congregation support a school for 20 boys and 20 girls, who are clothed and educated, being the only charitable institution in the hamlet.
The quota paid to the land-tax in this hamlet is 368l. which is raised by a rate of 4s. in the pound.
Fuller's alms-houses.
The following benefactions concern all the hamlets of Stepney collectively; and in many of them, the new parishes of St. George in the East, Bethnal-green, &c. have an interest:—An alms-house founded by John Fuller, Esq. of Bishop's Hall, in 1592 (fn. 240), for 12 poor single men of 50 years of age, or upwards. It is endowed by the founder with a rent-charge of 50l. per annum, issuing out of an estate in Lincolnshire. This alms-house stands in Eagle Place, on the north side of the Mile-end road.
Mr.John Pemell, in 1698, founded an alms-house, which stands within the parish of Bethnal-green, for four poor drapers' widows, and four widows of seamen belonging to the parish of Stepney, who have been in the East India Company's service. They have a pension of 4l. per annum each; 1 l. for a gown, and 1 l. for coals.
Mrs. Bowry's.
Mrs. Bowry, by her will, bearing date 1715, devised the residue of her personal property, in trust, for the purpose of building and endowing an alms-house for such a number of aged seamen or their widows, of this parish, as the remainder of the bequest, after purchasing a site between Stepney church and Bow, and paying the expence of building, should be sufficient to maintain; which remainder was to be laid out in the purchase of lands. The parish were under the necessity of instituting a Chancery suit, at a considerable expence, to establish this charity. A decree was obtained in the year 1740, soon after which the alms-house was built. By a report made in Chancery, July 9, 1747, there then remained for the endowment the sum of 2038l. 12s. 2d. O.S.S. annuities, which has since been increased to 2309l. 5s. 10d. but has not as yet been laid out in the purchase of land. The annual income of this alms-house is 73l. 14s. 4d. It stands on the south side of the road, near the entrance of Stratford-Bow. It has eight tenements, one of which is allotted to each of the hamlets of Stepney, and to the parishes of Christ Church Spitalfields, Bethnal-green, St. Anne Limehouse, and St. George in the East. The alms-houses founded by Lady Rowe, and her first husband Captain James Cook, for poor seamen and their widows, are situated on the north side of the Mile-end road. Lady Rowe's intended endowment has been mentioned in the account of Shadwell. They are inhabited by poor families placed in them by the parish.
Various benefactions to the parish of Stepney.
Money.
John Matthew, in 1560, gave a rent-charge of 40s. per annum to the poor of Stepney, and 3s. 4d. for "a drinking for the church"wardens:" William Cattle, the same sum in 1625. Captain William Curtis, in 1669, bequeathed a rent-charge of 60l. per annum, to be disposed of to charitable uses within this parish, deducting the sum of 24l. to be appropriated every other year for the release of poor prisoners. Mrs. Prisca Coburne, by will, in 1701, gave her manor of Covell-hall in Suffolk, now producing a neat rent of 120l. per annum, for the benefit of poor seamen's widows in this parish. The respective shares which the new parishes (taken out of Stepney) were to receive of this benefaction, were settled by a decree in Chancery in 1733. Mrs. Sarah Pritchard, in 1717, gave 5s. per annum each, to 10 poor maids, or widows, of the parish of Stepney. Some small sums have been given to the poors stock.
Bread.
Mr. Richard Underhill, in 1671, left the sum of 60l. to be laid out in land, with the produce of which 12 penny loaves are to be given weekly to 12 ancient people. The residue is appropriated to the minister for a sermon. Henrietta Lady Wentworth gave 100l. and Philadelphia Lady Wentworth the like sum, to this parish: in consequence of a law-suit, these benefactions were reduced to one half, which was appropriated for bread (fn. 241). Robert Ratford, in 1752, bequeathed the sum of 100l. for bread. Mrs. Susan Wilson, in 1786, gave the sum of 50l. (laid out in the purchase of 67l. 18s. 3d. reduced annuities), the interest, when not wanted for the repair of Mr. Wilson's tomb, to be given away in bread. Mrs. Elizabeth Gordon, in 1790, gave the sum of 100l. South Sea annuities for bread.
Clothes.
Mrs. Dorothy Smith, in 1792, gave the interest of 232l. 11s. 3d. 3 per cents. to purchase flannel petticoats for the poor.
Cockneys' feast.
There was formerly a yearly meeting of natives of Stepney, called the Cockneys' Feast, at which collections were made for the purpose of apprenticing poor children to the sea service. This institution was patronized by several distinguished characters. The Duke of Mountagu and Sir Charles Wager were patrons and stewards in 1734 (fn. 242). It was discontinued a few years ago, having been in a great measure superseded by a more general institution, the Marine Society.