Pages 558-604
The Environs of London: Volume 3, County of Middlesex. Originally published by T Cadell and W Davies, London, 1795.
This free content was digitised by double rekeying. All rights reserved.
TWICKENHAM.
Name.
Norden says, that this place is so called, either for that the Thames seems to be divided into two rivers by reason of the islands there, or else of the two brooks which "neere the towne enter into the Thamis, for Twicknam is as much as Twynam, "quasi inter binos amnes situm, a place scytuate between two rivers;" but in several very antient records, antecedent to the conquest, I find it written Twitham, or Twittanham, and in one Twiccanham (fn. 1).
Situation.
Boundaries.
Extent.
This village is situated on the banks of the Thames, at the distance of about 10 miles from Hyde-park-corner. It lies in the hundred of Isleworth, which is the adjoining parish on the east and north. The parish of Twickenham is bounded on the west by Hanworth, Hampton, and Teddington, and on the south by the river. It is about three miles and a half in length, one and a half in breadth, and nine in circumserence. It contains about 1850 acres, of which, according to a survey taken in 1635 (fn. 2), about 630 were arable, 490 pasture, 40 wood, and 690 (extending a considerable way upon Hounslow-heath) common. The present proportion does not much vary, reckoning the fruit gardens (fn. 3), of which there are above 150 acres among the arable. The soil is for the most part a sandy loam.
Manufactures.
The only manufactures in the parish of Twickenham are Mr. Hill's powder-mills, and some oil-mills belonging to Mr. Winslow, both of which are upon the small river Crane, which has been augmented by an artifical cut from the Coln (fn. 4).
Manor of Twickenham.
There is no mention of Twickenham in the survey of Doomsday. Ticheham, in the hundred of Elthorne, was certainly Ickenham, which occurs by no other name. If it had meant Twickenham, it would have been placed in the hundred of Honislaw. Twickenham, no doubt, was included in Isleworth (Gistelworde), which manor is there said to contain 70 hides (fn. 5). In a record, bearing date 1301, Twykenham is mentioned as a hamlet appendant to the manor of Isleworth (fn. 6). Another record (anno 1390) states, that the manor and hundred of Isleworth had always been deemed of the same extent (fn. 7). This did not imply, nevertheless, any jurisdiction over the lands of religious houses, who exercised manerial rights upon their own estates. The brethren of the Holy Trinity at Hounslow had a small manor within the hundred, independent of that of Isleworth. The monks of Christ Church Canterbury had another in this parish, from very ancient times, as will appear by the following account. Ossa, King of the Mercians, between the years 791 and 794, gave to Athelard Archbishop of Canterbury, among other benefactions, 30 tributaries of land on the north side of the river Thames, at a place called Twittanham, for the purpose of providing vestments for the priests who officiated in the church of St. Saviour in Canterbury (fn. 8). Warherdus, a priest, by his will, bearing date 830, gave to the church of Canterbury eight hides of land, with the manor of Twitham in Middlesex, which had been granted him by Ceolnothus dean of Canterbury (fn. 9) (the same, it is probable, who was a few years afterwards Archbishop). In 941, Edmund the King, and Eldred his brother, and Edmund the son of Edmund, restored to the monks of Christ Church in Canterbury all the lands which they had unjustly taken away from them. Among these was the manor of Twittanham (fn. 10). This restitution seems not to have been very effectual, for it appears, that King Eldred, by his charter, bearing date 948, gave to the said monks, as a small offering, for the love of God and the benefit of his soul, the manor of Twiccanham in the county of Middlesex, situated upon the river Thames, with all its appurtenances, exempting it from all secular burdens, taxes, and tolls, excepting contributions towards the building of bridges and fortifications, and the King's expeditions: his charter concludes with the following bitter anathema against any persons who should venture to infringe it; "whatever be their sex, order, or rank, may their memory be blotted out of the book of life, may their strength continually waste away, and be there no restorative to repair it (fn. 11)." I suppose this manor to have been the same which, being then vested in the crown, was annexed by King Henry VIII. in 1539 to the honour of Hampton-court (fn. 12), between 1539 and 1541, granted to Edward Earl of Hertford, and in the latter year surrendered by him to the King (fn. 13). It remained in the immediate occupation of the crown till the reign of Charles I., by whom it was settled with other estates, as a jointure, on his Queen, Henrietta Maria. When the crown lands were put up to sale during the usurpation, this manor was purchased (anno 1650) by John Hemsdell, merchant, on behalf of himself and other creditors of the state. In the survey taken by order of parliament previously to the sale, the rents payable by the copyholders were valued at 8l. 16s. 3d.; the quit-rents of the freeholders at 2l. 4s. 7d. the whole manor at 20l. (fn. 14) After the Restoration, the Queen-mother resumed possession of her jointure, and held it till her death. In 1670, this manor was settled for life on Catherine, consort of Charles the Second. In 1675, the King granted a reversionary lease for 41 years, commencing after the Queen's death (or from the date of such leases as the Queen might have granted (fn. 15) ) to John Earl of Rochester. William Genew, Esq. in 1688, had a lease of the manor for 12 years, to commence in 1707. Lord Rochester's lease, which commenced at the expiration of Genew's, becoming afterwards vested in Lord Bolingbroke, it was forfeited to the crown upon his attainder in 1715, and in 1723 was sold by trustees appointed for that purpose to Wendover Jay, Esq. (fn. 16), Thomas Jay, and John Rutt. Thomas Jay, in 1727, assigned his share (two sourths) in the manor, manor-house, and 67 acres of demesne lands, to Robert Gapper, Gent. Mr. Rutt, in 1731, bequeathed his share (being a fourth) to his nephew John Sainsbury, Esq. The present lessees of the whole are Robert Gapper, Esq. (son of Robert above-mentioned), and John Sainsbury, Esq. The last lease, which is for 31 years, bears date 1775.
Manor house.
The manor-house stands opposite the church. Tradition reports it to have been the residence of one of Henry VIII.'s Queens; perhaps it was a part of Queen Katherine Parr's jointure, and she might have made some use of it during her residence at Hanworth, or Hampton-court. I do not find that it was leased before 1557, when William Russel had a grant of it for 21 years (fn. 17). In 1569, a new lease was granted to Catherine and Barnard Hampton (fn. 18) (which Barnard had been clerk of the council to Edward VI. Queen Mary, and Queen Elizabeth). In 1583, a lease for 21 years was granted to John Hall (fn. 19), another lease to Richard Breame and Robert Holland, in 1603, for 50 years, commencing in 1625. This lease was assigned the next year to Edward Carey (fn. 20). In 1635, the manor-house was in the occupation of Lady Walter (fn. 21), relict of Sir John Walter, Lord Chief Baron of the Exchequer, who, it is probable, resided there also. He died in 1630, and left a benefaction to the poor of Twickenham. In 1650, this house, with the adjoining park, (the lease being then vested in John Browne, Esq.) was sold to John Walker. The survey taken that year describes two round rooms in a brick turret, which still remain, and mentions a fair hall wainscotted, in which was a screen of excellent workmanship (fn. 22).
Ancient mansions, parcel of the manor.
Sir George Pocock's.
Queen Anne at Twickenham.
Mr. John-stone.
A messuage parcel of the manor of Twickenham was leased to Sir Thomas Newenham for 21 years in 1567 (fn. 23); the same, with 51 acres of land, was leased in 1599 to Jane Harden (fn. 24). A lease for 30 years, to commence from 1622, was granted to Andrew Pitcarne, groom of the bed-chamber. When the parliamentary survey was taken in 1650, the lease was vested in his widow, Charity Pitcarne. It is described in that survey (fn. 25) as "a pleasant and delightful tenement, about 20 poles from the river, built partly with brick, and partly with timber, and Flemish wall, with comely chambers; the gardens not only rare for pleasure, but exceedingly profitable, being planted with cabbages, turnips, carrots, and many other such like creatures." There were 16 acres of cherry gardens. This estate was then sold to Richard Ell. Immediately after the Restoration, it was demised to Richard Webb and George Gosfreight for 21 years (fn. 26); in 1671, to Mrs. Jane Davies; a reversionary lease was granted the same year to Sir Charles Cobb for 14 years, commencing in 1688 (fn. 27); a second lease was afterwards granted to Mrs. Davies for eight years and a half, commencing in 1702 (fn. 28). Mrs. Davies, who was sister of the first Lord Berkeley of Stration, in the year 1694, lent her house at Twickenham (fn. 29) to Queen Anne (then Princess of Denmark), change of air being thought necessary for the Duke of Gloucester (fn. 30). The Duke brought with him his regiment of boys, which he used to exercise in the opposite ayte. Mrs. Davies refused a hundred guineas which the Princess offered her for the month she occupied the house. Lord Rochester's reversionary interest in this house having been purchased by Mrs. Davies, she made it over to James Johnstone, Esq. (fn. 31) who, in 1702, obtained from the Queen Dowager a lease of 13 years from 1720 (fn. 32). Mr. Johnstone improved the house considerably, and added the octagon room which was built for the reception of Queen Caroline, when he gave an entertainment there to her Majesty. After Mr. Johnstone's death, it was purchased by George Morton Pitt, Esq. whose daughter and heir married Sir George Pocock, K. B. to whom the lease was renewed in 1765, for so long a term as should make up fifty years from that time. It is now the property of his son George Pocock, Esq.
Yorke farm and house.
A capital messuage, and an estate called Yorke's Farm, parcel of the manor of Twickenham, was demised, anno 1566, to John Jermyn and James Bafers; in 1582, for 21 years, to Lancelot Alford (fn. 33), and in 1590, for a farther term of 21 years, to George Watkins and William Forster (fn. 34). In 1635, it was granted in fee, subject to a rent of 20l., to William Scriven, Philip Eden, and their heirs (fn. 35). About the year 1661, this estate became the property of Lord Chancellor Clarendon, who made Yorke-house his summer residence for several years. After his death, it appears to have been the property of his second son Lawrence Earl of Rochester. It was purchased about the year 1740, by James Whitchurch, Esq. after whose death it was sold to Lieut. col. James Webber, the present proprietor.
Twickenham Park.
Sir Francis Bacon.
In the year 1547, Robert Bourchier was made keeper of Isleworth Park, alias the New Park of Richmond, now called Twickenham Park (fn. 36). In the year 1574, it was demised to Edward Bacon (fn. 37) (third son of the Lord Keeper by his first wife). In 1581, a lease was granted for 30 years to Edward Fitzgarret (fn. 38); in 1595, a farther lease for 21 years to Francis Bacon, Esq. and John Hibbard (fn. 39). Sir Francis Bacon, whom Voltaire calls the father of experimental philosophy, spent much of his time during the former part of his life in studious retirement at this place, which he thought particularly favourable to his philosophical pursuits. Among the MSS. in the British Museum (fn. 40) is a paper intituled, Instructions from the Lord Chancellor Bacon to his servant Thomas Bushell. It relates to a project he had in view of establishing a corporation for exploring deserted mineral works. On the supposition that such a project would meet with due encouragement, he says, "Let Twitnam Park, which I sold in my younger days, be purchased, if possible, for a residence for such deserving persons to study in, since I experi mentally found the situation of that place much convenient for the trial of my philosophical conclusions, expressed in a paper sealed to the trust which I myself had put in practice, and settled the same by act of parliament, if the vicissitudes of fortune had not intervened and prevented me."
Queen Elizabeth at Twickenham park.
Singular provisoes in Lady Mountrath's will.
Sir Francis Bacon had the honour of entertaining Queen Elizabeth at Twickenham park, when he presented her with a sonnet in praise of the Earl of Essex (fn. 41). In the year 1606, a lease of this house and estate (for 40 years from the date of the letters patent) was granted to John Wakeman and Joseph Earth, Esqrs. (fn. 42), who, it is probable, had purchased Sir Francis Bacon's interest. The same year a reversionary lease for 41 years, after the expiration of Wakeman and Earth's, was granted to Sir Thomas Lake. In 1607, Sir Thomas Lake assigned his interest to Sir Henry Goodyear and Edward Woodward, and in 1608 both leases were made over to George Lord Carew and George Croke, in trust for Lucy, wife to Edward Earl of Bedford. This Countess, who was celebrated by Donne and other poets of that age, to whom she was a liberal patroness, resided at Twickenham Park till 1618, when she gave it to her relation Sir William Harrington, who sold it in 1621 to Mary Countess of Home (mother of the Duchess of Lauderdale). In 1640, Lady Home sold the remainder of the lease to Sir Thomas Nott, in whom also was vested the perpetuity which had been granted, anno 1632, to Sir William Russell, subject to a fee-farm rent of 8l. 18s. Sir Thomas Nott sold the estate in 1659 to Henry Murray, Esq. and Anne his wife, who, in 1668, aliened it to John Lord Berkeley of Stratton. The Berkeley family, of whom farther mentión will be elsewhere made (fn. 43), resided at Twickenham Park several years; and in 1685 sold it to Robert Earl of Cardigan, who, in 1698, aliened it to the Earl of Albemarle, by whom it was conveyed in 1702 to Thomas Vernon, Esq. who had been secretary to the Duke of Monmouth. In 1743, it was purchased of Mr. Vernon's heirs by Algernon Earl of Mountrath, whose widow (Diana, daughter of the Earl of Bradford), by her will, bearing date 1766, bequeathed it to the Duchess of Montrose during the joint lives of the Duke and Duchess of Newcastle; but if the Duchess of Newcastle should survive the Duke, the Duchess of Montrose to quit possession to her; and if she should survive her, to enjoy it again during her life: after the death of the Duchess of Montrose, to remain to Lord Frederick Cavendish and his issue; on failure of which, after his death, to Lord John Cavendish and his issue, with remainder to Sir William Abdy, Bart. and his heirs in fee. It is remarkable, that hitherto every thing has happened which the Countess thus singularly provided for: the Duchess of Montrose took possession, quitted to the Duchess of Newcastle, took possession again on her death, and was succeeded by Lord Frederick Cavendish, who is the present proprietor.
Portraits of Monk and Lambert.
Original site of Sion monastery.
At Twickenham Park are two fine portraits, said to be General Monk and General Lambert, which, with some other pictures (fn. 44), and all the furniture, were left as heir-looms by the Countess of Mountrath. Part of the house is in the parish of Isleworth. In the meadows, between this house and the river, was the original site of Sion monastery (fn. 45).
Twickenham has so long been the favourite retreat of the scholar, the poet, and the statesman, that almost every house has its tale to be told; and it is difficult, while some might plead their antiquity, and others their present fame, to know where to begin, unless by following the course of the river.
Mrs. Clive's.
On the western verge of the parish, towards Teddington, is an elegant cottage, now in the tenure of Miss Mary and Miss Agnes Berry, which was for many years the residence of that genuine representative of the comic muse, Mrs. Clive. The following inscription, written by the Earl of Orford, has been placed on an urn erected to her memory in the shrubbery:
"Ye smiles and jests still hover round;
This is mirth's consecrated ground:
Here liv'd the laughter-loving Dame,
A matchless actress, Clive her name.
The comic muse with her retir'd,
And shed a tear when she expir'd."
Strawberry-hill.
Its history.
Colley Cibber lives there.
Bishop Talbot.
Pere Courayer, &c.
Date of the new buildings.
The Earl of Orford's well-known villa, standing on a piece of ground called in old writings, Strawberry-hill Shot, was originally a small tenement, built in 1698 by the Earl of Bradford's coachman, and let as a lodging-house. Colley Cibber was one of its first tenants, and wrote there his comedy, called the Refusal, or the Ladies Philosophy (fn. 46). The beauties of its situation afterwards tempted persons, whose rank and establishments were such as seem to have demanded a larger mansion, to take it as a summer residence. Talbot Bishop of Durham lived in it eight years. After him Henry Marquis of Carnarvon. It was next hired by Mrs. Chevenix, the toy-woman, who let a part of it to the celebrated French divine Pere Courayer. Lord John Philip Sackville afterwards took the house of Mrs. Chevenix, and kept it about two years. In 1747, the Earl of Orford (then the Hon. Horace Walpole) bought the remainder of Mrs. Chevenix's lease, and the next year purchased the fee-simple by act of parliament, it being then the property of three minors. Mr. Walpole having formed a design of enlarging his villa, and sitting it up in the Gothic style, after a tour through various parts of the kingdom, during which he collected models from the principal cathedrals in which that species of architecture prevails, began his improvements in 1753, when the library and great parlour were newly built: the gallery, round tower, great cloister and cabinet, were added in 1760 and 1761, the great north bed-chamber in 1770, and the Beauclerk tower and hexagon closet in 1776.
Description of the apartments.
The same style of architecture which was adopted in building the house prevails also in the internal decorations; each room having Gothic skreens, niches, or chimney-pieces, designed for the most part by Mr. Walpole himself, or Mr. Bentley, and adapted with much taste to their respective situations. Most of the windows are ornamented with stained glass (fn. 47), which adds a richness to the rooms, which, particularly on a bright day, has a very good effect. The ideas of ancient magnificence frequently occur to the recollection of the visitor, and put him in mind of the pleasing romance which owed its being to the Gothic scenes at Strawberry Hill.
To enter into a minute description of the valuable collection at this villa, which is particularly interesting to the virtuoso, and the lover of English history and antiquities, would much exceed the limits of this work. Some of the most valuable articles in each room I shall endeavour to point out.
Great parlour.
In the great parlour are several portraits, among which are Sir Robert Walpole, Earl of Orford, the present Earl, and a conversa tion in small life, by Sir Joshua Reynolds, being one of his early productions. It represents Richard, the second Lord Edgcumbe, G. A. Selwyn, and G. J. Williams, Esq.
Waiting-room.
In the waiting-room is a bust of Colley Cibber, coloured after the life, esteemed extremely like him. It was formerly the property of Mrs. Clive, and given by her brother Mr. Raftor to Lord Orford.
Little parlour.
The chimney-piece in the little parlour is taken from the tomb of Thomas Ruthall, Bishop of Durham, in Westminster Abbey. In this room are Mrs. Damer's much admired model of two dogs in Terra Cotta; a scene from the Castle of Otranto, by Carter; a drawing in water-colours, by Miss Agnes Berry, from Mr. William Lock's death of Wolsey; and a landscape with gipseys, by Lady Diana Beauclerk. The chairs in this parlour are of ebony, as are several others in the house.
Breakfasting room.
In the blue breakfasting room, among many things to engage the attention, the most remarkable are the very beautiful miniatures of the Digby family by Peter Oliver; Rose the gardener, presenting a pine-apple to Charles the Second; and the fine original portrait of Cowley, by Sir Peter Lely. In the closet, within this room, are several curious small pictures, among which is a portrait of the notorious Sarah Malcolm, painted by Hogarth the day before she was executed for the murder of Lydia Duncomb her mistress, and two servants. In this closet are two kittens, by Mrs. Damer, in white marble.
Staircase.
On the staircase is the rich and valuable suit of armour which belonged to Francis the First, King of France; it is of steel, gilt.
Library.
The chimney-piece in the library is taken from the tomb of John Earl of Cornwall, in Westminster Abbey, the stone-work from that of Thomas Duke of Clarence at Canterbury. The books, of which there is a very valuable collection, particularly of such as relate to English history and antiquities, are ranged within Gothic arches of pierced wood. Other objects most remarkable in this room, are an ancient painting representing the marriage of Henry VI.; a clock of silver, gilt, which was a present from Henry VIII. to Anne Bullen; a skreen of the first tapestry made in England, being a map of part of Surrey and Middlesex; a curfew, or cover-fire, and an osprey eagle in Terra Cotta, by Mrs. Damer.
Star-chamber.
In a small anti-room, called the Star-chamber (fn. 48), leading to the Holbein room and great gallery, stands the famous bust of Henry VII. done for his tomb by Torregiano.
Holbein chamber.
The chimney in the Holbein-chamber is taken chiefly from the tomb of Archbishop Warham, at Canterbury. This room exhibits some very valuable pictures by the celebrated artist from whom it takes its name, copies of his drawings at Buckingham-house by Vertue, the very valuable pictures of the triumph of poverty and the triumph of riches, after Holbein, by Zucchero, and Holbein's design for a magnificent chimney-piece for one of Henry VIII's palaces. There is a curious picture in this room of the Duchess of Sussolk, and her husband Adrian Stokes, by Lucas de Heere, and an original of Prince Arthur and Catherine of Arragon, from Colonel Myddelton's in Denbighshire.
Gallery.
The gallery is fifty-six feet long, seventeen high, and thirteen wide. As you enter it out of the gloomy passage which leads from the Holbein chamber, the effect, particularly upon a bright day, is very striking. The cieling of this room is copied from one of the side aisles of Henry VII's chapel, ornamented with sret-work, and gilt. In this room is the famous eagle found near Caracalla's bath at Rome, in 1742, one of the finest pieces of animal sculpture in the world, and a very fine bust of Vespasian in basaltes, out of Cardinal Ottoboni's collection. The most remarkable pictures are the marriage of Henry VII. by Mabuse, and the portraits of Sir Francis Walsingham, by Zucchero; Sir George Villiers, by Jansen; his son, the Duke of Buckingham, by Rubens; the Earl of Sandwich, by Sir Peter Lely; Frances Countess of Exeter, by Vandyke; Mr. Le Neve, by Jansen; and his son, an alderman of Norwich, an uncommonly fine picture, by Sir Peter Lely.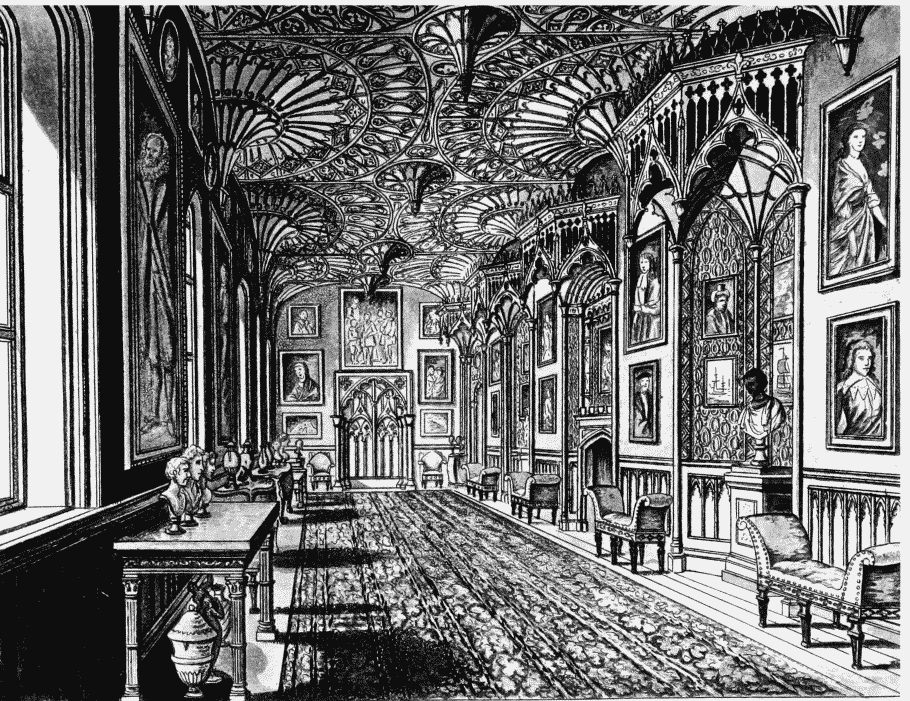 Round drawing-room.
At the end of the gallery is a circular drawing-room, the chimney-piece of which was designed from the tomb of Edward the Consessor in Westminster Abbey. In this room is the valuable antique bust, in basaltes, of Jupiter Serapis, purchased out of the Duchess of Portland's collection; Vandyke's picture of the Countesses of Carlisle and Leicester; Mrs. Lemon, by the same artist; and a few good pictures of the old masters.
Tribune, or cabinet.
The tribune or cabinet is a small square room, with a semicircular recess in the middle of each side. A star of yellow glass on the top throws a deceitful shade over the room, which makes every thing appear as if gilt. In this room is the cabinet of enamels and miniatures, containing a greater number of valuable portraits by Petitot, Zincke, and Oliver, than are to be found in any other collection. Among the most beautiful are Cowley, the poet, by Zincke; the Countess D'Olonne, by Petitot; and Isaac Oliver, by himself: Catherine Parr and Catherine of Arragon, by Holbein, are very valuable. In the glass cases on each side of the cabinet are some exquisite specimens of art; particularly a small bronze bust of Caligula, with silver eyes, found at Herculaneum, and given to Lord Orford by Sir Horace Mann; a magnificent missal with miniatures, by Raphael and his scholars; and the beautiful silver bell of Benvenuto Cellini, covered with antique masks, insects, &c. exquisitely wrought in alto relievo, so as to bear the minutest inspection with a glass. Among the pictures in this room may be noticed the Countess of Somerset, by Isaac Oliver; and a beautiful picture of Cornelius Polenburg, by himself.
North bedchamber.
The chimney-piece in the great north bedchamber was designed by Mr. Walpole, from the tomb of Bishop Dudley in Westminster Abbey; it is of Portland stone, gilt. Over the chimney is a very curious picture of Henry VIII. and his children. The most remarkable portraits in this room are, the fine picture on board of Henry VII.; the Duchess de la Valiere; Madam de Maintenon; Ninon de l'Enclos; Ogleby, the poet, by Fuller; a fine whole length of Mrs. Margaret Smith, by Vandyke; Philip Earl of Pembroke, by Mytens; and the original portrait of Catherine of Braganza, sent to England previously to her marriage with Charles II. In this room also are Hogarth's sketch of the Beggars Opera, containing portraits of the original performers, and the rehearsal of an Italian opera (by Marco Ricci), with portraits of Nicolini, Mrs. Tofts, and Margarita del Espina, celebrated singers.
Beauclerk closet.
In the Beauclerk closet are Lady Diana Beauclerk's beautiful drawings, from scenes in the tragedy of the Mysterious Mother. They are very happily designed from some of the most interesting scenes in that much admired drama, and are executed with equal correctness and expression.
Library of prints.
In the library over the circular drawing-room is a profile of Mrs. Barry, the celebrated actress in the reign of George the First, by Sir Godfrey Kneller; and Mrs. Clive, by Davison. This library contains a very valuable and extensive collection of prints; among which are a series of engraved English portraits bound in volumes, the works of Faithorn, Hogarth, and others of the most eminent English artists.
The piers of the garden-gate are copied from the tomb of Bishop William de Luda, in Ely cathedral.
Chapel.
The front of the chapel was designed from Bishop Audley's tomb at Salisbury. In this chapel are four pannels of wood from the Abbey of St. Edmondsbury, with the portraits of Cardinal Beaufort, Humphrey Duke of Gloucester, and Archbishop Kemp; and a magnificent shrine in Mosaic, the work of Peter Cavalini, who made the tomb of Edward the Confessor in Westminster Abbey; it was originally erected in 1256, over the bodies of the martyrs Simplicius, Faustina, and Beatrix, in the church of Sa Maria Maggiore at Rome; and was removed thence when the new pavement was laid in 1768. The window in the chapel was brought from Bexhill in Sussex. The principal figures are Henry III. and his Queen.
Printing-press.
About the year 1757, Mr. Walpole fitted up a private press near his house at Strawberry Hill (fn. 49), at which most of his own works and some other books have been printed.
Cottage.
The cottage in the flower-garden was formerly the residence of Franklin, the printer of the Craftsman.
Rules for seeing Strawberry Hill.
The Earl of Orford permits his villa to be seen by any curious persons on applying to him for a ticket, and complying with certain rules which he has found it necessary, on account of its situation so near London, and in a populous neighbourhood, to prescribe. These rules, which are printed on the tickets, state, that the house at Strawberry Hill is shewn to parties of four persons only, from the first of May to the first of October, between the hours of twelve and three; and, as only one party is admitted on each day, a ticket cannot be given for a day that has been already engaged.
Earl of Radnor's.
Hudson, the painter.
The house now in the occupation of the Lady Murrays was built by John the last Earl of Radnor (of the Robarts family), and was lately the property of Sir Francis Basset. The house, which is now in the possession of Mr. May, was built by Hudson, the painter, who resided there.
Pope's villa.
Lord Mendip's villa has acquired much celebrity as having been the residence of Pope, who purchased it about the year 1715. The latter end of that year he removed there with his father and mother. This he calls one of the grand æras of his life. The improvement of his house and gardens was for many years his favourite employment. He was particularly interested in the construction of a grotto, which he enriched with many curious spars and gems. Warburton observes, that "the beauty of his poetic genius appeared to as much advantage in the disposition of these romantic materials as in any of his best contrived poems (fn. 50)." The poet's own description of his grotto may be seen in one of his letters to Mr. Blount, dated June 2, 1725 (fn. 51). He continued improving it till his death. In the copy of Homer which Pope used for his translation (now in the Earl of Orford's library) is a sketch by the poet himself of the view from this grotto, including the church and part of the village of Twickenham. From the grotto was a subterraneous passage to the gardens on the other side of the road. At this villa Pope received visits from the most eminent of his literary contemporaries. Swift, Gay, and himself frequently made an illustrious triumvirate of genius. One of Lord Bolingbroke's letters is addressed to the three Yahoos of Twickenham, Jonathan, Alexander, and John (fn. 52). After Pope's death, which happened at Twickenham, May 30, 1744, his house was sold to Sir William Stanhope, who added the wings and enlarged the gardens (fn. 53), by laying out a piece of ground on the opposite side of a lane, connected by a subterraneous passage, in which is placed the following inscription:
"The humble roof, the garden's scanty line
Ill suit the genius of the bard divine;
But fancy now displays a fairer scope,
And Stanhope's plans unfold the soul of Pope."
From Sir William Stanhope, Pope's villa passed to the Right Hon. Wellbore Ellis, Esq. (now Lord Mendip) who married his daughter. Every memorial of the celebrated bard, by whom it was once inhabited, is preserved with singular care, particularly the fine willow in the front of the house, which was planted by his own hand. Lord Mendip has some good antique busts, &c.
Lady Pawlet's.
The villa, which is now the Countess Dowager Pawlet's was built by Dr. Batty, an eminent physician (fn. 54). It stands on the site of a house which was burnt to the ground on the 14th of June 1734, being then in the occupation of Mons. Chauvigny, the French ambassador (fn. 55).
Duke of Wharton.
Mrs. Duane's house was formerly the residence of the profligate eccentric and witty Duke of Wharton (fn. 56).
Lady M. W. Montagu's.
Lady Mary Wortley Mountagu lived several years in the house which is now Dr. Morton's (fn. 57).
Richmonds.
Earl of Bradford.
Richmonds-house was, in the last century, the property and residence of Francis Newport, Earl of Bradford, a distinguished character in the reigns of Charles and James II. and an active promoter of the Revolution. He had a sine collection of pictures at this place (fn. 58). After his death, which happened at Twickenham in 1708, this house came to his second son Lord Torrington. It was purchased in 1740, of the executors of Lady Anne Torrington, by Anthony Viscount Montague; who, in 1744, sold it to Anthony Keck, Esq. (fn. 59) In 1766 it was aliened by Mr. Keck to Mary Countess Dowager of Shelburne; who bequeathed it to her second son, the Hon. Thomas Fitzmaurice. By him it was conveyed in 1791 to John Symmons, Esq. who sold it the next year to the present proprietor, Mrs. Allanson, of Studley Park, Yorkshire.
Lady Anne Conolly's.
The late Earl of Strafford's house was, in 1661, the property of Dr. William Fuller, afterwards of Lady Ashe (fn. 60). It was purchased by Thomas Earl of Strafford in 1701, of Mr. Plumbtree; after the death of the late Earl, it became the property of his sister Lady Anne Conolly, who pulled it down, and has built a very handsome mansion on the site.
Ragman's Castle.
Mrs. Pritchard Marble Hill.
The cottage, called Ragman's Castle, now the property of George Hardinge, Esq. one of his Majesty's justices for Wales, was formerly the residence of Mrs. Pritchard, the celebrated actress.
Marble Hill was built by George II. for the Countess of Suffolk, mistress of the robes to Queen Caroline. Henry Earl of Pembroke was the architect; and the gardens were laid out by Pope. It was the property of the late Earl of Buckinghamshire, and is now in the tenure of Mrs. Fitzherbert.
Spencer Grove.
Miss Hotham's beautiful villa, called Spencer Grove, was sitted up with great elegance by Lady Diana Beauclerk, who decorated several of the rooms with her own paintings.
Mr. Cambridge.
Portraits.
In the meadows, opposite Richmond Hill, stands the seat of Richard Owen Cambridge, Esq. well known in the literary world, particularly by his poem of the Scribleriad. This house was built in the early part of the last century by Sir Humphrey Lynd (fn. 61), celebrated for his writings against the Papists (fn. 62). After his death, it was in the occupation of Joyce Countess of Totness, who died there in 1636 (fn. 63). It was not long afterwards the property of Joseph Ashe, Esq. who was created a baronet in 1660. The title became extinct on the death of his son. The house was enlarged, and the west front built by Windham Ashe, Esq. the representative of that family (fn. 64). It was purchased in 1751 by Mr. Cambridge, who has a good collection of pictures by the old masters, and some very valuable portraits, particularly a sine picture of Secretary Thurloe, by Dobson, Sir Paul Rycaut, Mary Davis, a celebrated actress in the reign of Charles II.; Angelica Kaussman, by herself; and a large groupe of the Nabob of Arcot and his family, by Kettle. The view from Richmond Hill, by Tillemans, is particularly interesting so near the spot whence it was taken.
Sir Godfrey Kneller's, at Whitton.
At Whitton, a hamlet in this parish, is the seat of Samuel Prime, Esq. built about the year 1711 by Sir Godfrey Kneller, who resided there during the latter part of his life. The staircase was painted by Sir Godfrey himself, assisted by Laguerre.
Whitton Place, the Duke of Argyle's, now Sir William Chambers's.
Mr. Gostling's.
Whitton Place, the seat of Sir William Chambers, was built by Archibald Duke of Argyle, who planted a great number of exotics and forest trees, particularly a great number of cedars, which are now some of the sinest in the kingdom. The present owner has much improved the house, and decorated the gardens with statues, temples, and other buildings. The pleasure grounds are not so extensive as in the Duke of Argyle's time, a considerable part of them having been reserved at the time of Sir William Chambers's purchase by the late Mr. Gostling, then proprietor of the whole, who built an elegant villa (now the property of George Gostling, Esq.) on the site of the great conservatory. Many of the cedars (fn. 65) are in his grounds, and the tower built by the Duke of Argyle, which commands a prospect of great extent.
Various eminent inhabitants.
Many other eminent persons have resided in this parish, but their place of residence is not precisely ascertained. Some of them are noticed in the extracts from the parish register. Among others are Richard Corbet, Bishop of Norwich, whose father Vincent is said to have had a famous nursery at Twickenham (fn. 66); John Lenthall, Speaker of the House of Commons (fn. 67); Robert Boyle, the celebrated philosopher, and founder of the lectures which are known by his name (1651) (fn. 68); James Craggs, Secretary of State (1720) (fn. 69); Lady Macclesfield (afterwards Mrs. Brett), Savage's mother (fn. 70); Lord George Germaine, and the Earl of Bute, 1748 (fn. 71), &c. and Paul Whitehead, who died at his house on the common (fn. 72).
Parish church.
The parish church, dedicated to the Virgin Mary, is situated near the water side. The tower (fn. 73) is of free stone, an ancient Gothic structure; the body, which is brick, with stone coins and cornices, was built after a design of James the architect. The old church fell down in the night of the 9th of April 1713 (fn. 74). The present building was not completed till 1715.
Monuments of Sir Joseph Ashe and Sir William Humble.
Lady Frances Whitmore's epitaph, by Dryden.
Pope's two monuments.
On the south side of the altar, within the recess where the communion-table is placed, is the monument of Sir Joseph Ashe, Bart. (fn. 75), 1686; and on the south side that of Sir William Humble, Bart. of Stratford in Essex, 1686, and his son Sir William Humble of Twickenham, 1705 (fn. 76). On the east wall of the chancel, to the south of this recess, is the monument of Francis Poulton, Esq. one of the Benchers of Lincoln's Inn (with busts of the deceased and his wife (fn. 77) ), 1642; on the same wall (north of the recess) are those of William Reeve (fn. 78), Gent. son of William Reeve, Esq. of Fair Lee, in the Isle of Wight, 1669; and Thomas Gilmoore, Gent. 1691. In the north-east corner stands an urn of veined marble, on the pedestal of which is an epitaph written by Dryden in memory of Lady Frances Whitmore (fn. 79), who died in 1690, being then the wife of Matthew Har vey, Esq. On the north wall of the chancel is the monument of Anne, wife of John Fish, Gent. (fn. 80), 1693. Over the gallery, on the east wall, is the monument put up by Pope to the memory of his parents, on which also is a memorial for himself (fn. 81). Bishop Warburton, many years after, erected another monument for him in this church, with his bust in white marble placed over the gallery on the north wall (fn. 82).
Lord Berkeley.
Lady Markham.
Nathaniel Pigott.
Sir Chaloner Ogle.
Mrs. Clive.
On the east wall of the chancel is the monument of John Lord Berkeley, of Stratton (fn. 83), 1678. On the south wall, under the gallery, those of Bridget Lady Markham (fn. 84), 1609, and Pauncefoot Green (fn. 85), 1757. Over the gallery, on the same wall, is that of Nathaniel Pigott, Esq. (fn. 86) 1737. On the north wall of the church over the gallery is the monument of Sir Chaloner Ogle (fn. 87), 1750. On the wall of the south aisle that of Hamon L'Estrange, Gent. descended from an ancient family in Norfolk, 1728. On the chancel floor are the tombs of Sir Thomas Lawley, Bart. (fn. 88) 1646; the Rev. Charles Williams, 1708; the Right Hon. the Countess Dowager of Drogheda, daughter of Lord Viscount Falmouth, 1735; Dame Mary Jane, relict of Sir John Buckworth, 1775; and Mrs. Angelique Faiche Clermont, her sister, 1783. In the nave are those of Mr. Henry Wiatt, 1719; Mr. John Wiatt, 1734; Martha, wife of Lionel Spencer Berkeley, Esq. 1751; Mary Gardiner Spencer, 1771; and Robert Baker, Esq. (whose daughter Anne married Mr. Henry Cole), 1789. At the west end of the church are those of Charles Boehm, Esq. 1769; and Jane, wife of Charles Blicke, 1793. In the north aisle are those of Richard Burton, Esq. (fn. 89), 1443; Thomas Westhrow, Esq. 1653; and Michael Holman, Esq. of Whitton, 1658. On the outer wall of the church are the monuments of Sarah, wife of Henry Pasmore, 1681; Mary Beach, Pope's nurse (fn. 90), 1725; Mrs. Eliz. Butler (fn. 91); Mr. Thomas Twining, 1741; Mrs. Catherine Clive (fn. 92), 1785; Stephen Cole, Esq. 1790; and Miss Catherine Cole, 1792. On the tower is that of Mr. Edward Smith, 1741.
Tombs in the church-yard.
In the church-yard are the tombs of Mr. Leonard West, 1691; Mr. Edward Cole, 1706; Elizabeth, his widow, 1707; Elizabeth, his mother, aged 91, 1709; Mr. Stephen Cole, 1740; Richard Holman, Gent. 1709; Richard Wright, Esq. 1727; Mary, his widow, daughter of the Rev. Dr. Glover, of Ickenham, aged 95, 1781; Mr. Daniel Heather, 1733; Mr. Thomas Gray, 1735; Daniel Huet, schoolmaster, 1738; Sarah, wife of Joseph Hickey, and daughter of William Boulton, 1740; William Rider, Esq. (whose daughter, Maria, married the Rev. Samuel Hemming), 1754; the Rev. Gustavus Hamilton, 1755; Sir Patrick Hamilton, Knt. and Alderman of Dublin, 1780; Lieut. Colonel John Willson, 1757; Edward Seymour (the portrait painter), 1757; Mr. Charles Seymour, 1773; the Right Hon. Selina Countess Dowager Ferrers, 1762; Mr. Daniel Twining, 1762; John Cook, Gent. 1765; Philip Rogers, surgeon, 1770; Lady Mary Tryon, daughter of Robert Earl Ferrers, and wife of Charles Tryon, Esq. 1771; Lieut. General William Tryon (son of Charles Tryon of Northamptonshire), Governor of the province of New York, and Colonel of the 29th regiment of foot, 1788; William Emans, Esq. 1773; John Green, of Clement's Inn, 1773; George Green, of Clement's Inn, 1774; Mr. Peter Lewis Perrin, 1774; William Lister, Esq. 1774; Margaret, wife of the Rev. George Cowling, 1774; Lydia, wife of John Spackman, Esq. 1778; John Spackman, Esq. 1785; George Gostling, Esq. of Whitton Place, 1782; and Mr. Kerry Ware, 1784 The church-yard was enlarged in 1713 with the addition of 1589 superficial feet, granted by Charles Duke of Somerset, and in 1754 with 389 feet, granted by the Earl and Countess of Northumberland.
In the burial-ground, near the London road, about a quarter of a mile from the church, are the tombs of Peter Christrom, Gent. 1783; Mrs. Margaret Archambo, aged 92, 1784; Mr. Robert Gray, 1788; Richard Williams, M.D. of Falmouth, 1789; the Rev. Robert Burt, late vicar (who married the eldest daughter of the late Joseph Gascoyne, Esq.), 1791; Mrs. Catherine Durban, 1792; and Mrs. Mary, wife of John Dobson, 1794.
Rectory.
The church of Twickenham was given, with those of Isleworth and Heston, to the monks of St. Waleric, in Picardy, who granted them to the warden and fellows of Winchester College. They were all surrendered anno 1544 to King Henry VIIIth, who granted the two former to the dean and canons of Windfor (fn. 93), to whom they still belong. The lessees have been the same as those of Isleworth (fn. 94).
The church of Twickenham was taxed at 17 marks, in 1327 (fn. 95). In 1650, the great tithes were valued at 106l. per annum. The reserved rent is 35l. 12s. 4½ d. (fn. 96)
Vicarage.
When the church was appropriated to the priory of St. Waleric, a vicarage was endowed, of which the prior and convent became patrons (fn. 97). During the wars with France, the possessions of the alien priories being seized by the crown, King Edward III. and Richard II. presented several times to this vicarage (fn. 98). The patronage came afterwards to the warden and fellows of Winchester College, and afterwards to the dean and chapter of Windfor. The vicarage is rated in the King's books at 11l. per annum.
Vicars.
Thomas Willis.
Thomas Willis, who was appointed to the vicarage of Twickenham by parliament in 1646 (fn. 99), was, says Calamy, son of the famous schoolmaster of that place. The vicar wrote a pamphlet, called "A Warning to England, or a Prophecy of Perilous Times (fn. 100). In 1651, an augmentation of 55l. (15l. of which was to be paid out of the impropriated tithes of Twickenham) was voted by the committees to Mr. Willis, his vicarage being only 55l. per annum (fn. 101). In the return of the commissioners appointed to inquire into the state of ecclesiastical benefices, Mr. Willis is commended as being diligent in observing all the commands of the parliament. He was deprived in 1661.
Richard Meggot.
Richard Meggot, Dean of Winchester, was vicar of Twickenham from 1668 to 1686 (fn. 102). He was a celebrated preacher (fn. 103), and author of a volume of sermons in 8vo. and several single discourses.
Samuel Pratt.
Samuel Pratt, Dean of Rochester, and Clerk of the Closet, who had been tutor to the Duke of Gloucester, had the vicarage of Twickenham, which he held till his death in 1723. He published some single sermons (fn. 104).
Daniel Waterland.
Daniel Waterland, D.D. instituted to this vicarage in 1730, was born at Wasely, in Lincolnshire, in 1683, and received his education at Magdalen College in Cambridge. He published some tracts in defence of Christ's divinity; a history of the Athanasian creed; a treatise on the importance of the doctrine of the Trinity; some charges on the Eucharist; and several sermons. After his death, which happened in December 1740, two volumes of his miscellanies (on subjects of religion and morality) were published. His funeral sermon, which is in print, was preached by Jeremiah Seed, M. A. author of four volumes of sermons and essays, who was his curate at Twickenham (fn. 105).
Bishop Terrick.
George Costard.
Richard Terrick, afterwards Bishop of London, was instituted to this vicarage in 1749. He held it some years with the bishopric of Peterborough, but resigned it on being translated to London in 1764; when he was succeeded by George Cosftard, a learned divine, eminently skilled in Græcian and Oriental literature, and a man of very amiable manners. He was born about the year 1710, and received his education at Wadham College. This living, which he held till his death in 1782, was obtained for him through the interest of Lord Chancellor Northington (fn. 106). Mr. Costard's favourite pursuit was astronomy: he published a treatise on that science, and another on its use in history; letters on its rise and progress among the ancients, and on the chronology and astronomy of the Chinese. His theological works consist of critical observations on some of the Psalms, and dissertations on various passages in scripture. He was author also of some strictures on Halhed's history of the Gentoo laws, and reflections on the language of tragedy. His library and instruments were sold by auction soon after his death (fn. 107). The present vicar of Twickenham is Philip Duval, D. D. who succeeded the late Robert Burt, LL.D. in 1792.
Parish register.
The parish register commences in 1538.
Comparative state of population.
Average of baptisms.
Average of burials.
1539–1548
154/5
144/5
1580–1589
161/5
104/5
1683–1692
53 1/10
46 3/10
1730–1739
724/5
763/5
1763–1772
70
87
1780–1784
813/5
814/5
1784–1789
933/5
804/5
1790–1794
982/5
792/5
The population of this place seems to have increased in the proportion of about six to one during the last two centuries. The present number of houses is 611; of inhabitants, including lodgers (fn. 108) (according to an account taken from house to house in the month of December 1794), 3355; which is in the proportion of 5½ to a house.
Plague years.
The great plague in 1603 appears to have been very fatal at Twickenham, where, though the average yearly number at that period did not much exceed ten, yet 67 persons were buried from the beginning of August to the beginning of December. One person only is mentioned to have died of the plague in 1625; the number of burials that year was 37. In 1665, 21 persons died of the plague.
At the beginning of the most ancient of the register books are the following curious entires, which shew in what manner the good people of Twickenham settled their differences in the 16th century. I think they could not have adopted a better.
Singular way of settling differences.
"The fourth day of Aprell, in 1568, in the presence of the hole paryshe of Twycknam was agreement made betwyxt Mr. Packer and hys wysse, and Hewe Rytte and Sicylye Daye, of a slander brought up by the sayde Rytte and Sicylye Daye upon the aforesayde Mr. Packer.
"The 10 daye of Aprell, 1568, was agreement made between Thomas Whytt and James Herne, and have consented that whosoever geveth occasion of the breaking of Christen love and charyty betwyxt them to forset to the poor of the parysh 3s. & 4d. being dewlye proved."
Extracts from the Parish Register.
"Robert, son of Sir John Tracie, baptized Jan. 21, 1592–3."
"Oct. 30, was buried Mr. Knyght, the hearolde of armes (fn. 109),—1593."
"Katherine, wife of Mr. Rowland White (fn. 110), buried Mar. 23, 1603–4."
"Sir John Fitz of Fitzford, in the county of Devon, buried Aug. 10, 1605."
Sir John Suckling.
"John, son of Mr. John Suckling, baptized Feb. 10, 1608–9." I suppose this to be Sir John Suckling, the poet and dramatic writer, son of Sir John Suckling, comptroller of the household, who resided at Whitton in this parish. His biographers fix the time of his birth in 1612, but his name does not occur in that year; his sister Elizabeth was baptized in 1612; Lionel, his brother, in 1610. Sir John Suckling, who succeeded his father in the house at Whitton, and resided there, was esteemed one of the most accomplished persons of the age. He made a campaign under the great Gustavus Adolphus at Sweden, and raised a regiment at a considerable expence for the service of Charles I.; but distinguished himself more by his poetry than his valour. He died of a fever May 7, 1641. His works consist of poems, letters, and plays, which have been collected into an octavo volume.
"The Ladie Bridget Markham (fn. 111), who dyed in the Ladie of Bedford's house in the Parke, was interred May 19, 1609."
"Mary, daughter of Sir Harry Baker, baptized Sep. 9, 1615."
"Charles (fn. 112), son of Sir Philip Stanhope, baptized at the Countess of Bedford's, in the Park, by a special dispensation, procured from the Lord Bishop of London, the 11th of November, 1615."
"Mr. Edward Walgrave (fn. 113), and Mrs. Elizabeth Hardret, married Feb. 6. 1615–6."
Sir Humphrey Lynd.
"Anna, daughter of Sir Humphrey Lyne, baptized Mar. 25, 1617; Margaret, Nov. 15, 1618; Jane, May 31, 1620; Katherine, Sep. 24, 1621; Humphrey, July 26, 1626." Sir Humphrey Lynd, says Anthony Wood, was a most learned knight, and a zealous puritan. He is commended by that biographer as having written ably against the church of Rome. Among other tracts, he published one called Via Tuta, answered by Jenison, a Jesuit, in a pamphlet entitled, "A Pair of Spectacles for Sir Humphrey Lynd;" to which the knight replied in another tract called, "A Case for Sir Humphrey Lynd's Spectacles (fn. 114)." He died in 1636. Featly preached his funeral sermon. Sir Humphrey resided several years at Twickenham, in the house which is now Mr. Cambridge's.
Sir Benjamin Rudyerd.
"Elizabeth, Ladie, the wife of Sir Benjamin Rudyerd, buried Sep. 22, 1625." Sir Benjamin Rudyerd was a frequent speaker in the parliaments of James I. and Charles I. Several of his speeches are in print. Anthony Wood speaks highly also of his poetical talents.
Sir John Fenett.
"Fenetta, daughter of Sir John and Ladie Jane Fenett, baptized July 23, 1626." Sir John Fenett, or Finett, who resided at Twickenham, was appointed Master of the Ceremonies to Charles I. in 1626; and died July 12, 1641. He was the author of "Philoxenes," being observations on the reception and entertainment of ambassadors in England, published in 1656; and translated a book from the French, entitled, "The Beginning, Continuance, and Decay of Estates (fn. 115)."
"Anne, Ladie, the wife of Sir William Foster, buried Nov. 3, 1629."
"John, the son of Sir Thomas and Lady Elizabeth Richesonne, buried Feb. 6, 1629–30."
"Lady Charity Poole, wife to Sir Nevell Poole, departed Oct. 10, buried Oct. 20, 1653."
Earl of Manchester.
"Lady Lucy, daughter of Edward Earl of Manchester, born May 3, baptized May 15, 1655. The Lady Essex, wisse to Edward Earl of Manchester and Countis of Manchester, died on the 28th of October, in the year 1658." The Earl of Manchester was a very distinguished character, both during the civil wars and Cromwell's protectorate. He had been Speaker of the House of Lords whilst the parliament were at war with the King, was a member of the assembly of divines, and one of Cromwell's upper house. But there was little cordiality between him and the Earl, who concurred heartily with the restoration of Charles II. Essex, daughter of Sir Thomas Cheek, and relict of Sir Robert Bevil, was his third wife. The Earl of Manchester's great house at Twickenham was assessed to a parish rate in 1661.
Family of Ashe, Bart.
"Martha, daughter of Sir Joseph and Mary Ashe, baptized May 14, 1658; Grace, daughter of Sir Joseph Ashe, Bart. buried June 12, 1665; Diana, baptized July 17, 1666; Elizabeth, buried March 9, 1668–9; James, baptized July 24, 1674; Sir Joseph Ashe, Knt. and Bart. buried Ap. 21, 1686; Dame Mary Ashe, relict of Sir Joseph, Dec. 6, 1705; Joseph, son of Sir James Ashe, Jan. 10, 1702–3; Catherine, his daughter, Feb. 15, 1704–5; Mary, July 3, 1706; Frances, Aug. 26, 1707; Martha, Aug. 11, 1714."
Several entries occur also relating to the Windham family connected with the Ashes.
Licence to marry in the octaves of Pentecost.
"Christopher Mitchel and Anne Colcot, married June 4, 1665, by permission of Sir Richard Chaworth (fn. 116), it being within the octaves of Pentecost."
Sir William Berkeley.
John Lord Berkeley, of Stratton.
"Sir William Berkeley, buried July 13, 1677." Younger son of Sir Maurice Berkeley, and brother of John Lord Berkeley of Stratton. He was of Merton College in Oxford, and afterwards gentleman of the privy chamber to Charles I. In the year 1646 he went on public business to Virginia, of which province he had afterwards the government. He invited many of the Royalists to retire thither as a place of security, and hinted in a letter to the King that it would not be an unfit place as a retreat for his Majesty; depending, I suppose, more upon the improbability of its being attacked, than on its means of defence. Virginia was not long however a place of safety; the parliament sent some ships with a small force, who took possession of the province without difficulty, and removed Sir William Berkeley from the government, but suffered him to remain unmolested upon his private estate (fn. 117). He resumed the government upon the restoration of Charles II., and continued in Virginia till 1676, when he returned to England, after an absence of thirty years. Sir William Berkeley published a history of Virginia, and is supposed to have drawn up the laws of that province, published by Francis Moryson in 1662. He was author also of a tragi-comedy, called the Lost Lady (fn. 118). "The Rt Honble John Lord Berkeley, buried Sep. 5, 1678." This nobleman, who resided during the latter part of his life at his seat at Twickenham Park, had distinguished himself by his conduct and valour on the King's side in the civil war. He was one of the generals in the west, where, in concert with Sir Ralph Hopton, he gained several victories, particularly an important one at Stratton; from which circumstance, when he was created a peer by Charles II. at Brussels in 1658, he had the title of Lord Berkeley of Stratton. During the time that he was governor of Exeter, which city he had taken from the parliament, the Queen resided there, and was brought to bed of her daughter Henrietta Maria. He was afterwards obliged to surrender this city to General Fairfax, after a siege of three months, for want of provisions. Lord Berkeley was much in the confidence of his Royal master, who employed him in many treaties and negotiations. During the usurpation he retired to France (fn. 119). His public services after the Restoration are recorded in his epitaph (fn. 120). "Lady Christiana Barkley, Baroness (fn. 121), buried Sep. 1, 1698; Charles Ld Berkley (fn. 122), Sep. 21, 1682; James Ld Berkley (fn. 123), Mar. 5, 1696–7; Mary, daughter of John Lord Berkley, Mar. 23, 1696–7; the Right Honourable Lady Berkley (fn. 124), July 21, 1707."
"Edward, son of Laurence Ld Hyde (fn. 125), buried Jan. 7, 1680–1."
"Thomas Howard, Esq. (fn. 126) and Diana Newport (fn. 127), married Sep. 4, 1682."
"Sir Richard Myddelton and Mrs. Frances Whitmore, widow (fn. 128), married Ap. 19, 1685."
In 1686 there are several entries of persons buried from the camp on Hounslow-heath.
"James, son of the Lord Francis Brudenell (fn. 129) and Frances, baptized Nov. 20, 1687."
"Alice, daughter of Sir Charles Tufton and Alice, baptized June II, 1690; Diana, Ap. 12, 1692; Charlotte, Jan. I. 1693–4; Mary, Mar. 4, 1694–5 (buried July 14, 1710); Katherine, baptized Ap. 14, 1697 (buried May 9); Christian, baptized June 16, 1698; Thomas, Dec. 26, 1699; Mary Tufton, buried May 5, 1765." Sir Charles Tufton, who was grandson of Nicholas the first Earl of Thanet, died at Twickenham in 1708.
"Frances, Lady of Sir William Humble (fn. 130), buried Sep. 5, 1693; Sir William Humble, Aug. 18, 1705."
"Batty, son of Daniel Langley and Elizabeth his wife, baptized Sep. 14, 1696." Batty Langley was an architect. He published an useful treatise on the prices of work and materials for building, and a book on Gothic architecture.
Earl of Mar.
"John Earl of Marr (fn. 131) and Mrs. Margaret Hay (fn. 132), married Ap. 6, 1703. Sir Hugh Paterson, Bart. of Bannockburn, and the Rt Hon. Lady Jane Erskine, daughter of the Rt Hon. the Earl of Marr, married Feb. 21, 1711–2."
"Gilbert, son of Sir Gilbert Kate (fn. 133), buried Ap. 23, 1703."
"Catherine (fn. 134), daughter of Sir Thomas Pope Blount (fn. 135), baptized Ap. 13, 1704; James his son, Nov. 10, 1705."
"Mr. James Rooke and Mary Countess of Dorentwater, were married Aug. 26, 1707."
"Erick (fn. 136), son of the Rt Hon. Ld Duffis, baptized Aug. 29, 1710."
"Echlin, son of the Hon. Capt. Jermiah Gibbons and Elizabeth, baptized July 19, 1711."
"The Rt Hon. Lady Bellis (fn. 137), buried March 13, 1712–3."
James Johnstone, Secretary of State for Scotland.
"Lucy, daughter of James Johnson, Esq. and Lucy, baptized July 7, 1717; James Johnson, Esq. buried May 11, 1737." Son of Sir Archibald Johnstone, Lord Warriston (Lord of Sessions in Scotland), who was beheaded in 1663, and cousin of Bishop Burnet. In 1689 he was sent with the order of the garter to the Elector of Brandenburgh, in company with Gregory King, Lancaster herald (fn. 138). He was afterwards, anno 1690, Secretary of State for Scotland, and in 1704 was made Lord Register. At the time of his death he was more than 90 years of age. Mr. Johnstone resided many years at Twickenham, in the house which was lately Sir George Pocock's.
"The Rt Hon. Lady Charlotte Johnston, buried May 4, 1762."
"John (fn. 139), son of the Hon. John Wallop (fn. 140) and Bridget (fn. 141) his wife, baptized Aug. 30, 1718."
"Susanna, daughter of the Hon. Capt. Cooke and Anne, baptized Dec. 21, 1719."
"Frances, daughter of Peter Vandeput, Esq. (fn. 142) and Frances, baptized Jan. 6, 1719–20.
"Joseph, son of Sir Clement Cottrell, baptized July 21, 1723."
Sir Godfrey Kneller.
"Sir Godfrey Kneller, Bart. buried Nov. 7, 1723." This eminent artist was a native of Lubec. He was born in the year 1648. He was originally designed for the army, and was sent to Leyden to study mathematics and fortification; but nature had designed him for a painter, and he followed the bent of his genius. He came over to England in 1674, whilst Lely was at the height of reputation. By the Duke of Monmouth's desire the King sat to Kneller, at the same time that Lely was painting it for the Duke of York. The young artist's success upon this occasion fixed his character (fn. 143); and he afterwards became portrait-painter to the King, and continued to enjoy that situation under his successors, James II., William and Mary, Queen Anne, and George I. Sir Godfrey Kneller was knighted by King William, and created a Baronet by King George I., in 1715. Among his most noted works, are the Beauties at Hampton-court, the Admirals, at the same place, and the Kit-Kat Club.
There is a monument to the memory of this celebrated artist in Westminster Abbey (fn. 144), which has occasioned it to be supposed that he was buried there. Dame Susanna Kneller, his widow, was buried at Twickenham, Dec. II, 1729. Sir Godfrey's residence was at Whitton, now the seat of Samuel Prime, Esq.
"William Lord Manners (fn. 145), son to their Graces John and Bridget, Duke and Duchess of Rutland, born the 29th day of July, and baptized the 30th, 1724."
"George Frederick, son of Charles Gustavus Baron Sparre, Envoy extraordinary from the King of Sweden, and Elizabeth Countess of Gyllenburgh, his wife, baptized Aug. 8, 1724."
"William, son of the Hon. Col. Townshend (fn. 146), buried Oct. 15, 1727; Charles (fn. 147), son of Colonel Townshend and Henrietta (fn. 148), baptized Sep. 6, 1728; Frederick, buried Mar. 8, 1733–4."
"The Rt Honble Lady Anne Hollis, buried Feb. 19, 1726–7. Thomas, son of the Rt Hon. Philip Howard (fn. 149) and the Hon. Winifred his lady (fn. 150), baptized Feb. 4, 1727–8."
"The Honble Major Gen. Wheeler, buried Jan. 7, 1729–30."
"The Hon. Col. Gilbert Talbot (fn. 151), buried Sep. 28, 1731."
"Dame Isabella, relict of Sir William Wentworth (fn. 152), buried Aug. 10, 1733."
"Richard Grenville (fn. 153) and Anna Chambers (fn. 154), married at the Countess of Suffolk's May 9, 1737."
"The Honble Mrs. Anne Cox, buried Feb. 9, 1738–9."
Nicholas Amhurst.
"Mr. Nicholas Amhurst, buried May 2, 1742." A native of Kent, and a member of St. John's College in Oxford, author of a well-known work, called Terræ Filius, and editor of the Craftsman, in which he wrote most of the political papers himself, being assisted by Lord Bolingbroke and Mr. Pulteney. This paper had a very extensive sale, 10 or 12,000 copies being circulated weekly. Mr. Amhurst wrote also "The British General," the Convocation, and other political poems. He is said to have died of a broken heart, in consequence of his friends neglecting to provide for him when they came into power: but it has been well observed, that if so, he must have had little patience or strong passions, since his death happened within a few months after the change of ministry. He died poor, and was buried at the expence of Franklin the printer (fn. 155).
Alexander Pope.
"Alexander Pope, Esq. buried June 5, 1744 (fn. 156).
"William, son of Henry Fielding, Esq. and Mary, baptized Feb. 25, 1747–8." Fielding, the celebrated novelist and dramatic writer, rented at this time a house in the Back-lane at Twickenham (fn. 157).
Edward Seymour.
"Mr. Seymour, buried Feb. 3, 1757." Edward Seymour, a painter.
John Earl of Radnor (fn. 158), buried July 23, 1757."
Byron family.
Admiral Byron.
"Lady Byron (fn. 159), buried Sep. 21, 1757; the Hon. William Byron, June 29, 1776; the Hon. Caroline Byron, Nov. 20, 1784; Admiral John Byron, April 10, 1786." An officer of distinguished merit. He first became known by the interesting narrative of his escape when cast away with Lord Anson in the Wager. He afterwards made a voyage round the world, and discovered the Patagonians. The account of this voyage is published in Hawksworth's collection. His bravery was evinced in an action with a French ship, greatly superior in force, off the Island of Grenada, in 1778. He was made a Rear Admiral in 1776, and a Vice Admiral in 1778. "The Hon. Henry George Byron, buried May 10, 1789."
"Vere (fn. 160), son of Vere Powlet (fn. 161) and Mary (fn. 162), baptized June 12, 1761."
"The Right Hon. George Lord Edgcumbe, batchelor, and Emma Gilbert, the natural and lawful daughter of the most reverend his Grace John Gilbert, Lord Archbishop of York, a spinster, were married in the house of the said Lord Archbishop, her father, at Twickenham, in the county of Middlesex, by special license of the Archbishop of Canterbury, on Thursday "Aug. 6, 1761." Archbishop Gilbert died at Twickenham about three days after the marriage of his daughter.
Countess Ferrers.
Lady Fanny Shirley.
"The Rt Hon. the Countess Dowager of Ferrers (fn. 163), buried Mar. 25, 1762." Mother of Lady Fanny Shirley, on whom the well-known ballad of "Fanny, blooming fair (fn. 164)," was written. The Countess resided many years in a house (now pulled down) which was built by her husband the first Earl Ferrers. It stood on the opposite side of the lane, not far from Pope's.
"Lady Mary Tryon (fn. 165), buried May 23, 1771."
Sir George Pocock.
"Lady Pocock (fn. 166), buried Jan. 7, 1768; the Honble Sir George Pocock, K.B. aged 86, buried Ap. 12, 1792." This brave veteran was well deserving of the rank and honours to which he attained. He commanded the British fleet in the East Indies from 1757 to 1760, during which time he defeated the enemy in three engagements, each time with an inferior force. For these services he was made Knight of the Bath in 1761. The next year he commanded a fleet in the West Indies; and was commander in chief at the taking the Havannah (fn. 167). About the year 1765, he came into possession of the house at Twickenham which had been Mr. Johnstone's, and made it his principal residence during the latter part of his life.
"John (fn. 168), son of John and Caroline, Earl and Countess of Buckinghamshire, baptized Sep. 20, 1773; John Henry Fraser and Maria Hobart, married May 9, 1785."
Mrs. Clive.
"Catherine Clive, buried Dec. 14, 1785." This celebrated actress was the daughter of Mr. William Raftor, an Irish gentleman, who had suffered in his fortunes from his attachment to James II. She was born in the year 1711. Her first appearance on the stage was in 1728, when she was introduced in the character of a page to sing a song. The same season she got great applause by acting the character of Phillida. Her performance of Nell in the Devil to Pay, in 1731, fully established her character for comic excellence. For thirty years and upwards, during which time, with the intermission of a few seasons, she was engaged at Drury-lane, she continued in full possession of the public favour, playing a great variety of characters in comedy and ballad farces. She shone particularly in chambermaids, romps, superannuated beauties, viragoes, and all whimsical and affected characters. In 1769, having acquired a handsome competence, she resolved, though still retaining her comic powers, to bid adieu to the stage, and after her benefit that year, spoke a farewell address, written upon the occasion by the present Earl of Orford, in whose neighbourhood at Strawberry-hill she resided. The remainder of her life was spent in an honourable independence; but she nobly retrenched from the luxuries which it might have afforded her, to administer to the comforts of a brother and sister whose means of subsistence were but slender. Mrs. Clive was married in the year 1732 to George Clive, Esq. and though this match did not turn out happily, her character always stood unimpeached. Mrs. Clive is recorded in the Biographia Dramatica as the writer of some small dramatic pieces, which were performed at her own benefits.
"The Hon. Frederick St. John (fn. 169) and the Rt Hon. Lady Mary Kerr (fn. 170) (of Poyle Court in Surrey), married Dec. 9, 1788."
Instances of longevity.
"Henrietta Taylor, aged 90, buried Ap. 4, 1790."
"John Nutt, aged 100 years, buried Nov. 24, 1791."
Curious deed in the parish chest.
In the parish chest, among other records, is a deed of the abbess and convent of Sion, by which a tribute of 20 l. per annum, formerly paid by the tenants of Isleworth manor (in the parishes of Isleworth, Heston, and Twickenham), is remitted. The initial letter is richly illuminated. It bears date 22 Henry VI.
Parish lands.
The parish have about seven acres of land, given by benefactors now unknown (let at about 10 l. per annum), and some land in Moor-mead (purchased with various sums of money left to the poor (fn. 171) ), which produces about 30 l. per annum (fn. 172). Some small rent-charges have been given to the parish, in consideration of inclosing parcels of the waste, and stopping footpaths.
Parish bull.
Two acres of land at Whitton are chargeable with finding a bull for the use of the parish. In 1705, there was an order of vestry, that, unless Edward Adams found an able and sufficient bull, the land should be disposed of to some other person who would find a bull. In 1748, the rent of the parish lands was 6l. 19s. 2d.; of which 14s. is said to arise from the bull land, perhaps a commutation in money. About twenty years ago the tenant of this land provided a bull for the parish use; but at present, I understand, they have neither the bull nor the money.
Alms-houses.
In the year 1704, six alms-houses were built on the common; towards which Matthew Harvey, Esq. who died in 1694, gave the sum of 100l. Six other alms-houses were built in 1721, with the sum of 200 l. given to the poor by the Hon. Sarah Greville.
Benefactions for maintaining children in Christ's Hospital, and for blind persons.
In the year 1720, John and Frances West gave, by indenture, certain lands, then 241l. 8s. per annum, to support as many children in Christ's Hospital as the rent would admit of, at the rate of 10 l. per annum each, to be put out apprentice in the same manner as other children in the hospital; 20l. being paid with every boy, and 5 l. with every girl. One fifth of the children to be of the parish of Twickenham, and chosen by the inhabitants in vestry. There are generally two boys and one girl upon this foundation. The said John and Frances West, by indenture 1718, gave some houses, then let at 33 l. 5s. per annum, to blind kindred; in default of which, to blind persons of certain parishes, of which Twickenham was one. Afterwards Frances West, by her will (bearing date 1723), gave other houses, then let at 250 l. per annum, and the sum of 2650l. to be laid out in lands, the rents to be appropriated to certain charitable uses there specified; which being fulfilled, the residue to be divided into three parts; one of which to be given to blind men or women, 50 years of age or upwards, in sums of 5l.; a fourth of which pensioners to be of the parish of Twickenham. Only one person of Twickenham now receives the benefit of this charity.
Charity-school.
Mr. Robert Moore gave a cottage and a piece of land on the common for the use of the charity-school. Mrs. Elizabeth Cole, who died in 1707, bequeathed the sum of 100l. to be laid out to the best advantage for the benefit of the charity-school at this place, so long as the subscriptions for its support should amount to 30l. per annum, otherwise to be given to the charity-school of some neighbouring parish (fn. 173).
The present state of the schools is as follows: A school for boys, in which 30 are at present clothed and taught. It has no other endowment than two small pieces of land on the common, let at 7l. 10s. per annum (one of which, perhaps, was the benefaction of Robert Moore aforementioned), and a small sum in the 3 per cents. (fn. 174). For the rest, it depends upon subscriptions and an annual charity sermon.—A girl's school, in which 20 children are clothed and taught, depending solely upon subscriptions, except a small stock, the produce of savings;—and two Sunday-schools (fn. 175), the one for boys and the other for girls, to which Mrs. Cole's benefaction abovementioned is appropriated.
Singular ancient custom.
Benefactions for bread.
Coals.
There was an ancient custom at Twickenham of dividing two great cakes in the church upon Easter-day among the young people; but it being looked upon as a superstitious relick, it was ordered by parliament (fn. 176) (1645), that the parishioners should forbear that custom, and instead there of buy loaves of bread for the poor of the parish with the money that should have bought the cakes (fn. 177). It is probable that these cakes were bought at the vicar's expence; for it appears, that the sum of 1 l. per annum is still charged upon the vicarage for the purpose of buying penny loaves for poor children on the Thursday after Easter. Within the memory of man they were thrown from the church steeple to be scrambled for, a custom which prevailed also some time ago at Paddington, and is not yet totally abolished. George Perriman, in 1604, gave 1l. 4s. per annum for bread; Lewis Owen, Esq. (1623), 5l. 4s. and his house adjoining to Garrat's land for poor people to live in. Mr. Henry Beckett gave the interest of 40l. for bread; Francis Poulton, Esq. in 1640, 5l. 4s. per annum. The warren, called Duck's Lodge, is charged with 2l. 12s. per annum for bread. Mr. Robert Moore gave the interest of 20l. Mrs. Sarah L'Estrange gave her pew to Robert Baker, charged with a payment of 1l. 5s. per annum, for the same use. Mrs. Elizabeth Boucher 20s. per annum, part of the interest of 100l. for bread; the remainder for coals. Mrs. Elizabeth Cole, anno 1707, gave the sum of 100l. to be laid out to the best advantage for the purpose of distributing coals to the poor.