Pages 324-342
The Environs of London: Volume 4, Counties of Herts, Essex and Kent. Originally published by T Cadell and W Davies, London, 1796.
This free content was digitised by double rekeying. All rights reserved.
CHARLTON.
Etymology.
Situation.
Boundaries.
Soil.
Land-tax.
This place, which, in ancient records, is written Cerleton, or Ceorleton, takes its name from the Saxon word ceorle, a husbandman. It lies in the hundred of Blackheath, about two miles east of Greenwich, and seven miles from London-bridge. The parish is bounded by Greenwich, Lewisham, Eltham, Woolwich, the extraparochial hamlet of Kidbrook, and by the river Thames. It is of no great extent, but the number of acres I have not been able to learn; there are about 90 acres of woodland (fn. 1) and a considerable quantity of waste, including a part of Blackheath; the cultivated land is, for the most part, arable; there are 145 acres of marsh. The soil is various; gravel, loam, sand, and chalk (fn. 2). The quota paid by this parish to the land-tax is 116l. 16s. which is at the rate of 2s. 8d. in the pound.
Market, and fair, commonly called Horn-fair.
In the year 1268, there was a grant from the crown for a weekly market to be held at this place on Monday, and an annual fair, for three days, on the eve, the day, and morrow of the Trinity (fn. 3). Philipott, who wrote in 1659, speaks of the market as then not long since discontinued; "the fair," says he, "is not disused, but kept yearly on St. Luke's Day; and called Horn-fair, by reason of the great plenty of all sorts of winding horns and cups, and other vessels of horn there brought to be sold (fn. 4)." This fair, retaining the same name, still continues; it was formerly celebrated by a burlesque procession, which passed from Deptford, through Greenwich, to Charlton; each person wearing some ornament of horn upon his head. This procession has been discontinued since the year 1768: it is said, (by a vague and idle tradition,) to have owed its origin to a compulsive grant made by King John, or some other of our kings, when detected in an adventure of gallantry, being then resident at Eltham-palace.
The manor.
The manor of Charlton, in the reign of Edward the Confessor, was divided into moieties, and held by two brothers, Godwin and Alward (fn. 5). King William gave the whole to his half-brother Odo, Bishop of Baieux; under whom it was held by William Fitzoger. It afterwards came into the possession of Robert Bloet, Bishop of Lincoln, the King's Chancellor; who gave it to the prior and monks of Bermondsey (fn. 6). After the suppression of that monastery, it came into the hands of the crown. Queen Mary, in 1558, granted it to Sir Thomas White, and others (fn. 7). Previously to this grant, it had been leased to William Rice for 40 years, at 31l. per annum (fn. 8). Being again vested in the crown, Queen Elizabeth, in 1573, granted a lease of it for 21 years to Anne Lady Parry (fn. 9), who bequeathed her interest in it to Thomas Fortescue. In 1604, King James granted it in fee to John Earl of Mar (fn. 10), who, in 1606, sold it for 2000l. to Sir James Erskine (fn. 11). Sir James, the next year, sold it for 4500l. to Sir Adam Newton. His son Sir Henry (who had taken the name of Puckering (fn. 12) ) aliened it, in 1659, to Sir William Ducie, afterwards K. B. and Lord Viscount Downe, who died at his manorhouse here in 1679 (fn. 13). His representatives sold it, in 1680, to Sir William Langhorne, Bart., who entailed this estate upon his nephew Sir John Conyers, Bart. and his heirs male; which failing, upon William Langhorne Games, Esq. (another nephew), and his heirs male, with remainder to his kinswoman Mrs. Margaret Maryon, widow; and after her death, to her son John, (afterwards rector of White Rooding in Essex,) and his heirs for ever. Mr. Maryon left it, by will, to his niece Margaretta Maria, (married, first, to John Badger Weller, Esq. of Romford; and secondly, to John Jones, Esq. of the kingdom of Ireland,) with remainder to her daughter Jane (fn. 14), now the wife of Sir Thomas Spencer Wilson, Bart. and her heirs general. Lady Wilson is the present proprietor of this manor.
Manor house.
The manor-house, of which an engraving is annexed, was built by Sir Adam Newton about the year 1612. The chapel was consecrated in 1616 (fn. 15). In the west window, over the entrance of the hall, are the arms and alliances of Sir William Ducie (fn. 16), who made considerable alterations in the house in 1659. The saloon retains the original cieling as it was finished for Sir Adam Newton, richly ornamented in the fashion which prevailed about his time. On this cieling are the Royal arms; and the ostrich feathers—the cognizance of the Prince of Wales, to whom he was tutor. The chimney-piece in this room is very handsome, of the same age as the cieling. On one side is the figure of Vulcan; on the other, Venus in alabaster. In a room adjoining to the south side of the saloon, is a chimney-piece with a slab of black marble so finely polished, that Lord Downe is said to have seen in it a robbery committed on Blackheath; the tradition adds, that he sent out his servants, who apprehended the thieves. Dr. Plot makes the story more marvellous, by laying the scene of the robbery at Shooter's-hill (fn. 17). The gallery on the north side of the house (76½ feet by 16½) was fitted up by Sir Adam Newton. Over the window, at one end, is a boar passant, on a wreath, intended, I suppose, for the crest (fn. 18) of Newton; and over the opposite window, a hart trippant, the crest of Lord Keeper Puckering, whose daughter Sir Adam Newton married. In the windows are the arms and alliances of Ducie (fn. 19). In this gallery are portraits of Henry Prince of Wales, and Thomas Wilson, LL. D. Secretary of State to Queen Elizabeth (ancestor of Sir T. S. Wilson, Bart.). It contains also a large and very valuable collection of natural history made by Lady Wilson, consisting of minerals, extraneous fossils, (among which a great variety of those found at Charlton (fn. 20) should be particularly noticed,) insects, and various other subjects. The park and pleasure-grounds belonging to this mansion contain about 70 acres. The stables, which were built by Sir Adam Newton, have the initials A. N. frequently repeated on the outer walls.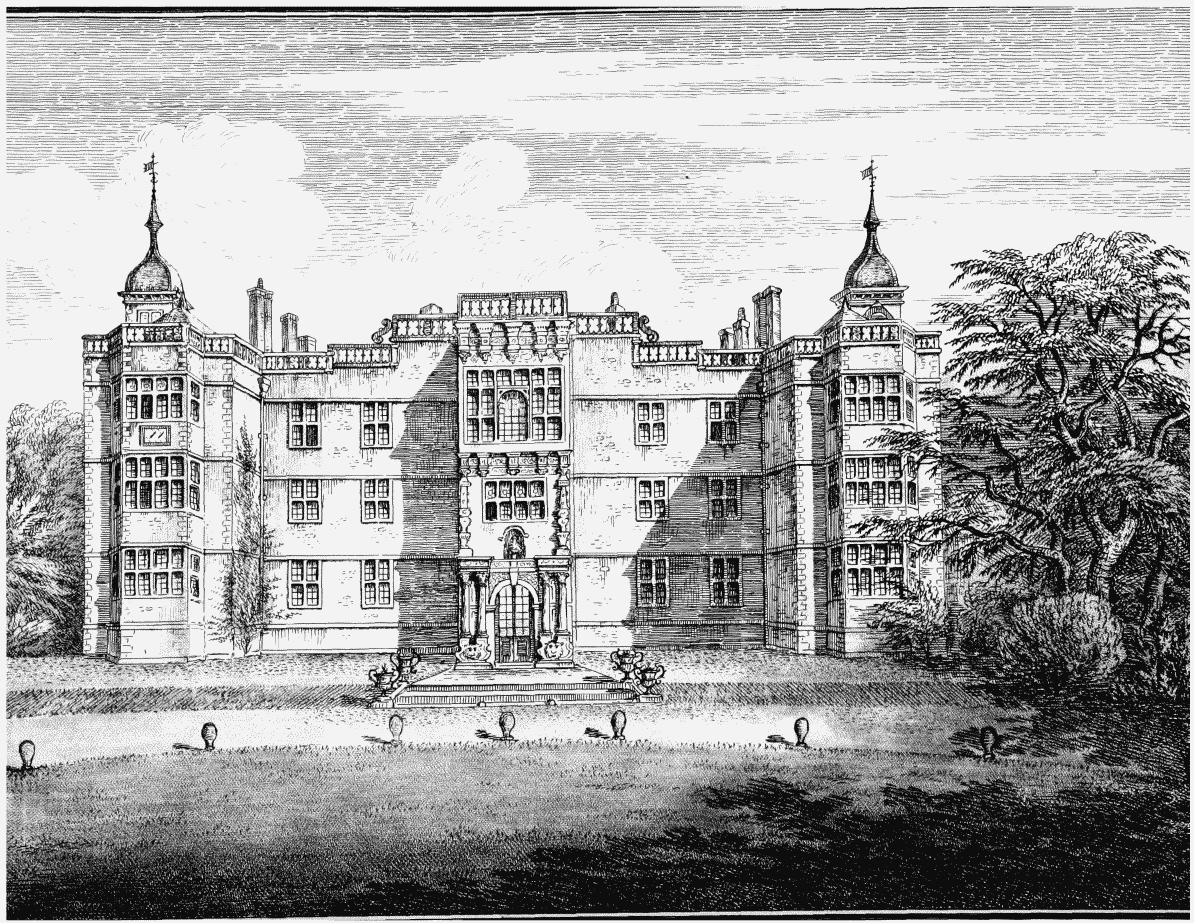 Charlton-house, in the year 1742, was in the occupation of John, Earl of Egmont, who formed there a valuable library, and collection of busts, pictures, &c. (fn. 21) It continued many years in the tenure of the Egmont family, and was afterwards rented for a short time by the Marquis of Lothian.
Wricklesmarsh.
Mansion built by Sir Gregory Page.
Hasted supposes Wricklesmarsh, the estate of the late Sir Gregory Page, to have been described in Doomsday-book, under the name of Witenemers (fn. 22). As the names differ so widely, and as there are no other circumstances of connexion, I doubt very much whether it is the same estate. There is no record, either by one or the other name, to direct us till the year 1598, when Wricklesmarsh belonged to Robert Vere, son of John Earl of Oxford (fn. 23). Edward Blount, Esq. died seised of it in 1617. About the latter end of the last century, it became the property of Sir John Morden, Bart. After the death of his widow, which happened in 1721, it was sold to Sir Gregory Page, Bart. (fn. 24), who, having pulled down the old mansion, built at a great expence a very magnificent structure of stone, consisting of a centre and two wings united by a colonnade; the whole of which was completed in one year by James the architect. The internal decorations corresponded in magnificence, and a very fine collection of paintings by the old masters bore witness to the taste and liberal spirit of the owner. Sir Gregory Page died in 1775, having bequeathed this mansion and estate to his great nephew Sir Gregory Page Turner, Bart. in tail male. Sir Gregory Page Turner, having procured an act of Parliament to enable him to alienate, conveyed Wricklesmarsh-house and park, in the year 1784, to John Cator, Esq. of Beckenham-place (fn. 25); who, in 1787, fold the house by auction, in lots, to be taken down; a great part of it has not been yet removed, and now stands in ruins, a melancholy monument of its former grandeur. That part of the premises which lies between the site of the mansion and Blackheath has been let on building leases.
East Combe lies partly within this parish (fn. 26).
Near the church stood a large mansion built by Sir Richard Raynes, who died, in 1710, seised of a considerable estate in this parish. Dr. Raynes, son of Sir Richard, bequeathed this house and estate to his wife's brother, Joseph Kirke, Esq.; who devised them to the Rev. Mr. Harris, of Chevely in Cambridgeshire, with remainder to Mr. Browne, of the kingdom of Ireland, and after him to three nephews, (sons of three sisters,) who are now joint possessors. Earl Cholmondeley, having a lease of the premises, has lately pulled down the house, and built an elegant villa near the chalkpit, in a situation which possesses more picturesque beauty.
The house, which was lately in the occupation of Mrs. Fitzherbert, and now of W. H. Lambton, Esq. is the property of Lady Wilson. It was formerly the rectory, and was exchanged by Dr. Warren for the present one, now occupied by Mrs. Chamberlayne, widow of the late rector.
A farm-house, now called Cherry-Garden farm, is said to have been built by Inigo Jones, for his own residence.
Parish church.
The parish church, dedicated to St. Luke, was for the most part rebuilt between the years 1630 and 1640, by the executors of Sir Adam Newton, who, having intended to rebuild it in his lifetime, had appropriated a sum of money for that purpose (fn. 27). It is a brick structure, consisting of a chancel, nave, and north aisle. At the west end is a square brick tower, embattled.
Monuments.
In the windows of the chancel and of the north aisle are several coats of arms in stained glass (fn. 28). On the east wall of the chancel is the monument of Elizabeth, wife of James Craggs, Esq. (fn. 29), 1711. On the south wall are tablets in memory of Edward Wilkinson, master-cook to Queen Elizabeth, 1567, and George Seger, Gent. 1594. On the same wall is the monument of Brigadier Michael Richards (fn. 30), Surveyor-general of the Ordnance to George I. 1721. On the floor are the tombs of Thomas Russell, Esq. and Martha his wife (fn. 31), 1656; Thomas Beardmore, M. A. rector, 1702; his wife, who was daughter of Robert Maundrell, of Compton Bassett, 1707; and Rebecca, wife of Major William Congreve, of the Royal Artillery, 1791. On the south wall are the arms of Wilkinson carved in stone (fn. 32). There was formerly, near the south door of the chancel, a brass plate, in memory of Robert Vere, third son of John Earl of Oxford, who died in 1598 (fn. 33).
Sir Adam Newton.
Adjoining to the chancel, on the north side, is an aisle, which seems to have been built by the Blounts of Wricklesmarsh (fn. 34). In this aisle, (which now belongs to the manor, as does the north aisle of the nave,) within an iron railing, is the monument of Sir Adam Newton, Bart. (tutor to Henry Prince of Wales,) and his wife Katherine (fn. 35), and that of Sir William Langhorne, Bart. (fn. 36), 1715. (His wife Grace, second daughter of John Earl of Rutland, and relict of Viscount Armagh, died in 1700.) In the same aisle are the monuments of Robert Dingley, Esq. (fn. 37), F. R. S. of Lamb Abbey, one of the principal promoters of the Magdalen charity, ob. 1781; Elizabeth, his first wife, daughter of Henry Thompson, Esq. of Kerby-hall, Yorkshire, 1759; and Esther, his second wife, 1784. On the floor is a brass plate, in memory of Edward Blount, Esq. of the Middle Temple (fn. 38), 1617.
On the north wall of the nave is the monument of Margaretta Maria, relict of John Badger Weller, Esq. (fn. 39), and wife of John Jones, Esq. 1777; upon a pillar on the north side, is that of James Mossat, Esq. (fn. 40), 1790; and on the floor there is a memorial for John Griffith (fn. 41), brigadier of the second troop of Guards, under the Duke of Marlborough, 1713.
Tombs in the churchyard.
John Turnpenny.
In the churchyard are the tombs of Mrs. Anne Richards, 1709; Captain Thomas Monck, 1716; James Craggs, Esq. one of his Majesty's postmasters-general (fn. 42), 1721; Anne, wife of George Robinson, merchant, daughter of Anthony, and sister of James Craggs, 1736; Mary, relict of Sir William Langhorne, Bart. and wife of John Jones, Esq. of Twickenham, 1730; St. Quintin Thompson, Esq. 1736; Joseph Kirke, Esq. 1745; Joseph Kirke, junior, Esq. 1765; John Turnpenny, Esq. "who by industry acquired, by œconomy improved, and with equity dispensed a considerable fortune among his surviving friends," 1756; St. Quintin Bladen Perkins, Esq. 1756; Anna Maria, his daughter, wife of William Jackson, Esq. 1776 (put up by her executrix Anne Perkins, afterwards Lady Middleton, who died in 1762); Sir John Lambert Middleton, Bart. 1768; Thomas Middleton, Esq. 1769; Elizabeth, wife of Jacob Reessen, Esq. (late Middleton), 1770; Lady Middleton, wife of Sir William Middleton, Bart. of Belsay, 1794; Sir William Middleton, 1795; John Altree, M. D. 1750; Edward Falkingham, Esq. (Comptroller of the Navy,) 1757; Agnes, wife of James Hamilton, Esq. 1766; Lady Mary Hamilton, 1768; Colonel Montague Blomer, 1772; Robert Stevenson, Esq. 1776; Mary Anne, only daughter of Robert Knox, and wife of John Cowan, 1778; Rebecca, wife of Captain Cumming, of the Royal Navy, 1783; the wife of the Hon. Henry Wallop, 1789; Charlotte, daughter of Dr. Charles Hutton, 1794; Thomas Harris, Esq. 1795; and Bridget, daughter of Christopher Browne, of Tolethorpe in Rutlandshire, Esq. (by Elizabeth, daughter of Sir Edward Harrington, of Ridlington,) married first to Richard Torlesse, M. D. secondly to the Rev. Mr. Thomas, rector of Casterton (the date not visible).
The rectory.
Charlton is a rectory in the diocese of Rochester and in the deanery of Dartford. The advowson, which had belonged to the priory of Bermondsey, was supposed to have been granted, with the manor, to the Earl of Mar; and Sir Adam Newton presented twice under that grant; but doubts arising about the wording of the grant, the Crown claimed the advowson, and the King presented, in 1636. Upon a representation of the case, by petition, Sir William Ducie procured afterwards, in 1667, a separate grant of the advowson (fn. 43). Sir Wm. Langhorne, who died in 1714, gave it to his relation Robert Warren, D. D. then rector (fn. 44). Langhorne Warren, his son, (who succeeded his father also in the rectory,) sold the advowson to Thomas Chamberlayne, M. A. (the late rector), whose widow is the present proprietor. In Pope Gregory's valuation, this rectory is rated at 100s. per annum; in the King's books it is valued at 10l. 7s. 8½d. In 1650, it was valued at 90l. per annum (fn. 45). Sir William Langhorne above mentioned left 1000l. to purchase lands for the augmentation of this benefice. The present rector is Henry Roper, instituted in 1789.
Parish register.
The earliest date of the register of baptisms, burials, and marriages, is 1653:
Comparative state of population.
Average of Baptisms.
Average of Burials.
1680—9
6 1/10
8 4/5
1730—9
8 2/5
11 3/10
1780—9
15
15 3/5
1790—4
15
15 3/5
1795
16
19
The present number of houses in this parish is 95.
Burials in the plague years.
In 1665 there were seven burials; three or four persons are recorded to have died of the plague. On the 13th of August that year, mention is made of a great tempest.
Extracts from the Register.
"Sr David Cunningham, Knt and Bart, buried Feb. 7, 1658–9."
"Sr John Napier, of Lutonhoo, Bart; and Elizabeth, daughter of Sr Theophilus Biddulph, Knt and Bart, married Aug. 29, 1666."
"Elizabeth, wife of Sr Anthony Bateman, Knt, buried Dec. 15, 1673; Sr Anthony Bateman, July 2, 1687."
Three children at a birth.
"Faith, Hope, and Charity were born at one birth, three daughters of Peter Newill, and were baptized April 14, 1678." Faith and Charity were buried a few days afterwards.
"Sr Wm Bassett, of Claverton in the county of Somerset, Knt, and Mrs. Rachel Biddulph, of East Greenwich, married Sep. 28, 1685."
Instances of longevity.
"Margaret Jones, widow, aged about 98 years, buried May 10, 1692; William Blake, aged near 100 years, was buried Jan. 12, 1692–3."
"Mr Richard Walter, and Mrs. Thomasine, daughter of Sr Joseph Brand, Knt, of Edwardston (Suff.), married Aug. 14, 1699."
"Sr John Morden, Bart, died Sep. 8, and was buried at his chapel on Blackheath on the 20th, 1708. Dame Susan Morden, buried at Morden College, June 10, 1721."
"The Rt Hon. Christopher Wandesford, Ld Visct Castlecomer, of the kingdom of Ireland (fn. 46), buried June 30, 1719."
"Richard Symes, Esq. of Lewisham, and Elizabeth Ducie Morton (fn. 47), of Tortworth (Glouc.), married April 3, 1720."
"Sr John Barker, of Sprouton (Suff.), and Alice Fytch, of Eltham, married at Morden College, Oct. 28, 1740."
Family of Perceval Earl of Egmont.
"Lady Margaret Perceval (fn. 48), buried Jan. 29, 1748–9; the Rt Hon. Catherine Countess of Egmont, buried Aug. 24, 1752; Cecil Parker Perceval (fn. 49), buried Mar. 9, 1753; The Rt Hon. John Earl of Egmont, widower, and Catherine, daughter of the late Hon. Charles Compton, and niece to George now Earl of Northampton, married Jan. 26, 1756; Charles George (fn. 50), son of John Earl of Egmont, born Oct. 1, 1756; Frederick Perceval (fn. 51), buried Jan. 29, 1757; Mary (fn. 52), daughter of John Earl of Egmont, born July 15, 1758; Lady Charlotte, buried Mar. 3, 1761; John Earl of Egmont, buried Dec. 23, 1770; the Rt Hon. Catherine Countess of Egmont, buried June 21, 1784; Hon. Henry Perceval, buried Aug. 4, 1772; Lady Anne, Aug. 4, 1772; Lady Catherine, June 26, 1773; Lady Isabella, Dec. 19, 1776; Hon. Charles Thomas Perceval, Feb. 20, 1793; Hon. Philip Tuston Perceval, Apl 18, 1795."
"The Rt Hon. Lucius Charles Ld Visct Falkland, and the Rt Hon. Sarah Countess of Suffolk (fn. 53), married at Morden College, Oct. 10, 1752."
"Ld Visc (fn. 54), buried Sep. 7, 1753."
"Harriot, daughter of George Ld Viscount (fn. 55) Townshend, and Anne, born Apl 20, 1782."
"Mary Carpenter, wife of the Hon. Henry Wallop, buried Aug. 28, 1789.
"John Trevelyan of Nettlecombe, Esq. and Maria, daughter of Sr Thos Spencer Wilson, Bart, married Aug. 9, 1791."
Henry Oldenburgh, and Dr. Robert Hooke.
Henry Oldenburgh, and Dr. Robert Hooke, both men of literature, died at Charlton in the year 1678; and Oldenburgh is said to have been buried there (fn. 56), but there is no mention of him in the parish register. He was one of the earliest members of the Royal Society; whose transactions he published down to the year 1677. He translated a life of the Duchess of Mazarine, and some other works. Dr. Hooke was professor of geometry at Gresham College, and curator of experiments to the Royal Society. He was one of the commissioners appointed to survey the new buildings, after the great fire of London in 1666. He distinguished himself as a mechanic, by his invention of the pendulum watch. His publications consisted of several treatises on mechanics and physics, and numerous papers in the Philosophical Transactions (fn. 57).
Sir Richard Browne.
Sir Richard Browne, of whom some particulars will be given in the account of Deptford, resided at Charlton during the latter part of his life, and died there Feb. 12, 1682–3 (fn. 58).
Morden College;
Adjoining to Blackheath, within the limits of this parish, near Wricklesmarsh, stands Morden College, built about the year 1695 by Sir John Morden, Bart. for the reception of decayed merchants. It is a spacious brick structure, with stone coins and cornices, forming a quadrangle, which is surrounded by piazzas. Over the front are the statues of Sir John Morden and his lady. In the hall are their portraits, and that of Queen Anne. In the chapel are the arms of Sir John and Lady Morden (fn. 59), and a record of benefactions to the College since the founder's death (fn. 60).
Its endowment.
Sir John Morden placed twelve decayed Turkey merchants in this College in his lifetime. He died in 1708, having by his will, bearing date 1702, endowed the College, after the death of his lady, with estates which are now about 1600l. per annum. Lady Morden, finding her income not sufficient to continue her husband's bounty to twelve merchants, was obliged, during her life, to reduce the number to four. She died in 1721, when the whole estate fell in to the College. The pensioners must be upwards of 50 years of age, bachelors or widowers, and members of the church of England; their pension is 40s. per month (fn. 61). There are commodious apartments for 30, which number, if any vacancies have happened, is filled up once a-year. The College is under the government of seven trustees of the Company of Turkey Merchants (fn. 62), who elect the pensioners. There is a treasurer, (Thomas Bennett, Esq.) whose salary is 50l. per annum. He has apartments in the College. The chaplain's salary was at first 30l. per annum, but was augmented by Lady Morden to 60l. He has apartments likewife in the College. The present chaplain is the Rev. John Watson, M. A. who succeeded George Patrick, LL. B. in 1790.
Tombs in the cemetery.
In the cemetery belonging to the College are the tombs of the Rev. John Plymley, chaplain, 1759; William Pallard, formerly merchant in London, and British Consul in Spain, 1780; and Captain Samuel Ball, commander in the Carolina trade, 1782.
Register of burials.
Sir John Morden, the founder.
A register of burials is kept, in which are the following entries:
"The Honble Sr John Morden, Bart, the pious and worthy founder of this College for decayed merchants, died Sep. 6, and was interred in his vault in the chapel belonging to the said College, Sep. 20, 1708."
Eleven of the pensioners died in the spring and summer which succeeded the hard frost in 1739–40.
"Mr Peter De Labourtache, aged 94, buried May 11, 1765."
"Mr Joseph Lane, son of Sr Thomas Lane, Lord Mayor of London, born in the year of his mayoralty, nephew of Sheriff
Cornish, and the oldest pensioner of this College, buried Jan. 6, 1773, aged 80."
Moses Browne.
"The Revd Moses Browne, who was admitted chaplain of this College the 24th of June 1763, died Sep. 13, and was buried Sep. 22, 1787, aged 82 years."
Moses Browne (fn. 63), who was originally a pen-cutter, distinguished himself early in life by his poetical talents; when only 20 years of age he published a tragedy and farce, called "Polidus," and "All"bedevilled." He became afterwards a frequent contributor to the Gentleman's Magazine, and gained several of the prizes given by Mr. Cave for poetical pieces. A volume of his poems was published in 1739. His most noted works were, "Piscatory Eclogues," and "Sunday Thoughts," in verse. He wrote also some political tracts. Mr. Browne had the vicarage of Olney, in Buckinghamshire.
Charity school.
Sir William Langhorne, Bart. who died in 1715, bequeathed the sum of 300l. to buy lands for the endowment of a school which he had founded (having built a schoolroom over the vestry adjoining to Charlton church), for the education of poor children. This purchase having been neglected, and the money vested in stock, it produces now only 8l. 15s. 2d. per annum, as a salary for the master.
Alms houses.
Some ancient alms-houses in this place (having no endowment) were rebuilt by Sir Richard Raynes, who died in 1710. Sir William Langhorne left the sum of 100l. to be laid out in lands for the benefit of the poor in these houses. This purchase also was neglected, and the bequest now produces only 2l. 17s. 6d. per annum.
Various benefactions.
The Rev. William Corey, rector, who died in 1625, left 3l. 13s. 4d. to the poor of this parish, and 6s. 8d. to the minister. Abraham Colse, vicar of Lewisham, anno 1656, left an annuity for the purchase of two sweet penny wheaten loaves of good bread for two of the godliest and poorest householders in Charlton, to be given weekly at the public church after divine service. Mr. Thomas Russell, anno 1656, gave 2l. 12s. per annum for bread. This donation has been lost.
An apartment in Lambard's alms-house (commonly called Queen Elizabeth's College) at Greenwich belongs to this parish (fn. 64).
Kiderook.
Adjoining to Charlton lies the extraparochial hamlet of Kidbrook, formerly a parish and a rectory.
The manor.
The manor of Ketebroke, Kedbroke, or Kidbrook, with the advowson of the church, was given by Cecilia, daughter of Pain Fitzjohn, and wife of Miles Fitzwalter, Earl of Hereford, to the prior and convent of St. Mary Overie in Southwark (fn. 65); at the dissolution of which monastery, (being then on lease to John Rychemonte,) it came into the hands of the crown. Queen Elizabeth granted a lease of the rectory of Kidbrook, anno 1579, to Brian Annesley, Esq. (fn. 66) King James, in 1604, granted the manor and rectory, in see, to John Earl of Mar (fn. 67). From him they passed to Sir William Garway; who, soon afterwards, conveyed them to his son-in-law Edward Blount, Esq. (fn. 68) of Wricklesmarsh. Mr. Blount sold the see-simple to Brian Annesley, Esq. above mentioned. Mr. Annesley left three daughters; the youngest of whom, Cordelia, brought this estate to her husband Sir William Hervey, a naval officer, who had distinguished himself in the memorable engage ment with the Spanish Armada. He was created, by King Charles, in 1628, Baron Hervey of Kidbrook. His only surviving daughter and heir Elizabeth, married John Hervey, Esq. of Ickworth; who sold this estate to Edward Lord Montague of Boughton. John Duke of Montague, his grandson, having procured an act of Parliament to vest certain of his estates in trustees, in order that they might be sold, this manor (with the rectory) was purchased by James Craggs, Esq. joint Postmaster-general; whose only son having died before him without male issue, his three daughters, Anne, Elizabeth, and Margaret, became his coheirs. Anne married, 1. John Newsham, Esq.; 2. John Knight, Esq.; 3. Robert Nugent, Esq. (afterwards Earl Nugent). Elizabeth married Edward Eliot, Esq.; Margaret married, 1. Samuel Trefusis, Esq.; 2. Sir John Hinde Cotton, Bart. Margaret died in 1734; and having no surviving issue, left her share between her sisters. Anne died in 1756, having vested her moiety in trustees for divers uses, with remainder to her husband in tail. Mrs. Eliot died in 1765, having bequeathed her moiety in like manner, with remainder to her nephew James, (son of her sister Anne by her first husband John Newsham,) who had taken the name of Craggs, with remainder to Edward Eliot, Esq. of Port Eliot in Cornwall. Mr. Newsham Craggs died in 1769, without issue. This manor is now the property of the Right Hon. Edward Craggs, Lord Eliot (fn. 69). The manor-house is occupied as a farm.
The rectory.
The rectory of Kidkrook, which was appropriated to the prior and convent of St. Mary Overie, has passed with the manor. There was no endowed vicarage; and the church has been entirely demolished above two centuries.