Pages 550-557
The Environs of London: Volume 4, Counties of Herts, Essex and Kent. Originally published by T Cadell and W Davies, London, 1796.
This free content was digitised by double rekeying. All rights reserved.
WEST-WICKHAM.
Name.
Situation.
This place, to which the addition of West is given to distinguish it from the parish last treated of, and from another of the same name in the country, lies within the hundred of Ruxley, about four miles from Bromley, and four from Croydon in Surrey. The principal part of the village is nearly twelve miles from London-bridge: the church and the manor-house are a mile farther.
Boundaries.
Quantity of land, and how occupied.
Soil.
Land-tax.
The parish of West-Wickham is bounded on the west and south by Addington in Surrey, on the north by Beckenham, and on the east by Hayes and Keston in Kent. It contains about 2600 acres of land, chiefly arable: there are about twenty acres of common (fn. 1). The soil is various; sand, loam, chalk, and clay. This parish pays the sum of 62l. 12s. to the land-tax, which is at the rate of 9d. in the pound.
Market and fair.
West-Wickham had formerly a market on Mondays, and an annual fair on the eve and festival of St. Mary Magdalen; both of which were granted to Sir Walter de Huntingfield, in the year 1318 (fn. 2). Both are discontinued; but there is an annual fair on Easter Tuesday.
The manor.
In the reign of Edward the Confessor, the manor of West-Wickham (then only distinguished by the name of Wicheham in the hundred of Ruxley) was held of the King by Godric. King William the Conqueror granted it to Odo Bishop of Baieux and Earl of Kent; of whom, when the survey of Doomsday was taken (fn. 3), it was held by Adam Fitzhubert. Robert Burnell, Bishop of Bath and Wells, had a charter of free-warren in this parish, anno 1284 (fn. 4); but whether he had the manor does not appear. Peter de Huntingfield died seised of the manor in 1313 (fn. 5). John de Huntingfield, son of William, left two daughters, coheirs, one of whom (Joan) brought this manor, in marriage, to John Coppledike, who was possessed of it in 1399 (fn. 6). The Squeries were in possession of it as early as the year 1413 (fn. 7). John Squerie, as appears by his will (fn. 8), bearing date 1449, sold it, with the manors of Keston and SouthCourt, some time before his death, for the sum of 200 marks, to John Trevelian (fn. 9); who, in 1469, aliened it to Richard Scrope (fn. 10). It was again aliened to Henry (afterwards Sir Henry) Heydon, before the year 1477, when John Squerie (son, it is probable, of John above mentioned) quitted all claim in the premises (fn. 11). About the latter end of the sixteenth century, Sir William Heydon sold the manor of West-Wickham to John Lennard, Esq. (fn. 12), from whom it descended to Sir Samuel Lennard, Bart; who dying without lawful issue, in 1727, bequeathed this estate to his natural son Samuel Lennard, Esq. (fn. 13); whose only daughter, Mary, married John Farnaby, Esq. now, in right of his wife, lord of the manors of West-Wickham and South-Court.
Manorhouse.
The manor-house, which stands near the church, was built by Sir Henry Heydon, in the reign of Henry VII. (fn. 14) It has undergone various alterations and repairs; but a considerable part of the original structure, with an ancient turret at each corner, still remains. In the window of the hall are the arms of Sir Henry Heydon (fn. 15) and his wife Anne, daughter of Sir Geoffrey Bulleyne (fn. 16), the arms and quarterings of Huffey (fn. 17); and several other coats (fn. 18). Over the chimney are the arms of Lennard (fn. 19). This mansion was for some years in the occupation of the late Samuel Beachcroft, Esq. It is now inhabited by Mr. Farnaby.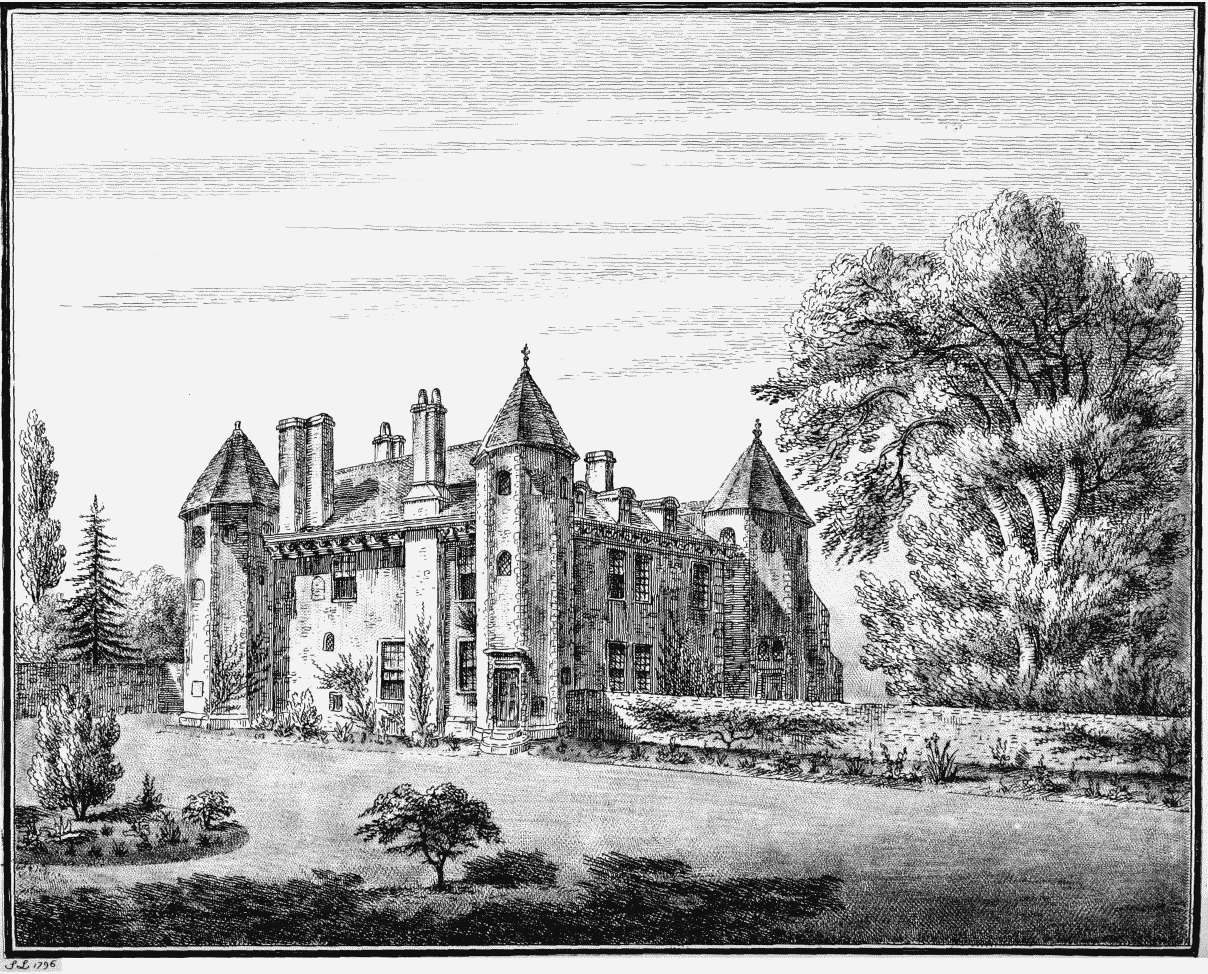 The liberty of the Duchy of Lancaster claims a jurisdiction over this manor, and the lands called Spring-park, Old-park, Frithwood, and Chambers'-grove (fn. 20).
The church.
The parish church, dedicated to St. John the Baptist, was rebuilt by Sir Henry Heydon, in the reign of Henry VII. It consists of a chancel, nave, and north aisle: on the south side, at the west end, is a low square tower.
Monuments.
Figure of a skeleton, and other stained glass, in the north aisle.
On the south wall of the chancel is a tablet to the memory of John Lang, thirty-seven years rector, 1619: on the floor are brass plates (with the effigies of the deceased) in memory of William de Thorpe, rector, 1407, and John Stokton, 1515. In the nave are the tombs of Elizabeth, wife of William Applebury, and daughter of Thomas Skevington, 1706; William, son of William Whitaker, Esq. 1761; Sir Thomas Wilson, Knt. (fn. 21), 1775; and Elizabeth Lady Wilson, 1779. In the east window of the north aisle is the representation of a skeleton, in a kneeling posture, with a label issuing from its mouth (fn. 22), intended for that of Sir Henry Heydon, founder of the church, as appears by the helmet and shield, with his arms, lying at the feet. In the same window are figures of the Virgin Mary, and St. Anne, with some coats of arms (fn. 23). In the south windows are the figures of St. Christopher, St. Catherine, &c.; some coats of arms (fn. 24), and the crest of Hussey, viz. a boot, with a golden spur, over which are represented two hands holding a human heart, with this inscription, Cor mobile, Cor mobile (fn. 25). On the east wall of this aisle is the monument of Sir Samuel Lennard (fn. 26), 1618. On the south wall is a piscina, and the monument of Margaret, wife of Thomas Hobbes (fn. 27), Esq. 1608. On the floor is the mutilated figure of a priest, with an inscription, in Saxon characters, of which only the letters A D E are legible.
Tombs in the church-yard.
In the churchyard are the tombs of Richard Seward, Esq. 1764; Henry Seward, Esq. 1793; John Martin, Esq. 1777; and Hugh Knowlings, Esq. 1780.
Rectory.
The church of West-Wickham is a rectory, in the diocese of Rochester and in the deanery of Dartford. The advowson was always an appendage of the manor, till Sir Samuel Lennard separated them, anno 1727, by bequeathing the advowson to his younger son Thomas Lennard, Esq. (fn. 28) It has since been again united to the manor, and is now the property of John Farnaby, Esq.
This rectory was rated, in 1287, at 25 marks (fn. 29); in the King's books at 11l. 10s. 10d. In 1650, it was valued at 70l.
Christopher Hussey, rector.
Christopher Hussey, D. D. instituted to this rectory in 1720, published four volumes of sermons.
The present rector is the Rev. Joseph Faulder, instituted in 1786, on the death of Sackville Austen.
Parish register.
The register of baptisms, burials, and marriages, commences in 1558.
Comparative state of population.
Average of Baptisms.
Average of Burials.
1580–9
43/5
14/5
1630–9
8
7½
1680–9
61/5
52/5
1730–9
7½
83/5
1780–9
10
9 1/10
1790–4
102/5
111/5
1795
10
5
The present number of houses is about 70 (fn. 30).
Burials in the plague years.
In 1603, one burial only is entered, but the person buried was said to have died of the plague: four persons died of the plague at Wickham in 1608; two in 1609; one in 1625. That year there were ten burials; in 1665, only two are entered in the register.
Extracts from the Register.
Family of Lennard.
"Rachel, daughter of Mr Samuel Lennard, baptized May 9, 1602; Elizabeth, daughter of Sr Samuel, buried Oct. 20, 1605; John, baptized Oct. 7, 1605; Coovert, Apl 12, 1608; Samuel, baptized Dec. 5, 1610, buried Mar. 17, 1611–2; Margaret, baptized May 26, 1613; Sr Samuel Lennard, buried Apl 15, 1618; Elizabeth Lady Lennard, Dec. 21, 1630;—Mr Edward Whichcote and Mrs Jane Lennard, married Apl 18, 1629; Mr John Courthorpe and Mrs Margaret Lennard (fn. 31), married Oct. 8, 1639; John Holmden, Esq. and Mrs Elizabeth Lennard, married May 15, 1649."
"Samuel, son of Stephen Lennard, Esq. baptized Jan. 20, 1632–3, buried Aug. 11, 1638; Anne, his wife, buried Feb. 26, 1633–4; John, baptized Feb. 23, 1635–6, buried Dec. 7, 1638; Stephen, baptized Mar. 2, 1636–7; Frances, baptized May 9, 1638, buried Feb. 21, 1638–9; John, baptized July 22, 1639; Anne, May 10, 1642; Robert, son of Sr Stephen Lennard, Bart, and Anne, baptized Apl 18, 1643, buried May 13, 1651; Bridget, baptized Nov. 26, 1644, buried May 8, 1650 ; Christian, baptized June 29, 1646; Sr Stephen Lennard, Bart, buried Jan. 20, 1679–80."
"Samuel, Son of Sr Stephen and Elizabeth Lennard, born Oct. 2, 1672; Anne, Mar. 7, 1674–5; Thomas, baptized Mar. 7, 1676–7; Stephen, baptized Dec. 7, 1677, buried Ap 13, 1702; Elizabeth (fn. 32), born Aug. 6, 1680; Dorothy, born Oct. 28, 1684, buried July 4, 1686; Dorothy, born Jan. 19, 1686–7, buried Nov. 18, 1729; Sr Stephen Lennard, Bart, buried Dec. 23, 1709; Elizabeth Lady Lennard (fn. 33), June 14, 1732; Sr Samuel Lennard, Bart (fn. 34), (in whom the title became extinct,) Oct. 25, 1727."
"Christian, daughter of Sr Thomas Stanley, buried June 14, 1684."
Gilbert West.
"Gilbert West, Esq. buried Apl 2, 1756." This amiable writer was son of the Rev. Dr. West; his mother was sister of Sir Richard Temple, afterwards Lord Cobham. Mr. West settled at WestWickham (fn. 37) about the year 1729, and there, as his biographer observes, "devoted himself to learning and piety. He was very often "visited by Lyttelton and Pitt, who, when they were weary of faction and debates, used to find at Wickham, books and quiet, a decent table, and literary conversation. There is at Wickham a walk made by Pitt; and what is of far more importance, at Wickham Lyttelton received that conviction which produced his 'Dis "sertation on the Conversion and Apostleship of St. Paul (fn. 36)." Mr. West was, in 1752, made one of the clerks of the Privy Council. His principal works are, Thoughts on the Refurrection, for which the University of Oxford made him LL.D. by diploma; Translations of Pindar; the Institution of the Garter, and other poems, of which the most admired are his imitations of Spenser. Mr. West's house at Wickham is now the property of C. Waller, Esq. and in the occupation of W. Whitmore, Esq.
Admiral West.
"Temple West, Esq. buried Aug. 15, 1757." Brother of Gilbert: he distinguished himself as a naval officer, particularly on the 20th of May 1756. He was made a flag officer in 1755, and was one of the Lords of the Admiralty. There is a monument to the memory of Admiral West in Westminster Abbey.
Benefactions.
Margaret Lady Slanye, in 1612, gave 3l. per annum for apprenticing poor children of this parish. Sir Samuel Lennard, in 1617, gave 20s. per annum to the minister of West-Wickham, to preach a sermon on the 5th of November in commemoration of the Gunpowder-plot, and a shilling a-piece to forty poor persons attending the church on that day, fifteen of them to be inhabitants of WestWickham.