Pages xvi-xix
A Survey of Documentary Sources for Property Holding in London before the Great Fire. Originally published by London Record Society, London, 1985.
This free content was digitised by double rekeying and sponsored by London Record Society. All rights reserved.
KEY TO PARISH REFERENCES
The reference numbers 1–162 printed in italic in the text identify the parish in which the property described by the document(s) lay. A list of parish names and numbers is printed on the following two pages. The series covers the parishes of which all or a part lay in the city, and includes extra numbers for uncertainties (as when a parish is referred to only as 'All Hallows' or 'St. Mary') and for variant or successive dedications. Parish numbers marked with an asterisk* in the list are shown on the map of parish boundaries, opposite. Asterisks within parentheses denote parishes which had ceased to exist by the period depicted on the map.
The city parishes remained remarkably constant in size and number from the early medieval period. The creation, in the twelfth and thirteenth centuries, of precincts for religious houses led to the disappearance of some (66, 110, 122, 140) and the alteration in size of many others; two more (29, 101) were abolished in the fifteenth and sixteenth centuries, respectively; six new parishes were created as a result of the dissolution of the religious houses (25, 33, 34, 47, 68, in the sixteenth century; 70 in the seventeenth century).
Parishes are listed alphabetically by dedication (ignoring 'Saint', but observing 'All' and 'Holy') and by the 'surname' current c. 1350, which may not be the modern one (ignoring words such as at, de, le, etc.). The common surname variants are listed in parentheses, but do not have separate numbers; less common surnames can be found in H. A. Harben, A Dictionary of London (1918). Latin surnames are only noted where the English form is not an exact equivalent. Alternative dedications are listed in the form 'alias 100'. A brief note on dates of creation and/or abolition is included if appropriate. Some unusual or erroneous parish names which occur in sources described in the survey are listed in the Topographical Index on p. 222.
MAP OF LONDON PARISHES
The map is based on the boundaries shown on the Ordnance Survey 1:2500 plan, 1878 edition, with minor adjustments. It shows the boundaries as they existed on the eve of the Great Fire. The numbers represent parishes: only those marked * in the list are shown. Numbers in parentheses represent parishes, or parts of parishes, which had been suppressed, and their approximate location. The letters represent extra-parochial precincts or liberties as follows: A, Furnival's Inn; B, Barnard's Inn; C, Thavie's Inn; D, Serjeants' Inn; E, Temple; F, Whitefriars; G, Bridewell (formerly part of 46); H, St. Katharine's Hospital.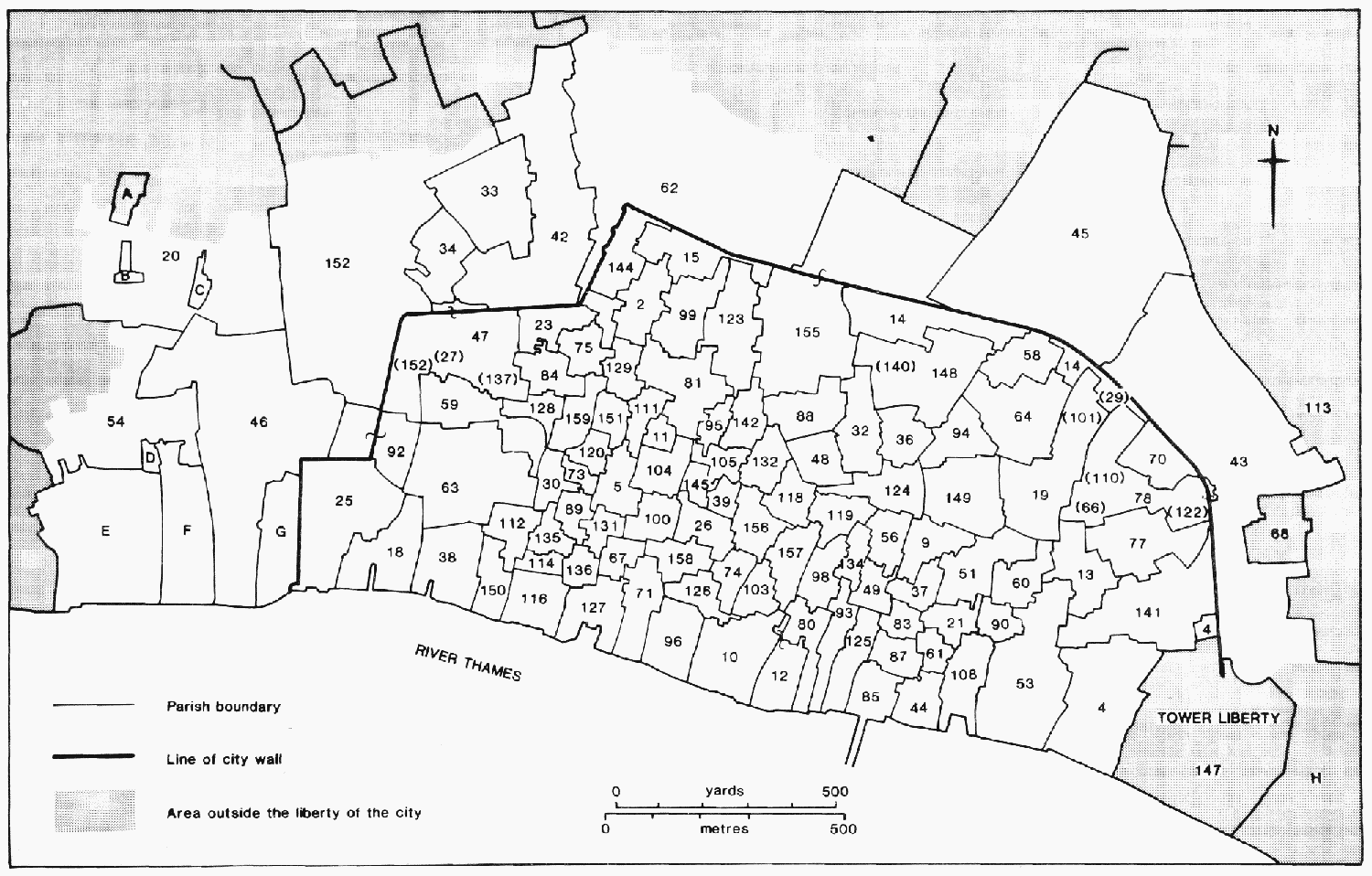 1 St. Agnes (alias 23, 24)
* 2 St. Alban Wood Street
3 All Hallows (unspecified)
* 4 All Hallows Barking (by the Tower; alias 102)
* 5 All Hallows Bread Street (Watling Street)
6 All Hallows Colemanchurch (alias 50, 77)
7 All Hallows Cornhill (probably identical with 9)
8 All Hallows Fenchurch (alias 60, 106, 107)
* 9 All Hallows Gracechurch (Lombard Street; probably identical with 7)
* 10 All Hallows the Great (ad fenum, at the Hay Wharf, in the Ropery; earlier Semannescyrce)
* 11 All Hallows Honey Lane
* 12 All Hallows the Less (on the Cellars, on the Solars)
* 13 All Hallows Staining
* 14 All Hallows on the Wall (London Wall; 29 added, 1442)
* 15 St. Alphage
16 St. Amand (alias 159, 160)
17 St. Andrew (unspecified)
* 18 St. Andrew Castle Baynard (by the Wardrobe)
* 19 St. Andrew Cornhill (atte Knappe, Undershaft; 101 added, 1565)
* 20 St. Andrew Holborn
* 21 St. Andrew Hubbard (Eastcheap, towards the Tower)
22 St. Anne (unspecified)
* 23 St. Anne & St. Agnes (alias 1, 24)
24 St. Anne Aldersgate (alias 1, 23)
* 25 St. Anne Blackfriars (created after the Dissolution from Blackfriars precinct)
* 26 St. Antonin (later St. Antholin)
(*) 27 St. Audoen (alias St. Ewen, St. Owen; taken into 47, 1547)
28 St. Augustine (unspecified)
(*) 29 St. Augustine Papey (on the Wall; joined to 14, 1442)
* 30 St. Augustine by St. Paul (parvus, Watling Street)
31 St. Bartholomew (unspecified)
* 32 St. Bartholomew the Little (by the Exchange)
* 33 St Bartholomew the Great (created after Dissolution from precinct of St. Bartholomew's Priory)
* 34 St. Bartholomew the Less (created after Dissolution from precinct of St. Bartholomew's Hospital)
35 St. Benet (unspecified)
* 36 St. Benet Fink
* 37 St. Benet Gracechurch
* 38 St. Benet Paul's Wharf (Hithe, Woodwharf)
* 39 St. Benet Sherehog (alias 40, 153)
40 St. Benet & St. Sithe (alias 39, 153)
41 St. Botolph (unspecified)
* 42 St. Botolph without Aldersgate
* 43 St. Botolph without Aldgate
* 44 St. Botolph Billingsgate
* 45 St. Botolph without Bishopsgate
* 46 St. Bride (Fleet Street)
* 47 Christ Church Newgate Street (created 1547 from Grey Friars precinct, 27, 137, intramural part of 152)
* 48 St. Christopher (le Stocks)
* 49 St. Clement (Candlewick Street, Eastcheap)
50 Colemanchurch (alias 6, 77)
* 51 St. Dionis Backchurch
52 St. Dunstan (unspecified)
* 53 St. Dunstan in the East (towards the Tower)
* 54 St. Dunstan in the West (Fleet Street)
55 St. Edmund (unspecified)
* 56 St. Edmund Lombard Street (King and Martyr)
57 St. Edmund without Newgate (alias 152)
* 58 St. Ethelburga
* 59 St. Faith (by St. Paul's)
* 60 St. Gabriel (Fenchurch; alias 8, 106, 107)
* 61 St. George (Botolph Lane, Eastcheap)
* 62 St. Giles Cripplegate
* 63 St. Gregory (by St. Paul's)
* 64 St. Helen (Bishopsgate)
65 Holy Trinity (unspecified)
(*) 66 Holy Trinity Aldgate (absorbed by 78 or precinct of Holy Trinity Priory)
* 67 Holy Trinity the Less
* 68 Holy Trinity Minories (created after the Dissolution from the Minoresses' precinct)
69 St. James (unspecified)
* 70 St. James Duke's Place (created 17C from former precinct of Holy Trinity Priory)
* 71 St. James Garlickhithe (Vintry)
72 St. John (unspecified)
* 73 St. John the Evangelist (Watling Street; earlier 162)
* 74 St. John Walbrook
* 75 St. John Zachary
76 St. Katharine (unspecified)
* 77 St. Katharine Coleman (alias 6, 50)
* 78 St. Katharine Cree (Christ Church)
79 St. Lawrence (unspecified)
* 80 St. Lawrence Candlewick Street (Pountney)
* 81 St. Lawrence Jewry
82 St. Leonard (unspecified)
* 83 St. Leonard Eastcheap
* 84 St. Leonard Foster Lane
* 85 St. Magnus (Bridge, the Martyr)
86 St. Margaret (unspecified)
* 87 St. Margaret Bridge Street (New Fish Street)
* 88 St. Margaret Lothbury
* 89 St. Margaret Moses (Friday Street)
* 90 St. Margaret Pattens
91 St. Martin (unspecified)
* 92 St. Martin Ludgate
* 93 St. Martin Orgar (Candlewick Street)
* 94 St. Martin Outwich
* 95 St. Martin Pomary (Ironmonger Lane)
* 96 St. Martin Vintry (Bermanchurch)
97 St. Mary (unspecified)
* 98 St. Mary Abchurch
* 99 St. Mary Aldermanbury
* 100 St. Mary Aldermary
(*)101 St. Mary Axe (joined to 19, 1565)
102 St. Mary de Berkyngcherch (alias 4)
* 103 St. Mary Bothaw
* 104 St. Mary le Bow (de Arcubus)
* 105 St. Mary Colechurch
106 St. Mary Fenchurch (alias 8, 60, 107)
107 St. Mary & St. Gabriel Fenchurch (alias 8, 60, 106)
* 108 St. Mary at Hill
109 St. Mary Magdalen (unspecified)
(*)110 St. Mary Magdalen Aldgate (absorbed by 78 or precinct of Holy Trinity Priory)
* 111 St. Mary Magdalen Milk Street
* 112 St. Mary Magdalen Old Fish Street (in (nova) piscaria, Westpiscaria; earlier 161)
* 113 St. Mary Matfellon (Whitechapel)
* 114 St. Mary Mounthaw
115 St. Mary Olaf (alias 144)
* 116 St. Mary Somerset
* 117 St. Mary Staining
* 118 St. Mary Woolchurch (Newchurch)
* 119 St. Mary Woolnoth
* 120 St. Matthew Friday Street
121 St. Michael (unspecified)
(*)122 St. Michael Aldgate (absorbed by 78 or precinct of Holy Trinity Priory)
* 123 St. Michael Bassishaw
* 124 St. Michael Cornhill
* 125 St. Michael Crooked Lane (Candlewick Street)
* 126 St. Michael Paternoster (Paternoster Royal, in the Riole)
* 127 St. Michael Queenhithe (Ripa Regine)
* 128 St. Michael le Querne (ad bladum, ubi bladum venditur, atte Corne, in foro)
* 129 St. Michael Wood Street (Huggin Lane)
130 St. Mildred (unspecified)
* 131 St. Mildred Bread Street
* 132 St. Mildred Poultry (Walbrook)
133 St. Nicholas (unspecified)
* 134 St. Nicholas Acon (Hakon)
* 135 St. Nicholas Cole Abbey (Old Fish Street, in piscaria, Westpiscaria)
* 136 St. Nicholas Olave (Bernard, ? in piscaria; alias 139)
(*)137 St. Nicholas in the Shambles (alias 143; taken into 47, 1547)
138 St. Olave (unspecified)
139 St. Olave Bread Street (alias 136)
(*)140 St. Olave Broad Street (absorbed by Austin Friars precinct and later 148)
* 141 St. Olave Hart Street (Crutched Friars, Mark Lane, by the Tower)
* 142 St. Olave Old Jewry
143 St. Olave in the Shambles (alias 137)
* 144 St. Olave Silver Street (Cripplegate, Monkwell Street; alias 115)
* 145 St. Pancras (Soper Lane)
146 St. Peter (unspecified)
* 147 St. Peter in the Bailey (in the Tower, ad Vincula)
* 148 St. Peter Broad Street (the Poor; incl. former Austin Friars precinct and 140 from 16C)
* 149 St. Peter Cornhill
* 150 St. Peter Paul's Wharf (the Less)
* 151 St. Peter Westcheap (Wood Street)
* 152 St. Sepulchre (without Newgate; alias 57; part taken into 47, 1547)
153 St. Sithe (alias 39, 40)
154 St. Stephen (unspecified)
* 155 St. Stephen Coleman Street
* 156 St. Stephen Walbrook
* 157 St. Swithin (Candlewick Street, London Stone)
* 158 St. Thomas the Apostle
* 159 St. Vedast (Foster Lane; alias 16, 160)
160 St. Vedast & St. Amand (alias 16, 159)
161 St. Wandrille (later 112)
162 St. Werburga (later 73)