Pages 79-98
The Apprenticeship of a Mountaineer: Edward Whymper's London Diary, 1855-1859. Originally published by London Record Society, London, 2008.
This free content was digitised by double rekeying and sponsored by London Record Society. All rights reserved.
Whymper's London Diary, January-June 1857
1 Jan. Cut up wood, began a map, began shells etc. Fine. Business improving a little with us.
2. Went errands, went on with map, altered diagram etc. Fine.
3. Finished map, went to Gas Inspectors, drew letters on railway map, cut up wood etc. There has just been opened for traffic a new branch of the North Eastern Railway (from Durham to Bishop Auckland) with 5 most splendid bridges on it, across the River Wear. Our railway works will now I think bear comparison with any of the roads and bridges that the Romans have left us. My father has been offering the editorship of the mag to Mr Reade. He has not answered us yet.
4. Sunday. Went to Maze Pond in morning and evening. Very rainy. This morning about ½ past 11 o'clock, I was blessed with another brother. (fn. 1) We are now 10 in number, 9 boys to 1 girl, which is rather out of proportion; but it is better, however, as it is for we know a gentleman whose brother has 13 daughters and I believe no sons; so that I should say we are the best off of the two.
5. Went to Mrs Gould's and the Times printing office, touched up map, made out lots of blocks etc. Very cold and snowing. The great Bell (big Ben by name) for the Houses of Parliament is now lying, so that it may be seen, in Palace Yard. That astonishing pile of buildings is now nearly completed, a monument of grandeur (combined with usefulness) to which it would be difficult to find an equal. It stands for the present and future ages to admire or envy. The ornament under the grand entrance of the Victoria Tower, veiled as it is by the gloom of the great archway, looks really magnificent, and speaks silently in the most forcible way the glory of Gothic architecture.
We had today an answer regarding the editorship of the new mag from Mr Reade. He is so excessively moderate that he asks for only a thousand a year for himself, which is 300£ more than the whole of the literary matter of the Leisure Hour (including 2 editors' pay) costs in a year. I need not say that his generous offer has been declined. My father thinks (and so do I) that 500£ is good pay for an editor.
6. Went to Gibson's and Covent Garden market, finished 2 shells etc. Fine. The Archbishop of Paris was murdered (I believe the day before yesterday) by a priest, in the church of St. Etienne de Mont. It appears that he had suspended the priest for preaching what they call heretical doctrine, but what we should call true doctrine. That however of course does not at all justify the act. From his conduct when examined he appears to be insane. (fn. 2)
There have been a good many wrecks lately, unfortunately; one which took place at Rhyl (Wales) a day or two back, in which a lifeboat and all hands were lost, was very distressing.
7. Cut up wood, looked over 'map', drew a shell etc. Fine and cold. My father took the chair at a meeting at our chapel, on the occasion of a lecture by our friend Mr Bailey, who afterwards told him that he had been down to Margate this week to look after an Indiaman of 1200 tons, which was riding off a place called Kingsgate near Broadstairs and was expected to go ashore; which he did the night that he arrived. It drove on the rocks perfectly helpless, (he says) completely at the mercy of the waves, and all on board must have inevitably perished if it had not been for the gallantry of the crew of two lifeboats belonging to Broadstairs (one of which went out twice to the wreck, the other once) who succeeded after several hours exertions in getting all the crew safe on shore, although they were in a very bad state from being exposed the greater part of the night to the fury of the waves and the blinding and freezing snow.
8. Drew a beetle, arranged diagrams, drew letters etc. Snow and rain.
The Times of today contained an account of the loss of the Northern Star (the ship I mentioned yesterday), written by a gentleman who resides at Broadstairs, who gives the crews of the boats the highest praise for the noble conduct in the affair. The mate of the American ship, said he felt proud of having descended from such men, and also that he felt sure that none but English would have risked their lives in such a manner.
9. Drew letters, proofed blocks, arranged diagrams. Very rainy and excessively gusty, which reminds one of the sea and of those who are on it. A subscription has very properly been set on foot for the families of the men who were lost by the capsizing of the Rhyl lifeboat. Upwards of 1200£s have already been raised.
10. Went to Gibson's, cut up wood, began two beetles, arranged diagrams etc. very heavy rain. Warm. Dr Ure and John Britton (the architect) have just died. So they drop off one by one.
11. Sunday. Went to Maze Pond in morning and evening. Mr Booth preached both times. Very rainy. Wind very strong from the north east.
12. Finished beetles, planed 12 blocks etc. Dull day. The American ambassador here has sent 50£ to the crews of the life boats at Broadstairs. There have been a very large number of subscriptions from others also sent to them. It is unfortunately true that a Margate lugger foundered with all hands (12 or 13) trying to assist the same ship. Several of those in the lugger are of the same name as those in the life boat and are probably relations. It must, notwithstanding the praise lavished on them for their noble conduct be a very melancholy time for them.
13. Went to S. for P.C.K., numbered and arranged diagrams, began an aquarium. Dull. Yesterday there was a meeting in Smithfield of (some say 25 and others only 10,000. Probably the latter is nearer the mark) bricklayers and others who are out of work. What the meeting was supposed to be for I cannot tell. Perhaps to raise the public sympathy and a public subscription.
14. Went to Mr Gibson's and on with aquarium. My father to dinner at Mr Green's to meet Mr Aldis. Dull.
15. Finished Aquarium, cut up several pieces of wood etc. Rainy. In evening I went to the 4th annual exhibition of Photographs. The progress they have made in portraits is very great (during the last year), but landscape and architecture is very little better, if at all. The art of galvanography is perhaps the most important art yet discovered in connection with photography. It combines galvanism, photography and engraving on copper in one plate, and the product is very astonishing.
16. Began Roman Catholic diagram, drew letters etc. Dull and freezing. In evening I went to a party at Mr Hepburn's at Clapham. He has now a splendid house (I might say mansion) for which he pays a rent of 350£ a year, and he has also spent a sum of 3000£ over extra buildings, fittings etc. It is furnished in a very splendid manner, quite princely. There were about 80 persons at the party. He is by trade a tanner, having a very large place in Bermondsey. He is a most hospitable man, and his numerous family are very agreeable, considering circumstances.
17. Went to Gibson's, finished R.C. diagram, cut up wood, touched up aquarium etc. Fine and cold. The Swiss question is at last happily settled without bloodshed, or at least without much of it. Switzerland delivers up the prisoners and the independence of Neufchâtel is guaranteed. Thus both have settled it to the satisfaction of themselves and their neighbours without having to resort to the stupid and cruel means of violence.
18. Sunday. Went to Maze Pond in morning and evening. Heard Mr - - - of Leicester both times. Very dirty.
19. Went to Mr Warren's and errands, cut up wood, drew a second aquarium. Rainy. Mr Read, our old apprentice, came to tea. He is just getting up a lot of painting to try and get in the Old Water Colour Society (for the 7 or 8th time), principally of Milan cathedral. I don't think he will get in, although his drawings display considerable talent. He has travelled in Europe a great deal and has just returned from a tour in Italy, principally undertaken for the Illustrated News. When he was at Naples, the late earthquake took place. He describes it thus, "I was woke up in the night by a violent heaving motion; I thought somebody was under the bed, but presently the glasses and windows began to rattle, so then I was convinced what it was and immediately jumped out of bed. I found the floor moving up and down so violently that I was in doubt whether I should run down stairs; but thought perhaps the house would come down before I did, so I jumped into bed again and fell into a sound sleep," which part I do not believe, especially as some thousands rushed out of their houses and passed the night out of doors. No lives were however lost through it.
20. Went to Paternoster Row etc, began aquarium no. 3, began an infirmary. Very heavy rain and windy. We are thinking about sending the late artist of the Illustrated News at Sebastopol (Mr Goodall) out down the Rhine etc to sketch for a new edition of Byron's Childe Harold. It will be a fine chance for him if he gets it. Artists who are worth anything are so much sought after now that it is difficult to get one good enough even for a brilliant offer like this.
21. Went on with Infirmary etc. Very cold. My father went in evening to Mr Green's at Clapham.
22. Went to Infirmary and finished drawing it, finished no 3 aquarium, cut up a good deal of wood etc. My father went in evening to Mr Hepburn's. Dull.
23. Began Aquarium no 4. In afternoon I went to Peckham to see the collection of prints, books etc of our late friend Mr Leigh. The books are nearly all choice, more than 3000 in number, extremely well bound; the prints and lithographs are of the rarest and best kinds, nearly 50 portfolio containing on an average more than 50 each. He had also several portfolios of photographs, of which they were kind enough to allow me to choose two for myself. Very rainy.
24. Cut up wood, arranged blocks and went on with Aquarium no 4. Rainy. The Chinese governor of Canton has been disgraced for his bad defence of the city, which looks as if they meant something.
25. Sunday. Went to Maze Pond in morning and evening. Mr – preached in morning and Dr Angus in evening. Rainy.
26. Finished Aquarium no 4, cut up wood and drew the fountain of St Sulpice at Paris. Wet. Very dull. Business pretty goodish.
27. Drew diagram, cut up wood and drew a plant for aquarium book. Freezing. Our new mag is expected to be ready in the middle of next month.
28. Cut up wood and began drawing Napoleon's tomb at Invalides, Paris. Snowing. Very cold.
29. Went to Soper's, cut up wood, went on with Napoleon's tomb. Freezing. There are at the present time great numbers of workmen unemployed in London. They have held several peaceable meetings in Smithfield at which some of them have enforced the opinion (not a bad one) that in times of scarcity the Government should employ them on public works.
30. Drew an Egyptian device, went on with Napoleon's tomb etc. Freezing.
31. Finished Napoleon's tomb, altered Egyptian device, did carpentering jobs etc. Snowed considerably in night. Freezing.
1. February. Sunday. Went to Maze Pond in morning and evening. Mr Fishbourne of Thaxted officiated. He is an exceedingly able preacher and I should not at all object to hearing him constantly. Freezing.
2. Went to Soper's etc, altered and improved catacombs, St Roch, Napoleon's tomb etc. Freezing.
3. Altered blocks, cut up lot of wood, began the Fountain Molière at Paris. Freezing. We are after all disappointed in the name of our mag, as a person has just advertised (of course before us) a poem of the same name. We foolishly neglected to register it, or we could by that means have prevented the disappointment.
4. Went on with Fontaine Molière, altered Infirmary, cut up wood etc. Freezing.
5. Went on with Fontaine Molière, altered Infirmary again, cut up wood, began a gallery in the Palais Royal. My father went to his first conversazione at Willis's Rooms (for this season). There are now exhibiting at Marlboro House, (free of course) about 100 of the Water Colour and sepia drawings of the late J.M. Turner R.A. and left by him to the nation. They are selected from the vast number he left, and are said to be very fine. He could hardly have been so avaricious as was made out, for these 20,000 drawings which he has left as a legacy to the nation, would have fetched him enormous sums, if he had chosen to sell them.
6. Went to Society (S.P.C.K.) and Mudie's, cut up wood, drew diagram. In afternoon I went to Peckham. Mr Leigh's copy of Roberts' Nubia and Holy Land is valued at 70£. A respectable price for one work!! Our troops have attacked Bushir (on the Persian gulf) and have taken it with about 20 killed on our side.
7. Went on with fountain, did odd jobs, cut up wood etc. Fine and warm.
8. Sunday. Went to Maze Pond in morning and evening. Mr Fishbourne of Thaxted preached both times. Fine.
9. Went errands, finished fountain, went on with Palais Royal etc. Rainy. The Chinese affair is at a stand still, Admiral Seymour waiting for instruction from home. The Persian affair is I believe going on briskly, conquering and to conquer (our army). All I wish in regard to it is, that the insane Shah may be brought to his senses.
10. Altered fountain, went on with Palais Royal, went to Rowneys, cut up wood etc. Fine. Mr S. Read, formerly our apprentice, was yesterday elected member of the Old Water Colour Society.
11. Whited wood, etc, went on with Palais Royal. Rainy. In evening my father went to a meeting of the Graphic at London University.
12. Went to Mrs Gould's, post, arranged blocks, went on with Palais Royal. Fine. No news.
13. Went errands, cut up wood, drew line round blocks, went on with Palais Royal. Fine. The budget (Chancellor of Exchequer) for this year was brought forward today. What it contained I do not know, but it was believed that the income tax would be lowered by one half. The Government pledged themselves to take it off entirely, the year after peace was concluded. Behold the state of affairs now! Comment is unnecessary.
14. Finished Palais Royal, went errands, removed cupboard etc. Fine. The income tax is to be taken off to the amount of two thirds on incomes below 150£ and in proportion on those above. It will make a considerable difference to us, nearly 30£ I think.
15. Sunday. Went to Maze Pond in morning and evening. Mr Hands of Salisbury preached. A solid Englishman. Fine.
16. Went to Covent Garden, cut up wood, began missionary block. Fine.
17. Went to Clowes and Covent Garden etc, went on with Indian postmen and began Kangaroo hunting. Fine. Alas! (and yet why do I say so) the magazine is not going to be started. The General Committee of the Society appointed a sub-corn to see if it was advisable to be begun. They said it was and negotiations were entered into with Clowes and my father to undertake the responsibility of it, the Society advancing 2 or 3000£ to begin it with (to be repaid) and giving it their countenance and support. So far so good. But a (too?) busy member of the sub-committee found an editor in the person of a lawyer, a Mr Saunders, and would have him or none for principal editor. My father picked Mr Thornbury as under editor. The first number after much trouble was got together, but it was so flat (thanks to Mr Saunders) that when referred to the General Committee it quite disgusted them. That combined with the loss of the title (Far and near), together with the long time the mag had been under consideration, which was their own fault, determined them to reject the idea altogether, which they have done.
18. Altered Fountain and Palais Royal, went on with Kangaroo hunting etc. Today I opened this year's cricket campaign at the Archbishops grounds. Very fine. My father went to an exhibition of pictures at Reigate, and afterwards to dinner at Mr Thornton's. Talking of Reigate, there has been a most abominable attempt at robbery and murder there lately. A young man was driving along the road near there, when he perceived a man lying in the road and as he came near him he heard him groaning for help. So the young man got out of the gig and went to help him. However, directly he got near him the man jumped up and putting a pistol to his breast called on him to deliver up a large amount of money, which he said he knew he had about him. The young man naturally resisted, when the ruffian shot him through, the ball lodging in the clavicle where it still remains. The ruffian then made off (I do not know if he obtained his booty) but it is believed by the police that they have a clue to him. A reward of 200£ is offered for his apprehension.
19. Went to Mudie's and Covent Garden, arranged Aquarium blocks etc. Went on with Kangaroo hunting. Fine.
20. Went on with kangaroo hunting, cut up wood, drew a leather bottle etc. Fine. My father went to tea at Peckham and supper to Mr Beddome's.
21. Finished Kangaroo hunting, drew a Water Scorpion, cut up wood etc. Fine. In evening I walked to Peckham. Mr Leigh's collection of books, prints and photographs will be sold by public auction in a short time as the person who was in treaty with the family for them refused to give 1000£ for them, which was the lowest they would take for the books only.
22. Sunday. Went to Maze Pond in morning and evening. Mr Hand preached both times. Fine.
23. Cut up wood, altered Indian postmen etc. Fine.
24. Began a second Napoleon's tomb, cut up lot of wood, altered fountain and drew hieroglyphic etc. Fine.
25. Made out list of cuts for Paris book, went on with Napoleon's tomb etc. Rainy. There has just been made a clever division of London into sections (somewhat like Paris in arrondissements) in order to facilitate the delivery of letters. It promises to answer well and has already it is said quickened the delivery considerably.
26. Went errands, cut up wood, made out another list, went on with Napoleon's tomb etc. Foggy. There has just been a dreadful colliery explosion (I think in Derbyshire) which has killed upwards of 120 men.
27. Went to Gibson's etc, cut up wood, finished Napoleon's tomb etc. Fine. My uncle Woods has come up from Swaffham and stops here until Monday. Disraeli and Gladstone have been very noisy in Parliament, the last few days, opposing the budget and other particulars, but they will not do any harm for the simplest person can see their wishes.
1. March. Sunday. Went in morning to Maze Pond where a minister from Aberdeen preached, (fn. 3) and in evening to Camden Road chapel along with my uncle Woods, where he preached. And in order to go there, I committed what I believe to be a sin, (but which I hope may not be accounted so) viz. I rode in an omnibus, thereby keeping or helping to keep men unnecessarily on work, on the Sabbath day. I hope I may not do so again, for I believe it to be wrong.
That colliery explosion that I mentioned a day or two back, was at a place called Lund hill in Yorkshire and appears to have been most terrible in its effects, for out of 200 men who worked in the mine, not one quarter of that number have come out alive. The explosion resulted from the taking fire of fire damp (which the mine was subject to) from the flame of a naked candle which was un-prudently being used instead of the safety lamp. The proprietors of the mine seeing no other way of extinguishing the flames, agreed to stop the mouths of the colliery up, but they did not do so before calling a meeting of the neighbouring proprietors, who perfectly coincided with their opinion, although by so doing, they stopped the escape of any in the pit who might be living after the explosion.
2. Went on with 'Map', read book for places of cuts etc. Fine.
3. Went on with 'Map' etc, and had a half day holiday, went to Crystal Palace with my uncle Woods. It looks in a very miserable condition, as very few persons go to it now.
4. Went on with 'Map', went to Mudie's and Nosotty. Rainy.
5. Went to Mudie's, cut up wood, went on with Map etc. Fine. My father went in evening to conversazione with Mr and Mrs Green.
6. Went errands, on with Map, cut up wood etc. Fine. The Ministry was defeated last week (in trying to uphold the Chinese quarrel) by a small majority (16 out of 510) but sufficient to show the dangerous state they are in. There are it is usually considered but two steps open to them, to dissolve the Parliament or to resign. The former of these it is not thought they will attempt and I do not think they will do the latter either yet. The whole of the Palmerston Ministry has been a disgrace to them from beginning to end, for it has been characterized by the most abominable trifling with serious matters or by avoiding any sort of explanation of their conduct and turning the questions put into ridicule. Their love of power prevails over a love of honour.
7. Put screws in frames, pasted backs etc, went on with map and out errands. I was told tonight by a friend of ours, (who had it from good authority) of an instance of a very rapid rise in the world of 2 brothers. They worked as common stone masons on the St George's Roman Catholic cathedral, near us, within 15 or I think within 10 years and now last year their firm of Myers and Co, Builders, put by as clear gain the enormous sum of 40,000£. Fine.
8. Sunday. Went to Maze Pond in morning and evening. Mr Richards preached both times. We had today a very heavy fall of something which I cannot tell what it was. It was not snow or hail, but something between the two and in very large lumps. Very cold. Parliament is expected to be dissolved very shortly.
9. Went errands, to Peckham, on with map etc. Snowing.
10. Altered Corn Market and Catacombs, went to Gibson's etc, cut up wood and went on with map. Freezing.
11. Mending various articles etc, went on with map. Very cold. A house has been burnt down in the Clapham Road and 2 children in it. Mr Leigh's books are fixed to be sold next Monday and 2 following days at Messrs Sotheby and Wilkinson's. Those that will be sold are about 1700 in number and 42 portfolios of prints, photographs etc.
12. Went on with map, out errands etc. Very cold.
13. Went on with map etc and went for an afternoon's pleasure to Richmond, intending to have a row on the river, but was miserably disappointed in my expectations for as soon as I had got there, it began rainy and so continued all the rest of the day. Very windy.
14. Went to Mr Read's and to Wolff's etc, went on with map. Raining and the wind from the S.W. blowing at present with terrific force. The effect of which will be to strew the south coast with abundance of wrecks. Finally it is determined to dissolve the parliament, which will take place in about 3 weeks time. Lord Palmerston said that he should not resign (after the defeat of the Government) but should appeal to the people for support. In consequence thereof he has had second votes of confidence from large meetings in London and elsewhere. He is still rather popular although many disapprove of the Chinese quarrel. No less than 6 candidates have their bills out already in Lambeth, for the forthcoming election, but none of them are worth anything.
15. Sunday. Went to Maze Pond in morning and evening. A student in morning and Dr Angus in evening. We were favoured in the morning with a tremendous storm of hail snow and rain, which was very severe for a few hours. In the evening about 8 o'clock a fire broke out in our friend Henry Doulton's pottery, which destroyed a great deal of property before it was extinguished. It created considerable excitement in the neighbourhood from the great bell of Hodges' distillery being tolled for 10 minutes and guns were fired. He was I believe insured, so that he will lose little, if anything, from it.
16. Went on with map and for ½ an hour to Mr Leigh's sale. The books sold very badly considering their condition and splendid bindings and the prints etc rather so. For instance 4 vols of Lodge's portraits, which he had paid 120£ for, only brought 36£. Nash's mansions (four series) he paid 40 guineas, only brought 12 guineas. His Britton's Cathedrals and his Britton's antiquities however brought about 28£s.
17. Went on with map and to Mr Leigh's sale. Amongst the best works sold today was Roberts' Holy Land, Egypt and Nubia, a splendid original subscribers (and complete) copy, which brought 58£. There was rather a run after Turner's rivers of France (proofs) which was knocked down at £8 10s. Today's and yesterday's sale brought each I think about 400£s. We bought only 9 books, among which my father got a very choice copy of Rogers' celebrated edition of his Italy and other poems (proofs) for the small sum of 29 shillings. The more recently published books such as Macaulay's history and Mahon ditto brought almost their full value, several times being sold above the trade prices..
18. Went on with map, cut up wood etc and began a coat of arms. Fine. The third and concluding portion of Mr Leigh's books were sold today and brought about 150£.
The Arctic explorer, Dr Kane (who has written a book which I am now reading) has unfortunately just died at Havannah. He was but 34 years old. This book, which gives an account of his second and last voyage in search of Sir J. Franklin, is exceedingly interesting as it describes a portion of Greenland which has never before been visited by any except the natives and by them but very rarely. He was a most indefatigable and gallant young man, and his loss is very much to be deplored.
19. Went on with map, to Gibson's, and finished coat of arms. No news. Showery and warm.
20. Went on with map etc. Fine. No news.
21. Finished map and began scene in Polar Regions, cut up wood etc. Very cold, the wind having shifted from S.W. to E. There are but three candidates for the election in Lambeth. They are, W Williams and WA Wilkinson (the present members) and Mr Rupell, a very wealthy young spooney.
22. Sunday. Went to Maze Pond in morning and evening. Heard a muff from Sydenham preach both times. Snowing. Very cold. I ought to have mentioned yesterday, but forgot (which shows how much I think of it) that my cousin John (my uncle Ebenezer's son) eloped the day before yesterday with a certain Miss Hewitt whom he became spooney on. (Let it be known that he is just 18, an apprentice to wood engraving, not yet out of his time.) He had all last week previous to it staid away from business on the plea of illness, which I believe was fudge, but on Friday morning came saying that although too ill to work, he thought that he might make himself useful in going about. So my father sent him with a message or parcel to one of our draughtsmen (Mr Skill). The morning went by – afternoon – evening no John. Enquiries made, he is not found, but towards the end of the evening a little boy comes with a little note, which says that "he supposes his father will be very angry, and perhaps he deserves it (the sly dog), but he is very sorry (and won't do so again, etc), begs forgiveness and all that sort of thing, but does not tell where he is. He is, however, kind enough to say that he will give his parents an opportunity of writing to him in a week's time (how very kind). The commotion which this has produced among his relatives is, as it is said, more easily imagined than described. His father (my uncle) a screwish man, talks about duty, and although as he says he feels strongly in his miserable condition, yet he will never let that interfere with the proper course of conduct that ought to be pursued towards him, viz, sending him no supplies. The female part, talk about his cruelty to his maternal relation, who is subject to apoplexy. I do nothing but laugh!
23. Went on with iceberg, went to Mudie's etc. Very cold, slightly snowing.
24. Finished iceberg, touched up map, put a window in a church of Prior's etc. Rainy. The elections in Lambeth come off on Saturday next. Of the 3 now trying, I should say that Roupell is certain to be one of the selected ones; the rejected one will be one of the two present members, (Williams and Wilkinson) it is difficult to guess which.
25. Went to Clay's, drew several diagrams (moon), made addition to map etc. Rainy. We had Mr Skelton in evening and to supper. He is brother in law to the president of the Royal Academy (Sir C. Eastlake), and has been travelling lately for many years on the Continent, and is therefore a capital talker, full of anecdote and very vivacious. He said that when he married Eastlake's sister, he expected to have a free entrée into his (Eastlake's) studio, but in that he was disappointed, for here the great painters keep their studios as close as the French ones do open.
26. Began drawing an ice-raft, arranged Fireside tales (2nd series) got out a set of plates to be coloured, cut up wood etc. Fine. Roupell has now made certain of being elected for Lambeth and he has addressed a circular to all the inhabitants to that effect. The poll takes place next Monday.
27. Went to Mr Cox's, finished ice raft etc. The elections are proceeding. There has been a society formed to try and keep Lord John Russell out of the representation of the City, but the little humbug is expected to get in nevertheless. Smith, the lessee of Drury Lane Theatre, is up for Bedford!!!
28. Cut up lot of wood, began a chapel in West Indies etc. Fine. Ernest Jones the Chartist put up for Nottingham, but has not got in, although he got more than 500 votes. Lord John is in for the City, in conjunction with Rothschild, Duke and Crawford. The Lambeth election comes off on Monday next.
29. Sunday. Went to Maze Pond in morning and evening. Mr Kirkland of Canterbury preached both times. We had him home to dinner and tea. The number of votes for the four City representatives were pretty equally divided; all of them, the unsuccessful one included, being over 6000 and under 7000. In Southwark as in Lambeth there are 3 trying, the 2 old ones Pellatt and Sir C. Napier and a new one, a lawyer, Locke by name. Fine.
30. Went on with West Indian chapel etc. Today the elections came off in Lambeth and Southwark and a rare fuss they made. Here Mr Roupell came off very triumphantly, polling the enormous number of 9066 votes, a number rarely attained anywhere. Williams the second member (now) obtained 7300 and odd votes, Wilkinson (unsuccessful) 3100. In Southwark the result was as expected, Sir C. Napier obtaining 4100, Locke 3600 and Pellatt (unsuccessful) 2500. The elections have in various parts been decided and have turned out many members well known in the House, viz. Sir W. Clay (the Church rate abolition man) Bright, Cobden, Layard and others. Bright and Cobden are, in my estimation, no loss at all.
31. Drew Esquimaux knife, cut up wood, went errands, named blocks etc. Rainy. There has been a frightful railway accident in Canada, in which a train ran off the rails, went over a bridge on to a frozen canal below, the engine broke through the ice and upward of 40 were killed.
APRIL 1st. Drew Arctic gloves and went errands etc. Darby's, the firework makers in Regent St, was destroyed (for about the fourth time) by fire last night, or rather this morning.
2. Drew Fox trap, cut up wood, went to Mr Skelton's etc. My father in evening at conversazione and my mother at Peckham.
3. Went on with W.I. chapel. My brother Fred is gone to Caterham, a newly-discovered part of the world within 18 miles of London. It is supposed to be very beautiful about those parts. Very rainy.
4. Went on with chapel, errands etc. Rainy.
5. Sunday. Went to Maze Pond in morning and evening. Mr Kirkland preached both times. Rainy.
6. Went on with chapel, read book for places, cut up wood etc. Fine.
7. Went to Gibson's and Clay's, cut up a great deal of wood etc, went on with chapel. Lord R. Grosvenor and Hanbury have just been elected for Middlesex in opposition to Viscount Chelsea. Lord Elgin has gone out to China as plenipotentiary there, to settle our quarrel. The Emperor of China appears also to be amicably disposed.
8. Began Basaltic Rocks, cut up wood, went errands etc. Fine. In evening I went to Mr Sandall's. Next Friday (Good Friday) I go most likely to Hastings.
9. Finished Basaltic rocks, cut up wood, altered block of Prior's etc. Fine.
10. Good Friday. Went to Hastings and back. Was not so pleased with Hastings as I ought to have been; but I have for an excuse, a bad headache and the burning sun. The view however from Fairlight I thought charming. I saw from it to Beachy Head on one side and beyond Dungeness on the other. The sea was perfectly still and looked very nice, but with Hastings itself, I must say that I was disappointed. Splendid day.
11. Went to Morbey's in Bishopsgate St and to Miller's at Islington etc, went on with chapel. Rainy.
12. Sunday. Went to Maze Pond in morning and evening. Mr Stalker preached both times, and both were very good sermons. Showery.
13. Finished chapel, went errands, planed up wood, pasted backs of pictures, cleaned glasses etc. Very rainy and snowing.
14. Rubbed up picture frame, cut up wood etc, began a diagram of coast of Norway, went to New Water Colour Society etc. My father sent his pictures (8 in number) to his exhibition today. Four of them are already sold.
15. Finished diagram and began another, arranged cuts, went errands etc. Yesterday afternoon at a ¼ to 2 o'clock another princess (the 9th child) was born to the nation. Expense! Expense!! Expense!!!
16. Went to Mr Brierly's (the artist who went to the Baltic to sketch during the war for the Illustrated London News) to Mr Skill's, and Skelton's, cut up wood, began some music. Rainy. My mother's birthday. She went to the Crystal Palace.
17. Finished 'music' and went to Mrs Gould's etc. Fine.
18. Went to Mr Wolff's and Skill's, traced a drawing of Dr Livingstone's etc. In afternoon went to Richmond and rowed to Kingston where had tea and returned – all serene – splendid day – enjoyed myself.
19. Sunday. Went to Maze Pond in morning and evening. Mr Williams of Accrington preached both times. Beautiful day.
20. Finished Coast of Norway and began an Esquimaux baby sledge. Very fine day.
21. Went to Mrs Gould's, on with 'baby sledge' etc. Very fine.
22. Went errands, also to Messrs Skill's and Wolff's, marked out wood, finished 'baby sledge', altered a diagram of Gibson's for Lord Dufferin etc etc. Rainy. Today was touching day at my father's gallery; he is pretty well satisfied with his hanging (as indeed he should be), 4 out of his 8 being on the line. This morning between 3 and 8 our friend Stephen Green's pottery was almost entirely destroyed by fire. He is a remarkably easy man, disliking the trouble of thinking excessively. He has said when people have waited on him for donations, 'what am I to give? I would rather give 5, 10 or 20£ rather than have to think what I have to give.' He will thus of course dislike the fire very much, not so much from the pecuniary loss, but from its trouble.
23. Went to Wolff's, Read's, Cox's and Weedon's, cut up 14 pieces of wood and began an arctic sledge. Dull.
24. My father's 44th birthday. My mother went to Mrs Gale's. Went on with arctic sledge etc. Very cold and smart showers of hail, all hail!
25. Cut up wood, went errands, went on with 'sledge' etc. Fine. In evening I tumbled flat on the pavement, scratched my hands and hurt my left knee considerably. Today was the private view at my father's gallery. He has now sold 5 out of his 8 but the 3 remaining are his largest ones. It was not thought a good day for selling.
26. Sunday. Went to Maze Pond in morning and evening, Mr Williams preached both times. Fine. My brother Henry's 12th birthday.
27. Finished sledge and began group of Esquimaux, cut up wood etc. My 17th birthday is today. Dull.
28. Went to Wells', Weedon's, Skelton's and Wolff's, cut up wood, dusted and arranged books and papers etc. Fine.
29. Drew some Egyptian diagrams, began a block of snakes, cut up wood, etc. Fine. The Chinese apparently are greatly excited about the present war. In Australia, outbreaks have been feared, although nothing of consequence has taken place, but at Sarawak, in Borneo, the kingdom of Rajah Brookes, an insurrection broke out and spread with the rapidity of a whirlwind, he had to flee for his life, and only saved it by swimming across a creek. He (the Rajah) however returned reinforced by a steamer and he soon suppressed the riots. He took for several days to slaughtering the Chinese, and when he had killed 3000, he thought he had done enough, so left off. Order is now restored. The Rajah is to be, and is, greatly praised for his promptitude and the vigour with which he acted; had he been less quick, he might not now have been Rajah of Sarawak.
30. Drew diagram, cut up wood and finished 'snakes.' Fine, slight showers of rain. I have commenced designing a new chapel for my uncle Woods at Swaffham, in the Italian style. I am very limited however in expense.
1. May. Improved snakes, went on with Esquimaux etc. Fine.
2. Went to Skelton's and on with Esquimaux. Fine and hot.
3. Sunday. Went to Maze Pond in morning and evening. Mr Malcolm of Aberdeen (late of) preached. He is now the man that is expected to be hooked. The fault I have to find with him is that he is too weak, but that is not his fault.
4. Cut up wood, wrote letters and began a silver claret jug, richly chased etc. Very fine and cool.
5. Cut up wood, went on with Claret jug etc etc. Fine. At the Lund hill colliery, where the explosion took place 2 or 3 months back, resulting in the deaths of 70 or 80 men, they let in water to put out the fire and have now just finished pumping it out again, and commenced clearing the pit. They have as yet only recovered 22 of the bodies, most of which were unrecognizable from mutilation and putrefaction.
6. Went to Aske's, post etc, cut up wood, and finished claret jug etc. Last night my father was elected a full member of New Water Colour Society (he was only an associate before) which will allow him to send as many pictures as he likes to the exhibition and he will only have to pay 5 per cent instead of 10 as before. Last Monday the Royal Academy Exhibition was opened, and from all accounts it appears to be a better exhibition than usual, one of the reasons being that nearly all the Academicians have contributed something. Yesterday the Great Art Treasures Exhibition at Manchester was opened by Prince Albert, with considerable pomp. The value of the property in that building is estimated at 4 millions sterling, or more than double the value of articles in the '51 show.
7. Went to Murray's, began an Egyptian drawing, and traced two drawings of Captain Need R.N. Last week I forgot to mention that the Duchess of Gloucester died in her 82nd year, being the last of the children of George 3rd. My father and Fred went to the last meeting (this season) of the Artists and Amateurs Conversazione at Willis' Rooms.
8. Went out, cut up wood, finished Egyptian drawing, traced drawings etc etc. Fine. The bread which the Chinese endeavoured to poison the foreigners with at Canton, has arrived in England, been analysed, and found to contain considerably more arsenic than is sufficient to kill human beings. So much for John Chinaman.
9. Went to Murray's, traced drawings, went on with Esquimaux etc. Rainy. Had the pleasure to hear the voice of Big Ben today, for the first time, as I was crossing the parade ground, St James's Park. At that distance it sounded tremulous, not decided, but when I went afterwards close to it, that was lost and it then appeared like the roaring of lions. I was unfortunate enough today to receive a letter informing me that the people at Swaffham were rather partial to the elevation I have sent them for a chapel, which will necessitate my sending plans and sections also – all gratis.
10. Sunday. Went to Maze Pond in morning and evening. Mr Malcolm preached both times. Rainy. Wind – S. East.
11. Went to Aske's etc, cut up wood, went on with Esquimaux etc. Fine, but very oppressive, and lightening considerably. In evening I went to cricket to Archbishop's grounds. They have now recovered 82 bodies at the Lundhill colliery, most of whom must have been killed instantaneously.
END OF BOOK 3
Commencing Sept 29 1856 and finishing up to May 11th 1857 inclusive.
Diary. BOOK 4.
Commencing May 12 1857. Ending December 31 1857.
12. Went on with Esquimaux, to Aske's etc. Fine day.
13. Began a 'Lapp lady' (sketched by Lord Dufferin), cut up wood etc. The Grand Duke Constantine's visit to England is now fixed, and from all accounts, the Parisians will not be at all sorry to be rid of him, although through politeness he is feted etc. General Todleben who defended Sebastopol so well for them, but so badly for us, is along with him, but will not I think pay his devotions here until September. The Royal Engineers are going to give him a banquet!! Fine.
14. Finished Lapp lady, went on with Esquimaux, went to Aske's, Sunter's etc. A storm which 2 days ago threatened us in London, passed over to Reading where its effects were severely felt. It damaged a church steeple, set fire to Railway station etc. Went in evening to cricket at Archbishop's grounds.
15. Went on with Jamaica chapel, cut up wood etc. In afternoon I went to Mortlake and after exploring Richmond Park, I arrived at Kingston and returned through Ham and Richmond to Barnes, tiring myself pretty well. Several of the deacons met tonight at our house, taking tea and supper.
16. Was walking about nearly all day, for I went twice to Mr Underhill's (the secretary of the Baptist Missionary Society, who has just returned from India after a 3 years absence, bringing with him a considerable number of photographs of the most celebrated and curious buildings in that country) and also to the British Museum. While there I looked into the new reading room, just completed and open this week to the public. I almost expected to be disappointed with it, from the doubtful praises of the press, but I came away astonished, amazed and delighted. It is quite sufficient to make the name of Sidney Smirke live for ever, if he died tomorrow.
17. Sunday. Went to Maze Pond in morning and evening. Mr Malcolm preached both times. Very fine, but although very pleasant for us, the agriculturalists are crying out for rain!
18. Went to Clay's, my uncle's, marked names on blocks and cut up wood. Went in evening to cricket at Archbishop's grounds. Fine.
19. Began a palace at Lucknow, finished chapel at Jamaica and cut up wood. Almost all the bodies of the unfortunates who were killed at Lund hill colliery explosion have been recovered and interred. It has been a most disagreeable and almost unnecessary duty that the jury have had to perform, in examining each body, and they are extremely glad that their labours are almost over.
20. Went on with palace. The marriage of the Princess Royal is now settled. Her lover is (as every one knows) Prince William, heir apparent to the throne of Prussia. The Queen has given notice to the Houses and they have pleased to acquiesce in the choice. They did not however, agree so readily to the amount and manner of giving her dowry. Long and sharp have been the discussions on the subject, some say that it is extremely undignified for her to receive a pension and that her husband must be but a poor spirited fellow if he would allow her to receive one. But that party I think thinks more of the cost, than of lowering her dignity. It would nevertheless be much agreeable to the nation to pay it at once and have done with it, but that probably will not be the way of settling the account.
21. Went on with Palace and to Miller's at Holloway etc. Fine.
22. Went on with Palace, cut up wood and to Miller's again. Lord Campbell has just been commenting on the sale of villainous publications (in the House of Lords). He said among other things, "that your Lordships are much troubling yourselves about the sale of poisons, I wish to bring to your notice, poisons of another kind. I mean, moral poisons." He then went into detail, bringing forward cases which he had punished lately and wanted to get additional powers for punishing such offences, but was unfortunately not able. He is much to be commended for his endeavour although unsuccessful, for some of these papers are abominable, one for instance, 'Paul Pry', is a perfect sink of iniquity.
23. Went on with Palace, went to Mr Murray's, Dr Livingstone's etc. We are still engaged on the latter's work, it seems as if we shall never be rid of it. It is a good job nevertheless. I have just commenced taking in Turner's 'Liber Studiorum' which is republishing in 10s 6d parts. Fine.
24. Sunday. Went to Maze Pond in morning and evening. Mr Malcolm preached both times. It is quite amusing to view the way in which the deacons of our chapel act. They (that is to say most of them) do not wish Mr M to come as pastor and therefore they talk somewhat in this style. Mr M is a very good, a very worthy man, but - - - - -, I admire him exceedingly, and - - - -. They are afraid if there is only a decent majority in votes for him, that he will accept the place. And not unnatural either when a man has travelled 1700 miles to preach to you. Rainy.
25. Went to Rowney's etc, and drew diagrams (large) on paper. Mr Malcolm was elected tonight to the office of pastor of Maze Pond (if he will accept) by a majority of 29, the numbers being, 39 against him and 68 for him. Thus but a very small proportion of the members voted at all. Heavy showers of rain are falling, which all thankfully accept with gratitude, for if it had not fallen, instead of the promise of a fine fruit year and an abundant harvest, we should most probably have suffered severely from scarcity of food.
26. Finished large diagrams, cut up wood etc. Tonight there are many illuminations up in different parts of the town, as the Queen's birthday is kept today. Today was also the first day of the Epsom races. Very fine day, in the evening there was a most gorgeous sunset, the suns rays striking the edges of the numerous clouds made it very splendid.
27. Began Mr Booth's new chapel at Birkenhead, cut up wood etc.
28. Went on with chapel, cut up wood and drew more diagrams. Yesterday was the Derby day at Epsom; the betting circles were quite at fault with regard to the winner, none of the favourites being among the first three horses. The winner was 'Blink Bonny' who came in cleverly winning by a head. She was rode by Charlton.
29. Drew large diagrams. Exceedingly beautiful weather, but farmers and others are crying out for want of rain. All cannot be pleased at once. Today was Oaks day at Epsom, when 'Blink Bonny' was again victorious, as was indeed expected directly it was known she would run again, which thinned the attendance very much.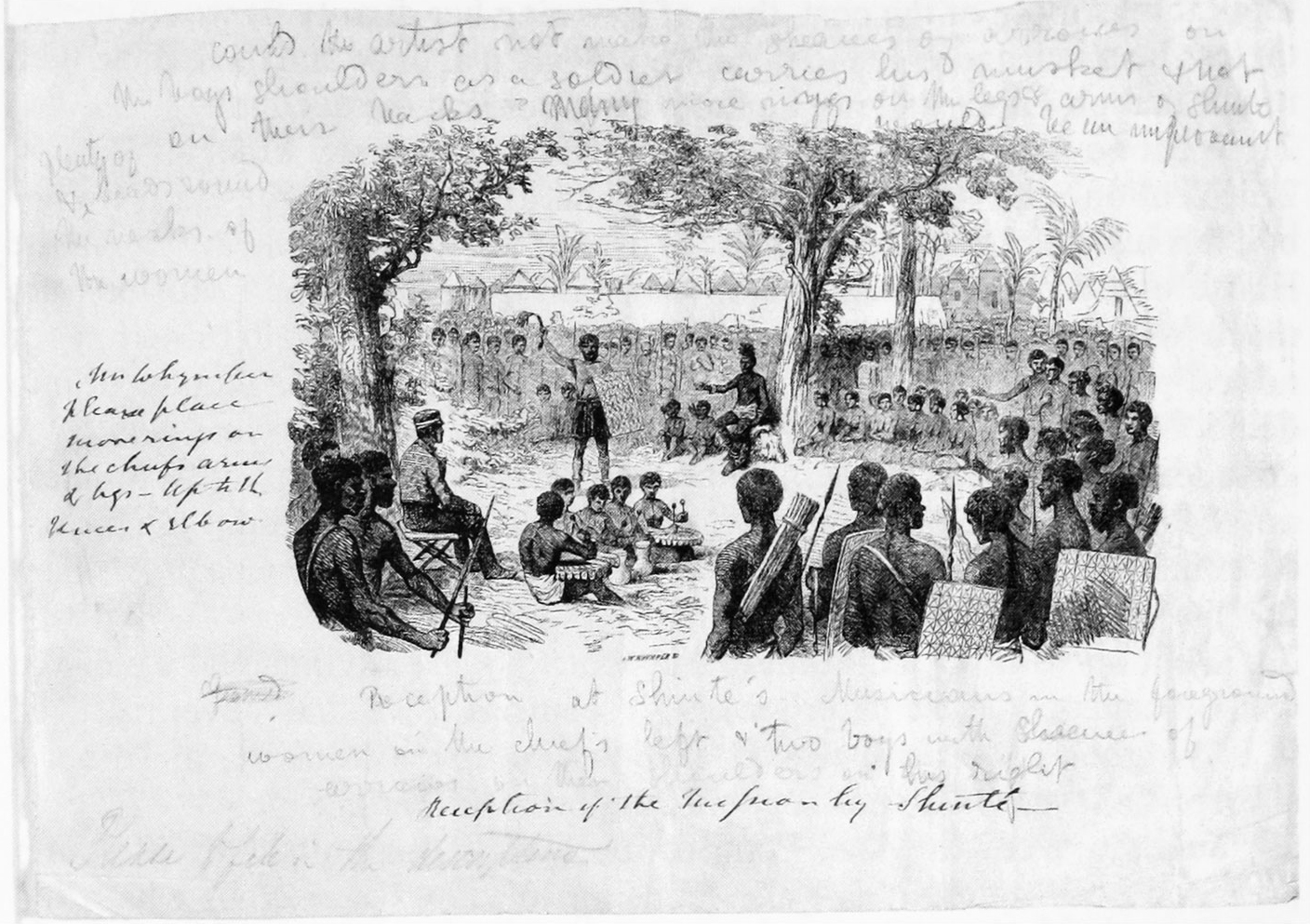 30. Drew diagrams, cut up wood etc. Fine. Another colliery explosion (in Wales I think), 12 people killed.
31. Sunday. Went to Maze Pond in morning and evening. A student preached both times. (fn. 4) Very fine. Glorious weather for us.
1 June. Whit Monday. Finished large diagram, went on with Mr Booth's chapel etc. Fine. The Grand Duke Constantine is come and gone. A good job, very few wished to see him. He only visited Osborne on Saturday and departed for Calais on Sunday (yesterday).
2. Finished B's chapel, cut up wood etc. Fine. 14 servants have just been drowned crossing the Lancaster sands, they got loitering about, drinking etc and the consequence was that they were caught by the tide and not one escaped. Went in evening to Mr Sandall's.
3. Altered and touched up B's chapel, also outlined a house at Canterbury. Fine. Occasional showers.
4. Went on with house in Canterbury, cut up wood and began a Catholic diagram. In evening I went to a sort of soirée at Mr Beddome's, met a good many friends (mostly female), and felt considerably awkward, not being used to female society.
5. Put in figures to chapel, cut up wood, began a diagram of phases of moon. The Eton Regatta came off yesterday with great éclat, the Prince of Wales being in attendance.
6. Went errands, on with moon diagram etc etc. In afternoon I went to Westminster Hall to finish my inspection of the competition designs for Foreign and War offices. It was my last chance for this evening they closed. While in the Hall I thought I might as well finish up with going for the first time to the Court of Queen's Bench. It must be hard work indeed for the judges to sit so long listening to dull barristers, if what I heard were a fair specimen. How I should like to be a lawyer, but I suppose I never shall. I fancy myself just suited to it and it just suited to me. We shall see. At last we have rain and promise of abundance of it.
7. Sunday. Went to Maze Pond in morning and evening. Mr Malcolm preached both times. Today he commenced his ministry with us. Pleasant showers.
8. Went to Rivington, cut up wood, finished Catholic diagram etc. Very heavy rain during the day and very nice sunshine, in fact as charming weather as can be imagined. The British Bank swindle having been fully exposed and great numbers crying for justice to be performed on the directors of it, the Attorney General has been compelled, if it is not a voluntary act, to proceed against them. Warrants of arrest have accordingly been issued and some have been captured and others have fled, among whom is the splendidly endowed (in the faculty line I mean) member for Tewkesbury, Humphrey Brown by name. 200£ is offered for him and all London is placarded with his name and description.
9. Finished moon diagram and went on with palace at Lucknow. Very wet.
10. Went on with palace and out errands. Slight showers, to refresh the flowers. As I was about to get in bed last night, my mother called and showed me what at first was not but afterwards became a very large conflagration. I find that it was the large goods station of the London and North Western Railway Co at Camden Town, belonging to Messrs Pickford. It must have been very fearful near, for to us at nearly 5 miles distance it seemed very great. There were more than one hundred horses in the stable, which fortunately a few men were able to turn out in time to save them, and they set off towards Hampstead, nearly killing an inspector of police who was coming in an opposite direction. The damage done (or rather the loss) is very variously estimated from 50,000£ to 250,000.
11. Went to Clowes, on with palace, cut up wood, and began some large houses. Went to cricket in evening at Archbishops ground. Today there is a match on at the Oval, Surrey v. Kent; Kent is getting a confounded licking, of course. It will be finished I expect tomorrow. (fn. 5)
12. Went to Clowes, Joy's etc, on with houses etc. In afternoon went by rail to Richmond, walked through park to Kingston, took a boat, had 2 hours rowing and returned through Ham Common. Very fine. British Bank Humphrey Brown is captured, hurrah!! Also several other of the directors of that swindle. They will be prosecuted by the Attorney General, criminally.
13. Finished houses, went errands and on with Temple. Very fine, too good to last.
14. Sunday. Went to Maze Pond in morning and evening. Mr Malcolm preached both times. Fine. The Camden station that was burnt last week, was I find insured for 55,000£ so that the loss on Messrs Baxendale (Messrs Pickford nominally) will be but small if anything.
15. Put figures in block, went on with palace etc. Fine. Today is the first day of the great Handel festival at the Crystal Palace. The oratorio of 'Messiah' is to be performed, or rather I suppose has been performed by 3000 people, which is the largest number that have been congregated in England as yet and I think indeed in the world.
16. Altered and improved a drawing of 'Tuileries,' cut up wood etc. The first day of the festival (I take the account of the Times) went off most gloriously. The chorus were magnificent, the Hallelujiah being heard ½ a mile. How I should like to go, but it is too expensive. My uncle Woods paid us a short visit today.
17. Finished 'Tuileries,' on with palace etc. Very fine. Strawberries are beginning to get about, rather cheap in price. In afternoon went to cricket at Oval. The Queen went to the Crystal Palace today to Handel festival.
18. Drew an ancient gallery, cut up several pieces of wood and went on with Temple, altered antediluvian animal etc. Fine. A grand match at Oval today and tomorrow between Surrey and Cambridge. (fn. 6) Yesterday's performance at the Crystal Palace went off gloriously, and it is said that the Queen and Royal Family intend going tomorrow again.
19. Cut up wood, went errands, on with Temple and began the celebrated Taj Mahal at Agra built of white marble. Fine, but very hot and close, appearance of a storm.
20. Went to Miller's, Gosse's and Mudie's, cut up good deal of wood, went on with Taj Mahal etc. Last night or I think indeed this morning, we were visited by a rather severe thunderstorm and the rain fell in torrents. It beat against our front windows so, that they seemed as if they must come in, but they did not. It made our road look like a river which had overflowed its banks. There is now every appearance of a repetition of the above sort of thing again tonight.
21. Sunday. Went to Maze Pond in morning and evening. Mr Malcolm preached too [2] long sermons. Fine, sky heavy.
22. Errands, cut up 9 pieces of wood, read 3 books, went on with Taj Mahal. In evening to cricket at Archbishop's grounds. Fine, and very hot.
23. Went to Gibson's and Mackness, cut up wood etc, went on with Taj Mahal. Very fine.
24. Went errands, cut up lot of wood, went on with Taj Mahal etc. Fine and hot. The Manchester Art Treasure Exhibition is supposed to be now in full swing, but the numbers that visit it, I think do not come up to those anticipated. They rarely reach 12,000 in one day. (fn. 7) There have lately and indeed for a long time, been great complaints made as to the accommodation at the Queen's drawing rooms, the ladies especially have suffered from it; they have been penned in like sheep, kept waiting for hours and frequently have had to pass through the royal presence with dilapidated dresses (skirts torn off) and occasionally with bruised faces and black eyes. There was today in 'Times' an amusing description of the experiences of a lady of rank who was knocked down at the last one. The nuisance has at last been remedied.
25. Cut up wood, went to Bentley's and on with Taj Mahal. Fine, exceedingly. My father went sketching at Windsor with Miss Corderoy, 2 Miss Hepburns and Master ditto. Dr Fergusson and Mr Collambell held a consultation today on my mother. In evening I went to Oval to see the end of 1st day's play of Rugby School v. Marlborough College. The former will beat the latter, (who in my opinion are muffs) in one innings easily. Rugby boys fielded beautifully, considering what a frightful hot day we have had and that they had been playing 7 or 8 hours.
26. Went to Bentley's, cut up lot of wood, went on with Taj Mahal etc. Very hot.
27. On with Taj Mahal etc. In afternoon played a match at Oval. Yesterday the Victoria order of valour, manufactured out of Russian cannon, was distributed to 61 brave men in Hyde Park by Her Majesty in the presence of thousands of spectators, (galleries were erected for more than 7000). It is given for distinguished acts of bravery (at present in time of war) and will thus be open to merit and not to humbugs, as most of those decorations are. The great pity is that those who have most honourably earned this cross, are where they cannot receive it - in the grave.
28. Sunday. Went in morning to Boro Road Chapel, and heard Mr Harcourt for the first time. A man of moderate powers only but has the knack of commanding attention. In evening to Maze Pond. Mr Malcolm preached. Thermometer 85° indoors.
29. Went errands, on with Taj Mahal etc. Cloudy, looks like rain, of which we should be very glad. Thermometer is nevertheless 10° less than it was yesterday. Last night about ½ past 10, one of the most dreadful railway accidents that has happened near London took place. It was on the North Kent line near the Lewisham Station. A fast train from Strood had pulled up there on account of danger being signalled in front of them, and while waiting there, was ran into by a train which left only a ¼ of an hour after them. It totally destroyed the last 3rd class carriage, smashing the passengers in a most awful manner. Accounts vary as to number killed from 3 to 12 and of the wounded from 30 to 40.
In this morning's 'Times' there is a very long and for us very sad account of the mutiny in our Indian army. It has arisen apparently from a stupid quarrel regarding their cartridges, the manner of making and using which interfered with their religious scruples. This quarrel might no doubt by the exercise of a little common sense have been avoided. But such was not the policy of our Indian rulers and the spark broke out into a flame. I think at Meerut they first mutinied and those at Delhi quickly followed their example. The latter ones perpetrated a number of terrible crimes, murdering about 40 Europeans including some women and children which even insurgents might have respected. They will no doubt pay dearly for those crimes.
30. Finished Taj Mahal, cut up wood, made out list and began diagram of Egyptian stamp. Showery. The Times of this morning contained further particulars respecting the frightful accident on the North Kent. There are 11 killed on the spot or since died and about 35 seriously damaged. There is going to be, or is I think begun, an inquiry into the cause of it, but it will no doubt end in the usual unsatisfactory manner that all such inquiries do. Eyewitnesses state that most of those who were killed would have been saved if proper means had been promptly undertaken to rescue them from the frightful situation in which many were placed. One for instance, that they dared not move for fear of crushing him in the ruins of the carriage, was hanging by a thin strip of flesh which was all that connected his leg to his body, with his head downwards. Happily for him he died quickly.