Pages 166-167
The Port and Trade of Early Elizabethan London: Documents. Originally published by London Record Society, London, 1972.
This free content was digitised by double rekeying and sponsored by London Record Society. All rights reserved.
PLAN OF THE ELIZABETHAN PORT OF LONDON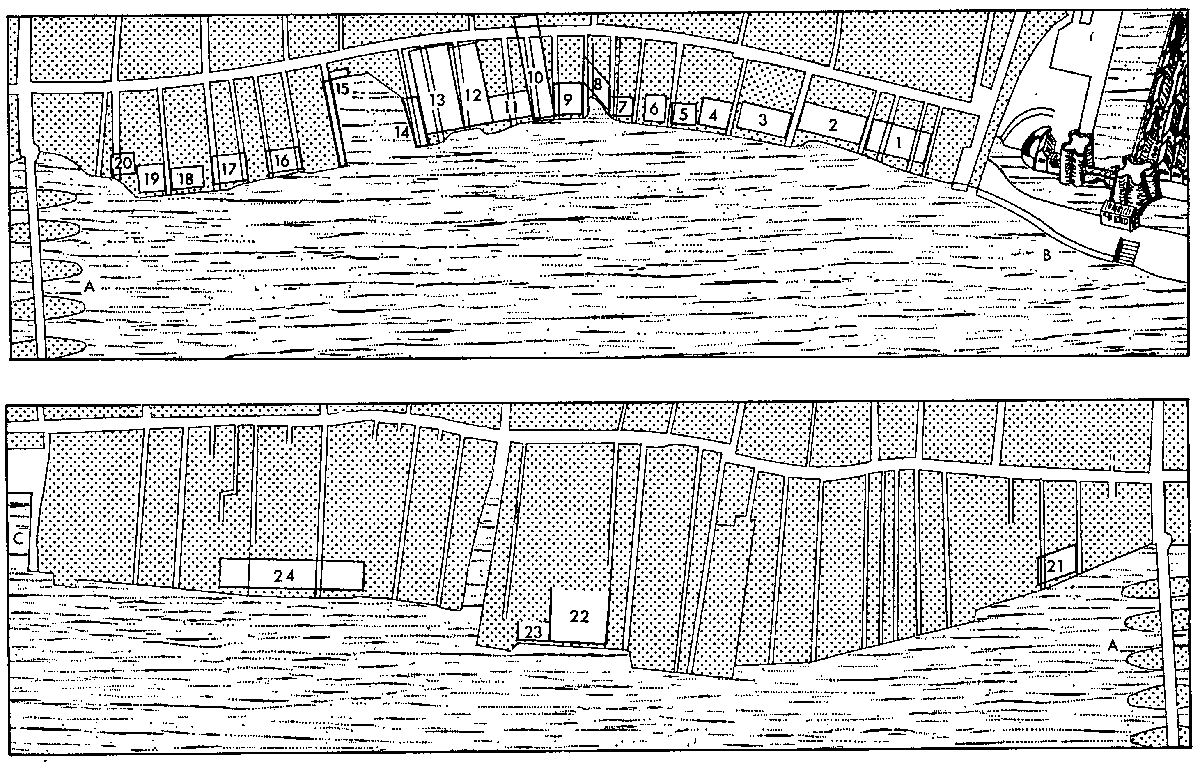 The map facing this page shows the approximate location and size of the legal quays on the north bank of the Thames as they were surveyed and established at the beginning of Elizabeth's reign. The scale and outline of the river front are taken from Wenceslaus Hollar's engraving of John Leake's Exact Surveigh of 1666 (1667). Evidence for the location and size of the quays will be found in Appendix IV. The survey and limitation of the port are discussed in the Introduction.
Scale: One inch to 300 feet
Key:
A London Bridge
B Tower Dock
C Queenhithe
1 Galley Quay
2 Old Wool Quay
3 Custom House Quay
4 Greenberries Quay
5 Crown Quay
6 Bear Quay
7 Thrustans Quay
8 Sabbes Quay
9 Gibsons Quay
10 Yongs Quay
11 Raffs Quay
12 Dyse Quay
13 Old Thrustons Quay
14 Smarts Quay
15 Billingsgate Quays
16 Sommers Quay
17 Buttolphe Wharf
18 Cocks Quay
19 Gaunts Quay
20 Fresh Wharf
21 Busshers Wharf
22 The Steelyard
23 Thomas Johnsons Quay
24 Three Cranes Wharf