Pages 543-545
A New History of London Including Westminster and Southwark. Originally published by R Baldwin, London, 1773.
This free content was digitised by double rekeying. All rights reserved.
CHAP. IV.
A Survey of Aldersgate ward.
The city of London is divided into 25 wards, according to the list at the beginning of the second chapter in this book; the 26th ward, Bridge without, not being within London: these shall be described in alphabetical order as they are there set down, beginning with the ward of Aldersgate.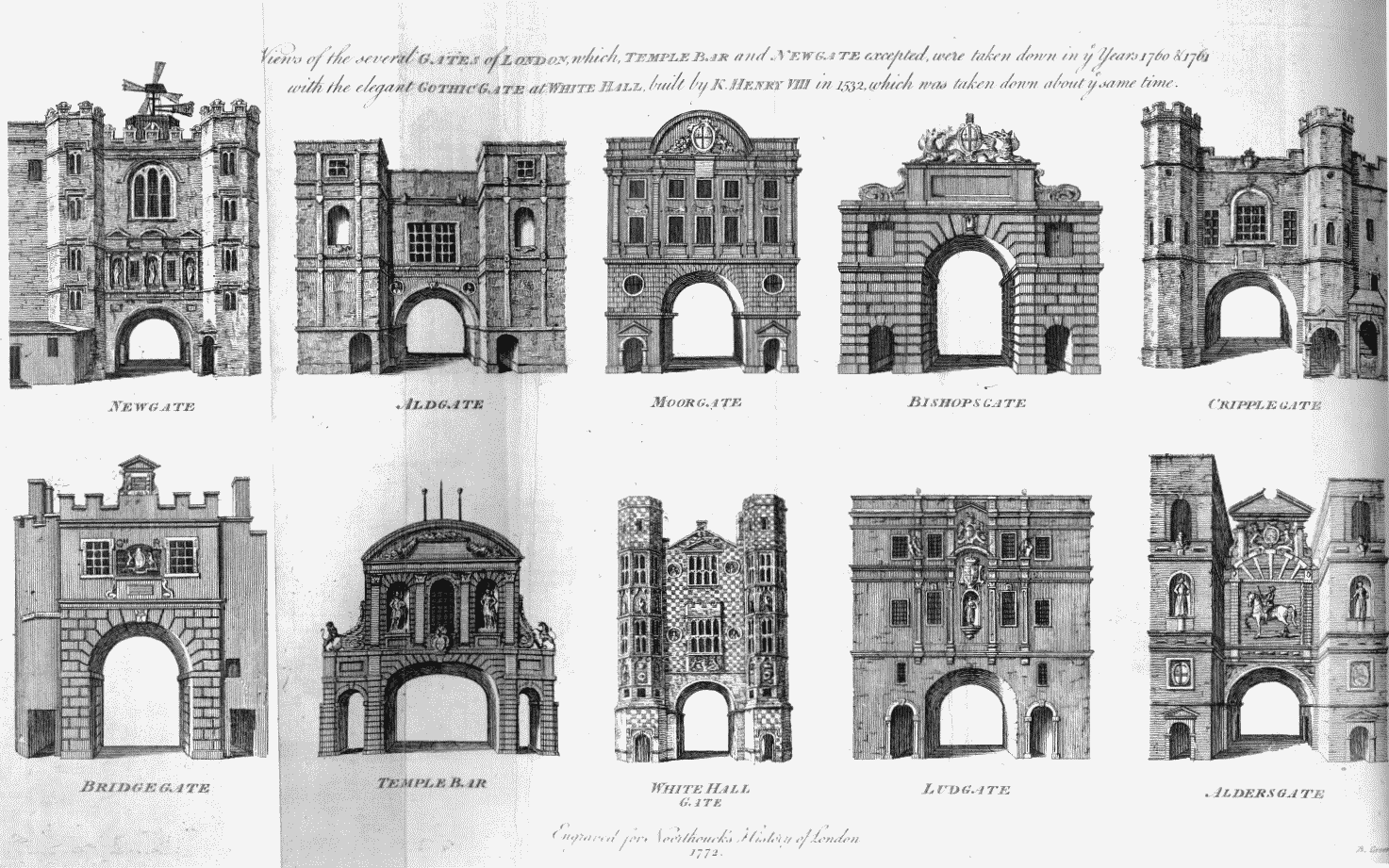 Boundaries.
This ward derived its name from the city gate that lately stood a little to the southward of St. Botolph's church, and divided Aldersgate street from St. Martin le Grand; which though within the city is a distinct liberty in the government of Westminster. This is an extensive ward, and is divided into Aldersgate without, and Aldersgate within, each consisting of four precincts; though they are both under one alderman. It is bounded on the east by Cripplegate-ward, on the west by Farringdon-ward within and without; and on the south by Farringdon-ward within. The north extremity terminates at the bars in Pickaxstreet, and other parts without the freedom beyond Fann's-alley on the east-side, and at Carthusian-street on the west side of Pickax-street.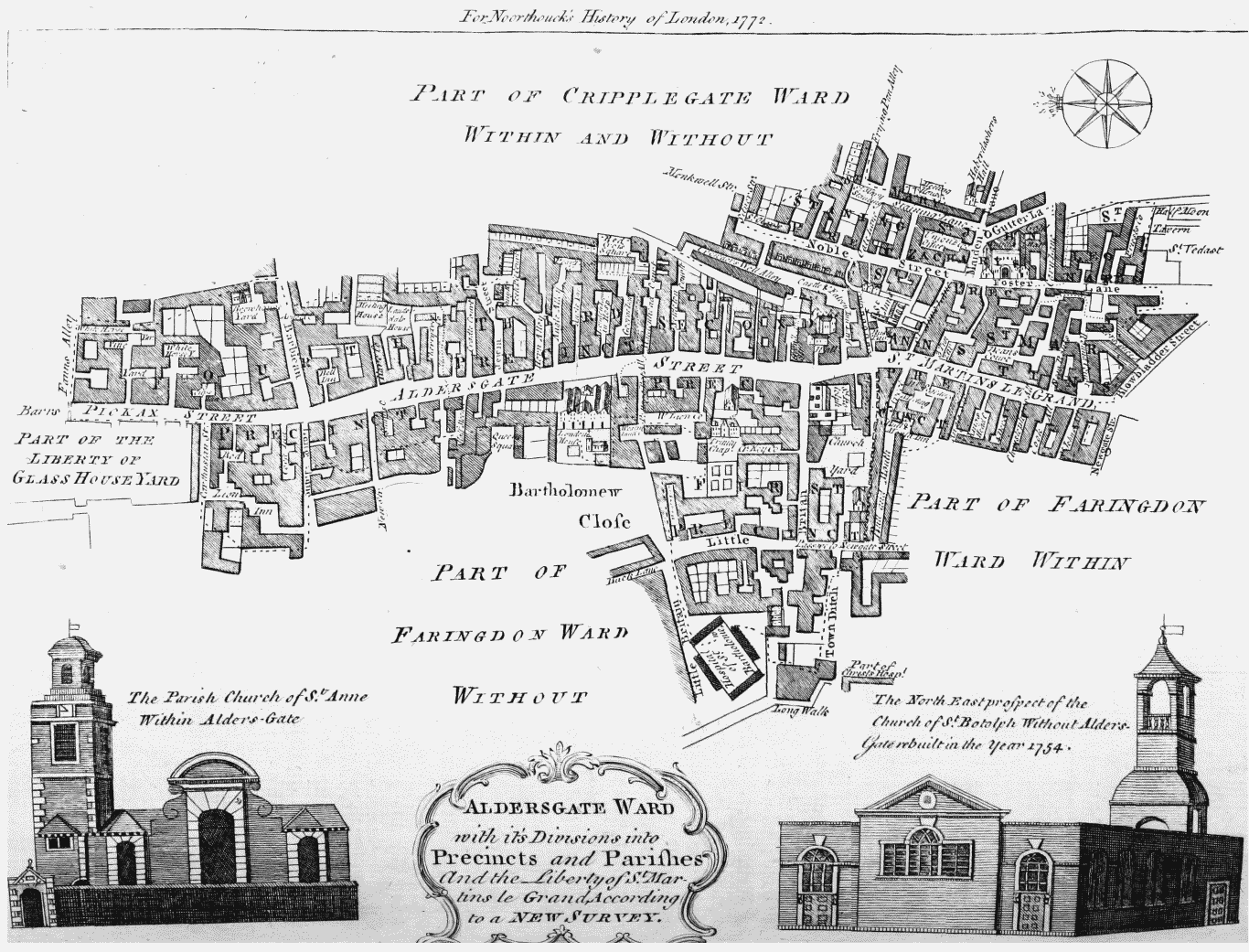 Principal streets.
The principal streets and lanes in this ward are, Aldersgate-street, Pickaxstreet, part of Barbican (fn. 1), Jewin-street, Long-lane, Little Britain (fn. 2), Noblestreet, Foster-lane, Maiden-lane, Staining-lane, &c.
London house.
About the middle of the west side of Aldersgate-street, stood a palace, that was the residence first of the marquis of Dorchester, and then of lord Petre; of whom it was purchased after the restoration for the city mansion of the bishop of London: from that time it was known by the name of London-house; but being deserted by the prelates, was at last let out into tenements and warehouses. This ancient edifice was lately consumed by fire, since which private buildings have been erected in its stead.
London Lying in Hospital.
Nearly opposite to this stands Shaftesbury-house, now called the city of London Lying-in Hospital. This edifice is built with brick and ornamented with stone, in a most noble and elegant taste. The front to the street is adorned with Ionic pilasters. The door which is arched, and has a balcony supported by scrolls, opens into a small area encompassed with buildings, within which are accommodations for the patients. It was built by the masterly hand of Inigo Jones, and was formerly the residence of the earls of Shaftesbury; but being deserted, it would have entirely run to decay, had it not been for the founders of this useful charity; by which every necessary accommodation and assistance are furnished for married women in the last state of their pregnancy, time of labour, and month of lying-in. It was instituted in 1750, by several generous and humane persons; and is supported by voluntary contributions.
Cook's hall.
Opposite to St. Botolph's-church stood Cook's-hall, an old convenient building which escaped the fire of London, but was consumed in 1771.
Goldsmith's hall.
At the N.E. angle of Foster-lane, stands, Goldsmith's-hall. This is a modern building, (the old hall, founded in 1407, by Sir Drew Barentin, being burnt down in 1666) very spacious but irregular, built with brick, and corners of stone. The front however is uniform and elegant; the door large, and ornamented with doric columns, which support a pediment of the arched kind, but open for a shield, in which are the arms of the company. Within there is a spacious hall and court room, and great conveniences, all well enlightened.
Union fire office.
In Maiden-lane fronting the N. E. corner of Goldsmith's-hall, there formerly stood a stately house of Sir Richard Kennet, on whose ruins is raised a neat building for the Union Fire Office of assurance for goods and merchandize from loss by fire.
This office was erected by a considerable number of persons, who mutually agreeing to insure one another's goods and merchandize by an amicable association, entered into a deed of settlement for that purpose, on the 16th of February, 1714–15, and had it inrolled in the high court of chancery. This deed being signed by all persons desirous of becoming members, they are thereby admitted to an equal share in the profit and loss, in proportion to their respective policies.
Coach-maker's hall.
On the west side St. Mary Staining church-yard, stands a spacious hall, facing Noble street, built by the Scriveners, an ancient fraternity, who being reduced to low circumstances, sold their hall to the company of coach-makers; who now enjoy it, and from whom it takes its present name of Coach-maker'shall. This company, however, cannot be in much better circumstances than their predecessors, the hall being at this time let out as an auction room, on week days, and as a dissenting meeting house on Sundays.
Before the great fire there were five churches in this ward; but they are now reduced to these two.
St. Botolph's Aldersgate church.
First St. Botolph's church, at the south east corner of Little Britain; so denominated from its dedication to St. Botolph, a Saxon monk. It escaped the fire of London in the year 1666, but afterward grew so ruinous, that it was entirely rebuilt in 1754. The building is a plain brick edifice, with a Tower supported on a kind of arch-work, and crowned with an open turret and its fane. It was anciently a rectory, but is at present a curacy in the patronage of the dean and chapter of Westminster-abbey; and is subject to the bishop and archdeacon of London, to whom it pays procuration.
St. Ann's church within Aldersgate.
Secondly St. Anne's church, dedicated to St. Anne, the mother of the Virgin Mary. The old church was burnt down in the fire of London, and the present was raised in its place about three years after. It is a very plain edifice: the body is enlightened by a few large windows, cased with rustic; the Tower, which is very plain, is also strengthened at the corners with rustic, and from its top rises a turret and spire. The advowson of this church was given by queen Mary to the bishop of London, in whose gift it continues: and the parish of St. John Zachary, whose church was burnt down in the year 1666, not being rebuilt, is now annexed unto it. It is a rectory, and St. John Zachary's being in the gift of the dean and chapter of St. Paul's, the bishop and the dean and chapter alternately present to the united livings.
Liberty of St. Martin le Grand.
Considering the situation of St. Martin le Grand, it may be mentioned in this place, though it is a distinct liberty subject to the city of Westminster. It took its name from a collegiate church founded here in 1056, for a dean, secular canons and priests, dedicated to St. Martin; and gained the epithet of le Grand, from the extraordinary privileges of sanctuary granted to it by several of our kings (fn. 3). This church was granted by Henry VII. to the monastery of St. Peter Westminster, after which the abbots of Westminster claimed jurisdiction over the precinct. The college being surrendered to Edward VI. in 1548, the church was pulled down, and houses built in the room of it; which were lett to strangers, who claimed the benefit of the privileges and exemptions the canons formerly enjoyed: many contests have arose from time to time concerning these pretensions; and the exemption claimed from the jurisdiction of the city, seems rather to be established by prescription than to have a good foundation under a religious establishment which was legally abolished.
St. Martin's le Grand contains but one principal street, which bears that name, and leads from the north east end of Newgate-street down to where Aldersgate stood; though the liberty ends at Bell-court near St. Anne's-lane on the east side, the remainder being part of Aldersgate-ward. The several small courts and alleys on each side this street compose the liberty; where persons who are not free of the city follow their trades without obstruction, and vote for members of parliament to represent the city of Westminster.