Pages 103-111
The History and Antiquities of the County of Suffolk: Volume 1. Originally published by WS Crowell, Ipswich, 1846.
This free content was digitised by double rekeying. All rights reserved.
Worlingham.
Ulf, a free-man of Gurth, the brother of Harold, held Worlingham at the time of the Survey, and Roger Bigot was steward of it for the Conqueror, who retained the manor in his own hands. Roger de Montford also possessed an estate here, of which five free-men of Gurth had been tenants. It was valued at ten shillings and sixpence, and paid one thousand herrings. There were also in this parish two churches, to which belonged forty acres of land, worth six shillings. They were the property of the Crown, but others enjoyed the profits of them; viz., Robert de Vallibus held a half-part of one of them, with thirty acres of land and a Bordar; and the Abbot of Bury St. Edmund's held the other half, with five acres of land, worth twelve pence. These estates, in all probability, formed the manors of Great and Little Worlingham. The Testa de Nevill, an invaluable record of the 13th century, contains the following particulars of this parish at that early period. "Soca Britonis de Werlingham. Our Lord the King gave it to the ancestors of Oliver de Tintamac of Bretagne, and Hamo de Sibeton now holds it of the gift of the King; but by what service is unknown: and it was a member of Mutford." (fn. 1)
"William de Cheney holds the Soca Britonis in the Hundred of Wainford, in custody for William de Tintiniot, and has the custody for Philip de Albon, to whom the King gave that custody." (fn. 2)
The Abbot of Bury was returned by the Sheriff of Suffolk as lord of the manor of Worlingham in 1281, the ninth of Edward I. (fn. 3) In the Patent Rolls of the twenty-sixth of Edward III. mention is made of the letting out of the liberties or franchises of the Abbot of Bury between Coplestone, and the mill of Worlingham, and in Beccles. (fn. 4)
Coplestone, or Coppleston, is a name still retained by certain lands in the parish of Beccles, and the above record shows the antiquity of the appellations by which most of our fields and lanes are known at the present day.
A branch of the ancient family of Duke was afterwards long possessed of this manor. Robert Duke was living here in the reign of Henry VIII. John Duke, Esq., married Parnel, daughter of Sir Thomas Rous, of Henham, soon after the year 1600; and in 1649, Thomas Duke, of Worlingham, Esq., was seized of the advowson and manor of Diss, in Norfolk. (fn. 5) It afterwards became the property of John Felton, Esq., son of Sir John Felton, of Playford; whose only daughter, Elizabeth, having married Sir John Playters, of Sotterley, carried it into that ancient line. Sir John Playters sold this, and other estates in the neighbourhood, to Sir Thomas Robinson, Bart., of Kentwell Hall in Long Melford. Sir Thomas, his son, sold the property and residence at Long Melford, and the adjacent neighbourhood, to John Moore, Esq., citizen of London, and made Worlingham his residence. He died in 1743, and left this estate to Dame Elizabeth his wife, who died in 1758, having previously sold her rights in the manor of Worlingham to George Hare, Esq., in fee. Hare re-sold the manor to Robert Sparrow, Esq., June 23rd, 1755, whose son, the late Robert Sparrow, Esq., succeeded him; who, by his marriage with Mary, eldest daughter of Sir John Bernard, Bart., of Brampton Park, in Northamptonshire, left an only surviving daughter, Mary, who, marrying the Right Hon. Archibald Acheson, Earl of Gosford, carried it to that nobleman, who in her right holds a life interest in it, with remainder to Lord Acheson, his son, in fee.
The Earl was created a Peer of the United Kingdom by the title of Baron Worlingham of Beccles, in the county of Suffolk, in 1835, and is descended from an ancient family in Ireland; Sir Archibald Acheson, Secretary of State for Scotland, having been created a Baronet in 1628.
The manor of Little Worlingham was possessed by Catharine Fitz-Osbert in 1281. She married Sir John Nojion or Noion, to whom she carried this and other manors in Suffolk. (fn. 6) Sir John bore gules, a cross engrailed, and a canton arg.
Fitz-Osbert's shield was gules, 3 bars gemelles or.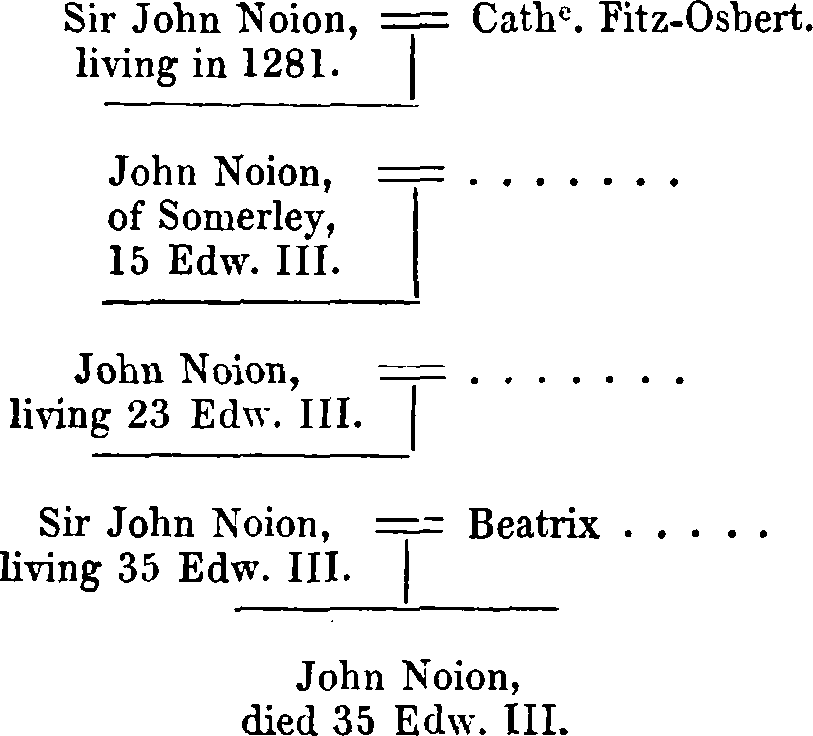 The manor was afterwards held by the family of Cove, of whom it was purchased by the Jernegans; for John Jernegan, of Worlingham, by his last will dated the 31st of October, thirteenth of Edward IV., says, "first, I will after my dissece that Osberne Jernegan, my sone, have alle my maner of lityll Wyrlyngham, with all the comoditees, &c., within the townes of litill Wirlyngham, Cove, El'gh, and grete Wyrlingham, or els where inne the Hundred of Waynforth, late purchased of Will: Cove, to alle the terme of his lyffe, withouten impechement of waste; and to hys issue male of hys body lawfully begotyn, and for defaute to his old daughter, and for defaulte, &c., to Elizabeth Denton, my daughter, for life, and after to Wat Denton, her sone, for life, and after to be sold."
This lordship was always of very inconsiderable extent, and exercising at present no manorial rights, may be considered as lost.
William de Cheney gave to the monks of Langley, in Norfolk, his tenants in Cove and Worlingham. (fn. 7)
In 1540, Thomas Atkin, Vicar of Mutford, gave to Gonville Hall, Cambridge, Pain's Close in Worlingham, of forty shillings per annum rent, for stipends for three scholars of the diocese of Norwich, who are to be chosen by the master and two senior fellows. (fn. 8)
John Wilde, of Lowestoft, by will dated 22nd July, 1753, gave a considerable estate lying in Worlingham to the parish of Lowestoft, for establishing an English and Grammar School there, for the benefit of poor children belonging to that town. The above John Wilde was buried in the common pathway in Worlingham church-yard, leading from the gate next the road to the church porch, having a load of stones poured upon him when laid in his grave; but there is no memorial for him, nor have we heard that there ever was any. (fn. 9) By an Act of Parliament, passed thirty-first George III., 1791, entitled 'An Act for effectuating and establishing an exchange agreed upon between the Trustees of Wilde's Charity, and Robert Sparrow, Esq., and Mary Bence, spinster, of certain estates in the county of Suffolk,' it was settled, that in consideration of certain lands situated in the parishes of Laxfield, Dennington, and Baddingham, in the county of Suffolk, belonging to the said Mary Bence, and of certain other lands lying in Worlingham, in the possession of the said Robert Sparrow, the trustees of the said charity made an exchange of the said Wilde's estate in Worlingham, for the lands aforesaid belonging to the said Mary Bence and Robert Sparrow, for the purposes mentioned in the will of the said John Wilde. (fn. 10)
The parish of Worlingham gave birth to Dr. Thomas Gooch, successively Bishop of Bristol, Norwich, and Ely; Master of Caius College, Cambridge, and Vice-Chancellor of that University in 1717, 1718, and 1719. During the violence of party in Dr. Bentley's time, the Bishop was shot at as he was passing from chapel to Caius Lodge. On the late alterations there, search was made, and a bullet found. While exercising the office of Vice-Chancellor, he raised by contributions £10,000, which have since been expended in building the Senate House; and in 1742, while holding the See of Norwich, he instituted two societies in Norfolk and Suffolk for the relief and support of distressed widows and orphans of poor clergymen. He was thrice married; and succeeded to the Baronetcy on the death of his elder brother in 1751, without issue. His mother was Frances, daughter of Thomas Lone, Gent., of Worlingham. His Lordship died in 1754, aged 79, and was succeeded in his title of Baronet by his son.
The family of Smallpeece was of considerable standing, and of good estate in this parish. They are said to have been originally of Metfield, in Suffolk, but Blomefield records the monument of Humphrey Smallpeice, who was buried at Hockering, in Norfolk, in 1539, and their name occurs yet earlier among the 'Worthies' of Norwich. They were residing in Worlingham soon after the year 1600. Thomas Smallpeece, son of Thomas Smallpeece, Gent., and Frances, was baptized on the 28th of February, 1682. The family merged into that of Fox, of Stradbrook, in the middle of the last century, when Joseph Fox, Esq., of Stradbrook, and Mrs. Elizabeth Smallpeece, were married in 1756. Mr. Fox was the representative of an old Roman Catholic family, and related to the celebrated Minister of that name. Their eight children were baptized at Stradbrook by a Romish priest from the house of Mr. Havers, and received into the church at Worlingham, 16th November, 1778.
Smallpeece bears sab. a chev. engrailed between 3 cinquefoils argent, pierced of the field.
Their residence and estate were purchased by the late Robert Sparrow, Esq., just before his decease. The former contained some family portraits of no great value, but was especially rich in curious old furniture. Among other articles of interest was the splendid chest represented beneath, now in the possession of the writer.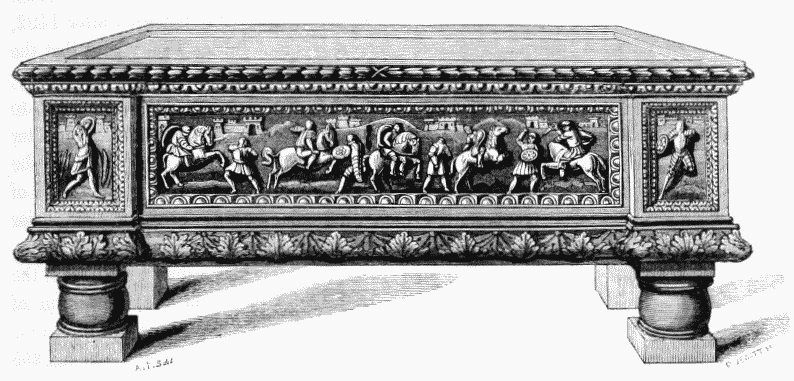 The eastern portion of the parish consisted a few years ago of uncultivated heaths and commons. In this part of the village stands an ancient oak, whose trunk is almost concealed from view by a thriving hedge. This venerable tree, whose age is probably above five hundred years, and which
"Whylom had been the king of the field,"
is now a hollow and almost sapless trunk. It afforded shelter for some years to the village cobler, who pursued his occupation within its rind; and it is said that a blacksmith once shod a horse within it. The tradition may be true, for it measures twenty-seven feet in circumference at a foot from the ground.
"But now the gray moss mars his rind,
His bared boughs are beaten with storms,
His top is bald, and wasted with worms,
His honour decayed, his braunches sere." Spencer.
Worlingham Hall, the seat of Lord Acheson, was built by John Felton, Esq., but has been considerably enlarged and improved. It contains a valuable library, and stands in a well-wooded park on the north of the road leading from Beccles to Lowestoft.
The population of Worlingham in 1841 was 208 inhabitants, and the parish contains 1631 acres, 2 roods, 19 perches of land; of which 47½ are glebe. The tithes have been commuted for a rent-charge of £303, exclusive of the value of the glebes.
The two churches which formerly existed in Worlingham were appropriated to the Convent of Butley. They were dedicated respectively to All Saints and St. Peter. The latter structure has been down many years, and was probably not used after 1492, when the two parishes were consolidated. The register of Butley Priory says that the church of St. Peter of Worlingham was appropriated to that establishment by John Grey, Bishop of Norwich. (fn. 11) The assignment must, therefore, have taken place prior to the year 1200, for that prelate died on the 2nd of June in that year. (fn. 12) Walter de Suffield, Bishop of Norwich, confirmed to the Priory of St. Mary of Butley, and the monks there, the appropriation of this church, and the taxation of the vicarage of Upton in Norfolk. This confirmation took place about a. d. 1248. (fn. 13) The Prior presented to the church of All Saints soon after the year 1300; so that, probably, the appropriation of both benefices was effected about the same time. As the advowson of the consolidated rectories was not granted away at the dissolution of religious houses in the sixteenth century, it has remained with the Crown.
William Elyot, parson of the church of Worlingham (magna), was one of the executors of the will of Dantres, dated 1384, and proved in 1383. (fn. 14) The church of All Saints is now the only parochial church. It was formerly thatched with reeds, which have given place to the more durable and seemly covering of slate. It comprises a nave and chancel, with a south aisle or chapel attached to the latter, and has a lofty square tower. The interior is well proportioned and reputably kept, and formerly possessed a magnificent screen, of which the lower portion only remains. The chapel on the south side of the chancel was erected by some family formerly resident in the parish,—possibly by the Jernegans, or the Dukes. Under the east window of this chapel the floor is raised a step, and the appearance of a piscina points out the position of an altar, where a priest performed mass for the souls of the founder and his family. From this chapel is a doorway, giving access immediately to the high altar. It is now used as a vestry. From a date remaining on the south-west angle of the nave, and the appearance of the masonry there, it is probable that part of the edifice underwent a considerable repair in 1608. This conjecture is much strengthened by the last will and testament of Mrs. Agnes Lone, dated about that year, who therein devised 3s. 4d. towards the reparation of this church. The chalice now used by this parish at the celebration of the Lord's Supper formerly belonged to the parish of Upton, as appears by an inscription engraved upon it. In 1171, the rectory of the latter place was appropriated to the Convent of Butley, and a vicarage settled, but how the transfer of its communion cup to Worlingham took place is not apparent.
Monuments.—There is a very ancient floor-stone in the chancel, inscribed with a cross bottonee, raised on three grieces; and in the nave is a stone with this legend in black letter, without a date.

On the floor of the chapel lie the effigies of a man and his wife, from beneath which the arms and inscription are reaved; but which Harvey, in his Church Collections, has preserved. "Nycholas Wrenne, gent, and Mary his wife, dyed ao M. VcXjo." This Nicholas Wrenne, of Worlingham, made his will September 20th, 1507. Mary his wife was then living; and they had two sons, Nicholas and John, and two daughters, Margery and Elizabeth. Their arms were party per pale indented or and gules, six martlets counterchanged.
Against the south wall is a curious epitaph to the memory of Mrs. Parnell Rous, alias Duke, wife to John Duke, Esq., of Wallingham, made ye 22nd April, 1637; and a second on the "Dove-like Virgin Mrs. Anne Duke," their daughter, made 10th of January, a. d. 1658.
Duke's arms are attached, viz., az. a chevron between 3 sterns close arg. a crescent for difference, impaling on the dexter side, sab. a fess indented or, between 3 crescents argent; and on the sinister side quarterly ermine and sable, a cross engrailed or. Duke, of six coats, viz., 1. Duke; 2. Park, azure, an eagle displayed arg.; 3. Woodwell, az. a fess between two chevr. arg., and a canton erm.; 4. Banyard; 5. Wren; and 6, Coo, three piles wavy, in point, impales Hobart, sab. an etoile or, and a flaunch erm.
There is an elegant mural monument, by Chantry, to the memory of Robert Bernard Sparrow, only son of the late Robt. Sparrow, Esq., of Worlingham.
"Quem dum ex insulâ Tobago cui præfuerat In Angliam reverteretur Febris inter navigandum lethali ictu percussit."
He died August 29th, 1805, and was buried at Tobago. Robert Acheson Bernard St. John Sparrow, his only son, died at Nice, March 3rd, 1818, aged 19.
On a hatchment near this cenotaph are the arms of Sparrow, arg. 3 roses az. and a chief gules, impaling Bernard, arg. a bear erect sab. collared and muzzled or.
There are also memorials to Alice, wife of Thomas Smallpeece, and daughter of Francis Jermy, Esq., of Gunton, who died in 1762; with the arms of Smallpeece impaling Jermy, arg. a lion ramp. guard. gules.—To Elizabeth, widow of Joseph Fox, and daughter of Philip Smallpeece, who died in 1811, aged 81.—To Sir Thomas Robinson, Bart., and Dame Elizabeth his wife; he died in 1743, and she in 1758.—To the Rev. James Carter, M.A., and Dorothy his wife, daughter of Timothy Tyrel, Esq., of Mendlesham. He died in 1778, aged 86; she died in 1752, aged 56.—Henry Alexander, formerly Major in the service of the Nabob of Arcot, died in 1808, aged 71. Hector, his son, died in 1806, aged 13. Sophia, his daughter, in 1806, aged 16 years. In the church-yard, adjoining to the south wall of the nave, is an altar-tomb of white marble, bearing the arms of Playters impaling Felton, gules, two lioncels passant guard. in pale, erm., crowned or, with a mullet for difference, and an inscription to the memory of Dame Elizabeth Playters, daughter and sole heiress of John Felton, Esq., who died November 14, 1748, aged 58; and also to John Felton, her father, who died in 1703, aged 41. On a hatchment in the church, Felton impales arg., two chevronels between 3 chaplets vert.
Rectors of Worlingham Magna.
Rectors.
Date.
Patrons.
Joēs Pepys
Joēs Wayte
1371
Prior and Convent of Butley.
William Bright
1377
Id.
Joēs Raas, Apticus
1380
Id.
William Elyot
1382
Id.
John Crew de Hecham
1390
Id.
John Naconn
1425
Id.
John Pilleston
1428
Id.
Simon Atte Grene
1429
Id.
William Plomer
1471
Id.
Robert Framlyngham
1492
Id.
John Brown
1497
Id.
Thomas Byngle
1501
Id.
Augustine Thurkle
Id.
William Haforthe
1558
Nicholas Arrowsmith, Esq.
William Bentley
1576
The Crown.
Robert Belye
1576
Id.
Thomas Knighte
1587
The Crown.
Henry Draper
1624
Id.
James Kinge
1625
Id.
Randolph Gilpin
1661
Id.
Thomas Camell
1661
Id.
Erasmus Warren
1665
Id.
Timothy Stamp
1696
Id.
James Carter
1724
Id.
John Soley
1779
Id.
John Soley, 2nd time
Id.
Thomas Boyce
1780
Id.
Naunton Thomas Orgill
1793
Id.
David Hilcoat Leighton
1837
Id.
Estimatio ecclie xviij marc: Synodalia per an: iis. viijd. Denarij S. Petri, xvid.
Here was a guild of St. John Baptist.
The registers of Worlingham commence in 1538. "Augustine Duke, son of Robert, borne 21 June, baptized next Sunday, 1538."
Charities.—The town estate consists of the following parcels. A messuage called the Guild Hall, in Worlingham, rent £5. Land in Ellough let at £3, consisting of two acres. Marsh lands in the parish, called Pound's half acre, let at 10s. 6d.; nine acres in the same parish, let at £10; messuage and blacksmith's shop in Worlingham, with 3 acres and 21 perches, let at £10. The declaration of trust is as follows.—"That the rents should be applied for payment of the leet fee of the whole town of Worlingham; and for repairing the buildings on the estate, and the parish church of Worlingham; and for putting out the poor children belonging to the said town, apprentices; and for the teaching of the children of such poor people to read English, and for instructing them in the church catechism, and for such other purposes for the good and benefit of the said town; provided that no part of the said rents should be laid out in beer, or any other liquors, at bonfires, or perambulations, or on account of repairing the highways."