Pages 243-249
The History and Antiquities of the County of Suffolk: Volume 1. Originally published by WS Crowell, Ipswich, 1846.
This free content was digitised by double rekeying. All rights reserved.
Eisleham.
The Domesday record of this village is very brief. Gurth, the brother of Harold, held the manor, which at the Conquest was transferred to Earl Hugh, and retained its value of 8 shillings. Hugo de Montford had a small estate here, valued at 2s. and 6d. and 200 herrings, and another farm, valued at 5 shillings and 300 herrings.
In 1270, Alan de Wymenhale had free-warren, with a grant of a fair and a market, in Gisleham, Carlton, &c.; (fn. 1) and in 1282, William de Gisleham had the same in Gisleham, Kessingland, Shadenfield, and Brampton. (fn. 2) In the ninth of Edward I., Edward Hengrave held the lordship of Gisleham, from whom it passed to Sir John Ulveston. By a deed, dated at Gisleham in 1356, Ralph le Megre, parson of the church of Kessingland, and Richard le Megre, his brother, released to John de Ulveston all their right and interest in the manor, &c., of Gisleham, and in the lands and houses in Gisleham, Rushmere, Kessingland, Henstede, Carlton, Beccles, and Mutford, which they held under a demise of the aforesaid John de Ulveston. (fn. 3) The manor next passed to Sir William Argentein, and from him to Thomas Latymer, Esq. (fn. 4) In the reign of Edward IV. it was the property of the Alyngtons, as the following conveyance will show.
"Noveritis &c. me Joh'm Alyngton, armiger'm ordinasse Will: Frances, et attornatos meos ad deliberand'm manerium meum de Geselham, in Com: Suff, Johi Scott, Willomacr; Hawte, Johi Say, Johi Cheyne, Johi Heveningham, milit, Johi Sellyng, et Margarete uxi ejus, Vincentio Fynch, Thome Gadewelle, civi &c. Lond:, Johi Eyr, et Johi Everard, &c. Dat: 21 Nov., 6 Ed. 4th." (fn. 5)
The Alyngton family, however, retained the manor till the reign of Henry VIII., when it passed to Henry Hubbard, Esq., who was in possession of it in the thirty-third of that reign. (fn. 6) In 1672, Robert Richman was lord, and in 1749, it was the property of Richmond Garneys, Esq., who obtained it by marriage. Charles Garneys, Esq., of Hedenham, died seized of it soon after the year 1800, when it came, by heirship, to Lord Boston, who now holds it with Gisleham Hall, and about 200 acres of land. It is called the manor of Gisleham cum Pyes. The manor of Fastolfs in this parish has now no court kept for it. St. Mary's College, in Brisley and Thetford, had divers lands and revenues in Gisleham, Rushmere, and the adjoining towns, which after the Dissolution continued in the Crown till the twenty-ninth of Elizabeth, when they were granted by that Queen to Edward Wymark or Wymarsh, Gent., and his heirs, to be held by the rent of 3s. and 4d. per annum. (fn. 7)
At the latter end of the 13th century the family of Byskele or Bixley had considerable possessions here. By a deed, dated in 1299, Robert Ulsy of Gisleham, Herbert Faber, and Henry Faber, exchange and grant divers lands to John de Byskelee, and Clemencia his wife; and in the same year, John Brunflet, of Carleton, granted to William Botild, of Gisleham, 2s. annual rent, out of his lands lying between the lands of Roger de Welington, John de Biskelee, and Simon Germy, of Gisleham. Dated at Gisleham "die dominicâ p'xa ante fes: S'ci Mich: 28 Ed: 1." (fn. 8) In the year 1343, the Byskeles seem to have held a manor here, as appears by the following charter: (fn. 9)
"Universis &c. Reginaldus de Byskelee, miles, saltm: noveritis &c. q'd cu' dnā Clemencia, que fuit uxor D'ni Johīs de Byskelee, militis, tent' ad terminat'm vite sue de dono meo manerium de Giselham, et medietate' advocacoi's ecclie de Resthemere, cū om'is t'ris ten' in Giselham, Resthemere, Kessingland, Henstede, Mutford, Benacre, Pagefeld, Kyrkele, Barneby, Carlton, Beclos, et Wache, cū p'ten suis &c. —volo, tamen, q'd licet d'ca Dnā Clemencia in d'cis maneriis terris &c.—fecerit vastum, exitioūm, et destrucion', nec ego nec hēdes mei propter hoc versus d'cam D'nam habeamus acc'oem &c. Data apud Giselh'm die martij p'xia post fm. Ann: B. M. V. 18 Ed. 3."
Sir John de Biskele, or Bixley, held a manor in Bixley, in the county of Norfolk, in 1303, which he settled on his son Nicholas. (fn. 10)
The site of Gisleham Hall, which abutted upon the extensive common, enclosed in 1799, is encompassed by a double moat, the outer of which includes about four acres. The space contained within the smaller moat measures 38 yards from east to west, by 45 from north to south.
No traces of the ancient mansion are visible, but Mr. Button, the present respectable tenant, informs me, that he remembers the courts to have been held on the site, when they were adjourned to the present hall, which is a substantial and rather old farmhouse. His father took up the foundations of the drawbridge on the south about the year 1794. Under one of the large timbers were discovered two balls of metal, engraved with coats of arms, which were sent to Charles Garneys, Esq., the landlord, and disposed of at the sale of his effects, after his death, about forty years since.
The site of Gisleham Hall has attained notoriety of late, from having been the scene of a foul murder committed there on the person of James Mc Fadden, an Irishman, employed in the rural police. This unfortunate person was shot in the thigh upon the edge of the moat, in the night of Sunday, the 28th of July, 1844, by one of a numerous and organized gang of thieves, who had long infested the neighbourhood. The murderer was identified, and suffered the extreme penalty of the law at Ipswich, on the 25th of March, 1845. Tradition relates that Gisleham was also early the scene of a sanguinary conflict between the inhabitants of the neighbourhood and a party of Danes, who landed on the coast, and established themselves in the village. A mound of earth at the eastern extremity of the parish, near Pakefield, retains the name of Bloodmore Hill, and is believed to mark the site of the battle-field. A Mr. Downing, in sinking a pit, about the year 1780, at this spot, came upon the remains of armour, spears, horses' bits, and broken stirrup irons. Mr. Reynolds, the then Rector of Gisleham, stopped further search, and insisted on their being reburied; where they probably now lie. These fragments of ancient warfare would appear to belong to a Roman period, rather than a Danish, if the following narration be entitled to credit. "In the year 1768 a skeleton was found in a barrow on Bloodmore Hill, near Pakefield, round whose neck hung a gold medal, and an onyx set in gold. The legend round the medal was D: N: T: Avitvs. On the obverse, a rude head, helmeted, with a cross on the shoulder: on the reverse, Victoria Avggg exergue Conob. On the onyx was a man standing by a horse, and holding the reins with a "hasta pura" in his right hand, and a star on his helmet."
By the following paper it appears that Gisleham was one of the villages armed by Government, in consequence of the Queen's commission, dated 8th March, 1579, "touching the armor of armes" to be provided by townes in Suffolk. The document has no date, but was probably issued soon after the defeat of the Spanish Armada.
The Constables of Gyslam as to bryng in, att the next muster, the armor and wepon hereafter followeing with the men namyd with duble letters, furnyshed as they ar appoynted.
Roger Hullock, one corslet furnyshyd with one Allman Rivet furnyshyd.
a a
Robert Hullocke, a Collyver furnyshyd.
a a
Sipprian Hullocke, a Bowe and a sheffe of arrowes.
p p
John Butcher, a harquebut furnyshyd, and an Allman Rivet furnyshyd.
p p
Thomas Peyton.
p p
Robert Frost, a byll and a scull.
g g
Thomas Martin, a byll.
p p
Thomas Smyth.
a a
Symond Robinson, a bowe and sheffe of arrowes, and a skull.
b b
Thomas Bary, one cote of platt furnyshyd, and a archur furnyshyd.
p p
Johis Maundy.
b b
Thomas Gesse, a payer of splints, a byll and a sallet, and a collyver furnyshyd.
p p
Edwar Gesse, a byll, one harquebut and flaske, a tuch box.
b b
Robert Whighting, one cote, a payer of splints and a byll.
b
Richard Hurrie, a byll and a scull.
p p
William Scarfe, a byll, splints, and a sallett and a flaske.
Walter Bullocke, a byll.
g g
Robert Raynaburrowe, a byll.
p p
Robert Thurston, a byll.
brig. R. R.
The family of Woodthorpe has been settled for many generations in this parish. Thomas Woodthorpe, of Mutford, was living there in 1683. He gave 2s. 6d. to the rebuilding of Kessingland church. In 1691, Thomas Woodthorpe, of Mutford, bought the estate in Gisleham and Rushmere of a Mr. Baker, then living at Beccles. He devised by will, dated in 1704, the said estate to Thomas Woodthorpe, his grandson, eldest son of Thomas Woodthorpe, of Gunton. In May, 1733, Thomas Woodthorpe, son of the late owner, came into possession, by heirship, and in 1774, gave by will unto his eldest son, Thomas, the said estate. In 1826, Thomas Woodthorpe gave it to Mr. Thomas Woodthorpe, the present possessor, whose son Thomas, a minor, is the seventh of that name born in the house attached to the property. This mansion is a good and respectable dwelling-house, much modernized externally, but is certainly as old as the reign of Queen Elizabeth. On a beam in one of the parlours are cut the following dates: 1590, 1667, 1692, 1841. The first date is probably that when the house was built; the second shows when the family of Baker came into possession, by purchase of Thomas Crowfoot, of Westhall, who had bought it in 1631: 1692 marks the possession of Thomas Woodthorpe, who had purchased the estate the year preceding; and 1841, the last date, records a modern substantial repair.
Thomas Crowfoot, of Westhall, was son of William Crowfoot, living in 1631, whose representative is William John Crowfoot, M. D., of Beccles; whose sister, Anna Maria, married the Rev. J. W. Crabbe, a son of the poet. William Henchman Crowfoot, Esq., now of Beccles, representative of a junior branch of this family, is descended from Humphrey Henchman, Bishop of London in 1663; and has by Mary Bowles, his wife, who sprung from Tobias Rustat, the founder of the Rustat scholarships at Cambridge, William Edward Crowfoot, John Rustat Crowfoot, and Mary Crowfoot, all living, 1846. William Edward Crowfoot, the eldest son, married, in 1833, Ellen Miller, and has issue. These arms of this family are recorded in the Heralds' College.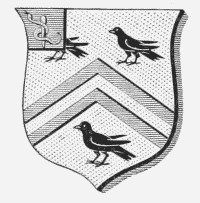 An old cottage in this parish, formerly the pest-house, was repaired by Mr. Woodthorpe in the year 1838, who, on pulling down a partition between two chambers, discovered a crucifix embossed in plaster, with two or three images of saints. They were covered with reeds and mortar, and again consigned to darkness. In 1630, Edward Hobart, of Langley, in Norfolk, lord of the manor of Gisleham, granted the inhabitants a license to build a house at the end of a lane leading from the church to Rothinghall heath, to be for ever the dwelling of an orderly poor man. (fn. 11)
The parish contains 1344 acres, 2 roods, 3 perches of land, commuted for £410. The glebes amount to 7 acres, 1 rood, 8 perches, including the church-yard. The patronage of the living has always been in the Crown.
Population in 1841, 254.
The Church,
which is dedicated to the Holy Trinity, comprises a nave and chancel, with a round tower, in which hang two bells. There is a large south porch; and a very tine one on the north side was pulled down not many years since. The entire fabric is covered with thatch. In the interior will be found an octagonal font of more than average merit, and the lower portion of a screen, which in its entire state must have been of surpassing richness and elegance: on it were painted the twelve apostles. In a north window of the nave are two figures standing beneath shattered canopies of painted glass; the heads of both of which are broken. They were intended to pourtray William Gange, and Margaret his wife. The man is habited in blue, with scarlet breeches and yellow stockings; but the female is dressed all in blue. There was also an "Ecce Agnus Dei," and an image of a saint, of which fragments only remain. Some good windows formerly lighted the chancel, which are now built up with masonry: the east window alone remains, put in by the late Rev. George Anguish, while Rector, who also built the parsonage-house. The interior is neat, but has been dreadfully barbarized.
Monuments.—On a brass plate, just within the altar-rails, is this inscription: "Here lyeth buryed the body of Adam Bland, of the city of London, Esquier, and Sergeant to her Majesty, who departed this life the xiij day of October, in the yeare of our lord god, 1593."
Bland bears, on a bend, 3 pheons reversed; with a crescent for difference.
A moiety of the patronage of the church at Wretton, in Norfolk, was in the lord of Wiron Hall, and granted to the Abbey of West Dereham. On the Dissolution it fell to the Crown, and was granted, with the rectory-house and glebe lands, Sept. 14th, 1576, to this Adam Bland, Esq.
William Kess, Gent., died 4 Nov., 1669.
Joshua Burton, A. M., formerly one of the senior fellows of Gonville and Caius Coll., and afterwards Prebendary of St. Paul's, London, and Rector of this parish, died 2 Oct., 1730, aged 66.
Metyer Reynolds, 38 years Rector, died Feb. 17th, 1797, aged 83 years.
Martin Johnson, A. M., Rector, died Feb. 23, 1758, aged 57.
The registers commence in 1559.
Rectors Of Eisleham.
Rectors.
Date.
Patrons.
John of Hemmesby
1330
The King.
John of Martham
Id.
Elias of Hoxne
1339
Id.
William of Whaten
1350
Id.
Thomas of Segbrook
1361
Id.
William Myryfeld
1383
Id.
John Hynewyk
1384
The King.
John Wayte
1384
Id.
Thomas Myldenhale
1386
Id.
John Breggeham
1393
Id.
Hugo Baxter
1409
Id.
John Pemberton
1435
Id.
Constant Dalby
John Paveley
1450
Id.
Thomas Robyns
1456
Id.
Thomas Juson
1463
Id.
Robert Blackwall
1471
Id.
Thomas Well
1474
Id.
Richard Bishop
1476
Id.
John Crawford
1478
Id.
John Cleydon
1504
Id.
Richard Strangeways
1530
Id.
Peter Hewett
1537
Id.
Robert Nudde
1542
Id.
Anthony Froste
1554
Id.
Philip Hayward
1562
Id.
John Hayward
1575
Id.
Thomas Roberts
1612
Id.
Richard Atkinson
Henry Trigg
1661
Id.
Thomas Eachard
1663
Id.
Christopher Reeve
1693
Id.
Joshua Burton
1702
Id.
Martin Johnson
1730
Id.
Metyer Reynolds
1758
Id.
George Anguish
1797
Id.
Edward Moore
1833
Id.
Robert Collyer
1840
Id.
Henry Jodrell
1844
Id.
Estimatio illius xx marc.—Domesday.
There is a small school in this parish, endowed by the late Rev. Metyer Reynolds, and vested in trust with the Rector, and the Archdeacon of Suffolk, for the time being.