Pages 321-327
The History and Antiquities of the County of Suffolk: Volume 1. Originally published by WS Crowell, Ipswich, 1846.
This free content was digitised by double rekeying. All rights reserved.
Bradwell.
Bradwell is not mentioned in Domesday Book, as it was included in the returns made for Gabbetun; and there is no manor of Bradwell to the present day. In the Act of Parliament for enclosing the parishes of Bradwell, Belton, and Fritton, the only lordships mentioned as claiming an interest in the soil are Mr. Anguish's manor of Gapton Hall with Belton; the manor of Caldecott Hall, belonging to Magdalen College, Oxford; and Mr. Turner's manor of Fritton. As parcel, therefore, of the lordship of Gapton, this parish was royal demesne in the time of William the Conqueror, and placed under the stewardship of Roger Bigot. The advowson of the church was long in medieties, and in the reign of Edward I. was presented to by a family which assumed its surname from the village. In 1361, it was returned that "Johēs, fil: Johīs Norwici, tenuit, die quo obiit, in d'nico suo, ut de feodo, Maner de Wathe, ac mediet: advoc: eccl'ie de Bradwell de r: in cap: p: servic: reddend: ad castr. R. Norwici iiijs. pro firma de alba firma." (fn. 1)
In the following year, John Gernegan, cousin and heir of John Noyoun, deceased, was stated to hold in capite the same manor and a mediety of the advowson of Bradwell, by the same rent, and service to the castle at Norwich. (fn. 2) John Jernegan, of Worlingham Parva, by his last will, proved in December, 1474, bequeaths it, inter alia, to his son. "Morovyr I wille that John, my sone, after my deces, have all my maners of Somerleyton, Horham, &c., with the vowson of the churches of Somerleyton, Horham, Stonham Jernegan, and Bradwell, with the foundācon of the hows of St. Olavys, to him and his issue male: rem'der to the elder sone of the said John: rem'der to Osburne, my sone, and his issue." In the twenty-fourth of Elizabeth, there was a fine between Edmund Bedingfeld, Esq., plaintiff, and John Jernegan, Esq., and Katharine his wife, deforcients, inter alia, of the advowson of the churches of Somerleyton and Bradwell. (fn. 3)
In the seventeenth of James I., John Wentworth, Esq., died seized, inter alia, of the manors of Somerleyton and Gapton Hall, in Bradwell. (fn. 4)
In the reign of Queen Elizabeth, the site, or manor-house, was devised to John Greenwood, but the manor of Gapton was retained.
On the 28th of July, 1670, William Vesey, of Trinity Hall, Cambridge, devised the fee-simple of his farm and lands, called Bradwell Hall, to Mary his wife, her heirs and assigns, to the intent and purpose that she should be able to sell such part of the said premises as she should think fit, and should be sufficient for payment of his debts, and the purchase of an annuity of £60 to his mother.
In 1684, the manor or seigniory of Broadwell, or Bradwell Hall, &c., was conveyed by Thomas Buck, Mary his wife, and others, to Johnson Burdett, eldest son of Theophilus Burdett, of Hallaton, in the county of Leicester, clerk, and of Rachael his wife, the niece and nearest relative of the said Mary Buck. They charged the estate with an annuity of 40 shillings per annum, for ever, to the following uses and purposes, viz.: 20 shillings, part thereof, to the rector of Whitechapel, for the time being, upon every Lady-day, for ever, for a sermon to be preached by him, the said rector, upon that day, to excite the people to charity: and the other 20 shillings, part thereof, yearly, on Michaelmas-day, for ever, to the schoolmaster of the school of Whitechapel, founded and built by Ralph Davenant, and the said Mary Buck, their friends and relations, for his encouragement in the better discharge of his office. About 1717, it passed by sale to John Collins, who held it in trust for the use of John Ellison, Gent. It was then described as "all that the manor or seigniory, reputed manor or seigniory, and site of the manor of Broadwell, alias Bradwell, commonly called by the name of Broadwell Hall, with the right, &c., with all the messuages, lands, tenements, meadows, feedings, pastures, waters, heaths, doles, sheep-walks, liberty of fold-course, rents, services, profits, perquisites of courts, advowsons, profits, commodities, and all the profits, &c., situated, lying, and being in Bradwell aforesaid, and in Belton, and Burgh Castle, or Hopton, or in any of those towns, or in any other towns or places thereto near or adjoining." This estate afterwards passed to the family of Turner. Although in the sale in 1717, Bradwell Hall is termed "the manor or seigniory," it is not, as already stated, a manor itself, but only the site of one.
The Manor of Caxton Hall,
in Bradwell, was formerly parcel of the possessions of the Prior and Knights of St. John of Jerusalem, and was granted at the dissolution of religious houses, with the manor of Gapton Hall, to the family of Cavendish, and descended, as has been shown, in Belton, with the latter lordship.
The Manor of Hobland Hall.
There are no courts now belonging to this decayed manor, nor other manorial rights, if any ever existed. Its name has been written, at various periods, Hopland, and Hunelounde; (fn. 5) though in the year 1286 it was called, as in the present day, Hobland; for in the pleadings at Westminster, in the reign of Edward I., the name of Thomas de Hobland occurs as an owner or occupier here. "Compl: est p. jur: q'd ten'ta in Bradwell, Belton et Hopton non sunt p'tibilia intr: frēs: Ideo Tho: de Hobland sine die p: 3 ptībus: 1 mess: 80 acr: ter: 30 acr: past: et 5 acr: turb: cum molend: ad vent: et 40s. an: red: ib'm et 3 frat: sui nūa." (fn. 6)
Hobland has been the property of the President and Fellows of Magdalen College, Oxford, for some centuries, and has been long leased out by them to divers lessees. In 1684, Richard Vesey, Esq., paid for Hobland Hall £1. 5s. 5d. (fn. 7) In 1724, it was held by Augustus Schutz, Esq. In 1749, by Gerrard Trotter, Esq. In 1768, David Urquhart, Esq., was lessee; and in 1793, Thomas Fowler, Esq., had it. In the lease granted in 1801, by the President and Scholars of the college, to Thomas Fowler, Esq., the parcels demised are described as "all that site of the manor of Hobland Hall, in the county of Suffolk, with all lands, clausures, &c., thereto belonging, in Gorleston, Bradwell, South Town, Hopton and Belton, and formerly in the tenure of John Pitcairne, Clerk, and Gerrard Trotter, &c."
The advowson of Bradwell was sold, in 1844, by Lord Sidney Osborne, to John Walker, of New Malton, in Yorkshire, merchant.
Tanner mentions two deeds connected with Bradwell, "pro prior de Lees, de terris in Bradwell et Belton ex dono Osberti patris Radulphi, et de aliis terris ex dono Radulphi, filii Osberti:" (fn. 8) and "pro mess: et terris in Bradwell pro eod." (fn. 9)
A school-house has been erected in this parish within the last few years, at an expense of about £100, towards which sum the Rev. G. Anguish, Edward Leathes, Esq., and the Rev. William Trivett, were the principal contributors. The latter gentleman, who is the present incumbent, also erected the parsonage-house, which is a pleasant residence, conveniently situated near the church. It contains a good library, a very choice collection of paintings by the old masters, and a valuable selection of engravings.
There are 2300 acres, 3 roods, and 34 perches of land in this parish; of which 6 acres, and 38 perches, are glebe. The tithes have been commuted for £632. 10s. inclusive of the tithe of the glebe. According to the Valor Ecclesiasticus, the clear yearly value of Bradwell, in the twenty-sixth of Henry VIII., was £28. The population, in 1841, amounted to 770 souls.
The Church,
which is a rectory dedicated to St. Nicholas, comprises a circular tower of flints (in which hang three bells), a nave with two aisles, and a chancel. The interior is lofty, and very finely proportioned; and the restoration of the chancel windows in a correct style, and of a durable material, reflects much credit on the zeal and liberality of the present incumbent, at whose expense it has been effected. The nave is separated from its aisles by pointed arcades resting on clustered columns. This part of the edifice is covered with a roof which overspreads the nave and aisles in one slope; though a series of clerestory windows, each of which is a cinquefoil aperture, proves another form to have been originally adopted, before parsimony and unskilfulness intermeddled with ecclesiastical architecture. The steps to the rood-loft remain perfect in an opening of the wall near the fine chancel arch, which is of elegant proportions. At the west end of the nave stands an octangular font, and in the south wall of the chancel are a highly finished piscina and sedilia.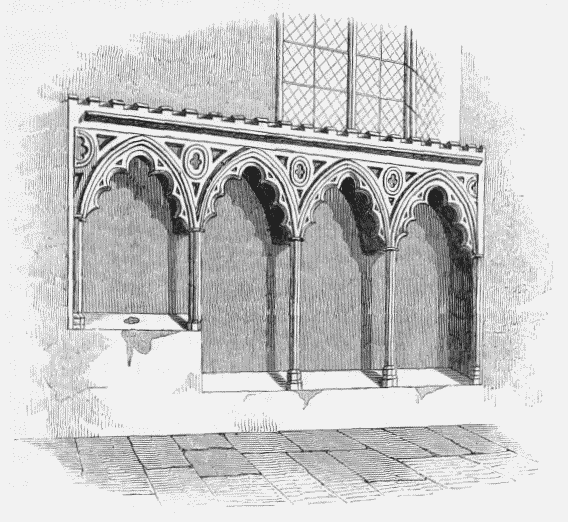 The parish registers commence in 1565.
Nicholas Lacy, parson of the church of Bradwell, by his last will and testament, dated on the Wednesday next after the festival of Vedast and Amand, the bishops, in the year 1383, leaves his body to be buried in the chancel of the church of Bradwell aforesaid. He also bequeaths to Beatrice Fastolf ten marks, and appoints Alexander Fastolf, of Bradwell, and Thomas Wryght, his executors. His will was proved in February, 1383. (fn. 10)
Monuments.—Against the north wall of the chancel is an inarched monument, erected to the memory of William Vesey, Esq. It is strictly in the barbarous taste which prevailed at the commencement of the seventeenth century, and represents the person commemorated, with his two wives, and their family, in devotional attitudes, before a faldstool. The figures are small, and coloured, and apparently composed of plaster. In a lower compartment are seen four kneeling effigies, and a fifth, representing a child lying on his side. Village tradition relates that this group pourtrays the discovery by his four sisters of an infant brother, who had strayed from his home, and was lost in Bradwell wood: but as the child is grasping a human skull, the device is, perhaps, emblematical solely of an early death from natural causes. The monument was erected in an age which delighted in emblems and forced conceits. The inscription is much defaced by time, but may be read as follows:
"Monumentum Gulielmi Vesey de hac villâ armigeri, et duarum uxorum, et septem liberorum sub hoc muro sepulti: anno domini 1644, ætatis suæ 63."
Above the niche in which the figures are placed is an escutcheon charged with the Vesey arms: ermine, on a cross sable, 5 martlets or. The family of Vesey was formerly of standing and consideration in this vicinity.
In 1674, William Vesey, Clerk, gave £200 to the poor of the parish of Great Yarmouth, and directed the same to be paid out of his estate at Bradwell, within one year after his wife's decease. (fn. 11)
John Dawson Downes, Esq., died 20th May, 1829, aged 71. Mary, his wife, 14th May, 1829, aged 70 years. Thomas Salmon, late of Hobland Hall, died 25th of Feb. 1829, aged 52 years. Ann, his wife, died 31st Oct. 1830, aged 56. Captain Richard Killett, of Gorleston, died Aug. 6th, 1761, aged 56 years. Elizabeth, his daughter, died 21st June, 1762, aged 22 years. His son, Captain Richard Killett, died at the Havannah, August 23rd, 1762, aged 32 years. Mary, his wife, died 11th Aug. 1777, aged 71. Alexander Love Gordon, Esq., R. N., died 28th May, 1828. James Aldrich, Rector, buried Nov. 1657. The Rev. Samuel Killett, LL. B., Rector, died Oct. 6th, 1767, aged 59. Susanna, his wife, died Dec. 13th, 1766, aged 54. Elizabeth, their daughter, died Aug. 27th, 1741, aged 5 years. Charlotte, their daughter, died Feb. 10th, 1745, an infant.
Rectors of Bradwell.
Rectors.
Date.
Patrons.
Thomas de Bradwell
1304
Richard de Bradwell.
Richard de Hedersete
1315
Lady Katharine Fitz-Osborn, in right of her manor of Somerleyton.
Nicholas Lacy
1348
John de Ufford, Mil: recūper p. Bre: R: versus Petr: fil: Ric: de Bradwell.
Simon Attehull de West Bergholt
1384
Joanna Loudham, late wife of John Jernegan.
John Wayte
1386
Nicholas de Wichingham.
Adam Cohelot de Saham
1400
John Gernegan.
Eden Alderford
1401
Nicholas Wichingham.
Galfridus Symonds
1404
Id.
Thomas Boof
1410
Gilbert Debenham, Esq.
Thomas Frenge
1429
Nicholas Wichingham.
Symon Brygate
1442
John Jerningham, Esq.
Hugo Leveriche
1449
Edm. Wychingham, Esq.
Henry Fenne
1458
John Jernegan, sen., Esq.
Radulphus Danyell
1468
Edm. Wychingham, Esq.
William Jaeson
1509
Leon Askew
Robert Ullathornes
1553
John Jernegan, Knt.
Thomas Dysse
1554
Id.
Robert Morley
1557
Id.
James Aspinall
Joshua Hutton
1597
John Wentworth, Esq.
Henry Reeve
1612
Id.
James Aldridge
1638
Id.
— Sudbury
Robert Woolley
1679
Jeremiah Woolley, p. h. v.
Samuel Stevenson
1683
John Spencer.
Robert Camell
1717
Peter Scott, merchant, p. h. v.
Samuel Killett
1733
Samuel Killett, sen., p. h. v.
Norton Nicholls
1767
William Turner, Esq.
William Trivett
1810
The King, by reason of lunacy.
Estimatio ejusdem xlii marc.
Robert Camell, LL.D., rector of this parish, and of Lound, was of Scottish descent. His great grandfather, Robert Camell, being about 14 years of age, came out of Scotland in the time of the war between that nation and England, and settled at Gislingham, in Suffolk, in 1583. He died April 12th, 1587, leaving Robert, his eldest son, who died anno 1667. William Camell, of Diss, was his third son, who left Robert, his eldest son, who left three sons. The eldest was of Sidney College, in Cambridge, LL.D., Rector of Bradwell and Lound. He died on Wednesday, November 21st, 1732, at Norwich, where he had been elected Lecturer of St. Peter's Mancroft, December 22nd, 1731; and was buried there. He published several ingenious tracts, without his name, and three sermons preached at Yarmouth, with it affixed thereto. (fn. 12) Blomefield, the historian of Norfolk, acknowledged himself greatly assisted by Dr. Camell, in his topographical essay. His arms were, gyronny of eight, or and sable, a crescent argent.