Pages 47-52
The History and Antiquities of the County of Suffolk: Volume 1. Originally published by WS Crowell, Ipswich, 1846.
This free content was digitised by double rekeying. All rights reserved.
North Cove.
North Cove is a small village traversed by the high road from Beccles to Lowestoft, and containing, at the time of the census in 1841, 219 inhabitants. It is so called to distinguish it from South Cove, in Blything Hundred; and these two parishes are designated in ancient deeds, as Cove Magna, and Cove Parva; North Cove being Little Cove. The parish is not accounted for in Domesday Book under its present name, but is probably the "Hetheburgfeld" therein mentioned, which paid an annual tale of herrings, and formed part of the great possessions of Earl Hugh.
There is no manor of Cove to the present day, the lordship being styled the manor of Wade's, or Wathe's Hall; which appellation it obtained from Robert de Watheby, of Westmoreland, who was enfeoffed of this estate in the time of Henry II. This manor was held of the King by fealty, and 4s. rent, paid to his Hundred of Wangford. (fn. 1)
Robert de Watheby left a son, Thorpine de Watheby, whose daughter and coheiress, Maud, marrying Hubert Fitz-Jernegan, carried this manor into that family. Sir Hubert was a knight of large estates, and gave a considerable sum of money to King Henry II., which he paid into the Exchequer in 1182. He was witness to a deed in 1195, by which divers lands were granted to Byland Abbey, in Yorkshire. (fn. 2) In the third of King John, he paid £20 fine for three knights' fees and a half, which he held of the honour of Brittain. (fn. 3) The King granted the wardship of all his large possessions, and the marriage of his wife and children, to Robert de Veteri Ponte, or Vipount; so that he married them without disparagement to their fortunes. (fn. 4) He died in 1203.
Notwithstanding the manor was thus conveyed to the family of Jernegan, scions of the old stock still flourished in Cove, and held lands there for several generations. In 1309, Matilda, the widow of Radulphus de Wathe Carpenter, grants to William her son, and his heirs, two pieces of arable land, of which one piece lies in "Campo de Cove," amidst the lands of Alan le Mey de Wathe; and held of Alan de Wathe, her son. Her seal is attached to this deed, bearing her name, and a cross of eight points, patonce. (fn. 5) This mention of the Campum de Cove, which also occurs in other deeds of this period, seems to have reference to the Heathburg-field of Domesday Book.
There was a family possessed of considerable property in this parish before the year 1300, who resided in South Cove, whence they assumed their surname, which they pro- bably transferred to their lands here. In 1373, Master John de Cove, an advocate in the Norwich Consistory, was buried in St. Luke's chapel, in the cathedral of that city, by brother Nicholas de Brampton, late prior thereof. He gave a cup to the altar of St. Botolph, at North Cove, and legacies to Sir Surion, Rector of St. Mary in the Marsh; to John de Ely, Rector of Acle; and Robert de Theberton, Rector of Alderford, in Norfolk. (fn. 6)
In the thirty-fifth of Edward III., a family, named Boresd, (soon after spelt Borhed,) held an estate in North Cove. In that year, Roger Boresd granted to John, Henry, and Alan, his brothers, and to Robert Boresd, a piece of land lying "in Campo de Northcove." In the third of Edward IV., Robert Borhed, clerk, son and heir of William Borhed, late of Westhall, and nephew and heir of Roger Borhed, late of Blythborough, granted to Robert Banyard, Esq., of Spexhall, and John his son; to Richard Fulmerston, of Framlyngham ad Castrum; to William Fulborne; John Hoo, of Blythborough; and John Waley, of the same parish, a certain meadow in North Cove, which had descended to him, as heir-at-law of the aforesaid Roger Bohir, his uncle. He seals with Sab: a boar's head couped arg. (fn. 7)
The manor of Wathe Hall still continued with the Jernegans. In 1406 they had a charter of free-warren in this lordship. In 1465 John Jernegan was residing at Cove, and by his will, dated in 1473, and proved December 9, 1474, he desires his body to be buried by the side of his wife, in the chapel of St. Mary, in the priory of St. Olave's, at Herringfleet. He bequeaths the manor of "Little Wirlingham," which he had lately purchased of William Cove, to his son Osbert, for life; and also his manor of Wattle, or Wathe Hall, in North Cove. On the 6th of January, 1515, Sir Edward Jernegan, his grandson, died seized, inter alia, of the manor of Wathe Hall.
This lordship has since passed through the families of Yallop, Bence, and Sparrow, and is now the property of Archibald, Earl of Gosford.
In a parish book, dated 1675, it is stated, that the Constables for North Cove ought to be chosen at the leet of Worlingham, the 1st day of October, yearly.
The old manorial residence of the Jernegans, at Wathe Hall, is entirely demolished, but traces of its site remain, marked by an extensive moat, and an inner rampart of earth. The area is an oblong enclosure, measuring about sixty paces by fifty, close upon the edge of the marshes, and rendered highly picturesque by the presence of several majestic oaks, which "wreath their old fantastic roots" amidst the foundations of the mansion. Bricks of that flat and peculiar form, which mark the workmanship of an early period, are discovered in considerable quantities; but with the exception of a rude key, dug up at the time of the writer's visit to the spot, few, if any, relics of by-gone days have been brought to light. The vast extent of the area occupied by this mansion, and the traces of a decoy, for the supply of wild-fowl, which is led some hundred yards into the higher grounds, are existing evidences of the rude state and hospitality once exercised here. The present residence called Wathe's Hall is a good and substantial farm-house, erected to the south of the ancient site, and is, probably, two hundred years old, though recent plastering and repairs have covered every antique feature.
The Church.
The church at Cove is a rectory in the gift of the Crown, dedicated to St. Botolph, and was probably erected by the Jernegans, if not by the Wathebys, as the doors of the nave may claim as high an antiquity. That on the south side, which is the most elaborate, would exhibit a good specimen of Norman architecture, if its incrustations of whitewash were removed.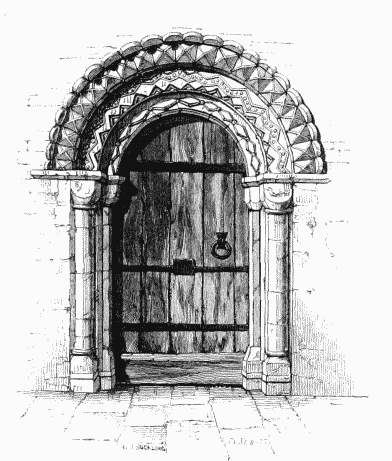 The fabric is inelegant and badly proportioned, being 96 feet long, and only 16 wide. The interior is clean, and reputably kept, though barbarously disfigured by a huge and ugly altar-piece of nondescript architecture, which covers the entire east end; but, at the same time, happily conceals the fact, that the chancel window is unglazed, and stopped with masonry. There is a good octangular font at the west end, in excellent preserva tion, though its sculpture is clogged with paint; a species of embellishment much affected by modern churchwardens. A square tower, containing three bells, communicates with the nave by a small pointed arch. The north wall of the nave contains a niche, in which were deposited the processional crosses of ancient worship, when not in use; still closed with its oaken door, pierced with open tracery.
On the floor of the nave are three old brass plates, bearing black-letter inscriptions.

The descendants of this William Manthorpe were long resident at Cove; one of them having been buried here in 1696. The Farrs, who possessed an estate and residence in this parish, lately purchased by John Cooper, Esq., of Bungay, have been seated in the neighbourhood for some generations.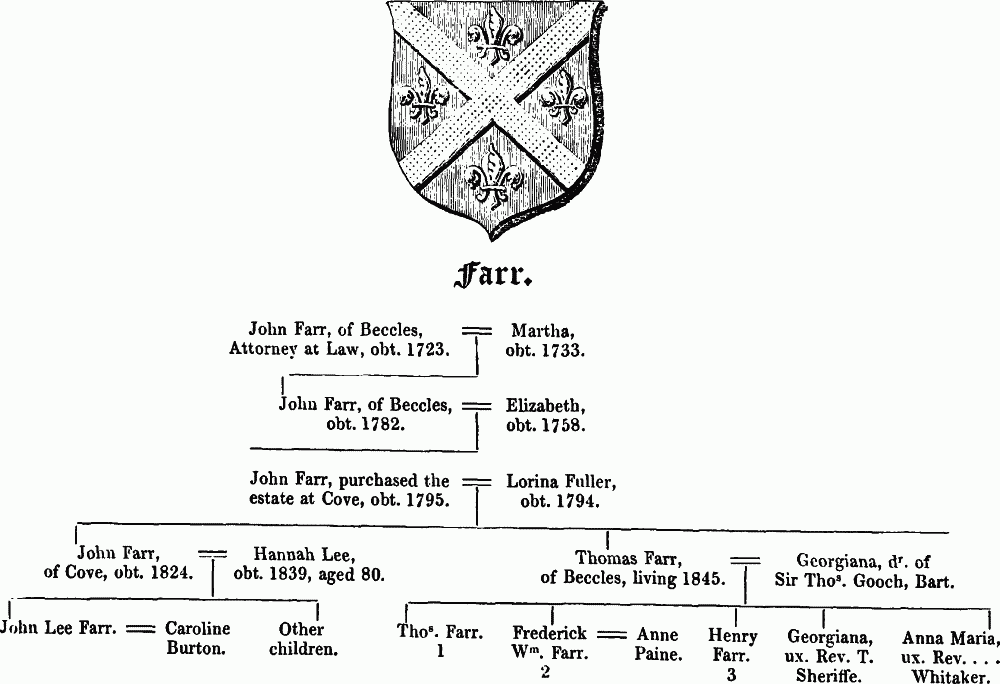 John Farr, the purchaser of the estate at Cove, with Lorina, his wife, and John Farr, their son, are buried at Cove, where are handsome mural monuments to their memory. Hannah Lee, the widow of John Farr, who died in 1824, is also interred there. The last-mentioned gentleman was a magistrate, and deputy-lieutenant for the county. Farr impales Lee, az. 2 bars or; over all a bend counter-compone gules and erminois.
In the church-yard is an altar-tomb covering the remains of Richarda, daughter of Dr. Anthony Sparrow, late Bishop of Norwich, who died the 20th . . . . 1700.
But by far the most ancient monumental records connected with this parish, are two gravestones, lying half sunk in the sod, near the above altar-tomb. They are coped, or "en dos d'âne" tombs of the eleventh century, and perhaps memorials of the Jernegans.
The custom of placing crosses on the tombs of the deceased is extremely ancient, for among the laws of Kenneth, King of Scotland, who flourished in the ninth century, we meet with this command,—"Esteem every sepulchre sacred, and adorn it with the sign of the cross, which take care you do not so much as tread on."
Among the Rectors of Cove was the Rev. Henry Harington, D.D., Prebendary of Bath and Wells; Rector of North Cove with Willingham St. Mary annexed; and of Haynford, in Norfolk; and Assistant Minister of St. Peter's Mancroft, in Norwich. He died in that city, December 25, 1791, aged 37 years. He was admitted of Queen's College, Oxford, where he proceeded A.M., in 1777. He was the son of Dr. Harington, of Bath, and the original editor of the 'Nugæ Antiquæ,' from the papers of his ancestor, Sir John Harington, the poet, of Kelston, near Bath; and married Esther, second sister of Serjeant Lens.
Charities in North Cove.—£4 per annum are given to the poor in coals, arising from about three acres of land, lying in Ellough, and a small piece in Cove.
Rectors of North Cove.
Rectors.
Date.
Patrons.
Hugo de Novo Castro
1284
The King.
Robert Gilling
1301
Id.
Ralph de Ichington
1307
Id.
Clement de Lek
1317
Id.
Robert Dannis
1349
Id.
John le Clerc
1354
Id.
John de Pulham
1361
Id.
John Blakeney
1394
Id.
Henry Drayton
1395
Id.
John Atte Wall
1398
Id.
Ralph Wade
1413
Id.
William Fraunceys
1414
Id.
Edmund Pelse
1418
Id.
Robert Huneworth
1420
Id.
Thomas Eppe
1427
The King.
John Dash
1455
Id.
John Walson
1468
Id.
William Wyghell
1476
Id.
William Wra
Id.
John Smith
Id.
Thomas Heerd
1494
Id.
Thomas Bingley
Id.
Peter Hewet
1522
Id.
Thomas Whitton
1554
The Bishop, by lapse.
William Guybons
1557
The Bishop, by lapse.
John Darley
1567
The Crown.
Thomas Yarner
1580
Id.
Anthony Blaxter
1595
Id.
Gabriel Honifield
1611
Id.
Thomas Loftus
1612
Id.
William Hynde
Id.
Thomas Draper
Id.
Jacobus Bell
1646
Id.
Laurence Echard
1678
Id.
Timothy Strange
1696
Id.
James Carter, Jun.
1724
Id.
James Carter
1743
Id.
John Soley
1779
Id.
William Leech
1780
Id.
Henry Harington
1790
Id.
George Beevor
1792
The Archbishop: the See being vacant.
George Beevor
1797
Instituted a second time by the Crown.
Richard Gooch
1810
The Crown.