Pages 61-67
The History and Antiquities of the County of Suffolk: Volume 1. Originally published by WS Crowell, Ipswich, 1846.
This free content was digitised by double rekeying. All rights reserved.
Little Redisham.
Little Redisham was, probably, severed at a very early period from the manor of Great, or Upredesham. It contains the three lordships of Strattons, Elyses, and Redisham Hall.
In the reign of Edward III., the two former of these appear to have been part of the extensive property of Sir John de Norwich, the founder of Mettingham Castle, the rentroll of whose tenants is now in the possession of John Garden, Esq.
By a deed dated at Ilketshall "in festo purificaco'is b'te Marie Virginis," anno 1422, William Goneld, son of Margery Belstede, releases to Thomas Croftes, of Beccles, and others, his manors of Strattons and Elyses, with other lands and hereditaments in Norfolk and Suffolk, which he inherited of Thomas Goneld, his father. He seals with a rude representation of a wheatsheaf.
In 1428, Margery Belstede, by deed dated from Ilketshall, "in purâ viduatate" releases to Thomas Belstede, her son, all her claims which she now has, or ever had, in the manors of Strattons and Elyses, lying in the parishes of Ilketshall and Redisham Parva.
The family of Crofts retained possession of these manors but a few years; for in the seventeenth of Edward IV., (anno 1476,) Thomas Crofts, Esq., Edwarde Jenny, Henry Rous, Esq., Thomas Banyard, of Spexhall, and Thomas Goche, clk., released them, with all their appurtenances, to Thomas Duke. Five seals are attached to this deed: Crofts seals with a lion rampant; Jenny uses his hawk and jessies on a gauntlet; Rous seals with a rosette; Banyard, a trefoil; and Goche appends the letter G, surmounted by a ducal crown,—the employment of which bearing over an initial letter is very frequent in ancient deeds, by persons who were not entitled to armorial ensigns.
Thomas Duke held his first court-baron for these lordships, August 8th, 1476. (fn. 1)
In April, 1613, Thomas Goodwyn, and Thomas Duke, Esq., held the manors of Strattons and Elyses, as guardians of Edward Duke, Esq., son and heir of Ambrose Duke, Esq., deceased. The Dukes remained owners of these estates about two hundred and fifty years, when Sir Edward Duke, Bart., son of Sir John Duke, dying childless, in 1732, bequeathed them, with other estates, by his will, proved on the 23rd of October in that year, to Edmund Tyrrell, Elizabeth Braham, Jane Braham, and Arabella Taylor, his nephew and nieces, his heirs-at-law: and thereupon the said Edmund Tyrrell became entitled to all the estates devised to him by the will of Sir Edward, his uncle, subject to the payment of the said testator's debts, and the legacies thereby given.
In 1742, Thomas Tanner, clk., Rector of the united parishes of St. Edmund the King, and St. Nicholas Acons, in the city of London, purchased these manors of Mr. Tyrrell, for £9957. 12s. Tanner married Mary, daughter of John Potter, Lord Archbishop of Canterbury, who covenanted to pay £3000 down on the day of marriage, as his daughter's portion; and £500 within one month of the birth of her first child.
Tanner settled the manors of Strattons and Elyses upon this lady and her issue, which was an only daughter, Mary Elizabeth, afterwards married to Richard Mills, Esq., who, in her right, became lord. Dr. Tanner died in 1786.
On the 7th of October, 1808, John Garden, Esq., of the city of Westminster, purchased the manors of Redisham, Ilketshall, Elyses, and Strattons, of Mr. Mills, whose son, John Garden, Esq., is the present possessor. (fn. 2)
The Manor of Redisham Hall
was transferred in the year 1394, by Robert Francis, of Shaddingfield, and Robert Berchem, of Brampton, in the county of Suffolk, to Robert Garneys, of Heveningham, Esq. Peter Garneys, son of the above Robert Garneys, was enfeoffed of the manor of Redisham Hall, in Little Redisham, in 1407; and in the same year, Robert Garneys, and Katharine his wife, settled it on William their son. This William Garneys married Elizabeth, daughter of Sir Ralph Bigot, Knight, of Stockton; and died in 1428, seized, in fee, of the manors of Geldeston, Kirby-cane, and Stockton, held of the Abbot of Bury.
In 1450, Ralph Garneys, his son, died without issue of his body, whereon the manors of Redisham Hall, Weston, &c., passed to his uncle, Peter Garneys, of Beccles, who by his will, proved on the 5th of February in the following year, bequeathed them to his son, Thomas Garneys.
About the middle of the sixteenth century, this estate was held by Nicholas Garneys, son of John Garneys, of Kenton, and, eventually, heir to his elder brother, Thomas Garneys.
Nicholas Garneys, of Redisham Hall, was High Sheriff for Suffolk in 1592. He built Redisham Hall, lately demolished; and his estates in this parish, Kenton, Mourningthorpe, Ringsfield, &c., exceeded £1200 per annum: a noble income at that day. He married Ann, daughter of Charles Clere, of Stokesby, in Norfolk; and dying in the year 1599, was buried at Ringsfield, where there is a handsome monument placed to his memory, which will be noticed hereafter.
Nicholas, his fifth son, inherited the manor of Redisham, which he devised to Frances and Elizabeth, daughters of his brother, Edward Garneys.
By indentures of lease and release, 30th and 31st of July, 1700, Frances Garneys, then Frances Jacob, of Beccles, widow, conveyed her moiety of the manor of Redisham, called in the rolls Little Redisham, to Sir John Duke, Bart., for £1204. 7s. 6d.; and by a like transfer, bearing date the 3rd and 4th of January, 1706, George Pretyman, of Bacton, in the county of Suffolk, gentleman, and George Pretyman, his son and heir, by Elizabeth, his late wife, daughter of Edward Garneys, conveyed the other moiety to Sir Edward Duke, the son of Sir John Duke. (fn. 3)
The manor of Redisham Hall thus became the property of the owner of Strattons and Elyses, and passed with them to their present possessor, John Garden, Esq., of Redisham Hall.
The ancient, once wealthy and wide-spreading family of Garneys, whose long tenure of Redisham has just been detailed, is now represented by Charles Garneys, Esq., of Bungay. Their principal seat, for many generations, was at Kenton Hall, in Suffolk; but as Redisham was their earliest possession, I have introduced their pedigree here, which I have compiled from every accessible source; the principal of which consist of ancient and veritable family documents, entries in the Herald's College, heraldic visitations, and family monuments.
The representative of this ancient line is descended from John Garneys, lord of the manor of Hamonds, in the parish of Mickfield, second son of John Garneys, of Kenton; and it is difficult to say how Nicholas Garneys, his younger brother, became heir to the bulk of the family property, to the prejudice of the elder branch. Nicholas not only inherited Redisham the earliest, but also Kenton, the principal seat of the family, and eventually enjoyed the estates of Richard Garneys, of Boyland Hall, in Norfolk, a remote relative, who died childless in 1571.
There is abundant evidence to show that John Garneys, of Mickfield, was married, though the name of his wife is not recorded; and that he was succeeded in that parish by John, his son, and Nicholas, his grandson.
The crest usually borne by this family is a mermaid attiring herself in the sea, proper; though the old and true cognizance is a cubit arm erased, grasping a scymitar embrued, all proper,—the hilt and pommel of the scymitar or. (fn. 4)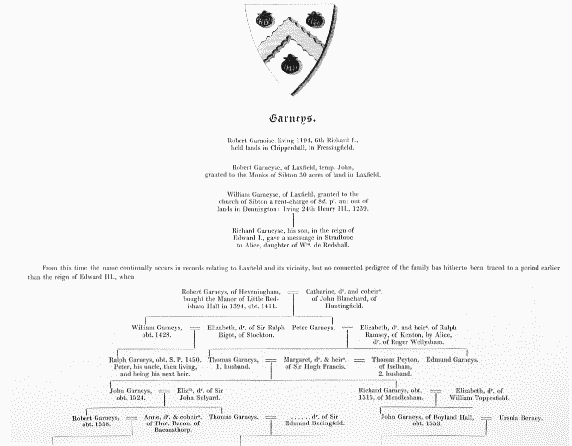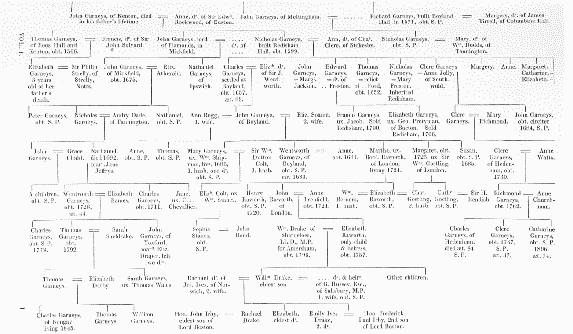 The great shield of Garneys, which formerly sparkled with heraldic splendour in several of their mansions, contains twelve quarterings, viz.
1. Garneys.
2. Ramsey, gules, 3 rams' heads caboshed arg., armed or.
3. Wellisham, sable, 2 bars arg.; in chief 3 cinquefoils or.
4. Kenton, sable, a chevron between 3 cinquefoils erm.
5. Franceys, gules, a chev. engr. erm. between 3 falcons displayed arg.
6. Denston, az. 2 lioncels pass. guard. or.
7. Wanton, arg. on a chevr. sab. a cinquefoil of the field.
8. Sulyard, arg. a chevr. gules, between 3 pheons sab.
9. Hingate, gules, a chev. between 3 hounds sejant arg.
10. Bacon, of Baconsthorpe, az. 3 boars passant or.
11. Antingham, sable, a bend argent.
12. Banyard, sable, a fess between 2 chevronels or.
In the motto every word begins with a G, the initial letter of the family name.
Goddes Grace Governe Garneys.
Redisham Hall, built by Nicholas Garneys during the reign of Queen Elizabeth, was a fine old mansion, demolished about twenty years since to make way for the elegant residence of John Garden, Esq. It contained some good and lofty apartments, and was rich in the clustered ornamented chimneys which so especially marked the domestic architecture of the era in which it was erected. The excellency of its masonry was proved at the time of its destruction, when many parts of the walls fell in large masses; the tenacity of the mortar, in several cases, resisting all attempts to separate the brickwork. A remarkable instance of the slow, but sure destruction wrought by ivy on the buildings to which it attaches itself was manifested here. A solid gable had afforded access, by some narrow unseen aperture, to the tender shoots of this insidious plant, which gradually expanded till the wall was rent from top to bottom, and at length presented a chink wide enough to admit the arm of a full-grown man.
The Church,
The Church, or, as it is called in some old writings, the Free Chapel, of Little Redisham, is a very small building, now in ruins, which comprised, in its perfect state, a nave and chancel only, without either aisles or tower.
The Prior and Convent of Butley were patrons of this preferment previous to the Reformation, and presented to it as a separate benefice till the year 1450, when it was annexed to the rectory of Ringsfield, at the request of the monks of that establishment. It is probable that the fabric soon after fell into decay, though the two livings were not consolidated till the year 1627. (fn. 5) It was certainly in ruins in 1613, because in that year, Nicholas Garneys, then patron, presented a petition to the King and the Lord Chancellor, stating, that whereas he had bought the advowson of Ringsfield and the free chapel of Little Redisham, of Edward Clere, who had purchased them of the late Queen Elizabeth with an imperfect title; he, therefore, prays that the defect may be remedied under the Great Seal, and engages in such case to rebuild, at his own charge, the church of Redisham, then in ruins. A petition was also sent by the parishioners to the same effect. A representation of the state of the case was likewise made by Dr. Jegon, then Bishop of Norwich. Although a reference on the part of the King was made to the Archbishop of Canterbury and the Lord Chancellor, and the decree of those dignitaries obtained in 1613, it does not appear that the prayer of the petition was granted; for the fabric was neither rebuilt nor repaired. (fn. 6)
Incumbents of Little Redisham.
Incumbents.
Date.
Patrons.
Joēs Bould
1301
Convent of Butley.
Joēs de Bynch
1326
Id.
Thomas de Halum
1341
Id.
Galfridus Ryngebell
1360
Id.
Alexander Cobbe
1393
Id.
Joēs Russell
1393
Id.
Joēs Baston
1405
Id.
Waupull
1410
Id.
Hugo Cleye
1442
Id.
Thomas Heygreve
1450
Bishop, by lapse.
John Appulton
1450
Prior and Convent of Butley.
Estimatio eccliē 6 marc: Synodalia ixd. Peter-pence iiijd. ½. (fn. 7)