Pages 72-77
The History and Antiquities of the County of Suffolk: Volume 1. Originally published by WS Crowell, Ipswich, 1846.
This free content was digitised by double rekeying. All rights reserved.
Shaddingfield.
As this village is written Scadenefield and Chadensfield in old deeds, it probably derived its appellation from Cheadda, or Chad, Saxon names of frequent occurrence, though the particular person is now forgotten whose estate it formed. It was divided at the time of the Norman Conquest into several manors, which seem to have escaped the usual fate of parochial amalgamation, for it possesses seven at the present day.
Haldein, a free-man of Harold; and a free-man of Archbishop Stigand, each held a carucate of land here as a manor. These fell to the share of Goisfridus de Mandeville, one of the successful Norman Barons. Godwin, the son of Tuka, also held a manor under the patronage of Gurth, which estate was granted to Roger Bigot; and a free-man of Tored had an estate in Shaddingfield, which afterwards augmented the possessions of Ralph Bainard. The Crown, also, retained a manor.
In 1257, the family of Bocland, or Borland, obtained a grant from the Crown for a fair and market, with free-warren, &c, in Shadenfend, Soterley, and Willingham. (fn. 1)
In the ninth of Edward I., Hugo de Berry, whose estates seem to have extended over the whole vicinity, possessed a manor here.
In the tenth of the same reign, William de Giselham had free-warren in Gisleham, Kessingland, Brampton, and Shadkenfeld. (fn. 2)
In 1306, John de Brusyard held the manor of Shaddingfield of the King, as of his manor of Framlingham, (fn. 3) which descended to John, his son and heir, who paid £20 to the King as a relief for his father's possessions here, held of the same manor of Framlingham by the service of four knights' fees, which knights' fees are in Shadenesfeld. (fn. 4)
In the thirty-seventh of Edward III., Maria, widow of Thomas, Earl of Norfolk, held in dower four knights' fees in Chadenesfeld, which John de Brusyard held. (fn. 5)
Humphrey de Bohun, Earl of Hereford, died on the 18th of January, in the fortysixth of the same reign, seized, inter alia, of seven knights' fees in Shadingfield, Lethryngham, &c., in the county of Suffolk, which Thomas Wyngfield held, and which were formerly held by William Boville, and valued at £31. (fn. 6)
By an inquisitio post mortem, taken on the 20th of October, in the twenty-sixth of Queen Elizabeth, William Playters, of Sotterley, Esq., was found to die, seized of the manor and advowson of Shaddingfield; and by a like inquest, taken at Norwich Castle, on the 10th of August, in the fortieth of the same reign, Ed. Duke, Esq., was found to die the 20th of April preceding, seized of the manor of Brusyard, &c., in Shaddingfield, held of the Queen, as of her castle of Framlingham, for half a knight's fee, and valued at £3. (fn. 7) In the eighth of James I., Ambrose Duke, Esq., died, seized, inter alia, of the manor of Brusyard cum Verdons, in Shaddingfield. The manor of Francis, so called from an ancient family that possessed it as early as the fourteenth century, passed by marriage into the family of the Cuddons, who for many years had their seat at Shaddingfield Hall, which, with their estate here, was sold by Eleazer Cuddon, the son of Sir Thomas Cuddon, Knt., Chamberlain of London, to Mr. Round, of Essex. (fn. 8) The property afterwards passed to the Kilners, of whom it was purchased by Thomas Charles Scott, Esq., the present proprietor.
The name of Cuddon, or Codon, occurs in the court books for the manor of Sotterley in the year 1434; and Petrus Codon is mentioned therein in 1457. The Cuddons obtained their estate in Shaddingfield, as before observed, by marriage with the heiress of Francis, and became connected with many of the principal families of the neighbourhood, as those of Duke, Playters, Berney, Baynard, Boston, &c. They appear to have fallen into decay soon after selling their estates here, but are not, as is generally supposed, extinct. A numerous branch is existing at Bungay, and one at Norwich.
The old hall, formerly their residence, was a handsome pile of red brick, which had some little pretensions to architectural composition and grace; and stood not far from the site of the elegant modern mansion of T. C. Scott, Esq., who possesses a good watercoloured drawing of this demolished specimen of old English dwelling-houses. The seven manors in Shaddingfield are now held—1st, by the Marquis of Salisbury, in whose demesnes the fines are arbitrary; 2nd, by John Garden, Esq., wherein the fines are certain; 3rd, by the Duke of Norfolk; 4th, by the Earl of Gosford; each of whom receives free-rents.
Thomas Charles Scott, Thomas Farr, and B. Pierson, Esqrs., claim manors in right of their estates, but they are nominal or reputed manors only.
The Church
The Church, is a rectory dedicated to St. John the Baptist, and valued in the King's books at £12. It comprises a nave and chancel of the same width and height, with a square tower, in which hangs one bell. The tower opens to the body of the church by a good arch, but the effect is marred by a modern gallery, at the foot of which stands an extremely elegant font of stone, in excellent preservation.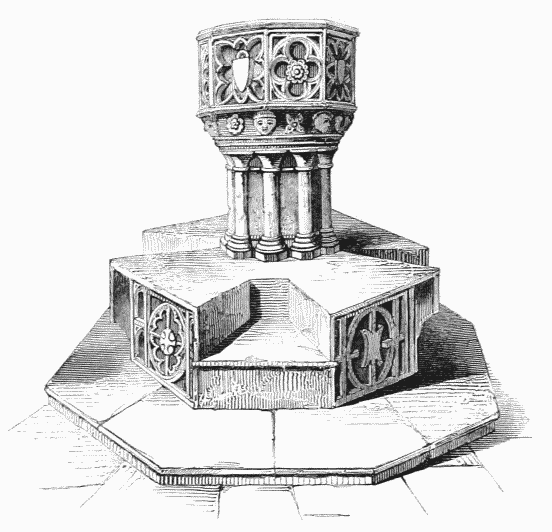 The whole fabric has recently been repaired, and the interior fitted throughout with open benches and poppy-heads of an uniform pattern, carved with spirit from ancient models; the old pews, which were mean and irregular, having been condemned by the unanimous voice of the parishioners,—a consummation devoutly to be wished for in every church in England.
The nave is entered from the south beneath a plain portal in the pointed style; but a few narrow lancet windows, and a doorway on the north side, which exhibits a pointed arch enriched with an architrave carved with the dog-tooth moulding, and resting on solid jambs, refer the date of this edifice to an early period in our third Henry's reign. As usual, windows of enlarged dimensions, and of a later date, pierce the wall in several places. In these may be discerned fragments of ancient stained glass, but no entire subject remains. The east window of the chancel has been filled with a modern essay in this beautiful department of art. Some of the tints are clear and good, but it fails in producing that "dim religious light" in which the old glass-stainers are yet unrivalled. A very ancient floor-stone, carved with a cross, lies near the font; and in the chancel is a small piscina. Too much commendation cannot be passed upon all connected with the charge of this fabric, for the neat and reputable manner in which it is fitted up and kept. It must not, however, be concealed, that the modern pulpit is unworthy of the fittings by which it is surrounded. Amongst the articles of sacred furniture pertaining to the communion table one deserves especial notice, both for its antiquity, and the pious spirit which placed it there. It is the communion cloth of fine linen, bordered with a deep fringe of lace-work; the appropriation of which we learn from a memorandum inserted within the lid of an antique box of oak, in which this relic is preserved. "This box, with a cloath for the com'union table, was given to the parish church of Shadingfield by Elizabeth Cuddon, the wife of William Cuddon, Gent., the xxv day of December Anno Dni 1632." The following armorial bearings were formerly on a hatchment in Shaddingfield church. Quarterly, 1st and 4th; Cuddon, arg., a chev. gules, on a chief az. 3 bezants. 3rd and 4th; Newman, arg., a fess wavy gules, between 3 eagles displayed sab., impaling Berney of four coats. 1. Berney, per pale az. and gules, a cross engrailed erm. 2. Reedham, gules, a chev. engrailed arg. between 3 reed-sheaves or. 3. Caston, gules, a chevron between 3 eagles displayed arg. 4. Brandiston, arg., on a canton gules, a cross or.
Also on a second hatchment, quarterly, 1st and 4th.—
Harvey, gules, on a bend argent, 3 trefoils vert.
2. . . . . sab., a boar's head couped argent.
3. . . . . arg., 3 griffins' heads erased sab., impaling Berney. And on the seat belonging to Shaddingfield Hall, opposite to the pulpit, withinside were two shields painted on the panels; 1st, Cuddon, impaling Berney, single; and 2nd, gules, a bend arg., impaling Berney. (fn. 9) Blomefield, in his History of Norfolk, tells us, that in the house of Francis Cuddon, Gent., at Mulbarton, in the tapestry hangings in the parlour were the arms of Cuddon, quartering Francis of Shaddingfield, Cuddon and Duke, Cuddon and Berney, Cuddon and Baynard, Jenney and Cuddon, Brampton and Cuddon, Kemp and Cuddon, Cuddon and Hall, Cuddon and Wren, quartering Lucy; Cuddon and Playters, Cuddon and Goldingham. (fn. 10)
On plain brass plates in Shaddingfield church are the following memorials:
1. Mary Cuddon, the first wife of William Cuddon, Gent., of Shaddingfield, one of ye daughters and heirs of Geo. Harvye, of Olton, Esquier, died the xxij day of Novr., 1586.
2. Mary, the wife of Francis Cuddon, Gent., one of ye daughters of Edward Boston, of Burnham Westgate, in Norfolk, Gent., died the 8th day of June, 1640.
3. Anne Harvy, widdowe of George Harvy, of Olton, and sometime ye wife of Robt. Cuddon, of Shaddingfield, and one of ye daughters of John Barney, of Reedham, in Norfolk, Esq., died ye 7th of Decr., 1618, aged 88.
4. William Cuddon, who married one of ye daughters and coheiresses of George Harvy, of Olton, by whom he had issue two daughters. He afterwards married Elizabeth, one of the daughters of William Playters, of Sotterley, Esq., by whom he had six sonnes and five daughters, dyed 19th of Decr., 1634, æt. 79.
5. Robt. Cuddon, died the 4th of May, 1699, aged 55.
The registers of Shaddingfield commence in 1538.
The tithes and glebes of this parish were let under lease, in the year 1752, at £65. Mr. Hodgkinson, the present Rector, (1808,) now collects for tithes £ 280. The parsonage and glebes let at the annual rent of £11. (fn. 11)
The parish contains 1369 acres, 1 rood, 39 perches, and is commuted at £311. 14s. There are 7 acres, 2 roods, 11 perches, of glebes. £6. 14s. are paid to Lord Gosford and Dawson Turner, Esq., as impropriators.
The population in 1841 was 177.
Rectors of Shaddingfield.
Rectors.
Date.
Patrons.
Adam de Kendale
1318
Thomas, Earl of Norfolk.
Thomas de Icneby
1320
Id.
Symon de Kendale
1323
Id.
Adam de Eglesfield
1325
Id.
Richard de Langford
1337
Id.
Robert de Byker
1342
John de Segrave, Knt.
John Besaunt
1361
Sir Walter Manny.
Andrew Martyn
John de Esterford
1367
Sir Walter Manny.
Thomas Attewelle
1378
Margaret, Countess of Norfolk.
Robert Wauncy
1380
Ead.
Thomas Atte Pond
1382
Ead.
Richard Grove de Bury
1391
Ead.
Thomas Walsingham
1401
The Crown, in right of the Manor of Framlingham.
Robert Samborn
1401
The Crown.
Thomas Atte Ashe
1440
The Bishop, by lapse.
Richard Howys
1446
Id.
Robert Herpe
1470
Katharine, Duchess of Norfolk.
John Marshall
1472
The Bishop.
John Carter
1495
Thomas Duke, Esq.
Matthew Dorkey
1495
Elizabeth, Duchess of Norfolk.
Nicholas Smeth
1555
The Bishop, by lapse.
Thomas Winnington
1587
The Queen.
Francis Sharpen
John Talbot
1688
James, Earl of Suffolk.
Isaac Colman
1728
Charles Howard, Esq.
William Robinson
1732
Charles, Earl of Suffolk.
Joseph Harris
1733
Id.
Joseph Sharpe
1752
George, Earl of Bristol; John, Earl of Portsmouth, and Elizabeth his wife; William Whitwell, Esq., and the Hon. Ann Whitwell his wife; and the Hon. John Griffin Griffin, Esq.
John Hodgkinson
1805
Lord Braybrooke.
Charles Thomas Scott
1839
Id.
Estimatio ecclie xviij marc. Portio Prioris de Wangford in eadem ixs. viijd. Synodalia per ann: iis. Denarij S. Petri, v. ob. (fn. 12)