Pages 135-146
Old and New London: Volume 1. Originally published by Cassell, Petter & Galpin, London, 1878.
This free content was digitised by double rekeying. Public Domain.
CHAPTER XII.
FLEET STREET TRIBUTARIES SOUTH.
Worthy Mr. Fisher—Lamb's Wednesday Evenings—Persons one would wish to have seen—Ram Alley—Serjeants' Inn—The Daily News—"Memory" Woodfall—A Mug-House Riot—Richardson's Printing Office—Fielding and Richardson—Johnson's Estimate of Richardson—Hogarth and Richardson's Guest—An Egotist Rebuked—The King's "Housewife"—Caleb Colton: his Life, Works, and Sentiments.
Falcon Court, Fleet Street, took its name from an inn which bore the sign of the "Falcon." This passage formerly belonged to a gentleman named Fisher, who, out of gratitude to the Cordwainers' Company, bequeathed it to them by will. His gratitude is commonly said to have arisen from the number of good dinners that the Company had given him. However this may be, the Cordwainers are the present owners of the estate, and are under the obligation of having a sermon preached annually at the neighbouring church of St. Dunstan, on the 10th of July, when certain sums are given to the poor. Formerly it was the custom to drink sack in the church to the pious memory of Mr. Fisher, but this appears to have been discontinued for a considerable period. This Fisher was a jolly fellow, if all the tales are true which are related of him, as, besides the sack drinking, he stipulated that the Cordwainers should give a grand feast on the same day yearly to all their tenants. What a quaint picture might be made of the churchwardens in the old church drinking to the memory of Mr. Fisher! Wynkyn de Worde, the father of printing in England, lived in Fleet Street, at his messuage or inn known by the sign of the Falcon. Whether it was the inn that stood on the site of Falcon Court is not known with certainty, but most probably it was.
Charles Lamb came to 16, Mitre Court Buildings in 1800, after leaving Southampton Buildings, and remained in that quiet harbour out of Fleet Street till 1809, when he removed to Inner Temple Lane.
It was whilst Lamb was residing in Mitre Court Buildings that those Wednesday evenings of his were in their glory. In two of Mr. Hazlitt's papers are graphic pictures of these delightful Wednesdays and the Wednesday men, and admirable notes of several choice conversations. There is a curious sketch in one of a little tilt between Coleridge and Holcroft, which must not be omitted. "Coleridge was riding the high German horse, and demonstrating the 'Categories of the Transcendental Philosophy' to the author of The Road to Ruin, who insisted on his knowledge of German and German metaphysics, having read the 'Critique of Pure Reason' in the original. 'My dear Mr. Holcroft,' said Coleridge, in a tone of infinitely provoking conciliation, 'you really put me in mind of a sweet pretty German girl of about fifteen, in the Hartz Forest, in Germany, and who one day, as I was reading "The Limits of the Knowable and the Unknowable," the profoundest of all his works, with great attention, came behind my chair, and leaning over, said, "What! you read Kant? Why, I, that am a German born, don't understand him!"' This was too much to bear, and Holcroft, starting up, called out, in no measured tone, 'Mr. Coleridge, you are the most eloquent man I ever met with, and the most troublesome with your eloquence.' Phillips held the cribbagepeg, that was to mark him game, suspended in his hand, and the whist-table was silent for a moment. I saw Holcroft downstairs, and on coming to the landing-place in Mitre Court he stopped me to observe that he thought Mr. Coleridge a very clever man, with a great command of language, but that he feared he did not always affix very proper ideas to the words he used. After he was gone we had our laugh out, and went on with the argument on 'The Nature of Reason, the Imagination, and the Will.' . . . . It would make a supplement to the 'Biographia Literaria,' in a volume and a half, octavo."
It was at one of these Wednesdays that Lamb started his famous question as to persons "one would wish to have seen." It was a suggestive topic, and proved a fruitful one. Mr. Hazlitt, who was there, has left an account behind him of the kind of talk which arose out of this hint, so lightly thrown out by the author of "Elia," and it is worth giving in his own words:—
"On the question being started, Ayrton said, 'I suppose the two first persons you would choose to see would be the two greatest names in English literature, Sir Isaac Newton and Locke?' In this Ayrton, as usual, reckoned without his host. Everyone burst out a laughing at the expression of Lamb's face, in which impatience was restrained by courtesy. 'Y—yes, the greatest names,' he stammered out hastily; 'but they were not persons—not persons.' Not persons?' said Ayrton, looking wise and foolish at the same time, afraid his triumph might be premature. 'That is,' rejoined Lamb, 'not characters, you know. By Mr. Locke and Sir Isaac Newton you mean the "Essay on the Human Understanding" and "Principia," which we have to this day. Beyond their contents, there is nothing personally interesting in the men. But what we want to see anyone bodily for is when there is something peculiar, striking in the individuals, more than we can learn from their writings and yet are curious to know. I dare say Locke and Newton were very like Kneller's portraits of them; but who could paint Shakespeare?' 'Ay,' retorted Ayrton, 'there it is. Then I suppose you would prefer seeing him and Milton instead?' 'No,' said Lamb, 'neither; I have seen so much of Shakespeare on the stage.' . . . . 'I shall guess no more,' said Ayrton. 'Who is it, then, you would like to see "in his habit as he lived," if you had your choice of the whole range of English literature ?' Lamb then named Sir Thomas Brown and Fulke Greville, the friend of Sir Philip Sydney, as the two worthies whom he should feel the greatest pleasure to encounter on the floor of his apartment in their night-gowns and slippers, and to exchange friendly greeting with them. At this Ayrton laughed outright, and conceived Lamb was jesting with him; but as no one followed his example he thought there might be something in it, and waited for an explanation in a state of whimsical suspense. . . . .
"When Lamb had given his explanation, some one inquired of him if he could not see from the window the Temple walk in which Chaucer used to take his exercise, and on his name being put to the vote I was pleased to find there was a general sensation in his favour in all but Ayrton, who said something about the ruggedness of the metre, and even objected to the quaintness of the orthography. . . . .
"Captain Burney muttered something about Columbus, and Martin Burney hinted at the Wandering Jew; but the last was set aside as spurious, and the first made over to the New World.
"'I should like,' said Mr. Reynolds, 'to have seen Pope talking with Patty Blount, and I have seen Goldsmith.' Everyone turned round to look at Mr. Reynolds, as if by so doing they too could get a sight of Goldsmith. . . . .
"Erasmus Phillips, who was deep in a game of piquet at the other end of the room, whispered to Martin Burney to ask if Junius would not be a fit person to invoke from the dead. 'Yes,' said Lamb, 'provided he would agree to lay aside his mask.'
"We were now at a stand for a short time, when Fielding was mentioned as a candidate. Only one, however, seconded the proposition. 'Richardson?' 'By all means; but only to look at him through the glass-door of his back-shop, hard at work upon one of his novels (the most extraordinary contrast that ever was presented between an author and his works), but not to let him come behind his counter, lest he should want you to turn customer; nor to go upstairs with him, lest he should offer to read the first manuscript of "Sir Charles Grandison," which was originally written in twenty-eight volumes octavo; or get out the letters of his female correspondents to prove that "Joseph Andrews" was low.'
"There was but one statesman in the whole of English history that any one expressed the least desire to see—Oliver Cromwell, with his fine, frank, rough, pimply face and wily policy—and one enthusiast, John Bunyan, the immortal author of 'The Pilgrim's Progress.'. . . .
"Of all persons near our own time, Garrick's name was received with the greatest enthusiasm. He presently superseded both Hogarth and Handel, who had been talked of, but then it was on condition that he should sit in tragedy and comedy, in the play and the farce,—Lear and Wildair, and Abel Drugger. . . . .
"Lamb inquired if there was any one that was hanged that I would choose to mention, and I answered, 'Eugene Aram.'"
The present Hare Place was the once disreputable Ram Alley, the scene of a comedy of that name, written by Lodowick Barry and dramatised in the reign of James I.; the plot Killigrew afterwards used in his vulgar Parson's Wedding. Barry, an Irishman, of whom nothing much is known, makes one of his roystering characters say,—
"And rough Ram Alley stinks with cooks' shops vile;
Yet, stay, there's many a worthy lawyer's chamber
'Buts upon Ram Alley."
As a precinct of Whitefriars, Ram Alley enjoyed the mischievous privilege of sanctuary for murderers, thieves, and debtors—indeed, any class of rascals except traitors—till the fifteenth century. After this it sheltered only debtors. Barry speaks of its cooks, salesmen, and laundresses; and Shadwell classes it (Charles II.) with Pye Corner, as the resort of "rascally stuff." Lord Clarendon, in his autobiography, describes the Great Fire as burning on the Thames side as far as the "new buildings of the Inner Temple next to Whitefriars," striking next on some of the buildings which joined to Ram Alley, and sweeping all those into Fleet Street. In the reign of George I. Ram Alley was full of public-houses, and was a place of no reputation, having passages into the Temple and Serjeants' Inn. "A kind of privileged place for debtors," adds Hatton, "before the late Act of Parliament (9 & 10 William III. c. 17, s. 15) for taking them away." This useful Act swept out all the London sanctuaries, those vicious relics of monastic rights, including Mitre Court, Salisbury Court (Fleet Street), the Savoy, Fulwood Rents (Holborn), Baldwin's Gardens (Gray's Inn Lane), the Minories, Deadman's Place, Montague Close (Southwark), the Clink, and the Mint in the same locality. The Savoy and the Mint, however, remained disreputable a generation or two later
Serjeants' Inn, Fleet Street, now deserted by the faithless serjeants, is supposed to have been given to the Dean and Chapter of York in 1409 (Henry IV.) It then consisted of shops, &c. In 1627 (Charles I.) the inn began its legal career by being leased for forty years to nine judges and fifteen serjeants. In this hall, in 1629, the judges in full bench struck a sturdy blow at feudal privileges by agreeing that peers might be attached upon process for contempt out of Chancery. In 1723 (George I.) the inn was highly aristocratic, its inmates being the Lord Chief Justice, the Lord Chief Baron, justices, and serjeants. In 1730, however, the fickle serjeants removed to Chancery Lane, and Adam, the architect of the Adelphi, designed the present nineteen houses and the present street frontage. On the site of the hall arose the Amicable Assurance Society, which in 1865 transferred its business to the Economic, and the house is now the Norwich Union Office. The inn is a parish in itself, making its own assessment, and contributing to the City rates. Its pavement, which had been part of the stonework of Old St. Paul's, was not replaced till 1860. The conservative old inn retained its old oil lamps long after the introduction of gas.
The arms of Serjeants' Inn, worked into the iron gate opening on Fleet Street, are a dove and a serpent, the serpent twisted into a kind of true lover's knot. The lawyers of Serjeants' Inn, no doubt, unite the wisdom of the serpent with the guilelessness of the dove. Singularly enough Dr. Dodd, the popular preacher, who was hanged, bore arms nearly similar.
Half way down Bouverie Street, in the centre of old Whitefriars, is the office of the Daily News. The first number of this popular and influential paper appeared on January 21, 1846. The publishers, and part proprietors, were Messrs. Bradbury & Evans, the printers; the editor was Charles Dickens; the manager was Dickens's father, Mr. John Dickens; the second, or assistant, editor, Douglas Jerrold; and among the other "leader" writers were Albany Fonblanque and John Forster, both of the Examiner. "Father Prout" (Mahoney) acted as Roman correspondent. The musical critic was the late Mr. George Hogarth, Dickens's fatherin-law; and the new journal had an "Irish Famine Commissioner" in the person of Mr. R. H. Horne, the poet. Miss Martineau wrote leading articles in the new paper for several years, and Mr. M'Cullagh Torrens was also a recognised contributor. The staff of Parliamentary reporters was said to be the best in London, several having been taken, at an advanced salary, off the Times.
"The speculative proprietorship," says Mr. Grant, in his "History of the Newspaper Press," was divided into one hundred shares, some of which were held by Sir William Jackson, M.P., Sir Joshua Watkins, and the late Sir Joseph Paxton. Mr. Charles Dickens, as editor, received a salary of £2,000 a year."
The early numbers of the paper contained instalments of Dickens's "Pictures from Italy;" yet the new venture did not succeed. Charles Dickens and Douglas Jerrold took the night-work on alternate days; but Dickens, who never made politics a special study, very soon retired from the editorship altogether, and Jerrold was chief editor for a little while till he left to set up his Weekly Newspaper. Mr. Forster also had the editorship for a short period, and the paper then fell into the hands of the late Mr. Dilke, of the Athenæum, who excited some curiosity by extensively advertising these words: "See the Daily News of June 1st." The Daily News of June 1, 1846 (which began No. 1 again), was a paper of four pages, issued at 2½d., which, deducting the stamp, at that time affixed to every copy of every newspaper, was in effect three halfpence. One of th features of the new plan was that the shee should vary in size, according to the requirement of the day—with an eye, nevertheless, at all times to selection and condensation. It was a bold attempt, carried out with great intelligence and spirit; but it was soon found necessary to put on another halfpenny, and in a year or two the Daily News was obliged to return to the usual price of "dailies" at that time—fivepence. The chief editors of the paper, besides those already mentioned, have been Mr. Eyre Evans Crowe, Mr. Frederick Knight Hunt, Mr. Weir, and Mr. Thomas Walker, who retired in January, 1870, on receiving the editorship of the London Gazette. The journal came down to a penny in June, 1868.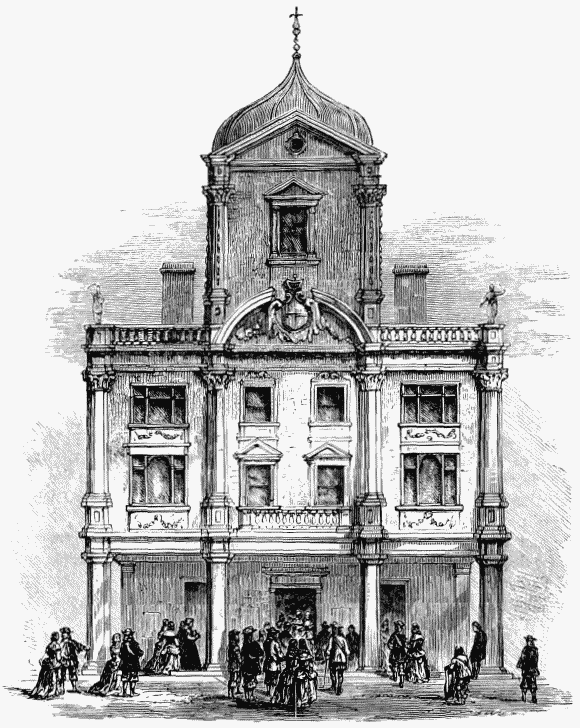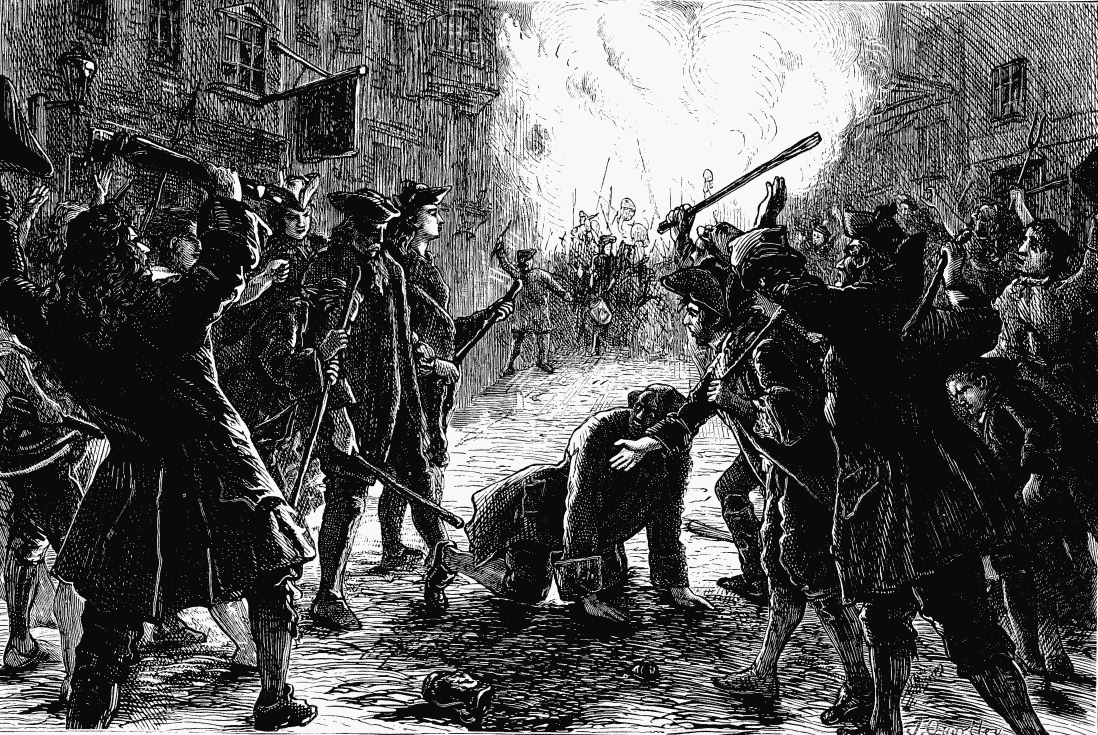 The Daily News, at the beginning, inspired the Times with some dread of rivalry; and it is noteworthy that, for several years afterwards, the great journal was very unfriendly in its criticisms on Dickens's books.
There is no doubt that, over sanguine of success, the Daily News proprietors began by sinking too much money in the foundations. In 1846, the Times' reporters received on an average only five guineas a week, while the Daily News gave seven; but the pay was soon of necessity reduced. Mr. Grant computes the losses of the Daily News for the first ten years at not much less than £200,000. The talent and enterprise of this paper, during the recent (1870) German invasion of France, and the excellence of their correspondents in either camp, is said to have trebled its circulation, which Mr. Grant computes at a daily issue of 90,000. As an organ of the highest and most enlightened form of Liberalism and progress, the Daily News now stands pre-eminent.
Many actors, poets, and authors dwelt in Salisbury Court in Charles II.'s time, and the great Betterton, Underhill, and Sandford affected this neighbourhood, to be near the theatres. Lady Davenant here presided over the Dorset Gardens Company; Shadwell, "round as a butt and liquored every chink," nightly reeled home to the same precinct, unsteadily following the guidance of a will-o'-thewisp link-boy; and in the square lived and died Sir John King, the Duke of York's solicitor-general.
If Salisbury Square boasts of Richardson, the respectable citizen and admirable novelist, it must also plead guilty to having been the residence of that not very reputable personage, Mr. John Eyre, who, although worth, as it was said, some £20,000, was transported on November 1, 1771 (George III.) for systematic pilfering of paper from the alderman's chamber, in the justice room, Guildhall. This man, led away by the thirst for money, had an uncle who made two wills, one leaving Eyre all his money, except a legacy of £500 to a clergyman; another leaving the bulk to the clergyman, and £500 only to his nephew. Eyre, not knowing of the second will, destroyed the first, in order to cancel the vexatious bequest. When the real will was produced his disappointment and selfish remorse must have produced an expression of repressed rage worthy of Hogarth's pencil.
In Salisbury Square Mr. Clarke's disagreeable confessions about the Duke of York were publicly burned, on the very spot (says Mr. Noble) where the zealous radical demagogue, Waithman, subsequently addressed the people from a temporary platform, not being able to obtain the use of St. Bride's Vestry. Nor must we forget to chronicle No. 53 as the house of Tatum, a silversmith, to whom, in 1812, that eminent man John Faraday acted as humble friend and assistant. How often does young genius act the herdsman, as Apollo did when he tended the kine of Admetus!
The Woodfalls, too, in their time, lent celebrity to Salisbury Square. The first Woodfall who became eminent was Henry Woodfall, at the "Elzevir's Head" at Temple Bar. He commenced business under the auspices of Pope. His son Henry, who rose to be a Common Councilman and Master of the Stationers' Company, bought of Theophilus Cibber, in 1736–37, onethird of a tenth share of the London Daily Post, an organ which gradually grew into the Public Advertiser, that daring paper in which the celebrated letters of Junius first appeared. Those letters, scathing and full of Greek fire, brought down Lords and Commons, King's Bench and Old Bailey, on Woodfall, and he was fined and imprisoned. Whether Burke, Barrè, Chatham, Horne Tooke, or Sir Philip Francis wrote them, will now probably never be known. The stern writer in the iron mask went down into the grave shrouded in his own mystery, and that grave no inquisitive eyes will ever find. "I am the sole depository of my secret," he wrote, "and it shall perish with me." The Junius Woodfall died in 1805. William Woodfall, the younger brother, was born in 1745, and educated at St. Paul's School. He was editor and printer of the Morning Chronicle, and in 1790 had his office in Dorset Street, Salisbury Square (Noble). "Memory" Woodfall, as William was generally called, acquired fame by his extraordinary power of reporting from memory the speeches he heard in the House of Commons. His practice during a debate (says his friend Mr. Taylor, ot the Sun) was to close his eyes and lean with both hands upon his stick. He was so well acquainted with the tone and manner of the several speakers that he seldom changed his attitude but to catch the name of a new member. His memory was as accurate as it was capacious, and, what was almost miraculous, he could retain full recollection of any particular debate for a full fortnight, and after many long nights of speaking. Woodfall used to say he could put a speech away on a corner shelf of his mind for future reference. This is an instance of power of memory scarcely equalled by Fuller, who, it is said, could repeat the names of all the shops down the Strand (at a time every shop had a sign) in regular and correct sequence; and it even surpasses "Memory" Thompson, who used to boast he could remember every shop from Ludgate Hill to the end of Piccadilly. Yet, with all his sensitively retentive memory, Woodfall did not care for slight interruptions during his writing. Dr. Johnson used to write abridged reports of debates for the Gentleman's Magazine from memory, but, then, reports at that time were short and trivial. Woodfall was also a most excellent dramatic critic—slow to censure, yet never sparing just rebuke. At the theatre his extreme attention gave his countenance a look of gloom and severity. Mr. J. Taylor, of the Sun, describes Kemble as watching Woodfall in one of those serious moods, and saying to a friend, "How applicable to that man is the passage in Hamlet,—'thoughts black, hands apt.'"
Finding himself hampered on the Morning Chronicle, Woodfall started a new daily paper, with the title of the Diary, but eventually 'he was overpowered by his competitors and their large staff of reporters. His eldest son, who displayed great abilities, went mad. Mr. Woodfall's hospitable parties at his house at Kentish Town are sketched for us by Mr. J. Taylor. On one particular occasion he mentions meeting Mr. Tickel, Richardson (a partner in "The Rolliad"), John Kemble, Perry (of the Chronicle), Dr. Glover (a humorist of the day), and John Coust. Kemble and Perry fell out over their wine, and Perry was rude to the stately tragedian. Kemble, eyeing him with the scorn of Coriolanus, exclaimed, in the words of Zanga,—
"A lion preys not upon carcases."
Perry very naturally effervesced at this, and war would have been instantly proclaimed between the belligerents had not Coust and Richardson promptly interposed. The warlike powers were carefully sent home in separate vehicles.
Mr. Woodfall had a high sense of the importance of a Parliamentary reporter's duties, and once, during a heavy week, when his eldest son came to town to assist him, he said, "And Charles Fox to have a debate on a Saturday! What! does he think that reporters are made of iron?" Woodfall used to tell a characteristic story of Dr. Dodd. When that miserable man was in Newgate waiting sentence of death he sent earnestly for the editor of the Morning Chronicle. Woodfall, a kind and unselfish man, instantly hurried off, expecting that Dodd wished his serious advice. In the midst of Woodfall's condolement he was stopped by the Doctor, who said he had wished to see him on quite a different subject. Knowing Woodfall's judgment in dramatic matters, he was anxious to have his opinion on a comedy which he had written, and to request his interest with a manager to bring it on the stage. Woodfall was the more surprised and shocked as on entering Newgate he had been informed by Ackerman, the keeper of Newgate, that the order for Dr. Dodd's execution had just arrived.
Before parting with the Woodfall family, we may mention that it is quite certain that Henry Sampson Woodfall did not know who the author of "Junius" was. Long after the letters appeared he used to say,—"I hope and trust Junius is not dead, as I think he would have left me a legacy; for though I derived much honour from his preference, I suffered much by the freedom of his pen."
The grandson of William, Henry Dick Woodfall, died in Nice, April 13, 1869, aged sixty-nine, carrying to the grave (says Mr. Noble) the last chance of discovering one of the best kept secrets ever known.
The Whig "mug-house" of Salisbury Court deserves notice. The death of Queen Anne (1714) roused the hopes of the Jacobites. The rebellion of 1715 proved how bitterly they felt the peaceful accession of the Elector of Hanover. The northern revolt convinced them of their strength, but its failure taught them no lesson. They attributed its want of success to the rashness of the leaders and the absence of unanimity in their followers, to the outbreak not being simultaneous; to every cause, indeed, but the right one. It was about this time that the Whig gentlemen of London, to unite their party and to organise places of gathering, established "mug-houses" in various parts of the City. At these places, "free-and-easy" clubs were held, where Whig citizens could take their mug of ale, drink loyal toasts, sing loyal songs, and arrange party processions. These assemblies, not always very just or forbearing, soon led to violent retaliations on the part of the Tories, attacks were made on several of the mug-houses, and dangerous riots naturally ensued. From the papers of the time we learn that the Tories wore white roses, or rue, thyme, and rosemary in their hats, flourished oak branches and green ribbons, and shouted "High Church;" "Ormond for ever;" "No King George;" "Down with the Presbyterians;" "Down with the mug-houses." The Whigs, on the other side, roared "King George for ever," displayed orange cockades, with the motto,—
"With heart and hand
By George we'll stand,"

and did their best on royal birthdays and other thanksgivings, by illuminations and blazing bonfires outside the mug-house doors, to irritate their adversaries and drive them to acts of illegal violence. The chief Whig mug-houses were in Long Acre, Cheapside, St. John's Lane (Clerkenwell), Tower Street, and Salisbury Court.
Mackey, a traveller, who wrote "A Journey through England" about this time, describes the mug-houses very lucidly:—
"The most amusing and diverting of all," he says, "is the 'Mug-House Club,' in Long Acre, where every Wednesday and Saturday a mixture of gentlemen, lawyers, and tradesmen meet in a great room, and are seldom under a hundred. They have a grave old gentleman in his own grey hairs, now within a few months of ninety years old, who is their president, and sits in an armed-chair some steps higher than the rest of the company, to keep the whole room in order. A harp always plays all the time at the lower end of the room, and every now and then one or other of the company rises and entertains the rest with a song; and, by-the-by, some are good masters. Here is nothing drank but ale; and every gentleman hath his separate mug, which he chalks on the table where he sits as it is brought in, and everyone retires when he pleases, as in a coffee-house. The room is always so diverted with songs, and drinking from one table to another to one another's healths, that there is no room for politics, or anything that can sour conversation. One must be up by seven to get room, and after ten the company are, for the most part, gone. This is a winter's amusement that is agreeable enough to a stranger for once or twice, and he is well diverted with the different humours when the mugs overflow."
An attack on a Whig mug-house, the "Roebuck," in Cheapside, June, 1716, was followed by a still more stormy assault on the Salisbury Court mughouse in July of the same year. The riot began on a Friday, but the Whigs kept a resolute face, and the mob dwindled away. On the Monday they renewed the attack, declaring that the Whigs were drinking "Down with the Church," and reviling the memory of Queen Anne; and they swore they would level the house and make a bonfire of the timber in the middle of Fleet Street. But the wily Whigs, barricading the door, slipped out a messenger at a back door, and sent to a mug-house in Tavistock Street, Covent Garden, for reinforcements. Presently a band of Whig bludgeon-men arrived, and the Whigs of Salisbury Court then snatched up pokers, tongs, pitchforks, and legs of stools, and sallied out on the Tory mob, who soon fled before them. For two days the Tory mob seethed, fretted, and swore revenge. But the report of a squadron of horse being drawn up at Whitehall ready to ride down on the City kept them gloomily quiet. On the third day a Jacobite, named Vaughan, formerly a Bridewell boy, led them on to revenge; and on Tuesday they stormed the place in earnest. "The best of the Tory mob," says a Whig paper of the day, "were High Church scaramouches, chimneysweeps, hackney coachmen, foot-boys, tinkers, shoeblacks, street idlers, ballad singers, and strumpets." The contemporaneous account will most vividly describe the scene.
The Weekly Journal (a Whig paper) of July 28, 1716, says: "The Papists and Jacobites, in pursuance of their rebellious designs, assembled a mob on Friday night last, and threatened to attack Mr. Read's mug-house in Salisbury Court, in Fleet Street; but, seeing the loyal gentlemen that were there were resolved to defend themselves, the cowardly Papists and Jacobites desisted for that time. But on Monday night the villains meeting together again in a most rebellious manner, they began first to attack Mr. Goslin's house, at the sign of the 'Blew Boar's Head,' near Water Lane, in Fleet Street, breaking the windows thereof, for no other reason but because he is well-affected to his Majesty King George and the present Government. Afterwards they went to the above-said mug-house in Salisbury Court; but the cowardly Jacks not being able to accomplish their hellish designs that night, they assembled next day in great numbers from all parts of the town, breaking the windows with brick-bats, broke open the cellar, got into the lower rooms, which they robb'd, and pull'd down the sign, which was carried in triumph before the mob by one Thomas Bean, servant to Mr. Carnegie and Mr. Cassey, two rebels under sentence of death, and for which he is committed to Newgate, as well as several others, particularly one Hook, a joyner, in Blackfriars, who is charged with acting a part in gutting the mug-house. Some of the rioters were desperately wounded, and one Vaughan, a seditious weaver, formerly an apprentice in Bridewell, and since employed there, who was a notorious ringleader of mobs, was kill'd at the aforesaid mug-house. Many notorious Papists were seen to abet and assist in this villanous rabble, as were others, who call themselves Churchmen, and are like to meet with a suitable reward in due time for their assaulting gentlemen who meet at these mug-houses only to drink prosperity to the Church of England as by law established, the King's health, the Prince of Wales's, and the rest of the Royal Family, and those of his faithful and loyal Ministers. But it is farther to be observed that women of mean, scandalous lives, do frequently point, hiss, and cry out 'Whigs' upon his Majesty's good and loyal subjects, by which, raising a mob, they are often insulted by them. But 'tis hoped the magistrates will take such methods which may prevent the like insults for the future.
"Thursday last the coroner's inquest sat on the body of the person killed in Salisbury Court, who were for bringing in their verdict, wilful murder against Mr. Read, the man of the mughouse; but some of the jury stick out, and will not agree with that verdict; so that the matter is deferr'd till Monday next."
"On Tuesday last," says the same paper (August 4, 1716), "a petition, signed by some of the inhabitants of Salisbury Court, was deliver'd to the Court of Aldermen, setting forth some late riots occasioned by the meeting of some persons at the mug-house there. The petition was referr'd to, and a hearing appointed the same day before the Lord Mayor. The witnesses on the side of the petition were a butcher woman, a barber's 'prentice, and two or three other inferior people. These swore, in substance—that the day the man was killed there, they saw a great many people gathered together about the mug-house, throwing stones and dirt, &c.; that about twelve o'clock they saw Mr. Read come out with a gun, and shoot a man who was before the mob at some distance, and had no stick in his hand. Those who were call'd in Mr. Read's behalf depos'd that a very great mob attacked the house, crying, 'High Church and Ormond; No Hanover; No King George;' that then the constable read the Proclamation, charging them to disperse, but they still continued to cry, 'Down with the mug-house;' that two soldiers then issued out of the house, and drove the mob into Fleet Street; but by throwing sticks and stones, they drove these two back to the house, and the person shot returned at the head of the mob with a stick in his hand flourishing, and crying, 'No Hanover; No King George;' and 'Down with the mug-house.' That then Mr. Read desired them to disperse, or he would shoot amongst them, and the deceased making at him, he shot him and retired indoors; that then the mob forced into the house, rifled all below stairs, took the money out of the till, let the beer about the cellar, and what goods they could not carry away, they brought into the streets and broke to pieces; that they would have forced their way up stairs and murdered all in the house, but that a person who lodged in the house made a barricade at the stair-head, where he defended himself above half an hour against all the mob, wounded some of them, and compelled them to give over the assault. There were several very credible witnesses to these circumstances, and many more were ready to have confirmed it, but the Lord Mayor thought sufficient had been said, and the following gentlemen, who are men of undoubted reputation and worth, offering to be bail for Mr. Read, namely, Mr. Johnson, a justice of the peace, and Colonels Coote and Westall, they were accepted, and accordingly entered into a recognisance."
Five of the rioters were eventually hung at Tyburn Turnpike, in the presence of a vast crowd. According to Mr. J. T. Smith, in his "Streets of London," a Whig mug-house existed as early as 1694. It has been said the slang word "mug" owes its derivation to Lord Shaftesbury's "ugly mug," which the beer cups were moulded to resemble.
In the Flying Post of June 30, 1716, we find a doggerel old mug-house ballad, which is so characteristic of the violence of the times that it is worth preserving:—
"Since the Tories could not fight,
And their master took his flight,
They labour to keep up their faction;
With a bough and a stick,
And a stone and a brick,
They equip their roaring crew for action.
"Thus in battle array
At the close of the day,
After wisely debating their deep plot,
Upon windows and stall,
They courageously fall,
And boast a great victory they have got.
"But, alas! silly boys,
For all the mighty noise,
Of their 'High Church and Ormond for ever,'
A brave Whig with one hand,
At George's command,
Can make their mightiest hero to quiver."
Richardson's printing office was at the northwest corner of Salisbury Square, communicating with the court, No. 76, Fleet Street. Here the thoughtful old citizen wrote "Pamela," and here, in 1756, Oliver Goldsmith acted as his "reader." Richardson seems to have been an amiable and benevolent man, kind to his compositors and servants and beloved by children. All the anecdotes relating to his private life are pleasant. He used to encourage early rising among his workmen by hiding half crowns among the disordered type, so that the earliest comer might find his virtue rewarded; and he would frequently bring up fruit from the country to give to those of his servants who had been zealous and good-tempered.
Samuel Richardson, the author of "Pamela" and "Clarissa," was the son of a Derbyshire joiner. He was born in 1689, and died in 1761. Apprenticed to a London printer, he rose by steady industry and prudence to be the manager of a large business, printer of the Journals of the House of Commons, Master of the Stationers' Company, and part-printer to the king. In 1741, at the age of fifty-two, publishers urging the thriving citizen to write them a book of moral letters, Richardson produced "Pamela," a novel which ran through five editions the first year, and became the rage of the town. Ladies carried the precious volumes to Ranelagh, and held them up in smiling triumph to each other. Pope praised the novel as more useful than twenty volumes of sermons, and Dr. Sherlock gravely recommended it from the pulpit. In 1749 Richardson wrote "Clarissa Harlowe," his most perfect work, and in 1753 his somewhat tedious "Sir Charles Grandison" (7 vols.) In "Pamela" he drew a servant, whom her master attempts to seduce and eventually marries, but in "Clarissa" the heroine, after harrowing misfortunes, dies unrewarded. Richardson had always a moral end in view. He hated vice and honoured virtue, but he is too often prolix and wearisome. He wished to write novels that should wean the young from the foolish románces of his day. In "Pamela" he rewarded struggling virtue; in "Clarissa" he painted the cruel selfishness of vice; in "Sir Charles" he tried to represent the perfect Christian gentleman. Coleridge said that to read Fielding after Richardson was like emerging from a sick room, heated by stoves, into an open lawn on a breezy May morning. Richardson, indeed, wrote more for women than men. Fielding was coarser, but more manly; he had humour, but no moral purpose at all. The natural result was that Fielding and his set looked on Richardson as a grave, dull, respectable old prig; Richardson on Fielding as a low rake, who wrote like a man who had been an ostler born in a stable, or a runner in a sponginghouse. "The virtues of Fielding's heroes," the vain old printer used to say to his feminine clique, "are the vices of a truly good man."
Dr. Johnson, who had been befriended by Richardson, was never tired of depreciating Fielding and crying up the author of "Pamela." "Sir," he used to thunder out, "there is as much difference between the two as between a man who knows how a watch is made and a man who can merely tell the hour on the dial-plate." He called Fielding a "barren rascal." "Sir, there is more knowledge of the heart in one letter of Richardson's than in all 'Tom Jones.'" Some one present here mildly suggested that Richardson was very tedious. "Why, sir," replied Johnson, "if you were to read Richardson for the story, your impatience would be so great that you would hang yourself. But you must read him for the sentiment, and consider the story as only giving occasion to the sentiment." After all, it must be considered that, old-fashioned as Richardson's novels have now become, the old printer dissected the human heart with profound knowledge and exquisite care, and that in the back shop in Salisbury Court, amid the jar of printing-presses, the quiet old citizen drew his ideal beings with far subtler lines and touches than any previous novelist had done.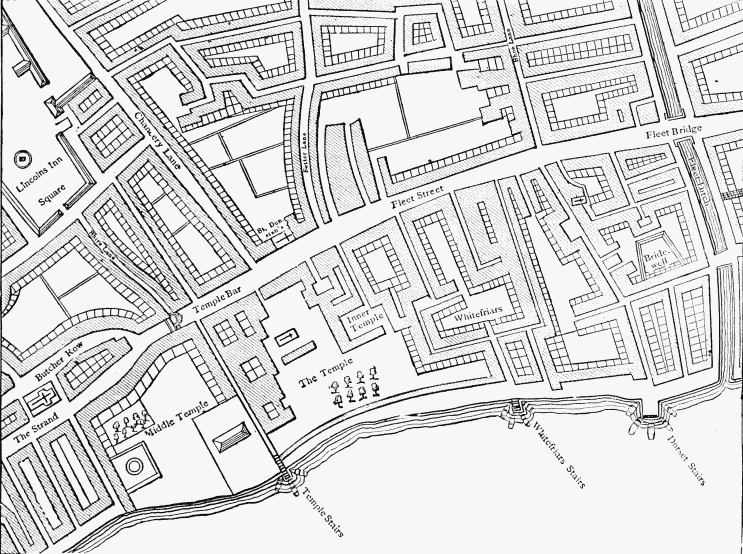 On one occasion at least Hogarth and Johnson met at Richardson's house.
"Mr. Hogarth," says Nichols, "came one day to see Richardson, soon after the execution of Dr. Cameron, for having taken arms for the house of Stuart in 1745–46; and, being a warm partisan of George II., he observed to Richardson that certainly there must have been some very unfavourable circumstances lately discovered in this particular case which had induced the king to approve of an execution for rebellion so long after the time it was committed, as this had the appearance of putting a man to death in cold blood, and was very unlike his majesty's usual clemency. While he was talking he perceived a person standing at a window in the room shaking his head and rolling himself about in a ridiculous manner. He concluded he was an idiot, whom his relations had put under the care of Mr. Richardson as a very good man. To his great surprise, however, this figure stalked forward to where he and Mr. Richardson were sitting, and all at once took up the argument, and burst out into an invective against George II., as one who, upon all occasions, was unrelenting and barbarous; mentioning many instances, particularly that, where an officer of high rank had been acquitted by a court martial, George II. had, with his own hand, struck his name off the list. In short, he displayed such a power of eloquence that Hogarth looked at him in astonishment, and actually imagined that this idiot had been at the moment inspired. Neither Johnson nor Hogarth were made known to each other at this interview."
Boswell tells a good story of a rebuke that Richardson's amiable but inordinate egotism on one occasion received, much to Johnson's secret delight, which is certainly worth quoting before we dismiss the old printer altogether. "One day," says, Boswell "at his country house at Northend, where a large company was assembled at dinner, a gentleman who was just returned from Paris, wishing to please Richardson, mentioned to him a flattering circumstance, that he had seen his 'Clarissa' lying on the king's brother's table. Richardson observing that part of the company were engaged in talking to each other, affected then not to attend to it; but by and bye, when there was a general silence, and he thought that the flattery might be fully heard, he addressed himself to the gentleman: 'I think, sir, you were saying somewhat about'—pausing in a high flutter of expectation. The gentleman provoked at his inordinate vanity resolved not to indulge it, and with an exquisitely sly air of indifference answered, 'A mere trifle, sir; not worth repeating.' The mortification of Richardson was visible, and he did not speak ten words more the whole day. Dr. Johnson was present, and appeared to enjoy it much."
At one corner of Salisbury Square (says Mr. Timbs) are the premises of Peacock, Bampton, & Mansfield, the famous pocket-book makers, whose "Polite Repository" for 1778 is "the patriarch of all pocket-books." Its picturesque engravings have never been surpassed, and their morocco and russia bindings scarcely equalled. In our time Queen Adelaide and her several maids of honour used the "Repository." George IV. was provided by the firm with a ten-guinea housewife (an antique-looking pocket-book, with goldmounted scissors, tweezers, &c.); and Mr. Mansfield relates that on one occasion the king took his housewife from his pocket and handed it round the table to his guests, and next day the firm received orders for twenty-five, "just like the king's."
In St. Bride's Passage, westward (says Mr. Timbs), was a large dining-house, where, some forty years ago, Colton, the author, used to dine, and publicly boast that he wrote the whole of his "Lacon; or, Many Things in Few Words," upon a small rickety deal table, with one pen. Another frequenter of this place was one Webb, who seems to have been so well up in the topics of the day that he was a sort of walking newspaper, who was much with the King and Queen of the Sandwich Islands when they visited England in 1825.
This Caleb Colton, mentioned by Mr. Timbs, was that most degraded being, a disreputable clergyman, with all the vices but little of the genius of Churchill, and had been, in his flourishing time, vicar of Kew and Petersham. He was educated at Eton, and eventually became Fellow of King's College, Cambridge. He wrote "A Plain and Authentic Narrative of the Stamford Ghost," "Remarks on the Tendencies of 'Don Juan,'" a poem on Napoleon, and a satire entitled "Hypocrisy." His best known work, however, was "Lacon; or, Many Things in Few Words," published in 1820. These aphorisms want the terse brevity of Rochefoucauld, and are in many instances vapid and trivial. A passion for gaming at last swallowed up Colton's other vices, and becoming involved, he cut the Gordian knot of debt in 1828 by absconding; his living was then seized and given to another. He fled to America, and from there returned to that syren city, Paris, where he is said in two years to have won no less than £25,000. The miserable man died by his own hand at Fontainebleau, in 1832. In the "Lacon" is the subjoined passage, that seems almost prophetic of the miserable author's miserable fate:—
"The gamester, if he die a martyr to his profession, is doubly ruined. He adds his soul to every loss, and by the act of suicide renounces earth to forfeit heaven." . . . . "Anguish of mind has driven thousands to suicide, anguish of body none. This proves that the health of the mind is of far more consequence to our happiness than the health of the body, although both are deserving of much more attention than either of them receive."
And here is a fine sentiment, worthy of Dr. Dodd himself:—
"There is but one pursuit in life which it is in the power of all to follow and of all to attain. It is subject to no disappointments, since he that perseveres makes every difficulty an advancement and every contest a victory—and this the pursuit of virtue. Sincerely to aspire after virtue is to gain her, and zealously to labour after her wages is to receive them. Those that seek her early will find her before it is late; her reward also is with her, and she will come quickly. For the breast of a good man is a little heaven commencing on earth, where the Deity sits enthroned with unrivalled influence, every subjugated passion, 'like the wind and storm, fulfilling his word.'"