Pages 182-199
Old and New London: Volume 1. Originally published by Cassell, Petter & Galpin, London, 1878.
This free content was digitised by double rekeying. Public Domain.
CHAPTER XVII.
WHITEFRIARS.
The Present Whitefriars—The Carmelite Convent—Dr. Butts—The Sanctuary—Lord Sanquhar Murders the Fencing-Master—His Trial—Bacon and Yelverton—His Execution—Sir Walter Scott's "Fortunes of Nigel"—Shadwell's Squire of Alsatia—A Riot in Whitefriars—Elizabethan Edicts against the Ruffians of Alsatia—Bridewell—A Roman Fortification—A Saxon Palace—Wolsey's Residence—Queen Katherine's Trial— Her Behaviour in Court—Persecution of the First Congregationalists—Granaries and Coal Stores destroyed by the Great Fire—The Flogging in Bridewell—Sermon on Madame Creswell—Hogarth and the "Harlot's Progress"—Pennant's Account of Bridewell—Bridewell in 1843— Its Latter Days—Pictures in the Court Room—Bridewell Dock—The Gas Works—Theatres in Whitefriars—Pepys' Visits to the Theatre— Dryden and the Dorset Gardens Theatre—Davenant—Kynaston—Dorset House—The Poet-Earl.
So rich is London in legend and tradition, that even some of the spots that now appear the blankest, baldest, and most uninteresting, are really vaults of entombed anecdote and treasurehouses of old story.
Whitefriars—that dull, narrow, uninviting lane sloping from Fleet Street to the river, with gas works at its foot and mean shops on either side— was once the centre of a district full of noblemen's mansions; but Time's harlequin wand by-and-by turned it into a debtors' sanctuary and thieves' paradise, and for half a century its bullies and swindlers waged a ceaseless war with their proud and rackety neighbours of the Temple. The dingy lane, now only awakened by the quick wheel of the swift newspaper cart or the ponderous tires of the sullen coal-wagon, was in olden times for ever ringing with clash of swords, the cries of quarrelsome gamblers, and the drunken songs of noisy Bobadils.
In the reign of Edward I., a certain Sir Robert Gray, moved by qualms of conscience or honest impulse, founded on the bank of the Thames, east of the well-guarded Temple, a Carmelite convent, with broad gardens, where the white friars might stroll, and with shady nooks where they might con their missals. Bouverie Street and Ram Alley were then part of their domain, and there they watched the river and prayed for their patrons' souls. In 1350 Courtenay, Earl of Devon, rebuilt the Whitefriars Church, and in 1420 a Bishop of Hereford added a steeple. In time, greedy hands were laid roughly on cope and chalice, and Henry VIII., seizing on the friars' domains, gave his physician—that Doctor Butts mentioned by Shakespeare—the chapter-house for a residence. Edward VI.—who, with all his promise, was as ready for such pillage as his tyrannical father—pulled down the church, and built noblemen's houses in its stead. The refectory of the convent, being preserved, afterwards became the Whitefriars Theatre. The mischievous right of sanctuary was preserved to the district, and confirmed by James I., in whose reign the slum became jocosely known as Alsatia— from Alsace, that unhappy frontier then, and later, contended for by French and Germans—just as Chandos Street and that shy neighbourhood at the north-west side of the Strand used to be called the Caribbee Islands, from its countless straits and intricate thieves' passages. The outskirts of the Carmelite monastery had no doubt become disreputable at an early time, for even in Edward III.'s reign the holy friars had complained of the gross temptations of Lombard Street (an alley near Bouverie Street). Sirens and Dulcineas of all descriptions were ever apt to gather round monasteries. Whitefriars, however, even as late as Cromwell's reign, preserved a certain respectability; for here, with his supposed wife, the Dowager Countess of Kent, Selden lived and studied.
In the reign of James I. a strange murder was committed in Whitefriars. The cause of the crime was highly singular. In 1607 young Lord Sanquhar, a Scotch nobleman, who with others of his countrymen had followed his king to England, had an eye put out by a fencing-master of Whitefriars. The young lord—a man of a very ancient, proud, and noble Scotch family, as renowned for courage as for wit—had striven to put some affront on the fencing-master at Lord Norris's house, in Oxfordshire, wishing to render him contemptible before his patrons and assistants—a common bravado of the rash Tybalts and hot-headed Mercutios of those fiery days of the duello, when even to crack a nut too loud was enough to make your tavern neighbour draw his sword. John Turner, the master, jealous of his professional honour, challenged the tyro with dagger and rapier, and, determined to chastise his ungenerous assailant, parried all his most skilful passadoes and staccatoes, and in his turn pressed Sanquhar with his foil so hotly and boldly that he unfortunately thrust out one of his eyes. The young baron, ashamed of his own rashness, and not convinced that Turner's thrust was only a slip and an accident, bore with patience several days of extreme danger. As for Turner, he displayed natural regret, and was exonerated by everybody. Some time after, Lord Sanquhar being in the court of Henry IV. of France, that chivalrous and gallant king, always courteous to strangers, seeing the patch of green taffeta, unfortunately, merely to make conversation, asked the young Scotchman how he lost his eye. Sanquhar, not willing to lose the credit of a wound, answered cannily, "It was done, your majesty, with a sword." The king replied, thoughtlessly, "Doth the man live?" and no more was said. This remark, however, awoke the viper of revenge in the young man's soul. He brooded over those words, and never ceased to dwell on the hope of some requital on his old opponent. Two years he remained in France, hoping that his wound might be cured, and at last, in despair of such a result, set sail for England, still brooding over revenge against the author of his cruel and, as it now appeared, irreparable misfortune. The King of Denmark, James's toss-pot father-in-law, was on a visit here at the time, and the court was very gay. The first news that Lord Sanquhar heard was, that the accursed Turner was down at Greenwich Palace, fencing there in public matches before the two kings. To these entertainments the young Scotchman went, and there, from some corner of a gallery, the man with a patch over his eye no doubt scowled and bit his lip at the fencing-master, as he strutted beneath, proud of his skill and flushed with triumph. The moment the prizes were given, Sanquhar hurried below, and sought Turner up and down, through court and corridor, resolved to stab him on the spot, though even drawing a sword in the precincts of the palace was an offence punishable with the loss of a hand. Turner, however, at that time escaped, for Sanquhar never came across him in the throng, though he beat it as a dog beats a covert. The next day, therefore, still on his trail, Lord Sanquhar went after him to London, seeking for him up and down the Strand, and in all the chief Fleet Street and Cheapside taverns. The Scot could not have come to a more dangerous place than London. Some, with malicious pity, would tell him that Turner had vaunted of his skilful thrust, and the way he had punished a man who tried to publicly shame him. Others would thoughtlessly lament the spoiling of a good swordsman and a brave soldier. The mere sight of the turnings to Whitefriars would rouse the evil spirit nestling in Sanquhar's heart. Eagerly he sought for Turner, till he found he was gone down to Norris's house, in Oxfordshire—the very place where the fatal wound had been inflicted. Being thus for the time foiled, Sanquhar returned to Scotland, and for the present delayed his revenge. On his next visit to London Sanquhar, cruel and steadfast as a bloodhound, again sought for Turner. Yet the difficulty was to surprise the man, for Sanquhar was well known in all the taverns and fencing-schools of Whitefriars, and yet did not remember Turner sufficiently well to be sure of him. He therefore hired two Scotchmen, who undertook his assassination; but, in spite of this, Turner somehow or other was hard to get at, and escaped his two pursuers and the relentless man whose money had bought them. Business then took Sanquhar again to France, but on his return the brooding revenge, now grown to a monomania, once more burst into a flame.
At last he hired Carlisle and Gray, two Scotchmen, who were to take a lodging in Whitefriars, to discover the best way for Sanquhar himself to strike a sure blow at the unconscious fencingmaster. These men, after some reconnoitring, assured their employer that he could not himself get at Turner, but that they would undertake to do so, to which Sanquhar assented. But Gray's heart failed him after this, and he slipped away, and Turner went again out of town, to fence at some country mansion. Upon this Carlisle, a resolute villain, came to his employer and told him with grim set face that, as Gray had deceived him and there was "trust in no knave of them all," he would e'en have nobody but himself, and would assuredly kill Turner on his return, though it were with the loss of his own life. Irving, a Border lad, and page to Lord Sanquhar, ultimately joined Carlisle in the assassination.
On the 11th of May, 1612, about seven o'clock in the evening, the two murderers came to a tavern in Whitefriars, which Turner usually frequented as he returned from his fencing-school. Turner, sitting at the door with one of his friends, seeing the men, saluted them, and asked them to drink. Carlisle turned to cock the pistol he had prepared, then wheeled round, and drawing the pistol from under his coat, discharged it full at the unfortunate fencing-master, and shot him near the left breast. Turner had only time to cry, "Lord have mercy upon me—I am killed," and fell from the ale-bench, dead. Carlisle and Irving at once fled—Carlisle to the town, Irving towards the river; but the latter, mistaking a court where wood was sold for the turning into an alley, was instantly run down and taken. Carlisle was caught in Scotland, Gray as he was shipping at a sea-port for Sweden; and Sanquhar himself, hearing one hundred pounds were offered for his head, threw himself on the king's mercy by surrendering himself as an object of pity to the Archbishop of Canterbury. But no intercession could avail. It was necessary for James to show that he would not spare Scottish more than English malefactors.
Sanquhar was tried in Westminster Hall on the 27th of June, before Mr. Justice Yelverton. Sir Francis Bacon, the Solicitor-General, did what he could to save the revengeful Scot, but it was impossible to keep him from the gallows. Robert Creighton, Lord Sanquhar, therefore, confessed himself guilty, but pleaded extenuating circumstances. He had, he said, always believed that Turner boasted he had put out his eye of set purpose, though at the taking up the foils he (Sanquhar) had specially protested that he played as a scholar, and not as one able to contend with a master in the profession. The mode of playing among scholars was always to spare the face.
"After this loss of my eye," continued the quasi-repentant murderer, "and with the great hazard of the loss of life, I must confess that I ever kept a grudge of my soul against Turner, but had no purpose to take so high a revenge; yet in the course of my revenge I considered not my wrongs upon terms of Christianity—for then I should have sought for other satisfaction—but, being trained up in the courts of princes and in arms, I stood upon the terms of honour, and thence befell this act of dishonour, whereby I have offended—first, God; second, my prince; third, my native country; fourth, this country; fifth, the party murdered; sixth, his wife; seventh, posterity; eighth, Carlisle, now to be executed; and lastly, ninth, my own soul, and I am now to die for my offence. But, my lords," he added, "besides my own offence, which in its nature needs no aggravation, divers scandalous reports are given out which blemish my reputation, which is more dear to me than my life: first, that I made show of reconciliation with Turner, the which, I protest, is utterly untrue, for what I have formerly said I do again assure your good lordships, that ever after my hurt received I kept a grudge in my soul against him, and never made the least pretence of reconciliation with him. Yet this, my lords, I will say, that if he would have confessed and sworn he did it not of purpose, and withal would have foresworn arms, I would have pardoned him; for, my lords, I considered that it must be done either of set purpose or ignorantly. If the first, I had no occasion to pardon him; if the last, that is no excuse in a master, and therefore for revenge of such a wrong I thought him unworthy to bear arms."
Lord Sanquhar then proceeded to deny the aspersion that he was an ill-natured fellow, ever revengeful, and delighting in blood. He confessed, however, that he was never willing to put up with a wrong, nor to pardon where he had a power to retaliate. He had never been guilty of blood till now, though he had occasion to draw his sword, both in the field and on sudden violences, where he had both given and received hurts. He allowed that, upon commission from the king to suppress wrongs done him in his own country, he had put divers of the Johnsons to death, but for that he hoped he had need neither to ask God nor man for forgiveness. He denied, on his salvation, that by the help of his countrymen he had attempted to break prison and escape. The condemned prisoner finally begged the lords to let the following circumstances move them to pity and the king to mercy:—First, the indignity received from so mean a man; second, that it was done willingly, for he had been informed that Turner had bragged of it after it was done; third, the perpetual loss of his eye; fourth, the want of law to give satisfaction in such a case; fifth, the continued blemish he had received thereby.
The Solicitor-General (Bacon), in his speech, took the opportunity of fulsomely bepraising the king after his manner. He represented the sputtering, drunken, corrupt James as almost divine, in his energy and sagacity. He had stretched forth his long arms (for kings, he said, had long arms), and taken Gray as he shipped for Sweden, Carlisle ere he was yet warm in his house in Scotland. He had prosecuted the offenders "with the breath and blasts of his mouth;" "so that," said this gross time-server, "I may conclude that his majesty hath showed himself God's true lieutenant, and that he is no respecter of persons, but English, Scots, noblemen, fencers (which is but an ignoble trade), are all to him alike in respect of justice. Nay, I may say further, that his majesty hath had in this matter a kind of prophetical spirit, for at what time Carlisle and Gray, and you, my lord, yourself, were fled no man knew whither, to the four winds, the king ever spoke in confident and undertaking manner, that wheresoever the offenders were in Europe, he would produce them to justice."
Mr. Justice Yelverton, though Bacon had altogether taken the wind out of his sails, summed up in the same vein, to prove that James was a Solomon and a prophet, and would show no favouritism to Scotchmen. He held out no hope of a reprieve. "The base and barbarous murder," he said, with ample legal verbiage, "was exceeding strange;—done upon the sudden! done in an instant! done with a pistol! done with your own pistol! under the colour of kindness. As Cain talked with his brother Abel, he rose up and slew him. Your executioners of the murder left the poor miserable man no time to defend himself, scarce any time to breathe out those last words, 'Lord, have mercy upon me!' The ground of the malice that you bore him grew not out of any offence that he ever willingly gave you, but out of the pride and haughtiness of your own self; for that in the false conceit of your own skill you would needs importune him to that action, the sequel whereof did most unhappily breed your blemish—the loss of your eye." The manner of his death would be, no doubt, as he (the prisoner) would think, unbefitting to a man of his honour and blood (a baron of 300 years' antiquity), but was fit enough for such an offender. Lord Sanquhar was then sentenced to be hung till he was dead. The populace, from whom he expected "scorn and disgrace," were full of pity for a man to be cut off, like Shakespeare's Claudio, in his prime, and showed great compassion.
On the 29th of June (St. Peter's Day) Lord Sanquhar was hung before Westminster Hall. On the ladder he confessed the enormity of his sins, but said that till his trial, blinded by the devil, he could not see he had done anything unfitting a man of his rank and quality, who had been trained up in the wars, and had lived the life of a soldier, standing more on points of honour than religion. He then professed that he died a Roman Catholic, and begged all Roman Catholics present to pray for him. He had long, he said, for worldly reasons, neglected the public profession of his faith, and he thought God was angry with him. His religion was a good religion—a saving religion —and if he had been constant to it he was verily persuaded he should never have fallen into that misery. He then prayed for the king, queen, their issue, the State of England and Scotland, and the lords of the Council and Church, after which the wearied executioner threw him from the ladder, suffering him to hang a long time to display the king's justice. The compassion and sympathy of the people present had abated directly they found he was a Roman Catholic. The same morning, very early, Carlisle and Irving were hung on two gibbets in Fleet Street, over against the great gate of the Whitefriars. The page's gibbet was six feet higher than the serving-man's, it being the custom at that time in Scotland that, when a gentleman was hung at the same time with one of meaner quality, the gentleman had the honour of the higher gibbet, feeling much aggrieved if he had not.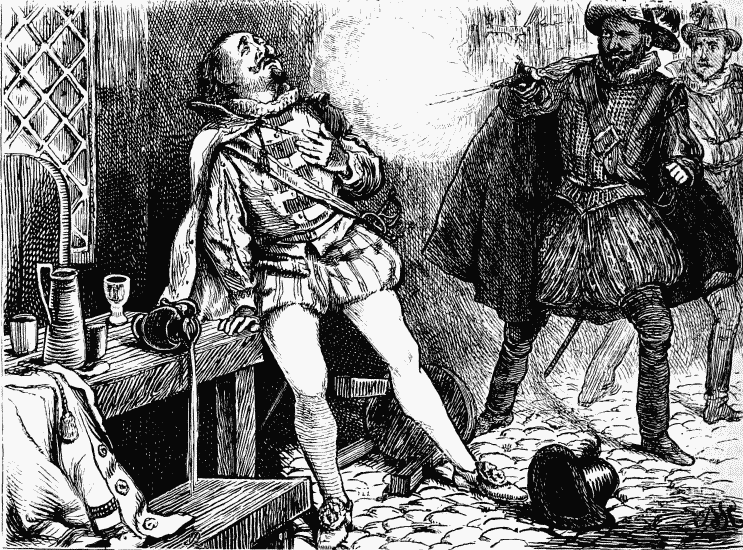 The riotous little kingdom of Whitefriars, with all its frowzy and questionable population, has been admirably drawn by Scott in his fine novel of "The Fortunes of Nigel," recently so pleasantly recalled to our remembrance by Mr. Andrew Halliday's dexterous dramatic adaptation. Sir Walter chooses a den of Alsatia as a sanctuary for young Nigel, after his duel with Dalgarno. At one stroke of Scott's pen, the foggy, crowded streets eastward of the Temple rise before us, and are thronged with shaggy, uncombed ruffians, with greasy shoulderbelts, discoloured scarves, enormous moustaches, and torn hats. With what a Teniers' pencil the great novelist sketches the dingy precincts, with its blackguardly population:—"The wailing of children," says the author of "Nigel," "the scolding of their mothers, the miserable exhibition of ragged linen hung from the windows to dry, spoke the wants and distresses of the wretched inhabitants; while the sounds of complaint were mocked and overwhelmed by the riotous shouts, oaths, profane songs, and boisterous laughter that issued from the alehouses and taverns, which, as the signs indicated, were equal in number to all the other houses; and that the full character of the place might be evident, several faded, tinselled, and painted females looked boldly at the strangers from their open lattices, or more modestly seemed busied with the cracked flower-pots, filled with mignonette and rosemary, which were disposed in front of the windows, to the great risk of the passengers." It is to a dilapidated tavern in the same foul neighbourhood that the gay Templar, it will be remembered, takes Nigel to be sworn in a brother of Whitefriars by drunken and knavish Duke Hildebrod, whom he finds surrounded by his councillors—a bullying Low Country soldier, a broken attorney, and a hedge parson; and it is here also, at the house of old Miser Trapbois, the young Scot so narrowly escapes death at the hands of the poor old wretch's cowardly assassins.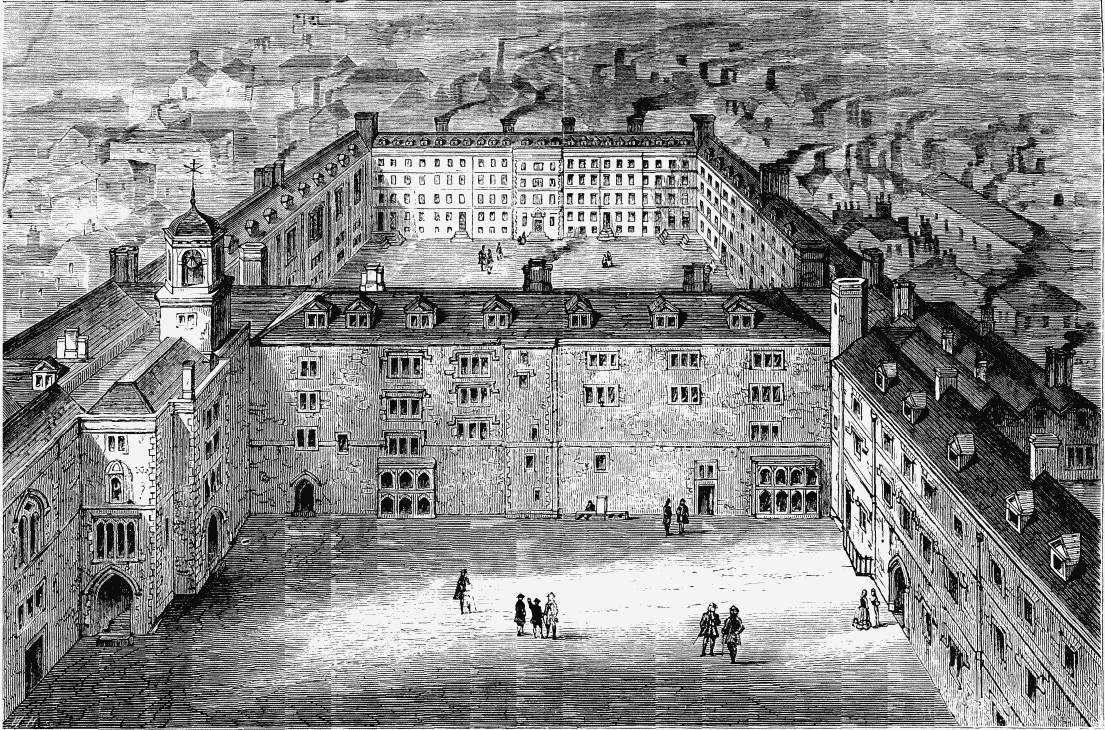 The scoundrels and cheats of Whitefriars are admirably etched by Dryden's rival, Shadwell. That unjustly-treated writer (for he was by no means a fool) has called one of his comedies, in the Ben Jonson manner, The Squire of Alsatia. It paints the manners of the place at the latter end of Charles II.'s reign, when the dregs of an age that was indeed full of dregs were vatted in that disreputable sanctuary east of the Temple. The "copper captains," the degraded clergymen who married anybody, without inquiry, for five shillings, the broken lawyers, skulking bankrupts, sullen homicides, thievish money-lenders, and gaudy courtesans, Dryden's burly rival has painted with a brush full of colour, and with a brightness, clearness, and sharpness which are photographic in their force and truth. In his dedication, which is inscribed to that great patron of poets, the poetical Earl of Dorset, Shadwell dwells on the great success of the piece, the plot of which he had cleverly "adapted" from the Adelphi of Terence. In the prologue, which was spoken by Mountfort, the actor, whom the infamous Lord Mohun stabbed in Norfolk Street, the dramatist ridicules his tormenter Dryden, for his noise and bombast, and with some vigour writes—
"With what prodigious scarcity of wit
Did the new authors starve the hungry pit!
Infected by the French, you must have rhyme,
Which long to please the ladies' ears did chime.
Soon after this came ranting fustian in,
And none but plays upon the fret were seen,
Such daring bombast stuff which fops would praise,
Tore our best actors' lungs, cut short their days.
Some in small time did this distemper kill;
And had the savage authors gone on still,
Fustian had been a new disease i' the bill."
The moral of Shadwell's piece is the danger of severity in parents. An elder son, being bred up under restraint, turns a rakehell in Whitefriars, whilst the younger, who has had his own way, becomes "an ingenious, well-accomplished gentleman, a man of honour in King's Bench Walk, and of excellent disposition and temper," in spite of a good deal more gallantry than our stricter age would pardon. The worst of it is that the worthy son is always being mistaken for the scamp, while the miserable Tony Lumpkin passes for a time as the pink of propriety. Eventually, be falls into the hands of some Alsatian tricksters. The first of these, Cheatley, is a rascal who, "by reason of debts, does not stir out of Whitefriars, but there inveigles young men of fortune, and helps them to goods and money upon great disadvantage, is bound for them, and shares with them till he undoes them." Shadwell tickets him, in his dramatis personæ, as "a lewd, impudent, debauched fellow." According to his own account, the cheat lies perdu, because his unnatural father is looking for him, to send him home into the country. Number two, Shamwell, is a young man of fortune, who, ruined by Cheatley, has turned decoy-duck, and lives on a share of the spoil. His ostensible reason for concealment is that an alderman's young wife had run away with him. The third rascal, Scrapeall, is a low, hypocritical moneylender, who is secretly in partnership with Cheatley. The fourth rascal is Captain Hackman, a bullying coward, whose wife keeps lodgings, sells cherry brandy, and is of more than doubtful virtue. He had formerly been a sergeant in Flanders, but ran from his colours, dubbed himself captain, and sought refuge in the Friars from a paltry debt. This blustering scamp stands much upon his honour, and is alternately drawing his enormous sword and being tweaked by the nose. A lion in the estimation of fools, he boasts over his cups that he has whipped five men through the lungs. He talks a detestable cant language, calling guineas "megs," and half-guineas "smelts." Money, with him is "the ready," "the rhino," "the darby;" a good hat is "a rum nab;" to be well off is to be "rhinocerical." This consummate scoundrel teaches young country Tony Lumpkins to break windows, scour the streets, to thrash the constables, to doctor the dice, and get into all depths of low mischief. Finally, when old Sir William Belfond, the severe old country gentleman, comes to confront his son, during his disgraceful revels at the "George" tavern, in Dogwell Court, Bouverie Street, the four scamps raise a shout of "An arrest! an arrest! A bailiff! a bailiff!" The drawers join in the tumult; the Friars, in a moment, is in an uproar; and eventually the old gentleman is chased by all the scum of Alsatia, shouting at the top of their voices, "Stop! stop! A bailiff! a bailiff!" He has a narrow escape of being pulled to pieces, and emerges in Fleet Street, hot, bespattered, and bruised. It was no joke then to threaten the privileges of Whitefriars.
Presently a horn is blown, there is a cry from Water Lane to Hanging-sword Alley, from Ashen-tree Court to Temple Gardens, of "Tipstaff ! An arrest! an arrest!" and in a moment they are "up in the Friars," with a cry of "Fall on." The skulking debtors scuttle into their burrows, the bullies fling down cup and can, lug out their rusty blades, and rush into the mélée. From every den and crib red-faced, bloated women hurry with fire-forks, spits, cudgels, pokers, and shovels. They're "up in the Friars," with a vengeance. Pouring into the Temple before the Templars can gather, they are about to drag old Sir William under the pump, when the worthy son comes to the rescue, and the Templars, with drawn swords, drive back the rabble, and make the porters shut the gates leading into Alsatia. Cheatley, Shamwell, and Hackman, taken prisoners, are then well drubbed and pumped on by the Templars, and the gallant captain loses half his whiskers. "The terror of his face," he moans, "is gone." "Indeed," says Cheatley, "your magnanimous phiz is somewhat disfigured by it, captain." Cheatley threatened endless actions. Hackman swears his honour is very tender, and that this one affront will cost him at least five murders. As for Shamwell, he is inconsolable. "What reparation are actions ?" he moans, as he shakes his wet hair and rubs his bruised back. "I am a gentleman, and can never show my face amongst my kindred more." When at last they have got free, they all console themselves with cherry brandy from Hackman's shop, after which the "copper captain" observes, somewhat in Falstaff's manner, "A fish has a cursed life on't. I shall have that aversion to water after this, that I shall scarce ever be cleanly enough to wash my face again."
Later in the play there is still another rising in Alsatia, but this time the musketeers come in force, in spite of all privileges, and the scuffle is greater than ever. Some debtors run up and down without coats, others with still more conspicuous deficiencies. Some cry, "Oars! oars! sculler; five pound for a boat; ten pound for a boat; twenty pound for a boat;" many leap from balconies, and make for the water, to escape to the Savoy or the Mint, also sanctuaries of that day. The play ends with a dignified protest, which doubtless proved thoroughly effective with the audience, against the privileges of places that harboured such knots of scoundrels. "Was ever," Shadwell says, "such impudence suffered in a Government? Ireland conquered; Wales subdued; Scotland united. But there are some few spots of ground in London, just in the face of the Government, unconquered yet, that hold in rebellion still. Mèthinks 'tis strange that places so near the king's palace should be no part of his dominions. 'Tis a shame in the society of law to countenance such practices. Should any place be shut against the king's writ or posse comitatus?"
Be sure the pugnacious young Templars present all rose at that, and great was the thundering of red-heeled shoes. King William probably agreed with Shadwell, for at the latter end of his reign the privilege of sanctuary was taken from Whitefriars, and the dogs were at last let in on the rats for whom they had been so long waiting. Two other places of refuge—the Mint and the Savoy—however, escaped a good deal longer; and there the Hackmans and Cheatleys of the day still hid their ugly faces after daylight had been let into Whitefriars and the wild days of Alsatia had ceased for ever.
In earlier times there had been evidently special endeavours to preserve order in Whitefriars, for in the State Paper Office there exist the following rules for the inhabitants of the sanctuary in the reign of Elizabeth:—
"Item. Theise gates shalbe orderly shutt and opened at convenient times, and porters appointed for the same. Also, a scavenger to keep the precincte clean.
"Item. Tipling houses shalbe bound for good order.
"Item. Searches to be made by the constables, with the assistance of the inhabitants, at the commandmente of the justices.
"Item. Rogues and vagabondes and other disturbers of the public peace shall be corrected and punished by the authoretie of the justices.
"Item. A bailife to be appointed for leavienge of such duties and profittes which apperteine unto her Matie; as also for returne of proces for execution of justice.
"Item. Incontinent persons to be presented unto the Ordenary, to be tried, and punished.
"Item. The poore within the precincte shalbe provyded for by the inhabitantes of the same.
"Item. In tyme of plague, good order shalbe taken for the restrainte of the same.
"Item. Lanterne and light to be mainteined duringe winter time."
All traces of its former condition have long since disappeared from Whitefriars, and it is difficult indeed to believe that the dull, uninteresting region that now lies between Fleet Street and the Thames was once the riotous Alsatia of Scott and Shadwell.
And now we come to Bridewell, first a palace, then a prison. The old palace of Bridewell (Bridget's Well) was rebuilt upon the site of the old Tower of Montfiquet (a soldier of the Conqueror's) by Henry VIII., for the reception of Charles V. of France in 1522. There had been a Roman fortification in the same place, and a palace both of the Saxon and Norman kings. Henry I. partly rebuilt the palace; and in 1847 a vault with Norman billet moulding was discovered in excavating the site of a public-house in Bride Lane. It remained neglected till Cardinal Wolsey (circa 1512) came in pomp to live here. Here, in 1525, when Henry's affection for Anne Boleyn was growing, he made her father (Thomas Boleyn, Treasurer of the King's House) Viscount Rochforde. A letter of Wolsey's, June 6, 1513, to the Lord Admiral, is dated from "my poor house at Bridewell;" and from 1515 to 1521 no less than £21,924 was paid in repairs. Another letter from Wolsey, at Bridewell, mentions that the house of the Lord Prior of St. John's Hospital, at Bridewell, had been granted by the king for a record office. The palace must have been detestable enough to the monks, for it was to his palace of Bridewell that Henry VIII. summoned the abbots and other heads of religious societies, and succeeded in squeezing out of them £100,000, the contumacious Cistercians alone yielding up £33,000.
It was at the palace at Bridewell (in 1528) that King Henry VIII. first disclosed the scruples that, after his acquaintance with Anne Boleyn, troubled his sensitive conscience as to his marriage with Katherine of Arragon. "A few days later," says Lingard, condensing the old chronicles, "the king undertook to silence the murmurs of the people, and summoned to his residence in the Bridewell the members of the Council, the lords of his Court, and the mayor, aldermen, and principal citizens. Before them he enumerated the several injuries which he had received from the emperor, and the motives which induced him to seek the alliance of France. Then, taking to himself credit for delicacy of conscience, he described the scruples which had long tormented his mind on account of his marriage with his deceased brother's widow. These he had at first endeavoured to suppress, but they had been revived and confirmed by the alarming declaration of the Bishop of Tarbes in the presence of his Council. To tranquillise his mind he had recourse to the only legitimate remedy: he had consulted the Pontiff, who had appointed two delegates to hear the case, and by their judgment he was determined to abide. He would therefore warn his subjects to be cautious how they ventured to arraign his conduct. The proudest among them should learn that he was their sovereign, and should answer with their heads for the presumption of their tongues." Yet, notwithstanding he made all this parade of conscious superiority, Henry was prudent enough not by any means to refuse the aid of precaution. A rigorous search was made for arms, and all strangers, with the exception only of ten merchants from each nation, were ordered to leave the capital.
At the trial for divorce the poor queen behaved with much womanly dignity. "The judges," says Hall, the chronicler, and after him Stow, "commanded the crier to proclaim silence while their commission was read, both to the court and the people assembled. That done, the scribes commanded the crier to call the king by the name of 'King Henry of England, come into court,' &c. With that the king answered, and said, 'Here.' Then he called the queen, by the name of 'Katherine, Queen of England, come into court,' &c., who made no answer, but rose incontinent out of her chair, and because she could not come to the king directly, for the distance secured between them, she went about, and came to the king, kneeling down at his feet in the sight of all the court and people, to whom she said in effect these words, as followeth: 'Sir,' quoth she, 'I desire you to do me justice and right, and take some pity upon me, for I am a poor woman and a stranger, born out of your dominion, having here so indifferent counsel, and less assurance of friendship. Alas! sir, in what have I offended you ? or what occasion of displeasure have I showed you, intending thus to put me from you after this sort ? I take God to judge, I have been to you a true and humble wife, ever conformable to your will and pleasure; that never contrarised or gainsaid anything thereof; and being always contented with all things wherein you had any delight or dalliance, whether little or much, without grudge or countenance of discontent or displeasure. I loved for your sake all them you loved, whether I had cause or no cause, whether they were my friends or my enemies. I have been your wife these twenty years or more, and you have had by me divers children; and when ye had me at the first, I take God to be judge that I was a very maid; and whether it be true or not, I put it to your conscience. If there be any just cause that you can allege against me, either of dishonesty or matter lawful, to put me from you, I am content to depart, to my shame and rebuke; and if there be none, then I pray you to let me have justice at your hands. The king, your father, was, in his time, of such excellent wit, that he was accounted among all men for wisdom to be a second Solomon; and the King of Spain, my father, Ferdinand, was reckoned one of the wisest princes that reigned in Spain many years before. It is not, therefore, to be doubted but that they had gathered as wise counsellors unto them of every realm as to their wisdom they thought meet; and as to me seemeth, there were in those days as wise and well-learned in both realms as now at this day, who thought the marriage between you and me good and lawful. Therefore it is a wonder to me to hear what new inventions are now invented against me, that never intended but honesty, and now to cause me to stand to the order and judgment of this court. Ye should, as seemeth me, do me much wrong, for ye may condemn me for lack of answer, having no counsel but such as ye have assigned me; ye must consider that they cannot but be indifferent on my part, where they be your own subjects, and such as ye have taken and chosen out of your council, whereunto they be privy, and dare not disclose your will and intent. Therefore, I humbly desire you, in the way of charity, to spare me until I may know what counsel and advice my friends in Spain will advertise me to take; and if you will not, then your pleasure be fulfilled.' With that she rose up, making a low curtsey to the king, and departed from thence, people supposing that she would have resorted again to her former place, but she took her way straight out of the court, leaning upon the arm of one of her servants, who was her receivergeneral, called Master Griffith. The king, being advertised that she was ready to go out of the house where the court was kept, commanded the crier to call her again by these words, 'Katherine, Queen of England,' &c. With that, quoth Master Griffith, 'Madam, ye be called again.' 'Oh! oh !' quoth she, 'it maketh no matter; it is no indifferent (impartial) court for me, therefore I will not tarry: go on your ways.' And thus she departed without any further answer at that time, or any other, and never would appear after in any court."
Bridewell was endowed with the revenues of the Savoy. In 1555 the City companies were taxed for fitting it up; and the next year Machyn records that a thief was hung in one of the courts, and, later on, a riotous attempt was made to rescue prisoners.
In 1863 Mr. Lemon discovered in the State Paper Office some interesting documents relative to the imprisonment in Bridewell, in 1567 (Elizabeth), of many members of the first Congregational Church. Bishop Grindal, writing to Bullinger, in 1568 describes this schism, and estimates its adherents at about 200, but more women than men. Grindal says they held meetings and administered the sacrament in private houses, fields, and even in ships, and ordained ministers, elders, and deacons, after their own manner. The Lord Mayor, in pity, urged them to recant, but they remained firm. Several of these sufferers for conscience' sake died in prison, including Richard Fitz, their minister, and Thomas Rowland, a deacon. In the year 1597, within two months, 5,468 prisoners, including many Spaniards, were sent to Bridewell.
The Bridewell soon proved costly and inconvenient to the citizens, by attracting idle, abandoned, and "masterless" people. In 1608 (James I.) the City erected at Bridewell twelve large granaries and two coal-stores; and in 1620 the old chapel was enlarged. In the Great Fire (six years after the Restoration) the buildings were nearly all destroyed, and the old castellated river-side mansion of Elizabeth's time was rebuilt in two quadrangles, the chief of which fronted the Fleet river (now a sewer under the centre of Bridge Street). We have already given on page 12 a view of Bridewell as it appeared previous to the Great Fire; and the general bird's-eye view given on page 187 in the present number shows its appearance after it was rebuilt. Within the present century, Mr. Timbs says, the committee-rooms, chapel, and prisons were rebuilt, and the whole formed a large quadrangle, with an entrance from Bridge Street, the keystone of the arch being sculptured with the head of Edward VI. Bridewell stone bridge over the Fleet was painted by Hayman, Hogarth's friend, and engraved by Grignon, as the frontispiece to the third volume of "The Dunciad." In the burial-ground at Bridewell, now the coal-yard of the City Gas Company, was buried, in 1752, Dr. Johnson's friend and protégé, poor blameless Levett. The last interment took place here, Mr. Noble says, in 1844, and the trees and tombstones were then carted away. The gateway into Bridge Street is still standing, and such portions of the building as still remain are used for the house and offices of the treasury of the Bridewell Hospital property, which includes Bedlam.
The flogging at Bridewell is described by Ward, in his "London Spy." Both men and women, it appears, were whipped on their naked backs before the court of governors. The president sat with his hammer in his hand, and the culprit was taken from the post when the hammer fell. The calls to knock when women were flogged were loud and incessant. "Oh, good Sir Robert, knock! Pray, good Sir Robert, knock!" which became at length a common cry of reproach among the lower orders, to denote that a woman had been whipped in Bridewell. Madame Creswell, the celebrated procuress of King Charles II.'s reign, died a prisoner in Bridewell. She desired by will to have a sermon preached at her funeral, for which the preacher was to have £10, but upon this express condition, that he was to say nothing but what was well of her. A preacher was with some difficulty found who undertook the task. He, after a sermon preached on the general subject of mortality, concluded with saying, "By the will of the deceased, it is expected that I should mention her, and say nothing but what was well of her. All that I shall say of her, therefore, is this: She was born well, she lived well, and she died well; for she was born with the name of Creswell, she lived in Clerkenwell, and she died in Bridewell." (Cunningham.)
In 1708 (Queen Anne) Hatton describes Bridewell "as a house of correction for idle, vagrant, loose, and disorderly persons, and 'night walkers,' who are there set to hard labour, but receive clothes and diet." It was also a hospital for indigent persons. Twenty art-masters (decayed traders) were also lodged, and received about 140 apprentices. The boys, after learning tailoring, weaving, flax-dressing, &c., received the freedom of the City, and donations of £10 each. Many of these boys, says Hatton, "arrived from nothing to be governors." They wore a blue dress and white hats, and attended fires, with an engine belonging to the hospital. The lads at last became so turbulent, that in 1785 their special costume was abandoned. "Job's Pound" was the old cant name for Bridewell, and it is so called in "Hudibras."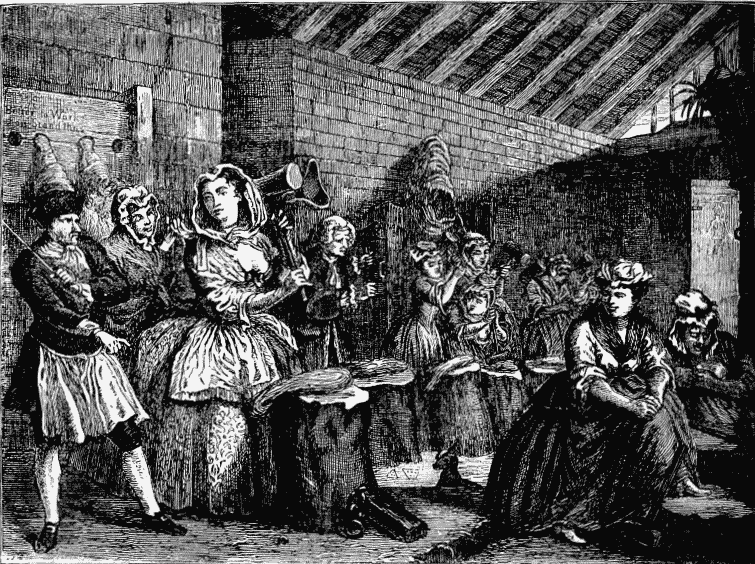 The scene of the fourth plate of Hogarth's "Harlot's Progress," finished in 1733 (George II.), is laid in Bridewell. There, in a long, dilapidated, tiled shed, a row of female prisoners are beating hemp on wooden blocks, while a truculent-looking warder, with an apron on, is raising his rattan to strike a poor girl not without some remains of her youthful beauty, who seems hardly able to lift the heavy mallet, while the wretches around leeringly deride her fine apron, laced hood, and figured gown. There are two degraded men among the female hemp-beaters—one an old card-sharper in laced coat and foppish wig; another who stands with his hands in a pillory, on which is inscribed the admonitory legend, "Better to work than stand thus." A cocked hat and a dilapidated hoop hang on the wall.
That excellent man, Howard, visiting Bridewell in 1783, gives it a bad name, in his book on "Prisons." He describes the rooms as offensive, and the prisoners only receiving a penny loaf a day each. The steward received eightpence a day for each prisoner, and a hemp-dresser, paid a salary of £20, had the profit of the culprits' labour. For bedding the prisoners had fresh straw given them once a month. It was the only London prison where either straw or bedding was allowed. No out-door exercise was permitted. In the year 1782 there had been confined in Bridewell 659 prisoners.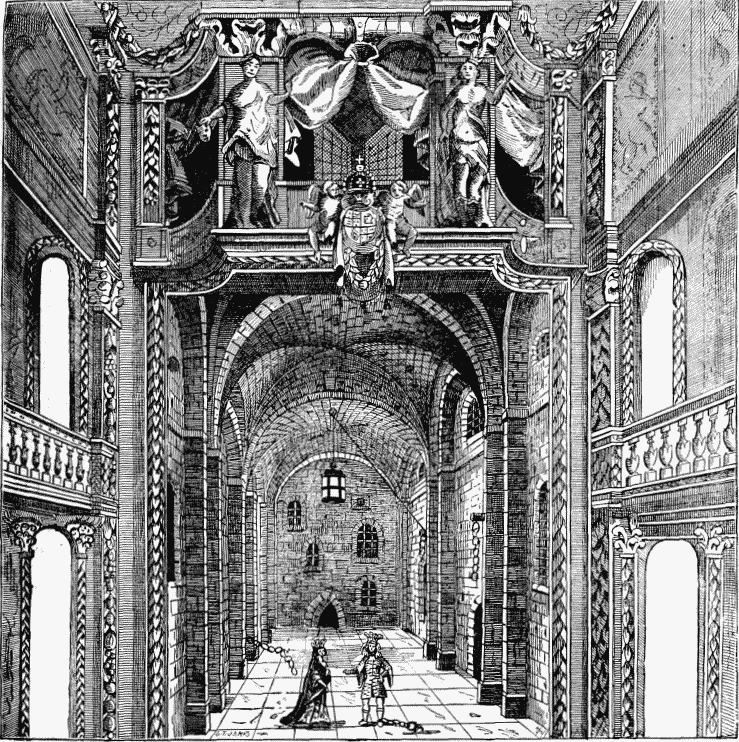 In 1790, Pennant describes Bridewell as still having arches and octagonal towers of the old palace remaining, and a magnificent flight of ancient stairs leading to the court of justice. In the next room, where the whipping-stocks were, tradition says sentence of divorce was pronounced against Katherine of Arragon.
"The first time," says Pennant, "I visited the place, there was not a single male prisoner, but about twenty females. They were confined on a ground floor, and employed on the beating of hemp. When the door was opened by the keeper, they ran towards it like so many hounds in kennel, and presented a most moving sight. About twenty young creatures, the eldest not exceeding sixteen, many of them with angelic faces divested of every angelic expression, featured with impudence, impenitency, and profligacy, and clothed in the silken tatters of squalid finery. A magisterial—a national—opprobrium! What a disadvantageous contrast to the Spinhaus, in Amsterdam, where the confined sit under the eye of a matron, spinning or sewing, in plain and neat dresses provided by the public! No traces of their former lives appear in their countenances; a thorough reformation seems to have been effected, equally to the emolument and the honour of the republic. This is also the place of confinement for disobedient and idle apprentices. They are kept separate, in airy cells, and have an allotted task to be performed in a certain time. They, the men and women, are employed in beating hemp, picking oakum, and packing of goods, and are said to earn their maintenance."
A writer in "Knight's London" (1843) gives a very bad account of Bridewell. "Bridewell, another place of confinement in the City of London, is under the jurisdiction of the governors of Bridewell and Bethlehem Hospitals, but it is supported out of the funds of the hospital. The entrance is in Bridge Street, Blackfriars. The prisoners confined here are persons summarily convicted by the Lord Mayor and aldermen, and are, for the most part, petty pilferers, misdemeanants, vagrants, and refractory apprentices, sentenced to solitary confinement; which term need not terrify the said refractory offenders, for the persons condemned to solitude," says the writer, "can with ease keep up a conversation with each other from morning to night. The total number of persons confined here in 1842 was 1,324, of whom 233 were under seventeen, and 466 were known or reputed thieves. In 1818 no employment was furnished to the prisoners. The men sauntered about from hour to hour in those chambers where the worn blocks still stood and exhibited the marks of the toil of those who are represented in Hogarth's prints.
"The treadmill has been now introduced, and more than five-sixths of the prisoners are sentenced to hard labour, the 'mill' being employed in grinding corn for Bridewell, Bethlehem, and the House of Occupation. The 'Seventh Report of the Inspectors of Prisons on the City Bridewell' is as follows:—'The establishment answers no one object of imprisonment except that of safe custody. It does not correct, deter, nor reform; but we are convinced that the association to which all but the City apprentices are subjected proves highly injurious, counteracts any efforts that can be made for the moral and religious improvement of the prisoners, corrupts the less criminal, and confirms the degradation of the more hardened offenders. The cells in the old part of the prison are greatly superior to those in the adjoining building, which is of comparatively recent erection, but the whole of the arrangements are exceedingly defective. It is quite lamentable to see such an injudicious and unprofitable expenditure as that which was incurred in the erection of this part of the prison.'"
Latterly Bridewell was used as a receptacle for vagrants, and as a temporary lodging for paupers on their way to their respective parishes. The prisoners sentenced to hard labour were put on a treadmill which ground corn. The other prisoners picked junk. The women cleaned the prison, picked junk, and mended the linen. In 1829 there was built adjoining Bedlam a House of Occupation for young prisoners. It was decided that from the revenue of the Bridewell hospital (£12,000) reformatory schools were to be built. The annual number of contumacious apprentices sent to Bridewell rarely exceeded twenty-five, and when Mr. Timbs visited the prison in 1863 he says he found only one lad out of the three thousand apprentices of the great City. In 1868 (says Mr. Noble) the governors refused to receive a convicted apprentice, for the very excellent reason that there was no cell to receive him.
The old court-room of Bridewell (84 by 29) was a handsome wainscoted room, adorned with a great picture, erroneously attributed to Holbein, and representing Edward VI. granting the Royal Charter of Endowment to the Mayor, which now hangs over the western gallery of the hall of Christ's Hospital. It was engraved by Vertue in 1750, and represents an event which happened ten years after the death of the supposed artist. Beneath this was a cartoon of the Good Samaritan, by Dadd, the young artist of promise who went mad and murdered his father, and who is now confined for life in Broadmoor. The picture is now at Bedlam. There was a fine full-length of swarthy Charles II., by Lely, and full-lengths of George III. and Queen Charlotte, after Reynolds. There were also murky portraits of past presidents, including an equestrian portrait of Sir William Withers (1708). Tables of benefactions also adorned the walls. In this hall the governors of Bridewell dined annually, each steward contributing £15 towards the expenses, the dinner being dressed in a large kitchen below, only used for that purpose. The hall and kitchen were taken down in 1862.
In the entrance corridor from Bridge Street (says Mr. Timbs) are the old chapel gates, of fine ironwork, originally presented by the equestrian Sir William Withers, and on the staircase is a bust of the venerable Chamberlain Clarke, who died in his ninety-third year.
The Bridewell prison (whose inmates were sent to Holloway) was pulled down (except the hall, treasurer's house, and offices) in 1863.
Bridewell Dock (now Tudor and William Streets and Chatham Place) was long noted for its taverns, and was a favourite landing-place for the Thames watermen. (Noble.)
The gas-works of Whitefriars are of great size. In 1807 Mr. Winsor, a German, first lit a part of London (Pall Mall) with gas, and in 1809 he applied for a charter. Yet, even as late as 1813, says Mr. Noble, the inquest-men of St. Dunstan's, full of the vulgar prejudice of the day, prosecuted William Sturt, of 183, Fleet Street, for continuing for three months past "the making of gaslight, and making and causing to be made divers large fires of coal and other things," by reason whereof and "divers noisome and offensive stinks and smells and vapours he causes the houses and dwellings near to be unhealthy, for which said nuisance one William Knight, the occupier, was indicted at the sessions." The early users of coffee at the "Rainbow," as we have seen in a previous chapter, underwent the same persecution. Yet Knight went on boldly committing his harmless misdemeanour, and even so far, in the next year (1814), as to start a company and build gas-works on the river's bank at Whitefriars. Gas spoke for itself, and its brilliancy could not be gainsaid. Times have changed. There are now thirteen London companies, producing a rental of a million and a half, using in their manufacture 882,770 tons of coal, and employing a capital of more than five and a half millions. Luckily for the beauty of the Embankment, these gas-works at Whitefriars, with their vast black reservoirs and all their smoke and fire, are about to be removed to Barking, seven miles from London.
The first theatre in Whitefriars seems to have been one built in the hall of the old Whitefriars Monastery. Mr. Collier gives the duration of this theatre as from 1586 to 1613. A memorandum from the manuscript-book of Sir Henry Herbert, Master of the Revels to King Charles I., notes that "I committed Cromes, a broker in Long Lane, the 16th of February, 1634, to the Marshalsey, for lending a Church robe, with the name of Jesus upon it, to the players in Salisbury Court, to represent a flamen, a priest of the heathens. Upon his petition of submission and acknowledgment of his fault, I released him the 17th February, 1634." From entries of the Wardmote Inquests of St. Dunstan's, quoted by Mr. Noble, it appears that the Whitefriars Theatre (erected originally in the precincts of the monastery, to be out of the jurisdiction of the mayor) seems to have become disreputable in 1609, and ruinous in 1619, when it is mentioned that "the rain hath made its way in, and if it be not repaired it must soon be plucked down, or it will fall." The Salisbury Court Theatre, that took its place, was erected about 1629, and the Earl of Dorset somewhat illegally let it for a term of sixty-one years and £950 down, Dorset House being afterwards sold for £4,000. The theatre was destroyed by the Puritan soldiers in 1649, and not rebuilt till the Restoration.
At the outbreak of pleasure and vice, after the Restoration, the actors, long starved and crestfallen, brushed up their plumes and burnished their tinsel. Killigrew, that clever buffoon of the Court, opened a new theatre in Drury Lane in 1663, with a play of Beaumont and Fletcher's; and Davenant (supposed to be Shakespeare's illegitimate son) opened the little theatre, long disused, in Salisbury Court, the rebuilding of which was commenced in 1660, on the site of the granary of Salisbury House. In time Davenant migrated to the old Tennis Court, in Portugal Street, on the south side of Lincoln's Inn Fields, and when the Great Fire came it erased the Granary Theatre. In 1671, on Davenant's death, the company (nominally managed by his widow) returned to the new theatre in Salisbury Court, designed by Wren, and decorated, it is said, by Grinling Gibbons. It opened with Dryden's Sir Martin Marall, which had already had a run, having been first played in 1668. On Killigrew's death, the King's and Duke's Servants united, and removed to Drury Lane in 1682; so that the Dorset Gardens Theatre only flourished for eleven years in all. It was subsequently let to wrestlers, fencers, and other brawny and wiry performers. The engraving on page 193, taken from Settle's "Empress of Morocco" (1678), represents the stage of the theatre in Lincoln's Inn Fields. Wren's new theatre in Dorset Gardens, an engraving of which is given on page 138, fronted the river, and had public stairs for the convenience of those who came by water. There was also an open place before the theatre for the coaches of the "quality." In 1698 it was used for the drawing of a penny lottery, but in 1703, when it threatened to re-open, Queen Anne finally closed it. It was standing in 1720 (George I.), when Strype drew up the continuation of Stow, but it was shortly after turned into a timber-yard. The New River Company next had their offices there, and in 1814 water was ousted by fire, and the City Gas Works were established in this quarter, with a dismal front to the bright and pleasant Embankment.
Pepys, the indefatigable, was a frequent visitor to the Whitefriars Theatre. A few of his quaint remarks will not be uninteresting:—
"1660.—By water to Salsbury Court Playhouse, where, not liking to sit, we went out again, and by coach to the theatre, &c.—To the playhouse, and there saw The Changeling, the first time it hath been acted these twenty years, and it takes exceedingly. Besides, I see the gallants do begin to be tyred with the vanity and pride of the theatre actors, who are indeed grown very proud and rich.
"1661.—To White-fryars, and saw The Bondman acted; an excellent play, and well done; but above all that I ever saw, Betterton do the Bondman the best.
"1661.—After dinner I went to the theatre, where I found so few people (which is strange, and the reason I do not know) that I went out again, and so to Salisbury Court, where the house as full as could be; and it seems it was a new play, The Queen's Maske, wherein there are some good humours; among others, a good jeer to the old story of the siege of Troy, making it to be a common country tale. But above all it was strange to see so little a boy as that was to act Cupid, which is one of the greatest parts in it.
"Creed and I to Salisbury Court, and there saw Love's Quarrell acted the first time, but I do not like the design or words. . . . . To Salsbury Court Playhouse, where was acted the first time a simple play, and ill acted, only it was my fortune to sit by a most pretty and most ingenuous lady, which pleased me much."
Dryden, in his prologues, makes frequent mention of the Dorset Gardens Theatre, more especially in the address on the opening of the new Drury Lane, March, 1674. The Whitefriars house, under Davenant, had been the first to introduce regular scenery, and it prided itself on stage pomp and show. The year before, in Shadwell's opera of The Tempest, or the Enchanted Island, the machinery was very costly, and one scene, in which the spirits flew away with the wicked duke's table and viands just as the company was sitting down, had excited the town to enthusiasm. Psyche, another opera by Shadwell, perhaps adapted from Molière's Court spectacle, had succeeded the Tempest. St. André and his French dancers were probably engaged in Shadwell's piece. The king, whose taste and good sense the poet praises, had recommended simplicity of dress and frugality of ornament. This Dryden took care to well remember. He says:—
"You who each day can theatres behold,
Like Nero's palace, shining all in gold,
Our mean, ungilded stage will scorn, we fear,
And for the homely room disdain the cheer."
Then he brings in the dictum of the king:—
"Yet if some pride with want may be allowed,
We in our plainness may be justly proud:
Our royal master willed it should be so;
Whate'er he's pleased to own can need no show,
That sacred name gives ornament and grace,
And, like his stamp, makes basest metal pass.
'Twere folly now a stately pile to raise,
To build a playhouse, while you throw down plays.
While scenes, machines, and empty operas reign,
And for the pencil you the pen disdain:
While troops of famished Frenchmen hither drive,
And laugh at those upon whose alms they live,
Old English authors vanish, and give place
To these new conquerors of the Norman race."
And when, in 1671, the burnt-out Drury Lane company had removed to the Portugal Street Theatre, Dryden had said, in the same strain,—
"So we expect the lovers, braves, and wits;
The gaudy house with scenes will serve for cits."
In another epilogue Dryden alludes sarcastically to the death of Mr. Scroop, a young rake of fortune, who had just been run through by Sir Thomas Armstrong, a sworn friend of the Duke of Monmouth, in a quarrel at the Dorset Gardens Theatre, and died soon after. This fatal affray took place during the representation of Davenant's adaptation of Macbeth.
From Dryden's various prologues and epilogues we cull many sharply-outlined and brightcoloured pictures of the wild and riotous audiences of those evil days. We see again the "hot Burgundians" in the upper boxes wooing the masked beauties, crying "bon" to the French dancers and beating cadence to the music that had stirred even the stately Court of Versailles. Again we see the scornful critics, bunched with glistening ribbons, shaking back their cascades of blonde hair, lolling contemptuously on the foremost benches, and "looking big through their curls." There from "Fop's Corner" rises the tipsy laugh, the prattle, and the chatter, as the dukes and lords, the wits and courtiers, practise what Dryden calls "the diving bow," or "the toss and the new French wallow"—the diving bow being especially admired, because it—
"With a shog casts all the hair before,
Till he, with full decorum, brings it back,
And rises with a water-spaniel's shake."
Nor does the poet fail to recall the affrays in the upper boxes, when some quarrelsome rake was often pinned to the wainscoat by the sword of his insulted rival. Below, at the door, the Flemish horses and the heavy gilded coach, lighted by flambeaux, are waiting for the noisy gallant, and will take back only his corpse.
Of Dryden's coldly licentious comedies and ranting bombastic tragedies a few only seem to have been produced at the Dorset Gardens Theatre. Among these we may mention Limberham, Œdipus, Troilus and Cressida, and The Spanish Friar. Limberham was acted at the Duke's Theatre, in Dorset Gardens; because, being a satire upon a Court vice, it was deemed peculiarly calculated for that playhouse. The concourse of the citizens thither is alluded to in the prologue to Marriage à la Mode. Ravenscroft, also, in his epilogue to the play of Citizen Turned Gentleman, which was acted at the same theatre, takes occasion to disown the patronage of the more dissolute courtiers, in all probability because they formed the minor part of his audience. The citizens were his great patrons.
In the Postman, December 8, 1679, there is the following notice, quoted by Smith:—"At the request of several persons of quality, on Saturday next, being the 9th instant, at the theatre in Dorset Gardens, the famous Kentish men, Wm. and Rich. Joy, design to show to the town before they leave it the same tryals of strength, both of them, that Wm. had the honour of showing before his majesty and their royal highnesses, with several other persons of quality, for which he received a considerable gratuity. The lifting a weight of two thousand two hundred and forty pounds. His holding an extraordinary large cart-horse; and breaking a rope which will bear three thousand five hundred weight. Beginning exactly at two, and ending at four. The boxes, 4s.; the pit, 2s. 6d.; first gallery, 2s.; upper gallery, Is. Whereas several scandalous persons have given out that they can do as much as any of the brothers, we do offer to such persons £100 reward, if he can perform the said matters of strength as they do, provided the pretender will forfeit £20 if he doth not. The day it is performed will be affixed a signal-flag on the theatre. No money to be returned after once paid."
In 1681 Dr. Davenant seems, by rather unfair tactics, to have bought off and pensioned both Hart and Kynaston from the King's Company, and so to have greatly weakened his rivals. Of these two actors some short notice may not be uninteresting. Hart had been a Cavalier captain during the Civil Wars, and was a pupil of Robinson, the actor, who was shot down at the taking of Basing House. Hart was a tragedian who excelled in parts that required a certain heroic and chivalrous dignity. As a youth, before the Restoration, when boys played female parts, Hart was successful as the Duchess, in Shirley's Cardinal. In Charles's time he played Othello, by the king's command, and rivalled Betterton's Hamlet at the other house. He created the part of Alexander, was excellent as Brutus, and terribly and vigorously wicked as Ben Jonson's Cataline. Rymer, says Dr. Doran, styled Hart and Mohun the Æsopus and Roscius of their time. As Amintor and Melanthus, in The Maid's Tragedy, they were incomparable. Pepys is loud too in his praises of Hart. His salary, was, however, at the most, £3 a week, though he realised £1,000 yearly after he became a shareholder of the theatre. Hart died in 1683, within a year of his being bought off.
Kynaston, in his way, was also a celebrity. As a handsome boy he had been renowned for playing heroines, and he afterwards acquired celebrity by his dignified impersonation of kings and tyrants. Betterton, the greatest of all the Charles II. actors, also played occasionally at Dorset Gardens. Pope knew him; Dryden was his friend; Kneller painted him. He was probably the greatest Hamlet that ever appeared; and Cibber sums up all eulogy of him when he says, "I never heard a line in tragedy come from Betterton wherein my judgment my ear, and my imagination were not fully satisfied, which since his time I cannot equally say of any one actor whatsoever." The enchantment of his voice was such, adds the same excellent dramatic critic, that the multitude no more cared for sense in the words he spoke, "than our musical connoiseurs think it essential in the celebrated airs of an Italian opera."
Even when Whitefriars was at its grandest, and plumes moved about its narrow river-side streets, Dorset House was its central and most stately mansion. It was originally a mansion with gardens, belonging to a Bishop of Winchester; but about the year 1217 (Henry III.) a lease was granted by William, Abbot of Westminster, to Richard, Bishop of Sarum, at the yearly rent of twenty shillings, the Abbot retaining the advowson of St. Bride's Church, and promising to impart to the said bishop any needful ecclesiastical advice. It afterwards fell into the hands of the Sackvilles, held at first by a long lease from the see, but was eventually alienated by the good Bishop Jewel. A grant in 1611 (James I.) confirmed the manor of Salisbury Court to Richard, Earl of Dorset.
The Earl of Dorset, to whom Bishop Jewel alienated the Whitefriars House, was the father of the poet, Thomas Sackville, Lord High Treasurer to Queen Elizabeth. The bishop received in exchange for the famous old house a piece of land near Cricklade, in Wiltshire. The poet earl was that wise old statesman who began "The Mirror for Magistrates," an allegorical poem of gloomy power, in which the poet intended to make all the great statesmen of England since the Conquest pass one by one to tell their troublous stories. He, however, only lived to write one legend—that of Henry Stafford, Duke of Bucking ham. One of his finest and most Holbeinesque passages relates to old age:—
"And next in order sad, Old Age we found;
His beard all hoar, his eyes hollow and blind;
With drooping cheer still poring on the ground,
As on the place where Nature him assigned
To rest, when that the sisters had untwined
His vital thread, and ended with their knife
The fleeting course of fast declining life.
Crooked-back'd he was, tooth-shaken, and blear-eyed,
Went on three feet, and sometimes crept on four,
With old lame bones, that rattled by his side;
His scalp all pil'd, and he with eld forelore,
His wither'd fist still knocking at death's door;
Fumbling and drivelling, as he draws his breath;
For brief, the shape and messenger of death."
At the Restoration, the Marquis of Newcastle, —the author of a magnificent book on horsemanship—and his pedantic wife, whom Scott has sketched so well in "Peveril of the Peak," inhabited a part of Dorset House; but whether Great Dorset House or Little Dorset House, topographers do not record. "Great Dorset House," says Mr. Peter Cunningham, quoting Lady Anne Clifford's "Memoirs," "was the jointure house of Cicely Baker, Dowager Countess of Dorset, who died in it in 1615 (James I.)."