Pages 416-424
Old and New London: Volume 1. Originally published by Cassell, Petter & Galpin, London, 1878.
This free content was digitised by double rekeying. Public Domain.
CHAPTER XXXVI.
THE POULTRY.
The Early Home of the London Poulterers—Its Mysterious Desertion—Noteworthy Sites in the Poultry—The Birthplace of Tom Hood, Senior— A Pretty Quarrel at the Rose Tavern—A Costly Sign-board—The Three Cranes—The Home of the Dillys—Johnsoniana—St. Mildred's Church, Poultry—Quaint Epitaphs—The Poultry Compter—Attack on Dr. Lamb, the Conjurer—Dekker, the Dramatist—Ned Ward's Description of the Compter—Granville Sharp and the Slave Trade—Important Decision in favour of the Slave—Boyse—Dunton.
The busy street extending between Cheapside and Cornhill is described by Stow (Queen Elizabeth) as the special quarter, almost up to his time, of the London poulterers, who sent their fowls and feathered game to be prepared in Scalding Alley (anciently called Scalding House, or Scalding Wike). The pluckers and scorchers of the feathered fowl occupied the shops between the Stocks' Market (now the Mansion House) and the Great Conduit. Just before Stow's time the poulterers seem to have taken wing in a unanimous covey, and settled down, for reasons now unknown to us, and not very material to any one, in Gracious (Gracechurch) Street, and the end of St. Nicholas flesh shambles (now Newgate Market). Poultry was not worth its weight in silver then.
The chief points of interest in the street (past and present) are the Compter Prison, Grocers' Hall, Old Jewry, and several shops with memorable associations. Lubbock's Banking House, for instance, is leased of the Goldsmiths' Company, being part of Sir Martin Bowes' bequest to the Company in Elizabeth's time. Sir Martin Bowes we have already mentioned in our chapter on the Goldsmiths' Company.
The name of one of our greatest English wits is indissolubly connected with the neighbourhood of the Poultry. It falls like a cracker, with merry bang and sparkle, among the graver histories with which this great street is associated. Tom Hood was the son of a Scotch bookseller in the Poultry. The firm was "Vernor and Hood." "Mr. Hood," says Mrs. Broderip, "was one of the 'Associated Booksellers,' who selected valuable old books for reprinting, with great success. Messrs. Vernor and Hood, when they moved to 31, Poultry, took into partnership Mr. C. Sharpe. The firm of Messrs. Vernor and Hood published 'The Beauties of England and Wales,' 'The Mirror,' Bloomfield's poems, and those of Henry Kirke White." At this house in the Poultry, as far as we can trace, in the year 1799, was born his second son, Thomas. After the sudden death of the father, the widow and her children were left rather slenderly provided for. "My father, the only remaining son, preferred the drudgery of an engraver's desk to encroaching upon the small family store. He was articled to his uncle, Mr. Sands, and subsequently was transferred to one of the Le Keux. He was a most devoted and excellent son to his mother, and the last days of her widowhood and decline were soothed by his tender care and affection. An opening that offered more congenial employment presented itself at last, when he was about the age of twenty-one. By the death of Mr. John Scott, the editor of the 'London Magazine,' who was killed in a duel, that periodical passed into other hands, and became the property of my father's friends, Messrs. Taylor and Hessey. The new proprietors soon sent for him, and he became a sort of sub-editor to the magazine." Of this period of his life he says himself:—
"Time was when I sat upon a lofty stool,
At lofty desk, and with a clerkly pen,
Began each morning, at the stroke of ten,
To write to Bell and Co.'s commercial school,
In Warneford Court, a shady nook and cool,
The favourite retreat of merchant men.
Yet would my quill turn vagrant, even then,
And take stray dips in the Castalian pool;
Now double entry—now a flowery trope—
Mingling poetic honey with trade wax;
Blogg Brothers—Milton—Grote and Prescott—Pope,
Bristles and Hogg—Glynn, Mills, and Halifax—
Rogers and Towgood—hemp—the Bard of Hope—
Barilla—Byron—tallow—Burns and flax."
The "King's Head" Tavern (No. 25) was kept at the Restoration by William King, a staunch cavalier. It is said that the landlord's wife happened to be on the point of labour on the day of the king's entry into London. She was extremely anxious to see the returning monarch, and the king, being told of her inclination, drew up at the door of the tavern in his good-natured way, and saluted her.
The King's Head Tavern, which stood at the western extremity of the Stocks' Market, was not at first known by the sign of the "King's Head," but the "Rose." Machin, in his diary, Jan. 5, 1560, thus mentions it:—"A gentleman arrested for debt: Master Cobham, with divers gentlemen and serving men, took him from the officers, and carried him to the Rose Tavern, where so great a fray, both the sheriffs were fain to come, and from the Rose Tavern took all the gentlemen and their servants, and carried them to the Compter." The house was distinguished by the device of a large, well-painted rose, erected over a doorway, which was the only indication in the street of such an establishment. Ned Ward, that coarse observer, in the "London Spy," 1709, describes the "Rose," anciently the "Rose and Crown," as famous for good wine. "There was no parting," he says, "without a glass; so we went into the Rose Tavern in the Poultry, where the wine, according to its merit, had justly gained a reputation; and there, in a snug room, warmed with brush and faggot, over a quart of good claret, we laughed over our night's adventure. The tavern door was flanked by two columns twisted with vines carved in wood, which supported a small square gallery over the portico, surrounded by handsome ironwork. On the front of this gallery was erected the sign. It consisted of a central compartment containing the Rose, behind which the artist had introduced a tall silver cup, called "a standing bowl," with drinking glasses. Beneath the painting was this inscription:—
"This is
The Rose Tavern,
Kept by
William King,
Citizen and Vintner.
This Taverne's like its sign—a lustie Rose,
A sight of joy that sweetness doth enclose;
The daintie Flow're well pictur'd here is seene,
But for its rarest sweets—come, searche within!"
About the time that King altered his sign we find the authorities of St. Peter-upon-Cornhill determining "That the King's Arms, in painted glass, should be refreshed, and forthwith be set up (in one of their church windows) by the churchwarden at the parish charges; with whatsoever he giveth to the glazier as a gratuity."
The sign appears to have been a costly work, since there was the fragment of a leaf of an old accountbook found when the ruins of the house were cleared after the Great Fire, on which were written these entries:—"Pd. to Hoggestreete, the Duche paynter, for ye picture of a Rose, wth a Standingbowle and glasses, for a signe, xx li., besides diners and drinkings; also for a large table of walnut-tree, for a frame, and for iron-worke and hanging the picture, vli." The artist who is referred to in this memorandum could be no other than Samuel Van Hoogstraten, a painter of the middle of the seventeenth century, whose works in England are very rare. He was one of the many excellent artists of the period, who, as Walpole contemptuously says, "painted still life, oranges and lemons, plate, damask curtains, cloth of gold, and that medley of familiar objects that strike the ignorant vulgar." At a subsequent date the landlord wrote under the sign—
"Gallants, rejoice! This flow're is now full-blowne!
'Tis a Rose-Noble better'd by a crowne;
All you who love the emblem and the signe,
Enter, and prove our loyaltie and wine."
The tavern was rebuilt after the Great Fire, and flourished many years. It was long a depôt in the metropolis for turtle; and in the quadrangle of the tavern might be seen scores of turtle, large and lively, in huge tanks of water; or laid upward on the stone floor, ready for their destination. The tavern was also noted for large dinners of the City Companies and other public bodies. The house was refitted in 1852, but has since been pulled down. (Timbs.)
Another noted Poultry Tavern was the "Three Cranes," destroyed in the Great Fire, but rebuilt and noticed in 1698, in one of the many paper controversies of that day. A fulminating pamphlet, entitled "Ecclesia et Factio: a Dialogue between Bow Church Steeple and the Exchange Grasshopper," elicited "An Answer to the Dragon and Grasshopper; in a Dialogue between an Old Monkey and a Young Weasel, at the Three Cranes Tavern, in the Poultry."
No. 22 was the house of Johnson's friends, Edward and Charles Dilly, the booksellers. Here, in the year 1773, Boswell and Johnson dined with the Dillys, Goldsmith, Langton, and the Rev. Mr. Toplady. The conversation was of excellent quality, and Boswell devotes many pages to it. They discussed the emigration and nidification of birds, on which subjects Goldsmith seems to have been deeply interested; the bread-fruit of Otaheite, which Johnson, who had never tasted it, considered surpassed by a slice of the loaf before him; toleration, and the early martyrs. On this last subject, Dr. Mayo, "the literary anvil," as he was called, because he bore Johnson's hardest blows without flinching, held out boldly for unlimited toleration; Johnson for Baxter's principle of only "tolerating all things that are tolerable," which is no toleration at all. Goldsmith, unable to get a word in, and overpowered by the voice of the great Polyphemus, grew at last vexed, and said petulantly to Johnson, who he thought had interrupted poor Toplady, "Sir, the gentleman has heard you patiently for an hour; pray allow us now to hear him." Johnson replied, sternly, "Sir, I was not interrupting the gentleman; I was only giving him a signal proof of my attention. Sir, you are impertinent."
Johnson, Boswell, and Langton presently adjourned to the club, where they found Burke, Garrick, and Goldsmith, the latter still brooding over his sharp reprimand at Dilly's. Johnson, magnanimous as a lion, at once said aside to Boswell, "I'll make Goldsmith forgive me." Then calling to the poet, in a loud voice he said, "Dr. Goldsmith, something passed to-day where you and I dined; I ask your pardon."
Goldsmith, touched with this, replied, "It must be much from you, sir, that I take ill"—became himself, "and rattled away as usual." Would Goldy have rattled away so had he known what Johnson, Boswell, and Langton had said about him as they walked up Cheapside? Langton had observed that the poet was not like Addison, who, content with his fame as a writer, did not attempt a share in conversation; to which Boswell added, that Goldsmith had a great deal of gold in his cabinet, but, not content with that, was always pulling out his purse. "Yes, sir," struck in Johnson, "and that is often an empty purse."
In 1776 we find Boswell skilfully decoying his great idol to dinner at the Dillys to meet the notorious "Jack Wilkes." To Boswell's horror, when he went to fetch Johnson, he found him covered with dust, and buffeting some books, having forgotten all about the dinner party. A little coaxing, however, soon won him over; Johnson roared out, "Frank, a clean shirt!" and was soon packed into a hackney coach. On discovering "a certain gentleman in lace," and he Wilkes the demagogue, Johnson was at first somewhat disconcerted, but soon recovered himself, and behaved like a man of the world. Wilkes quickly won the great man.
They soon set to work discussing Foote's wit, and Johnson confessed that, though resolved not to be pleased, he had once at a dinner-party been obliged to lay down his knife and fork, throw himself back in his chair, and fairly laugh it out— "The dog was so comical, sir: he was irresistible." Wilkes and Johnson then fell to bantering the Scotch; Burke complimented Boswell on his successful stroke of diplomacy in bringing Johnson and Wilkes together.
Mr. Wilkes placed himself next to Dr. Johnson, and behaved to him with so much attention and politeness, that he gained upon him insensibly. No man ate more heartily than Johnson, or loved better what was nice and delicate. Mr. Wilkes was very assiduous in helping him to some fine veal. "Pray give me leave, sir—it is better there —a little of the brown—some fat, sir—a little of the stuffing—some gravy—let me have the pleasure of giving you some butter—allow me to recommend a squeeze of this orange; or the lemon, perhaps, may have more zest." "Sir—sir, I am obliged to you, sir," cried Johnson, bowing, and turning his head to him with a look for some time of "surly virtue," but, in a short while, of complacency.
But the most memorable evening recorded at Dilly's was April 15, 1778, when Johnson and Boswell dined there, and met Miss Seward, the Lichfield poetess, and Mrs. Knowles, a clever Quaker lady, who for once overcame the giant of Bolt Court in argument. Before dinner Johnson took up a book, and read it ravenously. "He knows how to read it better," said Mrs. Knowles to Boswell, "than any one. He gets at the substance of a book directly. He tears out the heart of it." At dinner Johnson told Dilly that, if he wrote a book on cookery, it should be based on philosophical principles. "Women" he said, contemptuously, "can spin, but they cannot make a good book of cookery."
They then fell to talking of a ghost that had appeared at Newcastle, and had recommended some person to apply to an attorney. Johnson thought the Wesleys had not taken pains enough in collecting evidence, at which Miss Seward smiled. This vexed the superstitious sage of Fleet Street, and he said, with solemn vehemence, "Yes, ma'am, this is a question which, after five thousand years, is yet undecided; a question, whether in theology or philosophy, one of the most important that can come before the human understanding."
Johnson, who during the evening had been very thunderous at intervals, breaking out against the Americans, describing them as "rascals, robbers, and pirates," and declaring he would destroy them all—as Boswell says, "He roared out a tremendous volley which one might fancy could be heard across the Atlantic," &c.—grew very angry at Mrs. Knowles for noticing his unkindness to Miss Jane Barry, a recent convert to Quakerism.
"We remained," says Boswell, writing with awe, like a man who has survived an earthquake, "together till it was very late. Notwithstanding occasional explosions of violence, we were all delighted upon the whole with Johnson. I compared him at the time to a warm West Indian climate, where you have a bright sun, quick vegetation, luxurious foliage, luscious fruits, but where the same heat sometimes produces thunder, lightning, and earthquakes in a terrible 'degree."
St. Mildred's Church, Poultry, is a rectory situate at the corner of Scalding Alley. John de Asswell was collated thereto in the year 1325. To this church anciently belonged the chapel of Corpus Christi and St. Mary, at the end of Conyhoop Lane, or Grocers' Alley, in the Poultry. The patronage of this church was in the prior and canons of St. Mary Overie's in Southwark till their suppression. This church was consumed in the Great Fire, anno 1666, and then rebuilt, the parish of St. Mary Cole being thereunto annexed. Among the monumental inscriptions in this church, Maitland gives the following on the well-known Thomas Tusser, of Elizabeth's reign, who wrote a quaint poem on a farmer's life and duties:—
"Here Thomas Tusser, clad in earth, doth lie,
That some time made the points of husbandrie.
By him then learne thou maist, here learne we must,
When all is done we sleep and turn to dust.
And yet through Christ to heaven we hope to goe,
Who reads his bookes shall find his faith was so.
Among the curious epitaphs in St. Mildred's, Stow mentions the following, which is worth quoting here:—
"Here Lies Buried Thomas Iken, Skinner.
"In Hodnet and London
God blessed my life,
Till forty and sixe yeeres,
With children and wife;
And God will raise me
Up to life againe,
Therefore have I thought
My death no paine."
A fair monument of Queen Elizabeth had on the sides the following verses inscribed:—
"If prayers or tears
Of subjects had prevailed,
To save a princesse
Through the world esteemed;
Then Atropos
In cutting here had fail'd,
And had not cut her thread,
But been redeem'd;
But pale-faced Death;
And cruel churlish Fate,
To prince and people
Brings the latest date.
Yet spight of Death and Fate,
Fame will display
Her gracious virtues
Through the world for aye,
Spain's Rod, Rome's Ruine,
Netherlands' Reliefe;
Heaven's gem, earth's joy,
World's wonder, Nature's chief.
Britaine's blessing, England's splendour,
Religion's Nurse, the Faith's Defender."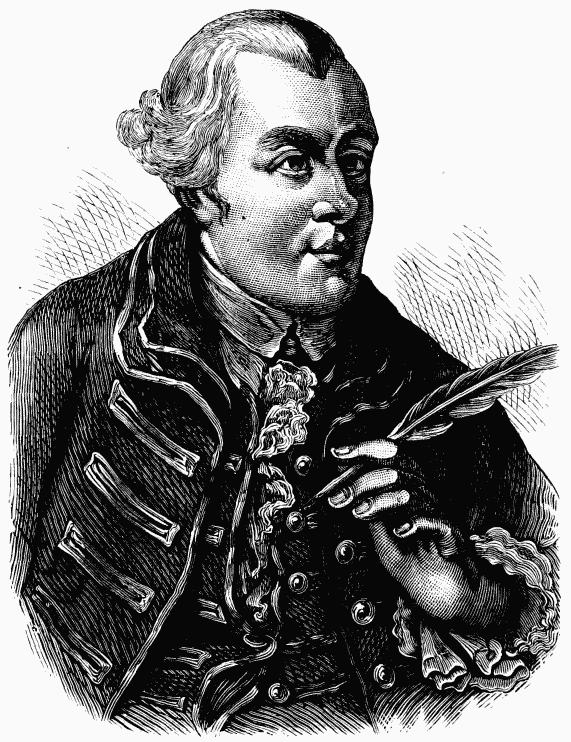 The Poultry Compter, on the site of the present Grocers' Alley, was one of the old sheriffs prisons pulled down in 1817, replaced soon after by a chapel. Stow mentions the prison as four houses west from the parish of St. Mildred, and describes it as having been "there kept and continued time out of mind, for I have not read the original hereof." "It was the only prison," says Mr. Peter Cunningham, "with a ward set apart for Jews (probably from its vicinity to Old Jewry), and it was the only prison in London left unattacked by Lord George Gordon's blue cockaded rioters in 1780." This may have arisen from secret instructions of Lord George, who had sympathies for the Jews, and eventually became one himself. Middleton, 1607 (James I.), speaks ill of it in his play of the Phœnix, for prisons at that time were places of cruelty and extortion, and schools of villainy. The great playwright makes his "first officer" say, "We have been scholars, I can tell you—we could not have been knaves so soon else; for as in that notable city called London, stand two most famous universities, Poultry and Wood St., where some are of twenty years standing, and have took all their degrees, from the master's side, down to the mistress's side, so in like manner," &c.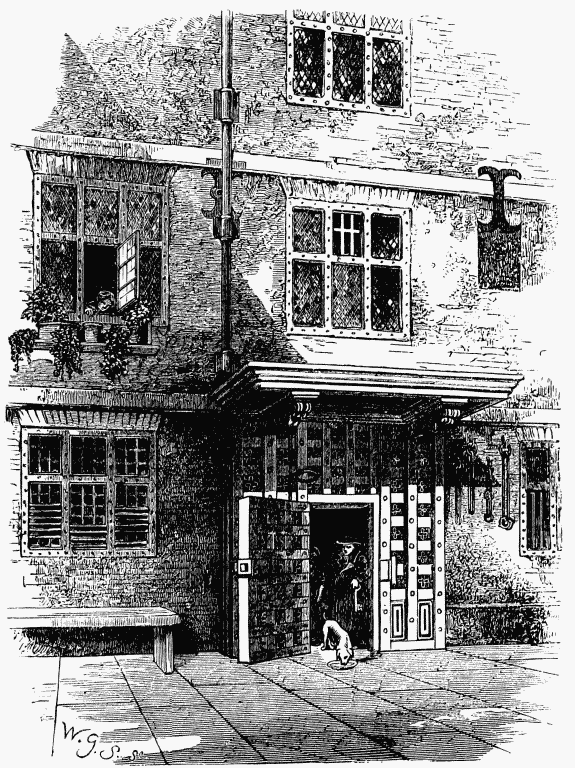 It was at this prison, in the reign of Charles I., that Dr. Lamb, the conjurer, died, after being nearly torn to pieces by the mob. He was a creature of the Duke of Buckingham, and had been accused of bewitching Lord Windsor. On the 18th of June Lamb was insulted in the City by a few boys, who soon after being increased by the acceding multitude, they surrounded him with bitter invectives, which obliged him to seek refuge in a tavern in the Old Jewry; but the tumult continuing to increase, the vintner, for his own safety, judged it proper to turn him out of the house, whereupon the mob renewed their exclamations against him, with the appellations of "wizard," "conjuror," and "devil." But at last, perceiving the approach of a guard, sent by the Lord Mayor to his rescue, they fell upon and beat the doctor in such a cruel and barbarous manner, that he was by the said guard taken up for dead, and carried to the Compter, where he soon after expired. "But the author of a treatise, entitled 'The Forfeiture of the City Charters," says Maitland, "gives a different account of this affair, and, fixing the scene of this tragedy on the 14th of July, writes, that as the doctor passed through Cheapside, he was attacked as above mentioned, which forced him to seek a retreat down Wood Street, and that he was there screened from the fury of the mob in a house, till they had broken all the windows, and forced the door; and then, no help coming to the relief of the doctor, the housekeeper was obliged to deliver him up to save the spoiling of his goods.
"When the rabble had got him into their hands, some took him by the legs, and others by the arms, and so dragging him along the streets, cried, 'Lamb, Lamb, the conjuror, the conjuror!' every one kicking and striking him that were nearest.
"Whilst this tumult lasted, and the City was in an uproar, the news of what had passed came to the king's ear, who immediately ordered his guards to make ready, and, taking some of the chief nobility, he came in person to appease the tumult. In St. Paul's Churchyard he met the inhuman villains dragging the doctor along; and after the knightmarshal had proclaimed silence, who was but ill obeyed, the king, like a good prince, mildly exhorted and persuaded them to keep his peace, and deliver up the doctor to be tried according to law; and that if his offence, which they charged him with, should appear, he should be punished accordingly; commanding them to disperse and depart every man to his own home. But the insolent varlets answered, that they had judged him already; and thereupon pulled him limb from limb; or, at least, so dislocated his joints, that he instantly died."
This took place just before the Duke of Buckingham's assassination by Felton, in 1628. The king, very much enraged at the treatment of Lamb, and the non-discovery of the real offenders, extorted a fine of £6,000 from the abashed City.
Dekker, the dramatist, was thrown into this prison. This poet of the great Elizabethan race was one of Ben Jonson's great rivals. He thus rails at Shakespeare's special friend, who had made "a supplication to be a poor journeyman player, and hadst been still so, but that thou couldst not set a good face upon it. Thou hast forgot how thou ambled'st in leather-pilch, by a play-waggon in the highway; and took'st mad Jeronimo's part, to get service among the mimics," &c.
Dekker thus delineates Ben:— "That same Horace has the most ungodly face, by my fan; it looks for all the world like a rotten russet apple, when 'tis bruised. It's better than a spoonful of cinnamon water next my heart, for me to hear him speak; he sounds it so i' th' nose, and talks and rants like the poor fellows under Ludgate—to see his face make faces, when he reads his songs and sonnets."
Again, we have Ben's face compared with that of his favourite, Horace's—"You staring Leviathan! Look on the sweet visage of Horace; look, parboil'd face, look—has he not his face punchtfull of eylet-holes, like the cover of a warming-pan?"
Ben Jonson's manner in a play-house is thus sketched by Dekker:—"Not to hang himself, even if he thought any man could write plays as well as himself; not to bombast out a new play with the old linings of jests stolen from the Temple's revels; not to sit in a gallery where your comedies have entered their actions, and there make vile and bad faces at every line, to make men have an eye to you, and to make players afraid; not to venture on the stage when your play is ended, and exchange courtesies and compliments with gallants, to make all the house rise and cry—'That's Horace! That's he that pens and purges humours!"
But, notwithstanding all his bitterness, Dekker could speak generously of the old poet; for he thus sums up Ben Jonson's merits in the following lines:—
"Good Horace! No! My cheeks do blush for thine,
As often as thou speakest so; where one true
And nobly virtuous spirit for thy best part
Loves thee, I wish one, ten; even from my heart!
I make account, I put up as deep share
In any good man's love, which thy worth earns,
As thou thyself; we envy not to see
Thy friends with bays to crown thy poesy.
No, here the gall lies;—we, that know what stuff
Thy very heart is made of, know the stalk
On which thy learning grows, and can give life
To thy one dying baseness; yet must we
Dance anticks on your paper.
But were thy warp'd soul put in a new mould,
I'd wear thee as a jewel set in gold."
Charles Lamb, speaking of Dekker's. share in Massinger's Virgin Martyr, highly eulogises the impecunious poet. "This play," says Lamb, "has some beauties of so very high an order, that with all my respect for Massinger, I do not think he had poetical enthusiasm capable of rising up to them. His associate, Dekker, who wrote Old Fortunatus, had poetry enough for anything. The very impurities which obtrude themselves among the sweet pictures of this play, like Satan among the sons of Heaven, have a strength of contrast, a raciness, and a glow in them, which are beyond Massinger. They are to the religion of the rest what Caliban is to Miranda."
Ned Ward, in his coarse but clever "London Spy," gives us a most distasteful picture of the Compter in 1698–1700. "When we first entered," says Ward, "this apartment, under the title of the King's Ward, the mixture of scents that arose from mundungus, tobacco, foul feet, dirty shirts, stinking breaths, and uncleanly carcases, poisoned our nostrils far worse than a Southwark ditch, a tanner's yard, or a tallow-chandler's melting-room. The ill-looking vermin, with long, rusty beards, swaddled up in rags, and their heads—some covered with thrum-caps, and others thrust into the tops of old stockings. Some quitted their play they were before engaged in, and came hovering round us, like so many cannibals, with such devouring countenances, as if a man had been but a morsel with 'em, all crying out, 'Garnish, garnish,' as a rabble in an insurrection crying, 'Liberty, liberty!' We were forced to submit to the doctrine of nonresistance, and comply with their demands, which extended to the sum of two shillings each."
The Poultry Compter has a special historical interest, from the fact of its being connected with the early struggles of our philanthropists against the slave-trade. It was here that several of the slaves released by Granville Sharp's noble exertions were confined. This excellent man, and true aggressive Christian, was grandson of an Archbishop of York, and son of a learned Northumberland rector. Though brought up to the bar, he never practised, and resigned a place in the Ordnance Office because he could not conscientiously approve of the American War. He lived a bachelor life in the Temple, doing good continually. Sharp opposed the impressment of sailors and the system of duelling; encouraged the distribution of the Bible, and advocated parliamentary reform. But it was as an enemy to slavery, and the first practical opposer of its injustice and its cruelties, that Granville Sharp earned a foremost place in the great bede-roll of our English philanthropists. Mr. Sharp's first interference in behalf of persecuted slaves was in 1765.
In the year 1765, says Clarkson, in his work on slavery, a Mr. David Lisle had brought over from Barbadoes Jonathan Strong, an African slave, as his servant. He used the latter in a barbarous manner at his lodgings, in Wapping, but particularly by beating him over the head with a pistol, which occasioned his head to swell. When the swelling went down a disorder fell into his eyes, which threatened the loss of them. To this a fever and ague succeeded; and he was affected with a lameness in both his legs.
Jonathan Strong having been brought into this deplorable condition, and being therefore wholly useless, was left by his master to go whither he pleased. He applied, accordingly, to Mr. William Sharp, the surgeon, for his advice, as to one who gave up a portion of his time to the healing of the diseases of the poor. It was here that Mr. Granville Sharp, the brother of the former, saw him. Suffice it to say that in process of time he was cured. During this time Mr. Granville Sharp, pitying his hard case, supplied him with money, and afterwards got him a situation in the family of Mr. Brown, an apothecary, to carry out medicines.
In this new situation, when Strong had become healthy and robust in his appearance, his master happened to see him. The latter immediately formed the design of possessing him again. Accordingly, when he had found out his residence, he procured John Ross, keeper of the Poultry Compter, and William Miller, an officer under the Lord Mayor, to kidnap him. This was done by sending for him to a public-house in Fenchurch Street, and then seizing him. By these he was conveyed, without any warrant, to the Poultry Compter, where he was sold by his master to John Kerr for £30. Mr. Sharp, immediately upon this, waited upon Sir Robert Kite, the then Lord Mayor, and entreated him to send for Strong and to hear his case. A day was accordingly appointed, Mr. Sharp attended, also William M'Bean, a notary public, and David Laird, captain of the ship Thames, which was to have conveyed Strong to Jamaica, in behalf of the purchaser, John Kerr. A long conversation ensued, in which the opinion of York and Talbot was quoted. Mr. Sharp made his observations. Certain lawyers who were present seemed to be staggered at the case, but inclined rather to re-commit the prisoner. The Lord Mayor, however, discharged Strong, as he had been taken up without a warrant.
As soon as this determination was made known, the parties began to move off. Captain Laird, however, who kept close to Strong, laid hold of him before he had quitted the room, and said aloud, "Then now I seize him as my slave." Upon this Mr. Sharp put his hand upon Laird's shoulder, and pronounced these words, "I charge you, in the name of the king, with an assault upon the person of Jonathan Strong, and all these are my witnesses." Laird was greatly intimidated by this charge, made in the presence of the Lord Mayor and others, and fearing a prosecution, let his prisoner go, leaving him to be conveyed away by Mr. Sharp.
But the great turning case was that of James Somerset, in 1772. James Somerset, an African slave, had been brought to England by his master, Charles Stewart, in November, 1769. Somerset, in process of time, left him. Stewart took an opportunity of seizing him, and had him conveyed on board the Ann and Mary, Captain Knowles, to be carried out of the kingdom and sold as a slave in Jamaica. The question raised was, "Whether a slave, by coming into England, became free?"
In order that time might be given for ascertaining the law fully on this head, the case was argued at three different sittings—first, in January, 1772; secondly, in February, 1772; and thirdly, in May, 1772. And that no decision otherwise than what the law warranted might be given, the opinion of the judges was taken upon the pleadings. The great and glorious issue of the trial was, "That as soon as ever any slave set his foot upon English territory he became free."
Thus ended the great case of Somerset, which, having been determined after so deliberate an investigation of the law, can never be reversed while the British Constitution remains. The eloquence displayed in it by those who were engaged on the side of liberty was perhaps never exceeded on any occasion; and the names of the counsellors, Davy, Glynn, Hargrave, Mansfield, and Alleyne, ought always to be remembered with gratitude by the friends of this great cause.
It was after this verdict that Cowper wrote the following beautiful lines:—
"Slaves cannot breathe in England; if their lungs
Imbibe our air, that moment they are free;
They touch our country, and their shackles fall.
That's noble, and bespeaks a nation proud
And jealous of the blessing. Spread on, then,
And let it circulate through every vein
Of all your empire, that where Britain's power
Is felt, mankind may feel her mercy too."
It was in this Compter that Boyse, a true type of the Grub Street poet of Dr. Johnson's time, spent many of the latter days of his life. In the year 1740 Boyse was reduced to the lowest state of poverty, having no clothes left in which he could appear abroad; and what bare subsistence he procured was by writing occasional poems for the magazines. Of the disposition of his apparel Mr. Nichols received from Dr. Johnson, who knew him well, the following account. He used to pawn what he had of this sort, and it was no sooner redeemed by his friends, than pawned again. On one occasion Dr. Johnson collected a sum of money (fn. 1). for this purpose, and in two days the clothes were pawned again. In this state Boyse remained in bed with no other covering than a blanket with two holes, through which he passed his arms when he sat up to write. The author of his life in Cibber adds, that when his distresses were so pressing as to induce him to dispose of his shirt, he used to cut some white paper in slips, which he tied round his wrists, and in the same manner supplied his neck. In this plight he frequently appeared abroad, while his other apparel was scarcely sufficient for the purposes of decency.
In the month of May, 1749, Boyse died in obscure lodgings near Shoe Lane. An - old acquaintance of his endeavoured to collect money to defray the expenses of his funeral, so that the scandal of being buried by the parish might be avoided. But his endeavours were in vain, for the persons he had selected had been so often troubled with applications during the life of this unhappy man, that they refused to contribute anything towards his funeral.
Of Boyse's best poems "The Deity" contains some vigorous lines, of which the following are a favourable specimen:—
"Transcendent pow'r! sole arbiter of fate!
How great thy glory! and thy bliss how great,
To view from thy exalted throne above
(Eternal source of light, and life, and love!)
Unnumbered creatures draw their smiling birth,
To bless the heav'ns or beautify the earth;
While systems roll, obedient to thy view,
And worlds rejoice—which Newton never knew!
* * * * * * * *
Below, thro' different forms does matter range,
And life subsists from elemental change,
Liquids condensing shapes terrestrial wear,
Earth mounts in fire, and fire dissolves in air;
While we, inquiring phantoms of a day,
Inconstant as the shadows we survey!
With them along Time's rapid current pass,
And haste to mingle with the parent mass;
But thou, Eternal Lord of life divine!
In youth immortal shalt for ever shine!
No change shall darken thy exalted name,
From everlasting ages still the same!"
Dunton, the eccentric bookseller of William III.'s reign, resided in the Poultry in the year 1688. "The humour of rambling," he says in his autobiography, "was now pretty well off with me, and my thoughts began to fix rather upon business. The shop I took, with the sign of the Black Raven, stood opposite to the Poultry Counter, where I traded ten years, as all other men must expect, with a variety of successes and disappointments. My shop was opened just upon the Revolution, and, as I remember, the same day the Prince of Orange came to London."