Pages 522-530
Old and New London: Volume 1. Originally published by Cassell, Petter & Galpin, London, 1878.
This free content was digitised by double rekeying. Public Domain.
CHAPTER XLV.
BARTHOLOMEW LANE AND LOMBARD STREET.
Goerge Robins—His Sale of the Lease of the Olympic—St. Bartholomew's Church—The Lombards and Lombard Street—William de la Pole—Gresham—The Post Office, Lombard Street—Alexander Pope's Father in Plough Court—Lombard Street Tributaries—St. Mary Woolnoth—St. Clement's—Dr. Benjamin Stone—Discovery of Roman Remains—St. Mary Abchurch.
Bartholomew Lane is associated with the memory of Mr. George Robins, one of the most eloquent auctioneers who ever wielded an ivory hammer. The Auction Mart stood opposite the Rotunda of the Bank. It is said that Robins was once offered £2,000 and all his expenses to go and dispose of a valuable property in New York. His annual income was guessed at £12,000. It is said that half the landed property in England had passed under his hammer. Robins, with incomparable powers of blarney and soft sawder, wrote poetical and alluring advertisements (attributed by some to eminent literary men), which were irresistibly attractive. His notice of the sale of the twentyseven years' lease of the Olympic, at the death of Mr. Scott, in 1840, was a marvel of adroitness:—
"Mr. George Robins is desired to announce
To the Public, and more especially to the
Theatrical World, that he is authorised to sell
By Public Auction, at the Mart,
On Thursday next, the twentieth of June, at twelve,
The Olympic Theatre, which for so many years
Possessed a kindly feeling with the Public,
And has, for many seasons past, assumed
An unparalleled altitude in theatricals, since
It was fortunately demised to Madame Vestris;
Who, albeit, not content to move at the slow rate
Of bygone time, gave to it a spirit and a
Consequence, that the march of improvement
And her own consummate taste and judgment
Had conceived. To crown her laudable efforts
With unquestionable success, she has caused
To be completed (with the exception of St. James's)
The most splendid little Theatre in Europe;
Has given to the entertainments a new life;
Has infused so much of her own special tact,
That it now claims to be one of the most
Famed of The Metropolitan Theatres. Indeed,
It is a fact that will always remain on record,
That amid the vicissitudes of all other theatrical
Establishments, with Madame at its head, success has
Never been equivocal for a moment, and the
Receipts have for years past averaged nearly
As much as the patent theatres. The boxes are
In such high repute, that double the present low
Rental is available by this means alone. Madame
Vestris has a lease for three more seasons at only one
Thousand pounds a year," &c.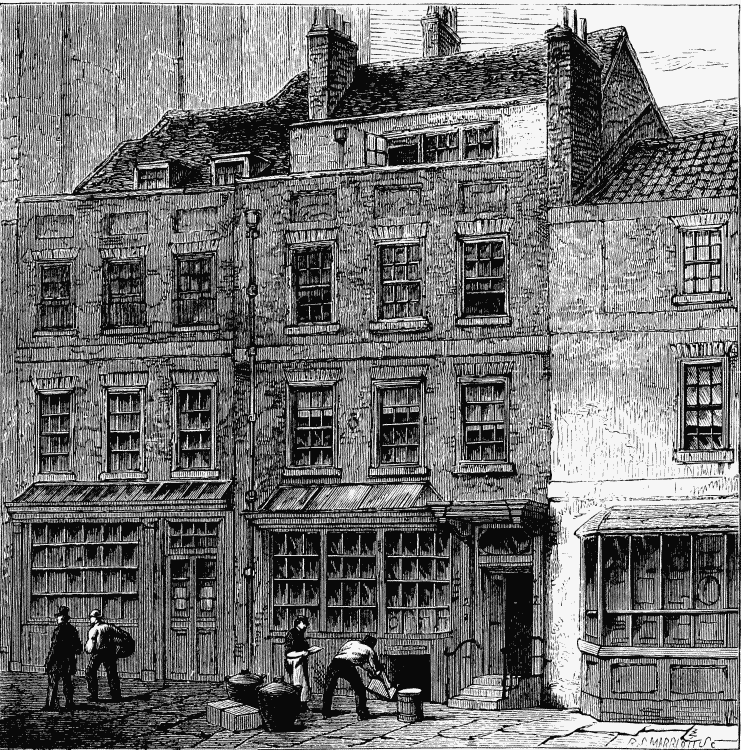 The sale itself is thus described by Mr. Grant, who writes as if he had been present:—"Mr. Robins," says Grant, "had exhausted the English language in commendation of that theatre; he made it as clear as any proposition in Euclid that Madame Vestris could not possibly succeed in Covent Garden; that, in fact, she could succeed in no other house than the Olympic; and that consequently the purchaser was quite sure of her as a tenant as long as he chose to let the theatre to her. He proved to demonstration that the theatre would always fill, no matter who should be the lessee; and that consequently it would prove a perfect mine of wealth to the lucky gentleman who was sufficiently alive to his own interests to become the purchaser. By means of such representations, made in a way and with an ingenuity peculiar to himself, Mr. Robins had got the biddings up from the starting sum, which was £3,000, to £3,400. There, however, the aspirants to the property came to what Mr. Robins called a dead stop. For at least three or four minutes he put his ingenuity to the rack in lavishing encomiums on the property, without his zeal and eloquence being rewarded by a single new bidding. It was at this extremity—and he never resorts to the expedient until the bidders have reached what they themselves at the time conceive to be the highest point—it was at this crisis of the Olympic, Mr. Robins, causing the hammer to descend in the manner I have described, and accompanying the slow and solemn movement with a 'Going—going—go—,' that the then highest bidder exclaimed, 'The theatre is mine!' and at which Mr. Robins, apostrophising him in his own bland and fascinating manner, remarked, 'I don't wonder, my friend, that your anxiety to possess the property at such a price should anticipate my decision; but,' looking round the audience and smiling, as if he congratulated them on the circumstance, 'it is still in the market, gentlemen: you have still an opportunity of making your fortunes without risk or trouble.' The bidding that instant recommenced, and proceeded more briskly than ever. It eventually reached £5,850, at which sum the theatre was 'knocked down.'"
St. Bartholomew's behind the Exchange was built in 1438. Stow gives the following strange epitaph, date 1615:—
Here lyes a Margarite that most excell'd
(Her father Wyts, her mother Lichterveld,
Rematcht with Metkerke) of remarke for birth,
But much more gentle for her genuine worth;
Wyts (rarest) Jewell (so her name bespeakes)
In pious, prudent, peaceful, praise-full life,
Fitting a Sara and a Sacred's wife,
Such as Saravia and (her second) Hill,
Whose joy of life, Death in her death did kill.
Quam pie obiit, Puerpera, Die 29, Junii,
Anno Salutis 1615. Ætatis 39.
From my sad cradle to my sable chest,
Poore Pilgrim, I did find few months of rest.
In Flanders, Holland, Zeland, England, all,
To Parents, troubles, and to me did fall.
These made me pious, patient, modest, wise;
And, though well borne, to shun the gallants' guise;
But now I rest my soule, where rest is found,
My body here, in a small piece of ground,
And from my Hill, that hill I have ascended,
From whence (for me) my Saviour once descended.
Margarita, a Jewell.
I, like a Jewell, tost by sea to land,
Am bought by him, who weares me on his hand.
Margarita, Margareta.
One night, two dreames
Made two propheticals,
Thine of thy coffin,
Mine of thy funerals.
If women all were like to thee,
We men for wives should happy be.
The first stone of the Gresham Club House, No. 1, King William Street, corner of St. Swithin's Lane, was laid in 1844, the event being celebrated by a dinner at the Albion Tavern, Aldersgate Street, the Lord Mayor, Sir William Magnay, in the chair. The club was at first under the presidency of John Abel Smith, Esq., M.P. The building was erected from the design of Mr. Henry Flower, architect.
After the expulsion of the Jews, the Lombards (or merchants of Genoa, Lucca, Florence, and Venice) succeeded them as the money-lenders and bankers of England. About the middle of the thirteenth century these Italians established themselves in Lombard Street, remitting money to Italy by bills of exchange, and transmitting to the Pope and Italian prelates their fees, and the incomes of their English benefices. Mr. Burgon has shown that to these industrious strangers we owe many of our commercial terms, such, for instance, as debtor, creditor, cash, usance, bank, bankrupt, journal, diary, ditto, and even our £s. d., which originally stood for libri, soldi, and denari. In the early part of the fifteenth century we find these swarthy merchants advancing loans to the State, and having the customs mortgaged to them by way of security. Pardons and holy wafers were also sold in this street before the Reformation.
One of the celebrated dwellers in mediæval Lombard Street was William de la Pole, father of Michael, Earl of Suffolk. He was king's merchant or factor to Edward III., and in 1338, at Antwerp, lent that warlike and extravagant monarch a sum equivalent to £400,000 of our current money. He received several munificent grants of Crown land, and was created chief baron of the exchequer and a knight banneret. He is always styled in public instruments "dilectus mercator et valectus noster." His son Michael, who died at the siege of Harfleur in 1415, succeeded to his father's public duties and his house in Lombard Street, near Birchin Lane. Michael's son fell at Agincourt. The last De la Pole was beheaded during the wars of the Roses.
About the date 1559, when Gresham was honoured by being sent as English ambassador to the court of the Duchess of Parma, he resided in Lombard Street. His shop (about the present No. 18) was distinguished by his father's crest—viz., a grasshopper. The original sign was seen by Pennant; and Mr. Burgon assures us that it continued in existence as late as 1795, being removed or stolen on the erection of the present building. Gresham was not only a mercer and merchant adventurer, but a banker—a term which in those days of 10 or 12 per cent. interest meant also, "a usurer, a pawnbroker, a money scrivener, a goldsmith, and a dealer in bullion" (Burgon). After his knighthood, Gresham seems to have thought it undignified to reside at his shop, so left it to his apprentice, and removed to Bishopsgate, where he built Gresham House. It was a vulgar tradition of Elizabeth's time, according to Lodge, that Gresham was a foundling, and that an old woman who found him was attracted to the spot by the increased chirping of the grasshoppers. This story was invented, no doubt, to account for his crest.
During the first two years of Gresham's acting as the king's factor, he posted from Antwerp no fewer than forty times. Between the 1st of March, 1552, and the 27th of July his payments amounted to £106,301 4s. 4d.; his travelling expenses for riding in and out eight times, £102 10s., including a supper and a banquet to the Schetz and the Fuggers, the great banks with whom he had to transact business, £26 being equal, Mr. Burgon calculates, to £250 of the present value of money. The last-named feast must have been one of great magnificence, as the guests appear to have been not more than twenty. On such occasions Gresham deemed it policy to "make as good chere as he could."
He was living in Lombard Street, no doubt, at that eventful day when, being at the house of Mr. John Byvers, alderman, he promised that "within one month after the founding of the Burse he would make over the whole of the profits, in equal moities, to the City and the Mercers' Company, in case he should die childless;" and "for the sewer performance of the premysses, the said Sir Thomas, in the presens of the persons afore named, did give his house to Sir William Garrard, and drank a carouse to Thomas Rowe." This mirthful affair was considered of so much importance as to be entered on the books of the Corporation, solemnly commencing with the words, "Be it remembered, that the ixth day of February, in Anno Domini 1565," &c.
Gresham's wealth was made chiefly by trade with Antwerp. "The exports from Antwerp," says Burgon, "at that time consisted of jewels and precious stones, bullion, quicksilver, wrought silks, cloth of gold and silver, gold and silver thread, camblets, grograms, spices, drugs, sugar, cotton, cummin, galls, linen, serges, tapestry, madder, hops in great quantities, glass, salt-fish, small wares (or, as they were then called, merceries), made of metal and other materials, to a considerable amount; arms, ammunition, and household furniture. From England Antwerp imported immense quantities of fine and coarse woollen goods, as canvas, frieze, &c., the finest wool, excellent saffron in small quantities, a great quantity of lead and tin, sheep and rabbit-skins, together with other kinds of peltry and leather; beer, cheese, and other provisions in great quantities, also Malmsey wines, which the English at that time obtained from Candia. Cloth was, however, by far the most important article of traffic between the two countries. The annual importation into Antwerp about the year 1568, including every description of cloth, was estimated at more than 200,000 pieces, amounting in value to upwards of 4,000,000 escus d'or, or about £1,200,000 sterling."
In the reign of Charles II. we find the "Grasshopper" in Lombard Street the sign of another wealthy goldsmith, Sir Charles Duncombe, the founder of the Feversham family, and the purchaser of Helmsley, in Yorkshire, the princely seat of George Villiers, second Duke of Buckingham:
"Helmsley, once proud Buckingham's delight,
Yields to a scrivener and a City knight."
Here also resided Sir Robert Viner, the Lord Mayor of London in 1675, and apparently an especial favourite with Charles II.
The Post Office, Lombard Street, formerly the General Post Office, was originally built by "the great banquer," Sir Robert Viner, on the site of a noted tavern destroyed in the Great Fire of 1666. Here Sir Robert kept his mayoralty in 1675. Strype describes it as a very large and curious dwelling, with a handsome paved court, and behind it "a yard for stabling and coaches." The St. Martin's-le-Grand General Post Office was not opened till 1829.
"I have," says "Aleph," in the City Press, "a vivid recollection of Lombard Street in 1805. More than half a century has rolled away since then, yet there, sharply and clearly defined, before the eye of memory, stand the phantom shadows of the past. I walked through the street a few weeks ago. It is changed in many particulars; yet enough remains to identify it with the tortuous, dark vista of lofty houses which I remember so well. Then there were no pretentious, stucco-faced banks or offices; the whole wall-surface was of smoke-blacked brick; its colour seemed to imitate the mud in the road, and as coach, or wagon, or mail-cart toiled or rattled along, the basement storeys were bespattered freely from the gutters. The glories of gas were yet to be. After three o'clock p.m. miserable oil lamps tried to enliven the foggy street with their 'ineffectual light,' while through dingy, greenish squares of glass you might observe tall tallow candles dimly disclosing the mysteries of bank or counting-house. Passengers needed to walk with extreme caution; if you lingered on the pavement, woe to your corns; if you sought to cross the road, you had to beware of the flying postmen or the letter-bag express. As six o'clock drew near, every court, alley, and blind thoroughfare in the neighbourhood echoed to the incessant din of letter-bells. Men, women, and children were hurrying to the chief office, while the fiery-red battalion of postmen, as they neared the same point, were apparently well pleased to balk the diligence of the public, anxious to spare their coppers. The mother post-office for the United Kingdom and the Colonies was then in Lombard Street, and folks thought it was a model establishment. Such armies of clerks, such sacks of letters, and countless consignments of newspapers! How could those hard-worked officials ever get through their work? The entrance, barring paint and stucco, remains exactly as it was fifty years ago. What crowds used to besiege it! What a strange confusion of news-boys! The struggling public, with late letters; the bustling redcoats, with their leather bags, a scene of anxious life and interest seldom exceeded. And now the letter-boxes are all closed; you weary your knuckles in vain against the sliding door in the wall. No response. Every hand within is fully occupied in letter-sorting for the mails; they must be freighted in less than half an hour. Yet, on payment of a shilling for each, letters were received till ten minutes to eight, and not unfrequently a post-chaise, with the horses in a positive lather, tore into the street, just in time to forward some important despatch. Hark! The horn! the horn! The mail-guards are the soloists, and very pleasant music they discourse; not a few of them are firstrate performers. A long train of gaily got-up coaches, remarkable for their light weight, horsed by splendid-looking animals, impatient at the curb, and eager to commence their journey of ten miles (at least) an hour; stout 'gents,' in heavy coats, buttoned to the throat, esconce themselves in 'reserved seats.' Commercial men contest the right of a seat with the guard or coachman; some careful mother helps her pale, timid daughter up the steps; while a fat old lady already occupies two-thirds of the seat—what will be done? Bags of epistles innumerable stuff the boots; formidable bales of the daily journals are trampled small by the guard's heels. The clock will strike in less than five minutes; the clamour deepens, the hubbub seems increasing; but ere the last sixty seconds expire, a sharp winding of warning bugles begins. Coachee flourishes his whip, greys and chestnuts prepare for a run, the reins move, but very gently, there is a parting crack from the whipcord, and the brilliant cavalcade is gone—exeunt omnes! Lombard Street is a different place now, far more imposing, though still narrow and dark; the clean-swept roadway is paved with wood, cabs pass noiselessly—a capital thing, only take care you are not run over. Most of the banks and assurance offices have been converted into stone."
In Plough Court (No. 1), Lombard Street, Pope's father carried on the business of a linen merchant. "He was an honest merchant, and dealt in Hollands wholesale," as his widow informed Mr. Spence. His son claimed for him the honour of being sprung from gentle blood. When that gallant baron, Lord Hervey, vice-chamberlain in the court of George II., and his ally, Lady Mary Wortley Montague, disgraced themselves by inditing the verses containing this couplet—
"Whilst none thy crabbed numbers can endure,
Hard as thy heart, and as thy birth obscure;"
Pope indignantly repelled the accusation as to his descent.
"I am sorry (he said) to be obliged to such a presumption as to name my family in the same leaf with your lordship's; but my father had the honour in one instance to resemble you, for he was a younger brother. He did not indeed think it a happiness to bury his elder brother, though he had one, who wanted some of those good qualities which yours possessed. How sincerely glad should I be to pay to that young nobleman's memory the debt I owed to his friendship, whose early death deprived your family of as much wit and honour as he left behind him in any branch of it. But as to my father, I could assure you, my lord, that he was no mechanic (neither a hatter, nor, which might please your lordship yet better, a cobbler), but, in truth, of a very tolerable family, and my mother of an ancient one, as well born and educated as that lady whom your lordship made use of to educate your own children, whose merit, beauty, and vivacity (if transmitted to your posterity) will be a better present than even the noble blood they derive from you. A mother, on whom I was never obliged so far to reflect as to say, she spoiled me; and a father, who never found himself obliged to say of me, that he disapproved my conduct. In a word, my lord, I think it enough, that my parents, such as they were, never cost me a blush; and that their son, such as he is, never cost them a tear."
The house of Pope's father was afterwards occupied by the well-known chemists, Allen, Hanbury, and Barry, a descendant of which firm still occupies it. Mr. William Allen was the son of a Quaker silk manufacturer in Spitalfields. He became chemical lecturer at Guy's Hospital, and an eminent experimentalist—discovering, among other things, the proportion of carbon in carbonic acid, and proving that the diamond was pure carbon. He was mainly instrumental in founding the Pharmaceutical Society, and distinguished himself by his zeal against slavery, and his interest in all benevolent objects. He died in 1843, at Lindfield, in Sussex, where he had founded agricultural schools of a thoroughly practical kind.
The church of St. Edmund King and Martyr (and St. Nicholas Acons), on the north side of Lombard Street, stands on the site of the old Grass Market. The only remarkable monument is that of Dr. Jeremiah Mills, who died in 1784, and had been President of the Society of Antiquaries many years. The local authorities have, with great good sense, written the duplex name of this church in clear letters over the chief entrance.
The date of the first building of St. Mary Woolnoth of the Nativity, in Lombard Street, seems to be very doubtful; nor does Stow help us to the origin of the name. By some antiquaries it has been suggested that the church was so called from being beneath or nigh to the wool staple. Mr. Gwilt suggests that it may have been called "Wool-nough," in order to distinguish it from the other church of St. Mary, where the wool-beam actually stood.
The first rector mentioned by Newcourt was John de Norton, presented previous to 1368. Sir Martin Bowes had the presentation of this church given him by Henry V., it having anciently belonged to the convent of St. Helen's, Bishopsgate. From the Bowes's the presentation passed to the Goldsmiths' Company. Sir Martin Bowes was buried here, and so were many of the Houblons, a great mercantile family, on one of whom Pepys wrote an epitaph. Munday particularly mentions that the wills of several benefactors of St. Mary's were carefully preserved and exhibited in the church. Strype also mentions a monument to Sir William Phipps, that lucky speculator who, in 1687, extracted £300,000 from the wreck of a Spanish plate-vessel off the Bahama bank. Simon Eyre, the old founder of Leadenhall Market, was buried in this church in 1549.
Sir Hugh Brice, goldsmith and mayor, governor of the Mint in the reign of Henry VII., built or rebuilt part of the church, and raised a steeple. The church was almost totally destroyed in the Great Fire, and repaired by Wren. Sir Robert Viner, the famous goldsmith, contributed largely towards the rebuilding, "a memorial whereof," says Strype, "are the vines that adorn and spread about that part of the church that fronts his house and the street; insomuch, that the church was used to be called Sir Robert Viner's church." Wren's repairs having proved ineffectual, the church was rebuilt in 1727. The workmen, twenty feet under the ruins of the steeple, discovered bones, tusks, Roman coins, and a vast number of broken Roman pottery. It is generally thought by antiquaries that a temple dedicated to Concord once stood here. Hawksmoor, the architect of St. Mary Woolnoth, was born the year of the Great Fire, and died in 1736. He acted as Wren's deputy during the erection of the Hospitals at Chelsea and Greenwich, and also in the building of most of the City churches. The principal works of his own design are Christ Church, Spitalfields, St. Anne's, Limehouse, and St. George's, Bloomsbury. Mr. J. Godwin, an excellent authority, calls St. Mary Woolnoth "one of the most striking and original, although not the most beautiful, churches in the metropolis."
On the north side of the communion-table is a plain tablet in memory of that excellent man, the Rev. John Newton, who was curate of Olney, Bucks, for sixteen years, and rector of the united parishes of St. Mary Woolnoth and St. Mary Woolchurch twenty-eight years. He died on the 21st of December, 1807, aged eighty-two years, and was buried in a vault in this church.
On the stone is the following inscription, full of Christian humility:—
"John Newton, clerk, once an infidel and libertine, a servant of slaves in Africa, was, by the rich mercy of our Lord and Saviour Jesus Christ, preserved, restored, pardoned, and appointed to preach the faith he had long laboured to destroy."
Newton's father was master of a merchant-ship, and Newton's youth was spent in prosecuting the African slave-trade, a career of which he afterwards bitterly repented. He is best known as the writer (in conjunction with the poet Cowper) of the "Olney Hymns."
The exterior of this church is praised by competent authorities for its boldness and originality, though some critic says that the details are ponderous enough for a fortress or a prison. The elongated tower, from the arrangement of the small chimney-like turrets at the top, has the appearance of being two towers united. Dallaway calls it an imitation of St. Sulpice, at Paris; but unfortunately Servandoni built St. Sulpice some time after St. Mary Woolnoth was completed. Mr. Godwin seems to think Hawksmoor followed Vanbrugh's manner in the heaviness of his design.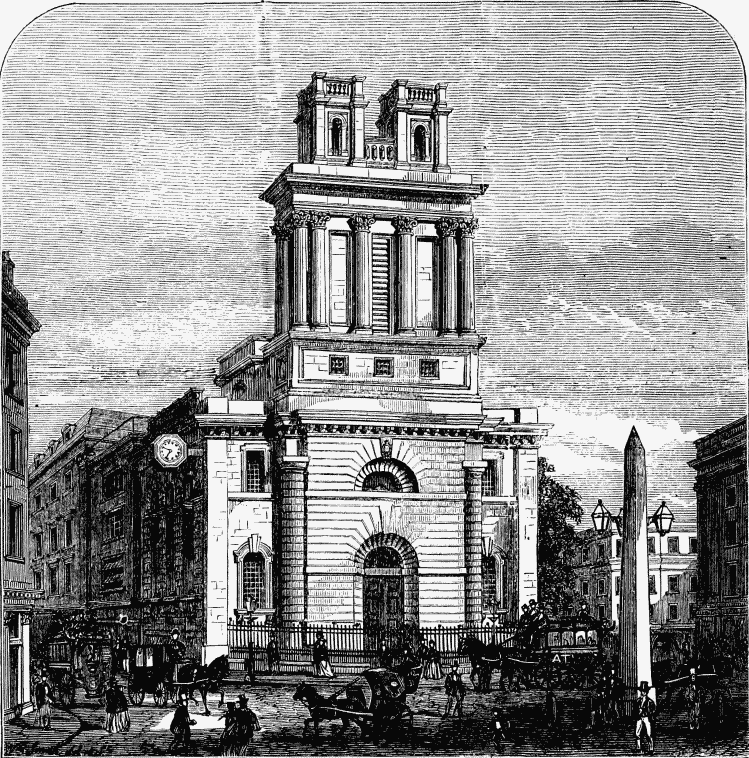 St. Clement's Church, Clement's Lane, Lombard Street, sometimes called St. Clement's, Eastcheap, is noted by Newcourt as existing as early as 1309. The rectory belonged to Westminster Abbey, but was given by Queen Mary to the Bishop of London and his successors for ever. After the Great Fire, when the church was destroyed, the parish of St. Martin Orgar was united to that of St. Clement's, The parish seem to have been pleased with Wren's exertions in rebuilding, for in their register books for 1685 there is the following item:—"To onethird of a hogshead of wine, given to Sir Christopher Wren, £4 2s."
One of the rectors of St. Clement's, Dr. Benjamin Stone, who had been presented to the living by Bishop Juxon, being deemed too Popish by Cromwell, was imprisoned for some time at Crosby Hall. From thence he was sent to Plymouth, where, after paying a fine of £60, he obtained his liberty. On the restoration of Charles II., Stone recovered his benefice, but died five years after. In this church Bishop Pearson, then rector, delivered his celebrated sermons on the Creed, which he afterwards turned into his excellent Exposition, a text-book of English divinity, which he dedicated "to the right worshipful and well-beloved, the parishioners of St. Clement's, Eastcheap."
The interior is a parallelogram, with the addition of a south aisle, introduced in order to disguise the intrusion of the tower, which stands at the southwest angle of the building. The ceiling is divided into panels, the centre one being a large oval band of fruit and flowers.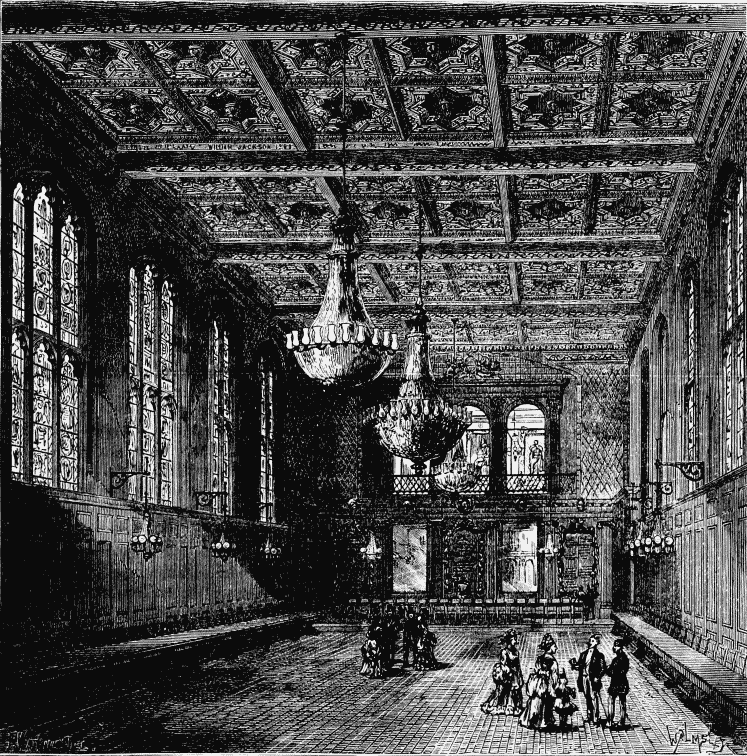 The pulpit and desk, as well as the large sounding-board above them, are very elaborately carved; and a marble font standing in the south aisle has an oak cover of curious design. Among many mural tablets are three which have been erected at the cost of the parishioners, commemorative of the Rev. Thomas Green, curate twentyseven years, who died in 1734; the Rev. John Farrer, rector (1820); and the Rev. W. Valentine Ireson, who was lecturer of the united parishes thirty years, and died in 1822.
In digging a new sewer in Lombard Street a few years ago (says Pennant, writing in 1790), the remains of a Roman road were discovered, with numbers of coins, and several antique curiosities, some of great elegance. The beds through which the workmen sunk were four. The first consisted of factitious earth, about thirteen feet six inches thick, all accumulated since the desertion of the ancient street; the second of brick, two feet thick, the ruins of the buildings; the third of ashes, only three inches; the fourth of Roman pavement, both common and tessellated, over which the coins and other antiquities were discovered. Beneath that was the original soil. The predominant articles were earthenware, and several were ornamented in the most elegant manner. A vase of red earth had on its surface a representation of a fight of men, some on horseback, others on foot; or perhaps a show of gladiators, as they all fought in pairs, and many of them naked. The combatants were armed with falchions and small round shields, in the manner of the Thracians, the most esteemed of the gladiators. Some had spears, and others a kind of mace. A beautiful running foliage encompassed the bottom of this vessel. On the fragment of another were several figures. Among them appears Pan with his pedum, or crook; and near to him one of the lascivi Satyri, both in beautiful skipping attitudes. On the same piece are two tripods; round each is a serpent regularly twisted, and bringing its head over a bowl which fills the top. These seem (by the serpent) to have been dedicated to Apollo, who, as well as his son Æsculapius, presided over medicine. On the top of one of the tripods stands a man in full armour. Might not this vessel have been votive, made by order of a soldier restored to health by favour of the god, and to his active powers and enjoyment of rural pleasures, typified under the form of Pan and his nimble attendants? A plant extends along part of another compartment, possibly allusive to their medical virtues; and, to show that Bacchus was not forgotten, beneath lies a thyrsus with a double head.
On another bowl was a free pattern of foliage. On others, or fragments, were objects of the chase, such as hares, part of a deer, and a boar, with human figures, dogs, and horses; all these pieces prettily ornamented. There were, besides, some beads, made of earthenware, of the same form as those called the ovum anguinum, and, by the Welsh, glain naidr; and numbers of coins in gold, silver, and brass, of Claudius, Nero, Galba, and other emperors down to Constantine.
St. Mary Abchurch was destroyed by the Great Fire, and rebuilt by Wren in 1686. Maitland says, "And as to this additional appellation of Ab, or Up-church, I am at as great a loss in respect to its meaning, as I am to the time when the church was at first founded; but, as it appears to have anciently stood on an eminence, probably that epithet was conferred upon it in regard to the church of St. Lawrence Pulteney, situate below."
Stow gives one record of St. Mary Abchurch, which we feel a pleasure in chronicling:—"This dame Helen Branch, buried here, widow of Sir John Branch, Knt., Lord Mayor of London, an. 1580, gave £50 to be lent to young men of the Company of Drapers, from four years to four years, for ever, £50. Which lady gave also to poor maids' marriages, £10. To the poor of Abchurch, £10. To the poor prisoners in and about London, £20. Besides, for twenty-six gowns to poor men and women, £26. And many other worthy legacies to the Universities."
The pulpit and sounding-board are of oak, and the font has a cover of the same material, presenting carved figures of the four Evangelists within niches. On the south side of the church is an elaborate monument of marble, part of which is gilt, consisting of twisted columns supporting a circular pediment, drapery, cherubim, &c., to Mr. Edward Sherwood, who died January 5th, 1690; and near it is a second, in memory of Sir Patience Ward, Knt., Alderman, and Lord Mayor of London in 1681. He died on the 10th of July, 1696. The east end of the church is in Abchurch Lane, and the south side faces an open paved space, divided from the lane by posts. This was formerly enclosed as a burial-ground, but was thrown open for the convenience of the neighbourhood.
The present church was completed from the designs of Sir Christopher Wren in 1686. In the interior it is nearly square, being about sixty-five feet long, and sixty feet wide. The walls are plain, having windows in the south side and at the east end to light the church. The area of the church is covered by a large and handsome cupola, supported on a modillion cornice, and adorned with paintings which were executed by Sir James Thornhill; and in the lower part of this also are introduced other lights. "The altar-piece," says Mr. G. Godwin, "presents four Corinthian columns, with entablature and pediment, grained to imitate oak, and has a carved figure of a pelican over the centre compartment. It is further adorned by a number of carved festoons of fruit and flowers, which are so exquisitely executed, that if they were a hundred miles distant, we will venture to say they would have many admiring visitants from London. These carvings, by Grinling Gibbons, were originally painted after nature by Sir James. They were afterwards covered with white paint, and at this time they are, in common with the rest of the screen, of the colour of oak. Fortunately, however, these proceedings, which must have tended to fill up the more delicately carved parts, and to destroy the original sharpness of the lines, have not materially injured their general effect."