Pages 298-306
Old and New London: Volume 2. Originally published by Cassell, Petter & Galpin, London, 1878.
This free content was digitised by double rekeying. Public Domain.
CHAPTER XXXVIII.
COLDBATH FIELDS AND SPA FIELDS.
Coldbath Field's Prison—Thistlewood and his Co-conspirators there—John Hunt there—Mr. Hepworth Dixon's Account of Coldbath Fields Prison—The Cold Bath—Budgell, the Author—An Eccentric Centenarian's Street Dress—Spa Fields—Rude Sports—Gooseberry Fair—An Ox Roasted whole—Ducking-pond Fields—Clerkenwell Fields—Spa Fields—Pipe Fields—Chapel—The Countess of Huntingdon —Great Bath Street, Coldbath Fields—Topham, the Strong Man—Swedenborg—Spa Fields Burial-ground—Crawford's Passage, or Pickled Egg Walk.
The Original House of Correction here was built in the reign of James I., the City Bridewell being then no longer large enough to hold the teeming vagabonds of London.
The oldest portion of the Coldbath Fields Prison now standing was built on a swamp, in 1794, at an expense of £65,650, and large additions have from time to time been made. For a long time after it was rebuilt, Coldbath Fields had a reputation for severity. In 1799 Gilbert Wakefield, the classic, expressed a morbid horror of it; and Coleridge and Southey, many years later, in "The Devil's Walk," published their opinion that it exceeded hell itself, as a place of punishment:—
"As he went through Coldbath Fields he saw
A solitary cell;
And the Devil was pleased, for it gave him a hint
For improving his prisons in hell."
In 1820 Thistlewood and the other Cato Street conspirators were lodged here, before being sent to the Tower. At present the prison has proper accommodation for about 1,250 prisoners, though many more are sometimes thrust into it, causing great confusion.
The prison, built on a plan of the benevolent Howard's, soon became a scene of great abuses. Men, women, and boys were herded together in this chief county prison, and smoking and drinking were permitted. The governor of the day strove vigorously to reform the hydra abuses, and especially the tyranny and greediness of the turnkeys. Five years later he introduced stern silence into his domain. "On the 29th of December, 1834, a population of 914 prisoners were suddenly apprised that all intercommunication, by word, gesture, or sign, was prohibited." "This is what is called the Silent Associated System. The treadmill had been introduced at Coldbath Fields several years before. This apparatus, the invention of Mr. Cubitt, an engineer at Lowestoft, was first set up," says Mr. Pinks, "at Brixton Prison, in 1817. At first, the allowance was 12,000 feet of ascent, but was soon reduced to 1,200."
This desolate prison has made a solitude of the immediate neighbourhood, but not far off brassfounders, grocers' canister makers, and such like abound.
The dismal Bastille has frequently been enlarged. In 1830 a vagrants' ward for 150 prisoners was added, and shortly afterwards a female ward for 300 inmates. Coldbath Fields is now devoted to male prisoners alone, the females having been removed from it to Westminster Prison in 1850. The treadmill finds labour for 160 prisoners at a time, and grinds flour. The ordinary annual charge for each prisoner is estimated at £21 19s. 4d. The Report of the Inspector of Prisons for 1861 speaks of the Coldbath Fields cells as too crowded and badly ventilated, the prisoners being sometimes 700 or 800 in excess of the number of cells, and sleeping either in hammocks slung too close together in dormitories, or, still worse, on the floors of workshops, only a short time before emptied of the working inmates.
John Hunt, Leigh Hunt's brother, was imprisoned here for a libel, in the Examiner, on the Prince Regent, the "fat Adonis," afterwards George IV. Mr. Cyrus Redding, Campbell's friend, used to come and chat and play chess with him. He had a lofty and comfortable, though small apartment at the top of the prison. Townsend, the old Bow Street runner, the terror of highwaymen, was the governor at the time. Hunt had the privilege from the kind, shrewd old officer, of walking for a couple of hours daily in the governor's gardens.
"Leaving the oakum room," says Mr. Dixon, writing about this prison in 1850, "we enter the body of the original building. It consists of four long galleries, forming a parallelogram by their junction on the sides of which are ranged the cells. If the system on which the prison is ostensibly conducted were rigorously carried out, all the prisoners would be separated at night; but the number of separate cells is only 550, while the inmates often amount to upwards of 1,300. The surplus is, therefore, to be provided for in general dormitories, in which officers are obliged to remain all night to prevent intercourse or disorder. . . . . . . . . .
"It is in the midst of passions like these, seething in the hearts of 1,200 criminals, not separately confined as at Pentonville, that the administration of this vast prison has to be conducted. The official staff consists of the governor, 2 chaplains, 1 surgeon, 3 trade instructors, and 134 assistant officers; in all 141 persons: a corps rather too small than too large, considering the nature of the duties devolving upon it. Without system, or without a system rigorously administered, it would be impossible to maintain order in such a place, unless each individual was kept under lock and key, as in the neighbouring House of Detention. . . . . .
"Passing through an inner gate to the left, we come upon a yard in which we find a number of prisoners taking walking exercise, marching in regular order and perfect silence. All of these are habited in the prison uniform, a good warm dress of coarse woollen cloth; the misdemeanants in blue, the felons in dark grey. Each prisoner wears a large number on his back, which number constitutes his prison name and designation, proper names not being used in this gaol. Every kind of personality that can possibly be sunk is sunk. The subordinate officers of the prison seldom know anything of the real name, station, crime, connections, or antecedents of the person who is placed under their charge; and this kind of knowledge, except in rare cases indeed, never comes to the ears of fellow-culprits while within the walls of the prison. Some of the men, it will also be noticed, bear stars upon their arms; these are marks of good conduct, of great value to the wearer when in the gaol, and entitling him to a certain allowance on discharge, varying according to circumstances from five shillings to a pound. These allowances are often the salvation of offenders."
Coldbath Square derives its chief name, says Mr. Pinks, from a celebrated cold bath, the best known in London, fed by a spring which was discovered by a Mr. Baynes, in 1697. The active discoverer declared the water had great power in nervous diseases, and equalled those of St. Magnus and St. Winnifred. In Mr. Baynes's advertisement in the Post Bag he asserts that his cold bath "prevents and curse cold, creates appetite, helps digestion, and makes hardy the tenderest constitution. The coach-way is by Hockley-in-theHole." The bath is described as "in Sir John Oldcastle's field, near the north end of Gray's Inn Lane." The bathing-hours were from five a.m. to one, the charge two shillings, unless the visitor was so infirm as to need to be let down into this Cockney Pool of Bethesda in a chair. Mr. Baynes died in 1745, and was buried in the old church of St. James's. He was originally a student of the Middle Temple, and was for fifteen years treasurer of St. James's Charity School. The old bath-house was a building with three gables, and had a large garden with four turret summer-houses. In 1811 the trustees of the London Fever Hospital bought the property for £3,830, but, being driven away by the frightened inhabitants, the ground was sold for building, the bath remaining as late as 1865.
In Coldbath Square, near the Cold Bath, Eustace Budgell, a relation of Addison, resided in 1733. Budgell, who wrote many articles in the Spectator, was pushed into good Government work by his kinsman, Addison, but eventually ruined himself by the South Sea Bubble and litigation. Budgell having helped Dr. Tindal in the publication of one of his infidel works, was in consequence left by the doctor £2,000. There arose, however, a suspicion of fraud, and the will was set aside. Pope did not forget the scandal, in attacking his enemies—
"Let Budgell charge even Grub Street on my bill,
And write whate'er he please, except my will."
This disgrace seems to have turned Budgell's brain. He took a boat, one May-day, at Somerset Stairs, having first filled his pockets with stones, and vainly tried to decoy his little daughter with him. While the boat was shooting London Bridge Budgell leaped out, and was drowned. Budgell's best epigram was on some persons who danced detestably to good music—
"But ill the motion with the music suits;
So Orpheus fiddled, and so danced the brutes."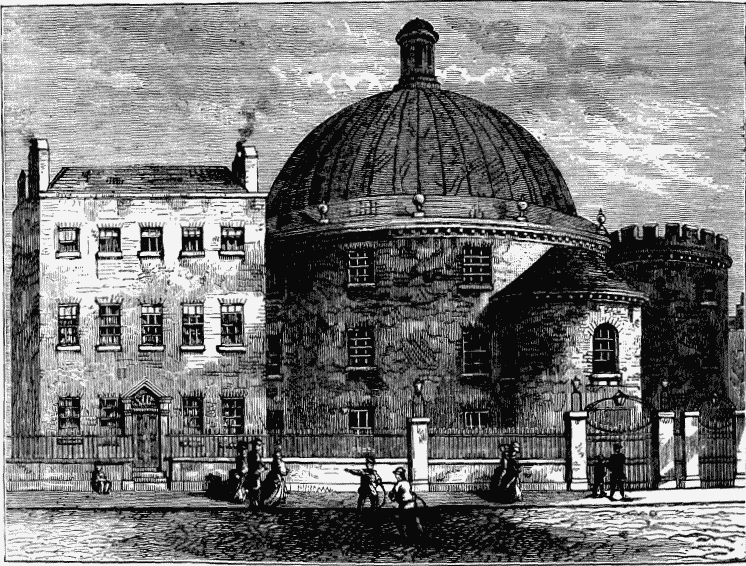 In this same square, for ninety monotonous years, also lived Mrs. Lewson, or Lady Lewson, as she was generally called, who died in 1816, aged, as was asserted, one hundred and sixteen years. She seldom went out, and still more seldom saw visitors. In one changeless stagnant stream her wretched life flowed on. "She always," says Mr. Pinks, "wore powder, with a large tache, made of horsehair, upon her head, over which the hair was turned up, and a cap was placed, which was tied under her chin, and three or four curls hung down her neck. She generally wore silk gowns, with the train long, a deep flounce all round, and a very long waist. Her gown was very tightly laced up to her neck, round which was a kind of ruff, or frill. The sleeves came down below the elbows, and to each of them four or five large cuffs were attached. A large bonnet, quite flat, high-heeled shoes, a large black silk cloak trimmed round with lace, and a gold-headed cane, completed her everyday costume for the last eighty years, in which dress she walked round the square. She never washed herself, because she thought those people who did so were always taking cold, or laying the foundation of some dreadful disorder. Her method was to besmear her face and neck all over with hog's-lard, because that was soft and lubricating; and then, because she wanted a little colour on her cheeks, she bedaubed them with rose-pink. Her manner of living was so methodical, that she would not drink tea out of any other than a favourite cup. At breakfast she arranged in a particular way the paraphernalia of the tea-table, and dinner the same. She observed a general rule, and always sat in her favourite chair. She enjoyed good health, and entertained the greatest aversion to medicine. At the age of eightyseven she cut two new teeth, and she was never troubled with the toothache. She lived in five reigns, and was supposed to have been the most faithful living historian of her time, events of the year 1715 being fresh in her recollection. The sudden death of an old lady who was a near neighbour made a deep impression on Mrs. Lewson. Believing her own time had come she became weak, took to her bed, refused medical aid, and on Tuesday, the 28th May, 1816, died at her house in Coldbath Square, at the advanced age of one hundred and sixteen. She was buried in Bunhill Fields Burying Ground."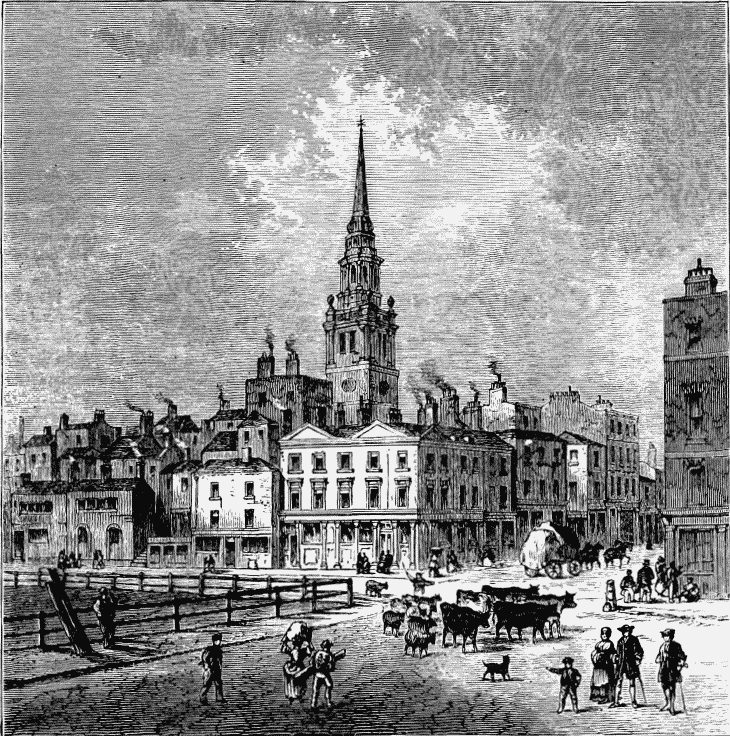 "In former times," says Mr. Pinks, "the district around the chapel known as Spa Fields, or the Ducking-pond Fields, now intersected by streets of well-built houses, was the summer's evening resort of the townspeople, who came hither to witness the rude sports that were in vogue a century ago, such as duck-hunting, prize-fighting, bull-baiting, and others of an equally demoralising character. We are informed by an old newspaper that in 1768 'Two women fought for a new shift, valued at halfa-crown, in the Spaw Fields, near Islington. The battle was won by a woman called "Bruising Peg," who beat her antagonist in a terrible manner.' In the summer of the same year 'an extraordinary battle was fought in the Spa Fields by two women against two taylors, for a guinea a head, which was won by the ladies, who beat the taylors in a severe manner.' On Saturday, the 28th August, 1779, 'a scene of fun and business intermixed took place in Spa Fields, to which no language can do justice. Bills had been stuck up and otherwise circulated, that an ox would be roasted whole, and beer given to the friends of their king and country, who were invited to enlist; that two gold-laced hats should be the reward of the two best cudgel-players; that a gown, a shift, and a pair of shoes and stockings should be run for by four old women; and that three pounds of tobacco, three bottles of gin, and a silver-laced hat, should be grinned for by three old men, the frightfullest grinner to be the winner.'
"About the middle of the last century it was dangerous to cross these fields in the dusk of evening, robberies being frequent, and the persons filched were often grievously maltreated by the villains who waylaid them."
About 1733—1748 Spa Fields seems to have been much infected by sneaking footpads, who knocked down pedestrians passing to and from London, and despoiled them of hats, wigs, silver buckles, and money. It was about this dangerous time that link-boys were in constant attendance at the door of Sadler's Wells, to light persons home returning by the lonely fields to the streets of Islington, Clerkenwell, or Holborn. The lessees of the theatre constantly put at the foot of their bills, "There will be moonlight," as a special inducement to timid people. "I have seen two or three link-men," Mr. Britton says, in his autobiography, "thus traverse the fields from the Wells towards Queen's Square."
At Whitsuntide there was annually held in these fields a fair generally known in London as "the Welsh" or "Gooseberry Fair." A field on which the south side of Myddelton Street is built was from this reason distinguished in old maps as "the Welsh Field." The grand course for horse and donkey racing was where Exmouth Street and Cobham Row are now built. The fair is mentioned as early as 1744, about which time it was removed to Barnet.
In 1779 appeared in the Clerkenwell Chronicle the following notice of sports which took place in Spa Fieds:—"On Friday, some bricklayers enclosed a piece of ground ten feet by six, for roasting the ox; and so substantial was the brickwork that several persons sat up all night to watch that it did not fall to pieces before the morning. An hour before sunrising the fire was lighted for roasting the ox, which was brought in a cart from St. James's Market. At seven o'clock the ox was laid over the fire in remembrance of the cruelty of the Spaniards in their conquest of Mexico. By nine o'clock one of the legs was ready to drop off, but no satire on the American colonies was intended; for if it had fallen there were numbers ready to have swallowed it. At seven o'clock came a sergeant and a number of deputy Sons of the Sword. The sergeant made an elegant speech, at which every one gaped in astonishment, because no one could understand it. At half-past two the beef was taken up, slices cut up and thrown among the crowd, and many and many a one catched his hat full to fill his belly.
"Instead of four old women to run for the gown, &c., there were only three girls, and the race was won without running; for two of the adventurers gave out before half the contest was over, and even the winner was a loser, for she tore off the sleeve of her gown in attempting to get it on. Only one man grinned for the tobacco, gin, &c. But it was enough. Ugliness is no word to express the diabolicality of his phiz. If the king had ten such subjects he might fear they would grin for the crown. Addison tells us of a famous grinner who threw his face into the shape of the head of a base viol, of a hat, of the mouth of a coffee-pot, and the nozzle of a pair of bellows; but Addison's grinner was nothing to the present, who must have been born grinning. His mother must have studied geometry, have longed for curves and angles, and stamped them all on the face of the boy. The mob was so immense that, though the tide was constantly ebbing and flowing, it was supposed the average number was 4,000 from nine in the morning till eight at night; and as this account is not exaggerated, 44,000 people must have been present. All the ale-houses for half a mile round were crowded, the windows were lined, and the tops and gutters of the houses filled. The place was at once a market and a fair; curds and whey were turned sour, ripe filberts were hardened, and extempore oysters baked in the sun. The bread intended for the loyal was thrown about the fields by the malcontents. The beer was drunk out of pots without measure and without number; but one man who could not get liquor swore he would eat if he could not drink His Majesty's health; and observing an officer with a piece of beef on the point of his sword, he made prize of it, and ate it in the true cannibal taste.
"The feast, on the whole, was conducted with great regularity; for if one got meat another got bread only, and the whole was consumed; but to add to the farce a person threw a basket of onions among the bread-eaters. Some men were enlisted as soldiers, but more were impressed, for the bloodhounds were on the scent, and ran breast-high. If not spring-guns, it might fairly be said that mentraps had been fixed in the Spa Fields. The beef was good of its kind, but like the constitution of Old England, more than half spoiled by bad cooks."
The Ducking-pond Fields, Clerkenwell Fields, Spa Fields, and Pipe Fields, were one and the same place, under different names. The oldest of these names was the first, which applied especially to the district surrounding Spa Fields Chapel, and extending to the northward. The Pipe Fields were so called from the wooden pipes (merely elm-trees perforated) of the New River Company mentioned by Britton about the close of last century.
The building, afterwards Spa Fields Chapel, on the south side of Exmouth Street, was originally opened in 1770, as a place of public amusement. The "Pantheon," as it was called, soon became disreputable. It is described by a contemporary as a large round building crowned by a statue of Fame. In the inside were two galleries. There was a garden with fancy walks, classical statues, and boxes for tea-parties, wine-drinkers, and negussippers. The company, as might be supposed, consisted chiefly of small tradesmen, apprentices, dressmakers, servant-girls, and disreputable women. This building had been preceded by a small country inn, with swinging sign, and a long railed-in pond, where citizens used to come and send in their water-dogs to chase ducks. In this ducking-pond six children were drowned in 1683, while playing on the ice. The Spa Fields Pantheon proprietor became bankrupt in 1774, and the house and gardens, which had cost the speculator £6,000, were sold.
In 1776 Selina, the zealous Countess of Huntingdon, consulted Toplady as to purchasing the Pantheon for a chapel, but was dissuaded from the attempt. It was then taken by a company, and opened as a Church of England chapel, in 1777, but the Rev. William Sellon, incumbent of St. James's, Clerkenwell, being refused the pew-rents, compelled the proprietors to close it. Eventually the Countess of Huntingdon purchased it, but Mr. Sellon again obtained a verdict in a law-court, and stopped all further services. The countess then turned it into a Dissenting chapel, and two of her curates seceded from the Established Church, and took the oath of allegiance as Dissenting ministers. The Gordon rioters of 1780 threatened to destroy it, but did not, when they heard it belonged to the good countess. Shrubsole, the organist in the Spa Fields Chapel, was the composer of that beautiful hymn, "All hail the power of Jesu's name." The Rev. T. E. Thoresby accepted the pastorate in 1846. The fine building will hold more than 2,000 persons, and was for many years one of the wealthiest and most influential Dissenting chapels in London.
The Spa Fields Charity School was established in 1782 by the good countess before mentioned, and new school-rooms were built in 1855 on the site of the countess's garden.
The Countess of Huntingdon herself lived in a large house covered with jasmine, once a part of the old Pantheon tea-gardens, and standing on the east side of the chapel. This lady, who did so much to benefit a godless age, was born in 1707 (Queen Anne), and died in 1791 (George III.) She married the Earl of Huntingdon in 1728. Both by birth and marriage she was connected, says her chaplain, Dr. Haweis, with English kings. Her profound impressions of religion seem to have commenced in early infancy, at the funeral of a child of her own age. A severe illness in later life, and conversation with her sister-in-law, Lady Margaret Hastings, a convert to Methodism, still more affected her. She went to court, but soon married a serious nobleman, and devoted herself to her true profession—not the mere encouragement of milliners, but the study of doing good.
"Bishop Benson," says Mr. Pinks, "was sent for by her husband to reason with her ladyship on her changed religious views, but she pressed upon him so hard with articles and homilies, and so urged upon him the awful responsibility of his station, that his temper was ruffled, and he rose up in haste to depart, bitterly lamenting that he had ever laid his hands on George Whitefield, to whom he imputed the change. She called him back, saying, 'My lord, when you come to your dying bed that will be one of the few ordinations you will reflect upon with complacence.' The Prince of Wales one day at court asked a lady of fashion where my Lady Huntingdon was, that she seldom visited the city. Lady Charlotte E—replied, with a sneer, 'I suppose praying with her beggars.' The Prince shook his head, and said, 'When I am dying I shall be happy to seize the skirt of Lady Huntingdon's mantle to lift me up with her to heaven.' We cannot help remarking the prejudice of Lady Mary Montagu, who says, in one of her letters, in 1755, 'I have seen very little of Lady Huntingdon, so I am not able to judge of her merit; if I wanted to paint a fanatic, I should desire her to sit for the picture. I hope she means well, but she makes herself ridiculous to the profane, and dangerous to the good.'"
The countess having opened her house in Park Street for religious services, Whitefield and Romaine preached in her drawing-room to the great and fashionable. She began to build chapels at Brighton, Bath, Tunbridge Wells, and elsewhere, and also established a training-college in South Wales. Altogether, she either built or helped to build sixty-four chapels, and is supposed to have expended £100,000 in charity, though for many years she lived on a small jointure of £1,200 a year. The countess seems to have been a truly excellent and sensible woman, but with a warmtempered prejudice, and with a true aristocratic dislike to opposition. "I believe," says her chaplain, "that during the many years I was honoured with her friendship, she often possessed no more than the gown she wore. I have often said she was one of the poor who lived on her own bounty."
Great Bath Street, Coldbath Fields, where Topham, the Strong Man of Islington, exhibited his feats of strength in 1741, was built about 1725. On the sale of the Jervoise estate, in 1811, this property was sold for £8,560. At No. 26 in this street that extraordinary man of science and dreamer, Emanuel Swedenborg, resided towards the end of his life, and died there in 1772. A short sketch of this philosopher will not be uninteresting, as his works are still read but by few.
This great "seer" was the son of a Swedish bishop, and was born in 1688. As a child his thoughts turned chiefly on religion. At the University of Upsala the lad steadily studied the classical languages, mathematics and natural philosophy, and at the age of twenty-two took his degree as a doctor of philosophy, and published his first essay. In 1710 the young student came to London, when the plague prevailed in Sweden, and narrowly escaped being hung for breaking the quarantine laws. He spent some time at Oxford, and then went abroad for three years, living chiefly in Utrecht, Paris, and Griefswalde. He returned to Sweden in 1714 through Stralsund, which that valiant madman, Charles XII., was just then besieging. Introduced to the chivalrous king in 1716, he was made Assessor to the Board of Mines. During the siege of Frederickshall Swedenborg "rendered important service by transporting over mountains and valleys, on rolling machines of his own invention, two galleys, five large boats, and a sloop, from Strömstadt to Iderfjol, a distance of fourteen miles. Under cover of these vessels the king brought his artillery (which it would have been impossible to have conveyed by land) under the very walls of Frederickshall." He now devoted years to the production of works on mathematics, astronomy, chemistry, and mineralogy. He retired from his office of assessor in 1747, and probably then returned to his theological contemplations, and became again a spiritualistic dreamer. He came from Amsterdam to London in 1771, and resided at Shearsmith's, a peruke-maker's, No. 26, Great Bath Street, Coldbath Fields, where he finished his "True Christian Religion." Towards the end of the year Dr. Hartley and Mr. Cookworthy visited him in Clerkenwell. "The details of the the interview," says Mr. Pinks, "are not given, but we gather enough to show his innocence and simplicity, for on their inviting him to dine with them he politely excused himself, adding that his dinner was already prepared, which dinner proved to be a meal of bread and milk. On Christmas Eve, 1771, a stroke of apoplexy deprived him for a time of speech. Towards the end of February, 1772, the Rev. John Wesley was in conclave with some of his preachers, when a Latin note was put into his hand. It caused him evident astonishment, for the substance of it was as follows:
'Great Bath Street, Coldbath Fields, 1772.
'Sir,—I have been informed in the world of spirits that you have a desire to converse with me. I shall be happy to see you if you will favour me with a visit.
'I am, Sir, your humble servant, 'E. Swedenborg.'
"Wesley frankly acknowledged that he had been strongly impressed with a desire to see him, but that he had not mentioned that desire to any one. He wrote an answer that he was then preparing for a six-months' journey, but he would wait upon Swedenborg on his return to London. Swedenborg wrote in reply that he should go into the world of spirits on the 29th of the then next month, never more to return. The consequence was that these two remarkable persons never met."
Swedenborg professed to the last the entire truth of all his strange revelations of heaven and hell, and died on the day he had predicted to Wesley. After lying in state for several days at the undertaker's, he was buried in the Lutheran Chapel, Princes' Square, Ratcliff Highway, and his coffin lies by the side of that of Captain Cook's friend, Dr. Solander, the naturalist.
"In person," says Mr. Pinks, "Swedenborg was about five feet nine inches in height, rather thin, and of brown complexion; his eyes were of a brownishgrey, nearly hazel, and rather small; he had always a cheerful smile upon his countenance. His suit, according to Shearsmith, was made after an old fashion; he wore a full-bottomed wig, a pair of long ruffles, and a curious-hilted sword and he carried a gold-headed cane. In diet he was a vegetarian, and he abstained from alcoholic liquors. He paid little attention to times and seasons for sleep, and he often laboured through the night, and sometimes continued in bed several days together, while enjoying his spiritual trances. He desired Shearsmith never to disturb him at such times, an injunction which was necessary, for the look of his face was so peculiar on those occasions, that Shearsmith thought he was dead."
Soon after Spa Fields Chapel was opened, in 1777, some speculators leased of the Marquis of Northampton the two acres of ground in the rear of the building, and converted it into a general burying-ground. The new cemetery, embedded among houses, was intended to bring in a pretty penny, as it was calculated to have room for 2,722 adults, but it soon began to fill at the rate of 1,500 bodies annually, there being sometimes thirty-six burials a day. In fifty years it was carefully computed that 80,000 interments had taken place in this pestilential graveyard! in 1842 some terrible disclosures began to ooze out, proving the shameless greediness of the human ghouls who farmed the Spa Fields burial-ground. It was found that it was now the nightly custom to exhume bodies and burn the coffins, to make room for fresh arrivals. To make the new grave seven or eight bodies were actually chopped up, and corpses recently interred were frequently dragged up by ropes, so that the coffin might be removed and split up for struts to prop up the new-made graves. Bodies were sometimes destroyed after only two days' burial. A grave-digger who, being discharged, insisted on removing the body of his child, which had been recently interred, declared that he and his mates had buried as many as forty-five bodies in one day, besides still-borns. In one year they had had 2,017 funerals, and the stones of families who had purchased graves in perpetuity were frequently displaced and destroyed. The inhabitants of the neighbourhood then petitioned Parliament, complaining of the infectious smells from the burialground, and of the shameful scandal generally.
"The lessees of the ground," says the historian of Clerkenwell, "sought to allay the general excitement by repudiating the charges brought against their underlings, but there was no mitigation of the evil complained of; nightly burnings still took place. On the night of the 14th December, 1843, an alarm was raised that the bone-house of Spa Fields ground was on fire, and the engine-keeper stated he saw in the grate a rib-bone and other bones, partly burnt, and a quantity of coffin-wood in different stages of decay. By the exertions of Mr. G. A. Walker, M.D., of the Society for the Abolition of Burials in Towns, seconded by several of the principal inhabitants, this disgraceful state of things was brought again under the attention of the magistrates, and the lessees, managers, and others were summoned to appear at the Clerkenwell Police Court, when other revolting statements were made and confirmed. At length these disgusting and loathsome practices were suppressed by law."
Dorrington Street was erected, says Mr. Pinks, in 1720, and was famous for its old public-house, the "Apple Tree," at the south-east corner. It was a favourite resort of prisoners discharged from the neighbouring House of Correction. Topham, the Strong Man, already mentioned by us in our chapter on Islington, once kept the "Apple Tree." The favourite tap-room joke was, that the bellpulls were handcuffs; and when a guest wished a friend to ring the bell for the barman, he shouted, "Agitate the conductors!"
Crawford's Passage, or Pickled Egg Walk, is a small lane, leading from Baker's Row into Ray Street, rejoicing in certainly a very eccentric name. Half-way up stands a small public-house known as the "Pickled Egg," from a Dorsetshire or Hampshire man, who here introduced to his customers a local delicacy. It is said that Charles I., during one of his suburban journeys, once stopped here to taste a pickled egg, which is said to be a good companion to cold meat. There was a wellknown cockpit here in 1775. There were two kinds of this ancient but cruel amusement, which is now only carried on by thieves and low sporting men in sly nooks of London; one was called the "battle royal," and the other the "Welsh main." In the former a certain number of cocks were let loose to fight, the survivor of the contest being accounted the victor, and obtaining the prize; in the latter, which was more cruel, the conquerors fought again and again, till there was only one survivor, and he became "the shakebag" or pet of the pit.