Pages 553-576
Old and New London: Volume 2. Originally published by Cassell, Petter & Galpin, London, 1878.
This free content was digitised by double rekeying. Public Domain.
CHAPTER LXI.
THE HOLBORN INNS OF COURT AND CHANCERY.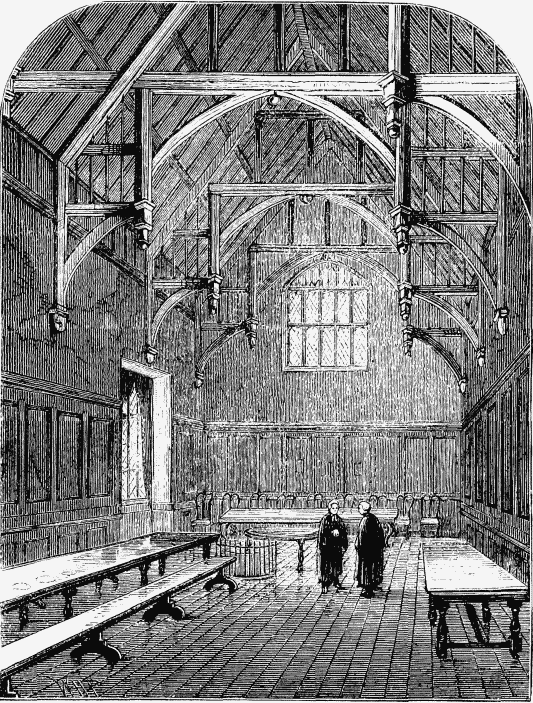 Gray's Inn—Its History—The Hall—A Present from Queen Elizabeth—The Chapel—The Library—Divisions of the Inn—Gray's Inn Walks— Bacon on Gardens—Observing the Fashions—Flirts and Flirtations—Old Recollections—Gray's Inn Gateway—Two Old Booksellers—Alms for the Poor—Original Orders—Eggs and Green Sauce—Sad Livery—Hats Off!—Vows of Celibacy—Mootings in Inns of Court—Joyous Revels—Master Roo in Trouble—Rebellious Students—A Brick Fight—An Address to the King—Sir William Gascoigne—A Prince imprisoned—Thomas Cromwell—Lord Burleigh—A Call to Repentance—Simon Fish—Sir Nicholas Bacon—Lord Bacon—A Gorgeous Procession—An Honest Welsh Judge—Bradshaw—Sir Thomas Holt—A Riot suppressed—Sir Samuel Romilly.
Holborn has long been famous as a law quarter of London. In it are situated Gray's Inn, Staple Inn, and Barnard's Inn, together with what used to be the old legal haunts of Thavie's Inn and Furnival's Inn. Of these we have now to speak, and the most important of them demands the earliest and deserves a large share of our attention.
Gray's Inn, on the north side of Holborn, and to the west of Gray's Inn Lane, is the fourth Inn of Court in importance and size. It derives its name from the noble family of Gray of Wilton, whose residence it originally was. Edmund, Lord Gray of Wilton, in August, 1505, by indenture of bargain and sale, transferred to Hugh Denny, Esq., "the manor of Portpoole, otherwise called 'Gray's Inn,' four messuages, four gardens, the site of a windmill, eight acres of land, ten shillings of free rent, and the advowson of the Chauntry of Portpoole."
From Denny's hands the manor passed into the possession of the Prior and Convent of East Sheen, in Surrey, an ecclesiastical establishment celebrated as having been the nursery of Cardinal Pole, and many other distinguished churchmen, in the sixteenth century. By the Convent the mansion of Portpoole was leased to certain students of law, who paid, by way of rent, £6 13s. 4d. per annum. This arrangement held good till that lively time when Henry VIII. seized all the monastic property he could lay hands on. The benchers of Gray's Inn were thenceforth entered in the king's books as the fee-farm tenants of the Crown, and paid annually into the Exchequer the same rent as was formerly due to the monks of Sheen. The domain of the society extends over a large tract of ground between Holborn and King's Road.
The name of Portpoole still survives in Portpool Lane, which runs from the east side of Gray's Inn Lane into Leather Lane; and Windmill Hill still exists to point out the site of the windmill mentioned in the deed of transfer we have just quoted.
The old buildings of Gray's Inn are spoken of by a contemporary writer as boasting neither of beauty, uniformity, nor capacity. They had been erected by different persons, each of whom followed the dictates of his own taste, and the accommodation was so scanty that even the ancients of the house had to lodge double.
The Hall of the Inn was begun to be built in the reign of Queen Mary. It was finished in the reign of Elizabeth (1560), and cost £863 10s. 8d. In appearance the Hall is acknowledged to be "a very handsome chamber, little inferior to Middle Temple Hall, and its carved wainscot and timber roof render it much more magnificent than the Inner Temple, or Lincoln's Inn Hall." Its windows are richly emblazoned with the armorial bearings of Burleigh, Lord Verulam, Sir Nicholas Bacon, Judge Jenkins, and others. "The roof of oak," we are told by the historian of the "Inns of Court and Chancery," "is divided into six bays, or compartments, by seven arched and moulded Gothic ribs or principals. The spandrels, or spaces, are divided by upright timbers, with a horizontal cornice in the centre. At the extremity of the projecting spandrels is a carved pendant ornament, partaking of the nature of an entablature. The screen of this Hall is supported by six pillars of the Tuscan order, with caryatides supporting the cornice, in accordance with the style of ornament prevalent at that time. The Hall is also lighted by a handsome louvre, on which was formerly a dial, with the motto Lux Dei, lex Dei. Paintings of King Charles I., King Charles II., King James II., Sir Nicholas Bacon, Lord Bacon, and Lord Raymond—Lord Chief Justice of the King's Bench— hang upon the walls."
There is a tradition in Gray's Inn that the Bench tables in the Hall were the gift of Queen Elizabeth, and that Her Majesty once honoured the society by partaking of a magnificent banquet here. "On every grand day," says Mr. Pearce, in his "Guide to the Inns of Court and Chancery" (1855), "the glorious, pious, and immortal memory of Queen Elizabeth is drunk with much formality. Three benchers rise to drink the toast; when they sit down, three others rise; and in this manner the toast passes down the Bar table, and from thence to the Students' table. It deserves to be remarked, too, that this is the only toast drunk in the Hall, and from the pleasure which Elizabeth derived from witnessing the performances of the gentlemen of Gray's Inn at her own palaces, and the distinction with which she on several occasions received them, it seems probable that the tradition to which reference has been made is correct, more especially as the Cecils, the Bacons, the Sidneys, and other illustrious personages of her court, were members of this house."
The Chapel of Gray's Inn is of modern erection. Likely enough, it was built on the site of the "Chauntry of Portpoole" mentioned in the grant to Hugh Denny. Divine service was of old performed here daily, and masses sung for the repose of the soul of John, son of Reginald de Gray— certain lands having been left for this purpose to the Prior and Convent of St. Bartholomew's, Smithfield.
The Chapel was an important institution in the olden time. All gentlemen of the Inn were ordered, in 1600, to frequent it regularly at service-time, as well as at sermons, and to receive the communion every term yearly, if they were in commons or resided in the house. If they omitted to do so, they forfeited 3s. 4d. for every time they neglected to receive the communion; and if they did not receive it at least once a year, they were liable to be expelled.
The Library of the Inn was rebuilt and enlarged in 1839–41. It consists of three handsome apartments, ceiled and wainscoted with oak. One of these is appropriated to the benchers, and the two larger rooms to the barristers and students of the society. In the principal room is a bust of Lord Bacon. The Library contains a complete series of reports, from the commencement of the yearbooks to the present day, with a large collection of valuable legal treatises and authorities.
The Inn was originally divided into four courts— viz., Coney Court; Holborn Court, which lay to the south of the Hall; Field Court, between Fulwood's Rents and the shady Walks of the Inn; and Chapel Court, between Coney Court and the Chapel. Now it comprises South Square, Gray's Inn Square, Field Court, Gray's Inn Place, Raymond Buildings, Verulam Buildings, and the Gardens. The chambers are well adapted for study and retirement; they are commodious, airy, and quiet, and free from the fogs which, in the winter season, afflict the region near the river. The whole Inn is extra-parochial.
Gray's Inn Walks, or Gray's Inn Gardens, form one of the most interesting features connected with this learned region. In Charles II.'s time, and in the days of the Tatler and Spectator, Gray's Inn Walks formed a fashionable promenade on pleasant summer evenings. As late as 1633 one could obtain from this spot a delightful and uninterrupted view of the rising ground of Highgate and Hampstead.
Gray's Inn Gardens had their principal entrance from Holborn by Fulwood's Rents, then a fashionable locality—very unlike what it is now.
"This spot," says the late Mr. J. H. Jesse, "was a favourite resort of the immortal Bacon during the period he resided in Gray's Inn. It appears, by the books of the society, that he planted the greater number of the elm-trees which still afford their refreshing shade; and also that he erected a summer-house on a small mound on the terrace, where it is not improbable that he often meditated, and passed his time in literary composition. From the circumstance of Lord Bacon dating his essays from his 'Chambers in Graie's Inn,' it is not improbable that the charming essay in which he dwells so enthusiastically on the pleasure of a garden was composed in, and inspired by, the floral beauties of this his favourite haunt. 'God Almighty,' he says, 'first planted a garden; and, indeed, it is the purest of human pleasures. It is the greatest refreshment to the spirits of man, without which buildings and palaces are but gross handy-works.' And he adds, 'Because the breath of flowers is far sweeter in the air—where it comes and goes like the warbling of music—than in the hand, therefore nothing is more fit for that delight than to know what be the flowers and plants that do best perfume the air.' As late as the year 1754 there was standing in the Gardens of Gray's Inn an octagonal seat, covered with a roof, which had been erected by Lord Bacon to the memory of his friend, Jeremiah Bettenham."
Howell, writing from Venice, June 5th, 1621, to a friend at Gray's Inn, says, "I would I had you here with a wish, and you would not desire in haste to be at Gray's Inn; though I hold your Walks to be the pleasantest place about London, and that you have there the choicest society."
Our often-quoted Pepys had an eye to the "choicest society," and on the 4th of May, 1662, we find him coming here after church-time, with his wife, to observe the fashions of the ladies; the reason being that Mrs. Pepys was just then bent on making some new dresses. Here pretty Fanny Butler was, in her brief day, the belle of the ground, and perhaps Pepys was thinking about her quite as much as about the latest fashions. He used to express his admiration at Fanny's beauty with a fervid candour by no means agreeable to the fair young wife on his own arm.
Sir Roger de Coverley is mentioned by Addison as walking here on the terrace, "hemming twice or thrice to himself with great vigour, for he loves to clear his pipes in good air (to make use of his own phrase), and is not a little pleased with any one who takes notice of the strength which he still exerts in his morning hems."
In the old dramatists we not unfrequently come across Gray's Inn Walks as a place of fashionable rendezvous. For example, in Dryden's Sir Martin Mar-all (1668) there is this reference to Gray's Inn Walks:—
"Sir John Shallow. But where did you appoint to meet him?
Mrs. Millisent. In Gray's Inn Walks."
And in the Miser, by Thomas Shadwell (1672), Cheatly says: "He has fifteen hundred pounds a year, and his love is honourable too. Now, if your ladyship will be pleased to walk in Gray's Inn Walks with me, I will design it so that you shall see him, and he shall never know on't."
Walking in these Gardens, we may thus call up many old associations. In addition to those just mentioned, we may picture to ourselves how those trees once shaded from the hot summer sun young men who loitered here with Butler and Cleveland. We can imagine Mr. Palmer, of Gray's Inn—the ingenious mechanician—pacing up and down these broad Walks, considering the qualities of the last addition to his collection of "telescopes and mathematical instruments, choice pictures, and other curiosities;" or devising some new contrivance for the improvement of that marvellous clock which roused the diarist's wonder and enthusiasm; or listening to John Evelyn's description of the museum of natural curiosities belonging to Mr. Charlton, of the Middle Temple, which collection eventually passed, by purchase, into the hands of Sir Hans Sloane.
The Gardens became, in time, the resort of dangerous classes; expert pickpockets and plausible ring-droppers found easy prey there on crowded days; and there were so many meetings of clandestine lovers, that it was thought expedient to close them, except at stated hours.
Many a married barrister, long ago, had his wife and family residing with him within the precincts of the Inns of Court. When that was the case, the children must have been bound over to keep the peace, and the lady strictly forbidden, during business hours, to practise on the piano. "Under the trees of Gray's Inn Gardens," says Mr. Jeaffreson (1867), "may be seen two modest tenements, each of them comprising some six or eight rooms and a vestibule. At the present time they are occupied as offices by legal practitioners; and many a day has passed since womanly skill decorated their windows with flowers and muslin curtains; but a certain venerable gentleman, to whom the writer of this page is indebted for much information about the lawyers of the last century, can remember when each of those cottages was inhabited by a barrister, his young wife, and three or four lovely children."
The origin of Gray's Inn Gateway we may read of in the following extract from an old author of the beginning of the seventeenth century:—"In this present age there hath been great cost bestowed therein upon faire buildings, and very lately the gentlemen of this House [Gray's Inn] purchased a Messuage and a Curtillage, scituate uppon the south side of this House, and thereuppon have erected a fayre Gate, and a Gate-house, for a more convenient and more honourable passage into the high street of Holborn, whereof this House stood in much neede; for the other former Gates were rather Posterns than Gates.
The celebrated bookseller, Jacob Tonson, had his shop here, within Gray's Inn Gate, next Gray's Inn Lane. Here he published Addison's "Campaign;" and from this place also he wrote the following letter to Pope:—
"Gray's Inn Gate, April 20th, 1706.
"Sir,—I have lately seen a pastoral of yours, in Mr. Walsh's and Congreve's hands, which is extremely fine, and is approved of by the best judges in poetry. I remember I have formerly seen you at my shop, and am sorry I did not improve my acquaintance with you. If you design your poem for the press, no person shall be more careful in the printing of it, nor no one can give greater encouragement to it than, sir, yours, &c., "Jacob Tonson."
Tonson was the second son of Jacob Tonson, a barber-chirurgeon in Holborn. He was born in the year 1656; and by his father's will, which was executed July 10th, 1668, and proved in the following November, he and his elder brother, Richard, and their three sisters, were each to receive the sum of £100 on their attaining the age of twenty-one —the money to be paid in Gray's Inn Hall. On the 5th of June, 1670, we find him bound apprentice for eight years to a bookseller called Thomas Basset, and on the 20th of December, 1677, he was admitted a freeman of the Stationers' Company. His first shop was in Chancery Lane, very near Fleet Street, and was distinguished by the sign of the "Judge's Head." About 1697 he removed to Gray's Inn, where he remained till about 1712, when he removed to a house in the Strand, over against Catherine Street, and here he chose Shakespeare's head for a sign. He died, very rich, on the 18th of March 1735–6.
The successor of Tonson in the Gray's Inn shop was another eminent bookseller, Thomas Osborne, who is oftener than once introduced in the "Dunciad." Pope makes him contend for the prize among the booksellers, and prove the successful competitor:—
'Osborne, through perfect modesty o'ercome,
Crowned with the jorden, walks contented home."
Osborne is perhaps best remembered by his wellknown feud with Dr. Johnson. Of this Boswell writes: "It has been confidently related with many embellishments, that Johnson one day knocked Osborne down in his shop with a folio, and put his foot upon his neck. The simple truth I had from Johnson himself—'Sir, he was impertinent to me, and I beat him; but it was not in his shop, it was in my own chamber.'" Johnson, in his life of Pope, speaks of Osborne as a man entirely destitute of shame—without sense of any disgrace but that of poverty. He is said to have combined the most lamentable ignorance with extraordinary expertness in all the petty tricks of his trade.
Alms were distributed thrice a week at Gray's Inn Gate, for the better relief of the poor in Gray's Inn Lane, in 1587, the 29th year of Elizabeth's reign. The alms consisted of the broken victuals of the Hall table. The third butler was instructed to see that due consideration was had to the poorest sort of aged and impotent persons, and in case the panyer-man and under-cook should appropriate any of the said alms to themselves, they were allowed, by way of lessening the temptation, three loaves a-piece. The panyer-man here mentioned was a waiter. The Inner Temple Hall waiters are still called panniers—according to Mr. Timbs, from the panarii who attended the Knights Templars.
Some of the orders for the government of Gray's Inn are very curious—a remark, however, which might be applied to the regulations of all the other Inns. Let us notice a few of the more remarkable of these orders, as given by Herbert in his "Antiquities of the Inns of Court and Chancery" (1804).
At a pension, or meeting, held in the beginning of the reign of King James, it was intimated to be the royal pleasure that none but gentlemen of descent should be admitted to the society. The names of all candidates were therefore ordered to be delivered to the Bench, that inquiries might be made as to their quality.
In the reign of Edward VI. it was ordered that double readers were to have in commons only two servants, and single readers one. If a reader was elected, and he refused to serve, he had to forfeit ten pounds. For his trouble he was allowed thirtyfive shillings for a hogshead of wine, and he fared well also as regards venison. In 28 Elizabeth (6 Junii) the reader for that summer was allowed "for every week ten bucks, and no more." In 1615 the House allowed the then two readers two hogsheads of wine, thirty bushels of flour, thirty pounds of pepper, and a "reward for thirty bucks and two stags, which were to be equally divided between them."
To ensure the orderly management of the public table, many regulations were made. In 1581 there was a cupboard-agreement regarding Easter Day, from which we learn that the members who came to breakfast after service and communion were to have "eggs and green sauce" at the cost of the House, and that "no calves'-heads were to be provided by the cook." At dinner and supper-time all were to be on their good behaviour. No gentleman was to be served out of his proper course; and by a regulation made in 1598, if any one "took meat by 'strong hand' from such as should serve him, he was to be put out of commons ipso facto."
In the sixteenth year of Elizabeth, the subject of dress was discussed, and an order was made "that every man of this society should frame and reform himself for the manner of his apparel, according to the proclamation then last set forth, and within the time therein limited; else not to be accounted of this house;" and that no one should wear any. gown, doublet, hose, or outward garment of any light colour, upon penalty of expulsion; and within ten days following it was also ordered that no one should wear any white doublet in the house after Michaelmas Term ensuing.
Hats were forbidden to be worn in the Hall at meal-time, in 27 Elizabeth, under a penalty of 3s. 4d. for each offence. In 1600 the gentlemen of the society were instructed not to come into the Hall with their hats, boots, or spurs, but with their caps, decently and orderly, "according to the ancient orders." When they walked in the City or suburbs, or in the fields, they had to go in their gowns, or they were liable to be fined, and at the third offence to be expelled, and lose their chamber.
One cannot, however, oppose fashion; and though the benchers might talk grandly, in their council-chamber, of its being frivolity, and issue instructions about wearing this, and not wearing that, it is to be feared they did not always get themselves attended to. Was it likely that handsome youngsters were going to make guys of themselves? "Even in the time of Elizabeth," says one writer, "when authority was most anxious that utterbarristers should, in matter of costume, maintain that reputation for 'sadness' which is the proverbial characteristic of apprentices of the law, counsellors of various degrees were conspicuous through the town for brave attire. At Gray's Inn, Francis Bacon was not singular in loving rich clothes, and running into debt for satin and velvet, jewels and brocade, lace and feathers. Even of that contemner of frivolous men and vain pursuits, Edward Coke, biography assures us that 'the jewel of his mind was put into a fair case—a beautiful body with a comely countenance: a case which he did wipe and keep clean, delighting in good clothes well worn; being wont to say that the outward neatness of our bodies might be a monitor of purity to our souls.'"
Among other ancient constitutions of Gray's Inn were the following:—That no officer of this house shall hold or enjoy his office longer than he shall keep himself sole and unmarried, excepting the steward, the chief butler, and the chief cook; that no fellow of the society stand with his back to the fire; that no fellow of the society make any rude noise in the Hall at exercises, or at mealtime; that no fellow of the society, under the degree of an ancient, keep on his hat at readings or moots, or cases assigned; and that search be made every Term for lewd and dangerous persons, that no such be suffered to lodge in the house.
Mootings, or disputations, in the Inns of Court and Chancery have long been disused. Danby Pickering, Esq., of Gray's Inn, was the last who voluntarily resumed them, but they were not of long continuance. Indeed, the course of legal education has greatly changed, and scarcely any of the ancient customs mentioned by authors are known, except as matters of curiosity.
The Inns of Court were, in the olden time, the scene of many joyous masques and revels, thus following the example set by the nobility in their castles and palaces. During the reigns of Henry VIII. and Elizabeth, masques, and other goodly "disguisings" sanctioned by the "grave and reverend Bench," were frequently performed at Gray's Inn. The first entertainment of this kind of which we have specific notice was a masque performed here at Christmas, 1527. It was composed by John Roo, serjeant-at-law, and was chiefly remarkable for the great offence which it gave to Cardinal Wolsey, whose ambition and misgovernment it was supposed to satirise. The old chronicler, Hall, giving an account of the events of the eighteenth year of Henry VIII., thus speaks of it:—"This Christmas was a goodly disguising played at Gray's Inn, which was compiled by John Roo, serjeant-at-thelaw, twenty year past, and long before the cardinal had any authority. . . . This play was so set forth with rich and costly apparel, and with strange devices of masks and morrishes, that it was highly praised of all men, except by the cardinal, who imagined that the play had been devised of him. In a great fury he sent for Master Roo, and took from him his coif, and sent him to the Fleet; and afterwards he sent for the young gentlemen that played in the play, and highly rebuked and threatened them, and sent one of them, called Master Moyle, of Kent, to the Fleet; but, by means of friends, Master Roo and he were delivered at last. This play sore displeased the cardinal, and yet it was never meant for him, wherefore many wise men grudged to see him take it so to heart."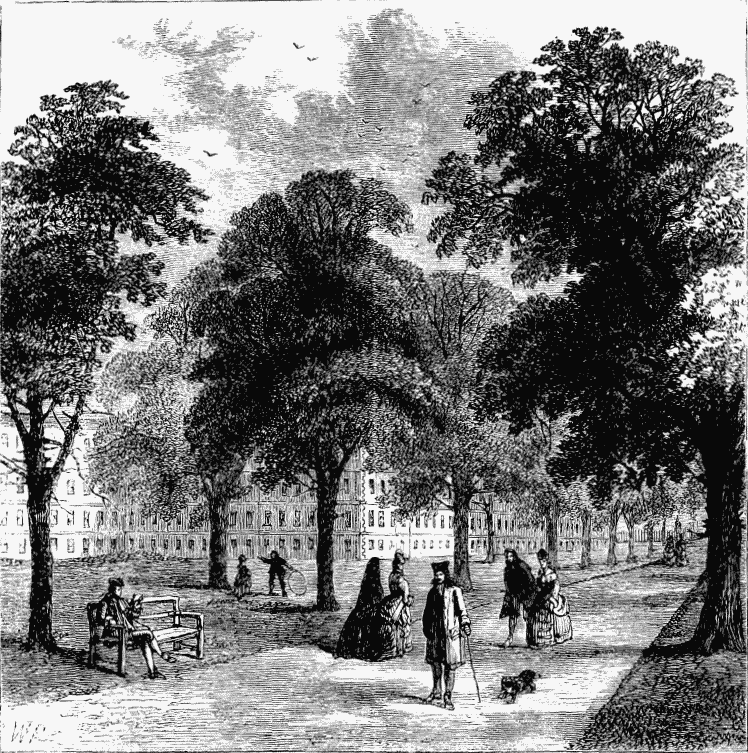 Perhaps Roo, when he wrote his comedy, did not intend any special reference to Wolsey. It seems, however, that the performers were aware that the cardinal would likely take it home to himself. We learn as much from Fox's notice, in his "Acts and Monuments," of a Mr. Simon Fish, one of the gentlemen who acted in the piece.
That the presentation of plays was a customary feature of the festivities at Gray's Inn, we may infer from a passage from Dugdale, in his notes on this society. He says:—"In 4 Edward VI. (November 17) it was also ordered that henceforth there should be no comedies, called interludes, in this house out of Term time but when the feast of the Nativity of our Lord is solemnly observed. And that when there shall be any such comedies, then all the society at that time in commons, to bear the charge of the apparel."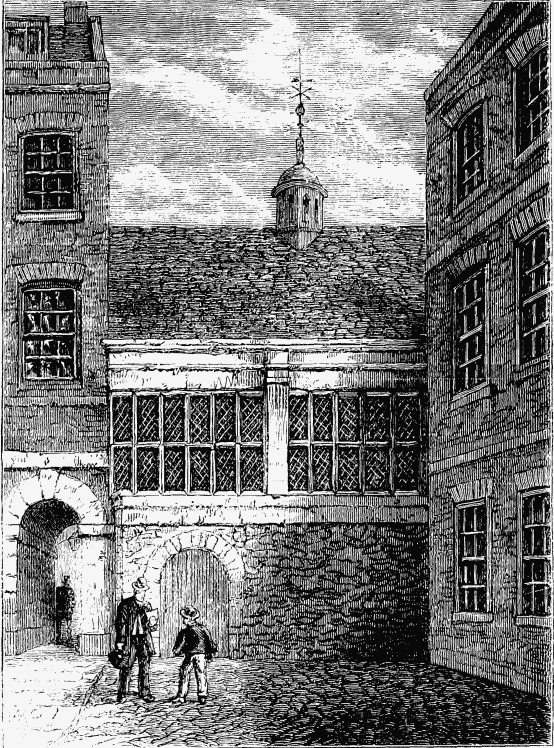 The Prince of Purpoole's revel at Gray's Inn, in 1594, was a costly entertainment, and, in point of riotous excess, not inferior to any similar festivity in the time of Elizabeth. "On the 20th of December (St. Thomas's Eve) the prince (one Master Henry Holmes, a Norfolk gentleman) took up his quarters in the Great Hall of the Inn, and by the 3rd of January the grandeur and comicality of his proceedings had created so much talk throughout the town, that the Lord Treasurer, Burghley, the Earls of Cumberland, Essex, Shrewsbury, and Westmoreland; the Lords Buckhurst, Windsor, Sheffield, Compton; and a magnificent array of knights and ladies, visited Gray's Inn Hall on that day, and saw the masque which the revellers put upon the stage. After the masque there was a banquet, which was followed by a ball. On the day after, the prince, attended by eighty gentlemen of Gray's Inn and the Temple (each of them wearing a plume on his head), dined in state with the Lord Mayor and aldermen of the City, at Crosby Place. The frolic continued for many days more, the royal Purpoole, on one occasion, visiting Blackwall with a splendid retinue; on another, (Twelfth Night) receiving a gallant assembly of lords, ladies, and knights at his court in Gray's Inn; and on a third (Shrovetide) visiting the Queen herself, at Greenwich, when Her Majesty warmly applauded the masque set before her by the actors who were members of the prince's court.
"So delighted was Elizabeth with the entertainment, that she graciously allowed the masquers to kiss her right hand, and loudly extolled Gray's Inn as 'an house she was much indebted to, for it did always study for some sport to present unto her;' whilst to the mock prince she showed her favour by placing in his hand the jewel (set with seventeen diamonds and fourteen rubies) which he had won by valour and skill in a tournament which formed part of the Shrovetide sports."
When the Prince of Purpoole kept his court at Gray's Inn on this occasion, we are told that his champion rode into the dining-hall upon the back of a fiery charger, which, like the rider, was clothed in a panoply of steel.
In 1612 the gentlemen of Gray's Inn, in company with those of the other Inns of Court, acted in a great masque at Whitehall, given in honour of the marriage of the Princess Elizabeth to the Count Palatine. To cover the expense of this display an assessment was made of £4 from each reader; the ancients paying £2 10s., the barristers £2, and the students 20s. apiece.
The society of Gray's Inn took an active part in the gorgeous masque which we have described as starting from Ely Place at Allhallowtide, 1633 (see p. 521 et seq.). One of the representatives of Gray's Inn, on that occasion, was a Mr. Read, whom all the women, and some of the men, pronounced "as handsome a man as the Duke of Buckingham." The only accident that happened that day was an unfortunate display of temper towards a Gray's Inn member. "Mr. May," says Garrard, in one of his letters to Lord Strafford, "of Gray's Inn, a fine poet—he who translated Lucan—came athwart my Lord Chamberlain in the banqueting-house, and he broke his staff across his shoulders, not knowing who he was. The king was present, who knew him, for he calls him his poet, and told the Chamberlain of it, who sent for him next morning, and fairly excused himself to him, and gave him fifty pounds in pieces." This hot-headed Lord Chamberlain was Philip Herbert, Earl of Pembroke and Montgomery, the "memorable simpleton" of Horace Walpole, and one of whom Anthony Wood quaintly observes that he broke many wiser heads than his own.
The students of the Inns were never the quietest members of the community. Among the disturbances of Gray's Inn is one mentioned by Pepys in his Diary, May, 1667:—"Great talk of how the barristers and students of Gray's Inn rose in rebellion against the benchers the other day, who outlawed them; a great to-do; but now they are at peace again."
A few years later we find them up in arms again; but this time their strength is turned against outsiders, and not expended in hitting each other hard knocks. When building operations commenced in Holborn Fields, and the country about Gray's Inn began to give place to streets and squares, the legal fraternity, anxious to preserve the rural character of their neighbourhood, were greatly displeased. Lawyers, it is true, were the earliest householders, but that did not serve to mend the matter. Under date of June 10th, 1684, Narcissus Luttrell wrote in his Diary: "Dr. Barebone, the great builder, having some time since bought the Red Lyon Fields, near Graie's Inn Walks, to build on, and having, for that purpose, employed severall workmen to goe on with the same, the gentlemen of Graie's Inn took notice of it, and thinking it an injury to them, went with a considerable body of a hundred persons; upon which the workmen assaulted the gentlemen, and flung bricks at them. So a sharp engagement ensued, but the gentlemen routed them at last, and brought away one or two of the workmen to Graie's Inn. In this skirmish one or two of the gentlemen and servants of the house were hurt, and severall of the workmen."
The various eminent members of the Inn now claim our notice. Sir William Gascoigne, whose name is familiar to all, was one of the lawyers of the olden time connected with this house. He was reader here till 1398, in which year he was called to the degree of King's Serjeant-at-law. About three years afterwards he was made Chief Justice of the King's Bench. His death took place on the 17th of December, 1413. For his integrity as a judge, as well as for his private virtues, he deserves to be ever held in remembrance.
He distinguished himself on many occasions, particularly in refusing to pass sentence on Archbishop Scroop as a traitor, though commanded to do so by the king; and still more by committing the Prince of Wales, afterwards Henry V., to prison for contempt of court. This latter incident suggested to Shakespeare one of his most effective scenes.
Here is the account given by one of our old chroniclers of the Prince's committal to prison. It happened," he says, "that a servant of Prince Henry, afterwards the fifth English king of that Christian name, was arraigned before this judge, Sir William Gascoigne, for felony, whom the Prince, then present, endeavoured to take away, coming up in such fury that the beholders believed he would have stricken the judge. But he, sitting without moving, according to the majesty he represented, committed the Prince prisoner to the King's Bench, there to remain until the pleasure of the Prince's father were further known. Who, when he heard thereof by some pickthank courtier, who probably expected a contrary return, gave God thanks for His infinite goodness, who at the same instant had given him a judge who could administer and a son who could obey justice." The dramatist puts these words in his mouth:—
"Happy am I, that have a man so bold
That dares do justice on my proper son;
And not less happy, having such a son
That would deliver up his greatness so
Into the hands of justice."
It is a fine scene in Shakespeare's Henry IV. (Part II., v. 2), where the future conqueror of Agincourt, after his accession to the throne, meets the independent judge:—
"King. You are right, Justice, and you weigh this well;
Therefore still bear the balance and the sword;
And I do wish your honours may increase,
Till you do live to see a son of mine
Offend you and obey you, as I did.
. . . . You did commit me:
For which, I do commit into your hand
The unstained sword that you have used to bear,
With this remembrance, that you use the same
With the like bold, just, and impartial spirit
As you have done 'gainst me."
Thomas Cromwell, afterwards Earl of Essex, a conspicuous enough individual in his day, and also kept in remembrance by Shakespeare, was another member of this Inn. He was a man of humble origin, and owed his rise in life to his having been admitted into the household of Cardinal Wolsey. He is said to have acted as law adviser to the Cardinal, who recognised his abilities, rewarded his devotion, and left him a parting counsel:—
"Oh, Cromwell, Cromwell,
Had I but served my God with half the zeal
I served my king, he would not in my age
Have left me naked to mine enemies."
Cromwell was admitted of Gray's Inn in 1524. Ten years afterwards he was one of the ancients of the society, and in 1535 he was raised to the offices of Secretary to the Privy Council, Chancellor of the University of Cambridge, Master of the Rolls, and Lord Privy Seal. The new doctrines in religion, it was well known, had his sympathy and support.
"Bishop Gardiner. Do I not know you for a favourer
Of this new sect? Ve are not sound.
Cromwell. Not sound?
Gardiner. Not sound I say,
Cromwell. Would you were half so honest.
Men's prayers then would see you, not their fears.
Gardiner. I shall remember this bold language.
Cromwell. Do;
Remember your bold life too."—Henry VIII., v. i.
His successful career did not last long. As often happens, wealth and honour created envious enemies: the clergy, too, viewed him with hatred, and to the nobility he was odious on account of his mean extraction. He fell into disfavour with King Henry, and on the 10th of June, 1540, was committed to prison. He was impeached before Parliament, the articles accusing him of being "the most false and corrupt traitor and deceiver that had been known in that reign;" of being a "detestable heretic," and of having acquired "innumerable sums of money and treasure by oppression, bribery, and extortion." He was not allowed to answer these charges in open court, and was sentenced to be beheaded. The sentence was carried into effect on Tower Hill on the 28th of July of the same year.
William Cecil, Lord Burleigh, was another eminent member of whom Gray's Inn can boast. He entered at Gray's Inn in 1540. "Whether this removal to Gray's Inn," says Dr. Nares, "were for the purpose of his being bred wholly up to the profession of the law, we are not able to say, since it was no unusual thing in those days for young men of family and talents, who had any prospect of becoming members of the legislature, to go through a course of law at some one of our Inns of Court, in order to become better acquainted with the laws and constitution of their country. It was regarded, indeed, as almost a necessary qualification."
An anecdote of Burleigh's Gray's-Inn days, as quaintly related by his old historian, may afford the reader some gratification. "A mad companion having enticed him to play, in a short time he lost all his money, bedding, and books to his companion, having never used play before. And being afterwards among his other company, he told them how such a one had misled him, saying he would presently have a device to be even with him. And with a long trouke he made a hole in the wall, near his playfellow's bedhead, and in a fearful voice spake thus through the trouke:—' O mortal man, repent! repent of thy horrid time consumed in play, cozenage, and lewdness, or else thou art damned and canst not be saved!' Which being spoken at midnight, when he was all alone, so amazed him, as drove him into a sweat for fear. Most penitent and heavy, the next day, in presence of the youths, he told with trembling what a fearful voice spake to him at midnight, vowing never to play again; and calling for Mr. Cecil, asked him forgiveness on his knees, and restored him all his money, bedding, and books. So two gamesters were both reclaimed with this merry device, and never played more. Many other the like merry jests I have heard him tell, too long to be here noted."
"Who Burleigh's 'playfellows' were," says a writer in Knight's "London," "nowhere appears, but the future statesman himself was a married man during the greater part of his sojourn at Gray's Inn, and ought to have been more steady than to stake his 'books and bedding,' after losing his money. However, from many memoranda of Gray's Inn which have come down to our time, it would seem that the students of this society were rather an unruly set."
The most distinguished writer on the laws of England who flourished in the sixteenth century was Anthony Fitzherbert, Lord Chief Justice of the Court of Common Pleas in the reign of Henry VIII. He once filled the office of reader in Gray's Inn. "His books"—"De Natura Brevium," and others—says Fuller, "are monuments which will longer continue his memory than the flat blue stone in Norbury Church, under which he lieth interred." Fitzherbert assisted to draw up the articles of impeachment against Cardinal Wolsey, which concluded by praying King Henry "that he be so provided for, that he never have any power, jurisdiction, or authority, hereafter to trouble, vex, and impoverish the Commonwealth of this your realm, as he hath done heretofore, to the great hurt and damage of almost every man, high and low."
We have already referred to Simon Fish, a student of this inn, who, for taking part in a masque supposed to satirise Wolsey, had to fly the kingdom, in 1527. During his residence in Germany, he composed a work called "The Supplication of Beggars," attacking the monastic orders in England. It was shown by Anne Boleyn to Henry VIII., who was so pleased with it, as falling in with his projects of plunder, that he not only permitted the return of the author to his native land, but took him under his protection. Fish did not long enjoy his good fortune; he died in 1531.
Passing from him, however, we come to two much more celebrated members of our inn. Sir Nicholas Bacon, Lord Keeper of the Great Seal of England during the greater part of Elizabeth's reign, kept his terms here. In the year 1532 he was admitted a student of Gray's Inn; in 1536 he rose to the degree of ancient in the society, and in 1550 was created a bencher.
Sir Nicholas Bacon had much of that penetrating genius, solidity of judgment, persuasive eloquence, and comprehensive knowledge of law and equity, which afterwards shone forth with so great a lustre in his son, who was, it has been remarked, "as much inferior to his father, in point of prudence and integrity, as his father was to him in literary accomplishments." He was the first Lord Keeper who ranked as Chancellor.
Towards the end of his life he became very corpulent, which gave occasion to Elizabeth to make a jest once: "Sir Nicholas's soul lodged well," she said. To himself, however, his bulk was very cumbersome, insomuch that, after walking from Westminster Hall to the Star Chamber, which was but a little way, he was usually so much out of breath that the lawyers forbore speaking at the bar till he recovered himself, and gave them notice of it by knocking with his staff. His death, in 1579, is reported to have happened through a cold, caught from having fallen asleep with his window open, after having been under the hands of his barber.
But the name of which, above all others, Gray's Inn is proud, is that of Francis Lord Bacon, the youngest son of Sir Nicholas Bacon. This great man's history is well known, so we shall not repeat it, but content ourselves with recording the dates of his admission as a student here, and of his various degrees in the society. He was admitted in 1576; became ancient, 21st November, 1576; became barrister, 27th June, 1582; became bencher, 1586; became reader, 1588, and was duplex reader in 1600.
The errors and foibles of this great man were, no doubt, exaggerated by the malice of his enemies, and they have died with him; but his writings will exercise an influence for good on mankind as long as our language lasts; and his "name and memory," which he proudly bequeathed "to foreign nations and to his own countrymen, after some time passed over," will long be regarded as one of the most valuable inheritances of this ancient and honourable legal society.
After his downfall, when he had parted with York House, he resided again at his old chambers at Gray's Inn, whence, in 1626, he went one day, with his physician, towards Highgate, to take the air. "It occurred to Bacon to inquire if flesh might not be preserved in snow as well as in salt. Pulling up at a small cottage, near the foot of Highgate Hill, he bought a hen from an old dame, plucked and drew it, gathered up snow in his palms, and stuffed it into the fowl." He was smitten by a sudden chill, became too ill to return to Gray's Inn, and was carried to the Earl of Arundel's house, close at hand, where he died within a week. In his brief will it was directed that the lease of his rooms, valued at £300, was to be sold, and the money given to poor scholars.
Francis Bacon's progress from Gray's Inn to Westminster, on the 7th of May, 1617, has been described by many writers, who, however widely they differ in estimating the moral worth of the new Lord Keeper, concur in celebrating the gorgeousness of his pageant:—"On the first day of Trinity Term, May 7th, says Mr. Hepworth Dixon, in his "Story of Lord Bacon's Life," "he rode from Gray's Inn, which he had not yet left, to Westminster Hall, to open the courts in state, all London turning out to do him honour, the queen sending the lords of her household, Prince Charles the whole of his followers—the lords of the council, the judges, and serjeants composing his immediate train. On his right hand rode the Lord Treasurer, on his left the Lord Privy Seal, behind them a long procession of earls and barons, knights and gentlemen. Every one, says George Gerard, who could procure a horse and a footcloth fell into the train, so that more than 200 horsemen rode behind him, through crowds of citizens and apprentice boys from Cheap, of players from Bankside, of the Puritan hearers of Burgess, of the Roman Catholic friends of Danvers and Armstrong; and he rode, as popular in the streets as he had been in the House of Commons, down Chancery Lane and the Strand, past Charing Cross, through the open courts of Whitehall, and by King Street into Palace Yard. He wore on that day, as he had worn on his bridal day, a suit of purple satin. Alighting at the gates of Westminster Hall, and passing into the Court, he took his seat on the bench; when the company had entered, and the criers commanded silence, he addressed them on his intention to reform the rules and practices of the court."
Lord Bacon's chambers, says Mr. Pearce, "were in No. 1, Coney Court, which formerly stood on the site of the present row of buildings at the west side of Gray's Inn Square, adjoining the gardens. The whole of Coney Court was burnt down by a fire which occurred in the inn about the year 1678."
Gray's Inn can boast of having had as one of its members the patriotic and honest Welsh judge, David Jenkins. He was a famous champion of the royal cause, and in the most troublous time of England's history displayed undaunted courage and unbending devotion to his lawful sovereign. He was admitted a student of Gray's Inn in the year 1602, was called to the Bar in 1609, and on the 28th of May, 1622, was advanced to the degree of ancient in this house. In the discharge of his official duty he imprisoned and condemned several persons bearing arms against King Charles. For this the parliamentarians laid violent hands upon him, and on Monday, 21st of February, 1647, the keeper of Newgate brought Judge Jenkins, described as "Mr. David Jenkins, judge in Wales, now a prisoner in that gaole," to the bar of the House of Commons, upon an impeachment of high treason. The Speaker asked him what he had to say for himself, and David Jenkins was not slow to reply. We are informed by a contemporaneous account of his arraignment, that he said "that they had no power to try him, and at the bar, and in the open house, gave very contemptuous words and reproaches against the Houses and power of Parliament. He threatened Parliament with the king's numerous issue, with divers other reproachful words, such as the like were never offered in the face of a parliament. After he came out of the House, he put off his hat, and spake to this effect before the soldiers of the guard, and divers gentlemen at the doore: 'Gentlemen, God bless you all, protect the laws of the kingdom!'"
His carriage was declared to be a high contempt and misdemeanour, and he was ordered to be fined £1,000, and sent back to Newgate. When in prison he expected daily to be hanged, and formed the original resolution of being suspended from the gallows-tree with a Bible under one arm and Magna Charta under the other. It never came to that, however; and Judge Jenkins escaped with his life.
Bradshaw, who sat as president at the trial of Charles I., was a bencher of Gray's Inn. He was "a stout man," to quote the words of Whitelock, "and learned in his profession; no friend to monarchy." He entered Gray's Inn in the year 1622, was called to the bar on the 23rd of April, 1627, and was advanced to the degree of ancient on the 23rd of June, 1645.
Sir Thomas Holt was once Treasurer of Gray's Inn, and his son, who became Lord Chief Justice, was entered upon the society's books before he was ten years old. Lord Chief Justice Holt is deservedly regarded as a bright ornament of this Inn, and his escutcheon holds a prominent place in the principal window of the hall. He was born at Thame, in Oxfordshire, about 1642. His rise as a lawyer was very rapid, and in 1689 we find him appointed by King William III. Lord Chief Justice of the King's Bench, an office which he held till his death. On the removal of Lord Somers he was offered the Chancellorship, but he declined it. On the bench he is said to have conducted himself in a lofty and dignified manner, and to have set an example of spirit and temper which has continued since his day to adorn the English bench. On several occasions he was forced, in the conscientious discharge of his duty, to resist the encroachments of the Crown as well as of the Houses of Parliament. When he died, in March, 1709, he left behind him, says his biographer, "a reputation for learning, honour, and integrity, which has never been surpassed even among the many eminent individuals who have succeeded him in his dignified office."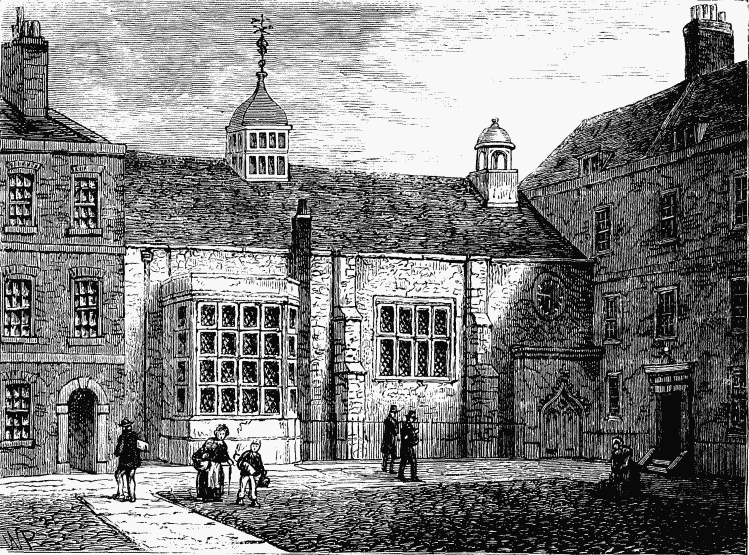 There is a sketch of the character of Lord Chief Justice Holt in the 14th number of the Tatler. "It would become all men as well as me," remarks the writer, "to lay before them the noble character of Verus the magistrate, who always sat in triumph over, and contempt of vice; he never searched after it or spared it when it came before him. At the same time he could see through the hypocrisy and disguise of those who have no pretence to virtue themselves, but by their severity to the vicious. This same Verus was, in times past. Chief Justice, as we call it in Felicia (Britain). He was a man of profound knowledge of the laws of his country, and as just an observer of them in his own person. He considered justice as a cardinal virtue, not as a trade for maintenance. Wherever he was judge, he never forgot that he was also counsel. The criminal before him was always sure he stood before his country, and, in a sort, a parent of it; the prisoner knew that, though his spirit was broken with guilt, and incapable of language to defend itself, all would be gathered from him which could conduce to his safety; and that his judge would wrest no law to destroy him, nor conceal any that could save him."
The following story concerning this eminent judge has appeared in many books of anecdote: —A party of the guards was once ordered from Whitehall to put down a dangerous riot which had arisen in Holborn, from the practice of kidnapping, then carried to a great extent; and at the same time an officer was dispatched to inform the Chief Justice of what was doing, and to desire that he would send some of his people to attend and countenance the soldiers. "Suppose, sir," said Holt—"let us suppose that the populace should not disperse on your appearance, or at your command?" "Our orders are then to fire upon them." "Then mark, sir, what I say. If there should be a man killed in consequence of such orders, and you are tried before me for murder, I will take care that you and every soldier of your party shall be hanged. Return to those who sent you, and tell them that no officer of mine shall accompany soldiers; the laws of this kingdom are not to be executed by the sword. This affair belongs to the civil power, and soldiers have nothing to do here." Then ordering his tipstaves and some constables to accompany him, he proceeded to the scene of tumult; and the populace, on his assurance that justice should be done on the objects of their indignation, dispersed in a peaceable manner.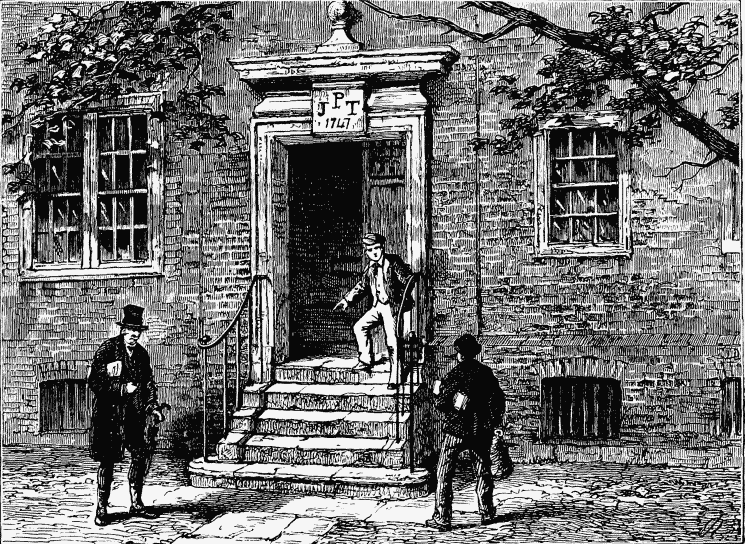 "This story," says Mr. Jeaffreson, in his "Book about Lawyers," "is very ridiculous, but it points to an interesting and significant event. Of course, it is incredible that Holt said, 'the laws of this kingdom are not to be executed by the sword.' He was too sound a constitutional lawyer to hold that military force could not be lawfully used in quelling civil insurrection. The interesting fact is this: On the occasion of a riot in Holborn, Holt was formally required, as the supreme conservator of the king's peace, to aid the military; and instead of converting a street row into a massacre, he prevailed upon the mob to disperse, without shedding a single drop of blood. Declining to co-operate with soldiers on an unarmed multitude, he discharged the ancient functions of his office with words, instead of sabres—with grave counsels, instead of cruel violence. Under similar circumstances, Chief Justice Odo would have clad himself in mail, and crushed the rabble beneath the feet of his war-horse. At such a summons George Jeffreys, having fortified himself with a magnum of claret and a pint of strong water, would have accompanied the king's guards, and with noisy oaths would have bade them give the rascals a taste of cold steel. Wearing his judicial robes, and sustained by the majesty of the law, William III.'s chief justice preserved the peace without sacrificing life."
Sir Samuel Romilly, the celebrated English lawyer and M.P. for Westminster, was a member of Gray's Inn. As a student he seems to have had no anticipation of the brilliancy of his future career. We find him writing despondingly to a friend, in 1783—"I sometimes lose all courage, and wonder what fond opinion of my talents could ever have induced me to venture on so bold an undertaking; but it often happens (and I fear it has been in my case) that men mistake the desire for the ability of acting some distinguished part." He died by his own hand, in November, 1818, during an attack of brain fever, brought on by grief for the death of his wife.
CHAPTER LXII.
THE HOLBORN INNS OF COURT AND CHANCERY (continued).
Ecclesiastics of Gray's Inn—Stephen Gardiner—Whitgift—Bishop Hall, the "Christian Seneca"—Archbishop Laud—William Juxon—On the Scaffold—The "Bruised Reed"—Baxter's Conversion—Antiquaries and Bookworms—The Irritable Joseph Ritson—John Britton—Hall and his: "Chronicles"—Rymer and his "Fœdera"—The Original of "Tom Folio"—George Chapman—A Celebrated Translation—Oliver Goldsmith—A Library of One Book—William Cobbett—Rental of the Inns of Court and Chancery—What are Inns of Chancery?— Furnival's Inn—A Street Row—Sir Thomas More—Snakes and Eels—A Plague of a Wife—A Scene in the Tower—Scourges and Hair Shirts—No Bribery—Charles Dickens and "Pickwick"—Thavie's Inn—Barnard's Inn—The Old Hall—The Last of the Alchemists—A Given Quantity of Wine—The "No Popery" Riots—Staple Inn—Steevens correcting his Proof Sheets—Dr. Samuel Johnson—A "Little Story Book"—Fire! Fire!
The Inns of Court were instituted chiefly for the benefit of those desiring to devote themselves to the legal profession, but from an early period they were resorted to by Churchmen and sons of the nobility and gentry, to whom it was thought fitting to give some instruction in the principles and maxims of our municipal law. We shall mention a few of the more eminent ecclesiastics who have studied at Gray's Inn.
Stephen Gardiner, Bishop of Winchester, and Lord Chancellor of England, is the first of these. He was Cromwell's great adversary. His abilities it is impossible to over-rate, and one cannot but admire his inflexible courage in the most trying circumstances; but he was artful, ambitious, and revengeful, even to blood. He died in 1555. The dexterous equivocations by which he habitually endeavoured to secure the advantages and escape the penalties of untruthfulness gave rise to the remark, "My Lord of Winchester is like Hebrew, to be read backwards."
Whitgift, the third primate after the Reformation, was admitted to Gray's Inn on the 16th of March, 1592. He was distinguished for his learning, piety, and integrity, and is described by Fuller as "one of the worthiest men that ever the English hierarchy did enjoy." By his influence he obtained the mastership of the Temple for Hooker, and in gratitude for his kindness that famous divine dedicated to the Archbishop his "Ecclesiastical Polity."
In the books of Gray's Inn we find entered the name of another distinguished Churchman, Joseph Hall, successively Bishop of Exeter and Norwich. His works have gained him the appellation of the "Christian Seneca." His "Meditations" are well known and much esteemed for the force and brilliancy of their language and the fervour of their piety. The knowledge of the world and depth of thought possessed by Bishop Hall place him nearer our own time than many of his contemporaries. He was born at Ashby-de-la-Zouch in 1574, and died in 1656. His last resting-place was the churchyard of Higham, and there he was interred without any memorial. In his will he says, "I leave my body to be buried without any funeral pomp, at the discretion of my executors, with this only monition, that I do not hold God's house a meet repository for the dead bodies of the greatest saints."
Another ecclesiastical member of Gray's Inn was Archbishop Laud. He was admitted on the 1st of November, 1615. Speaking of Laud, Fuller, in his characteristic style, remarks, "Indeed, I could instance in some kind of coarse venison, not fit for food when first killed; and therefore cunning cooks bury it for some hours in the earth, till the rankness thereof being mortified thereby, it makes most palatable meat. So the memories of some persons, newly deceased, are neither fit for a writer's or reader's repast, till some competent time after their interment. However, I am confident, that impartial posterity, on a serious review of all passages, will allow his name to be reposed among the heroes of our nation, seeing such as hold his expense on St. Paul's as but a cypher, will assign his other benefactions a very valuable significance, viz., his erecting and endowing an almshouse in Reading; his increasing of Oxford Library with books and St. John's College with beautiful buildings." He was beheaded January 10th, 1644.
William Juxon, Bishop of London, and afterwards Archbishop of Canterbury, was admitted a member of Gray's Inn on the 2nd of May, 1635. It was this prelate, the reader will remember, who attended Charles I. on the scaffold, and did his best, by suitable exhortations, to prepare the unfortunate king for his end. "There is, sir," said he, "but one stage more, which, though turbulent and troublesome, is yet a very short one. Consider, it will soon carry you a great way; it will carry you from earth to heaven; and there you shall find to your great joy the prize to which you hasten a crown of glory." "I go," replied the king, "from a corruptible to an incorruptible crown;" and a moment afterwards his head, streaming with blood, was being exhibited to the assembled populace as "the head of a traitor."
The author of the "Bruised Reed," which led to the conversion of Richard Baxter, and which Izaak Walton bequeathed to his children, was once the preacher of Gray's Inn. He was Dr. Richard Sibbes. His death took place at his chambers, here, in 1635.
Baxter himself tells us of the happy influence which this book had upon him. His father was pious, but his surroundings generally were adverse to all religious impressions. The neighbourhood in which he passed his youth—a village near the foot of the Wrekin, in Shropshire—was all that Queen Elizabeth or King James could have wished; or, says one writer, "if it exceeded her Majesty's allowance—'two preachers enough for one county,' in complying with her kinsman's 'Book of Sports,' it showed an excess of loyalty." The Maypole was erected beside a great tree, near the dwelling of Baxter's father, and as soon as the reader had rushed through the morning prayer the congregation turned out to the village green, and the lads and lasses began dancing. Young Baxter, however, seems to have been seriously inclined, and the religious teaching of his father was not wholly thrown away. When about fifteen years old, he had, with some other boys, been stealing apples, and whilst his mind was in a state of more than ordinary disquiet, he read a very awakening book called "Bunny's Resolution." He became filled with anxiety and foreboding. In the midst of those gloomy days a poor pedlar came to the door selling books. His stock consisted chiefly of ballads, but he chanced to have one good book, and that was the "Bruised Reed" of Dr. Richard Sibbes. The elder Baxter bought it, and to the son it proved a messenger of salvation. The perusal of it, and one of Parkins's works, lent him by a servant, established his faith. "And thus," he says, "without any means but books, was God pleased to resolve me unto Himself." Nor is it wonderful, that, as he elsewhere remarks, "The use that God made of books above ministers to the benefit of my soul made me somewhat excessively in love with good books, so that I thought I had never enow, but scraped up as great a treasure of them as I could."
A few members of the picturesque race of antiquaries and bookworms—irritable, eccentric, and hermit-like—have resided in Gray's Inn. Joseph Ritson, for instance, had chambers here. He lived and died in No. 8, Holborn Court. The building stood against the south wall of the chapel, and has since been pulled down.
In that entertaining work, the "Bookhunter," by Mr. John Hill Burton, the historian of Scotland gives some curious particulars regarding Ritson. He was a man endowed with almost superhuman irritability of temper, and he had a genius fertile in devising means of giving scope to its restless energies. One of his obstinate fancies was, when addressing a letter to a friend of the male sex, instead of using the ordinary prefix of Mr. or the affix of Esq., to employ the term Master, as— when writing to two well-known fellow-workers in the ways of old antiquity—Master John Pinkerton, Master George Chalmers. The agreeable result of this eccentricity was that his communications on delicate and antiquarian disputes were invariably delivered to, and perused by, the young gentlemen of the family, so opening up new little delicate avenues, fertile in controversy and misunderstanding.
But he had another and more varied peculiarity. In his numerous books he insisted on a peculiar spelling. It was not phonetic, nor was it etymological, it was simply Ritsonian. To understand the efficacy of this arrangement as a source of controversy, it must be remembered that the instinct of a printer is to spell according to rule, and that every deviation from the ordinary method can only be carried out by a special contest over each word. Ritson, in seeing his works through the press, fought every step of the way, and such peculiarities as the following, profusely scattered over his books, may be looked upon as the names of so many battles or skirmishes with his printers: "Compilür," "writür," "wil," "kil," "onily," "probablely." Even when he condescended to use the spelling common to the rest of the nation he insisted on the employment of little irritating peculiarities; as, for instance, in the word "ass," a word pretty often in his mouth, he would not follow the practice of his day, in the use of the long and short "fs," but inverted the arrangement thus, "sf."
"This strange creature," adds Mr. Burton, "exemplified the opinion that every one must have some creed—something from without having an influence over thought and action, stronger than the imperfect apparatus of human reason. Scornfully disdaining revelation from above, he groped below, and found for himself a little fetish made of turnips and cabbage. He was as fanatical a devotee of vegetarianism as others have been of a middle state or adult baptism; and after having torn through a life of spiteful controversy with his fellowmen, and ribaldry of all sacred things, he thus expressed the one weight hanging on his conscience, that 'on one occasion, when, tempted by wet, cold, and hunger, in the south of Scotland, he ventured to eat a few potatoes dressed under the roast, nothing less repugnant to feelings being to be had.'"
Opposite Ritson's chambers lived John Britton, the eminent writer on topography and architecture, for three years clerk to one Simpson, an attorney, at the handsome salary of fifteen shillings a week. "Yet," he says, "with this small income, I felt comfortable and happy, as it provided me with a decent lodging, clothes, and food, and with the luxury of books." Britton's account of his master is a strange one, and gives an instructive picture of our legal friends at work amassing their six and eightpences. "At eleven o'clock he came to the office to receive business letters, each of which he read several times, with pauses between each sentence; by which process six short letters would occupy at least an hour of his time. He devoted more than another hour to dictating equally laconic letters in reply; whilst a third was employed in reading those answers when written. This vapid waste of time was the practice of every succeeding day for three years." Britton used occasionally to visit Ritson in his chambers.
Most of Britton's works were devoted to topography and architectural antiquities, biography, and the fine arts. Amongst these may be named his "Architectural Antiquities of Great Britain," and the "Cathedral Antiquities of England," works of national value, which will secure lasting fame for their author. A writer in the Gentleman's Magazine, to which Britton was a frequent contributor, thus speaks of him:—"To his labours, the architecture, and particularly the ecclesiastical and domestic architecture, of the country, is deeply indebted for the restoration of what was decayed, and the improvement of what was defective; and in his beautiful sketches and masterly engravings, extending through many volumes, he has given us a treasure-house of antiquarian art, and made the pencil and the graver not only perpetuate and preserve much that has long been mouldering into shapeless ruin, but has also supplied many a new model of improved beauty, suggested by his own genius, and carried into effect by his own zeal and perseverance." Britton was born in 1771, and died in 1857.
The well-known historian, Edward Hall, who wrote the "Chronicles," a work which furnished material for so many of the dramatic productions of the reign of Queen Elizabeth, was a reader, at one time, in Gray's Inn. We find his name mentioned in connection with a pension of the bench of Gray's Inn, held 16th May (31 Henry VIII.), when the king's command that all images of Thomas à-Becket, Archbishop of Canterbury in the reign of Henry II., should be removed from churches and chapels, was taken into consideration. It was then ordered that Edward Hall should see to the taking out of a certain window in the chapel of this house, "wherein the picture of the said archbishop was gloriously painted," and place another in its stead, descriptive of Christ praying on the mount. Hall was born about the last year of the fifteenth century, in the parish of St. Mildred's, London. He died in 1547, and was buried, but without any memorial, in the church of St. Benet Sherehog, London. His "Chronicles" has been differently appreciated by antiquaries. Bishop Nicholson speaks of it disrespectfully, and says it is but a record of the fashions of summer clothes; but Peck vindicates Hall with some energy. Hall was no favourer of the clergy.
Amongst other antiquarian members of Gray's Inn we may mention Rymer, whose work, the "Fœdera," has given him a European reputation. Rymer was born in Yorkshire, and after studying at Cambridge removed to Gray's Inn. He adopted the profession of the law, and in 1692 succeeded Shadwell in the post of historiographer to King William III. His death took place on the 10th of December, 1713, and he found a grave in St. Clement Danes.
In Gray's Inn lived Dr. Rawlinson, who stuffed four chambers so full of books that he had to sleep in the passage. He was the original of Tom Folio, so pleasantly described in No. 158 of the Tatler: "Tom Folio is a broker in learning, employed to get together good editions, and stock the libraries of great men. There is not a sale of books begins till Tom Folio is seen at the door. There is not an auction where his name is not heard, and that, too, in the very nick of time, in the critical moment, before the last decisive stroke of the hammer. There is not a subscription goes forward in which Tom is not privy to the first rough draft of the proposals, nor a catalogue printed that does not come to him wet from the press. He is an universal scholar, so far as the title-page of all authors; knows the manuscripts in which they were discovered, the editions through which they have passed, with the praises or censure which they have received from the several members of the learned world. He has a greater esteem for Aldus and Elzevir than for Virgil and Horace. If you talk of Herodotus, he breaks out into a panegyric upon Harvey Stephens. He thinks he gives you an account of an author when he tells you the subject he treats of, the name of the editor, and the year in which it was printed. Or, if you draw him into further particulars, he cries up the goodness of the paper, extols the diligence of the corrector, and is transported with the beauty of the letter. This he looks upon to be sound learning and substantial criticism. As for those who talk of the fineness of style and the justness of thought, or describe the brightness of any particular passages; nay, though they write themselves in the genius and spirit of the author they admire, Tom looks upon them as men of superficial learning, and flashy parts."
The quiet seclusion of Gray's Inn has, in bygone times, formed the retreat of many distinguished poets and literary men. It was the residence of George Chapman, the poet, who was born in 1557, and died, honoured and beloved, in 1634.
Chapman deserves best to be kept in remembrance for his translation of Homer, whom he speaks of as "the prince of poets, never before truly translated"—a production which has excited the admiration of many distinguished critics. Coleridge, in sending it to a friend for perusal, specially recommends the "Odyssey." "The 'Iliad,'" he says, "is fine, but less equal in the translation, as well as less interesting in itself. What is stupidly said of Shakespeare is really true and appropriate of Chapman—mighty faults, counterpoised by mighty beauties. Excepting his quaint epithets, which he affects to render literally from the Greek, . . . it has no look, no air of a translation. It is as truly an original poem as the 'Fairy Queen.' It will give you small idea of Homer, though a far truer one than Pope's epigrams or Cowper's cumbersome, most anti-Homeric Miltonism. For Chapman writes and feels as a poet—as Homer might have written had he lived in England in the reign of Queen Elizabeth. In short, it is an exquisite poem, in spite of its frequent and perverse quaintnesses and harshnesses, which are, however, amply repaid by almost unexampled sweetness and beauty of language, all over spirit and feeling. In the main, it is an English heroic poem, the tale of which is borrowed from the Greek."
Sir Philip Sidney, the author of "Arcadia," and the gallant Governor of Flushing, was at one time a student here. And Butler, the immortal author of "Hudibras," seems also, says Mr. Pearce, "to have had a chamber some time in the inn, as one of his biographers has supposed he was a member of the house."
About the year 1756 Dr. Johnson was a resident in Gray's Inn, but for a short time only.
Oliver Goldsmith occupied chambers in Gray's Inn early in 1764, while his attic in the library staircase of the Temple was preparing. He was now at work for the Dodsleys, and we get a glimpse of his straitened circumstances in the following brief note to Mr. James Dodsley:—"Sir," it runs, being dated from "Gray's Inn," and addressed "to Mr. James Dodesley in Pall Mall," on the 10th of March, 1764, "I shall take it as a favour if you can let me have ten guineas per bearer, for which I promise to account. I am, sir, your humble servant, Oliver Goldsmith. P.S. I shall call to see you on Wednesday next with copy, &c." Whether the money was advanced, or the copy supplied in time, does not appear.
A nephew of Goldsmith, when in town with a friend, proposed to call on Uncle Oliver, in Gray's Inn, when he was setting to work on his "Animated Nature." They expected to find him in a wellfurnished library, with a host of books; when, greatly to their surprise, the only book they saw in the place was a well-thumbed part of Buffon's "Natural History."
The outspoken William Cobbett, the writer of the famous "Political Register," and as true a representative of the John Bull character as ever lived, was for some years a clerk in the chambers of a gentlemen of this inn.
We may conclude this notice of Gray's Inn with the following table, exhibiting the yearly rental of the Inns of Court and Chancery, as given in Murray's "Handbook to Modern London," 1874.
Lincoln's Inn
£33,329
Inner Temple
25,676
Gray's Inn
16,035
Middle Temple
12,640
Furnival's Inn
4,386
Staple's Inn
2,553
Barnard's Inn
1,031
Clement's Inn
£1,653
Clifford's Inn
818
Lyon's Inn
423
New Inn
1,646
Serjeants' Inn
1,600
Total
£101,790
Besides Gray's Inn, there lie in Holborn, Furnival's Inn, Thavie's Inn, Barnard's Inn, and Staple's Inn. Of these the first two have ceased to be directly representative of the law; the other two Inns of Chancery, however, still retain many legal features of interest.
To some an explanation of the nature and object of the Inns of Chancery may here be acceptable. These then will welcome the following extract from the interesting work of Mr. J. C. Jeaffreson, "A Book about Lawyers." "The Inns of Chancery," he says, "for many generations maintained towards the Inns of Court a position similar to that which Eton School maintains towards King's at Cambridge, or that which Winchester School holds to New College at Oxford. They were seminaries in which lads underwent preparation for the superior discipline, and greater freedom of the four colleges. Each Inn of Court had its own Inns of Chancery, yearly receiving from them the pupils who had qualified themselves for promotion to the status of Inns-of-Court-men. In course of time students, after receiving the preliminary education in an Inn of Chancery, were permitted to enter an Inn of Court, on which their Inn of Chancery was not dependent; but at every Inn of Court higher admission fees were charged to students coming from Inns of Chancery over which it had no control, than to students who came from its own primary schools. If the reader bear in mind the difference in respect to age, learning, and privileges between our modern public schoolboys, and university undergraduates, he will realise with sufficient nearness to truth the differences which existed between the Inns of Chancery students and the Inns of Court students in the fifteenth century; and in the students, utter-barristers, and benchers of the Inns of Court at the same period he may see three distinct orders of academic persons closely resembling the undergraduates, bachelors of arts, and masters of arts in our own universities."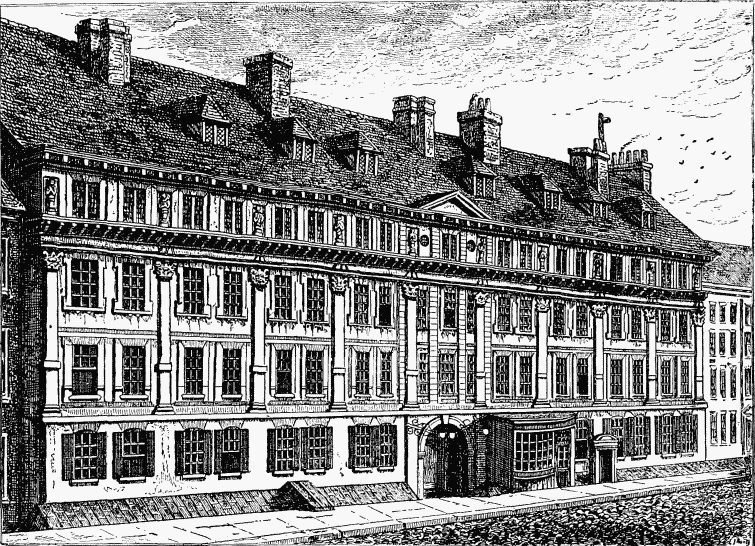 Furnival's Inn, between Brooke Street and Leather Lane, was originally the town mansion of the Lords Furnival. It belonged some time, says Stow, "to William Furnivall, knight, who had in Holborn two messuages and thirteen shops, as appeareth by record of Richard II., in the 6th of his reign." It was an Inn of Chancery in the 9th of Henry IV., was held under lease in the time of Edward VI., and was sold, early in Elizabeth's reign, to the benchers of Lincoln's Inn, who appear to have formerly had the lease of it.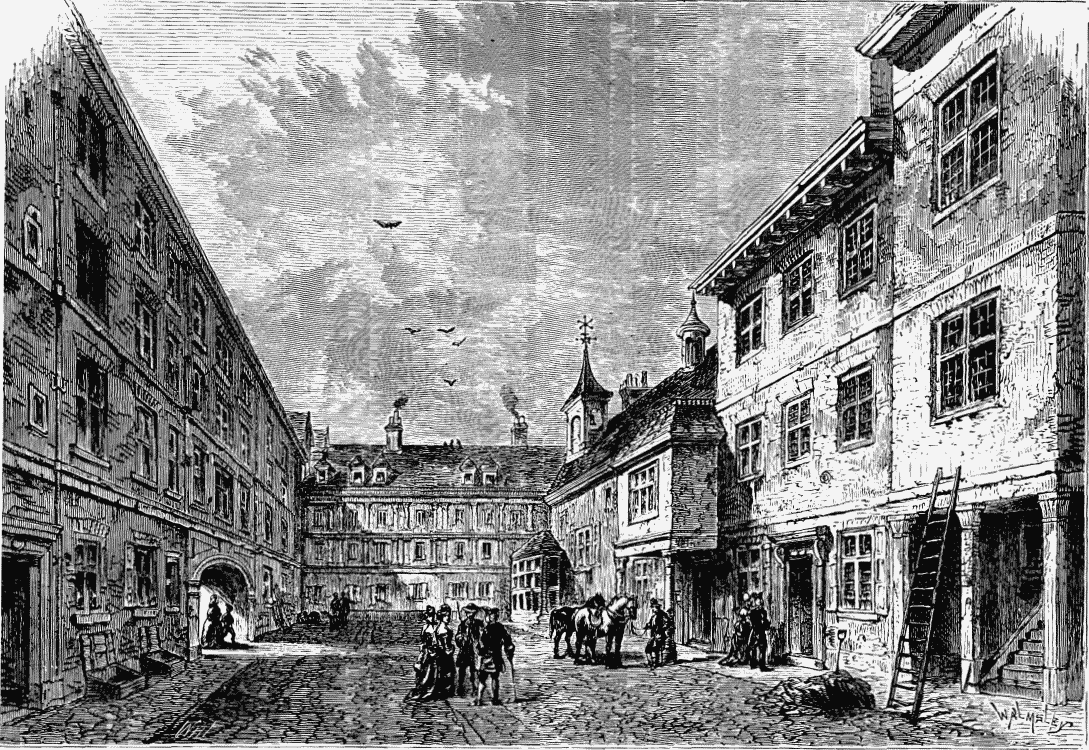 In Charles I.'s time the greater part of the old inn described by Stow was taken down and a new building erected in its stead. "The Gothic Hall," says Cunningham, "with its timber roof (part of the original structure), was standing in 1818, when the whole inn was rebuilt by Mr. Peto, the contractor, who obtained a lease of the ground." In the square is a statue of Peto. Furnival's Inn is let in chambers, but is no longer an Inn of Chancery. Part of its interior is occupied by a hotel. The Society of Furnival's Inn ceased to exist as a community about 1817.
The arms of Furnival's Inn are—argent, a bend between six martlets, with a bordure azure.
A street disturbance is mentioned by Stow, in his "Annals," in which the leading member of this Inn got into trouble:—"In the 32nd of Henry VI. a tumult betwixt the gentlemen of Inns of Court and Chancery and the citizens of London, happening in Fleet Street, in which some mischief was done, the principals of Clifford's Inn, Furnival's Inn, and Barnard's Inn were sent prisoners to Hartford Castle."
The famous Sir Thomas More was "reader by the space of three years and more" in this Inn. He was a member of Lincoln's Inn. Of this great Lord Chancellor of the reign of Henry VIII., one of the most illustrious men of that period, how much might be told! He was the son of Sir John More, an honest judge of the King's Bench, who had some humour in him, if what Camden records be true. Speaking of the lottery of marriage, he used to say, "I would compare the multitude of women which are to be chosen for wives unto a bag full of snakes, having among them a single eel. Now if a man should put his hand into this bag, he may chance to light on the eel, but it is a hundred to one he shall be stung by a snake." It has been observed, however, that he himself ventured to put his hand three times into the bag, for he married three wives; nor was the sting so hurtful as to prevent his arriving at the age of ninety, and even then he did not die of anything else than a surfeit, occasioned by eating grapes.
Sir Thomas was his son by his first wife. He also was not afraid of snakes. "Having determined," we are told, "by the advice and direction of his ghostly father, to be a married man, there was at that time a pleasant conceited gentleman, of an ancient family in Essex, one Mr. John Colt, of New Hall, that invited him into his house, being much delighted in his company, proffering unto him the choice of any of his daughters, who were young gentlewomen of very good carriage, good complexions, and very religiously inclined; whose honest and sweet conversation, and virtuous education, enticed Sir Thomas not a little; and although his affection most served him to the second, for that he thought her the fairest and best favoured, yet when he thought within himself that it would be a grief and some blemish to the eldest to have the younger sister preferred before her, he, out of a kind of compassion, settled his fancy upon the eldest, and soon afterwards married her, with all his friends' good liking."
This marriage proved fairly happy, but, before many years had passed, Jane Colt died. More then put his hand a second time into the bag, and this time had the ill luck to draw out a scorpion. He proposed to a widow, named Alice Middleton, who would have done well enough for a superior domestic servant: his good judgment and taste deserted him when he decided to make her a closer companion. Bustling, loquacious, tart, the good dame scolded servants and petty tradesmen with admirable effect; but, even at this distance of time, the sensitive ear is pained by her sharp, garrulous tongue, when its ascerbity and virulence are turned against her pacific and scholarly husband. She had no sympathy for, no feelings in common with him; he had as little in common with her.
Both humorous and pathetic, it has been remarked, was that memorable interview between More and Mrs. Alice, in the Tower, when she, regarding his position by the light with which she had been endowed by Nature, advised him to yield even then to the king. "What the good-year, Mr. More!" cried she, bustling up to the tranquil and courageous man. "I marvel that you, who have been hitherto always taken for a wise man, will now so play the fool as to lie here in this close-fitting prison, and be content to be shut up thus with mice and rats, when you might be abroad at your liberty, with the favour and good will of the king and his council, if you would but do as the bishops and best learned of his realm have done. And seeing you have at Chelsea a right fair house, your library, your books, your gallery, and all other necessaries so handsome about you, where you might, in company with me, your wife, your children, and household, be merry, I muse what, in God's name, you mean here thus fondly to tarry." Having heard her out, preserving his good-humour, he said to her, with a cheerful countenance, "I pray thee, good Mrs. Alice, tell me one thing." "What is it?" saith she. "Is not this house as near heaven as my own?" The two were thinking of very different things. Sir Thomas More had his eye on heaven. Mrs. Alice had hers on "the right fair house at Chelsea."
More, with all his talent, learning, and wit, had in him a great deal of bigotry and superstition. When about twenty years old he began to practise monkish austerities, wearing a sharp shirt of hair next his skin, which he never left off entirely, even when he was Lord Chancellor. As a lay Carthusian he at one time disciplined his bare back with scourges, slept on the cold ground or a hard bench, with a log for a pillow, allowed himself but four or five hours' sleep in the night, and by a score of other strong measures sought to preserve his spiritual by ruining his bodily health.
He comes before us, very life-like and pleasing, in connection with the charges of bribery, which at the time of his fall were preferred against him before the Privy Council. One story of this period has been often repeated. A Mrs. Croker being opposed in a suit to Lord Arundel, sought to win Sir Thomas More's favour; so she presented him with a pair of gloves containing forty angels. With a courteous smile he accepted the gloves, but constrained her to take back the gold. The gentleness of the rebuff is charming.
In Furnival's Inn Charles Dickens lived from shortly after his entering the reporters' gallery till 1837, and it was here that the proposal that originated "Pickwick" was made to him. Dickens has himself described to us what passed at an interview which must be regarded as a happy one by all admirers of the novelist. Mr. Seymour, the artist, had proposed to do a series of cockney sporting plates, which it was thought would take with the public, if accompanied by letterpress, and published in monthly parts. "The idea," says Dickens, "propounded to me was that the monthly something should be a vehicle for certain plates to be executed by Mr. Seymour; and there was a notion, either on the part of that admirable humorous artist, or of my visitor, Mr. Hall, that a 'Nimrod Club,' the members of which were to go out shooting, fishing, and so forth, and getting themselves into difficulties through their want of dexterity, would be the best means of introducing these. I objected, on consideration, that although born and partly bred in the country, I was no great sportsman, except in regard to all kinds of locomotion; that the idea was not novel, and had already been much used; that it would be infinitely better for the plates to arise naturally out of the text; and that I would like to take my own way, with a freer range of English scenes and people, and was afraid I should ultimately do so in any case, whatever course I might prescribe to myself at starting. My views being deferred to, I thought of 'Pickwick,' and wrote the first number; from the proof-sheets of which Mr. Seymour made his drawing of the club and his happy portrait of its founder. I connected Mr. Pickwick with a club because of the original suggestion, and I put in Mr. Winkle expressly for the use of Mr. Seymour." Between the first and second number of "Pickwick," Mr. Seymour died by his own hand, and Mr. H. K. Browne was eventually chosen to fill his place as illustrator. But that is apart from Furnival's Inn history, so we may leave the rest of the story untold.
Thavie's Inn was formerly an Inn of Chancery, appertaining to Lincoln's Inn. It was sold, however, by that society in 1771 to a Mr. Middleton. Having been subsequently destroyed by fire, a range of private buildings was erected on its site. The name it bears is derived from John Thavie, a liberal-minded armourer, with whom we have already met when speaking of St. Andrew's. In 1348 he bequeathed certain houses in Holborn, returning a large rental, for the support of the fabric of that interesting edifice.
"I must and will begin with Thavies Inne," says Sir George Buc, "for besides that at my first coming to London, I was admitted for probation into that good house, I take it to be the oldest Inn of Chancery, at the least in Holborn. It was before the dwelling of an honest citizen called John Thavie, an armourer, and was rented of him in the time of King Edward III. by the chief professors then of the law, viz., Apprentices, as it is yet extant in a record in the Hustings, and whereof my Lord Coke showed to me the transcript, but since that time it was purchased for the students and other professors of the Law of Chancery by the Benchers of Lincoln's Inn, about the reign of King Henry VII., and retaineth the name of the old landlord or owner, Master Thavie."
Barnard's Inn is an Inn of Chancery appertaining to Gray's Inn. Formerly it was called Mackworth's Inn, and in the days of Henry VI. we find it a messuage belonging to Dr. John Mackworth, Dean of Lincoln. At the time of its conversion into an Inn of Chancery, it was in the occupation of one Barnard, and his name it has retained ever since.
The arms of Barnard's Inn are those of Mackworth—party per pale, indented ermine and sables, a cheveron, gules, fretted or.
The old hall of Barnard's Inn is the smallest of all the halls of the London Inns; it is only thirtysix feet long, twenty-two feet wide, and thirty feet high. It contains a fine full-length portrait of the upright and learned Lord Chief Justice Holt, for some time principal of Barnard's Inn; and also of Lord Burleigh, Lord Bacon, Lord Keeper Coventry, and other eminent men.
In the time of Elizabeth there were 112 students in this Inn in term, and 24 out of term; in 1855 there were, including the principal, ancient, and companions, in all, 18 members.
A believer in alchemy, Mr. Peter Woulfe, F.R.S., lived, about seventy years ago, in Barnard's Inn, No. 2, second-floor chambers. He was an eminent chemist, and, according to Mr. Brande, "the last true believer in alchemy." But little is known of his life. "Sir Humphrey Davy tells us," says Mr. Timbs, in his "Century of Anecdotes," "that he used to hang up written prayers and inscriptions of recommendations of his processes to Providence. His chambers were so filled with furnaces and apparatus that it was difficult to reach the fireside. Dr. Babington told Mr. Brande that he once put down his hat and could never find it again, such was the confusion of boxes, packages, and parcels, that lay about the room. His breakfast hour was four in the morning; a few of his friends were occasionally invited, and gained entrance by a secret signal, knocking a certain number of times at the inner door of the chamber. He had long vainly searched for the elixir, and attributed his repeated failure to the want of due preparation by pious and charitable acts. Whenever he wished to break with an acquaintance, he resented the supposed injuries by sending a present to the offender and never seeing him again. These presents sometimes consisted of an expensive chemical product or preparation. He had an heroic remedy for illness, which was a journey to Edinburgh and back by the mail-coach; and a cold taken on one of these expeditions terminated in inflammation of the lungs, of which he died."
His last moments were remarkable. In spite of his serious illness, he strenuously resisted all medical advice. By his desire his laundress shut up his chamber, and left him. She returned at midnight, when he was still alive; next morning, however, she found him dead, his countenance being calm and serene; apparently he had not moved from the position in which she had seen him last.
A contemporary of Woulfe, also an alchemist, is mentioned by Sir Walter Scott, in his paper on astrology and alchemy, in the Quarterly Review (1821). About 1801 this enthusiast lived, or rather starved, in the metropolis, in the person of an editor of an evening journal. He expected to compound the alkahest, if he could only keep his materials digested in a lamp-furnace for the space of seven years. The lamp burnt brightly during six years, eleven months, and some odd days besides, and then unluckily it went out. Why it went out the adept never could guess; but he was certain that if the flame could only have burnt to the end of the septennary cycle, his experiment must have succeeded.
An order made by the authorities of Barnard's Inn, in November, 1706, throws some light on legal manners in the beginning of the eighteenth century. This order named two quarts as the allowance of wine to be given to each mess of four men, on going through the ceremony of "initiation." Of course this amount of wine was an "extra" allowance, in addition to the ale and sherry allotted to members by the regular dietary of the house. "Even Sheridan," Mr. Jeaffreson remarks, "who boasted he could drink any given quantity of wine, would have thought twice before he drank so large a given quantity, in addition to a liberal allowance of stimulant. Anyhow, the quantity was fixed—a fact that would have elicited an expression of approval from Chief Baron Thomson, who, loving port wine wisely, though too well, expressed at the same time his concurrence with the words and his dissent from the opinion of a barrister who observed, 'I hold, my lord, that, after a good dinner, a certain quantity of wine does no harm.' With a smile, the Chief Baron rejoined, 'True, sir, it is the uncertain quantity that does the mischief.'"
During the "No Popery" riots of 1780, Barnard's Inn very nearly fell a sacrifice to one of those wild acts of incendiarism which at that time disgraced the metropolis. It stood next to the extensive premises of Langdale's distillery, and Mr. Langdale was both the object of indignation and interest to the mob: in the first place, he was a Roman Catholic; and in the second, he had a plentiful store of tempting liquor in his hands. The attack on Langdale's distillery, and its subsequent destruction by fire, were among the most striking scenes of the famous riots. What ardent spirits escaped from the flames were swallowed by the rioters. Many of them are said to have literally drunk themselves dead; women and children were seen drinking from the kennels, which flowed with gin and other intoxicating liquors; and many of the rabble, who had drunk themselves into a state of insensibility, perished in the flames. A Dr. Warner, who had passed the night in his chambers in Barnard's Inn, writes thus on the following morning to George Selwyn:—"The staircase in which my chambers are is not yet burnt down, but it could not be much worse for me if it were. However, I fear there are many scores of poor creatures in this town who have suffered this night much more than I have, and with less ability to bear it. Will you give me leave to lodge the shattered remains of my little goods in Cleveland Court for a time? There can be no living here, even if the fire stops immediately, for the whole place is a wreck; but there will be time enough to think of this. But there is a circumstance which distresses me more than anything; I have lost my maid, who was a very worthy creature, and I am sure would never have deserted me in such a situation by her own will; and what can have become of her is horrible to think! I fervently hope that you and yours are free from every distress. . . . . Six o'clock. The fire, I believe, is nearly stopped, though only at the next door to me. But no maid appears. When I shall overcome the horror of the night, and its consequences, I cannot guess. But I know, if you can send me word that things go well with you, that they will be less sad with me."
Staple Inn is an Inn of Chancery appertaining to Gray's Inn. The tradition is that it derives its name from having been originally an inn or hostell of the merchants of the (wool) staple. With this explanation, until a better is given, we must rest satisfied. It became an Inn of Chancery in the time of Henry V., and the inheritance of it was granted, 20th Henry VIII., to the Society of Gray's Inn. The Holborn front is of the time of James I., and is worthy of notice as one of the oldest existing specimens of our metropolitan street architecture. The hall is of a later date, has a clock turret, and originally possessed an open timber roof. Some of the armorial glass in the windows of the hall date as far back as 1500. There are a few portraits —amongst them are those of Charles II., Queen Anne, the Earl of Macclesfield, Lord Chancellor Cowper, and Lord Camden—and at the upper end is the woolsack, the arms of the Inn. Upon brackets are casts of the twelve Cæsars. In the garden adjoining used to be a luxuriant fig-tree, which had spread itself over nearly all the south side of the hall. Upon a terrace opposite, the offices of the taxing-masters in Chancery are situated. They were completed in 1843, and are in the purest style of the reign of James I. The arched entrances and semi-circular oriels are highly effective. The open-work parapet of the terrace, and the lodge and gate leading to Southampton Buildings, are very picturesque. The Inn is divided into two courts, with a pleasant garden behind.
The doorway shown in our illustration on page 365 is mentioned by Dickens in "Edwin Drood." By it one entered the chambers of Mr. Grewgious. What P. J. T. meant, carved on the stone above the door—whether Possibly John Thomas, or Possibly Joe Tyler, or what—the reader will recollect occasionally formed an innocent subject of speculation to Mr. Grewgious.
In the reign of Queen Elizabeth, there were 145 students in Staple Inn, in term, and 69 out of term—the largest number in any of the houses of Chancery.
Reading and mootings were observed here with commendable regularity. Sir Simon d'Ewes mentions that, on the 17th of February, 1625, he went in the morning to Staple Inn, and there argued a moot point, or law case, with others, and they did not abandon the exercise till near three o'clock in the afternoon.
Isaac Reed, who died in 1807, had chambers here. It was in Reed's chambers that Steevens corrected the proof-sheets of his well-known edition of Shakespeare. His habits were peculiar. He used, says Peter Cunningham, to leave his house at Hampstead at one in the morning, and walk to Staple Inn. Reed, who went to bed at a reasonable hour, allowed his facetious fellow-commentator the luxury of a latch-key, so Steevens stole quietly to his work, without disturbing the repose of his friend.
Dr. Samuel Johnson removed to chambers in this Inn, on the breaking up of his establishment in Gough Square, Fleet Street, where he had resided for ten years. We find him writing, under date of 23rd March, 1759, to Miss Porter:—
"Dear Madam,—I beg your pardon for having so long omitted to write. One thing or other has put me off. I have this day moved my things, and you are now to direct to me at Staple Inn, London. . . . I am going to publish a little story-book, which I will send you, when it is out. Write to me, my dearest girl, for I am always glad to hear from you.—I am, my dear, your humble servant, "Sam. Johnson."
The "little story-book" was "Rasselas," which he seems to have written here, at least, in part. Of this entertaining and, at the same time, profound performance, Boswell says:—" Johnson wrote it, that with the profits he might defray the expense of his mother's funeral, and pay some little debts which she had left. He told Sir Joshua Reynolds that he composed it in the evenings of one week, sent it to press in portions, as it was written, and had never since read it over. Mr. Strahan, Mr. Johnston, and Mr. Dodsley purchased it for £100, but afterwards paid him £25 more, when it came to a second edition."
"Considering the large sums which have been received for compilations, and works requiring not much more genius than compilations, we cannot but wonder," adds Boswell, "at the very low price which he was content to receive for this admirable performance, which, though he had written nothing else, would have rendered his name immortal in the world of literature. None of his writings has been so extensively diffused over Europe; for it has been translated into most, if not all, of the modern languages. This tale, with all the charms of Oriental imagery, and all the force and beauty of which the English language is capable, leads us through the most important scenes of human life, and shows us that this stage of our being is full of 'vanity and vexation of spirit!' To those who look no further than the present life, or who maintain that human nature has not fallen from the state in which it was created, the instruction of this sublime story will be of no avail; but those who think justly, and feel with strong sensibility, will listen with eagerness and admiration to its truth and wisdom."
There was an alarming fire in Staple Inn, 27th November, 1756. It consumed several chambers, and two women and two children perished in the flames. The hall fortunately escaped destruction.
With this description of Holborn and the Inns of Court, which form its most interesting feature, we terminate our account of Old and New London east of Temple Bar. In the succeeding volumes we shall move westward, from the same starting point, along the Strand, through Westminster, and the western portions of London, and across the water into Southwark. The ground over which we shall travel will be found as replete with memories and associations of past history, and striking features of modern progress, as any of that which we have already surveyed.