Pages 269-286
Old and New London: Volume 3. Originally published by Cassell, Petter & Galpin, London, 1878.
This free content was digitised by double rekeying. All rights reserved.
CHAPTER XXXIV.
COVENT GARDEN AND ITS NEIGHBOURHOOD (continued).
"Rus in urbe, urbs in rure."
Long Acre—Its Original Condition—The Head-quarters of Carriage-builders—Distinguished Residents—St. Martin's Hall—Mr. Hullah's Choral Classes—St. Martin's Hall destroyed by Fire and rebuilt—The Queen's Theatre—Messrs. Merryweather's Fire-engine Manufactory—Hanover Court, and Taylor the "Water-Poet"—Hart Street—Charles Macklin as a Tavern-keeper—Bow Street—The Police Office—Noted Residents—Fall of Grinling Gibbons' House—Dr. Radcliffe—The Poet Wycherley—The "Garrick's Head"—Exhibition of Sign-boards—The "Wrekin"—Wycherley's Dying Request to his Young Wife.
Having completed our desultory survey of the purlieus of Covent Garden lying westward as far as St. Martin's Lane, we once more turn our face towards the east, and wend our way through Long Acre. This fine thoroughfare, as already stated, was originally called "The Elms," and the "Elm Close;" then "The Seven Acres;" and in after times it got its present name from a long and narrow slip of ground belonging to the Abbot of Westminster, used as a pathway, which bordered the garden on the north. The pleasure-grounds behind the convent are said to have covered seven acres, and an avenue of tall elms is reported to have stood along the present line of road. Among the entries in the Council Books of the time of King Edward VI. mention is made of a grant from the king to the Earl of Bedford and his heirs male of "the Convent Garden" and of "the meadowground known as 'The Long Acre.'" It began to be built upon at the close of the sixteenth or early in the seventeenth century.
Probably from the time of Charles I., when coaches were first introduced into use in London, Long Acre became the head-quarters of carriagebuilders, whose manufactories still exist there in considerable numbers, side by side with varnishmakers, coach-trimming makers, &c. Many of the other houses not so occupied were tenanted by persons of note; and others, again, by physicians and medical quacks. Stothard, the painter and Royal Academician, we are told, was the son of a carriage-maker in this street. John Dryden lived in it, on the north side, opposite to Rose Street; and Oliver Cromwell on the southern side, from 1637 to 1643.
Long Acre has had many other distinguished residents. Here lived the beautiful "Chloe" with whom Prior has made us so familiar in his poems. Instead, however, of being young, elegant, and beautiful, we learn that she was the commonplace wife of a cobbler, or, according to other accounts, of a soldier or an alehouse-keeper. But whoever and whatever she may have been, Pope tells us that "Prior used to bury himself here for whole days and nights together with the poor mean creature." Let us hope that she had merits of her own and qualities unknown to the world outside.
At a corner on the north side of Long Acre, where it meets Endell Street, with entrances in Wilson Street, Charles Street, and Long Acre, stands the Queen's Theatre. This building passed through the first two stages of its existence under the name of "St. Martin's Hall." The first edifice bearing that name was built, in the year 1847, by William Cubitt, from a design by the younger Westmacott, on a site which was presented to Mr. John Hullah by one of the civic companies. It was of the Elizabethan style of architecture, with a domed iron roof of immense space. The music-hall, which was capable of easily accommodating 3,000 persons, was opened in 1850 by Mr. Hullah, the founder of a new school of choral harmony. Here Mr. Hullah held his singingclasses; and oratorios and concerts, both instrumental and vocal, of a high order of excellence, were given under his direction. Here, too, Mr. Charles Dickens first appeared as a public lecturer, in April, 1858, on behalf of the Hospital for Sick Children, in Great Ormond Street, and a week or two later on his own account.
St. Martin's Hall was not only used for musical purposes, but also sometimes echoed to far less harmonious sounds when occupied by noisy and crowded meetings where political and social questions were agitated. On August 26, 1860, a fire broke out early in the morning in the coach-factory of Messrs. Kesterton, at the corner of Long Acre and Endell Street, closely adjoining St. Martin's Hall, and from the inflammable nature of the contents of the workshops the flames spread with a rapidity which defied the efforts of the engines. The fire was not long in reaching the roof of St. Martin's Hall, and this noble concert-room shared the fate of the adjacent building; not a vestige of it remained, and with it perished the fine organ by which it was adorned.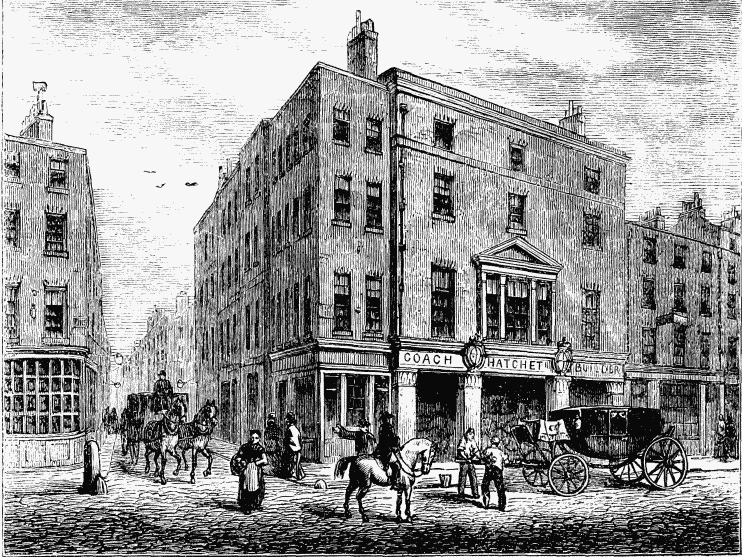 St. Martin's Hall was rebuilt, and reopened as a concert-hall in 1862, and musical and other entertainments were here held until 1867. Early in that year it was again engaged for a series of promenade concerts by Mr. Strange, lessee of the Alhambra; but its career as a concert-hall was drawing to a close. On the 24th of October, 1867, after undergoing considerable alterations, it was opened as a theatre by Mr. Alfred Wigan, under the title of "The Queen's," a name two years before discarded by the little theatre near Tottenham Court Road now known as the "Prince of Wales's." Since that period it has changed hands several times, having been under the management successively of Messrs. Wigan, Liston, Young, and Clifton, and of Mrs. Seymour. Many well-known artists have played at this theatre—Mr. J. L. Toole, Mr. Phelps, Miss Henrietta Hodson, and Mr. and Mrs. Rousby; the last-mentioned lady having made her début here in 1869, as "Fiordelisa" in The Fool's Revenge. Several excellent dramas also have been brought out at the "Queen's" in which Mrs. Rousby has sustained the principal rôle; among which may be named more especially 'Twixt Axe and Crown, and Joan of Arc.
Opposite the Queen's Theatre, and at the corner of Long Acre and Bow Street, is the shop of Messrs. Merryweather, the celebrated fire-engine manufacturers. Their business dates from the latter part of the seventeenth century; the firm being formerly known under the names of Hadley, Simpkin, and Lott. The house now occupied by Messrs. Merryweather is supposed to be the only one at present in Long Acre or Bow Street standing on exactly the same site and in the same condition as when first erected. The firm has in its possession several firemen's leather helmets, dating from 1720, if not earlier, and other curious relics of former times.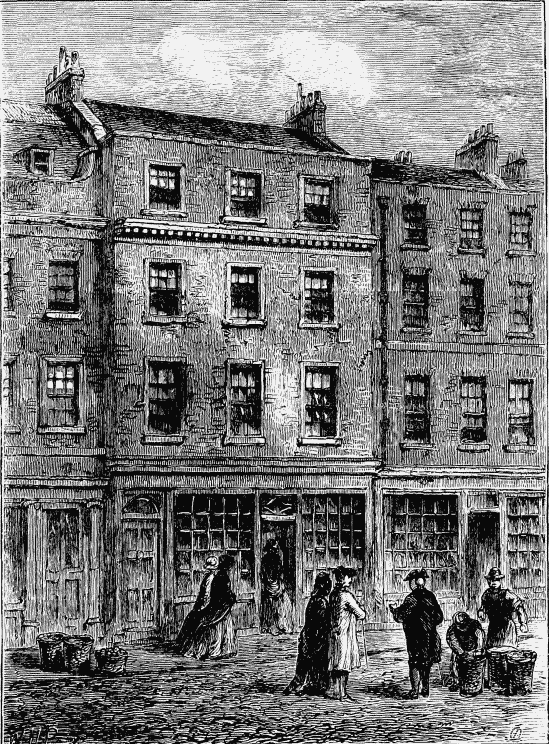 A little further westwards in Long Acre is Hanover Court, formerly Phœnix Alley, celebrated as having been once the home of Taylor the "water-poet," who died in it in 1653. He kept an alehouse here, and it is on record that, as one of the privileged watermen on the Thames, he signalised himself by his strenuous opposition to the introduction of coaches into London. The sign of the alehouse, it is said, was the "Crown," for which, on the establishment of the Commonwealth, he substituted his own head, with the following witty motto:—
"There's many a head stands for a sign;
Then, gentle reader, why not mine?"
Hart Street, which runs parallel with Long Acre, between that thoroughfare and Covent Garden, was built about the year 1636–7, and derived its name from the "White Hart" Inn, which was still standing as late as the reign of George I. In it died Haines, the comic actor, in 1701. It was also at one time the abode of the celebrated Charles Macklin, who retired from the stage in middle life, under the idea of making his fortune here by establishing a tavern and coffee-house, in 1754. In the March of that year he opened a public ordinary, to be continued every day at four o'clock, price three shillings, "port, claret, or any other liquor included." An account of this dinner, given in Smith's "Historical and Literary Curiosities," presents us with an amusing picture of the manners of the day in coffee-houses and taverns. When the clock struck, a large bell suspended on the top of the house was rung for five minutes, and the dinner was ordered to be served. In ten minutes more it was put upon the table; the door was then closed, and no other guest was admitted. Macklin himself always brought in the first dish, in "a full dress suit," and with a napkin on his left arm; and when he had set it down he made a low bow and retired to a sideboard, surrounded by a bevy of waiters. For several months previous to opening he had trained his servants to communicate with him by signs, not a word being spoken by any of them while they remained in the room, for fear of interrupting the "feast of reason and the flow of soul." When the dinner was ended, and the wine set upon the table, Macklin quitted his situation, and, walking gravely up to his visitors, expressed a modest "hope that everything had been found agreeable and to their satisfaction," and then retired, making a low bow at the door. To this establishment Macklin afterwards added another, which he called "The British Inquisition," which, as stated in his advertisement, was to be on the plan of the ancient Greek, Roman, and modern French and Italian societies of liberal investigation. "Such subjects," he says in his announcement, "in arts, sciences, literature, criticism, philosophy, history, politics, and morality, as shall be found useful and entertaining to society, will there be lectured upon and freely debated. Particularly," it is added, "Mr. Macklin intends to lecture upon the comedy of the ancients, the use of their masks and flutes, their mimes and pantomimes, and the use and abuse of the stage. He will likewise lecture on the rise and progress of modern theatres, making a comparison between them and those of Greece and Rome, and between each other; he also proposes to lecture upon each of Shakespeare's plays." These discussions and discourses were to be held on the evenings of Monday and Friday, at seven o'clock; but the idea did not take. The whole establishment was a failure from the beginning; and in January, 1755, Charles Macklin became a bankrupt. After this failure he returned to the stage, doubtless a wiser man for his experience in business.
Bow Street, which forms the connecting link between Long Acre and Russell Street, and together with Endell Street and Wellington Street forms a direct communication between Oxford Street and the Strand, was built in 1637, being so called "as running in shape of a bent bow." Strype, who tells us this, also says that "the street is open and large, with very good houses, well inhabited, and resorted unto by gentry for lodgings, as are most of the other streets in this parish." This was in 1720. It ceased to be well inhabited about five years afterwards. The theatre (Covent Garden Theatre) on the west side we have described in a previous chapter. Bow Street Police. Office, celebrated in the annals of crime, was established in 1749. It was formerly occupied by the novelist Fielding, who is said to have written "Tom Jones" within its walls. The office itself, as it now appears, is a mean and common house, and requires and, indeed, admits of no detailed description. Not so its officials, who belong to history. The old Bow Street officers were called by fast men "Robin Redbreasts," on account of their wearing red vests; and though they were a set of brave and resolute men, they were too limited in numbers to be generally effective. Amongst the most vigilant and energetic we may mention Leadbitter, Ruthven, Goddard, and Keys. At night the only protection afforded to Londoners was a tribe of guardians who, though infinitely more in numbers, were far less useful in effect. These night guardians were generally aged and ineffective men, whose duty was to parade the streets; and the inhabitants, by rotation, had to sit up every night at the watch-house in Portugal Street, to take the charges—a pleasant task, after a man had been attending to his business all day!
In Bow Street is a house celebrated all over the United Kingdom, and it may be said the whole world, as the head office of the police, particularly since the time of Sir John Fielding, in the last century. It is not included in the Police Act, but is wholly under the management and direction of the Secretary of State for the Home Department. Its establishment consists of three magistrates, each attending two days in a week. The chief magistrate has a large addition to his salary, in lieu of the fees taken at the office, which were formerly appropriated to his emolument, but are now carried to the public account. He also has £500 a year for the superintendence of the horse patrol. All the magistrates belonging to this office are in the Commission of the Peace for the Counties of Middlesex, Surrey, Kent, and Essex.
Bow Street can boast of a series of illustrious names among its former inhabitants; for on the site of the present Police Office resided Edmund Waller the poet, from 1654 to 1656. Here, then, he was living when he wrote, in 1654, his famous panegyric upon Cromwell. William Longueville, the friend of Butler, too, lived close by. The witty Earl of Dorset resided in a house on the west side, in the years 1684 and 1685. Major Mohun, the famous actor, occupied a house on the east side, from 1671 to 1676 inclusive; Robert Harley, Earl of Oxford, the great Prime Minister of his day, was born in this street in 1661; and Grinling Gibbons, too, lived in a house on the east side (about the middle of the street), from 1678 to 1721, the period of his death. The house was distinguished by the name of "The King's Arms." In the Postman of the 24th of January, 1701, it is recorded that "on Thursday the house of Mr. Gibbons, the famous carver, in Bow Street, fell down; but by a special Providence none of the family were killed; but 'tis said that a young girl, which was playing in the court [King's Court?], being missing, is supposed to be buried in the rubbish."
Among the illustrious inhabitants of this street must not be forgotten Sir Godfrey Kneller, and Dr. Radcliffe, the munificent founder of the museum at Oxford which bears his name. They lived next door to each other, and were great friends, though every now and then it would appear that they had their little quarrels, as we have shown in the anecdote narrated in a previous chapter. (fn. 1) On reading the anecdote we feel almost irresistibly compelled to ask, with Virgil, Tantæne animis cælestibus iræ? It seems that on taking his degree at Oxford Dr. Radcliffe settled in Bow Street, at that time a fashionable suburb, and soon made in fees twenty guineas a day, "through his vigorous and decisive method of practice" (says Chambers, in his "Book of Days"), "as well as his pleasantry and ready wit; many, it is said, even feigning themselves ill in order to have the pleasure of a few minutes' conversation with the facetious doctor." Even at this time his books were so few in number that one day, on being asked where was his library, he pointed to a few phials, a skeleton, and a herbal, in one corner of his apartment, exclaiming with emphasis, "There, sir, is Radcliffe's Library." The answer has all the more point because late in life he became the author of a very fine library, which he left to the University of Oxford. We shall have more to say about Dr. Radcliffe when we come to Kensington Palace. His fortune as a West-End physician was made in 1689, when he managed to restore to health King William just before he went to Ireland to fight the battle of the Boyne, and two years later, when he cured the young Duke of Gloucester of some fainting-fits which threatened to carry him off.
In this street, in lodgings "over against the 'Cock' Tavern," lived the dramatic poet Wycherley and his wife, the widow of the Earl of Drogheda, whom he gained by a chance introduction in the street at Tunbridge Wells. Whilst residing here he had the honour of a visit from Charles II., who came to see him when ill, and presented him with money enough to pay the expenses of a visit to the south of France. It may perhaps be remembered that Wycherley had held a captain's commission in a regiment of which the Duke of Buckingham was colonel.
It was from the "Cock" Tavern that Sir John Coventry was on his way to his house in the neighbourhood of Pall Mall when he was severely wounded in the nose, as we shall relate when we come to speak of the neighbourhood of the Haymarket.
Mr. T. Raikes in his "Journal," under date 1842, writes:—"After dinner I went to the mock trials at the 'Garrick's Head,' in Bow Street. There is one man who imitates Brougham very well as a counsel; but the subject of debate was coarse, and the audience very vulgar."
In Bonnell Thornton's chambers in this street, "at the upper end, nearly opposite the Playhouse Passage," was held in 1762, an exhibition of sign-boards, by the "Society of Sign-Painters"—of whom, by the way, Hogarth was one. It was intended as a skit upon the exhibitions then newly introduced by the Society of Arts, Manufactures, and Commerce, and its catalogue included upwards of seventy paintings, some of them curious on account of the covered satire which they were intended to convey on political events and public characters. There was, for instance, much humour in placing "The Three Coffins" as a companion to "The Three Apothecaries' Gallipots," and "The Owl in the Ivy Bush" next to "King Charles in the Oak." The exhibition caused much smart and tart writing in the newspapers at the time, and the admission was fixed at a shilling. A full account of the exhibition will be found in the appendix to Mr. Larwood's "History of Sign-Boards."
Towards the close of the last century, when Rich was in the zenith of his managerial prosperity; and the new theatre in Covent Garden had just commenced with the reproduction of The Beggar's Opera a series of what would now be called blazes of triumph, there was established in the immediate vicinity a rustic-looking hostel, to accommodate a refreshment-seeking crowd finding no unoccupied nook in the taverns adjacent. This hostel was "The Wrekin" in Broad Court, on the east side of Bow Street. The original landlord was one Powell, a native of Shropshire, and he chose for his sign the name of the high hill overshadowing the place of his birth. Hither came the actors of that date, and those who sought and valued their society of course followed in their train. The next proprietor was a gentleman named Harrold, of a good Herefordshire family, and who considerably raised the fortunes and the reputation of the house. For about half a century, under his management, "The Wrekin" was the chosen resort of the most prominent celebrities of the day; and as wine was the only refreshment supplied to those who entered the coffee-room, the visitors were exceedingly select. The Kembles—John and Charles—and the principal members of that powerful company then collected at the neighbouring theatre, would constantly avail themselves of this handy histrionic hostel to snatch a pleasant hour from the night, after the cessation of their professional duties. The tavern shared the vicissitudes of the theatre, on which it was in some degree dependent, and nearly every change of management at the one house was followed by a change in the direction of the other. Mr. Warner, the husband of the celebrated tragic actress Mrs. Warner, was at one time the landlord, and Mr. Hemming, an esteemed actor at the Haymarket and Adelphi Theatres, was another. Two famous clubs were here instituted, one called "The Rationals," and the other "The House of Uncommons." When Hemming left to become lessee of the "Café de l'Europe" in the Haymarket, he took the best of the visitors away with him. From 1842 "The Wrekin" began gradually to decline, and within the last few years its declension was so rapid that by the end of 1871 the ancient hostel was levelled with the ground, and its position occupied by a block of new houses manifestly let to respectable tenants.
Wycherley died in his house in Bow Street, in the year 1715, at the age of seventy-five. Of his death-bed we find an amusing anecdote in the "Letters" of Pope. "He had often told me, as, I doubt not, he told all his acquaintance, that he would marry as soon as his life was despaired of. Accordingly, a few days before his death, he underwent the ceremony, and joined together those two sacraments which, wise men say, should be the last we receive; for, if you observe, matrimony is placed after extreme unction in our catechism (i.e., the Roman Catholic), as a kind of hint of the order of time in which they are to be taken. The old man then lay down, satisfied in the conscience of having by this one act paid his just debts, obliged a woman who (he was told) had merit, and shown an heroic resentment of the ill-usage of his next heir. Some hundred pounds which he had with the lady discharged those debts; a jointure of four hundred a year made her a recompense; and the nephew he left to comfort himself as well as he could with the miserable remains of a mortgaged estate. I saw our friend twice after this was done, less peevish in his sickness than he used to be in his health; neither much afraid of dying, nor (which in him had been more likely) much ashamed of marrying. The evening before he expired he called his young wife to the bedside, and earnestly entreated her not to deny him one request, the last he should make. Upon her assurances of consenting to it, he told her, 'My dear, it is only this, that you will never marry an old man again.' I cannot help remarking that sickness, which often destroys both wit and wisdom, yet seldom has power to remove that talent which we call humour. Mr. Wycherley showed his, even in this last compliment; though I think his request a little hard, for why should he bar her from doubling her jointure on the same easy terms?"
It seems strange at the present day to think of Bow Street as one of the most fashionable streets in London; but there can be no doubt that such must have been the character of this thoroughfare in the early part of the last century, for Dryden asserts as much in a casual manner when he writes:—
"From fops, and wits, and cits, and Bow Street beaux."
CHAPTER XXXV.
COVENT GARDEN AND ITS NEIGHBOURHOOD (continued).
Russell Street—Tom Davies' Bookshop—The First Meeting of Boswell and Johnson—An Anecdote of Foote, the Actor—"Will's Coffee-house"—Dryden and Addison—Pope's Youthful Visits to "Will's"—"Button's Coffee-house"—The "Lion's Head"—"Tom's Coffee-house"—The "Shakespeare's Head"—The "Albion"—Distinguished Residents in Russell Street—"The Orpheus" Music-shop—The "Rose" Tavern—The "Harp" and "The City of Lushington"—Crown Court and the Scotch National Church—Richard Steele—Gradual Decline of "Button's Coffee-house."
Quitting Bow Street, we now enter Russell Street, the thoroughfare connecting Covent Garden Market with Drury Lane. This street was built in 1634, and so called after the Russells, Earls and Dukes of Bedford, the ground-landlords. In 1720 "it was a fine broad street, well inhabited by tradesmen;" and much the same character may be accorded to it in the present day, excepting that that portion of it which skirts the northern side of Drury Lane Theatre is considerably narrowed. Russell Street is one which will always have a memory of a character sacred to all lovers of literature, because in it Boswell was first introduced to Dr. Samuel Johnson. The old bookshop of Tom Davies on the south side of the street, where Johnson first met the Scotchman who was destined to be his biographer, is now, or was lately, the "Caledonian" Coffee-house; and its interest is not diminished by the fact that "Bozzy," as he himself informs us, never passed by it "without feeling reverence and regret." The meeting, to use Boswell's own words, was brought about in this manner:—"At last," he writes, "on Monday, the 16th of May, when I was sitting in Mr. Davies's back parlour, after having drunk tea with him and Mrs. Davies, Johnson unexpectedly came into the shop, and Mr. Davies having perceived him through the glass door of the room in which we were sitting, advancing towards us, he rumoured his awful approach to me, somewhat in the manner of an actor in the part of 'Horatio,' when he addresses 'Hamlet' on the appearance of his father's ghost—'Look, my lord! it comes!' I found that I had a very perfect idea of Johnson's figure from the portrait of him, painted by Sir Joshua Reynolds, soon after he had published his dictionary, in the attitude of sitting in his easy-chair in deep meditation. Mr. Davies mentioned my name, and respectfully introduced me to him. I was much agitated; and recollecting his prejudice against the Scotch, of which I had heard much, I said to Davies, 'Don't tell where I come from.' 'From Scotland,' cries Davies, roguishly. 'Mr. Johnson,' said I, 'I do indeed come from Scotland, but I cannot help it.' I am willing to flatter myself that I meant this as light pleasantry, to soothe and conciliate him, and not as an humiliating abasement at the expense of my country. But however that might be, this speech was somewhat unlucky, for, with that quickness of wit for which he was remarkable, he seized the expression 'come from Scotland,' which I used in the sense of being of that country; and as if I had said that I had come away from it, or left it, retorted, 'That, sir, I find, is what a good many of your country cannot help.' This stroke stunned me a good deal; and when we had sat down I felt myself not a little embarrassed, and apprehensive of what might come next."
In the "Literary Memoirs" of Mr. Cradock, who often met Johnson, Boswell, and Foote here, we find an anecdote of Foote in connection with the shop of Tom Davies which perhaps may not be unacceptable:—"Foote by accident met an inferior person in the street very like Dr. Arne, who, when full dressed, was sometimes rather a grotesque figure, and he contrived not only to obtain some old clothes of the doctor's, but likewise one of his cast-off wigs, and introduced the man on the stage to bring in music-books, as an attendant on the Commissary. The house was all astonishment, and many began even to doubt of the absolute identity. The doctor, of course, was most horribly annoyed; but Foote put money into his pocket, which was all he cared for. Soon after he proceeded so far as to order wooden figures to be made for a puppet-show, of which Dr. Johnson and Dr. Goldsmith were to be the leading characters. Goldsmith affected to laugh, though he seriously alluded to the circumstance in a letter to me; but the great Leviathan of literature was so incensed at the report as to purchase an immense oak cudgel, which he carried with him to Tom Davies's shop, and being there asked for what purpose that was intended, he sternly replied, 'For the castigation of vice upon the stage.'" This being immediately conveyed as it was meant to be, Foote, it is stated, was really intimidated, and the scheme, as to them, was given up.
"Will's" Coffee-house was situated on the north side, at the corner of Bow Street; "Button's" was "on the south side, about two doors from Covent Garden;" and "Tom's" on the north side. These coffee-houses have become such classic haunts, on account of their connection with the great names of the "Augustan" period of English literature, that we may be excused if we dwell on them somewhat in detail.
Of all the coffee-houses which in the seventeenth and eighteenth centuries supplied the place in society now occupied by the modern club, none holds a higher place in the literary history of London than "Will's." It stood at the junction of Russell Street and Bow Street, and Sir Walter Scott was of opinion that the original sign of the house was a "cow;" but this is doubted by Mr. Peter Cunningham. The room in which the wits of the day used to assemble, often under the presidency of no less a person than John Dryden, was on the first floor, the ground-rooms being then occupied as a haberdasher's shop. It took its familiar appellation from Will Urwin, by whom it was kept, and whose name is preserved to us in an advertisement offering a reward for the apprehension of a runaway servant in 1674. "It was Dryden," writes Pope, "who made 'Will's' Coffee-house the great resort of the wits of his time. After his death Addison transferred this pre-eminence to 'Button's,' who had been a servant of his own; they were opposite each other in Russell Street, Covent Garden. … Addison passed each day alike, and much in the same way as Dryden did. Dryden employed his mornings in writing, dined en famille, and then went to 'Will's;' only he came home earlier at nights."
Defoe, too, in his "Journey through England," bears the following testimony to the high repute in which "Will's" Coffee-house then stood with the aristocracy of birth as well as with that of letters:—"After the play, the best of the company go to 'Tom's' and 'Will's' Coffee-house, near adjoining, where there is playing at picket, and the best of conversation till midnight. Here you will see blue and green ribbons and stars sitting familiarly, and talking with the same freedom as if they had left their quality and degrees of distance at home." And it is clear that not only literature but politics formed a subject of constant discussion in that upper room, for doubtless it will be remarked that in his first number of the Spectator Addison says: "There is no place of general resort wherein I do not often make my appearance; sometimes I am seen thrusting my head into a round of politicians at 'Will's,' and listening with great attention to the narratives that are made in those little circular audiences."
The entrée to "Will's," it seems, was not more readily granted than admission to the "Athenæum" now a-days would be to mere pretenders to literature, or to writers of every poem of the hour: thus, the Spectator speaks, with something of a sneer, of some luckless wight who "came to 'Will's' Coffee-house upon the merit of having writ a posie of a ring." The coffee-house, however, appears to have been used also—just like a club of our own day—as a place where two friends could meet quietly and discuss a subject—literary, religious, or political. Thus in "The Reasons of Mr. Bays' [i.e., Dryden's] Changing his Religion," Mr. B. is represented as saying, "But, if you please to give me the meeting at 'Will's' Coffee-house about three in the afternoon, we'll remove into a private room, where, over a dish of tea, we may debate this important affair with all the solitude imaginable."
"At 'Will's' Coffee-house," says Dr. Johnson in Boswell's "Life," "Dryden had a particular chair to himself, which was set by the fire in winter, and was then called his winter chair; and was carried out for him to the balcony in summer, and was then called his summer chair. Cibber could tell no more than that he remembered him a decent old man, the arbiter of critical disputes at 'Will's.'"
The position held by the wits of "Will's" Coffee-house in the republic of letters may be pretty well inferred from the first number of the Tatler, in which Steele and Addison write—"All accounts of gallantry, pleasure, and entertainment shall be under the article of 'White's Chocolate-house;' poetry under that of 'Will's Coffee-house;' learning under the title of the 'Grecian;' foreign and domestic news you will have from 'St. James's Coffee-house.'" The same writer complains that "the place is very much altered since Mr. Dryden frequented it; where you used to see songs, epigrams and satires in the hands of every man you met. You have now only a pack of cards; and instead of the cavils about the turn of the expression, the elegance of the style, and the like, the learned now dispute only about the truth of the game." Hence probably the truth of such a couplet as this:—
"Rail on, ye triflers, who to 'Will's' repair,
For new lampoons, fresh cant, or modish air."
It was to "Will's" that Pope, when a mere child, induced his friends to carry him, in order that he might gaze on the great poet whose mantle he was destined in after life so worthily to wear. "Who does not wish," writes Dr. Johnson, "that Dryden could have known the value of the homage that was paid him, and foreseen the greatness of his young admirer?" In later years Pope became a constant frequenter of "Wills,'" though not till after the illustrious Dryden's death. "Pope had now," again writes Dr. Johnson, "declared himself a poet, and thinking himself entitled to poetical conversation, began at seventeen to frequent 'Will's,' a coffee-house on the north side of Russell Street, in Covent Garden, where the wits of that time used to assemble, and where Dryden had, when he lived, been accustomed to preside."
Malone tells us that "most of the criticisms which Dryden condescended to notice were made at his favourite haunt, 'Will's' Coffee-house." There were other personages, too, who used to repair to "Will's" to meet their friends. Thus, for instance, in Pepys' "Diary," under date October 2, 1660, we find the following entry:—"At 'Will's' I met Mr. Spicer, and with him to the abbey to see them at vespers."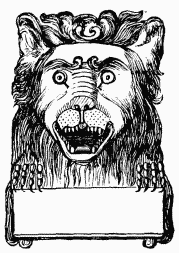 On the opposite side of Russell Street to "Will's" was "Button's" Coffee-house, so called after the man who established it, in 1712—one Daniel Button, who had been a servant to Joseph Addison, or rather to his wife, the Countess of Warwick. If second, it was only second to "Will's" in its literary reputation, which dated from the appearance of Addison's Cato, and maintained it till his death, in 1719. It was here that Addison used to retreat "whenever he suffered any vexation from the countess;" and doubtless on other occasions also, for we know, from several independent sources of information, that he seldom let an evening pass by without looking in here along with his friends, Steele, Budgell, Philips, Carey, and Davenant. Here Pope, as he states, at one time used to meet Addison nearly every day; and here Ambrose Philips, as Dr. Johnson tells us, showed himself one of the genus irritabile by "hanging up a rod with which he threatened to chastise Pope." At "Button's" was the conventional office of the Guardian, whose editor erected at the entrance a lion's head with a large mouth (of which we give an engraving), to receive contributions from young and inexperienced authors.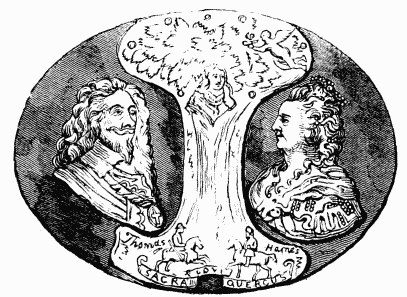 Under the "lion's head" was inscribed the following couplet from Martial:—
"Curvantur magnis isti cervicibus ungues;
Non nisi dilectâ pascitur iste ferâ."
Mr. P. Cunningham traces the movements of this formidable head from "Button's" to the "Shakespeare" Tavern, under Covent Garden Piazza, and thence to "Richardson's Hotel," in the same place, from which it was removed to Woburn Abbey, being bought by the Duke of Bedford.
The origin and purpose of the lion's head above named is thus related in the Guardian of July 9, 1713: "I have, I know not how, been drawn into tattle of myself, more majorum almost the length of a whole Guardian. I shall therefore fill up the remaining part of it with what still relates to my own person and my correspondents. Now I would have them all know that on the 20th instant it is my intention to erect a lion's head, in imitation of those I have described in Venice, through which all the private commonwealth is said to pass. This head is to open a most wide and voracious mouth, which shall take in such letters and papers as are conveyed to me by my correspondents, it being my resolution to have a particular regard to all such matters as come to my hands through the mouth of the lion. There will be under it a box, of which the key will be in my own custody, to receive such papers as are dropped into it. Whatever the lion swallows I shall digest for the use of the public. This head requires some time to finish, the workmen being resolved to give it several masterly touches, and to represent it as ravenous as possible. It will be set up in 'Button's' Coffee-house, in Covent Garden, who is directed to show the way to the lion's head, and to instruct any young author how to convey his works into the mouth of it with safety and secrecy."
"I think myself obliged to acquaint the public that the lion's head, of which I advertised them about a fortnight ago, is now erected at 'Button's' Coffee-house, in Russell Street, Covent Garden, where it opens its mouth at all hours for the reception of such intelligence as shall be thrown into it. It is reckoned an excellent piece of workmanship, and was designed by a great hand in imitation of the antique Egyptian lion, the face of it being compounded out of that of a lion and a wizard. The features are strong and well-furrowed. The whiskers are admired by all that have seen them. It is planted on the western side of the coffee-house, holding its paws under the chin, upon a box, which contains everything that he swallows. He is, indeed, a proper emblem of knowledge and action, being all head and paws." (The Guardian, No. 114, Wednesday, July 22, 1713.)
"Being obliged, at present, to attend a particular affair of my own, I do empower my printer to look into the arcana of the lion, and select out of them such as may be of public utility; and Mr. Button is hereby authorised and commanded to give my said printer free ingress and egress to the lion, without any hindrance, lest, or molestation whatsoever, until such time as he shall receive orders to the contrary. And, for so doing, this shall be his warrant." (Guardian, No. 142, August 24, 1713.)
Charles Johnson, famous for writing a play every year, was an attendant at "Button's" every day. He had, probably, thriven better in his vocation had he been somewhat leaner; he may be justly called a martyr to obesity, and may be said to have fallen a victim to the rotundity of his body. He kept a tavern in Bow Street, Covent Garden, and died about 1741. Though he was a man of inoffensive behaviour, yet he could not escape the satire of Pope, who, too ready to resent even any supposed offence, has, on some trivial pique, immortalised him in the "Dunciad."
In Russell Street, at No. 17, on the north side, was "Tom's" Coffee-house; but the house was pulled down in 1865, after having stood upwards of a century and a half. It was established about the year 1700, by a Mr. West, after whose Christian name it was called. It is mentioned in the "Journey through England," in 1714, as a place where "there was playing at piquet, and the best of conversation till midnight," and where "blue and green ribands with stars"—in other words, the bearers of the highest orders at Court—might be seen night after night "sitting and talking familiarly." Its balcony in the day-time was often crowded with members of the Upper House of Parliament, who came thither to drink tea and coffee and to be amused. In the early part of the reign of George III. there was established at "Tom's" a club, consisting of upwards of 600 members, including not only Garrick, Foote, Murphy, Dr. Dodd, George Colman, Goldsmith, Dr. Johnson, and William Bowyer, but the Duke of Montague, Sir George (afterwards Lord) Rodney, the great Lord Clive, the Earl of Anglesey, Lord Edward Bentinck, Earl Percy, and the Duke of Northumberland. Quoting Whitehead's "Legends of London," we might add that—

"These are the men that trod our public ways,
With brilliant wits that every fancy lov'd;
Congreve's wild, sportive flights of later days,
And graceful Addison whom all approv'd:
While graver Johnson's wisdom spoke like truth,
Burke's eloquence replied in tones sedate.
Here charming Goldsmith fluttered fresh as youth,
And Swift and Gay. But see, at Fame's broad gate
The dazzling crowds our kindly memory greet;
Their names this transient verse may not repeat."
"Tom's" continued to be used as a coffee-house down to 1814, when it passed into other uses; but many of the relics of the club still remain in private hands, including the books and lists of members and the snuff-box which was handed round among the company. This snuff-box, of which we give an engraving in page 277, is described by Mr. Timbs, in the Illustrated London News of 1865, as of large size and of tortoise-shell, and having on the lid in high relief, chased in silver, portraits of Charles I., Queen Anne, and the Royal Oak at Boscobel, with Charles II. hid in its branches.
At a tavern with the sign of the "Shakespeare's Head," in Russell Street, the Beefsteak Society, which we have already mentioned in our account of the Lyceum, used to meet before removing to that theatre. The sign is said by Mr. Larwood to have been "beautifully painted," and it was the work of George Lambert, scene-painter at Covent Garden Theatre.
In Russell Street was also another "Rose" Tavern, a noted place of debauchery in the Stuart times. Constant allusions to it occur in the comic writers of the age; Shadwell, for instance, in The Scourers, makes one of the characters observe, "Thou wilt never be his fellow . … oh! had you seen him scower as I did! oh! so delicately, so like a gentleman! how he cleared the 'Rose' Tavern." Mr. Larwood tells us that here, in 1712, was arranged the fatal duel between Lord Mohun and the Duke of Hamilton, of which we shall have to say more when we come to its actual scene, Hyde Park. How the character of "The Rose" for morality stood in the reign of Queen Anne, may be gathered from the following lines of the "Rake Reformed:"—

"Not far from thence appears a pendant sign,
Whose bush declares the product of the vine;
Where to the traveller's sight the full-blown 'Rose'
Its dazzling beauties doth in gold disclose,
And painted beauties flock in tallied cloathes."
Hogarth has given a picture of one of the rooms in this house in his "Rake's Progress." "In 1766," adds Mr. Larwood, "the tavern was swallowed up in the enlargements of Drury Lane by Garrick; but the sign was preserved, and hung up against the front wall." An engraving of it is shown in Pennant's "London."
At the "Albion" Tavern in this street—the legitimate successor of the "Will's" and "Button's" of the last century—"the late-hour visitor," Mr. E. L. Blanchard tells us, "may occasionally see faces flitting past which have been familiar to him in association with the glare of the foot-lights; but the arrangements of that hotel are totally distinct from those of the old theatrical parlour which permitted a stranger to observe how 'Horatio' would eat a mutton chop, how 'Polonius' would crown the enjoyment of a Welsh rare-bit with a pipe, and how the thirsty 'Ghost' would evoke congenial spirits which really came when he did call for them. To mix in goodly theatrical company at the present day it is needful to be introduced to clubs like the Garrick, the Junior Garrick, or the Arundel. Such institutions have done much to alter the aspect of professional life after dark, and the marked change which has thus crept over the old haunts of the players is worth noting among the ever-shifting scenes of modern society."
Among the temporary residents in Russell Street in olden time was John Evelyn. In his "Diary," under date September 10th, 1658, is the entry: "I came with my wife and family to London; tooke lodgings at the 3 Feathers in Russell Street, Covent Garden, for all the winter, my son being very unwell." Here, too, as he tells us, he was visited in the December following by "my Lord Count Arundel of Wardour."
Russell Street, during last century, and indeed during the earlier part of the present century, was largely inhabited by theatrical and other celebrities, of whom it would be impossible to give a full or complete list. Major Mohun; Betterton; Mrs. Barton Booth; Charles Lamb; Carr, Earl of Somerset, whose name is mixed up with the story of the poisoning of Sir Thomas Overbury; Armstrong, the poet; John Evelyn; Joseph Taylor, one of the original performers of Shakespeare's plays—each and all of these are enumerated by Mr. P. Cunningham amongst those who have contributed to the memories of Russell Street.
In Russell Street, "next door to Isaac Bickerstaffe's Coffee-house," was the music-shop of a Mr. Peppard, which bore the appropriate sign of "The Orpheus;" and Gibbon tells us, in his "Memoirs," that, while a student at Magdalen College, Oxford, and when in doubt as to the claims of the rival Churches of England and Rome, he consulted the advice of a Mr. Lewis, a Roman Catholic bookseller in Russell Street, who recommended him to consult the priest, who received his formal abjuration of Protestantism, and admitted him into the bosom of "the one fold" in June, 1753.
In Little Russell Street formerly hung a beautifully-executed sign of Shakespeare's head: it was painted by Clarkson, who received for it £500. Another sign—a whole-length portrait of the immortal bard, in the same street—was the work of a Royal Academician, Samuel Wale. But this had to be taken down, with many other signs, in obedience to the Act of Parliament, and was sold to a broker in Lower Grosvenor Street, at whose shop-door it stood for some years, neglected and despised, and at last was destroyed by exposure to the weather.
"The Harp," in this part of Russell Street, was long notorious as the resort of distinguished actors; and here is held, though not in the vigour of its early days, a society or club denominated "The City of Lushington," the members of which are presided over by a "Lord Mayor" and four "Aldermen," each of whom being annually elected to those distinguished positions. Here Sims the elder flourished for many years. He was succeeded by his son, a tablet to whose memory may still be seen in the parlour of the aforesaid hostelry. In these words is he commemorated: "A tribute of respect to the memory of Sir William Sims, theatrical agent. Obiit Feb. 9th, 1841. Ætat. 54. He was for thirty-five years a distinguished member of this city, and thrice Lord Mayor. Many successful aspirants to histrionic fame are indebted to him for their advancement in the profession, and can look back with gratitude to his advice and assistance." This rattle-brained society of theatrical, commercial, mechanic, and other worthies, was most solemnly established, many years since, by the whimsical contrivance of a merry company of tipplers, that they might meet every night as citizens of "The City of Lushington," each having his own particular seat denoted as his ward, and each member, on admittance, having a particular ward assigned to him. "The uninitiated," says Mr. E. L. Blanchard, "may be advantageously told that certain burlesque ceremonies of municipal election are still continued at specified intervals, when nominal dignities are humorously conferred. The room retains all the original 'wards,' and the 'Edmund Kean corner' is scrupulously maintained as the post of honour." The title of this society, "The City of Lushington," might lead our readers to infer that its proceedings are mixed up with a certain amount of levity and drunkenness, but this, we are credibly informed, is not the case, everything being conducted with the strictest propriety and decorum.
In Crown Court, close by, and opposite the stage entrance to Drury Lane Theatre, is the Scottish National Church, a place of worship which has acquired considerable popularity under the ministry of Dr. Cumming, of prophetical notoriety.
At "Button's"—and, indeed, at most of the other coffee-houses—the leading company used to wear long, flowing flaxen wigs, and so did Sir Godfrey Kneller when he frequented it of an evening. John Timbs, in his "Club Life in London," tells us that "'Button's' continued in vogue until Addison's death and Steele's retirement into Wales, after which the house became gradually deserted; the coffee-drinkers went to the 'Bedford,' the dinnerparties to the 'Shakespeare.'"
Richard Steele, the celebrated wit, dramatic and essay writer, and one of the most frequent attendants at "Button's" in its palmy days, was the son of an English barrister who filled the post of secretary to the Duke of Ormond, and was born in Dublin in 1671. Through the influence of the Duke of Ormond he was sent to the Charterhouse School, in London, from whence he removed to Oxford. It was at the Charterhouse that he found Addison, a youth three years older than himself, and an intimacy was formed between them—one of the most memorable in literature. Steele commenced life by entering the army as a private soldier. His wit and brilliancy soon made him a favourite in the army, and he plunged into the fashionable vices and follies of the age, which enabled him to acquire that knowledge of life and character which proved so serviceable when he exchanged the sword for the pen. As a check on his irregular mode of life, and being thoroughly convinced of many things of which he had often repented, and which he more often repeated, he wrote for his own admonition a little work entitled "The Christian Hero;" but his gay companions did not relish this semi-religious work, and not being very deeply impressed by his own reasoning and pious examples, as a counterpoise he wrote a comedy, The Funeral, or Grief à la Mode, which was very successful. Steele had dedicated "The Christian Hero" to his colonel, Lord Cutts, who appointed him his secretary, and promised him a captain's command in the volunteers. It was not long, however, before Steele found that in exchanging the pen for the sword he had made a mistake; and he lost no time in following his more congenial pursuits. He wrote a number of plays, which were very successful; and through the popularity thus obtained he secured an appointment in the Stamp Office, London, which he resigned on being elected member for Stockbridge. His Parliamentary career, however, was not brilliant, for he was expelled the House for writing two alleged libels, called respectively "The Englishman" and "The Crisis," "which expulsion," says Lord Mahon, "was a fierce and most unwarrantable stretch of party violence."
The accession of George I. was a fortunate circumstance for Steele; for he not only received the honour of knighthood, but was appointed to a post of some importance at Hampton Court; and, what was far more congenial, was named Governor of the Royal Company of Comedians. And when the Rebellion of 1715 placed a number of forfeited estates at the disposal of the Government Steele was appointed a member of the Commission for Scotland. In this capacity, in 1717, he visited Edinburgh, and whilst there he is said on one occasion to have given a splendid entertainment to a multitude of decayed tradesmen and beggars collected from the streets!
Steele appears to have received fair remuneration for his literary work; and on the publication of his Conscious Lovers, in 1722, the king, to whom it was dedicated, gave him £500. But he was always poor, because always lavish, scheming, and unbusiness-like; yet nothing could depress the elasticity of his spirits. Being always engaged in some unsuccessful scheme or other, and with habits both benevolent and lavish, he wasted his regular income in anticipation of a greater, until absolute pecuniary distress was the result. Shortly before his death he retired into Wales, solely for the purpose of retrenching his affairs, so that he might pay his creditors. But it was too late, and before he could carry his honest intentions into effect death overtook him, and, enfeebled by dissipation and excess, he died, on September 1, 1729, at the age of fifty-eight.
It is as a witty and polished writer that Steele is best known, and especially as the originator of the Tatler, a paper in which Addison and some of the best writers of the time remarked on the politics of the age in which they lived. The Spectator and Guardian also received contributions from Steele's pen; and although the state of things which produced these works has passed away, yet these essays still rank as a worthy part of the standard literature of England.
After the death of Addison, the celebrity of "Button's" Coffee-house declined, and a few years later we find its master in receipt of parish relief. His demise was thus announced in the Daily Advertiser at the time:—"On Sunday morning, died, after three days' illness, Mr. Button, who formerly kept 'Button's' Coffee-house, in Russell Street, Covent Garden, a very noted house for wits, being the place where the lyon produced the famous Tatlers and Spectators, written by the late Mr. Secretary Addison and Sir Richard Steele, Knt., which works will transmit their names with honour to posterity." Button lies buried, as already stated, among some of his illustrious guests, in St Paul's Churchyard, close by.
CHAPTER XXXVI.
COVENT GARDEN AND ITS NEIGHBOURHOOD (continued).
kai di kai o ta syssitia eirov polloi agathoi aitios.
Aristotle.
Club Life—Dickens's Love for Covent Garden—The "Sheridan Knowles" Tavern and the "Owls" Club—The "Whistling Oyster"—The "Shakespeare Head" Tavern—Johnson's Alamode Beef-shop—Wellington Street—Tavistock Street—Dramatic Sick Fund Association—Royal Dramatic College—A Batch of Newspaper Offices—Dr. Johnson and Dr. Perry—The Victoria Club—Royal General Theatrical Fund—Bohn's Library—The "Fleece" Inn and the "Turk's Head"—"Wright's" Coffee-house—Anecdote of Foote, the Actor—Discovery of Stone Coffins—Millar the Publisher and Fielding's "Amelia"—Sotheby and Wilkinson's Auction-rooms—Somerset House—Lancaster Place—The London Necropolis Company.
The motto at the head of this chapter contains the opinion of one of the sages of antiquity upon the benefits which accrue to man as a "social" being through the instrumentality of the first deviser of what would now-a-days be called "Clubs" and "Club Life," but what the Athenians styled "Syssities," a system, that is, of common tables for citizens. The same institution, under a different name, flourished, so we are told, even among the hardy youth of Sparta; and in fact, as man is not merely a gregarious but also a social animal, we may lay it down as a principle that wherever a refined and polished society has prevailed, its life has been attended by some means or other for bringing men into each other's company to discuss questions of social, political, or literary interest. With these few remarks by way of preface, we pass to some further notice of the Club Life of Covent Garden and its neighbourhood.
The Club was the natural "outcome" of the coffee-houses, which, as we have stated in a previous volume, were first introduced in St. Michael's Alley, Cornhill, by a Turkey merchant in the time of the Commonwealth. In 1663 it was ordained by Act of Parliament that all coffee-houses should be licensed by the magistrates; and twelve years later, as Mr. Cunningham tells us, Charles II. issued a royal edict to close up the coffee-houses as "nurseries of sedition." The principle above quoted, however, asserted itself, and a few days afterwards the proclamation was cancelled.
Our modern celebrated clubs are founded upon eating and drinking, which are points wherein most men agree, and in which the learned and illiterate, the dull and the airy, the philosopher and the buffoon, can all of them bear a part. The Kit-Cat itself—of which we have already spoken in our account of Shire Lane—is said to have taken its original from the mutton pie. The Beef-steak and October Clubs were neither of them averse to eating and drinking, as is clear from their names.
Charles Dickens as a boy had an innate love for the neighbourhood of Covent Garden, as instinct with human life. With Johnson, he knew that "the full tide of life was in the Strand;" and if so, it can scarcely be wondered at that, precocious child, he loved to sit on the shore and watch its waves breaking on its northern bank. To be taken out for a walk into the real town, especially if it were anywhere about Covent Garden or the Strand, perfectly entranced him with pleasure. But most of all he had a "profound attraction of repulsion" to St. Giles's. If he could only induce any one soever to take him through Seven Dials he was supremely happy. "Good heaven!" he would exclaim, "what wild visions of prodigies of wickedness, want, and beggary, arose in my mind out of that place!" On the same authority we learn that George Colman's "Broad Grins" seized his fancy very much, and that he was so impressed by its description of Covent Garden in the piece called The Elder Brother, that he stole down to the Market by himself to compare it with the book. "He remembered," says Mr. J. Forster, "as he said in telling me this, snuffing up the flavour of the faded cabbage-leaves as if it were the very breath of comic fiction." But we must pass on from the domain of poetry into the prosaic region of fact.
In Brydges Street, Covent Garden (now absorbed into Catherine Street, of which it forms a continuation), facing the entrance to Drury Lane Theatre, was a tavern bearing the sign of "The Sheridan Knowles," who is supposed by Mr. Larwood to have been the last literary celebrity to whom such an honour was paid. There the club of "Owls" used at one time to hold its meetings. Sheridan Knowles was one of its especial patrons and fre quenters; and as it embraced many authors, wits, and composers, its members, it may well be imagined, were not owls of the "moping" sort. whom Gray commemorates in his "Elegy." Every panel was inscribed with the name of some dead or living dramatist.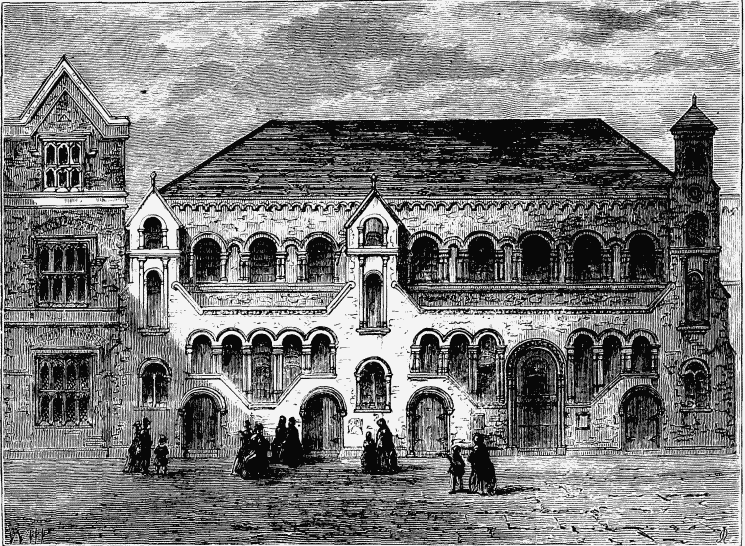 Now-a-days the carriages of the upper ten thousand have no difficulty in finding their way to Old Drury or Covent Garden Market. The access to Drury Lane Theatre, however, was remarkably bad in old times. Walker, writing in "The Original," in 1836, says:—"Within memory, the principal carriage approach to Old Drury Lane Theatre was through that part of Drury Lane which is now a flagged foot-passage, and called Drury Court, just opposite the new church in the Strand."
On the south side of Drury Lane Theatre, in a narrow court leading out of Catherine Street, called Vinegar Yard, is a small tavern—or rather oyster and refreshment-rooms—dear to artists, who are, indeed, its chief customers, and, if we may trust the Daily Telegraph, enjoys a reputation of much the same kind as that which in former days attached to "Button's" or "Will's" Coffee-houses. The house rejoices in the fanciful name of "The Whistling Oyster," and its sign is a weirdly and grotesquely comical representation of a gigantic oyster whistling a tune, and with an intensely humorous twinkle beaming in its eye. The shop was first established by a Mr. Pearkes, in 1825. "It appears," says a writer in the Daily Telegraph, "that about the year 1840 the proprietor of the house in question, which had then, as it has now, a great name for the superior excellence of its delicate little 'natives,' heard a strange and unusual sound proceeding from one of the tubs in which the shell-fish lay piled in layers one over the other, placidly fattening upon oatmeal, and awaiting the inevitable advent of the remorseless knife. Mr. Pearkes, the landlord, listened, hardly at first believing his ears. There was, however, no doubt about the matter. One of the oysters was distinctly whistling! or, at any rate, producing a sort of 'sifflement' with its shell. It was not diffcult to detect this phenomenal bivalve, and in a very few minutes he was triumphantly picked out from amongst his fellows, and put by himself in a spacious tub, with a bountiful supply of brine and meal. The news spread through the town, and for some days the fortunate Mr. Pearkes found his house besieged by curious crowds. That this Arion of oysters did really whistle, or do something very like whistling, is beyond all question. How he managed to do so is not upon record. Probably there existed somewhere in his shell a minute hole, such as those with which the stray oyster-shells upon the beach are usually riddled, and the creature, breathing in his own way by the due inspiration and expiration of water, forced a small jet through the tiny orifice each time that he drew his breath, and so made the strange noise that first caught the ear of his fortunate proprietor." As for the jokes and good sayings to which the creature gave rise during its brief span of life, they would fairly fill a large folio; and readers of Punch in its early volumes may even remember the famous picture of the "Whistling Oyster"—drawn, it is almost needless to add, from a purely imaginary point of view, and which those who have not been so fortunate as to have seen can behold reproduced in large upon the lamp which now marks the door of the establishment in Vinegar Yard. Douglas Jerrold's suggestion was that the said oyster "had been crossed in love, and now whistled to keep up appearances, with an idea of showing that it didn't care." Thackeray used to declare that he was once actually in the shop when an American came in to see the phenomenon, as everybody else was doing, and, after hearing the talented mollusk go through its usual performance, strolled contemptuously out, declaring "it was nothing to an oyster he knew of in Massachusetts, which whistled 'Yankee Doodle' right through, and followed its master about the house like a dog." The subsequent fate of this interesting creature is a mystery—whether he was eaten alive, or ignominiously scalloped, or still more ignominiously handed over to the tender mercies of a cook in the neighbourhood to be served up in a bowl of oyster sauce as a relish to a hot beefsteak. In fact, like the "Lucy" of Wordsworth—
"None can tell
When th' oyster ceased to be."
But it is somewhat singular that so eccentric a creature should have existed in the middle of London, and in the middle of the nineteenth century, and that no history of his career should be on record: still more strange, we think, that he should have been set up over his master's shop as a sign, and yet that, with all its notoriety, it should have escaped the notice of Mr. Peter Cunningham, Mr. John Timbs, and even Mr. Jacob Larwood, the author of "The History of Sign-Boards."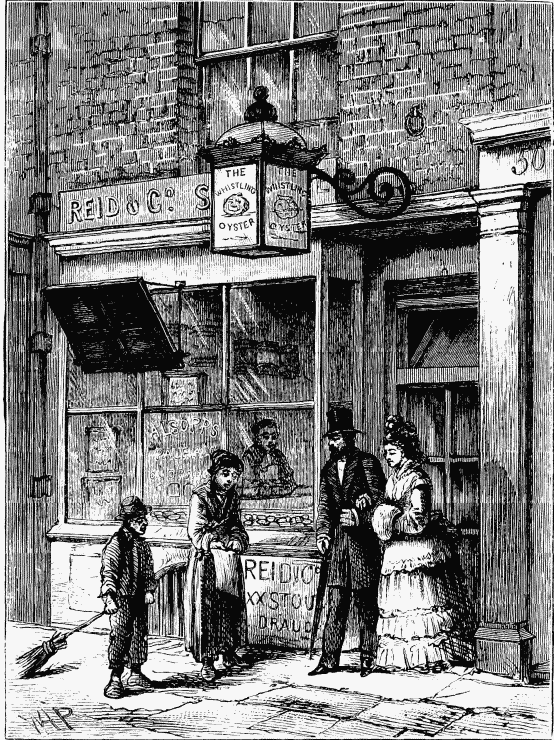 If we may be allowed at this point to travel a little beyond the strict bounds of Covent Garden, it may be added that in Wych Street, Drury Lane, there was a "Shakespeare Head," the last haunt of the club of "Owls"—so called from the late hours they maintained. The tavern was kept at one time by Mr. Mark Lemon, afterwards the genial editor of Punch, assisted by his wife, formerly a singer of repute as Miss Romer. Mr. Larwood tells us that it was much frequented by actors, and that a club of literati used to meet on its first floor. Not far off hence was "Johnson's Alamode Beef-house," in Clare Court, close to Drury Lane, where Charles Dickens as a boy used to look in, whilst employed as a drudge at Hungerford Stairs, carrying his daily supply of bread, and "purchasing a small plate of alamode beef to eat with it," the waiter staring at the precocious boy eating his humble dinner, as if he had been a monster.
Wellington Street, strange to say, is not mentioned by Mr. P. Cunningham in his "Handbook of London," usually so exhaustive. It leads from Russell Street, in a straight line with Bow Street, across the Strand to Waterloo Bridge, and was newly made as an approach to that bridge in 1829–30. It follows as nearly as possible the line of what was once the boundary-wall separating the grounds of Exeter House from those of Wimbledon House, described in a previous chapter.
Tavistock Street, to which we have alluded in a former chapter, runs out of Wellington Street to the west, parallel with the Strand. In this street are the offices of the Dramatic, Equestrian, and Musical Sick Fund Association. This institution was founded in 1855, in order to assist members of these professions in sickness and in distress, and to help them to obtain employment. Here, too, is the office of the Royal Dramatic College, which was established in 1858. The object of this institution is to furnish homes and maintenance for aged and infirm actors and actresses. The "College," as this cluster of homes is called, is situated at Maybury, near Woking, Surrey.
As we walk down the rather steep incline which leads across the Strand to Lancaster Place and Waterloo Bridge, we pass Exeter Street on the right and left of us. In this street, as we remarked in a previous chapter, Dr. Johnson lodged when he first came to town from Lichfield, and it was during his residence here that he first commenced his condensation of the speeches in Parliament for the Gentleman's Magazine. At the corner of Exeter Street was the office for the publication of Household Words, and as such it was the constant haunt of Charles Dickens in his later years. Here is now published the Army and Navy Gazette, founded and edited by Dr. W. H. Russell. In Wellington Street are the publishing-offices of the Athenœum and Notes and Queries, edited by Dr. Doran; the United Service Gazette, the Era, All the Year Round, the Gardener's Chronicle, the Spectator, the Academy, the Tablet and Vatican newspapers, as also those of the Morning Post (already described), the Queen, the Field, and the Law Times. It must have been as nearly as possible on this spot that Dr. Johnson offended Dr. Percy, author of "Reliques of Ancient Poetry," by parodying the style of that charming and simple tale, "The Hermit of Warkworth," thus:—
"I put my hat upon my head,
And walked into the Strand,
And there I met an other man
With his hat in his hand."
"I must freely declare," says Nichols in his "Literary and Miscellaneous Memoirs," "with all my partiality for Johnson, that I think Dr. Percy had very great cause to take offence at a man who, by a ludicrous parody on a stanza of his 'Hermit,' had rendered him contemptible. It was urged that Johnson meant only to attack the metre; but he certainly turned the whole poem into ridicule. Mr. Garrick soon afterwards asked me," adds Nichols, "in a postscript to one of his letters, 'whether I had seen Johnson's criticism on the "Hermit?" it is already,' said he, 'over half the town.'"
On the eastern side of the street, occupying the corner of Exeter Street, is a handsome and substantial building of the Italian order, ambitiously styled "The Victoria Club." It has nothing, however, of royalty or aristocracy about it, and is haunted by second-rate betting-men only. It was built about the year 1862; and some idea may be formed of the contrast between its members and the literary society which used to meet in the coffee-houses of the neighbourhood less than a century before it, when we add that its highly intelligent committee and secretary are ignorant, or profess to be ignorant, of its brief and unimportant history, and even of the name of its founder!
In Wellington Street, too, are the offices of the Royal General Theatrical Fund. This institution was founded, in 1839, for the relief of "poor actors, actresses, singers, pantomimists, and dancers," to whom annuities of from £30 to £90 per annum are granted; aid is likewise afforded to the widows and orphans of members.
About half-way down Wellington Street, and opening into Catherine Street, is York Street. Here Mr. Henry G. Bohn, one of the most original and enterprising of modern publishers, carried on business from about the year 1835 down to 1866, when he retired, transferring his stock to Messrs. Bell and Daldy. He was one of the first who commenced the republication of standard works in a cheap form in "libraries" of various kinds. Those published under his auspices amounted to about 700 volumes, and the cost of their production could not have been much short of £500,000. In York Street was the literary auction-room of Mr. Samuel Baker, in the middle of the last century, now represented by Messrs. Sotheby, Wilkinson, and Hodge, of whom we shall have to speak when we reach the southern part of Wellington Street. Here, too, was the "Fleece" Inn—a tavern, if we may believe Aubrey, "very unfortunate for homicides," three having happened within its walls in his time. It was afterwards turned into a private house, its former master having hanged himself! It is as well, perhaps, in this case that the timbers and walls of houses are not usually gifted with speech, or it would have been hard for its owner to find another tenant.
Another tavern in this street at one time enjoyed a different reputation to that of the "Fleece." This house bore the sign of the "Turk's Head," which was admirably painted by Cotton, and was much admired. The tavern had among its usual frequenters Bernard Lintot, the bookseller of the Strand, the rival of Tonson, and the "huge Lintot" of Pope's "Dunciad," who sang "Molly Mag" as none before or after him could sing it.
In York Street, about 1760–70, was a theatrical club which met of an evening at "Wright's Coffee-house." Foote, Holland, Powell, and many of the leading actors of the time were members; and Mr. Cradock, in his "Literary and Miscellaneous Memoirs," tells us how he went thither one evening with a young friend from the country, named Farmer, who had written on the subject of Shakespeare, and who particularly wanted to see Foote. The latter was a much kinder and more genial personage, as is clear from Cradock's narrative, than Dr. Johnson would have been if placed in a similar position. "Luckily an immediate opportunity occurred to me of introducing him, and of interesting the great satirist in his favour. Foote gravely and very handsomely said, 'I shall feel a particular pleasure in paying every attention to him as a friend of yours; he is a man of talents, and I am well acquainted with his excellent Essay on the Learning of Shakespeare;' and indeed he kept his word; for while Farmer stayed he did everything in his power to make himself agreeable and entertaining."
Foote was a man of great natural and ready wit, as would appear from the following anecdotes, which we owe to the same source:—"Mr. Howard happening to hint something about printing a second edition of his 'Thoughts and Maxims,' Foote replied directly, with a sneer, 'Right, sir, Second Thoughts are often best.' In like manner, when a gentleman, with whom he was more intimate, only quoted in jest some trifling circumstance about a game-leg, Foote maliciously replied, "Pray, sir, make no allusion to my weakest part; did I ever attack your head?' In fact, if the truth must be told, Foote at times spared neither friend nor foe. He had little regard for the feelings of others; if he thought of a witty thing that would create laughter, he said it. If Foote ever had a serious regard for any one, it was for Holland; yet at his death, or rather, indeed, after his funeral, he violated all decency concerning him. Holland was the son of a baker at Hampton, and on the stage was a close imitator of Garrick, who had such a respect for him that he played the 'Ghost' to his 'Hamlet' merely to serve him at his benefit. Holland died rather young, and Foote attended as one of the mourners. He was really grieved: and the friend from whom I had the account declared that his eyes were swollen with tears; yet when the gentleman said to him, afterwards, 'So, Foote, you have been attending the funeral of your dear friend Holland?' the latter instantly replied, 'Yes, we have just shoved the little baker into his oven!'"
We have said that Covent Garden, in all probability, served not only as a monastic garden, but also as a burial-place for the members of the abbey of St. Peter's at Westminster. This supposition is confirmed by a fact mentioned by Mr. J. H. Jesse in his "London," that "stone coffins and other relics of the dead have from time to time been discovered behind the houses on the north side of York Street."
As we cross the Strand, we see, a door or two off us, on the left, the shop which once was Tonson's, and afterwards passed to Millar, and from him to Alderman Cadell, and about which Sir N. W. Wraxall tells us a good story, on Cadell's authority. Millar gave Fielding £800 for the copyright of his "Amelia"—a high price at that time. A literary friend having expressed an opinion that it was not worth anything like that amount, and that he had better get rid of it as soon as possible, Millar resorted to a capital "trick of the trade." At his first "trade sale" he said to his brother bibliopoles that he had several works to put up, for which he would be glad if they would bid, but that every copy of "Amelia" was already bespoke. "This manœuvre had its effect," says Wraxall; "all the booksellers were anxious to get their names put down for copies of it, and the edition, though a very large one, was immediately sold."
In that part of Wellington Street which joins the Strand to Waterloo Bridge, on the west side, on the site of part of the old Savoy, are the wellknown rooms of Messrs. Sotheby, Wilkinson, and Hodge, auctioneers of literary property. The business was first established by Mr. Samuel Baker, in York Street, as stated above, in 1744. Thirty years later he was joined by Mr. G. Leigh, who appears to have conducted the business singlehanded from 1777 down to 1780, when the name of Sotheby appears as his partner. In 1800 the firm was reinforced by the addition of Mr. Sotheby's son, and in 1804 the firm was styled "Leigh and S. Sotheby," their rooms being removed to "No. 145, the Strand." In 1816 the name of Leigh has disappeared from the title-pages of the sale catalogues, which mention the name of only "Mr. Sotheby." From 1818 down to 1828 Mr. Sotheby carried on the business at 3, Wellington Street, since which time the establishment has gone on steadily progressing. Among the most celebrated sales which have been entrusted to this firm in the last and present centuries have been the libraries or other collections of Prince Talleyrand, Professor Porson, Bishop Horsley, Joseph Addison, W. S. Rose, John Gifford, E. Malone, Dr. Hawtrey, Sir William Tite, the first Emperor Napoleon, the Chevalier d'Eon, Dr. Charles Burney, the Marquis of Lansdowne, the Earl of Bute, Sir William Dolben, Mr. H. T. Hope, the Earl of Halifax, Sir M. Sykes, Mr. John Nichols, Sir Samuel Romilly, Sir William Tite, and Mr. J. Gough Nichols. It may interest our readers to learn that the volumes of catalogues of sales conducted by this firm are regularly deposited in the British Museum, where about 150 volumes, all carefully priced, may be seen, giving a history of literary properties sold from 1744 down to 1828, and about 300 more carrying the same record down to nearly the present day.
The western frontage of Somerset House, nearly opposite to Messrs. Sotheby's auction-rooms, was erected in the year 1857, from the designs of Mr. Pennethorne, and is considered one of the most successful façades in modern London. In this wing of Somerset House are the offices of the Inland Revenue Department. On the opposite side of the street, standing somewhat back from the roadway, is a terrace of large houses, called Lancaster Place, as standing on ground belonging to the Duchy of Lancaster. They are mostly cut up into chambers for artists, engineers, and lawyers. One of them is used as the chief office of the London Necropolis Company, which owns the large cemetery near Woking station. In another, Mr. Samuel Carter Hall for many years edited the Art Journal.
Passing this terrace, we are at the northern end of Waterloo Bridge, at full liberty to find our way down the steps to the Embankment, where, strictly speaking, judging from the meaning of the term, we might have expected to find the "Strand" itself, and where we certainly should have found it in very "Old London"—say the London of a thousand years ago. Thence we pass on to the Thames itself, to which our next chapters shall be devoted.