Pages 345-359
Old and New London: Volume 4. Originally published by Cassell, Petter & Galpin, London, 1878.
This free content was digitised by double rekeying. Public Domain.
CHAPTER XXVIII.
MAY FAIR.
"The morals of May Fair."
Derivation of the Name of May Fair—The Earliest Notice on Record of St. James's Fair—Description of the Fair in the Last Century—Puppet Shows—The Eccentric "Tiddy Dol"—Suppression of the Fair—The Rev. Dr. Keith's Chapel, and the Clandestine Marriages there—The Marriage of "Handsome Tracy"—Miss Elizabeth Gunning and the Duke of Hamilton—Extracts from the Marriage Registers of St. George's, Hanover Square—Curzon Street—The Misses Berry—Epigram by Horace Walpole—Distinguished Residents of Curzon Street—Hertford Street—Dr. Jenner—The "Dog and Duck"—Shepherd's Market—"Kitty Fisher"—Seamore Place—Chesterfield Street—The Hon. Mrs. Norton—Queen Street—Chesterfield House, and its Reminiscences.
This spot, which embraces in its somewhat vague and undefined area the present Curzon Street, Hertford Street, and Chesterfield House and gardens, took its name, in the days of Edward I., from an annual fair, which that king privileged the hospital of St. James's to keep "on the eve of St. James', the day, and the morrow, and four days following," as has already been stated in our account of St. James's Palace. (fn. 1) Pepys speaks of it as St. James's Fair, a name which expresses it geographically with sufficient accuracy, at a time when all to the north and west of St. James's Hospital was an open field.
The following amusing notice of "the Fair in St. James's" is quoted from Mackyn's Diary by Mr. Frost, in his "Old Showmen of London," as the earliest on record:—"The xxv. day of June [1560]. Saint James's fayer by Westminster was so great that a man could not have a pygg for money; and the bear wiffes had nether meate nor drink before iiij. of cloke in the same day. And the chese went very well away for 1d. q. the pounde. Besides the great and mighti armie of beggares and bandes that were there."
Beyond the fact that it was postponed for a few weeks or months in 1603, on account of the plague, nothing more is recorded concerning this fair till 1664, in which year, Mr. Frost tells us, "it was suppressed, as considered to tend rather to the advantage of looseness and irregularity, than to the substantial promotion of any good, common and beneficial to the people."
It is to be hoped that the bad character of the fair, as given by the Observator somewhat later, in the reign of Queen Anne, is a little exaggerated. The editor writes:—"Oh! the piety of some people about the Queen, who can suffer things of this nature to go undiscovered to her Majesty, and consequently unpunished! Can any rational men imagine that her Majesty would permit so much lewdness as is committed at May Fair, for so many days together, so near to her royal palace, if she knew anything of the matter? I don't believe the patent for that fair allows the patentees the liberty of setting up the devil's shops and exposing his merchandise for sale." As to the precise nature, however, of this diabolic ware and "merchandise" he does not enlighten us in detail.
According to Mr. Frost, in his work quoted above, "May Fair" did not assume any importance till about the year 1701, when the multiplication of shows of all kinds caused it to enlarge its sphere of attractions. "It was held," he writes, "on the north side of Piccadilly, in Shepherd's Market, Shepherd's Court, White Horse Street, Sun Court, Market Court, and on the open space westwards, Chapel Street and Hertford Street, as far as Tyburn (now Park) Lane. The ground-floor of the Market House, usually occupied by butchers' stalls, was appropriated during the fair to the sale of toys and gingerbread, and the upper portion was converted into a theatre. The open space westwards was covered with the booths of jugglers, fencers, and boxers, the stands of mountebanks, swings, roundabouts, &c.; while the sides of the streets were occupied by sausage-stalls and gambling-tables. The first-floor windows were also, in some instances, made to serve as the proscenia of puppet-shows."
"I have been able to trace," he adds, "only two shows to this fair in 1702, namely, Barnes and Finley's, and Miller's, which stood opposite to the former, and presented 'an excellent droll called Crispin and Crispianus, or a shoe-maker a prince, with the best machines, singing, and dancing ever yet in the fair.'" The fair, on this occasion, drew together a large concourse of persons, and an attempt to exclude some young women of light character resulted in a riot. The young women, arrested for the purpose of being turned out, were rescued by some soldiers; a conflict ensued, other constables came up, and the "rough" element, of course, took part with the accused women. In the end one constable was killed and three others seriously injured. The man who actually dealt the fatal blow to the unfortunate constable managed to escape; but a butcher who had been active in the affray, was tried for his part in the affair, convicted, and hung at Tyburn. This tragical occurrence helped, no doubt, to bring the fair itself into discredit, especially among the respectable inhabitants of the neighbourhood of Piccadilly."
Pennant, who remembered the last "May Fair," describes the locality as "covered with booths, temporary theatres, and every enticement to low pleasure." A more minute description of the scene, evidently drawn from the life, is given by an antiquary named Carter, in the Gentleman's Magazine for 1774.
"A mountebank's stage," this person tells us, "was erected opposite the 'Three Jolly Butchers' public-house, on the eastern side of the market area, now the 'King's Arms.' Here Woodward, the inimitable comedian and harlequin, made his first appearance as 'Merry Andrew;' from these humble boards he soon after made his way to those of Covent Garden Theatre. Then there was a 'beheading of puppets,' in a coal-shed attached to a grocer's shop (then Mr. Frith's, now Mr. Frampton's). One of these mock executions was exposed to the attending crowd. A shutter was fixed horizontally, on the edge of which, after many previous ceremonies, a puppet was made to lay its head, and another puppet instantly chopped it off with an axe. In a circular staircase-window, at the north end of Sun Court, a similar performance by another set of puppets took place. In these representations the late punishment of the Scottish chieftain, Lord Lovat, was again brought forward, in order to gratify the feelings of southern loyalty at the expense of that further north."
"After the Scottish rebellion of 1745," writes Chambers, in his "Book of Days," "the beheading of puppets formed one of the most regular and attractive parts of the exhibitions at the 'May Fair,' and was continued for several years. The last great proprietor of such puppet-shows was a man named Flockton, whose puppets were in the height of their glory about 1790, and who retired soon after on a handsome competence." A puppet-show, we may add, under the name of the Marionettes, was revived at St. James's Hall about the year 1872.
At these annual gatherings in May Fair, too, was to be seen "Tiddy Dol," the eccentric vendor of gingerbread, whom we have mentioned in our account of the Haymarket, and who figures in Hogarth's well-known picture of the "Idle Apprentice" at Tyburn, where he, in his ornamental dress, is seen in the crowd holding up a gingerbread cake in his hand and addressing the mob. Here, too, was to be seen a Frenchman, whose name has passed away, who submitted to the curious his wife's powers of physical endurance. Fragile and delicate as she appeared, she would (so it was stated) raise from the floor a blacksmith's anvil by the hair of her head, which she twisted round it; and then, lying down, she would have the anvil placed on her bosom, while a horse-shoe was forged upon it with the same heavy blows which may be heard and seen in a blacksmith's shop.
In "Malcolm's Anecdotes" (vol. ii.) is preserved an advertisement of this fair from one of the London papers of the time:—"In Brookfield market-place, at the east corner of Hyde Park, is a fair to be kept for the space of sixteen days, beginning with the 1st of May; the first three days for live cattle and leather, with the same entertainments as at Bartholomew Fair, where there are shops to be let, ready built, for all manner of tradesmen that usually keep fairs, and so to continue yearly at the same place."
May Fair, which had long been falling into disrepute, ceased to be held in the reign of George I. It was "presented by the grand jury of Middlesex for four years successively as a public scandal; and the county magistrates then presented an address to the Crown, praying for its suppression by royal proclamation." Its abolition was brought about mainly through the influence of the Earl of Coventry, to whose house in Piccadilly it was an annual nuisance.
In 1721, as we learn from the London Journal of May 27th in that year, "the ground upon which the May Fair formerly was held is marked out for a large square, and several fine streets and houses are to be built upon it." The idea of a "square," however, was never realised.
In recording the downfall of May Fair and of its doings, the Tatler announces that "Mrs. Saraband, so famous for her ingenious puppet-show, has set up a shop in the Exchange, where she sells her little troop under the name of jointed babies."
The fashionable locality now known as May Fair, in the days of George I. and George II., however, enjoyed, on other grounds than that of the annual fair, a celebrity almost unique, and rivalled only by the Fleet Prison, of which we have already spoken. (fn. 2) Here was a chapel for the celebration of private and secret marriages, which stood within a few yards of the present chapel in Curzon Street. It was presided over by a clergyman, Dr. George Keith, who advertised his business in the daily newspapers, and, in the words of Horace Walpole, made "a very bishopric of revenue." This worthy parson having contrived for a long time to defy the Bishop of London and the authorities of Church and State, was at length excommunicated for "contempt" of the Church of which he was a minister; but he was impudent enough to turn the tables upon his superior, and to hurl a sentence of excommunication at the head of his bishop, Dr. Gibson, and the judge of the Ecclesiastical Court. Keith was sent to prison, where he remained for several years. His "shop," however, as he called it, continued to flourish under his curates, who acted as "shopmen;" and the public was kept daily apprised of its situation and its tariff, as witness the following advertisement in the Daily Post of July 20th, 1744: "To prevent mistakes, the little new chapel in May Fair, near Hyde Park corner, is in the corner house, opposite to the city side of the great chapel, and within ten yards of it, and the minister and clerk live in the same corner house where the little chapel is; and the licence on a crown stamp, minister and clerk's fees, together with the certificate, amount to one guinea, as heretofore, at any hour till four in the afternoon. And that it may be the better known, there is a porch at the door like a country church porch."
But the rank and fashion of May Fair did not care whether the fees demanded were high or low, provided they could get the marriage ceremony performed secretly and expeditiously, yet legally. "Sometimes," writes Charles Knight, in "Once upon a Time," "a petticoat without a hoop was led by a bag-wig and sword to the May Fair altar, after other solicitations had been tried in vain." As an instance of the way in which this marriage, not à la mode, worked in West-end society, let us take the following sketch from Horace Walpole in his best style:—"Did you know a young fellow that was named 'Handsome Tracy?' He was walking in the Park with some of his acquaintance, and overtook three girls; one was very pretty. They followed them; but the girls ran away; and the company grew tired of pursuing them, all but Tracy. He followed them to Whitehall Gate, where he gave a porter a crown to dog them. The porter hunted them, and he the porter. The girls ran all round Westminster, and back to the Haymarket, where the porter came up with them. He told the pretty one that she must go with him, and kept her talking till Tracy arrived, quite out of breath, and exceedingly in love. He insisted on knowing where she lived, which she refused to tell him; and after much disputing, went to the house of one of her companions, and Tracy with them. He there made her discover her family, a butter-woman in Craven Street, and engaged her to meet him next morning in the Park; but before night he wrote her four love-letters, and in the last offered to give two hundred pounds a year and a hundred a year to Signora la Madre. Griselda made a confidence to a staymaker's wife, who told her that the swain was certainly in love enough to marry her, if she could determine to be virtuous, and to refuse his offers. 'Ay,' says she; 'but suppose I should, and should lose him by it?' However, the measures of the cabinet council were decided for virtue; and when she met Tracy next morning in the Park, she was convoyed by her sister and brother-in-law, and stuck close to the letter of her reputation. She would do nothing; she would go nowhere. At last, as an instance of prodigious compliance, she told him that if he would accept such a dinner as a butterman's daughter could give him, he should be welcome. So away they walked to Craven Street; the mother borrowed some silver to buy a leg of mutton, and kept the eager lover drinking till twelve o'clock at night, when a chosen committee accompanied the faithful pair to the minister of May Fair. The doctor was in bed, and swore he would not get up to marry the king, but added that he had a brother over the way who perhaps would, and who did marry them." It is to be hoped that the union, thus hastily and thoughtlessly concocted and cemented, turned out a happy one afterwards.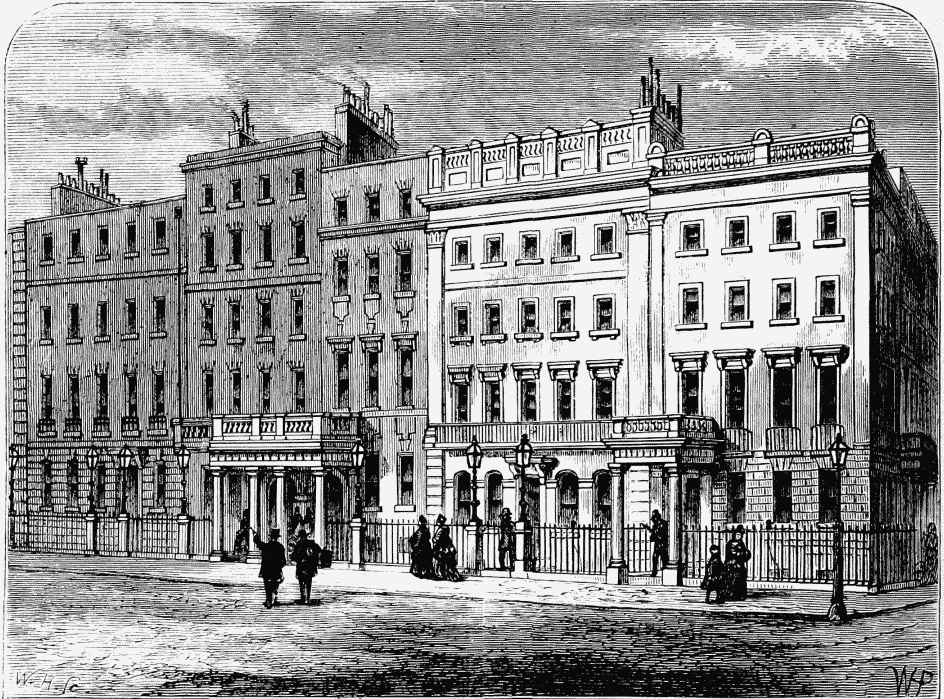 But the butterman's daughter was far from being the only person who found her way through this little chapel into the matrimonial "ship of fools." Everybody has heard of the three Miss Gunnings, whose beauty and attractions set the West-end in a perfect flame in the reign of George II., the eldest of whom was married to the sixth Earl of Coventry. One of these young ladies here went through the marriage ceremony, which gave her the coronet of a duchess. Horace Walpole thus records the fact in his gossiping letters, under date February 27th, 1752:—"The event that has made the most noise since my last is the extempore marriage of the youngest of the Miss Gunnings, who have made so vehement a noise of late. About a fortnight since, at an immense assembly at my Lord Chesterfield's, made to show the house, which is really most magnificent, the Duke of Hamilton made violent love at one end of the room while he was playing faro at the other; that is, he saw neither the bank, nor his own cards, which were of three hundred pounds each; he soon lost a thousand. . . . Two nights afterwards he found himself so impatient, he sent for a parson. The doctor refused to perform the ceremony without license or ring, so the duke swore he would send for the archbishop. At last they were married with a ring off the bed-curtain at half an hour after twelve at night, at the May Fair Chapel."
At last even the people of rank and "quality," the inhabitants of May Fair, grew frightened at their own practices; and, as a consequence, an Act was passed forbidding clandestine marriages. On the day previous to its coming into operation no less than sixty-one marriages were registered here. The Act itself was passed in the previous year, though its operation was delayed till Lady-day, 1754. During this period of suspense, Walpole writes to Montague:—"The Duchess of Argyll harangues against the marriage bill not taking place (i.e., effect) immediately, and is persuaded that all the girls will go off before next Ladyday."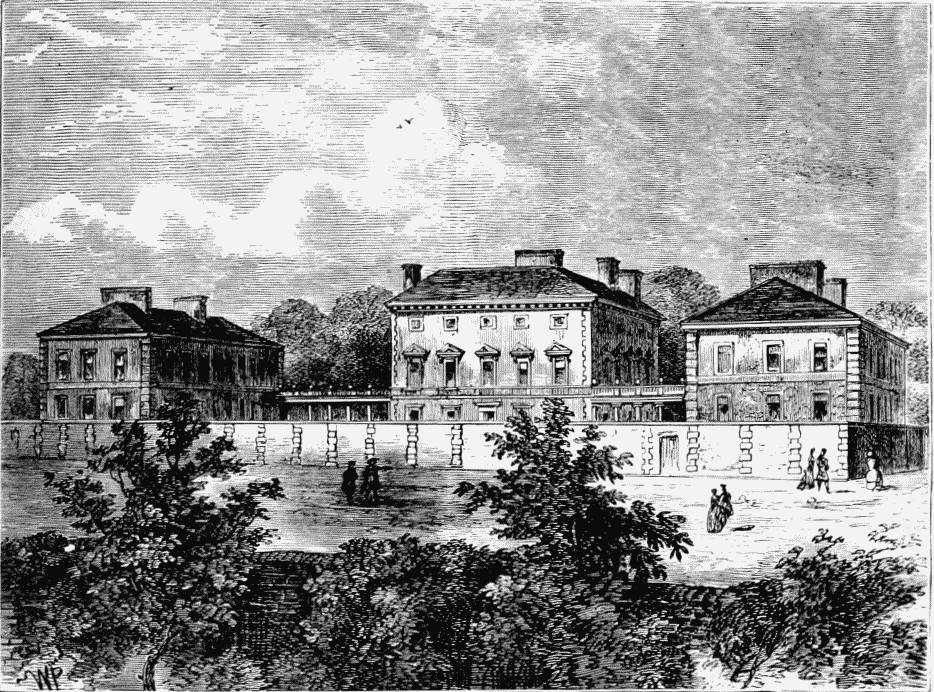 Among the registers of St. George's, Hanover Square, are three dingy volumes, marked "A," "B," and "C," respectively, containing such records as exist of about 7,000 marriages which were performed by the Rev. Mr. Keith and other clergymen in the little chapel here. The entries in these volumes extend over nearly twenty years; and there is a duplicate set in the Bishop of London's registry covering, probably, a somewhat larger period.
Dr. Keith himself was a clergyman from the north of the Tweed, but he had been driven from Scotland on account of his attachment to Episcopacy. He had set up a marriage office in the Fleet Prison, but had been forced to abandon it. He found, however, a better opening here, and a richer class of customers. It is said that, in one morning during the Whitsun holidays, he tied up in the silken bonds of matrimony a greater number of loving couples than had been married at any ten churches within the "bills of mortality." But this surely must have been an exaggeration.
While in prison, Keith seems to have had a keen eye to business. During his incarceration his wife died, and he kept her corpse embalmed and unburied for many months, and by that means ingeniously contrived to turn the circumstance into an advertisement of his trade. At all events, here is a record of his proceedings taken from the Daily Advertiser of January 30, 1750:—"We are informed that Mrs. Keith's corpse was removed from her husband's house in May Fair the middle of October last, to an apothecary's in South Audley Street, where she lies in a room hung with mourning, and is to continue there till Mr. Keith can attend the funeral. The way to Mr. Keith's chapel is through Piccadilly, by the end of St. James's Street, and down Clarges Street, and turn on the left hand." Then follows the announcement that the marriages are still carried on as usual by "another regular clergyman," as quoted above.
In the Connoisseur for October, 1754, are the following witty and satirical remarks apropos of the then recent Act for preventing clandestine marriages, and its effects on Keith's chapel:—"I received a scheme from my good friend Mr. Keith, whose chapel the late Marriage Act has rendered useless on its original principles. The reverend gentleman, seeing that all husbands and wives are henceforth to be put up on sale, proposes shortly to open his chapel on a new and more fashionable plan. As the ingenious Messrs. Henson and Bever have lately opened, in different quarters of the town, repositories for all horses to be sold by auction, Mr. Keith intends setting up a repository for all young males and females to be disposed of in marriage. From these studs (as the Doctor himself expresses it) a lady of beauty may be coupled to a man of fortune, and an old gentleman who has a colt's tooth remaining may match himself with a tight young filly. The doctor makes no doubt but his chapel will turn out even more to his advantage on this new plan than on its first institution, provided he can secure his scheme to himself, and reap the benefits of it without interlopers from the fleet (sic). To prevent his design being pirated, he intends petitioning the Parliament that, as he has been so great a sufferer by the new Marriage Act, the sole right of opening a repository of this sort may be vested in him, and this, his place of residence in May Fair, may still continue the grant for marriages." Here follows a "Catalogue of Males and Females to be disposed of in Marriage to the best bidder, at Mr. Keith's Repository, in May Fair:"—
"A young lady of £100,000 fortune—to be bid for by none under the degree of peers, or a commoner of at least treble the income.
"A homely thing, who can read, write, cast accounts, and make an excellent pudding—this lot to be bid for by none but country parsons.
"A very pretty young woman, but a good deal in debt, would be glad to marry a member of Parliament, or a Jew.
"A blood of the first-rate, very wild, and has run loose all his life, but is now broke, and will prove very tractable.
"Five Templars—all Irish. No one to bid for these lots of less than £10,000 fortune."
The concluding announcement in the article is as follows:—
"Wanted, a dozen of young fellows, and one dozen of young women, willing to marry to advantage; to go to Nova Scotia."
The following extracts, taken at random from the register-books at St. George's, above mentioned, will serve to show that the private marriages celebrated in Dr. Keith's little chapel were not confined to the lower or rougher element, but were often taken advantage of by the "upper ten thousand:"—
"1748, March 23.—Hon. George Carpenter and Frances Clifton."
"1749, September 14.—William, Earl of Kensington, and Rachel Hill, Hempstead."
"1751, May 25.—Henry Trelawney, Esq., and Mary Dormer, St. Margaret's."
"1751, July 21.—Edward Wortley Montagu and Elizabeth Ashe, St. Martin's Fields."
"1752, June 30.—Bysshe Shelley and Mary Catherine Michell, Horsham."
"1751, May 25.—Hon. Sewallis Shirley and Margaret, Countess of Oxford."
"1753, March 15.—James Stewart Stewart, Esq., and Catherine Holoway, of St. Matthew's, Friday Street."
"1752, February 14.—James, Duke of Hamilton, and Elizabeth Gunning."
Of the lady whose name is contained in the lastmentioned entry we have already spoken. We may add, however, that she was the second of three fair sisters, of Irish extraction, without fortune, but closely related to the first baronet of the same name. Miss Elizabeth Gunning was not content with a single dukedom, for, after the death of the Duke of Hamilton, she married John, Duke of Argyll, and was eventually created a peeress of Great Britain in her own right, as Baroness Sundridge and Hamilton. The last time she appeared at any public assembly was at a pic-nic ball at Marseilles, during a three months' sojourn of the family in France in 1785. With reference to that event, a writer of that period observes: "I had the honour of dining with them that day, and the duchess, as soon as possible, retired from the company to dress. She came down to coffee in all her splendour; every one was struck with astonishment; and I could not refrain from saying that I thought her Grace really looked as well as when I first saw her in the courtroom in England as Duchess of Hamilton. The duke, with a smile, replied, 'Less aided then, perhaps, than now, sir.' Her Grace could not but be apprised of the wonder that was excited, and the Lieutenant of Police, rather too loudly, exclaimed, 'I have never seen any one so completely beautiful before.'" Her elder sister, Maria, was the wife of George William, sixth Earl of Coventry, and lived close by, in Piccadilly.
The marriages at May Fair Chapel, if not quite so loosely conducted as they were at the Fleet, were at least attended with the same evils, and afforded the same facilities for the accomplishment of forced and fraudulent unions. For instance, marriages could be antedated without limit, on payment of a fee, or not entered at all. Parties could be married without declaring their names. It was a common practice for women to hire temporary husbands at the Fleet, in order that they might be able to plead coverture to an action for debt, or to produce a certificate in case of their being enceinte. These hired husbands were provided by the parson for five shillings each; sometimes they were women. It appears that, for half-a-guinea, a marriage might be registered and certified that never took place. The marriage of the Hon. H. Fox, son of the first Lord Holland, to the daughter of the Duke of Richmond, at the Fleet, in 1744, and the increase of these irregular practices, led to the introduction of the Marriage Act. The interval between the passing of the bill and its coming into operation, as we have stated, afforded a rich harvest to the parsons of the Fleet and May Fair. In one registerbook there are entered 217 marriages which took place at the Fleet on the 25th of March, 1754, the day previous to the Act coming into force. Clandestine marriages continued at the Savoy till 1756, when a minister and his curate being transported, an effectual stop was put to them.
To return once more to Dr. Keith, we may add that, in spite of being a person of loose morals, and frequently performing the marriage service in a state of intoxication, he published at least one religious treatise—"The Guide; or, the Christian Pathway to Everlasting Life." He lived to be nearly ninety, and died in 1758.
Curzon Street was so named from the ground landlord, George Augustus Curzon, third Viscount Howe, ancestor of the present Earl Howe. In this street, in November, 1852, died at No. 8, at the age of ninety, Miss Mary Berry, one of the two Misses Berry who enjoyed for so many years the friendship of Horace Walpole; and, indeed, the lady to whom, when late in life he succeeded to the earldom of Orford, he made an offer of his hand and his coronet. She and her younger sister, Agnes, were the daughters of a Yorkshire gentleman, Mr. Robert Berry, who lived in South Audley Street, as already stated in our last chapter. Walpole first met them when on a visit at Wentworth Castle, in Yorkshire, and the friendship there made proved a lasting one. "The young ladies," says Mr. Robert Chambers, in his "Book of Days," "afterwards took up their abode at Twickenham, in the immediate neighbourhood of Strawberry Hill, with whose master a constant interchange of visits and other friendly offices was maintained. Horace Walpole used playfully to call them his 'two wives,' corresponded with them frequently, told them many stories of his early life, and what he had seen and heard, and was induced by these friends, who used to take notes of his communications, to give to the world his 'Reminiscences of the Courts of George I. and II.' On Walpole's death, the Misses Berry were left his literary executors, with the charge of collecting and publishing his writings. This task was accomplished by Mr. Berry, under whose superintendence an edition of Walpole's works was published, in five quarto volumes. He died, a very old man, in 1817; and his daughters, for nearly forty years afterwards, continued to assemble around them all the literary and fashionable celebrities of London. Agnes, the younger sister, pre-deceased Miss Berry by about a year and a half. Miss Berry was an authoress, and published a collection of 'Miscellanies' in 1844. She also edited about sixty letters, addressed to herself and her sister by Horace Walpole, and came chivalrously forward to vindicate his character against the sarcasm and aspersions of Lord Macaulay in the Edinburgh Review."
The following epigram on the Misses Berry was written by Horace Walpole, on their paying a visit to his printing-press at Strawberry Hill, soon after their return from a visit to Italy and a stay at Rome:—
"To Mary's lips has ancient Rome
Her purest language taught;
And from the modern city home
Agnes its pencil brought.

"Rome's ancient Horace sweetly shouts,
Such maids with lyric fire;
Albion's old Horace sings nor paints—
He only can admire.

"Still would his griefs their fame record,
So amiable the pair is;
But ah! how vain to think his word
Can add a straw to Berry's."
Sir, Henry Halford, the Court physician, during his long reign of successful practice, lived for many years in this street, as also did the Princess Sophia Matilda of Gloucester. The name of Madame Vestris also appears as the occupier of No. 1, in the year 1826. Here, too, Tobias Smollett was living, in third-rate lodgings, when he heard the news of the victory of Culloden.
Mr. Peter Cunningham enumerates, as residents of this street, Pope's Lord Marchmont, and Richard Stonehewer, the friend and correspondent of the poet Gray, at No. 41. In 1808, Francis Chantrey was living in this street, before his marriage, while first beginning to make his name famous as a sculptor. Whilst here, he received his first great order, from Mr. Alexander, the architect. It was for four colossal busts of Howe, St. Vincent, Duncan, and Nelson, for the Trinity House, with duplicates for the Royal Naval Asylum at Greenwich. He had already occupied rooms in Chapel Street, close by, where we find him in 1804, when he sent his first work for exhibition to the Royal Academy, of which he afterwards became so leading a member.
In the large house on the north side of the street, enclosed in its own grounds, and embowered in a grove of plane-trees, nearly opposite Curzon Chapel, lived Lord Wharncliffe, the great-grandson of Lady Mary Wortley-Montagu, and editor of her works. The house is still the property of his descendants. Curzon Chapel—a chapel of ease—is a large, dull, brick building, on the south side; and it stands within a few yards of the spot whereon Dr. Keith's unlicensed chapel formerly flourished.
Hertford Street—a somewhat dull and heavy thoroughfare, running parallel with Curzon Street on its south side, and crossing the top of Down Street, which it connects with Park Lane—has long been one of the most fashionable thoroughfares in this aristocratic neighbourhood, and is often mentioned as typical of the height of fashion in the days of William IV. and the early part of the reign of Queen Victoria.
In No. 14 lived Dr. Jenner, for a few years, from 1804, a man sadly in advance of his age, as may be inferred from the fact that, in spite of his wonderful discovery of vaccination, which arrested the ravages of the small-pox, he was unable to make a good professional connection at the West-end, and returned to Gloucestershire in disgust. His merits have been somewhat tardily acknowledged by the erection of a statue. The first Earl of Liverpool, father of the prime minister, died here in 1808. At No. 10 lived, in the last century, Lord Sandwich, famous for his musical parties: the house was afterwards inhabited by General John Burgoyne, the unsuccessful hero of the American War; and subsequently, for a short time, by Richard Brinsley Sheridan. At No. 30 was living, in 1841, Mr. H. B. Trelawny, Lord Byron's companion in his last expedition to Greece, and in whose arms the poet breathed his last. In this street resided the late Sir Charles Locock, Bart., the eminent physician-accoucheur to Her Majesty, who died in 1875; and that consummate lawyer and accomplished scholar, Sir Alexander Cockburn, the Lord Chief Justice of England.
But Hertford Street is rich also in its past memories of quite another kind. As nearly as possible on its site there stood, a couple of centuries ago, a public-house, with gardens attached, called "The Dog and Duck," from the diversion of duckhunting by spaniels which was carried on there. The fun was to watch the duck dive in order to escape from the dog's jaws; and it was quite a fashionable sport in the suburbs of London till the early part of the present century, when it was superseded by pigeon-shooting. Mr. Larwood, in his "History of Sign-boards," describes it as an oldfashioned wooden house, extensively patronised by the butchers, and other rough characters, during the "May Fair" time. The pond in which the sport took place was situated behind the house, and, for the benefit of the spectators, was boarded round to the height of the knee, in order to preserve the over-excited spectators from involuntary immersions. The pond, he adds, "was surrounded by a gravel walk, shaded by willow-trees."
In the immediate neighbourhood of Curzon and Hertford Streets are a number of small and dingy streets and lanes, the names of which help to perpetuate the market formerly held here, such as Market Street, Shepherd's Market, and Shepherd's Street. But this market, rural as the name may sound, is not so called from any pastoral associations, but from a certain Mr. Shepherd, or Sheppard, to whom once belonged the ground on which the "May Fair" was held. We fear, therefore, that all poetical thoughts of shepherds and shepherdesses going there a-Maying must be dismissed as baseless fictions. In Carrington Street, an insignificant thoroughfare between Down Street and Park Lane, there was a riding-school; and in this street lived the noted "Kitty Fisher."
Seamore Place is the name of a row of handsome but somewhat old-fashioned mansions, which occupy a sort of cul de sac at the western end of Curzon Street. They are only nine in number, and their chief fronts look westward over Hyde Park. In one of them, Lady Blessington, with her daughter and her son-in-law, Count D'Orsay, resided during a part of her widowhood, from about 1836 to 1840, surrounded by all the fashionable butterflies of the world of bon ton, whose admiration she so much courted. Whilst living here, too, she followed her bent by penning and sending some of her best known contributions to the literature of the day. We shall have to speak of her career hereafter, when we come to Gore House, between Knightsbridge and Kensington. Here, too, at one time, resided Lord Normanton.
Chesterfield Street, which runs out of Curzon Street northwards to Charles Street, was so called out of compliment to the great, or rather the polite, Lord Chesterfield, whose grounds it bounded on the east. In this street lived "Beau" Brummell for some years, after his retirement from the army, and while he still basked in the sunshine of royal favour among the circle of the Prince of Wales at Carlton House. Here, consequently, the Prince would frequently come of a morning in order to see the "Beau" make his toilette, and to learn the art of tying his neckerchief a la mode. And here the Prince would continue to sit so late into the evening that he would send his horses home from the door, and insist on taking a quiet chop or steak with his host, but with no intention of returning home till he was half-seas over, and the streaks of early morning were appearing in the sky.
Here, too, was living, in 1847, the gallant admiral, the Earl of Dundonald, formerly known as Lord Cochrane, when his name was formally restored to his rank in the navy and to the roll of the Knights of the Order of the Bath, by an order of the Queen in Council; and from this street he dated his letter of thanks to Mr. Douglas Jerrold for having advertised that tardy act of justice in the public press.
At No. 1 in this street lived that amiable, talented, and eccentric personage, Mr. J. W. Ward, afterwards Mr. Canning's Secretary for Foreign Affairs, and eventually known as Lord Dudley; and No. 11 was for many years the residence of Sir Robert Adair, the distinguished diplomatist. He died here in 1855. In this street, too, at No. 3, has lived, for upwards of thirty years, the Hon. Mrs. Norton, the poetess. By birth a Miss Caroline Sheridan, one of three beautiful grand-daughters of Richard Brinsley Sheridan, in early life she married the Hon. George C. Norton, a brother of the late Lord Grantley. She contributed to the annuals from a date prior to her marriage, and is known to the world as the authoress of several poems, which have taken a high stand in English literature, among which should be mentioned "The Undying One," based on the legend of the Wandering Jew, "The Child of the Islands," "The Dream," and the "Lady of La Garaye."
The next turning on the east of Charles Street is Queen Street, where the ever youthful widow of the last Viscount Saye and Sele died in 1789, at the age of ninety-four, a lady about as celebrated as Queen Elizabeth for her fondness for dancing, in which she indulged almost to the last week of her long life. She was supposed to be the original of the Viscountess delineated in Hogarth's print of the "Five Orders of Periwigs, Coronets, &c." (fn. 3) It may be added that here, too, Lord John Russell was living in 1835, whilst M.P. for South Devon and for Stroud.
Chesterfield House, to which we now turn, stands at the junction of South Audley and Curzon Streets, and was built on ground belonging to Curzon, Earl Howe, by Isaac Ware, the same who edited "Palladio" for Philip, fourth Earl of Chesterfield. From one of Lord Chesterfield's "Letters to his Son," dated "March 31, O.S., 1749, Hotel Chesterfield," and from a quotation in No. 152 of the Quarterly Review, we get a fair account of the house when newly built. In the former his lordship writes: "I have yet finished nothing but my boudoir and my library; the former is the gayest and most cheerful room in England; the latter the best. My garden is now turfed, planted, and sown, and will, in two months more, make a scene of verdure and flowers not common in London." The writer in the Quarterly Review says: "In the magnificent mansion which the earl erected in Audley Street you may still see his favourite apartments, furnished and decorated as he left them—among the rest, what he boasted of as 'the finest room in London,' and, perhaps, even now it remains unsurpassed, his spacious and beautiful library looking on the finest private garden in London. The walls are covered half-way up with rich and classical stores of literature; above the cases are in close series the portraits of eminent authors, French and English, with most of whom he had conversed; over these, and immediately under the massive cornice, extend all round, in foot-long capitals, the Horatian lines—
'NUNC. VETERUM . LIBRIS . NUNC . SOMNO . ET . INERTIBUS . HORIS:
DUCERE . SOLICITÆ . JVCUNDA . OBLIVIA . VITÆ.'
On the mantelpieces and cabinets stand busts of old orators, interspersed with voluptuous vases and bronzes, antique or Italian, and airy statuettes, in marble or alabaster, of nude or semi-nude opera nymphs." The columns of the screen facing the court-yard, and also the spacious marble staircase, were brought from Canons, near Edgware, the mansion of the "princely" Duke of Chandos, which was pulled down in the year 1744, and the costly materials dispersed by auction. Among the historic relics which found a place here was a lantern of copper gilt, for eighteen candles, which was bought at the sale at Houghton, Sir Robert Walpole's seat. An amusing story is told with reference to the portraits of Lord Chesterfield's ancestors, which hung upon the walls of the library. As a piece of satire on the boast of ancestry so common at that time in great families, his lordship, it is said, placed among these portraits two old heads, which he inscribed "Adam de Stanhope" and "Eve de Stanhope." Surely no one could beat that.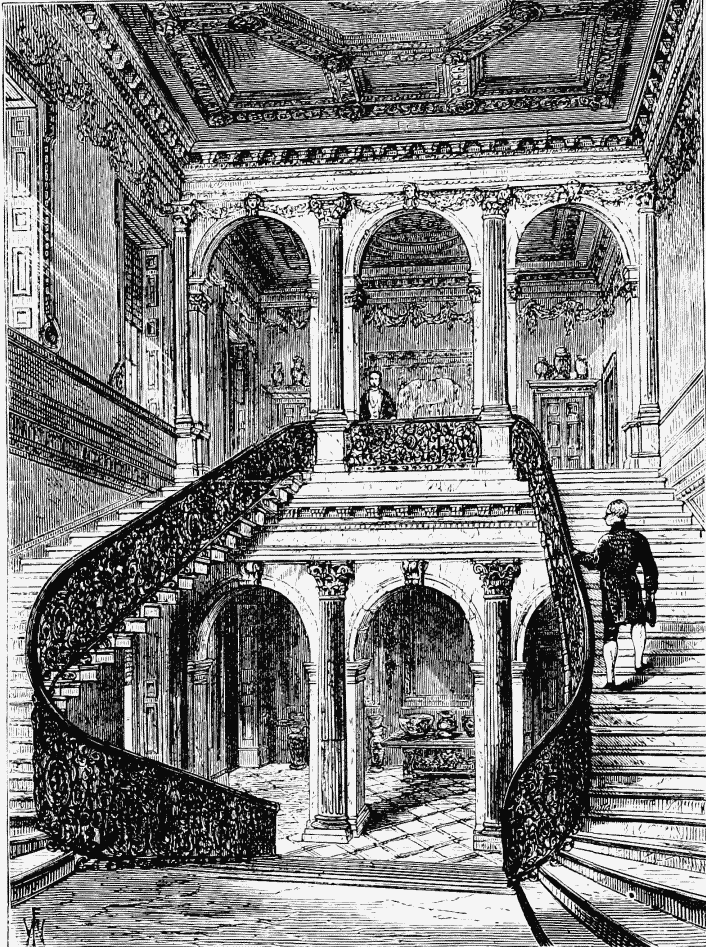 In 1869 this splendid mansion was—or, rather, so it was reported—doomed to be abolished; but it was purchased by a City merchant, Mr. Charles Magniac. Although it is no longer inhabited by the family of the noble earl whose name it bears, its walls still remain, and doubtless its interior is but little altered in its general appearance from what it was in the above year, when the following description was written:—"The house itself has many fine points, and in others, it must be owned, it is slightly disappointing. Passing from the porter's lodge across a noble court paved with stones, and entering the hall, the visitor cannot fail to be struck by the grand marble staircase, up and down which the great Chandos must have walked when it stood beneath his own palatial roof at Canons. And, apart from historical traditions, it is really a staircase for ideas to mount, especially when one is met on its first landing, not only by busts of Pitt and Fox, but by a lofty clock, apparently of antique French construction, and which looks as though it had, at some time or other, chimed out the hours at Versailles, long ere gay courtiers there perceived the shadow of the scaffold cast by the coming event of the 'Great' Revolution.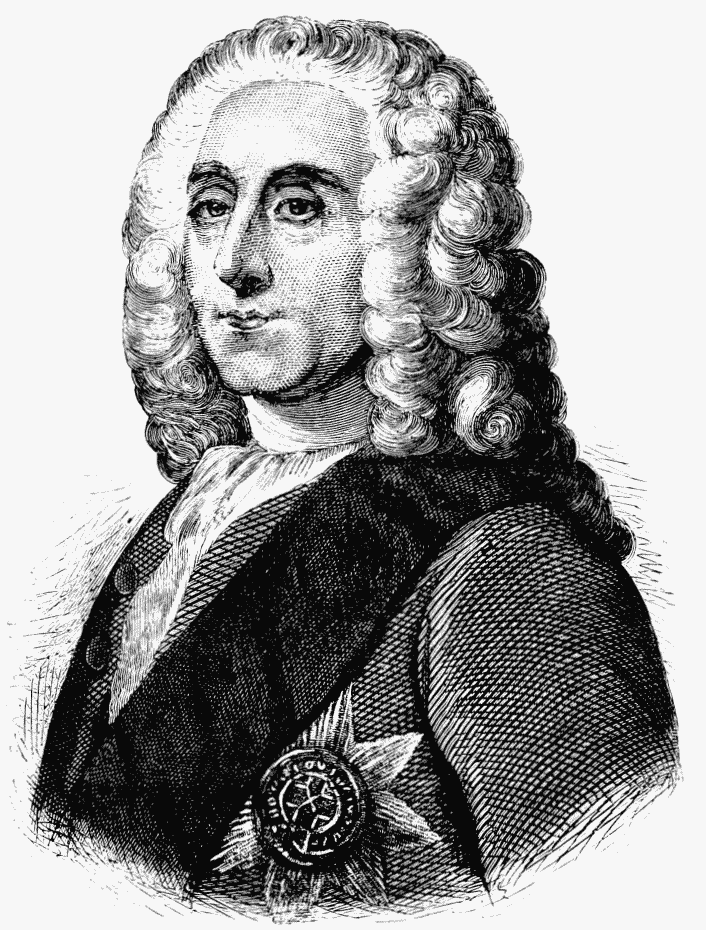 "Entering the music-room by means of this same staircase, we confess to some sense of disappointment. Not, of course, that we had expected to be greeted by any harmony of sweet sounds, any music from the spheres, but that the symbolism of decoration on the walls, on the ceiling, and the mantelpiece, might, on the whole, have been more graceful and more appropriate than it is, considering that the two fiddles in bas-relief, gilt and crossed one over the other, are scarcely to be compared in appearance with harps, lyres, &c., the usual metaphorical tributes to the Muse of Melody, the Muse of Apollo, to Orpheus, and to Sappho; and that one is more reminded of the violinists who played prominent parts at the Court of France in the reign of Louis XIV., and at the beginning of that of Louis XV., than of the divine origin of music itself, which such a room ought to suggest. More pleasingly reminded, however, of that same Court is the visitor on descending to the receptionrooms on the lower floor, and entering the drawingroom, which is especially called the French room. There not only do the panelling of the walls, and the construction of the various pieces of furniture transport one back to the glories of the ancient régime of the time when Chesterfield enjoyed its society, but the looking-glasses, one over the fireplace and another facing it, appear as though they had mirrored that society, and not only mirrored but multiplied it; for these looking-glasses, being severally formed of various panels, fit, mosaic-like, one into another, and the divisions of these panels being ornamented by wreaths of painted flowers, &c., the beholder is reproduced again and again, and, in many a fantastic multiform, may judge of himself under various, not to say versatile, aspects.
"In one of the apartments—another drawingroom, to which this French salon leads—hangs a large chandelier, formed of pendent crystal, which once belonged to Napoleon I. Historically, this chandelier is so luminous in interest that it requires a narrative to itself; but the effect of it is somewhat heavy, owing to the large size of the crystal drops.
"The mantel-shelf in this room is classically beautiful; and amongst the pictures on the walls is a fine copy of Titian's 'Venus,' the original of which—if we remember aright—hangs in the Uffizii Gallery at Florence. But, perhaps, the most interesting apartment in the whole house is the library. There, where Lord Chesterfield used to sit and write, still stand the books which it is only fair to suppose that he read—books of wide-world and enduring interest, and which stand in goodly array, one row above another, by hundreds. . . In another room, not far from the library, one seems to gain an idea of the noble letter-writer's daily life, for we can still see its ante-chamber, in which the aspirants for his lordship's favour were sometimes kept waiting (fn. 4) —aspirants to favour who afterwards, in various ways, achieved fame for transcending that of 'their then patron.' On the garden-front outside is a stone or marble terrace, overlooking the large lawn, stretching out in lawn and flower-beds behind the house. Upon this terrace Chesterfield, doubtless, often walked, snuff-box in hand, and in company with some choice friends—let us say from France—friends with whom he might gossip on matters connected with the courts, and camps, and cabinets of his day." The old earl, it would seem, was fond of the repose which his garden and court-yard afforded; for the late Earl of Essex, who died in 1839, the husband of Kitty Stephens, used to say that he remembered, as a boy, seeing the courtly old earl sitting on a rustic seat in front of his mansion, and basking in the sun.
Chesterfield House is one of the few private houses in London which M. Grossley, in his "Tour to London," allows to be equal to the hotels of the nobility in Paris. After it was sold to Mr. Magniac, as above stated, that gentleman considerably curtailed the grounds in the rear, and erected a row of handsome buildings overlooking Chesterfield Street, to which has been given the name of Chesterfield Gardens.
Philip Dormer Stanhope, fourth Earl of Chesterfield, was the son of Philip, third Earl, and of Lady Elizabeth Savile, daughter of the Marchioness of Halifax. His grandmother superintended his education till his eighteenth year, when he went to Cambridge. After his university career he spent a few years in foreign travel, mixing freely with the best society of the chief Continental towns, and at the Hague, adding to his many accomplishments the pernicious vice of gaming. While at Paris he received his final polish under the tuition of the beauties of that place, and, no doubt, gained much of the experience which forms the ground-work of the advice, which he afterwards transcribed in his "Letters" for the very questionable benefit of his son.
Before the death of his father, he sat in the House of Commons as representative of two Cornish boroughs, St. Germains and Lostwithiel, and became a distinguished speaker; and after his accession to the title, in 1726, and his consequent removal to the Upper House, he soon obtained some slight celebrity as an orator. His Court favour varied greatly. During the life of George I., he was appointed Gentleman of the Bedchamber to the Prince of Wales; but on that prince's accession as George II., he was greatly disappointed by the absence of that royal favour which he conceived he had a right to expect. He was, however, in the following year appointed Ambassador to Holland, where he greatly distinguished himself by his diplomatic talent; and it was at the expiration of his two years of service there that, on his return to England, he was appointed Lord Steward of the Household; but having joined a strong opposition against Walpole, and incurring the decided enmity of the king, he was dismissed from this situation with marks of strong resentment. There are various stories as to the radical cause of the king's dislike to the brilliant statesman, but probably any one of them would have been sufficient to create, at the least, a decided coldness. Archdeacon Coxe's version of it is confirmed by Walpole, who was concerned in it, in his memoir of George II.; but there is a discrepancy as to dates, and a tone of improbability about some of the details, which throw more than a shadow of doubt over the whole. Briefly, it runs to the following effect: that Chesterfield had ardently desired the post of Secretary of State, and an arrangement had been made in his favour; upon which he had an audience of the Queen, to which he was introduced by Walpole, and immediately after paid a longer visit to Lady Suffolk, then reigning favourite, than was approved of by the Queen, who thereupon procured that his appointment should not take place. Here it may be remarked that Chesterfield had been intimately acquainted with Mrs. Howard long before she had attracted the notice of Queen Caroline or George II.; and further, that, having been created Countess of Suffolk in 1731, and thus set at her ease as to money matters, she was well disposed to leave the Court, but did not do so till 1735, three years after the dismissal of Chesterfield, to which Archdeacon Coxe represents her retirement as the ominous preliminary! Walpole relates a similar parallel indiscretion of Chesterfield's; and it appears that it was not till two years before the earl's death that he was informed, by Horace Walpole himself, that the cause of his disgrace was his having offended the Queen by paying court to Lady Suffolk. Be this as it may, there was another and more probable cause for the royal dislike, which lay in his marriage with the daughter of George I. and the Duchess of Kendal, Melosina de Schulenburg, created, in her own right, Countess of Walsingham, and considered, as long as her father lived, one of the wealthiest heiresses in the kingdom. George I. opposed the inclinations of his tall, dark-haired, and graceful daughter, in consequence of Chesterfield's notorious addiction to gambling; but, a very few months after Chesterfield's dismissal from court, Lady Walsingham became Lady Chesterfield. Her husband's house in Grosvenor Square was next door to the Duchess of Kendal's, whose society he much frequented; and it was she who suggested legal measures respecting a will of the late king, which George II. was said to have suppressed and destroyed, and by which, as the duchess alleged, a splendid provision had been made for Lady Walsingham; and at last, rather than submit to a judicial examination of the affair, George II. compromised the suit by a payment of £20,000 to the Earl and Countess of Chesterfield. These things were not likely to smooth the way for the ex-Lord Steward's return to St. James's; nor was it facilitated by his inveterate habit of ridiculing and disparaging the Electorate and all its concerns, which he continued to his dying day.
His marriage took place in 1733; fourteen years after, in 1747, he commenced building the "rather fine house," as he described it, in May Fair. When the famous boudoir of blue damask and gold, of which much has been said, and more hinted, was finished, and to which Madame de Monconseil contributed the two magnificent bras de porcelaine to be placed on each side of the costly mantelpiece, the lordly owner took possession of the house, a year before the other rooms were finished, their slow progress greatly vexing him. In 1745 his lordship was admitted a member of the Cabinet, and in the next year appointed Lord-Lieutenant of Ireland. Three years later we find the earl retiring from the office of principal Secretary of State, to which the king had been constrained, by his undoubted talent, to appoint him; and thus at the early age of fifty-four, he resigned finally the cares of official life. He was, nevertheless, still an active member of the Upper House, and among the measures with which his name is identified are some of historical importance. In spite of much opposition, within and without of the House, he carried the Bill for the Reform of the Calendar, and gave us the "new style," which set our calculation of the year in harmony with that of the rest of Western Europe.
Dr. King, in "Anecdotes of his Own Times (1819), says that the earl resigned his employment of Secretary of State because "he would not submit to be a cipher in his office, and work under a man who had not a hundredth part of his knowledge and understanding, and resolved to meddle no more in public affairs. However," he adds, "he was lately so much disgusted with our bad measures, that he could not help animadverting on them, though in his usual calm and polite manner. His petition to the king is an excellent satire, and hath discovered to the whole nation how, at a time when we are oppressed with taxes, and the common people everywhere grown mutinous for want of bread, the public money is squandered away in pensions, generally bestowed upon the most worthless men."
It was during Lord Chesterfield's last brief tenure of the seals of office that Dr. Johnson's eagerly-sought introduction to him took place. The then unknown author, whose dictionary, now a great fact, was then merely an idea floating in the brain of an apparently ordinary mortal, waited in the ante-room of the Secretary of State, and when, having seen Colley Cibber preferred before him, he was admitted, he received, besides approval of his plan, a donation of ten guineas! Not many months before he had received fifteen guineas for "The Vanity of Human Wishes." And many years after, he remarked to Boswell: "Sir, ten pounds were to me at that time a great sum."
"The world has been for many years," writes Boswell, in his "Life of Johnson," "amused with a story, confidently told, and as confidently repeated, with additional circumstances, that a sudden disgust was taken by Johnson upon occasion of his having been one day kept long in waiting in Lord Chesterfield's ante-chamber, for which the reason assigned was, that he had company with him; and that, at last, when the door opened, out walked Colley Cibber; and that Johnson was so violently provoked when he found for whom he had been so long excluded, that he went away in a passion, and never would return. I remember having mentioned this story to George, Lord Lyttleton, who told me he was very intimate with Lord Chesterfield; and holding it as a well-known truth, defended Lord Chesterfield by saying, that 'Cibber, who had been introduced familiarly by the backstairs, had probably not been there above ten minutes.' It may seem strange even to entertain a doubt concerning a story so long and so widely current, and thus implicitly adopted, if not sanctioned, by the authority which I have mentioned; but Johnson himself assured me that there was not the least foundation for it. He told me that there never was any particular incident which produced a quarrel between Lord Chesterfield and him; but that his lordship's continued neglect was the reason why he resolved to have no connection with him.
"When the dictionary was upon the eve of publication, Lord Chesterfield, who, it is said, had flattered himself with expectations that Johnson would dedicate the work to him, attempted, in a courtly manner, to soothe and insinuate himself with the sage, conscious, as it should seem, of the cold indifference with which he had treated its learned author; and further attempted to conciliate him, by writing two papers in The World, in recommendation of the work; and it must be confessed that they contain some studied compliments, so finely turned, that if there had been no previous offence, it is probable that Johnson would have been highly delighted. Praise, in general, was pleasing to him; but by praise from a man of rank and elegant accomplishments he was peculiarly gratified.
"This courtly device," continues Boswell, "failed of its effect. Johnson, who thought that 'all was false and hollow,' despised the honeyed words, and was even indignant that Lord Chesterfield should, for a moment, imagine that he could be the dupe of such an artifice." His expression to Boswell concerning Lord Chesterfield, upon this occasion, was: "Sir, after making great professions, he had for many years taken no notice of me; but when my dictionary was coming out, he fell a-scribbling in The World about it. Upon which I wrote him a letter, expressed in civil terms, but such as might show him that I did not mind what he said or wrote, and that I had done with him."
Dr. Johnson appeared to have had a remarkable delicacy with respect to the circulation of this letter; for Dr. Douglas, Bishop of Salisbury, informed Boswell that, having many years ago pressed him to be allowed to read it to the second Lord Hardwicke, who was very desirous to hear it (promising at the same time that no copy of it should be taken), Johnson seemed much pleased that it attracted the attention of a nobleman of such a respectable character; but, after pausing some time, declined to comply with the request, saying, with a smile, "No, sir, I have hurt the dog too much already," or words to this purpose.
Dr. Adams expostulated with Johnson, and suggested that his not being admitted when he called on him, to which Johnson had alluded in his letter, was probably not to be imputed to Lord Chesterfield; for his lordship had declared to Dodsley that "he would have turned off the best servant he ever had if he had known that he denied him to a man who would have been always more than welcome." And in confirmation of this, he insisted on Lord Chesterfield's general affability and easiness of access, especially to literary men. Johnson: "Sir, that is not Lord Chesterfield; he is the proudest man this day existing." Adams: "No, there is one person, at least, as proud; I think, by your own account, you are the prouder man of the two." Johnson: "But mine was defensive pride." This, as Dr. Adams well observed, was one of those happy turns for which Johnson was so remarkably ready.
Johnson having now explicitly avowed his opinion of Lord Chesterfield, did not refrain from expressing himself concerning that nobleman with pointed freedom. "This man," said he, "I thought had been a lord among wits, but I find he is only a wit among lords!"
Johnson's remark on Lord Chesterfield's "Letters to his Son"—a natural son, of course, for the title passed at his death to a cousin—is well known to most readers of modern literature: "Take out the immorality, and the book should be put into the hands of every young gentleman."
Of Lord Chesterfield we are told by the Hon. G. Agar-Ellis, afterwards Lord Dover, in the Keepsake, that "the love of literature, and, still more, any talent for it, was so rare an attribute in a 'man of quality,' that his lordship, in his day, stood almost alone as a noble author, and as the Mæcenas of all others." But the first of these assertions is surely an exaggeration; and as to the latter character, Lord Chesterfield's treatment of Dr. Johnson, in his own courtly mansion, was not very much like that of the courteous and kindly Mæcenas to the poet Horace.
A good story is told by Mr. Frost, in his "Old Showmen," respecting Lord Chesterfield. His lordship once made a wager with Heidigger, a Swiss by birth, and by office Master of the Revels, and who had the reputation of being "as ugly as sin," that he could find an uglier person in the course of a week. The seven days elapsed, and Lord Chesterfield lost his wager.
One of his lordship's most familiar acquaintances was the elder brother of the first Lord Rokeby, called "Long Sir Thomas Robinson" on account of his height, and to distinguish him from Sir Thomas Robinson, first Lord Grantham. Hawkins relates how that Lord Chesterfield "employed him as a mediator with Johnson, who, on his first visit, treated him very indignantly." It was on his request for an epigram that Lord Chesterfield made the distich:—
"Unlike my subject will I make my song:
It shall be witty, and it shan't be long;"
and it was he to whom he said in his last illness, "Ah, Sir Thomas, it will be sooner over with me than it would be with you, for I am dying by inches." Lord Chesterfield was very short. Sir Thomas did not long survive his witty friend, and died in 1777.
Lord Chesterfield had but one child—the illegitimate son, Philip Stanhope, to whom his famous "Letters" were addressed; and he, after disappointing Chesterfield's expectations, was carried off in the prime of life. The aged peer survived him some five years, and died in 1773, almost an octogenarian.
Lord Chesterfield's wit did not die with him, for even his will contained a grim satire on the Dean and Chapter of Westminster, some of whose lands, adjoining Chesterfield House, were taken by the earl, after a hard bargain, for the purpose of forming Stanhope Street. The substance of the clause in the will referred to is to the effect that, if his "godson," as he calls him, Philip Stanhope, should at any time indulge in horse-racing, or the keeping of race-horses or hounds; or if he should reside for one night at Newmarket during the time of the races there, or should lose in any one day the sum of £500 by gambling, then he should forfeit and pay out of his estate the sum of £5,000, "to and for the use of the Dean and Chapter of Westminster." As his death took place before that of the earl, the Dean and Chapter could have no claim upon the estate of the "godson," as the contingent interest never accrued in their favour.