Pages 188-203
Old and New London: Volume 5. Originally published by Cassell, Petter & Galpin, London, 1878.
This free content was digitised by double rekeying. All rights reserved.
CHAPTER XVI.
TYBURN AND TYBURNIA.
"The three-square stilt at Tyburn."—Old Saying.
Derivation of the Name of Tyburn—Earliest Executions on this Spot—Sir Roger Bolinbroke, the Conjuror—Elizabeth Barton, the "Holy Maid of Kent"—Execution of Roman Catholics—Morocco Men—Mrs. Turner, the Poisoner, and Inventor of the Yellow Starched Ruffs and Cuffs—Resuscitation of a Criminal after Execution—Colonel Blood—Jack Sheppard and Jonathan Wild—Mrs. Catherine Hayes—"Clever Tom Clinch"—"Execution Day"—The Execution of Lord Ferrers—The Rev. Mr. Hackman—Dr. Dodd—The Last Act of a Highwayman's Life—"Sixteen-string Jack"—McLean, the "Fashionable Highwayman"—Claude Duval—John Twyn, an Offending Printer—John Haynes, and his Resuscitation after Hanging—Ryland, the Forger—An Unlucky Jest—"Jack Ketch"—Tyburn Tickets—Hogarth's "Tom Idle"—The Gallows and its Surroundings—The Story of the Penance of Queen Henrietta Maria—An Anecdote about George III.—The Site of Tyburn Tree—The Tyburn Pew-opener—Tyburnia—Connaught Place—The Princess Charlotte and the Prince of Orange—The Residence of Mr. T. Assheton-Smith, and of Haydon the Painter.
Tyburnia, which of late years has become almost, if not quite, as fashionable and aristocratic as Belgravia, is the district lying between Edgware Road and Westbourne and Gloucester Terrace and Craven Hill, the south side of which is bounded by the Bayswater Road, and may be said to have sprung into existence only since the reign of William IV.
The little river Tyburn, or Tybourn, whence the district derives its name, consisted of two arms, one of which, as already stated, crossed Oxford Street, near Stratford Place; while the other, further to the west, followed nearly the course of the present Westbourne Terrace and the Serpentine. Five hundred years ago, or less, it was a pleasant brook enough, with rows of elms growing on its banks. These trees were a place of execution in those days; and Roger de Mortimer, the paramour of Queen Eleanor, widow of Edward II., was dragged thither on a hurdle, and hung and quartered, his body being exposed there for several days. Elm's Lane, Bayswater, now swept away, preserved down to our own time the memory of these fatal elms, which are to be regarded as the original "Tyburn Trees." It was at a subsequent time that the place of execution was removed nearer to London, the corner of the Edgware Road. Here it became a fixture for centuries; here many notable and many notorious persons have "died in their shoes," to use a favourite cant expression. Here suffered the "Holy Maid of Kent;" Mrs. Turner, the poisoner, and the inventor of the starched ruff which adorns so many portraits of fair ladies of other days; Felton, the assassin of the Duke of Buckingham; a batch of the parliamentary regicides; some dozens of Roman Catholic priests, condemned as "traitors;" a long line of illustrious highwaymen, such as Jack Sheppard and Jonathan Wild; Lord Ferrers, the murderer of his steward; Dr. Dodd, for forgery; and last, not least, Mother Brownrigg, the same
"Who whipped three female 'prentices to death,
And hid them in the coal-hole."
An absurd derivation of the name has been suggested, as though it was from the words "tie" and "burn," though some countenance is given to the derivation by the fact that traitors were strung or "tied" up first, and afterwards "burnt." But the real origin is from the little brook, or burn, which ran by the spot, as above mentioned.
The gallows were removed hither (as we have seen) from opposite to St. Giles's Pound; but there had been occasional executions here earlier: for instance, it is upon record that Judge Tressilian and Nicholas Brembre, or Brambre, were hung here in A.D. 1388. Mr. Dobré was at great pains to discover the record of an earlier execution here, but failed.
The complete history of the neighbourhood of "Tyburn Tree" has still to be written, though the materials are far from scanty; for between the Reformation and the reign of George III., few years elapsed in which Roman Catholic priests, and even laymen, were not sent thither to suffer, nominally as "traitors," but in reality because they were the adherents of a proscribed and persecuted faith, and refused, at the bidding of an earthly sovereign, to abandon their belief in the Pope as the spiritual head of Christendom. Here, too, during the same period, almost as many men of a different stamp paid the last penalty of the law for violating other enactments—highwaymen, robbers, forgers, and murderers. The highwaymen generally went to the scaffold merrily and jauntily, as men who had all their lives faced the chance of a violent death, and were not afraid to meet it at Tyburn. As they passed along the streets in the fatal cart, gaily dressed in their best clothes, young women in the crowd would present them with nosegays, and in the eyes of the assembled multitudes their deaths were regarded as almost as glorious as those of the Roman Catholic "confessors" were esteemed by their co-religionists.
Our readers will not, of course, forget the lines in the song of "Macheath," in the Beggar's Opera, which thus refer to Tyburn:—
"Since laws were made for every degree,
To curb vice in others as well as in me,
I wonder we ha'nt better company
'Neath Tyburn Tree."
One of the earliest executions on this spot was that of "Sir Roger Bolinbroke, the conjuror" (A.D. 1440), who suffered for high treason, in conjunction with the Duchess of Gloucester, as recorded by Shakespeare. (fn. 1) From the Harleian MSS., No. 585, we learn his fate in detail. On the same day on which he was condemned at Guildhall, he was drawn from the Tower to Tyburn, and there hanged, beheaded, and quartered, his head being set up on London Bridge, and his four quarters being disposed of in like manner at Hereford, Oxford, York, and Cambridge.
Here was executed, in the fifteenth century, Fisher, a skinner, already mentioned (fn. 2) by us as the man who released Sir John Oldcastle when a prisoner in the Tower.
Here, in 1534, were executed Elizabeth Barton, the so-called "Holy Maid of Kent," who had prophesied the speedy death of Henry VIII.; several of her supporters suffered with her.
Here, too, a few years later, suffered Sir Thomas Percy, Aske, D'Arcy, Bigod, Sir John Bulmer, and the Abbot of Jewaux, for the share they had taken in a foreign pilgrimage and in a last desperate effort to restore the Catholic religion in England. Tyburn is mentioned by Holinshed, who writes of a certain "false servant" that, being convicted of felony in court of assize, he was judged to be hanged, "and so was at Tyburn."
To enumerate the names of all who suffered the "extreme penalty of the law" at Tyburn would be a difficult, and, indeed, a needless task. Among those who went thither to end their days, however, were not only murderers, highwaymen, and traitors, but also housebreakers, sheep-stealers, and forgers; the penalty of death, however, was not confined to them, but was made to include even some of the loose and disreputable hangers-on of the demoralising State lottery-offices, known as "Morocco men," for going about the country with red morocco pocket-books, in which they entered the names of the victims whom they gulled.
Here was executed Mrs. Turner, the poisoner, for complicity with the Countess of Somerset in the murder of Sir Thomas Overbury, an event which formed one of the episodes in the corrupt reign of James I. "Mrs. Turner's execution," says John Timbs, in his "Romance of London," "excited immense interest. She was a woman of great beauty, and had much affected the fashion of the day. Her sentence was to be 'hang'd at Tiburn in her yellow Tinny Ruff and Cuff, she being the first inventor and wearer of that horrid garb.' The ruff and cuff were got up with yellow starch, and in passing her sentence, Lord Chief Justice Coke told her that she had been guilty of all the seven deadly sins, and declared that as she was the inventor of the yellow-starched ruffs and cuffs, so he hoped that she would be the last by whom they would be worn. He accordingly ordered that she should be hanged in the gear she had made so fashionable. The execution attracted an immense crowd to Tyburn, and many persons of quality, ladies as well as gentlemen, in their coaches. Mrs. Turner had dressed herself specially for her execution: her face was highly rouged, and she wore a cobweb lawn ruff, yellow-starched. An account, printed next day, states that 'her hands were bound with a black silk ribbon, as she desired; and a black veil, which she wore upon her head, being pulled over her face by the executioners, the cart was driven away, and she left hanging, in whom there was no motion at all perceived.' She made a very penitent end. As if to ensure the condemnation of yellow starch, the hangman had his hands and cuffs of yellow, 'which,' says Sir S. D'Ewes, 'made many after that day, of either sex, to forbear the use of that coloured starch, till it at last grew generally to be detested and disused.'"
Following in the wake of Mrs. Turner, came Southwell, the "sweet versifier;" Felton, the assassin of the Duke of Buckingham; and John Smith, the burglar, of Queen Anne's time. In connection with this last-named execution, even the gallows may be said to have its romantic side; for we read in Chambers' "Book of Days" that a reprieve came after Smith had been suspended for a quarter of an hour. He was taken down, bled, and revived.
We have already mentioned Colonel Blood's bold attempt to seize the Duke of Ormonde in St. James's Street. (fn. 3) He also endeavoured to complete his act of highway violence by hanging his victim by open force at Tyburn; but, happily for the duke, he did not succeed in the attempt.
We next come to the names of two others who have become famous through the agency of cheap literature—Jack Sheppard, the notorious housebreaker, and Jonathan Wild, the "thief and thieftaker." Of the early life of the first-named culprit we have already spoken in our account of Wych Street, St. Clement Danes; (fn. 4) and for his various exploits in Newgate we must refer our readers to our account of that prison. (fn. 5) The whole career of crime as practised by this vagabond carpenter has been strikingly told by Mr. Harrison Ainsworth, in his romance of "Jack Sheppard;" and his portrait, as he appeared in the condemned cell at Newgate, was painted by Sir James Thornhill, and sold by thousands as a mezzo-tint engraving. Jonathan Wild's particular sphere of action lay in the trade of the restoration of stolen property, which he carried on for many years through a secret confederacy with all the regular thieves, burglars, and highwaymen of the metropolis, whose depredations he prompted and directed. His success received some check by an Act of Parliament passed in 1717, by which persons convicted of receiving or buying goods, knowing them to have been stolen, were made liable to a long term of transportation. Wild, however, managed to elude this new law; but he was at last convicted, under a clause which had been enacted with a particular view to Wild's proceedings—such as trafficking in stolen goods, and dividing the money with felons. His execution took place at Tyburn, in May, 1725. At his trial he had a printed paper handed to the jury, entitled, "A list of persons discovered, apprehended, and convicted of several robberies on the highway, and also for burglary and housebreaking, and also for returning from transportation: by Jonathan Wild." It contained the names of thirty-five robbers, twenty-two housebreakers, and ten returned convicts, whom he had been instrumental in getting hanged before he found the tables turned against himself.
Among the hundreds of murderers hung at Tyburn, few were more notorious than Catharine Hayes, who was executed in 1726. She and her husband lived in Tyburn Road, now called Oxford Street, but, not being contented with her spouse, she engaged two assassins, Wood and Billings, to make him drunk, and then aid her in dispatching him. They did so, and chopped up the body, carrying the head in a pail to the Horseferry at Westminster, where they threw it into the Thames, the other portion being secreted about a pond in Marylebone Fields. The head being found and identified, search was made for the rest of the body, and this being discovered, the other murderers were hung near the spot where Upper Wimpole Street now stands. Mrs. Hayes was reserved to suffer at Tyburn, blazing fagots being placed under her. The murder, as might be imagined, caused a great sensation when it became known, and is constantly mentioned in the publications of the time.
The following lines, from Swift's "Tom Clinch going to be Hanged," give a picture of the grim cavalcade wending its way from Newgate to Tyburn, in 1727:—
"As clever Tom Clinch, while the rabble was bawling,
Rode stately through Holborn to die in his calling,
He stopped at the 'George' for a bottle of sack,
And promised to pay for it—when he came back.
His waistcoat, and stockings, and breeches were white,
His cap had a new cherry-ribbon to tie 't;
And the maids to the doors and the balconies ran,
And cried 'Lack-a-day! he's a proper young man!'"
"Execution-day," as it was termed, must have been a carnival of frequent occurrence. Horace Walpole says that in the year 1752 no less than seventeen persons were executed at Tyburn in a batch. One of the most memorable executions that took place here was on the 5th of May, 1760, when that eccentric nobleman, Lawrence, third Earl Ferrers, met his fate for the murder of his steward, a Mr. John Johnson. The scene of the tragedy was his lordship's seat of Staunton Harold, near Ashby-de-la-Zouche, and the deed itself was deliberately planned and carried out. The career of Lord Ferrers for many years previously had been one of the grossest dissipation, and had resulted in his estates becoming seriously involved. The Court of Chancery ordered that the rents due to him should be paid to a receiver, the nomination of the said receiver being left to his lordship, who hoped to find in that person a pliant tool, who would take things easily and let him have his own way. The person whom Lord Ferrers so appointed was none other than Mr. Johnson, who had been in the service of his lordship's family, as steward, for many years. But he soon found out that he had got a different man to deal with than he had expected; and, accordingly, from that time, he conceived an inveterate hatred towards him, on account of the opposition which he offered to his desires and whims, and he finally resolved to "move heaven and earth" to obtain his revenge. Lord Ferrers' household at that time consisted of a Mrs. C—, who acted as housekeeper, her four daughters, and five domestic servants; and Mr. Johnson's farm-house, the Mount, was about a mile distant from the mansion, across the park. On Sunday, the 13th of January, in the year 1760, Lord Ferrers called on Mr. Johnson, and, after some discourse, arranged for another meeting, to take place at Staunton on the following Friday, at three o'clock. The Friday came round, and Johnson was true to his appointment. Shortly before that hour, his lordship had desired Mrs. C— to take the children out for a walk, and the two men-servants he had contrived to get out of the way on different pretexts, so that when Johnson arrived there was no one in the house except his lordship and the three maidservants. On the arrival of Mr. Johnson he was at once admitted into his lordship's private sittingroom. "They had sat together, talking on various matters, for some ten minutes or more, when the earl got up, walked to the door, and locked it. He next desired Johnson at once to settle some disputed account; then, rising higher in his demands, ordered him, as he valued his life, to sign a paper which he had drawn up, and which was a confession of his (Johnson's) villany. Johnson expostulated and refused, as an honest man would refuse, to sign his name to any such document. The earl then drew from his pocket a loaded pistol, and bade him kneel down, for that his last hour was come. Johnson bent one knee, but the earl insisted on his kneeling on both his knees. He did so, and Lord Ferrers at once fired. The ball entered his body below the rib, but it did not do its fell work instantaneously. Though mortally wounded, the poor fellow had strength to rise and to call loudly for assistance. The earl at first coolly prepared as though he would discharge the other pistol, so as to put his victim out of misery; but, suddenly moved with remorse, he unlocked the door and called for the servants, who, on hearing the discharge of the pistol, had run, in fear and trembling, to the wash-house, not knowing whether his lordship would not take it into his head to send a bullet through their bodies also. He called them once and again, desired one to fetch a surgeon, and another to help the wounded man into a bed. It was clear, however, that Johnson had not many hours to live; and, as he desired to see his children before he died, the earl ordered that they should be summoned from the farm. Miss Johnson came speedily, and found her father apparently in the agonies of death, and Lord Ferrers standing by the bedside, and attempting to stanch the blood that flowed from the wound." During the night, by a clever ruse, Johnson was removed to his own house, where he lingered only a few hours, dying early the next morning. The coroner's jury returned a verdict of "wilful murder" against Lord Ferrers, who was at once lodged in Leicester Gaol. About a fortnight afterwards, we are told, he was brought up to London in his own landau, drawn by six horses, under a strong guard, and he was "dressed like a jockey, in a close riding frock, jacked boots and cap, and a plain shirt." Arraigned before the House of Lords, he was at once committed to the Tower, and two months later was again brought up for trial at the bar of the House of Peers. His trial lasted nearly three days, and resulted in his being sentenced to be "hanged by the neck until he was dead;" but, "in consideration of his rank," a few days' extension of time was allowed before the sentence was carried into effect, and also he was permitted to be hanged with a silken instead of a hempen rope. Lord Ferrers, to use the slang expression of the sporting world, "died game." To the last he had respect to his rank, and, declining to journey to Tyburn in a cart, went slowly and stately thither in his own landau, again drawn by six horses. In this, dressed in his wedding suit, he rode as calmly to the gallows as the handsomest highwayman of his day, and went through the performance there with as little unnecessary affectation as though, like many a "gentleman of the road," he had looked to such an end as "the appropriate and inevitable conclusion of his career." It may be added that the landau in which Lord Ferrers rode to Tyburn was never used again, but was left to rot away and fall to pieces in a coach-house at Acton. His lordship's body found a grave at old St. Pancras Church.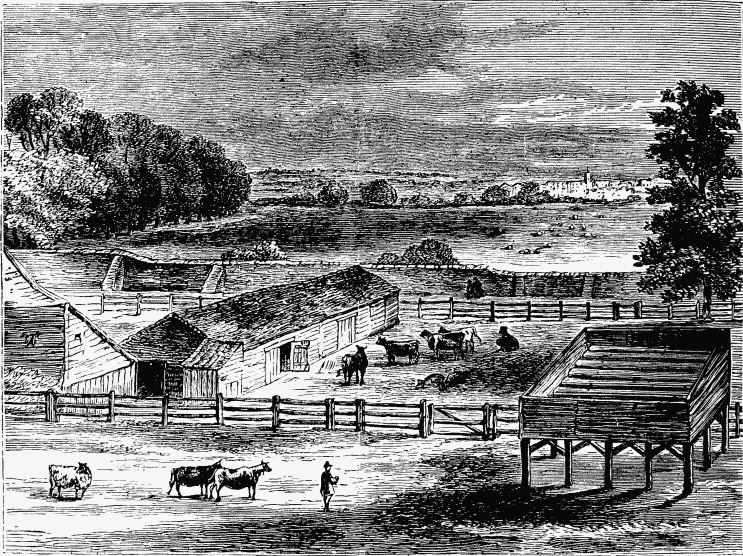 In our account of Covent Garden, in a previous volume, (fn. 6) we have spoken at some length of the murder of Miss Reay by the Rev. Mr. Hackman. Boswell was present at Hackman's trial at the Old Bailey, and further, after his condemnation and sentence, attended him in his coach to Tyburn, in company with a sheriff's officer. Selwyn, who, like Boswell, was fond of seeing executions, was not present on this occasion; but his friend, the Earl of Carlisle, attended, in order "to give some account of Hackman's behaviour." This he did, to the following effect:—"The poor man behaved with great fortitude; no appearances of fear were to be perceived, but very evident signs of contrition and repentance. He was long at his prayers; and when he flung down his handkerchief as the sign for the cart to move on, Jack Ketch, instead of instantly whipping on the horse, jumped on the other side of him to snatch up the handkerchief, lest he should lose his rights. He then returned to the head of the cart, and Jehu'd him out of the world."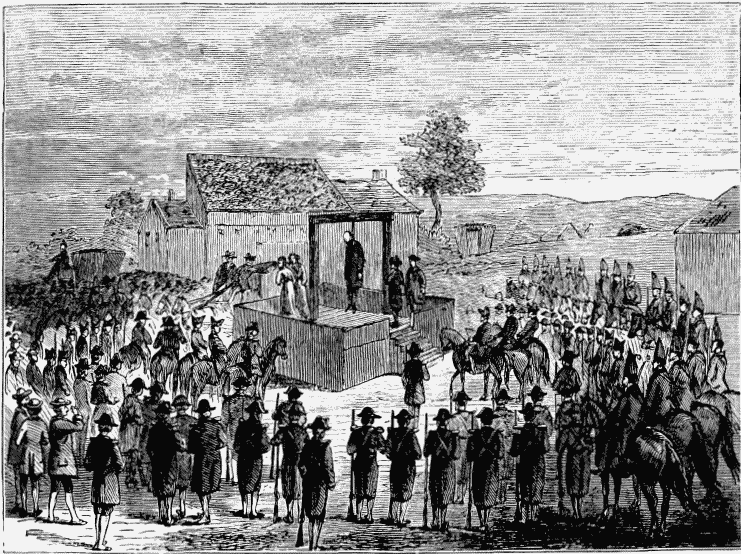 In 1777, Dr. Dodd, in company with another felon, made his exit from the world at Tyburn Tree. The two were drawn in an open cart from Newgate to Tyburn, the execution being attended by an immense crowd. In apprehension of an attempt to rescue the criminal, twenty thousand men were ordered to be reviewed in Hyde Park during the execution, which, however, "though attended by an unequalled concourse of people, passed off with the utmost tranquillity." "Upon the whole," writes a friend of George Selwyn, who was present, "the piece was not very full of events. The doctor, to all appearance, was rendered perfectly stupid from despair. His hat was flapped all round and pulled over his eyes, which were never directed to any object around, nor ever raised, except now and then lifted up in the course of his prayers. He came in a coach, and a very heavy shower of rain fell just upon his entering the cart, and another just at his putting on his nightcap. During the shower an umbrella was held over his head, which Gilly Williams, who was present, observed was quite unnecessary, as the doctor was going to a place where he might be dried. . . . The executioner took both the doctor's hat and wig off at the same time. Why he put on his wig again I do not know, but he did; and the doctor took off his wig a second time, and tied on a nightcap, which did not fit him; but whether he stretched that or took another, I could not perceive. He then put on his nightcap himself, and upon his taking it, he certainly had a smile on his countenance; and very soon afterwards there was an end of all his hopes and fears on this side of the grave. He never moved from the place he first took in the cart; seemed absorbed in prayer, and utterly dejected, without any other signs of animation but in praying. I stayed till he was cut down and put into the hearse. The body was hurried to the house of Davies, an undertaker in Goodge Street, Tottenham Court Road, where it was placed in a hot bath, and every exertion made to restore life, but in vain." We have already given some particulars of the life of Dr. Dodd, and of the crime for which he suffered; (fn. 7) it only remains to add that Dr. Johnson made eloquent and strenuous exertions with his pen to get the capital sentence remitted, but in vain. "The malevolence of men and their good nature," wrote Horace Walpole, "displayed themselves in their different characters against Dodd. His character appeared so bad to Dr. Newton, Bishop of Bristol, that he said, 'I am sorry for Dr. Dodd.' Being asked why, he replied, 'Because he is to be hanged for the least crime he ever committed.'"
The fondness which many minds feel (or rather felt) for these melancholy sights is thus discussed by Boswell and Dr. Johnson:—"I mentioned to him that I had seen the execution of several convicts at Tyburn (fn. 8) two days before, and that none of them seemed to be under any concern. Johnson: 'Most of them, sir, have never thought at all.' Boswell: 'But is not the fear of death natural to man?' Johnson: 'So much so, sir, that the whole of life is but keeping away the thoughts of it.' He then, in a low and earnest tone, talked of his meditating upon the awful hour of his own dissolution, and in what manner he should conduct himself upon that occasion. 'I know not,' said he, 'whether I should wish to have a friend by me, or have it all between God and myself.'
"Talking of our feeling for the distresses of others—Johnson: 'Why, sir, there is much noise made about it, but it is greatly exaggerated. No, sir, we have a certain degree of feeling to prompt us to do good; more than that Providence does not intend. It would be misery to no purpose.' Boswell: 'But suppose now, sir, that one of your intimate friends were apprehended for an offence for which he might be hanged.' Johnson: 'I should do what I could to bail him, and give him any other assistance; but if he were once fairly hanged, I should not suffer.' Boswell: 'Would you eat your dinner that day, sir?' Johnson: 'Yes, sir; and eat it as if he were eating with me. Why, there's Baretti, who is to be tried for his life to-morrow; friends have risen up for him on every side, yet if he should be hanged, none of them would eat a slice of pudding the less. Sir, that sympathetic feeling goes a very little way in depressing the mind.'" (fn. 9)
Tyburn Tree was the usual end of the "highwayman," as people in the days of Queen Anne and the Georges euphemistically called the robber and assassin of the king's high road. "Alas!" writes Thackeray, "there always came a day in the life of that warrior when it was the fashion to accompany him as he passed, without his black mask, and with a nosegay in his hand, accompanied by halberdiers, and attended by the sheriff, in a carriage without springs, and a clergyman jolting beside him, to a spot close by Cumberland Gate and the Marble Arch, where a stone still records that 'here Tyburn turnpike stood.' What a change in a century; nay, in a few years! Within a few yards of that gate the fields began: the fields of his exploits, behind the hedges of which he lurked and robbed. A great and wealthy city has grown over those meadows. Were a man brought to die thereon, the windows would be closed, and the inhabitants would keep their houses in sickening horror. A hundred years ago people crowded there to see the last act of a highwayman's life, and made jokes on it. Swift laughed at him, grimly advising him to provide a holland shirt and white cap, crowned with a crimson or black ribbon, for his exit, to mount the cart cheerfully, shake hands with the hangman, and so farewell; or Gay wrote the most delightful ballads, and then made merry over his hero."
Among those who suffered here the penalty of their crimes as highwaymen was the notorious "Sixteen-string Jack," who is said by Dr. Johnson to have "towered above the common mark" in his own line as much as Gray did in poetry. He was remarkable for foppery in his dress, and, as Boswell tells us, derived his name from a bunch of sixteen strings which he wore at the knees of his breeches. John Rann, for such was this malefactor's real name, was executed here in November, 1774, for robbing Dr. Bell, the chaplain to the Princess Amelia, in Gunnersbury Lane.
"Rann was a smart fellow, and a great favourite with a certain description of ladies; he had been coachman to the Earl of Sandwich, when his lordship resided in the south-east corner house of Bedford Row. It was pretty generally reported that the sixteen strings worn by this freebooter at his knees were in allusion to the number of times he had been tried and acquitted. However, he was caught at last; and J. T. Smith records his being led, when a boy, by his father's playfellow, Joseph Nollekens, to the end of John Street, to see the notorious terror of the king's highway, Rann, pass on his way to execution. The malefactor's coat was a bright pea-green; he had an immense nosegay, which he had received from the hand of one of the frail sisterhood, whose practice it was in those days to present flowers to their favourites from the steps of St. Sepulchre's Church, as the last token of what they called their attachment to the condemned, whose worldly accounts were generally brought to a close at Tyburn, in consequence of their associating with abandoned characters. Such is Mr. Smith's account of the procession of the hero to Tyburn; and Nollekens assured Smith, had his father-in-law, Mr. Justice Welsch, been high constable, they could have walked all the way to Tyburn by the side of the cart." The "sixteen strings" which this freebooter wore at his knees were, in reality, to the initiated at least, a covert allusion to the number of times that he had been tried and acquitted. Fortunately for the Boswell illustrators, there is an etched portrait of "Sixteen-string Jack;" for, thief though he was, he had the honour of being recorded by Dr. Johnson. A correspondent of Hone's "Year-Book," published in 1832, states that he well remembered seeing "Sixteen-string Jack" taken in the cart to Tyburn.
It was, in fact, at Tyburn that most of the highwaymen of the last century—of whom Captain Macheath was another example, and whose exploits were so well known on Hounslow Heath, at Finchley, and on the Great North Road—closed their career.
"The species of gentleman highwayman," observes Mr. James Hannay, "no longer exists to frighten the traveller, and does no greater harm than put you to sleep in the pages of a novel. A gentleman can now roll through the country in his travelling-carriage without any fear of being robbed by a gallant horseman, summoning him to surrender with the air of a courtier, and pocketing his money with a quotation from Horace. The last of these heroes long ago died on that greatest of all 'trees of liberty.' the tree of Tyburn; and his only representative now-a-days is the common footpad—a vulgar fellow—who knocks you down, and rifles you when you are insensible."
Another notorious character who was hanged here about the middle of the last century was McLean, the "fashionable highwayman," of whom Walpole thus writes:—"One night, in the beginning of November, 1749, as I was returning from Holland House by moonlight, about ten o'clock, I was attacked by two highwaymen in Hyde Park, and the pistol of one of them going off accidentally, raised the skin under my eye, left some marks of shot in my face, and stunned me. The ball went through the top of the chariot, and if I had sat an inch nearer to the left side, must have gone through my head." One of these highwaymen was McLean. He also attacked and robbed Lord Eglinton, Sir Thomas Robinson, Mrs. Talbot, and many others. He carried off a blunderbuss belonging to the old Scotch earl. McLean was at one time a grocer in Welbeck Street, but having the misfortune to lose his wife, he gave up business and took to the road, having as a companion, one Plunket, a journeyman apothecary. McLean was captured in the autumn of 1750, by selling a laced waistcoat to a pawnbroker in Monmouth Street, who happened to carry it to the very man who had just sold the lace. Walpole tells us "there were a wardrobe of clothes, three-and-twenty purses, and the celebrated blunderbuss found at his lodgings, besides a famous kept mistress." Soame Jenyns, in his poem entitled "The Modern Fine Lady," written in the year this "fashionable highwayman" came to grief, writes—
"She weeps if but a handsome thief is hung."

To which is appended this note:—"Some of the brightest eyes were at this time in tears for one McLean, condemned for robbery on the highway."
Even a cursory account of Tyburn would be incomplete without mention of one more highwayman, who here paid the penalty of his offences on the triangular gallows. This was Claude Duval, who was, perhaps, even more famous than McLean. He made Holloway the chief scene of predatory exploits. In Lower Holloway his name was long kept in remembrance by Duval's Lane, which, curiously enough, as John Timbs tells us in his "Romance of London," "was previously called Devil's Lane, and more anciently Tolentone Lane." Macaulay, in his "History of England," says that Claude Duval "took to the road, and became captain of a formidable gang;" adding that "it is related how, at the head of his troop, he stopped a lady's coach, in which there was a booty of four hundred pounds; how he took only one hundred, and suffered the fair owner to ransom the rest by dancing a coranto with him on the heath." This celebrated exploit has been made the subject of one of Mr. Frith's remarkable pictures, and has been engraved. Duval was arrested at the "Holein-the-Wall," a noted house near Covent Garden, and he was executed in January, 1669, in the twentyseventh year of his age. It is on record how that, "after lying in state at the Tangier Tavern, in St. Giles's, he was buried in the middle aisle of St. Paul's, Covent Garden, his funeral being attended with flambeaux and a numerous train of mourners, 'to the great grief of the women.'"
Tyburn, it may be added, has also some other associations, being connected with the history of newspapers and the liberty of the press. At the Restoration the latter had almost ceased to exist, and the press had not only to make itself heard through the small voice of a "Licencer," but to regulate its proceedings by Act of Parliament. In 1663 a Tyburn audience was assembled to witness the execution of a troublesome printer. He was named John Twyn, and had carried on his business in Cloth Fair, near to Milton's hiding-place, when he had "fall'n on evil days." Twyn was accused of having printed some seditious work bearing on the arguments often urged against the Commonwealth, "that the execution of judgment and justice is as well the people's as the magistrates' duty; and if the magistrates pervert judgment, the people are bound by the law of God to execute judgment without them and upon them." Roger L'Estrange was the "licencer" who had hunted up this offending printer; and Chief Justice Hyde sentenced him to be "drawn on a hurdle to Tyburn, and there hanged by the neck;" and, being alive, that he should be cut down, and his body mutilated in a way which decency forbids the mention of; that his entrails should afterwards be taken out, "and, you still living, the same to be burnt before your eyes; your head to be cut off, and your head and quarters to be disposed of at the pleasure of the King's Majesty." It is fortunate for the law, as well as for offenders, that such merciful and upright judges have ceased to exist.
In 1782, the year preceding that which witnessed the last executions at Tyburn, the dead body of one John Haynes, a professional thief and housebreaker, who, in consequence, had finished here his career, was taken, as a "subject" for dissection, to the residence of Sir William Blizard. The body, we are told, showed signs of life, and Sir William perfected its recovery. Anxious to know the sensations which John Haynes had experienced at the moment of his suspension, the surgeon questioned the thief earnestly upon the subject. The only answer he could obtain was as follows:—"The last thing I recollect was going up Holborn Hill in a cart. I thought then that I was in a beautiful green field; and that is all I remember till I found myself in your honour's dissecting-room." It is worthy of record that the last criminal executed here was one Ryland, who was hung for forgery in 1783; after which the gallows were taken down about London in order to concentrate the executions at Newgate and Horsemonger Lane.
Many good stories are told about Tyburn; among others, the following:—"A celebrated wit one evening was walking along a lane near Oxford Road, as it was then called, when he was accosted by a shabby-looking fellow, who asked him the way to Tyburn. The gentleman, being fond of a jest, answered, 'Why, you have only to rob the first person you meet, and you will find the way there easily.' The fellow thanked him, and pulled out and presented a pistol, threatening to blow his brains out if he did not give up his purse. The wit was forced to comply, and lost his money and his jest at once."
Before leaving the subject of the "gallows," a word or two about "Jack Ketch" and his office may not be out of place. The origin of the name "Jack Ketch," as applied to the public executioner, is thus explained in Lloyd's MS. Collection of English Pedigrees in the British Museum. We give it for what it is worth. "The Manor of Tyburn," writes Mr. Lloyd, "where felons were for a long time executed, was formerly held by Richard Jacquett, from whence we have the name Jack Ketch as a corruption." But the work of the executioner was sufficiently artistic to admit of degrees of skill. Thus Dryden remarks:—"A man may be capable (as Jack Ketch's wife said of her servant) of a plain piece of work, a bare hanging; but to make a malefactor die sweetly was only belonging to her husband."
The earliest hangman whose name has descended to us, if we may trust the authority of that accomplished antiquary, the late Dr. Rimbault, is one Bull, who is mentioned in his public capacity in Gabriel Harvey's tract against Nash, called "Pierce's Supererogation" (1593). Bull was succeeded by the more celebrated Derrick, who cut off the head of the unfortunate Earl of Essex in 1601. In Dekker's "Bellman of London," printed in 1608, under the article "Prigging Law," are the following notices of this worthy:—"For he rides his circuit with the devil, and Derrick must be his host, and Tiburne the land at which he will light." "At the gallows, where I leave them, as to the haven at which they must all cast anchor, if Derrick's cables do but hold." Again, at the end of his "Wonderful Year," is this passage:—"But by these tricks imagining that many thousands have been turned wrongfully off the ladder of life; and praying that Derrick or his successors may live to do those a good turn that have done so to others. Hic finis Priami! Here is an end of an old song." Derrick held his unenviable post for nearly half a century; and from him was named the temporary crane formed on board ship for unloading and general hoisting purposes, by lashing one spar to another, gibbet fashion. The next hangman was the notorious Gregory Brandon, who, as the story goes, by a ruse played upon Garter King-at-Arms, had a grant of arms confirmed to him, and was thereby "made a gentleman," which the mob in a joke soon elevated into esquire, "a title by which he was known for the rest of his life, and which was afterwards transferred to his successors in office." He had frequently acted as a substitute for Derrick; and had become so popular that the gallows was sometimes called by his Christian name, as may be seen in the following lines:—
"This trembles under the Black Rod, and he
Doth fear his fate from the Gregorian tree."

Gregory Brandon was succeeded by his son Richard, who seems to have claimed the gallows by inheritance. This Richard Brandon, as we have shown in a previous volume, has the credit of being the executioner of Charles I. (fn. 10) "Squire" Dun was the next common hangman, and he in turn was succeeded by the veritable Jack Ketch, who was the executioner of Lord William Russell and the Duke of Monmouth. Macaulay, in his account of the death of the latter, says: "He then accosted John Ketch, the executioner, a wretch who had butchered many brave and noble victims, and whose name has, during a century and a half, been vulgarly given to all who have succeeded him in his odious office. 'Here,' said the duke, 'are six guineas for you. Do not hack me as you did my Lord Russell. I have heard that you struck him three or four times. My servant will give you some gold if you do the work well.'" This notable functionary does not seem to have had a very easy time of it; at all events, in 1678, a broadside was published, entitled "The Plotter's Ballad: being Jack Ketch's incomparable receipt for the cure of traytorous recusants." In the same year appeared a quarto tract: "The Tyburn Ghost; or, Strange Downfal of the Gallows: a most true Relation how the famous Triple Tree, near Paddington, was pluckt up by the roots, and demolisht by certain Evil Spirits; with Jack Ketch's Lamentation for the Loss of his Shop, 1678." In the next year was produced "Squire Ketch's Declaration concerning his late Confinement in the Queen's Bench and Marshalsea, whereby his hopeful harvest was liked to have been blasted." Two years later we find him at Oxford:—"Aug. 31, 1681. Wednesday, at 11, Stephen College suffered death by hanging in the Castle Yard, Oxon, and when he hanged about half an hour was cut down by Catch, or Ketch, and quartered under the gallows." (fn. 11) The name of Ketch is often mentioned, in the lampoons of the day, along with that of the infamous Judge Jeffreys, as his brother in crime. One poet writes:—
"While Jeffreys on the bench, Ketch on the gibbet sits."

He is also mentioned by D'Urfey, in his humorous poem, entitled "Butler's Ghost," published in 1682; and in the following year he is thus mentioned in the epilogue to Dryden and Lee's "Duke of Guise:"—
"Lenitives, he says, suit best with our condition;
Jack Ketch, says I, 's an excellent physician."
For the following scrap of antiquarian lore respecting the interesting locality of which we treat, our readers are indebted to "honest" John Timbs:—"Formerly, when a person prosecuted another for any offence, and the prisoner was executed at Tyburn, the prosecutor was presented with a 'Tyburn Ticket,' which exempted him and its future holders from having to serve on juries. This privilege was not repealed till the sixth year of the reign of George IV."
The following is said to be the reason why Tyburn was chosen as the place of execution and burial of traitors:—The parishioners of St. Sepulchre's, near Newgate, were not over-well pleased that the bodies of those malefactors who had suffered the last penalty of the law should be buried amongst them; in proof, it may be mentioned, on the authority of a letter from Fleetwood to Lord Burghley, that they "would not suffer a traytor's corpes to be layed in the earthe where theire parents, wyeffs, chyldren, kynred, maisters, and old naighboures did rest: and so his carcas was returned to the buryall ground neere to Tyborne."
The gallows at Tyburn was triangular in plan, having three legs to stand on, and appears to have been a permanent erection. From the number of criminals hanged there, it would indeed seem to have been useless to have taken it down after each execution. We may learn, from a sermon preached by good Bishop Horne, towards the close of the eighteenth century, that it was no uncommon thing to see scores of felons executed here. Taylor, the Water Poet, in "The Praise and Virtue of a Jayle and Jaylers" (1623), gives these lines:—
"I have heard sundry men ofttimes dispute,
Of trees that in one yeare will twice beare fruit;
But if a man note Tyburn. It will appeare
That that's a tree that bears twelve times a yeare."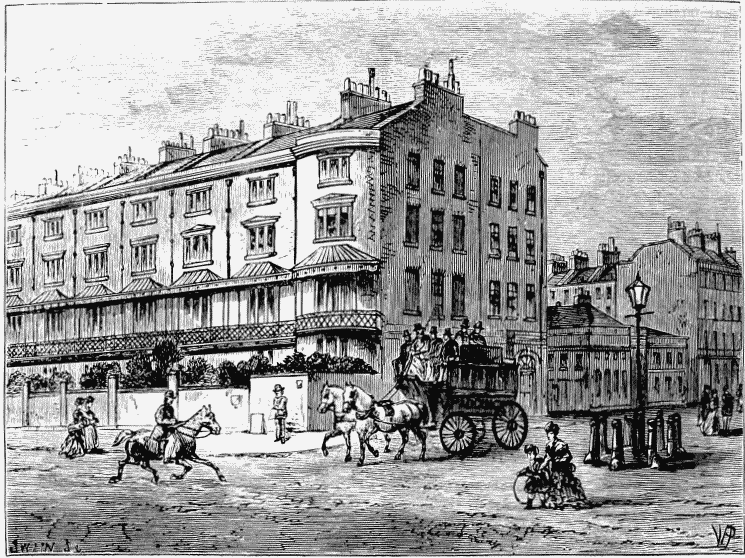 Again, in Dr. Johnson's "London" (a poem), we read:—
"Scarce can our fields—such crowds at Tyburn die—
With hemp the gallows and the fleet supply."
Then there is a parody on Gray's "Elegy," in which we read—
"Yet e'en these humble vices to correct,
Old Tyburn lifts his triple front on high."
In Shirley's play of The Wedding, published in 1629, an execution at Tyburn is thus depicted:—"Rawbone: I do imagine myself apprehended already; now the constable is carrying me to Newgate; now, now, I'm in the Sessions House, in the dock; now I'm called; 'Not guilty, my lord.' The jury has found the indictment, billa vera. Now, now, comes my sentence. Now I'm in the cart, riding up Holborn in a two-wheeled chariot, with a guard of halberdiers. 'There goes a proper fellow,' says one; 'Good people, pray for me.' Now I'm at the three wooden stilts. Hey! now I feel my toes hang i' the cart; now 'tis drawn away; now, now, now!—I'm gone!"
At Tyburn, upon the restoration of monarchy, was performed the farce of dragging Sir Henry Mildmay, Wallop, and some other members of the regicide party, to the fatal tree, with halters round their necks. Miles Corbet, the regicide also, having been arrested on the Continent, was brought to London, dragged through the streets hither, and executed.
Evelyn, in his "Diary," under date January 30, 1661, the first anniversary of the murder of Charles I. since the Restoration, writes:—"The carcases of those rebels, Cromwell, Bradshaw, the judge who condemned his Majesty, and Ireton (son-in-law to the Usurper), were dragged out of their superb tombs in Westminster among the kings to Tyburn, and hanged on the gallows there from nine in the morning till six at night, and then buried under that fatal and ignominious monument in a deep pit, thousands who had seen them in all their pride being spectators." How far this "deep pit" can be regarded as really the last resting-place of Cromwell's body may be inferred from what we have already written on the subject, in our account of Red Lion Square, Holborn. (fn. 12)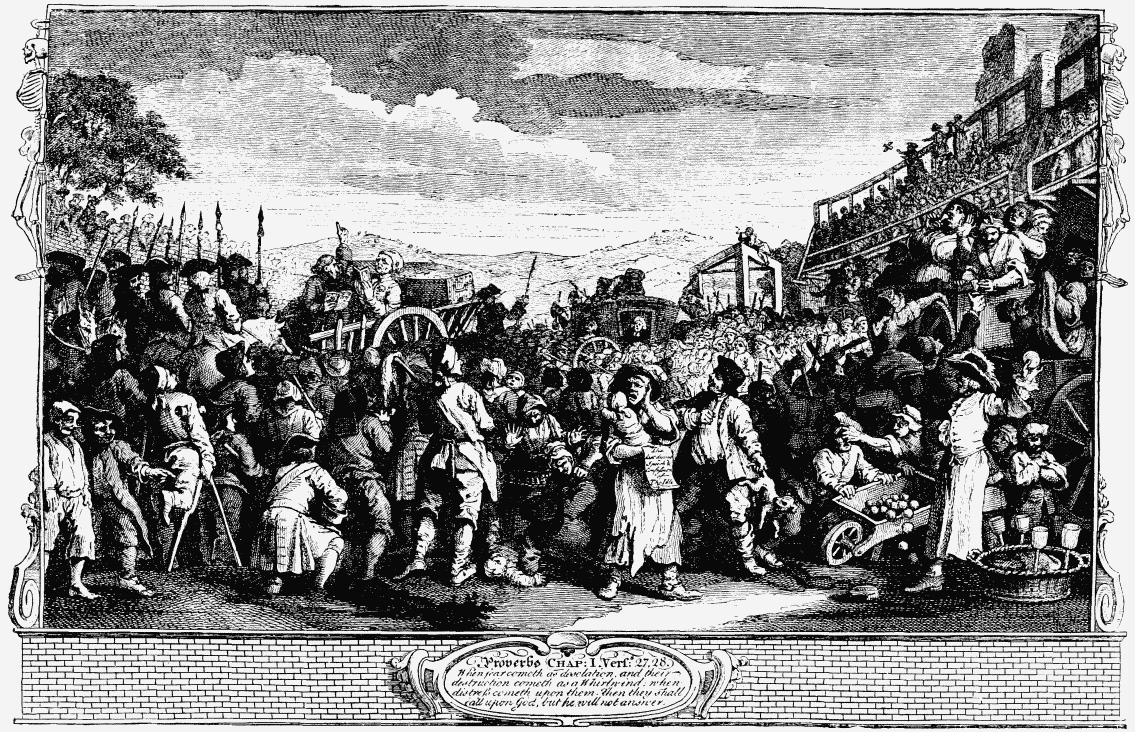 In the "New View of London," published in 1708, no mention is made of either Oxford or Uxbridge Road, but the thoroughfare is entered as Tyburn Road. It is thus described as lying "between St. Giles' Pound, east, and the lane leading to the Gallows, west, 350 yards in length." The writer adds:—"This street has its name as being the next street to Tyburn, the place for execution of all such malefactors, generally speaking, as have committed acts worthy of death within the City and Liberties of London and County of Middlesex. I have known, he continues, "nineteen executed at one sessions, though these are held about eight times a year; but this is near twenty years ago." He then congratulates the nation on the decrease in the number of executions of late, which he ascribes to improvements in the law, and to the efforts of societies for the reformation of manners; and ends by telling a story of a man who revived, after being cut down off the gallows, in 1705.
Tyburn, it need scarcely be added, figures constantly in the caricatures of Hogarth. Thus, in his "Industry and Idleness," "Tom Idle" goes to Tyburn in a cart with a coffin in it, whilst the other apprentice, Francis Goodchild, drives to the Mansion House, as Lord Mayor of London, with footmen and sword-bearer, the King and the Court looking on from a balcony in St. Paul's Churchyard, and smiling approval. In Hogarth's print of Tyburn Tree, the hangman is represented coolly smoking his pipe, as he reclines by the gibbet, in full view of the hills of Hampstead and Highgate. "Could Tom Idle's ghost have made its appearance in 1847," asks Thackeray, in his "Humourists," "what changes would have been remarked by that astonished escaped criminal! Over that road which the hangman used to travel constantly, and the Oxford stage twice a week, go ten thousand carriages every day; over yonder road, by which Dick Turpin fled to Windsor, and Squire Western journeyed into town, when he came to take up his quarters at the Hercules Pillars on the outskirts of London, what a rush of civilisation and order flows now! What armies of gentlemen with umbrellas march to banks, and chambers, and countinghouses! What regiments of nursery-maids and pretty infantry; what peaceful processions of policemen; what light broughams and what gay carriages; what swarms of busy apprentices and artificers, riding on omnibus-roofs, pass daily and hourly! Tom Idle's times are quite changed; many of the institutions are gone into disuse which were admired in his day. There's more pity and kindness, and a better chance for poor Tom's successors now than at that simpler period, when Fielding hanged him and Hogarth drew him."
Tyburn also figures in one of Hogarth's pictures of "Marriage à la Mode," where Counsellor Silvertongue pays the last penalty of the law for sending a certain noble earl out of the world before his time. In Hogarth's hands, no doubt, Tyburn was usefully employed, both

"To point a moral and adorn a tale."
But Tyburn has witnessed other scenes besides those of which we have spoken above. The story of Queen Henrietta Maria doing penance here is thus told by Mr. S. W. Gardiner, in his "History of England under the Duke of Buckingham and Charles I.:"—"It was after a long day spent in attendance on the devotions of her Church at the Chapel at St. James's that the young queen of Charles I. strolled out, with her ladies, to breathe the fresh evening air in St. James's Park. Byand-by she found her way into Hyde Park, and by accident or design directed her steps towards Tyburn. In her position it was quite natural that she should bethink herself of those who had suffered there as martyrs for the faith which she had come to England to support. What wonder if her heart beat more quickly, and if some prayer for strength to bear her weary lot rose to her lips? A week or two probably passed away before the tale reached Charles, exaggerated in its passage through the mouths of men. . . . The Queen of England, he was told, had been conducted on a pilgrimage to offer prayer to dead traitors, who had suffered the just reward of their crimes. The cup of his displeasure was now full;. . . those who had brought her to this should no longer remain in England. . . . On July 31 the king and queen dined together at Whitehall. After dinner he conducted her to his private apartments, locked the door on her attendants, and told her that her servants must go." Meanwhile, Conway was taking measures for the removal of her ladies to Somerset House. "As soon as the young queen perceived what was being done she flew to the window and dashed to pieces the glass, that her voice might be heard by those who were bidding her adieu for the last time; and Charles, it is said, dragged her back into the room, with her hands bleeding from the energy with which she clung to the bars." As we have already stated, in our account of Somerset House, (fn. 13) no time was lost in sending off the queen's French attendants to their native country.
It is more probable that the act on the part of her Majesty was a voluntary one; for, although pious and devout, the queen was not at all a person to be led blindly at the will of any confessor. However, in the illustrated edition of Pennant's "London," in the British Museum, there is to be seen a copy of a rare German print, purporting to be a representation of the scene. At a short distance off is the confessor's carriage, drawn by six horses; in the coach is seated the confessor himself, and a page, with a lighted candle or torch, is standing at the door. The fact is certainly recorded in a cotemporary document published in the first series of "Original Letters," edited by Sir Henry Ellis; but as the language used is of the most rabid and foul-mouthed kind—the confessor being styled "Luciferian," and the details of the affair styled "ridiculous," "absurd," "beggarly"—we may reasonably entertain a doubt whether it was not a "mare's-nest." In all probability the story was concocted by some Titus Oates of the day. The letter in question, which purports to be "from Mr. Pory to Mr. Joseph Mead," contains the following expressions:—"No longer agone then upon St. James his day last, those hypocritical dogges made the pore Queen to walke a foot (some add barefoot) from her house at St. James to the gallowes at Tyborne, thereby to honour the Saint of the day in visiting that holy place where so many martyrs (forsooth) had shed their bloud in defense of the Catholique cause. . . . Yea, they have made her to go barefoot, to spin, to eat her meat out of tryne (wooden) dishes, to waite at the table and serve her servants, with many other ridiculous and absurd penances. It was, certainly, 'high time' that this French train should be dismissed; and packed off they were ('contumaciously refusing to go') in coaches, carts, and barges, to Gravesend."
If it be true that old George III. took such an interest in the welfare of those condemned to die upon the gallows as he is represented to have done in an anecdote which was at one time freely circulated, his time must have been pretty well occupied by devotional exercises. The anecdote in question, albeit highly honourable to his sense of public duty, is mentioned on the authority of Stevenson, the American envoy in London. Some extraordinary occurrence having called a French statesman to the palace as late as two o'clock in the morning, he found the king in his cabinet, examining the case of a prisoner condemned to execution. The envoy afterwards ascertained that the king keeps a register, recording the name of every person capitally condemned, the decision, and its reasons. Frequently, in the still hours of the night, he performs the task of investigating those cases, and adds to the record the circumstances which had influenced his decision. The envoy probably did not know that the great and good George III. had pursued nearly the same practice fifty years before, weighed the evidence with the deepest anxiety, and generally shut himself up in his cabinet at Windsor (it was presumed in prayer) during the hour appointed for the execution in London.
The exact spot on which the fatal Tyburn Tree was erected has been often discussed by antiquaries. It would appear, however, to be identified with the site of the house in the south-east corner of Connaught Square, formerly numbered 49; for in the lease granted by the Bishop of London, to whom the property belongs, this fact is particularly mentioned. A writer in The Antiquary, in October, 1873, says, with reference to this subject:—"I was born within 100 yards of the exact spot on which the gallows stood, and my uncle took up the stones on which the uprights were placed. The following is his statement to me, and the circumstance of his telling it:—In 1810, when Connaught Place was being built, he was employed on the works, and for many years lived at the corner of Bryanston Street and the Edgware Road, nearly opposite Connaught Mews. My father, a master carpenter, worked for several years in Connaught Place, and on one occasion he employed his brother, I think in the year 1834; at all events, we had just left No. 6, the residence of Sir Charles Coote. It was at this time I said to my uncle, 'Now you are here, tell me where the gallows stood;' to which he replied, 'Opposite here, where the staves are.' I thereupon crossed over, and drove a brass-headed nail into the exact spot he indicated. On reaching home, I told my mother of the occurrence, and asked if it were correct. She said it was so, for she remembered the posts standing when she was a child. This might be about the year 1800; and, as she was born in Bryanston Street, I believe she stated what she knew to be a fact. I well remember Connaught Square being built, and I also recollect a low house standing at the corner of the Uxbridge Road, close to No. 1, Connaught Place (Arklow House), and that, on the removal of this house, quantities of human bones were found. I saw them carted away by Mr. Nicholls, contractor, of Adams' Mews. He removed Tyburn toll-house in 1829. From what I have been told by old inhabitants that were born in the neighbourhood, probably about 1750, I have every reason to believe that the space from the toll-house to Frederick Mews was used as a place of execution, and the bodies buried adjacent, for I have seen the remains disinterred when the square and adjoining streets were being built."
Smith, in his "History of St. Marylebone," states that "the gallows were for many years a standing fixture on a small eminence at the corner of the Edgware Road, near the turnpike, on the identical spot where a toll-house was subsequently erected by the Uxbridge Road Trust. Beneath this place are supposed to lie the bones of Bradshaw, Ireton, and other regicides, which were taken from their graves after the Restoration, and buried under the gallows. The gallows itself subsequently consisted of two uprights and a cross-beam, erected on the morning of execution across the Edgware Road, opposite the house at the corner of Upper Bryanston Street and the Edgware Road, wherein the gallows was deposited after being used; this house had curious iron balconies to the windows of the first and second floors, where the sheriffs sat to witness the executions. After the place of execution was changed to Newgate, in 1783, the gallows was bought by a carpenter, and made into stands for beer-butts in the cellars of the 'Carpenters' Arms' public-house, hard by."
"Around the gibbet," says Mr. Timbs, in his "Curiosities of London," "were erected open galleries, like a race-course stand, wherein seats were let to spectators at executions: the key of one of them was kept by Mammy Douglas, 'the Tyburn pew-opener.' In 1758, when Dr. Henesey was to have been executed for treason, the prices of seats rose to 2s. and 2s. 6d.; but the doctor being 'most provokingly reprieved,' a riot ensued, and most of the seats were destroyed."
The name of "Tyburn," thus mixed up with the saddest portions of our national history, and associated with ideas of villany and crime, very naturally smelt anything but sweet in the nose of the metropolis; and it was not until the city grew in bulk so tremendously that it threatened to burst its swathing bands, that the region around the old gallows, now known as "Tyburnia," came to be built upon, and inhabited by the upper classes of society.
It is recorded by Mr. Percy Fitzgerald, in his sketch of Charles Townshend, that his eccentric mother, Audrey, Lady Townshend, who so long "entertained" at her house in Whitehall, was one day rallied by her friends on taking a short lease of "a villa at Tyburn." "Oh," replied the witty woman, "you see it is a neighbourhood of which I could never tire, for my neighbours are being hanged every week; so we are always changing!" It was this same lady who, on being asked if it was true that Whitfield had recanted, answered, "No, madam; but I know he has canted;" and who sarcastically remarked of the royal family, who took a fancy to go to all public shows and suppers, that it was "the cheapest family to see, and the dearest to keep, of any that had ever been seen."
Mr. G. A. Sala hits the right nail on the head, in his "Gaslight and Daylight," when he remarks that while the region of the Grosvenors is the place for the "swells of the peerage, those of blue blood and the strawberry-leaves," Tyburnia suits admirably "the nobility of yesterday, your mushroom aristocrats, millionaires, ex-lord mayors, and people of that sort;" and he also pithily adds, "Tyburn is gone: I am not such an old fogey as to remember that, nor so staunch a conservative as to regret it now that it is gone."
"Tyburnia" proper, as we may call the city which sprang up between the Edgware Road and Westbourne Terrace, in the reign of William IV., consists of squares, terraces, and rows of stately mansions, which now rival in elegance her more southern sister, "Belgravia." Oxford and Cambridge Terraces, which run from the Edgware Road to the southern end of Westbourne Terrace, with Oxford and Cambridge Squares to the south of them, will long keep in remembrance the munificence of Lady Margaret, Countess of Richmond, as the founder of divinity professorships in our two great and ancient universities.
The Rev. J. Richardson, referring to the days of the Regency, writes thus in his "Recollections," published in 1856:—"The northern boundary of the old metropolis, then called Oxford Road, terminated abruptly at the entrance of the Park, where now stands the triumphal arch lately removed from Buckingham Palace. The now fashionable district which forms one side of the Bayswater Road, and occupies the angle between that road and Paddington, was, in the eyes of all respectable people, a locality to be avoided. Ragged fields stretched over scores of acres of ground; and the ominous name of Tyburn frightened, not, indeed, those whom it ought to have deterred, but those who either assumed a character for decency, or really possessed one. In fact, this part was a blank in the improvements of London for years after other suburbs had been built upon; and it was not until comparatively a recent date that the tea-gardens, and other similar low haunts of debauchery, gave way to the elegant and stately buildings with which it is now covered." It is impossible not to recognise these places of amusement in the portrait which Charles Dickens gives us, in his "Sketches by Boz," of the typical London tea-gardens, with their snug boxes and alcoves; the men and women, boys and girls, sweethearts and married folks, babies in arms and children in chaises, the pipes and the shrimps, the cigars and the periwinkles, the tea and tobacco, are each and all described with a skill almost equal to that of a photographer. To the particular "Sketch" entitled "London Recreations" we must refer our readers for all further details. As we have shown in the preceding chapter, the last of the tea-gardens—covering what is now Lancaster Gate—did not disappear until about 1855.
At Connaught House, Connaught Place, close by the Edgware Road, the unfortunate Caroline, Princess of Wales, took up her residence when banished from the Palace; and hither came the Princess Charlotte in a hackney-coach, when she quarrelled with her father and left Warwick House, as we have stated in our account of that place. (fn. 14) The young princess, as she advanced towards womanhood, became more and more intractable and wilful. In the end, the Regent and his Ministers thought the best step would be to find her a husband; and the youthful Prince of Orange was suggested as the most eligible. He was by birth a Protestant; he had been educated at Oxford, and had served in Spain with credit; but the self-willed young lady refused him—in a word, "turned up her nose" at him. Every opportunity was given to him to make himself agreeable to the future heiress of the English throne; but either his capacities and acquirements were of a low order, or the princess had proposed to herself quite another standard of excellence as her beau ideal. She simply said "she did not like Oranges in any shape;" and though her royal papa stormed, and bishops reasoned with her, her resolution remained unshaken. The public admired her pluck and firmness, and her refusal to be sold into matrimony like a common chattle. She was a princess, but she was also a true-hearted woman, and she felt that she must really love the man whom she should wed, if she would escape the unhappiness which had darkened the married life of her parents. The fortunate individual who pleased her taste was not long in appearing; and her marriage with Prince Leopold of Saxe-Coburg was solemnised, ere long, with her father's consent, and with the hearty good wishes of the people. The Prince himself, then a humble cadet of a petty German house, was travelling in England; he met the Princess Charlotte at one of the many mansions of the aristocracy, and he soon obtained an interest in her affections, and also the consent of the Prince Regent, who was probably glad enough to get his intractable daughter off his hands at any price. Leopold at that time was one of the noblestlooking young princes in Europe. Tall and princely in his bearing, and fascinating in his manners, a brave soldier, and an accomplished courtier, he was worthy to win such a prize. They were married on May 2nd, 1816. Alas! within a little more than a year the great bell of St. Paul's was tolled to announce to a sorrowing people the death of the princess in giving birth to a dead infant!
The sale of the effects of the Princess of Wales, at Connaught House, took place in October, 1814. The name of the mansion was at a later date changed to Arklow House; the latter, like the former, being one of the titles inherent in the royal family. The late Duke of Sussex was also Baron of Arklow. Sir Augustus D'Este, son of the Duke of Sussex, lived here for some time subsequently. It is now the town residence of Mr. A. Beresford-Hope.
At No. 13 in Hyde Park Square, lived that specimen of a fine old English gentleman, Mr. T. Assheton-Smith, whose name is so well known among Masters of Hounds. A glass apartment on the roof of this house, after his death, was magnified, by the fears of the servant-girls in the neighbourhood, into the abode of a ghost; and the ghost—or, at all events, the alarm—was only suppressed by editors "writing it down" in the London newspapers.
In concluding this chapter, we may remark that the whole neighbourhood is of too recent a growth to have many historical reminiscences. Haydon, the painter, it is true, lived for some time in Burwood Place, close by Connaught Square, and there he died by his own hand in 1846. We shall have more to say about him when we come to Paddington.