Pages 567-576
Old and New London: Volume 6. Originally published by Cassell, Petter & Galpin, London, 1878.
This free content was digitised by double rekeying. All rights reserved.
CHAPTER XLI.
GENERAL REMARKS AND CONCLUSION.
"A portraiture of London! It is Babel
In greatness, in confusion, and in change;
But yet there's order in it."—Babylon the Great.
A General View of London—Length of its Streets, and Number of Dwellings—Growth of London since the Time of Henry VIII.—The Population at Various Periods since 1687—The Population of London compared with that of other Cities—Recent Alterations and Improvements in the Streets of London—The Food and Water Supply—Removal of Sewage—The Mud and Dust of London—Churches and Hospitals—Places of Amusement—Concluding Observations.
We have now journeyed together—it is to be hoped pleasantly, and not wholly without profit—for six years, traversing one by one the highways and byways of the metropolis, but always, as we promised, within sight of the cross and ball of St. Paul's Cathedral—objects which, from first to last, we have kept steadily in view. We have, nevertheless, rambled over several hundred miles of ground—from Highgate and Hornsey in the north to Norwood and Streatham in the south, and from the river Lea in the east to Chiswick in the far west; and covering altogether an area upwards of one hundred square miles in extent. It will, however, be our duty, before we actually part company, to take our stand as it were upon the vantageground of some breezy height, and to give our readers a general view of the vast city which we have traversed in detail, and on which we may be supposed to be looking down: our view extending, in the happy and epigrammatic words of Mr. G. A. Sala, over a sort of panorama—"from where the town begins to where it ends; from the marshy flats below Deptford to the twinkling lights of Putney and Kew."
Standing, then, in this exalted (mental) position, and surveying the expanse before us, we see at our feet London, to use the phrase of the Brothers Percy, "stretching out its arms, like a second Briareus, in every direction," swallowing up all the villas in our environs, and making them gradually part and parcel of the capital. In order, however, to make our general view of London at all permanently interesting and useful, it will be desirable here to add a few generalisations, based on recent Parliamentary returns and other statistics.
First, then, according to a recent estimate, the total length of the streets of London is about 2,500 miles; whilst the entire number of houses—"inhabited, uninhabited, and building"—concentrated, at the time of taking the census of 1871, within the area of "London according to Act of Parliament," amounted to rather more than 455,000; so that, adding the average annual rate of domiciliary increase (7,500), there must now be some 52,500 more, or 507,500 dwellings altogether. It has been calculated that this large number of houses, with an average frontage of five yards, would be more than sufficient to form one continuous row of buildings round the island of Great Britain, from the Land's End to John o'Groat's, from John o'Groat's to the North Foreland, and from the North Foreland back again to the Land's End, or 1,460 miles altogether.
When we look at the great metropolis from an antiquarian point of view, there is much to interest in its gradual growth. Not to speak of the City proper, which, as a matter of fact, has for centuries been almost stationary, we may gain a general idea of the outlying districts of London under King Henry VIII. from some expressions in an Act of Parliament passed in the fifteenth year of his reign, and which regulates the extent of jurisdiction given to the wardens of certain City companies with respect to the control of apprentices. Under this Act certain rights were given to these gentlemen "within two miles of the City, namely, within the town of Westminster, the parishes of St. Martinin-the-Fields, Our Lady in the Strand, St. Clement's Danes without Temple Bar, St. Giles'-in-the-Fields, St. Andrew's, Holborn; the town and borough of Southwark, Shoreditch, Whitechapel parish, Clerkenwell parish, St. Botolph without Aldgate, St. Catharine's, near the Tower, and Bermondsey Street." Most of these suburbs had no point of contact with the City, and few had any contact with each other or any continuous buildings. Both St. Giles' and St. Martin's parishes were then literally "in the Fields," as, indeed, was St. Andrew's, in Holborn; Marylebone and Islington are not even mentioned; while Westminster, Clerkenwell, Shoreditch, Whitechapel, and the Strand consisted entirely of mansions of the nobility, standing in their own gardens.
The suburbs, therefore, in the reign of which we speak, must have been nearly void of buildings. From the map of Ralph Aggas, published about the year 1560, it appears that almost the whole of the metropolis was confined, even at that time, nearly half a century later, within the City walls. Certainly a few straggling houses fringed one side of the Strand, and a few more stood round about Smithfield. Open fields were under grass close to the City walls throughout almost its whole northern circumference; while those houses which stood within them were for the most part detached and accommodated with gardens. The village of St. Giles's lay entirely isolated across the open country. A single street led up Holborn, almost as far as Chancery Lane; between that point and Somerset House the space was entirely occupied by fields and gardens. There were also many gardens and open spaces within the City itself, and more particularly along the wall, within which a considerable space was kept clear round the whole circuit, like the Pomærium of ancient Rome. The largest area occupied by gardens was immediately behind Lothbury. In the eastern and south-eastern parts of the City a great many spots were similarly appropriated. And yet, within this very limited compass of inhabited ground was crowded a population of constant dwellers, amounting to not less than 130,000, or perhaps more than twice the number of those who regularly sleep within the same area at the present time.
Carefully, however, as its successive changes may be described, it is hardly possible for words to convey so clear and definite an impression of the alterations which have from time to time been made in our metropolis as may be gained from the inspection of an old map of London and comparing it with one of the present day. Thus, for instance, in a map issued between 1680 and 1690, the Thames is invested with an unusual degree of importance, and from the number of landing-places and stairs marked down it is evident that the Londoners of that day must have been very fond of the water, and must, moreover, have spent much time upon it. Berkeley House, Albemarle House, and Burlington House stood in the green fields, which have since been covered over with dwelling-places and christened Piccadilly. Near "So Ho" we find "the road to Oxford," and hard by "the road to Hampstead" is indicated. The former of these is now styled Oxford Street, and the other Tottenham Court Road. Bloomsbury had in it a few houses, while Clerkenwell was the residence of various dukes, earls, and others of the nobility.
Passing on a few years further, Lord Macaulay observes, in his "History of England," that "whoever examines the maps of London which were published towards the close of the reign of Charles II. will see that only the nucleus of the present capital then existed. The town did not, as now, fade by imperceptible degrees into the country. No long avenues of villas, embowered in lilacs and laburnums, extended from the great centre of wealth and civilisation almost to the boundaries of Middlesex and far into the heart of Kent and Surrey. In the east, no part of the immense line of warehouses and artificial lakes which now stretches from the Tower to Blackwall had even been projected. On the west, scarcely one of those stately piles of building which are inhabited by the noble and wealthy was in existence; and Chelsea, which is now peopled by more than forty thousand human beings, was a quiet country village, with about a thousand inhabitants. On the north, cattle fed and sportsmen wandered with dogs and guns over the site of the borough of Marylebone, and over far the greater part of the space now covered by the boroughs of Finsbury and of the Tower Hamlets. Islington was almost a solitude; and poets loved to contrast its silence and repose with the din and turmoil of the monster London. On the south, the capital is now connected with its suburb by several bridges, not inferior in magnificence and solidity to the noblest works of the Cæsars. In 1685 a single line of irregular arches, overhung by piles of mean and crazy houses, and garnished, after a fashion worthy of the naked barbarians of Dahomy, with scores of mouldering heads, impeded the navigation of the river."
We pass on to the London of Queen Anne's reign, and find that its expansion, though considerable, had not been very rapid during that half century. "A New Map of the Cityes of London, Westminster, and the Borough of Southwark, together with the Suburbs, as they are now standing," was issued in 1707. What the suburbs were at that date may be judged from the fact that the map extends only from Haberdashers' Hospital, Hoxton, on the north, to St. Mary Magdalen's, Bermondsey, on the south; and from Stepney on the east to Buckingham House on the west; the City wall, with its gates, being duly indicated. From a note we learn that the spot now known as the Seven Dials was then called "Cock and Pye-fields." In another map, published about 1600, a note is made respecting "the prodigious increase of building and other alterations of ye Names and Situation of Street, &c., in this last Sentry (century)." Here, too, the City wall is very carefully shown, and the several gates are marked, the quaintness of the spelling being most interesting and even amusing; as, for instance, where just outside the boundary, near "All Gate," is marked "Ye Goounefownders hs." (The Gun-founder's house), its character being indicated by the presence of a cannon within the enclosure. In one point, however, this map may serve to show that our forefathers were wiser than ourselves; for ample provision seems to have been made for open-air sports, and the fields which stretched out on all hands furnished the young citizens with as much room as they could well require for the development of any "muscular" theories which may then have been in vogue.
Under the four Georges, however, more rapid strides were made in the gradual extension of the metropolis, the erection of new houses being no longer prohibited by jealous legislation, and free trade being established in building for the necessities of the growing population. The great increase in our national manufactures and commerce which followed the establishment of peace, in 1815, brought a large access to the population of London, and these persons required to be accommodated with houses near the scene of their daily labours. Hence Islington, and Kensington, and South Lambeth, and Hackney, and Dalston were each doubled in population and in houses; and the introduction of railways in the second and third quarters of the present century has more than doubled the entire London over which George III. was king.
The population of London and its suburbs was calculated by Sir William Petty, in 1687, to be 696,000; Gregory King, in 1697, by the hearthmoney, made it 530,000; and yet, by actual census in 1801, including Westminster, Southwark, and the adjacent hills, it proved to be only 864,845. From 1801 to 1841—that is, in forty years—the population of London advanced from 864,000 to 1,873,000. In forty years the metropolis had increased above a million, or more than through all the previous history of the kingdom. In ten years more it had swelled to 2,361,640, or nearly half a million more; and it was calculated, as far back as 1854, that the annual increase of the population of London was at the rate of 40,000 souls. Accordingly, in 1861 it had risen to 2,803,034, being an increase in ten years of 441,394 souls. In 1871, again, this number had swelled to 3,266,987, to which, if the average yearly rate of increase has been maintained since that date—of which there is little doubt—we may now add, at least, another half million.
Comparing the population of the metropolis with that of other cities, it may be stated that London contains nearly twice as many people as Pekin (one of the most densely populated capitals in the world); almost thrice as many persons as Jeddo; and treble the number of the inhabitants of Paris; more than four times as many as there are in New York; nearly seven times as many as St. Petersburg; eight times as many as Vienna, Madrid, or Berlin; nine times as many as Naples, Calcutta, Moscow, or Lyons; thirteen times as many as Lisbon, Grand Cairo, Amsterdam, or Marseilles; not less than twenty times as many as Hamburg, Mexico, Brussels, or Copenhagen; and very nearly thirty times as many as Dresden, Stockholm, Florence, or Frankfort. Further, in comparison with our own large cities, it contains nearly eight times as many people as the united towns of Manchester and Salford, and the same proportion as regards Liverpool; nine times as many as Glasgow; twelve times as many as Birmingham; fourteen times as many as Dublin; and upwards of twenty times as many as Edinburgh. In England the following are the fifteen largest towns: Liverpool, Manchester, Birmingham, Leeds, Sheffield, Bristol, Wolverhampton, Newcastle, Plymouth, Bradford, Portsmouth, Stoke-upon-Trent, Hull, Oldham, and Sunderland; and yet their joint population is less than that of London by nearly 30,000 souls. This may not be surprising when we are told that five births occur every hour, and that in one week nearly 900 are added to the inhabitants of the metropolis.
A writer in the St. James's Magazine (1871) observes that "our metropolitan population is nearly three times as large as that of the Papal States, nearly three times as much as the whole population of Norway; it exceeds by 300,000 the whole population of Portugal, by 1,300,000 that of Switzerland, by 200,000 that of Roumania. It exceeds that of Canada by 80,000, and surpasses that of the Netherlands by more than half a million. Yet these two countries include independent states, strong and stable monarchies, while London is but a city: still, she is the Niagara of cities. The roar of her population is heard afar off; and, as one man is as another in these days, she is, at the lowest estimate, even by the rule of counting heads, the most important place in the world."
Again, a writer in the City Press pointed out, in 1870, that the population of ten Londons would equal that of all Great Britain and Ireland; and that of three hundred and fifty Londons would people the whole globe. "Every eight minutes of every day of every year," he adds, "one person dies in London; and in every five minutes of every day in the year one is born. London contains 100,000 winter tramps, 40,000 costermongers, 30,000 paupers in the unions; with a criminal class of 16,000, out of whom, in 1867, it was found that only 7,000 could read or write. Suppose an average town with a population of 10,000 persons; there are in London, on Sunday, as many people at work as would fill ten such towns, and as many gin-drinkers as would fill fourteen. Two such towns London could people with fallen women; one with gamblers; three with thieves and receivers of stolen goods; and two with children trained in crime. It comprises two such towns of French people, four of Germans, one of Greeks, and more Jews than are to be found in all Palestine. It has as many Irish as would fill the city of Dublin, and more Roman Catholics than would fill the city of Rome. It has 20,000 public-houses and beer-shops, frequented by 500,000 people as customers. In London, one in every 890 is insane; there is one baker for every 1,200 persons, one butcher for every 1,500, one grocer for every 1,800, and one publican for every 650."
To place the matter in another point of view, we may state that the size of "Greater London," with its population of three and a quarter millions (according to the last census returns), may be inferred from the fact that if the metropolis was surrounded by a wall having a north gate, a south gate, an east gate, and a west gate, each of the gates being of sufficient width to allow a column of persons to pass out freely six abreast, and a peremptory necessity required the immediate evacuation of the city, the task could not be accomplished under four-and-twenty hours, by the expiration of which time the head of each of the four columns would have advanced a no less distance than seventy-five miles from its gate, all the people being in close file, six deep. Or, to take another illustration: if all the Londoners of to-day, men, women, and children, were to stand joined shoulder to shoulder, the line formed by them would stretch nearly from one end of England to the other. Again, if the entire people of the capital were to be drawn up in marching order, two and two, and each couple to be two feet apart from the next, the aggregate length of the great army of Londoners would be not less than 662 miles, or long enough to reach from London to Inverness; while, supposing the file to move at the rate of three miles an hour, it would take more than nine days and nights for the aggregate troop of the metropolitan population to pass by.
But notwithstanding the alarm which politicians and legislators have at various times expressed, and perhaps felt, at its growth, London has constantly advanced, amidst all impediments and interruptions, to its present gigantic size; and, what is more, it still continues to advance. Conjecture scarcely dares to fix its limits, for every succeeding year we see some waste ground in the suburbs covered with dwellings, some little village or hamlet in the suburbs united by a continuous street to the great metropolis; until what once, and that at no remote period, was a portion of its environs now forms an integral part of one great and compact city, likely to verify the prediction of James I. that "England will shortly be London, and London England."
London, then, may well be termed "Babylon the Great;" for even if we accept the statements of Herodotus without any discount, the circuit of ancient Babylon, with its palaces and hanging gardens, was only 120 stadia, or furlongs; and it reckoned its inhabitants only by myriads, or tens of thousands, and not by millions. Yet the great aggregate of houses called London must now be larger by far than that of ancient Babylon; and at the next census it will appear that the men, women, and children who live within "Greater London" do not fall far short of four million souls.
Even during the six years occupied in the production of this work the course of events has been travelling on so fast that we have every reason to believe the population of "Greater London" has been increased by several thousands; and consequently, as may be easily imagined, whilst we have been writing London has not been standing still in other respects in order that we may take a photograph of its present aspect. Great alterations for the better have been effected in the dwellings of the poorer inhabitants in many parts of the metropolis, chiefly in consequence of the formation of new streets. Model lodging-houses have been erected in several localities, many of them being the result of the generous gift of Mr. George Peabody to the poor of London; whilst it appears, from the latest reports, that about 1,000 families (averaging four persons each) are in residence in these buildings. Again, Board-schools—in most cases structures of some architectural pretensions—have been erected in almost every district in the metropolis; and in many of our new thoroughfares (such, for instance, as in those caused by the formation of the Holborn Viaduct) the ornamental character of our street architecture is very striking. Then, again, buildings which a few years ago were at a standstill in consequence of commercial depression or "strikes" have been completed, and have taken rank with the older institutions of London. As an instance in point we may mention the Inns of Court Hotel, which, when we wrote our account of Lincoln's Inn Fields, was an unfinished carcase, deserted and desolate in appearance, (fn. 1) but is now one of the largest and busiest hotels in London. After many years of labour, a large and costly monument of the Duke of Wellington has been completed in St. Paul's Cathedral; and "Cleopatra's Needle," which has been brought to England at the expense of a private individual, has been brought to the Victoria Embankment, after having undergone in its transit from the banks of the Nile a considerable risk of foundering in the Bay of Biscay. The first experiments have been made in lighting our gaslamps by electric currents, the scene of these experiments, curiously enough, being Pall Mall, where, as stated by us, (fn. 2) the first experiment was made in lighting the streets of London with gas, some seventy years ago. To this we may add that the telephone, the most recent of our scientific acquirements, promises, at no distant date, to throw the telegraph into the shade. Even since we took our pen in hand at the commencement of the last volume of this work, the Surrey Gardens and Cremorne have been blotted out of existence; whilst, per contra, we may record the fact that at least one step has been taken towards freeing the metropolitan bridges from toll. Temple Bar, too, has been swept away, and the New Law Courts, adjoining it, are nearly completed. So quickly is the "Old London" absorbed in the "New!"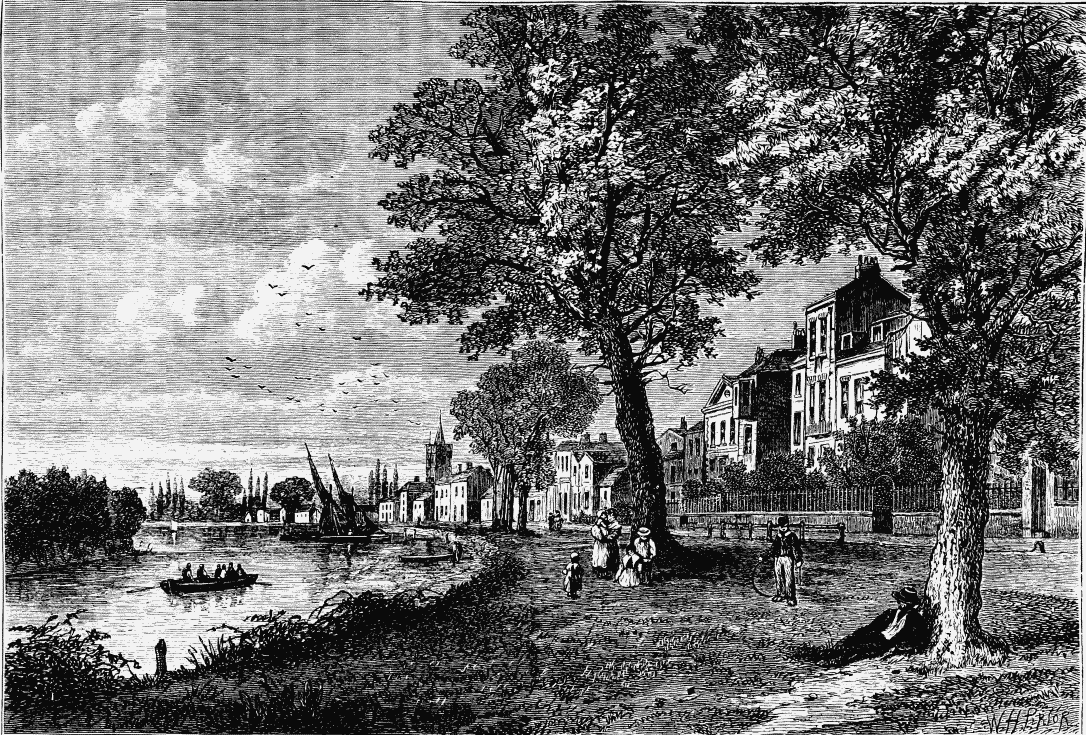 With such a vast and varied population before us, it may be of interest to pass for a moment to the commissariat department, and glance at the food supply for this "noble army" of Londoners, the supply of bread, water, and gas, and the various other domestic and social arrangements whereby it "lives and moves, and has its being."
In the Middle Ages, as we learn from Stow, the citizens of London were mainly dependent for their daily bread on the bakers of Stratford-le-Bow, who seem to have enjoyed the privilege of bringing their "long carts laden with bread" into the City. But in respect of our supply of bread, as well as in other branches of commerce, free trade has long prevailed. As we learn from the last edition of the "London Post Office Directory," there are some 200 corn-merchants engaged in supplying the metropolis with corn and grain, about 140 corn and flour-factors, about 500 corn-dealers, about 50 millers, 2,500 bakers, and some 900 confectioners. Kent, Essex, Norfolk, and Suffolk have always contributed very largely towards supplying London with corn and grain; but since the introduction of Free Trade, under the administration of Sir Robert Peel, great quantities of corn are brought from foreign parts. Of the average quantities of corn which change hands in the London market, as well as the regulations enforced in conducting the business, ample details will be found in our notice of the Corn Exchange. (fn. 3) Of meat and vegetables we have already spoken at some length in our accounts (fn. 4) of the Metropolitan Meat and Cattle Markets, Covent Garden, and other places set apart for these articles of daily consumption.
The water-supply of London is a subject which has long engaged the serious attention of the Legislature, and frequent official reports are issued, under the auspices of the Local Government Board, with respect to the quality of the water supplied by the several Metropolitan Water Companies. As to its quantity, it will be sufficient to state that the water used in London for the purposes of drinking, washing, street-cleansing, and the extinction of fires, amounts to upwards of 100,000,000 gallons daily, supplied by eight different companies. (fn. 5)
Our metropolitan water-supply is apparently well watched by a paternal government. An official report is made monthly by an official inspector as to the condition of the "intake," the filter-beds, and the volume of supply of each company. The water is also analysed monthly by duly-qualified public analysts. A yearly report, by the auditor of the accounts, is likewise made to the Board of Works as to the fiscal condition of each undertaking. A report, issued in 1875, states that the number of miles of streets which contain watermains constantly charged, and upon which hydrants could at once be fixed, was no less than 667 miles.
Herodotus was thought to be telling fables when he recorded the story of the Xanthus and other rivers in Thrace being dried up by the thirsty souls who composed the invading army of Xerxes; but when we state that in 1877 the average daily consumption of water in London was about 119,000,000 gallons, or nearly thirty gallons per head of the population, it would almost appear that we are by degrees drifting into a condition when we shall be in danger of drying up our own rivers by the same means. "What other city in the world," it has been asked, "has provided for the comfort, direct or indirect, of each individual of its population, a daily supply of so many gallons of this chief article of life?" The contrast is indeed striking between this state of things and the ancient conduits, which doled out water in retail! Whether, therefore, there is any truth or not in the statement of Herodotus respecting the rivers of Thrace, we may certainly assert that in London we have exhausted our rivers, though in another way; for at all events one river has disappeared during the last ten or fifteen years by the drying up of the Fleet, (fn. 6) which in former times wound sluggishly down from the northern heights of Hampstead, and mingled its slimy contents with the "silvery" Thames.
Since the introduction of gas for lighting the streets of London, about seventy years ago, of which we have spoken in our account of Pall Mall, (fn. 7) both the demand and supply have been on a par with the increase of the population.
London affords, in theory at any rate, a good example to other towns as to the removal of street refuse and sewage matter. Since the establishment of the General Board of Health the metropolis has, in this respect, taken and kept the lead. From and after the year 1847 the abolition of cesspools and the drainage of houses into the sewers had been made compulsory, and upwards of 30,000 cesspools were so abolished in the space of six years. But the evil was only transferred, not removed, for all the sewers by which the cesspools were superseded flowed directly into the Thames; the result was that in about ten years from the commencement of this reform the foulness of the river became unbearable, and measures were taken for the construction of a system of main-drainage, by means of which the sewage is conveyed to a more harmless distance. Of this system of drainage we have already spoken at length in our chapter on "Underground London." (fn. 8) By this system, called the London Main-Drainage Works, is effected the removal of the sewage of a population numbering nearly four millions, packed within an area of 117 square miles. This is conducted to Crossness, fourteen miles below London Bridge, and ultimately discharged into the German Ocean. Some time ago it was alleged on the part of the Conservancy Board that the matter in suspension was forming a deposit off the outlet, which not only had a tendency to occasion sanitary evils, but also threatened in some degree to interfere with the navigation. The engineer of the works, Sir Joseph Bazalgette, however, has published the result of a careful inquiry, which goes to show that, instead of causing obstruction or offensive deposit, the effect of the outflow at Crossness is to scour the channel, the estuarian deposit in that part of the river having been considerably reduced in quantity between 1867 and 1878, during which period systematic soundings have been taken by order of the board. It is therefore satisfactory to find that if the sewage is not yet utilised for the production of food it is not producing bad effects on the community.
From speaking of its sewers, our thoughts naturally pass to the mud and dust of London. In a previous volume we have made mention of the ash-mounds that were once to be seen in the neighbourhood of King's Cross, (fn. 9) the hidden treasures of some of which may perhaps have suggested to Charles Dickens the character of the "Golden Dustman," in his work entitled "Our Mutual Friend." That a great deal more is consigned to the dust-bin than need be, in the shape of "waste," there is little doubt; indeed, M. Soyer used to say that he could feed 100,000 people daily in London with what is thrown into the dustholes of the vast city.
It is often said that every man in his lifetime eats a peck at least of dirt; but the Londoner, in all probability, swallows much more than a bushel, if there be truth in the following statement, which we find seriously made in the Quarterly Review a few years ago:—"The 300,000 houses of London are interspaced by a street surface averaging about forty-four square yards per house, and therefore measuring collectively about thirteen and a quarter million square yards, of which a large proportion is paved with granite. Upwards of 200,000 pair of wheels, aided by a considerably larger number of iron-shod horses' feet, are constantly grinding this granite to powder, which powder is mixed with from two to ten cart-loads of horse-droppings per mile of street per diem, besides an unknown quantity of the sooty deposits discharged from half a million of smoking chimneys. In wet weather these several materials are beaten up into the thin, black, gruel-like compound known as London mud; of which the watery and gaseous parts are evaporated, during sunshine, into the air we breathe, while the solid particles dry into a subtle dust, whirled up in clouds by the wind and the horses' feet. These dust-clouds are deposited on our rooms and furniture; on our skins, our lips, and on the air-tubes of our lungs. The close, stable-like smell and flavour of the London air, the rapid soiling of our hands, our linen, and the hangings of our rooms, bear ample witness to the reality of this evil, of which every London citizen may find a further and more significant indication in the dark hue of the particles deposited by the dust-laden air in its passage through the nasal respiratory channels. To state this matter plainly, and without mincing words, there is not at this moment a man in London, however scrupulously clean, nor a woman, however sensitively delicate, whose skin and clothes and nostrils are not of necessity more or less loaded with a compound of powdered granite, soot, and still more nauseous substances. The particles which to-day fly in clouds before the scavenger's broom, fly in clouds before the parlour-maid's brush, and next darken the water in our toiletbasins, or are wrung by the laundress from our calico and cambric."
Of the ninety-eight parish churches within the walls of the City at the time of the Great Fire of 1666, only thirteen escaped the general havoc which was made by the conflagration. Of those destroyed—eighty-five in number—about fifty were rebuilt, several others being united to those of other parishes. Pepys, in his "Diary," under date of Jan. 7, 1667–8, makes the following singular remarks concerning the churches destroyed in the fire:—"It is observed, and is true, in the late Fire of London that the fire burned just as many parish churches as there were hours from the beginning to the end of the fire; and next, that there were just as many churches left standing in the rest of the City that was not burned, being, I think, thirteen in all of each; which is pretty to observe." Of late years, even during the progress of this work, several of the City churches have been swept away, the parishes to which they belonged being united to others, under Act of Parliament. The churches now standing in the City are about eighty in all; and according to Mr. Mackeson's "Guide to the Churches of London and its Suburbs for 1878," there are about 1,000 in the entire metropolis, the sacred edifices in the suburbs having been more than doubled since the accession of Queen Victoria.
It is refreshing to know that suffering humanity is not forgotten in this "great world of London;" and some idea of the benevolence of Londoners may be gathered from the fact that there are no less than sixty-five general hospitals for the relief and treatment of the various "ills that flesh is heir to." Besides these, there are scores of other charitable institutions of a special kind, such as dispensaries, invalid and convalescent hospitals, lunatic asylums, homes and refuges; institutions for the blind, for the deaf and dumb, for incurables, for nurses, for relief of distress, for gentlewomen, for needlewomen, for widows, for infants, for orphans, for the protection of women, for emigration, for employment, for labouring classes, for the benefit of the clergy, dissenting ministers, Jews, soldiers, sailors, discharged prisoners, and debtors; and, lastly, penitentiaries for women. We may add that the number of paupers in the metropolis (ex clusive of lunatics and vagrants) receiving parochial assistance is, on an average, from 80,000 in the summer to 100,000 in the winter; whilst the total number of vagrants relieved in the course of a day may be set down as ranging between 600 and 800.
In such a vast area as London, theatres and other places of amusement are, of course, very numerous, and are capable of containing and affording entertainment to thousands of the inhabitants. Mr. John Hollingshead, lessee of the Gaiety Theatre, in 1877–8 gave to a Parliamentary Committee an estimate of their number. First are the two patent theatres, Drury Lane and Covent Garden, each capable of holding 4,000 persons. Then there are 45 theatres licensed by the Lord Chamberlain, holding in the aggregate about 80,000 persons. There are also ten theatres licensed by the divisional magistrates, one of which houses is the Court Theatre, at Chelsea, about twenty yards outside of the Lord Chamberlain's jurisdiction, and these ten theatres will hold altogether about 38,100 persons. The Crystal Palace is included, containing two theatres and one concert-hall under the same roof. Next come the music-halls. The Middlesex magistrates license 347 places, together holding 136,700 persons. These music-halls include three of the first-class, holding from 15,000 to 20,000 people; six second-class halls, holding from 2,000 to 3,000; 13 third-class halls, holding from 800 to 1,500; 53 fourth-class halls, holding from 300 to 700 persons; and then there are 272 smaller places, which may be called public-house concert-rooms or harmonic meetings, or whatever they are termed. The Surrey magistrates also license on the south side of the Thames 61 music-halls; 58 are of a smaller type, but three are very large places, and altogether these 61 will hold 32,800 persons. The City of London licenses only two places—the Sussex Hall and the "White Horse;" but there must be four or five other places where balls and concerts are given, and the City may be stated as having in all these places accommodation for 6,400 persons. The total, therefore, is 57 theatres, capable of holding 126,100 persons, and 415 musichalls, capable of holding 175,900 persons, making altogether 472 places, accommodating 302,000 persons. This includes the Crystal Palace and the Alexandra Palace, which are licensed by the magistrates. Many of the smaller places are probably very small, being rooms in or over publichouses, where there is music but no stage or other appliances—places, in some instances, where people come in the evening and drink their spirits or beer, hear a song or two, and then go away home.
We have only to lament, in this general view, the extreme paucity of open parks and places of recreation, which add so much to the attractiveness of Paris and other European capitals. For, exclusive of the greater parks of London, which are vested in the Crown but open to the public, there are only about 1,100 acres of public recreation ground, and these are mostly in distant parts of the suburbs. They are distributed as follows:—Blackheath, 267 acres; Hampstead Heath, 240 acres; Finsbury Park, 115 acres; Southwark Park, 63 acres; Hackney Downs, 50 acres; Well Street (Hackney) Common, 30 acres; North and South Mill Fields, 57 acres; London Fields, 27 acres; Tooting Beck Common, 144 acres; and Tooting Graveney Common, 63 acres. The gardens on the Thames Embankment and in Leicester Square present 14 acres. The remainder of the acreage is made up of the commons at Clapham, Stoke Newington, and Shepherd's Bush.
The great metropolis, then, being such as we have portrayed it, there have never been wanting those who have felt towards London and its neighbourhood an attraction which nothing could destroy. These, of course, have been the persons in whom the social qualities have predominated. Such, in their day, were Horace Walpole, Dr. Johnson, Samuel Rogers, and Macaulay; and such, too, were Leigh Hunt, Thackeray, and Dickens. Away from London and its surroundings such men would have been lost; here they found their respective métiers. The Boswellian reasons for Dr. Johnson's love of London are of general applicability. "Johnson," he writes, "was much attached to London; he observed that a man stored his mind better there than anywhere else; and that in remote situations a man's body might be feasted, but his mind was starved, and his faculties apt to degenerate, from want of exercise and competition. No place, too, he said, cured a man's vanity or arrogance so well as London; for as no man was either great or good per se, but as compared with others not so good or great, he was sure to find in the metropolis many his equals, and some his superiors."
It would be almost as easy to cull from English writers a long chain of passages in praise of London as of others written in praise of country scenes. Thus Dr. Johnson remarks: "The happiness of London is not to be conceived but by those who have resided in it. I will venture to say there is more learning and science within the circumference of ten miles from where we now sit than in all the rest of the kingdom. The only disadvantage is the great distance at which people live from one another. But that is occasioned by the very largeness of London, which is the cause of all the other advantages." If Dr. Johnson could speak thus of the metropolis when its population was under a million, what would he have said now, when we number nearly four million souls within a radius of ten miles from Charing Cross? Again, the burly doctor thus philosophises on the same subject in a homely and practical strain:—"London is nothing to some people; but to a man whose pleasure is intellectual London is the place. And there is no place where economy can be so well practised as in London: more can be had here for the money, even by ladies, than anywhere else. You cannot play tricks with your fortune in a small place; you must make an uniform appearance. Here a lady may have well-furnished apartments and an elegant dress, without any meat in her kitchen."
The same opinion is expressed somewhat more bluntly by "Jack" Bannister:—"I have lived too long (he observes) in London, from early life to the present time, to like the country much; you cannot shake off old habits and acquire new ones. I must die (please God!) where I have lived so long. Kemble once said to me, 'Depend on it, Jack, when you pass Hyde Park-corner you leave your comforts behind you.' Experientia docet! London for beef, fish, poultry, vegetables too; in the country you get ewe-mutton, cow-beef, and in general very indifferent veal. London is the great market of England. Why? Because it abounds in customers; and I believe you may live as cheap in London, and nobody know anything about you, as anywhere else. I delight in the country occasionally; but London is your best retirement after long industry and labour."
London has also, in an eminent degree, the great attraction of personal independence and freedom from the eyes of censorious and inquisitive neighbours. This is well drawn out by Boswell, who writes:—"I was amused by considering with how much ease and coolness he (Dr. Johnson) could write or talk to a friend, exhorting him not to suppose that happiness was not to be found as well in other places as in London; when he himself was at all times sensible of its being, comparatively speaking, a heaven upon earth. The truth is, that by those who from sagacity, attention, and experience have learnt the full advantage of London, its pre-eminence over every other place, not only for variety of enjoyment, but for comfort, will be felt with a philosophical exultation. The freedom from remark and petty censure with which life may be passed there is a circumstance which a man who knows the teasing restraint of a narrow circle must relish highly. Edmund Burke, whose orderly and amiable domestic habits might make the eye of observation less irksome to him than to most men, said once, very pleasantly, in my hearing, 'Though I have the honour to represent Bristol, I should not like to live there; I should be obliged to be so much upon my good behaviour.' In London, a man may live in splendid society at one time, and in frugal retirement at another, without animadversion. There, and there alone, a man's own house is truly his castle, in which he can be in perfect safety from intrusion whenever he pleases. I never shall forget how well this was expressed to me one day by Mr. Meynell: 'The chief advantage of London,' said he, 'is that a man is always so near his burrow.'"
But there are other writers of authority besides Johnson whose testimonies in praise of London deserve to be quoted here; for instance, Lord Macaulay, who writes to a friend: "London is the place for me. Its smoky atmosphere and muddy river charm me more than the pure air of Hertfordshire and the crystal currents of the Rib. Nothing is equal to the splendid varieties of London life, the 'fine flow of London talk,' and the dazzling brilliancy of London spectacles."
Again, we may summon Leigh Hunt, who writes in his "Table Talk:" "London is not a poetical place to look at; but surely it is poetical in the very amount and comprehensiveness of its enormous experience of pleasure and pain. . . . It is one of the great giant representatives of mankind, with a huge beating heart, and much of its vice and misery . . . . is but one of the forms of the movement of a yet unsteadied progression, trying to balance things, and not without its reliefs."
We have said that to the man of intellectual culture London has attractions beyond all other places. Nor is this position better illustrated and enforced than in the inexhaustible Boswell:—"Of London, Johnson observed, 'Sir, if you wish to have a just notion of the magnitude of the city, you must not be satisfied with seeing its great streets and squares, but must survey the innumerable little lanes and courts. It is not in the showy evolutions of buildings, but in the multiplicity of human habitations which are crowded together, that the wonderful immensity of London consists.' 'I have often amused myself,' adds Boswell, 'with thinking how different a place London is to different people. They, whose narrow minds are contracted to the consideration of some one particular pursuit, view it only through that medium. A politician thinks of it merely as the seat of government in its different departments; a grazier, as a vast market for cattle; a mercantile man, as a place where a prodigious deal of business is done upon 'Change; a dramatic enthusiast, as the grand scene of theatrical entertainments; a man of pleasure, as an assemblage of taverns, and the great emporium for ladies of easy virtue; but the intellectual man is struck with it, as comprehending the whole of human life in all its variety, the contemplation of which is inexhaustible.'"
Charles Dickens, too, is not far behind his compeers in his love of London. Its society and life was "meat and drink" to him—that on which he always set his heart most strongly, in spite of his love for Gad's Hill. Even when spending the winter in bright and sunny Genoa, he could write home to his friends, "Put me down on Waterloo Bridge at eight o'clock in the evening, with leave to roam about as long as I like, and I would come home, as you know." In the same spirit he wrote again, at a later date: "For a week or a fortnight I can write prodigiously in a retired place, as at Broadstairs; and then a day in London sets me up again and starts me. But the toil and the labour of writing day after day without that magic-lantern (London) is immense."
It would be almost a sin not to add, by way of conclusion to these testimonies to London's character, the merry and good-humoured lines of Captain Morris, the "Laureate of the Beef-steak Club:"— (fn. 10)

"In London I never knew what to be at,
Enraptured with this and enchanted with that;
I'm wild with the sweets of variety's plan,
And life seems a blessing too happy for man.
"In town let me live, then, in town let me die, For in truth I can't relish the country, not I. If one must have a villa in summer to dwell, Oh, give me the sweet shady side of Pall Mall!"