Pages 104-105
Ancient and Historical Monuments in the County of Gloucester Iron Age and Romano-British Monuments in the Gloucestershire Cotswolds. Originally published by Her Majesty's Stationery Office, London, 1976.
This free content was digitised by double rekeying and sponsored by English Heritage. All rights reserved.
SOMERFORD KEYNES
(4 miles s. of Cirencester)
(1) Probable Settlement (SU 021936), between the Swill Brook and Flagham Brook, is revealed by cropmarks over an area of some 35 acres on a gravel terrace in the Thames Valley, about 280 ft. above O.D.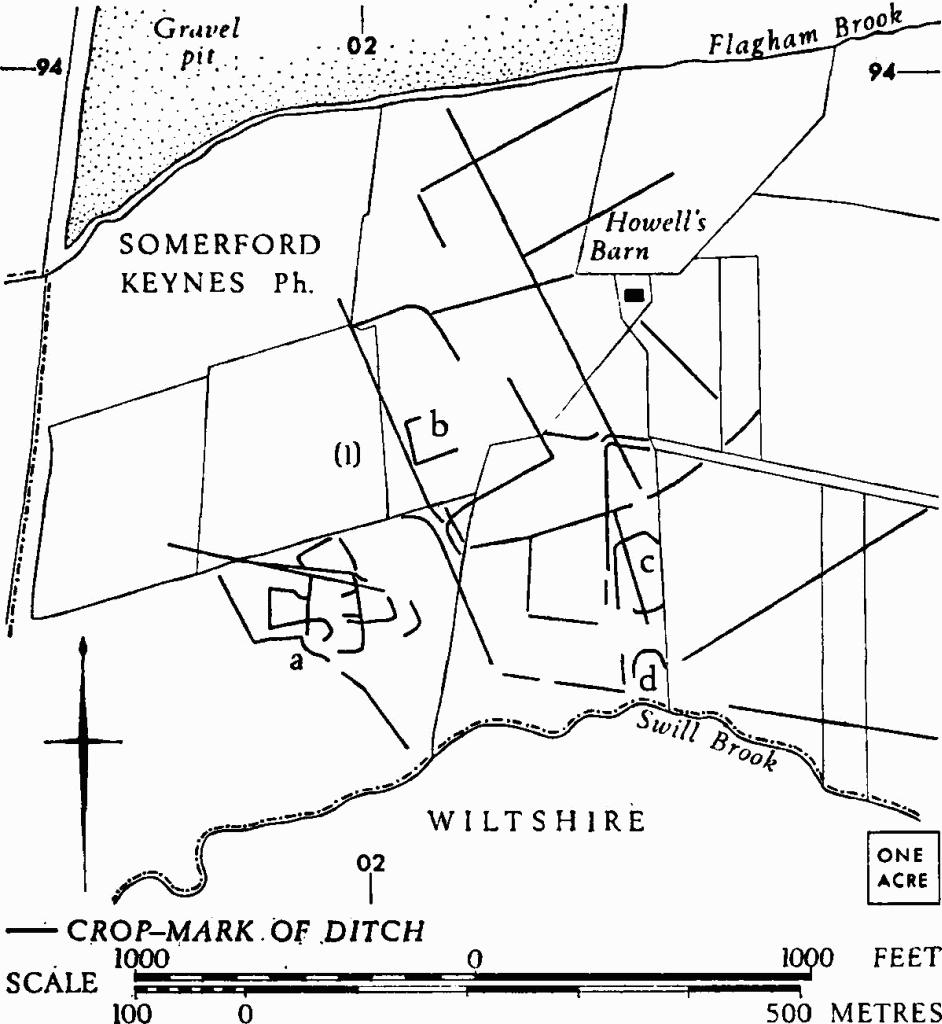 Two fragments of samian ware, found near enclosure b, are in Gloucester City Museum.
N.M.R., OAP SP 0293/1/388–9; 0293/2/390–1.
(2) Probable Settlement (SU 019945), undated, 200 yds. S. of the R. Thames at Neigh Bridge, shows indistinctly as a dense complex of crop-marks covering some 7 acres, on gravel at about 290 ft. above O.D. Multiple linear ditches divide the area into approximately rectangular figures, within which are indications of D-shaped and sub-circular enclosures.
O.S., VAP 70 030, 132.
(3) Enclosures and Linear Ditches (SU 025957), undated, W. of Spratsgate Lane, show as indistinct cropmarks now partly destroyed by gravel-digging. They cover at least 15 acres, about 295 ft. above O.D. The complex includes a rectangular enclosure, probably beside a track (arrowed on Plate 59).
N.M.R., OAP (Baker) SU 0295/1.
(4) Probable Settlement (SU 016968), undated, midway between the R. Thames and Shorncote, shows as crop-marks over some 17 acres of level ground, about 310 ft. above O.D.
The internal area of the double-ditched enclosure (a) is about ½ acre.
O.S., VAP 70 042, 158 (enclosures a and b). N.M.R., OAP SU 0196/1/383–5 (enclosures c—e).
(5) Linear Ditches (SU 029967), undated, are revealed by indistinct crop-marks E. of Shorncote, at about 305 ft. above O.D.
O.S., VAP 70 042, 159. N.M.R., OAP SU 0396/1/110–11.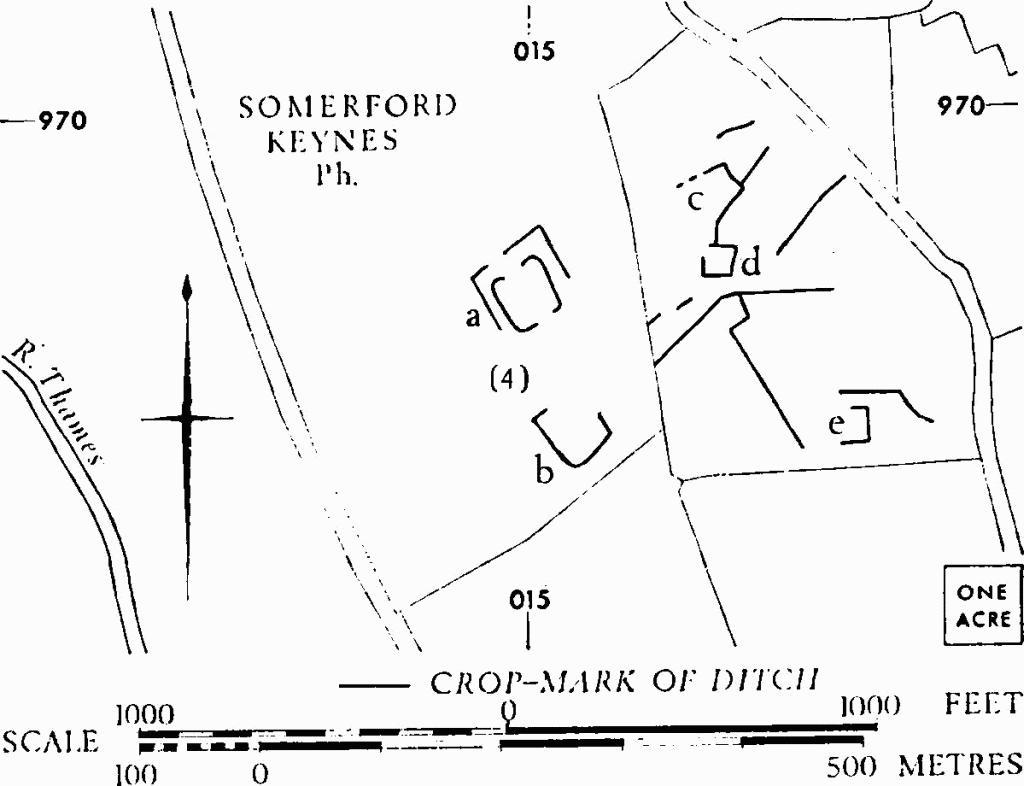 (6) Romano-British Settlement (SU 030947), 1,000 yds. S.E. of the village and about 600 yds. N. of the R. Thames, on gravel, is disclosed by crop-marks which lie mainly in Ashton Keynes (Wiltshire). From the E. corner, adjacent to a Romano-British settlement, the N.E. and S.E. sides can each be traced for about 900 ft.; the S.E. side crosses the county boundary at su 03049458 (approx.).
Romano-British pottery, said to be of 1st-2nd-century type, was recovered from the primary filling of the enclosure ditch during excavation of the settlement in 1971.
The ditch of another enclosure on a somewhat different alignment, undated, crosses the county boundary further N.W. (SU 02999471); it extends S.W. to SU 02659449 (approx.).
C.U.A.P., OAP AYG 38. N.M.R., OAP SU 0394/5/393–5. MPBW Excavations, 1971 (1972), 23.