Pages 110-111
Ancient and Historical Monuments in the County of Gloucester Iron Age and Romano-British Monuments in the Gloucestershire Cotswolds. Originally published by Her Majesty's Stationery Office, London, 1976.
This free content was digitised by double rekeying and sponsored by English Heritage. All rights reserved.
STANWAY
(19 miles N. of Cirencester)
Supposed hill-forts at Upper Coscombe (SP 074295) and in Hailes Wood (SP 056301), the first certainly geological and the second probably so, are discussed in the preface (pp. xxxiii, xxxiv). Iron Age sherds and spreads of Romano-British pottery are recorded from arable fields N. of Ireley Farm and Hailes Farm. (fn. 1) Romano-British pottery is said to have been recovered from the vicinity of imprecisely recorded burials, 50 yds. S. of Millhampost farmhouse. (fn. 2)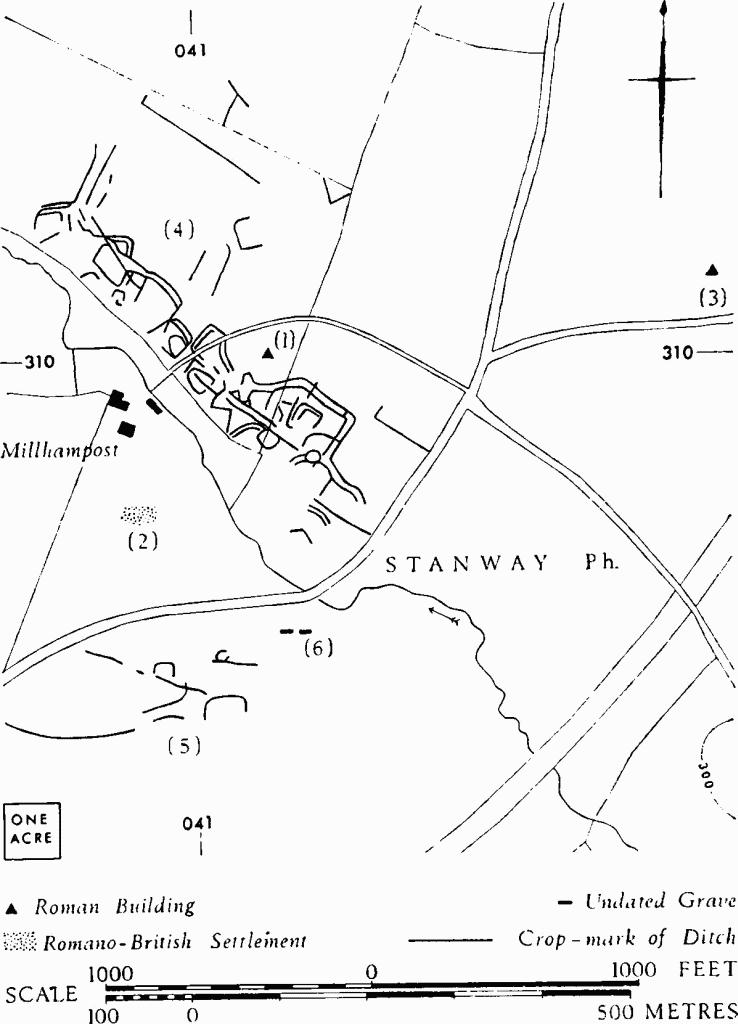 Monuments (1) to (6) lie about 270 ft. above O.D. on a gravel terrace of the R. Avon and are clustered on either side of a tributary of the R. Isbourne.
(1) Roman Building (SP 04203101), Millhampost, ploughed out, stood near the N. bank of the brook close to (4). Records refer to large stones encountered in ploughing and to the finding of pottery and 2nd-century coins (Trajan to Antoninus) and 'later bronze issues'. The base of a pillar and a box-flue tile stamped LEG. XXII PR.P.F. are recorded from the immediate vicinity; the tile is probably a modern importation (Frere, Britannia (1966), 139 and note 2). Two asses of Claudius and some pottery are in Gloucester City Museum.
W. St. Clair Baddeley, A Cotteswold Shrine (1908), 6. Ibid., letter to F. Haverfield, 26 Oct. 1900, in Haverfield Library, Ashmolean Museum. O.S. records.
(2) Romano-British Settlement (SP 04083082), S. of Millhampost. A trial excavation in 1965, 230 yds. S.W. of (1) and on the opposite side of the brook, yielded Romano-British pottery, shallow ditches and dark patches of occupation.
Information from Mrs. H. E. O'Neil and Mr. A. Marshall.
(3) Probable Roman Building (SP 047311), 560 yds. E.N.E. of (1), was revealed by the North Sea Gas pipetrench in 1969. Stone foundations, roofing tiles and pottery of the 3rd and 4th centuries were recorded.
Archaeol. Review, 4 (1969), 39, 42 (two accounts appearing to refer to the same site).
(4) Enclosures and Tracks (SP 041310), undated, show as crop-marks covering about 20 acres along the bank of the brook, N. of Millhampost.
Arch J, CXXI (1964), 15 (site 32), fig. 9.
N.M.R., OAP (Baker) SP 0430/1, 2.
(5) Enclosures and Linear Ditches (SP 041306), undated, cover some 6 acres on Ireley Farm, about 200 yds. S. of (2).
N.M.R., OAP (Baker) SP 0430/6.
(6) Graves (SP 04233068), undated, two, situated N.E. of (5), were defined by limestone slabs. Fragments of Iron Age pottery and other occupation debris were found in the fill of the graves. Romano-British pottery occurred in the soil covering them.
TBGAS, 65 (1944), 187–98.