Pages 123-124
Ancient and Historical Monuments in the County of Gloucester Iron Age and Romano-British Monuments in the Gloucestershire Cotswolds. Originally published by Her Majesty's Stationery Office, London, 1976.
This free content was digitised by double rekeying and sponsored by English Heritage. All rights reserved.
WESTON SUBEDGE
(25 miles N.N.E. of Cirencester)
Roman finds including a bronze surgical instrument (PSA, 2nd ser., XXXII (1919–20), 94) have been recorded at 'The Lenches' (Lynches), probably some 300 yds. S.E. of monument (3).
(1) Roman Building ? (SP 123412), on Lower Lias, some 70 yds. E. of Ryknild Street, was noted in 1938 when flue-tiles, a whetstone, pottery including samian and a Kimmeridge shale ring were found. The site is now an orchard.
Malkin MS., site No. 17.
(2) Roman Building ? (SP 12554142), is indicated by pottery, coins and a stone roof-tile found where there is now an orchard. The site, on Lower Lias, occupies level ground adjacent to a stream.
Malkin MS., site No. 18.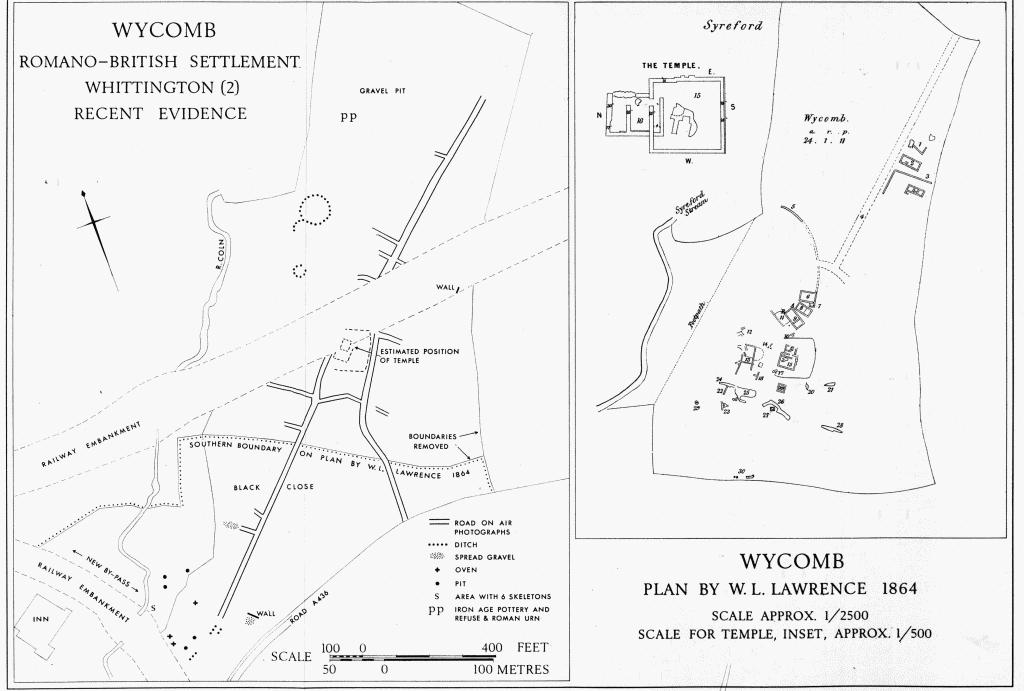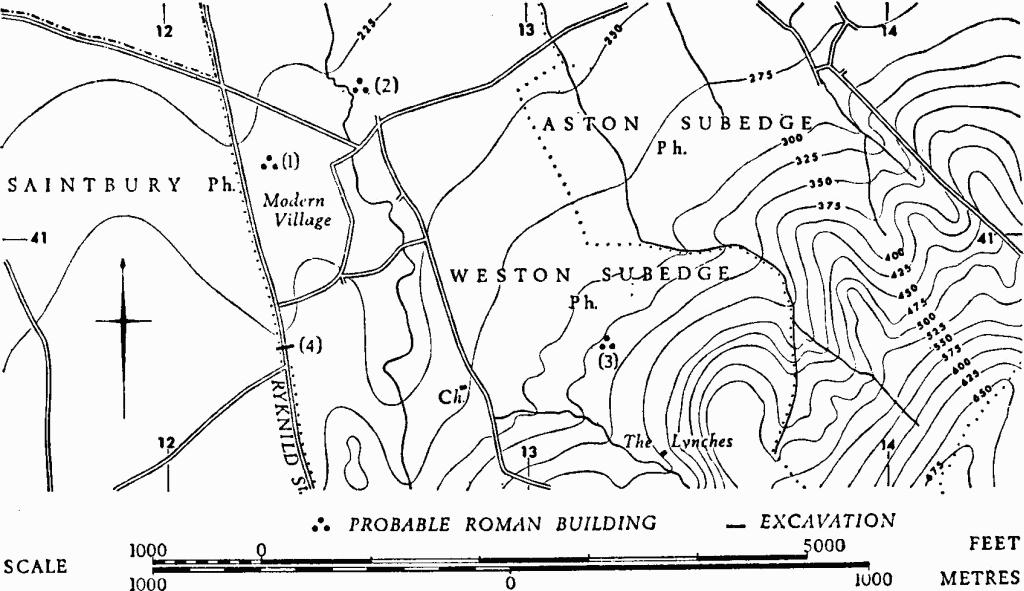 (3) Roman Building ? (SP 13294071), was identified in 1938 by building stone and pottery brought to the surface during ploughing. The site, on Lower Lias, occupies almost level ground in the lowest part of the main Cotswold escarpment, here generally falling N.W.
Malkin MS., site No. 19.
(4) Roman Road (SP 11684408–12403765), Ryknild Street, probably determines the entire W. boundary of the parish as well as marking the county boundary with Worcestershire for about 1¾ miles S. from Honeybourne Bridge.
A cross-section (SP 12334071) cut through the road in 1957, on gently rising ground, showed a cambered metalled structure of rounded pitched stones, 14½ ft. wide, 1½ ft. thick in the centre and 8 in. or 9 in. thick at the edges; in places the road was deeply rutted.
TBGAS, 76 (1957), 44–7. For the relationship between Buckle Street and Ryknild Street, see p. xlv.