Pages 130-132
Ancient and Historical Monuments in the County of Gloucester Iron Age and Romano-British Monuments in the Gloucestershire Cotswolds. Originally published by Her Majesty's Stationery Office, London, 1976.
This free content was digitised by double rekeying and sponsored by English Heritage. All rights reserved.
WITHINGTON
(8 miles N. of Cirencester)
Excavation of the Neolithic long barrow on Sales Lot (SP 048158) yielded an Iron Age 'A' sherd from the outer edge of the barrow and two Romano-British tile fragments in the rubble of the barrow mound. A tile stamped VLA (fn. 1) is comparable with the broken VL stamp on a flue-tile from Compton Grove Villa, Compton Abdale (1). Foxcote Tumulus (SP 011172), a large round barrow excavated in 1863, is said to have yielded more than 200 4th-century Roman coins; accounts differ as to whether they were contained in a jar. There were also Romano-British potsherds, a piece of iron and a skeleton, possibly in association. (fn. 2) Romano-British pottery has been found at SP 05021429 and 05321432 (see Chedworth, p. 24).
The straight stretch of modern road which extends N. from Withington village may mark the line of a branch of the Roman 'White Way' (p. xlv).
A ditch (SP 02401440–02751447) in Withington Wood ('a' on the accompanying plan), (fn. 3) seen through dense vegetation, is of modest size and differs little from other ditches in the same wood which offer no evidence of ancient origin and are not mapped; in situation, however, it recalls the linear ditch at Southam (6).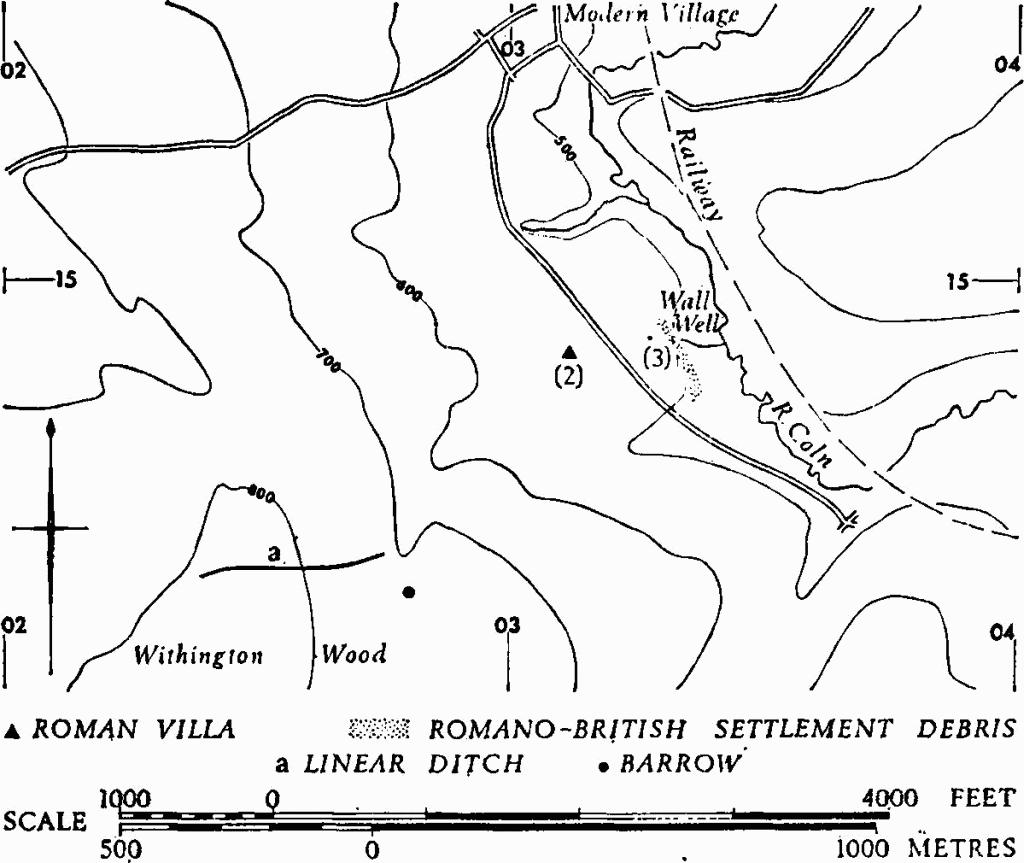 (1) Iron Age Settlement (SP 01381803), cut by possibly late Romano-British pits, near Foxcote Manor, was noted in 1935 in the face of a small quarry, cutting into the Inferior Oolite. The site lies at 600 ft. above O.D. on the lower slopes of a wide valley, close to the Foxcote Brook. Three irregular pits contained Iron Age pottery including stamped ware; two of the pits also contained bone combs, perhaps late Romano-British rather than Saxon as originally reported, and human skeletons.
TBGAS, 58 (1936), 157–70.
(2) Roman Villa (SO 03121487), N. of Withington Wood, was discovered by chance under part of the arable common field and was excavated by S. Lysons in 1811 (Plate 51). (fn. 4) The site, on the E. shoulder of a rounded spur above ground falling gently E. to a dry re-entrant valley, is now marked, when ploughed, by a thick scatter of building debris including tesserae and sandstone tiles.
Lysons emphasises that the incomplete structure which he planned was all that remained in the area, total destruction having occurred in the shallower soil to the east. The pavement of room A was several inches higher than that of room B, and those of D and B were similarly higher than room C.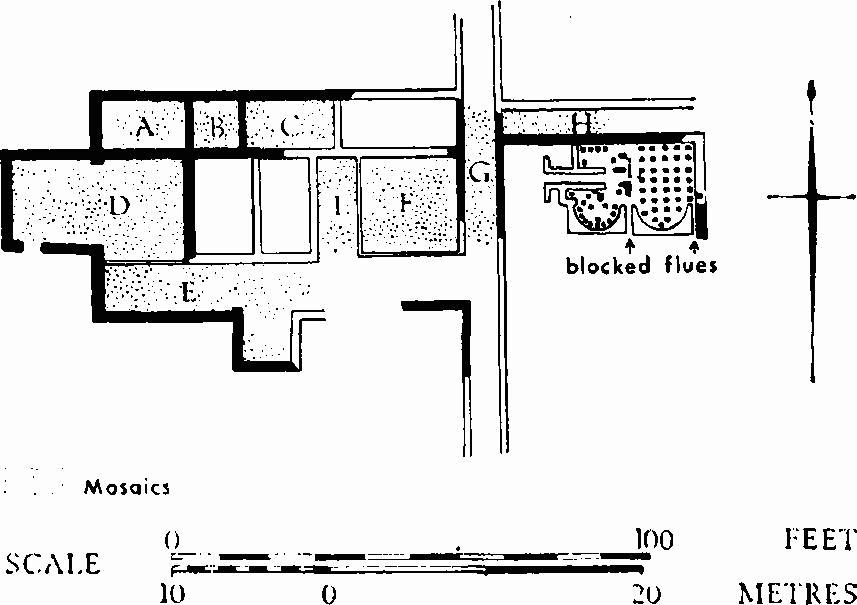 The plan suggests considerable structural alteration, including the blocking of the S. flues into the hypocaust (L) and the asymmetrical rebuilding of a wall in room D, to S.W. of an inserted asymmetrical mosaic panel. There was much evidence of burning, including melted lead.
The inserted mosaic (Plate 15), the only one to survive entire, depicts Oceanus with sea-creatures and is in Durotrigian style. The Orpheus pavement in the S. half of the same room (D), earlier in date and probably of the late 3rd century, together with the geometric panels (Plates 13, 14, 16), are of the Corinian School. Room I was paved with coarse white stone tesserae. The pieces of pavement recovered from room D are in the British Museum. Some tesserae are in Gloucester City Museum.
A hoard of over 1,200 late 3rd-century and 4th-century coins, from Valerian to Diocletian, was found in the area of the villa. The only other finds noted were a knife, a small 'lead' vessel, and unspecified pottery.
Arch, XVIII (1817), 118–21. Lysons (1817), II (1), Pls. xviii–xxi and head-piece to list of plates; III, 8–9. T. Morgan, Romano-British Mosaic Pavements (1886), 78–9. D.J. Smith, in Rivet (1969), passim (mosaics).
(3) Probable Settlement (SP 03291493–03371478), Romano-British, Wall-Well, about 260 yds. E. of (1), extends along the edge of a modern arable field for some 200 yds., adjacent to a spring. The debris includes hypocaust and other tiles, and pottery.