Pages 29-31
Ancient and Historical Monuments in the County of Gloucester Iron Age and Romano-British Monuments in the Gloucestershire Cotswolds. Originally published by Her Majesty's Stationery Office, London, 1976.
This free content was digitised by double rekeying and sponsored by English Heritage. All rights reserved.
CIRENCESTER
A general description of Corinium is included in the preface (p. xxxv), but the formal catalogue of the Iron Age and Roman monuments of the town (many under excavation and study at the time of writing) is outside the scope of this Inventory.
A tessellated pavement is said to have been found at Haines Ash in Oakley Park (around so 980035). (fn. 1)
At Stratton, 1 mile N.W. of the Roman town, a skeleton found E. of Ermin Street, near the mill (around SP 020034), was accompanied by a socketed iron hatchet. (fn. 2) A strap-tag and the pin of a fibula were found near one of two skeletons uncovered W. of Ermin Street when a cemetery (SP 011040) was laid out in 1886. (fn. 3)
A number of individual burials in the environs, some of them imprecisely located, may be related to the town rather than to rural settlement.
(1) Roman Villa (SP 016022), The Barton, about 400 ft. above O.D., adjacent to a spring-line and some 70 yds. W. of the present course of the Daglingworth Stream, stood 400 yds. N.W. of the Roman town wall. Partial excavation in 1824, 1909 and again in 1937 revealed an Orpheus mosaic pavement of the Corinian school, 21 ft. wide (Plate 1). It was found at the E. edge of a levelled terrace, now largely occupied by The Barton House. Possibly the pavement was superimposed on another, also tessellated, but of different shape and size. Associated finds include part of a column, fragments of coloured plaster, two fibulae, an unworn coin of Allectus and another coin, illegible; all these appear to have been stratified beneath the upper pavement. Two pagan Saxon burials had been inserted through the pavement.
Yorkshire Chronicle, 20 May 1824. TBGAS, XXXIII (1910), 67–77; 70 (1951), 51–3. Smith (1965), 95–116.
(2) Probable Settlement (SP 016025), Romano-British, N. of The Barton, is indicated by abundant pottery, fibulae, bracelets and 4th-century coins from a gravel pit. Loose coins ranged from Constantine to Magnentius. A hoard of 214 worn and damaged bronze coins, contained in a pot, included issues ranging from Valens to Arcadius. Some of the finds are in Corinium Museum.
TBGAS, XIX (1894–5), 394–8. PSA, 2nd ser., VI (1873–6), 538. Num. Chron., 6th ser., XII (1952), 128–9.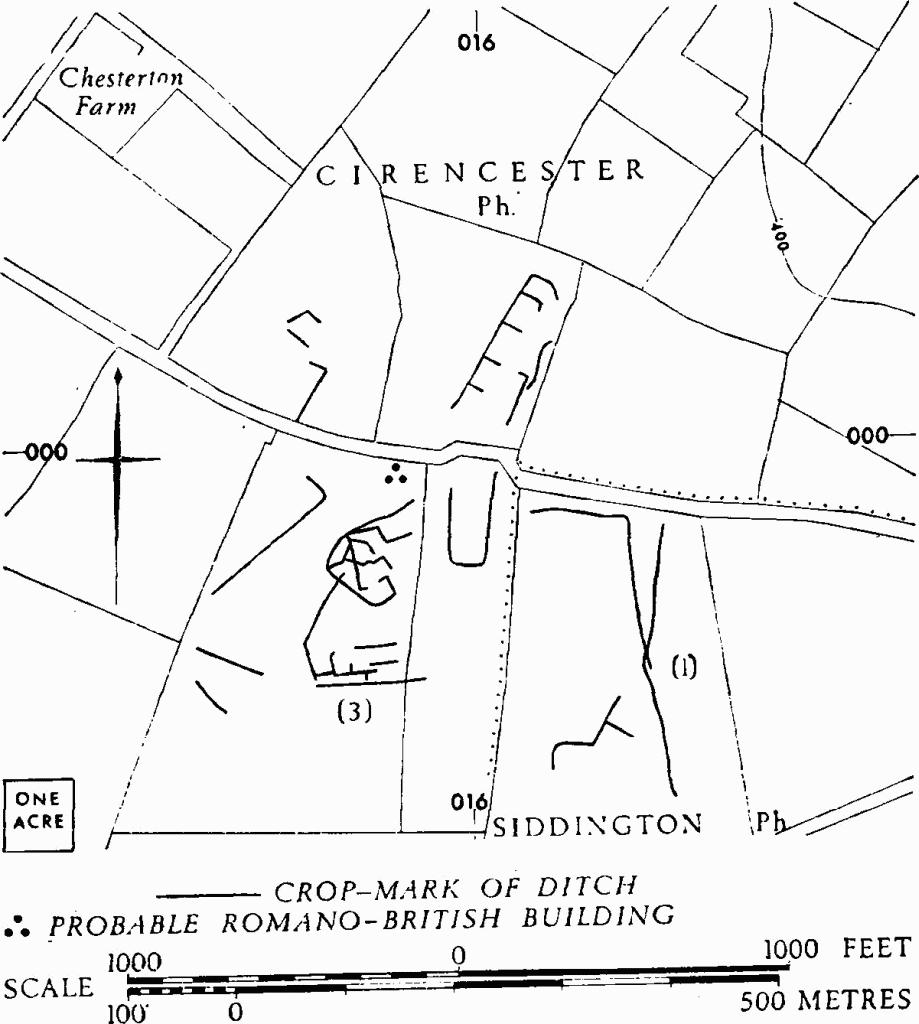 (3) Romano–British Settlement (SU 015999), S.E. of Chesterton Farm, ploughed out on level ground at about 390 ft. above O.D., is indicated by occupation debris and crop-marks. A building is indicated at SU 01549997 by large slabs of limestone, sandstone tiles and pottery, including Oxfordshire colour-coated ware. The adjacent crop-marks, covering about 40 acres, extend into the next parish (see Siddington (1)).
C.U.A.P., OAP AOO 45–6, AOS 10–11, ASM 47.
(4) Enclosure (SP 00150387), W. of Stratton, shows as a crop-mark on level ground at about 400 ft. above O.D. Its area is approximately 3/5 acre (Plate 65).
C.U.A.P., OAP VM 30.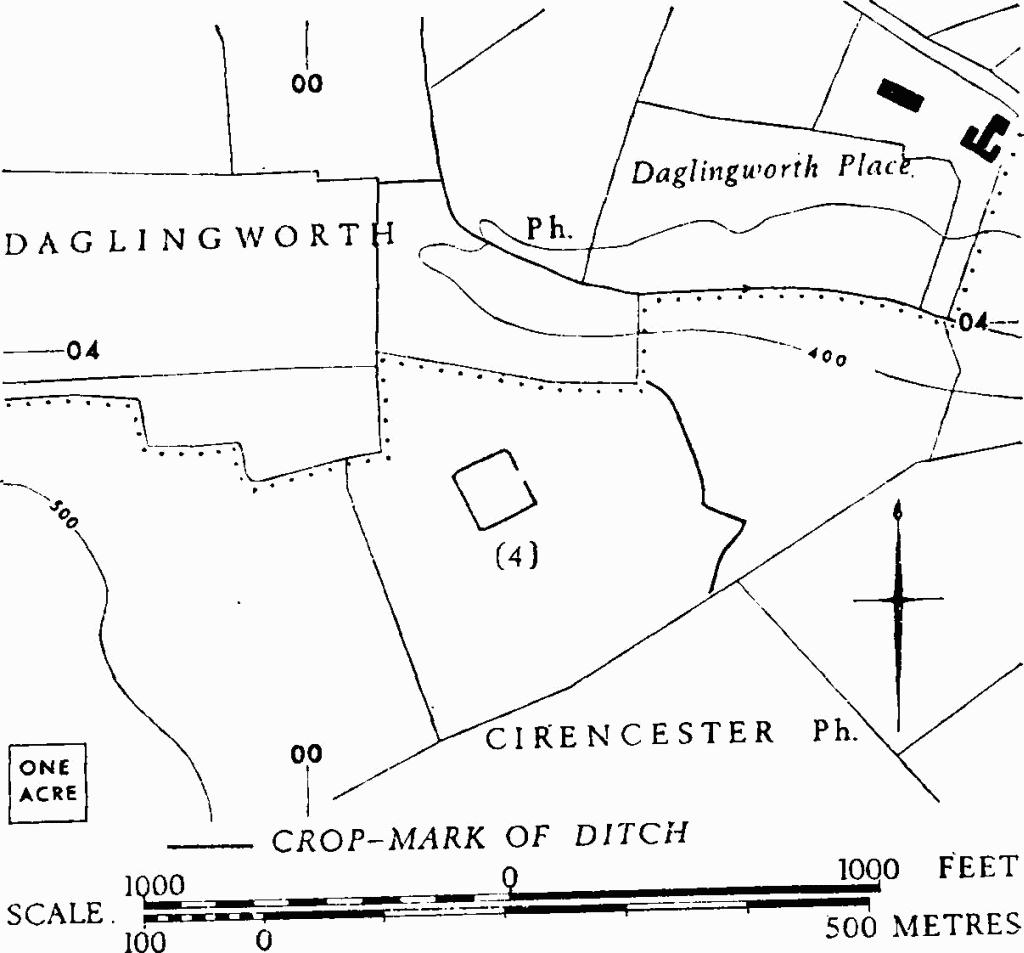 (5) Enclosures (SP 037020), undated, E. of The Beeches, show as crop-marks over about 35 acres of level ground at 400 ft. above O.D.
C.U.A.P., OAP AOO 33–4. N.M.R., OAP SP 0302/2/265– 72; 0302/4/338–41.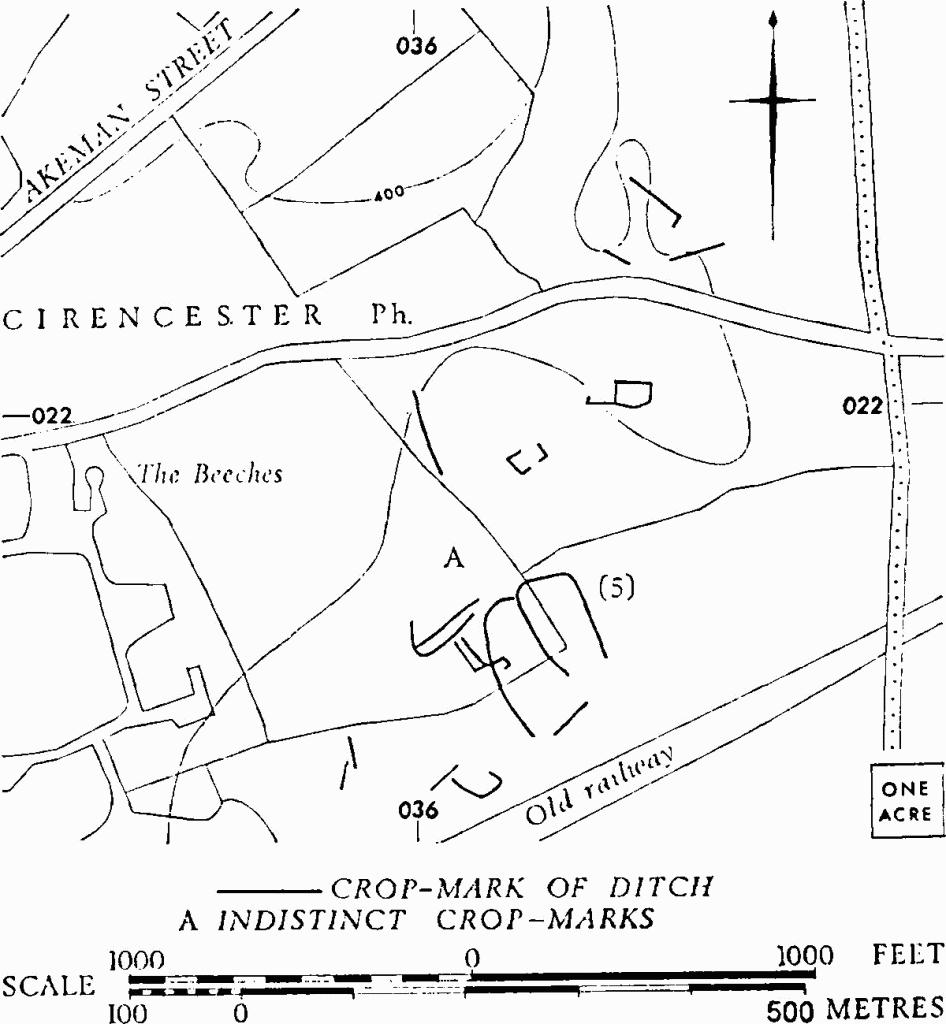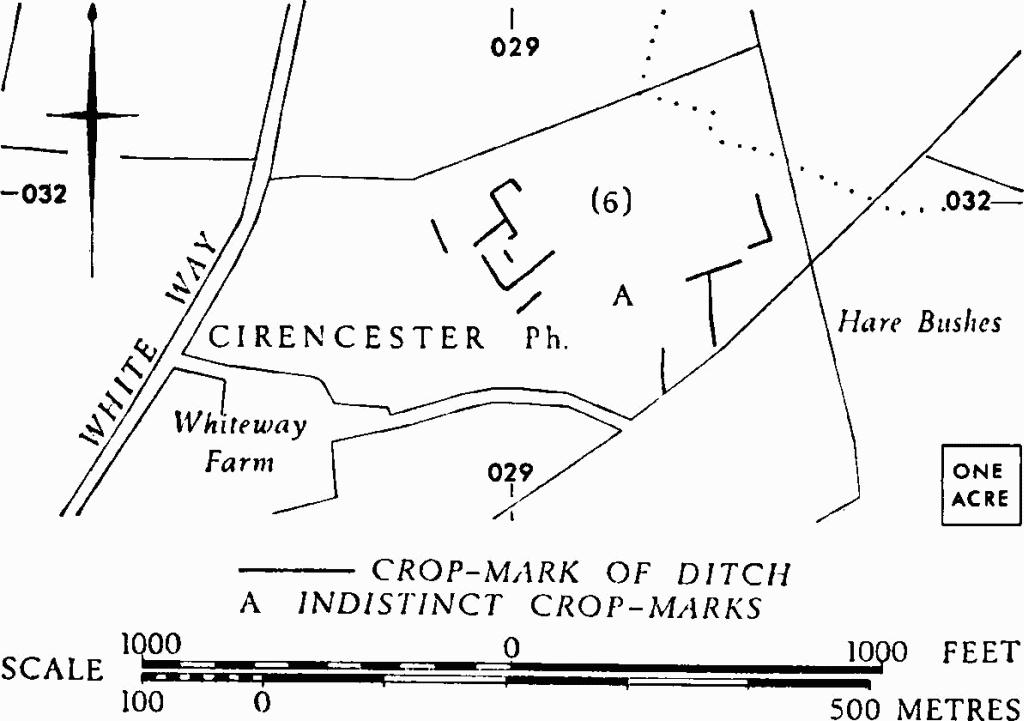 (6)Enclosures (SP 029032), undated, E. of the White Way, show as crop-marks over some 8 acres at about 430 ft. above O.D.
N.M.R., OAP SP 0303/1/273–5; 0302/2/273.
(7) Roman Villa (SP 02200117), Somerford Road, Chesterton, is indicated by reported elements of a build— ing, including fragments of a column.
JBAA, XXIII (1867), 291. Arch, 69 (1920), 178.