Pages 77-78
Ancient and Historical Monuments in the County of Gloucester Iron Age and Romano-British Monuments in the Gloucestershire Cotswolds. Originally published by Her Majesty's Stationery Office, London, 1976.
This free content was digitised by double rekeying and sponsored by English Heritage. All rights reserved.
LECKHAMPTON
(12 miles N.N.W. of Cirencester)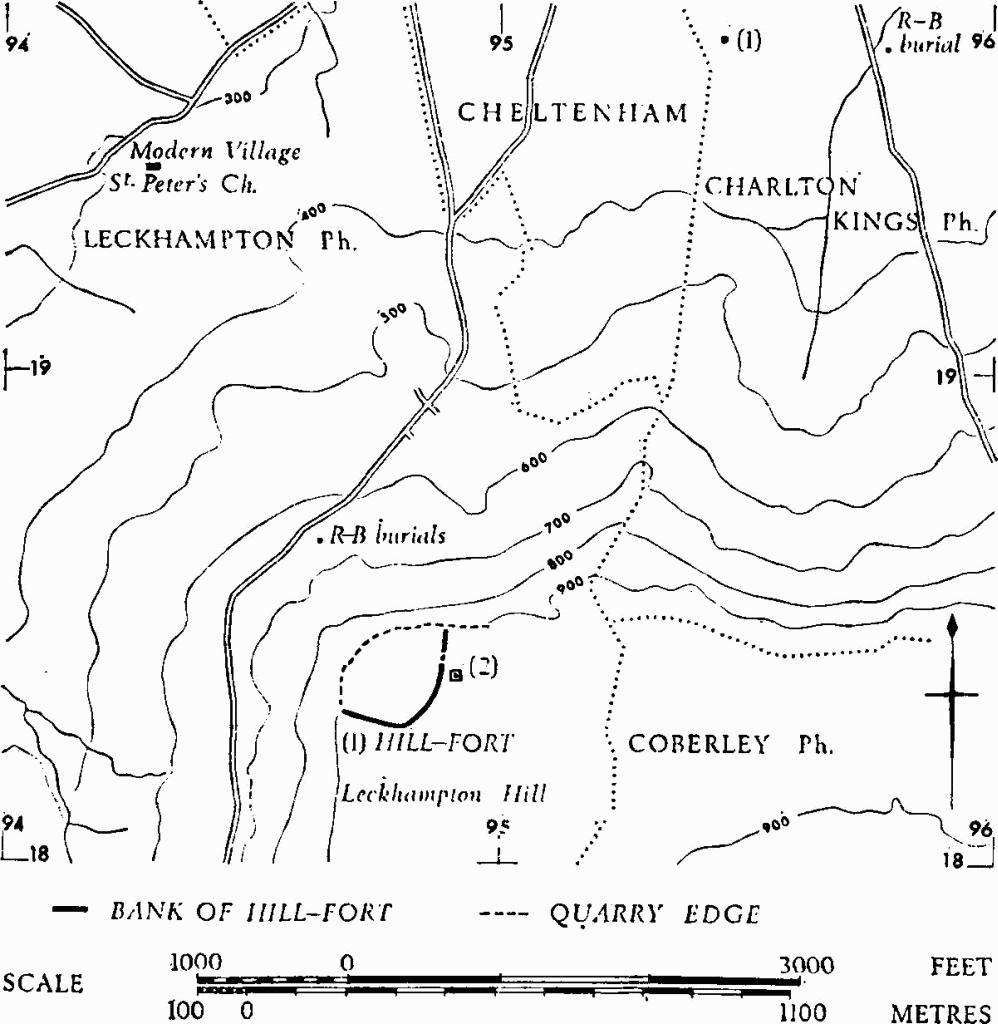 A Roman bronze crown found in 1844 on the skull of a 'doubled up' skeleton 'in a bank' on Leckhampton Hill (about so 946186), (fn. 1) is paralleled in the British Isles by a single example from Hockwold-cum-Wilton, Norfolk. (fn. 2) Another skeleton, said to have had many iron studs round the skull, was found near by, and Roman coins and pottery are reported from the vicinity. (fn. 3)
(1) Hill-fort (SO 948183), on Leckhampton Hill, univallate, encloses about 7 acres on a spur of the Cotswold escarpment. The E. and S. sides are defined by a rampart with an outer ditch; the W. and N. sides by quarried scarp edges. Near its N. end the rampart crosses a gully, subsequently untilized by a quarry tramway. The entrance is in the E. An 'outer rampart' sometimes mentioned in connection with the hill-fort (Bagendon, 24) lies 350 yds. to the E., on the line of the parish boundary; it is undated.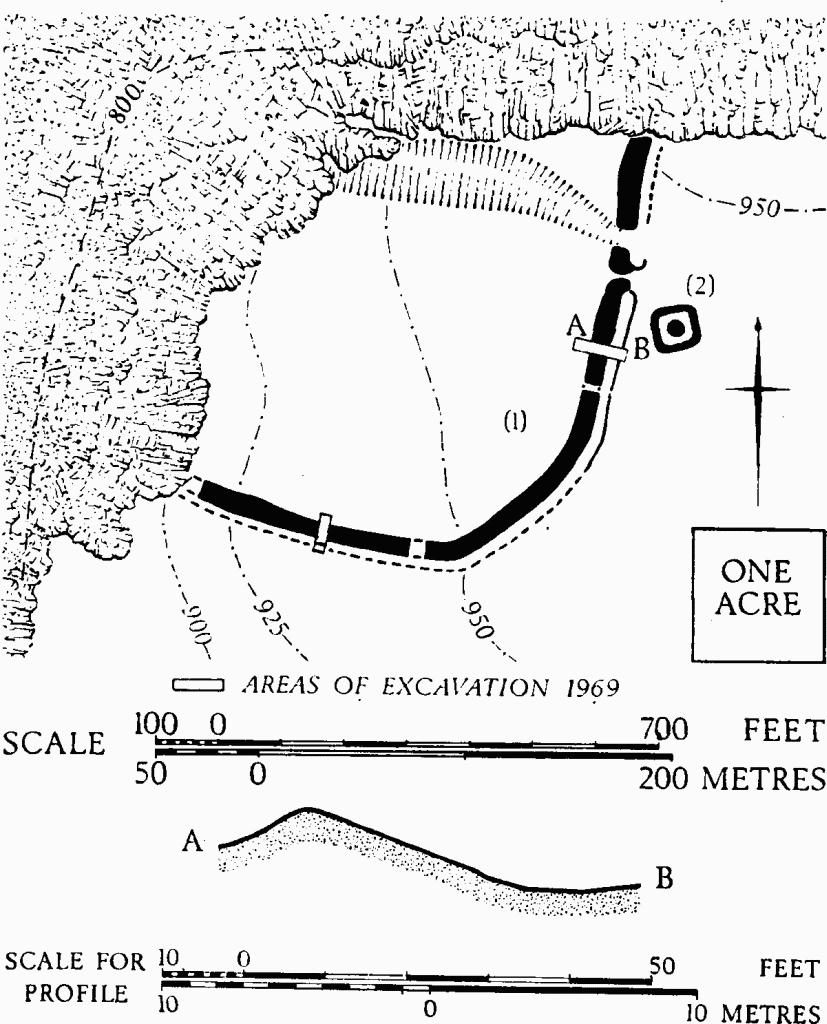 The results of excavation by Mr. E. J. Burrow and others in 1925 have been clarified by further investigations begun by Mrs. S. T. Champion in 1969. On the S. of the entrance, wherever it was examined, the rampart was found to be burnt; it was 20 ft. wide and up to 6 ft. high and consisted of a stone core revetted with drystone walls, tied together at the base by transverse timbers. The outer wall, better preserved than the inner, is 3 ft. thick and survives to a height of 1 ft. 8 in. A berm 3 ft. wide separates the rampart from the ditch, which is up to 14 ft. wide and 9 ft. deep, with the bottom locally flat or V-shaped. The filling of the ditch consists mainly of burnt stone from the collapsed outer revetment.
'Guard chambers' formerly thought to be rectangular in plan, on either side of the entrance, are now seen to be semicircular and inset into the ends of the rampart.
The few sherds of coarse Iron Age pottery recovered during the excavations of 1925 and 1969–71 are not closely datable. Romano-British pottery is recorded from superficial positions.
TBGAS, XLVII (1925), 81–113; 90 (1971), 5–21.
(2) Barrow ?, possibly Iron Age (SO 94921838), 30 yds. S.E. of the entrance of (1), previously disturbed, was excavated without material result in 1925. A surrounding bank 2 ft. high with sides of some 60 ft., forming an approximate square, suggests comparison with squareditched barrows of Iron Age date.
TBGAS, XLVII (1925), 86–7, 101–2. Ant J, XLI (1961), 52.